Dr. Hoffer's Travel WebSite This site was last updated 09/21/12
IDEAS
Vacation Rentals
| | | | | | | |
| --- | --- | --- | --- | --- | --- | --- |
| | Made With | | | | | |
EAST EU11 #4 Sirmione to Zoagli
---
July 2-6, 2011 ITALY Part I
Since we have taken this trip through Italy several times over the years, I have condensed this year's into only two Diarios.
---
---
Saturday July 2, 2011
---
Here we are, resting in the car, in this large freeway pull-off on the Autostrada through the Alto Adige northern area of Italy after going through the Brenner Pass from Innsbruck. After Marcia finished her nap we went inside the store area and did a little shopping. At 7:15, we got back in the car and Marcia drove the remaining 71 miles past Bolzano and Trento to Sirmione.
As you can see, the interior of this Peugeot is pretty nice. We finally finish the southern route into Italy and then make the big right turn heading west to reach the base of Lago di Garda. I have always been fascinated by the final drive up this tiny little peninsula from the base of the lake to get to Sirmione at the very tip. This time I got some photos of the GPS screen to show how it keeps skinnying down until you arrive.
We finally arrive in our delightful little island town.
We did our usual check-in at the guard gate and then the policeman let the blockades drop down into the pavement allowing us to cross the pedestrian bridge with the car and drive right up to our hotel near the entrance (see previous trips.) We checked into Hotel Sirmione [Piazza Castello 19,
+39-03-091-6331] at 8:30 PM and they gave us room #36 in the opposite building. The hotel prices were even stiffer this time but this is our little splurge each trip. The bellman took our bags to the room and we went straight to the lakeside veranda for our ritual glass of Pinot Grigio watching the sunset over beautiful Lago di Garda.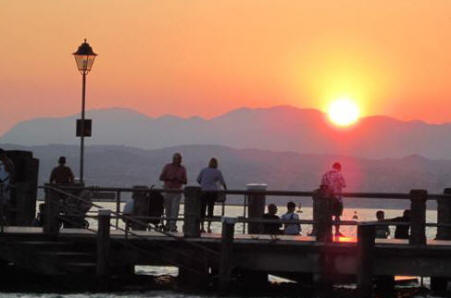 We then took off and walked our way through the crowded village. At 9:35 we sat down for dinner at another favorite of ours, Ristorante Valentino [Piazza Valentino 10,
+39-03-091-6112.] We had to pay a coperto for the two of us of €4 ($5.70.) I have explained before that Italy and several other countries have the tradition of charging a "coperto" which is a fee for so-called seating, napkins and bread. Its silly but they do it and you pay it. Their wine list is the best laid out I have seen anywhere and is why I am showing the whole thing. They show the label and a complete description and price for each wine they have. Below is the list of vini bianchi (white wines.)
Below is their list of vini rossi (red wines.) They also divided them into the various regions in Italy the wines are from. I wish all restaurants did it this way.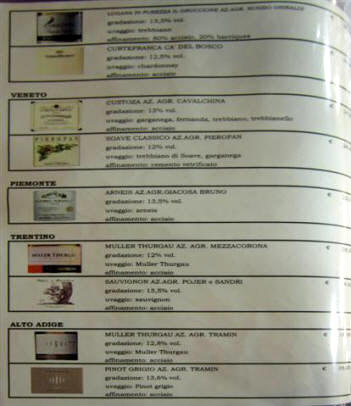 We decided on one of the least expensive on the list and ordered a bottle of local white wine; Lugana Maiolo Provenza (it didn't say, but probably 2011.)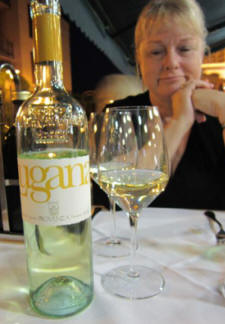 As usual the wine was excellent; fresh and crisp. We then scoured their similarly well-layed out menu. I'm showing the whole thing just this one time.
They have a full three pages of pizzas to choose from (above and below.) Then salads (insalate) and two pages of antipasti, one from "di mare" (of the sea) and...
...one from "di Lago" (from the lake,) and lastly "di Terra" (from the land.) Then two pages of beautiful Primi dishes including classic dishes and some from the sea and from the lake.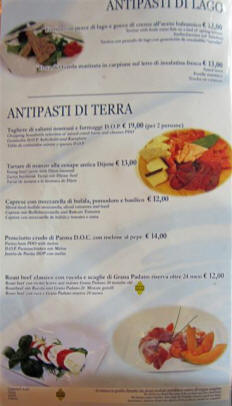 Then there are two pages of Secondi (entrées,) again from the sea, the lake and meats. The last page is one for children and side dishes (contorni.) From all the pictures you'd think you were in a tourist trap. Actually you are, but the place is beautiful, the food is genuine Italian and FABULOUS, the prices are reasonable and the service is always excellent. So be it.
I started out with my favorites for my first night in Italy: an order of prosciutto e melone (the beautifully sweet melons are hidden underneath,) then Marcia and I "shared" a pizza margherita (she has one slice, maybe two.)
Marcia also had a bottle of aqua minerale and for her entrée she ordered Branzino alle griglia (grilled Italian sea bass.) Below are before and after preparation. It doesn't get better than this.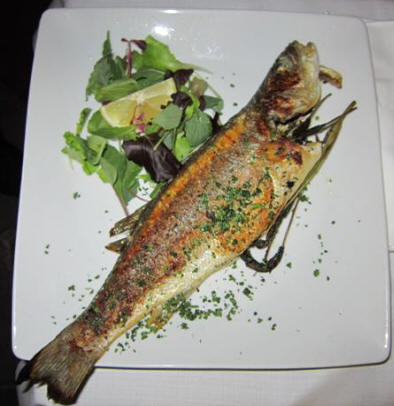 Our waiter (below right) is Latvian and Russian and he also served us in 2010. As usual the whole dinner and experience was excellent. If you visit Sirmione, one night you have to try it out.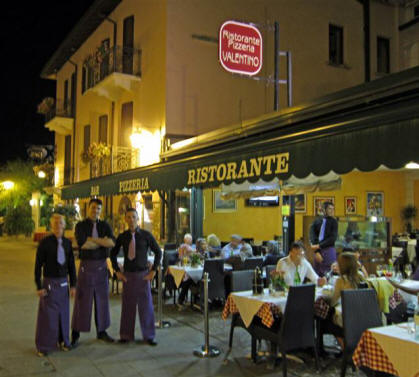 At 11:55, we meandered our way back to the hotel and went to bed at 12:30. I was exhausted and completely crashed.
---
Sunday, July 3, 2011
---
I woke at 2:45, 5:30, 7:30 and Marcia woke me up again at 9:10. At 9:30, I got up and got ready to go to Sunday Mass. I walked to the end of our hallway (left) and got this shot (right) out the window at the end. Later I will be doing my run along that lakeside park in the center.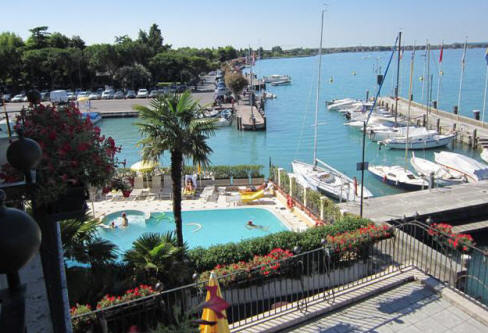 Below is the front of the hotel reception and a the view of the castle from here.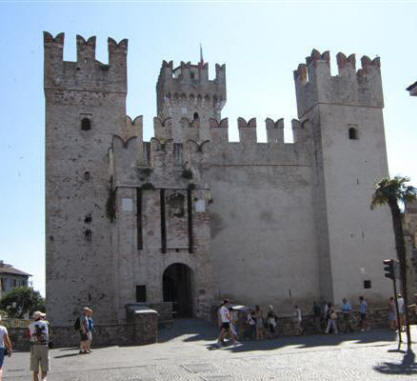 I meandered my way through the crowds, made a right turn and got to Santa Maria Maggiore for 10 AM Mass. It's getting so I can almost understand what the priest is saying.
After Mass, I walked up the street alongside the church to this little park.
From here you can look over to the little pier by the beach on the east side of the lake near the downtown area. As I walked back, I bought my usual short-sleeve shirt at Le Tre Piramidi for only €9. I then went for a cappuccino at my usual, Bar Gino. It was so relaxing, I had a second one. I enjoyed saying hello to my favorite lady there, who is now growing used to seeing me. She is very lovely.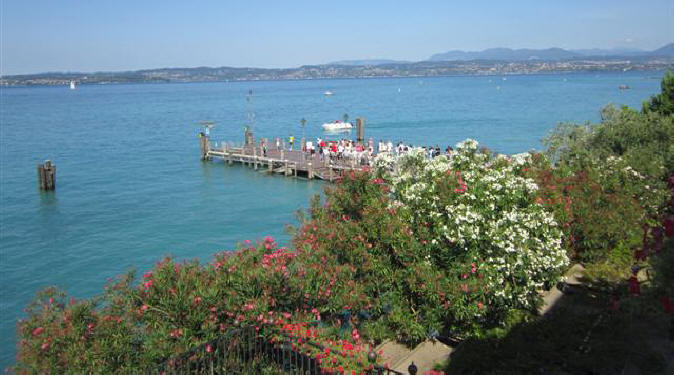 At 1:20, I walked back to the room and changed into my running gear to head out to the pool area of the hotel. At 2:00 I ordered my third cappuccino along with a large bottle of Pelligrino with ice. I sat there on the deck near the pool and worked on my computer. It was very relaxing, and as I keep saying, it doesn't get better than this. At 7:10, it was now cooling off enough to do my run so, I headed across the bridge and got this shot of the castle and the traffic crossing the bridge.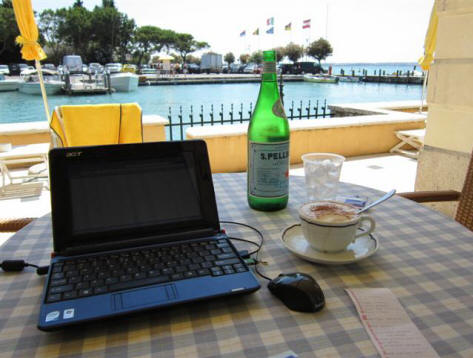 I then did my run out of town, first along the Lago, and then on the main road until I reach Villa Pioppi (below) and then turn around and run back.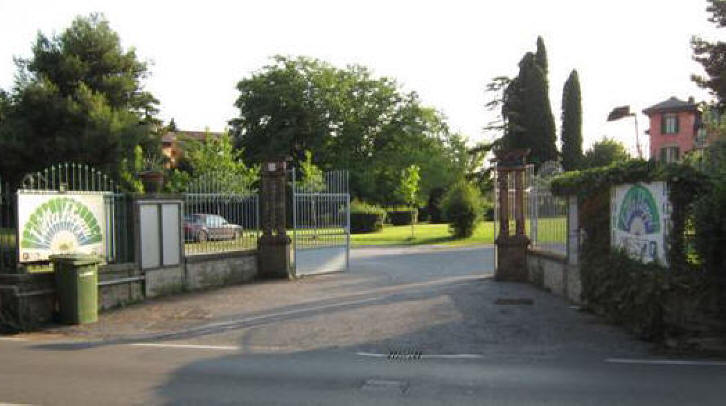 As I get back, I got this beautiful PhotoStitch shot of our hotel across the Marina. Here is where you can hire an excursion to anywhere on the lake.
They have cruises (crocieri) not only around the island tip (below left) but also around the whole lake (below right.)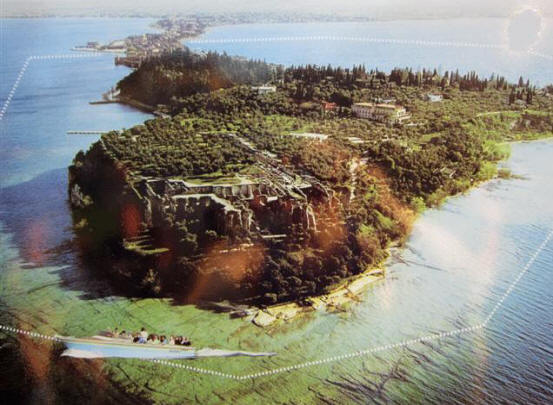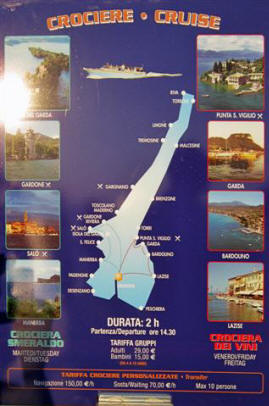 I took a walk to the end of the pier (below) and here is the view looking back to Piazza Cattulo.
I also got this shot of our Hotel Sirmione from the pier.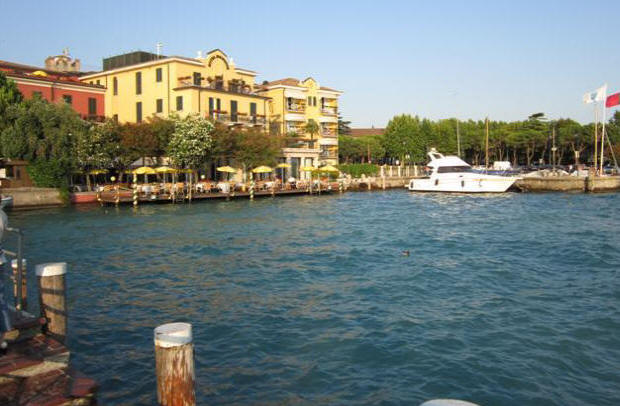 As I have mentioned before, the town is loaded with huge gelato shops.
I got back to the room and changed and then we went back out on the veranda for a glass of wine before dinner. It is so relaxing here watching the world go by.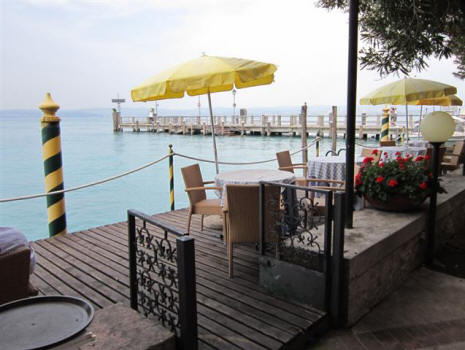 Then at 9:30, we walked to Ristorante Al Pescatore [Via Piana 20/22,
+39-030-91-6216] for dinner. We have dined here before including last year with the Shammas's and it has always been pretty good.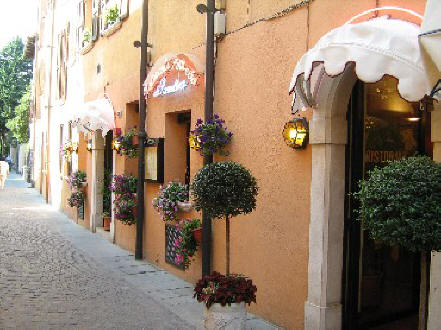 We went in and were a little surprised to see the place was almost empty. Marcia is grimacing here because I am making her smile for yet another photo. We looked at the wine list and ordered a bottle of local Lugana Bulgarini 2010.
I ordered a pizza margherita and then had a plate of spaghetti vongole which turned out to be terrible. There was something bad about the clams and the pasta was overcooked. I couldn't eat it. I was quite surprised and when I told the waiter he did not offer me anything else. He just said he was sorry I didn't like it. Not good!
Marcia ordered a bottle of Alisea water and had Pennete alla Arrabiata
Then for her entrée, she had a Vitello alla Milanese (Wienerschnitzle) which came with grilled eggplant (melanzane,) zucchini and tomato (pomodoro.) Then she had a lemon sorbet (above right.)
Our waiter was Marcello, who treated us well but this was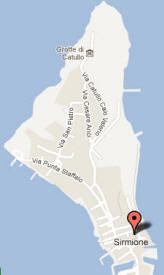 not a good night food-wise for us and I don't think we will be back.
We left and at 11:15 had a lemon granita (lemon ice) at Cremeria Bulian. Then I
got this shot of a store window selling the pins I collect on these trips which they call "spille" in Italian. This one (below left) was an Italian flag for €3.20 ($4.57,) which is pretty expensive. At 11:30 we stopped for a wine and a Sambuca at Trattoria Scala [Piazza Castello 25,
+39-030-990-4182] so we could listen to the live music that this group was playing in the piazza (below right.)
Its a very nice new place we should try for dinner next time. We wish them luck.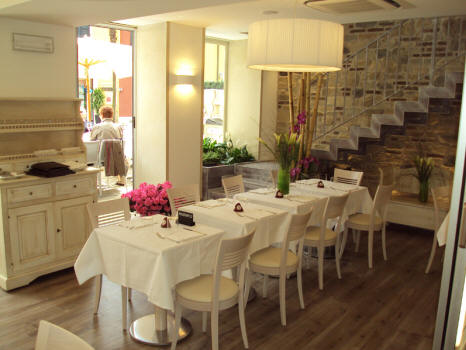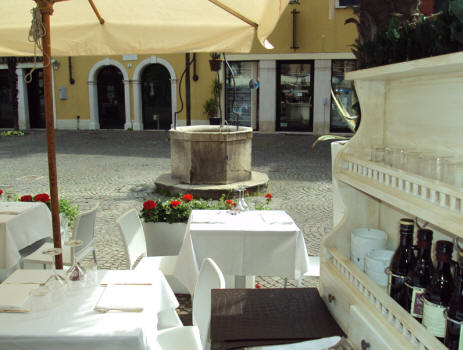 We finally quit, went back to the room and got to bed at 12:30 AM.
---
Monday July 4, 2011
---
I woke at 6:45, 9:25 and from a dream at 10:45 and I got up then for some reason. Here below is our room with a huge bed.
After we clean it up and pack, it looks a little better (below.) The bathroom is not super modern but certainly adequate.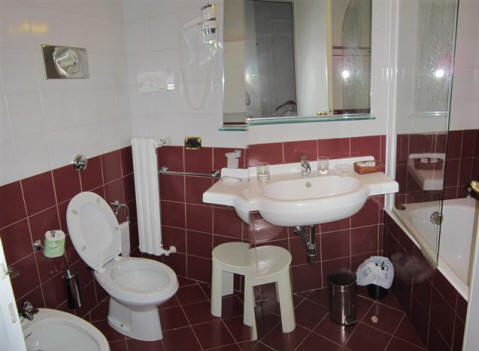 After getting all packed, at 11:30 I went for my run. Every time I cross the bridge, I see the guys selling fresh cut fruit to the tourists. Its pretty tempting.
Below left is the view of the Lungolago as I head south and on the right is the view back looking north when I get to the end of it.
This is where the big parking lot for the village is. I finally got to Villa Pioppi again and then headed back. It was pretty warm at this hour.
At 11:45 Marcia was buying gifts at Donum [Via Casello 4,
+39-030-91-6589] and cosmetics at Profumeria Mosaico [Via Piano 18,
+39-030-990-6336.] As I got back to town I stopped in a Tabak to see if I could buy some Top-up for my Italian phone chip but was told they didn't carry them.
At 12:45 I was back in the room, showered and took the packed bags downstairs for them to hold them. At 1:00 Marcia had lunch at Il Girasole [Via Vittorio Emanuele 72,
+39-03-091-9182] again and I was at Bar Gino for my last cappuccino there. At 1:45 I went back to the hotel to check out. We had the car brought up, packed it up and at 2:10 I drove the 86 miles straight west to Dimitrii's house in Arese (a little west of Milano.)
At 3:15 we had to pay an Italian Autostrada toll of €7.3 ($10.44.) That comes out to 12¢/mile. At 3:35 we finally arrive in Arese and carried our stuff into the house.
By 3:50 we relaxedin his new back yard having some vino and prosecco with Dima.
Then at 6:00 I took a nap and slept which is unusual for me. Maybe it was the driving and prosecco that did it for me. Marcia woke me up at 7:30 and we got ready for dinner. Dima remembered

how we loved our dinner at Lake Como in 1999 and decided to take us back. At 8:30 he drove our Peugeot north to Como and then farther up the west side of the lake and up into the mountains to Il Gatto Nero [Via Montesanto, 69, Cernobbio,
+39-03-151-2042.] Its a very popular place and it was very crowded. Dima knows the owner so we got seated in a great spot relatively quickly.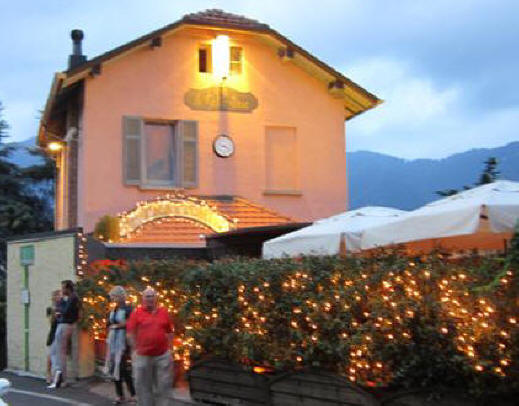 We sat down at 9:15. Here is our view of Lago di Como out our window.
Dima ordered a bottle of Vie di Romans Chardonnay 1999 which was very good. It was pretty appropriate because that was the year we were here last.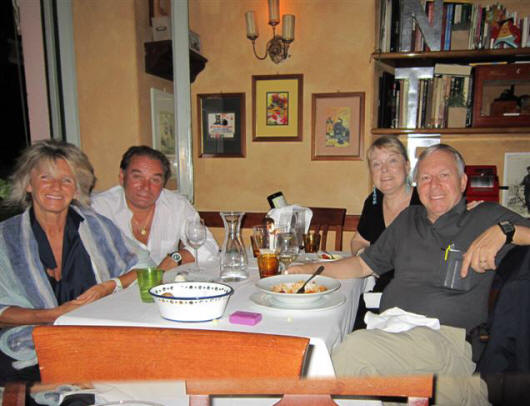 There menu was not that interesting to me but it had plenty of items. I was here for the Vitello Tonnato I tried for the first time here in 1999 and wound up loving.
Of course I had the Vitello Tonnato (below left) which is thin slices of cooked veal covered in a tuna sauce with capers. It was good but not as I remembered it. I then had a primi pasta dish of garganata (below right.)
I followed this with a secondi of paparadelli con cavallini ragu (horse meat sauce.) It was good but not fantastic.
Marcia had a starter of Caprese salad (mozzarella and tomatoes,) and then she had vitello tonnato for her secondi.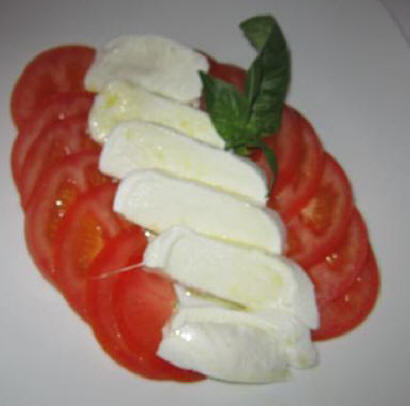 Then for dolci (dessert) she had this beautiful créme brulée (above right.)
Tania and Dima had this order of lamb chops with potatoes (above right.) Overall everything was excellent plus. We looked out over the lake and they were setting off fireworks. A beautiful night.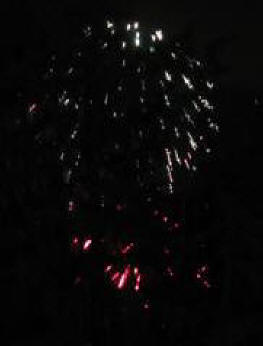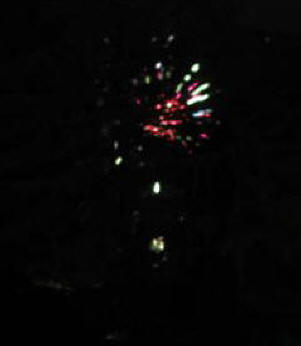 Then Dima drove us back to Arese and we arrived at the house at 12:30 and had an after dinner digestivo. We got to bed at 1:30 AM.
---
Tuesday 7/5/2011
---
I woke at 4:50, 8:30, 11:35 and at 2:50 I got up. Today we have been in the EU for one week. Dima had to go to Milano this morning to do 10 eye surgeries. At 3:15 I went for a cappuccino at Il Grancaffé (below) and worked on my computer for a couple of hours. They put out a plentiful spead of free things to eat (below right.)
At 7:30 I did my through the town of Arese and then drove back to the house to change. At 9:15 the four of us went to dinner at Ristorante Cortavecchia [Via Monteotti 6,
+39-02-938-0841,] a local restaurant in town.
We all enjoyed a good bottle of Greco di Tufo 2010 and then shared this large platter of pizza bread with mortadella (like bologny.)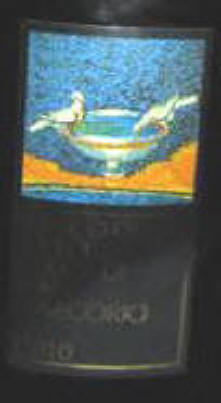 Here is their extensive menu.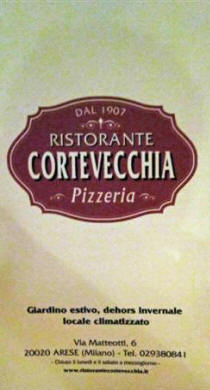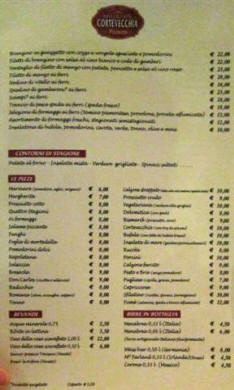 I had whole pizza margherita and it was excellent. Then I had paparadelle con scampi and vongole (clams.)
Marcia chose to have Branzino (Italian seabass) with tiny shrimp and carotta a burro (carrots in butter) and a side of fresh spinace (spinach.)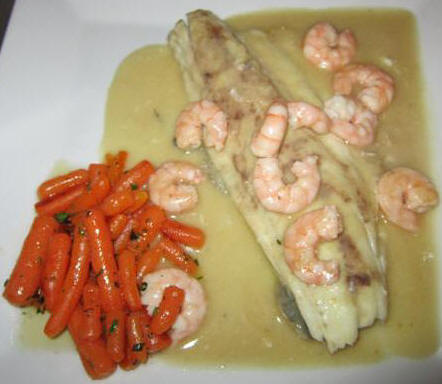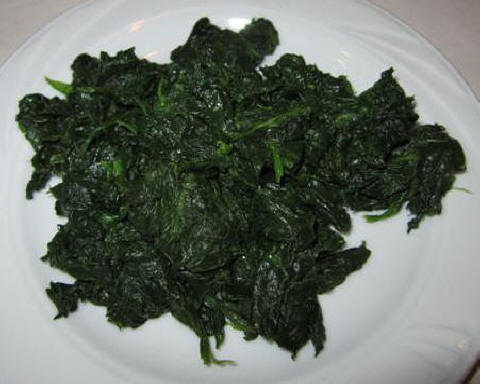 Dima and Tania had tagliata di manzo (slices of beef) and an after dinner digestivo called Mistra with a piece of chocalate. I had a cappucinno.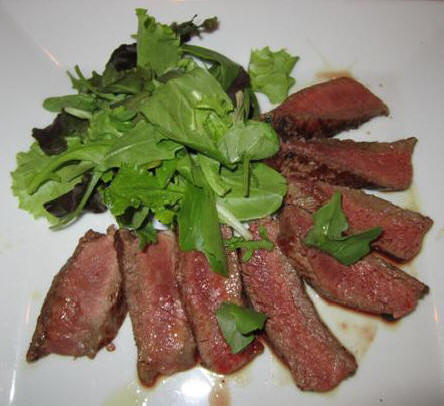 We rated the dinner as excellent. We got home at 11:45 and got to bed at 2:00 AM.
---
Wednesday, July 6, 2011
---
I woke at 4:50, 7:30, 9:00 from a dream, and got up at 10:45. I wanted to miss the heat, so at 11:10 I did my run to Arese.
On my run I came across several of these interesting trees I have seen before but never documented with photos. They are evergreens but not the usual leave structue you might expect. Below are three examples of those I found in the nieghborhood.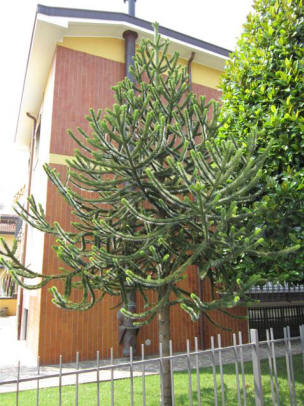 Look closely at the "leaves" which look more like a succulent plant than that of a tree. I am hoping to find out what this tree is. If you know let me know.
After my run, at 1:00, I stopped again at Il Grancaffé for a cappuccino. On my way back to the house, I have seen their communal pool for years when visiting Dima but have never used it. It sure looked like a good idea to take my shoes off and jump in.
I was swimming for awhile and then a man came out and told me I had to put a swimming cap on and he went and got one for me. I felt kind of foolish for having gone in the water without one, but I didn't know. This seems to be a legal thing in Italy. After my swim, I got back to the house and we all packed up and loaded our cars for the drive south. We will be driving from the Province of Lombardia to the Province of Liguria and pass by its capitol of Genoa, the birthplace of Christopher Columbus and the largest seaport in Italy.
At 3:55 Marcia drove the first 110 miles to Zoagli. Dima and Tania were already on their way. Early on we will pass the city of Pavia where our good friend Giovanni Piovella lives. At 4:05 we had to pay an Autostrada toll of €2.6 and again at 5:55 we paid another €10.5. We pass through some pretty high and winding roads through the Ligurian mountains and then descend down to the coast. At 6:00 we stopped at a Q8 gas station for a fill-up that cost €75 for 52.97L which converts to $7.66/gal (€1.416/liter.) The last fill-up was $7.74/gal.
I bought a bag of San Carlo "Virtual" and my guess was correct; they are exactly like our "Bugles" and they were very good.
At 6:05, from here I drove the remaining 7miles to Zoagli and at 6:30 we arrived at the house (below) and unpacked.
The drive (below left) down to the parking area (below right) is a little tricky with several hairpin turns. Later, when leaving, the car did not have the power to make it up the hill without being in 1st gear. I burned a little rubber on two occasions getting out of here.
The property is situated on the edge of a cliff overlooking the Ligurian Sea which is part of the Tyrrhenian (Tiranio) Sea. Below left is the entrance walkway to the first floor from the parking and below right is looking down from there onto the yard area and the Exercise Room under the carpark.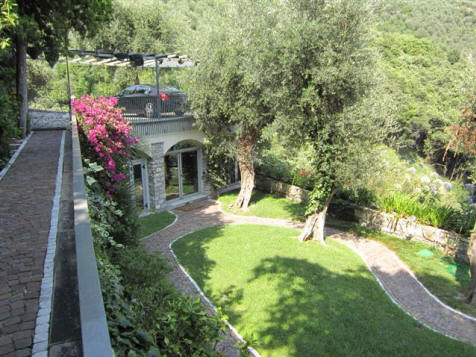 When you enter the front door you are in the Living Room. Then we took our stuff to our bedroom which is downstairs one level.
Out on the deck on that floor, overlooking the pool, is where Marcia got a chance to relax and read.
After relaxing for awhile, at 9:15, Dima drove the four of us to Piazza Martino (below left) in the center "downtown" Zoagli for dinner at Ristorante Aquasalata [Piazza XXVII Dicembre 9,
+39-018-525-0060] (below right.) You can see the train bridge which crosses the beach.
It was a lovely evening, so we took a table outside. A nice surprise was that we met our good friend Giovanni Piovella and his wife Laura and daughter Julia who had driven down from Pavia. The last time we saw Julia, she was just a little girl.
Below Laura (left) and Tania are in deep conversation while Julia is enjoying her food.
Below is their menu.
I started with a recommended order of fritta bacalao (fried salt cod) followed by a large plate of spaghetti vongole. I did not enjoy either that much and I have always had a good meal here, so I was just a little disappointed.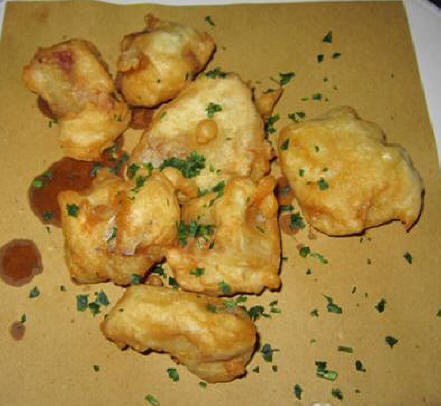 Marcia had the house white wine served in carafes and an order of fritto anchovies (below left) while Tania had a plate of langostinos (below right.)
In my opinion the dinner I had was just OK and nothing special but the company and the evening was special. We all drove back to the house at 11:30 and Dima and Giovanni got a chance to catch up.
I finally got to bed at 12:30.
Kenneth J. Hoffer, MD
KHofferMD@AOL.com
Zoagli, Italia
Sent 2-9-2012
If you enjoyed these travels or wish to add comments on the places we visited
Please Leave Me a Message by clicking the spinning @ sign below.