Dr. Hoffer's Travel WebSite This site was last updated 09/21/12
IDEAS
Vacation Rentals
| | | | | | | |
| --- | --- | --- | --- | --- | --- | --- |
| | Made With | | | | | |
EAST EU11 #9 Lipica to Postojna

---
Panoramic view of Trieste and Adriatic Sea from Socerb Castle
Thursday July 14, 2011, (continued)
Today we will be leaving the Province of Primorska (pink) and entering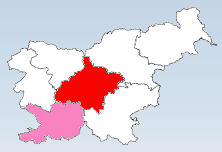 the Province of Notranjska [No-tran-is-kah] (red) in the dead center of the country. After using the GPS to get me back to Hotel Tartini, and loading our bags, we headed out at 1:40. Our total trip to our next city, Postojna, is 45 miles (72 Km) northeast of Piran. It has been so hot since we arrived on Slovenia's coast that I feared it would be even worse once we went inland. I was about to be pleasantly surprised.
But before we leave this province, we will head 20 miles (Marcia drove) to Socerb (below) to visit the Socerb Grad (castle) way up on a hill. We saw pictures of this in Koper and wanted to see it.

From the little town of Socerb, your can see the castle up on the hill. It is hard to tell it from the gray rock its sitting on.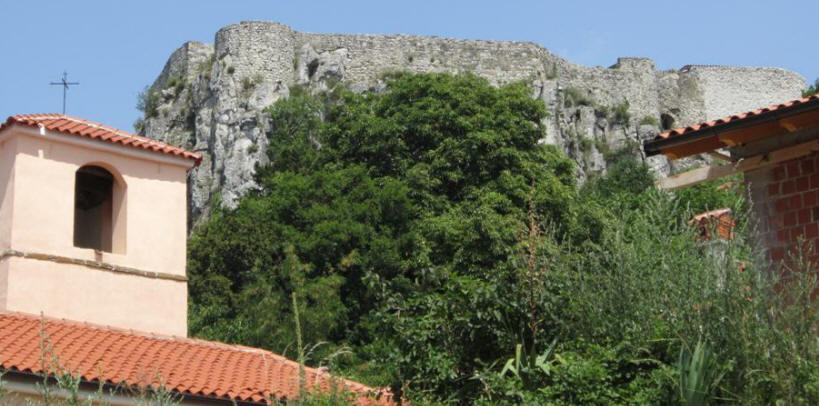 In town they have this memorial for two sets of brothers who died in WWII; Translation: "They fell for freedom and a better world."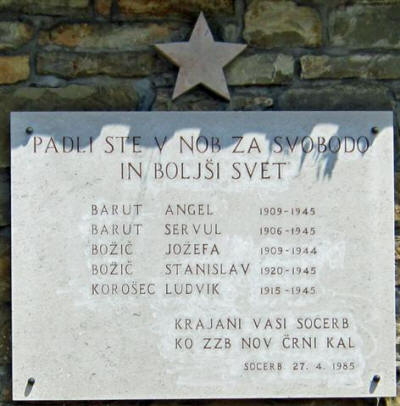 They have plenty of signage to persuade you to continue up these perilous roads with your car. I spotted this appropriately lettered license plate.


We arrived at the Socerb castle parking area at 2:15 and found a nice shady spot to park because it was really getting hot.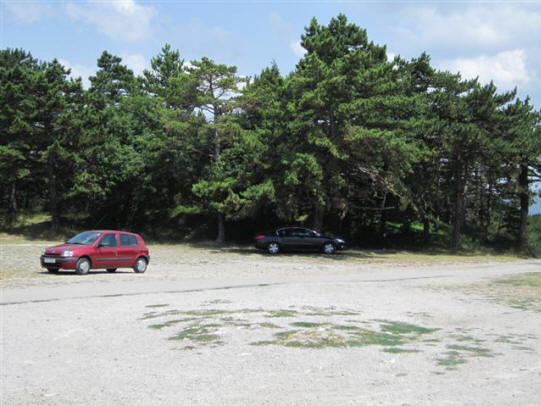 Marcia got these shots as we approached the castle.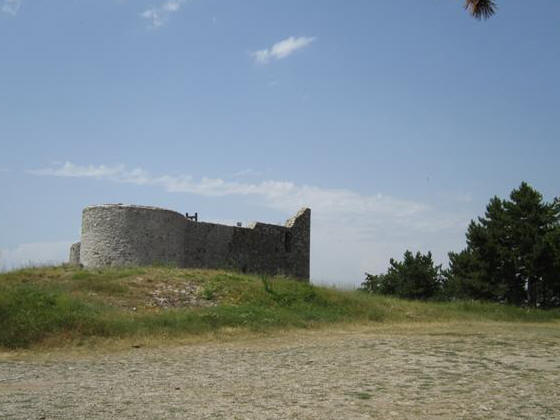 Marcia went over to the edge of the hill and asked these Slovenian tourists some directions. Then she headed over to the castle wall.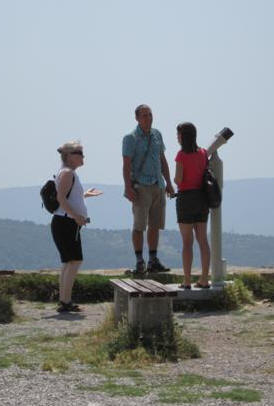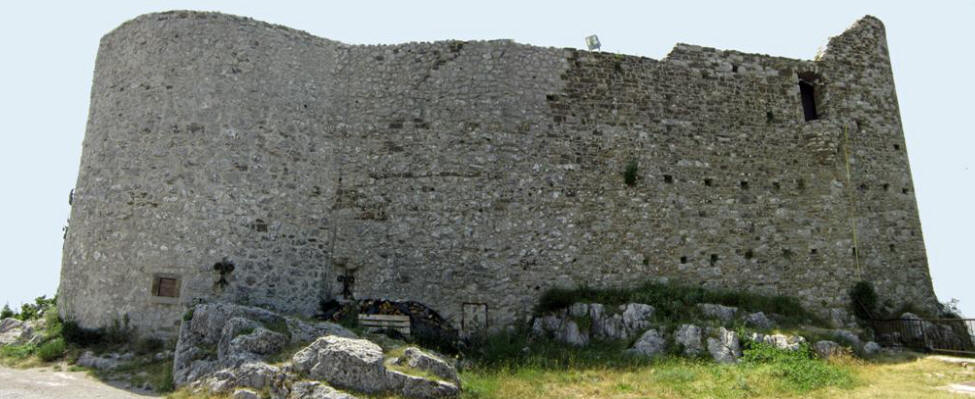 It's quite a stronghold. Below is the panoramic view from the castle which looks toward the Italian city of Trieste. You can see the Adriatic Sea and the large number of oil storage units in the valley. It is breathtaking.
I zoomed in on the city but it was a little hazy.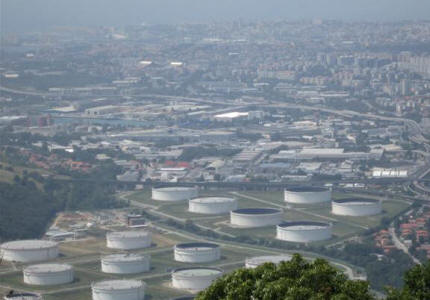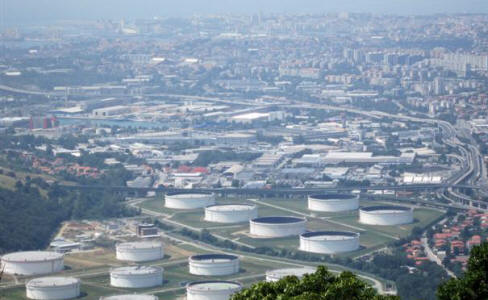 We walked up the stairs to the restaurant so Marcia could have lunch and after climbing up to the door we find that the it's closed.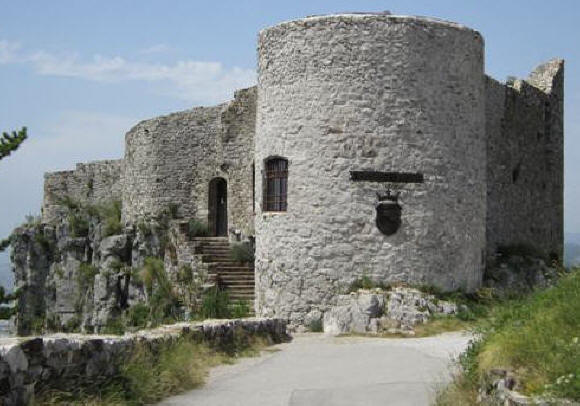 Here is the view looking back down. Notice the same wrought iron symbols on the wall that I saw on the City Walls of Piran.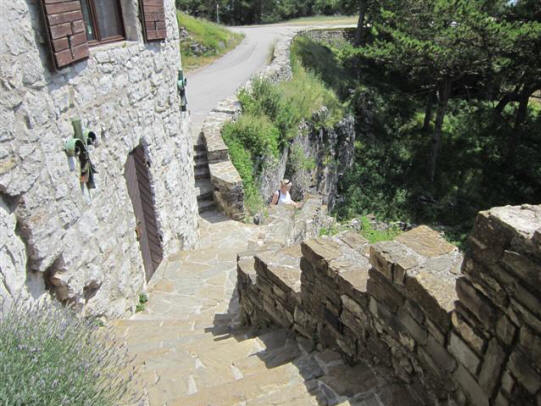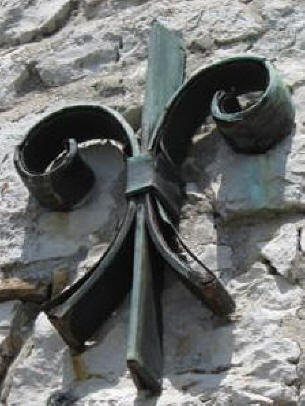 When we got back down, I then see the sign next to the door showing it doesn't open on weekdays until 6 PM (18:00.) Our usual luck.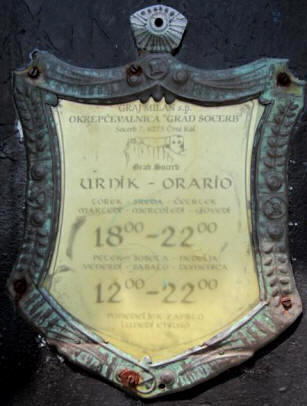 Since we couldn't get inside, here are stock photos of the interior walls (below left) and the central yard (right) thanks to www.Kraji.com.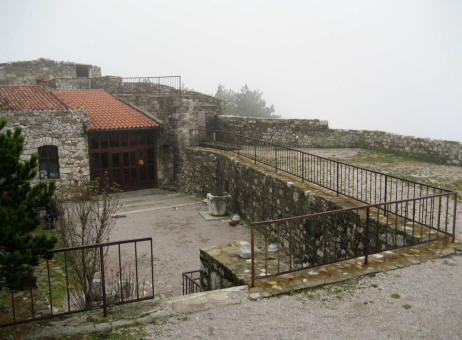 Below left is a stock photo of the Socerb castle museum which was also closed.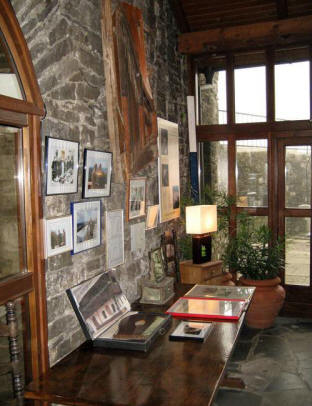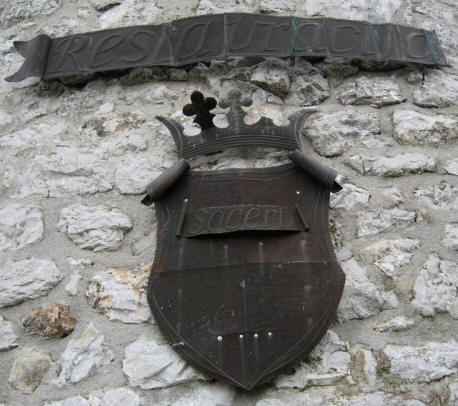 We did see the sign leading to the cave (below left) but we needed to get moving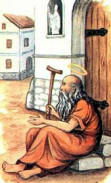 so we had to miss the Sveta Jama (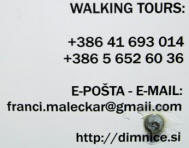 Holy Cave of St. Servulus) that is just up this road (below right) from the castle. Walking tours are offered if you are interested (left.) According to St. Gregory the Great, Servulus (died 590) (right) was afflicted with severe palsy since infancy, and lived on alms he solicited from people passing St. Clement's Church in Rome. He gave any excess to the poor and spent his lifetime giving thanks to God for His goodness, despite the squalor and pain of his life. He was buried in the very church where he had begged and his feast day is December 23rd.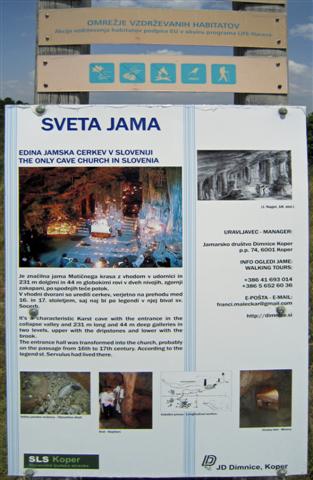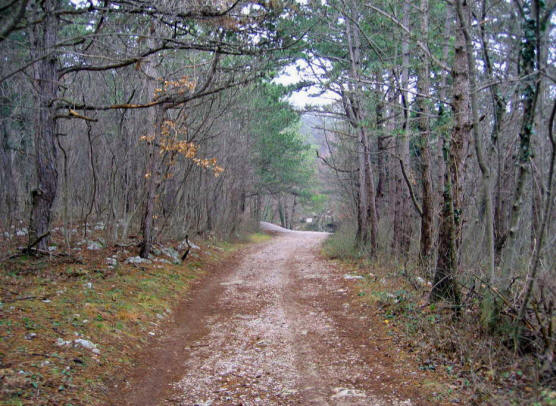 When you get there, below left is the entrance to the cave . Once inside (right,) this the place they turned into a church to honor the Saint.

Marcia got the shots of the sign explaining the cave and a photo of a Mass being said inside the cave (left) and a baptism (right.)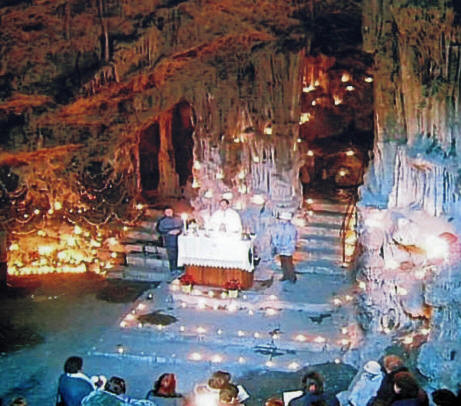 They note that there is a winery in the cave and there are special insects here as well.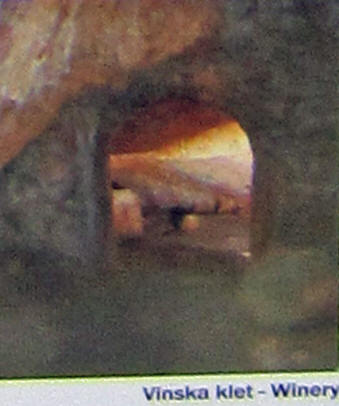 The castle was certainly worth seeing. You can see the power advantage the castle had over the whole valley (below left.) Below right is a shot of the little town of Socerb from the castle.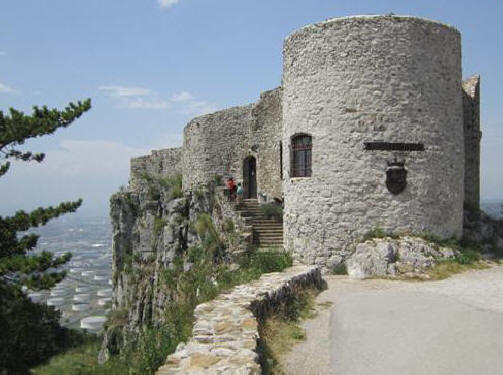 We had to leave so at 2:30 I drove the circuitous 18 miles (29.3 Km) from here to the

flatter plains below and to the famous town of Lipica. Lipica is a village in the Municipality of Sežana. It is the origin of the famous Viennese Lipizzaner horses. The Lipica stud farm was established in 1580 by Charles II (right) (1540–1590,) Archduke of Inner Austria (son of Ferdinand I, Holy Roman Emperor and father of Ferdinand II.) He had to bear the major burden of the wars against the Turks and the fortress of Karlstadt/Karlovac in Croatia (see later Diarios) was founded in 1579 and named after him. He almost married Queen Elizabeth I of England and Mary Queen of Scots. Charles also founded the University of Graz.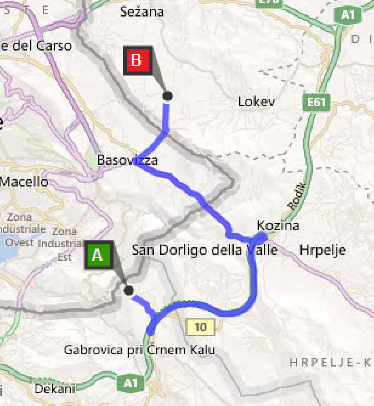 Today the stud farm is fully functional and breeds the finest horses for haute-école riding. The stud farm now also includes a hotel and leisure complex, a modern adjunct to a historical setting. Their name is derived from the Slovenian word lipa which means linden tree, which is common in this area. The first horses were bought here in 1581 from Andalusia, Spain (24 broodmares and 6 stallions). The Lipizzaner breed as we know it today was fully developed by the time of Maria Theresa of Austria. During WWII the Nazis confiscated all but a few of the horses and they had to start all over again after the war. Below is the entry gate to the stud farm and on the right is the hotel/spa complex.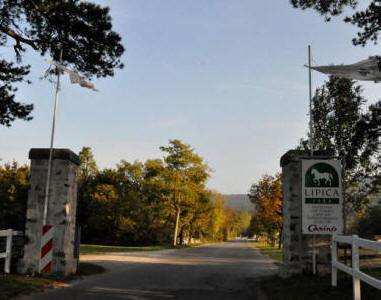 Below is a Google map of the property and a photo of the riding arena they have here (all from www.Kraji.com.)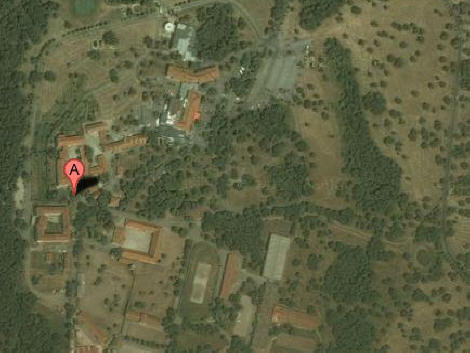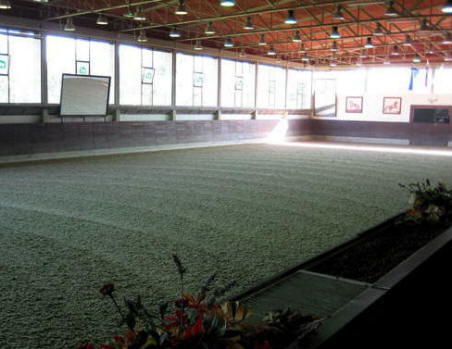 Below are stock photos of these beautiful horses in action.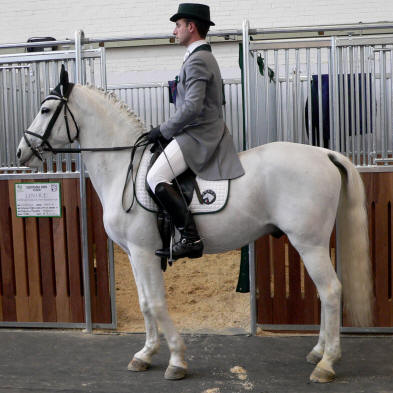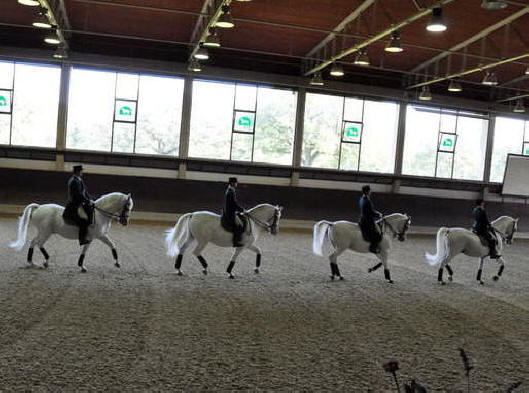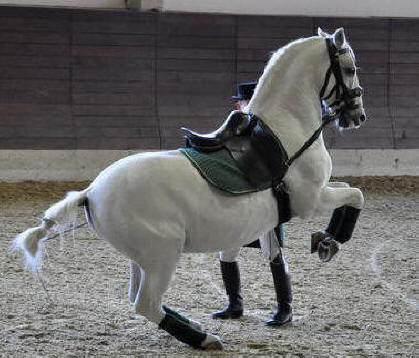 They also have a carriage museum on the property.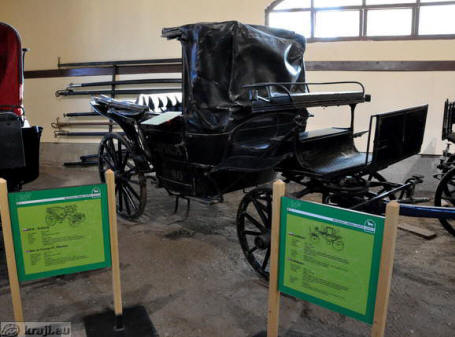 I kept driving until we came to a clearing where the upscale hotel is located. We stopped to figure out where the horses are.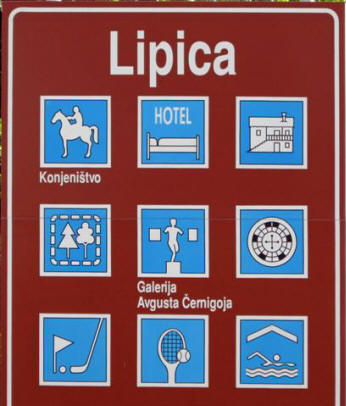 We never found anyone to ask so I just started driving through the acres of fields on the farm and at 2:55 we finally saw some Lipizzaner horses.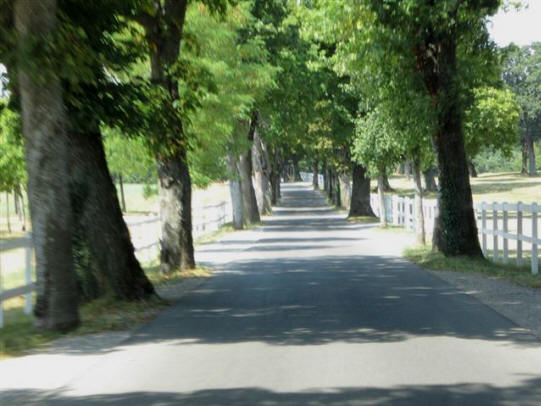 They were beautiful and it was fun watching the little colts prancing about and frolicking with each other. I thought they would all be white but they weren't.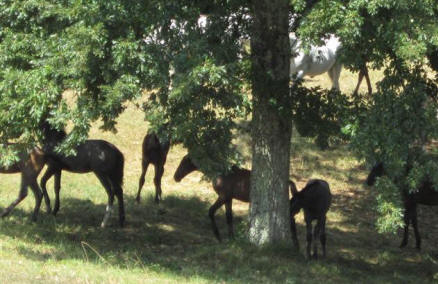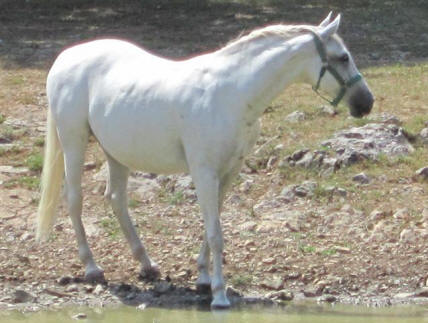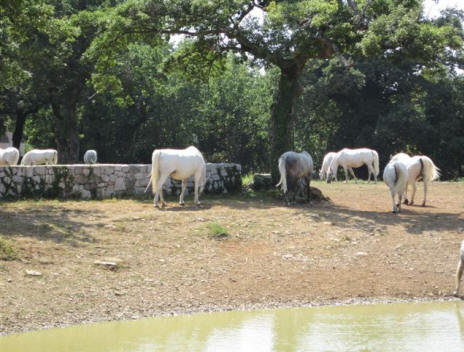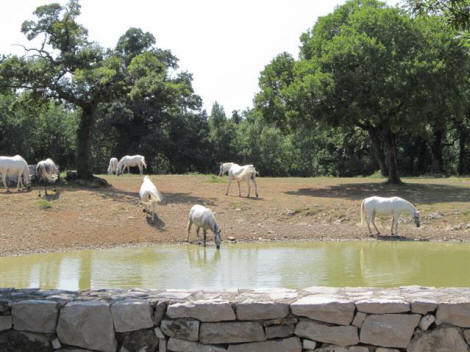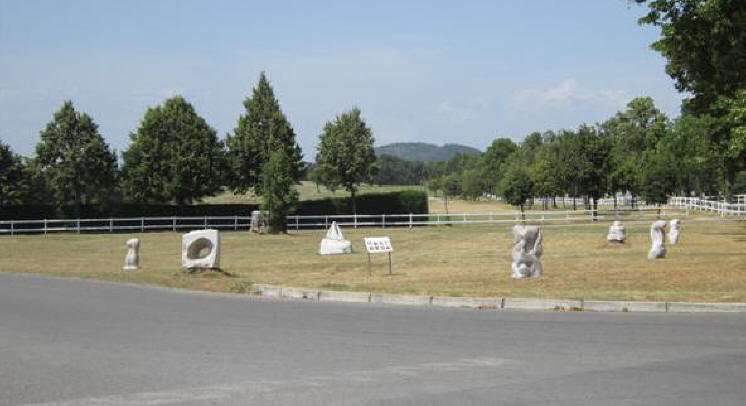 After seeing all those horses, we had to get on our way. At 3:10, I drove the 15.5 miles (25 Km) through Sežana (below left) to the town of Postojna and then northeast to their famous caves (below right.)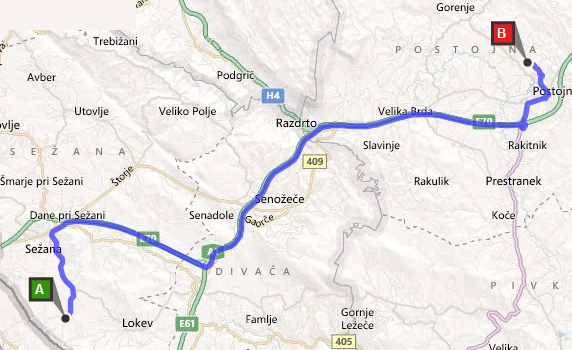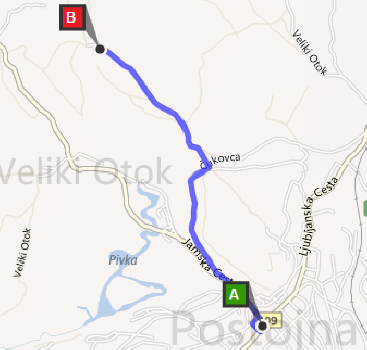 We arrived at 3:40 at the Jama (Cave in English, Grotta in Italian and Höhle in German) as they tell you on the pavement. They even painted in the umlaut (¨) over the O.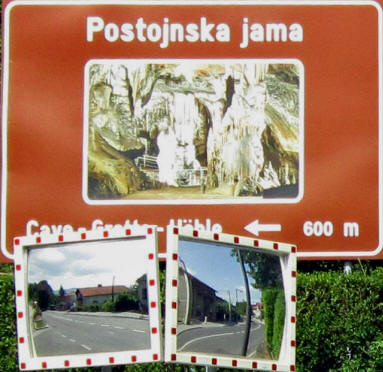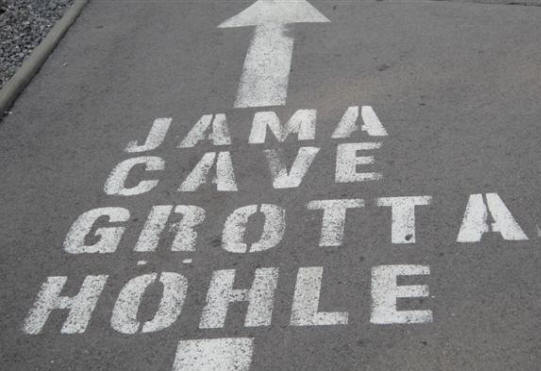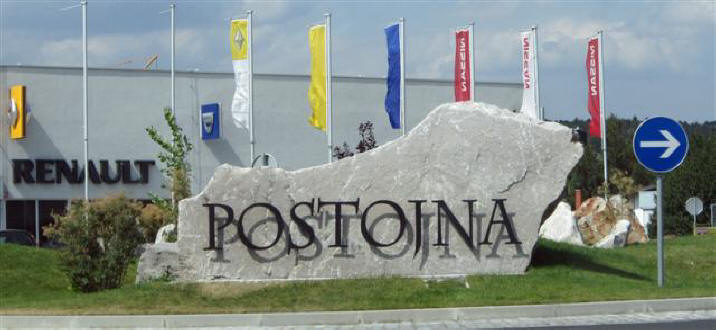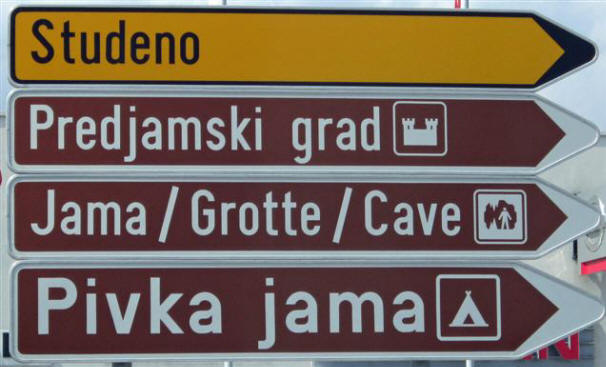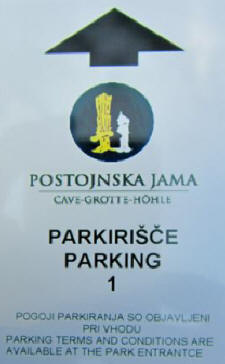 We found the large parking area and then Marcia was interested in lunch, so we looked at this little Grill (Žar) with outdoor tables. She didn't find anything she wanted so we continued on to the Cave center.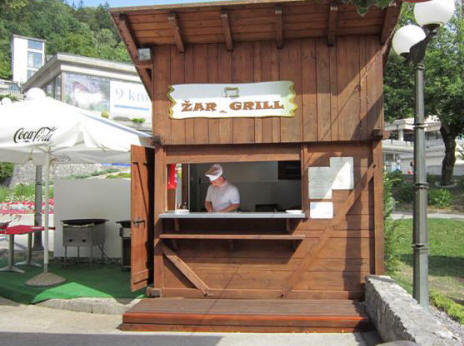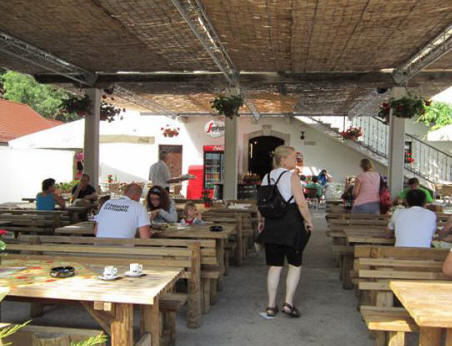 As you approach the center, you have to walk along the river and cross a bridge. A very idyllic place.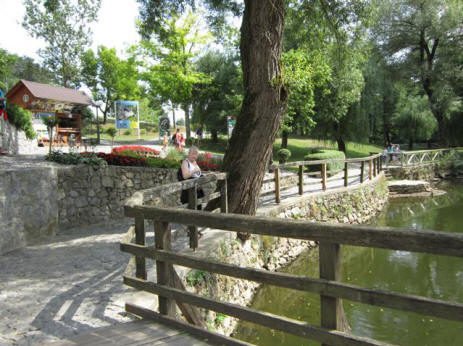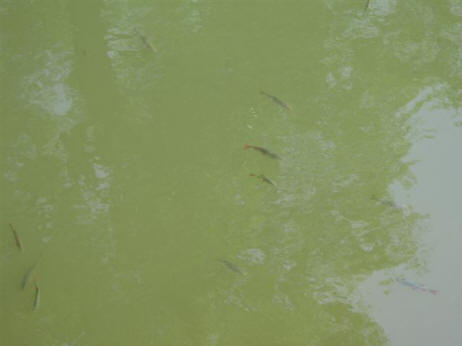 As you can see, the river is loaded with fish (above right.) A closer look (below left) shows they are quite large and have red fins and tails. As I walked by a shop, they had this map of Slovenia.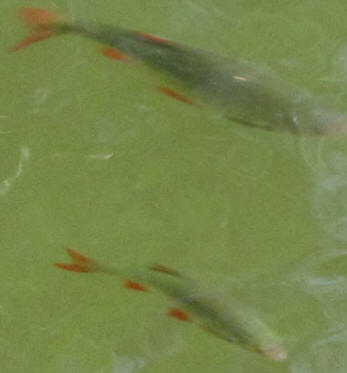 We finally reached the bridge and they had a map of the park and the region.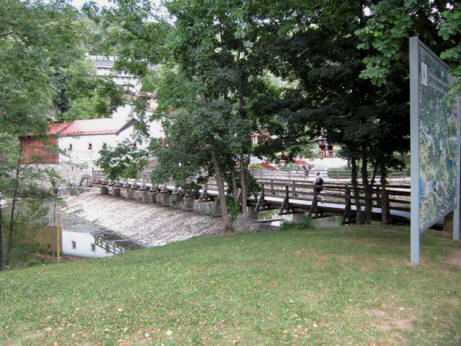 After crossing the wooden bridge, there is an old grinding mill (more later) on the left.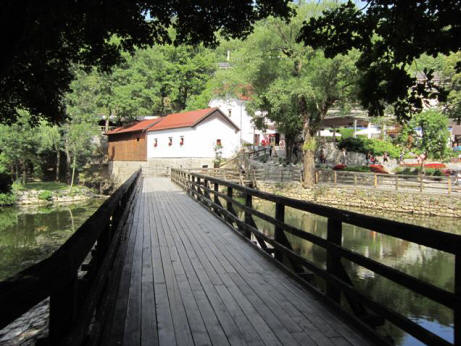 Once arriving in the main area, there are tons of souvenir shops selling all sorts of stuff. They also offer a Photo tour.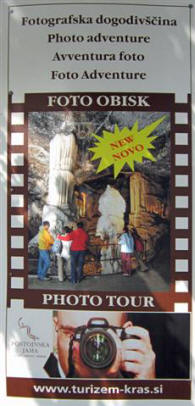 Thank heavens, they also had some eating places as well.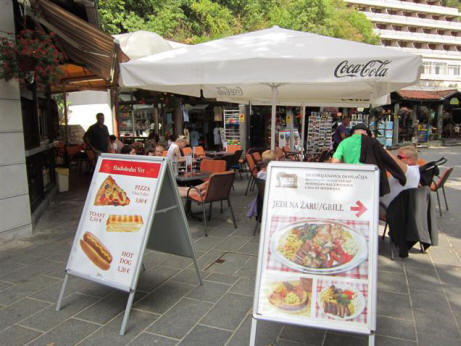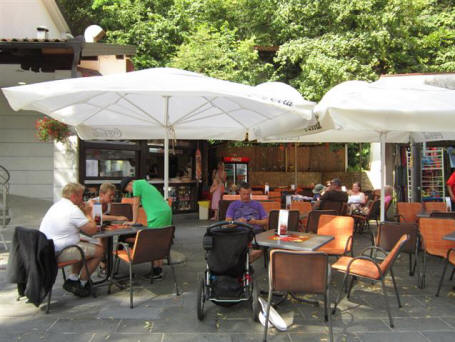 At 4:00 Marcia decided to have her quick lunch at the snack bar (above.) She had a tuna salad sandwich with a coke which cost €7.7 ($10.85.)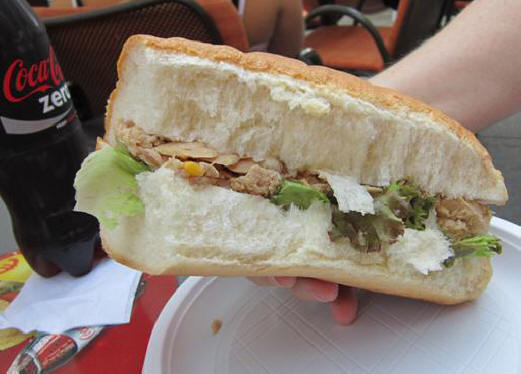 They also displayed an example of one of the old train cars that were used in the caves.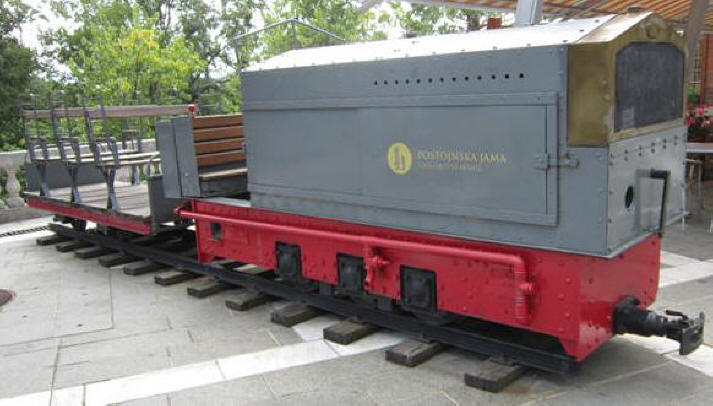 At 4:15 I bought the tickets for
touring the Postojna Jama which was Disney World-priced at €55.8 ($79) for the two of us. You can see below they had many packages you could purchase. Keep in mind that a € was equal to $1.42.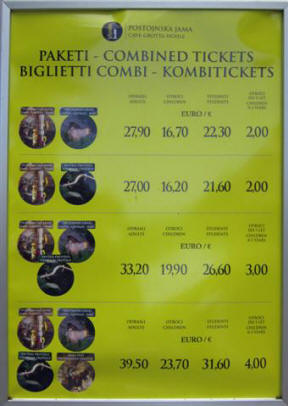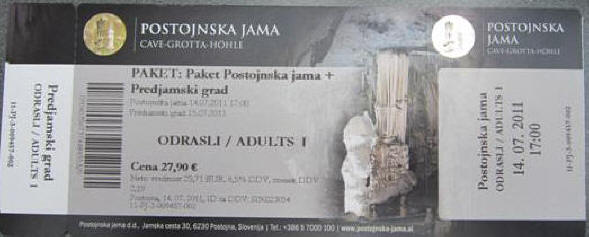 At 4:35 Marcia bought some lace and postcards at Lapis Butik.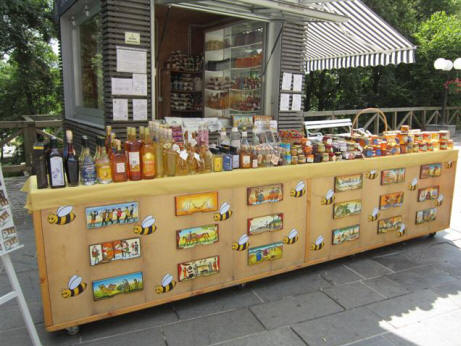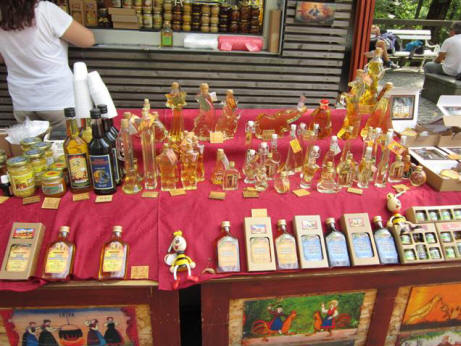 They had an art gallery there with these comical pieces about a pesky little boy peeing in the caves and another with him smoking causing the "human fish" (more later) to start gasping.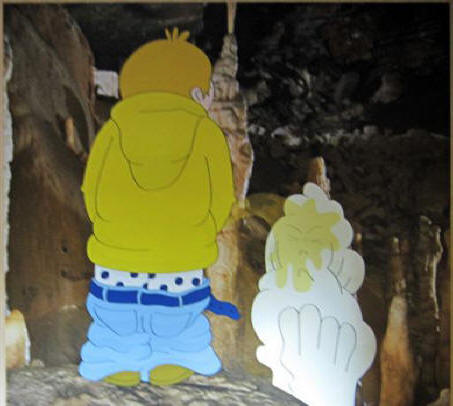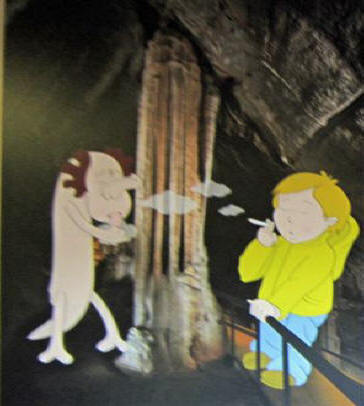 With tickets in hand, we headed for the entrance and had to go up this flight of stairs to the large building on the right.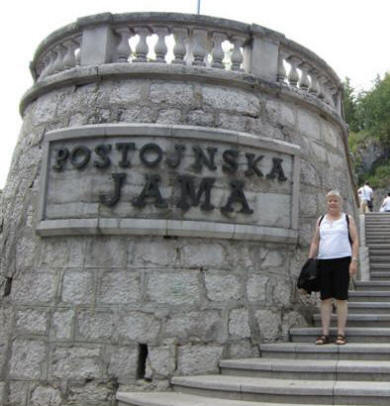 After walking all the way past the building, you come to this little hole (below) which is the entrance to the cave.
Then you enter this office. get in line, and at 5:00 we entered Postonjska Jama. Below right is a map of the extent of the cave system.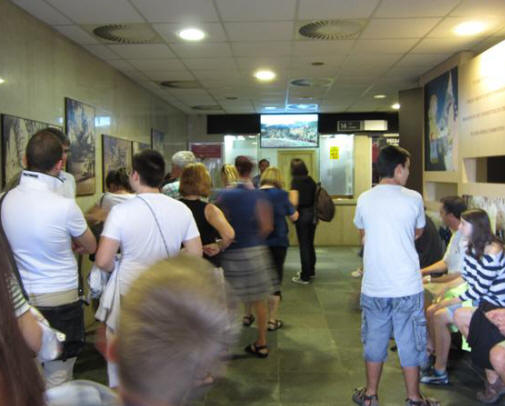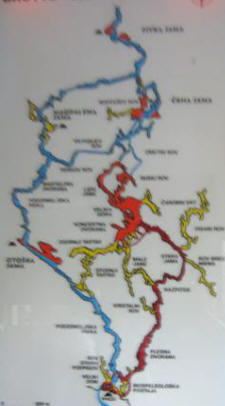 We got on this little train that sped us down into the bowels of the earth. It lasted 15 minutes and then we got off. The temperature down here (Branka) was 48°F.
This place was really done right. I thought I was at a Disney World attraction. We got off this tram and then had to get on another train down into the cave.
.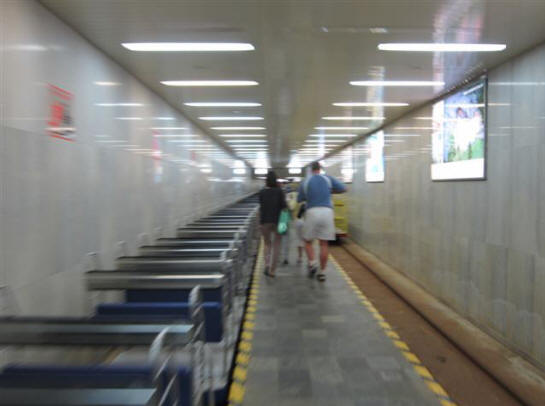 The instructions and warnings they posted were these cartoons.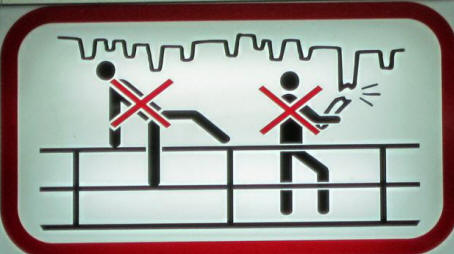 Below left is the train whizzing down into the depths. Photos were not allowed. When I took the photos below they were all black until I started apply lighting and contrast changes to them in Photoshop and voila; really nice pictures of the caves. If you have no interest in caves, just slide past them all with the slider on the right.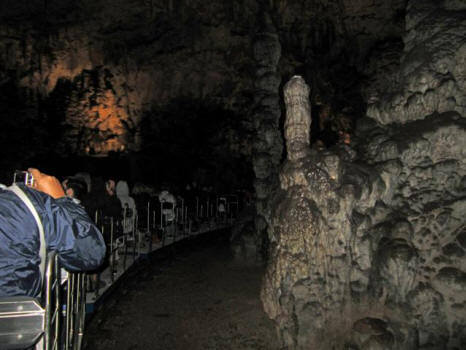 Here is a stock photo done with proper lighting.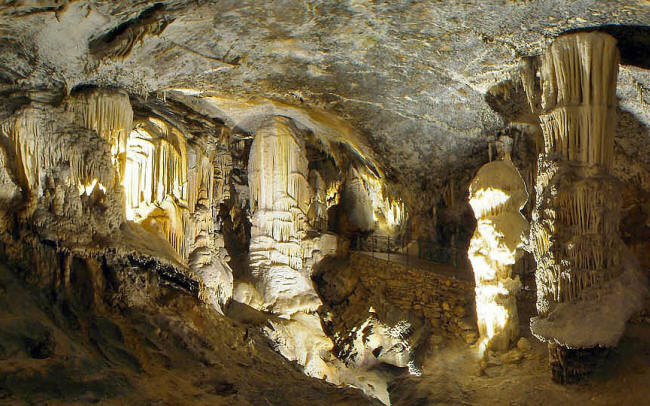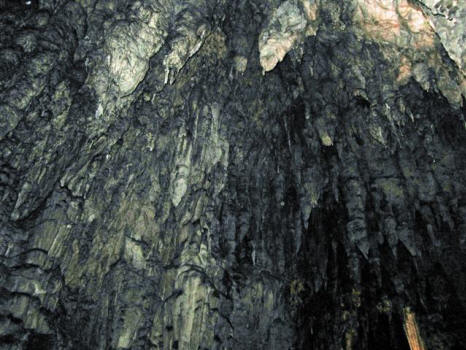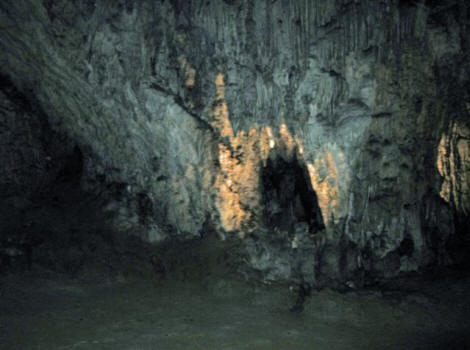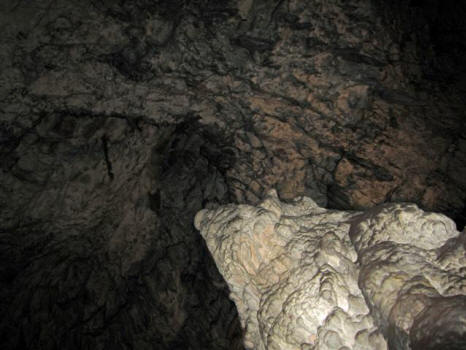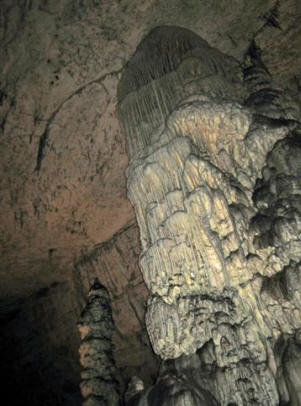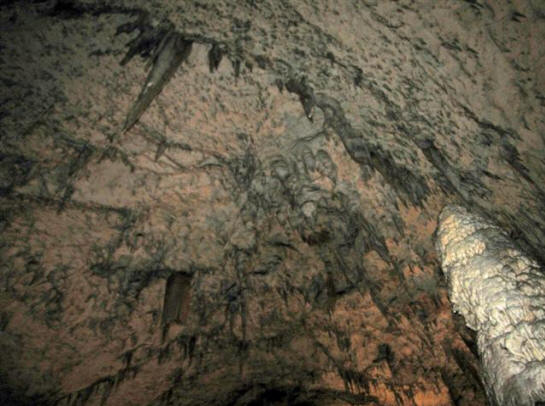 When we got off the train, we than had quite a long walk through the cave system. The floors were wet and slippery.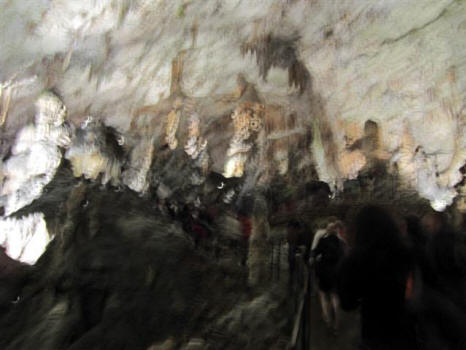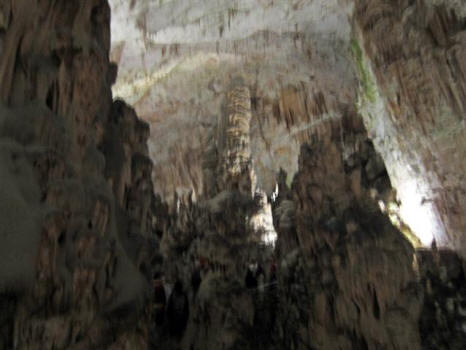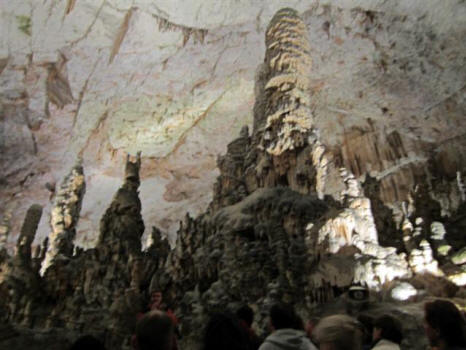 We were accompanied by a guide who would light up certain formations with his blue-light (center, right.)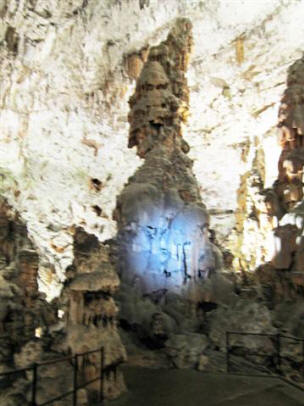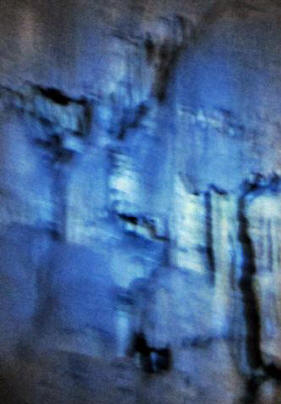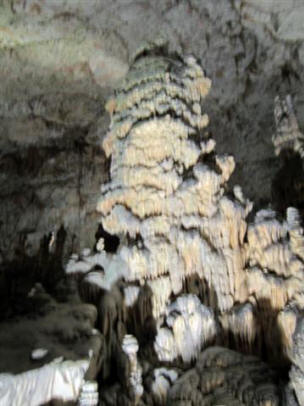 Below are four stock photos I found.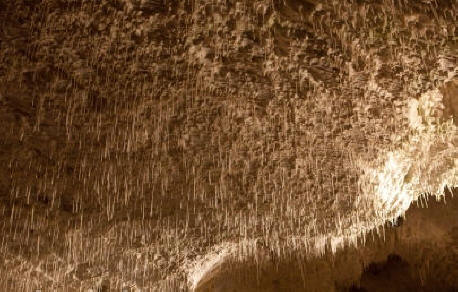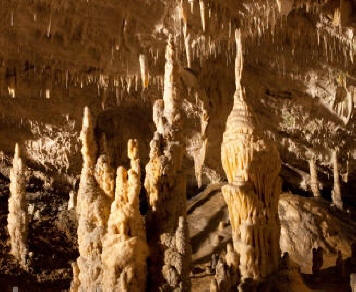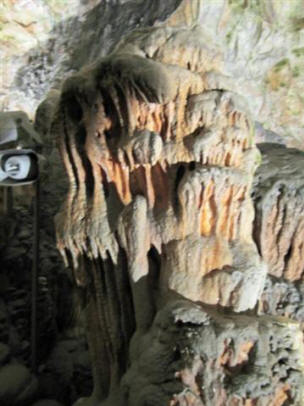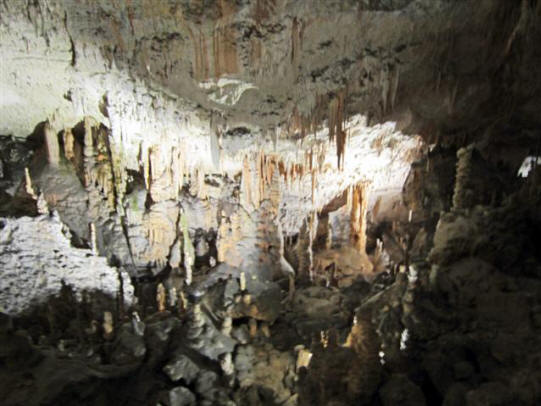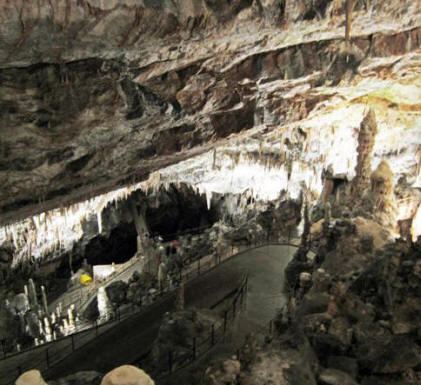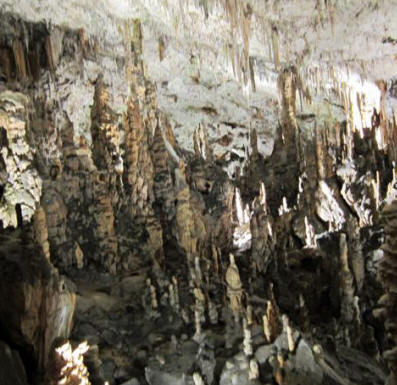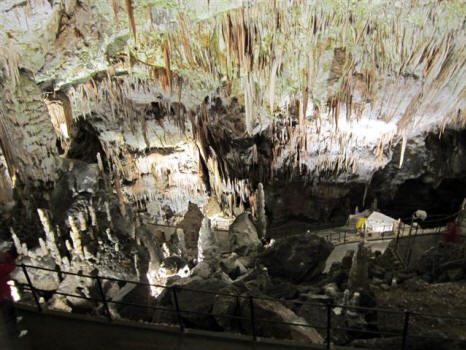 Every once in awhile I had to hurry up to catch up with our group since I was so busy hanging in the back to take pictures.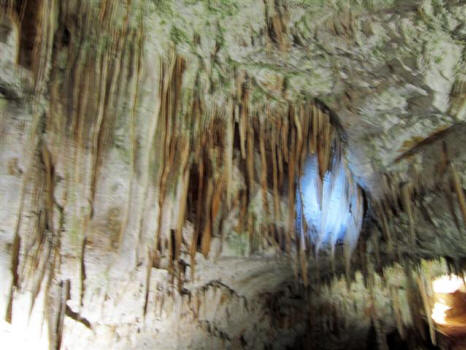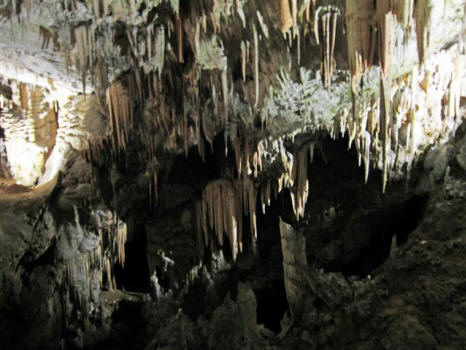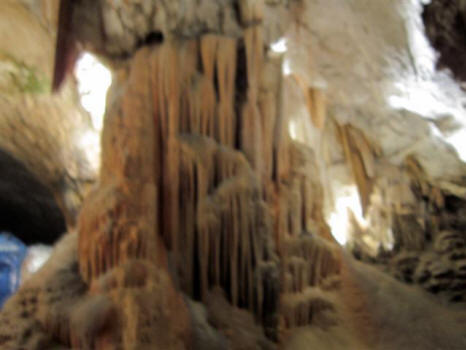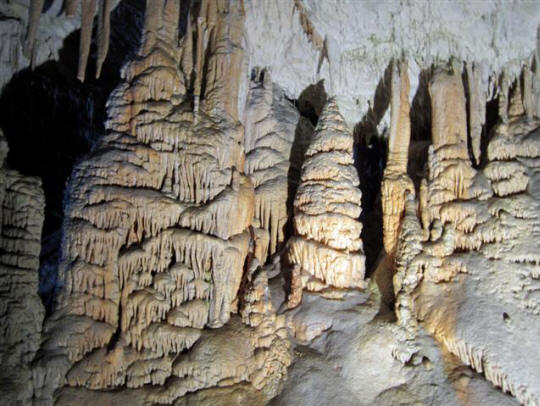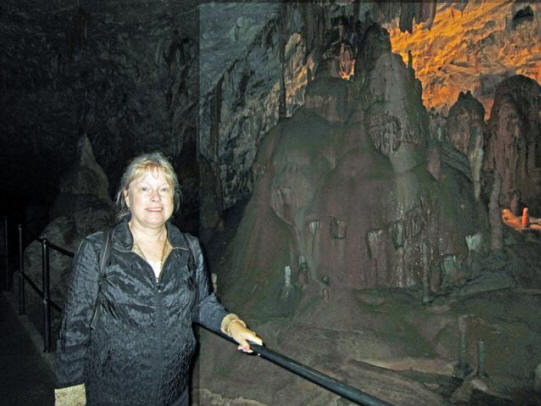 I got a shot of Marcia (above) and she took a few shots of me down here.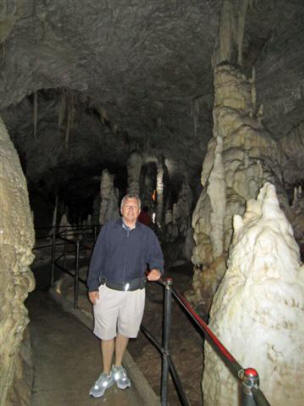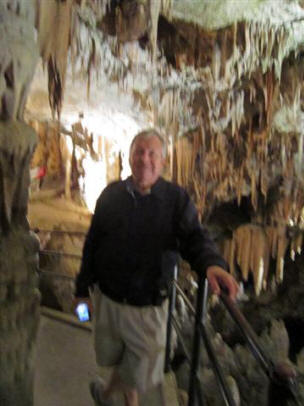 Marcia got this great shot (unedited.)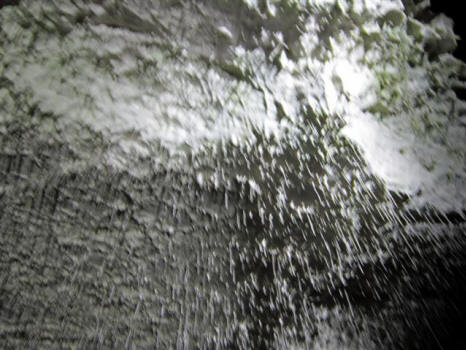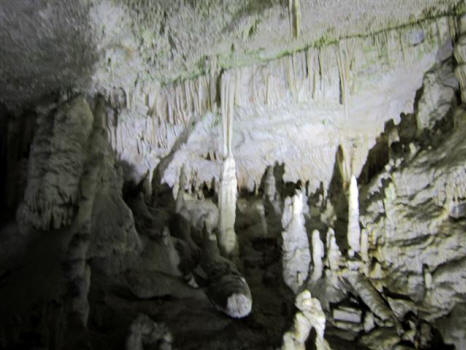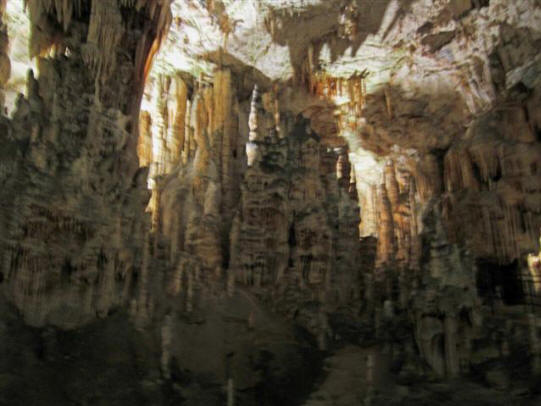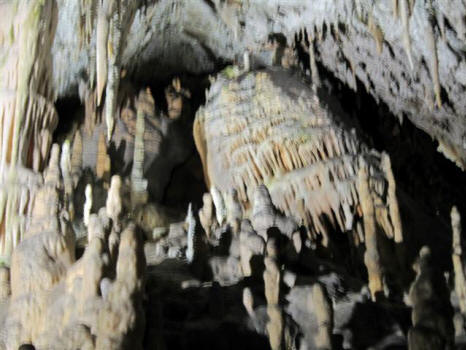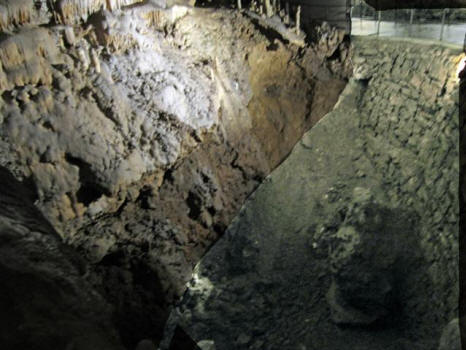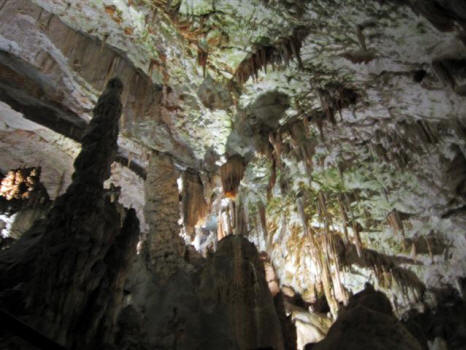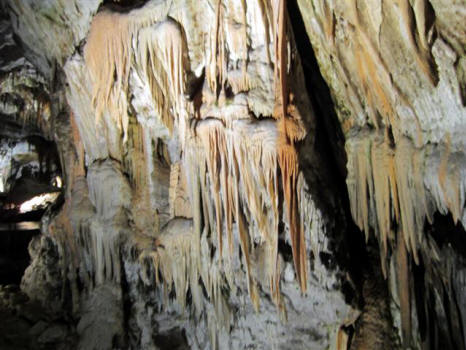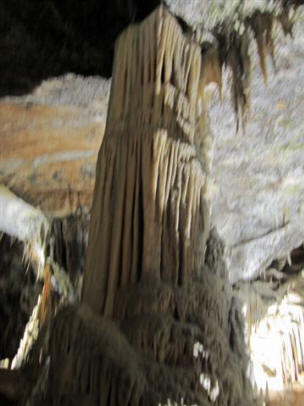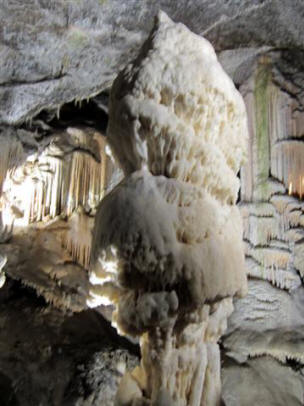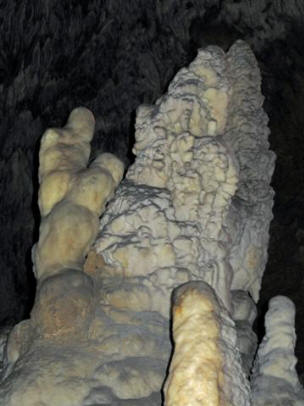 At 6:00 the tour was over and we went into the shop they have down here.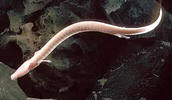 This is where you get to see the very strange little animal that only exists in these cave systems. It's called an olm (Latin name is Proteus anguinus (right) or just Proteus) but here they call it the "Human Fish" because of its resemblance in color to that of white humans. They have a tank in the center with these little guys scurrying around. They are hard to photograph because they are always moving but these are the best I was able to get.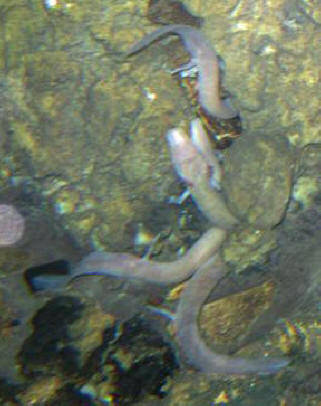 They have three fingers on their hands and only two on their legs.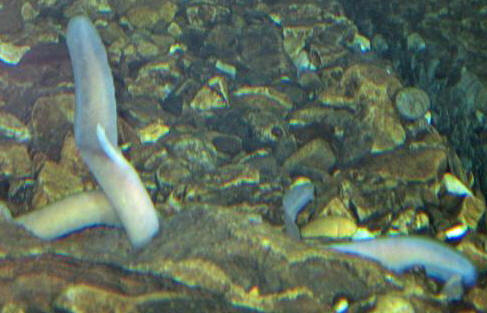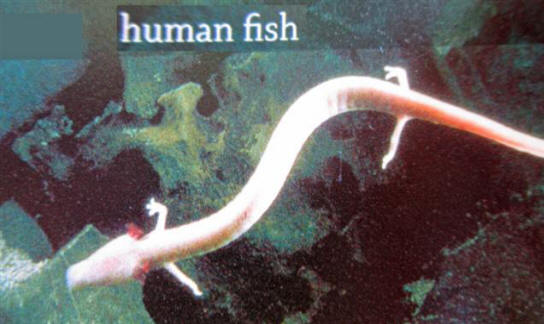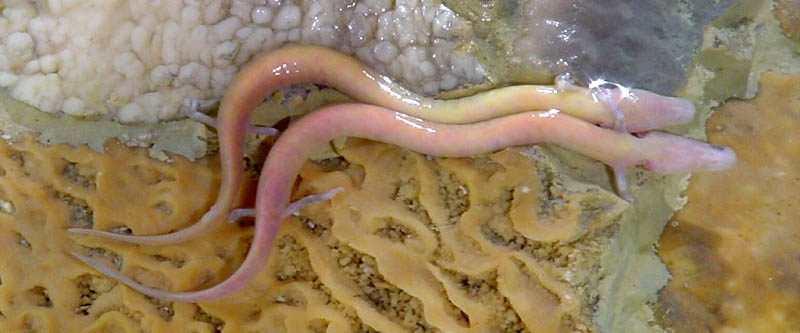 It's even denoted on a pre-Euro 1995 Slovenian 10 stotinov coin (above.) In the store they sell postcards (center) with pictures of Proteus that show the delicate red gills that project from the back of their heads. I didn't mention that these amphibians are blind and have extensive sensory organs on their heads. They also sell rubber figures of them (right) but I decided to just photograph them instead.


As you can see this place has really been set-up first class.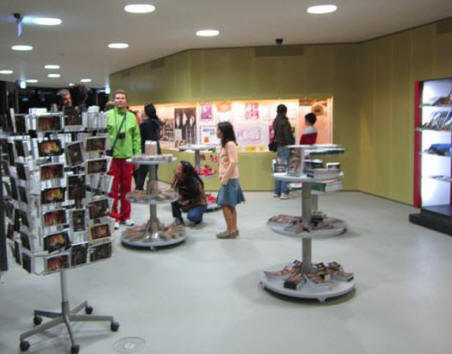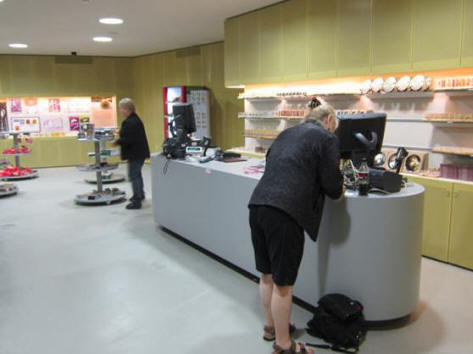 Marcia bought some postcards and stamps at the Cave Post Office in the store so she could mail them from here.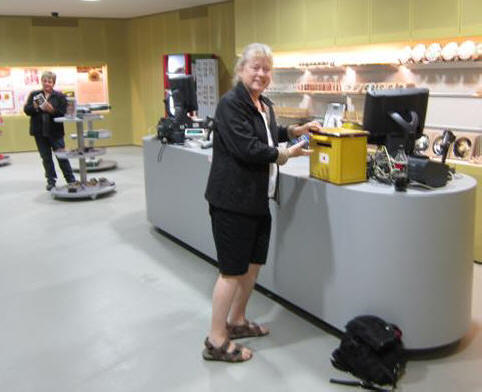 There was this poster on the wall (below left) which says "Adelburg cave (Postojnska jama) was a part of the Austrian province of Krain and at that time the Emperor Franz Joseph and his wife Elisabeth (Sissy) visited the cave in 1857 and 1883." I would say there were a few years difference between these two. At 6:30 we exited from the train that took us back up to the surface and we were offered photos to buy so I bought the one of Marcia for €6 (mine was horrible.)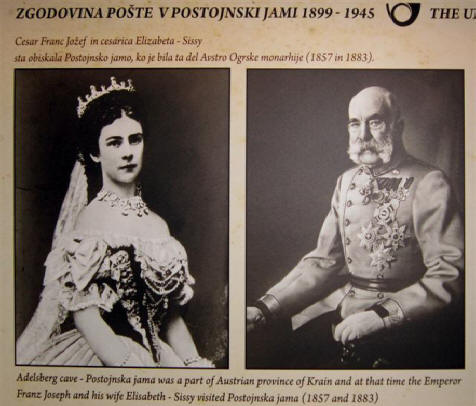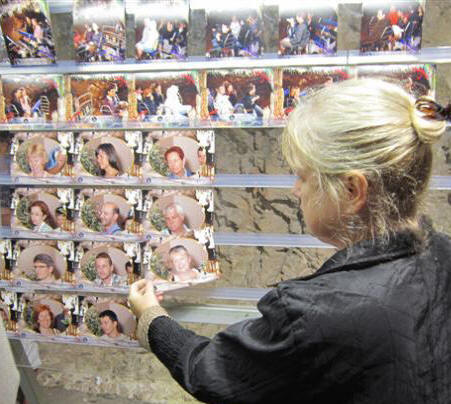 All along the walkway they had little Proteus directing you. There was also a large poster showing all the sights there are to see in this region.

We headed back down the hill to the area we entered. It was all very beatiful.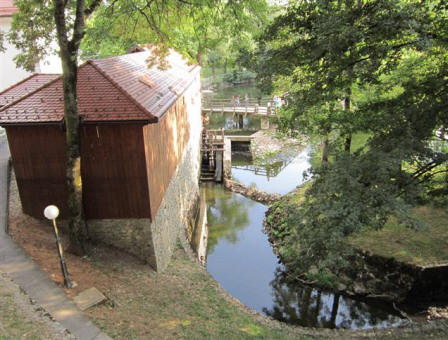 We arrived back at the mill...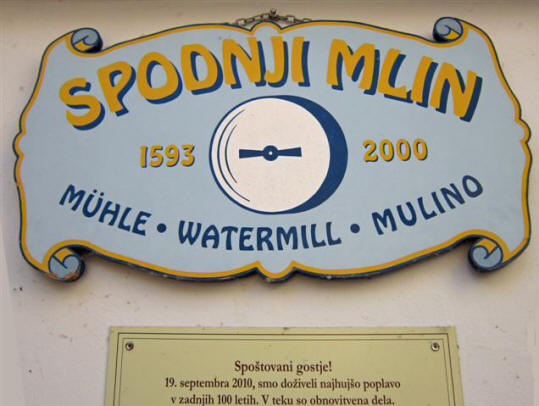 ...they call Spodnji Miln or "Lower Mill." The sign states "Spostovani gostje. Srno doziveli najhujso poplavu v zadnjih 100 leith. V teku so obovirvena dela," which means "Dear guests. On 9/19/2010, we experienced the worst flood in the last 100 years. The repair work is ongoing." Below are photos of how bad the flooding was right here.

Next to the mill were little shops, so we went in the largest one. At 7:10 this nice lady named Alexandra (frankopleškol13@yahoo) talked me into buying a set of Slovenian € coins for €50. She was very persuasive.
[When I got home I found I already had the same set.]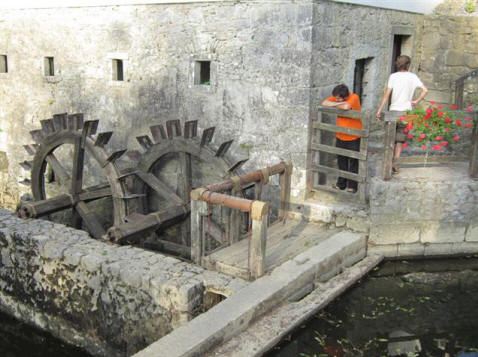 Because I had made a purchase and it was at the end of the day, Alexandra took us in for a private showing of the motor for the mill.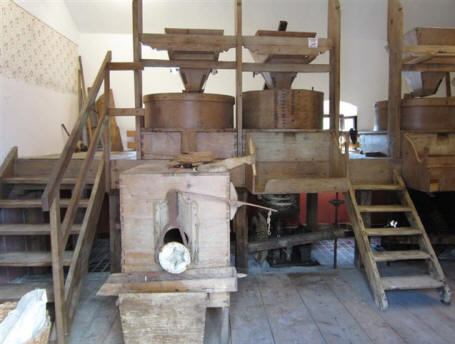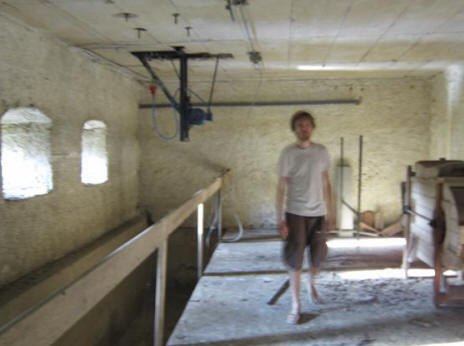 Marcia took these photos of the window from inside...
...and of the mill.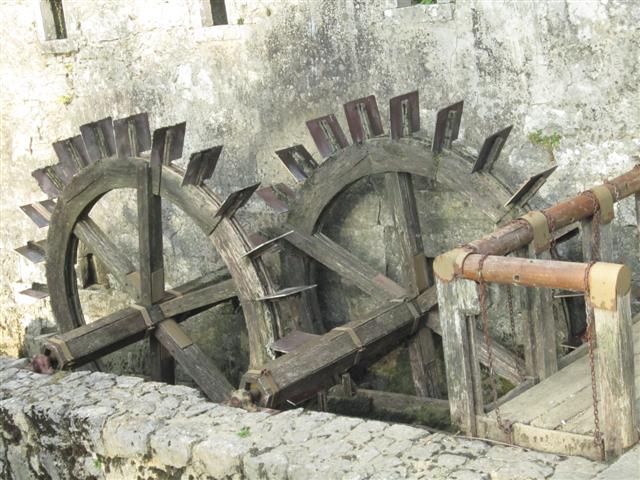 As we walked back over the bridge we spotted this mother duck tending her little brood.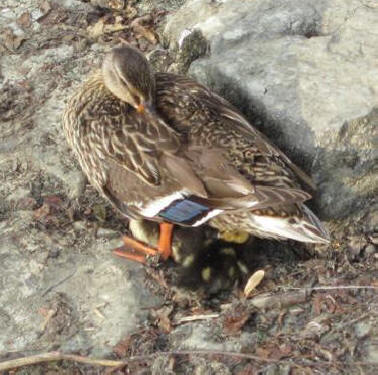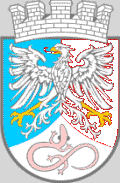 At 7:20 we paid the €3.5 parking fee and then the GPS took us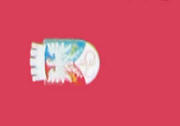 straight back to the city of Postojna (flag left, coat of arms right) and to our hotel. At 7:30 we checked into the Hotel Kras [Trzaska cesta 1,
+386-5-700-2252, booking@hotel-kras.si] and Jan, the receptionist took good care

of us and gave us Room #310. For the third time now, I found this hotel on Booking.com and it was fabulous. We took this modern brand-new elevator to the floor. This was probably one of the nicest rooms we have stayed in during all our many trips in the EU. What a bargain. If you come here, you have to stay at Hotel Kras.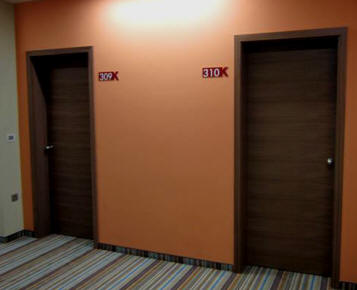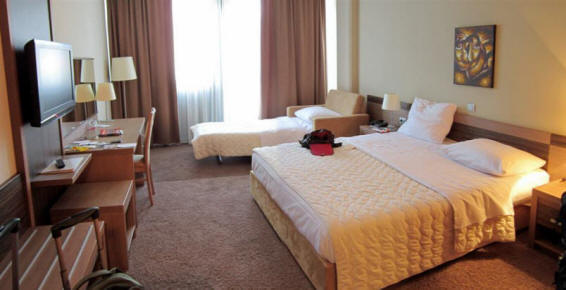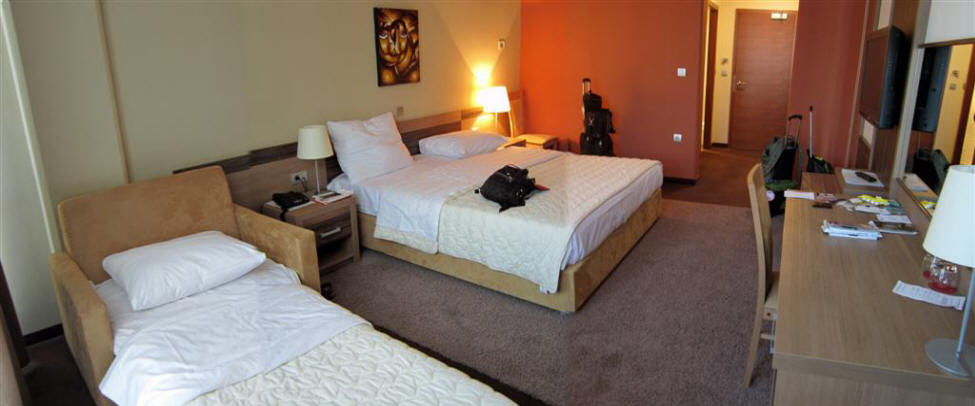 We got unpacked and at 8:00 I went downstairs to have a look around and the outside patio looked so inviting, with all the people filling the main square, I decided to sit and have a Union beer at the hotel's Kavarna patio. Marcia joined me later and had a glass of wine.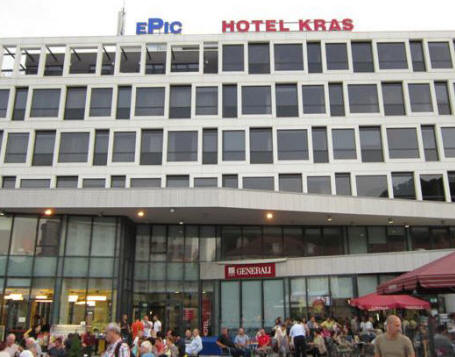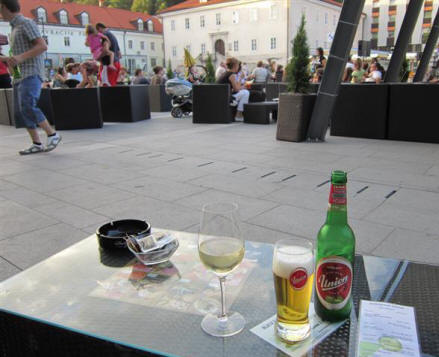 There were all kinds of activities going on. They had a table set up selling fruit drinks and cocktails on one side (below left.) On the other they had this tap beer set up for €2 for a half liter (below right.)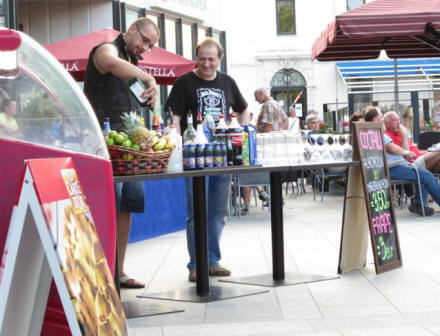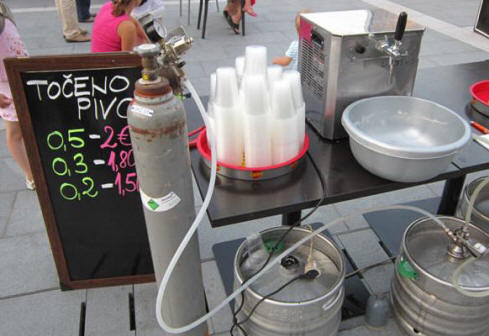 It sure was a lovely balmy evening and at 8:15 the band started playing in the tent set up in the Trg. The sign "kulturni utrip poletja" means "cultural pulse of summer."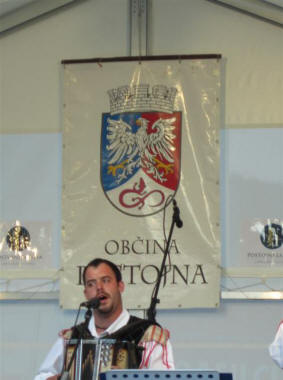 They were playing Slovenian music and it was great. The architect for the Kras Hotel certainly had some fun with the size and shape of the windows.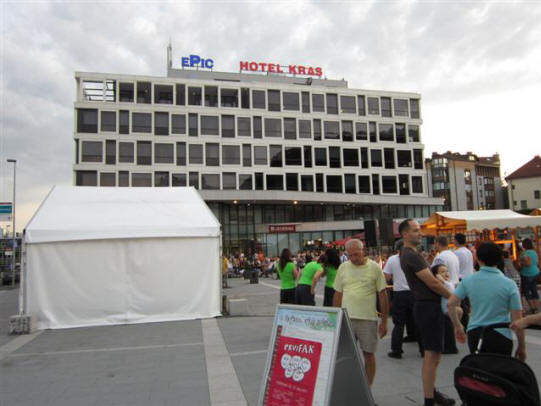 I walked around the trg a little and saw the City Hall building with city, country and EU flags in front.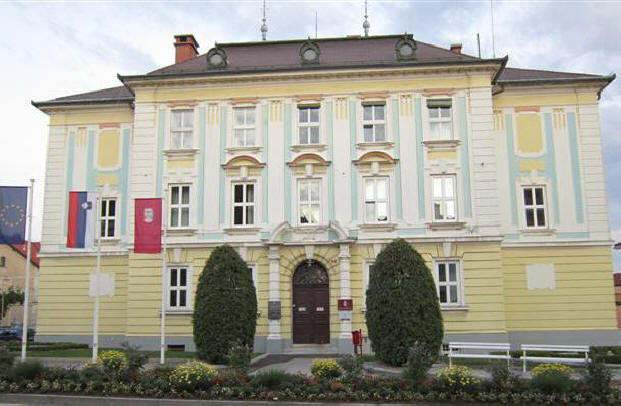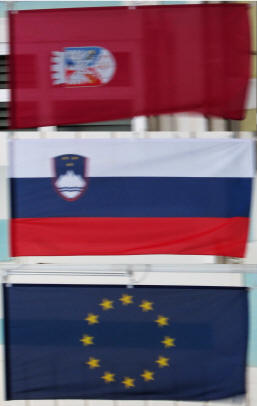 Below (left) is another official building and (right) an apartment building with stores on the ground floor.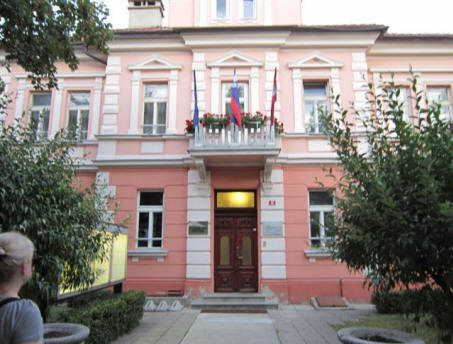 After enjoying the Slovenian music, we headed out for dinner. At 9:00 we sat down for dinner at Gostilna Pizzerija Minutka [Ljublyanska cesta 14,
+386-5-720-3625.] We were given a seat outside in the patio which was very nice.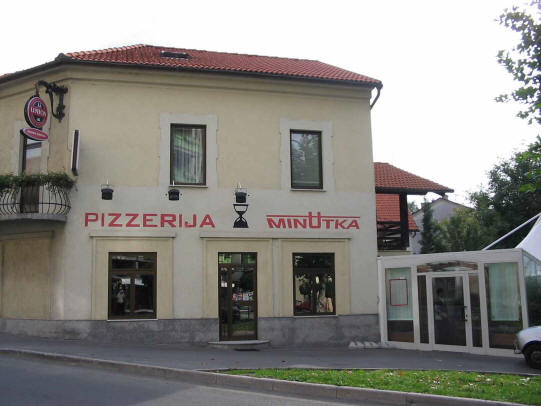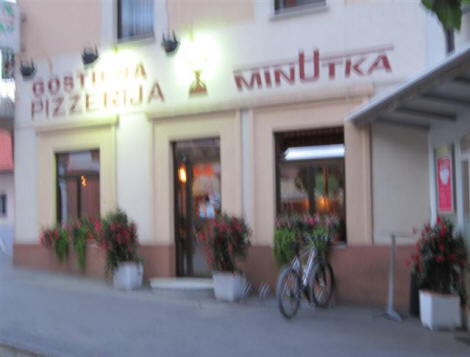 For a pizzeria, they sure had an extensive menu.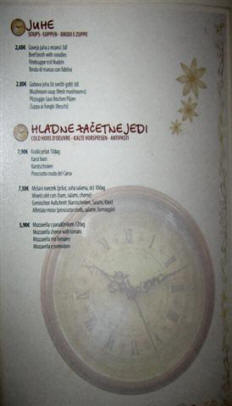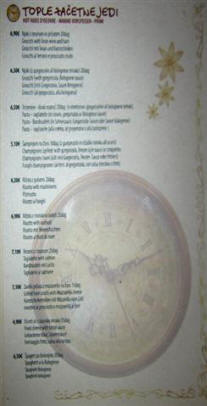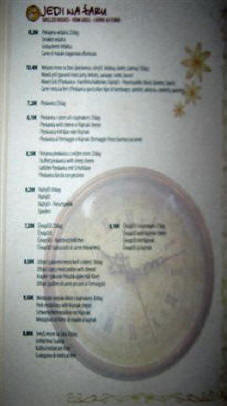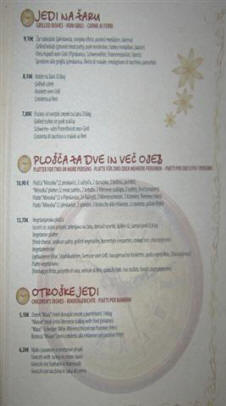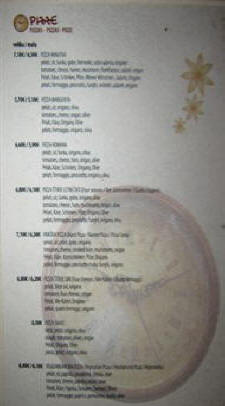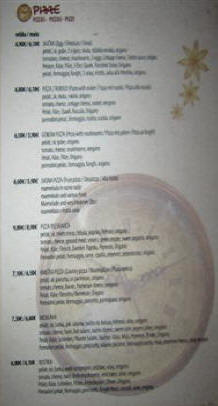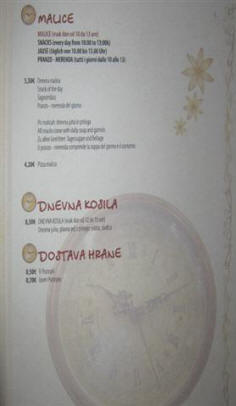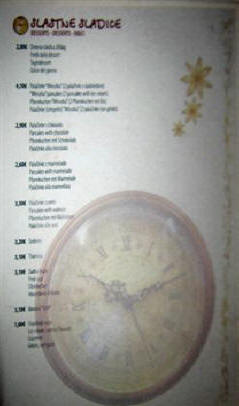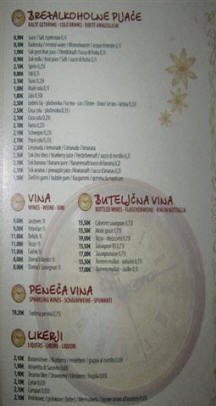 We ordered a bottle of Rademska sparkling water and a bottle they were advertising (below left) of 2010 Kmetija Tomažìč Mesec Roseja (rosé) wine. Their little bar was standup only.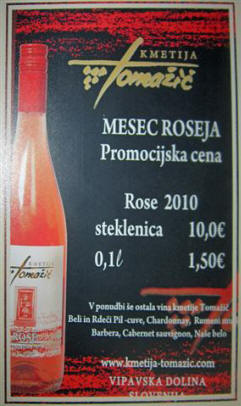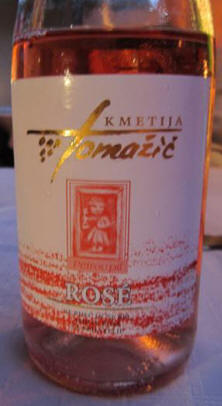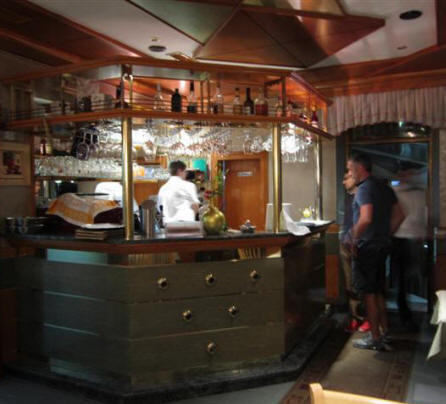 I started out with two appetizers: Prebanec 30dag (white bean hotpot) (below left) which was a little spicy, followed by Zavitka pršuta z muzzarello (grilled prosciutto scrolls with mozzarella inside) (below right.)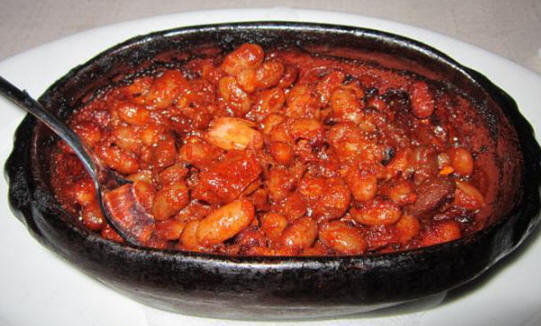 Both were interesting and tasty. We're at a pizzeria, so Marcia and I split a pizza as our entrée; my half was pizza Margherita (upper) and her half was with vegetables (lower.)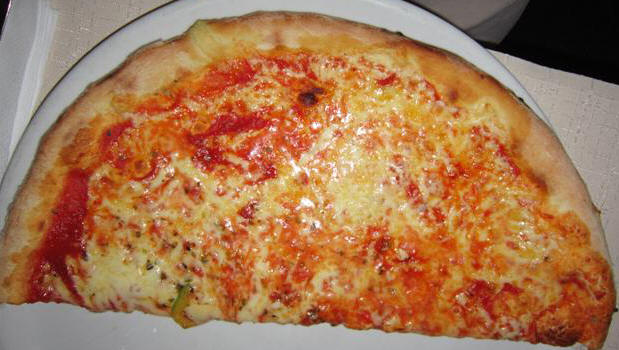 We both enjoyed it very much. Our waiter was Mirel (below left) from Bosnia-Herzegovina (of the old Yugoslavia.) We rated our dinner as Very Good and it only cost €28.2 ($40.)
[I've since noted it is ranked #2 of 11 restaurants in Postojna at www.TripAdvisor.com.]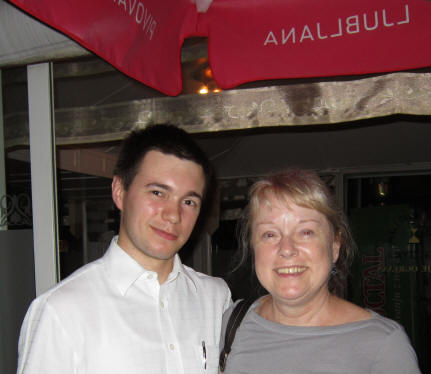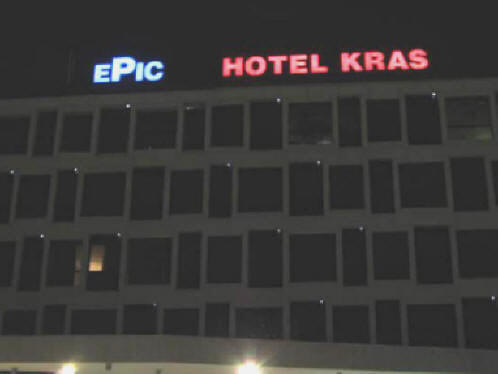 Above right was the view of our hotel as we got back to the main plaza. At 11:10 we went over to the Sports Bar next door to the hotel for an after-dinner drink. The live bands were still playing and it was pretty raucous in the main square with a full moon above.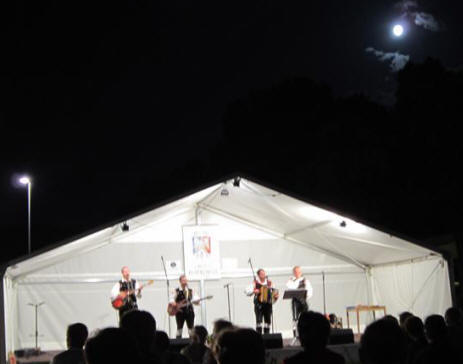 Marcia had a white Slovenian Sauvignon blanc wine and I had a Laško dark (toceno) beer.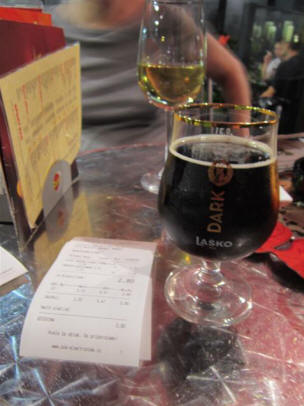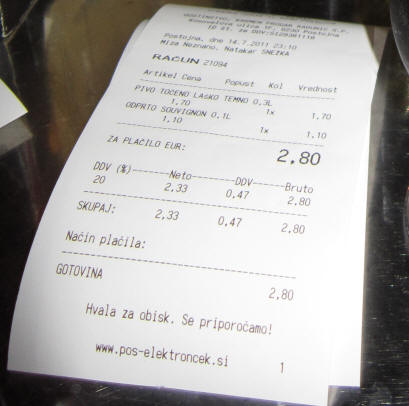 That beer was really dark and a little on the bitter side. The total bill was only €2.8 ($4) and the beer was 0.60¢ more than the wine.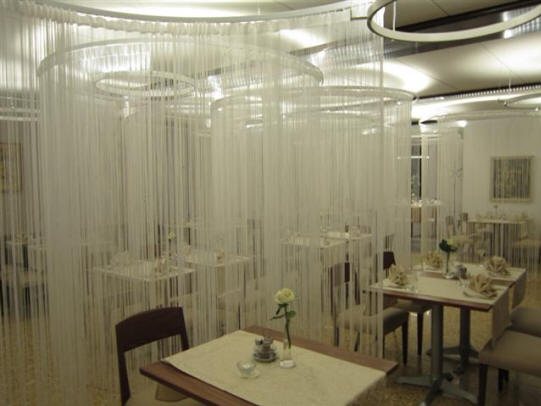 We finally gave up and as we walked through the lobby we peaked into the hotel dining room which was rather interestingly decorated. We got back to our fabulous room at 11:45 and with free WiFi I downloaded Rush, got the crossword and did my AOL email. I got to bed at 1 AM. This was one heckova long day.
Kenneth J. Hoffer, MD
KHofferMD@AOL.com
Postojna, Slovenia
6-26-2012
If you enjoyed these travels or wish to add comments on the places we visited
Please Leave Me a Message by clicking the spinning @ sign below.