Dr. Hoffer's Travel Site This site was last updated 05/05/11

Tuesday June 14, 2005
I don't know where the time went but by the time I was ready to get in bed I looked at my watch and was astounded to see it was 5:00 AM. I was unable to comprehend why it was so late. I fell asleep in 2 seconds. I awoke for the first time at 3:30 PM and couldn't believe it. Marcia was also asleep and since the BMW place closes at 3:30 PM, I realized we weren't getting the car today. Marcia wants to go to Dachau but I would rather wait until our German trip in 2007. Will see who wins on this one. It was a struggle getting myself up to run and I kidded with Marcia that maybe I could stop running while on the trip and start back up when we get home - she just looked at me and laughed, knowing I wouldn't.
I did go for my run toward Marienplatz but by a different route. Many interesting streets and shops along the way including this new church, a dragon on the City Hall and my favorite EYE.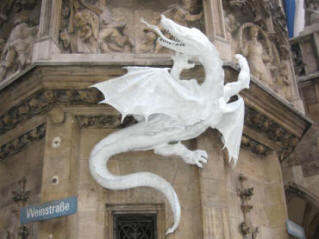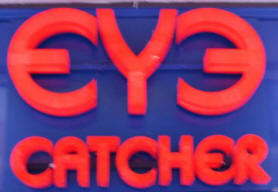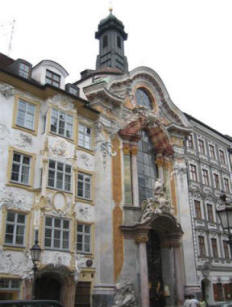 Munich is really a very beautiful and lively city. After my run I tried the cappuccino at the new San Francisco Coffee Company [Leopoldstrasse 31] where they have Hot-spot internet for €2.90 ($3.80) for one hour. The coffee was so-so. I did the internet upload of the website and then walked outside into the pouring rain. Of course I did not have my umbrella or all weather running suit so I was prepared to have an early shower. I ran like mad all the way back to the hotel and walked in and found Marcia enjoying a glass of wine in the beautiful lobby. It was now 9:30 and we needed to find a late night place to eat. I had remembered a place from 2003 and looked it up on the Palm.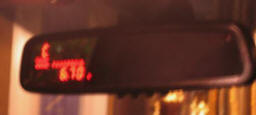 It was called Lenbach (review) [Ottostrassa 6,
+49-89-549-1300]. The concierge called and they would take us. I ran up to the room, showered and changed and we caught a cab in the rain and got there just in time. The cabs here have the running charges appear in the rearview mirror. The place is very nice and very large but I forgot how the food was.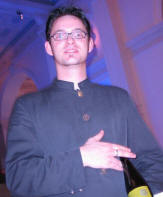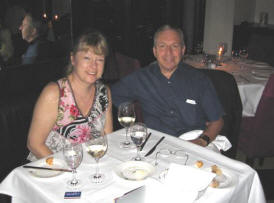 Our waiter Benjamin, was excellent except for when he bounced my new Canon camera on the floor. By the way, I am doing these photos totally differently because I haven't even completed the Scandinavia trip due to the photos taking up so much of my time. This time I am only using the Canon 7 mega pixel camera which takes fabulous shots that can be blown up to film quality 8x10 s. The camera dumps them automatically into the computer and then I simply select those I want to use and right click to get the Microsoft Tool called "Resize Photos". You can choose small, medium, large or size to fit a PDA screen. I click small which creates beautiful photos but not so big as to drag out the downloading. I am also writing these in the FrontPage website creator instead of doing it in Word and copy/pasting. I hope this allows me to keep up to date.
I had a Warfahren bier and Marcia a champagne. We decided to drink German wine and got a bottle of local Riesling which was very good. I skipped the appetizer but Marcia had asparagus salad which she loved. For dinner I chose my favorite, ostrich which was prepared as well as I have ever had it. What makes it taste so good is that is has practically no fat or cholesterol. Marcia had turbot fish. This was a fantastic meal and worth it.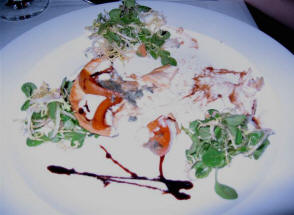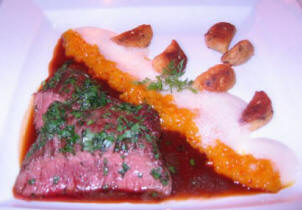 Marcia had an apricot torte for dessert with sweet Riesling while I had an espresso. Since it was still raining we took a cab back and decided to try the cute little hotel bar again. As we were sitting down, I noticed a Kuwaiti man taking a fancy to Marcia. He started talking to her and then he noticed I was with her. That put Mom in a good mood. The bartender that I saw the previous night was there. I thought he was a ringer for Tom Cruise - see what you think.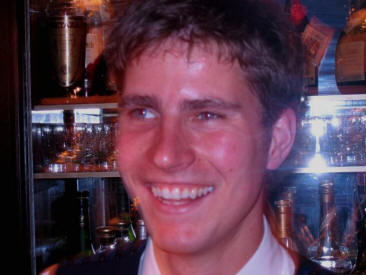 It was a very romantic evening and I guess we are shaking the jetlag slowly but surely.
Kenneth J. Hoffer, MD
KHofferMD@AOL.com
Munich, Germany
Sent 6-14-05
If you enjoyed these travels or wish to add comments on the places we visited
Please Leave Me a Message by clicking the spinning @ sign.