Dr. Hoffer's Travel Site This site was last updated 05/05/11

---
Tuesday, June 21, 2005
---
I woke up at 7:15 AM and then slept until 2:30 PM finally getting up at 3:00. I worked on the website for a little while and by 4:45 we were on our way to downtown Milano and would never have made it without the GPS system. This new GPS has the same woman's voice we have been used to but it projects the map in a new 3-D perspective that is quite nice. It still makes the occasional mistakes so you have to look at the signs as well. While driving to the Duomo (cathedral) I noticed that the SONY Vaio computer screen had developed a vertical thick red line 3/4ths the way up the center. Then a green line appeared on the left of it and the screen seemed to flicker. I shut it down hoping it was a software problem but I had a horrible feeling it wasn't. We drove around and finally found a parking spot and I put the computer in the trunk. We walked past the Duomo which is now totally covered in scaffolding.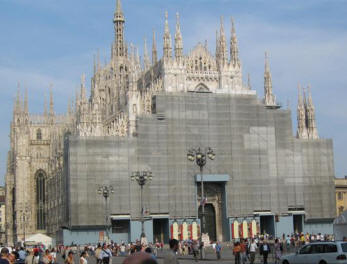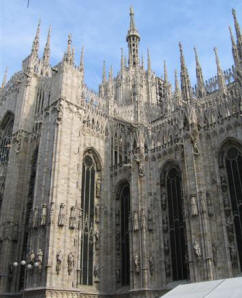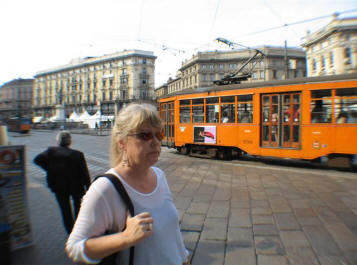 We reached Piazza San Babila where my favorite Boggi men's shop is and spent the next hour buying a couple of sports jackets, pants and shirts.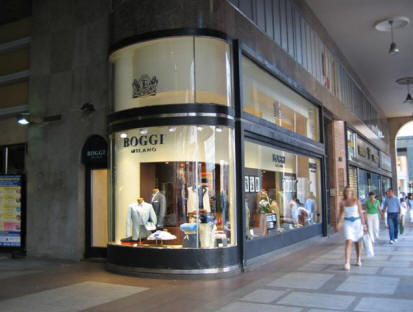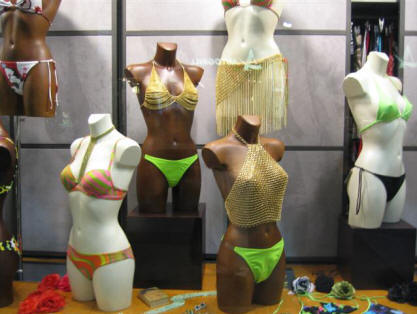 I had only brought a few clothes with me so I could shop here and at Cerrutti. On our way back we stopped in Reinnascenta so Marcia could buy AOSept contact lens solution. Two weeks before we left on this trip, I had asked someone at Alcon if we would find Alcon contact lens cleaner in France. He was so nice and shipped us a year's supply which was waiting for us at Dima's house when we arrived. We stopped for a pizza and espresso at Spizzico Autogrill at 7:30 (which was not very good). The center is Galleria Vittorio Emmanuele and on the right is Piazza San Babila.
By 8:00 we were back to the car (no ticket) and drove back to Arese arriving at 8:30 because of the traffic. It was a little cooler so I did my run around the streets in the development and by 9:00 was ready for dinner. Tania took us to Piccolo Principe [Via dei Caduti, 35,
+39-02-9358-0144] which Dima had recommended during his call from Moscow.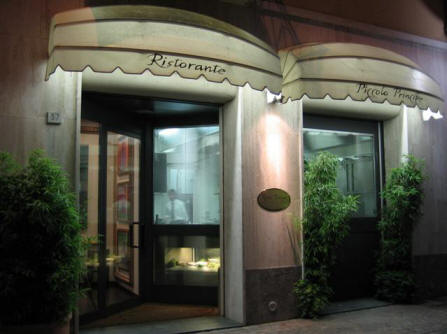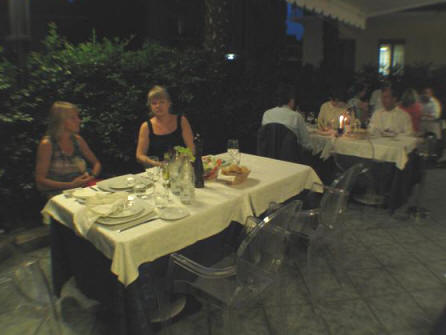 We had some Prosecco and vegetable salad, then Marcia had a smoked salmon (lox) concoction while I had linguini vongole which was excellent. We all had a veal chop Milanese, followed by creme brule and "vin santo" for Marcia and ananas and a cappuccino for me.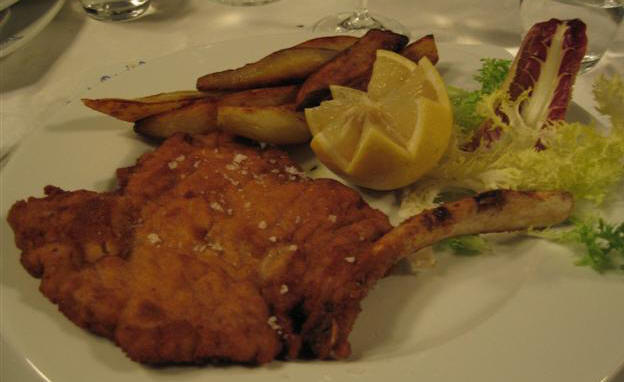 Tania drove us back to the house and thanks to a suggestion from Vince Daukis, I was able to solve the website delay problem by just transferring one item at a time rather than "publishing" the whole site each time. It worked like a charm on Dima's computer but when I started my VAIO up again not only were the lines still there but the whole screen was becoming a total mess. At Marcia's suggestion, I began to copy all my important stuff from the computer to this new 100GB ION external drive I had brought with me just in case. As time passed it became more and more difficult to see the screen to do anything. While they were copying, I went online on Dima's computer and finished what I tried to do in Munich; buy Dima a domain name [www.DDementiev.com] [TRY IT] and a website hosting from GoDaddy.com. It worked and I then spent time setting it up for him. Now that he has FrontPage installed on his computer he can change it as he needs. As you can image, when I was done with all of this I finally got to bed at 6:30 AM.
---
Wednesday June 22, 2005
---
I woke up at 9 AM, then again at 11 and finally got up at 12:30. I spent more time setting up Dima's website and Anastasia helped me. By 3:15 we were off again to Boggi's downtown to pick up the pants which had to be altered. This time it took us an hour until we got there and we had to use a parking garage which cost €4.5 ($5.42) for 3 hrs. At 4:30 I went to the Vodafone store to buy top up for Marcia's German phone chip. The girl that helped me was absolutely gorgeous. There was a character in the store covered in lip rings so that when he spoke they jingled. He had tattoos all over his body and he and his dog were covered with jingle bells - quite a sight and sound. I walked past the Galleria again and this shot of the Duomo was good.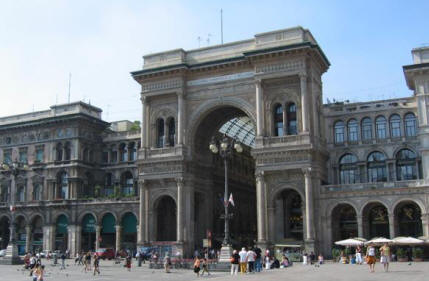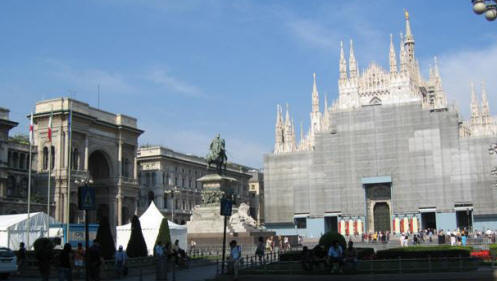 I walked by La Scala and the statue of Michelangelo. Then I went by the great store, L'Reinnescenta where Marcia spent the afternoon.
By 5:30, I walked back to San Babila and had a cappuccino at a nice and cool Bar Passarelle and the beautiful women coming in and out were famous according to the waiter.
Marcia had gone shopping and met me back at the Autogrill at 6:15 and then we went to Boggi to pickup the pants. When I reminded them they did not give me the Tax Free papers for the clothes they told me it was now too late. I left pretty steamed. Everything in Italy is "molto complicazione." At 7:00 we drove to the Fratinelli bookstore looking for tour books in English but it was a waste of time. By 7:15 we were on our way to Arese.
At 10:15 I started my run on Dima's treadmill then ran out the gate into town and had a cappuccino at my old haunt, Il Grand Café. When I got back it was 11 and Tania and Anastasia had already left to pick Dima up at the airport. Marcia and I drove to dinner at this Chinese-Italian place called Ristorante Pizzeria Long [Viale dei Platani 6, +39-029-358-1898.] Just as we arrived they all showed up and we had dinner together. We started with a Greco di Tufo wine and Marcia had a pizza salsice, a chocolate torte, while I had spaghetti vongole, pizza Margherita, ananas, and an espresso.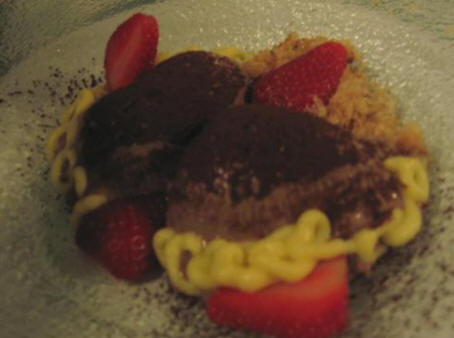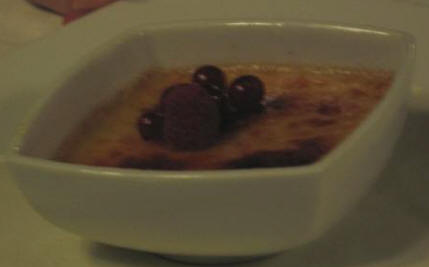 We enjoyed a limoncello and then drove back to the house where we gave Dima and Tania the gifts we had gotten. I did some email and was now coming to the realization that my computer was now totally kaput.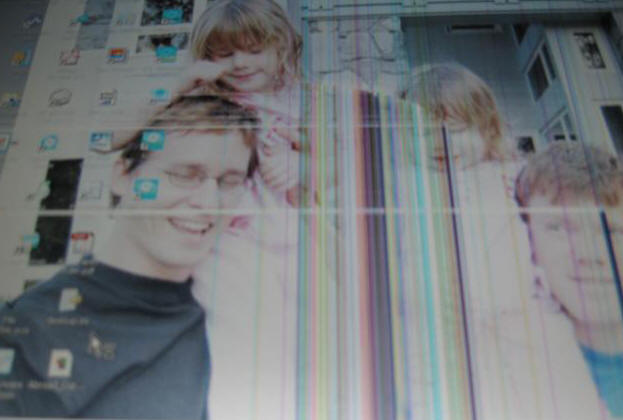 You could barely see the screen before (left) and now you could not even see where the mouse cursor was (right). I was finished. There is nowhere that I could get it fixed and I can't buy a new one here because it would all be in Italian (forever). I cried on Vince's shoulder in an email and went to bed at 4:30 rather depressed.
Kenneth J. Hoffer, MD
KHofferMD@AOL.com
Arese, Italy
Sent 7-4-05
If you enjoyed these travels or wish to add comments on the places we visited
Please Leave Me a Message by clicking the spinning @ sign.