Dr. Hoffer's Travel Site This site was last updated 03/03/11

FRAN2005 #11 Off we go: Finale Ligure


Wednesday June 29, 2005
I woke up at 8:30 AM and at 8:35 I called FedEx and they told me that the package would arrive at the Bollate station at 9AM. At 9:30 I got up and drove over to the Bollate station where we had been yesterday. A very nice young man checked for the package and then informed me that the package was now on its way to Genoa and to Zoagli. He said that FedEx made a horrible mistake and that they were very sorry. I thought I would have it in my hands, but that was not going to be. At 10:15 I placed calls to both Tania and Dima and they each told me that they would call Roberto, the house man at Zoagli to try to take delivery today.
I drove around town a little while then got back to the house and at 1:15 I did my run on Dima's treadmill. We decided be should take a drive north to Lago di Como where we could cross the border and get the rebate on our tax free for the clothes I had bought and the stuff Marcia had bought in Innsbruk at Svarowski. At 2:00 Marcia drove the 25 miles to the Swiss city of Chiasso. It costs €30 to cross into Switzerland so after we paid that we arrive at the Tax Free place at 2:45. The lady behind the counter says the Austrian stuff she can't deal with, only the Italian stuff. Then she looks at the slip and says it needs a customs stamp from Italian customs and that we must go back and get it. So we head back but now we are ENTERING Italy with "the goods"; not leaving it. The customs agents were very hostile, pretended they didn't understand any English and then started hassling about the ownership of the care. They finally yelled that we can do this when we leave the EU from Paris in September, but of course the Tax Free will expire by then. Needless to say we fouled up royally here and our luck continues on.
But then I get a call from Tania to tell me the package has arrived and Roberto has it in his hands. Finally wonderful news. Now just to hope it wasn't damaged in the process. Since we were here we were going to have a late lunch at this wonderful restaurant we had been to called Gatto di Nero. Tania told us they were closed now and wouldn't be serving until 8 PM. Instead we drove over to Villa d'Este and Marcia had a salad for lunch while I had a cappuccino. That little deal cost $65 -Ouch!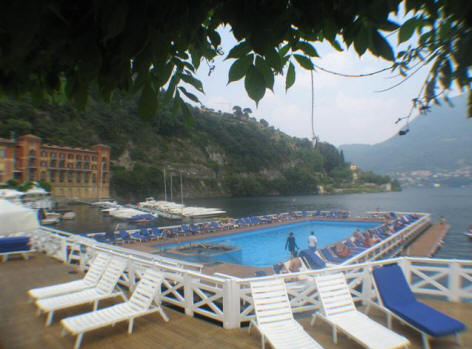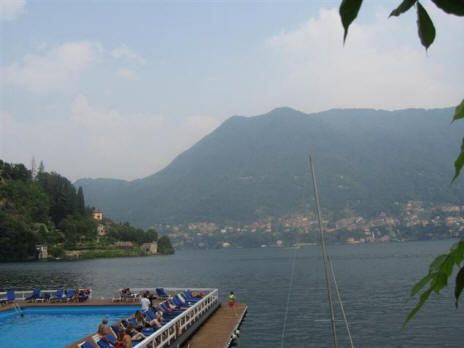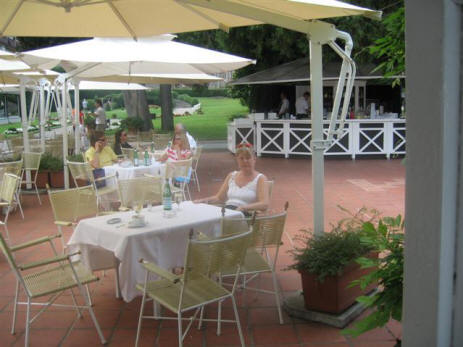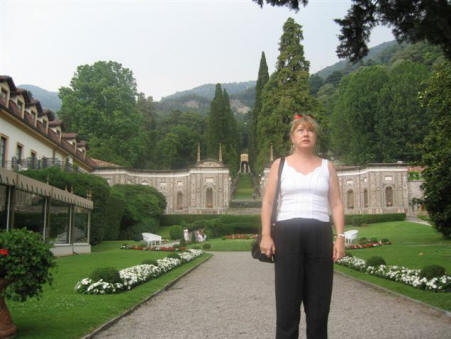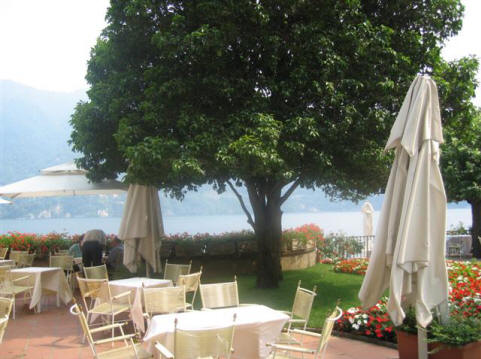 After taking a few picture of the beautiful scenery, at 4:00 Marcia drove us back to Arese. We spent the rest of the time packing up and saying good-bye and by 6:00 Marcia was driving us south the 90 miles to Recco. At the Autostrada exit is where Roberto is going to meet us and do the drop off. At 8:15, as we are sitting there in the car a motorcycle pulls up and there is Roberto handing Marcia the computer. I can't believe I finally have it after all this. We then take off east and I drove the 80 miles to Finale Liguria, a beautiful little spot on the sea that we have stayed at several times. We arrived at 9:30 and checked into Hotel Punta Est [
+39-019-600611]. The parking is a 15 minute drive up and around the mountain which was an adventure. They gave us a wonderful room and we had planned on not eating there because we got burnt the last two times. But now it was 10:00 and most places would be closed by the time we got the car out and went back into town. So I asked them to keep the kitchen open and we would stay for dinner. Marcia changed while I got a table on the beautiful terrace high up looking out at the sea. It is just marvelous.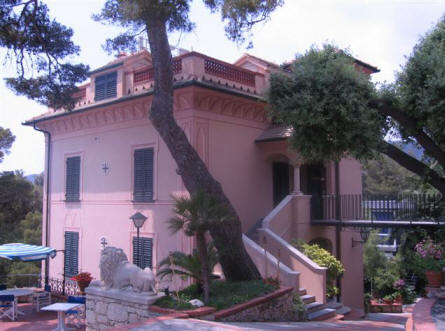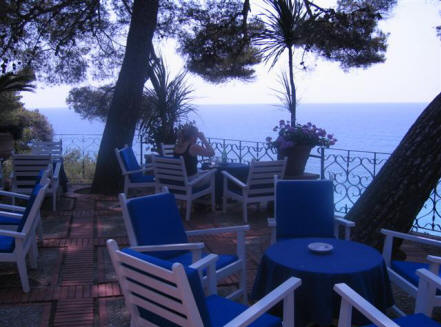 The waiter brings me aqua minerale con gas and a bottle of vino locale and then after Marcia arrived he brought us each a cold antipasta plate with fish, roast beef (thinly sliced) and several cheeses.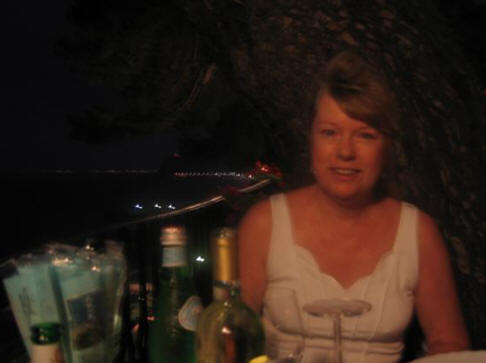 I asked him why I couldn't order some pasta and he informed me that the kitchen was definitely closed (even though the desk assurred but it was not). Oh, well, just ride with it and he brought me a second plate of roast beef. Then we had gelato we frutta d'Bosco and panna cota.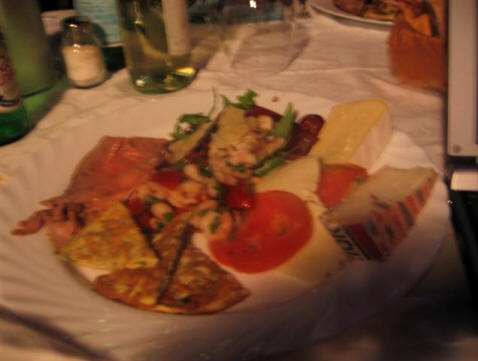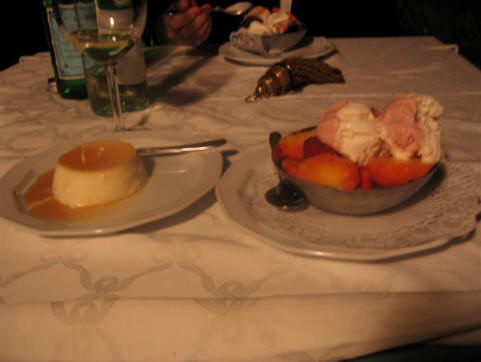 We finished at 11:15 and then went to the nice little bar they have and had beer and wine. I got my package opened and plugged it in and it was working. I then sat down and began installing the software from the disks Clara collected and included in the package. I then had to install my FrontPage software and copy all my photos and documents from the ION portable hard drives. I got to bed at 3:15, a rather happier man. An eventful day.
Kenneth J. Hoffer, MD
KHofferMD@AOL.com
Finale Liguria, Italy
Sent 7-11-05
If you enjoyed these travels or wish to add comments on the places we visited
Please Leave Me a Message by clicking the spinning @ sign.