Dr. Hoffer's Travel Site This site was last updated 03/03/11

Flag of Cannes
Friday July 1, 2005
I Woke up at 7:00, 9:30 and 10:00 but finally came to life and went out for my run at 10:15 and ran down the hill and along the Plage until I got to the restaurant we went to last night.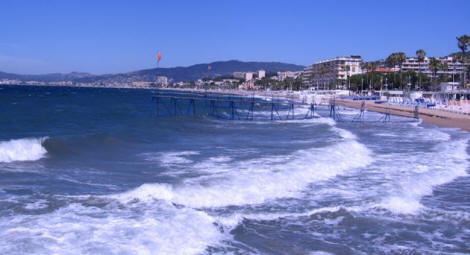 At 10:45 I had a cappuccino at the Italian Café and did a puzzle. It was hot but with a cool breeze like in Santa Monica. I walked all the way back to the hotel and at 11:45 I decided to just remove my shoes and belly-pack and jump into the pool for a swim which was very nice. I took a shower, washed out some clothes, and worked on the website for a while. Then at 1:00, we got the car out and went for a drive along the beaches and made our way to Golfe-Juan and then to Juan-les-Pins [Jon-lay-peen] where we drove around a long time but finally found a parking spot. At 1:30 we chose the Helios Plage [Promenade du Soleil,
+33-(0)4-93-61-8577] so Marcia could have lunch.
She chose a salad Niçoise [Nish-shwah] (tuna, lettuce, black olives, anchovies, hard boiled egg, bell peppers and green beans) and aqua minerale while I had a Coke-lite (what they call Diet Coke here).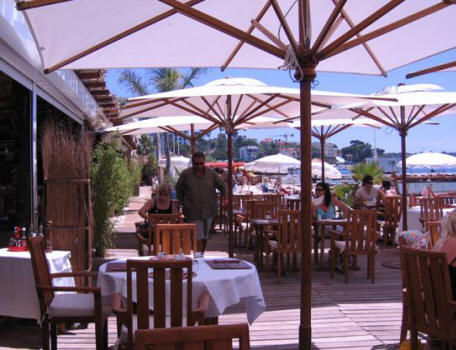 We were finished by 3:00 and Marcia drove the 15 miles north to Antibes [AHN-teeb]. Again, very small streets and no place to park but we finally lucked out with a spot right next to the Market place.
We followed the signs and found the Picasso Museum [Musée Picasso, château Grimaldi, 06600 Antibes
+33-(0)4-992-905-420] which is housed in the public building the city let him use as his studio when he was here.
The outside courtyard had a lot of sculptures and a beatiful view.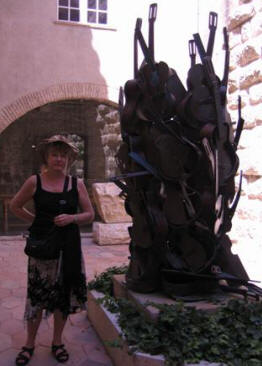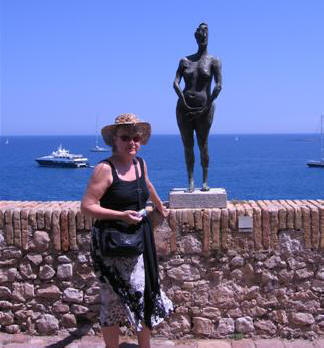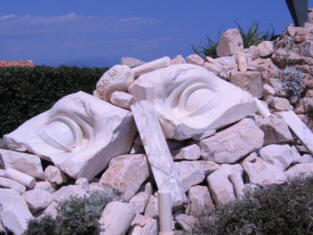 Inside the museum they absolutely forbade any photography or video so I had to get these [sorry about the angulation]: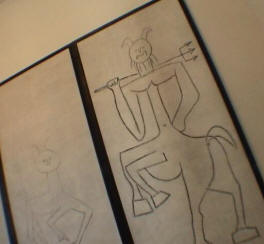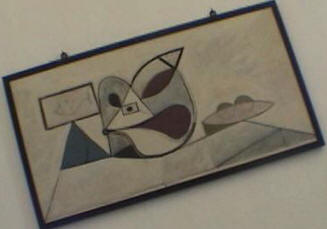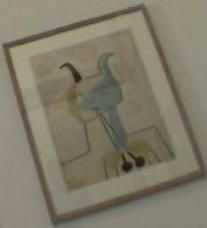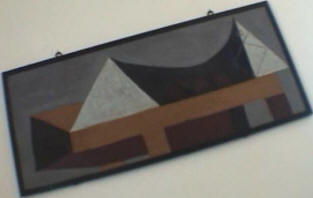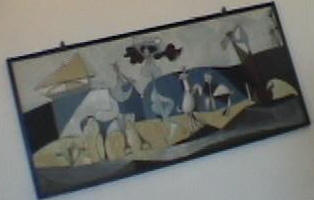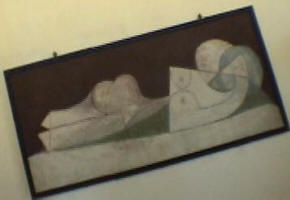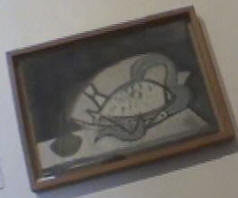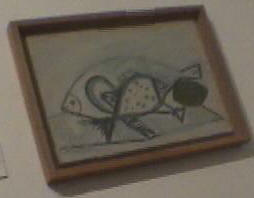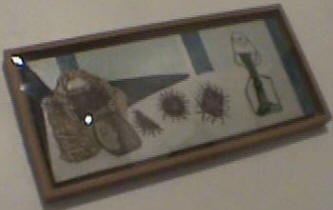 After we were done at 4:00 we visited the Cathedral next door and a wedding was going on. The crucifix hanging behind the altar is from the 14th Century.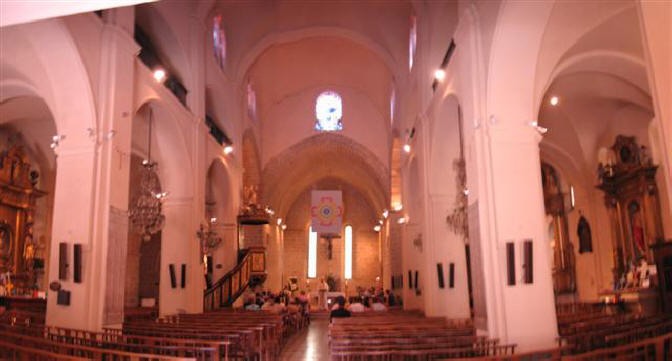 We then wandered back to the market and since Marcia was eager to shop for earrings, I saw this as a perfect opportunity to have a can of Perrier, relax and work on my diarios. She took plenty of time and found a ton of earrings. At 4:30 we began walking the streets and looked in all the shops. This is a very cute little town.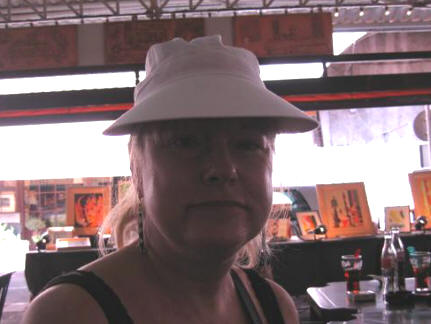 Here are some stock photos of Antibes Bay, early in the day (left) and at dusk (right.)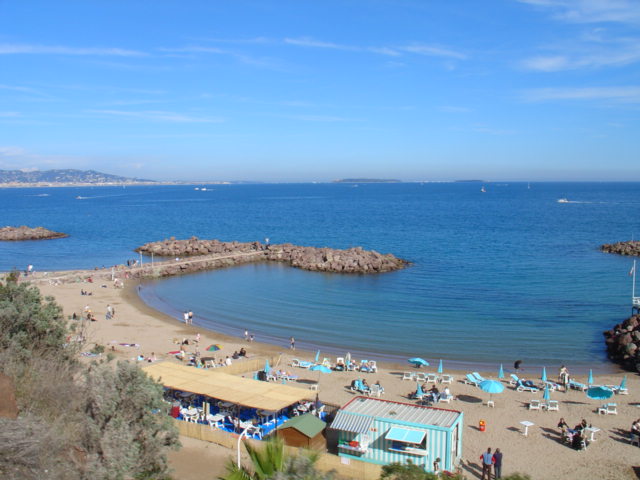 At 5:00 Marcia drove the 15 miles south along the coast to Cap d'Antibes and in 15 minutes we found the famous original Hotel Eden Roc at Cap du Roc and then found the beach bar.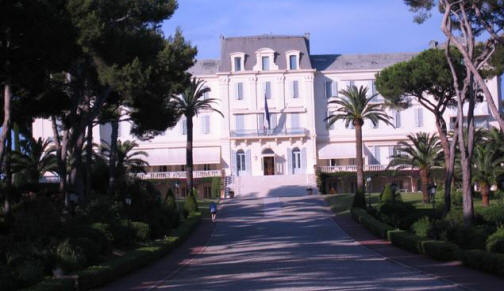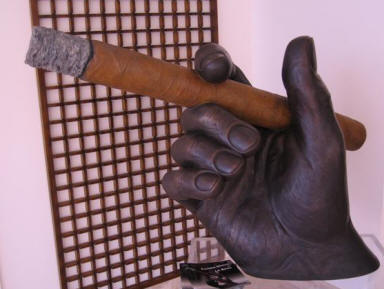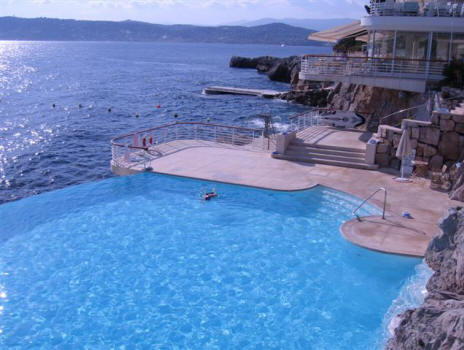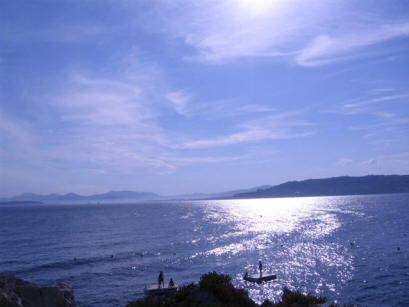 We accepted the offer of their specialty today of Champagne with peach juice (bellini) and another with raspberry. The place was so beautiful, I had a cappuccino and then a Kronenberg 1664 beer. It was hard to leave, believe me.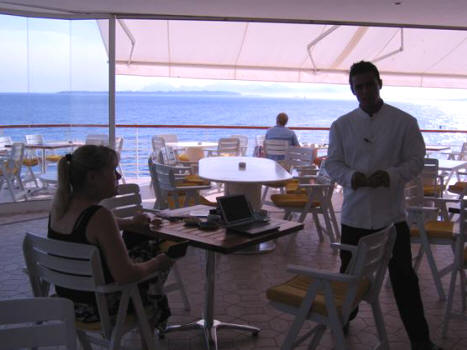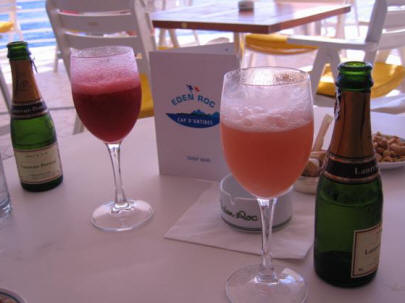 At 7:00 Marcia drove back to the hotel and at 8:15 Niccola, the new man at the desk, made reservations for us for dinner at the expensive Villas des Lys in the Hotel Majestic [14 Blvd Croisette,
+33-92-98-7700].
We sat down at 9:15 and were immediately served glasses of champagne by our waiter Francois. Marcia had Farrarella Cliquot Rose ($19) and I had Mery SA ($16) - I didn't know the prices when he was pouring. We both chose the Menu "terre et mer" with wine by St Amour. I don't remember the French for what we had but it really was good.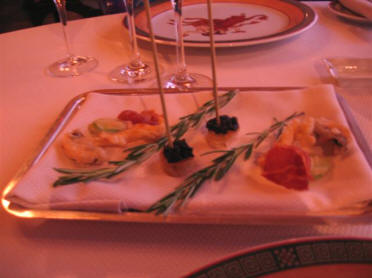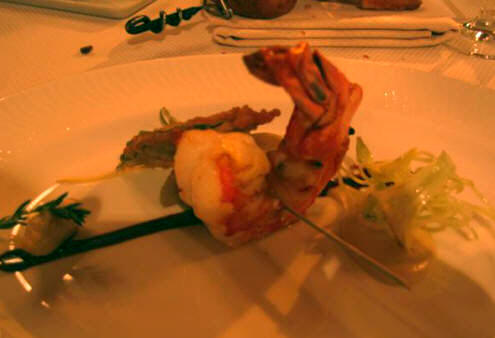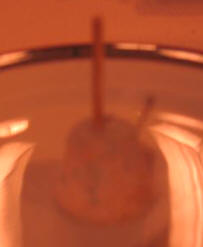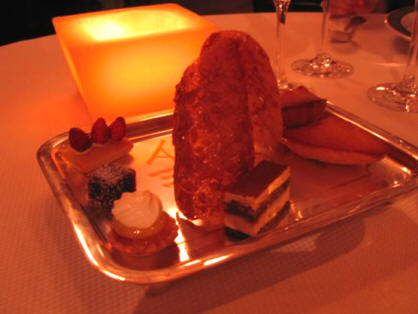 We left very full and with empty pockets. You can only have a dinner like this on rare occasion. Below are some stock photos of Cannes in the evening.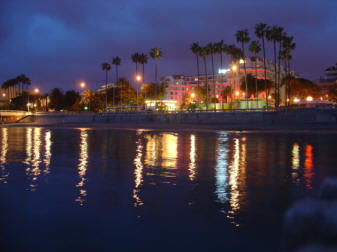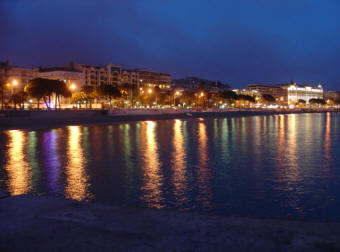 We got back to the hotel and went to bed early. Quite an eventful day.
Kenneth J. Hoffer, MD
KHofferMD@AOL.com
Cannes, France
011-33-66-602-3431 KJH
011-33-66-892-7343 MH
Sent 7-15-05
If you enjoyed these travels or wish to add comments on the places we visited
Please Leave Me a Message by clicking the spinning @ sign.