Dr. Hoffer's Travel Site This site was last updated 03/03/11

Flag of Provence
Monday July 4, 2005
Even after a full day like that, I woke up 9:15 and again at 9:45 but finally got up 11:20 and went for my run from the hotel all the way down to a golf course and then on my way I got completely lost in a residential neighborhood going up and down hills and street until I finally gave up and yelled to a very elderly couple across the gated fence of their home. He responded and it took him what seemed like a half hour to hobble from his veranda to the gate. Surprisingly he opened the gate and came outside to see what I wanted. I spoke no French, he spoke not one word of English. Somehow I let him know I was lost and needed directions back to the hotel. I somehow understood where he was telloing me to go in some "gestalt" sort of way because as I followed what I thought he ahd said I finally wound up on the street to the hotel. Miraculous.
Just on the corner before the hotel is the Boulangerie L'Etang and after all that running in the hot sun and getting lost, I needed a cappuccino. Just as I went to order it seemed like everyone was coming in for something. Then after I ordered I realized I didn't have any money on me, something I never do. I took the coffee outside on the patio and after I was done, I quietly snuck off back to the hotel. I thought of the pool back at the hotel which was very inviting.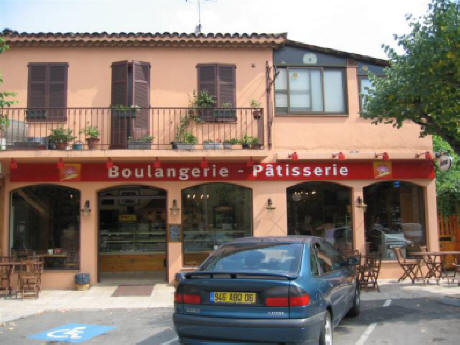 The hotel room was very nice with a beautiful view out of the terrace.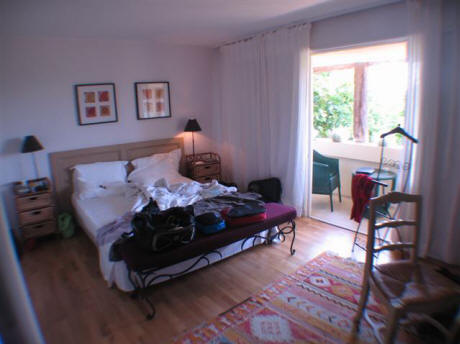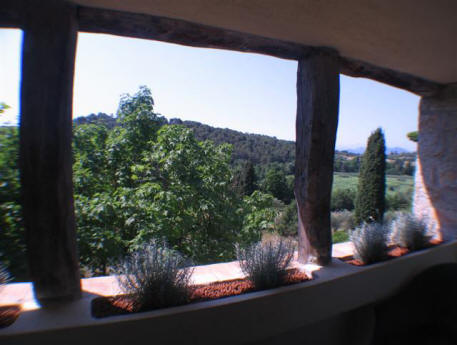 While I was gone, Marcia took the car back to the Mougins Vieu (old) to visit the special Photography Museum they have there and have lunch.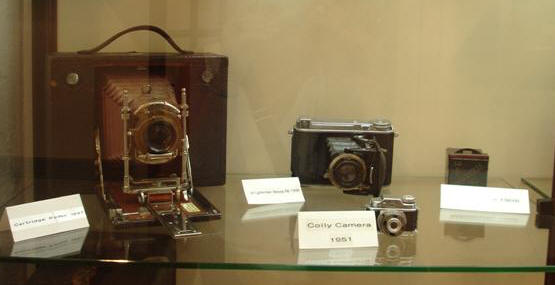 Flag of Vence

When I got back to the hotel I worked on diarios in the air conditioned area with a very pleasant view drinking sparkling water while waiting for Marcia. It was very relaxing. After she got back, we packed up and checked out of the hotel and by 4:40 we were on our way again to visit the quaint little hill town called St-Paul-de-Vence which is just outside the city of Vence (region flag, left.) I had Marcia stop at the boulangerie, so I could pay them for my cappuccino.
Before we got there we read about this famous Gallery called Fondation Maeght [pronounced: "might"], so we stopped there but unlucky for us we parked in an area where we had a very long hike up a steep hill to get to the Museum (and found there was plenty of parking up next to the building.) When we got out of the car we spotted this art gallery and browsed around inside. I thought there was a lot of interesting stuff which I captured below.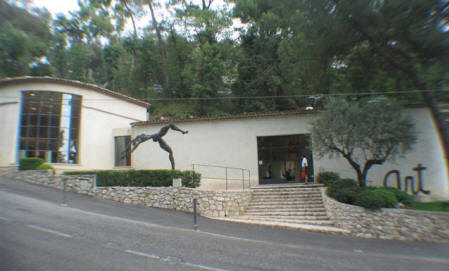 The items below were sewn in fine textured threads - quite marvelous.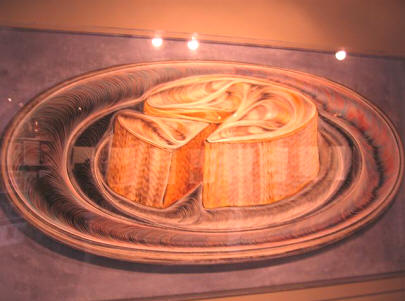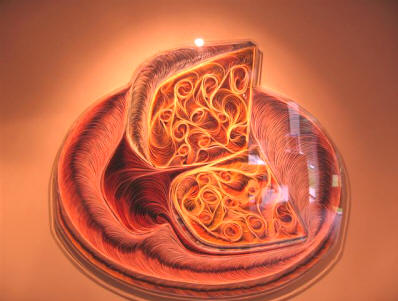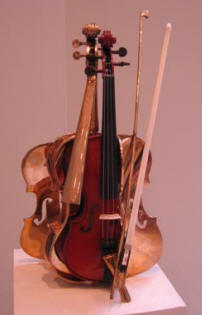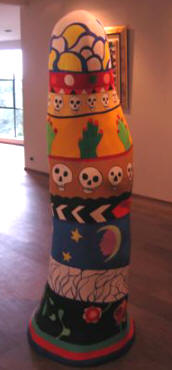 We then made the big climb up the hill (Montée des Trious) and it was exhausting.

As we were getting to the top of the hill a slight rain began to fall which is the first rain we have had on the trip. We arrived at the Fondation Maeght [06570 Saint-Paul,
+33-(0)4-93-328-163] (photo left). I have to say, the fees to get into these French galleries and museums are outrageous even if they were in dollars. So now I am saying the word "senior" which lowers the price substantially (sometimes). The outside gardens are full of metal sculptures. The little guy in the middle is by Joan Miró of Spain (1893-1983; photo right).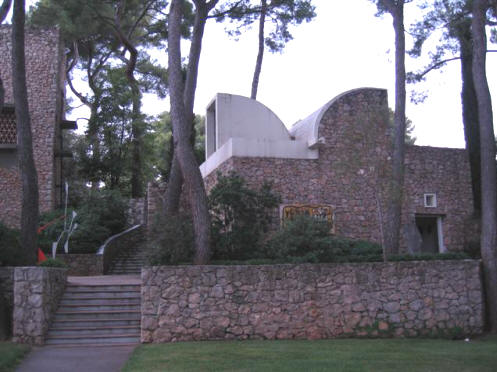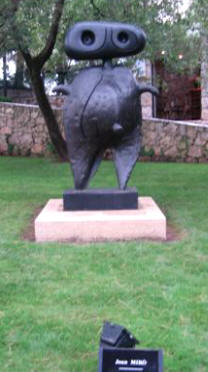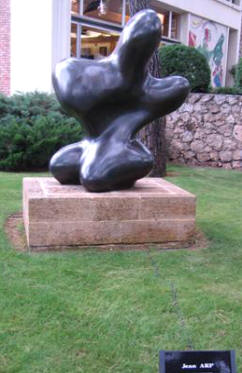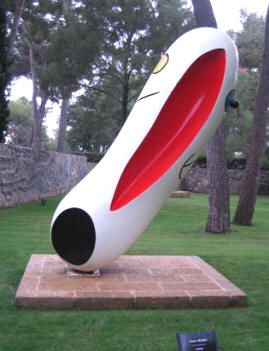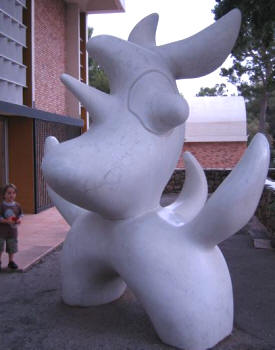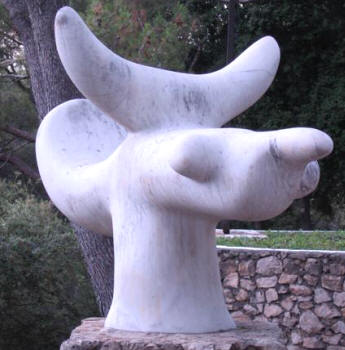 The fountain and the reflecting pool were each designed by one of their artist friends such as the famous Georges Braque (or Bracht; 1882–1963) was a French painter and sculptor, and with Pablo Picasso, one of the inventors of Cubism. Click here to see His paintings.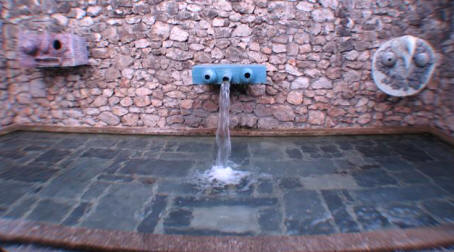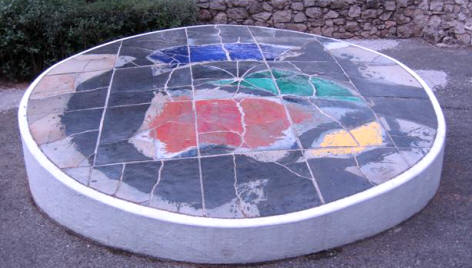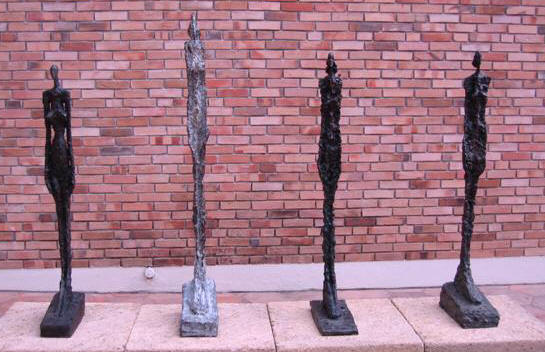 The above statues were designed and donated by the Italian artist Mogliano.
The Maeght's were wealthy art dealers from Cannes who were close friends with many of the famous artists of the day and, when her husband died, she donated the house and all their artwork to this foundation.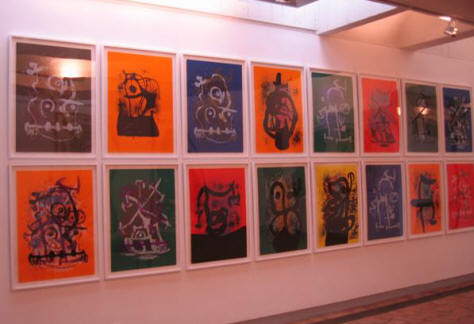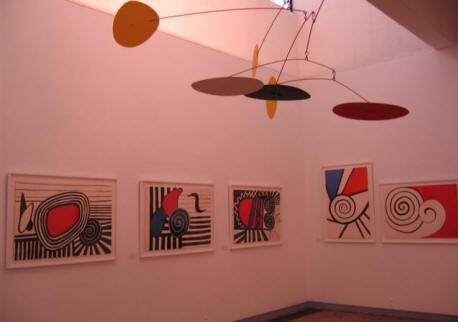 Many of their famous friends donated pieces and constructed areas of the museum. They allowed photos outside but not inside but I managed to get some examples of the great art housed here. Above right and below are several by Joan Miró (left 1935) and, believe it or not, the two on the right below are different works.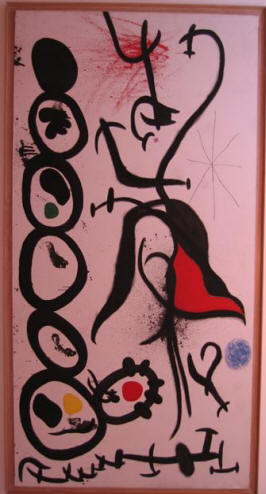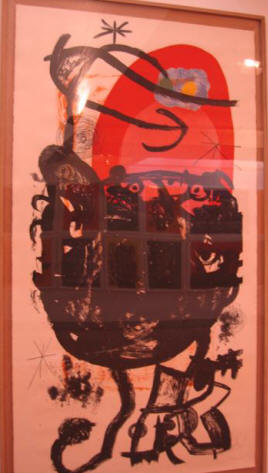 There were many by Marc Chagall (1887-1985) (below left) who is buried near here in St-Paul-de-Vence [Vah-nce as in Provence.] Marcia is standing next to the largest one. The rest are his smaller pieces.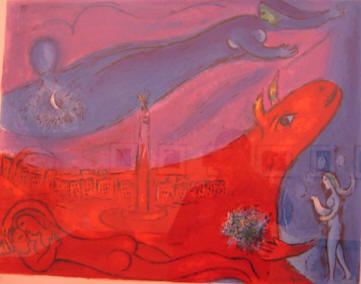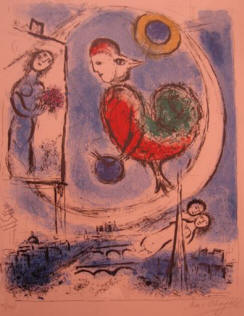 There are also many other famous artists.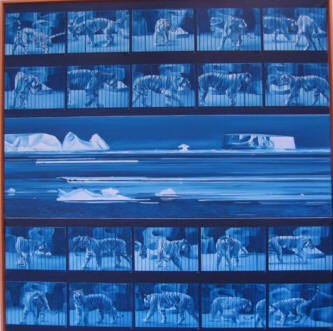 The reflecting pool (below left) was also designed by Miró. The grounds were quite nice.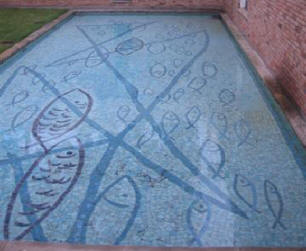 The art also included a mobile working fountain and there was St. Bernadine chapel on the grounds they built in honor of their only son who died at the age of 13. The crucifix was from 14th Century Spain.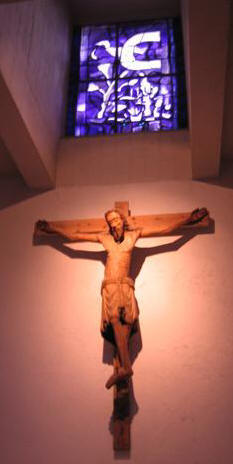 We walked back down the hill to our car and at 6:45 PM we drove up to see St-Paul-de- Vence and after some delays found a place to park. We walked into the hill town through a little portal.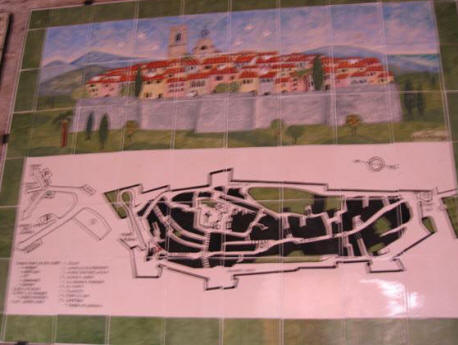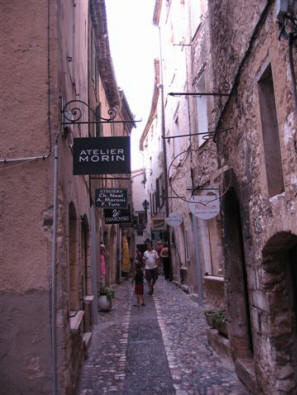 The winding curved streets were filled with art galleries and much to my surprise I liked a lot of it. This a real hot bed for art in France.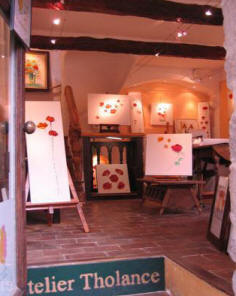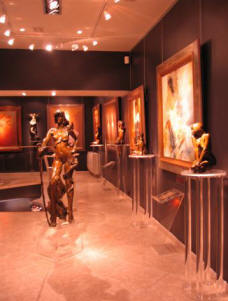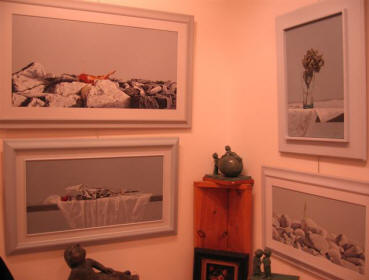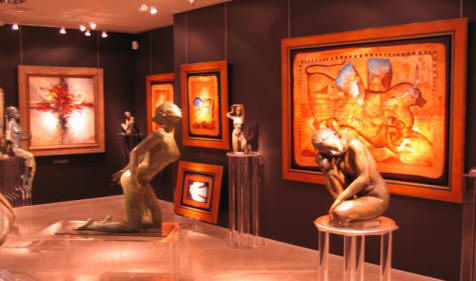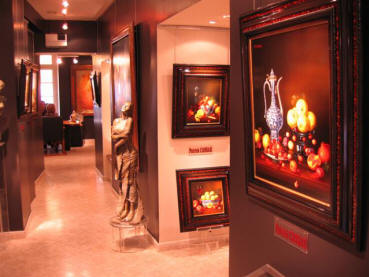 I even found Sponge Bob Squarepants but here they call him "Bob L'eponge.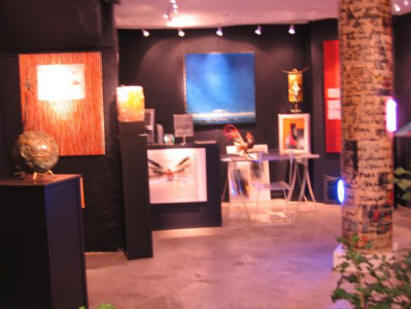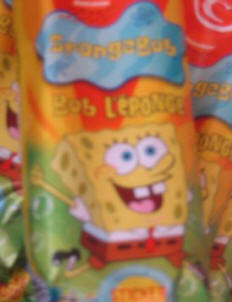 We wended our way to the center and found the little church.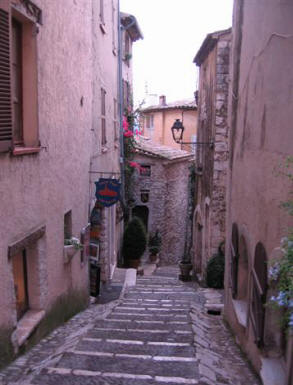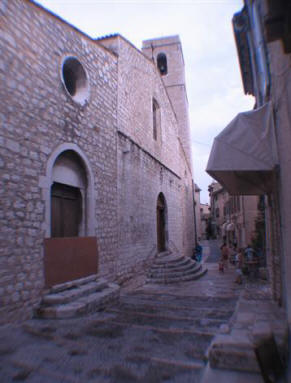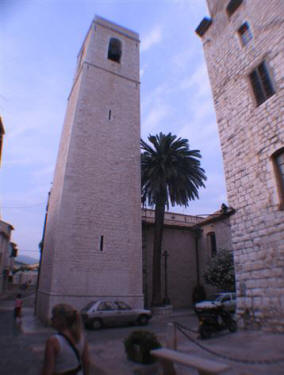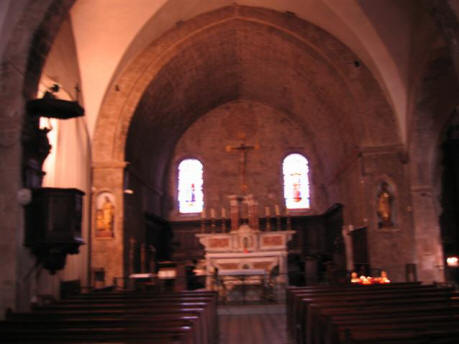 After covering most of the area we sat down at 7:30 in a little inviting place and I had cappuccino and a peach melba while Marcia had a glass of vin at Le Tilleul Menthe [
+33-49-332-8036.]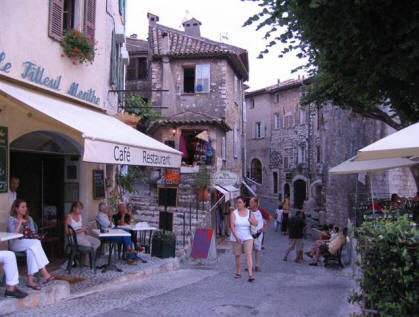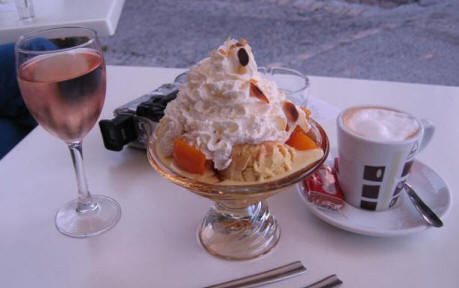 We got back in our car and then remembered there is a very famous hotel-restaurant at the entrance to the town called La Colombe d'Or [
+33-4-93-32-8002]. Famous artists paid for their keep by giving the owner pieces of art which are now hanging all over the place. We walked through the restaurant and as I headed to the men's room I was stopped and told I could not go farther than the toilet. I asked about seating and they said they were fully booked except for guests. Since we hadn't settled on a room for the night, I inquired the price. She told me they were "fully booked" but had one room left for €360 ($435). Here is the place below.
At that price, I decided I wasn't interested and after using the facilities we took off heading for Vence, just to see it and whether a hotel there would be better. After driving through what I thought was a grungy town center I decided we needed to move farther west. I had made reservations at a quaint place outside the town of Draguignan [Drahg-een-yon] which is in the north, quite a ways west from here. To get there I thought it would be nice to take the scenic route through the mountains which passed through Grasse. We headed out at 8:15 with me driving this time the 37 miles to Grasse.
Before we got there we called the hotel in Draguignan and they spoke no English but Marcia got the idea that they would close at 11 PM and we had to get there before then. I had her call the last hotel (who booked it for me) to call and ask them what the story was. She did and we HAD to get there before 11. So I decided we had better have dinner here in Grasse and then drive like Hell the fastest route. At 9:15 PM we found one place that was still serving dinner and grabbed a table quickly. It was at the Hotel La Patti Place du Patti [1 place du Patti] right next to the public parking garage. Romantic this was not. It is a poorly run and managed hotel which I recommend you bypass.
I ordered fettuccini de mare (with clams) [above left] and Marcia ordered fish soup which we thought would be quick but while she was in the ladies room the waiter informs me it will take 20 minutes for the soup so I changed her order to a different pasta fettuccini with tomato sauce (above right.) Mine was great; hers was lousy.
We ate fast and got back on the road at 9:45 PM and Marcia drove the remaining 45 miles to this little hotel north of Draguignan. She took the longer route but it was all freeway. We arrived at 10:50 PM with 10 minutes to spare and they opened up and checked us in at the Les Oliviers [rue de Flayosc ,
+33-49-468-2574.] We were in this little room and it wasn't very fancy. I kept kidding Marcia that it was known for the beautiful olive garden outside (which I saw in the ad). At 11:15 PM I copied all our photos onto the little ION drive and then went to bed at 2 AM. A hair-raising day.
Kenneth J. Hoffer, MD
KHofferMD@AOL.com
Draguignan, France
011-33-66-602-3431 KJH
011-33-66-892-7343 MH
Sent 7-21-05
If you enjoyed these travels or wish to add comments on the places we visited
Please Leave Me a Message by clicking the spinning @ sign.