Dr. Hoffer's Travel Site This site was last updated 12/19/11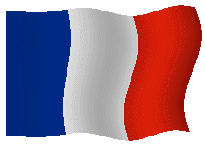 FRAN2005 #20 Dangerous Marseille
Flag of Marseilles
Friday July 8, 2005
I woke up at 10:30 and finally hauled out at 11:15. I noticed some serious bleeding that really had me worried and changed my mood for the next several days. At 12:15, I decided to forget about it for the time being and get my run in before it got too hot. Before I left, I took these two shots (looking left and looking right) out of the window showing the narrowness of these streets.

I went out for my run into the streets. It wasn't all that easy because it was like running in Venice with all the tourist crowds in the streets. I kept meandering until I cleared of them and wound up off to the north near the cemetery. This view over the gravestones is spectacular.

I could look back and see the fort protecting the harbor with the gigantic cruise ships off in the distance. Just a beautiful day.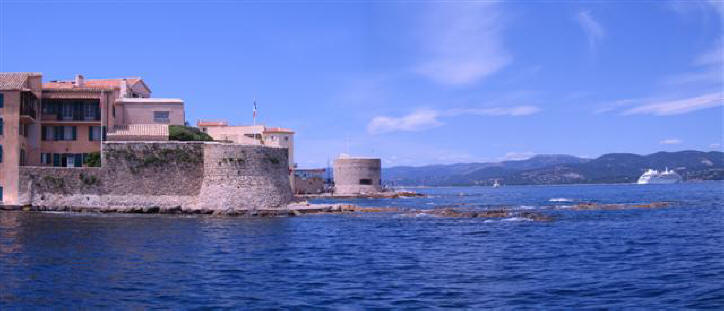 As I walked back I saw a lot of art galleries with many interesting works displayed. When I took this first photo (left), I thought I heard someone grunt. I walked on and then came back and took a shot of the studio (right). As I walked away a guy came out mumbling something in French that I could not understand but I got the idea he wasn't happy with me.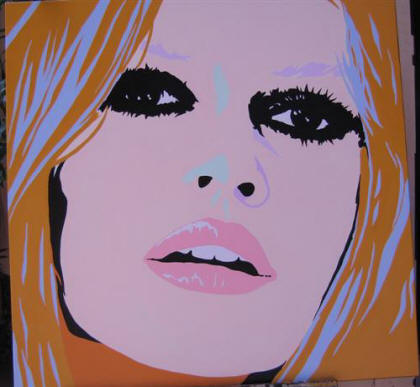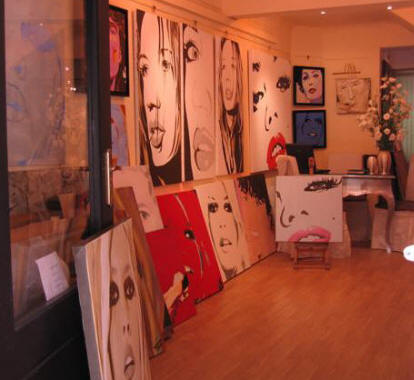 Then I came across this very interesting guy's art and his studio.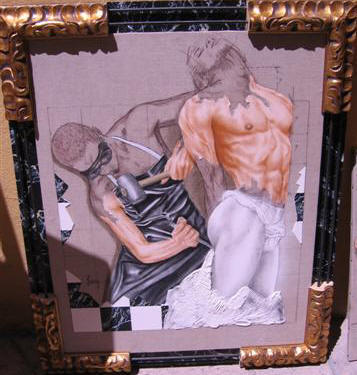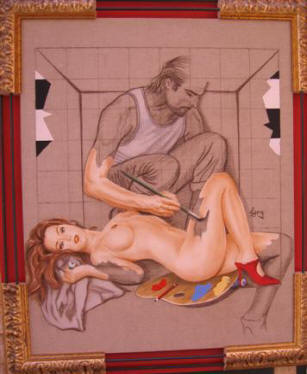 And then a few other types.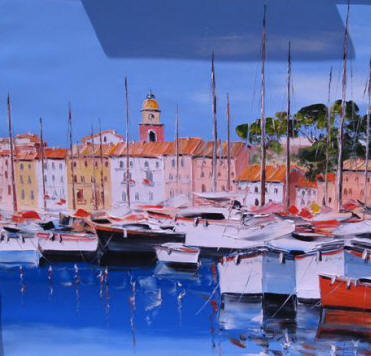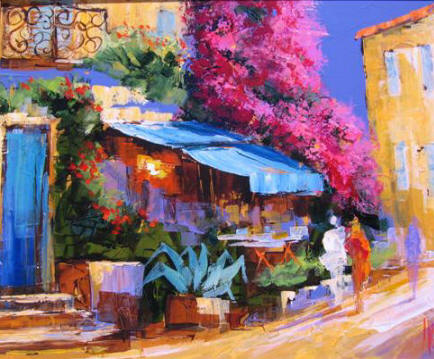 I walked around and saw many sites in this charming little tourist town that was really started by Brigitte Bardot in 1957 after her movie "And God Created Woman". Roger Vadim filmed the movie here in St. Tropez. She stayed in the city and made it famous. These postcards are the only way to show the harbor marina from an aerial view.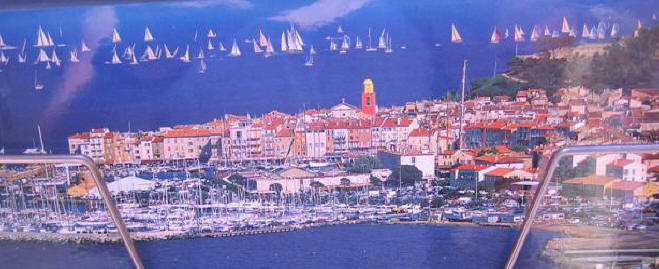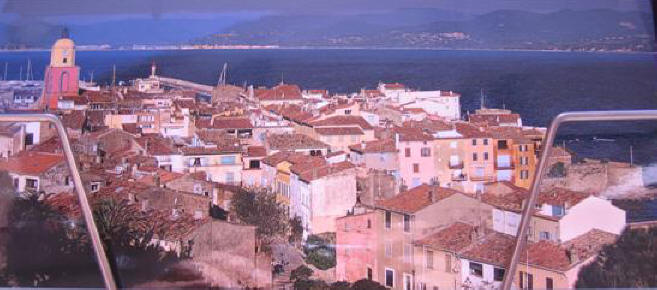 As I climbed through the streets I came across a plaza with their City Hall (Hôtel de Ville) (photo right).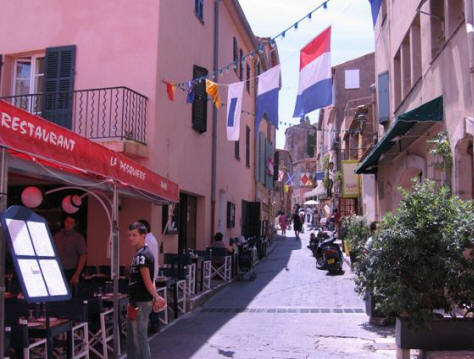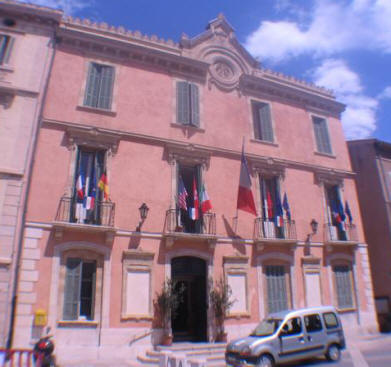 As I wandered through the back streets and side alleys, I found a restaurant called La Boheme like the one in Carmel (below center). The meats shown in the window looked great at one of the markets. Foies Gras (Liver Pate) is very big here in France and it appears on every menu in almost 40% of the dishes.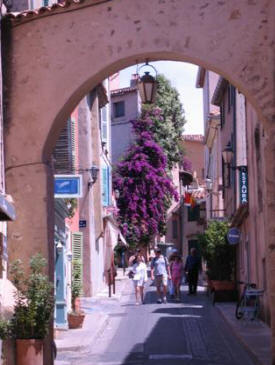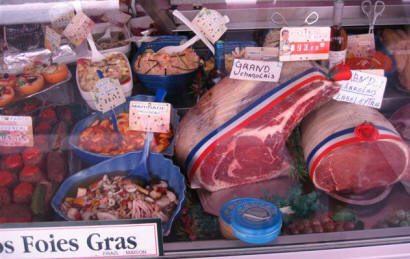 It was now getting late and Marcia called to tell me they were hassling her to get out of the room. So instead of stopping for a coffee, I ran back to the room and we packed up and at 1:30 checked out leaving our bags at the hotel. The room was nice and this is the "breakfast" you get delivered to your room; a croissant with bread and orange juice. Needless to say I took a pass.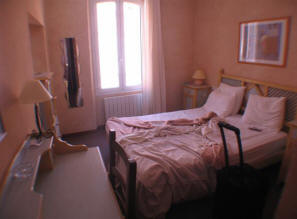 I went off on my own and at 2:15 I had a cappuccino at Papagayo which was really an espresso with some hot milk on the side or as they call it, a noisette. I still haven't learned how to pronounce it because when I ask for one they always say "What?" This French girl was very helpful.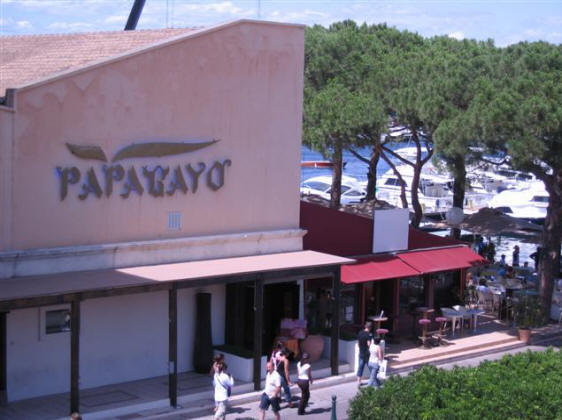 We both wanted to see the art museum here but timing led us to visit it independently. I went to the Musée L'Annonciade at 3:10 and after I photographed most of it, a woman warned me that photos were absolutely not allowed - enjoy. It was wonderful art.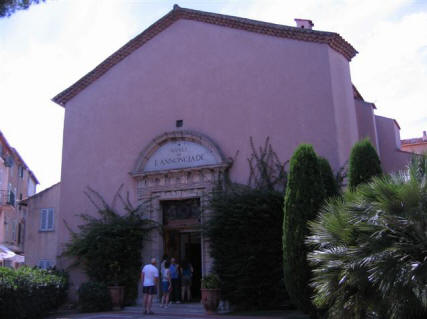 Besides Matisse, this is their most famous painting, (below left).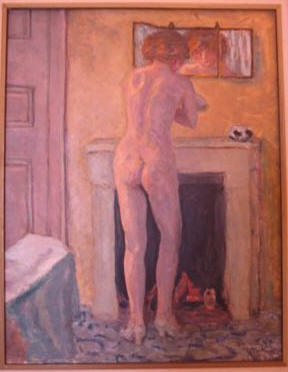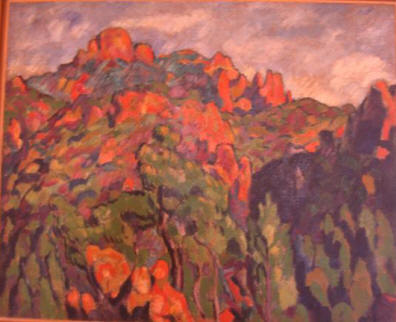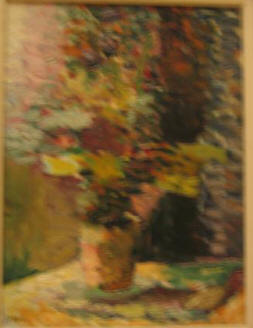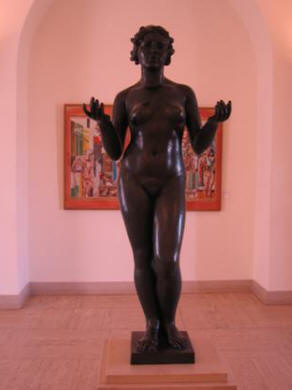 After I left there, I wandered around the town which was packed with tourists and found a Cielo shop where they had some nice short sleeved shirts for real cheap. I went to buy three for €15 apiece and the girl told me to get a fourth because they were two for €20.
I walked along the harbor and there were hundreds of artists displaying their wares and many of them were pretty good. Here are some examples. See if there any you like.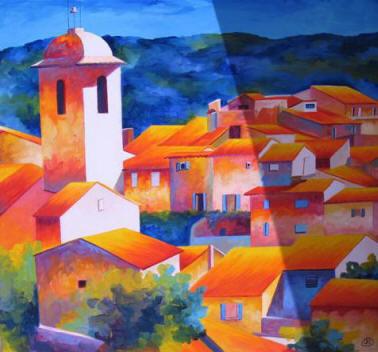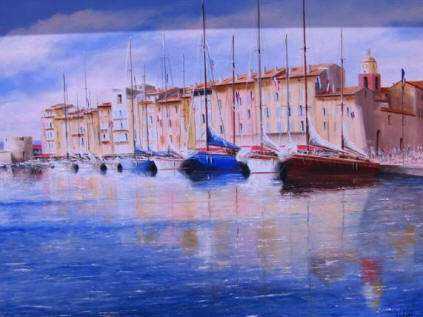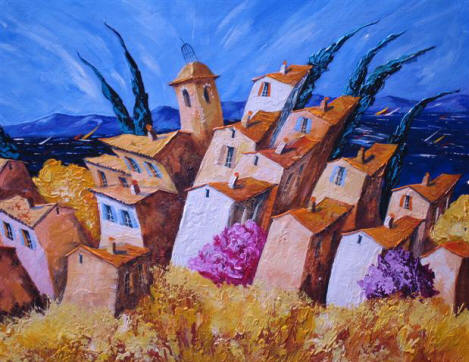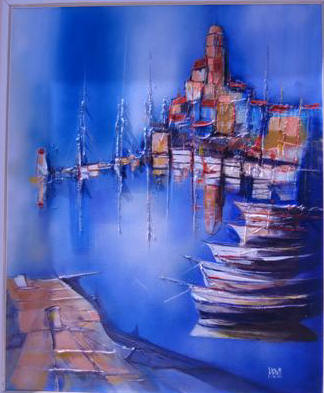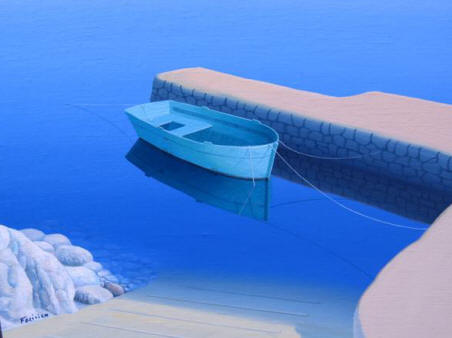 This is what the harbor looked like in the morning when some of the yachts had left. You could actually see some water between the paintings.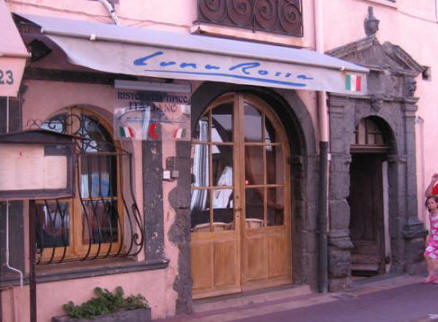 At 4:00 I walked by another butcher shop and the Museum and then I needed to sit and just relax and watch the people go by. I stopped and had another noisette at Pierre U.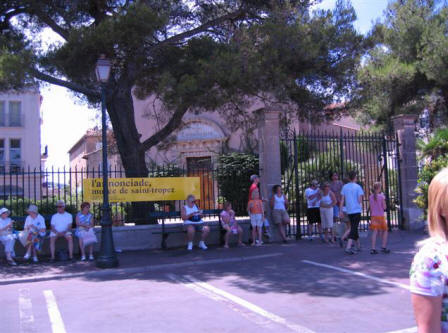 I had put a call in to Dr. Georges Baikoff, the pioneer in anterior chamber phakic lens implants from Marseille and he returned the call at 4:30 to tell me that he and his wife Nicole were leaving for an extended vacation on their boat in Sardinia in two days so that if we wanted to meet we should come their now. I looked at the map and decided we could skip Toulon (an industrial city) and head straight west to the wild city of Marseille. That is the city of the "French Connection" fame and we have always been told to be very careful if we go there (ala Napoli and Bari). What better than to go there to see a fellow eye surgeon I have known for years making recommendations. He gave me the names of a couple of hotels and one of them was the Sofitel at Vieux Port. I called and booked a room for two nights and at 5:45, we left our hotel, packed out bags into the car and Marcia drove the 82 miles west to Marseille.
The scenery on the way was very strange. Many unusual mountain formations as we approached the city.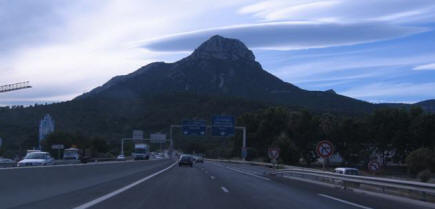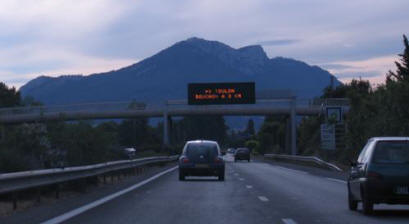 To get through Toulon, you had to go into a very long tunnel under the city. So we never really saw much more of Toulon than this shot below, except through the rear view mirror.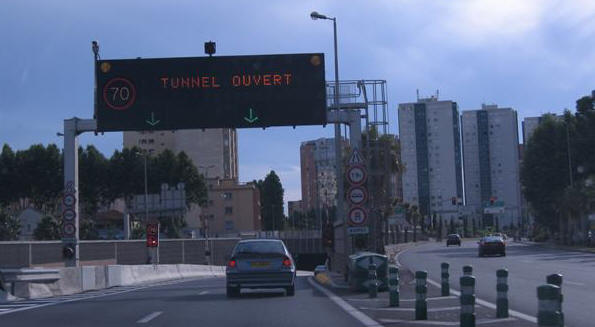 As we approached the city of Marseille, we had to enter another tunnel which took us completely under the city and then dropped us right in front of the hotel.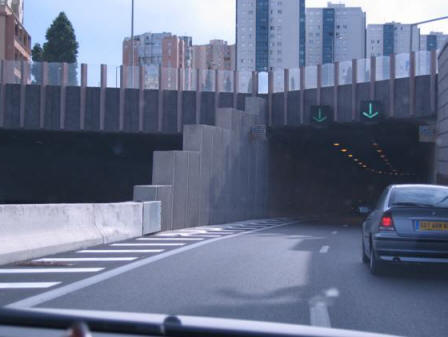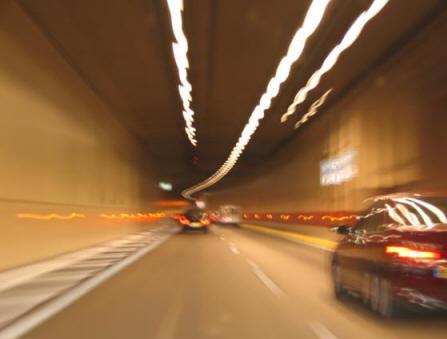 The GPS got us to the right spot and at 7:30 we checked into the very fancy Sofitel Vieux Port [
+33-(0)4-91-15-5900]. This place was as plush as you can get and maybe we deserved it after all the places we have been staying. Safety was my major concern.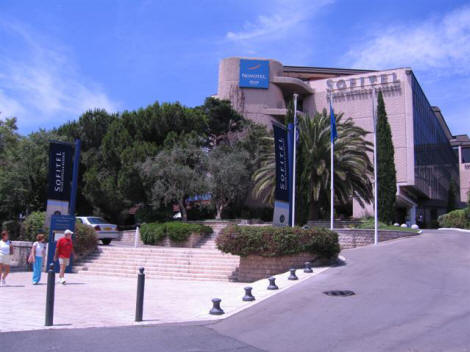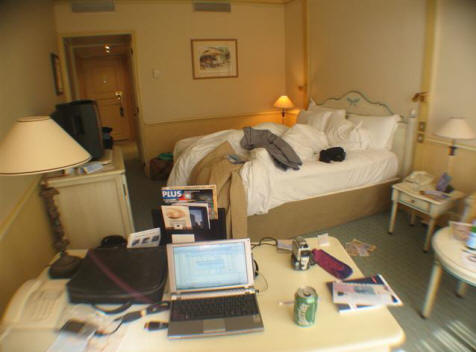 As I was checking in, the man asked if I wanted to join the Accor Hotel Group Favorite Guest program which was only €270 ($325). Thinking I was English, he asked what country I was from and when I told him the USA, he told me it would only cost me €130 ($157). For that we would get 20% off the room rate in Sofitel and Mercure hotels and 5% off in Ibis hotels. On the weekend the Sofitel rate would be 50% off. Since the room rate was €280/night and this was the weekend, I couldn't imagine how I could lose (280 x2 x50% = a free night for $157.) I told him to sign me up. They're mailing our card to Santa Monica but he gave me a temporary card to use in the meantime. Two days later I noticed they never charged my card for this. We got up to the room which was very nice and the views of the Old Port were spectacular. Georges called and told me he would pick us up for dinner at 8:30.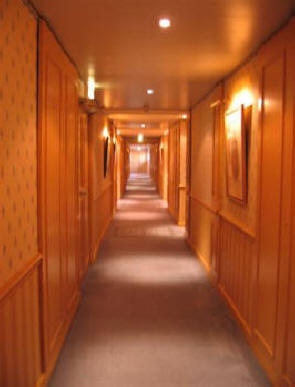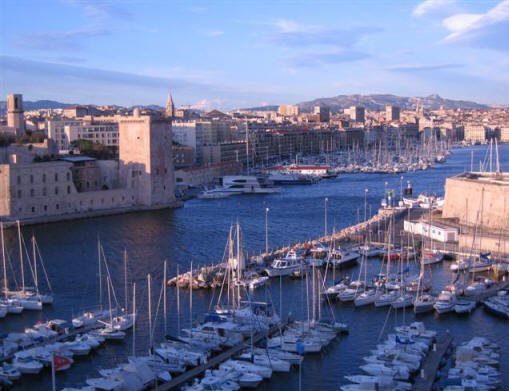 You can see by the maps below that the Vieux Port (the blue rectangle) is fairly large and it is a long walk from one end to the other. Also you can see that Marseille [Mahr-say] is a very large city and vying with Lyon as the second largest city in France. The Sofitel is located in the lower right hand corner and there is no bridge that allows you to cross the waterway there. More about that later.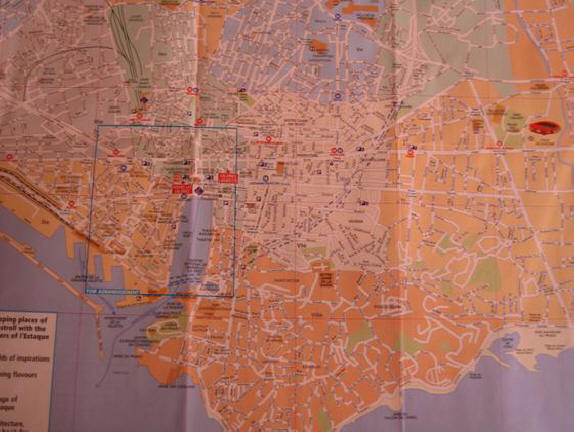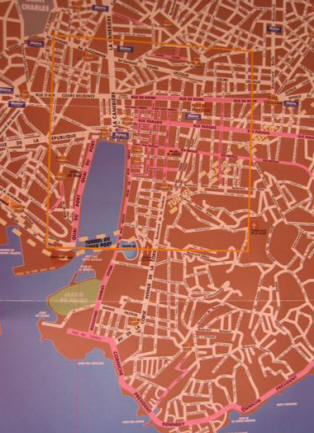 After walking down the Sofitel's beautiful hallways, like clockwork Georges & Nicole arrived and met us in the lobby of the hotel.
He gave us a whirlwind tour along the coast and then drove us north through the Arabic area where it is not smart to be walking around alone. We have such places in the US.




We then went across the peninsula and up into the mountains and then back down to the sea past several sculptures, one is the thumb of (and by) a famous artist named César Baldaccini (1921-1998) usually referred to as just César. Click his name to see some of his works. It is 40 ft (12 m) tall and called "Le Pouce" or "The Inch" (1965) (below left.) There are copies of it in Paris (stock photo right) and other places. One of his works stands atop his grave in Paris (stock, above left.) I caught this shot of Le Pouce as we whizzed past it; the other piece (below right) is interesting but I don't know who it was by.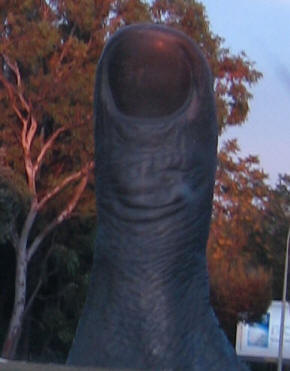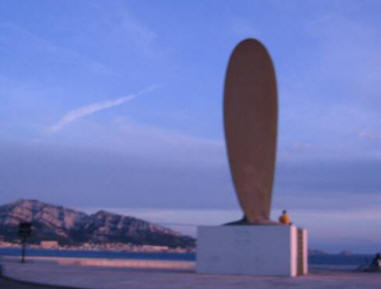 When we got to the crest of the mountains and started heading down, the views were spectacular and really can't be captured on film (especially out the window on a bumpy road).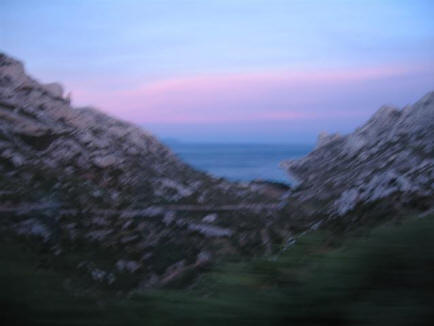 We finally made it down to the sea to this very special place called Calanque de Sormiou [
+33-(0)4-91-25-0537]. We got out while Georges parked his brand new Mercedes and we walked down to the sea.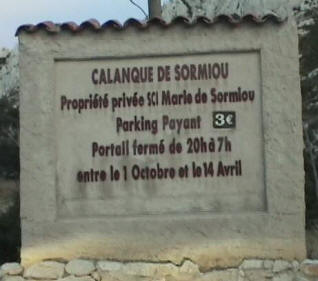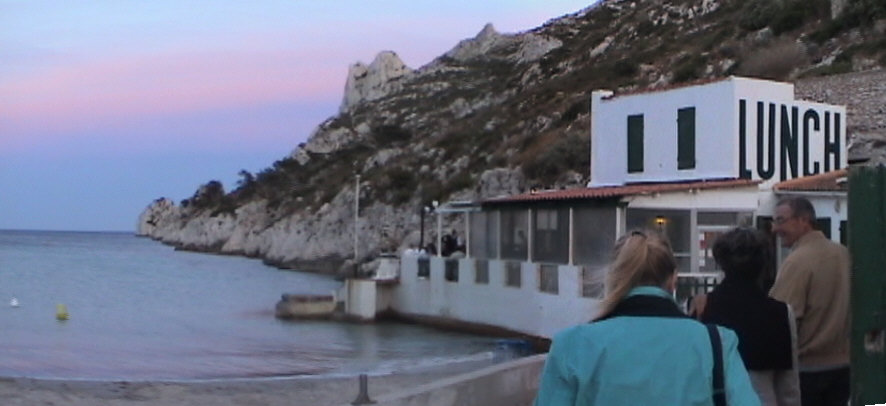 This area is privately owned and they have no electricity. The restaurant has its own private generator. We noticed the people in the houses playing cards by candle light - no television or radio obviously.
We sat down and placed our order and Georges and I talked about our respective practices and he and I are about in the same place - sliding slowly into retirement but still intellectually active. He just published an important paper which I complimented him on because I knew how much work went into it.
While we were ordering, Georges noticed there were private police on guard and that somebody at one of the tables must be important. One group had a TV camera crew filming something along the waters edge and it seems they were writing the script as they went along.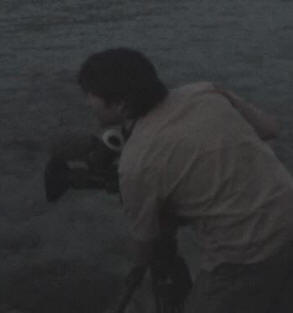 It got so cold that they moved our table away from the water's edge.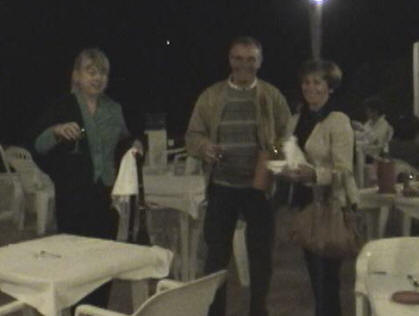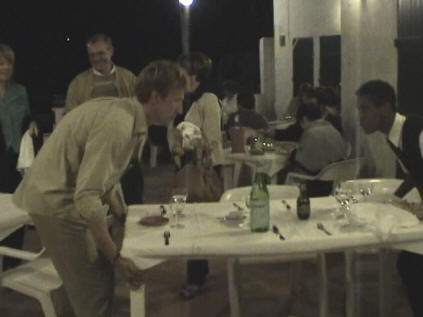 We had eau with gas and Georges ordered a wine of Provence white Chateau de Pibarnon-Bandol. We all shared some appetizers of calamari, eggplant with sardines and then Marcia and I had fish soup and then the Dorado fish.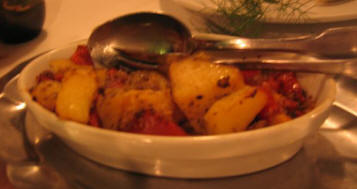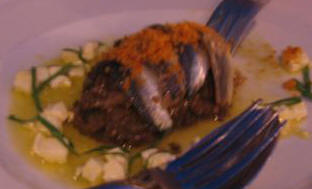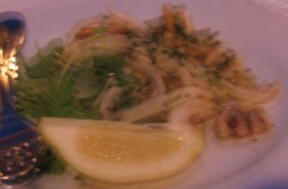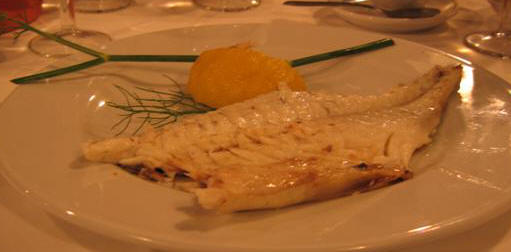 I then had a panna cotta for dessert with an espresso. It was a great time and a special treat to meet and get to know Nicole, a very elegant and lovely lady.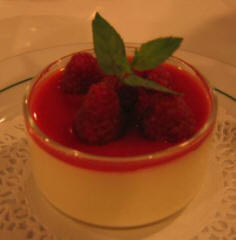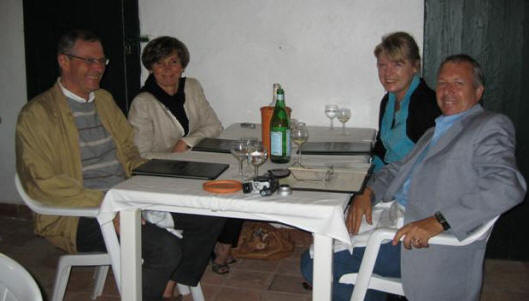 After dinner, Georges drove us back to our hotel and we got to bed at 3 AM. An unforgettable night. I checked the internet and the hotel wanted $15 for 1 hour online. I decided to forgo it
Kenneth J. Hoffer, MD
KHofferMD@AOL.com
Marseille, France
011-33-66-602-3431 KJH
011-33-66-892-7343 MH
Sent 8-6-05
If you enjoyed these travels or wish to add comments on the places we visited
Please Leave Me a Message by clicking the spinning @ sign.