Dr. Hoffer's Travel Site This site was last updated 03/03/11
Saturday July 9, 2005
I woke up at 7:00 and went back to sleep at 7:15 and didn't wake up again until 10:30. I finally got out of bed at 11:45 and went downstairs for a cappuccino at the hotel bar at 12:30 and relaxed doing diarios. I decided to run later which was not a good idea.
At 2:00 Marcia drove east again to the beach town of Cassis that was highly recommended by Georges. We used the Autoroute and arrived at 2:40 and spent a full 30 minutes driving up and down the hills trying to find a place to park. The hint should have been the cars parked around the traffic circle.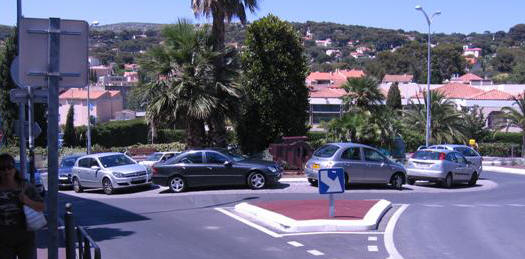 Ultimately we found a place way up on the hill. It was a nice long walk downhill to get to the beach. Because of the hills, it didn't look promising for me but I knew I had to run so at 3:15 I started along the shore and around the port and then into the old town.

Marcia had gone on her own way to get some lunch. At 4:00 I stopped for an espresso at Le Jette which was situated right on the water - a beautiful spot. Marcia called and finally came and joined me so I could go for a swim. I walked to the water and got in as far as my calves and even though I was hot from running in the heat, this water was so cold I just could not get into it for a swim. When I stepped out my feet were blue - it was cold.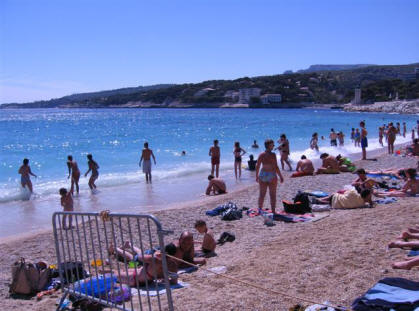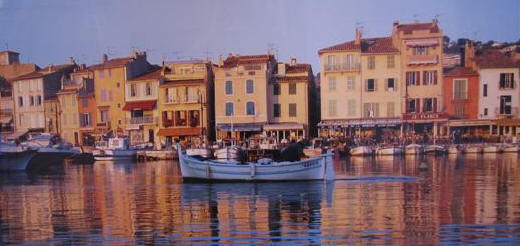 It was interesting to see the way some of the beach goers were dressed.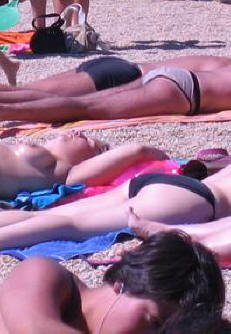 We walked around the shore and the town and after seeing a painter's portrait of my patient, Bob Dylan, Marcia found a shop to peek through.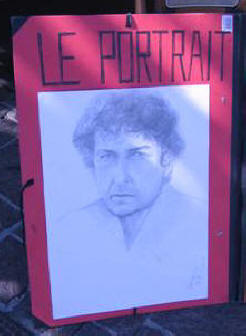 This was a great scene of old people sitting on benches and talking for hours.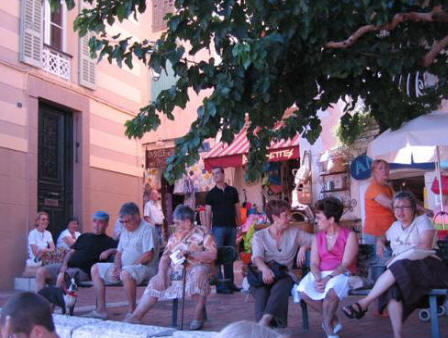 This girl had a little attitude but was helpful giving directions.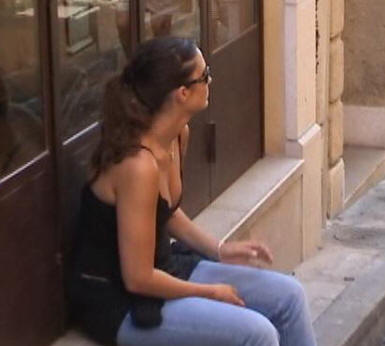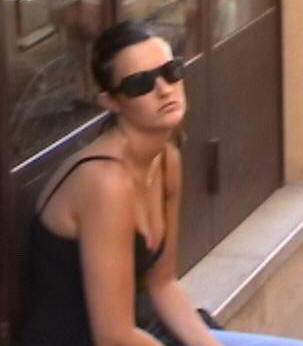 We stumbled upon the main church and a wedding was going on. Seems everyone is getting married in France this summer.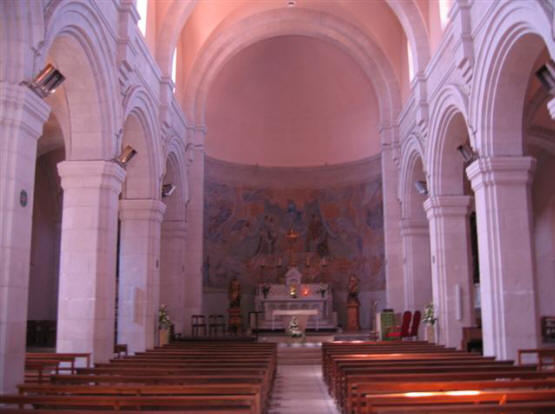 We walked way down to the end of the pier and at 5:15, sat down for a coke-lite and Perrier at Hotel Le Golfe with a beautiful view of the harbor. Here in France Diet Coke is called "Cok-a-lite".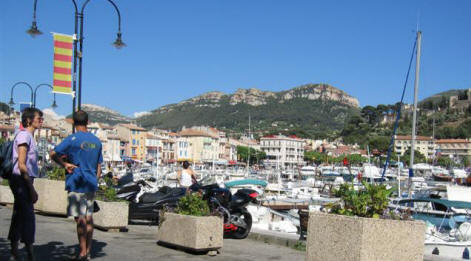 We gathered up our energy and at 6:05 we made the long trek back up the hill to the car. It was there, in the parking lot that I noticed that there was quite a dent in the front right bumper area. I figured this must have happened at the Sofitel when they parked the car.
At 6:20 Marcia drove west back to Marseille arriving at 7:00. These were our views leaving Cassis (left) and heading to Marseille (right).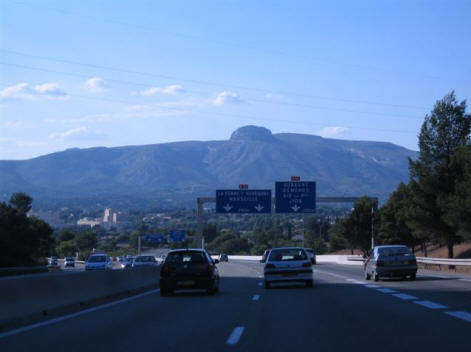 I immediately went to the front desk and asked for the manager and an explanation for the dent in our car. They said they would look into it and investigate it.
At 8:00 we left the hotel walking to find the rue de Corderie, the famous main street in Marseille. We never found it but wound up walking a very long way down some rather unsavory empty streets which were of no interest whatsoever until finally we took a turn and there was this great big plaza with many restaurants and bars loaded with people in outdoor patios. What a surprise.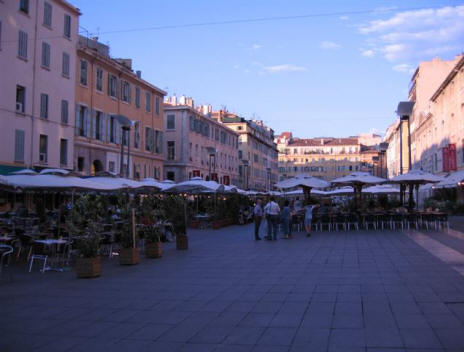 We kept walking and lo and behold we find an Irish pub and it was right near the water. So at 8:15 we sat down and had a Guinness and wine at Pub Le O'Malleys with a wonderful view of the Vieux Port.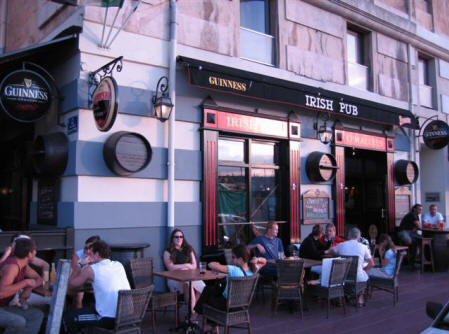 We had been told by Georges that to get the best bouillabaisse we had to go to Restaurant Miramar [12 quai du Port,
+33-(0)4-91-91-1041 (-4109)] and I knew where it was based on the map of the port. The port is a rectangle and our hotel is in the lower right corner and the restaurant is in the upper left. It was a little bit of a walk half way around the port but we really got to see the lively part of this city.

We arrived at 9:00 and because they had no seats left in the patio out front, they seated us inside but right by the open window in the front so we were just as if we were outside.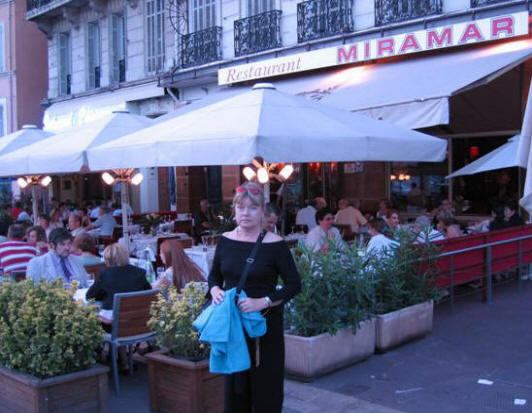 We had Badoit (Bad-wah) sparkling water and a bottle of Domaine du Paternal blanc de blances Cassis wine. The amuse bouche (chef's taster) was very green and very tasty.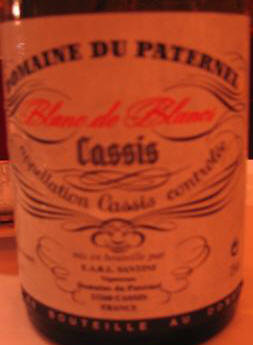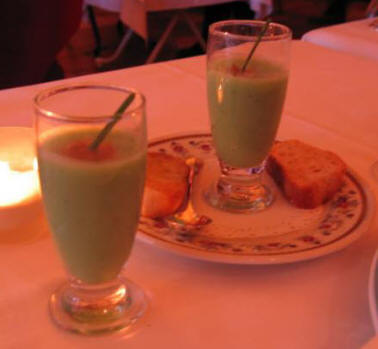 Of course, we both would have Bouillabaisse which is why we walked all the way over here, but I made the same mistake I did in Oviedo in Spain. The waiter asks me if we want to have it with lobster and I stupidly say yes. Then he brings out 3 live lobsters (Atlantic and Pacific) and asks me to choose. So, the mistake I made was choosing the largest lobster without ever asking him what the prices were. I guess the Guinness had kicked in. I picked the one he is holding.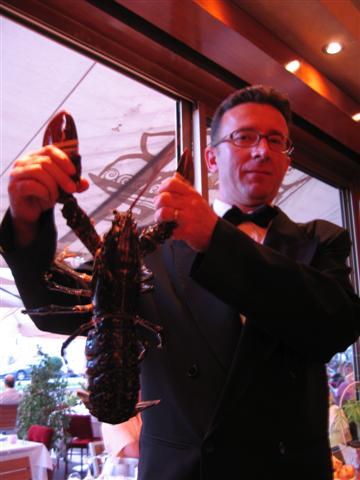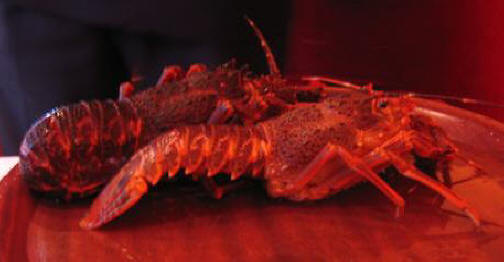 Bouillabaisse is a fish soup originating in Marseilles which typically consists of seafood including monkfish, mullet, snapper, conger eel, and the essential racasse (scorpion fish). It also includes tomatoes, olive oil and the expensive essential yellow spice, saffron. They make quite a production of bringing out the whole bouillabaisse affair. First they bring it out on a big rolling table and then fuss over it for 15 minutes until they finally serve you just the plain soup. Then they give you croûtons (pieces of toasted bread) with a spicy yellow mayonnaise spread called rouille and grated cheese. You put the spread on the bread and then float them in the soup. It was very good.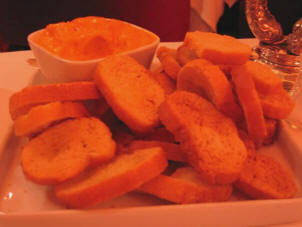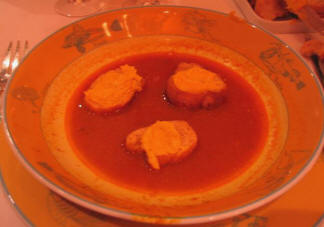 Next they bring all the seafood that was cooked in it. Obviously, there was our big lobster with the other kinds of fish and seafood. Then you put it into the soup and eat it all.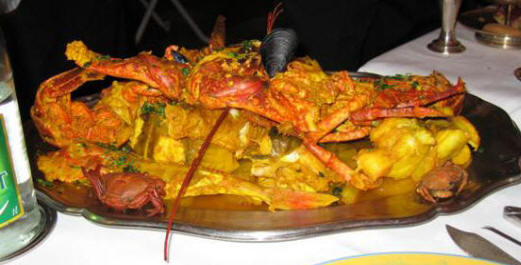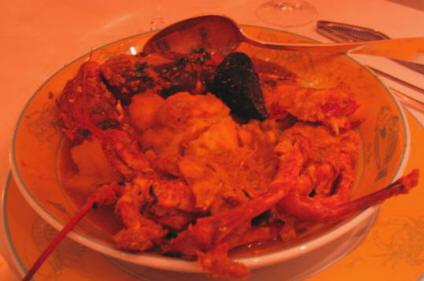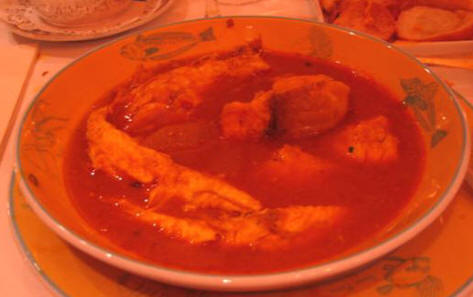 To finish, I had a soufflé gran manier and Marcia had tout chocolat. We enjoyed a glass of limoncello afterwards.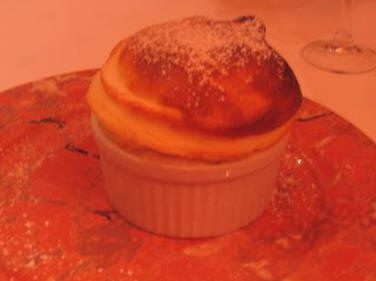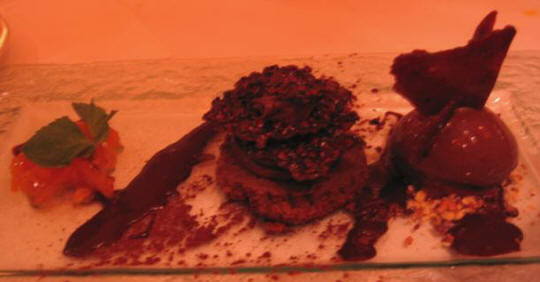 During dinner we struck up a conversation with the two couples at the next table. I noted the manager of the restaurant had spent a lot of time talking to him. They were very nice and it turns out the one guy (on the left) is an international real estate attorney from England with offices in France and elsewhere.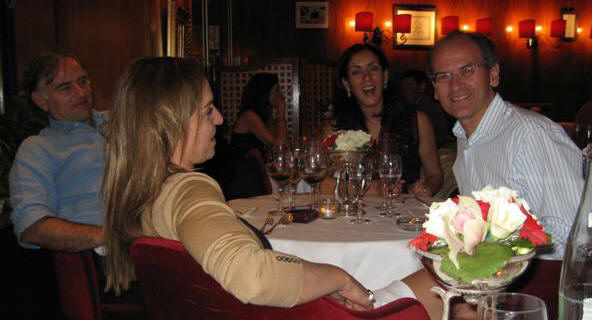 They not only bought us a glass of champagne but also spent a lot of time making recommendations for the rest of our trip. His name is Robert Anthony (left) and the other fellow is Dideon Braeus (right). Their wives were also very interested in giving us good travel advice and we appreciated it. We exchanged numbers and email addresses.
Now here is the good part. The final bill for the dinner (big lobster) was €384 [$464]. Do you think I will ever learn my lesson? The Bouillabaisse was great but the lobster was very tough and not worth it.
Even though I wanted to walk back, Marcia demanded we take a cab and we arrived back at the Sofitel at 1:15. After that meal I was in bed at 2 AM.
Kenneth J. Hoffer, MD
KHofferMD@AOL.com
Marseille, France
011-33-66-602-3431 KJH
011-33-66-892-7343 MH
Sent 8-19-05
If you enjoyed these travels or wish to add comments on the places we visited
Please Leave Me a Message by clicking the spinning @ sign.