Dr. Hoffer's Travel Site This site was last updated 08/07/07
Kevin & Gisele's Wedding in the Vatican 07-07-07
It actually happened and it went very smoothly.
Kevin Joseph Hoffer and Gisele Abou-Haidar were married in the Roman Catholic Church in the Chapel of Sanctae Annae in the Vatican at 4:00 PM on the lucky day 07-07-07. Father Angelo Di Berardino performed the ceremony and the Mass.
Pope Benedict XVI is the Pastor of this church but he was busy at work in his apartment just across the street.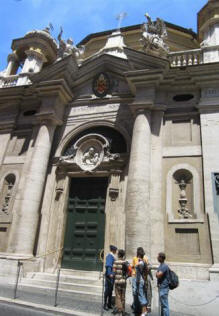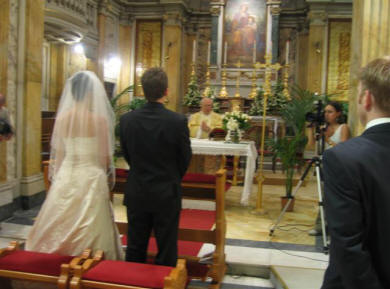 ---
NOW FOR THE LONG VERSION
JULY 5, 2007
Marcia and I arrived in Roma on Thursday, July 5 very late because of the long drive from Bologna. We stayed at the Palazzo Cardinal Cesi right next to the Vatican and found a parking spot right in front of the door. That is Marcia's new white BMW and it sat in the same spot for six days.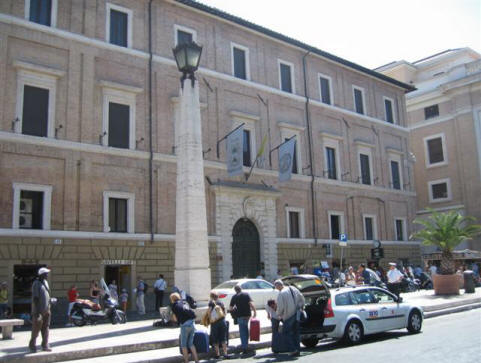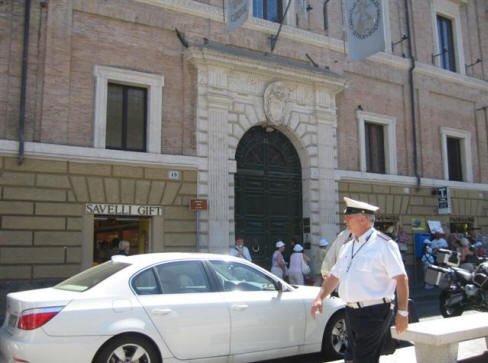 During my run, Gisele called me and invited us to join them for dinner at the Quatro Fiume in Piazza Navonna to meet her aunts and uncles who flew in from Lebanon. It was great to meet them all.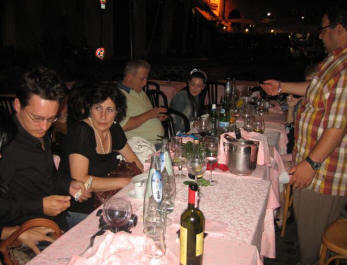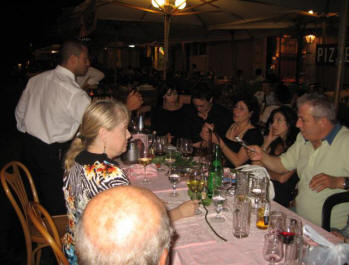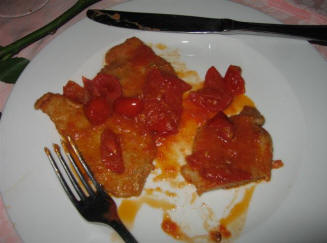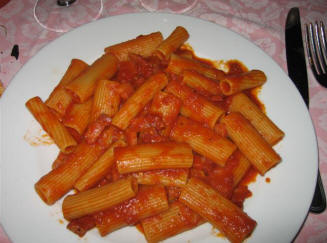 The pizza was great as well as the Orvieto Classico Italian vino bianco.
---
The Rehearsal Day
JULY 6, 2007
The next day was the rehearsal which was to start at 7:15 at the chapel but the bride and groom were a little late so it started at 7:45. It went smoothly, except the rehearsal dinner was scheduled for 8 PM and Fr. Angelo called them to tell them we would be late.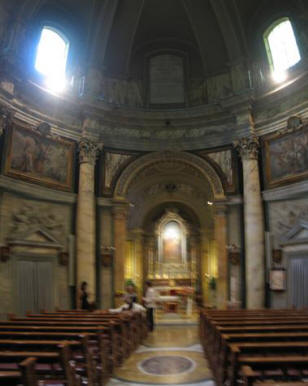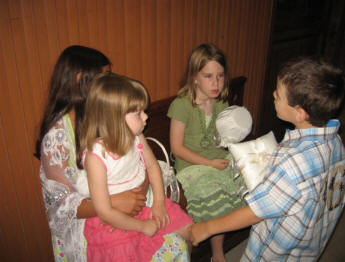 The chapel is beautiful. The witnesses (Jeff, best man and Ghada, maid of honor) had to sign some papers while Jeff's girls Kaylin and Anabella and Ghada's kids Nicole and Jacob talked in the hall.
Fr. Angelo led the taxi brigade across the Tevere (Tiber River) to the famous Alfredo Ristorante. There is also now one in Epcot Center in Disney World in Orlando.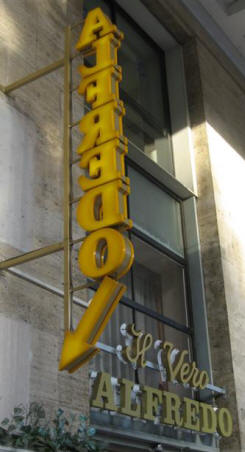 We all caught cabs in St. Peter's Square; my cab cost €14, Mike's cab cost 13 and Fr. Angelo's cab cost 5.50. Rome's cabs are atrocious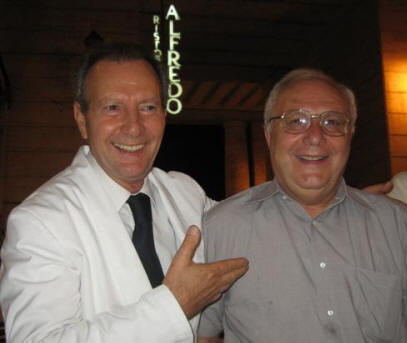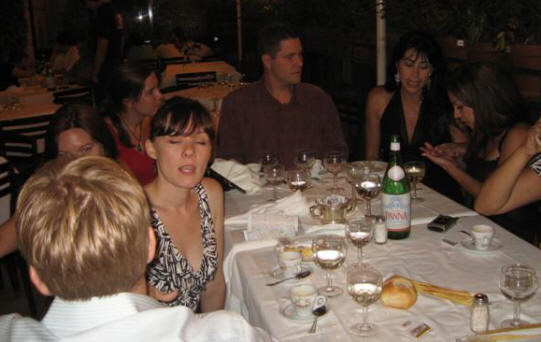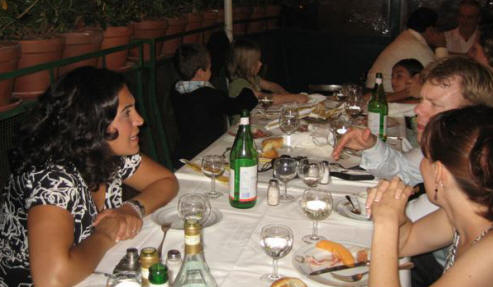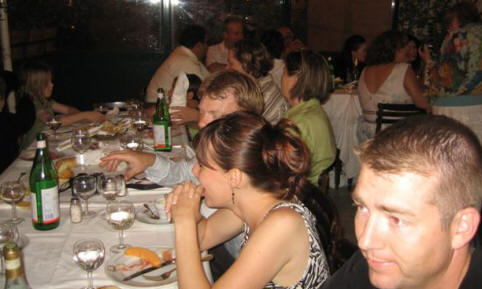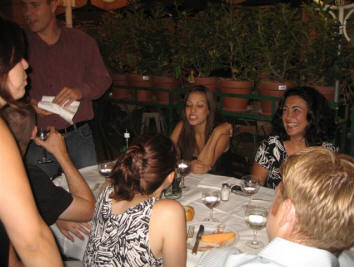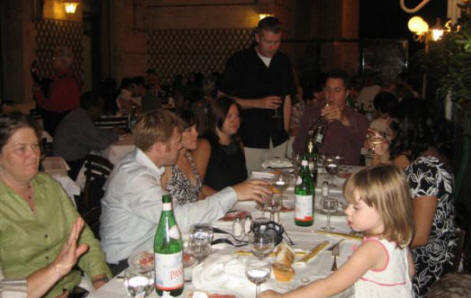 The dinner turned out to be fantastic. The antipasti was prosciutto and melone followed by primi of fettuccini Alfredo and secondi of vitello scalopini con funghi (with mushrooms.)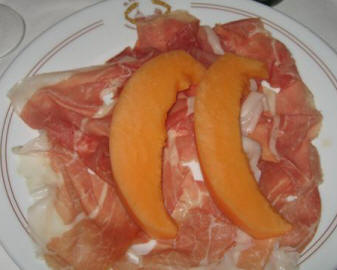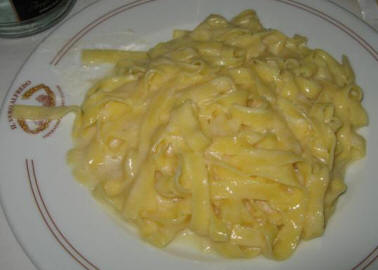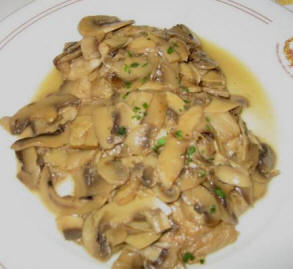 The fettucini is special because it is not made by pouring a "cream sauce" over it but instead is only the hot noodles with butter and parmagian cheese mixed at your table just before you eat it. I first had it here in 1974 and rarely ever find it made that way in the US. I wanted everyone to experience it.
The dolci was a delicious apple torte. Alfredo's Frascati white wine was excellent.
---
The Wedding Day
JULY 7, 2007
The next day the wedding was originally scheduled at 7 PM but got moved up to 4 PM. Everyone arrived early except Jeff and Rebecca and he was the best man so nothing could start until he got there.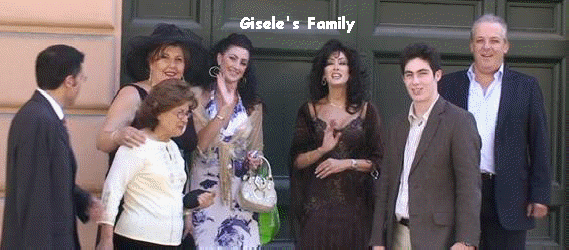 Gisele's relatives (above) had flown from Beirut, Lebanon for the wedding and they were waiting across the street when we got there. Brian and Alex from the UK were with our niece Mary Faulk and little Elena (below left.) My granddaughter Kaylin posed with Irene Calatayud and Carlos Palomini, MD from Madrid.
The procession began with the flower girls Kaylin and Nicole followed by my granddaughter Anabella and Jacob bearing the rings.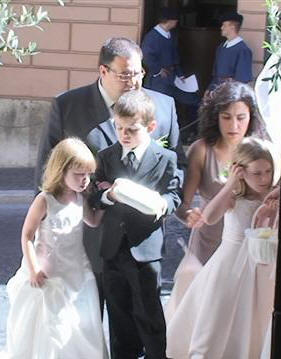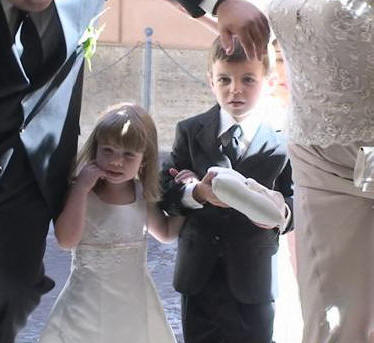 After the parents of the bride and groom went up the aisle, Mike escorted his daughter Gisele while Jeff tried to get Kaylin and Anabella in their seat.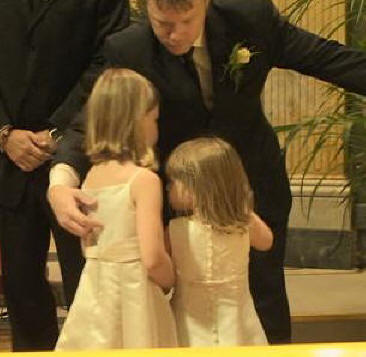 Fr. Angelo welcomed everyone and then the wedding Mass began.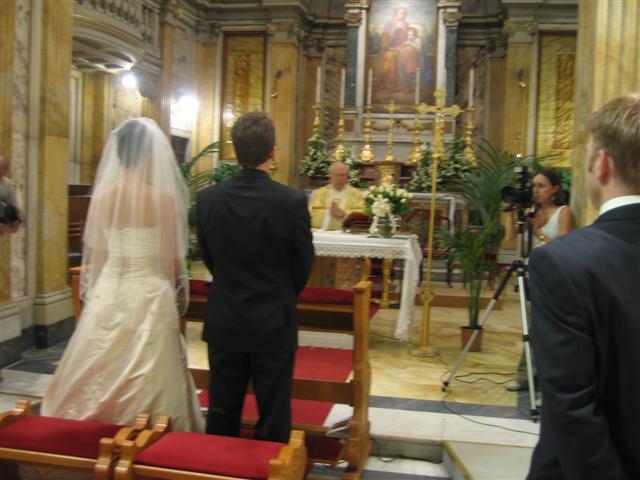 They asked me to do the first reading and Gisele's brother, Cesar, to do the second. Then Mike read a passage in Arabic.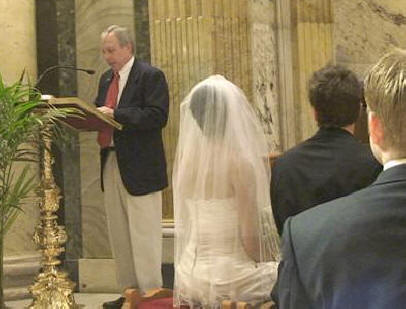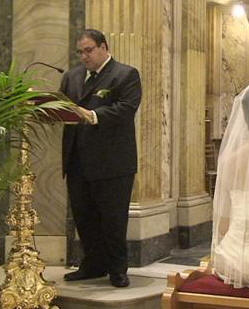 Kevin and Gisele exchanged their vows and then placed their rings.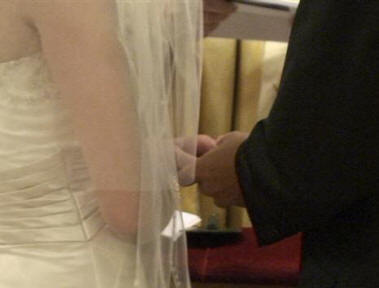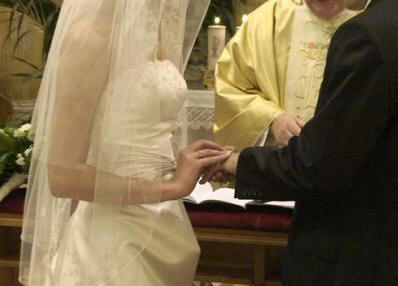 Then Fr. Angelo pronounced them man and wife.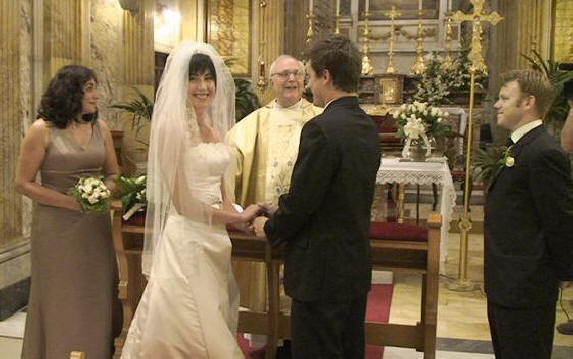 After the Mass and Holy Communion, the bride and groom had to sign the book and several papers.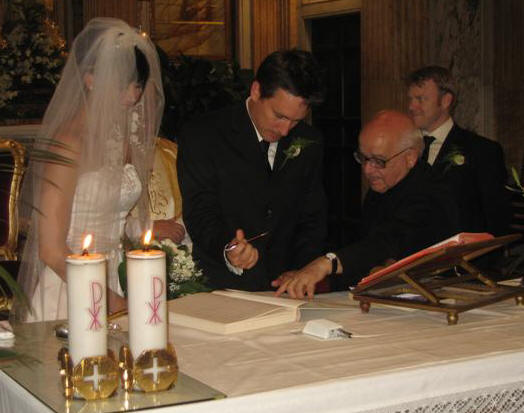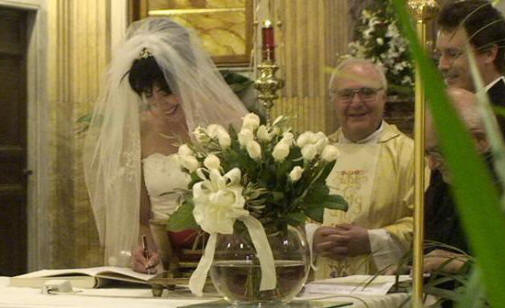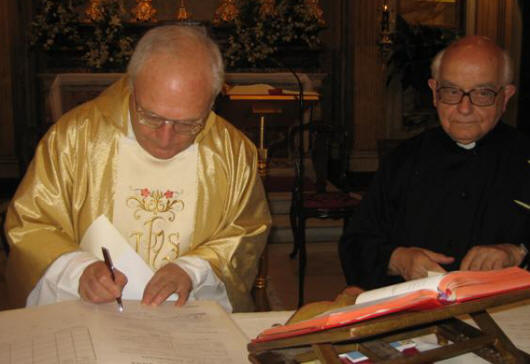 The proof it is official.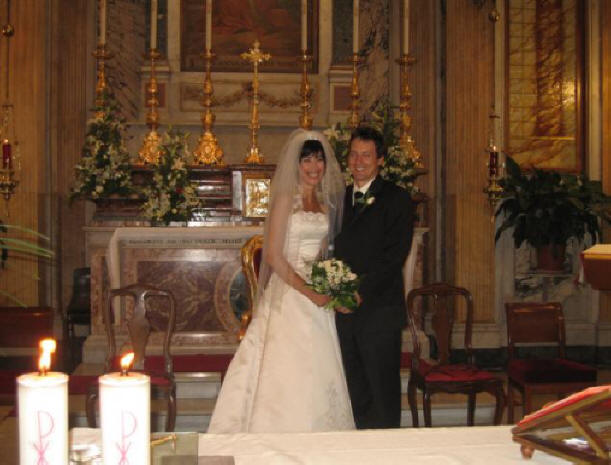 The groom's family on the left and the bride's family on the right.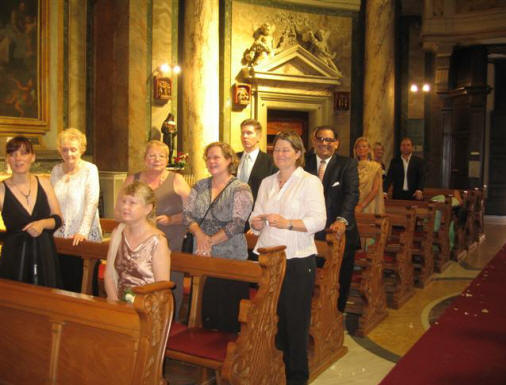 Below left is Mark Hattendorf (Rebecca's Dad) behind Irene Calatayud from Madrid, then Tania and Dimitrii Dementiev and my goddaughter Anastasia from Milano behind Peggy Hattendorf (Rebecca's Mom.)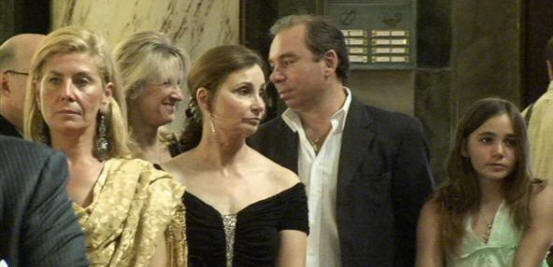 The procession leaves the church led by the flower girls and Jacob.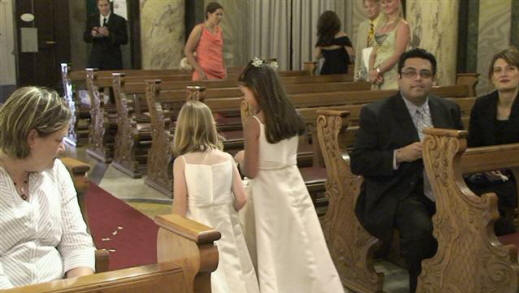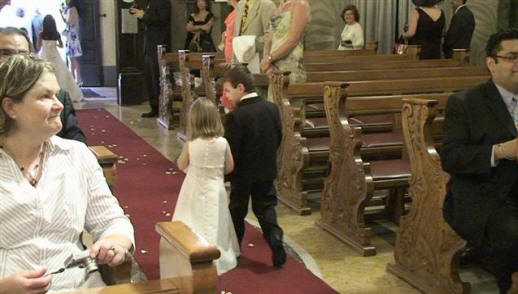 The wedding party walked through St. Peter's Square and were being photographed by all the tourists. The bride was beautiful and beaming. The groom seemed pretty chipper as well.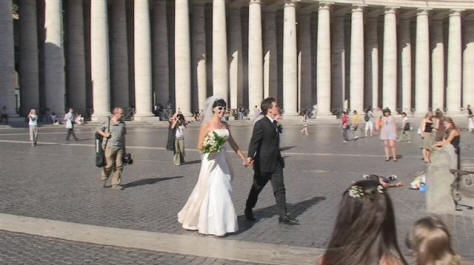 Then Fr. Angelo led us all to the Augustinaium to climb the hill to take photos overlooking St. Peter's Basilica. He made sure everyone had some water; it was pretty hot. Kaylin handed out the cups.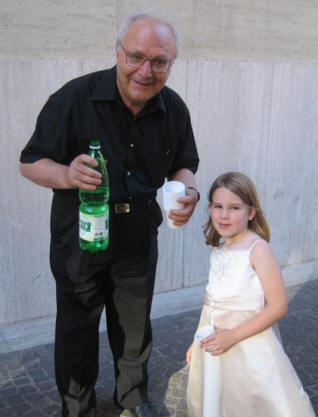 After the photos were done everyone had a chance to rest a little at their hotels. Anabella completely conked out. The wedding reception was scheduled for 8 PM at Ristorante "Scusate Il Retardo" ("Excuse me for being late," a most appropriate name for the Hoffer Family.) It is located in the Piazza della Rotunda where the Pantheon is sitting. It was built by Caesar's so-in-law Agrippa and is now a church where King Vittorio Emannuel is buried. Below right is Mary, Tyler and little Elena. Mary is Marcia's brother's daughter and Tyler is a Major in the U.S. Army; they are stationed now in Turkey.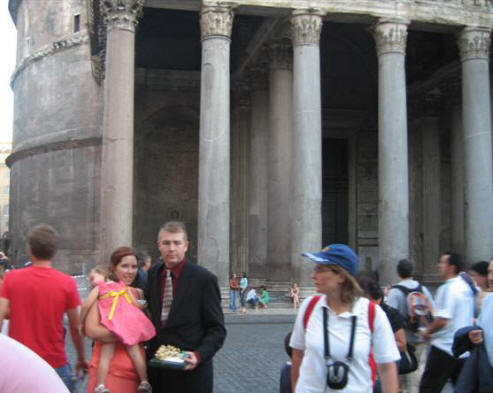 Below left is Carlos Palomini, Irene Calatayud, Brian Thornhill, Alex White and Marcia Hoffer. As we arrived Dimitrii, Tania and Anastasia were calling to us from the window; the restaurant was on the second floor.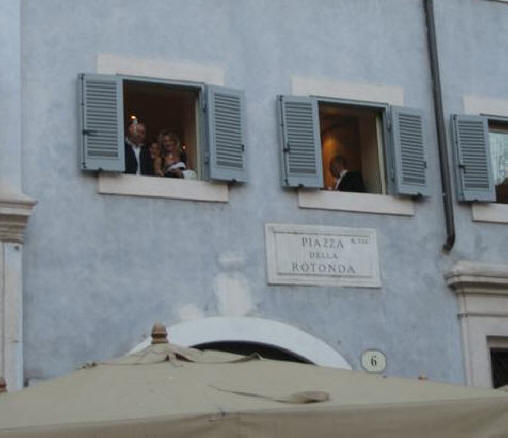 Kaylin, Nicole and Anabella were enjoying the view of the active piazza below.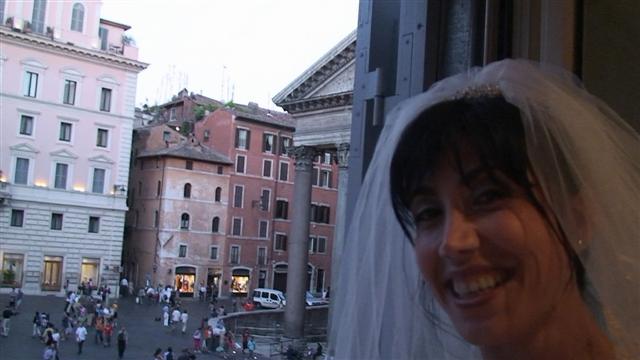 Kevin and Gisele at their table.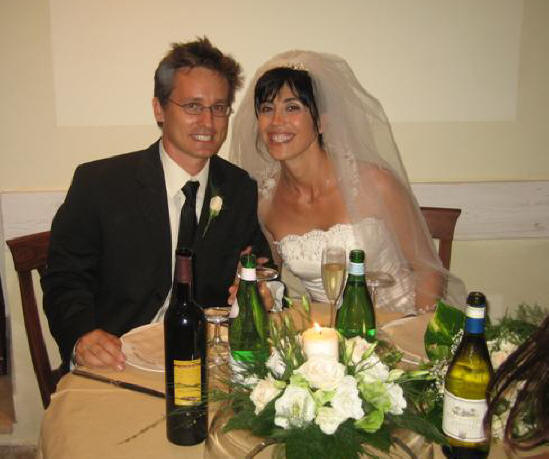 Fr. Angelo headed the Parent's table; Jeanette and Mike with Marcia.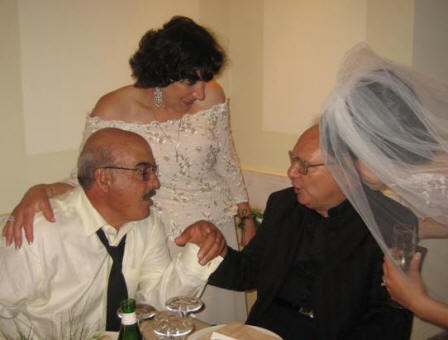 The bride with Carlos and Irene (left) and with Mark Hattendorf (right.)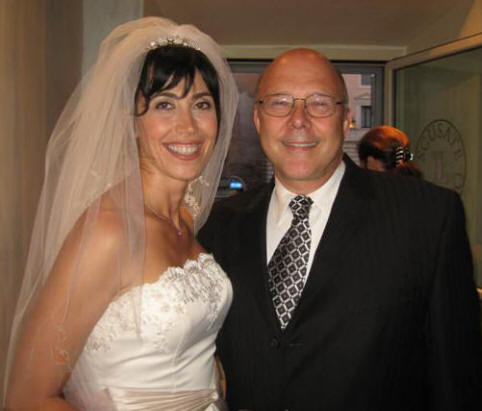 Tania found a good spot to grab a smoke (left). Kaylin and Anabella with their grandparents, Peggy and Mark Hattendorf.
Fr. Angelo with Brian, Alex and Irene (left) and Cesar with Jeff and Rebecca.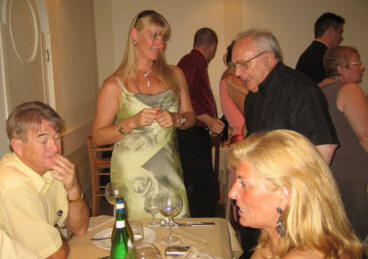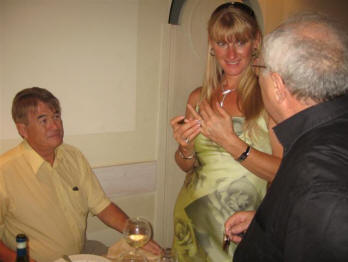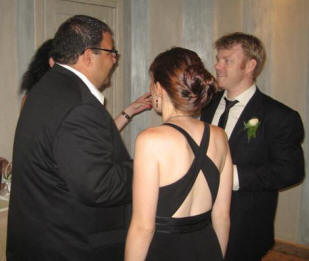 BELOW LEFT: front left, my sister-in-law Priscilla Hoffer; front right, my cousin Barbara Holmes and Dawn Hyatt; far end, Gisele' Aunt Maria. RIGHT: Left to right, Alex, Irene, Anastasia, Dimitrii, Tania, Carlos and Brian.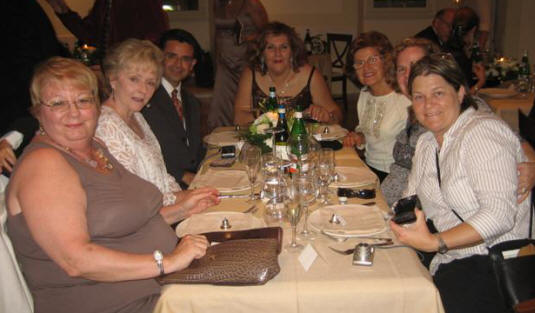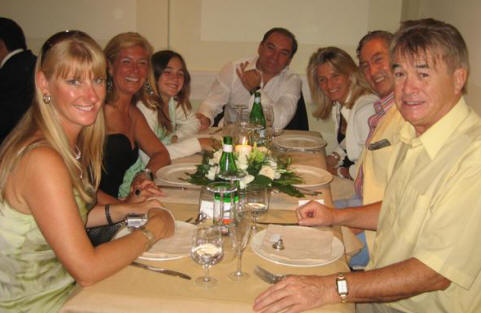 Everyone was ready to eat and the entire dinner was Italiani and fabulous. The wines were a beautiful Frascati (white) and Multepulciano D'Abruzzi (red.)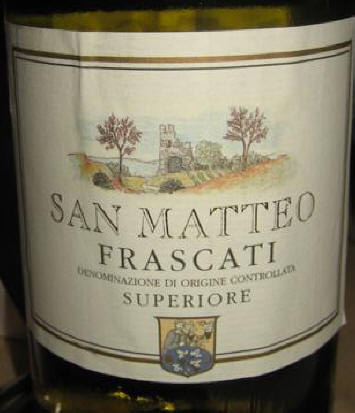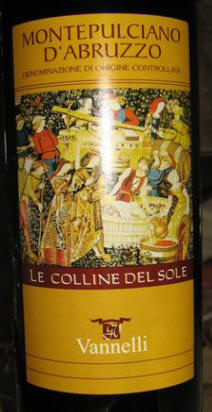 The Antipasti was a seafood salad and prosciutto with ruccola....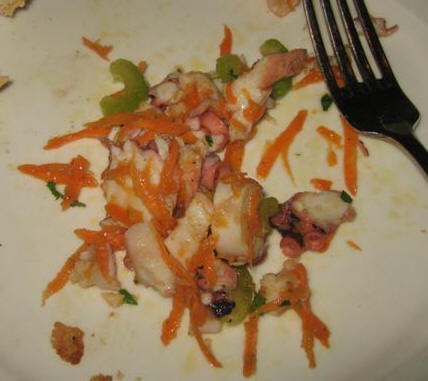 ... and calamari fritti. The Primi was a beautiful rissotto with mussels and clams.
The Secondi was a tender veal scallopini with potatoes and a Spigola (fish).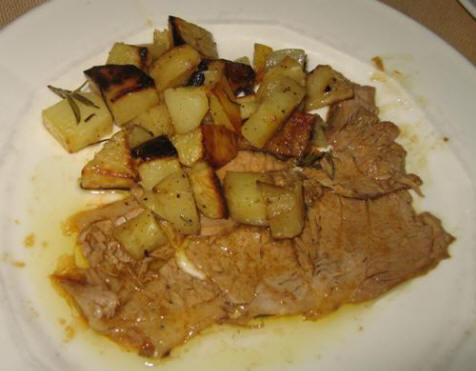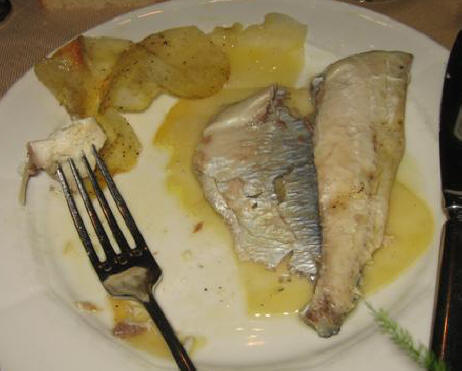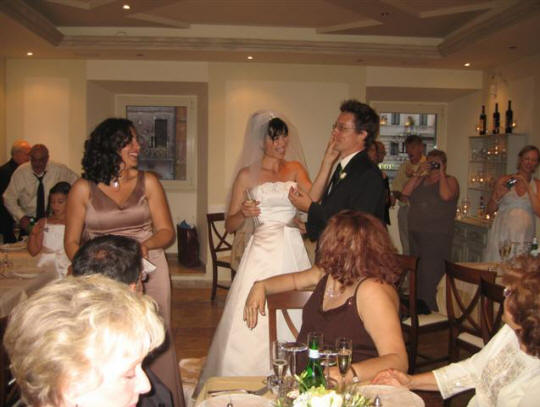 The bride and groom have their first dance and get pelted with dollar bills....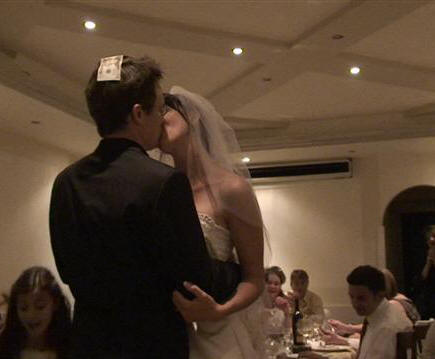 .... which Gisele found a place for.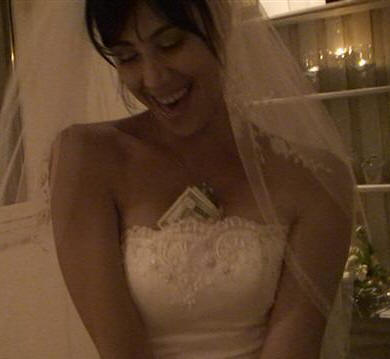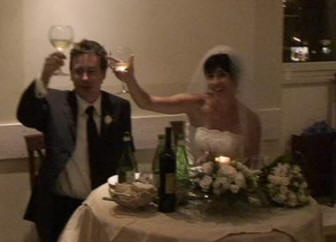 The dance of the bride and her father was a beautiful Andrea Bocelli song. Even Marcia sang along.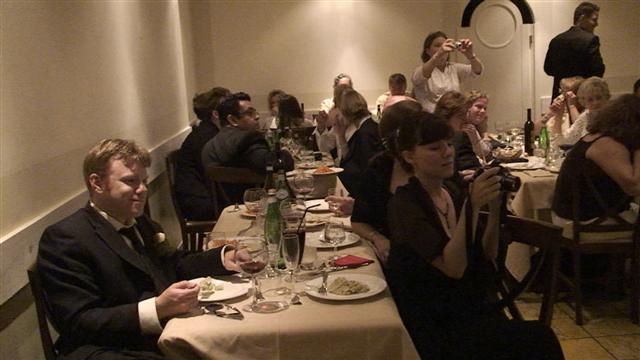 Time to cut the cake. The wedding cake topper was specially designed by the bride.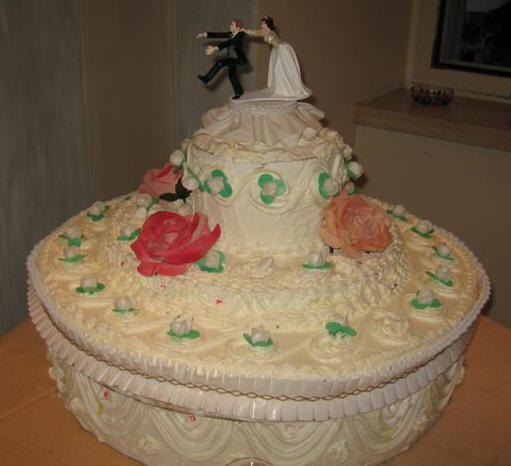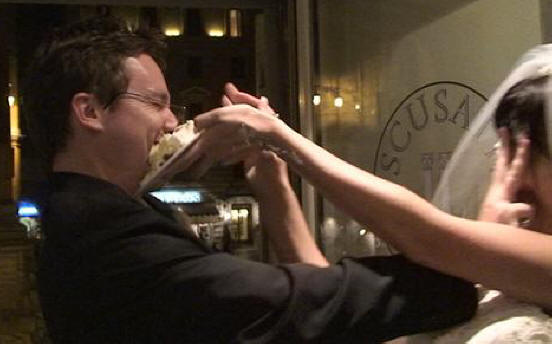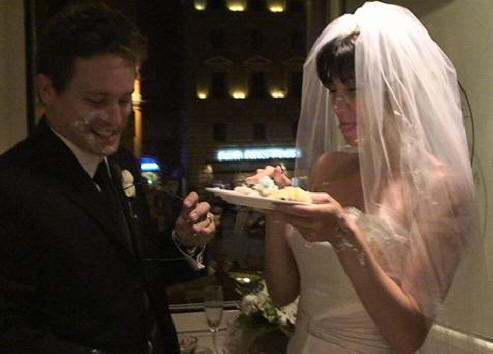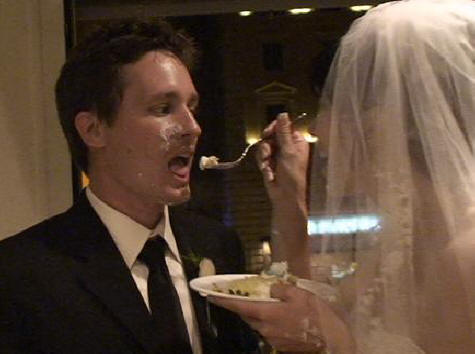 Left: Peggy & Mark with Marcia. Right: Dimitrii, Mike Wasgatt, my daughter Kristin and Aunt Priscilla.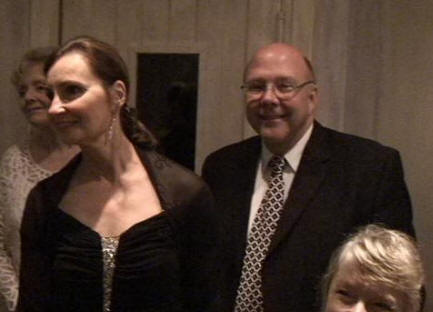 Finally time for the Best Man to give his toast followed by the Maid of Honor.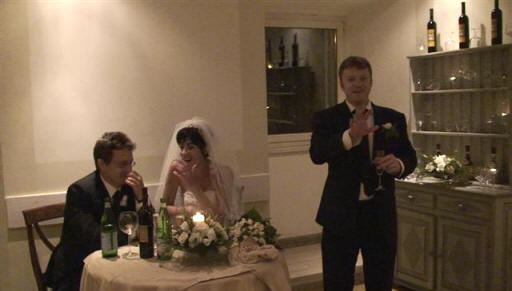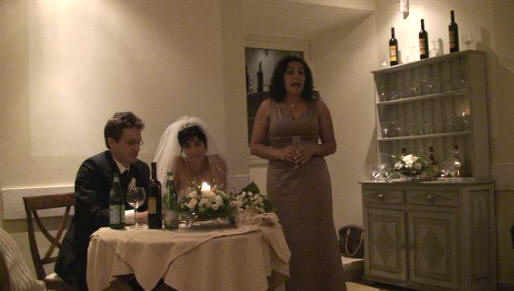 Then by Gisele's brother Cesar and then Nichole and Kaylin got into the act.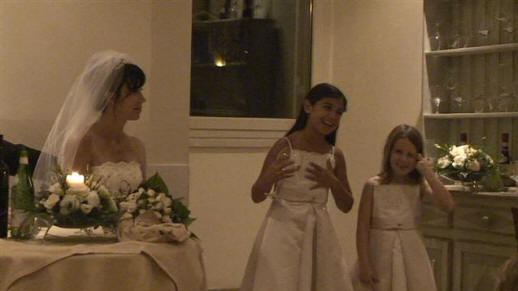 Then Marcia and I got up and spoke and then Mike and Jeanette.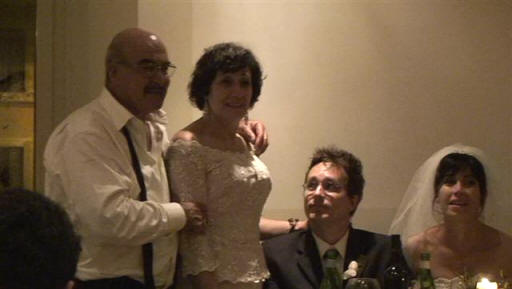 The proud parents.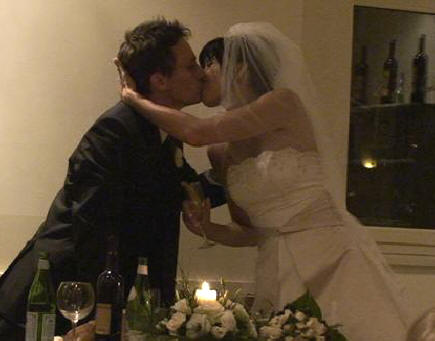 After everyone left, they all decided to sit around the fountain in the piazza.
Ghada thought it would be good to sit up on the fountain and her older sister Gisele tried to push her in, but even with help from Nichol and Alex they couldn't do it.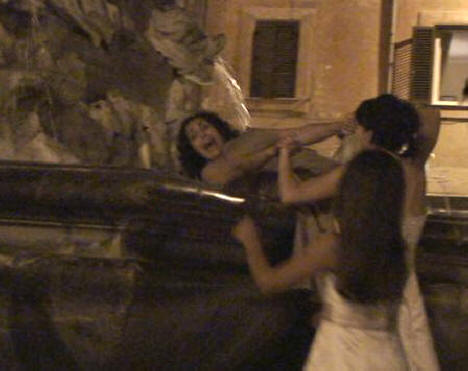 Kevin with his Mom and Ghada, Kristin and Luzelena Wasgatt (she and her husband Mike were married in Santa Monica last summer. Mike is Marcia's brother's son.
All in all it was a beautiful day and a beautiful night.
---
The Day After
JULY 8, 2007
The next day at noon I joined the Hoffer/Hattendorf family to hear Pope Benedict give his Sunday blessing. Kaylin was listening intently.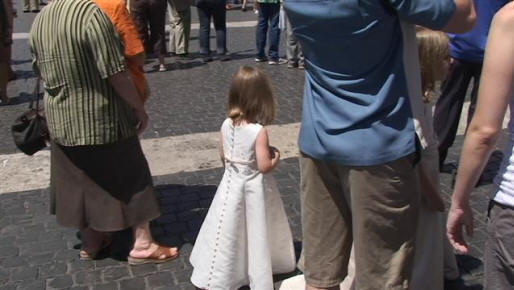 The Pope is speaking from the tiny window with the red sash below.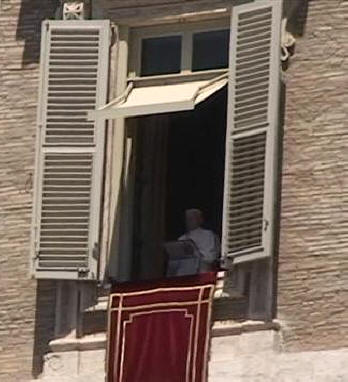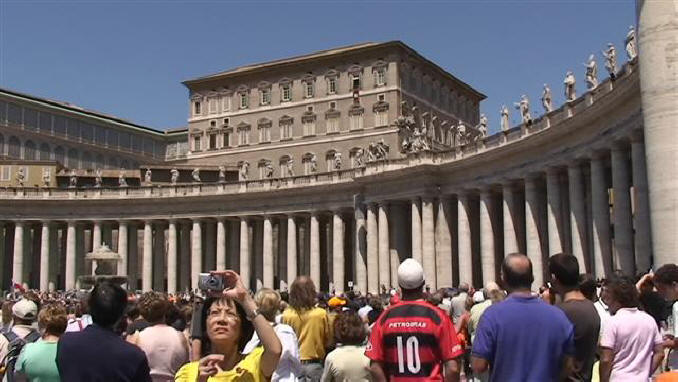 Then the Wasgatt Family joined us and we went to lunch.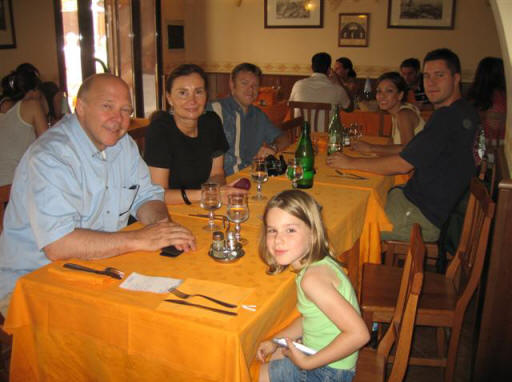 Can you believe they all had pizza while I had a capucchino.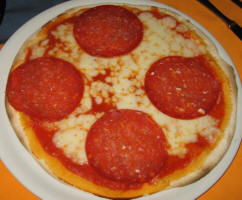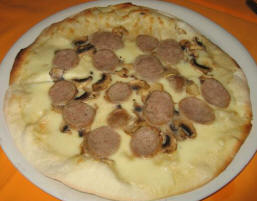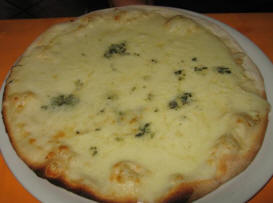 Kaylin instead had spaghetti and she enjoyed it. Little Anabella thought Elena needed help going along in her seat.
That evening we joined up at the hotel with our friend Kryshia Ford from England and her new fiancée, John Edgington. Kevin had passed the word that the family was to meet at 9 PM at the Trevi Fountain. We invited them to join us.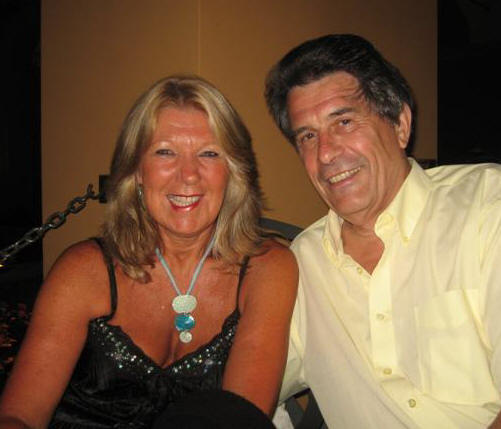 They got a chance to see the bride and groom.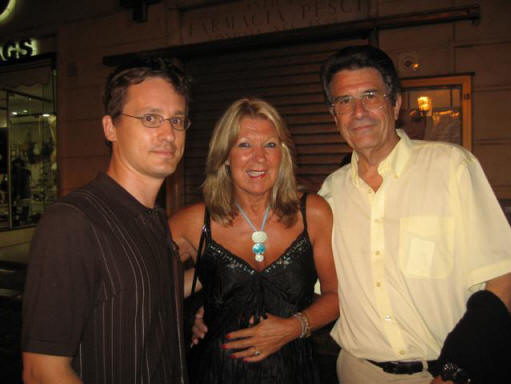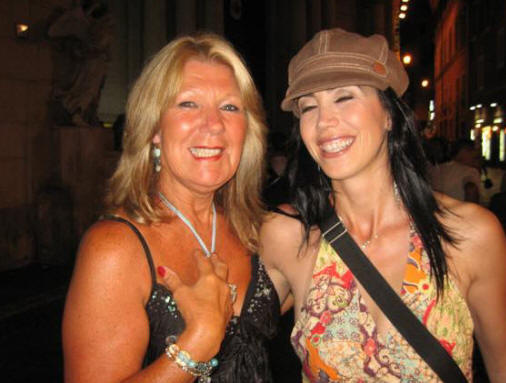 Rebecca with sleepy Anabella and Jeff with Kaylin at Fontana di Trevi.
Kaylin took her throwing the coin in the fountain very seriously. After 3 tries, she finally turned to see it go plunck.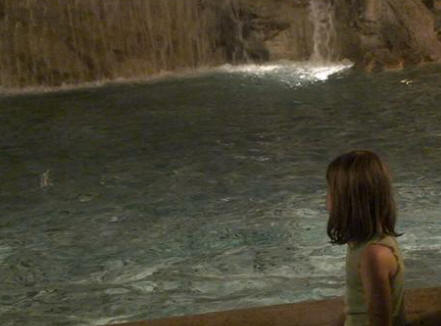 Then she joined two girls from Lubjliana, Slovenia. Tyler, Kristin, Mark and Rebecca and Anabella.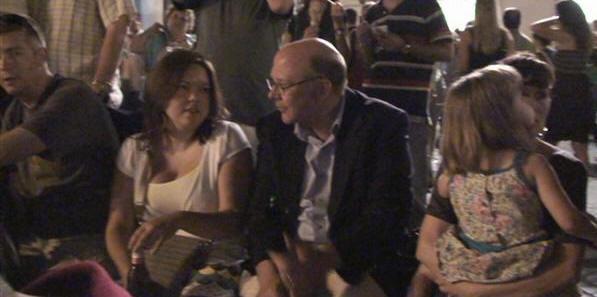 Mary and Elena took their shot.
By the time we organized to get dinner, all the restaurants were closing and we were very lucky to get into this touristy place near the Trevi.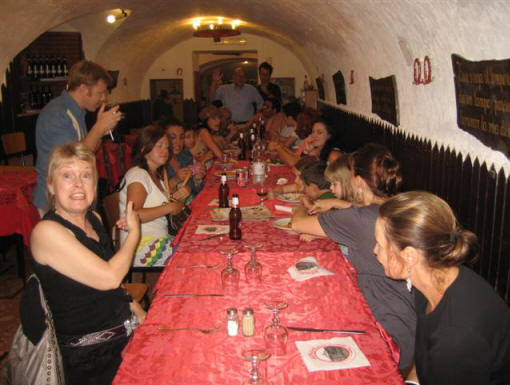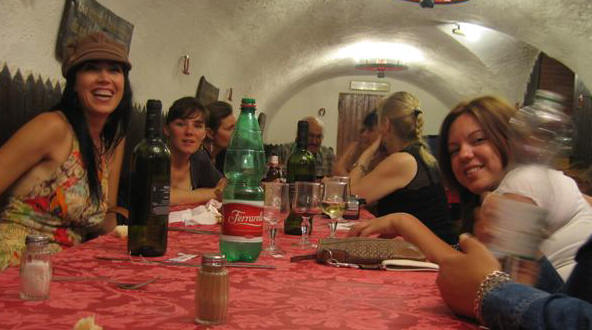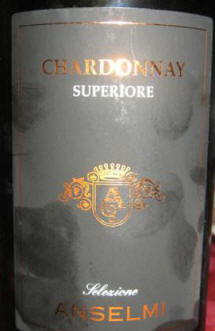 A nice Insalata Caprese, pizza and spaghetti pomodore.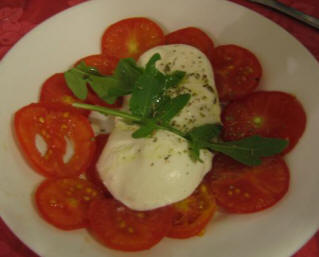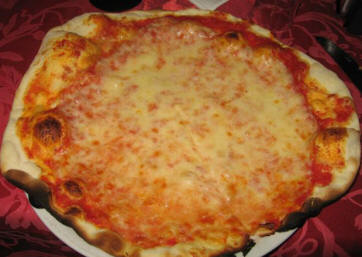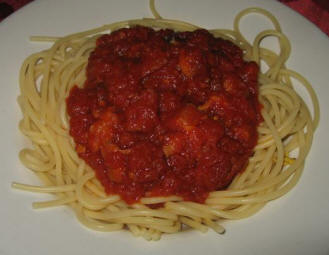 Do you think the kids enjoyed their pasta?
We got back to the hotel and then walked into the Borgo area. The evening was finished off with dishes of good gelato.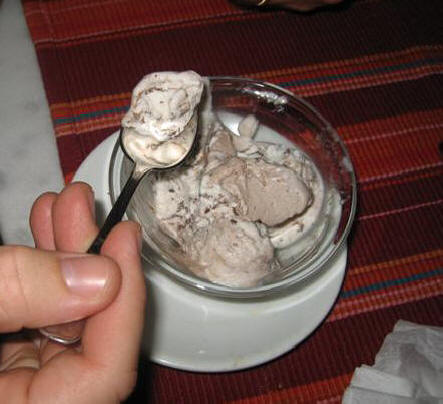 ---
The "Last" Day
JULY 9, 2007
As the sun was setting on the Vatican we headed to Piazza Navonna to have dinner at Tre Scalini.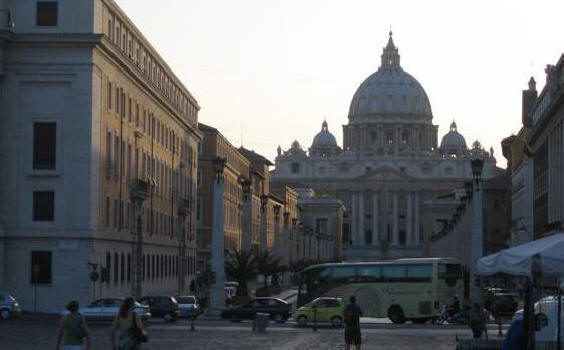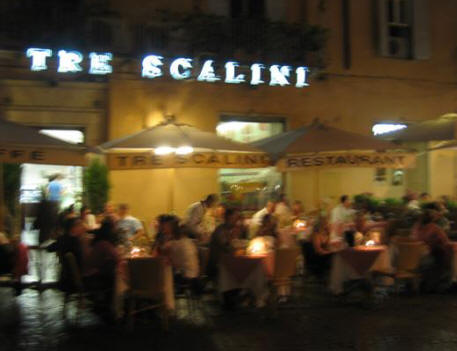 Fr. Angelo joined us for our last night. Since Brian and Alex missed us last night, they joined us also. We enjoyed some excellent Grcante and Nero D'Avola recommended by Fr. Angelo.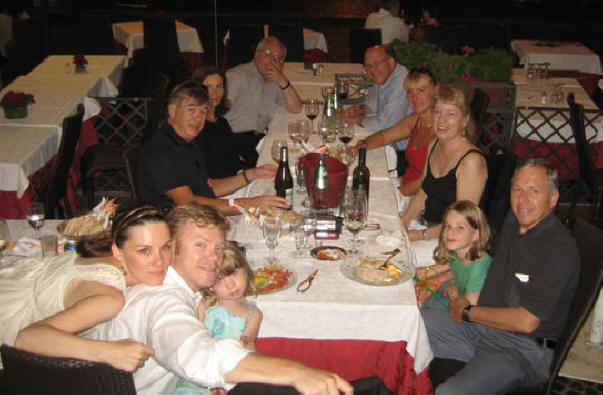 I was dying to have Fiori di Zucca fritti (fried zucchini flower) and Marcia had Carccofo Judeica (Roman Jewish artichoke.)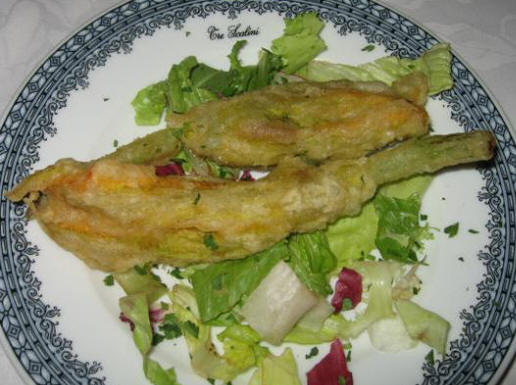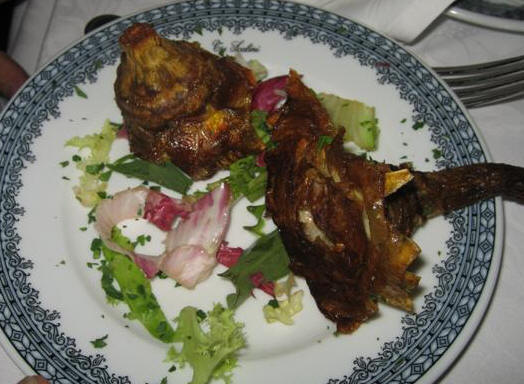 Jeff had calamari fritti and chicken parmegian.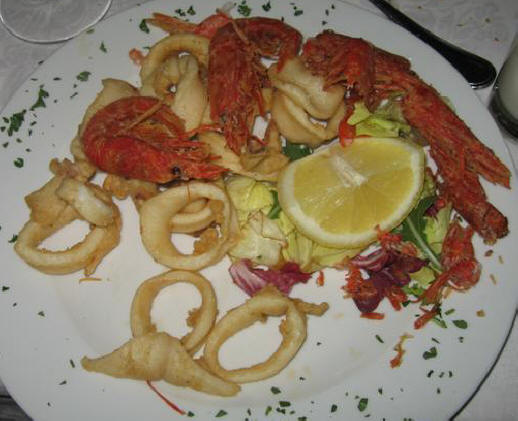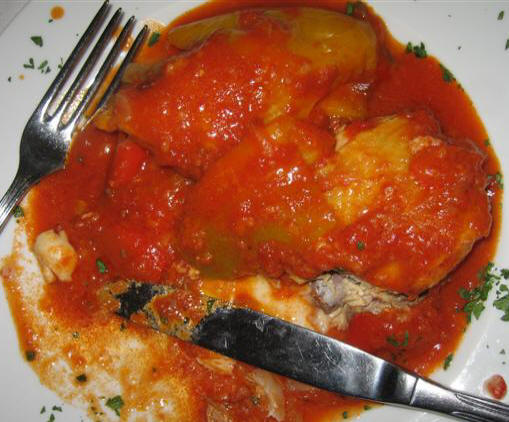 Fr. Angelo and I had spaghetti with lobster and Marcia had veal scallopini.
The family had a good time.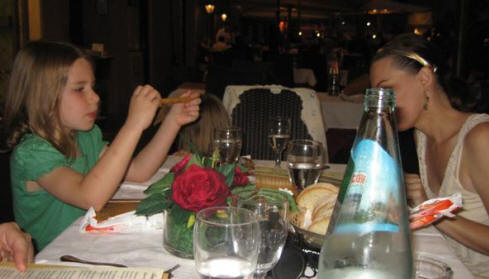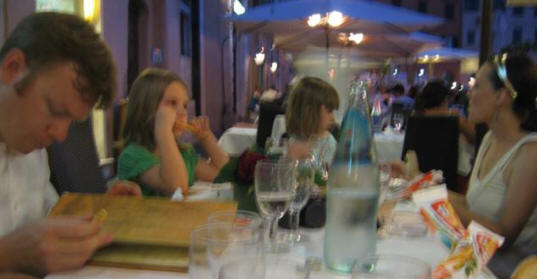 Fr. Angelo in deep conversation with Mark. I think Jeff and Rebecca have enjoyed their stay in Rome. It is the first time my son has been to Europe.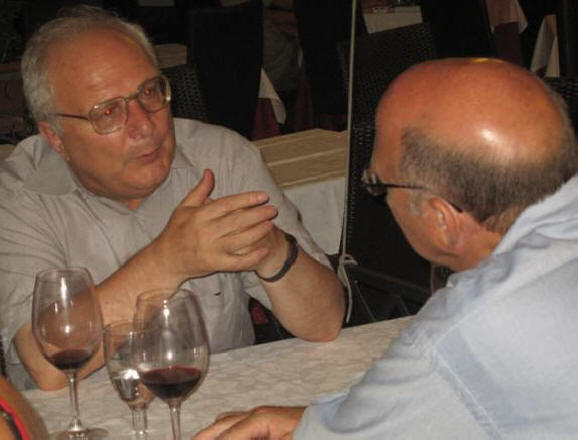 ---
The Last Day: I Show Kaylin Rome
JULY 10, 2007
Last night, Rebecca asked me if I wanted to spend some time with Kaylin and I said that we were scheduled to leave Rome in the morning. When we got back to the hotel they told us we couldn't stay another day but after scouring the computer he found we could. So Kaylin stayed with us last night and the next day we got up to have our little private adventure in Rome, just the two of us.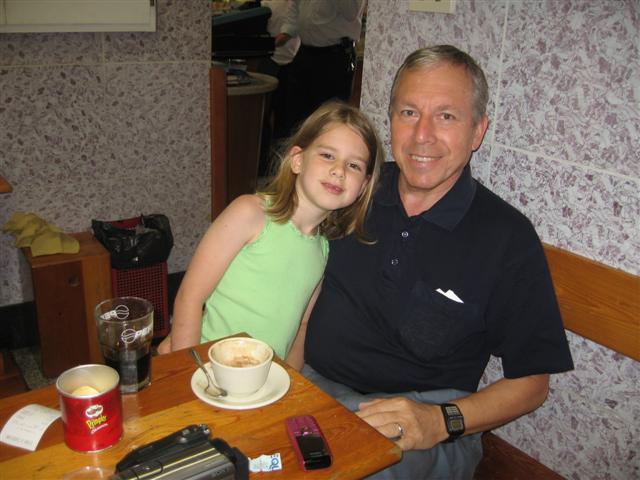 I first took her to breakfast in a little cafe just down the street from our hotel but she didn't like any of the things they had and the only thing she wanted was a box of Pringles and a coke. I had a cappuccino. We then went to St. Peter's Basilica and went through the security routine to get in. We went directly to the crypts and we saw the tomb of John Paul II, Pope Paul VI, Pope John XXIII and many more going back 100s of years. Below is Kaylin in front of the Holy Door which is only opened every 10 years.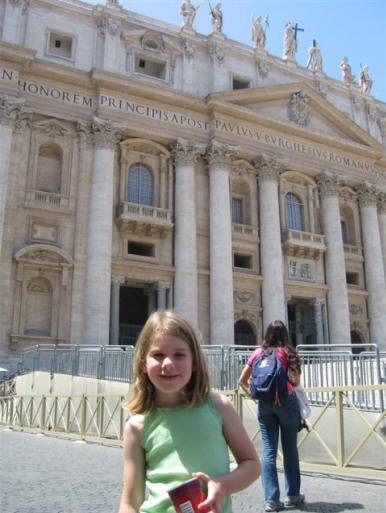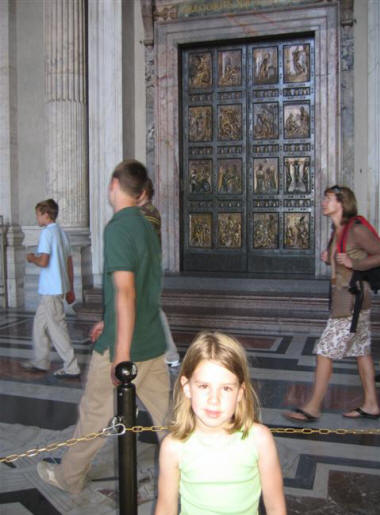 We then went upstairs into the main Basilica and saw Michelangelo's Pieta and that is Kaylin in front of St. Peter's Tomb in the center of the Basilica.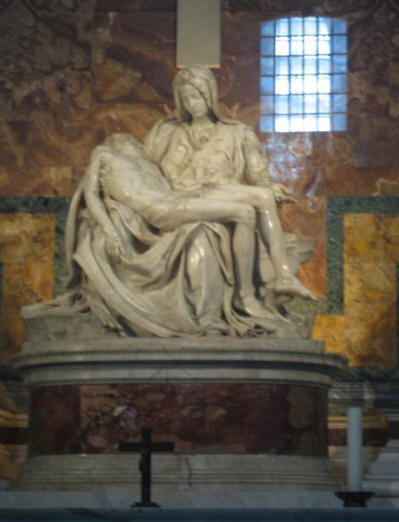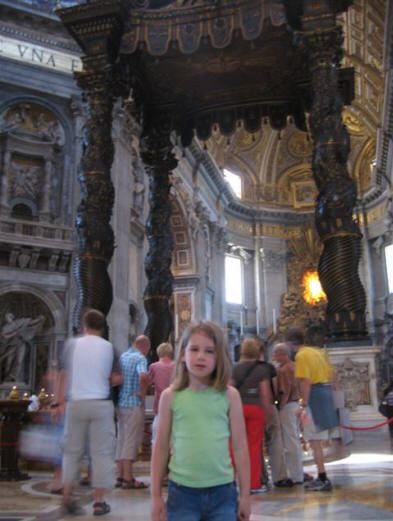 Then she posed in front of one of the grand marble statues of one of the saints. She got fascinated by the huge grates in the floor and she could see down into the crypts.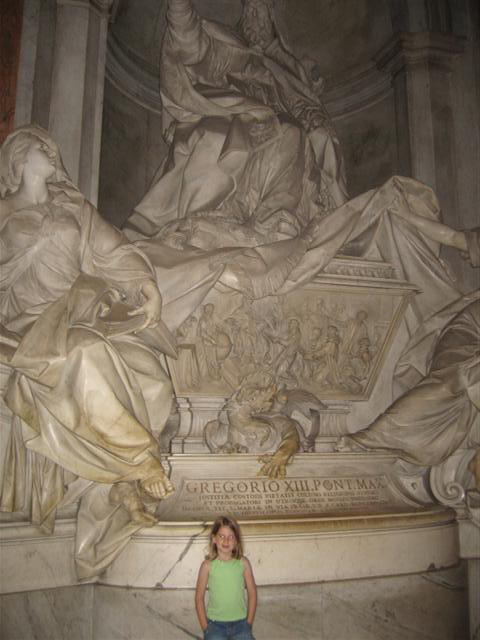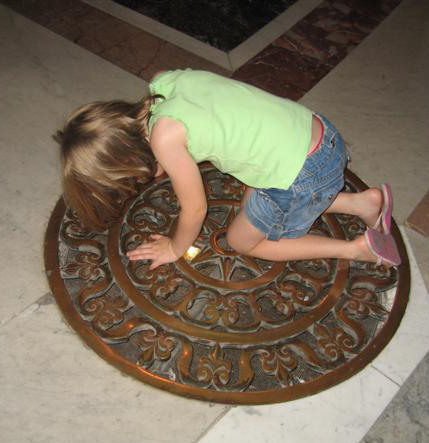 We then took a cab to Alfredo's to have lunch but it was closed so we started walking on Via del Corso until Kaylin spotted a gelato place. So we went inside and she had the gelato I had promised her. She got Menthe (mint) and chocolate. I had a lemon ice.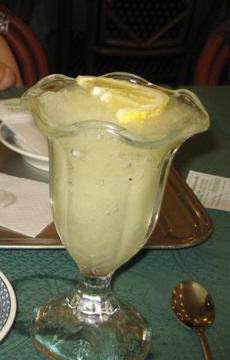 Kaylin was most interested in finding a toy store but we never really found one. We kept walking a long way until we arrived in Piazza del Popolo with the huge Egyptian obelisk. We then walked back toward the hotel near Alfredo's and Kaylin posed in front of the Tomb of Augustus Caesar (behind the trees.)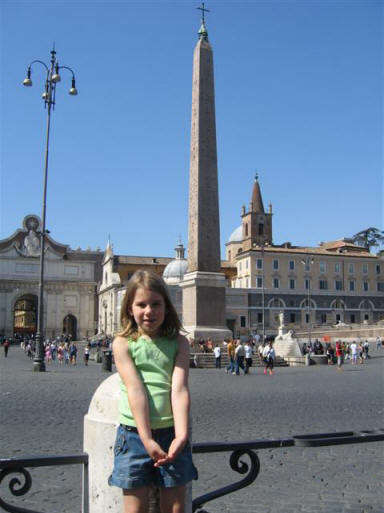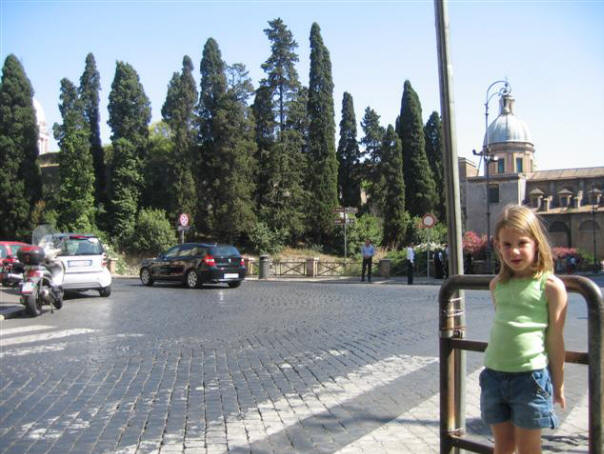 We then walked to the front of the new covered Ara Pace (ancient Altar of Peace) which you can see below left in the background. You can see how excited Kaylin was. They had this huge exhibit of Gucci dresses through history. Kaylin posed in front of the red ones.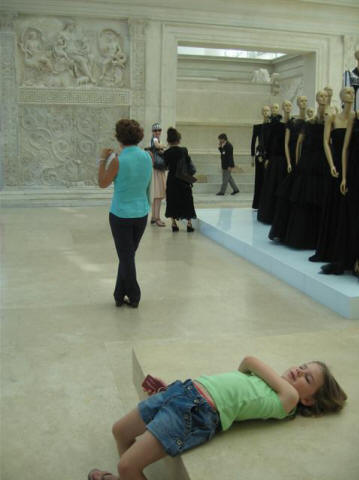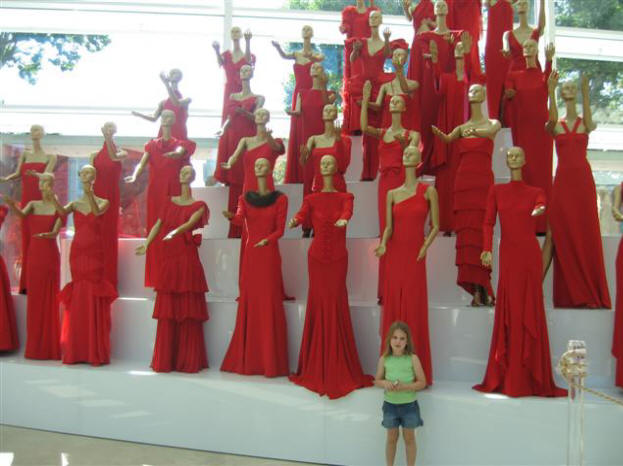 We then walked along the Tevere Flume (Tiber River) until we got back to the Vatican. Kaylin was very bummed that we never found a toy store. All that walking in the heat deserved a refresher. So we each had a lemon ice.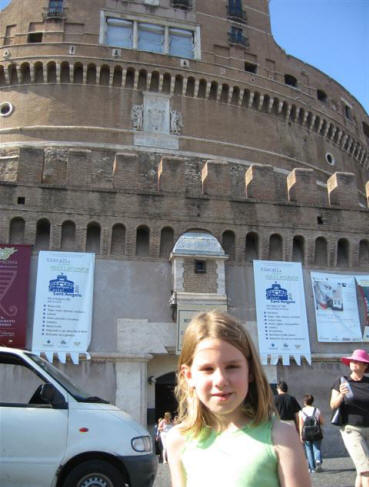 We got back to the hotel, rested a little and then headed out for dinner at a restaurant that Fr. Angelo had recommended called La Barca (the boat.) They are known for their pesce (fish.) Marcia and I split a bottle of Falanghina del Beneventano which was very good.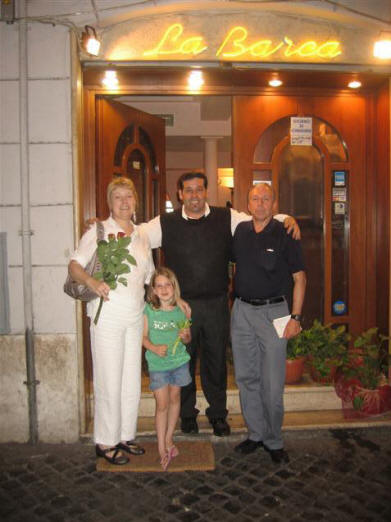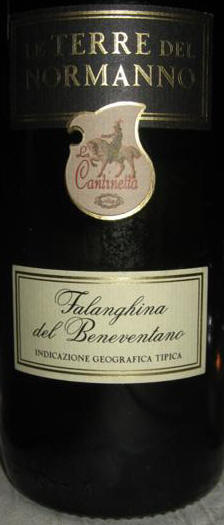 Antipasto was interesting Italian meats with mozzarella and tomatoes. The thin bread was unusally and very tasty.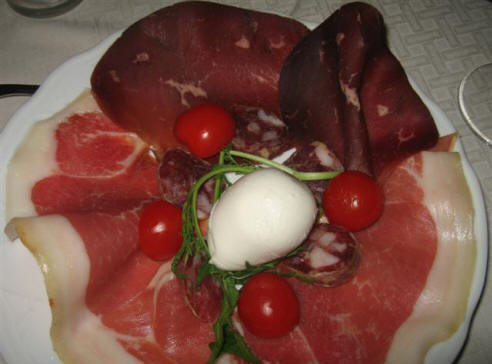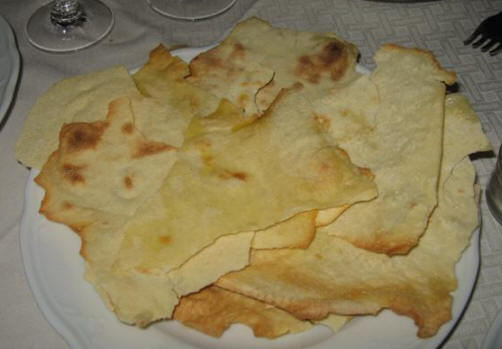 We then shared a plate of mixed seafood; anchovies, octopus (polpo) and small fish.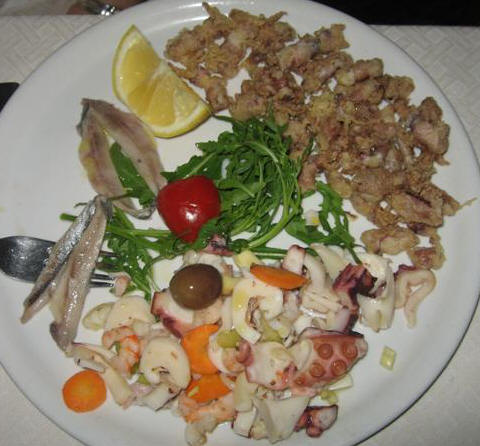 Kaylin enjoyed her plate of spaghetti while I had spaghetti carbonara and roast prok.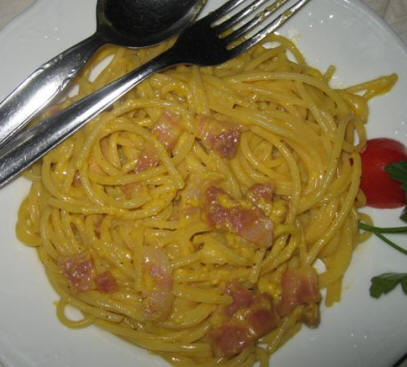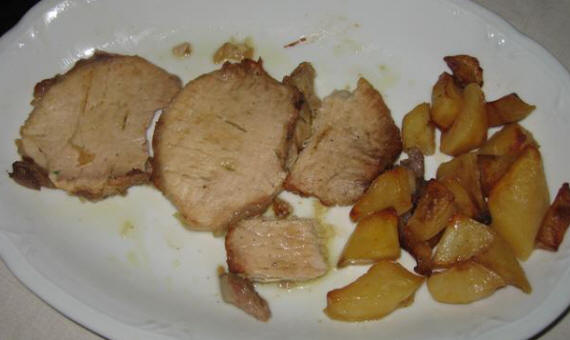 Marcia had langostino and fish with a salad dish which was huge.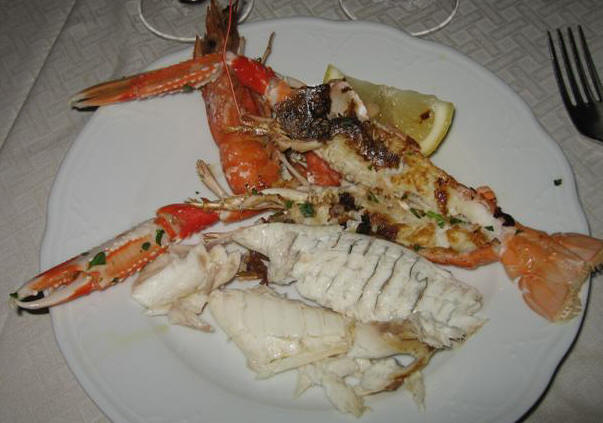 Marcia and Kaylin both had vanilla and chocolate gelati and they brought some cookies.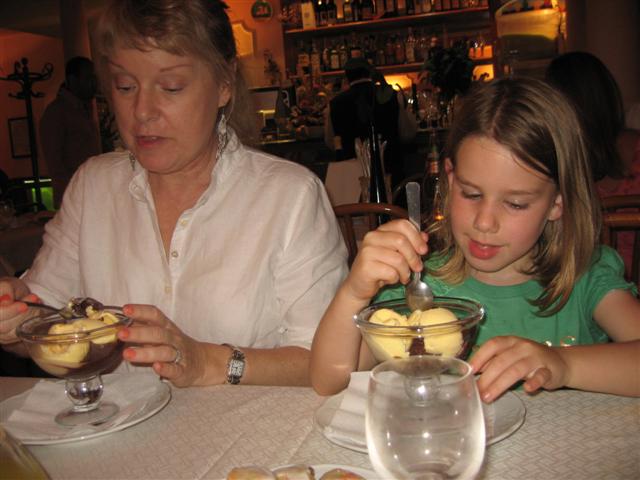 We had a wonderful dinner and the owner gave each of the ladies a rose to take home.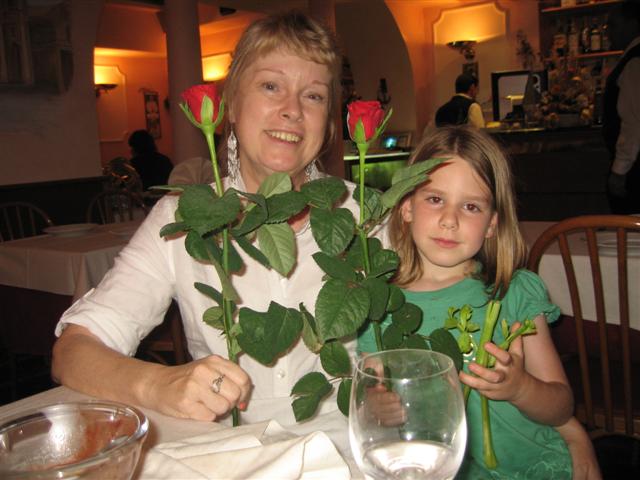 We walked back to the hotel and then Kaylin taught Nana how to play solitaire on the Palm phone.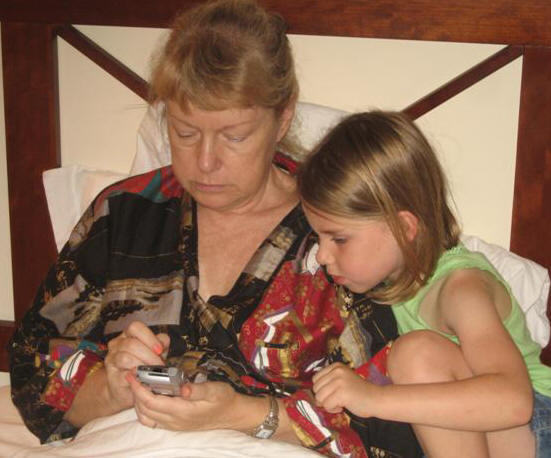 We had a wonderful day and I appreciate Jeff and Rebecca letting me take Kaylin out alone. The next morning we left Rome for Milano.
---
KJH
Roma, Italia
07-10-07
If you enjoyed these travels or wish to add comments on the places we visited
Please Leave Me a Message by clicking the spinning @ sign.