Dr. Hoffer's Travel WebSite This site was last updated 07/24/19
j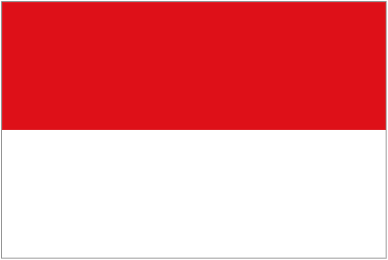 GREECE17 #6 VIENNA #2 KUNSTMUSEUM II

---
Saturday, July 15, 2017 (Continued)
---
Kunsthistorisches Museum (Con't)
After relaxing a while, I finished my cappuccino (the domed area I am in (below left) is in orange in map below). At 2:55 PM, I headed back to the other half of the First Floor, the left side (in blue), to see the Dutch, Flemish and German art in Galleries IX-XV and Rooms 14-24. Boy, this place is huge.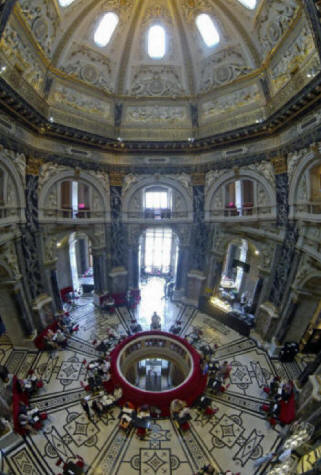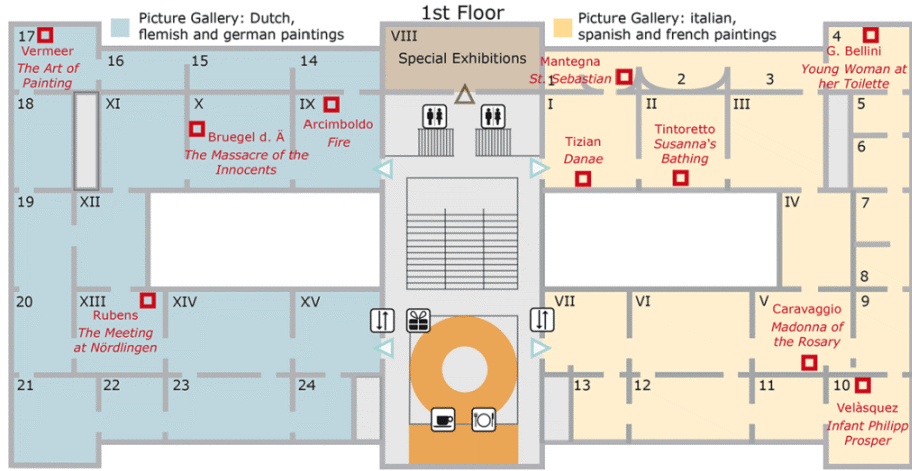 I followed their order and the first one I entered was Gallery IX with its descriptions of German and Flemish Art of the 16th Century. Note that each of the entry doors has a different statue bust at the top.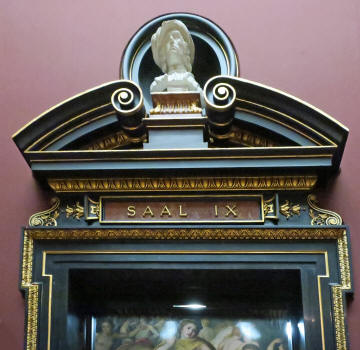 I first came across some marble statues; below left is St. Elizabeth of Hungary (1207-31) showing the "Miracle of the Roses" by Wenzel Lewy (Václav Levý) (1820-70), a Czech sculptor. On the right is "Franz Freiherr von Matzinger" (1817-96) President of the Hof-Dau-Comités (1883-1892). He designed the expansion of the city of Vienna through the sale of the land vacated by the demolition of the fortifications and ordered the demolition of the bastions and the creation of the Vienna Ringstrasse.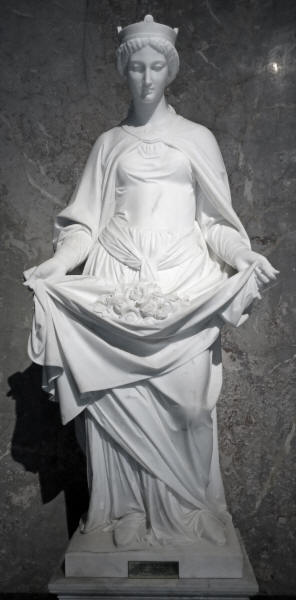 Here are some examples of the walls of paintings here.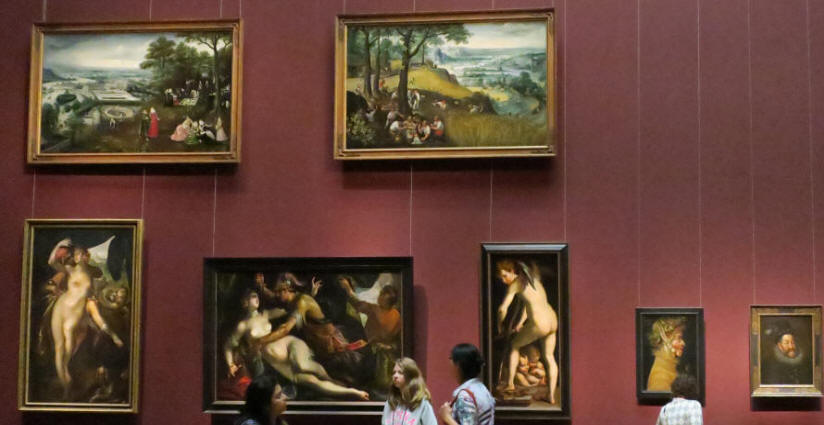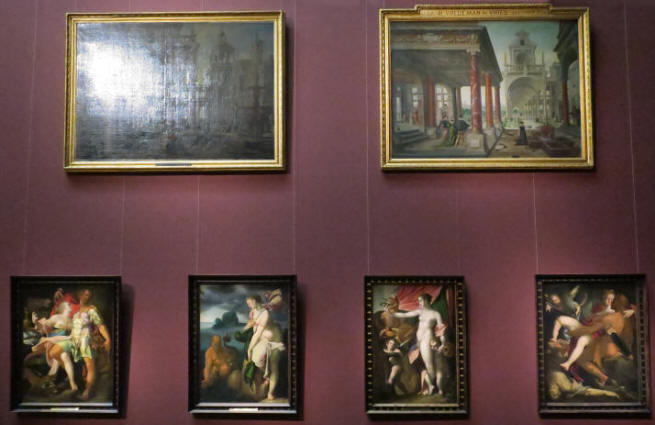 From the two paintings in the center (above), below left is titled "Appelles Paints Campaspe" from 1600 by Jodocus a Winghe (1544-1603) who worked in Brussels, Frankfurt and Hanau. Below right is "Adam and Eve" from 1593-5 by Bartholomäus Spranger (1544-1603) (stock selfie, below right) who worked in Italy, Vienna and Prague.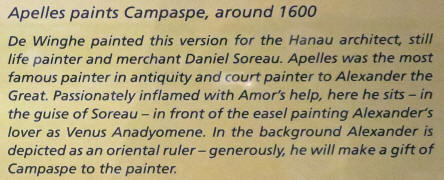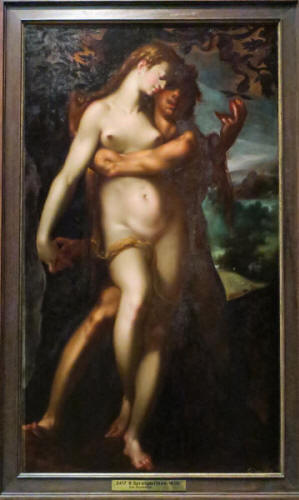 Below right is "Bacchus, Venus and Cupid" from 1595-1600 by Hans von Aachen (1552-1615) (stock selfie below left) who worked in Cologne, Venice and Prague.
Below are by the famous Giuseppe Arcimboldo (1527-93) (selfie, below right) (whom I had never heard of) who worked in Vienna, Prague and Milan. He painted a series "Four Elements". Two of these were on loan in Tokyo: "Winter" and "Water" (below). Below are the remaining two: left is "Summer" from 1563 and right is "Fire" from 1566.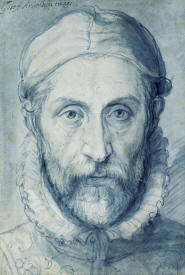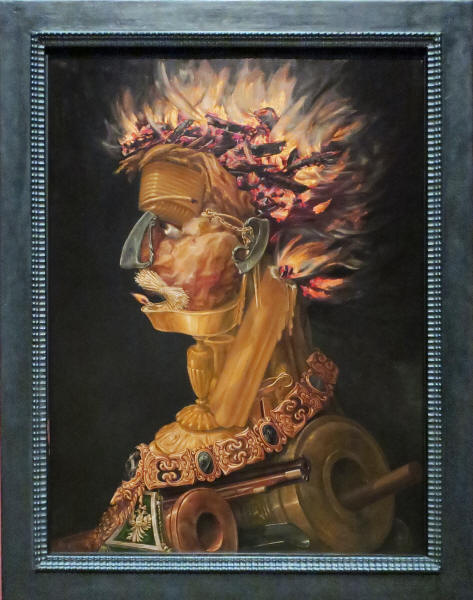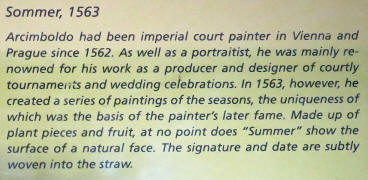 Here is a panel stock photo of many of his works which are quite unusual.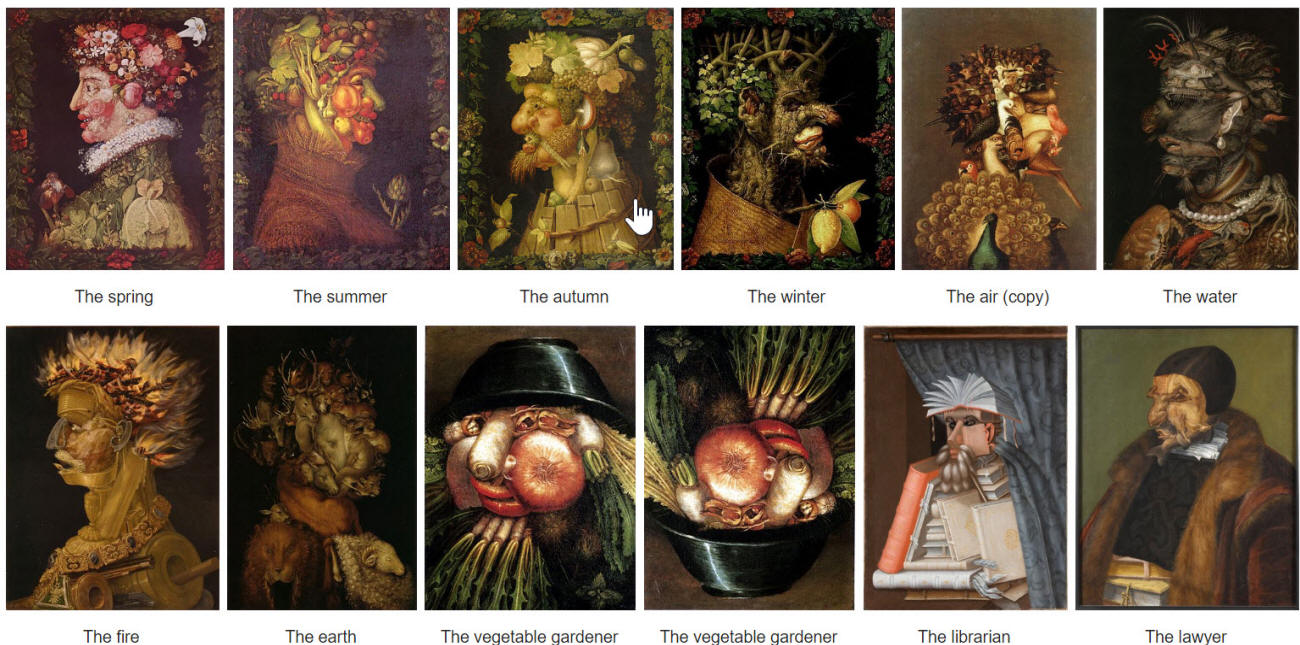 I now move to Gallery X labeled "Pieter Bruegel the Elder". Here they have the world's largest collection of his works.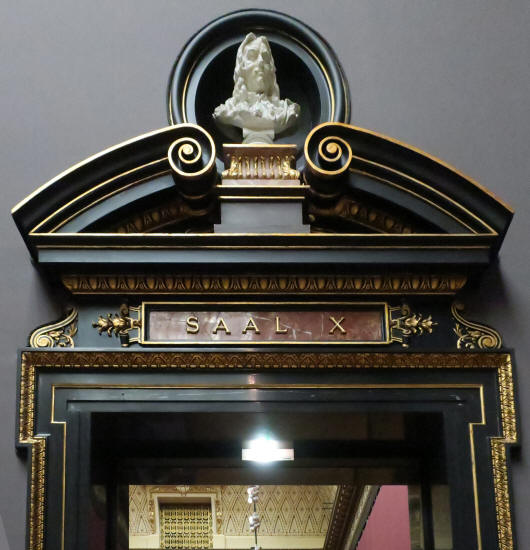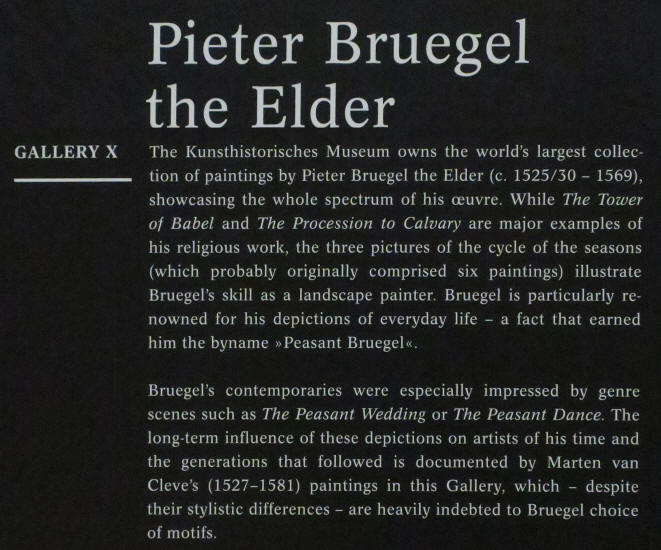 Here is looking back toward my exit from room IX. PhotoStitch shot.

Below left is titled "The Conversion of Paul" from 1567 by Peter Bruegel the Elder (1525-1569) (selfie below left) who worked in Antwerp and Brussels. Below right is also his, titled "Hunters in the Snow (Winter)" from 1565.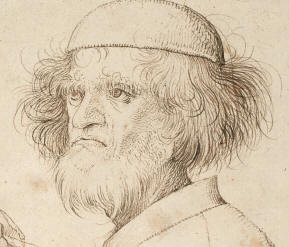 Below left is titled "Gloomy Day (Early Spring)" from 1565. Below right is titled "The Return of the Herd (Autumn)" from 1565.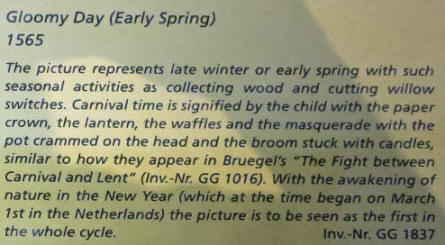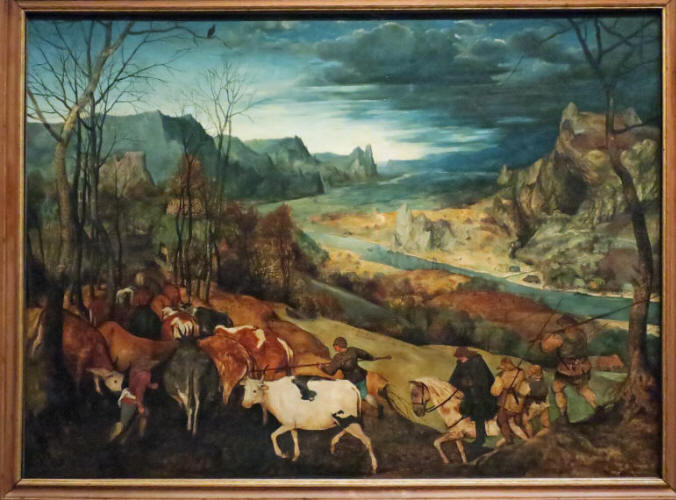 Here is his "Peasant Dance" from 1568 and his "Peasant and the Nest Robber" also from 1568.
Below are titled "The Visit at the Leasehold Farm" from 1597 (left) and "The Fight Between Carnival and Lent" from 1559 (right).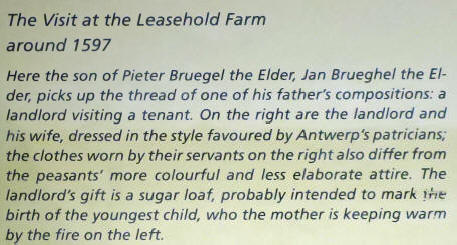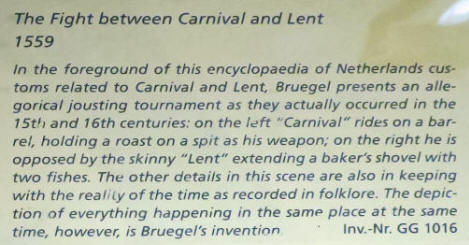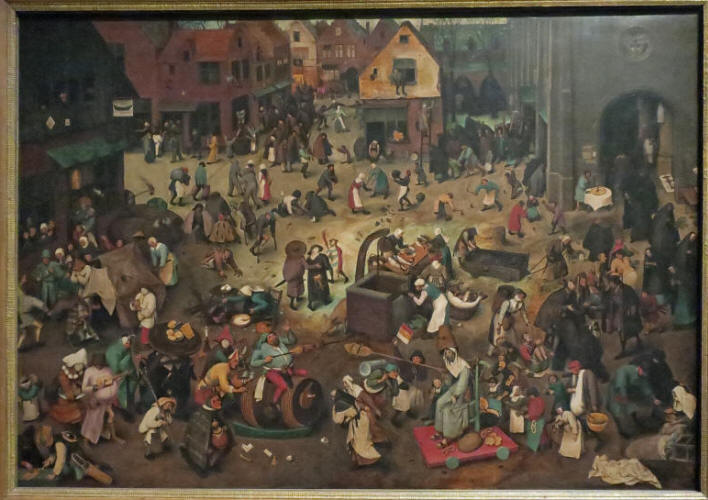 Below left is "Children's Games" from 1560. On the right is one of his most famous, "The Tower of Babel" from 1563.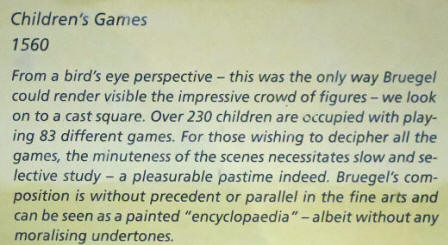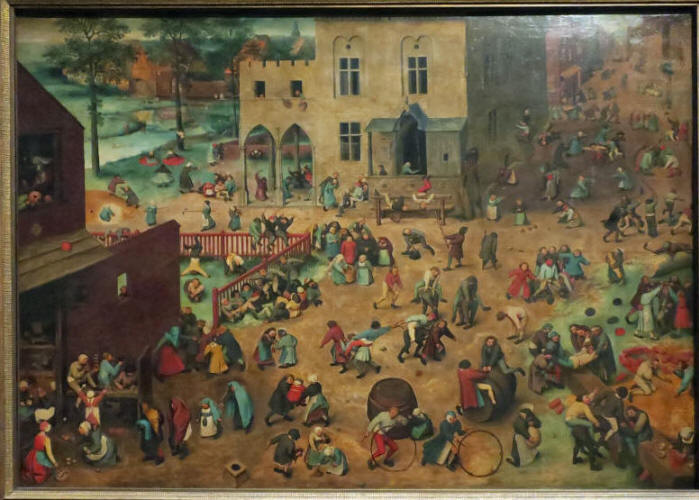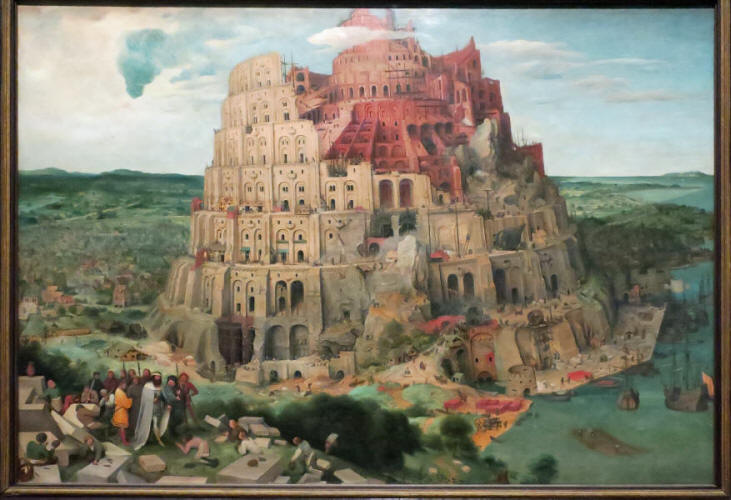 Now I get to Gallery XI with the works of Anthonis van Dyck.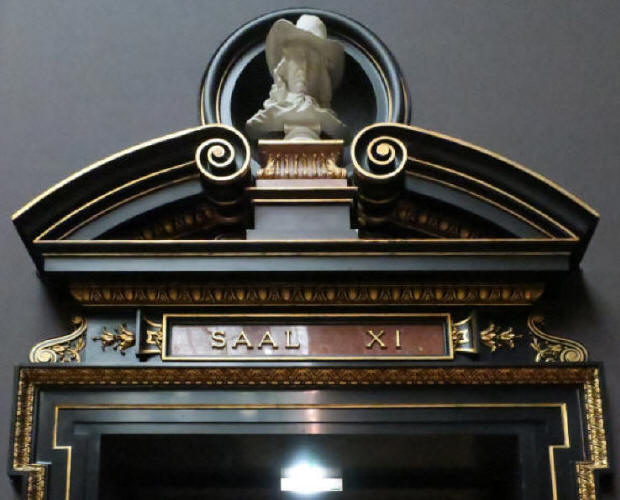 Below are some of the walls in this room.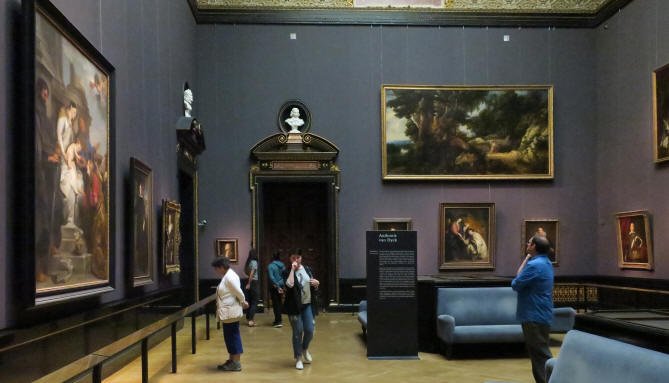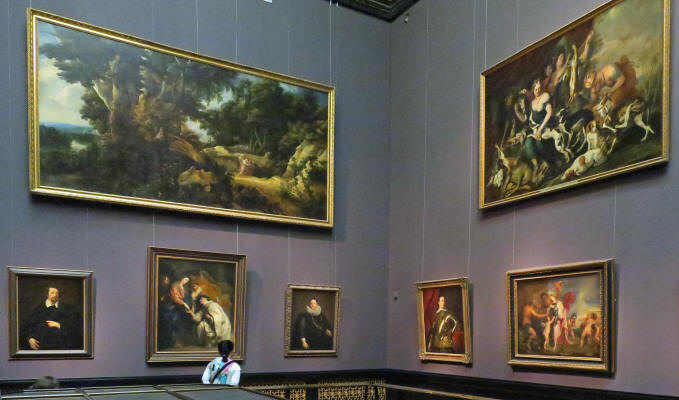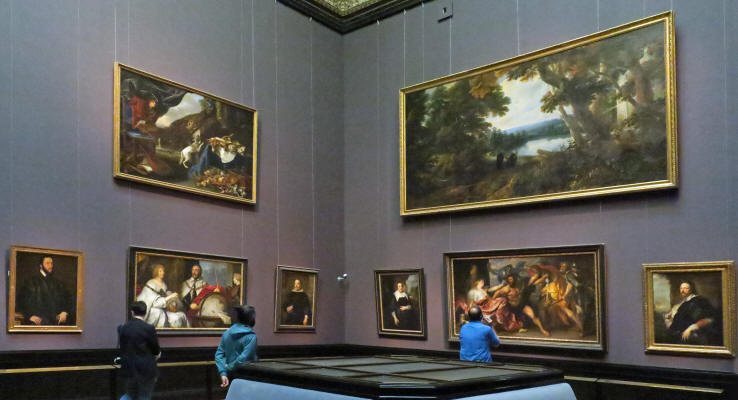 Anton van Dyck (1599-1641) (below left, by Peter Paul Rueben: self portrait below right) didn't live long but created a great name for himself working in Antwerp and London.
Below is his "Thomas Howard, Count of Arundel and his Wife Alathea Talbot" from 1639-40, note it's on the lower left of the wall above right. Below is his "Marques Francisco de Moncada" from 1633-4.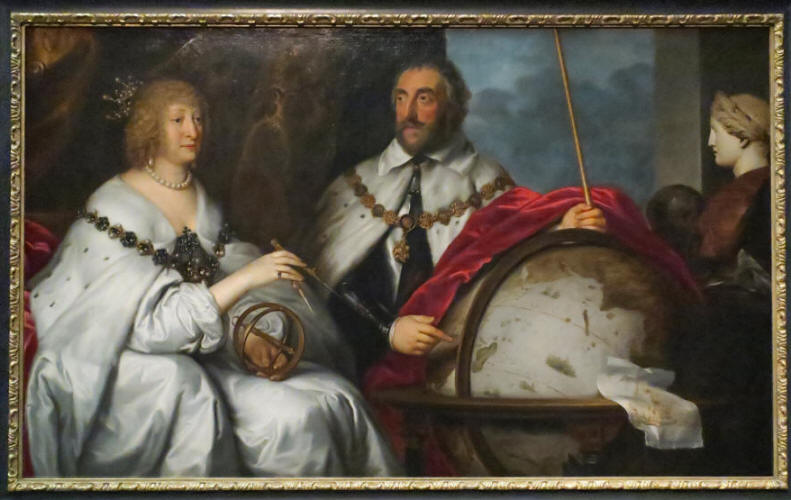 Below are his "Portrait of a Woman" from 1634 (left) and "Nicholas Lanier" from 1632 (right).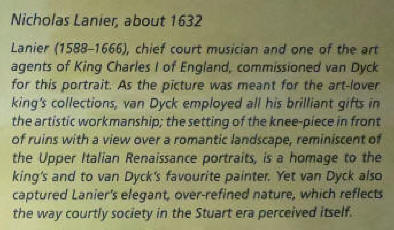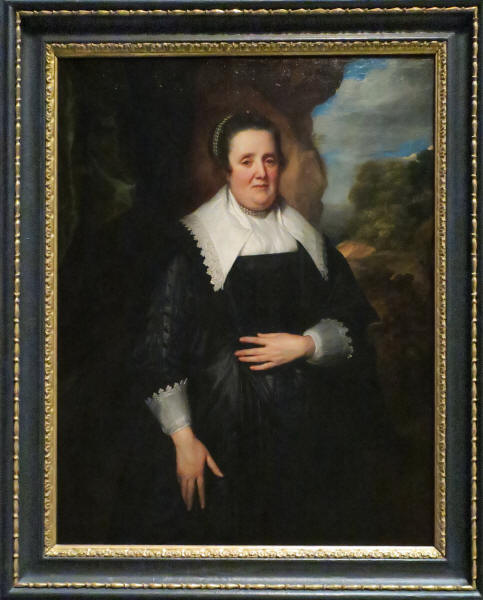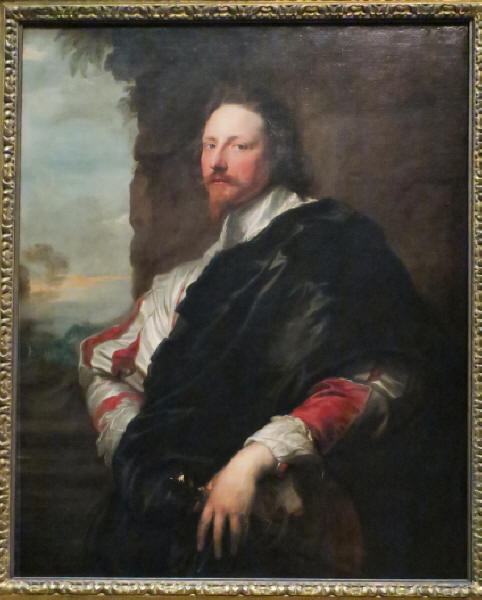 Below is his "The Capture of Samson" from 1628-30.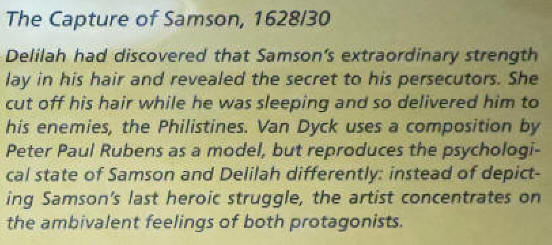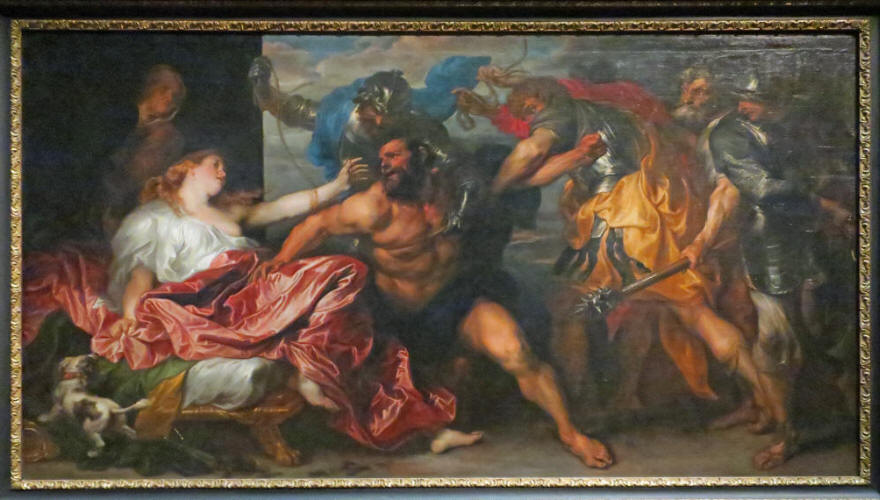 Below left is "Apostle Judas Thaddäus" from 1619-21 and right is "St. Francis in Ecstasy" from 1630-2.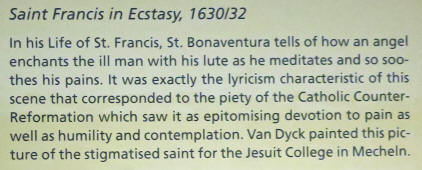 Below left is titled "Mary with Child and Saint Rosalie, Peter and Paul" from 1629; center is "Study of a Woman's Head Looking Up" from 1618-20 and right is "Jan van Montfort" from 1628.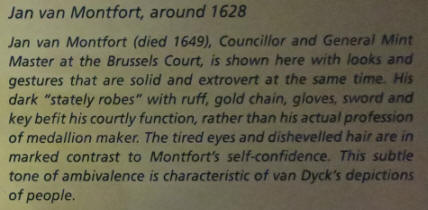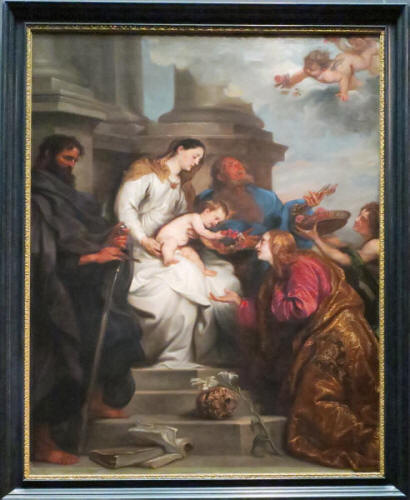 Here is a large piece, "Thetis and Hephaestus" from 1630-2.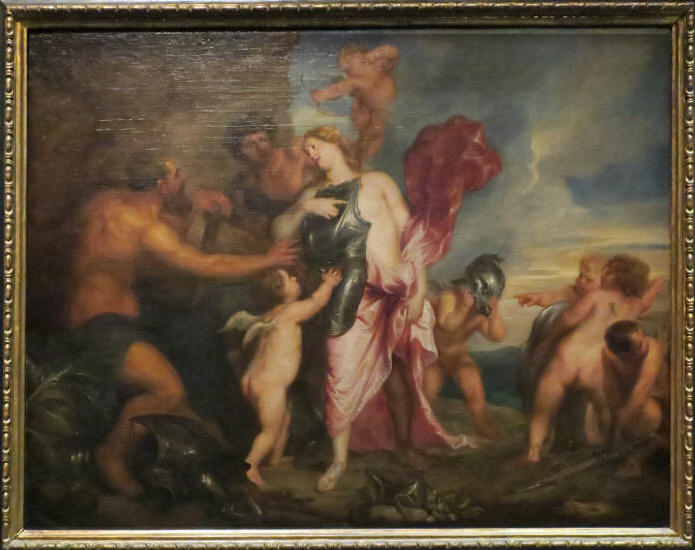 I then entered Gallery XII with more Dutch art. Here are two different entries, each with its own bust at the top.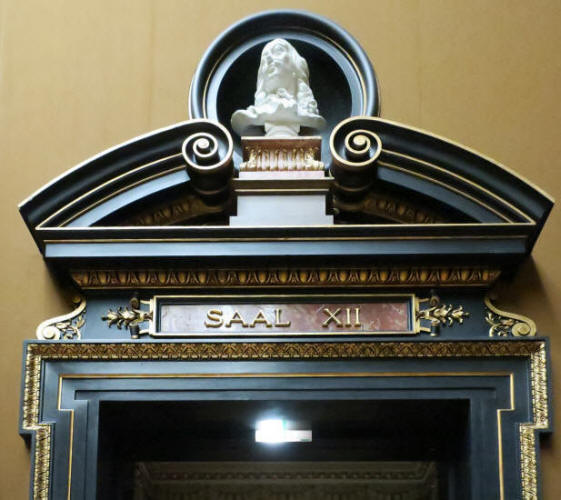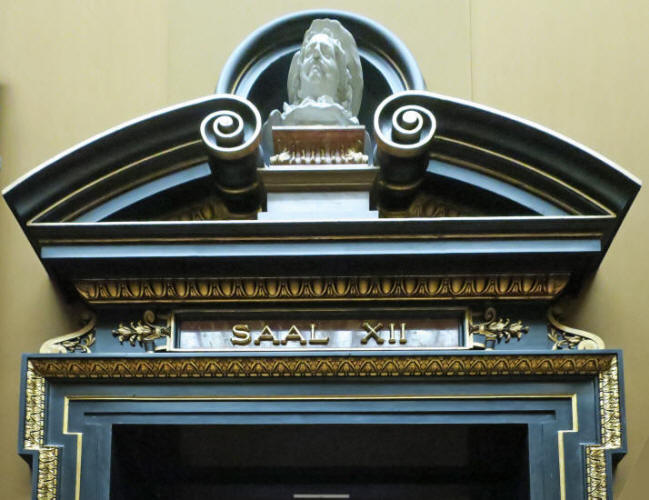 I took this shot of the corner of the room jammed with paintings.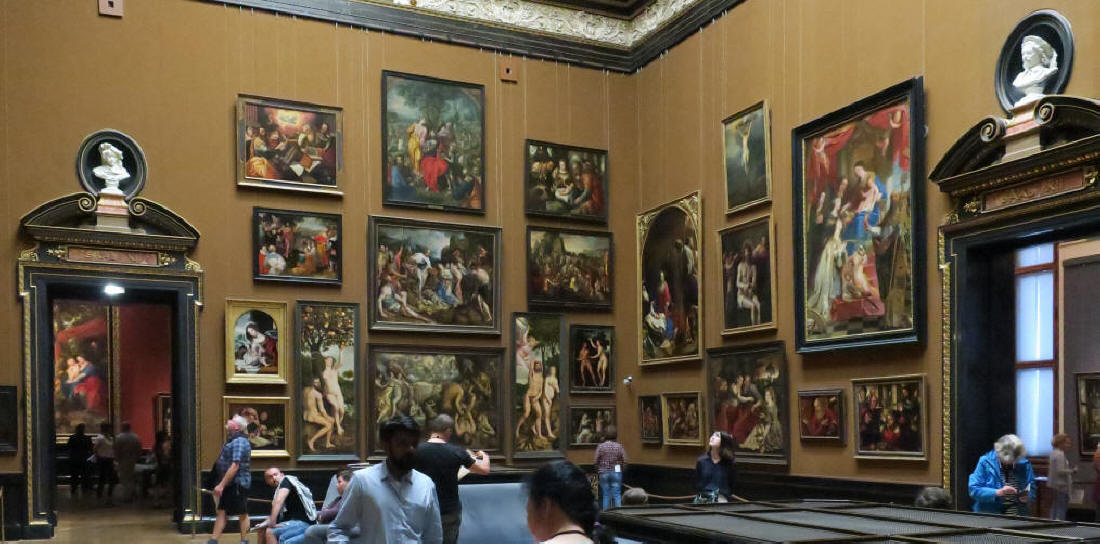 Below is each wall looking face-on. On the left wall, below center there are a series of paintings of Adam and Eve.
Here they are individually. Below are obviously before (left), during (center) and after eating the apple (right)...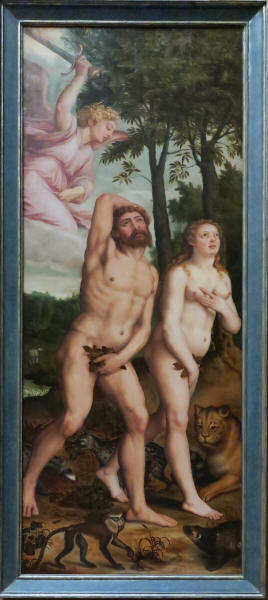 ... and then between them an allegory of Heaven and Hell (below left). I didn't get the titles or artists for those above or below left. Below right is a rather weird "Spouses in the Hostel" by Pieter Pietersz (1540-1603) who worked in Amsterdam and Haarlem, Netherlands.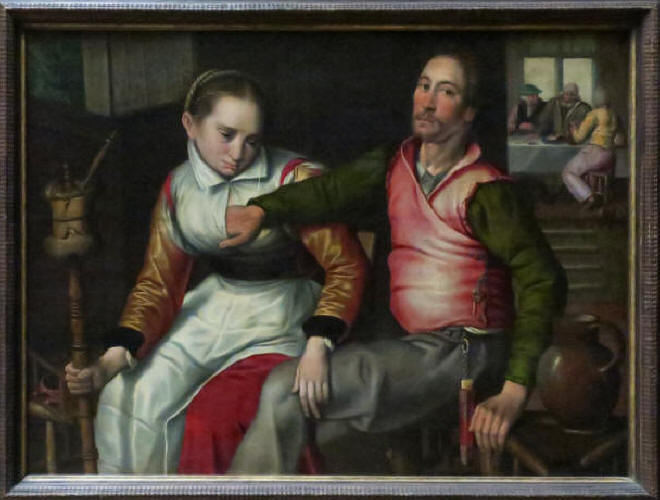 Here is "A Funny Company" by Jan Matsys [other] (1509-1575), son of Quinten Matsys. And below is titled "Calling Matthew" by Jan Sanders van Hemessen (1500-57).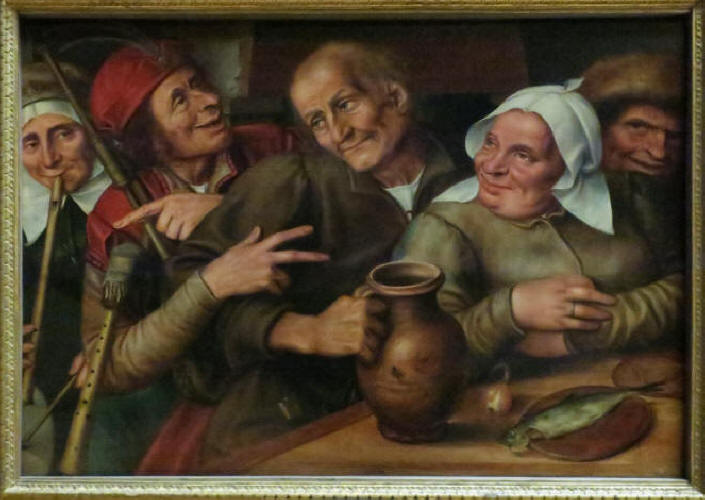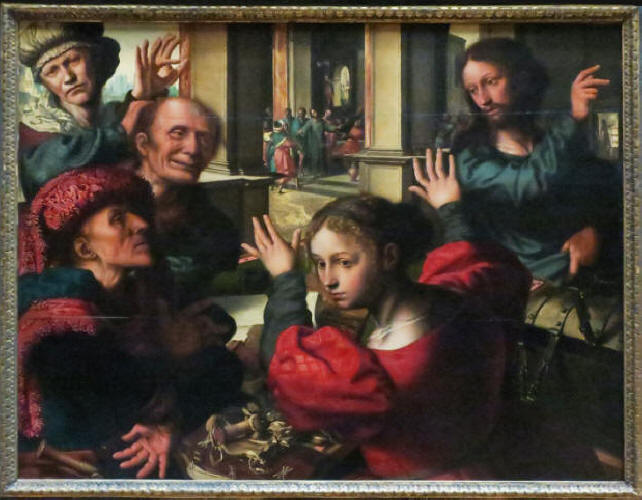 The walls are loaded with art and if you want to stand and study each one, ...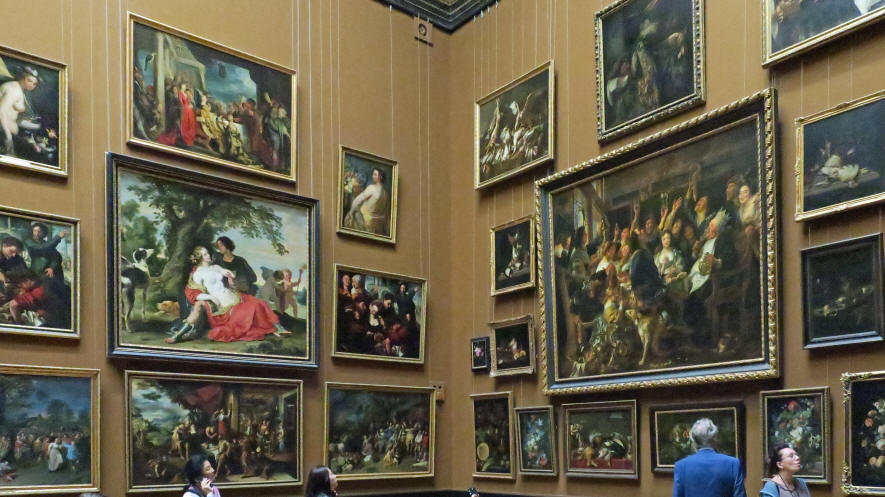 ... it will take you a week to get through this place.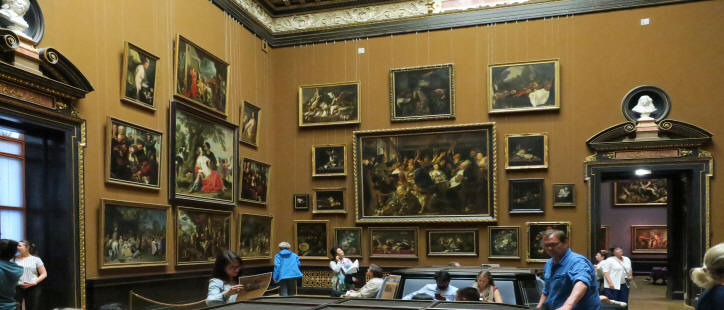 See the painting in the very lower right (above right)? It is below and titled "Hero Weeps the Dead Leander" by Jan van den Hoecke (1611-51) (below, self-portrait). He was a Flemish painter, draftsman and designer of wall tapestries. He was one of the principal assistants in Rubens' studio in the 1630s and lived for a decade in Rome. He subsequently worked as a court painter in Vienna and Brussels.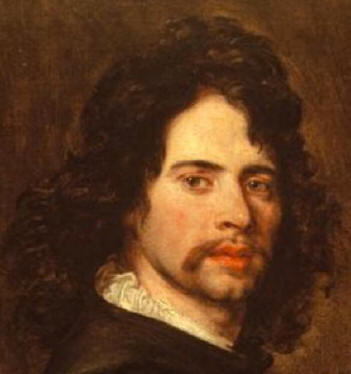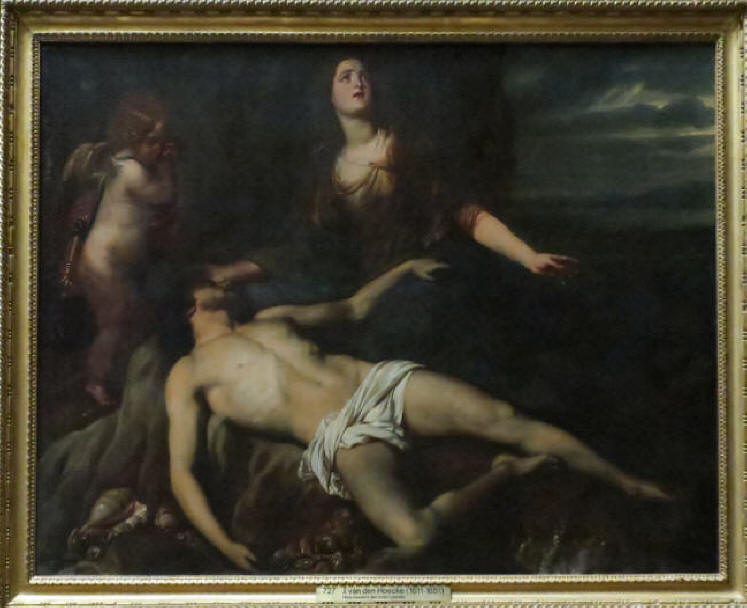 Now I enter Gallery XIII which is labeled "Peter Paul Rubens" (self-portrait below, 1623).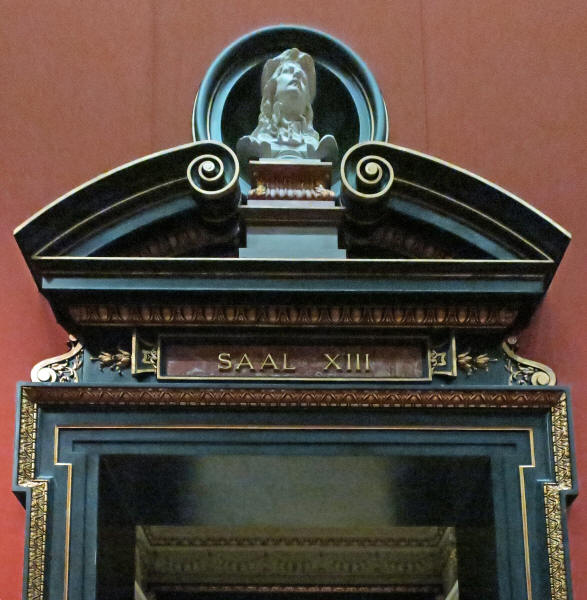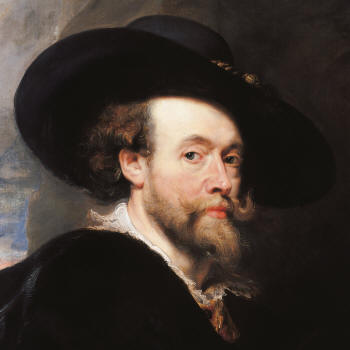 Here are the walls in this room.
Peter Paul Rubens (1577-1640) is considered the most influential artist of Flemish Baroque tradition. Below left is another "Self-Portrait" from 1638-40. He was also active as a clandestine diplomat between various courts in Europe; he was even knighted in England. Below center is his "The Holy Family Beneath an Apple Tree" from 1630-2 and on the right is "Archduke Albert VII" from 1615.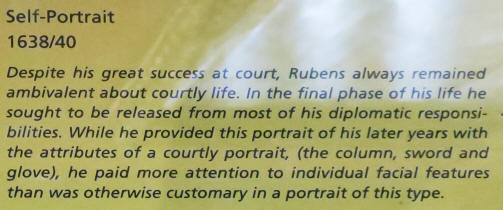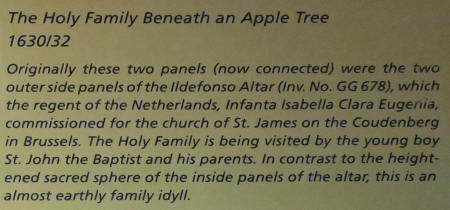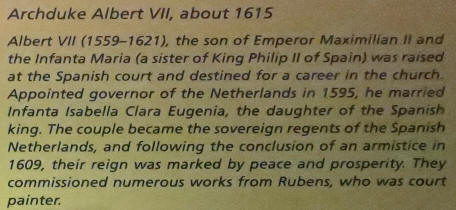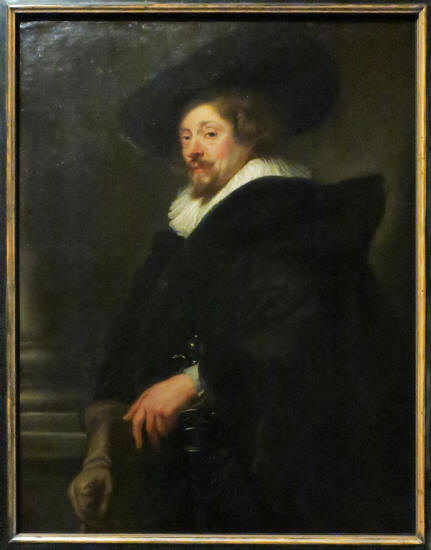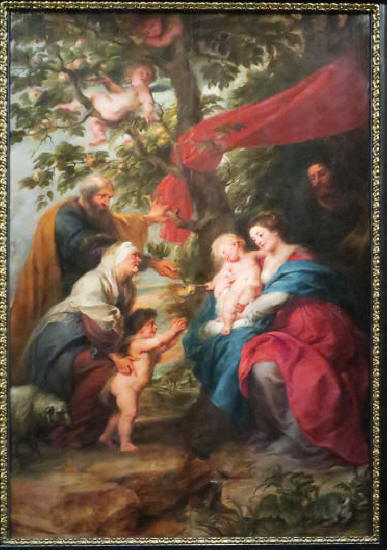 Many of his works are large grand pieces such as this "The Feast of Venus" from 1636-7. His art is in museums throughout the world.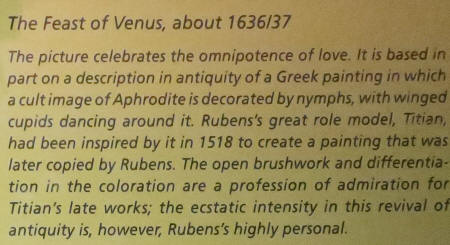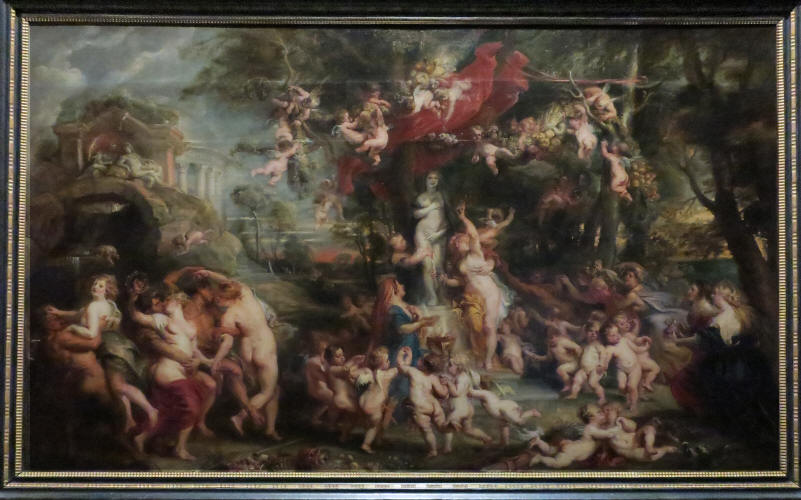 These two are: "Infanta Isabella Clara Eugenia" from 1616 and "St. Teresa of Avila" from 1615.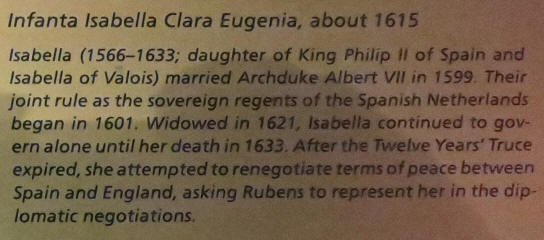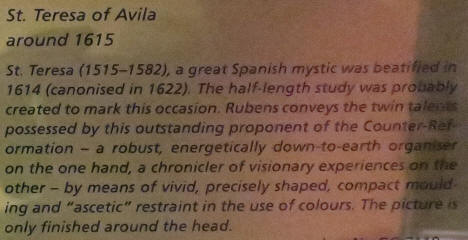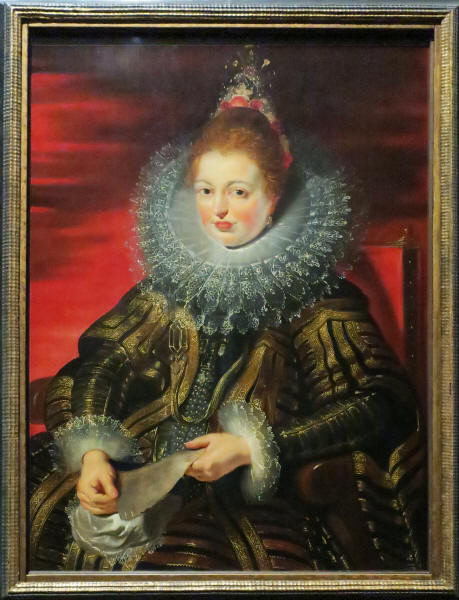 Below is "The Calydonian Boar Hunt" from 1617-28.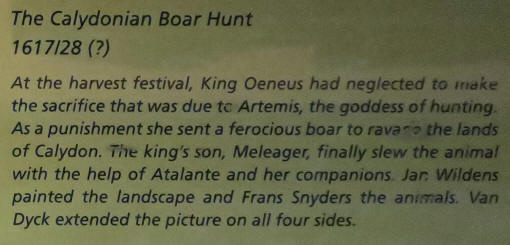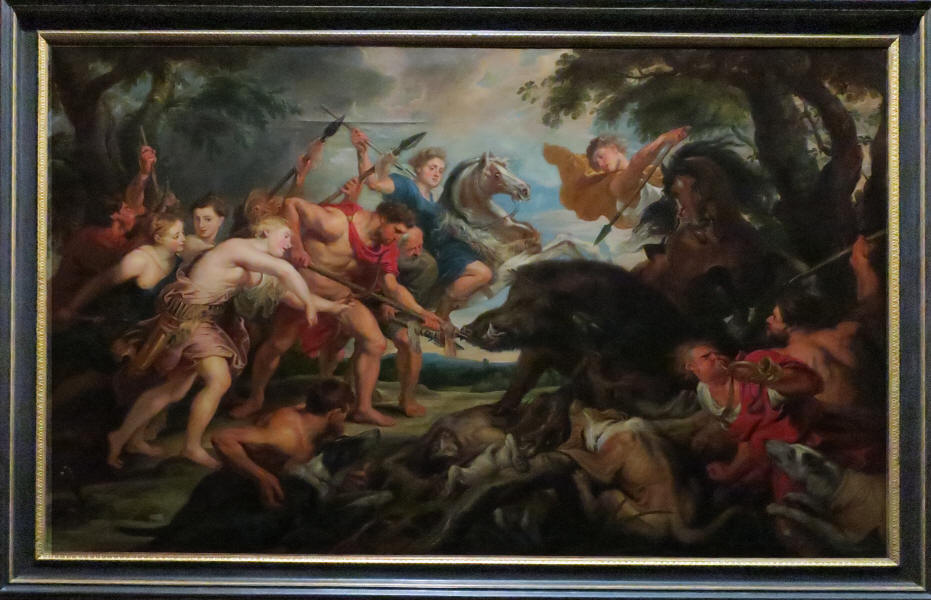 This is "The Triptych of St. Ildefonso" from 1630-2.
Now go into Gallery XIV again labeled "Peter Paul Rubens" but in German.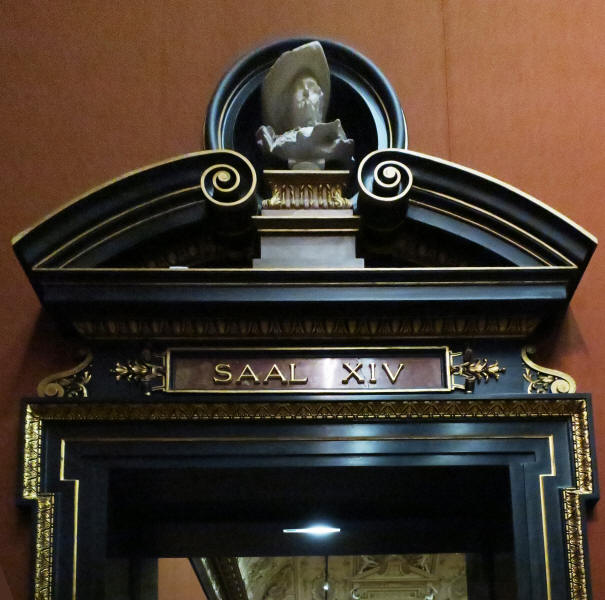 Here is a wall with more art by Jan van den Hoecke (see above).
From above, on the left is his "King Ferdinand of Bohemia and Hungary" and on the right is "Cardinal-Infant Ferdinand" both from 1634-5.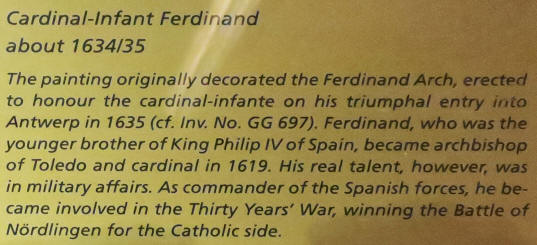 Again there are walls filled with Ruben's art.
Above, on the left, you can see Ruben's "The Miracles of St. Ignatius of Loyola" from 1617-8. Below center is another titled "The Miracles of St. Ignatius of Loyola, Modello" from 1615-7. On the right is "The Assumption of the Virgin Mary" from 1611-21.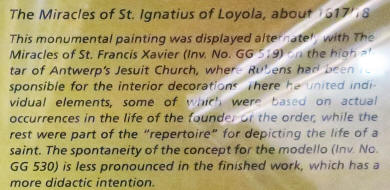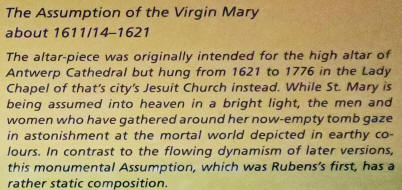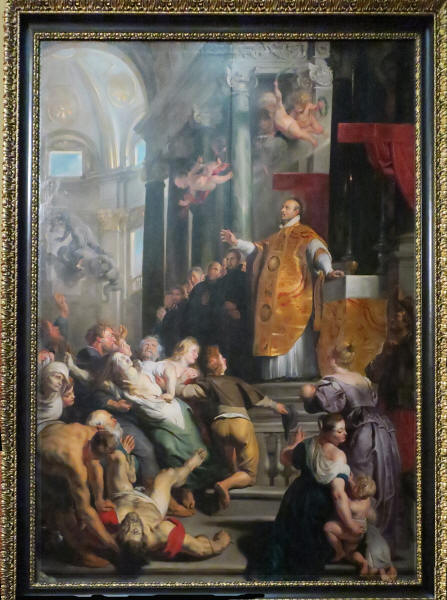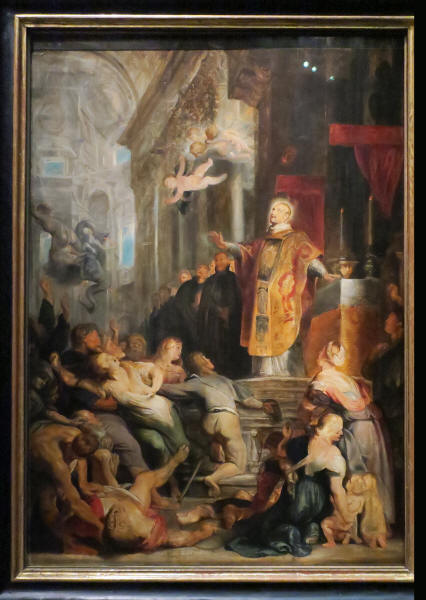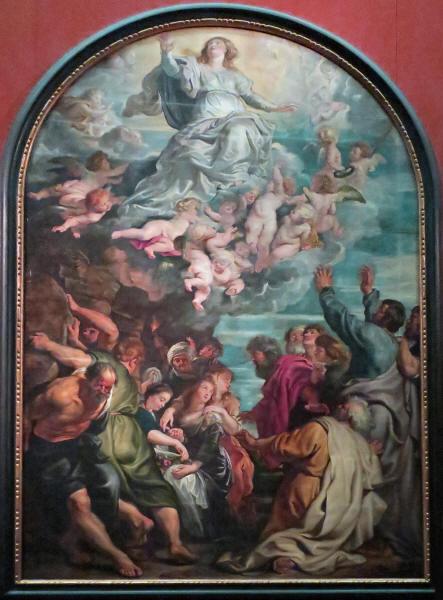 Below is Ruben's "St. Ambrose and the Emperor Theodosius" from 1615-6.
Here are two of his of St. Francis. Left is "The Miracles of St. Francis Xavier" modella from 1616-7 and right is "The Miracles of St. Francis" from 1617-8.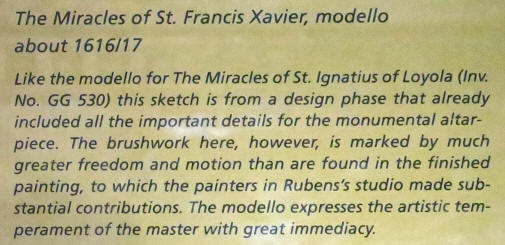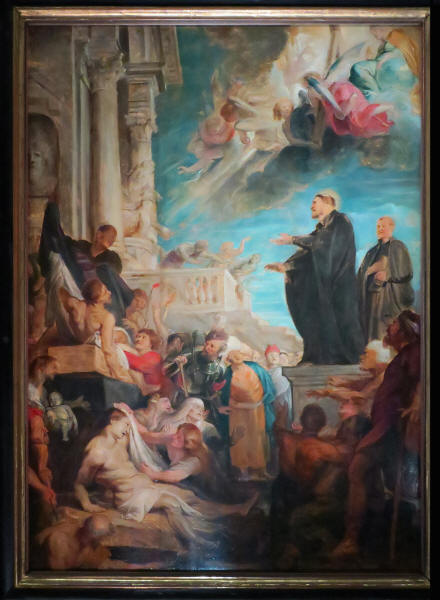 Below are his "Emperor Maximillian I" from 1618 and "The Annunciation" from 1610.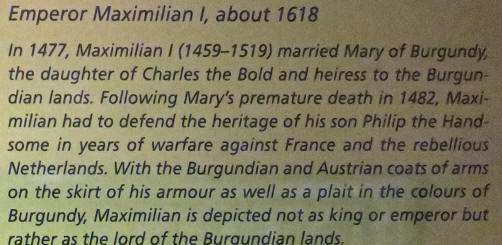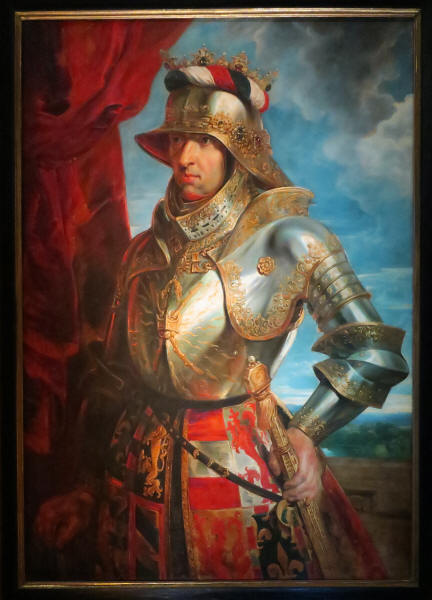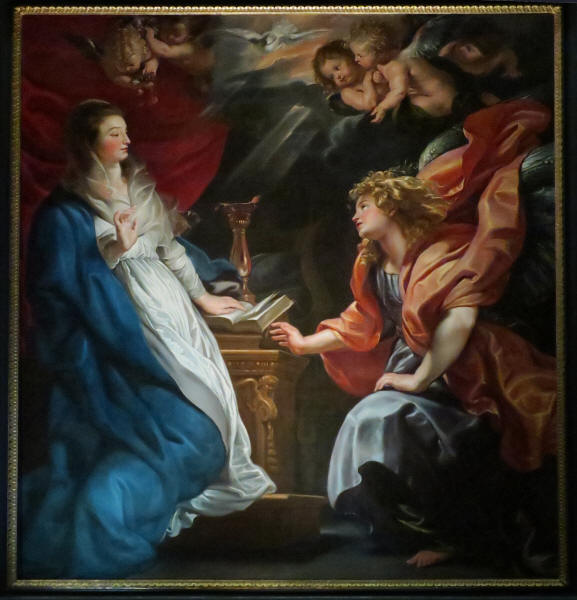 Most all of these in the room are by Rubens with the exception of the one in the center below.
The one on the left (above wall) is Ruben's "The Four Rivers of Paradise" from 1615.
The one on the right (below left) is his "Cimon and Iphigenia" from 1617. The one in the center (way above) is titled "The Triumph of Bacchus" from 1650-6 and is quite unique. It is by a female artist, Michaelina Woutier (1617-89) (self portrait, below right) who worked in Brussels. She lived with her brother Charles, a well-known artist and most of her work was originally attributed to him. This is her best work.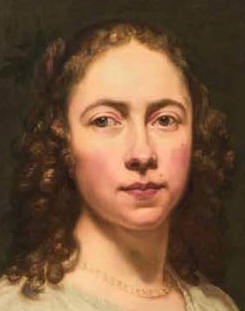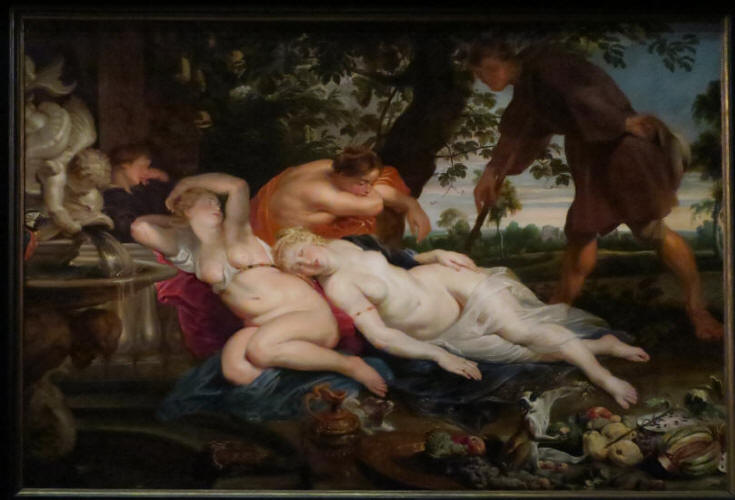 Below are two more by Rubens: "The Lamentation" from 1614 and "The Park of a Castle" from 1632-5.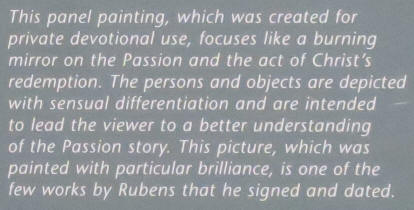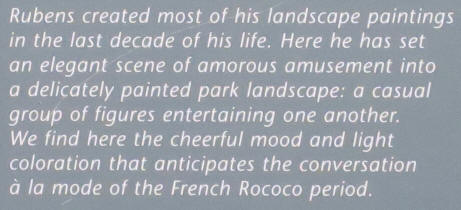 The last two are: "Angelica and the Hermit" from 1625-8 and "The Head of Medusa" from 1617-8.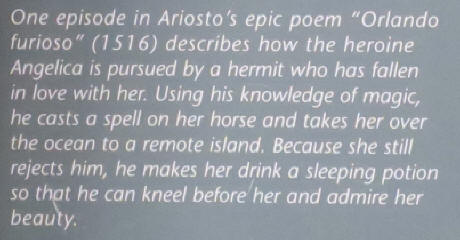 Before I leave the Rubens room, I found this stock photo (below left) of this marble replica of the famous Greek sculpture known as the "Laocoön Group" or "Laocoön and His Sons" (27BC-68 AD) (in the Museo Pio Clementino, in the Vatican Museums, Rome). The story (link) is very interesting. On the wall behind, you can see Ruben's "Assumption of the Virgin Mary".
Now to other artists. Below right is titled "Portrait of King Ludwig II of Hungary and Bohemia as a Boy" from 1515 by Bernhard Strigel (1461-1528) who was a German portrait and historical painter of the Swabian school.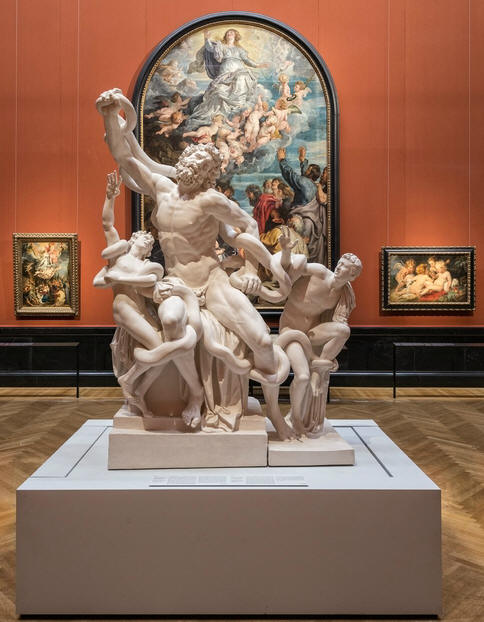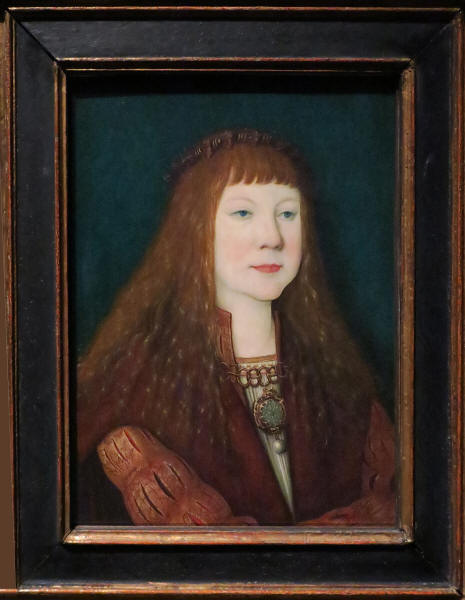 The walls in this room.
Now I get to a wall containing art by Hans Holbein the Younger (1497-1543) (selfie, above right) who worked in Basel and in London for the famous King Henry VIII. Below left is his "Portrait of a Young Merchant" from 1541, center is "Jane Seymour" (Henry's third wife) from 1536-7 and right is "Dr. John Chambers" (Henry VIII's personal physician) from 1543.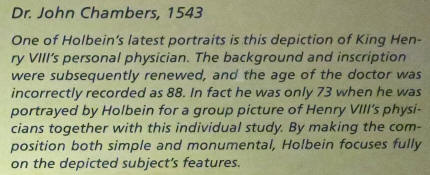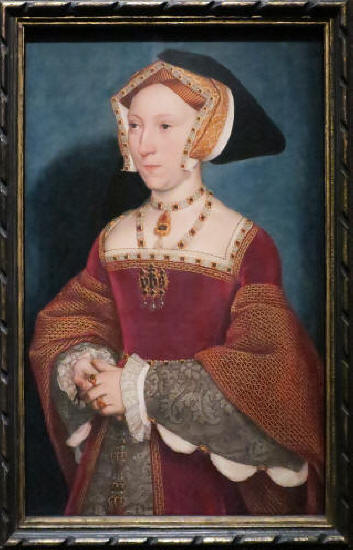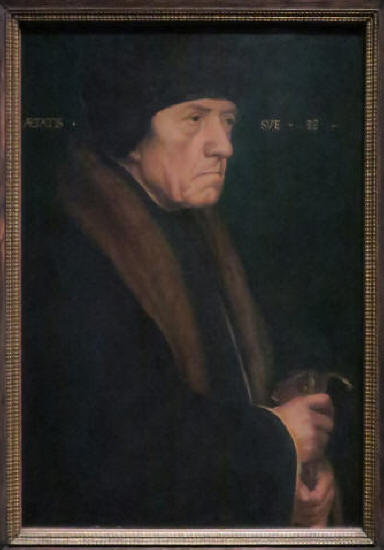 I now enter Gallery XV labeled "Albrecht Dürer and German Painting around 1500".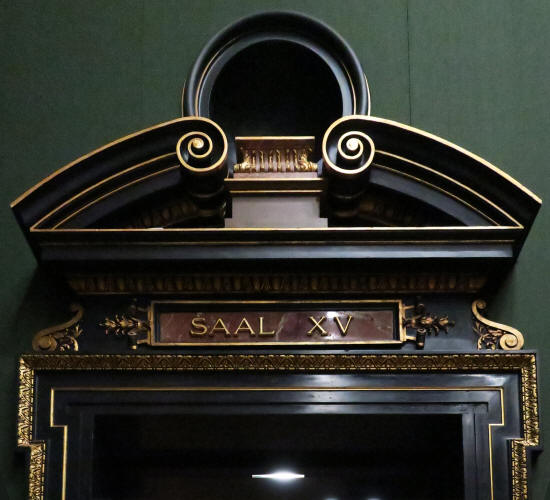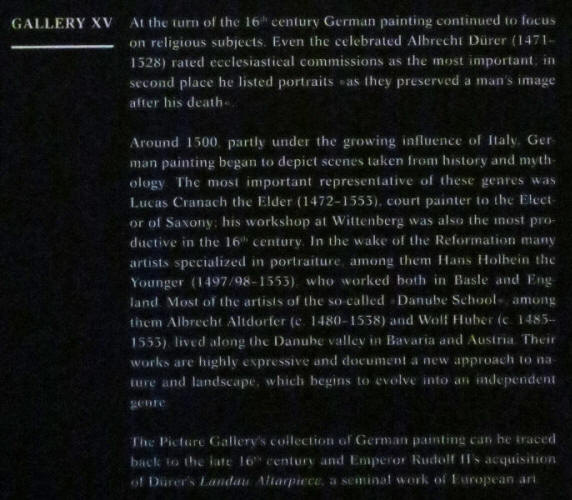 Here are the views of this room from both sides; left is with the sign in German and right is with it in English.

Here is a shot of the corner of this room (left) and looking at the left wall straight (right).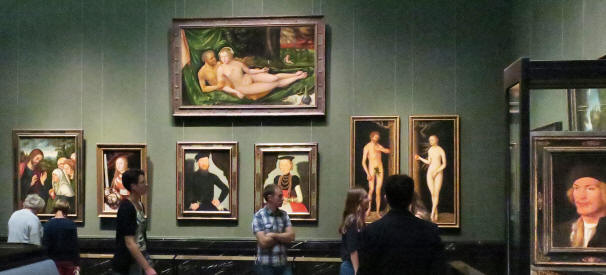 If you've visited art museum's, you might remember the name Lucas Cranach the Elder (1472-1553) (selfie at age 77, below center). Along with his son "the Younger" were German artists who lived and worked in Wittenberg at the time of Martin Luther's Reformation and also in Vienna and Weimar. Below are his "The Crucifixion" from 1500-1 (left) and "Sibylia, Emilia and Sidonia von Sachsen Princesses of Saxony" from 1535 (right).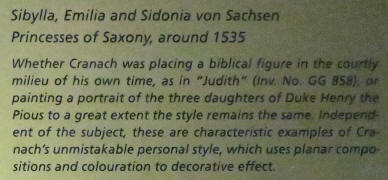 Below are his famous "Adam and Eve" from 1510-20 (left) and "Paradise" from 1530 (right).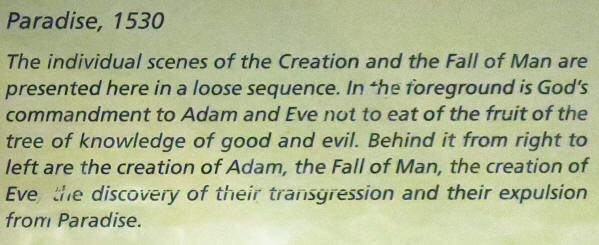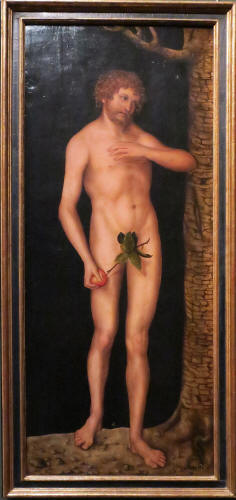 These are his "Judith and Holofernes" from 1530 (left) and "Christ Taking Leave of His Mother" from 1520 (right).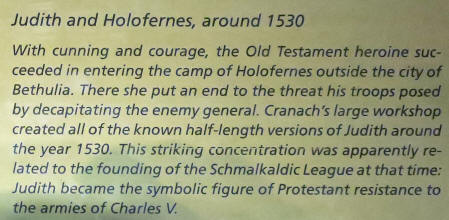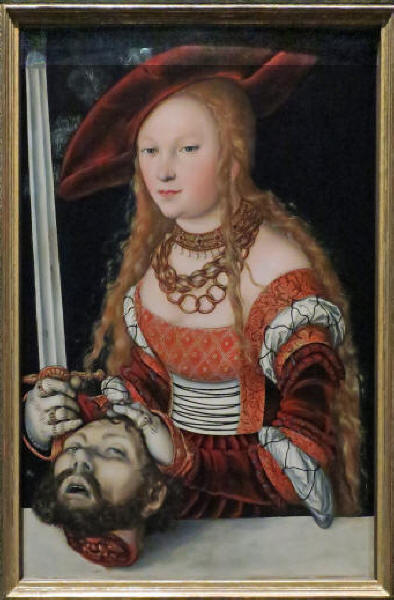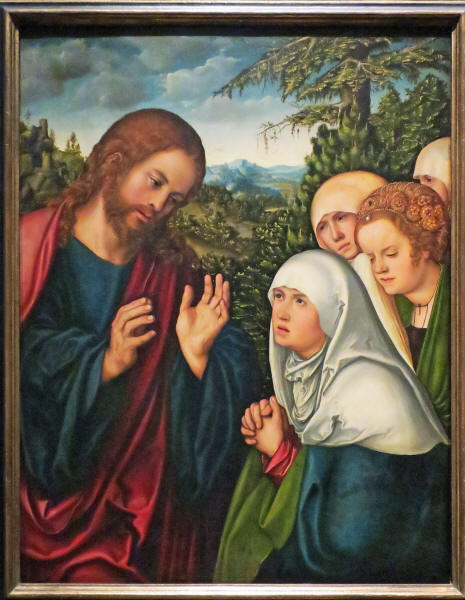 Now we go to his son, Lucas Cranach the Younger (1515-86). Here are his "Portrait of a Noblewoman" (left) and "Portrait of a Man" (right), both from 1564.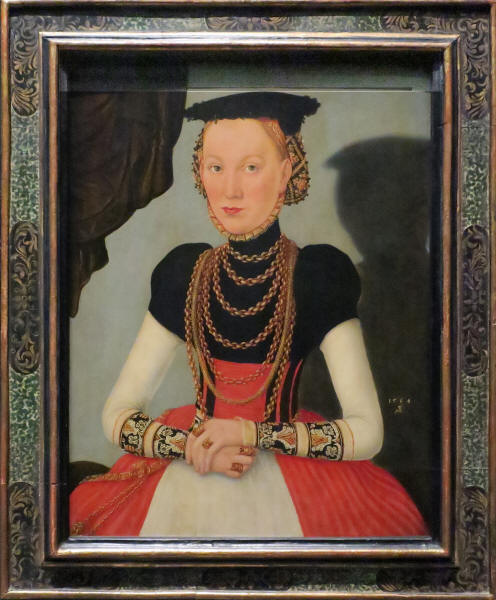 Hans Memling (1435-94) (below left) was German but moved to and worked in Bruges, Belgium. Here (below left) is his yet another "Adam and Eve" from 1485-90.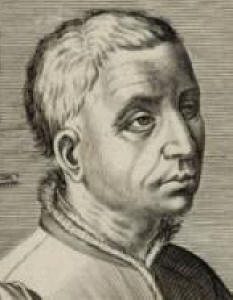 Below center is "Triptych: The Crucifixion" from 1440 by Rogier van der Weyden's (1400-64) (above center right), a Flemish artist mainly known for triptychs such as this one. He worked in Tournai and Brussels, Belgium and Memling worked in his studio.
Finally I get to the famous Albrecht Dürer (1471-1528) who was a woodcutter, painter, printmaker, and theorist of the German Renaissance and born in Nuremberg. His famous self-portrait at age 28 is below left and his well-recognized "Praying Hands" is above right. Below right is titled "Johannes Kieberger" from 1526.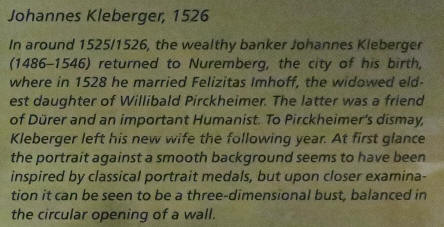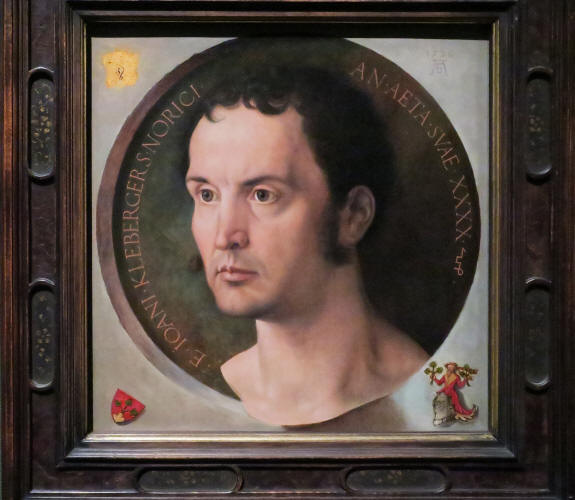 The three below are Dürer's: "Madonna with the Pear" (left) from 1512, "Portrait of Emperor Maximillian I" (center) from 1519 and "Portrait of a Venetian Lady" (right) from 1505.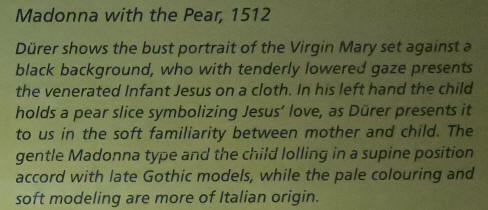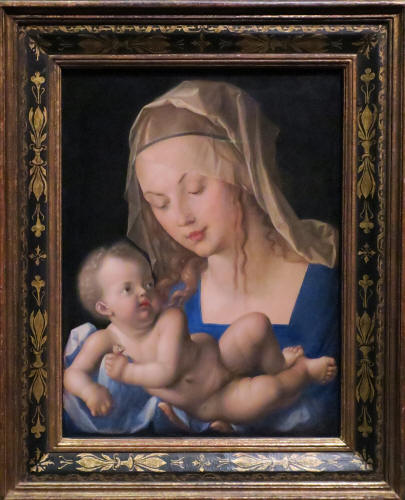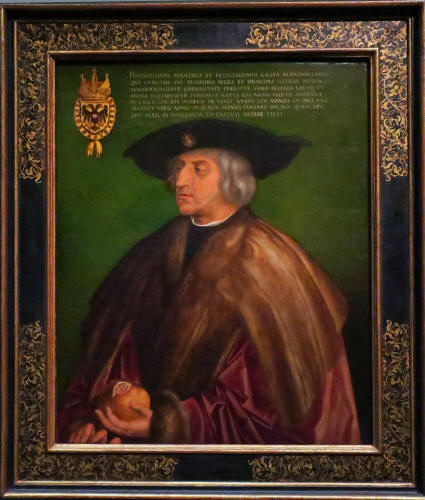 Here are three more by Dürer: "The Torment of Ten Thousand Christians" from 1508 (left), "Allegorical Female Figure" (center) and "Wilhelm Haller" (right), both from 1507.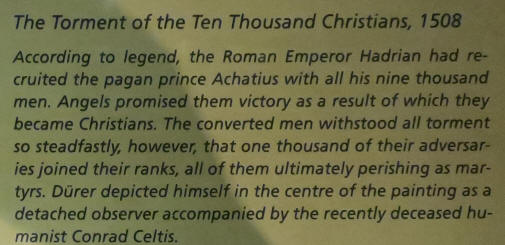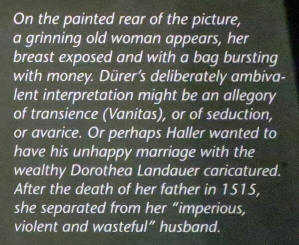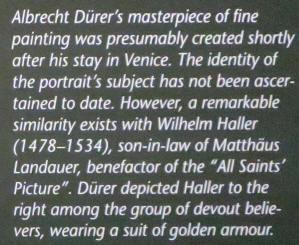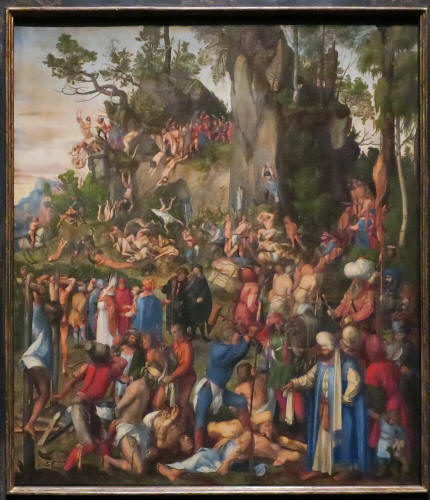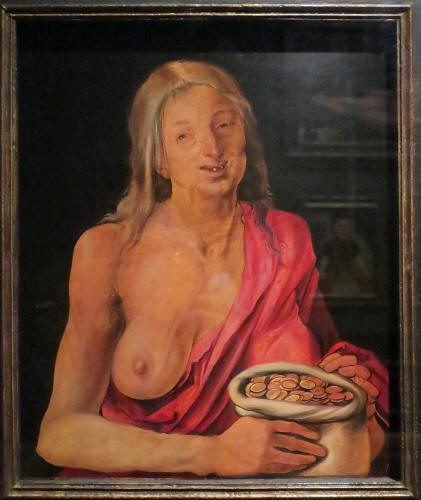 Below is his "Adoration of the Trinity" (or Landauer Altar) from 1511. A blowup (below right) of the inscription at the bottom of it (lower left) I could not find a translation for. It must be Old German.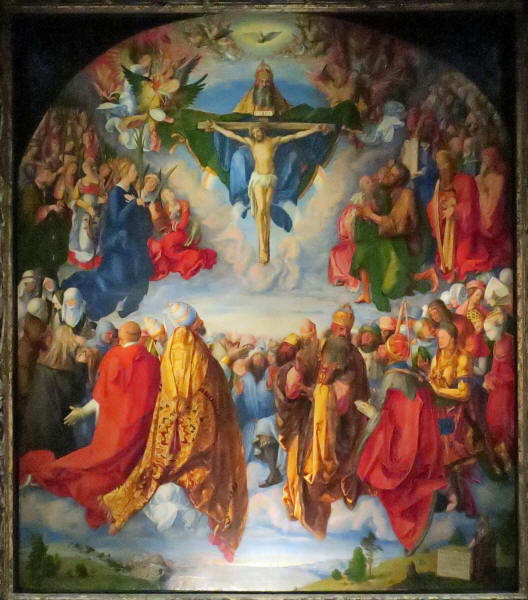 Below is David Teniers the Younger (1610-90) (below right) who worked in Antwerp and Brussels. He is particularly known for developing the peasant genre, the tavern scene, pictures of art collections and scenes with alchemists and physicians. Here is his "Popinjay Shooting in Brussels" from 1652.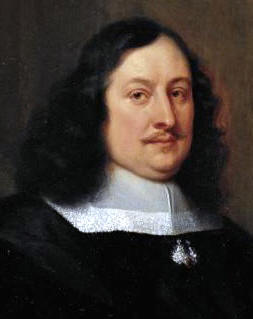 Jan Steen (1626-79) (selfie, below right) worked in Haarlem and Leiden, Den Haag, Warmond, Netherlands. He was a Dutch genre painter and his works are known for their psychological insight, sense of humor and abundance of color. Here is his "The Cuckold Bridegroom" from 1670.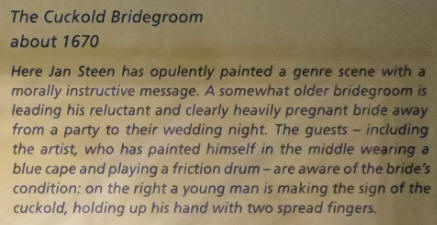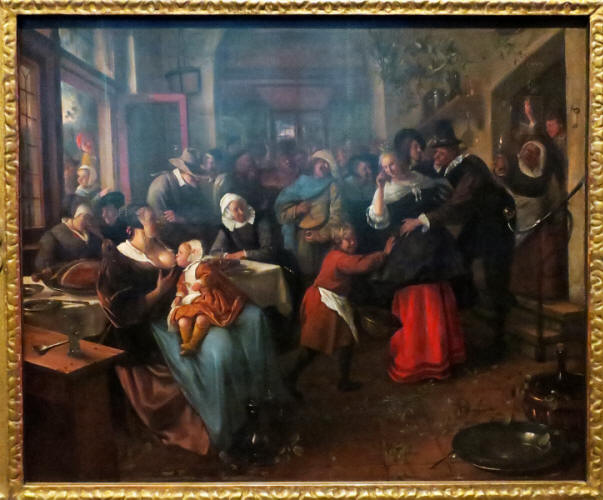 Here is another by Steen: "Beware of Luxury" from 1663 (below left). Click the link for a clearer view of it. Below right is "The Art of Painting" from 1666-8 by Johannes Vermeer (1632-75), who worked in Delft and was one of the most famous Dutch artists of all time (selfie, below center left). Center middle is a stock photo of his most well known art, "Girl with a Pearl Earring" from 1665. They even made a movie of it in 2003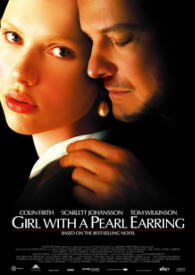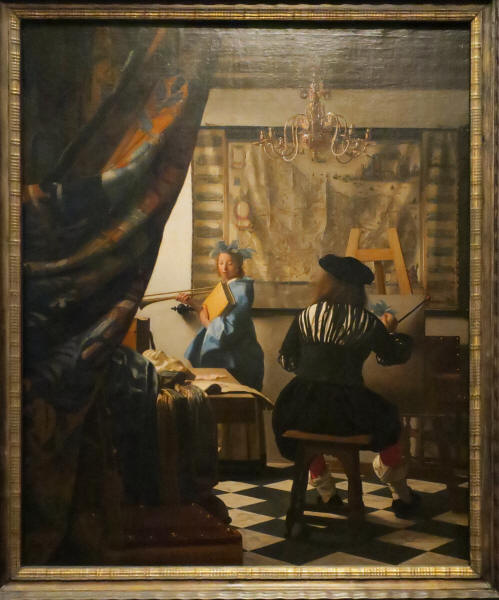 Now I passed into side Room 17 to see the "Cabinet of Curiosities" from 1630 by Hans III Jordaens (1595-1643), a Flemish Baroque painter.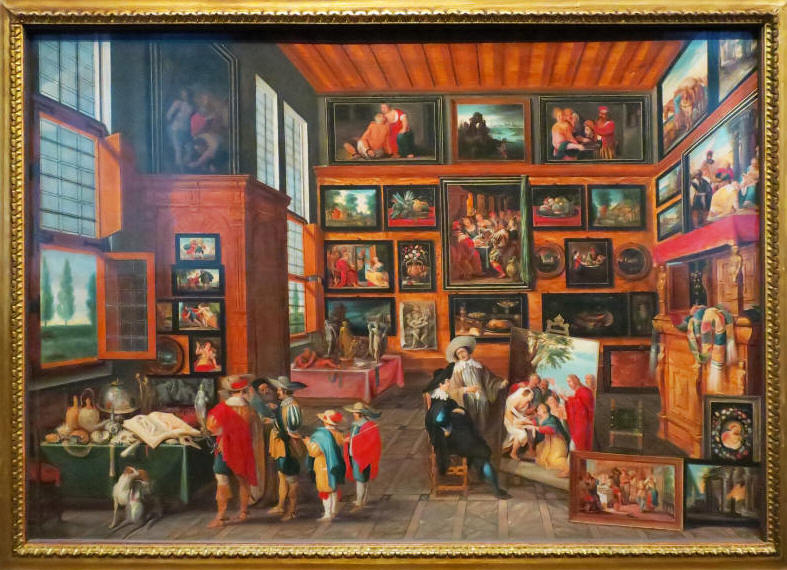 I now get to the area with the art of the famous Rembrandt Harmensz van Rijn (1606-69) worked in Leiden and Amsterdam. He is generally considered one of the greatest visual artists in the history of art and the most important in Dutch art history.
. His paintings are quite dark making it difficult to get a good quality photo of them. Below left is his "Titus van Rijn", the artist's son from 1656-7. Below you will see he was quite prolific at doing self-portraits and since they don't come out as clear I included a stock one (below right) from the National Gallery of Art in Washington, D.C. from 1606, so you can really see him.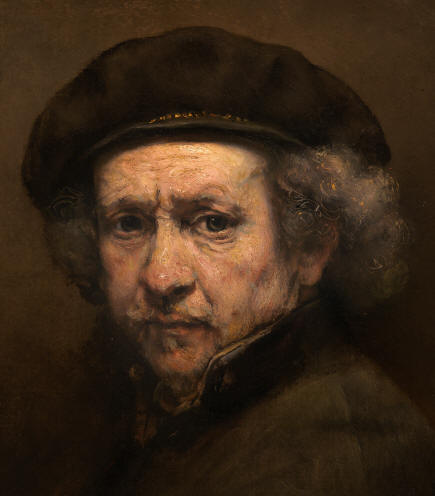 Here are three selfies from here: "Small Self-Portrait" from 1657, "Large Self-Portrait" from 1652 and "Self-Portrait in a Fur Coat with Gold Chain and Earring" from 1656-7.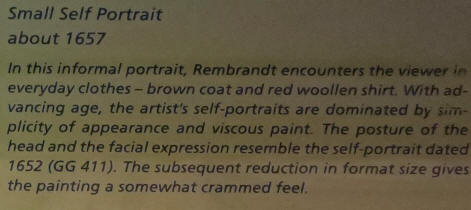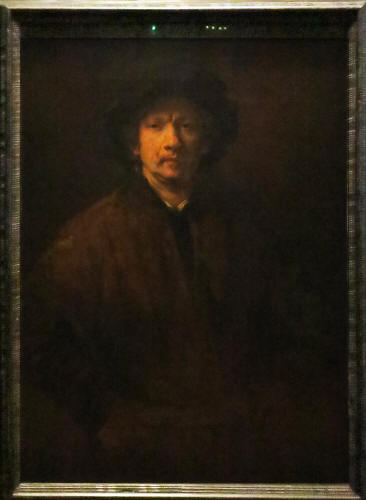 Here are three more (from above wall): "Portrait of a Woman" from 1632, "Portrait of a Man" from 1632 and "The Apostle Paul" from 1633-5.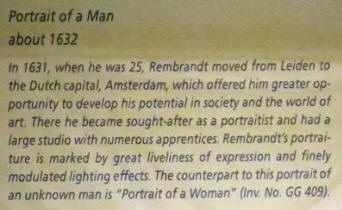 Finally, below left is Rembrandt's "The Prophetess Anna" from 1639. You might recall my incredible experience in the Rijksmuseum in Amsterdam in 2009 when the watch guard let (me alone, amongst a crowd of 200) take a photo of his most famous painting, "The Night Watch" (stock photo, below right), from 1642.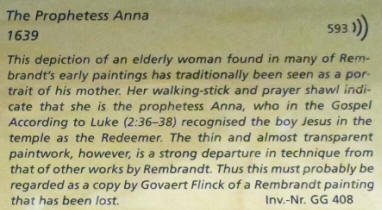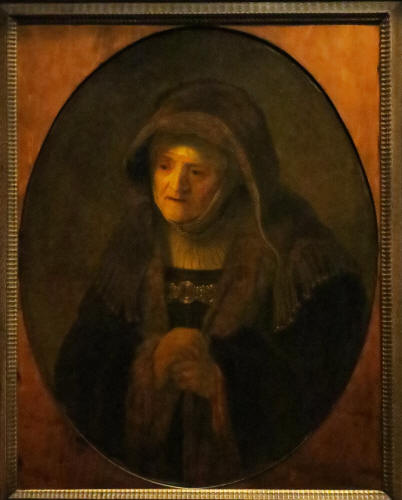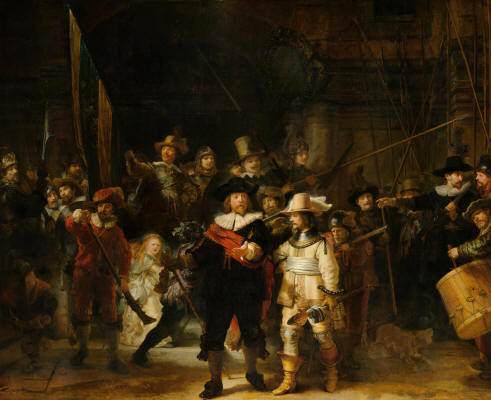 Now I get to another famous Dutch painter, Frans Hals (1585-1666) (selfie below left) who worked in Haarlem. We visited his museum in Haarlem in 2013. Below center right is his "Portrait of a Young Man" from 1638-40. Right is a stock photo of the memorial to him in Florpark in Haarlem.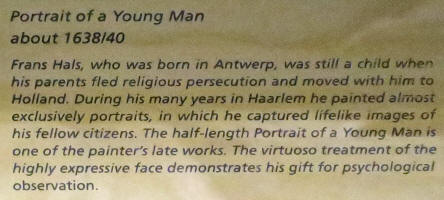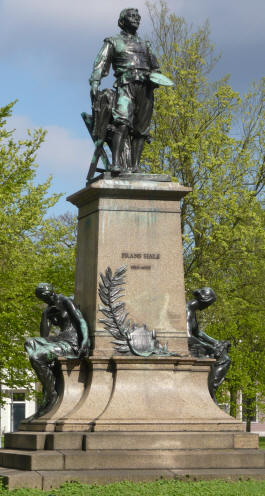 Below (left side) is "Winged Altar Piece" by Cornelis Engebrechtsz (1462–1527) who worked in Leiden, Holland. In the center is "Mary with Child" by Joos van Cleve (1485–1540) who worked in Antwerp, Belgium.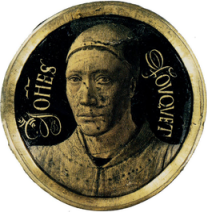 Here is a wall with two more of his: "Emperor Maximillian I" (left) and "Queen Eleanor of France" (center). The one on the right is titled "Portrait of the Ferrara Court Jester Pietro Gonnella" from 1442 by Jean Fouquet (1420–1481) (above right). He was a preeminent French painter of the 15th Century and the apparent inventor of the portrait miniature and was the first French artist to travel to Italy and experience first-hand the early Italian Renaissance. His self-portrait (1450, right) may be one of the earliest ever done. Below right is a stock photo to show the detail of Fouquet's miniature of the jester.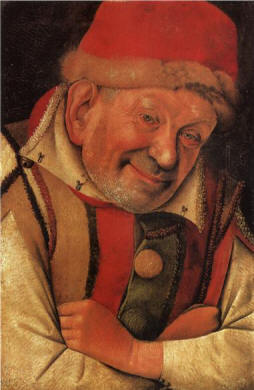 Below left is a self portrait of Joos van Cleve and center is his play on "ala Leonardo" titled the "Mona Vanna" (stock) which is in the National Gallery in Prague, Czech Republic.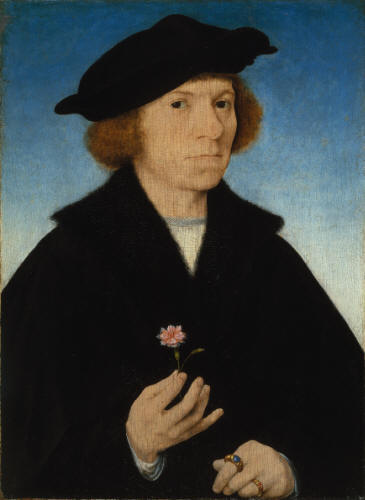 Below left is titled "On the Flight to Egypt" by Jan Brueghel The Elder (1568-1625) (above right, by Rubens) who was the brother of Pieter Brueghel the Younger and a close friend and frequent collaborator with Peter Paul Rubens.
Brueghel contributed to the development of the genre of the "monkey scene" also called "singerie" that are comical scenes with monkeys appearing in human attire and a human environment. Above right is a stock photo of his "Monkeys Feasting" from 1620. This is a pictorial genre that was initiated in Flemish painting in the 16th Century. Below are walls and walls of Dutch paintings.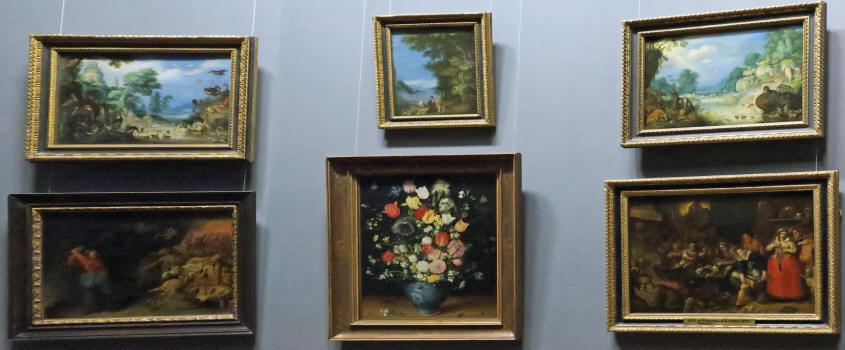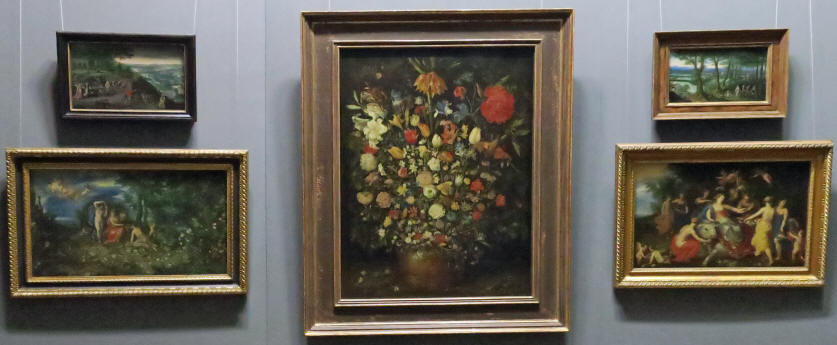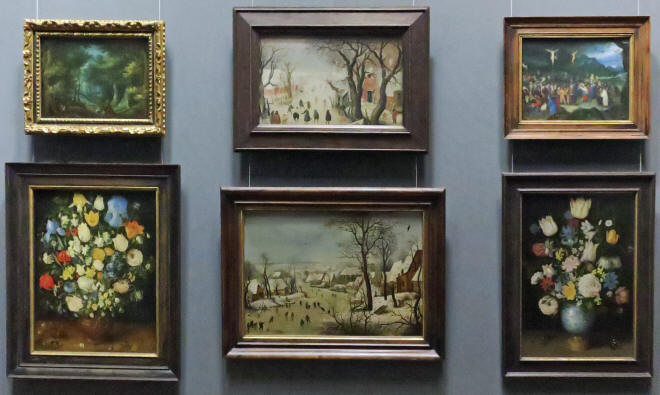 Below is "Legend of the Mortal Remains of St. John the Baptist" from 1484 by Geertgen tot Sint Jans (1460-90) (below right) who also worked in Haarlem. Below right is his "Lamentation of Christ" from 1484.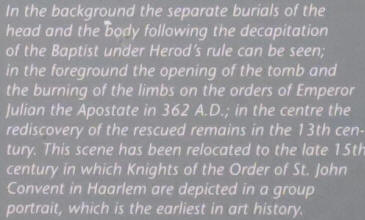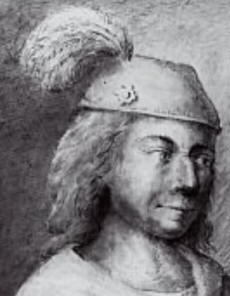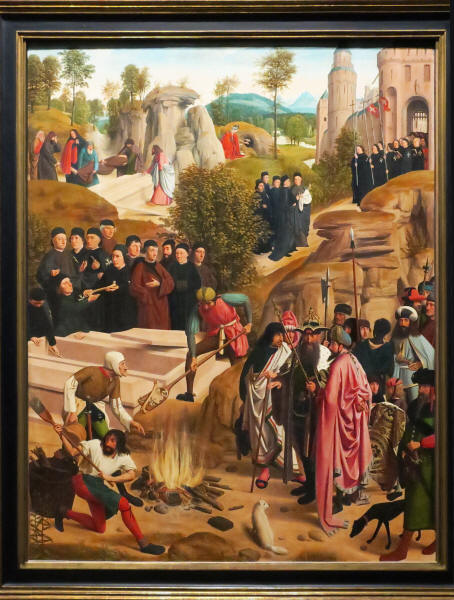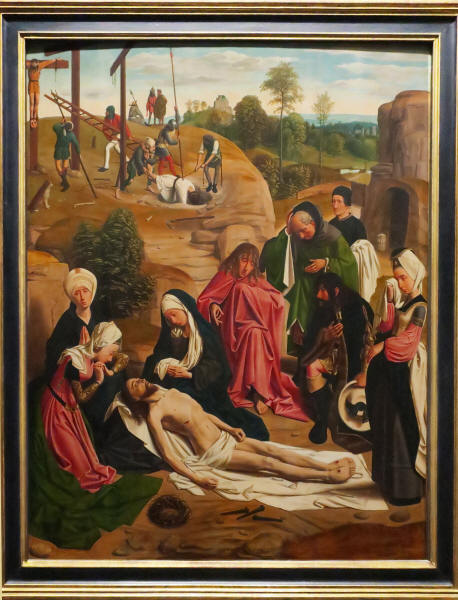 The painting on the left (below) is titled "Rest During the Flight to Egypt" from 1520-30 by Adriaen Isenbrandt (1480-1551) who worked in Bruges. In the center above is "Landscapes with the Portrait of the Good Samaritan" by Herri met de Blas (1510-60) from Antwerp.

Now to one of my favorites, Hieronymous Bosch (1450-1516) (below left). Very little is known about him. Below left is his "Christ Carrying the Cross" from 1490-1510. Below right is a triptych; I didn't get the artist's name.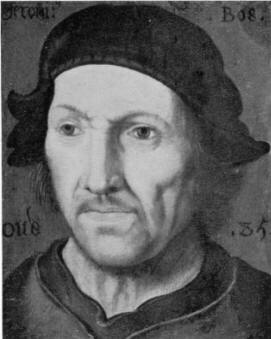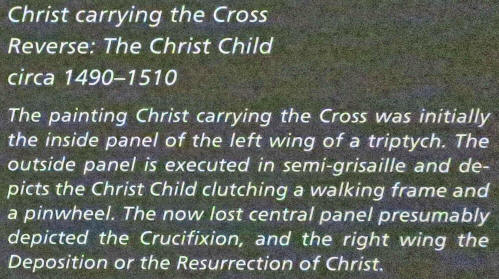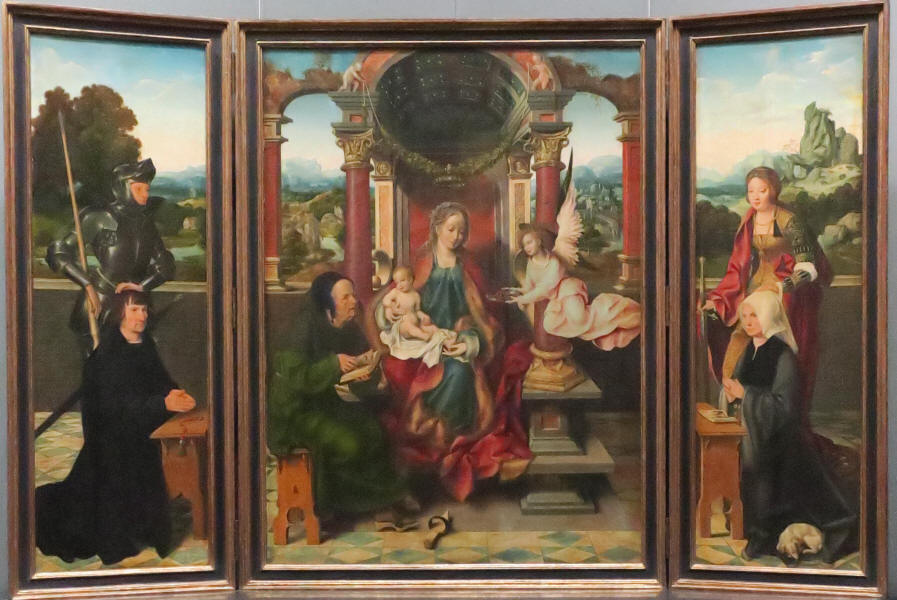 Below left is "Rest on the Flight to Egypt" by Pieter Coecke van Aelt (1502-50) (left) and on the right is "Altarpiece of Saints Thomas and Matthias" by Bernard van Orley (1491-1541) (right).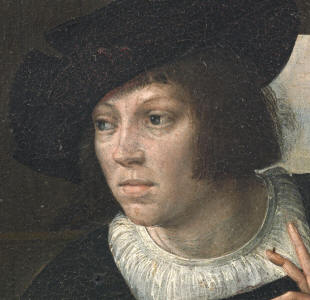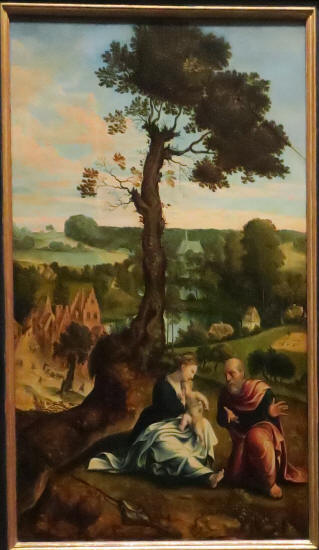 Below is titled "The Triumph Procession of Bacchus" from 1536-7 by Maerten van Heemskerck (1498-1574) (below left) a Dutch painter who worked in Haarlem and Rome.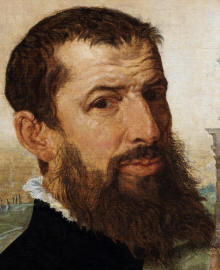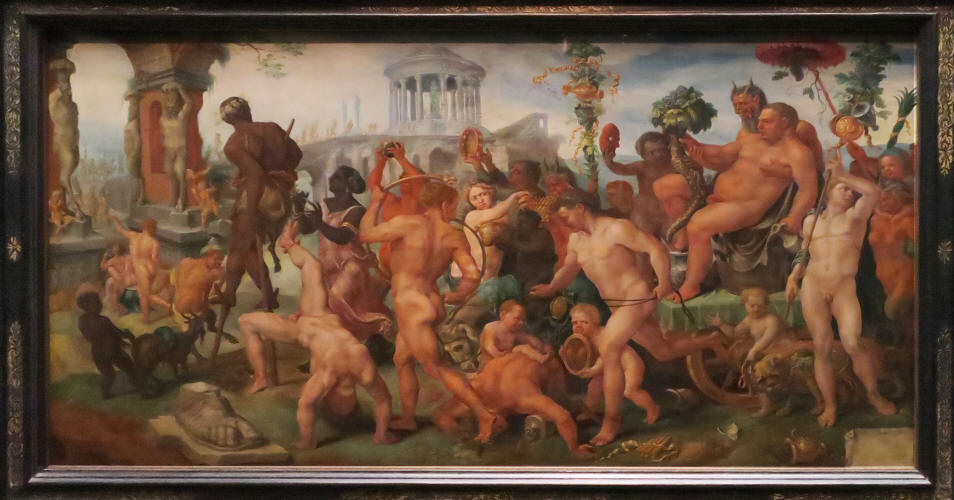 Here below are three more by Heemskerck: "Thetis Receives the Shield for Achilles from Vulcan" (left), "Vulcan Shows the Gods Venus and Mars Trapped in its Net" (center), both from 1540 and an oak wood carving titled "Caritas" from 1545 (right).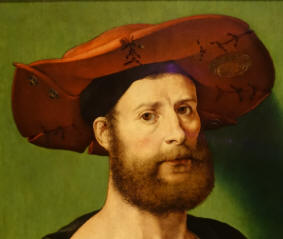 There was an area with three paintings by Jan Gossaert (called Mabuse) (1478-1532) (selfie, right). He was one of the first painters of the Dutch and Flemish Renaissance to visit Italy and Rome in 1508–09, and a leader of the style known as Romanism. Below center is his large one titled "St. Luke Painting the Madonna" from 1520-5 (my photo). On the left and right of it are stock photos because mine were too small and blurry. The left is a oak wood piece titled "Maria with Child" from 1525-7 and on the right is "Male Portrait" from 1525-30.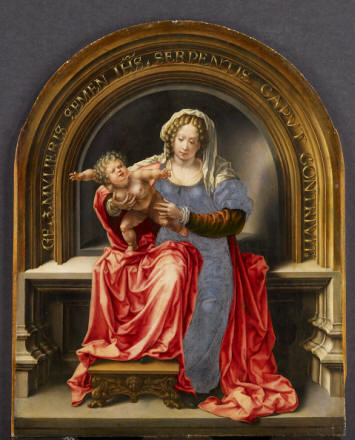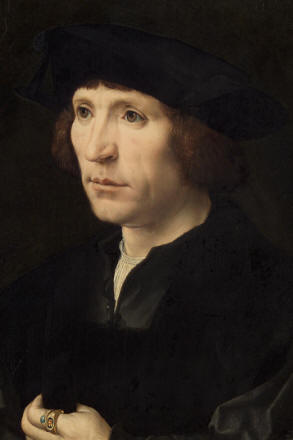 They had this large display about Otto van Veen (1556-1629) (selfie below) about strong independent women. He is famous because he was the mentor and teacher of Peter Paul Ruben.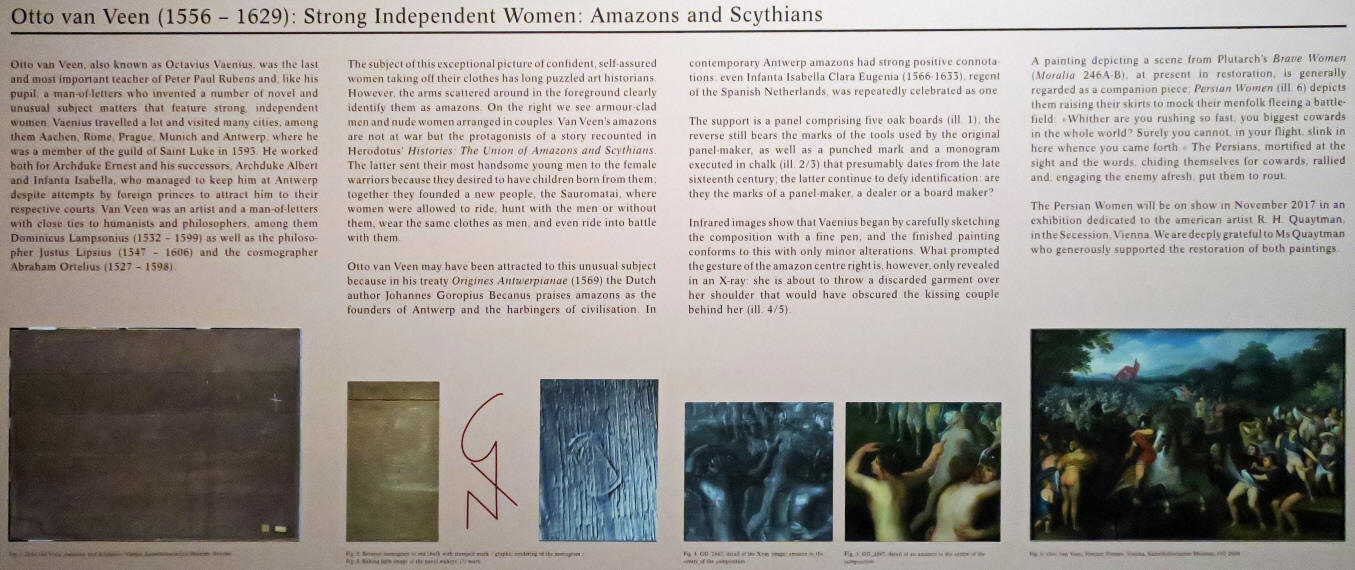 The exhibit here for him is titled "Ansichtssache #18" or "Matter of Opinion" featuring his famous painting "Strong women: Amazons and Scythians" as well as others which were very daring for the time.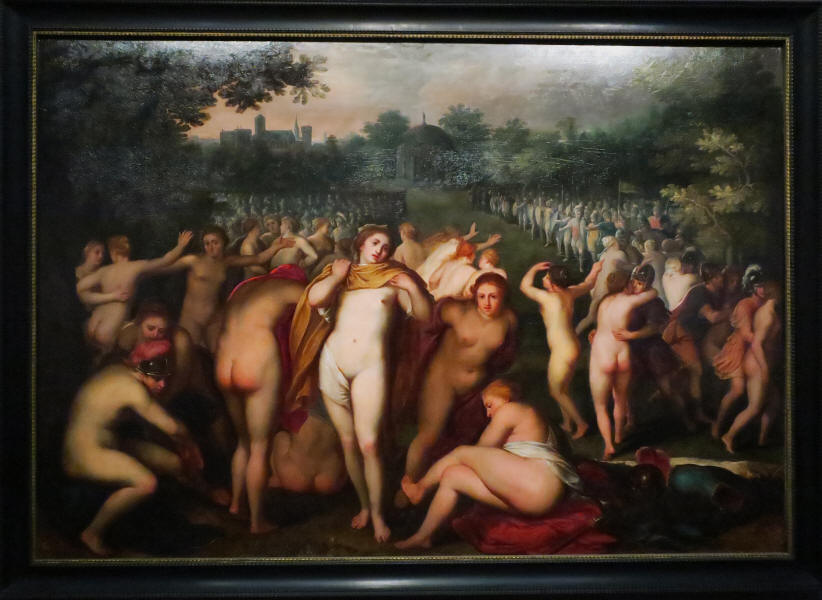 On one wall were two paintings by Jan van Eyck (1390-1441) who was a Flemish painter working in Bruges: "Cardinal Niccolo Albergati" from 1435 (left) and "The Goldsmith" Jan de Leeuw from 1436 (center). Near them was "Catherine of Aragon" (or maybe "Mary Tudor") from 1503-4 (right) by Michael Sittow (1468-1525) who worked in Bruges and Copenhagen and maybe London.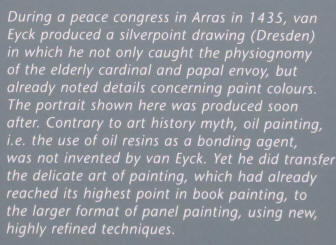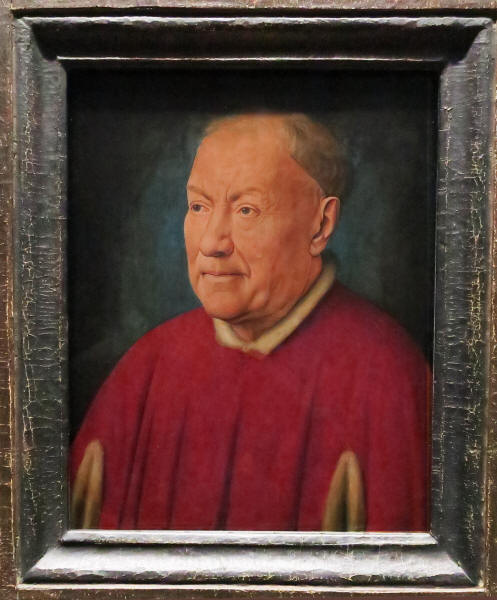 Below left is a stock self-portrait of van Eyck. Center is a painting everyone can remember seeing somewhere. It is titled the "Portrait of the Arnolfini Family" but if you look carefully in the center you can see a convex mirror on the wall and if you enlarge it you see the couple from behind and him painting them (blow-up, right). Above the mirror is his unique signature.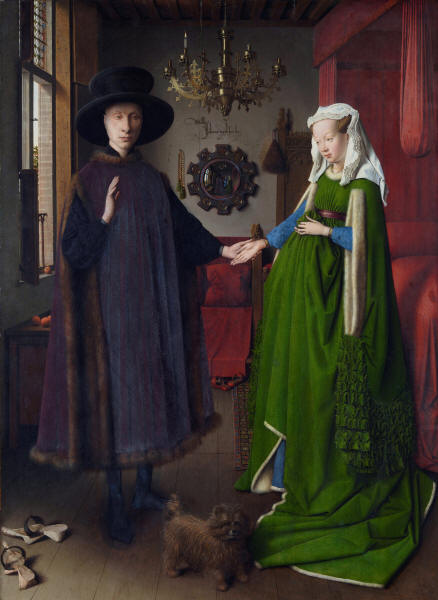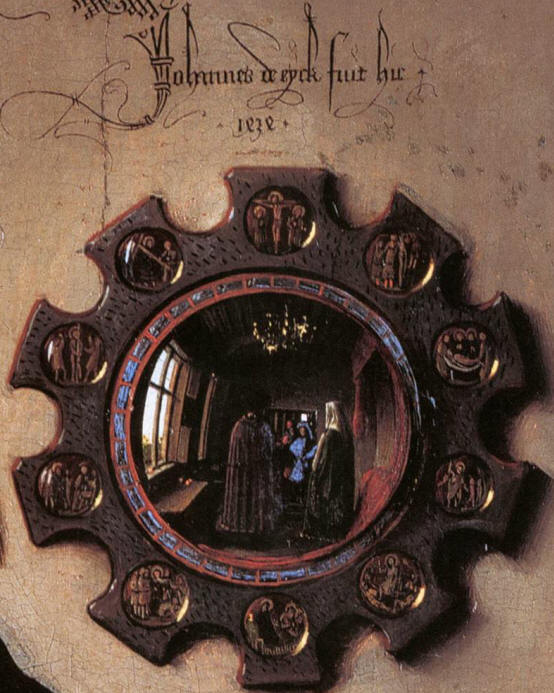 Next to them is the "Cabinet of Art and Rarities" (below left) from 1623-5 by Frans Francken the Younger (1581-1642) (below center, by van Dyke). He was a Flemish painter and the best-known member of the large Francken family of artists. My photo of it was not the best, so I added a stock photo (right).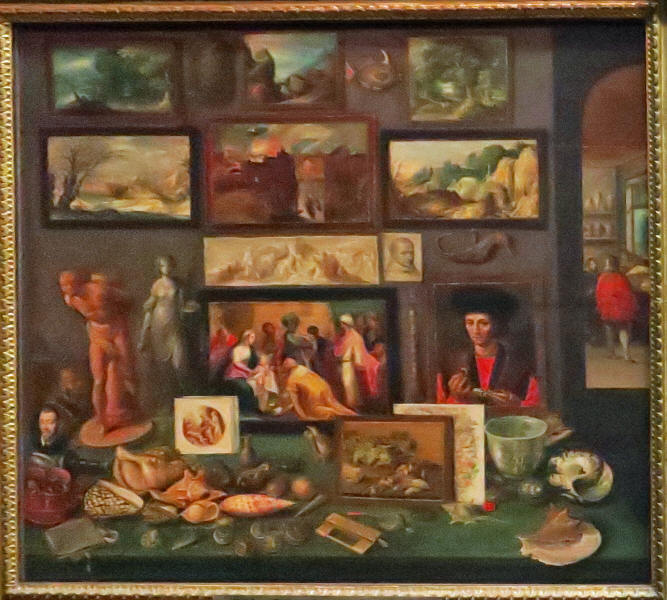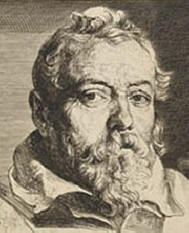 I didn't get the title or artist for the one below.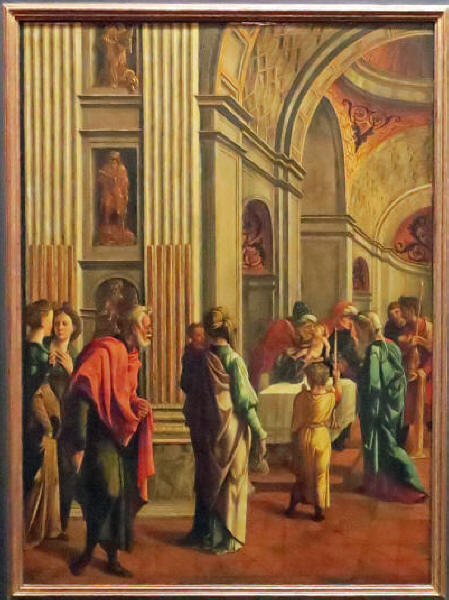 I am finally finished with Floor 1 and back through the beautiful cafe area.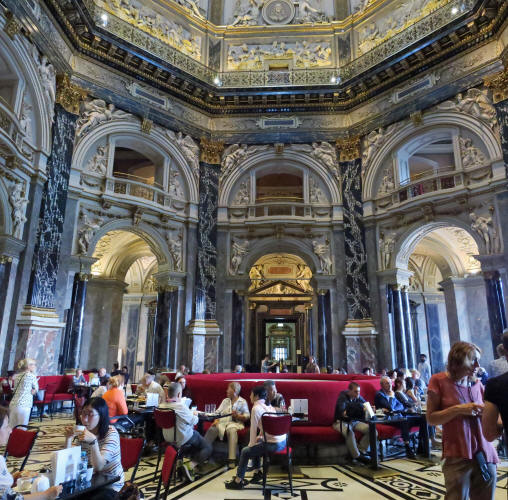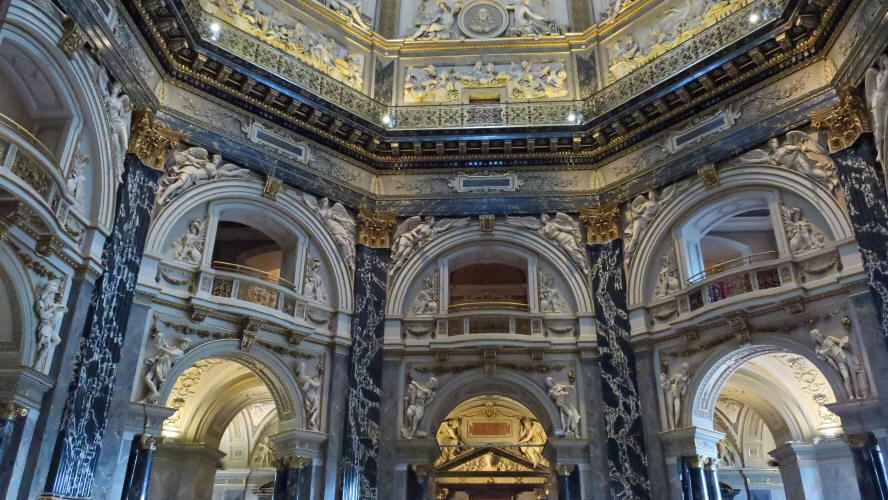 Below is a stock photo of the finished renovation to the cafe.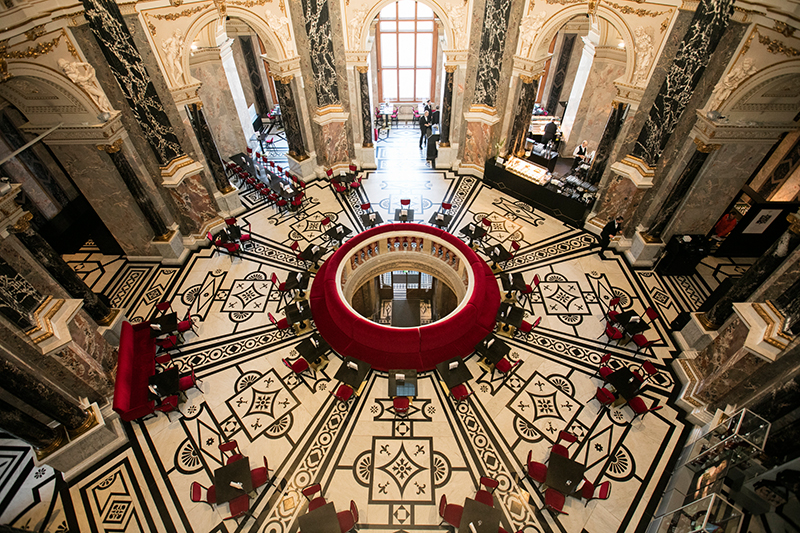 Then I went down the grand staircase to Floor 0.5 passing by the large statuary (PhotoStitch below).

This is the view looking back up.
There are these huge lions holding an emblem on each stair post (left and right). They also have this Imperial crest on the marble work of the stairway (center).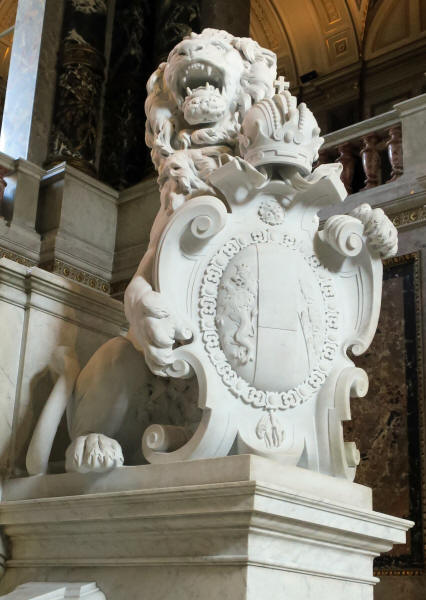 Below is my shot of the large statuary. It is titled "Theseus Defeats the Centaur" which was commissioned by Napoleon from 1805-19 and sculpted in Rome. It's quite impressive.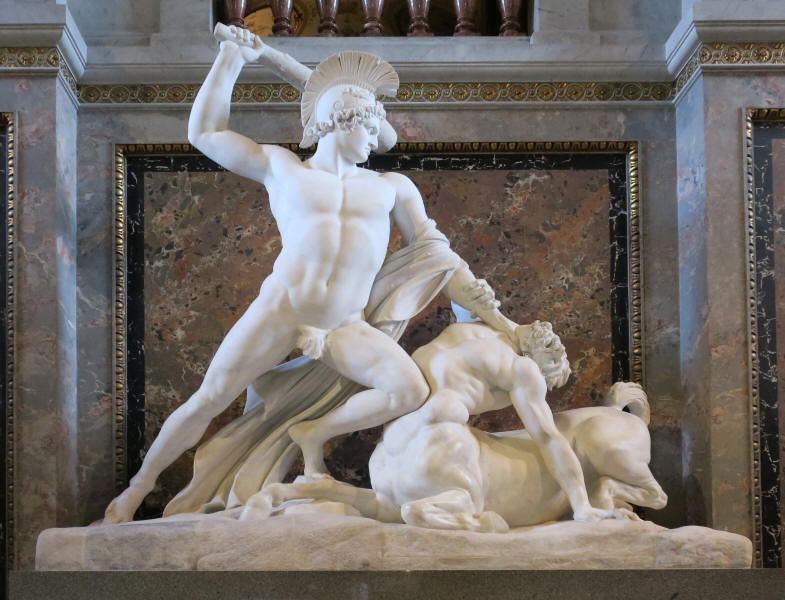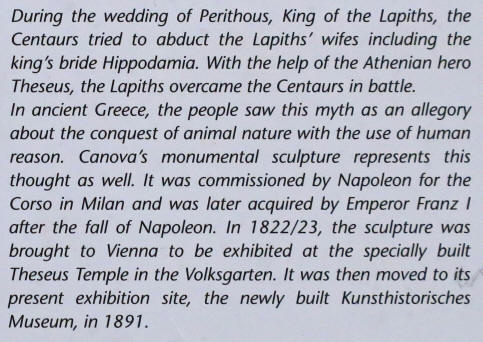 It was done by Antonio Canova (1757-1822) who was an Italian Neoclassical sculptor, famous for his marble sculptures and often regarded as the greatest of the Neoclassical artists. By 1800, Canova was the most celebrated artist in Europe. In 1820 he delivered a life-size marble statue of George Washington (replica below left) commissioned by the State of North Carolina (and recommended by Thomas Jefferson) in 1815, done in the style of a Roman general. It was destroyed by a fire 11 years later. His "Three Graces" (below center) are also quite famous and now in the Hermitage Museum in St. Petersburg, Russia. He was buried in the mausoleum that he had designed for Titian in Basilica di Santa Maria Gloriosa dei Frari in Venice (below right). I've seen it.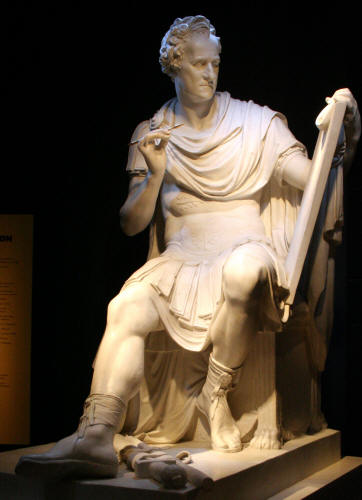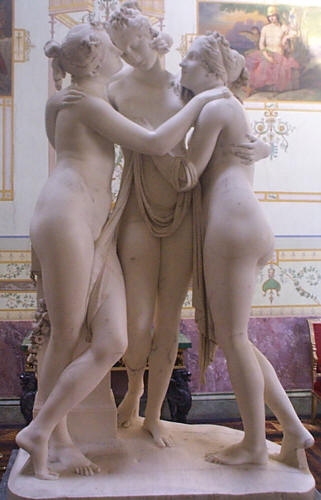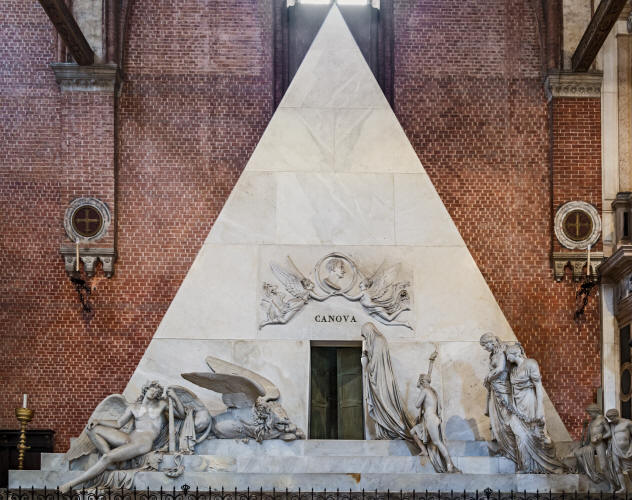 Here below is the view looking high up at Floor 2 (left) with the painting on the ceiling.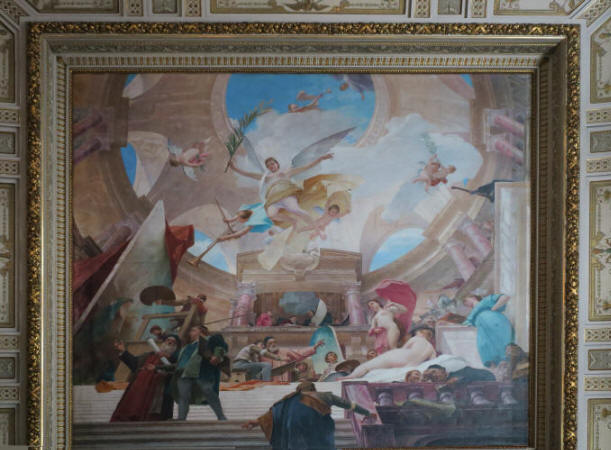 I am now on Floor (Ebene) 0.5 and decided to go on the left side.
First I went into Gallery XIX (upper center) to an area with statues and a display model of the cupola of this building (lower left). At the end wall is this large painting Of Franz Joseph (below right) with statues in front.
The statue on the left is of Gottfried Semper by Carl von Hasenauer (partner architect with Semper building this museum) (Viktor Tilgner 1901) and on the right is of Emperor Franz Joseph I by Zsigmond Pollak in 1868.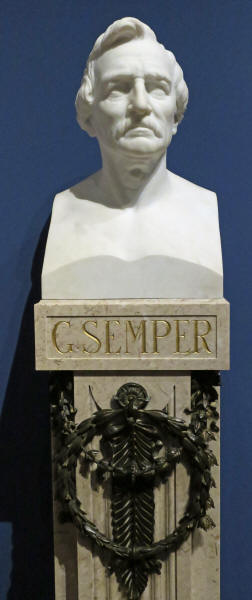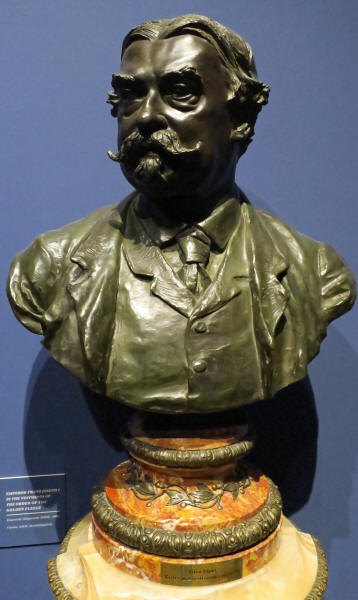 I then moved into Gallery XX with more statues. Below left is of the "Madonna". The center one may be another one of Franz Joseph. On the right is Leopold C. Müller (1834-92) (didn't get artist's names).
Then there are busts of Emperor Franz I done by Camillo Pacetti (1528-1626) from Milan in 1816 (left) and Emperor Franz Joseph I by Caspar Zumbusch (1830-1915) (center right) in 1873 from Westphalia. Zumbusch also did the Beethoven monument in Vienna (center left) and the Maximilian II monument in Munich (right) that I have run by every time I'm there.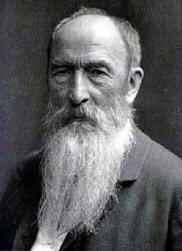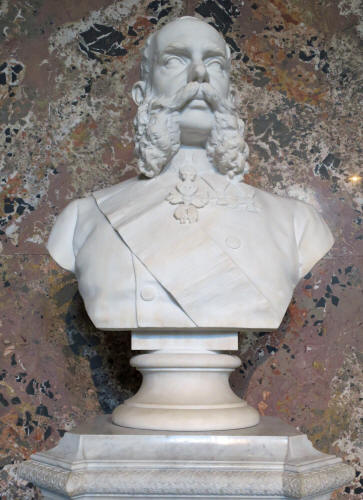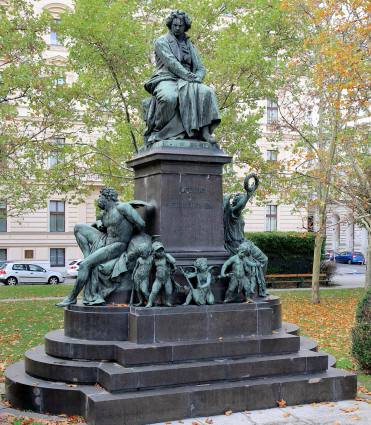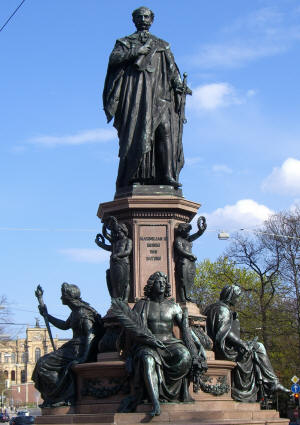 At the end of the room there is a display of a series of six portrait busts of the crowned Habsburgs living around 1695 and their male descendants.

Elector Johann Wilhelm von Pfalz-Neuburg, brother-in-law of Emperor Leopold I, had commissioned the cycle to exhibit this monument series of the House of Austria and Leopold loved it. Below left is a close-up of three of them.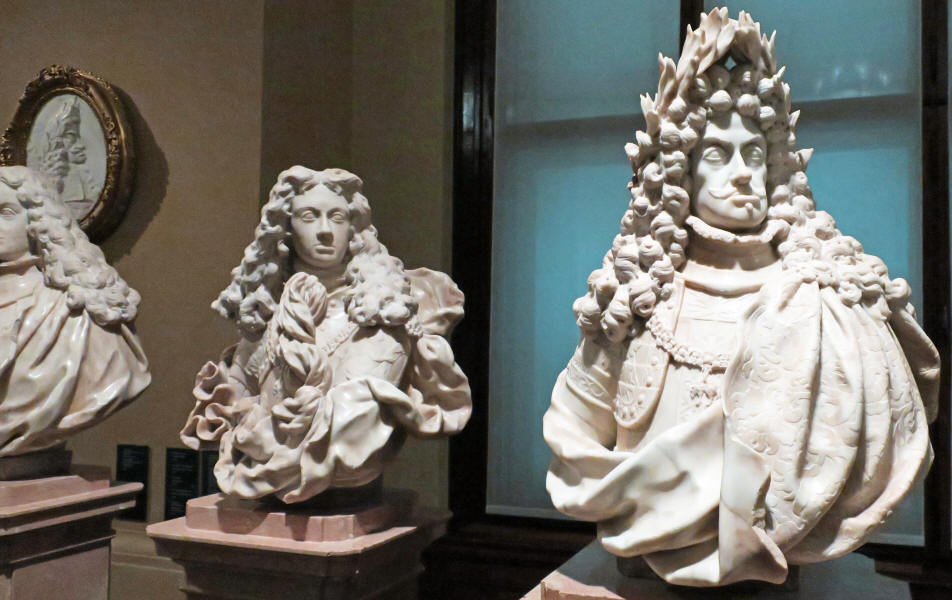 The one on the right (above) is of Emperor Leopold I from 1695 by artist Paul Strudel (1648-1708). He was the man responsible for overseeing the design and construction of Vienna's Plague Column from 1686-93). Below are more beautiful ivory sculptures including is "Leopold I Victory over His Enemies (1690-3) by Matthias Steinl (1644-1727) (left). Left center is "Victory of St. Michael Over Satan" (1740-60) by Johann Schnegg. Dead center is "Triumph of Emperor Leopold I" from 1700 by Christoph Maucher.

Then there is a copy in ivory of Bernini's "Apollo and Daphne", done in 1688 by Jakob Auer (1645-1706), an Austrian (below right). This original statue by Bernini is in Rome and is my absolute favorite sculpture.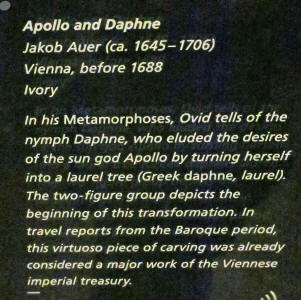 Many cabinets fill this room.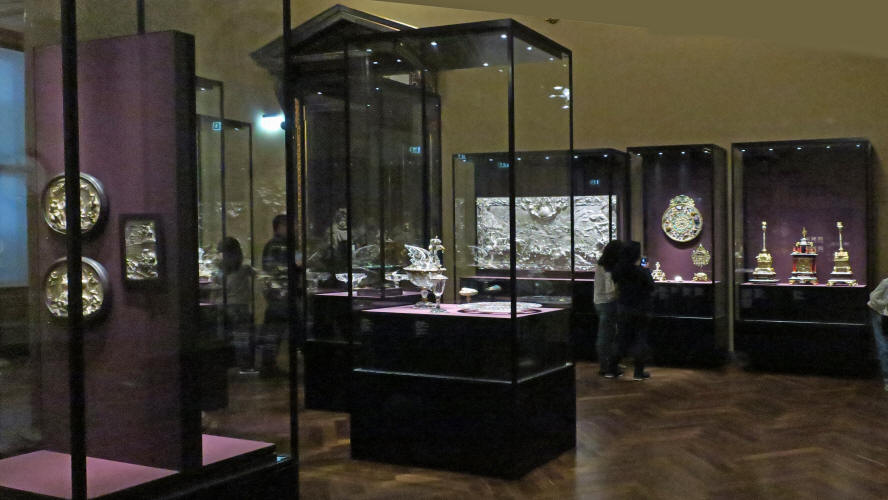 Above right, notice the left cabinet in the back has this large silver artistic plate (below left, behind statue above left). It is a votive tablet from St. Blaisien titled "Duke Charles V of Lorraine in the Camp of Todtmoos". The center cabinet is full of clocks: the one hanging on the wall is the Plate Clock from Florence (1651); on the left is "Table clock with Cupid" from Augsburg (1665), on the right is a Pendant Watch from Geneva (1700), in the middle a Pendant Watch from Augsburg (1670). In the front (left) is a Pendant Watch from Vienna (1670) and right is a Mirror Clock from Augsburg/Frankfurt (1670).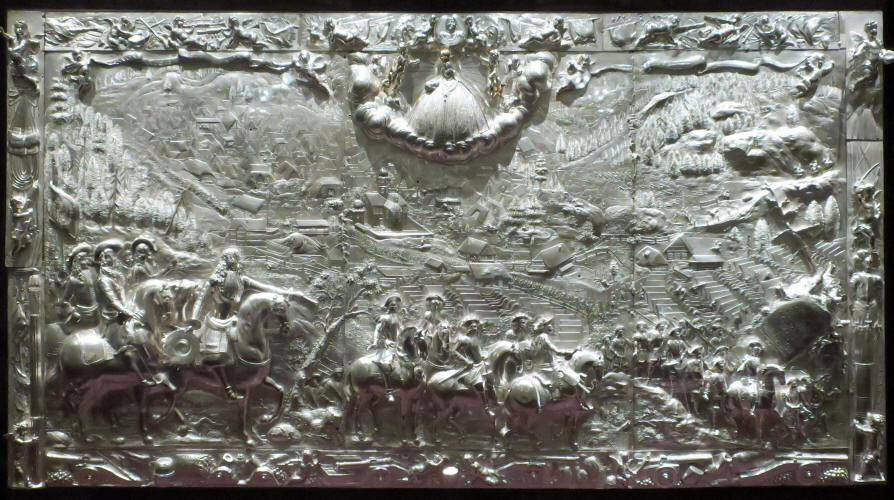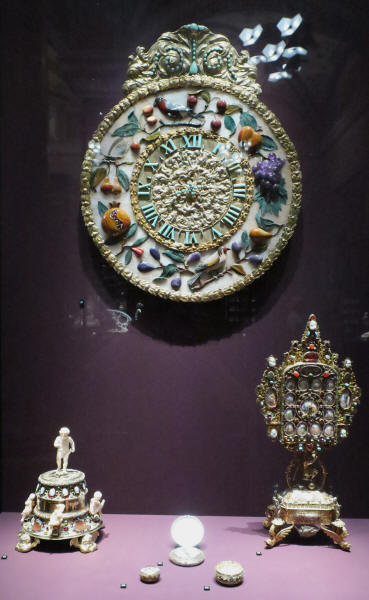 The cabinet on the right (above) is labeled "Magnificent Table Clocks from Augsburg". In the 17th Century, Augsburg was the leading production center for innovative and

elaborately designed clocks. David Buschmann (1626-1701), the most renowned clockmaker of the city, created works of great technical refinement. On the column clocks (below left; left and right), the hour hand advances by spiraling upward. The cases were made of ebony, tortoise shell, wood, brass, iron, gilded bronze, silk, velvet and silver. Below right is a wood, gilded bronze and rock crystal medicine chest from Milan or Prague from 1660.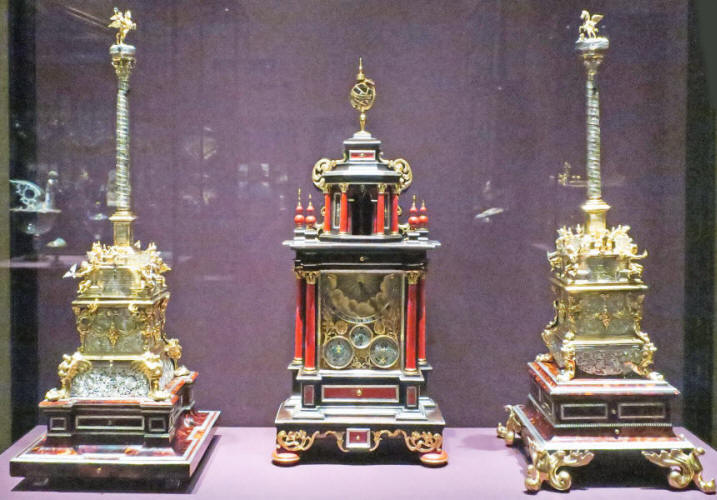 Here are more exhibits. Note the cabinet on the very left.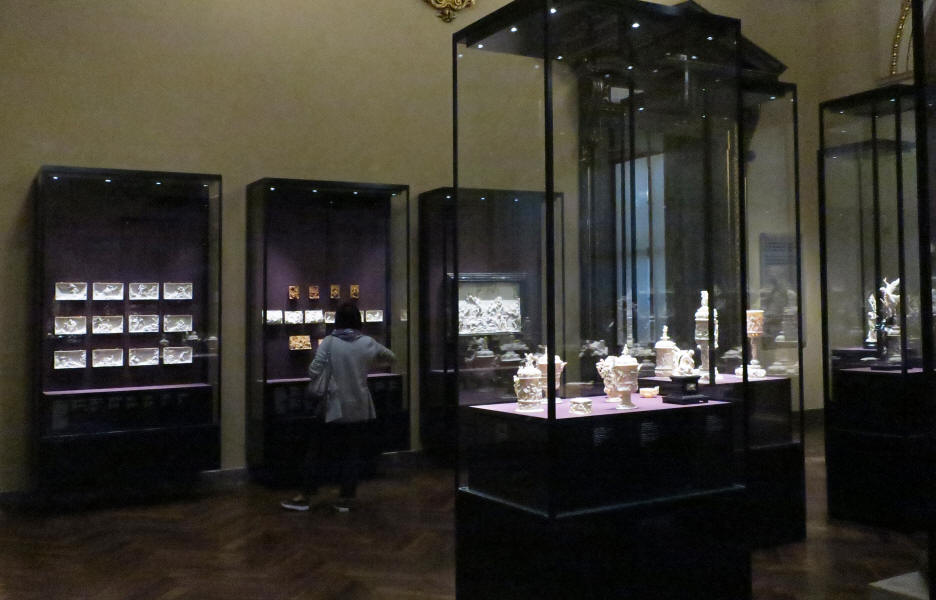 It contains twelve white miniature pieces. The middle cabinet has six more white ones and seven brown ones.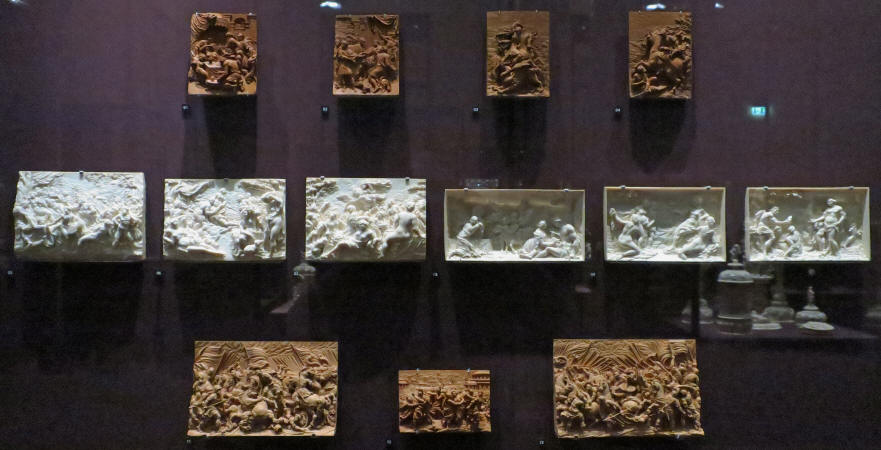 The cabinet on the right (above) has this very large ivory piece titled "The Martyrdom of St. Sebastian" from 1655. The free standing cabinets contain these ivory steins, cups and chalices from the mid 1600s, many by Balthasar Griessmann (1620-1706).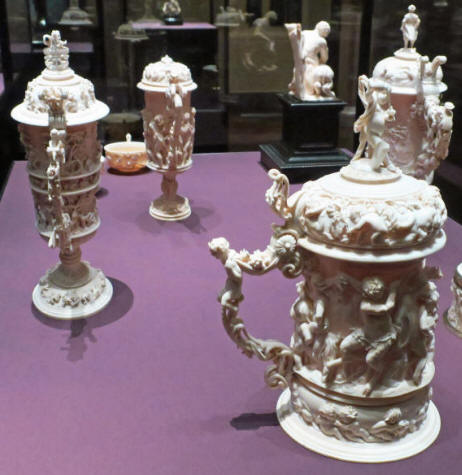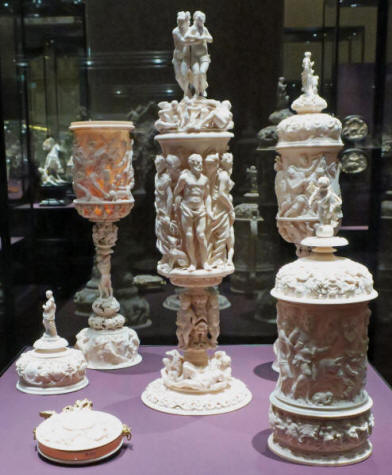 Below are more interesting pieces. Center below is "Basin of a Pomp Line" by Hans Jakob Mair from 1663. On the left (to the right) is a center piece of a two-headed eagle (1670-80).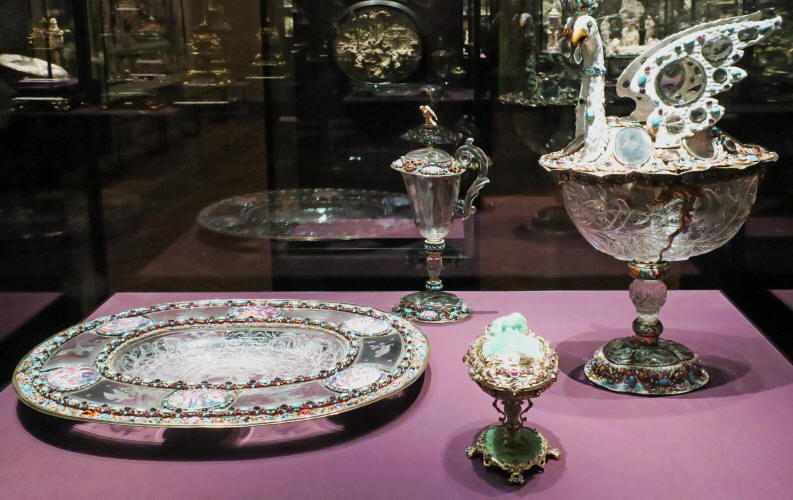 Below right is a tapestry titled "Lovers in a Bower" from Brussels (1629-50) by Jacob Jordaens (1593-1678). This place just doesn't stop.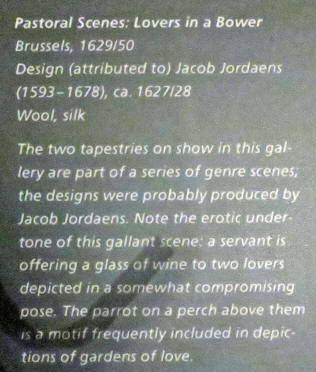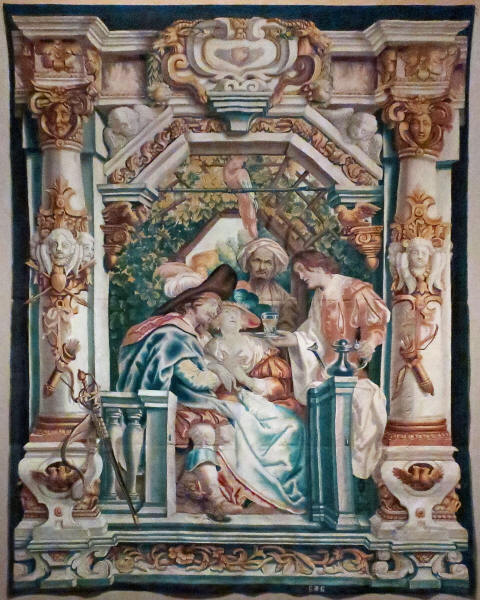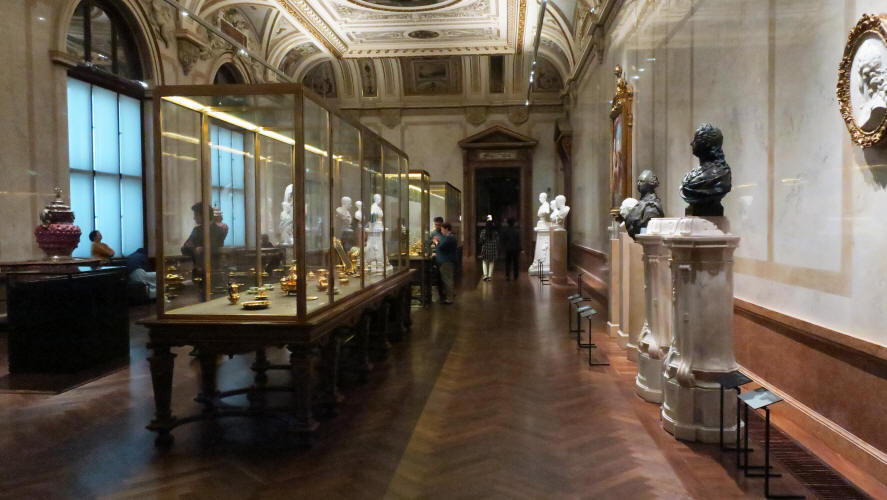 Below are more unique pieces.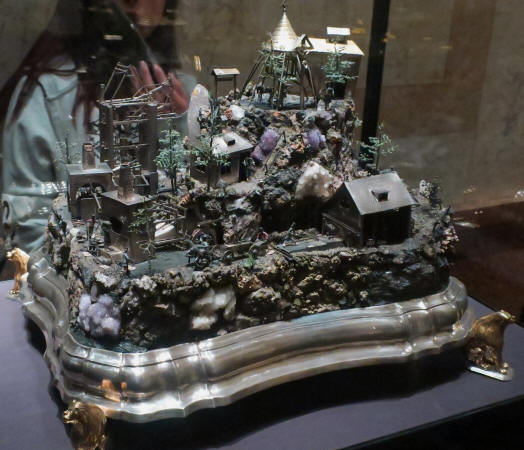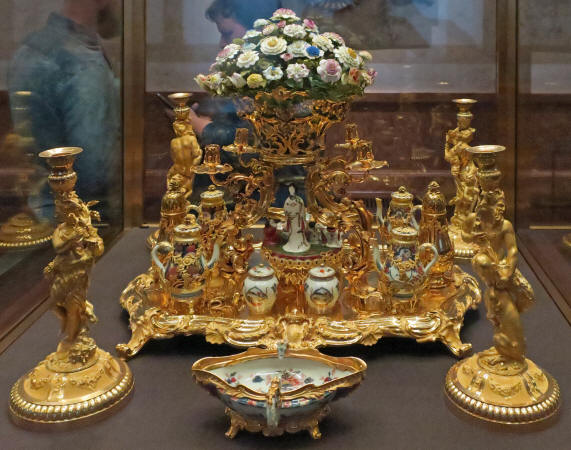 Staying on Floor 0.5, I'm now going to see the Greek, Roman, Etruscan and Egyptian antiquities in Rooms I-XXXVII and Rooms 1-7.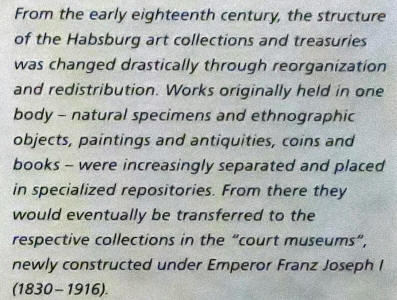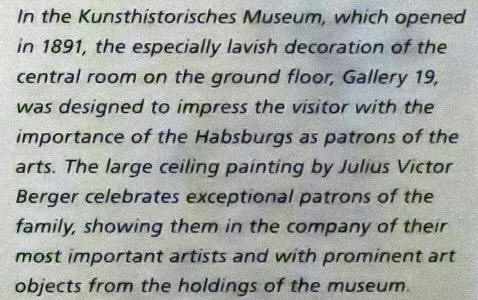 This is titled "Antique collection of Greek and Roman Antiquities". These rooms are quite something. You can see the huge painting on the ceiling and the Greek temples in the cabinets with many statues along the wall.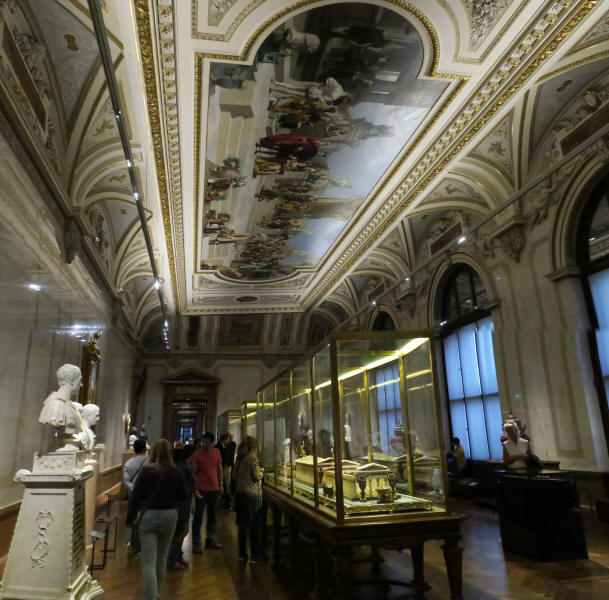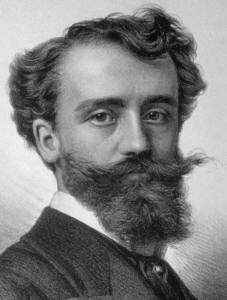 The ceiling painting is by Julius Victor Berger (1850-1902) (above right) which celebrates the exceptional patrons of the Imperial family, showing them in the company of their most important artists along with prominent art objects from the museum.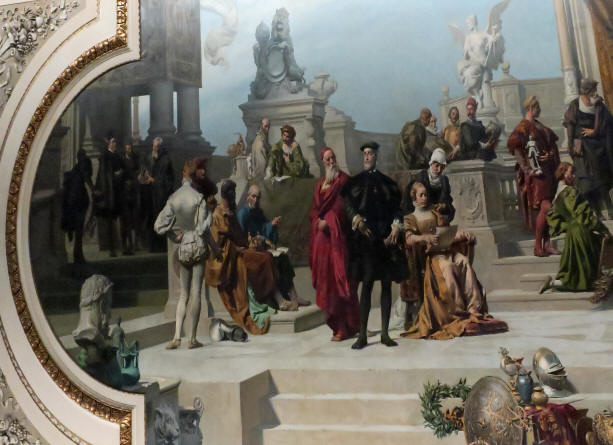 Below are examples of the Greek Temples on display.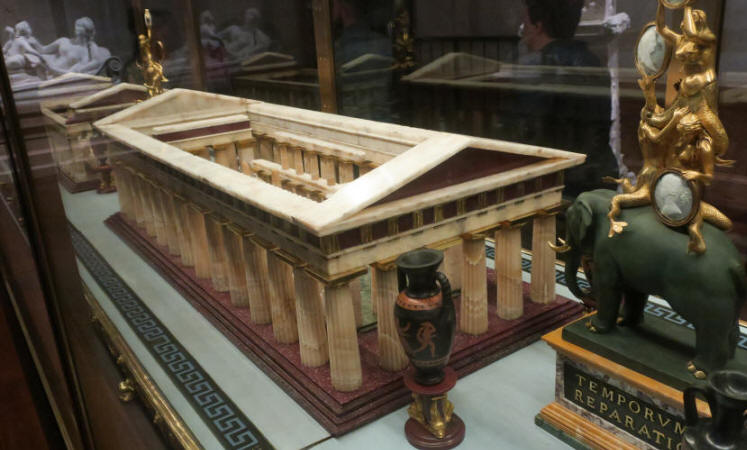 Below left is a marble titled "Iris as Goddess of the Rainbow" (1841) by Gaetano Matteo Monti (1776-1847) from Milan. Below right is a lead sculpture titled "Bound Prometheus" (1759) by Johann Hagenauer (1732-1810) from Vienna.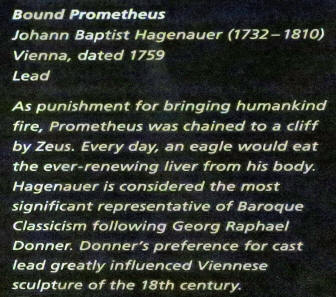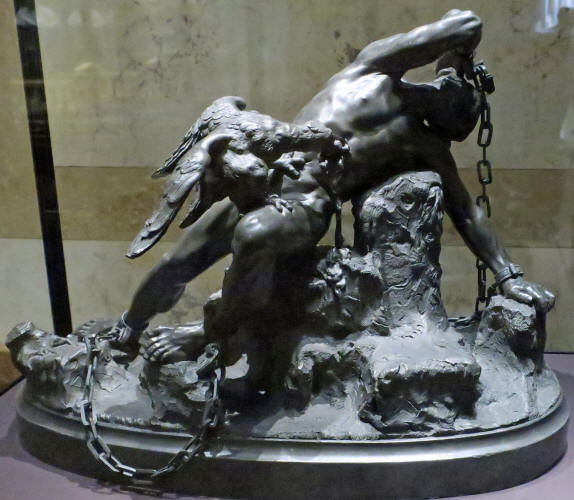 Here is a beautiful marble piece, "Venus and Amor" (1838) by Pompeo Marchesi (1883-1858) from Milan.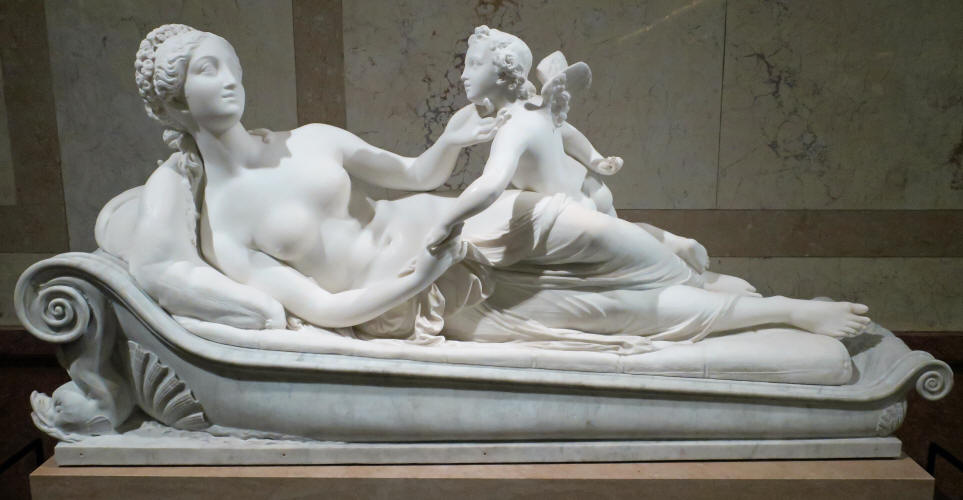 The marble bust on the left is labeled "Munificence Imp. Caesar, Francis 2 AVC. IMP-Ard, Austria, best guardian of the liberal arts palaeotheca increased and the sacred image is decorated A.M. 805".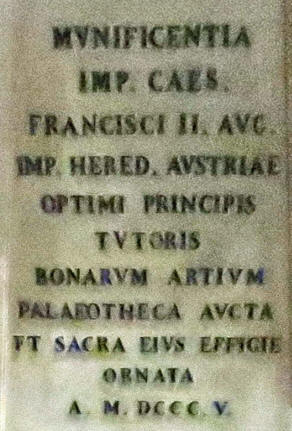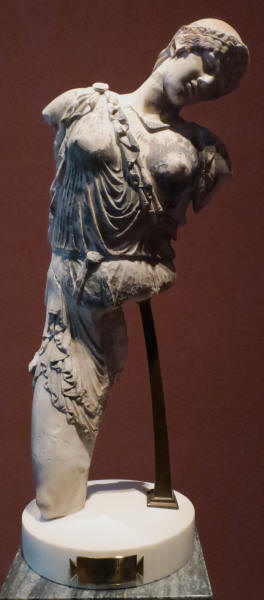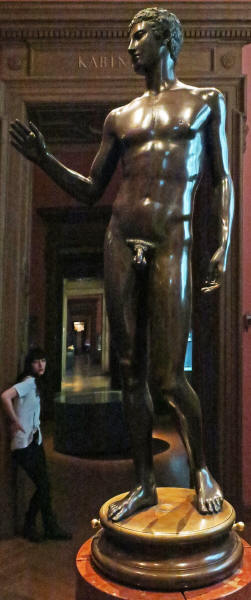 Below are displays of Roman artifacts and figurines.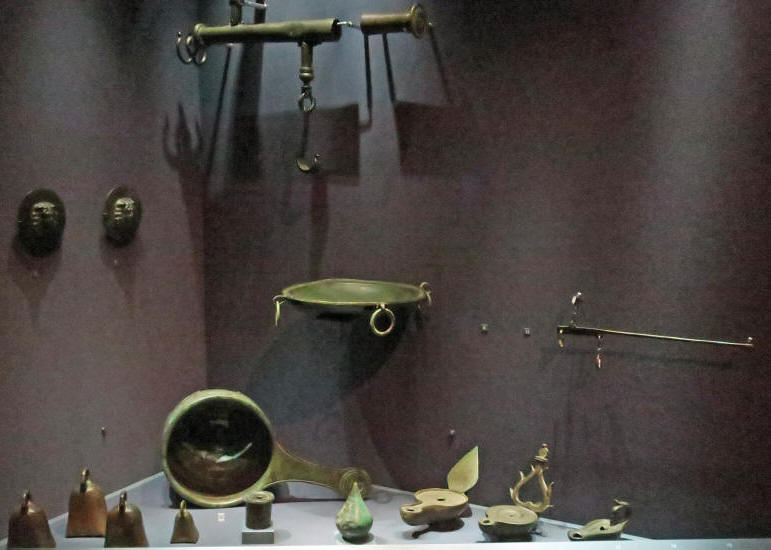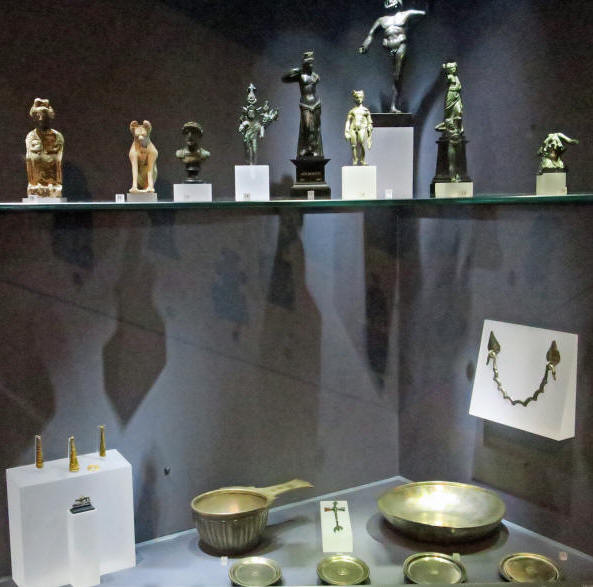 This is a relief titled "Frozen Death of Ulysses" of Greek-Lycian origin from around 380 BC.
There was this large back-lit cabinet filled with vases and various objects.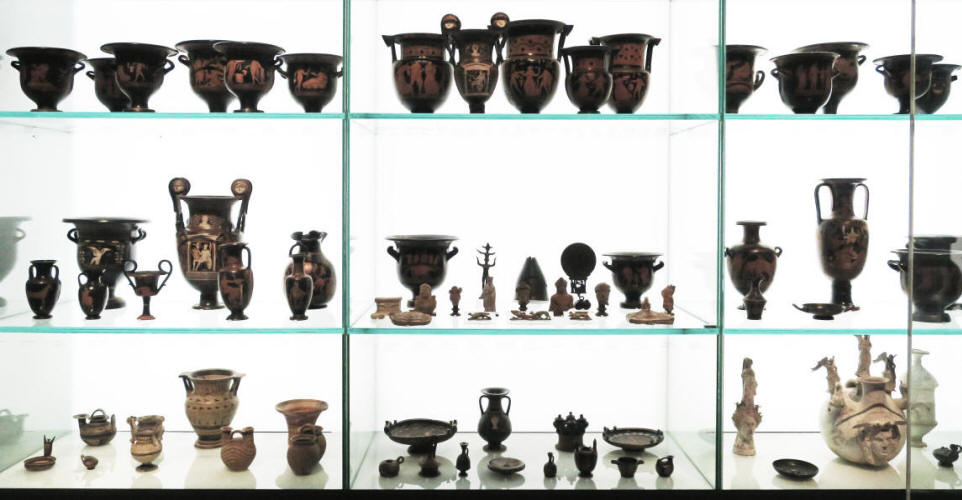 As all museums, they have many beautiful Greek vases.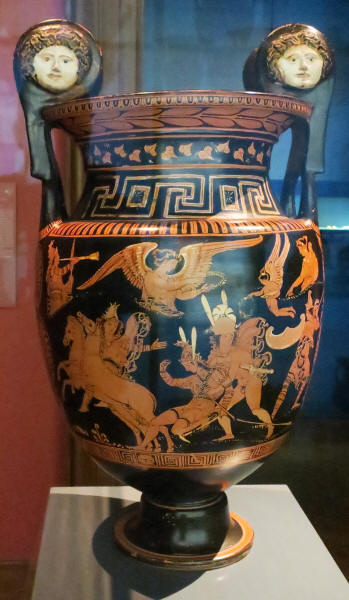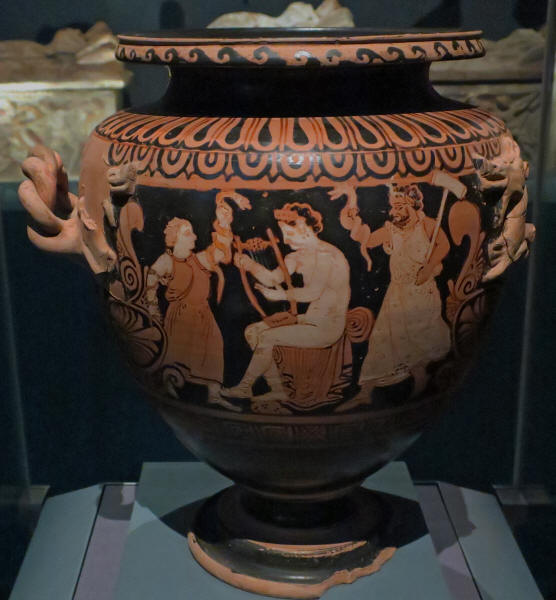 Then there was an area of Etruscan objects. The Etruscans were the civilization on the Italian peninsula prior to the Romans.
Here are earrings and a gold bracelet.
Below are tombs with sculpted figures above them. Note the guy on the left.
This is labeled "Vasen Malerei" which means "Vases Gallery" in English.
Etruscan vases (left) and bronzes (right) from 550 BC.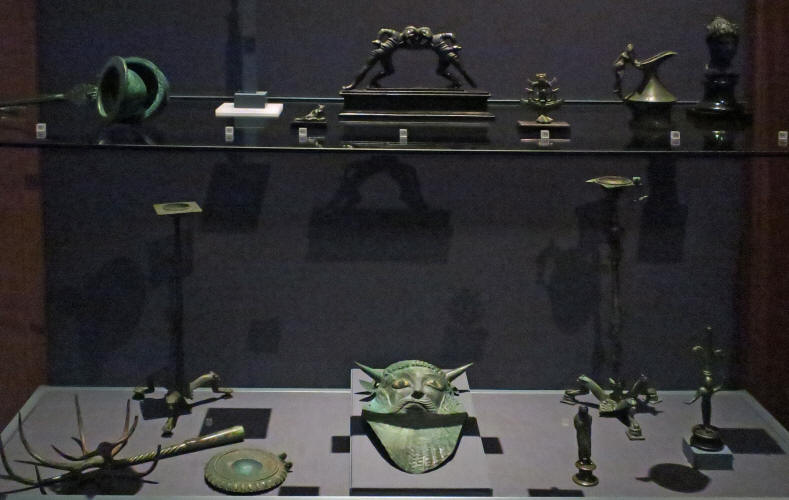 Here are Etruscan Ceramics from 900-800 BC.

These are from Cyprus: young man head (left), top part of a male votive statue (center) and bearded head of a male (right).
Also from Cyprus from the 4th Century BC.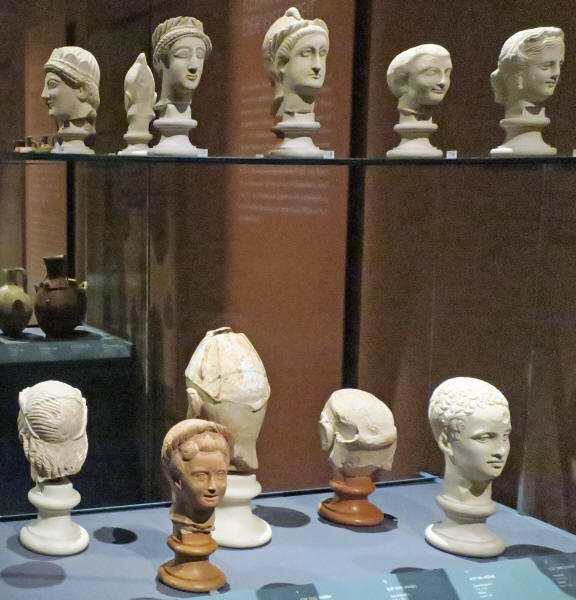 Below left are figurines. On the right is a Greek vase: Translation: "Geometric finds from Athens: jar with cover 740-720 BC Dipylon, water birds are the figurative adornment of this feather coat of arms-like herringbone arranged for this fleeting". On the far right is a model of a warship with a warrior (750-740 BC).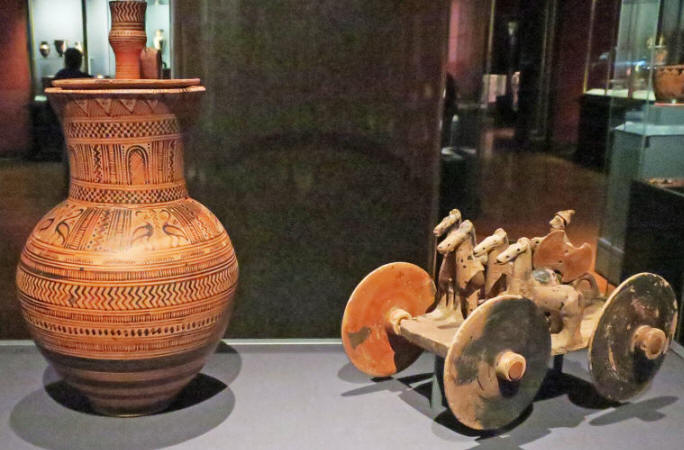 More well-preserved Greek vases.

Caeretan hydria (or "Black-figure pottery") is the name given to a type of ancient Greek painted vase for carrying water. Hydria are specific in that they were only made between 530-500 BC by only two Greek émigrés to ancient Etruria on the east coast of Italy (map below left). They were found in the city of Caere (see map, an important Etruscan city north of Rome). Here they have two important examples: 1) "Return of Hephaestus (Vulcan) to Olympus" dated 525 BC and 2) "Herakles (Hercules) escaping and killing Busiris" (ancient king of Egypt) from 510 BC.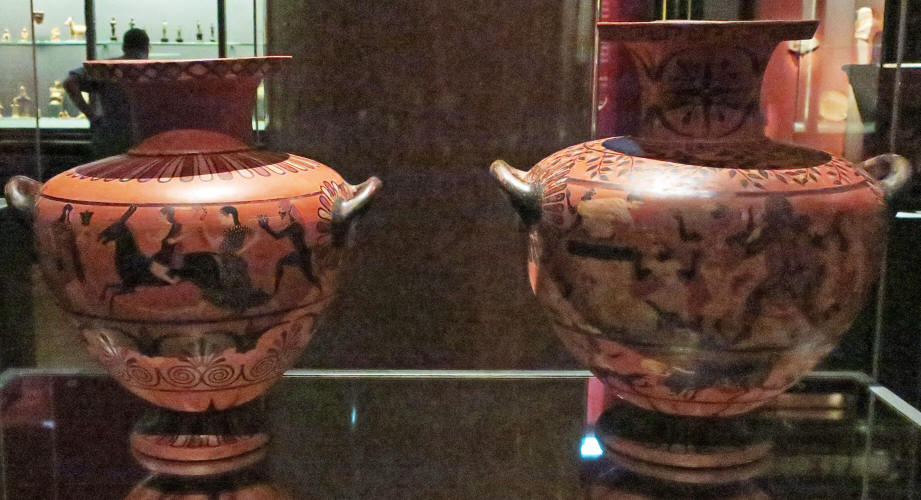 An interesting side note is that the city of Caere signed an important peace treaty with the Phoenicians. It was set on gold plates (below) dug up in only 1964 in the nearby port of Pyrgi. They were bilingual allowing the first translation of the Etruscan language from Persian (only 55 years ago). Below are two stock photos of this amazing find.
Also dug up there is the greatest piece of Etruscan art ever found, the "Sarcophagus of the Spouses" from the 6th Century BC (stock, below left). The above gold tablets and this are housed in the National Etruscan Museum in the Villa Giulia in Rome (stock, below right). Worth a visit; I missed it.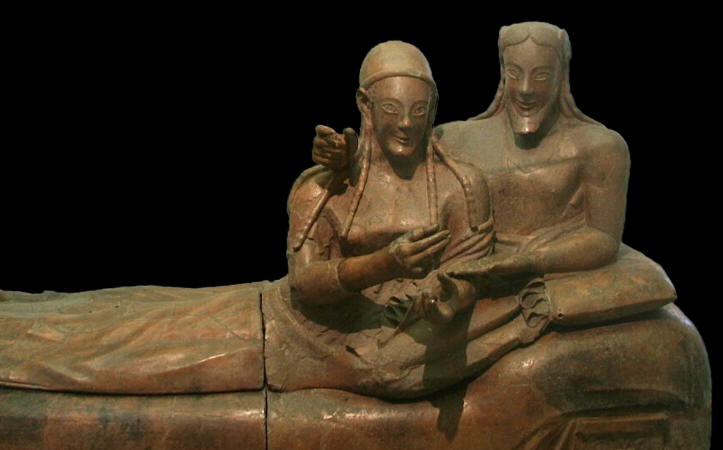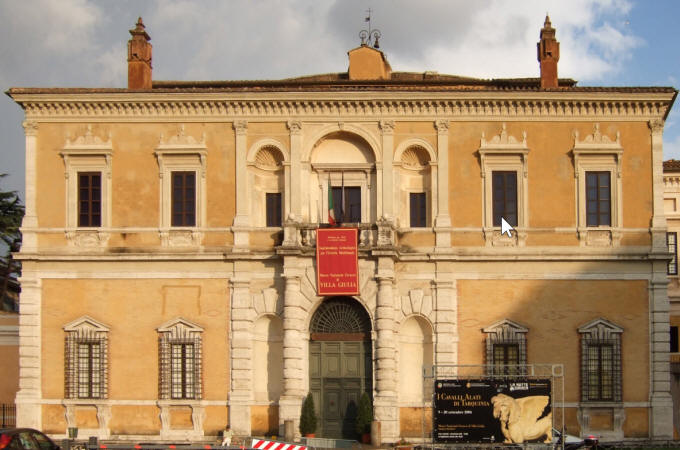 More Grecian vases.
Below is a burial tomb (below left) that I straightened out (below right) to see the images better.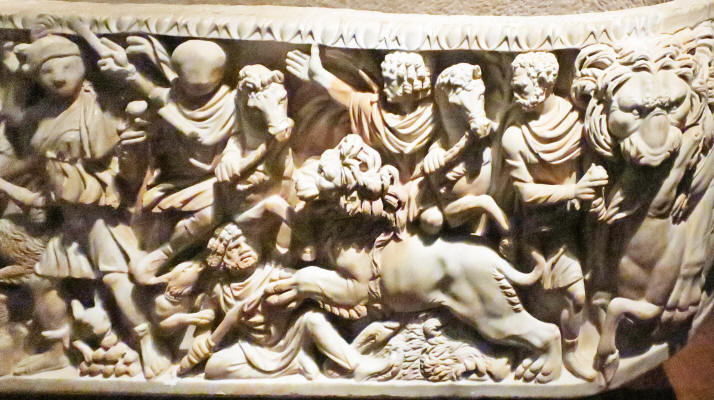 Now we go from Etruscan to Imperial Rome. They had a sign showing the different divisions of time (from 27 BC to 313 AD) in the Roman era. Though its in German, you can make out the names of the Emperors. Below right is a head of Zeus.
Because it was impossible to take a photo of it straight on, the best I could get of this sarcophagus was below left. After straightening it out, the art of the front is now visible (center).
Roman Bronze Statues: Concordia, Fortuna, Ausruhender [more restful] (355), Hercules (131), Seated Hercules, Lares (Lar) (an important household god). I found a stock photo a similar Lares (above right).

Below: 1) Bust of a man, 2-3) an Emperor, 5) Manade, 6) Gordians III (225-44) Roman Emperor (238-44), 7) Hercules and 8) Bacchus.
An example of a home shrine (Lararium): 1) Jupiter, 2) Mercury, 3) Cupid with wreath, 4) Pantheistic Signum, 5-6) two roof racks, 7-8) 2 chandelier lamps, 9) Base, 10) Oak wreath (fragment) and 11) a Tail.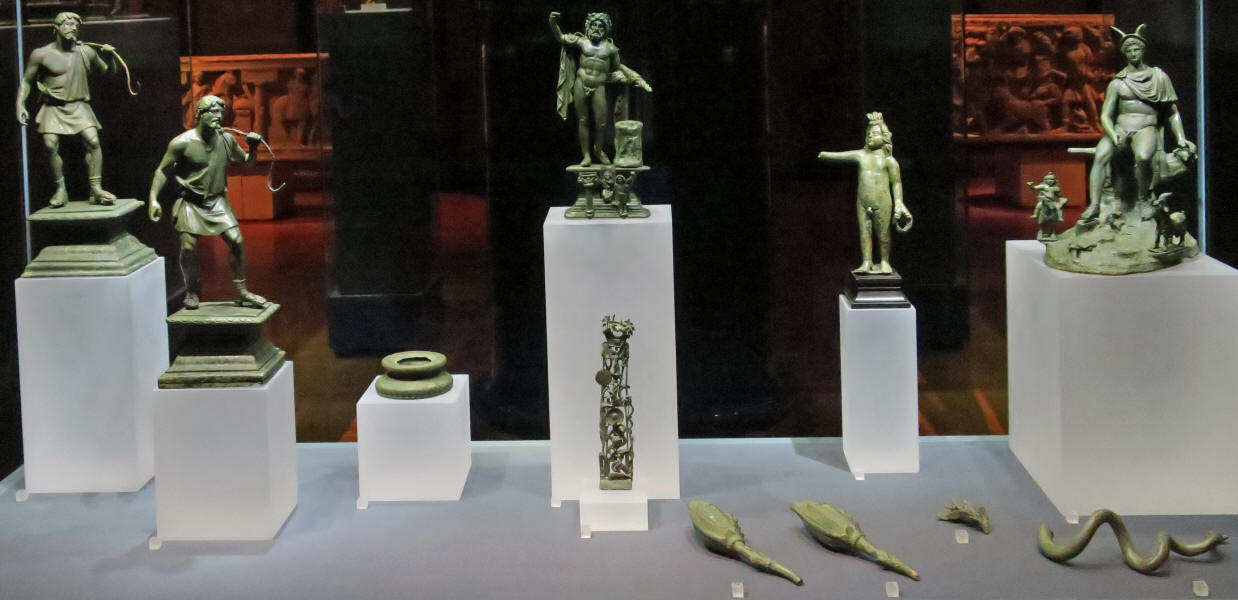 Here are 1-3) ?, 4) Bacchus, 5) Priapus, 6) Venus and Cupid and 7-8) ? ...
... 1) Mars, 2-3) Stier, 4) Bust of Jupiter, 5) Juno, 6-7 ? and 8) Neptune.
Romanesque cameos and round sculptures.
Below left is an interesting sculpture of a man fighting a bull. This room contained the wingless sphinx.
Below left is the face on the wall (above right). Below center left is the marble four-headed Sphinx from Egypt (2nd half of 2nd Century AD) (above). I re-shot it front-on and I thought it interesting that the lady who would not get out of my photo (after waiting several minutes) looked very much like the front face of the sphinx. Thanks to the photo by Yair Haklai, I can show the 4th face (center right). You can see the wings were broken off on both sides. Below right is a relief of a dancing maiden from 200 AD.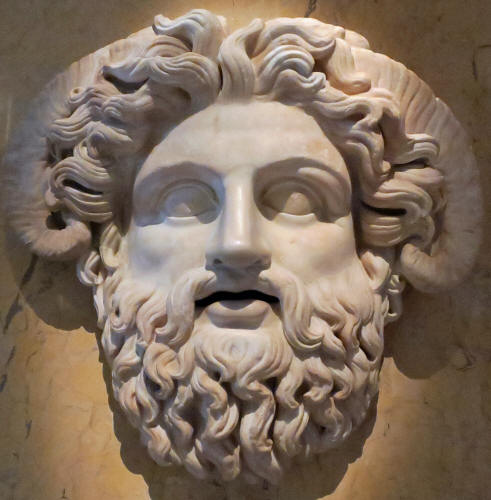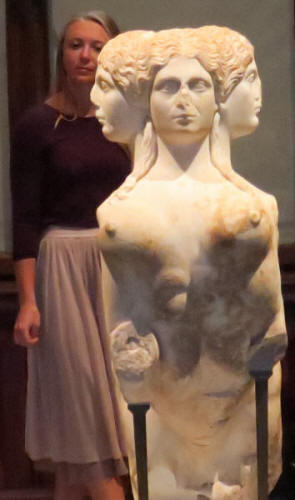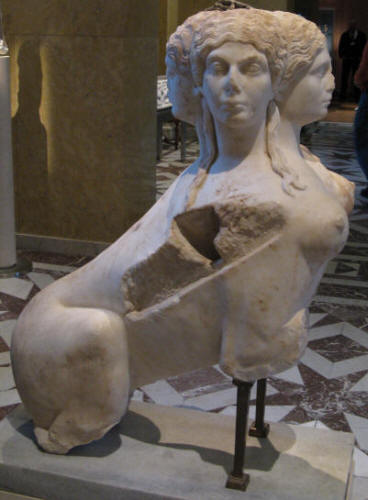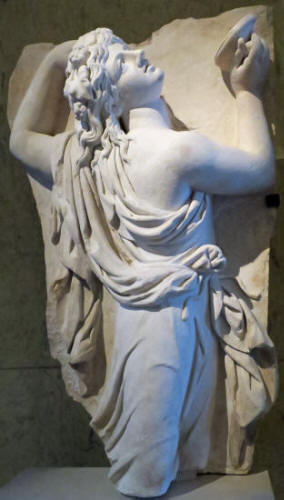 Here is a frieze on another sarcophagus and another head of Zeus from 300-200 BC.
The beautiful statue below left is titled "Aphrodite and Eros", a Roman copy of Greek Varbila of the late 5th Century AD. The sheer veil over the body is incredible. Her head is missing and so is Eros. Below right is the other end of the room with a beautiful Roman mosaic floor cordoned off.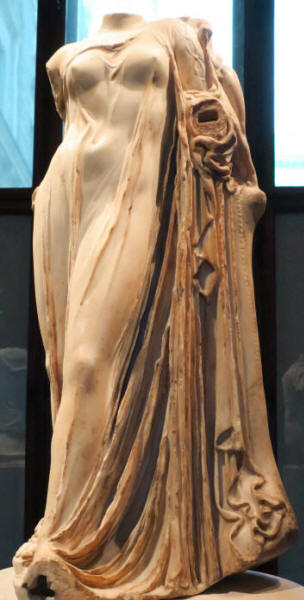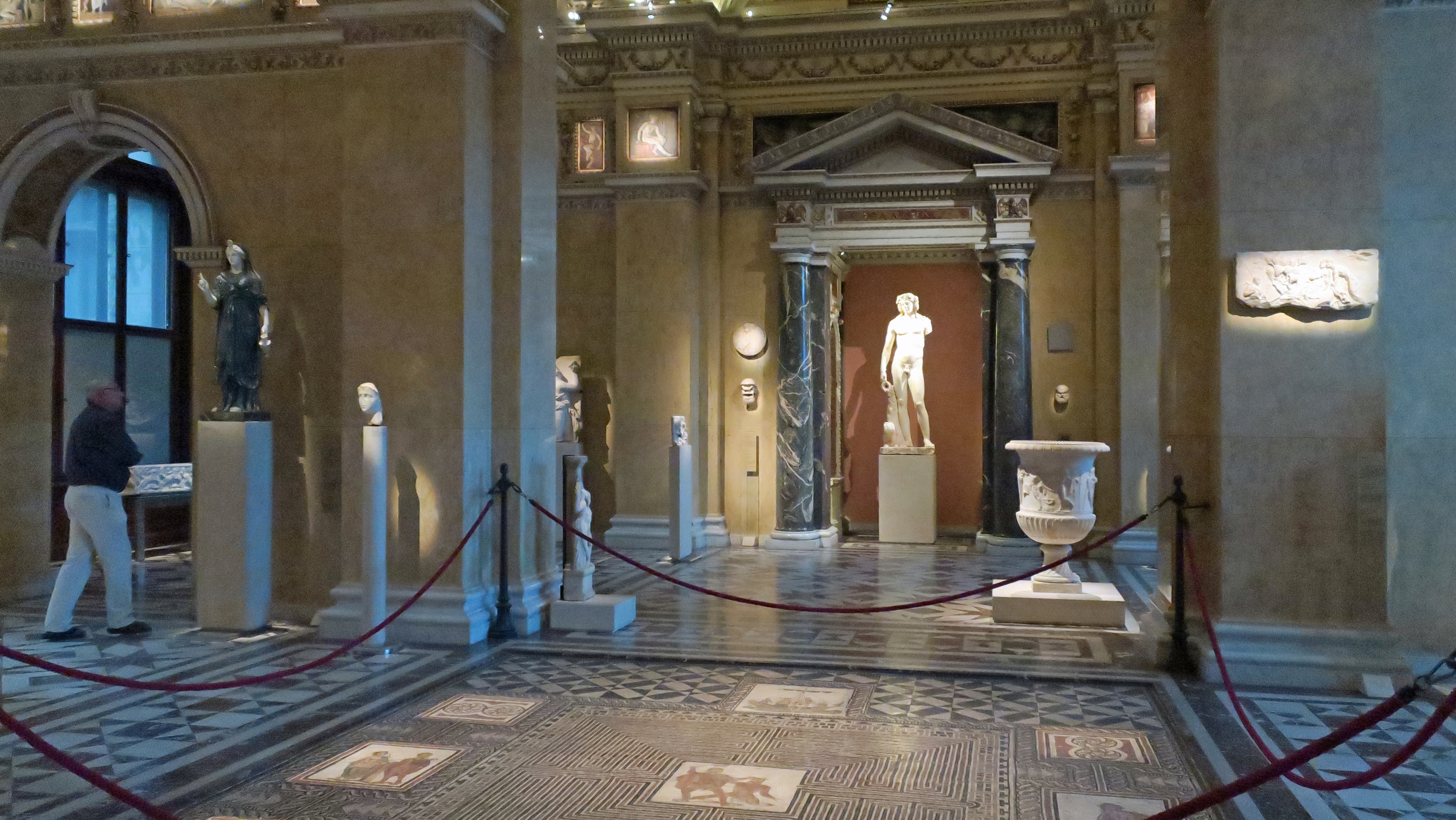 I'm not sure the face-on stock photo I found of Aphrodite (below left) is better than mine. The statue in the center alcove (above) is labeled Dionysius-Bacchus 2nd Century BC (below center left). The vase to the right of it is below center right. These comical Roman faces (below right) were on the wall.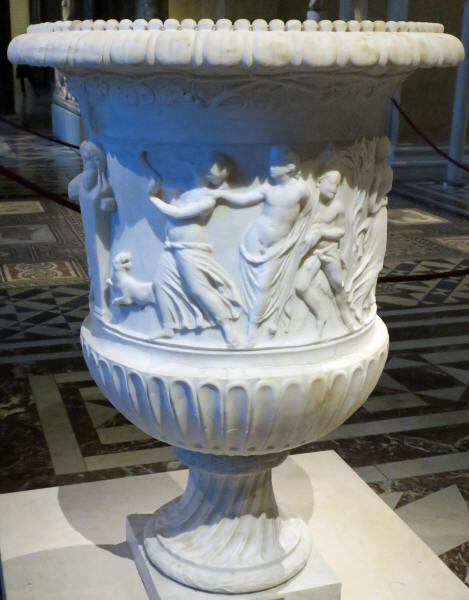 Below left is titled "Double-Sided Mask Relief" from the 2nd Century AD. Below right is a relief showing a lion and cub in a cave.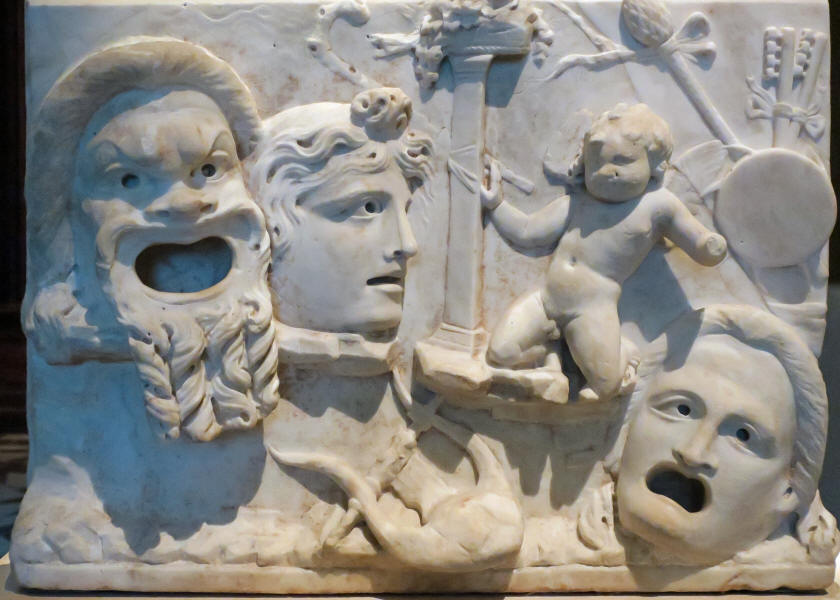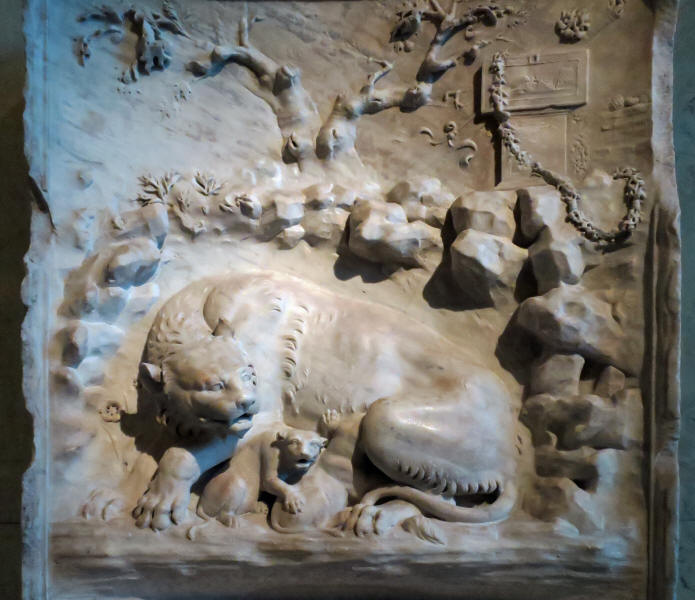 Here is a very ornate sarcophagus.
Before entering Gallery XII, there are a few statues. Over on the floor on the right is a typical Roman tombstone picturing the family members (below right).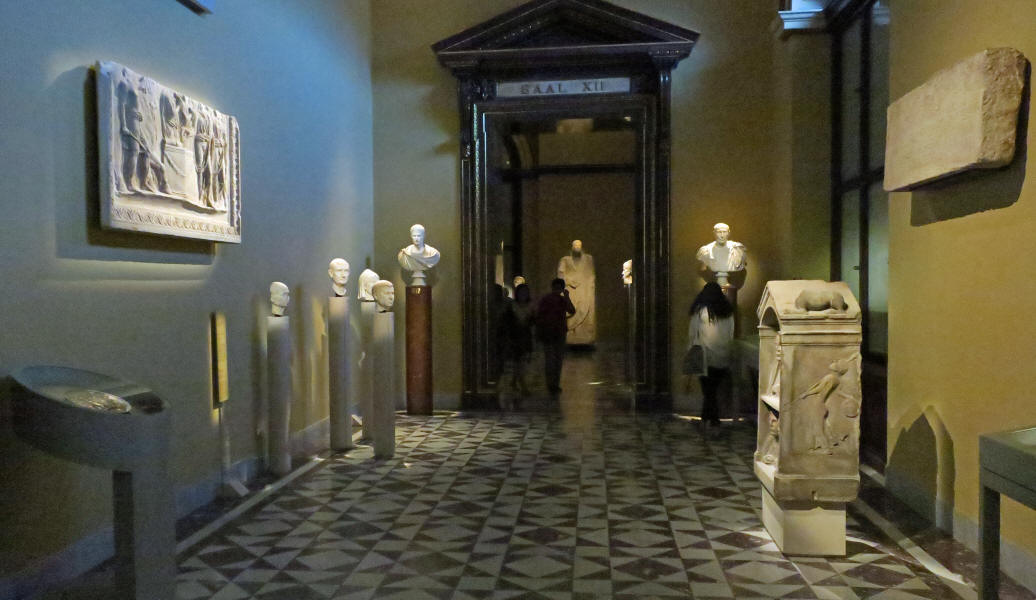 The statues along the left side (above) are of Agrippa (64-12 BC) (below left and center) and an Empress, all from the last quarter of the 1st Century AD. On the right is titled "A Republican".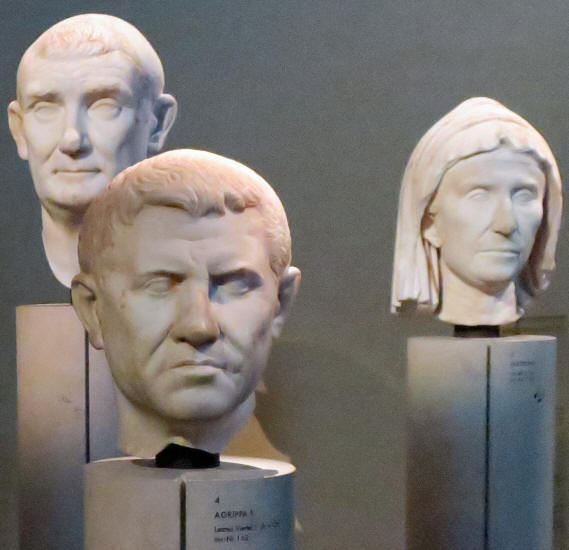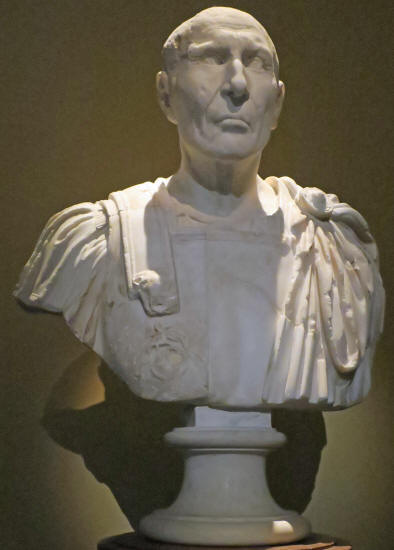 To the left of the door is Julius Caesar (below left). I got photos of Emperor Augustus (64 BC-14 AD) (from 1st Century AD) from two angles (below center and right.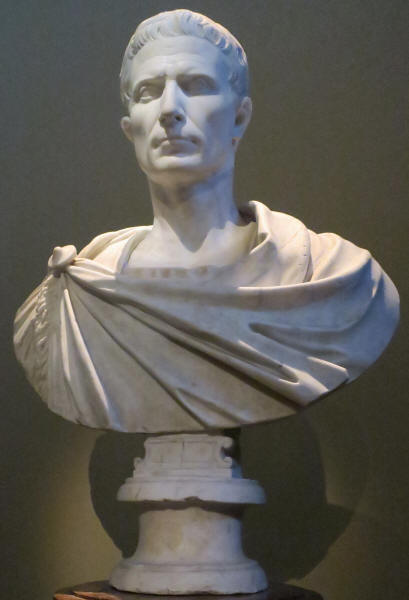 Next to him (above right) is Octavian (later Augustus) before 14 AD (below left). Below center is Emperor Trajan (53-117 AD) and right is Emperor Vespasian (9-79 AD); head (70 AD) torso (100 AD) from Croatia. He is discussed as a Citizen-ruler.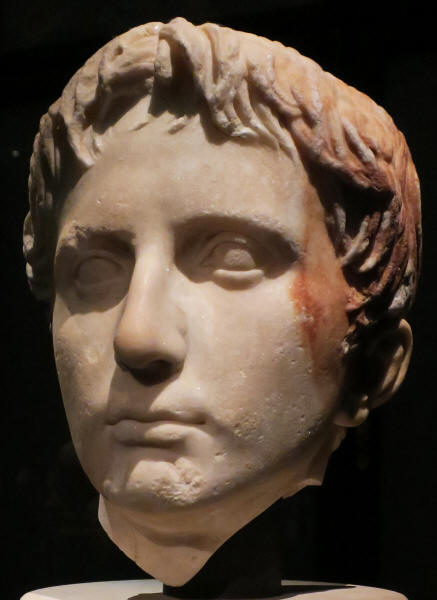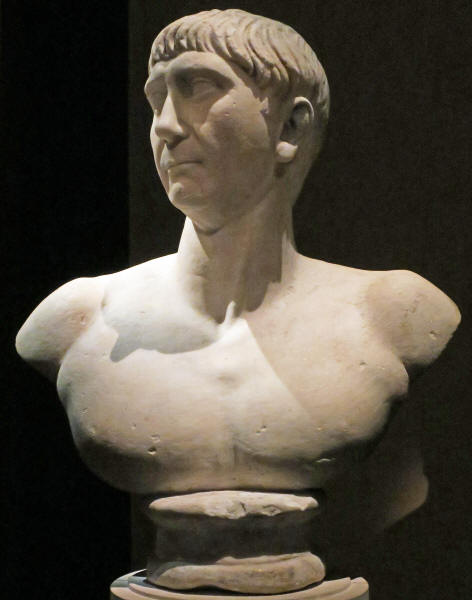 In this hall was this enormous display of heads on poles. I walked to the back on the right and ...

... got photos of those two with robes: below left is Marcus Aurelius (121-180 AD) and on the right is Emperor Septimus Servus (145-211 AD) from 200 AD.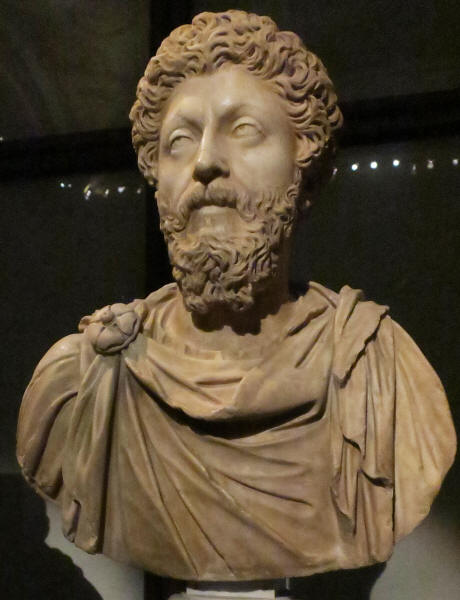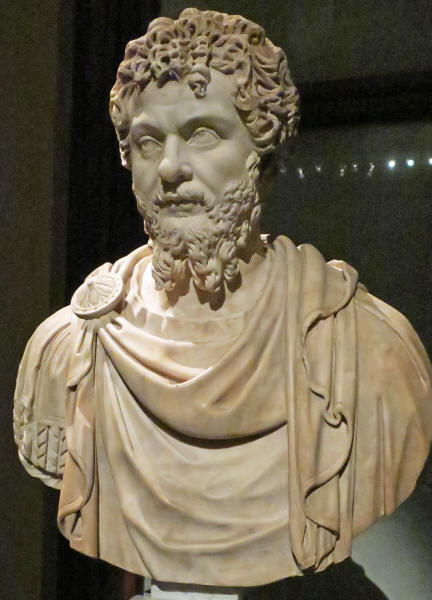 Then I came across this wall of paintings of individual ordinary Roman citizens.

It was so interesting to look into their faces, I photographed four of them. They seem alive.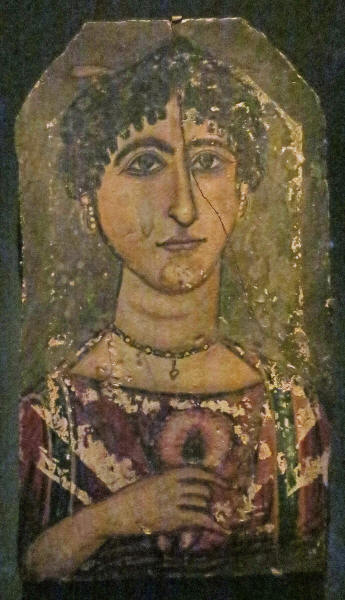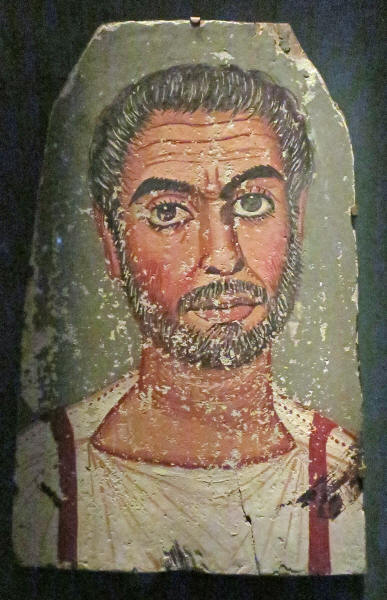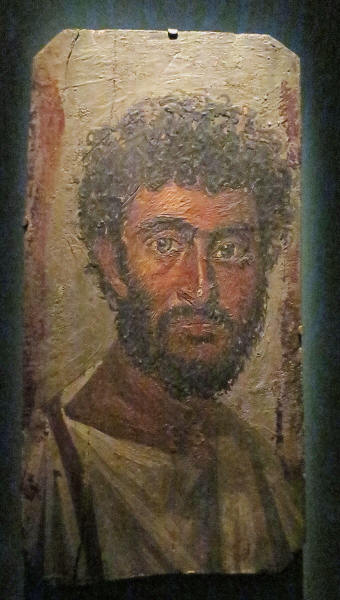 You've seen that guy above right somewhere. I took some shots of these incredible ceilings.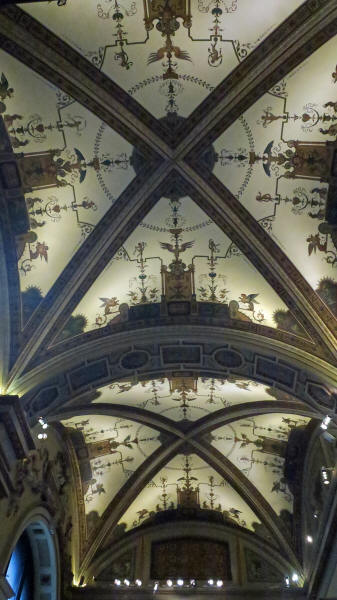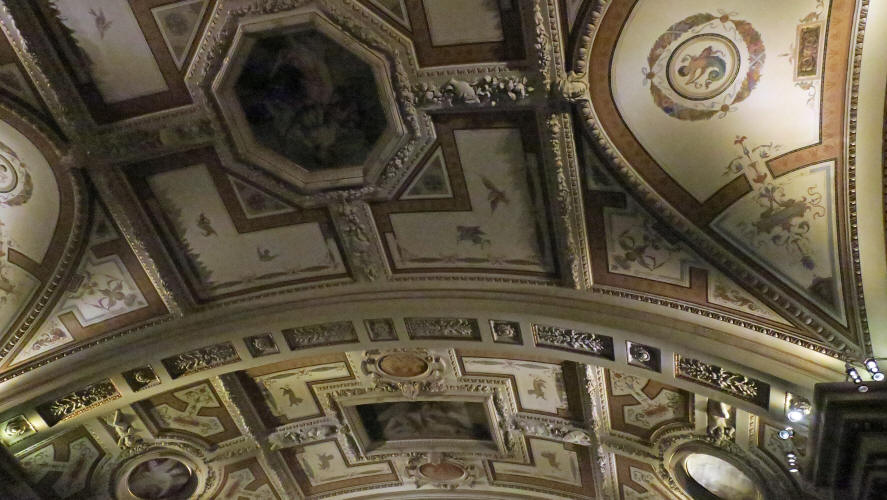 So much detail. Below are more vases and reliefs.
Now I get into Gallery X and go from Roman to Greek. Of course the first thing I find is a statue of Asklepios (Asclepius), the god of medicine with his snake-entwined staff which remains a symbol of medicine today. He was the son of Apollo.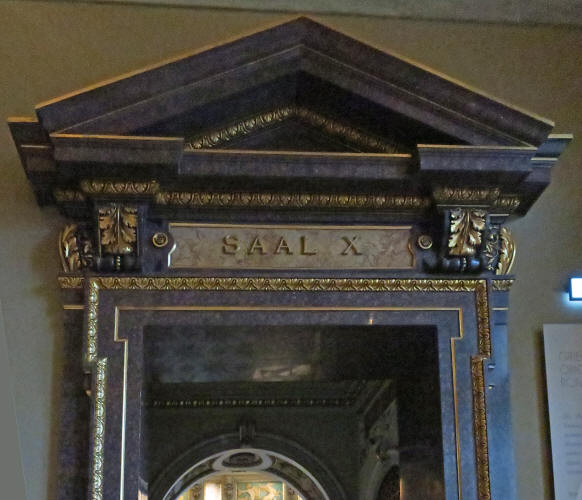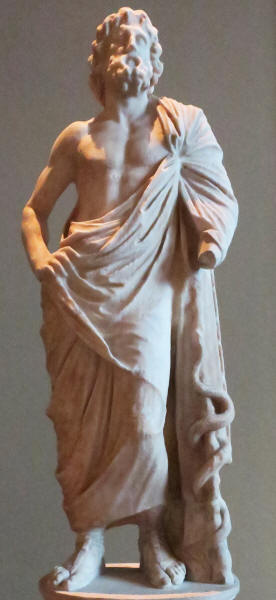 I found this stock photo of the room.
Below left is titled "Youth". Below center are two coffins and on the right is titled "Votive Statue of a Man" Cypriot-Archaic from 550-525 BC (also it is in the photo above).

Below left is a discus thrower. The statue on the right is ...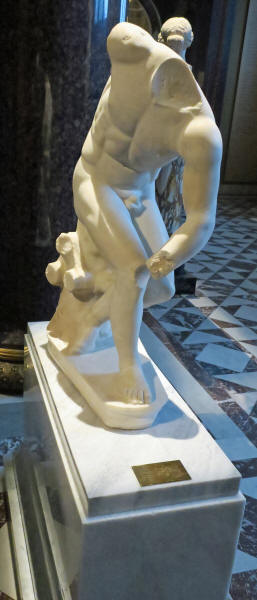 ... pictured here from front and back (below left). English translation: "On the castle hill of the city of Athens was a gigantic construction project, the Acropolis, in the 5th Century BC. It was redesigned at the instigation of Pericles (495–429 BC). In the years 447-432 BC, the architects Iklinos and Kallikrates erect the goddess Athena the largest cult building on the Acropolis, the Parthenon. Phidias was responsible for the sculpture (Gold Effenbein) statue of Athena (stock, right), gable figures, metopes and frieze. The frieze ran along the cello wall in the middle of the sewer. The 160 m long and 1 m high relief ribbon represented the solemn procession of the Athenians on the feast of the Panathenaic, whose highlight was the handing over of a woven garment (peplos) to the cult statue of the goddess Athena." A nice prelude to our trip to Greece.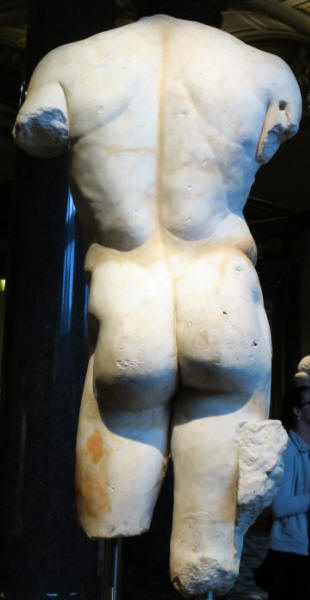 English translation of above: "Fragment of the northern part of the Parthenon (442-38 BC) in Athens Greece, made of pentelic marble (from Mt. Pentelicus near Athens). The two Viennese fragments with two dignified older men (below left) and two youthful riders (below right) come from the Parthenon's Frieze."
Below is a stock photo of the controversial Elgin Marbles held at the British Museum in London which we saw in 1999.
English translation: "They would probably have been acquired in Venice by the Marchese Tommaso Obizzi (died 1805), the founder of the "Esternese Collection" at Catajo Castle near Este (Northern Italy). After a large part of the temple was destroyed in 1687 during the siege by Venetian troops. Two riders. Two old men."
Pericles (below left) ordered Phidias (480–430 BC) (right) to construct the Acropolis with a huge statue of Athena. The painting below is titled "Phidias Showing the Frieze of the Parthenon to his Friends" by Lawrence Alma-Tadema from 1868. It shows at left the North frieze slab XLVII and the West frieze Slabs I and up, visible on the right. The three figures on the right are Phidias (right) and Pericles (center, the bearded man) and his mistress Aspasia (left). In the foreground (left side) stands a boy, Alcibiades, with his friend, Socrates.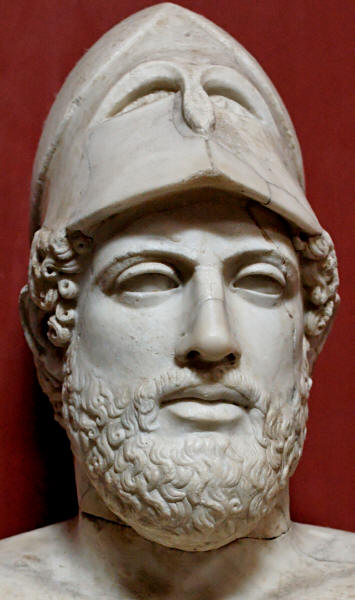 Below left is an another example of Phidias' sculpture frieze (stock) now an "Elgin Marble". On the right is a painting titled "Pericles and Aspasia visiting Phidias' Studio" (stock).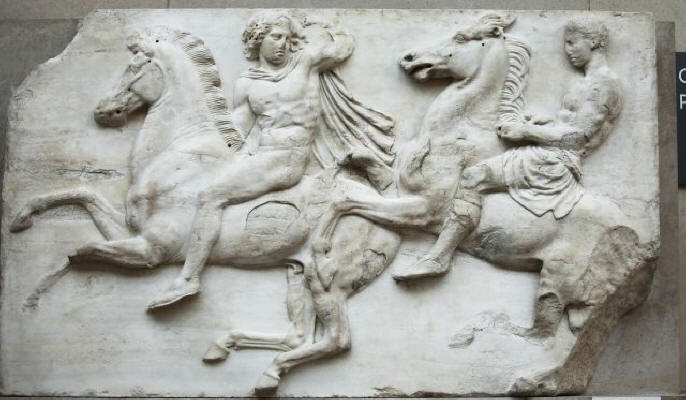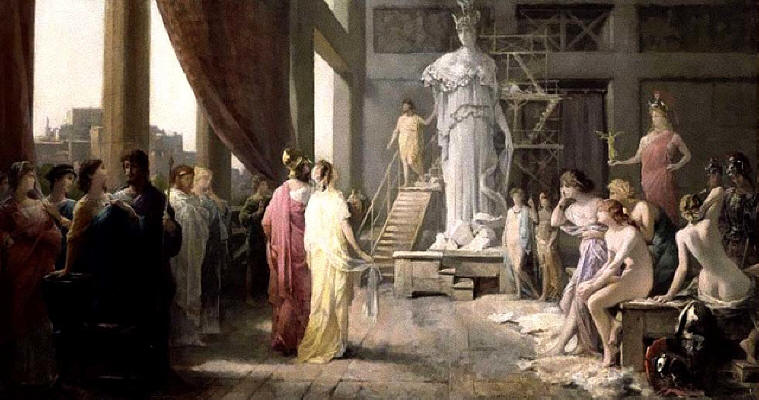 Now I move from ancient Greek to Egyptian rooms and started in Gallery VIII. There was an introductory poster showing the definition of the different Egyptian time periods (center). This room is labeled "From Sacral Buildings and Tombs of the New Kingdom".
I blew up the poster so it is easier to read (below). Above right are 1,2) two Emperors or princes as Horus and 3) a King's Head (305-232 BC).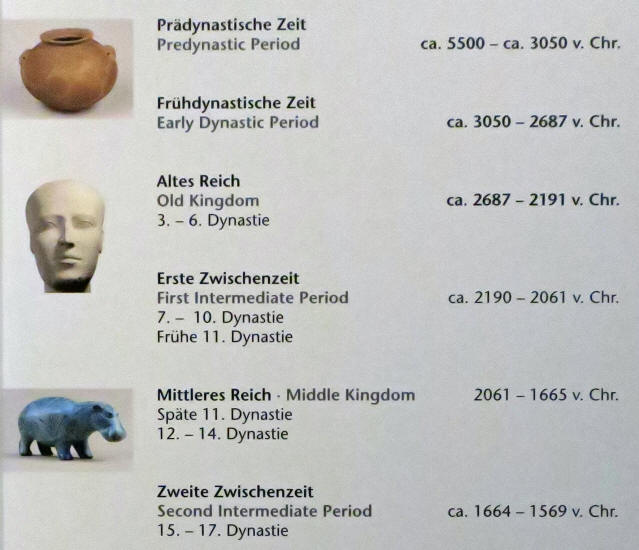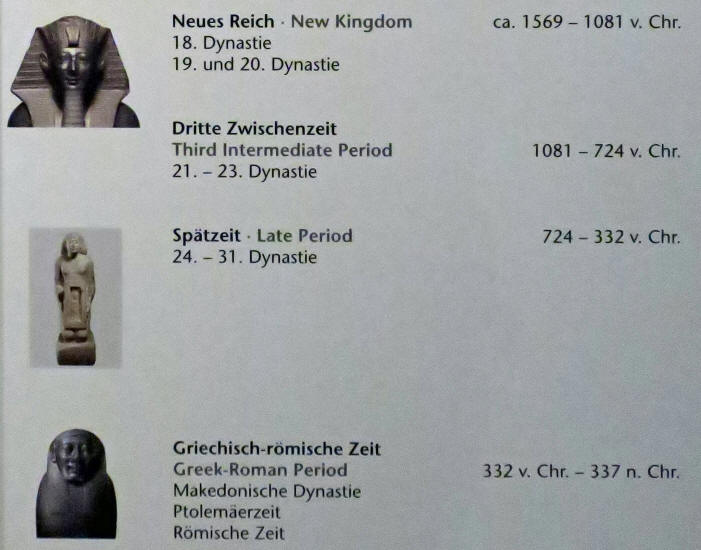 Below is a barricade from a New Year's pavilion from the Late Period, 26th Dynasty in the reigns of Psammetichus (or Psamtik) I and II (664-589 BC).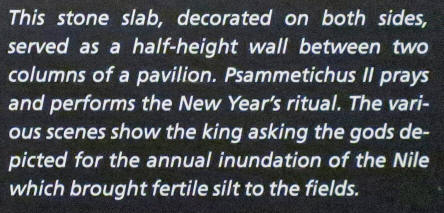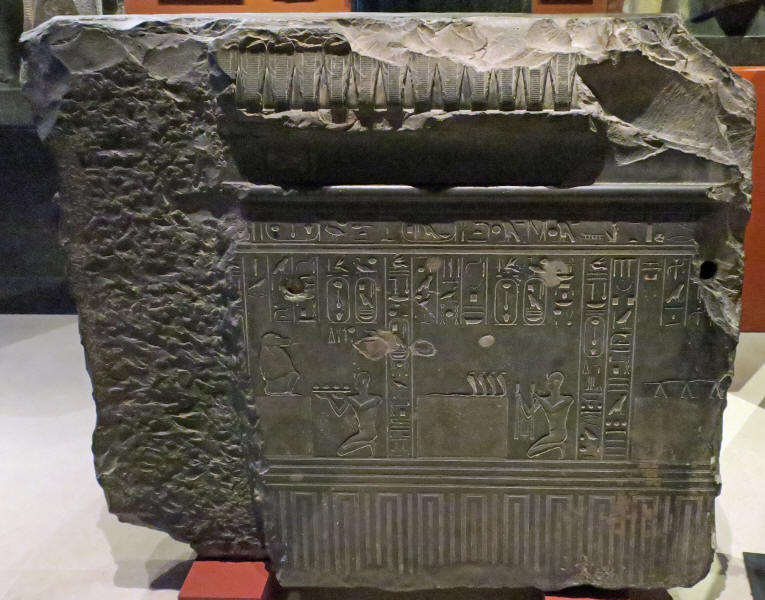 Just last March they dug up parts of a huge statue of Psamtik I outside of Cairo (photo below left of them hauling up the torso). Center is a sphinx and right is some kind of animal.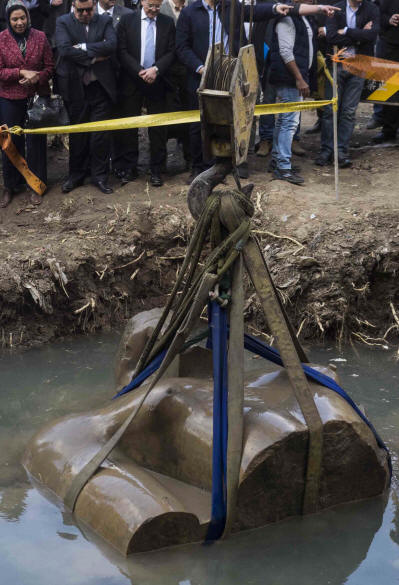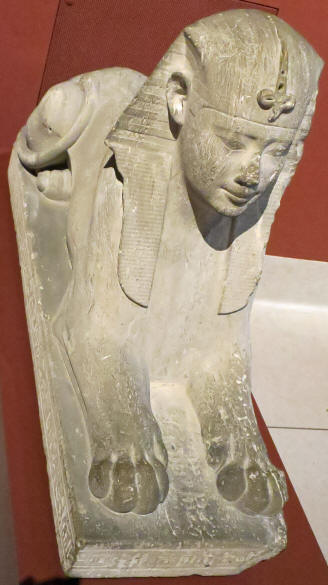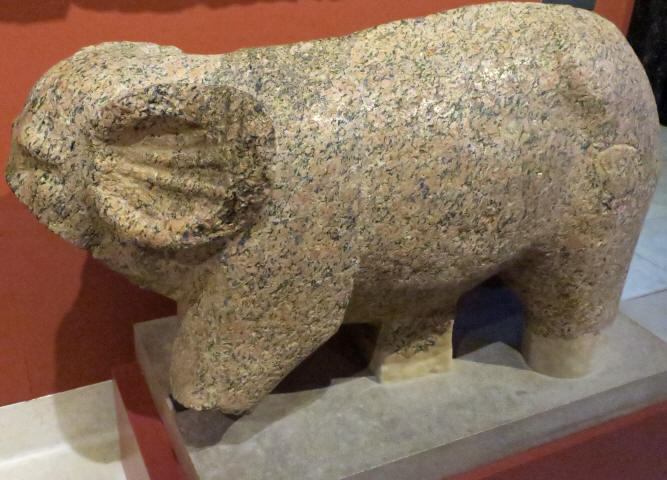 The next area is labeled "From the Temple of the Late Period". Below left is titled "Upper part from the statue of a queen, New Kingdom, 18th Dynasty, reign of Thutmasse III (1504-1452 BC). It is labeled "She wears the vulture headdress and a striated wig, volute-like coils of hair framing her face. A broad beaded necklace lies over the wide shoulder straps of her dress." I don't see the hair or necklace. Below center are two photos of Pharaoh Thutmosis III from the Luxor Museum thanks to Hay Kranen. Below right is a stock photo of the actual mummy head of Thutmose III.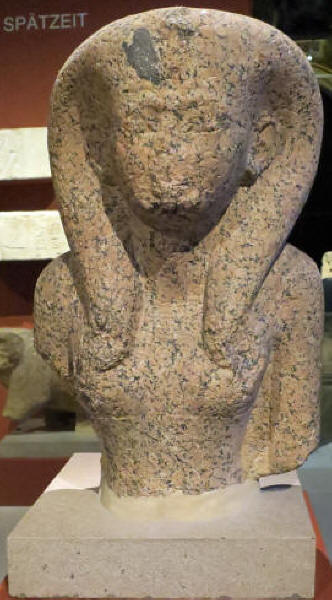 Thutmose was an amazing guy. He planned on erecting his tekhen waty, or "unique obelisk." The tekhen waty was designed to stand alone instead as part of a pair and is the tallest obelisk ever successfully cut. But, it was not erected until his son, Thutmose IV, raised it 35 years later. It was later moved to Rome by Emperor Constantius II and is now known as the Lateran Obelisk. In 390 AD, Christian Roman Emperor Theodosius I re-erected another obelisk from the Temple of Karnak in the Hippodrome of Constantinople, now known as the Obelisk of Theodosius. Thus, two obelisks of Tuthmosis III's Karnak temple stand in Papal Rome and in Islamic Constantinople, the two main historical capitals of the Roman Empire.
Below are two stock photos of the image of Thutmoses III at Karnak. In the center is a statue of him.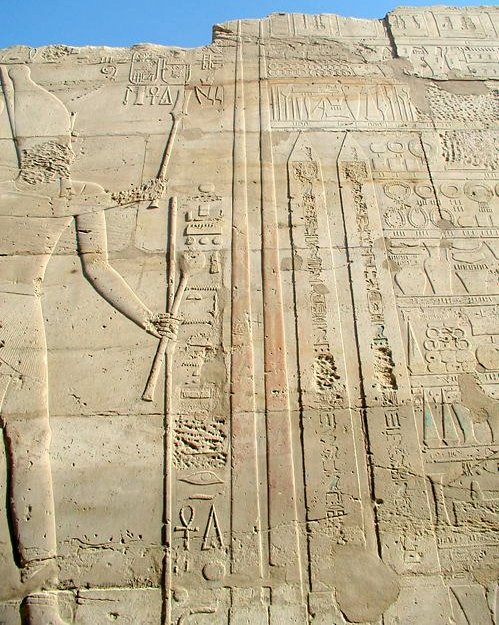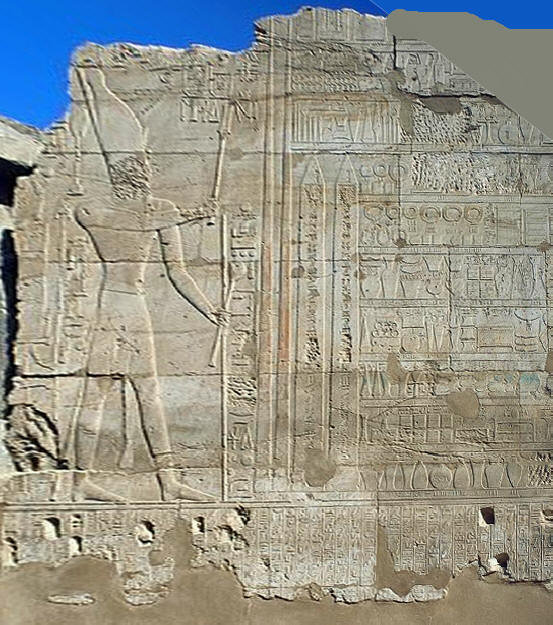 The Thutmose III obelisk, located at the Lateran Church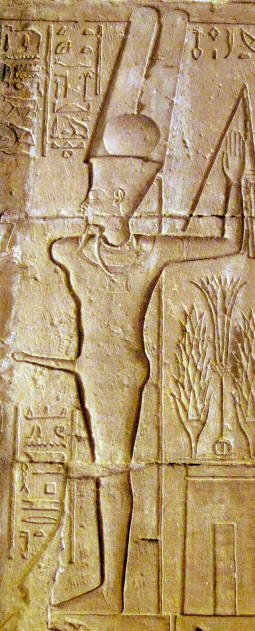 is the tallest obelisk in Rome and is the largest standing ancient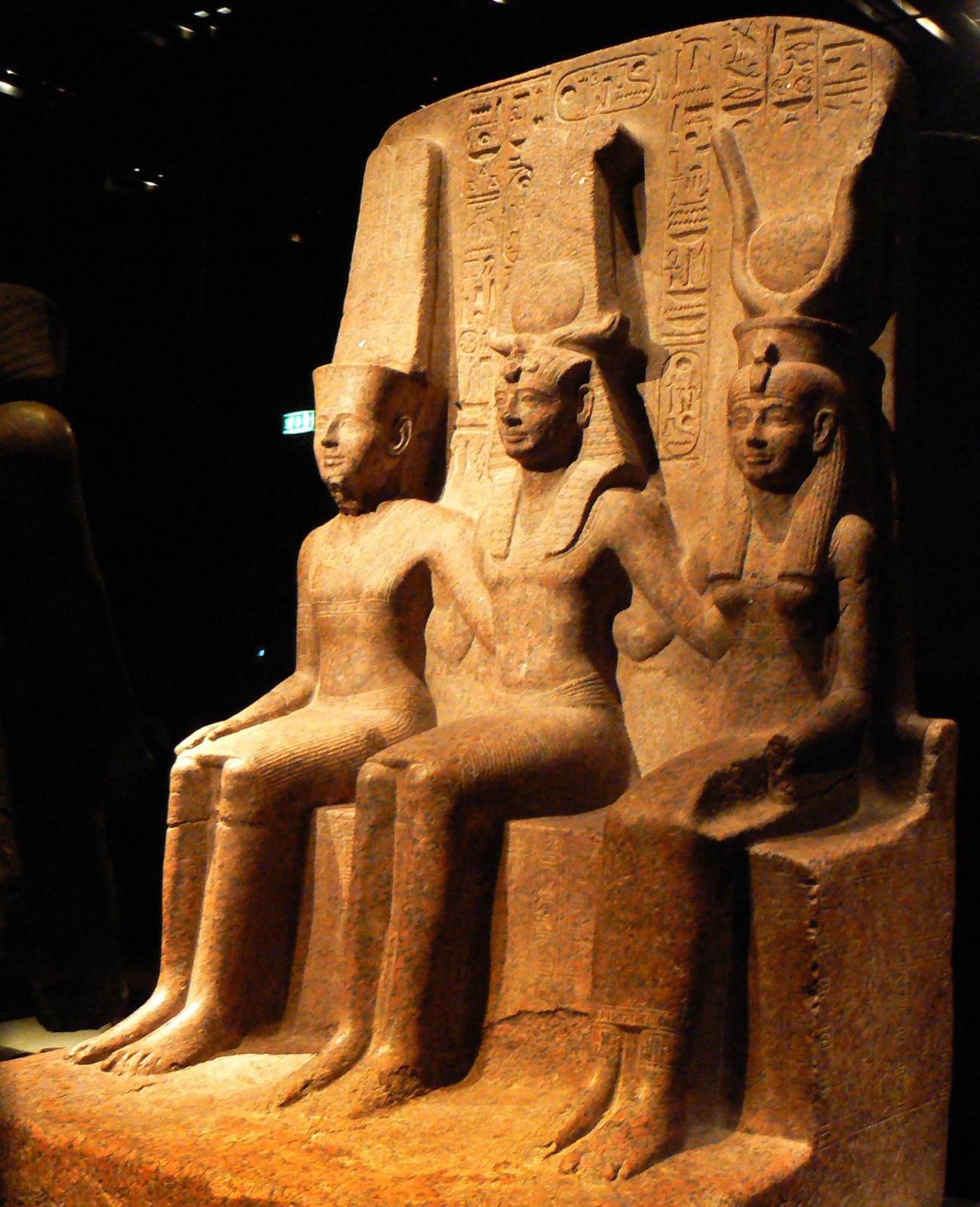 Egyptian obelisk in the world, originally weighing around 455 tons. The Istanbul obelisk is from the Temple of the god Amun-Ra (right) in Karnak, It was originally erected by Thutmose III in about 1490 BC. Theodosius had the obelisk cut into three pieces and brought to Constantinople. Today it sits in the center of Istanbul. The next Obelisk brought is in Paris at the Plac de Concorde. The Egyptian leader gave both obelisks from the temple at Luxor to France in 1812, this is the first one; the other one is to the right of it but still in Luxor. After more than 100 years never getting the other one, in 1996, President Chirac told the Egyptians they could keep the other one there. There is another one in Central Park in New York City (center right) and one in London (far right), On average, these obelisks rose 75 ft (23 m) tall and weighed 250 Tons. The city of Rome harbors the most obelisks in the world; eight ancient Egyptian and five ancient Roman. One is by Ramesses II from Heliopolis which stands in the centre of the Piazza del Popolo in Rome. An ancient pharaoh, I had never heard of, changed the landscape of modern Europe and America.
Here they are in order (L-R): 1) Lateran Rome, 2&3) Istanbul, 4) Paris, 5) Luxor, 6) NYC, 7) London.



Below are the obelisks in Rome, in order (L-R): 1) Vatican, 2) Piaza del Popolo, 3) Rotonda, 4) Solare, 5) Dogali, 6) Minerva and 7) Villa Celimontana.






Below is a stock photo of the Luxor Temple with its remaining obelisk.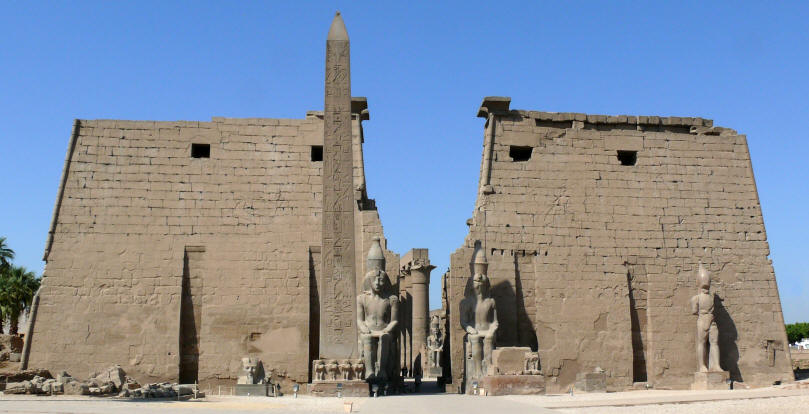 Below are some Egyptian stone reliefs.

This display showed two items. Below right is the "Squatting figure of Hor-em-ta-bat", Late Period early 26th Dynasty (650 BC) from Thebes.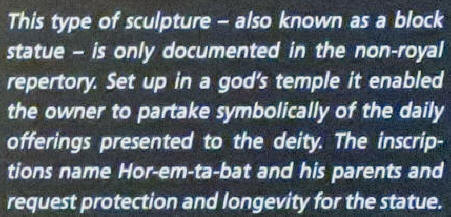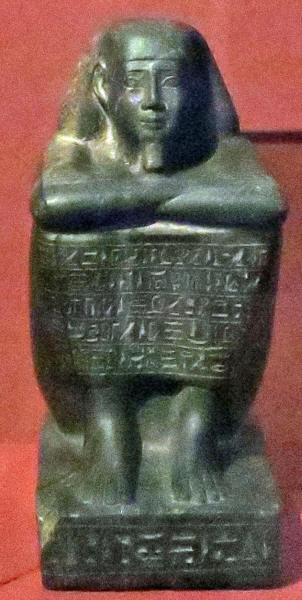 The upper piece is this beautiful "Relief Fragment with Deities" from the Late Period, 26th Dynasty (664-525 BC) from Memphis. Below is an enlargement of the piece to show their faces.
Below are items from the temples of the New Kingdom.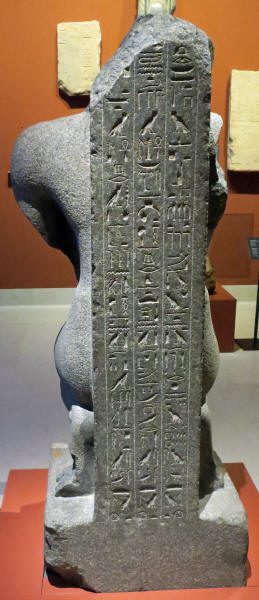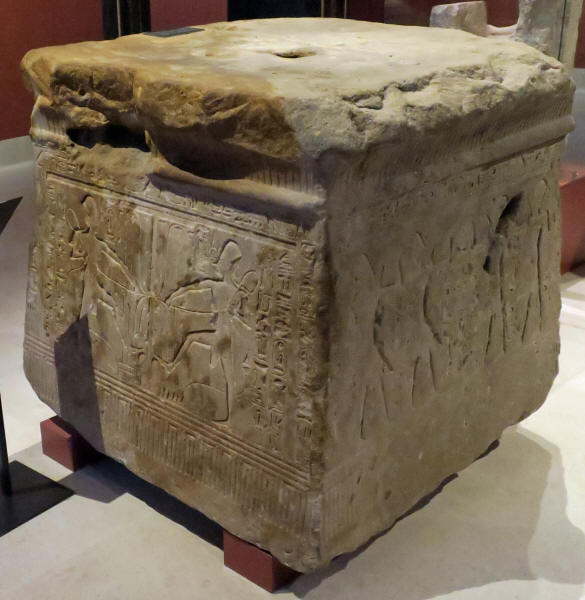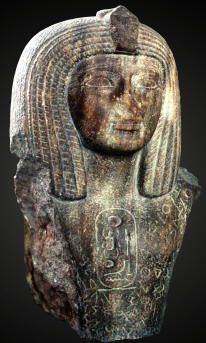 Below left is a brown basalt "Squatting Statue of Nimlot (B)", from the Third Intermediate Period, 22nd Dynasty, during the reign of Osorkan I (910-896 BC) (above right) presumably from Heliopolis. Nimlot B was the son of Shoshenq I (below, from Karnak). He was the founder of the 22nd Dynasty.
Under his successor, Osorkan I (stock photo from the Louvre, right), Nimlot served as the head of the army in Herakleopolis and the Governor of the city. The shape of Nimlot's statue is reminiscent of a squared up block (like above center left). There are inscriptions on the surface as well as depictions of gods: Amun-Re on the front, falcon-headed Re-Harakhty below the right shoulder and Ptah on the left side. Center left below is a right foot from a colossal statue 42-65 ft (13-20 m) tall, Middle Kingdom, (2000-1700 BC).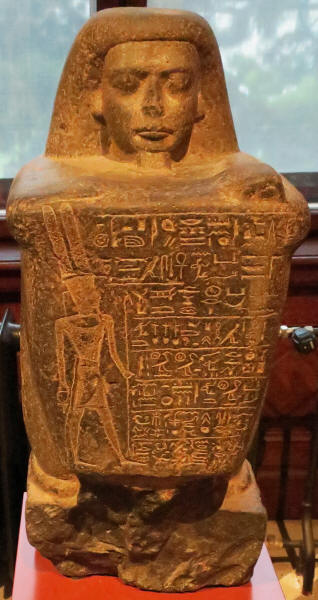 The wall is labeled "From sacred buildings and tombs of the New Kingdom" (below left). In the upper center is a headdress of a queen; below it in the center is a relief labeled "Ramesses II and his mother Tuya" making offerings to Osiris (enlarged, below right).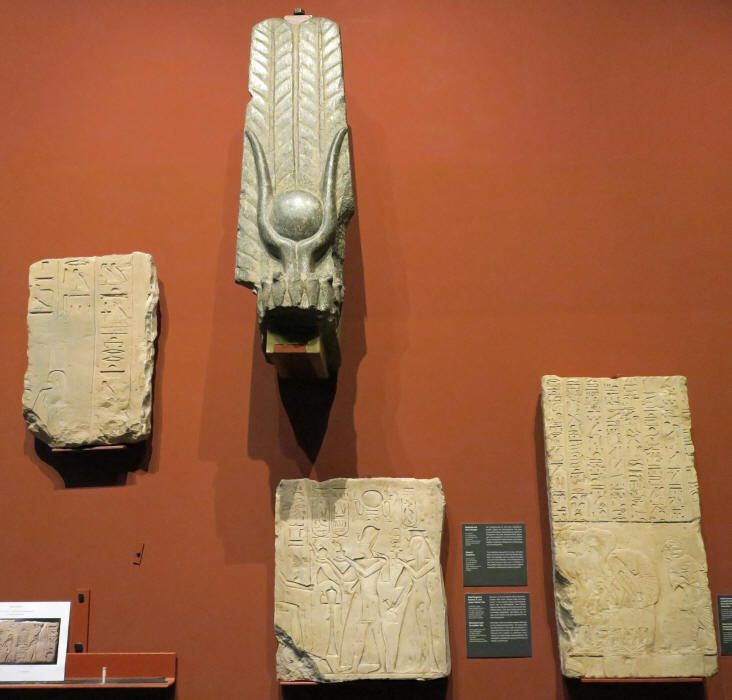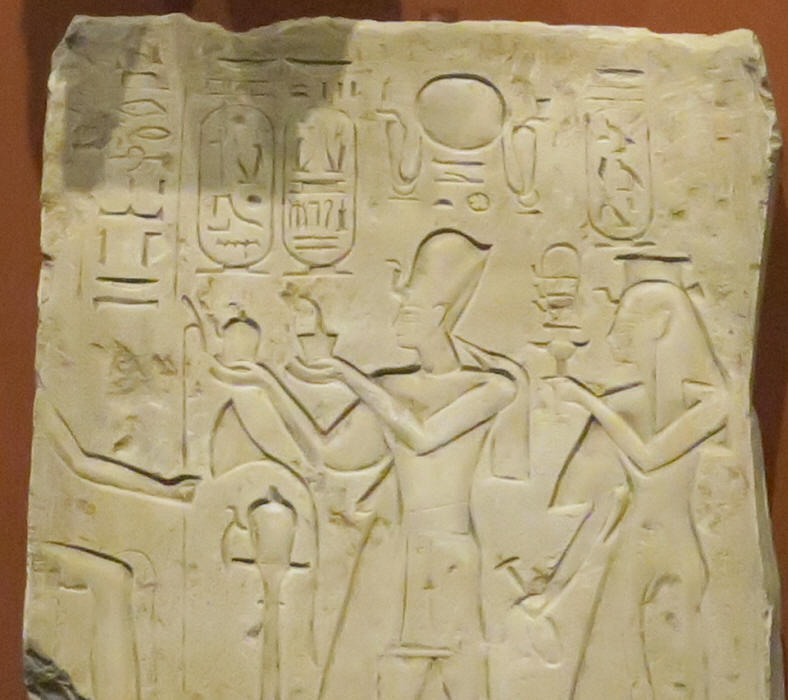 Below left is a stock photo of the granite statue of Queen Tuya which stands 9' 10" (3 m) tall (in the Vatican Museum) and center is another one of her at Abu-Simbel Temple. On the right is a stock photo of Queen Nefertari (not Nefertiti) from 1274 BC. Nefertari was Ramesses' first wife and his favorite queen.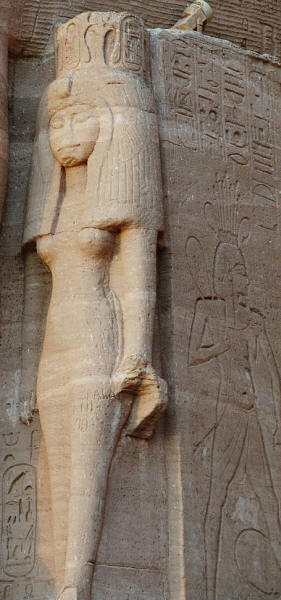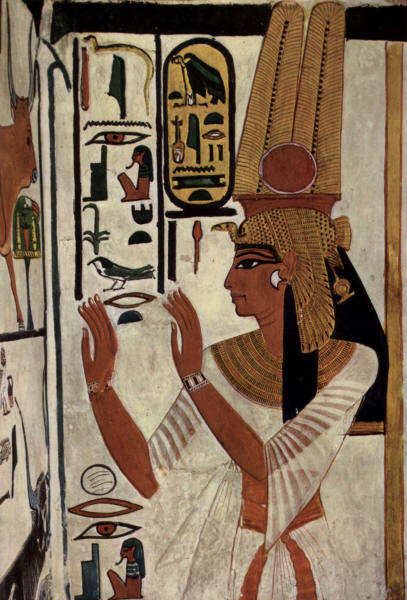 Below are two stock photos King Ramesses II statues and right is one of Ramesses II's actual mummy. Ramesses II is an amazing guy. He lived to age 96, had over 200 wives, 96 sons and 60 daughters, most of whom he outlived.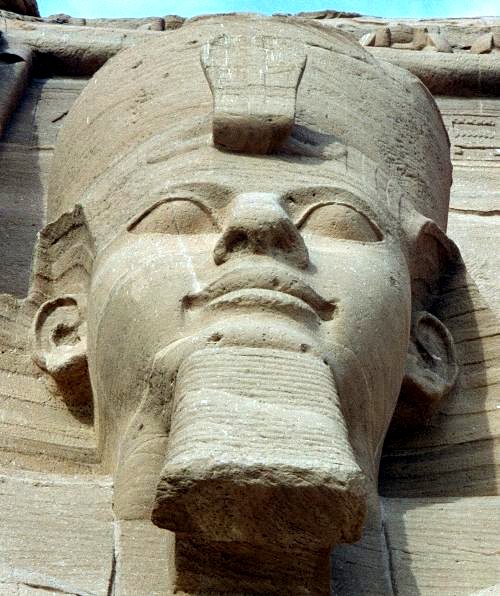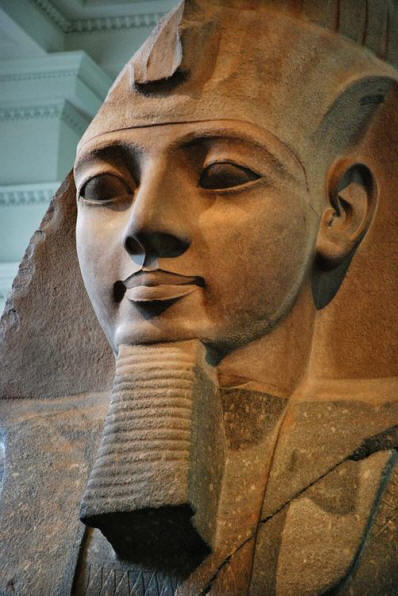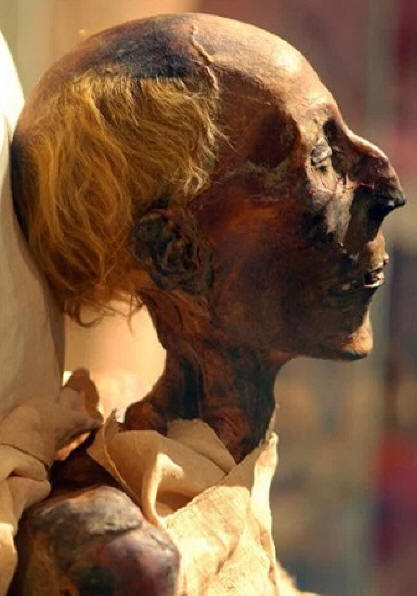 During his reign, there was the Battle of Kadesh between Ramesses II and King Muwatalli II of the Hittites. Neither could win (though each claimed he had) so Ramesses negotiated a treaty which was written down (below) making this the world's first known peace treaty in 1258 BC. Below right is a relief.
Below are two reliefs (from the New Kingdom, 18th Dynasty under the reign of Amenhotep III (1410-1372 BC)). They are both from the tomb of the treasurer Meri-re and his wife Baket. On the left they are praying to the god Osiris of the underworld who is enthroned under a baldachin. Below right is the "Stele of Kia" (New Kingdom, 18th Dynasty reign of Amenhotep III/Thutmose IV (1454-1410 BC)). In the upper area Osiris is enthroned in a baldachin with a winged sun disk above it and behind her is Isis. Kia, the owner stands with arms raised in prayer in front of offerings. In the lower part, Kia is receiving offerings.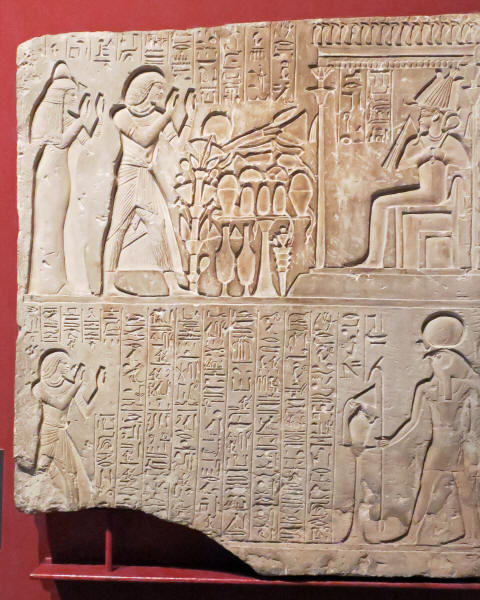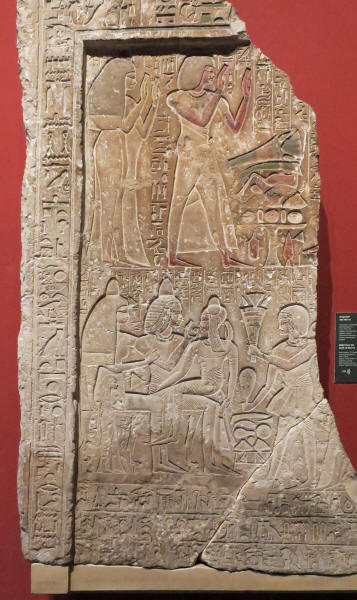 Below are more statues that were interesting. Left is "Tjenena Seated" New Kingdom 18th Dynasty reign of Thutmose IV (1410 BC). He was the royal fan bearer. Center left is "Squatting Staute of Khai-hapi with a Sistrum" New Kingdom, 19th Dynasty (1250-1200 BC) from Heliopolis, discovered around 1800. Center right I didn't get. Right is "Standing Figure of Snafru-nefer, a Court Official" Old Kingdom, 5th Dynasty (2400 BC) found in Giza in his tomb. He was the "Director of Singers at Court". He depicted himself nude and without a wig in hopes of youth after death.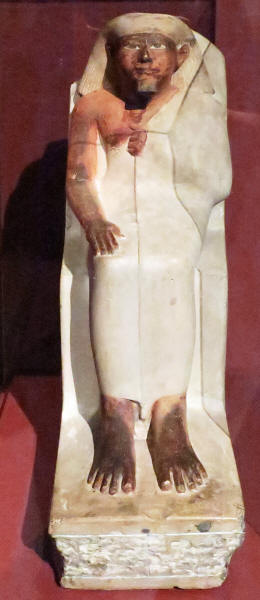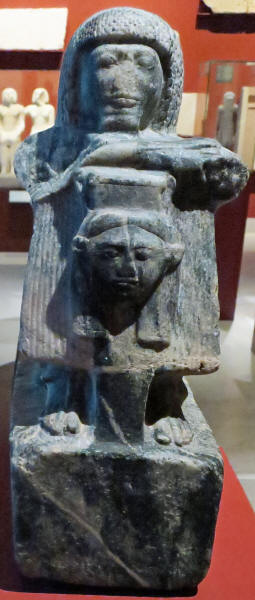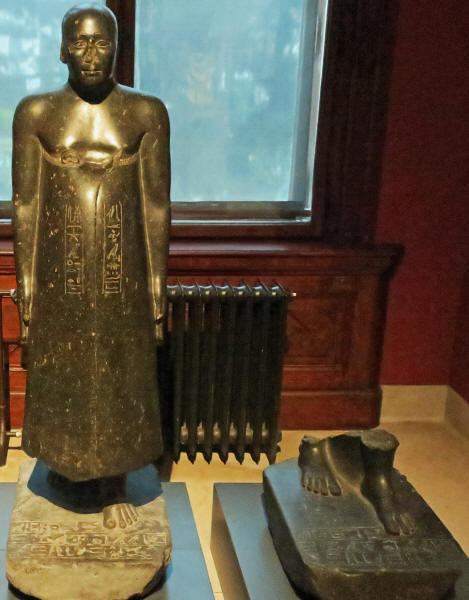 Here are three encased in plastic boxes: in the center is "Bust from a Statue of Amenemhet V Sekhemkare, Middle Kingdom, 13th Dynasty (1783-1700 BC). On the right is "Bust from a Statue of King Amenemhet III, Middle Kingdom, 12th Dynasty (1842-1757 BC).
Here are more statues.
Below left are reliefs and on the right is "Family Group of Itj-ef, his Wife, Son and Daughter" (2374-2297 BC).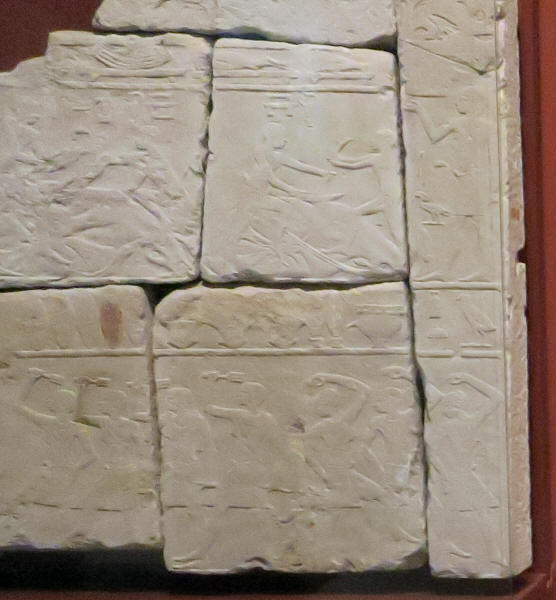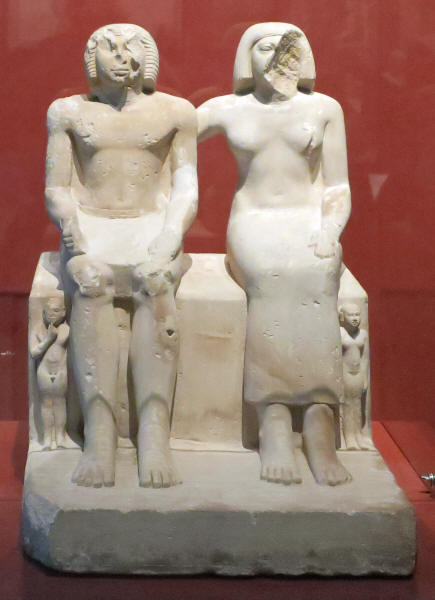 Below left are cabinets filled with objects labeled "Copper/Bronze". Now I enter Gallery VI.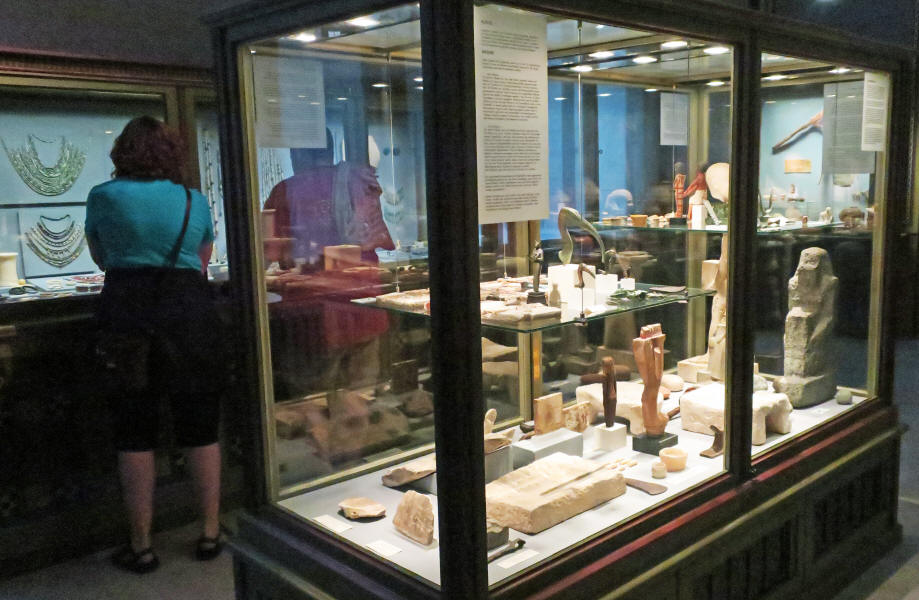 The advantage of 18 MP photos is getting such clear, beautiful enlargements of details, e.g. in this photo (center) with a complete Egyptian column; the beautiful flying vultures on the ceiling (left), the details of the hieroglyphics on the column (center right) and the artistic paneling on the wall (right).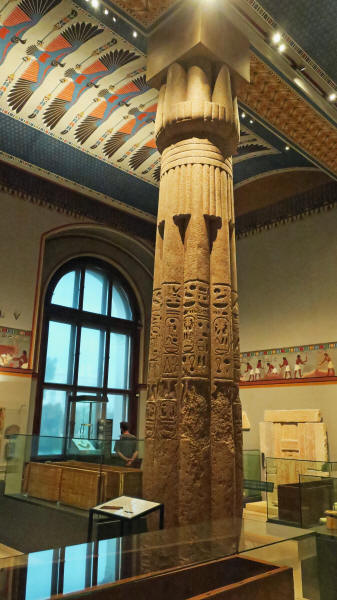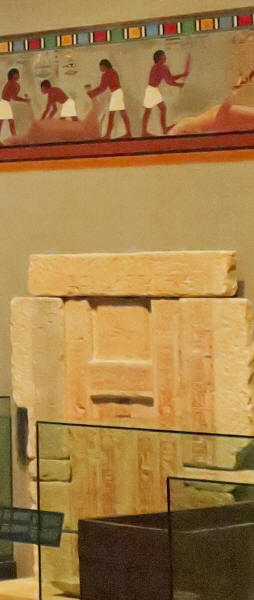 Below left is a face-on shot of the (above right) called the "False Door of Chenit" (Old Kingdom, 2500 BC) which represented the interface between this world and the next. I enlarged the block in the upper center of the door to show the owner seated before a table with offerings.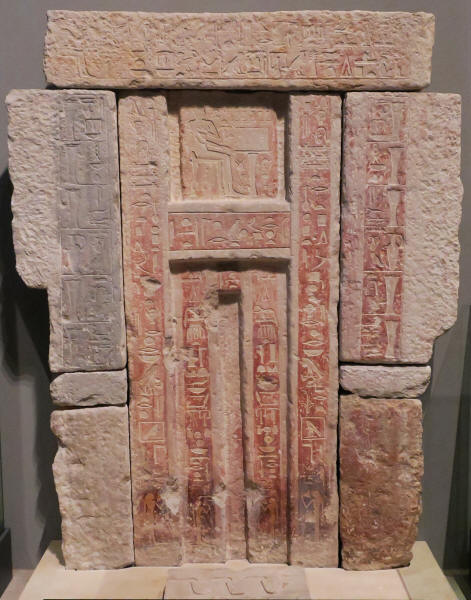 Below left is a shot of this huge room from the other side showing the two columns and the enlargement of the graphics on the back wall (below right). You can see the mummy cabinet below the graphic.
Here is the shot I got of the coffin with the mummy of An-em-hor, Ptolemaic Period (3rd-2nd Century BC). He was a priest at the Temple of Ptah at Memphis.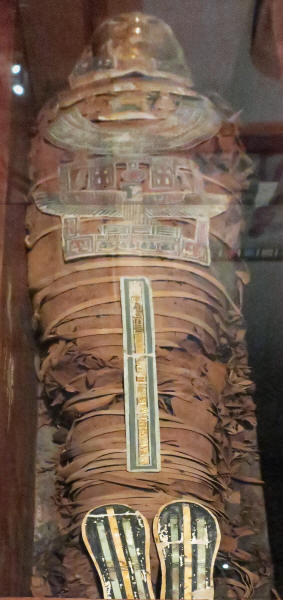 Here is one full sarcophagus of a woman.

This description below is worth reading. Below are some pieces hanging on the wall.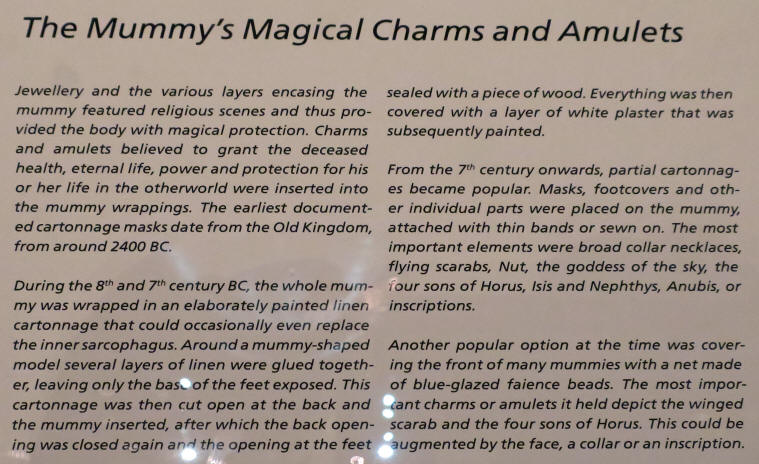 Below is a diadem with decorative collar and bracelet made of copper, gold foil and carnelian from the Old Kingdom, 5th Dynasty (2450-2350 BC). It was excavated in Giza in 1913. Below right is a huge block of stone totally covered in hieroglyphics.
These hieroglyphics (e.g. below left from the tomb of Seti I, 13th century BC) were influenced by the earlier Cuneiform (below right, upper box) text which is one of the earliest systems of writing and was invented by the Sumerians. It is distinguished by its wedge-shaped marks on clay tablets and was in use for more than three millennia, from the 31st century BC down to the 2nd century AD. It was completely replaced by alphabetic writing in the course of the Roman era.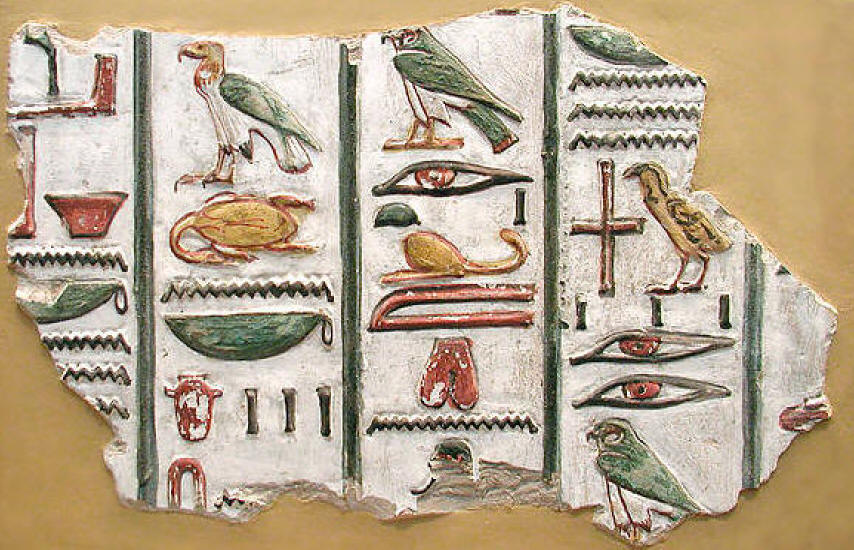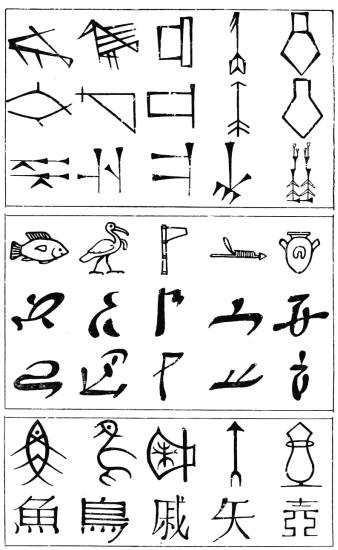 Successful completion of its deciphering didn't occur until 1857. Below right compares the evolution from pictograms to abstract shapes, in cuneiform (upper), Egyptian (center) and Chinese characters (lower). I found out how to spell my first name Kenneth in cuneiform: Ke-ne-te-he (below).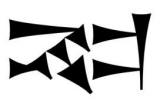 I went up to the very long cabinet filled with sarcophagi. It was impossible to get it all in one shot, so I took multiple photos and sort of patched them together in order. Below is the left side and ...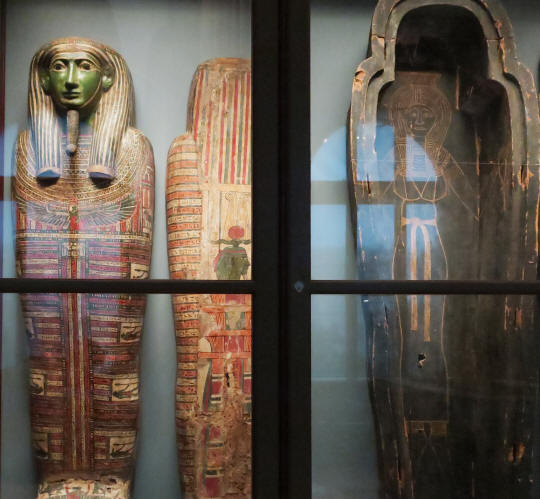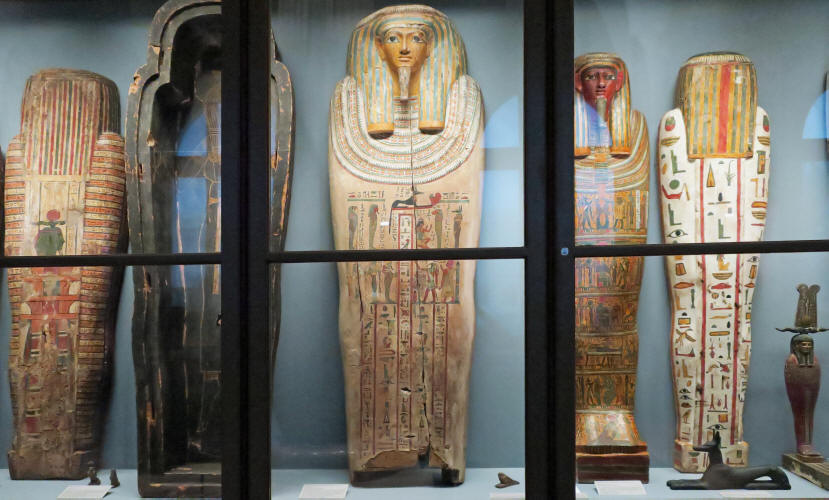 ... here is the right side.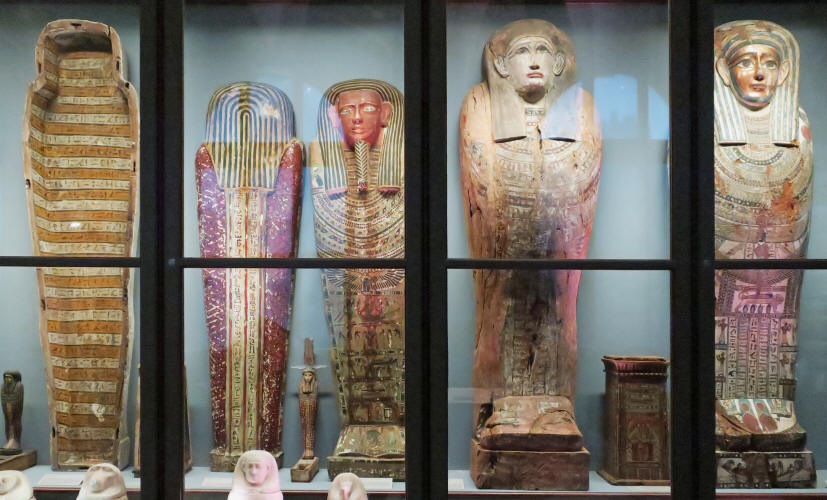 Below left are two mummy masks from the Ptolemaic Period (3rd-1st Century BC) and below right is a stock photo of the inner coffin for Nes-pauti-taui (21st Dynasty, before 969 BC). The complete coffin ensemble consists of an outer and an inner coffin as well as the mummy board. It shows the depiction of the goddess of the West on the inside of the coffin vat (which protects the dead as a personified necropolis). The numerous other religious depictions serve the magical protection of the mummy.
Here are more mummies they have. I enlarged the graphics (right) from the photo on its left.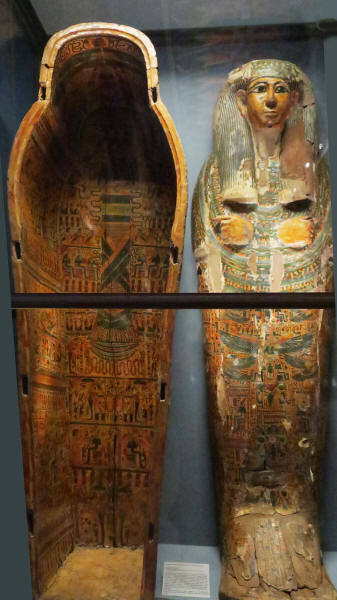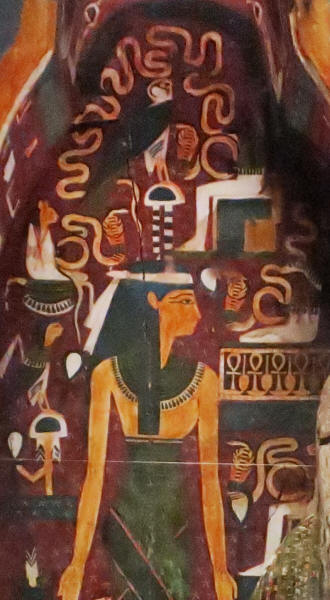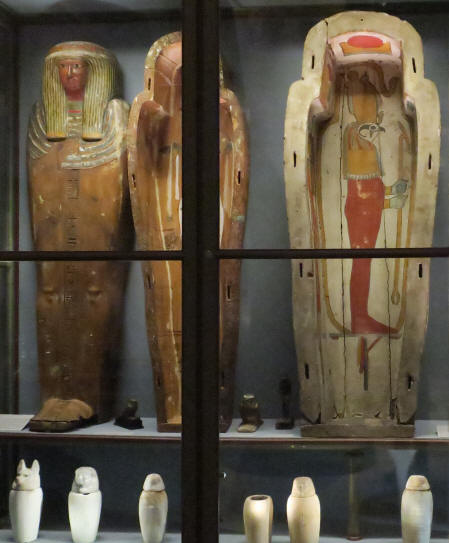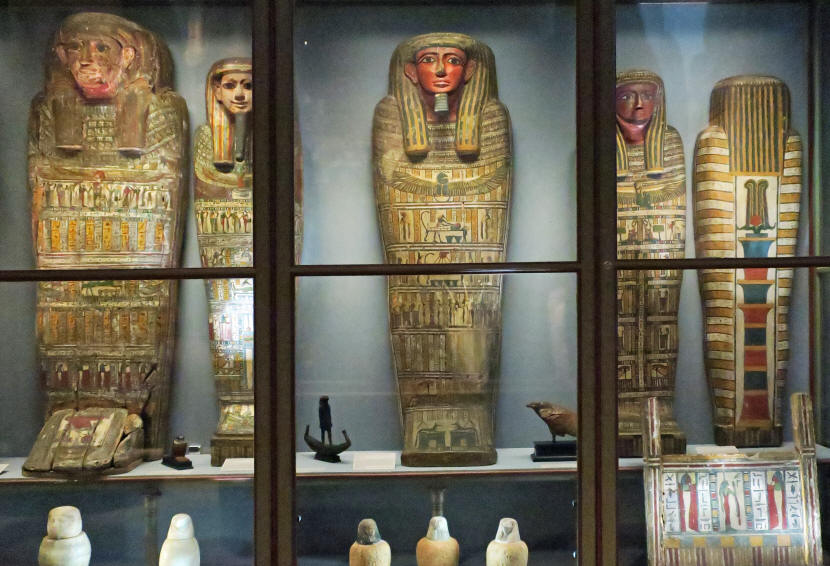 This one (below) had very elaborate graphics (enlargment showing the beetle in the center).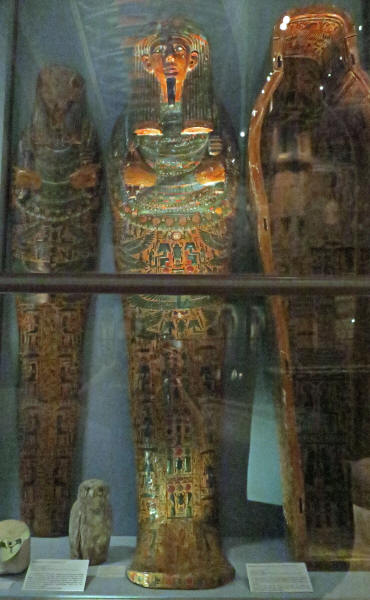 They also had several huge stone ones lying on the floor.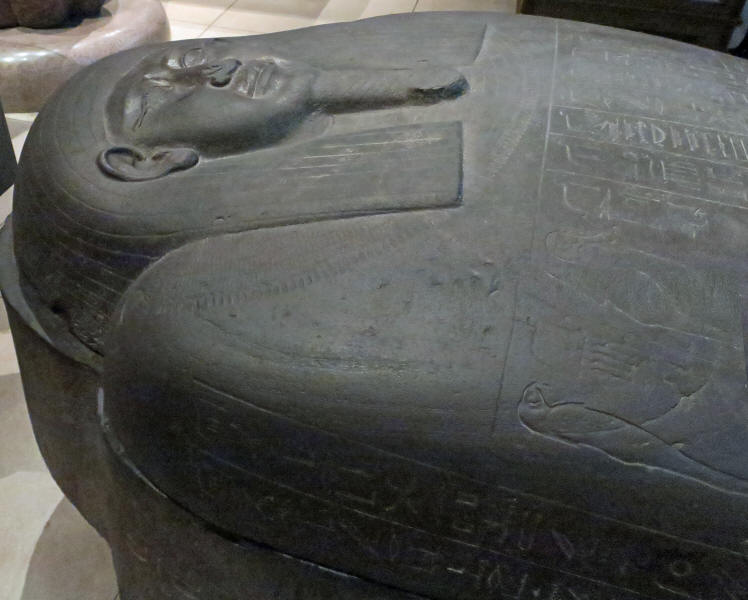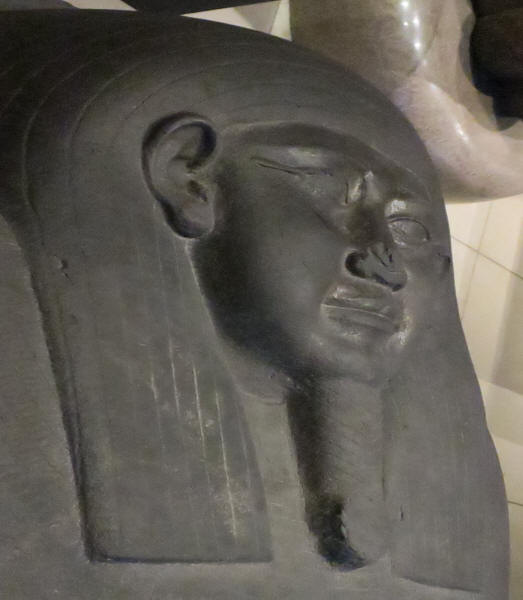 More stone sarcophagi.
Many of these are quite large.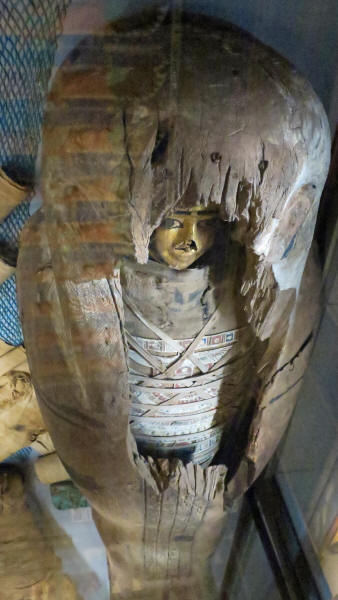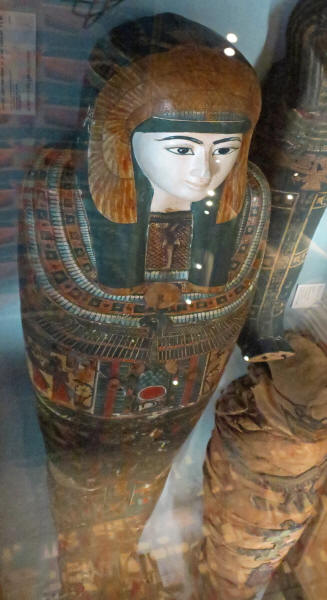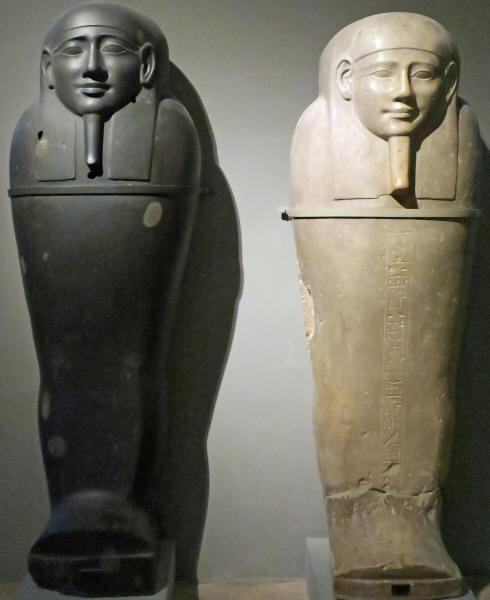 Now I go into Gallery II. Here they have a model layout of the pyramids.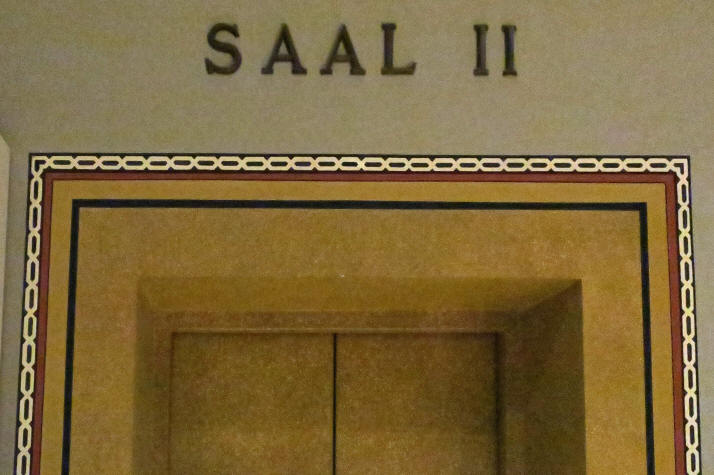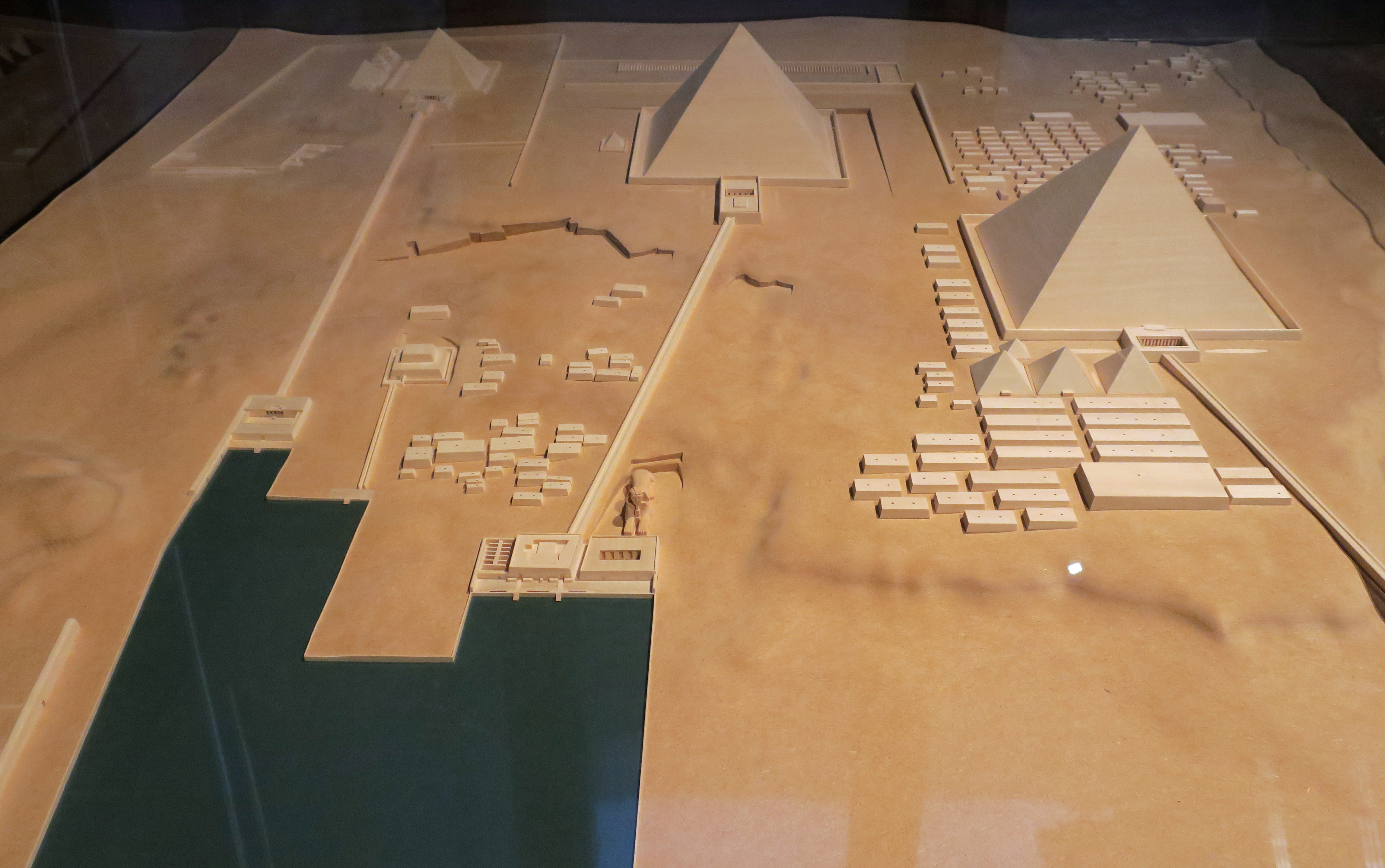 Here they have an entryway that leads into a room as if you were going into an Egyptian tomb.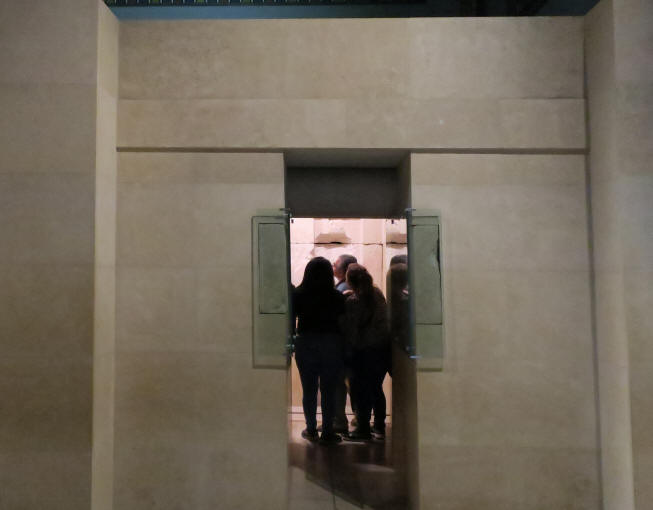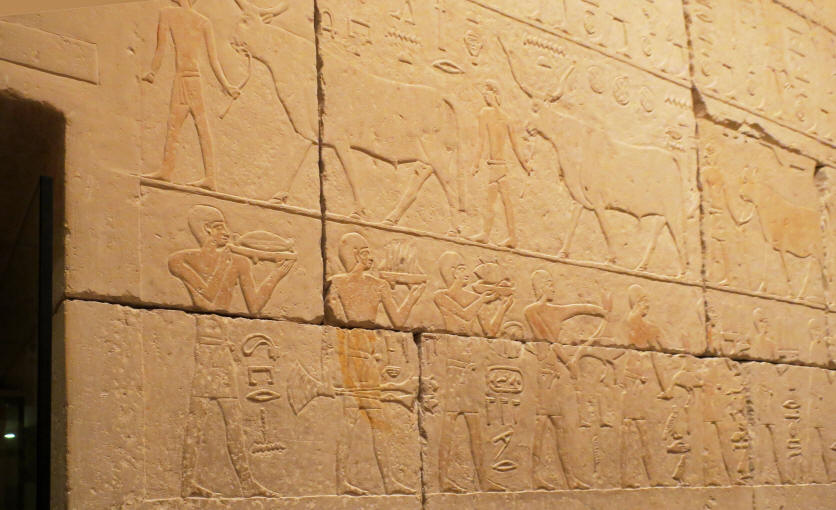 I took photos of the walls.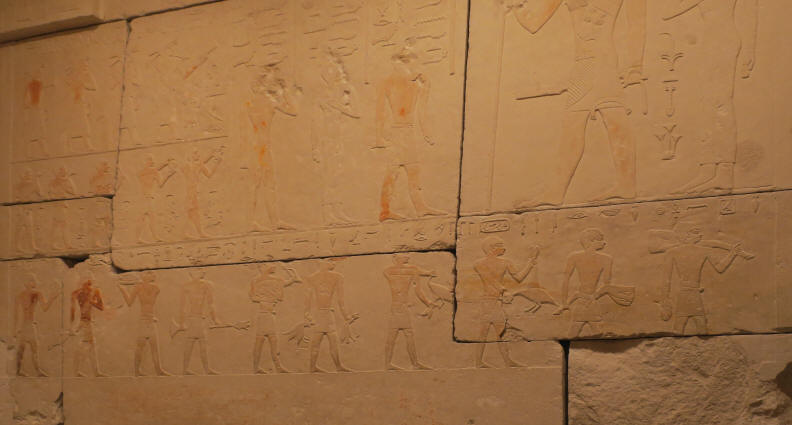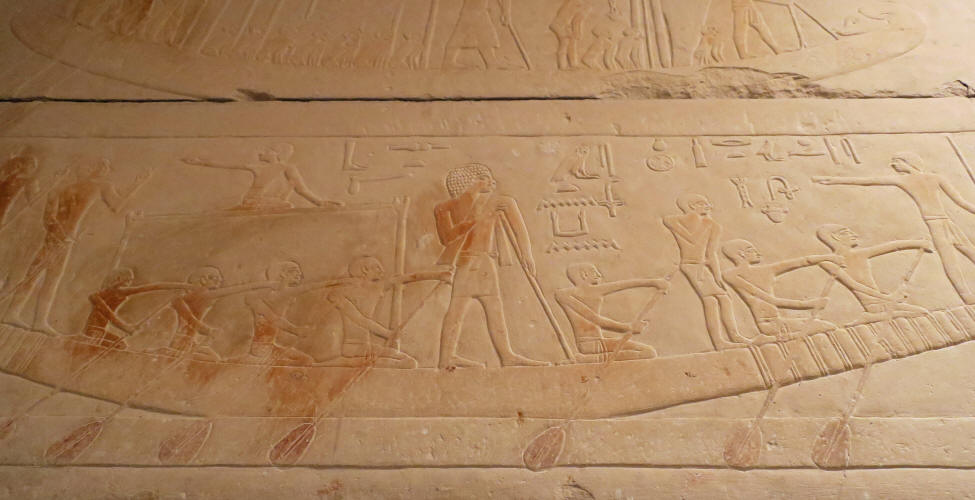 Outside again, I found this large beautifully inscribed tomb. It took a lot to twist the photo of the floor to get the images (left and right) of the goddess.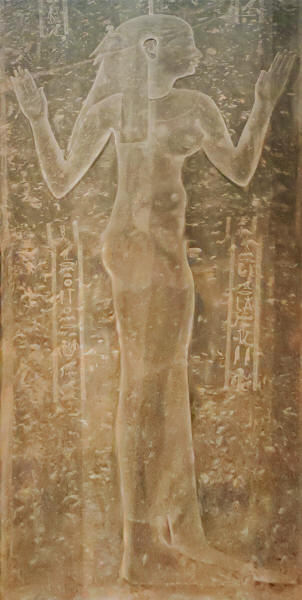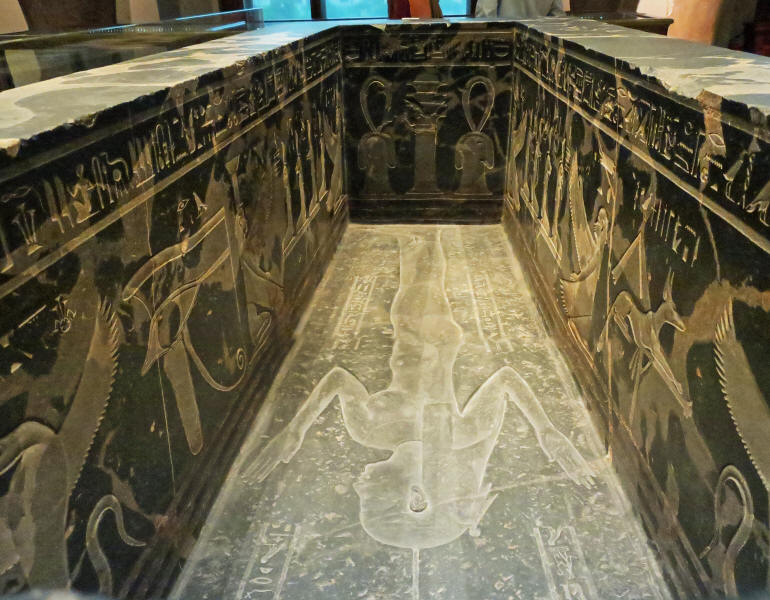 Here is a cabinet filled with figurines labeled "Uschebti Shabti". Description below.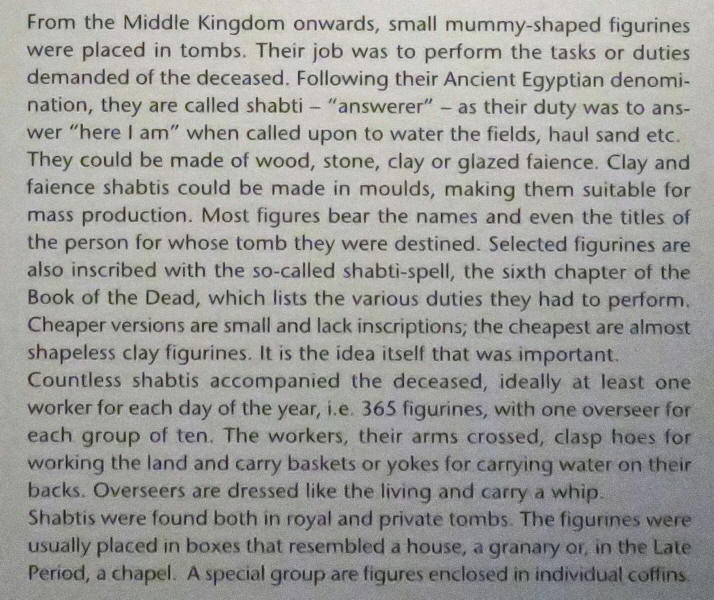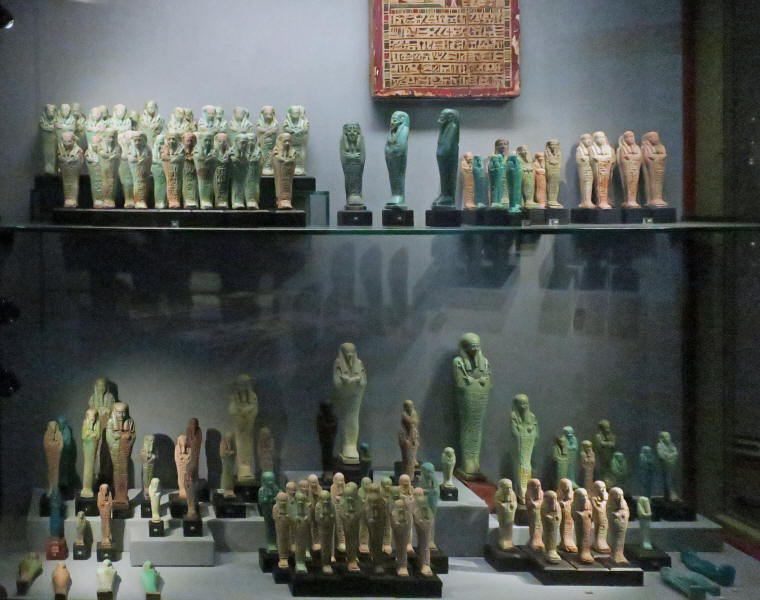 There were several more.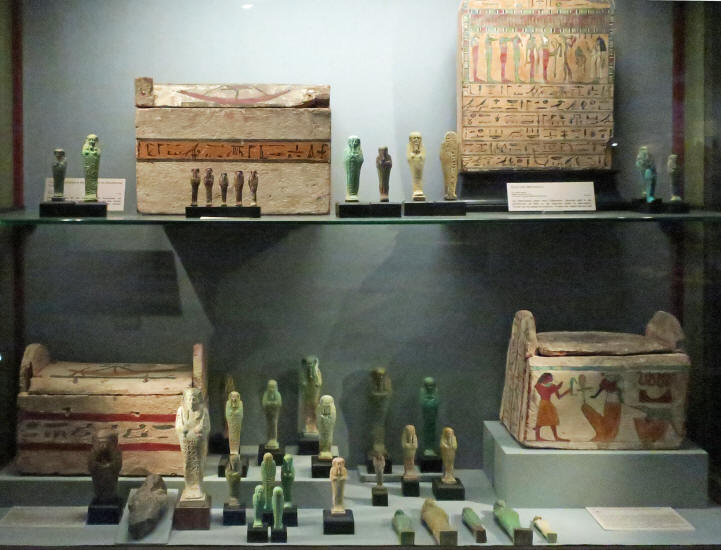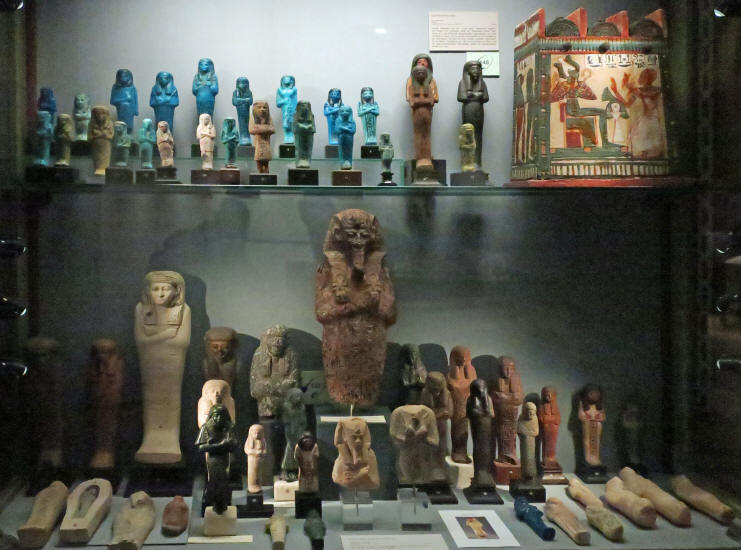 Betsy Ross must have seen this one (below right).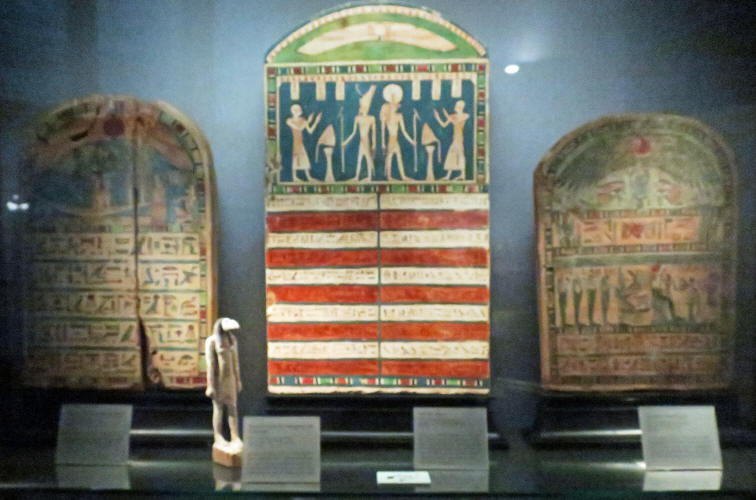 Below right is labeled "Naephorous statue with Osiris Shrine" Late Period, 26-27th Dynasty. It is an unfinished statue of a non-royal man which was intended to serve in the cult of Osiris and would have stood in a temple. Through it, the person depicted could participate symbolically in the rituals performed.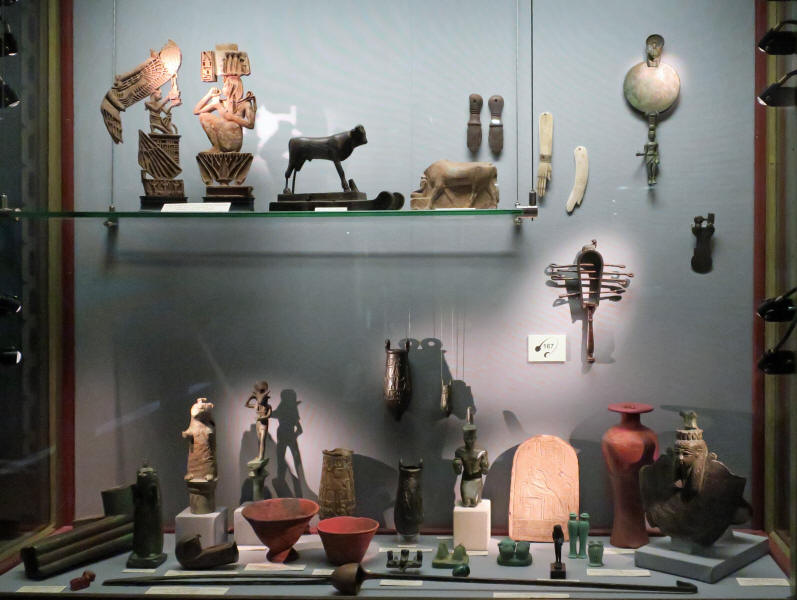 Below is the upper part of the "Stele of Tani" Late Period, 25-26th Dynasty (660-50 BC) from Abydos.
The cult of Osiris and the "Amulets from the Osiris mummy" (below).
Below is the "Text for a Osiris Ritual" (Papyrus hieratic writing, 1st-2nd Century AD). This text was probably written in Thebes and kept in a temple library. It is a call to Osiris-Onuris. Translated it says: "to rejoice, to go forth to the underworld, to leave the coffin at the call of his son and heir to the throne, Horus, to come forth as a living Ba, accepting offerings to him Horus, Isis, Nephthys and other gods who quench their thirst, to sprout the barley that bring wheat to their Ka, settlement, frankincense. He is read the festival ritual. He may ascend to heaven, to Nut."
The whole text is below left and I enlarged a piece of it to see the individual characters.
Osiris is associated with the Nile flood. This invocation of the resurrected and the subsequent rites is to ensure the fertility of the country. Below in another mummy with the items found in its tomb.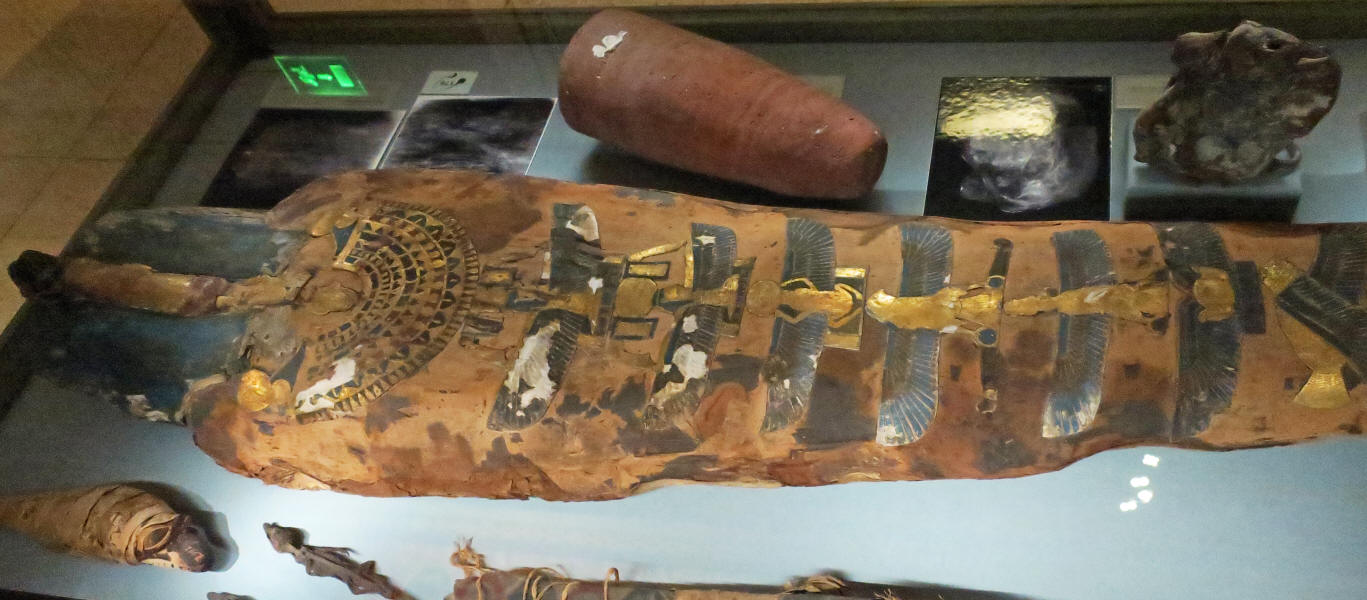 Below left is "Standing Falcon" Ptolemaic Period (325 BC). Center is "Baboon" Late Period 4th Century BC. The baboon and the ibis were revered embodiments of the god Thoth. Right is a bronze "Lion-headed deity (Mahes) Enthroned" Late Period 26th Dynasty (664-525 BC).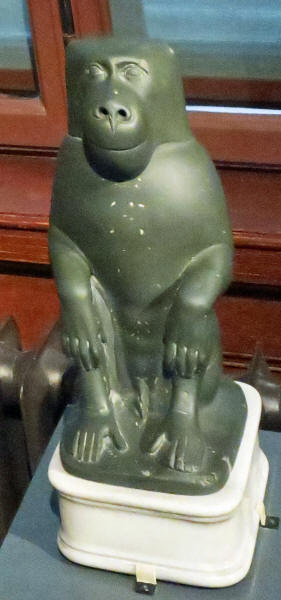 More cabinets filled with figurines.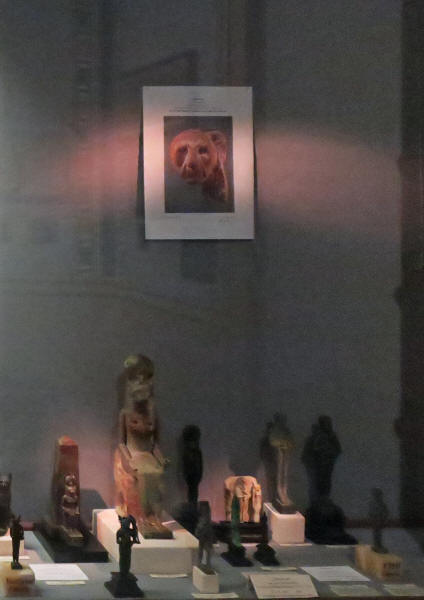 More various artifacts.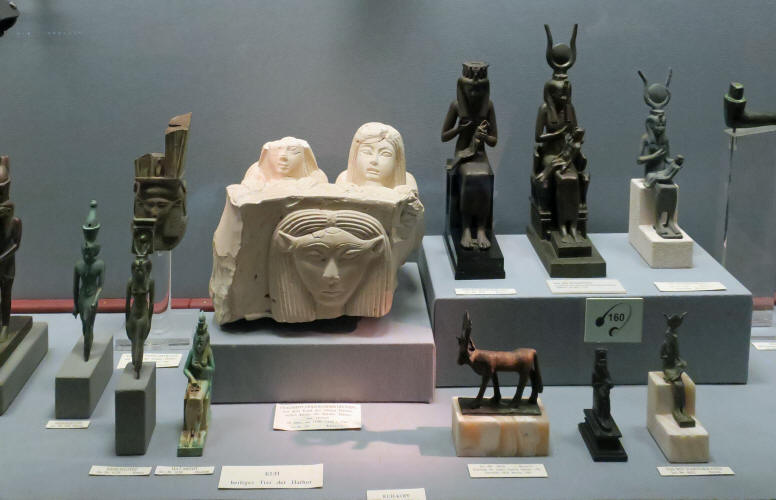 Most of these are offerings to the gods. Here you see several ibises.
Pottery from the Egyptian antiquity.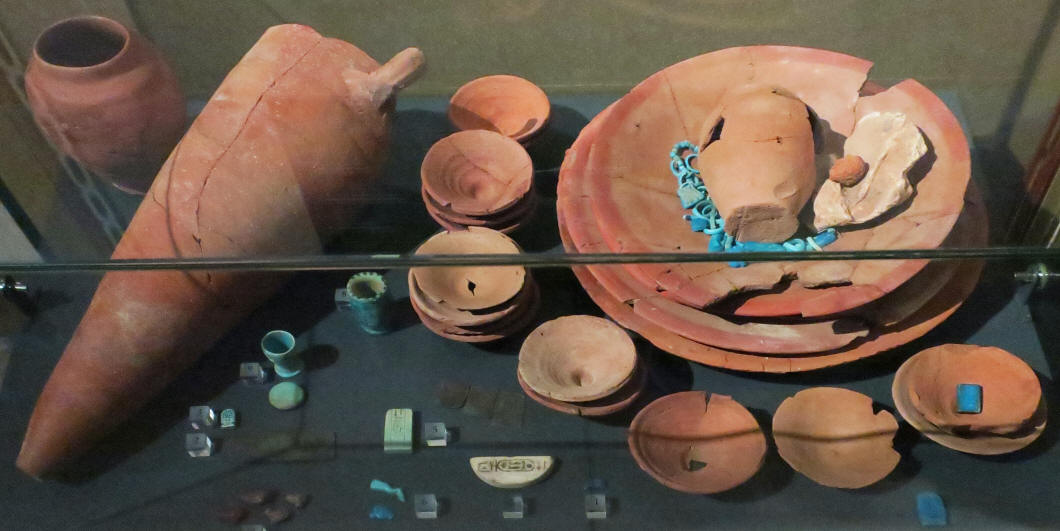 More items and larger jars.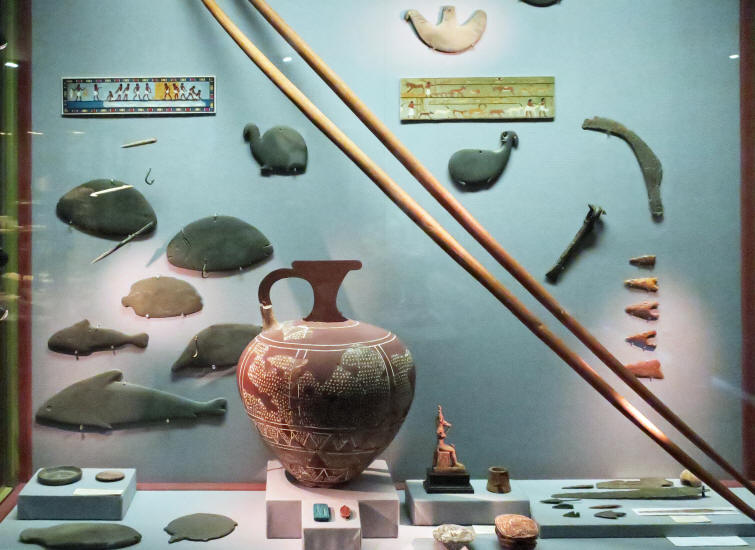 Below are reliefs and on the right is a piece of a beautiful relief fragment with cartouche.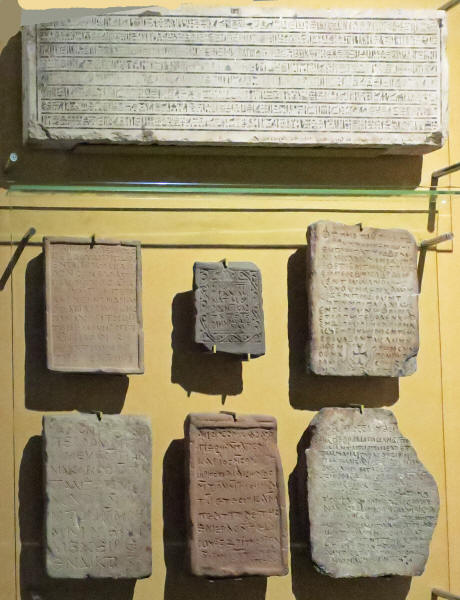 Below are more papyrus fragments.

More relief fragments surrounding a large ibis. Below right is the "Stele des Ese-em-cheb" Late Kingdom or early Ptolemaic Times.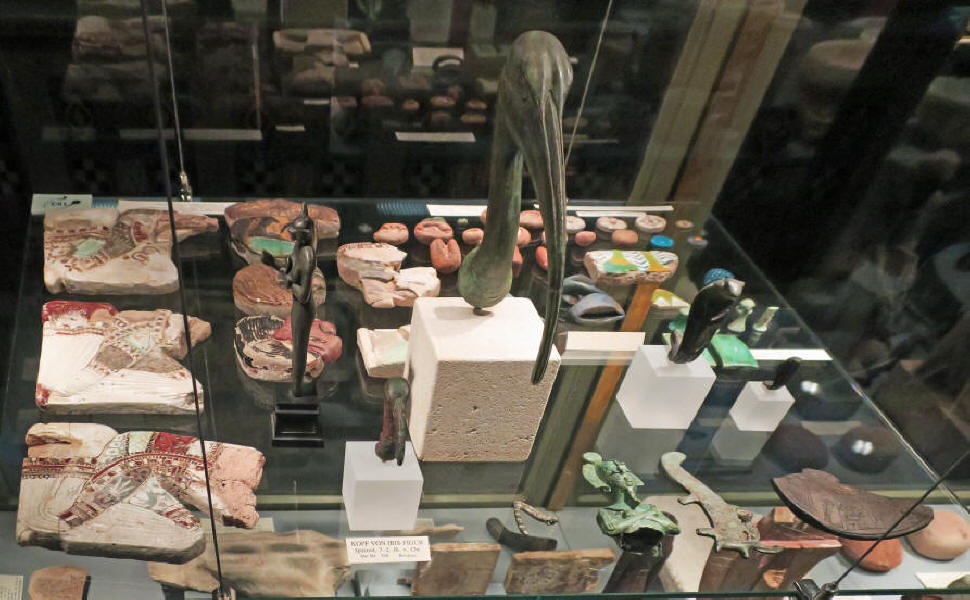 More steles; below right is the "Stele of the Intef" presumably from Abydos.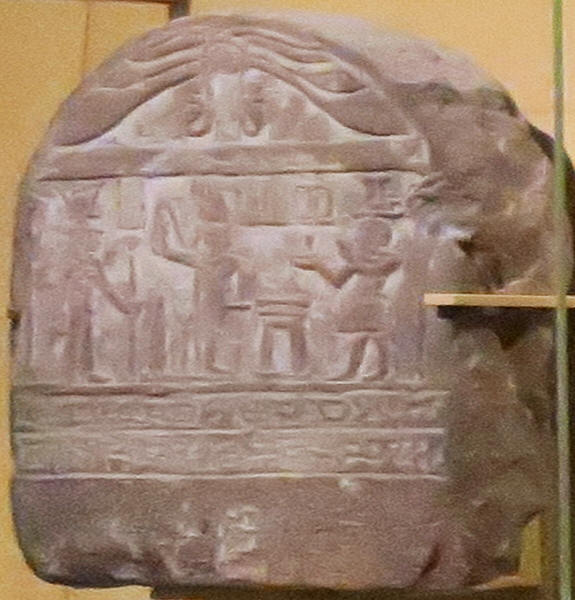 The lettering in these seem to be a lot different, perhaps cuneiform. I have no idea about the heads.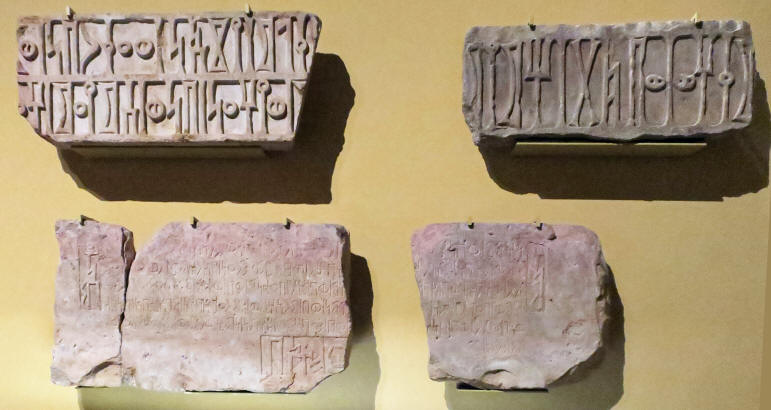 This dramatic lion made into a wall of bricks was quite interesting.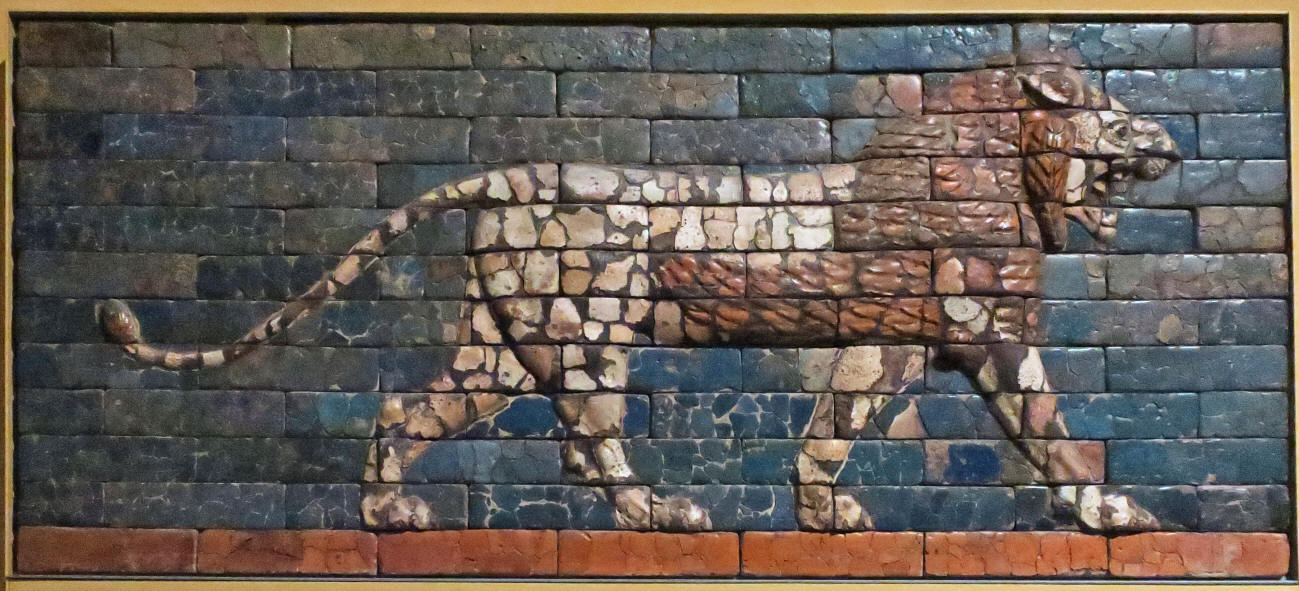 Another mummy and then there were displays of actual Egyptian clothes that lasted this long.
In the display above were sandals from the 7-6th Century BC Late Kingdom. Incredible, 9,000 years!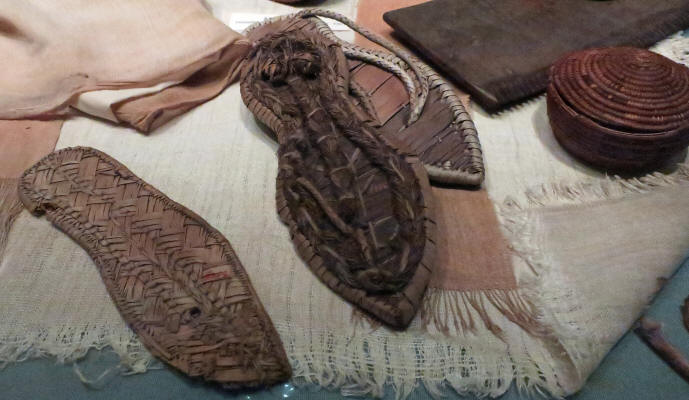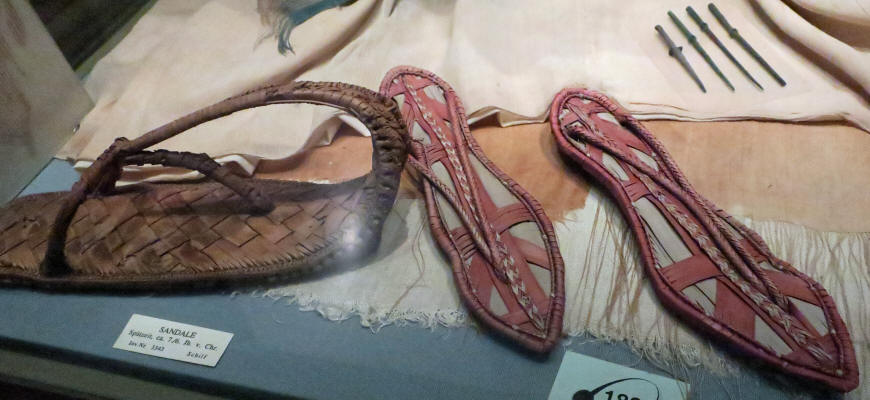 It was now 5:30 PM and the museum was closing and I was totally exhausted mentally and physically but I felt satisfied had covered most of this gigantic place in one day. It reminded me of how I did the entire Louvre in Paris in one day in 2010.
As I stepped outside, it was pouring rain so I went back inside and found the Museum Shop and bought an umbrella for €17.95 ($21.04). And, of course, as soon as I started fast walking back, it stopped raining quite quickly. I got back to our hotel and got Marcia going and at 7:30 PM, we started our leisurely walk to the Hotel König von Ungarn for dinner. We arrived at 8:00 PM and entered the lobby which was pretty quiet. They had this poster on the wall (below right).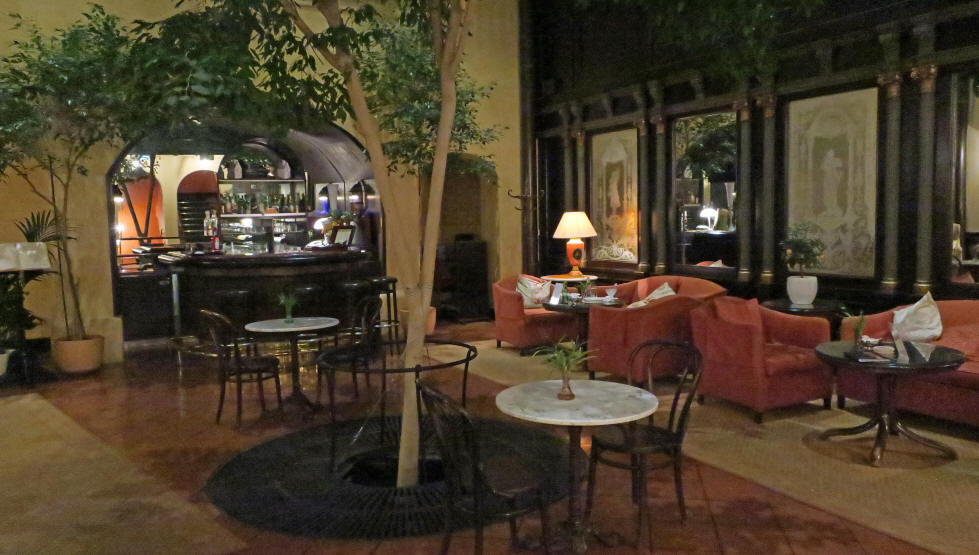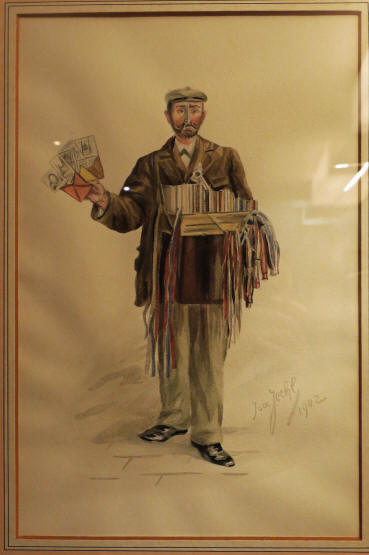 They gave us a table in the main dining room which had a few people in it this time.

I immediately ordered a Zipfer beer (my favorite beer) and Marcia a glass of Grüner Veltliner wine.
We took a look at their extensive menu in English and German.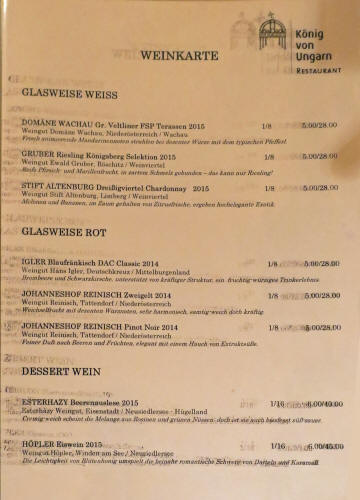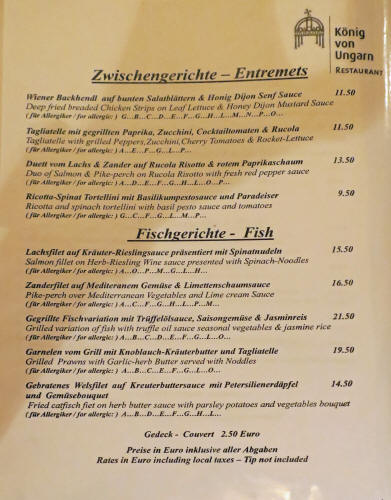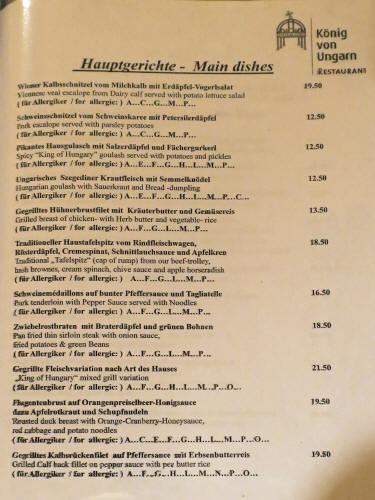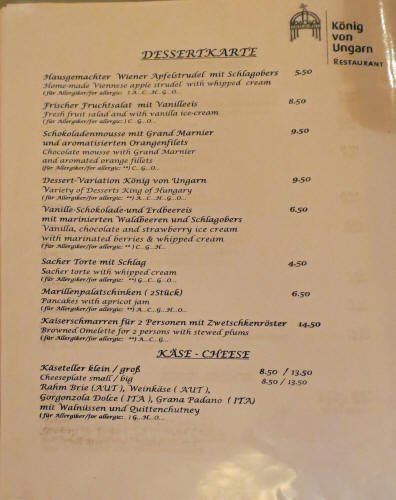 The basket of warm bread and butter came. I ordered a plate of French fries with dinner.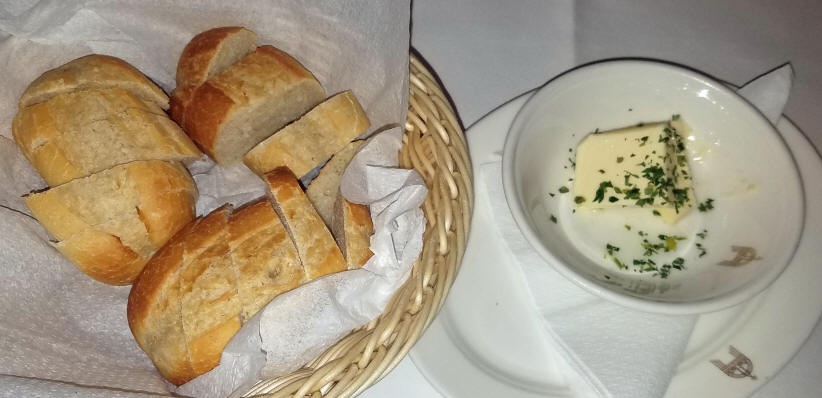 To start, Marcia had a bowl of pumpkin soup (left) and I had potato soup (right).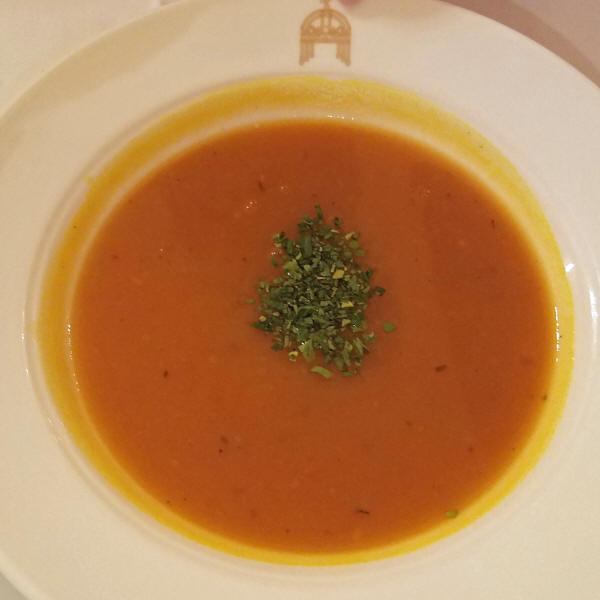 I ordered Hungarian goulash with sauerkraut and bread dumpling (Ungarischen Szegedider Kraufleisch mit Semmelknödel) and Marcia had Viennese veal escalope (schnitzel) with potato lettuce salad (Wiener Kalbschnitzel mit Knöpfel Vegerbsalat).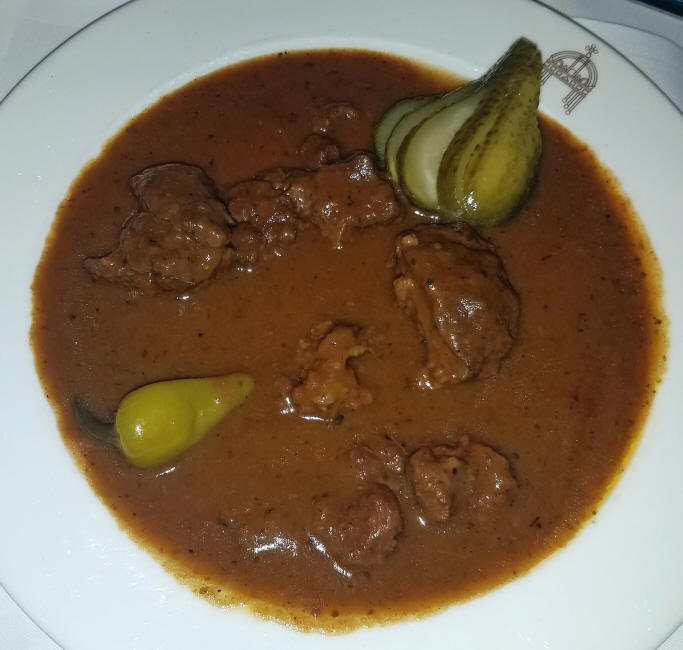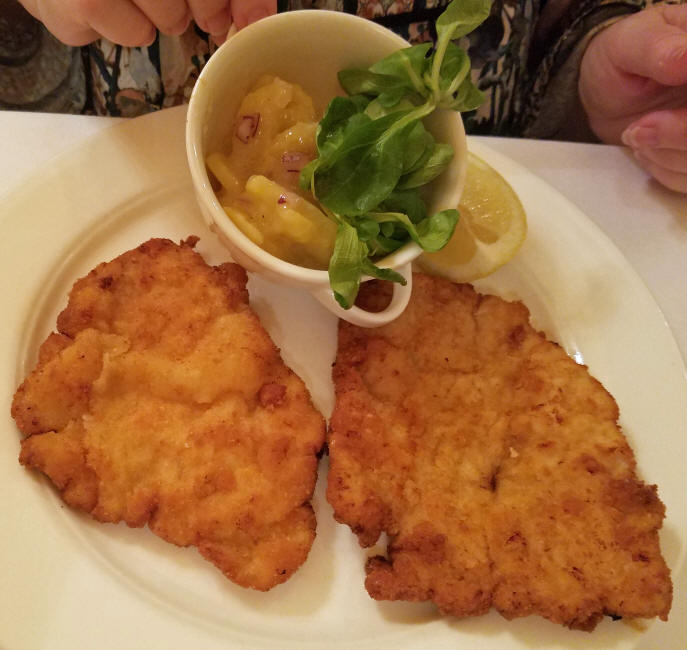 For dessert, we both had a Hungarian palichinta (crepe). They were authentic.
Our waiter was Kalil. The goulash they gave me was one of the worst I have ever had and due to my Hungarian grandmother, I have eaten a lot of gulasch throughout Europe. The whole meal came to €92.39 ($109.40) and now I know why this place is not very busy - bad goulasch in Vienna?

We left

there at 10:00 PM and strolled our way back to the hotel but on the way we stopped at Zanoni & Zanoni [am Lugeck 7]. Since I haven't really had any gelato on this trip so far, I got a coffee gelato for €2.30 ($2.72). Its a huge place and the Zanonis originally emigrated from Riva del Garda (stock, above) in Northern Italy and set this place up in 1971.

Zanoni's takes over the whole corner (PhotoStitch above) and both sides of each street. I enlarged and distorted the TV screen in the photo below left to show their menu. It also gives a weather forecast for the week.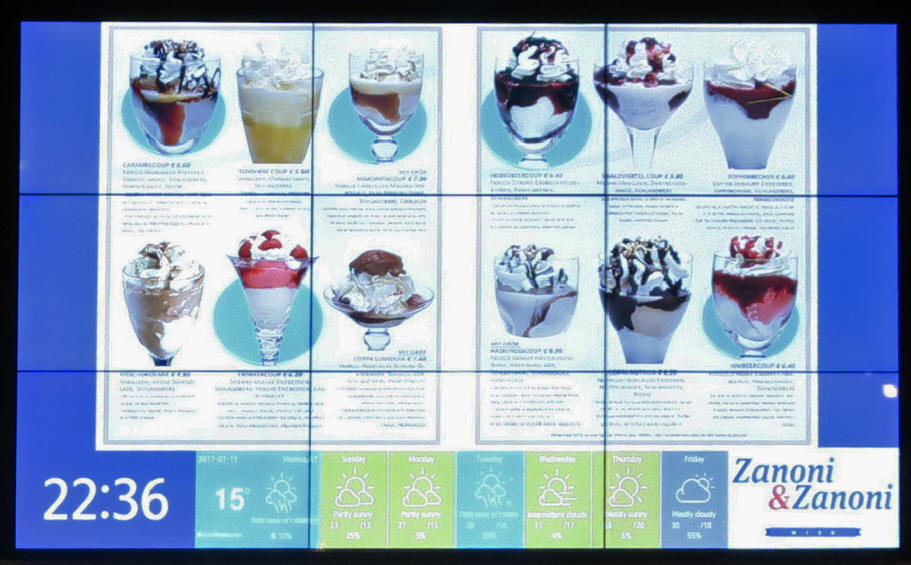 The forecast for 11:36 PM (7/15/17) is:
SUN 23°C/73°F Partly Sunny, MON 27°C/81°F Partly Sunny, TUE 28°C/82°F Partly Sunny with T-showers, WED 31°C/88°F Intermittent Clouds, THU 33°C/91°F Mostly Sunny, FRI 30°C/86°F Mostly Cloudy. That's what I have to look forward to this coming week. The gelato cone was very good (below left).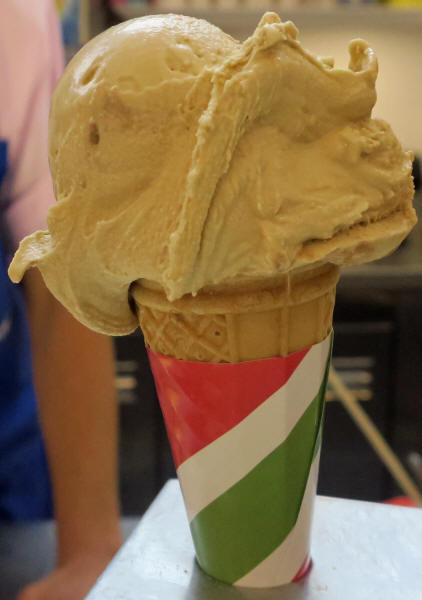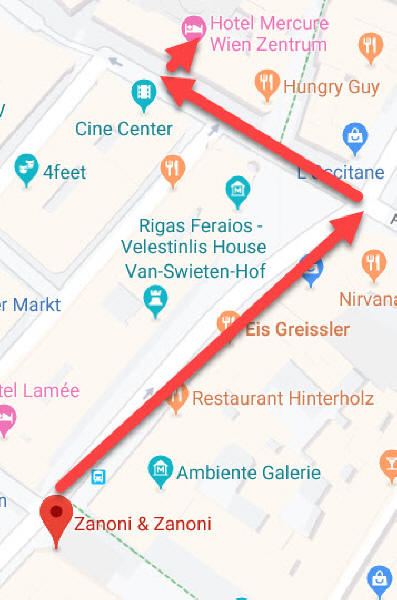 We got back to the hotel fairly quickly (map, above right) at 11:45 PM and I backed up all my photos so far on the backup drive and got to bed a little after midnight. Below is a nice stock aerial photo of the city at sunset. Tomorrow is Mass at the Dom, an I'm afraid another grueling day of exploration.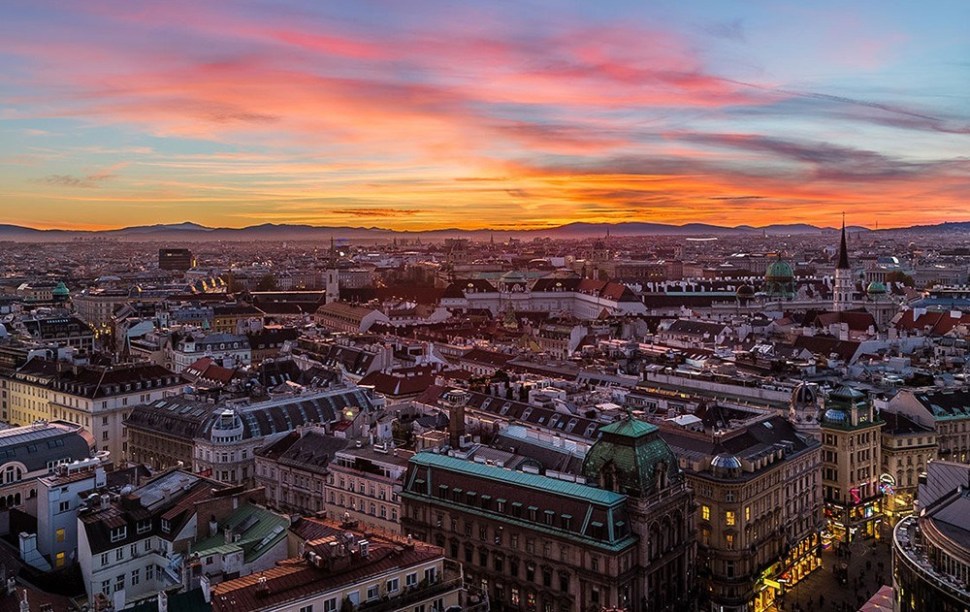 Kenneth J. Hoffer, MD
KHofferMD@AOL.com
Vienna, Austria
Sent 7-24-2019
If you enjoyed these travels or wish to add comments on the places we visited
Please Leave Me a Message by clicking the spinning @ sign below.