Dr. Hoffer's Travel WebSite This site was last updated 08/24/13
IDEAS
Vacation Rentals
| | | | | | | |
| --- | --- | --- | --- | --- | --- | --- |
| | Made With | | | | | |

HunYug1970 #2 Belgrade, Serbia
Flag of Belgrade and Yugoslavia
---

Belgrade's skyline from the Sava River
---
ASIDE: The photo slides we had taken with our new Leica SLR camera on our 1970 Honeymoon trip were carefully stored away in carousel trays for 40 years. We showed them maybe once to our three kids when they were old enough. I showed a few at our 25th Wedding Anniversary party in 1995. After I decided that I would add these pictures to the website, I got them out of their carousels and put them all into plastic sleeves to take them to a camera store to have them scanned into digital jpegs. I took them to the garage to get into my Corvette but suddenly remembered I had forgot something and I set them down on the top of the trunk of Marcia's car. I ran back into the house expecting to come right back but got tied up doing something else that detained me for a while. When I got back to the cars, I found that Marcia had left with her car and the slides were gone! I suddenly realized that she did not see them there and they stayed on the trunk until she got up to a speed where they would fly off one or two at a time. Each sleeve held 16 slides. Unfortunately it was raining that day and there was mud all over. I immediately ran out into the street and combed San Vicente Blvd every square inch for almost a mile. What I collected from the street, the ground and the gutter were sleeves that had gotten wet, covered with mud and had been driven over by other cars. I just about cried. I took them to the house and cleaned them as best I could. I was not able to find them all but what I have left I had scanned and are shown in these pages. You may notice splotches and scratches in some of the photos. I carefully saved them for 40 years and then did this. What a tragedy.
---
Monday, June 1, 1970
---
The next day my friend Merle Preble took me to his Army base PX store outside Frankfurt. I bought a Leica 35 mm SLR camera and I used slide film for the whole trip. After we had something to eat, Merle drove us to the Frankfurt airport and dropped us off.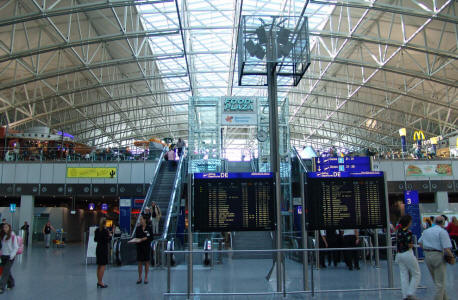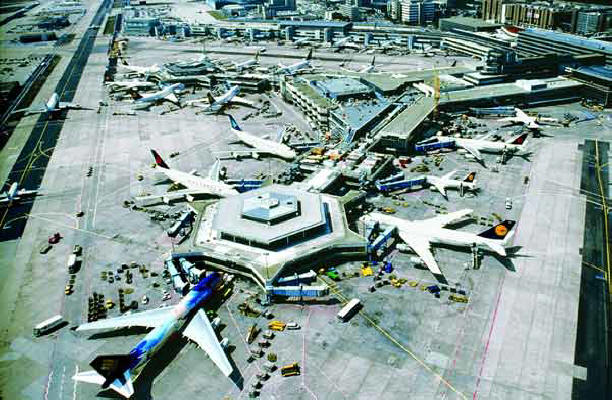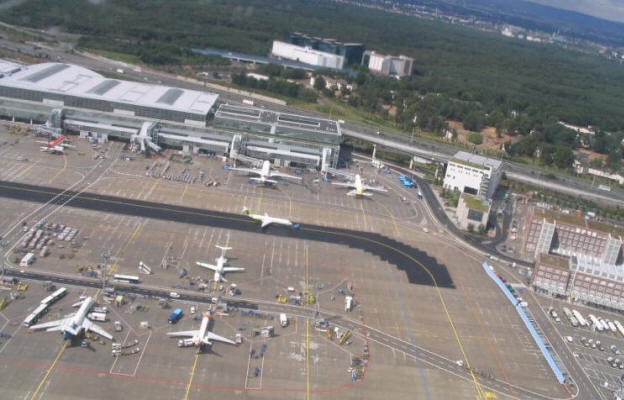 Frankfurt airport is the basic hub for German airlines and most transfers occur here.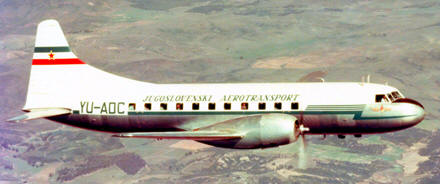 We got our tickets, went through customs and had our visas checked by passport control. We then boarded our flight to Beograd (Belgrade) which was on a Yugoslavian airlines (JAT, Jugoslovenski Aerotransport.) I'm not sure which of the above planes we had but it was one of them. We got into the air and then later, to the great surprise of all on board, we were told the plane was landing in Ljubljana (Slovenia.) Tito had ordered that the plane land here and we all had to get off the plane while the plane and all our bags were thoroughly searched. We stood out on the tarmac while the agents did their job and then we were ushered back onto the plane. Our first "welcome" to the Communist world.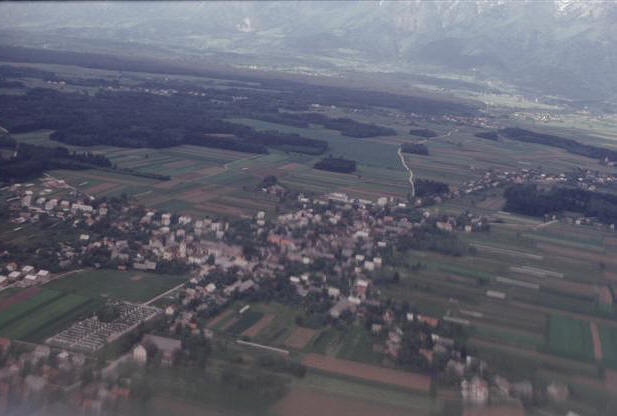 Above left is the shot I got of Marcia standing on the tarmac with her carry-ons. You can see the beautiful Alps which surround this city. As the plane got back in the air, I took this picture of Ljubljana and thought, "What a cute little place. I want to return here someday and see it."
ASIDE: Former JAT flight attendant, Vesna Vulović (22, now 63) holds the world record in surviving the highest free fall with no parachute, when she fell from 33,333 ft (10,160 m) after the aircraft she was on was destroyed by a bomb on January 26, 1972 over the Czech Republic. Bruno Henke saved Vulović's life by rescuing her from the wrecked fuselage on the ground. She suffered a fractured skull, two broken legs and three broken vertebrae (one crushed completely) that left her temporarily paralyzed from the waist down. She was in a coma for 27 days but later regained the use of her legs after surgery and continued to fly sporadically. Vulović was eventually dismissed from JAT in 1990 for expressing views critical of Yugoslav ruler Slobodan Milošević. She participated in protests against his rule afterwards, up to and including the Bulldozer Revolution that led to his ousting. Many believe that her status as a national heroine prevented the authorities from arresting her despite her open defiance of the Milošević government. She continues to be vocal in politics in Serbia today.

Amazing story.
---
Here below is a map showing where Belgrade sits inside Serbia and the coat of arms of the city.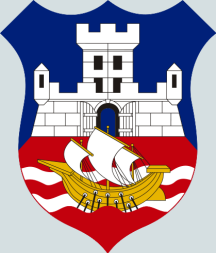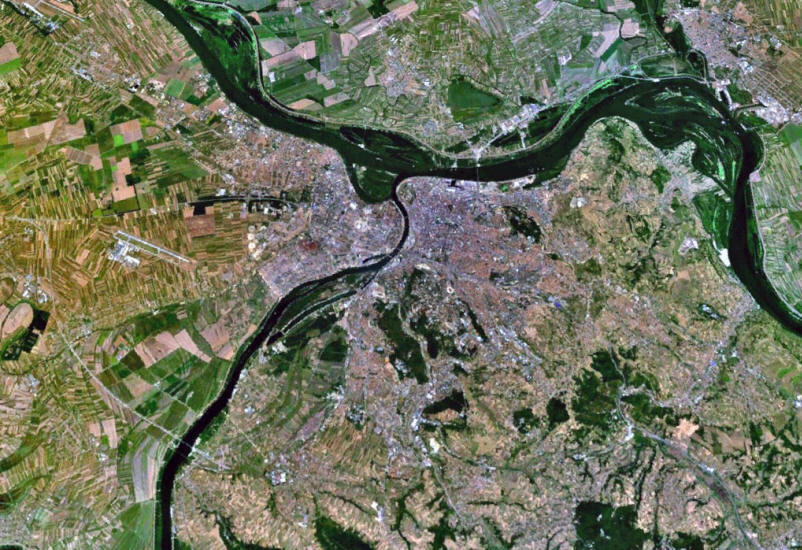 Above is an aerial shot of the city of Belgrade on the confluence of the Danube and Sava Rivers. We landed at Belgrade International Airport which is located only 7.5 miles (12 km) from central Belgrade. Below are stock photos of the airport at the time.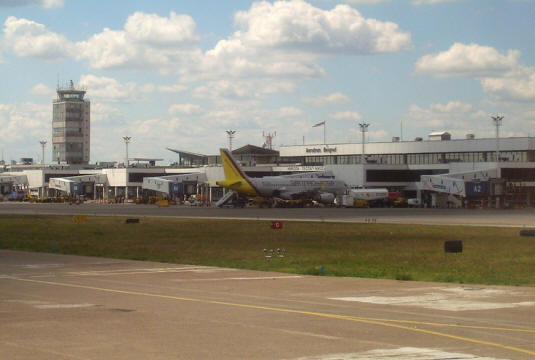 [Below are stock photos of how it looks today.]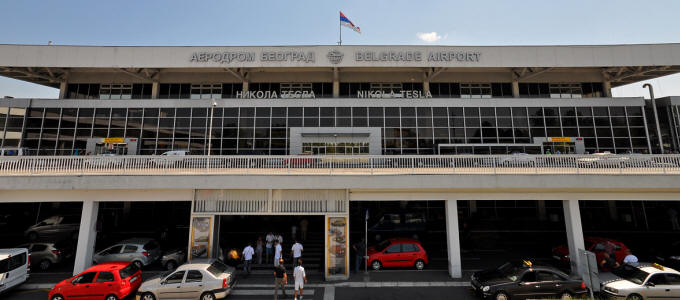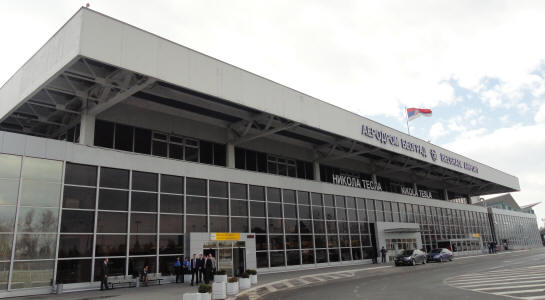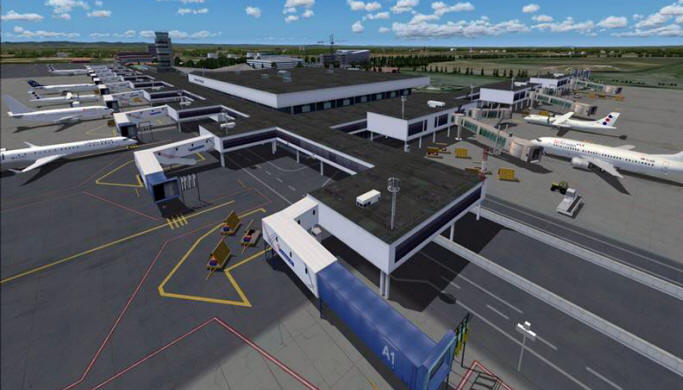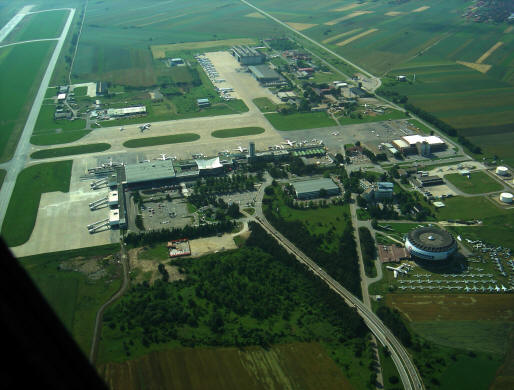 [ASIDE: The airport was renamed in 2006 in honor of the famous Serbian scientist and inventor Nikola Tesla. You have heard of him but I'll bet you thought he was Italian, not Serbian. He was a fascinating individual; click on link to learn about him. He moved to America and died in the Hotel New Yorker nine months before I ws born. There is a monument statue of him at Niagara Falls.]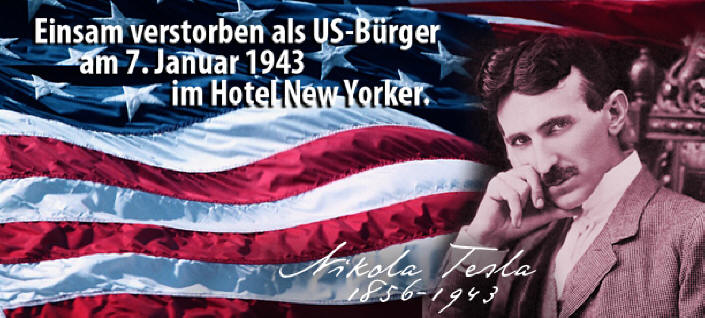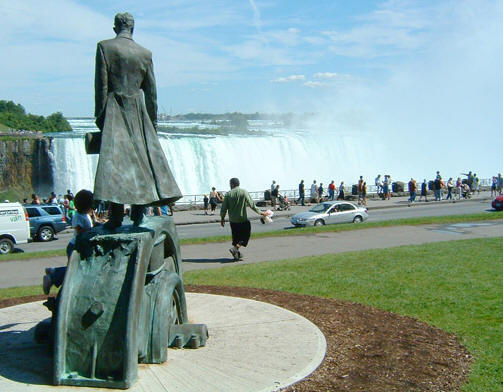 We took a taxi to our hotel and checked in. I set the camera up to take a photo of us in our first hotel room as a married couple. I did not carry her over the threshold. This (right) is a shot I took of her waking up the next morning.
The next day, I got up and walked around the area for a little. It started out sunny but then the storm clouds came over and it became very dreary. It did not leave a good impression of the city for us. Our first order of business was to get a car rental for our trip. They gave us a little red Toyota Carolla (below.)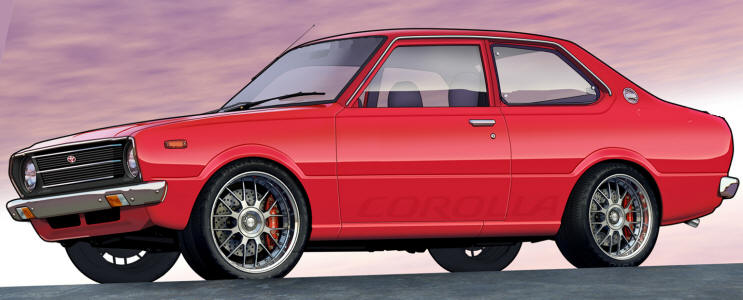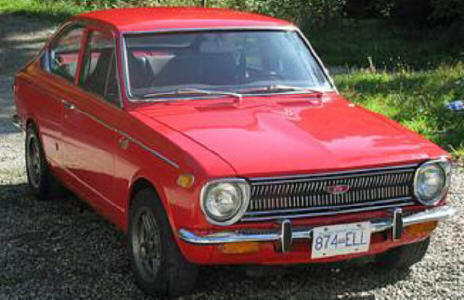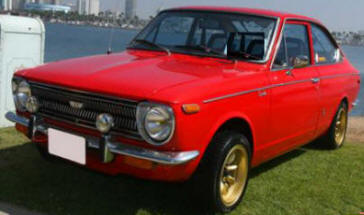 We decided to drive around and do a little sight-seeing. We made it to the Kalemegdan fortress (below.)
Belgrade's Kalemegdan Fortress overlooking the Sava River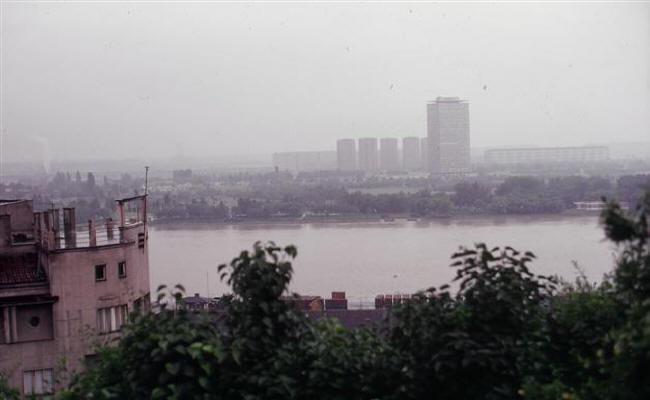 From this position, I took a photo across the river. The tall building in the distance (above right) is the Ušće [Oosh-cheh] Tower (meaning "confluence.") Built in 1964, it overlooks the confluence of the Danube and Sava rivers. It was originally XXX ft (105 m) tall and houses the headquarters of the Central Committee of the League of Communists of Yugoslavia (Komunist Central Komitee or CK building.)
[Today the CK building is a big shopping mall and office building. It is a 25-story mixed use skyscraper located at 6 Mihajlo Pupin Boulevard in the Novi Beograd municipality of Belgrade. It is the tallest building in Serbia, and the second-tallest freestanding structure in Serbia, after the Avala Tower.]
Information Centers of the Tourist Organization of Belgrade [Republic Square 5, +381-11-328-1859, bginfo.knezmihailova@tob.co.rs
Nemanjina Street (Немањина улица) (Nemanja Street) is a very important thoroughfare in downtown Belgrade, Serbia, in the Savski Venac municipality. After the completion of the construction of the Railway station in 1884, it became one of the city's main communicational links. The street got its name in 1896, when it was named after a Serbian ruler from the 12th century, Stefan Nemanja.
Serbian Government Building (below left) and the
The way it looked in 2007 (below right.)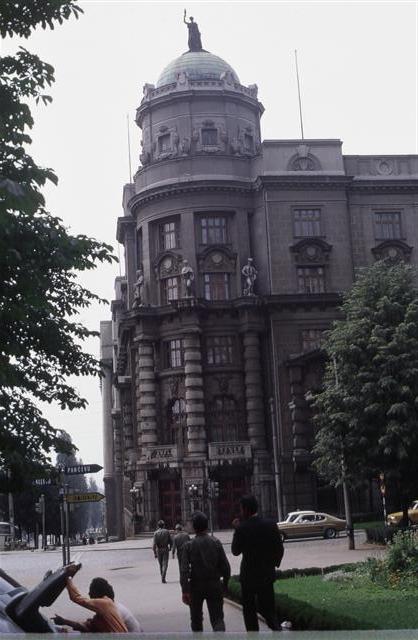 Corner of Nemanjina St and Kneza Miloša, Sate building (if you turn around from where you take the picture you see the ruins of the NATO bombing in 1999.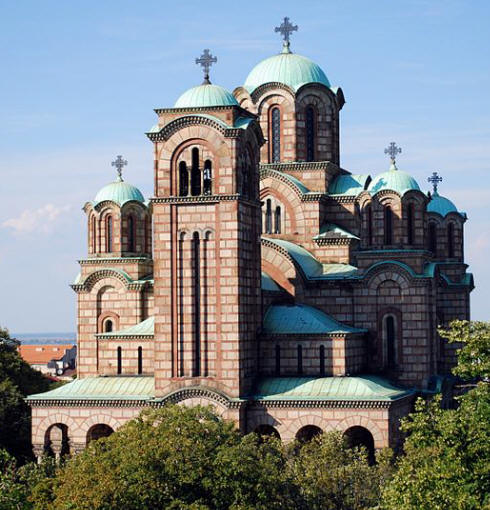 Republik Square (Trg)
Takovska street ,the Post Office building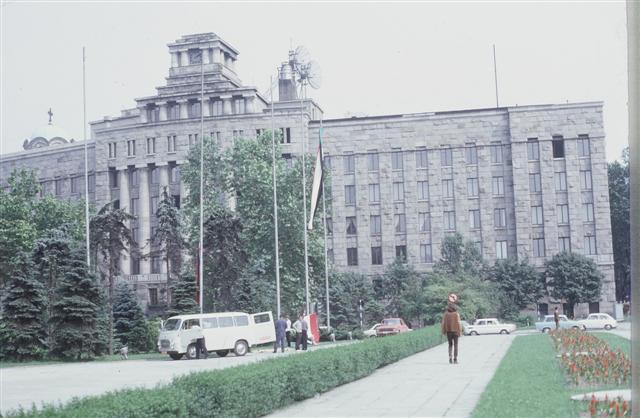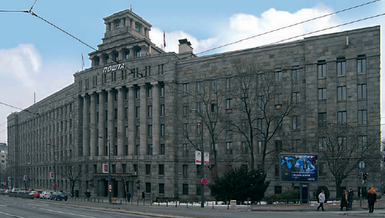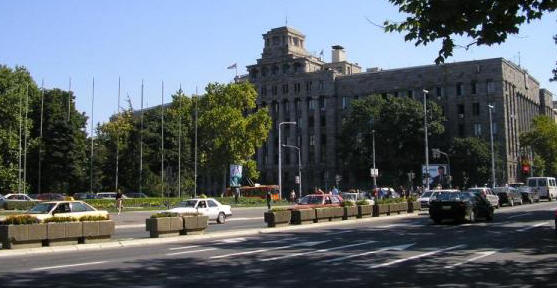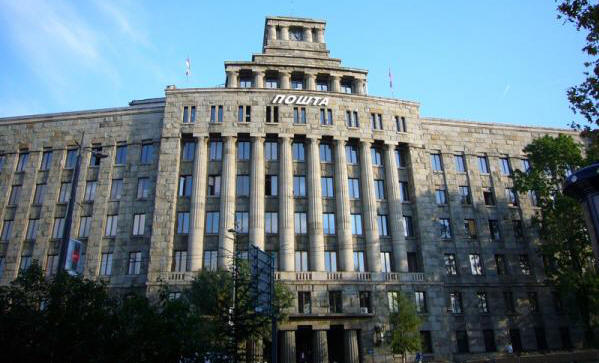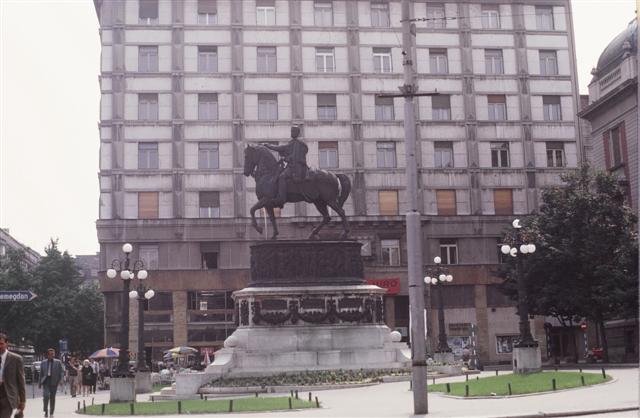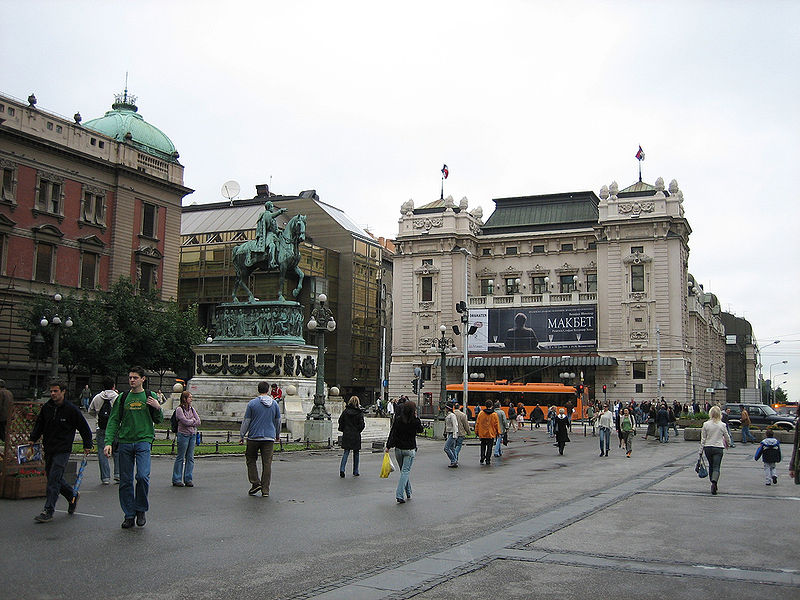 Mihailo Obrenovic III Knez Mihailo, Republik Square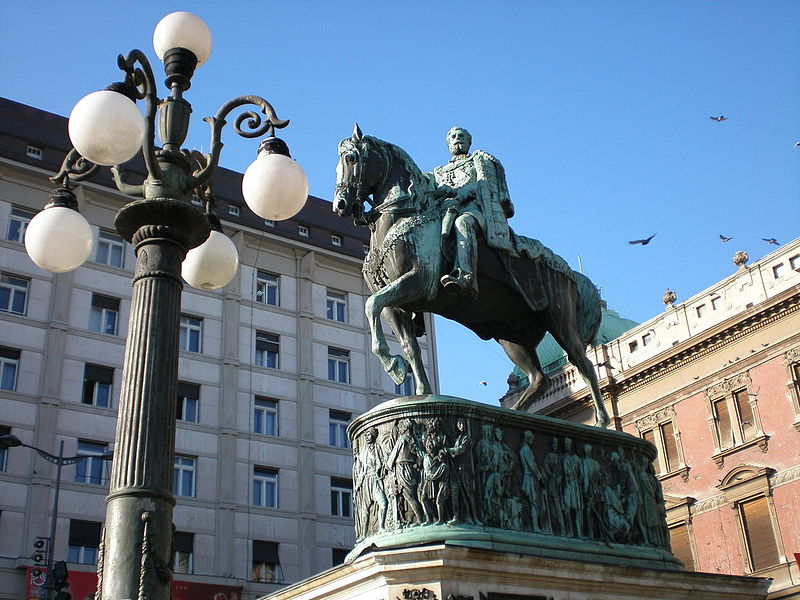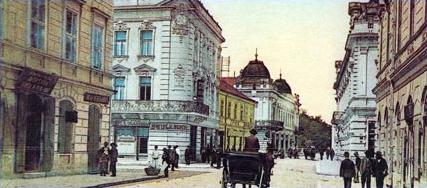 Above in 1900. The National Assembly Building on Bulevar Kralja Aleksandra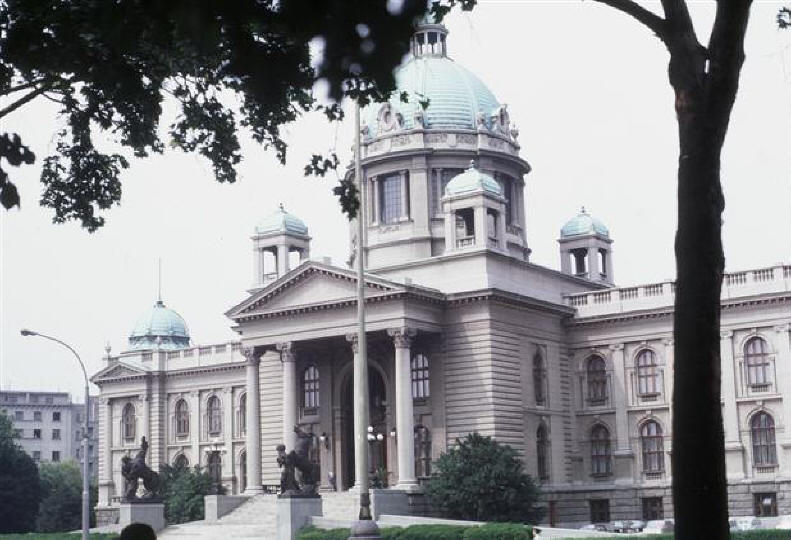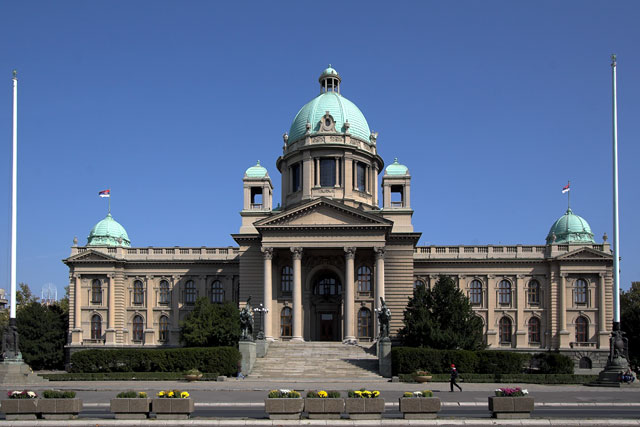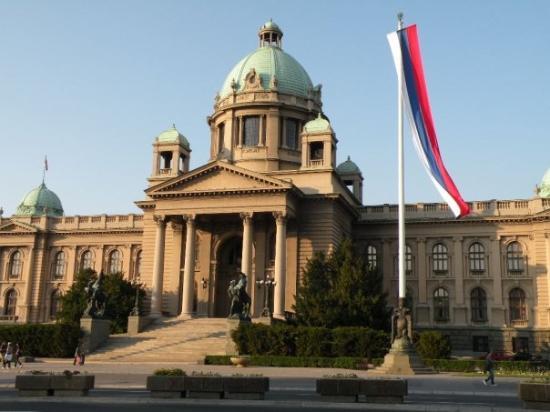 Now we are off to Budapest on route to Novi Sad.
As we drove through Novi Sad (below left) I photographed this large pile of coal sitting in the street. It must be waiting for it to be shoveled down that window into the basement. Then to Subotica and then entered the Hungarian border south of Segedin, Hungary.
Kenneth J. Hoffer, MD
KHofferMD@AOL.com
Belgrade, Serbia, Yugoslavia
Sent 9-XX-2013
If you enjoyed these travels or wish to add comments on the places we visited
Please Leave Me a Message by clicking the spinning @ sign below.