Dr. Hoffer's Travel Site This site was last updated 01/03/13

IBERIA2001 #2 Is This Sardenia?
---
Monday, July 23, 2001
---
Woke this morning at 8:30 feeling pretty bright. Below is a view from our hotel looking down on Corso Buenos Aires.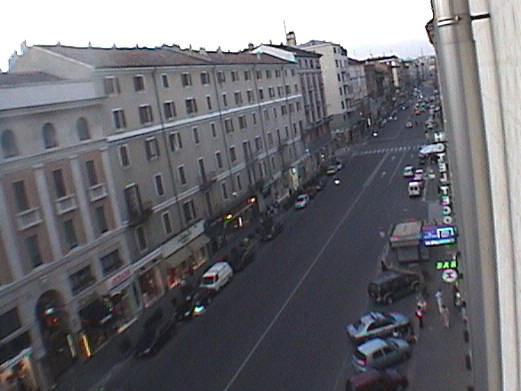 Dimitrii should be arriving from LAX today sometime and we shall join him for dinner. My previous camcorder died prior to leaving so I purchased a new SONY camcorder which has the capacity to take still photos and stores them on a little memory stick. A 128 MB stick can hold up to 1,350 photos. When it's filled to capacity, the stick can be slipped out and slipped into a slot on my new SONY notepad (C1VPK) computer. I dump the photos into the computer then edit them using Adobe PhotoDeluxe and save them in very low memory capacity (10-15 K,) put them in a WinZip file and attach them to the email I send home. This will be better than sending postcards.
[How archaic this seems now.]
The jetlag is having more an effect on both of us than I had remembered from last year or the trip to England. I keep falling asleep wherever I go. I run each day from the hotel to the Duomo and environs and yesterday it was in the rain (poco poco). Not really doing much but sitting and listening to people speak Italian which I enjoy very much. I have noted that I can read the Italian newspapers and understand them better than I have in the past – maybe it's starting to sink in. My vocabulary has stayed well, but I just can't put all those words into confluent sentences. The Communists here are screaming bloody murder about the kid that got killed during the protests at the G-8 Conference in Genova a couple of weeks ago. Dimitrii & Tanya took us to a special Sardinian ristorante last night called Osteria Caneva. Sardinia is the large island in the Tyrrhenian Sea off the west coast of Italy, south of France's Island of Corsica. It is the only province of Italy that we have not been to. They have the seafood flown in daily. The food was so good I couldn't believe it. Eating like this, I should be able to cut my Lipitor dosage. The combo platter you see is octopus (polpo) and various shrimps (gamberi.) The little white strings on the right are not pasta, they are one-day old "some kind of fish" and they were great.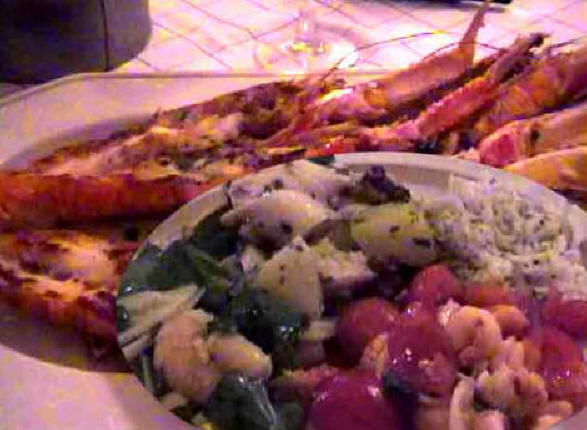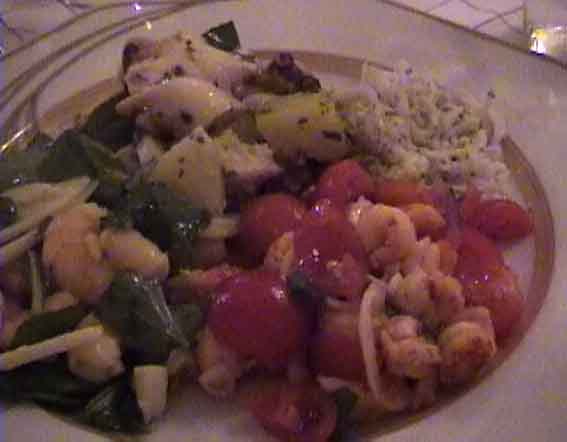 The large gamberi on the plate behind was the entree (secondi). Italians first eat antipasti followed by a primi (usually pasta) then a secondi (main dish) and finish of with dolci (dessert). Dimitrii gave me his cell phone to take to Spain. We ended the dinner being introduced to a new cordial called "Zedda Piras."
After they dropped us off at the hotel and Marcia went upstairs, I got talking to the man at the desk who is 42 years old and had a heart transplant from a 21 year old young man that died in a motorcycle accident. He kept pouring me free lemoncinos till I forgot.
Today we dropped off all our big bags at Dimitrii's house and will pack tomorrow for the train to Munich at 9 AM. Dimitrii had to fly off somewhere to give a PRL surgery course, so we had to fend for ourselves. I chose a restaurant from my previous readings called Don Lisander [12 Via Manzoni,
+39-02-760-20130]. The setting was nice, near the Galleria Vittorio Emmanuelle (1 block from the famous La Scala Opera House), but the dinner was just fine ("medio"), not great.
Kenneth J. Hoffer, MD
Milano, Italy
Sent 7-23-01
Edited & Resent 1-XX-13
If you enjoyed these travels or wish to add comments on the places we visited
Please Leave Me a Message by clicking the spinning @ sign.