Dr. Hoffer's Travel WebSite This site was last updated 01/26/16
---
AMTRAK: Los Angeles to Boston
---
August 23-29, 2013
---
This begins our 11th trip through a region of Europe and we are running out of places to go. This time we decided to shorten the trip to only six weeks rather than three months. We settled on the historically important country of Poland and to visit the Baltic States of Lithuania, Latvia and Estonia as well as the sliver "island" of Russia called Kaliningrad. Since I have reported on our trips to Boston several times in the past, I will keep this one short except that this is the first time in 20 years Marcia has accompanied me on a cross-country Amtrak train trip.

[Just prior to this trip, I purchased a new GoPro camera which is remarkable for getting wide-field "fish-eye" photos. This allows getting a whole picture of a building or church even while standing right in front of it. You will notice photos with walls and posts bending - those are the GoPro shots. Thus I have repeated many shots taken on previous trips just to show the scope of this camera. Most all the photos on this page were taken with the GoPro.

Below is the camera (L) with all its sports coverings (C) and encased on its helmet stand (R.)]
---
Friday, August 23, 2013
---
At 9:10 AM Marcia woke me but I slept until 11:10 AM, when I finally got up. Marcia returned from her ENT doctor who told her that she could not fly because of an ear infection. That means she has to go to Boston with me on the train. This will be the first time in about 20 years that she has traveled by train cross-country with me. My first impression was that I would be happy and enjoy having her with me. I was packed and ready early but Marcia had some delays which caused us to leave very late for the train station at 5:00 PM giving us a little over an hour to get downtown LA in Friday commuter traffic before the train pulled out. Because we were so very late I decided to drive with Marcia and Blanca in the car. Blanca would drive the car back. Since we were so very late, I really was driving very quickly so as not to miss the train (scheduled to leave at 6:15 PM.) I was cutting in and out of traffic. Due to this, Marcia got sick and we couldn't stop so she had to do it out the window. Good start to the trip.
We arrived at Union Station at 6:05 PM (with 10 minutes to spare) and I immediately engaged a Redcap to get all our bags and race us to our train. Thank God he got us there and Train 4 departed at 6:30 PM. We were in Car 441 in Deluxe Bedroom C. At 8:00 PM we went for dinner in the dining car and since I was still on my diet I had two salads, roast 1/2 chicken with vegetables and I split a bottle of Pinot Grigio with Marcia. We tucked in at a reasonable time.
---
Saturday, August 24, 2013
---
I awoke at 3:00 AM with a crazy dream that my son Kevin was banging on the window. I then woke at 7:05, and again at 11:40 AM as we pulled into Albuquerque. Below left is how our room looks when we first arrive and below right is a shot of the beds all made up. One of the negatives of Marcia being along is that I have to sleep in the smaller upper bunk and at age 70 I am not used to climbing up and down to get in it.
I dashed off the train at 11:45 AM and did my run alongside the tracks into the bus terminal in the dry heat.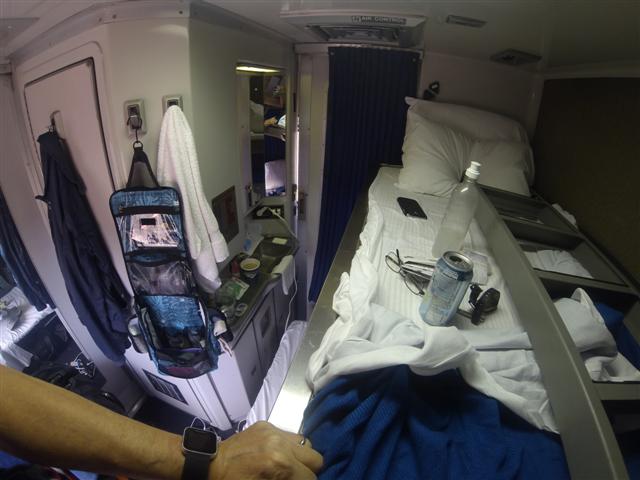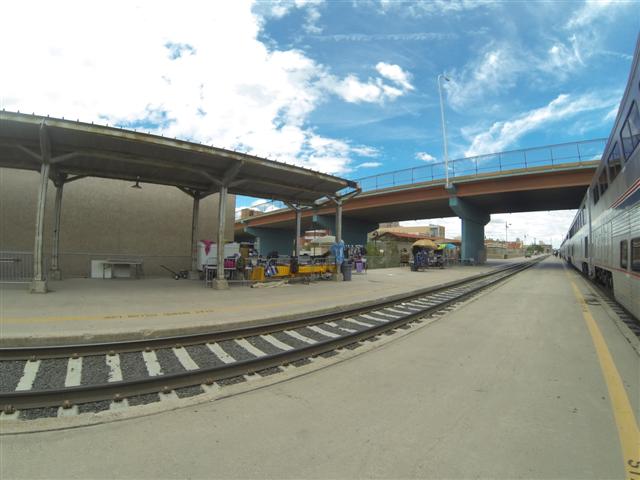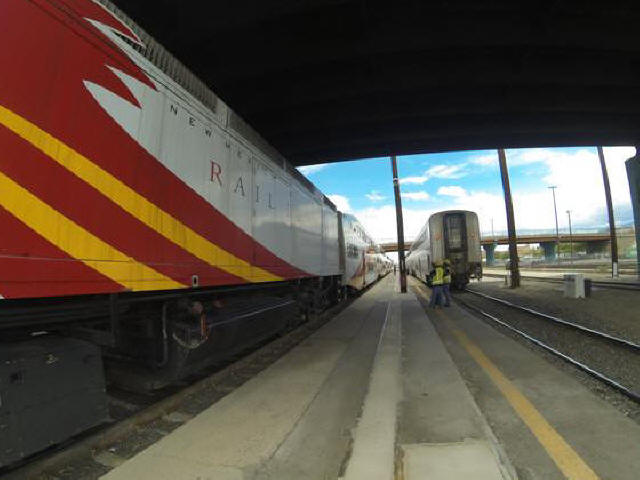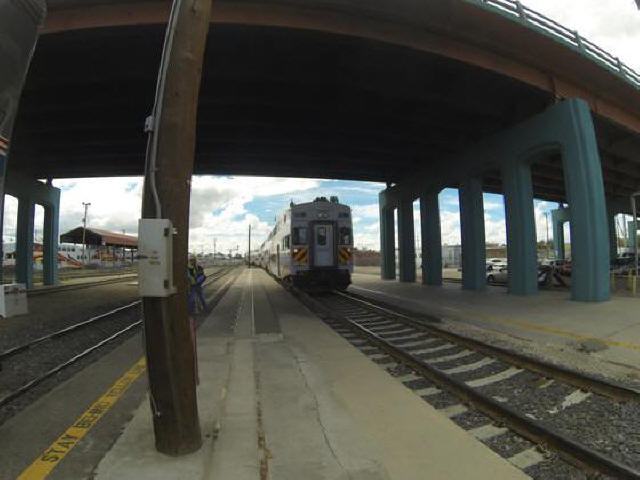 At 12:10 PM we took off heading east and I got these parting shots of downtown Albuquerque. Below left is a shot of the smaller Roomette bedrooms.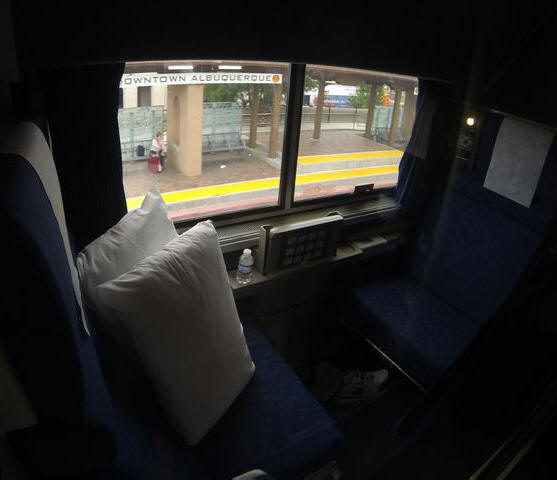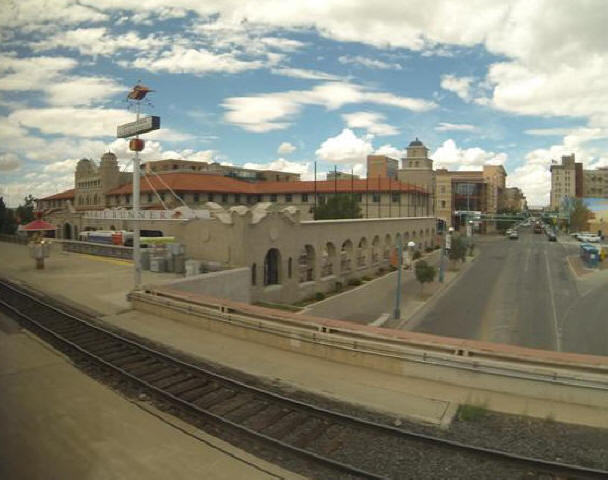 I continued my run fast walking through the coach passenger cars (below) ...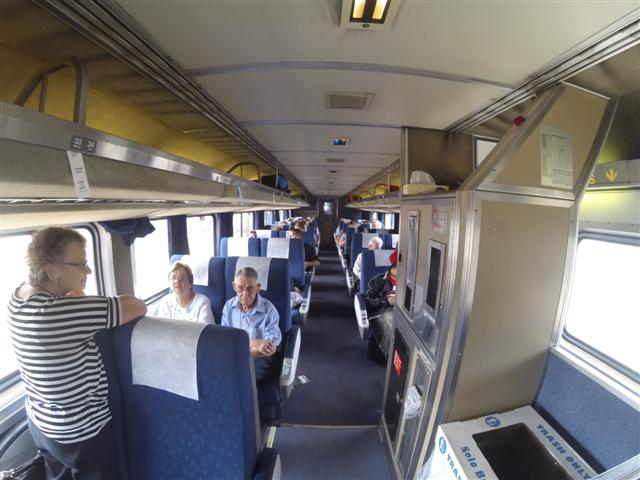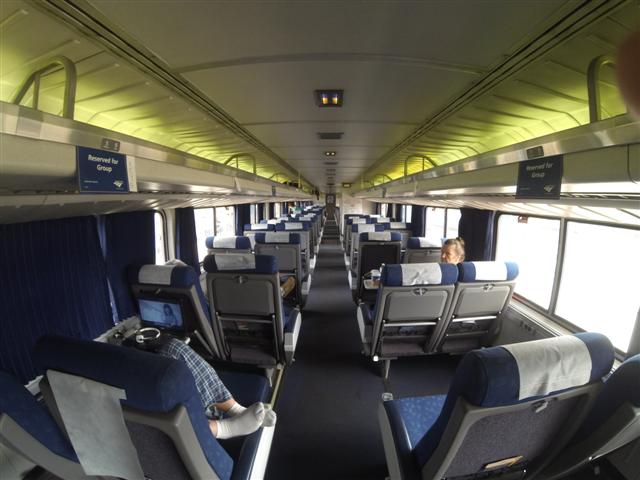 ... and the hallways of the sleeping cars (below.) On the left is the hallway on one side for the Deluxe rooms (A-E) and on the right is the hallway down the middle for the roomettes (1-12) in the remaining half of the car.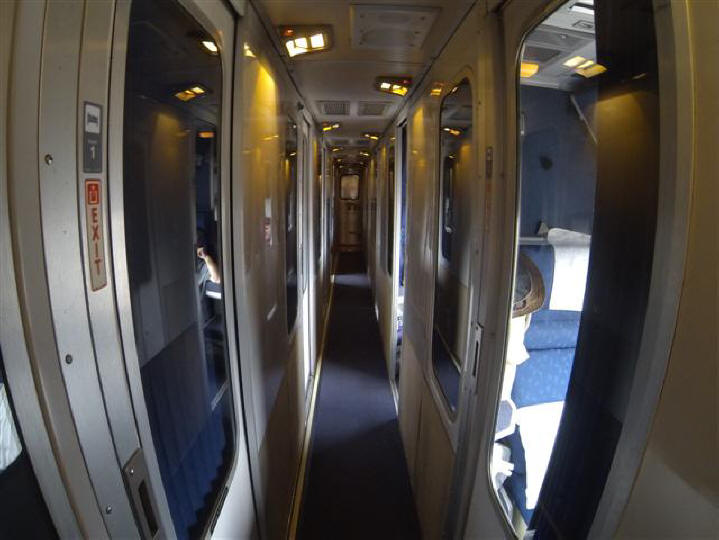 Below left is the stairway in our sleeping car where they have the refreshments and a fresh pot of brewed coffee. I then made my way to the Lounge car and took the stairway down to the Cafe ...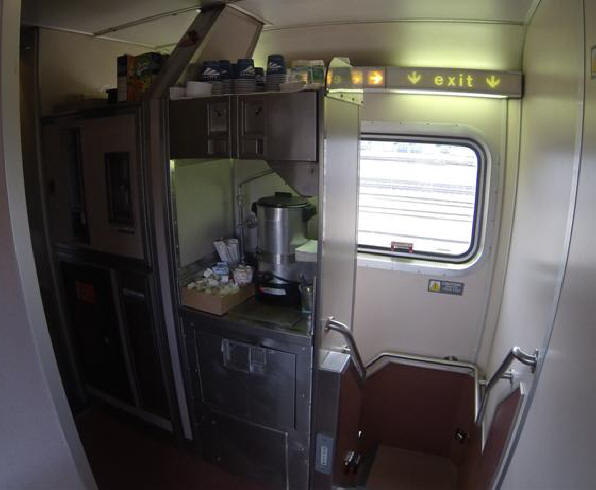 ... to say hello to the Cafe car guy waiting to sell me something. He let me take his picture and then wanted to take one of me.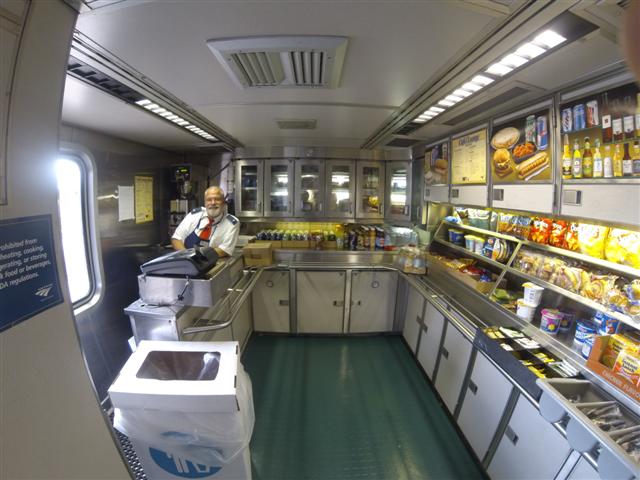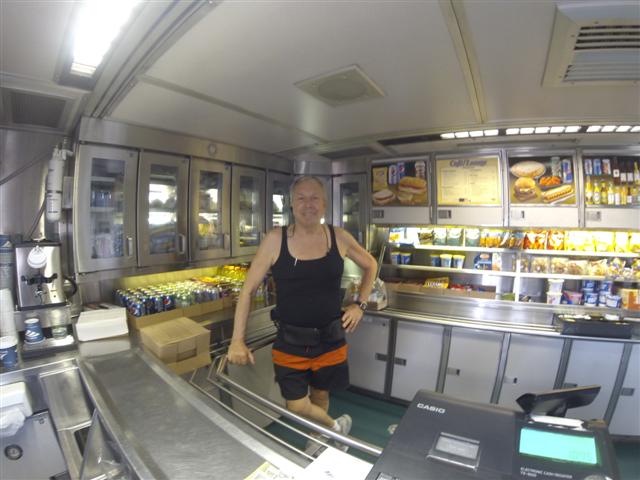 I then went back upstairs in the Lounge car to watch the scenery.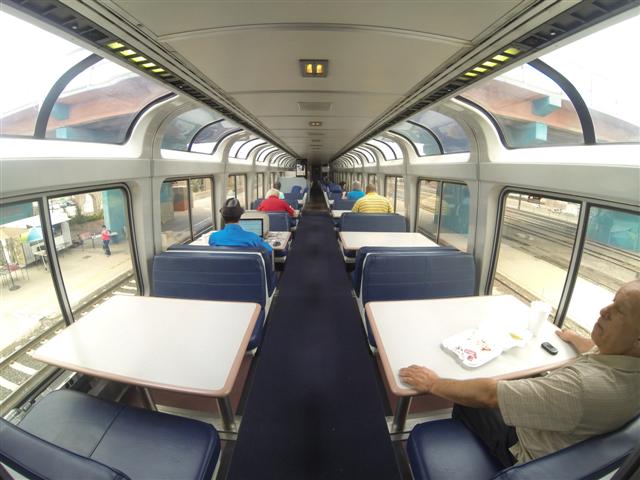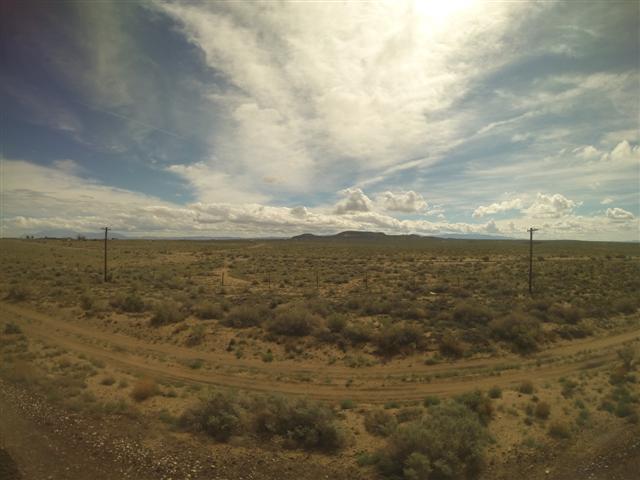 One half of the car has seats looking out the window (below left) and the other half has tables (right.)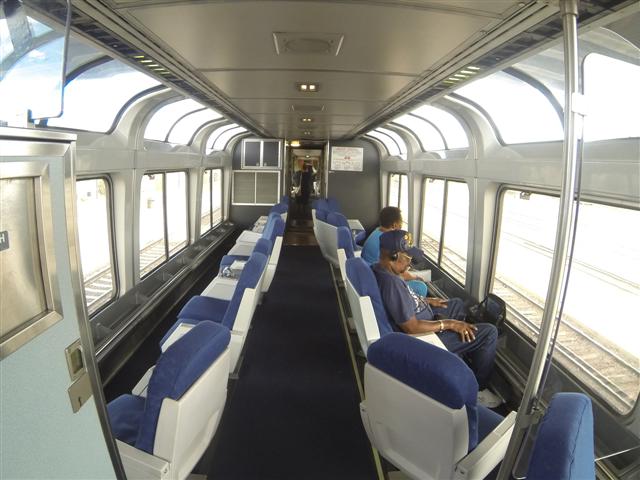 Each car has been named after a state in the Union. I got these of "Arizona," "Michigan" and "Minnesota."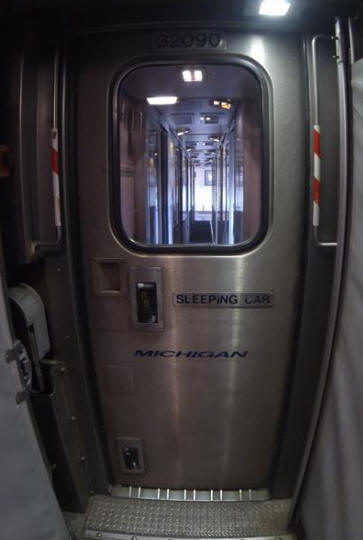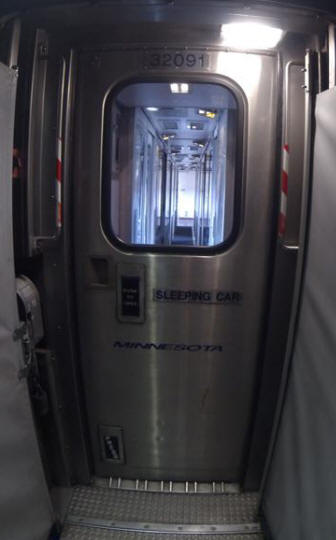 I got this great shot of the train making a wide bend in the desert.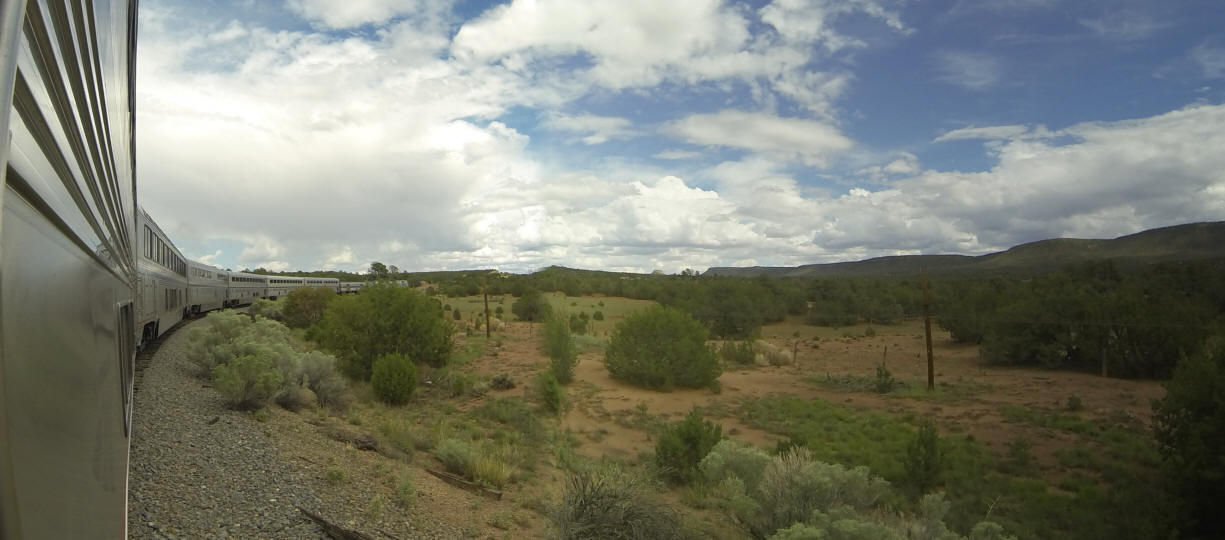 We then pulled into Las Vegas, NM.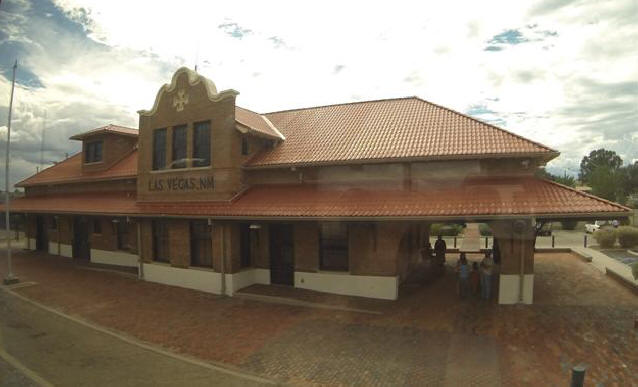 Some of the sky scenes are quite spectacular.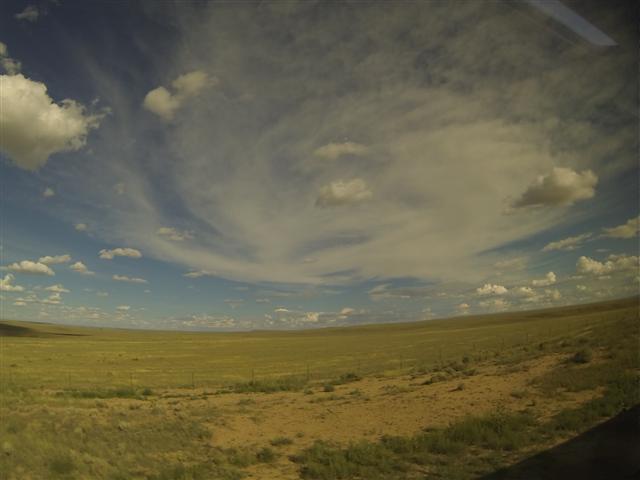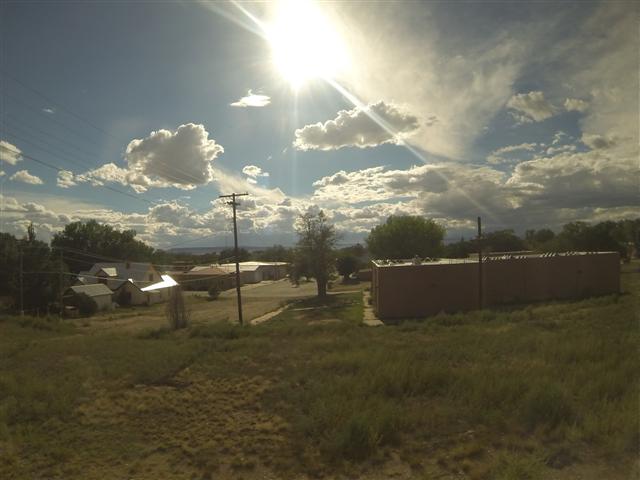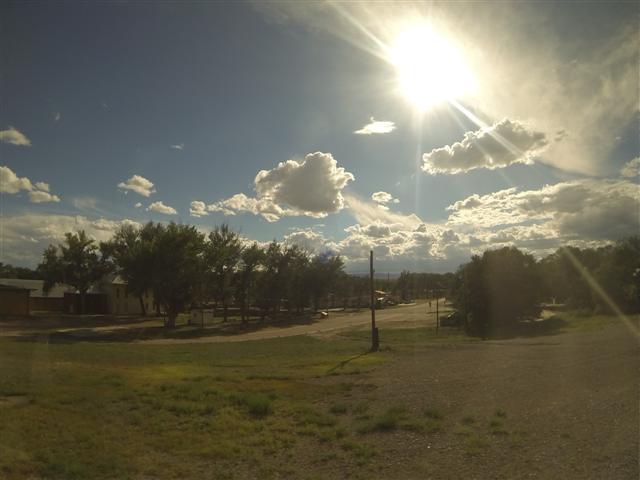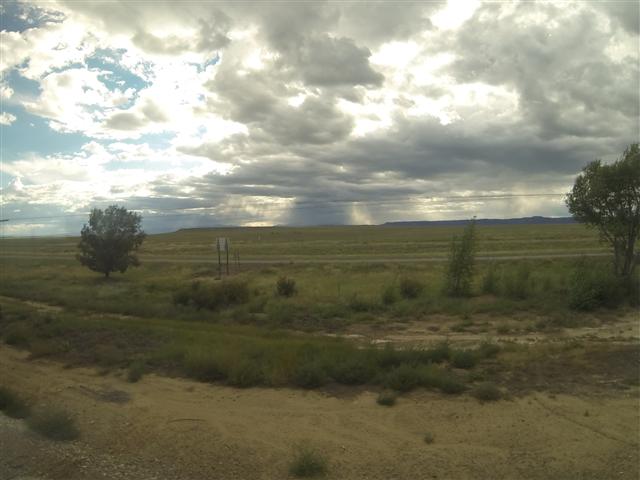 After climbing through Raton Pass, we stopped in Raton, NM and then went by Dick Weston Ranch on the "Old Santa Fe Trail."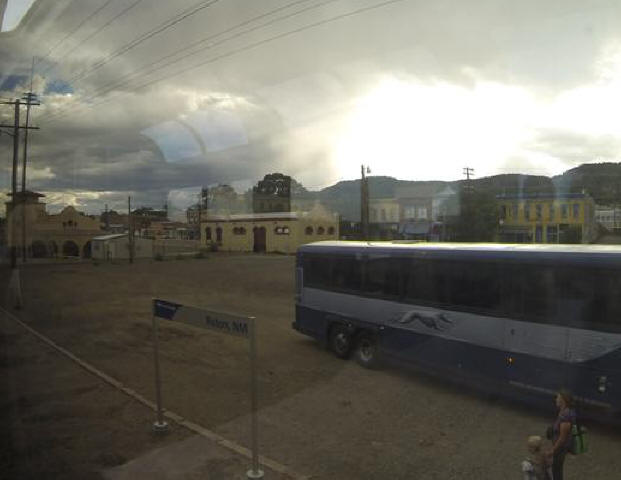 I got my computer and took it to one of the tables in the lounge and got some work done.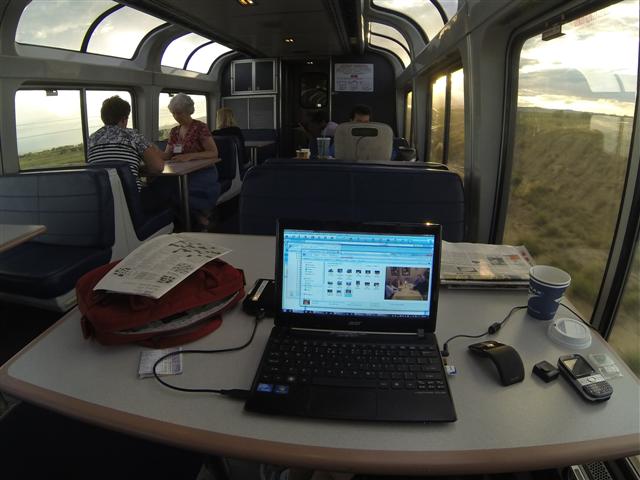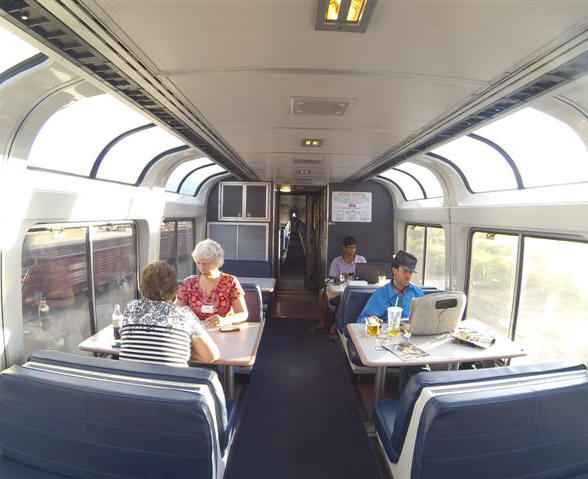 When I first get on the train I always tell my car attendant that I am a physician and if there is any need, I will be glad to see if I can help. It doesn't happen often but this time I was interrupted by the conductor (right) to see a little boy who had fallen and cut his forehead. Lucky for me an OR nurse (standing behind the boy) also volunteered. It was a pretty big cut and we did not have any way to suture it. So while the nurse held him, I was able to close the incision with steri-strips and then bandage it. After it was over, he stopped crying and was quite happy as was his mother (left.)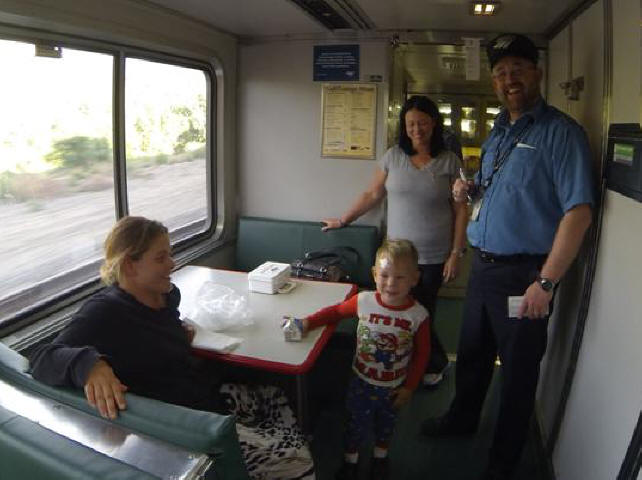 As we chugged along, it had rained a little and then all of a sudden there were these double arched rainbows that were just beautiful to photograph.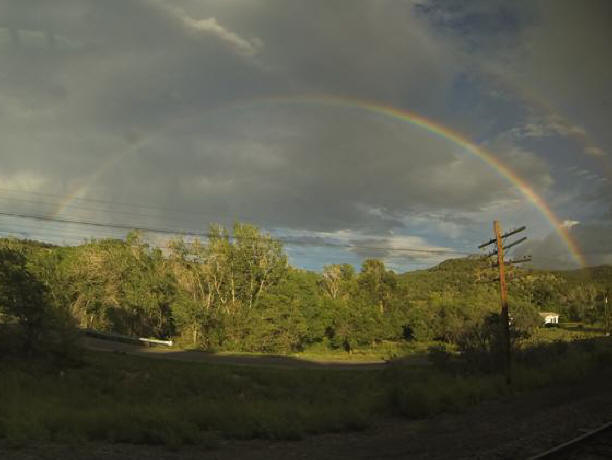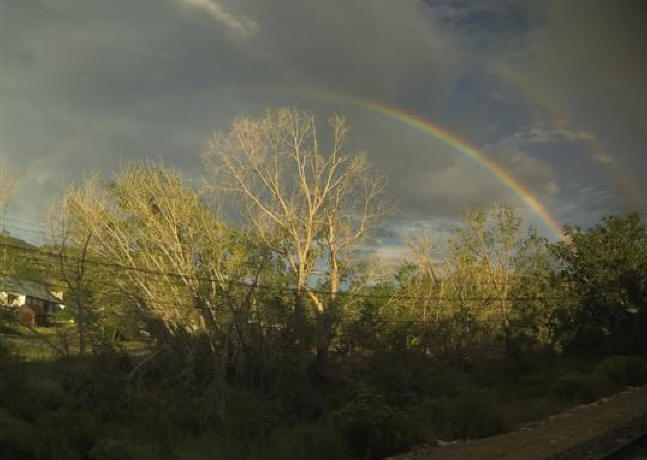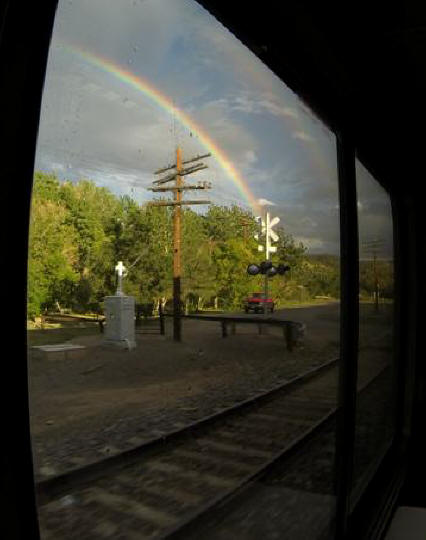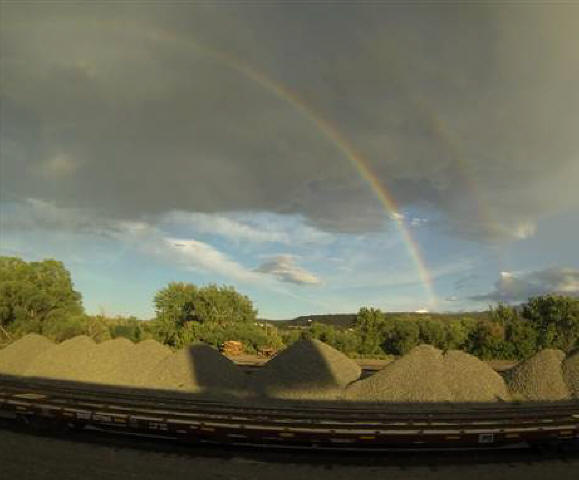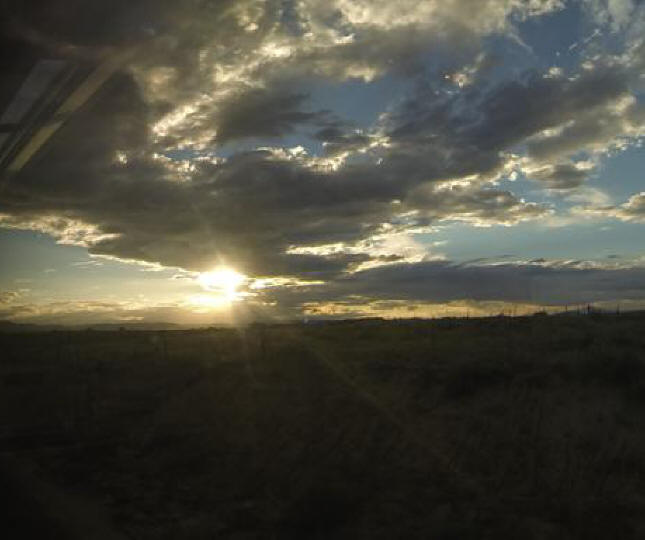 Finally, the sun was setting and at 8:00 PM we had dinner in the dining car (below) and this time I had sautéed tilapia fish with vegetables and again two salads and split a bottle of Merlot with Marcia.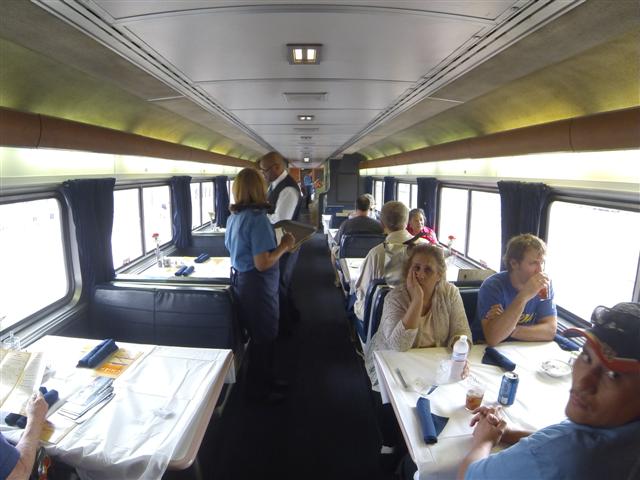 After dinner, I worked more on the computer and then climbed up to my upper bunk and went to sleep. Tomorrow Chicago.
---
Sunday, August 25, 2013
---
I woke at 3:20, 5:55 and again at 8:30 AM and wound up staying up. We pulled into Chicago at 3:15 PM and we were 4.5 hours late. We have to leave the train so we got all packed and I raced out to get a Redcap to take our bags to the very nice First Class Lounge they have here. I had already gotten into my running gear so at 4:40 PM I did my run in the 88° humidity; it was terrible. Below left is the Union Station and on the right are the escalators taking you to street level (right.)
As I looked back at the downtown, I got this shot of the "Sears" Tower (left.) Then since it was Sunday, at 5:00 PM I went to Mass at Old St. Patrick's Church (right,) which is only two blocks from the station.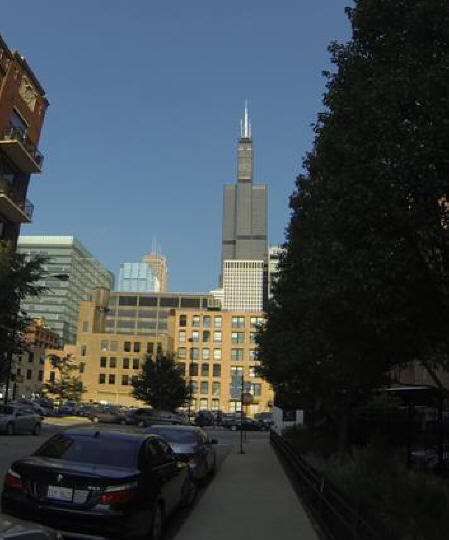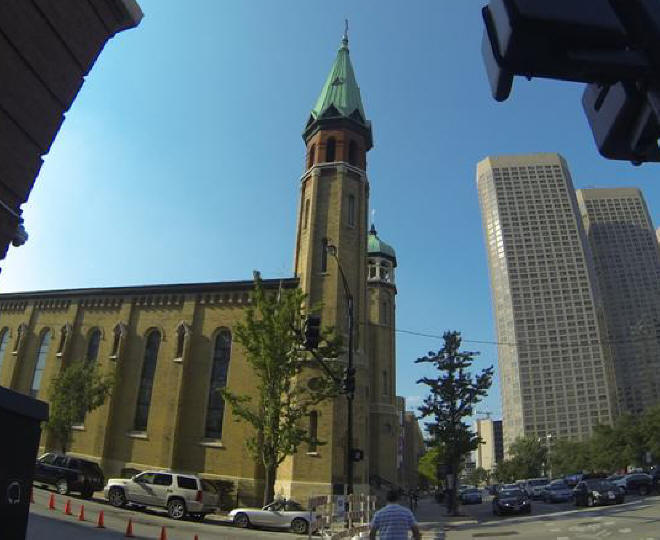 The interior is quite nice as is the quite detailed ceiling.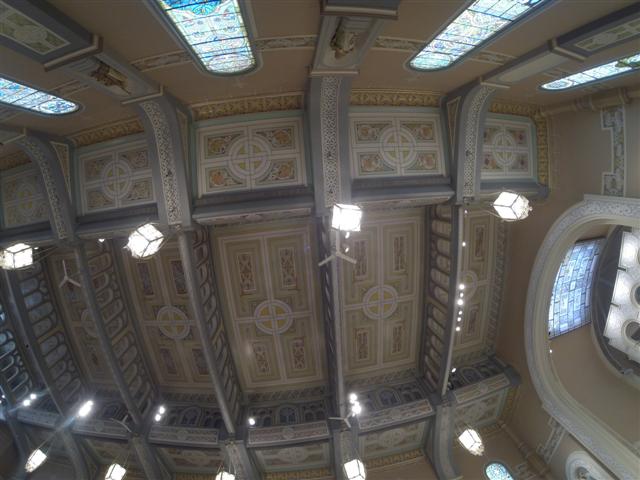 Every time I go here the church is packed.
I then walked back to the station. At 6:50 PM, we decided that since everything is closed downtown on Sunday, to have dinner at McDonald's in the station where I had two salads. I hate salads but have learned to really enjoy them if I put this Heinz Salad Cream (from the UK) on them. It is very thick so I cut it 50/50 with non-fat milk which allows it to spread much easier. When dieting I carry some in a little bottle (upper left in photo on center.)

At 7:25 PM I went back out of the station and got a cappuccino at Dunkin Donuts. Our Redcap, David, took our bags and got us on the Lake Shore Limited (Train 48) at 8:15 PM. We were in Car 48201 Deluxe Bedroom A. We were told to immediately go to the dining car where they were serving free wine tasting. They gave us white and red wines along with crackers, and red and green grapes (all at no charge.)
At 9:00 PM I went back to our sleeper and discovered that ...
I had left my sport jacket with my passport and pills on the LA train!!
That was six hours ago.
My God! "The trip is over," I said. I can't fly to Germany without a passport and how could you get a new one before the plane leaves? I was really panicking - big time. I have never done something this stupid before. I was told to go into the station with my Redcap Dave, so he took me to the Amtrak Administration Office. They made some calls and found that the LA train had left the station and was now in the yards for cleanup. So, at 9:15 PM he and his supervisor, Danny put me in one of the Redcap battery luggage carts and made the long bumpy ride all the way through the underground rail area (below left) and to the back areas of the station and then into the yards.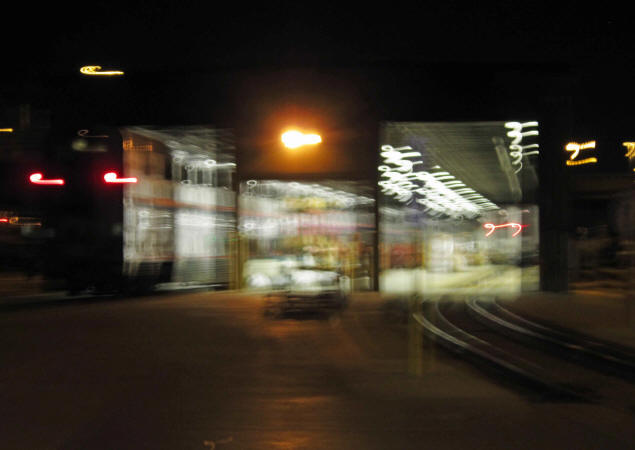 This area was all locked up and Danny had to use a passkey to gain access. It was also quite dark making it a little spooky. I could see a lighted building off in the distance and then we finally arrived. This shot of the train in the building (above right) is very blurry because of the bouncing around of the cart. We were not received with a friendly welcome because we were in a "No Access" area and the crewman in charge immediately asked why we were there. Danny told him what had happened and they reluctantly let him go up into my old car and search for it. I said a little prayer as I waited for him to return. Then he suddenly appeared holding my jacket on a hangar. I checked in all the pockets and everything was there including my precious passport. Whew! Missed a bullet here.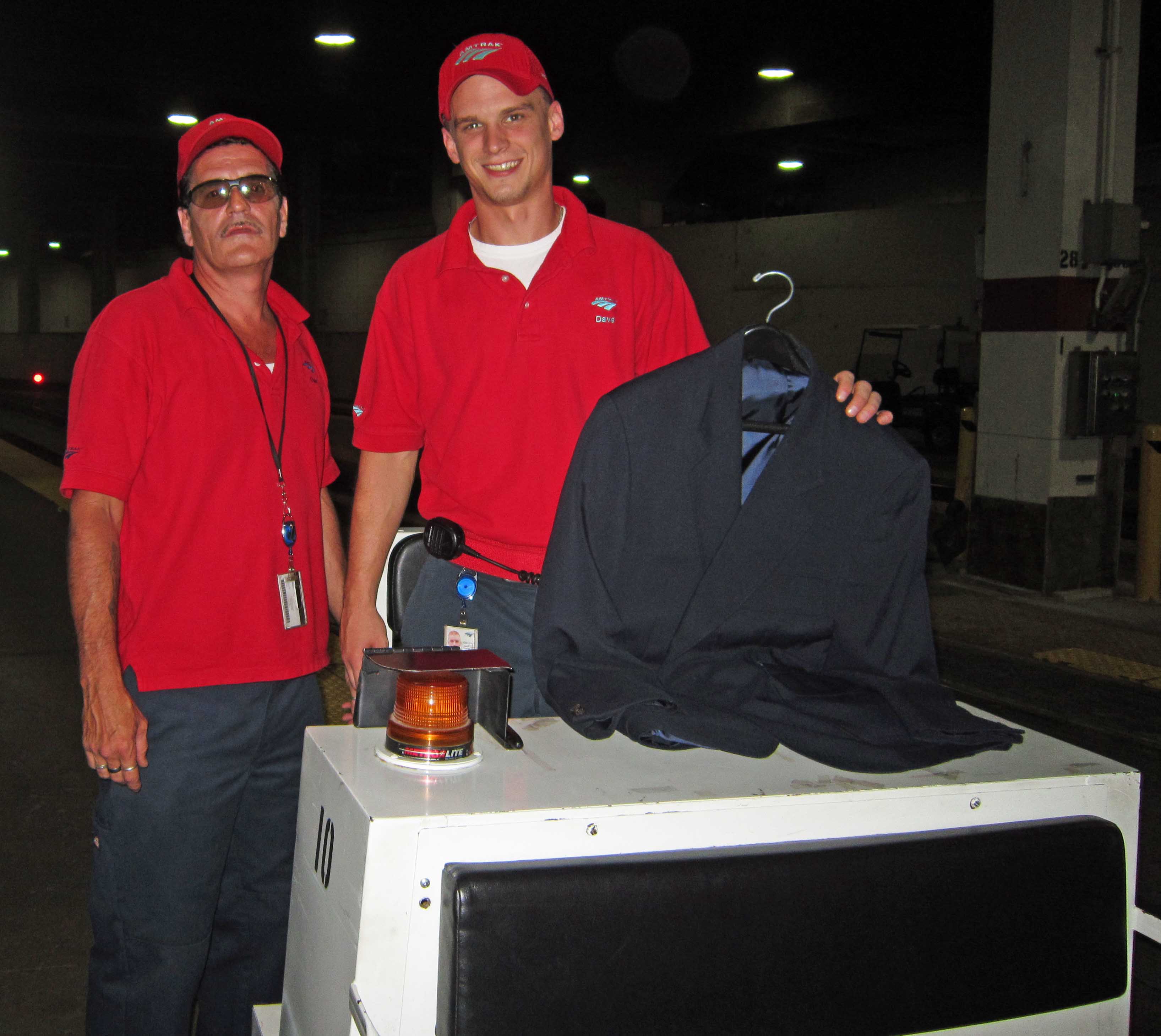 I was so grateful to Danny (above left) and Dave that I gave them a very sizable tip for helping me. I owe this whole trip to them. Then I got back to my car and vowed never to hang my jacket in the closet again. I think this happened because I had assumed Marcia would check the room since I had dashed off to get a Redcap and left her to check the room. She always did this before, but not having traveled with me for so many years, she didn't think of it. Then at 9:45 PM I discovered my main luggage bag was missing. Wow, this is getting ridiculous. I get off the train and there is absolutely no one around.
The train is about to leave. I go back in and get my car attendant to page Dave and after a time, he arrives so I could tell him my bag was missing. He went zipping off. Now I had to wait to see if he would find it. He arrives with my bag just before the train is ready to pull out. This has been heart attack-ville. At 10:15 PM we pulled out of Chicago four hours late which was lucky for me. Since there was no dinner at this late hour we went to bed early.
---
Monday, August 26, 2013
---
We woke and got up and I was all ready when the train arrived in Albany, NY at 2:50 PM. I did my run in the station area alongside the train at 3:00 PM.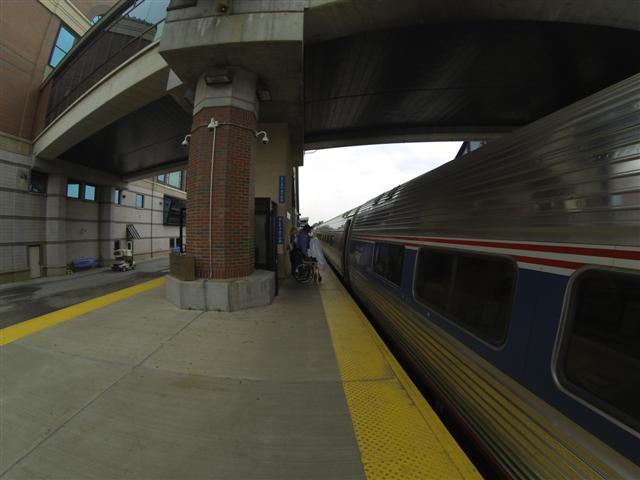 Our attendant moved our bags to the Boston part of the combined train but we wound up losing our sleeper room. The Boston half of the train left Albany at 4:10 PM and I got a coffee and worked on my computer. Below is the Cafe car on the East Coast trains which are only one level due to the low bridges in the east.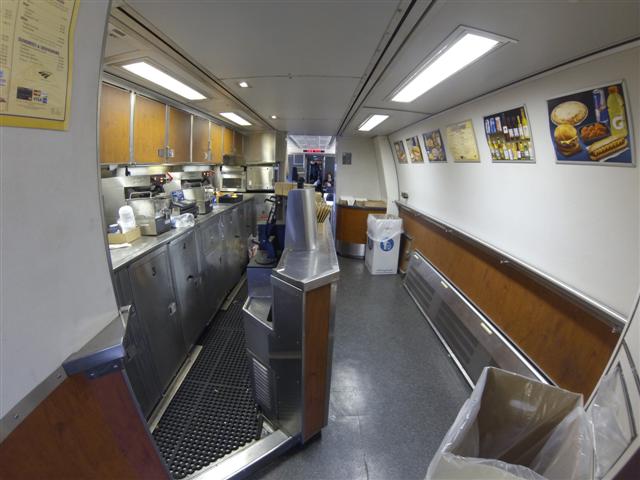 We arrived in Boston South Station at 9:10 PM, on time, after being four hours late leaving. A nice Redcap took our bags out to the taxi queue and at 9:30 PM our cab took us to the Hertz car rental at Logan Airport. We had to wait, but finally got the car at 9:45 PM and at 10:00 PM Marcia drove us to Melrose and, as we suspected, all the restaurants were closed. We stopped in a 7-11 store to buy some snacks and met some ambulance drivers who told us to follow them to an open restaurant. At 10:20 PM we followed them to their main office in the nearby town of Malden and we saw no restaurants. So at 10:45 we went into a Khoury Fuel market and bought a can of peas, green beans, orange juice, eggs and coffee. I figured I could make something back at the house. As we drove around we discovered this bar/restaurant called Dockside at Riverview [270 Medford St., 781 333-5449.]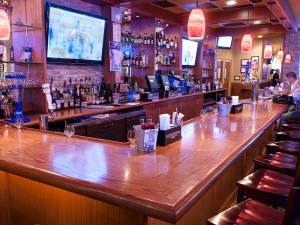 It looked like it was closed but I went in the back door to check and there were people at the bar (above right.) I asked about food and was told the kitchen was closed but, the lady at the busy bar said I could get a fresh salad for takeout. So at 11:00 PM, I had a Guinness and Marcia a glass of wine while she went back and prepared my salad. It was huge. We drove back to Melrose and at 12:30 AM I made myself a dinner of two slices of ham, a large helping of salad with tuna, peas, green beans and then popcorn. I sat up and watched Jay Leno and then crashed at 2:00 AM.
---
Tuesday, June 27, 2013
---
I woke at 7:00 AM, 8:35 AM, 1:25 PM and then Marcia woke me at 3:30 PM. Charlie (Marcia's brother) and Cathy had arrived from their house in Cape Cod. I took the car into town and stopped at Whittemore Hardware at 4:30 PM to see if they could fix my running belt. It kept sliding down while running since I had lost this 20 pounds in the two months prior. They folded an edge over and then put a bolt through it. It worked. At 5:40 PM I went into CVS Pharmacy on Main St. and bought a bottle of Fresca and some Scotch permanent reusable tape. I went over at 5:45 PM to have a cappuccino at Starbuck's. This is one of two Starbucks where I actually like their cappuccinos.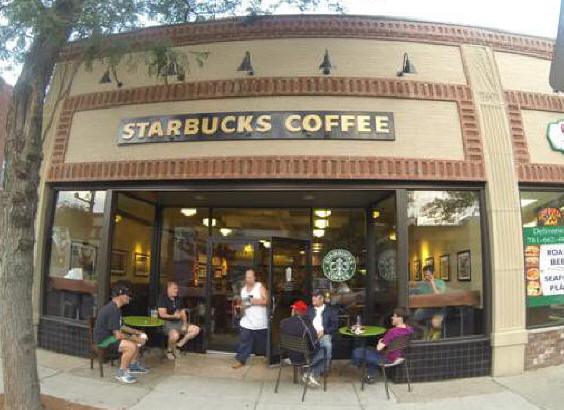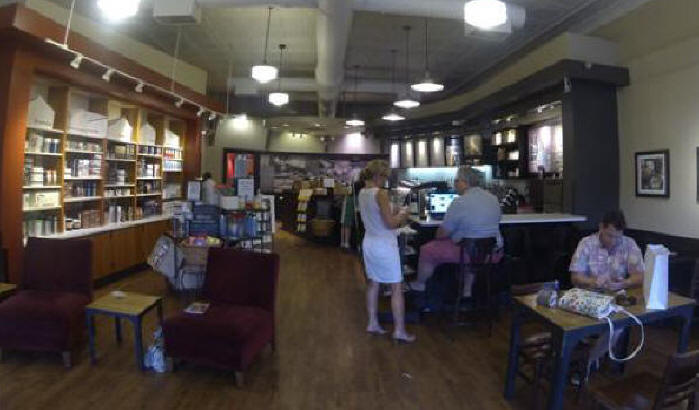 At 6:50 PM I went back to CVS and bought the last nine 20-oz bottles of Fresca they had. I put them in the closet so I would have them when I return from the EU. At 7:00 PM I did my usual run in the streets and then drove back to the house to change so we could head for dinner. At 9:00 PM, all four of us went for dinner at Stearns & Hill [505 Main St., 781-662-9111] for Charlie's birthday.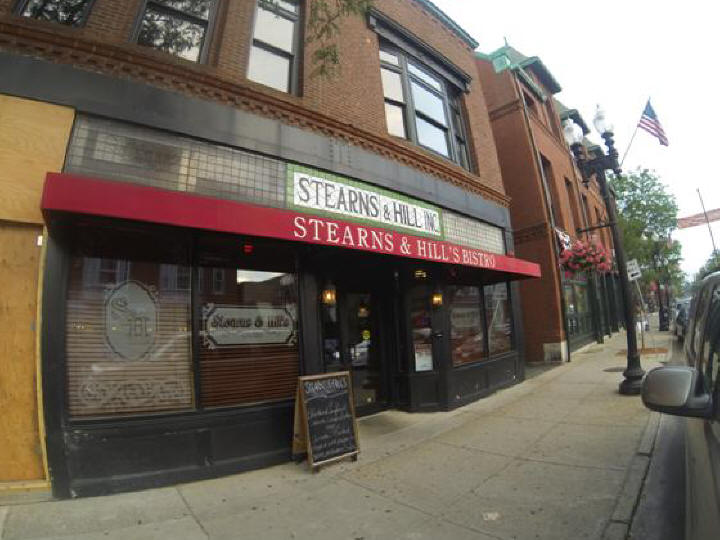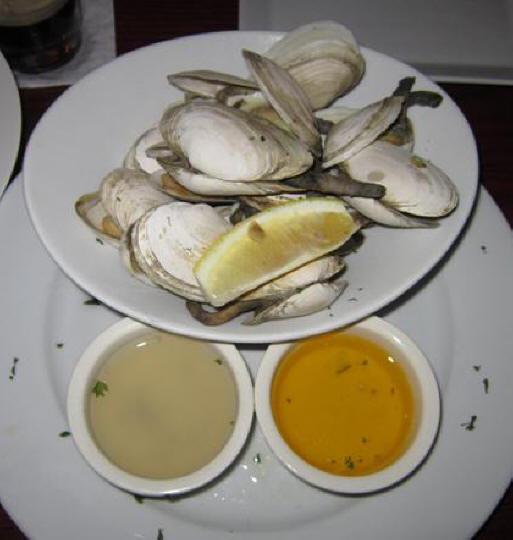 I had three Guinness' while eating a serving of steamed clams, beet salad and blackened haddock with steamed broccoli. The haddock was fabulous as usual. We went back home at 10:30 PM and watched TV with popcorn and a little white wine.
---
Wednesday, August 28, 2013
---
I woke at 7:35, 12:35 PM and at 3:20 PM Marcia woke me up. I drove into town and at 4:30 PM decided to have a cappuccino at a new place in town that Cathy had mentioned called Coffee Tea & Me [421 Main St., 781-979-4087.] They were very nice and had free WiFi.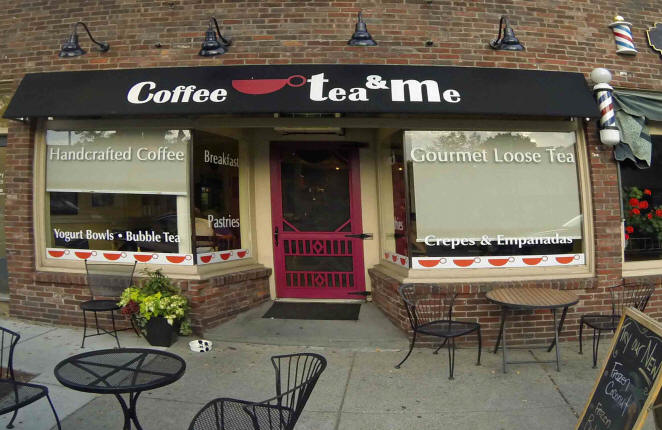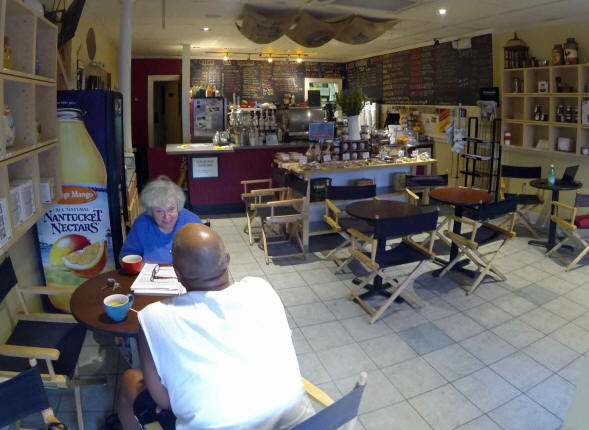 Below left is the restaurant we love called Absolutely Fabulous but we never got to go there.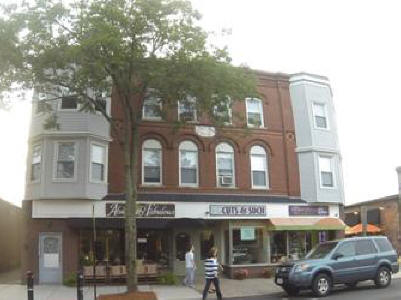 At 7:00 PM I did my run and then at 7:40 PM I stopped in and bought two bottles of wine at Beacon Hill [538 Main St., 781-665-3332.] At 8:00 PM I stopped in for a Guinness at Stearns and Hill and then on my way back to the car at 8:15 PM I bought some interesting USB cables at CVS. Back at the house at 9:00 PM we all had a very nice dinner of three ears of corn, a lobster, two salads, fried haddock and lots of white wine. We watched TV and went to bed early.
---
Thursday August 29, 2013
---
Today is flight day. I woke up at 12:10, 9:15 AM and Marcia woke me at 2:25 PM and I went immediately for my run at 3:20 PM. At 3:50 PM I ordered two lobster rolls at Turner's Seafood (below) [306 Main St., 781-662-0700] for takeout.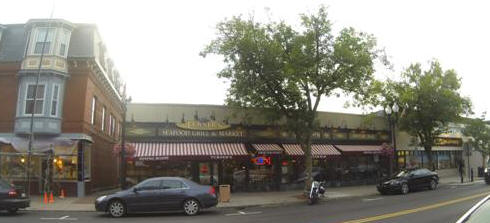 Then I went for a cappuccino at Starbuck's again. I drove back to the house and after getting all packed, we loaded the car, said good-bye to Charlie and Cathy, who were heading back to Cape Cod, and at 5:00 PM drove to the Hertz car return at Logan Airport (40 miles.) At 5:30 PM we dropped the car off and at 5:40 PM caught their Hertz bus to Terminal E. The lady bus driver said we would never ride one of these again because next week the airport was taking over control of all the airport buses and there would no longer be rental car buses at Logan; she was losing her job. We got all our bags and went into the main Terminal.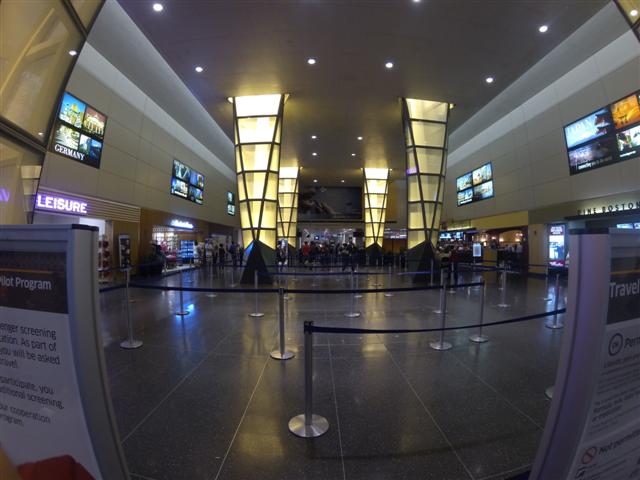 We waited in the check in line and they took most of our bags except our take-ons. At 5:50 PM we were checking through customs and the TSA checkpoint. Once cleared, at 6:30 PM, we arrived at the Lufthansa Business Class lounge (below left.) Since I don't drink alcohol when I'm flying, I passed on all the free beer and wine. At 6:45 PM I had my dinner there which consisted of their free corn chowder, one of my lobster rolls and a cappuccino (below.) This would be my dinner. I gave Marcia the other lobster roll. Wow, it was all good.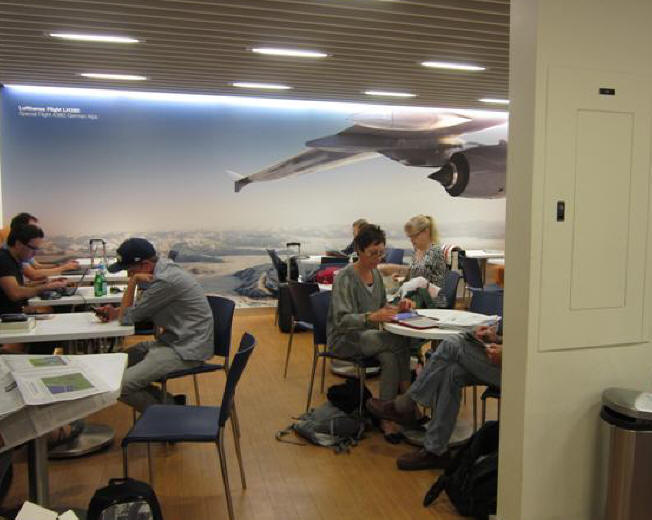 At 7:45 PM I took my Klonopin 0.5 mg and at 8:15 PM we boarded the plane (Flight #425, Seats 7A/7C.) Once seated and settled, at 8:20 PM, I took the other Klonopin 0.5 mg along with eight Melatonin tablets. I put my earplugs in, my blindfold on and my blow-up neck-pillow on. At 8:45 PM the plane took off and at 9:00 PM I fell soundly to sleep. The flight is supposed to take 7 hours and 25 minutes and fly 3,854 miles. At 10:20 PM EDT [7:20 AM CET] I was awoken by the pilot announcing turbulence and then drifted softly back to sleep. We lose 6 hours crossing the Atlantic [CET means Central European Time.] The GoPro camera really captures the entire cabin of the plane.
Here the GoPro shots I took out the window after PhotoStitching them.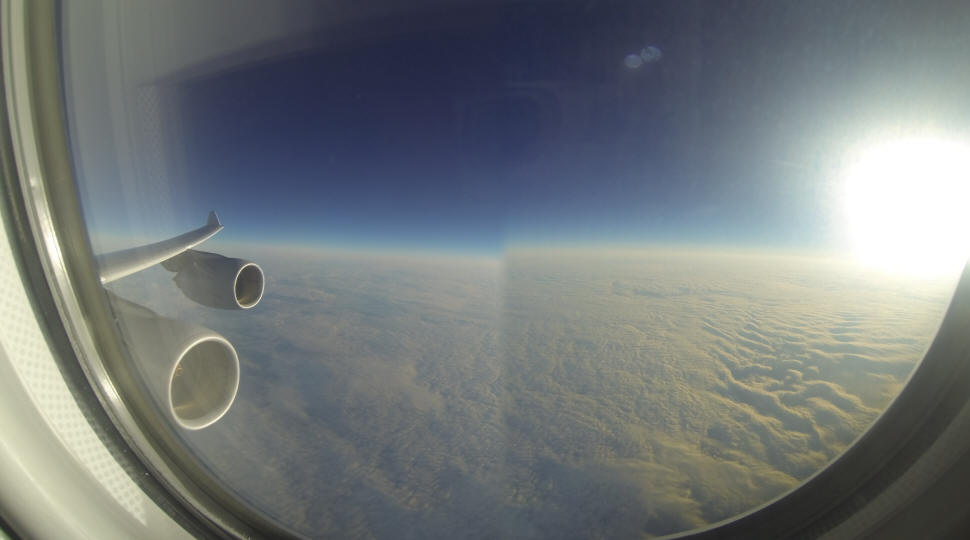 The seat in front of me housed the display of the flight statistics.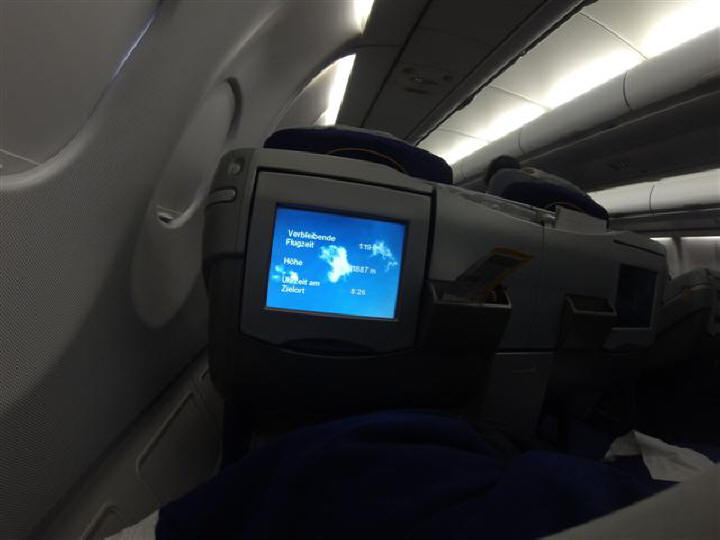 Here are just two examples of them in German.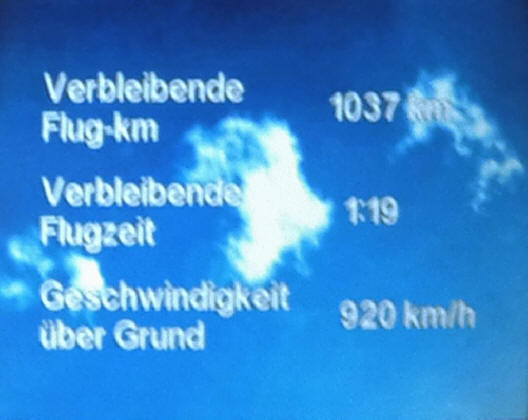 Marcia woke me and asked if I wanted dinner. So I tried what they were serving. It was some kind of meat with mashed potatoes and green beans. It was followed by various cheeses and dried apricot.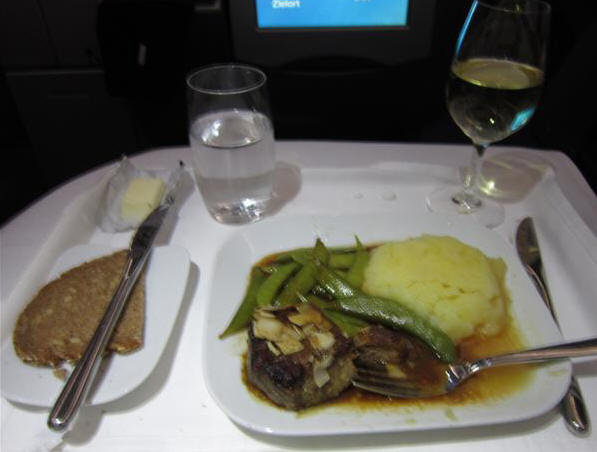 I tasted a little bit of all of it and then quickly fell back to sleep. Tomorrow we will be in Munich.
Kenneth J. Hoffer, MD
Munich, Germany
Sent 6-6-2014
If you enjoyed these travels or wish to add comments on the places we visited
Please Leave Me a Message by clicking the spinning @ sign below.