Dr. Hoffer's Travel WebSite This site was last updated 02/15/15
---
August 30-September 1, 2013
---
---
Friday, August 30, 2013
---
I awoke at 8:30 AM and prepared for the landing. We head towards Freising where the Johann Strauss Airport is located.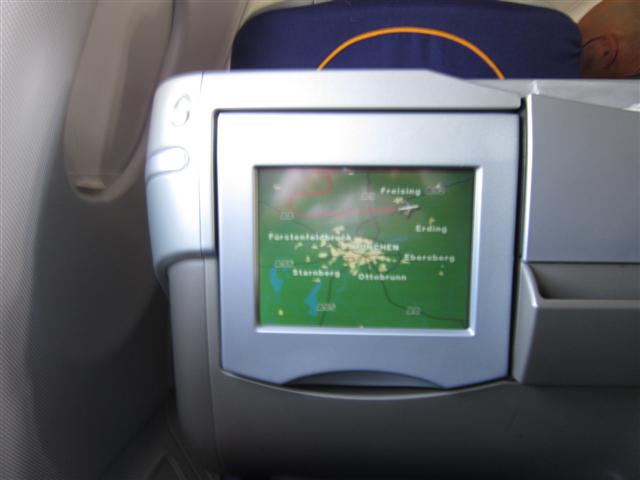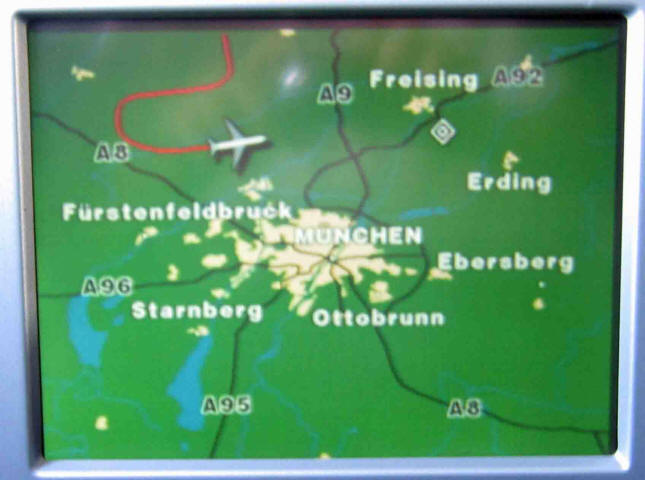 Here are a few shots of the landscape as we were coming in for a landing.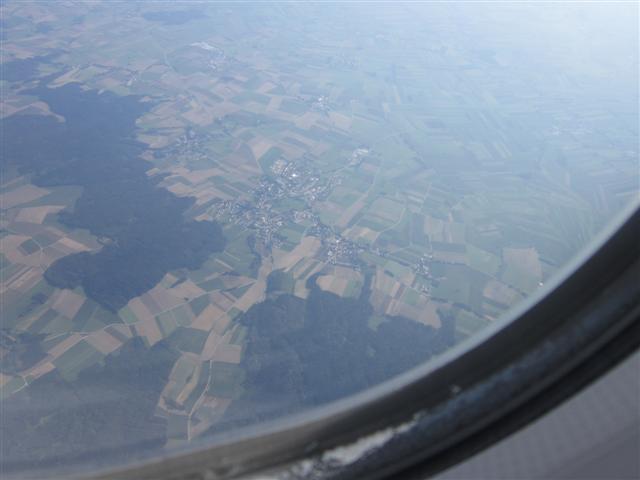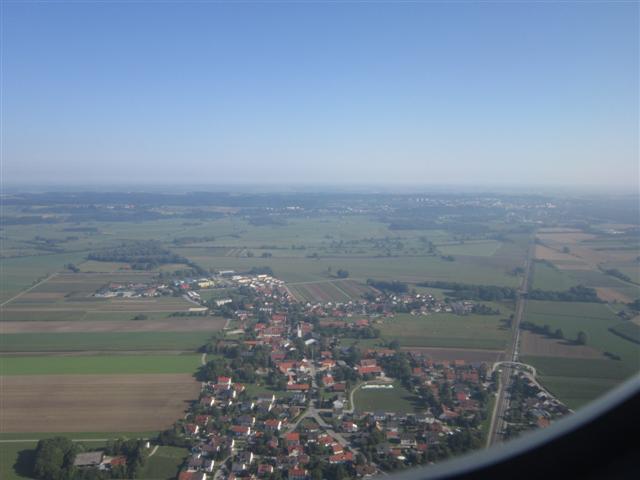 I watched the plane land at 10:00 AM. We arrived in Munich 15 minutes late and but was a very smooth flight. We had to climb down the gangplank (below) and onto the tarmac ...
... and we had to wait to get on a bus (below right) that took us to the Terminal 2. Usually we just walk off into the terminal.
By 10:30 AM we got our luggage and then had to head to another building to the Hertz rental. At 10:45 AM we pushed our two carts to the Hertz desk.
Background: We were so pleased with the Peugeot car leasing we did on our last trip in 2011, that I ordered the same model car for this trip in January. They calculated the charge of $3,700 for an automatic transmission new Volvo S60 which was only a little less than what we paid last time for a whole three months. They explained the major charge occurs at the beginning. Two months before we were to leave the US, they called with the bad news that Volvo cannot supply a car with an automatic transmission for the date we scheduled. The good news is that they will give us a Hertz rental for the same price we already paid (which was quite a bit less than we would have had to pay for the rental.) The only problem was that it did not have a GPS but they would send us a portable one which they did.
At 11:00 AM, we arrived at the Hertz counter to pick up our Audi rental and the agent made a comment on the amount of luggage we had. He mentioned that we may have to put a lot of it in the back seat. I said to him, "Are you kidding? We will be traveling through Poland and we do not want to have our luggage visible in the back seat."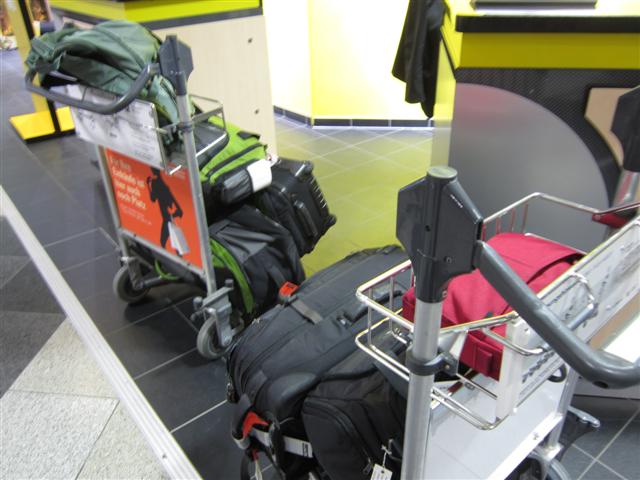 He asked us to wait a minute while he went in the back. He came back and told us he had good news. He was upgrading us to a larger automatic car with built-in GPS. Another luck out for us. We signed the papers and headed out to get the car which was a Volvo S60 (Lic# DN AB 2146) with automatic and a built in dashboard GPS. The trunk held all our many bags with room to spare. A beautiful big car.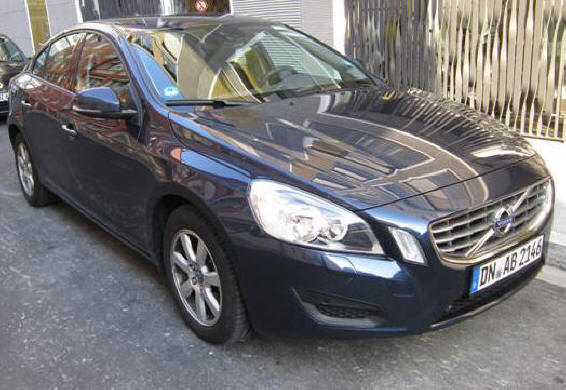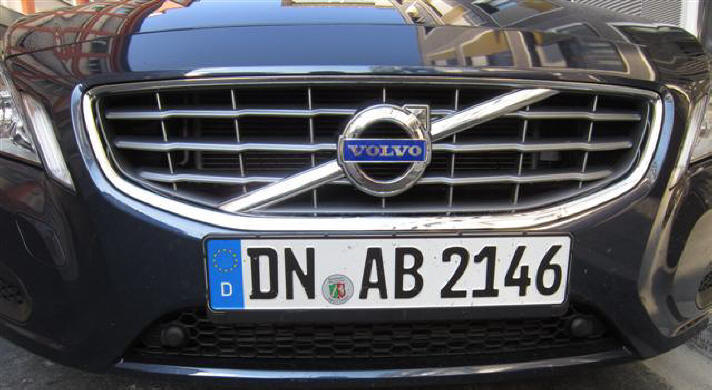 At 11:15 AM I drove us to Altstadt Munich and to the hotel near Marienplatz. At 12:00 PM we checked into our usual favorite place, the Mercure Altstadt [4 Hotterstraße,
<![if !vml]>
<![endif]>+49-8-923-2590] and we got room #104, only one flight up as we had requested.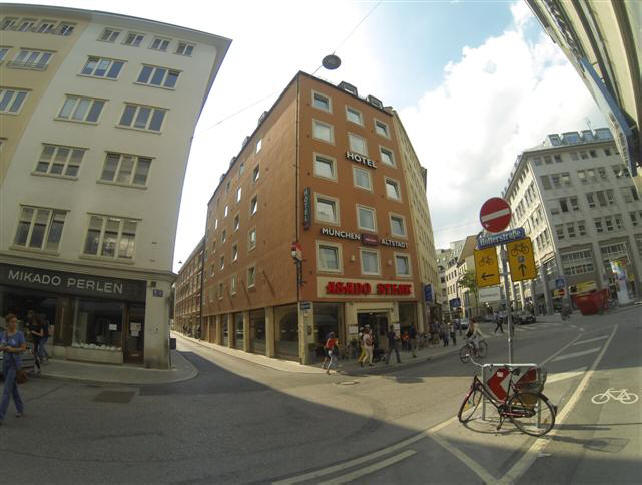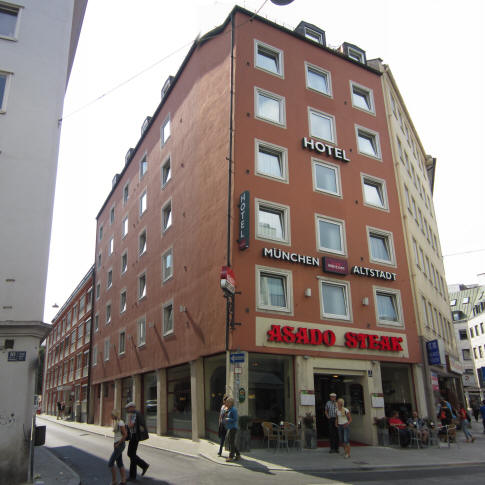 I parked right in front of the hotel (below left) so I could unload all the bags and left it there like I usually do. It was a pleasure to see that the construction that has been going on for the past ten years just across the street is finally finished (below left.) It was good to see Dirk again (who is now one of the managers) and I was surprised when he told me that this hotel is not really an Accor hotel even though they use the name "Mercure." It doesn't matter since I am no longer with the Accor Hotel Group anymore since they screwed me out of my points. Our room was a decent size (below right.)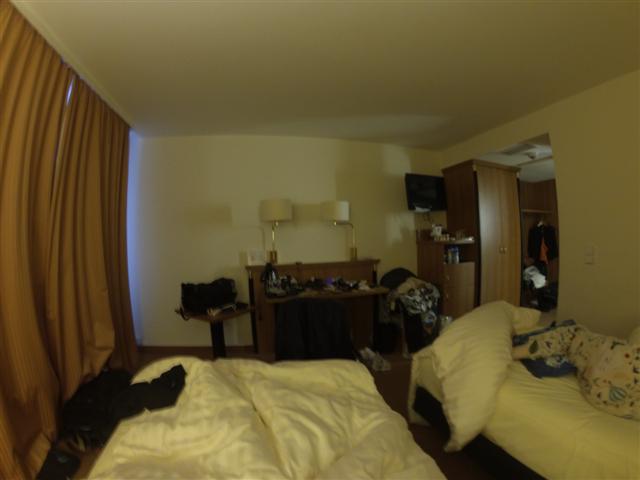 We got settled in and relaxed a little and then at 1:00 PM I went to Rosen Apotheke and got some band-aids. In the room I had discovered that our phone chargers were not charging our phones, so at 2:00 PM I went to the Saturn store to see if they could help me. They told me the chargers were bad and they could not help me. I then walked to another electronic store they recommended named Conrad's Electronics [Tal 29, Nähe Isartor] (right and below left - you can see the Isartor (tower city gate) at end of Tal street.) At 3:30 PM I decided to just go ahead and buy a new Samsung phone from them for only €15 and a charger for €10. Not a bad deal.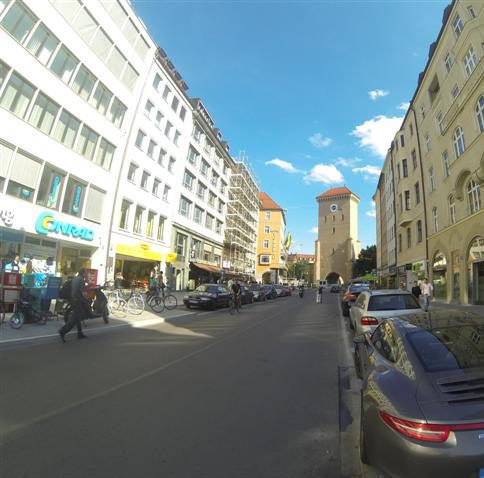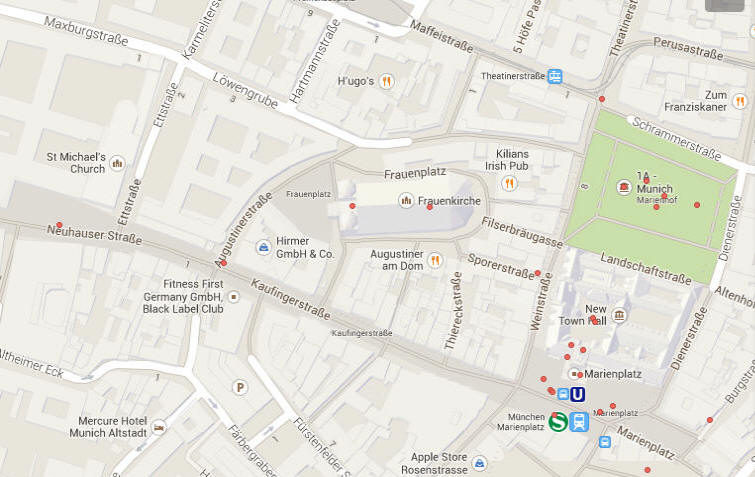 I then took a walk to use this new GoPro fish-eye camera to get shots of things I could never get with my regular Canon. Ignore the curved buildings at the edges. I walked down Kaufingerstraße (map above.) Below is an example of Michaelskirche (St. Michael's Church) (map) which had been covered in scaffolding the past several years. I finally get to see the restored finished front. See previous Diarios on Munich.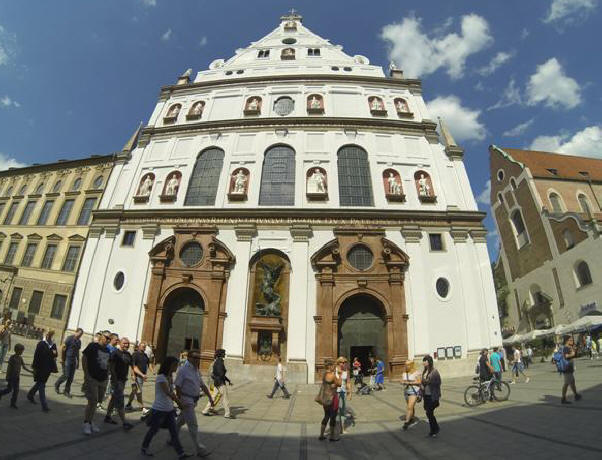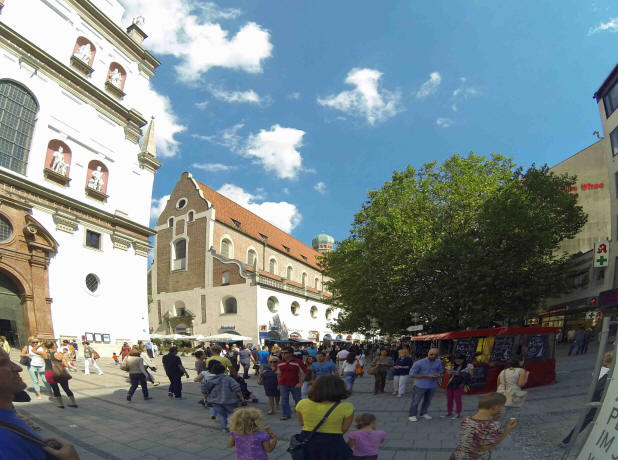 Here are stock photos of the interior; alter (above,) organ (below.)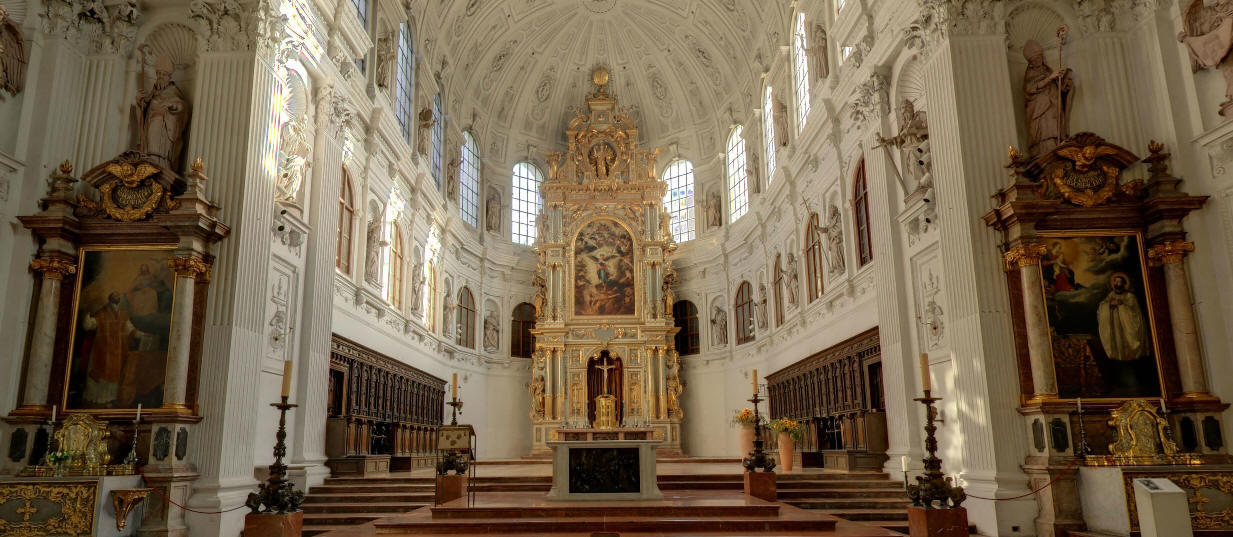 Below left is the Hirmer (clothing store) building (see above map) whose window sills are always covered in red flowers. To the right of it is the small street that leads to Frauenkirche Dom (the cathedral.)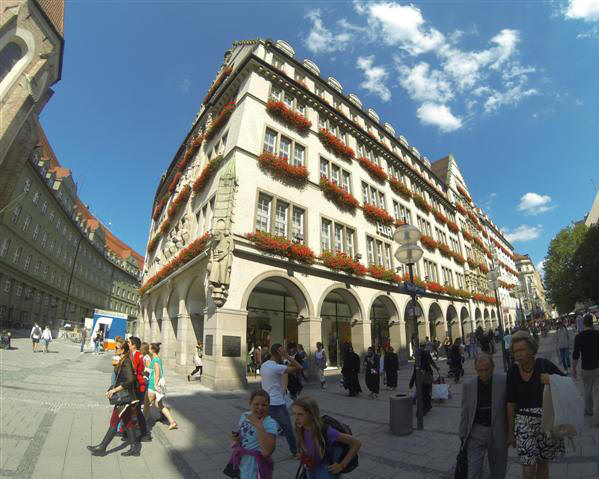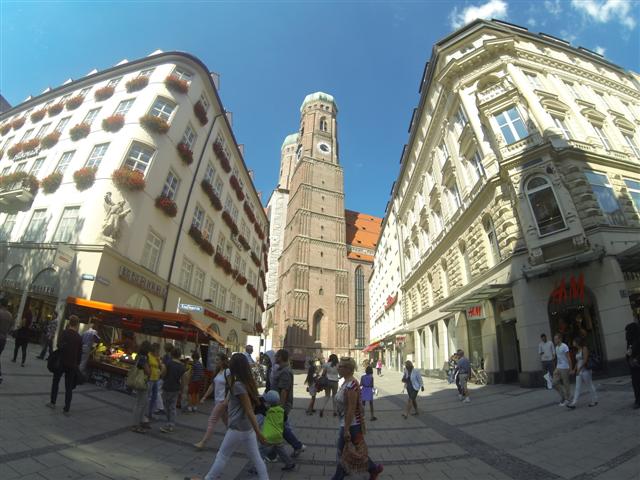 It is hard to believe that the GoPro camera, while standing this close, will get this whole massive structure with it's two onion towers in one shot without having to PhotoStitch multiple photos.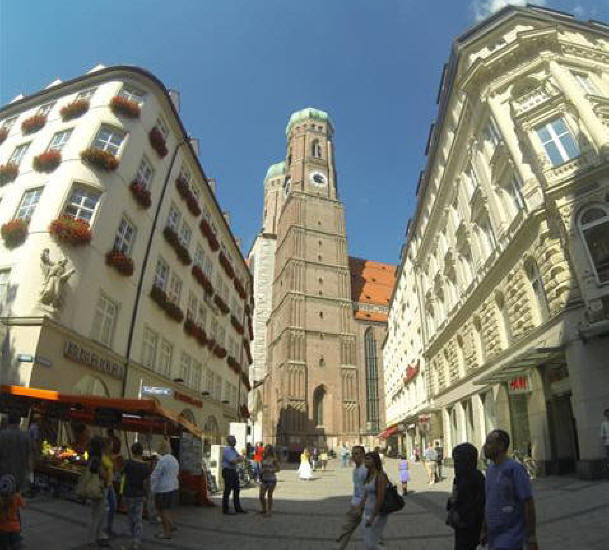 As I walked along I came across this huge mural depicting Bavarian rural life and got it in one shot.
It is impossible for me to not get some shots of the vendors selling beautiful fresh fruit (left) and this guy hawking a vegetable chopper on Kaufingerstraße.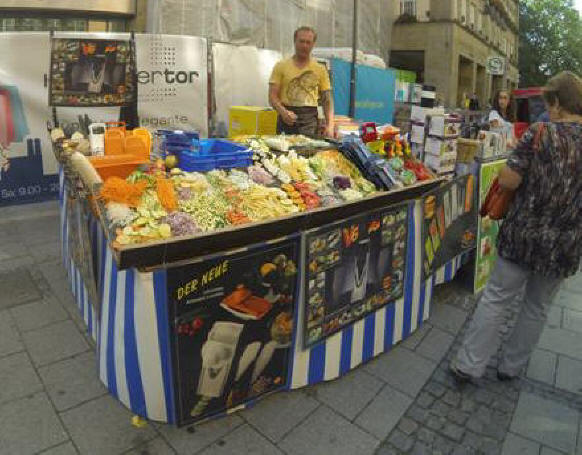 I then went by the refurbished Kaufingertor shopping entrance and finally, for the very first time was able to get the whole Neues Rathaus (New City Hall) in one photo.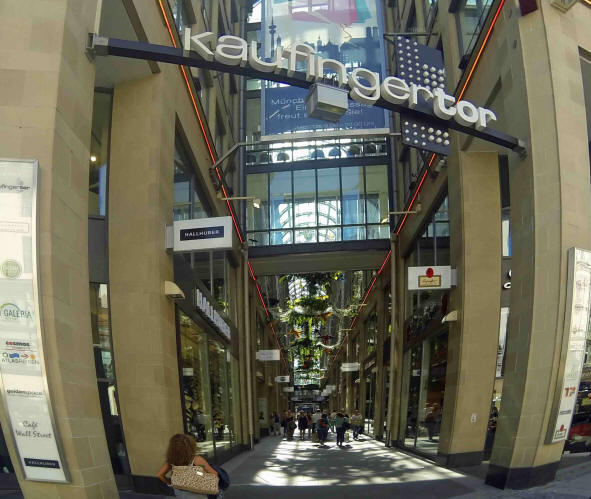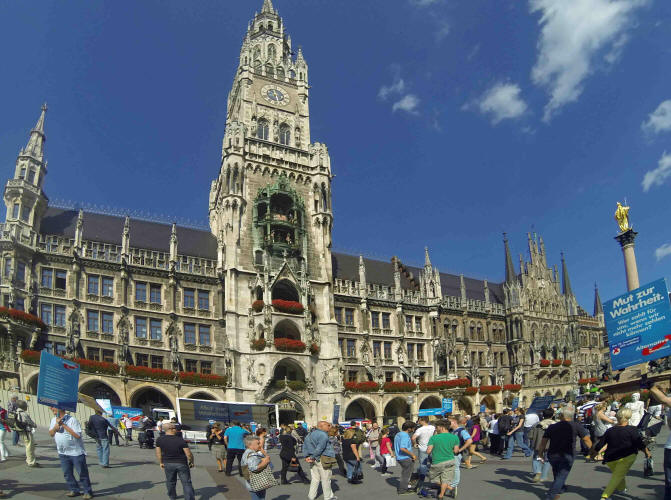 I then headed over to the Viktualienmarkt area on the other side of Marienplatz and got these shots of Old St. Peter's church.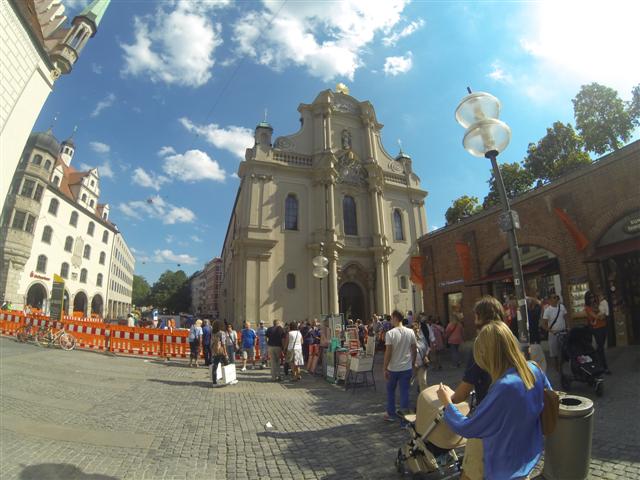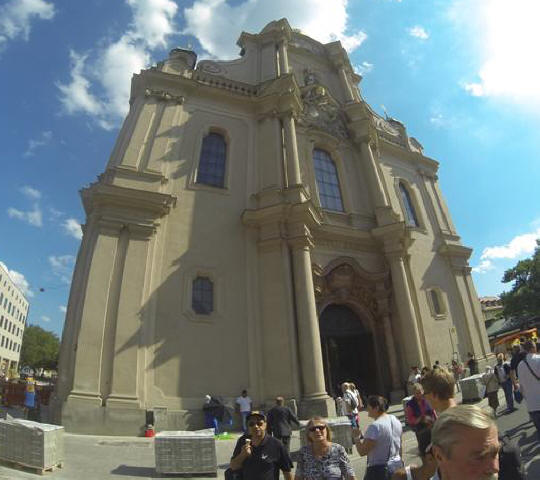 These are the best complete shots I have ever gotten of the Altes Rathaus at the border of Marienplatz. Below left is from the Marienplatz side and on the right is the other side.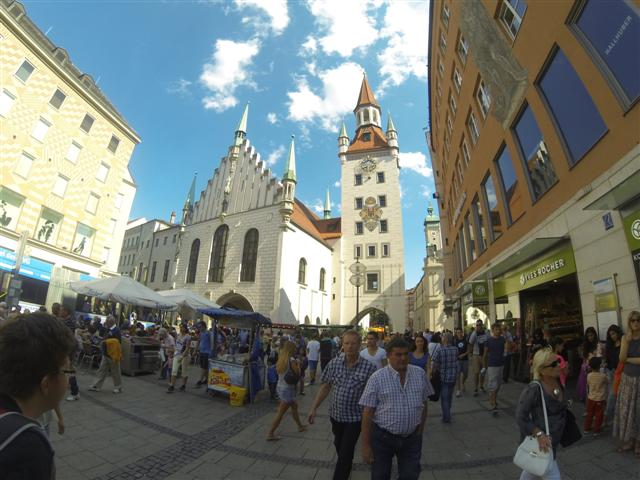 I just like walking around in Munich Altstadt. Here are some of the streets.

At 6:00 PM, I walked to the Hofgarten (city park) to do my run and at 6:15 PM I sat down and had a cappuccino at San Francisco Coffee Company (SFCC) where I usually go. This time it was the worst one I can remember. I did some email and downloaded Rush for my run but they wouldn't watch my computer bag as they have done every time in the past. So, at 8:00 PM, I left my computer bag with Panus at Tambosi bar and then did my run in the Hofgarten. At 8:30 PM, I went back to Tambosi [Luigi Tambosi, Odeonsplatz 18,<![if !vml]>
<![endif]>+49-8-929-8322] and Panus (below, in photo left) gave me my bag and served me an excellent Augustiner beer which was very enjoyable after that run.
I relaxed and worked on my computer and then texted Marcia to meet me there and at 9:00 PM I found her outside (above right) having a glass of wine and watching the crowds go by. Below are stock photos inside and out.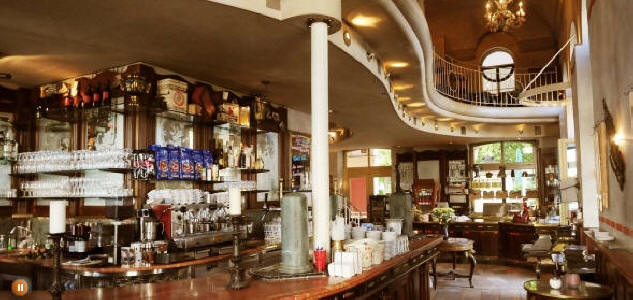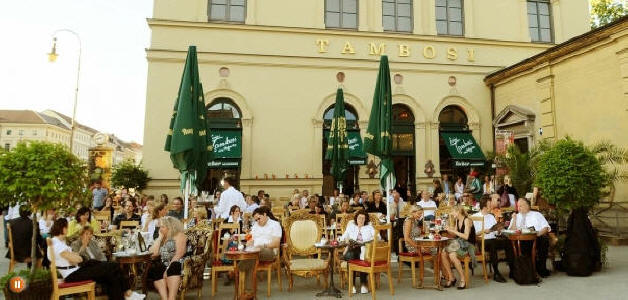 We headed out from there and at 9:10 PM we arrived at our favorite restaurant, Spatanhaus, but discovered it was under construction. We looked around at the places nearby and decided to try Zum Franziskaner (below) [Residenzstraße 9,<![if !vml]>
<![endif]>+49-89-231-8120.] I think someone also recommended it to us.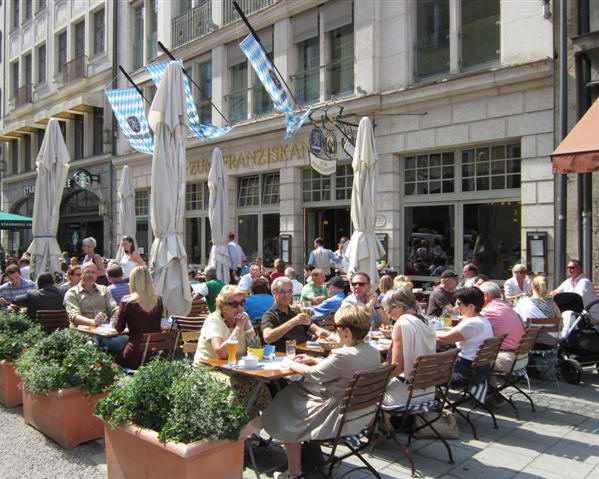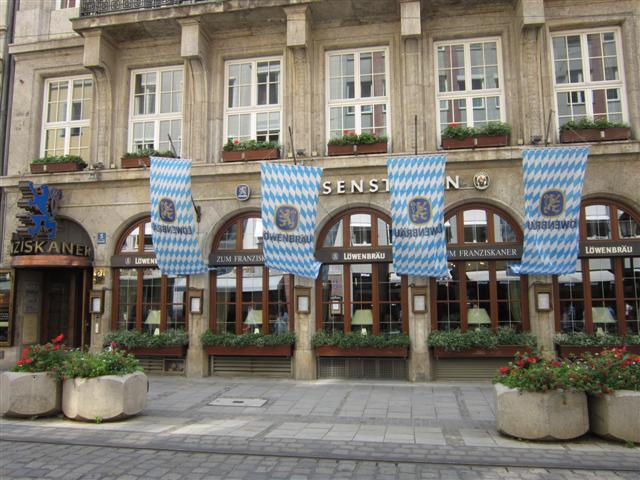 It is owned by the Reinbold family and their extensive menu is in English, Italian (below,) ...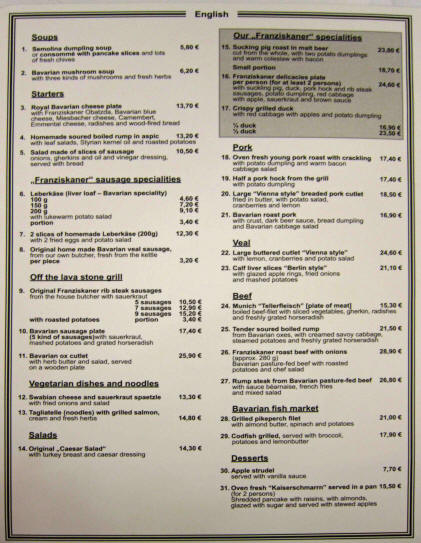 ... French, Russian (below,) German and Spanish.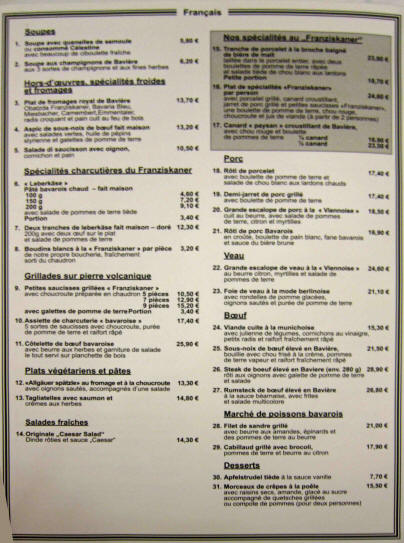 At 9:15 PM we got a table inside. I had a Franziskaner Weisse bier with an appetizer of five small Nüremburger bratwursts with sauerkraut. They served two styles of mustard in this interesting server. It was good.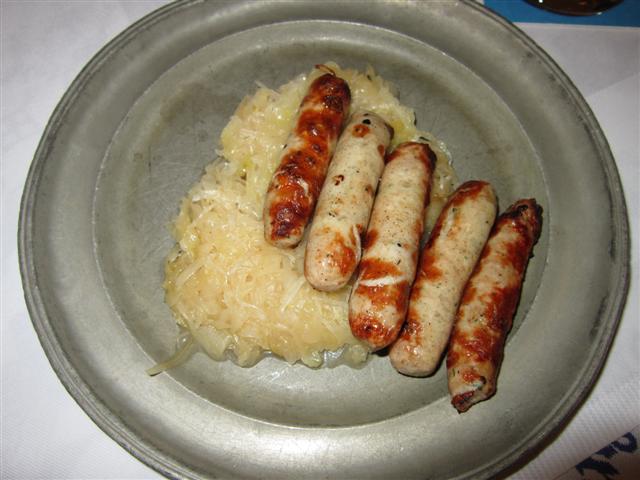 This was followed by an entree of one-half a very crispy but tender duck with red cabbage and spaetzle.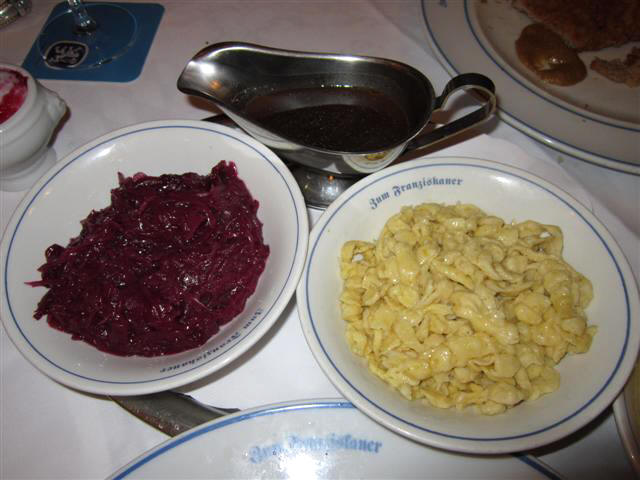 I can't tell you how good this duck was. Marcia had two Grüner Veltliner wines with a dinner of wienerschnitzle with berry sauce and potato salad and cucumber salad (below right.) She loved it.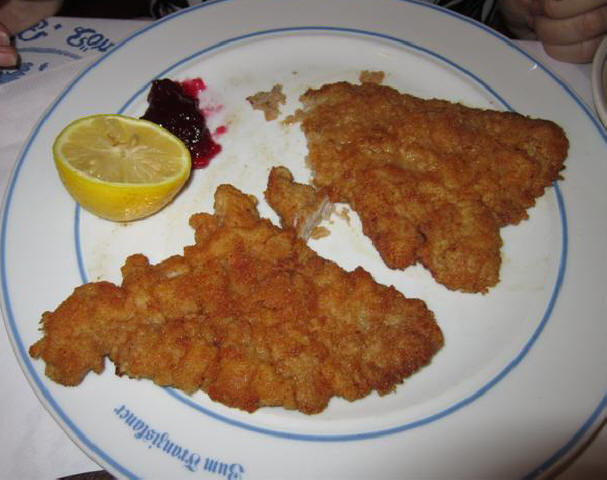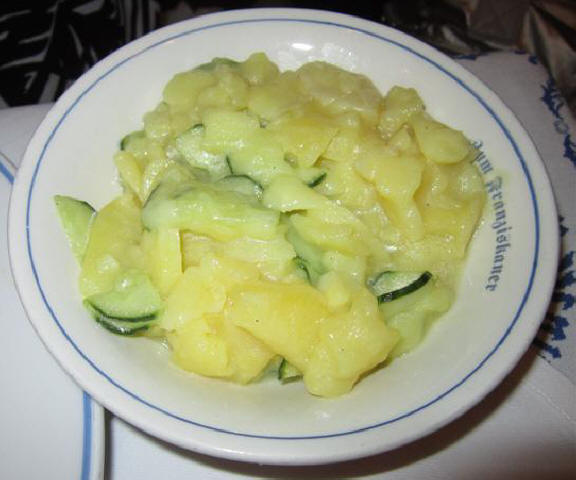 We shared an apfel strudel for dessert. Our waitress Slavi (from Skopje, Macedonia) took very good care of us and we rated the meals as Excellent to Fabulous, especially the duck. At 11:15 PM we walked back to the hotel and I completely crashed. Not bad for our first day in the EU.
BTW, our phone numbers here in Germany are me +49-175-325-0868 and Marcia +49-160-9336-5825.
---
Saturday, August 31, 2013
---
I awoke at 6:20 AM and felt just fine - no jetlag yet. At 10:00 AM I went downstairs for their free breakfast in the hotel which is very good. I had some scrambled eggs, sausage, a wurst and bacon.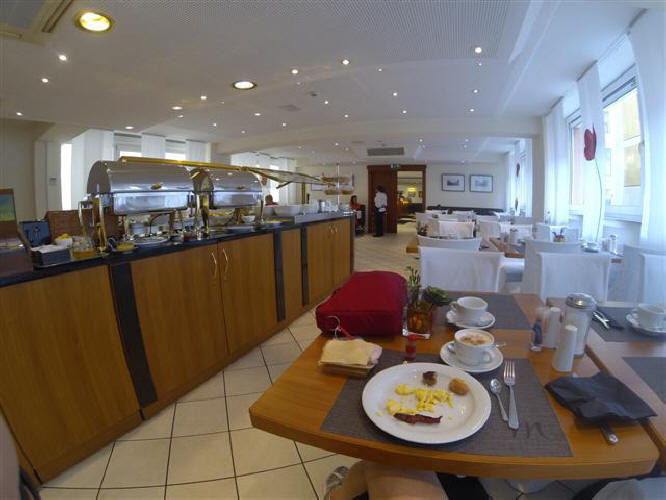 At 10:30 AM, I walked over to the T-Mobil phone shop with my bad battery and (with my passport with me) reactivated my old German phone chip at no charge. I then walked over to the Vodafone shop to reactivate Marcia's chip but they told me it was "no good" and that I needed to buy a new chip for €50. I said to heck with that and at 11:30 AM went back to T-Mobil and bought Marcia a new German chip for only €10. You have to shop around for these chips. Below right is the Paulaner Restaurant near the hotel.
At 12:00 PM I was back to the room and gave Marcia her phone. I then met the photographer Zeiss had hired to take my professional pictures.
Background: Earlier this year I had signed a contract with Carl Zeiss-Meditec, a German ophthalmology company, to be one of their consultants for their new website for advice to cataract surgeons they were starting. They asked me if I would be willing to get professional photographs of myself made so they could use it in their promotional materials. I agreed but told them the only time I could do it would be when I arrive in Munich or when I leave. They scheduled the shoot for today.
While the photographer was setting up in another hotel room near to ours (they had rented for the day,) at 1:00 PM I went back out for a walk to look around and get some more photos. Here is an interesting example of the benefit of the GoPro camera. I wanted to get a full picture of the resulting project that was built to replace the newspaper headquarters that sat next to our hotel. I have shown over the years the demolition of the original old building and the huge excavation (see previous Diarios.) Well now it is finally finished and become a huge office building and shopping center. The picture on the left is one shot with the GoPro and the one on the right is three Canon photos put together using PhotoStitch. In reality the building is not bent, curved or at angles; just one long building. The GoPro curves it and the PhotoStitch makes it look like it angles back 45° on each side.
I went into the huge courtyard of the Neues Rathaus (aerial, below left) to get shots with the GoPro. This gives a much better idea of the extent of this space and the size of the surrounding structures.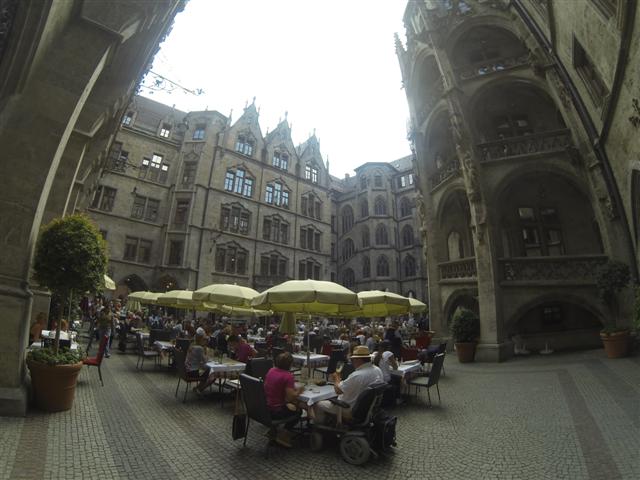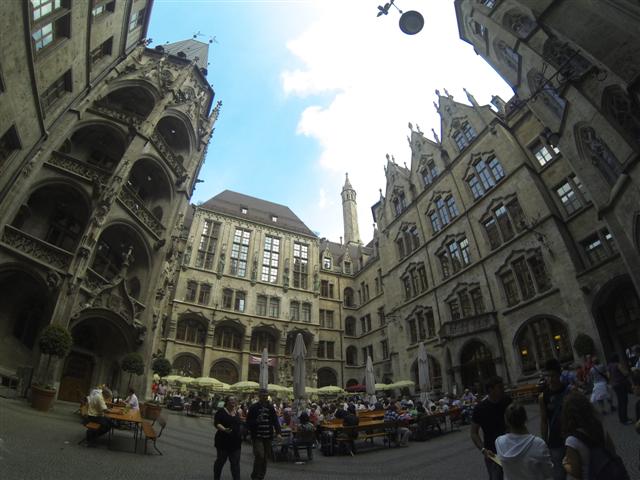 At 1:15 PM I stopped for a cappuccino and some water at Starbuck's. At 3:00 PM I walked back, showered and dressed in jacket and tie for the shoot. At 3:30 PM the Zeiss photos were taken by Goran Gajanin [<![if !vml]>
<![endif]>+49-171-656-8364] in room #105. Goran and his assistant (below left) did a very good job. However, later when I saw the photos, I felt I looked a little bit older than I imagine myself. Below right is the photo that Zeiss and I selected to use for the promotional material which includes my dear friend Wolfgang Haigis PhD from Würzburg (R.)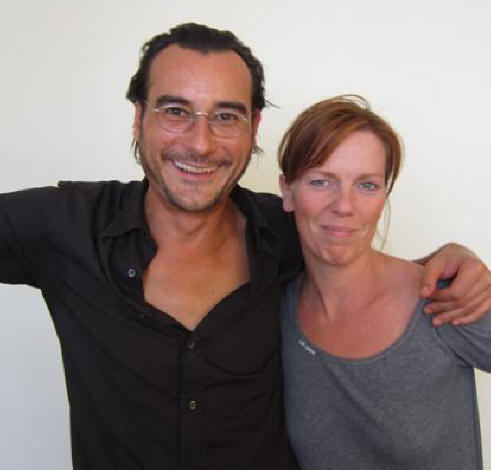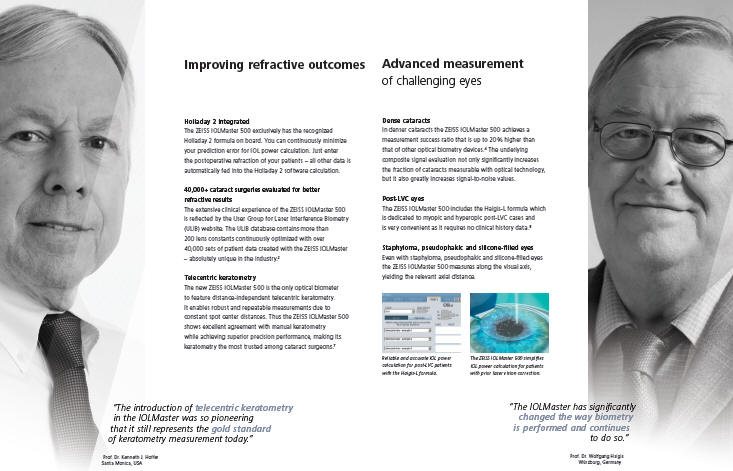 It took only about an hour and then I went back out at 4:45 PM and sat with another cappuccino, this time at Cafe Rossi [Färbergraben 5,<![if !vml]>
<![endif]>+49-8-926-6213] just across from our hotel.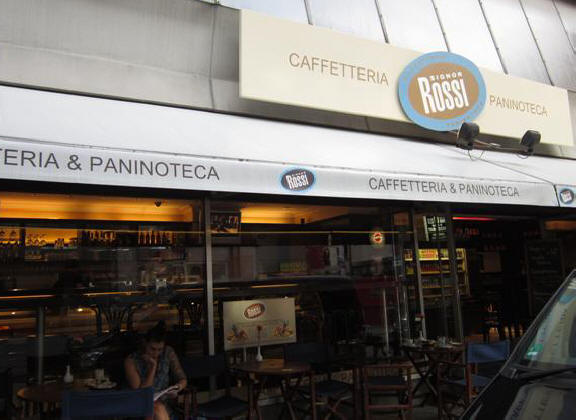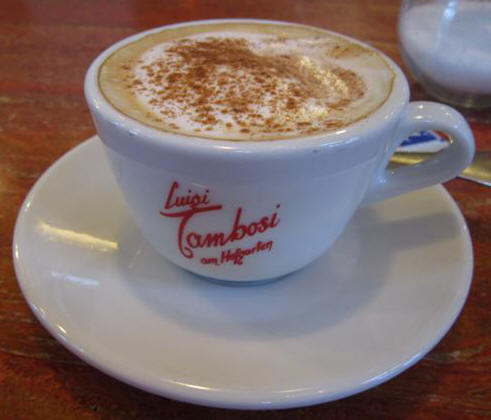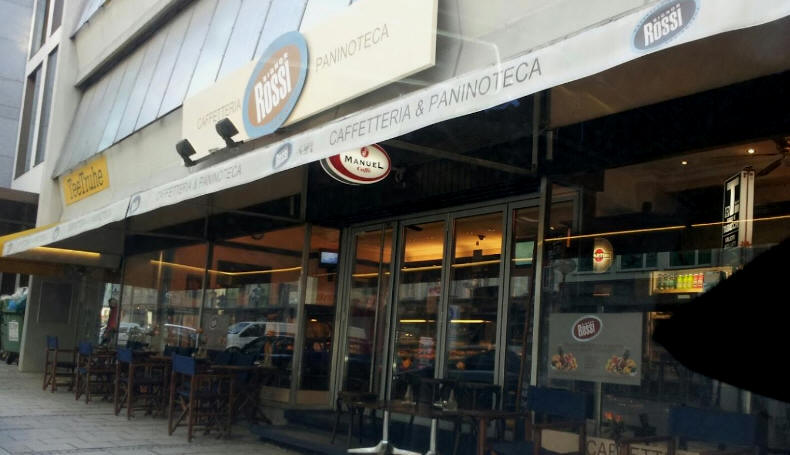 Since we are leaving Munich tomorrow (Sunday,) I decided to go to church this evening and at 5:30 PM I was at Mass at the Frauenkirche Dom. I always read some of the prayers I can't memorize from my Palm PDA. Their speaker system was acting up and kept dropping out. A young man next to me told me that reading from my Palm was causing interference with the sound system. I told him there is no way in the world the PDA could do that and bet him €100. He shut up and didn't say anything more. How naive and ridiculous. Here (below left) is the GoPro shot of the interior of the Dom which is quite huge.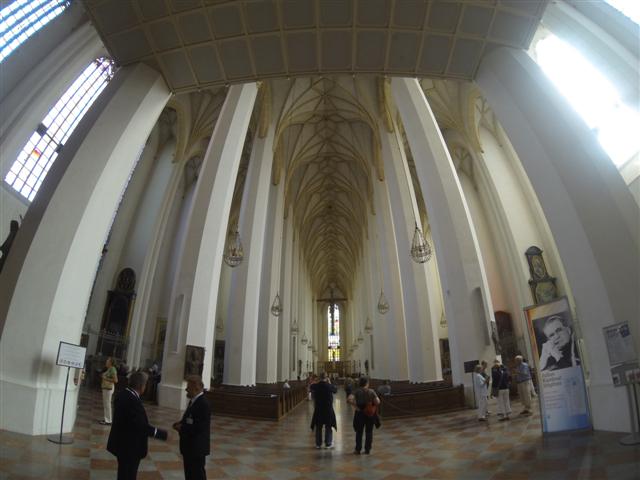 Above right is the tomb monument of Emperor Louis IV (1282-1347,) of the house of Wittelsbach who was King of Germany from 1314, King of Italy from 1327 and Holy Roman Emperor from 1328. I went back to the room and got out of the tie and put my running gear on and at 6:50 PM I walked back to the Hofgarten. Here is the main street Weinstraße, heading there with a peak toward the onion domes.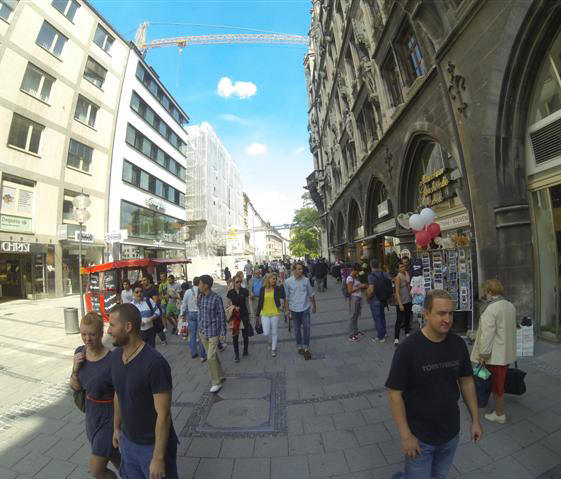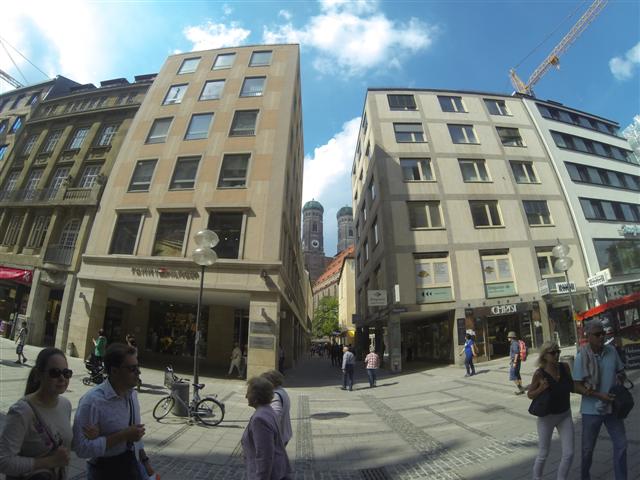 On the way, I spotted these posters in the street. After the German people intensly pushed for the election of our Nobel Peace Prize President, it was humorous to see that they don't seem all that happy with the dear man. These posters were set up every where. "3.Weltkrieg" means "WWIII."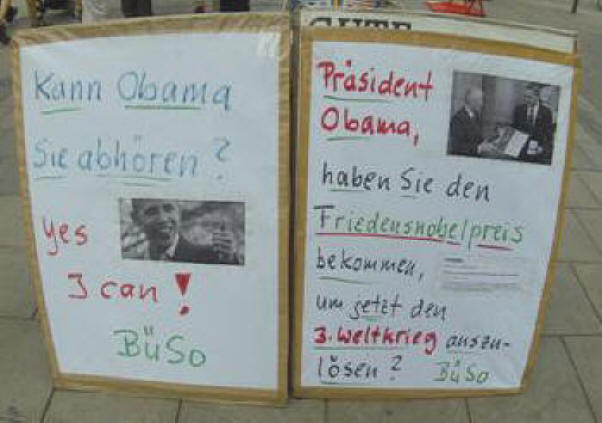 I arrived at Tambosi at 7:05 PM and had yet a third cappuccino. Panus watched my bag again and at 8:00 PM I did my run in the Hofgarten. At 8:30 PM I enjoyed another Augustiner and again at 8:40 PM, met Marcia out front enjoying a red wine.
At 9:15 PM we decided to walk to the Viktualienmarkt for dinner but to our great surprise, we discovered it was all closed now. So we headed for another favorite place nearby called Der Pschorr [Viktualienmarkt 15,<![if !vml]>
<![endif]>+49-8-944-238-3940.] It was dark so below left is a stock photo from their website.
At 9:45 PM we ordered dinner from their menu and I was in the mood for Bavarian.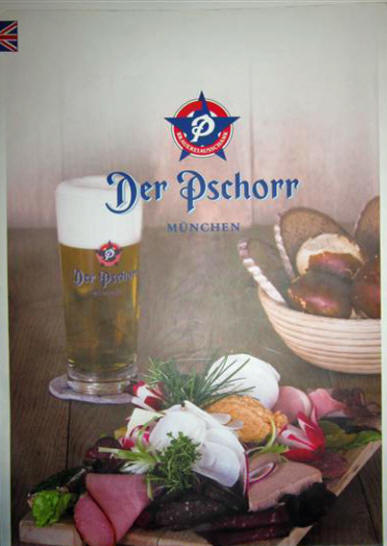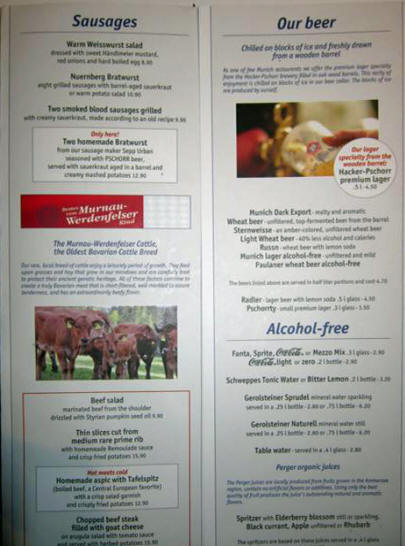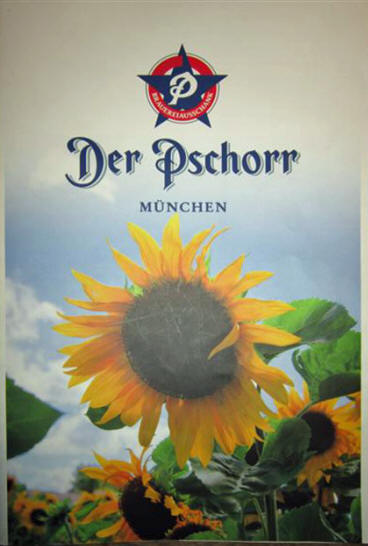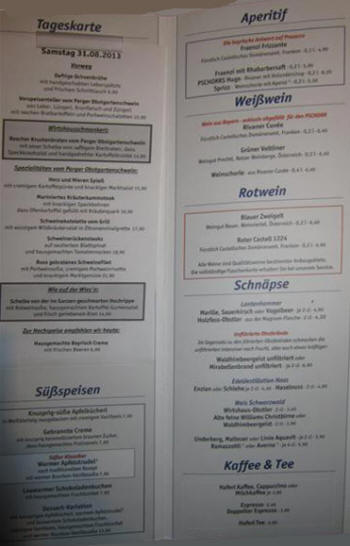 I had a Hacker-Pschorr beer (below left) and we shared a Gerolsteiner sparkling water. Here are the other best Munich beers: Paulaner, Spaten-Franziskaner, Augustiner Bräu, Löwenbräu and Hofbräuhaus.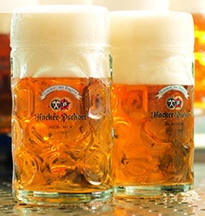 They are all very good beers. Again I had Nüremburger bratwursts with sauerkraut followed ...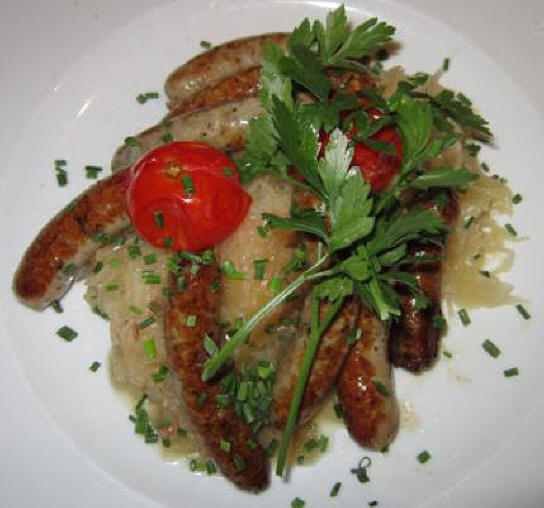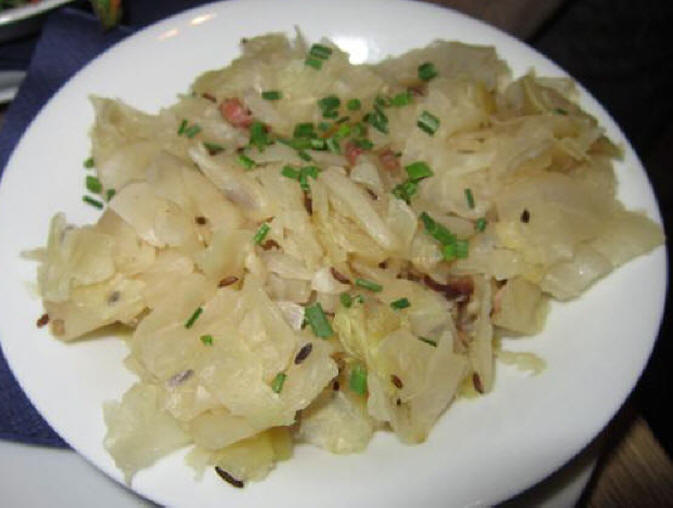 ... by an entree of one half a Schweinhaxen (Bavarian dish of pig's knuckle) with potatoes and cucumber salad. It was really great and the best Schweinhaxen I've ever had; very crisp and tender.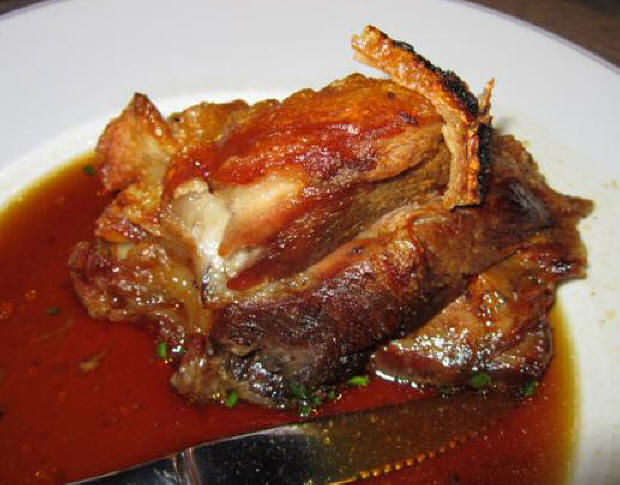 Marcia had two glasses of Grüner Veltliner and a salad to start. Click the link to learn a little about this variety of Austrian wine Marcia likes. For an entree, she ordered a nice dish of veal goulash that came with ...
... a big dish of spaetzle (below left.) I also had this dish of good old German potato salad (below right.) In my opinion the Germans really know how to make potatoes taste great. Obviously we didn't eat all that spaetzle.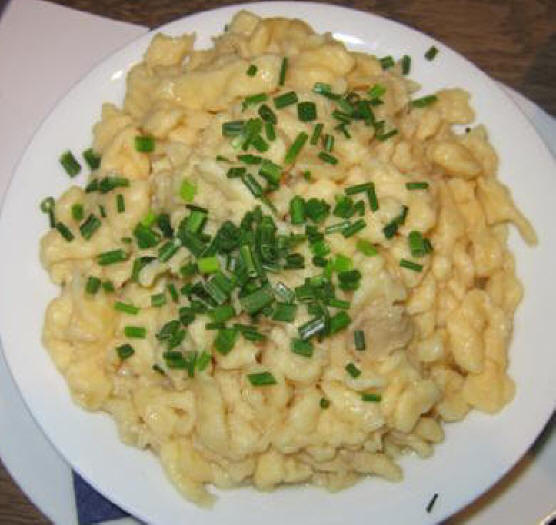 Our waitress was Mona and we rated the dinner as Excellent, especially that Schweinhaxen. After dinner, at 11:00 PM, I decided to try our VP Bank card in their ATM to draw out some cash but it was rejected for €500. Then I tried it again for only €50 with the same result. Uh-oh, this is not good. What is going on? I gave up and at 11:15 PM we walked back to the room and again I fell immediately to sleep.
---
Sunday September 1, 2013
---
I woke at 3:55 AM, 8:15 AM and again at 10:00 AM and was ready to go do my run. The jetlag is starting to kick in. At 10:30 AM I was in the hotel breakfast room and had a free cappuccino. I also collected what I needed and made a nice ham and cheese sandwich to take on the trip. At 11:00 AM, I tried calling the number listed on the back of the VP Bank card but discovered it was only for locking the card. And today is Sunday, so no one will be available.
At 11:10 AM, I headed again to the Hofgarten and at 11:20 AM I had a cappuccino at Starbucks and worked on my computer. During my first run in the Hofgarten I noticed that there was this new Starbucks shop right next to Tambosi's so I went there to try it after the cappuccino at SFCC (below right) was so bad.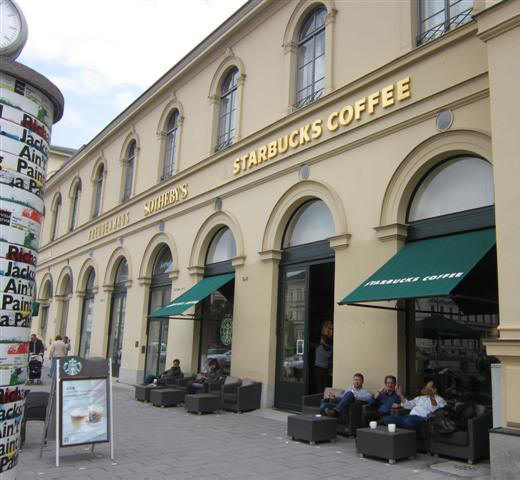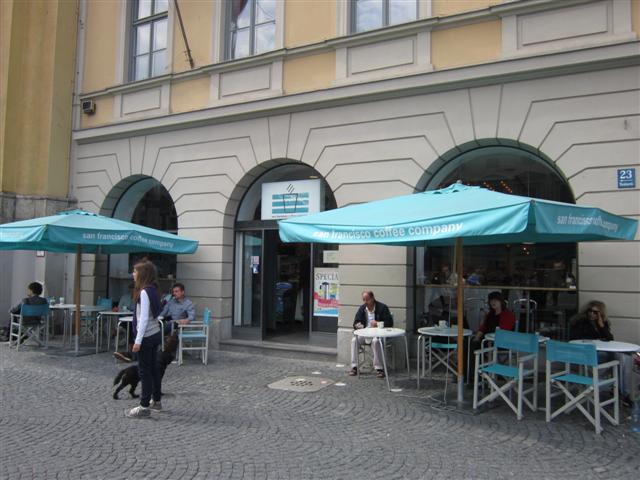 As you can see (below) the place isn't bad. When I was finished they refused to watch my bag, so I went over and left it with a girl at SFCC.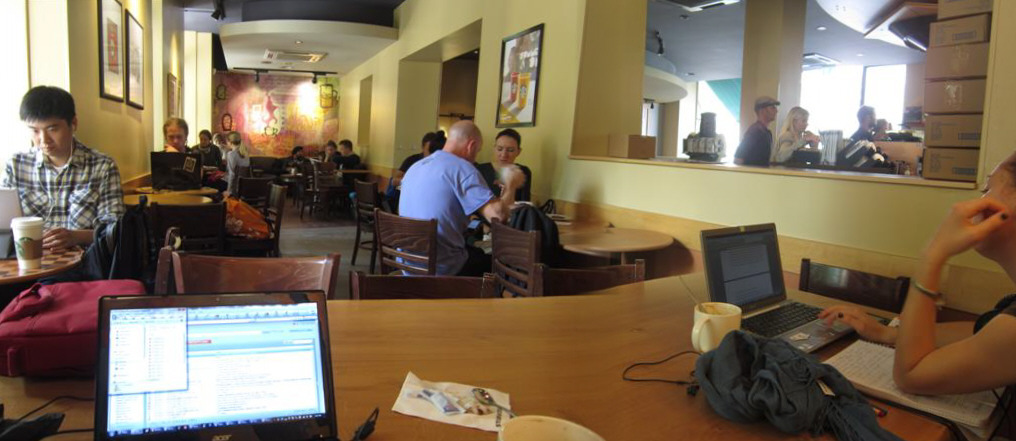 At 1:00 PM I did my run in the Hofgarten (below left) and took these shots of the covered area where I run half of the way around the park. I got these shots with the GoPro while running.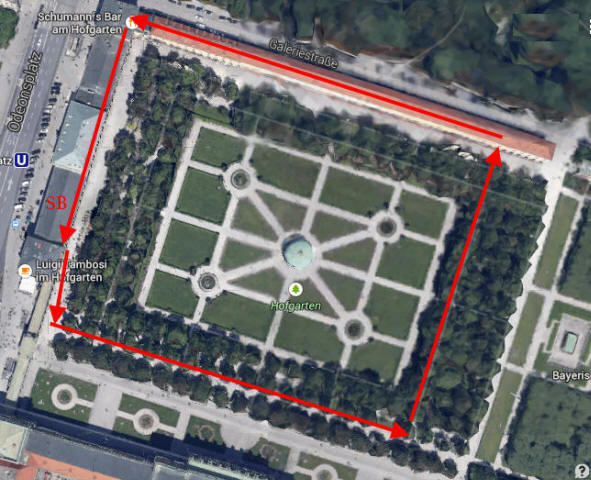 These shots are of the area at the top of the Google aerial map. See Starbucks (SB) and Tambosi's (left.)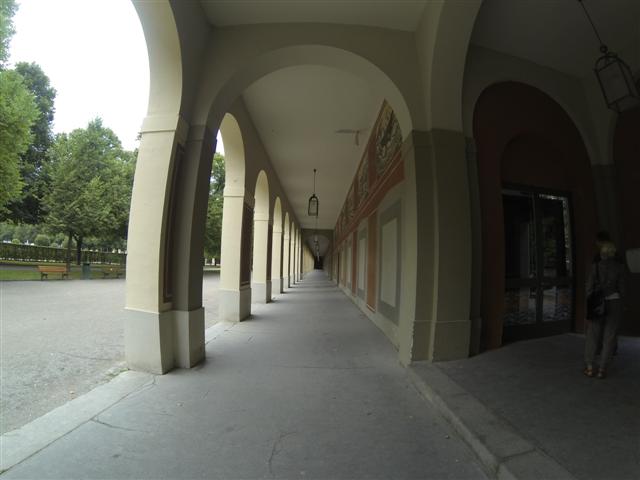 I then used the GoPro to get these classic shots of Odeonsplatz.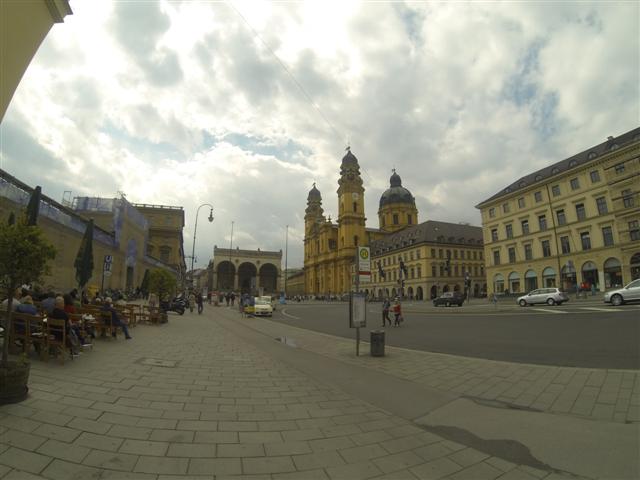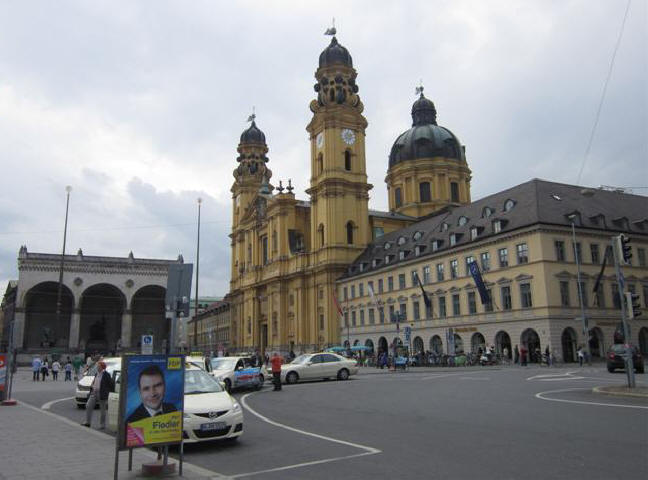 I continued the run all the way back to the hotel to change and pack up. At 1:50 PM I checked out of the hotel and paid the bill with a regular credit card. This woman Chris was infuriated with me and told me she wants to charge me an extra night because of checking out late. I explained we had requested a late check out and she finally relented.
With the car all packed in that nice big trunk, at 2:10 PM I did the drive of 184 miles (296 Km) basically south from Munich (A) to Vadena, Italy (B) on map below.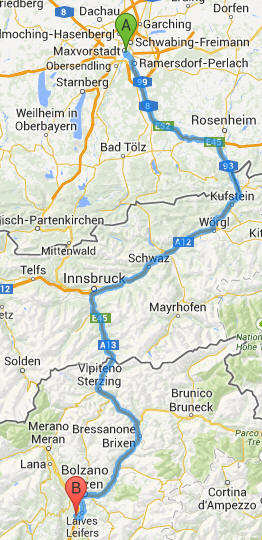 At 3:40 PM the traffic was horrendous in Germany. We finally got to the Brenner Pass at 4:20 PM

and paid the toll of €8.50. We never found a place to buy the mandatory Austria sticker and we were lucky to get through Innsbruck and all of Austria without getting a severe fine. Finally in Italy, at 6:20 PM we made a pitstop at Chef Express #26 (Laimburg West between the exits Neumarkt Ora and Bolzano Sud - Vadena) and bought some water. Stock photo of Vadena above right.
At 6:30 PM Marcia drove the remaining 86 miles (138 Km) to Sirmione (see map below.)
Here is our wonderful built-in GPS leading us all the way.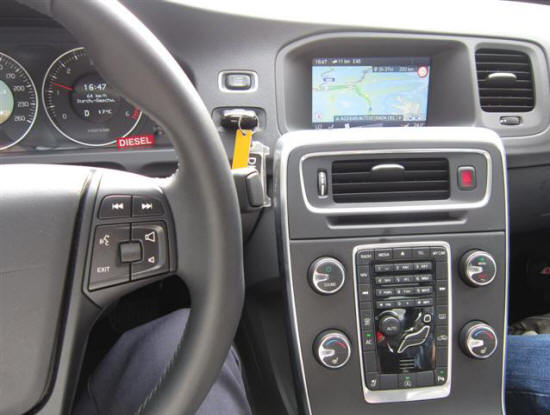 As we started out, I had lunch by eating the ham and cheese sandwich (below) I made earlier at the hotel. The German hams and cheeses are wonderful.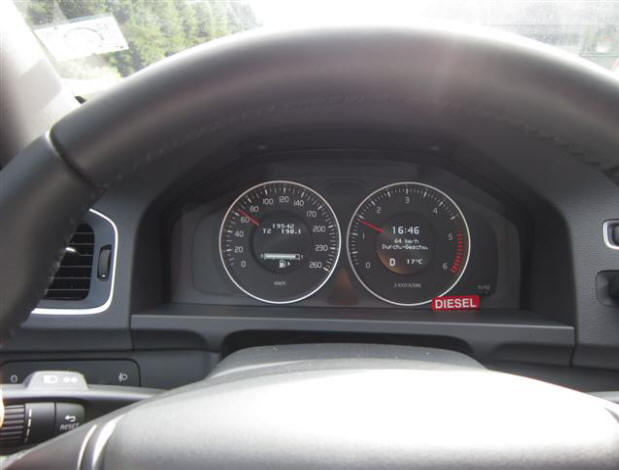 This drive takes you through the beautiful Alpine hills of Tirol.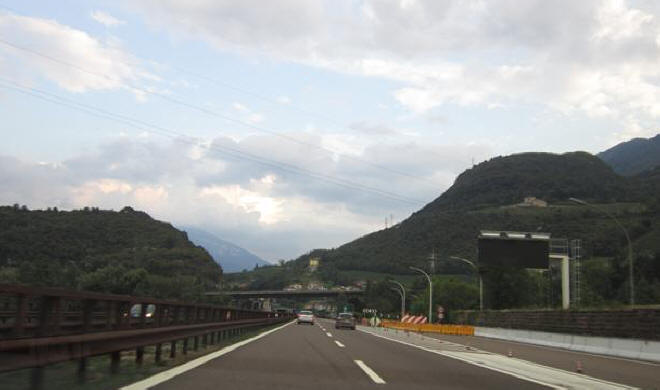 Several times you have to go through tunnels. The Italians love to build tunnels.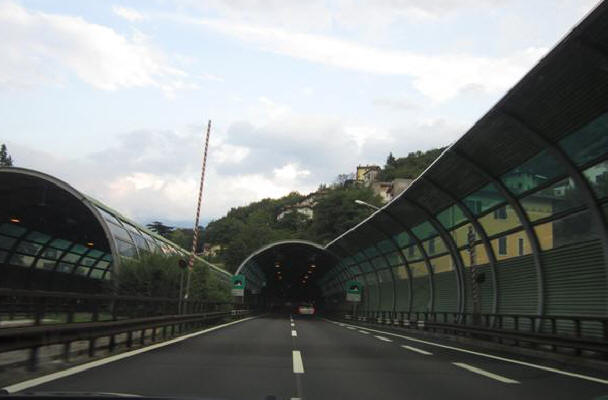 You come out of the Alps and get into the lowlands and then finally into the Po Valley.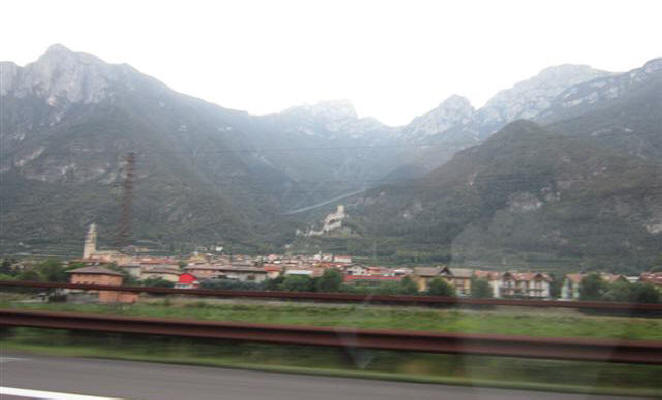 Now, because we're in Italy, at 7:40 PM we paid the €15 Autostrada toll and finally arrive in Sirmione at 8:20 PM. What a delight to be back. This is the 8th time we have arrived in this little island town in Lago di Garda. Now we can relax for a couple of days.
Kenneth J. Hoffer, MD
Sirmione, Italy
Sent 7-9-2014
If you enjoyed these travels or wish to add comments on the places we visited
Please Leave Me a Message by clicking the spinning @ sign below.