Dr. Hoffer's Travel WebSite This site was last updated 02/15/15
POLAND13 #3 Sirmione to Zoagli

---
September 1-3, 2013
---
---
Sunday, September 1, 2013
---
Background: Ever since our first visit to Sirmione in 1997, we have stayed at Hotel Sirmione (see every previous Diario trip.) Over the years the room rates, have gone higher and higher. We stayed there in 2010 with the Shammses and again in 2011 at very high rates. When I went to book this year the rate was even higher and I just didn't feel it was worth it when there are so many other places to stay on the island. I did a lot of searching on the internet and decided we would try the Corte Regina Hotel which I booked for €145 per night. I knew where it was located so I wasn't worried. They also had parking for €5 per day.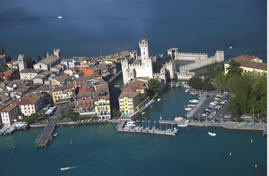 We drove up to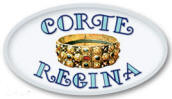 the police guard gate and told him our reservation. After he checks with the hotel, he then has to lower the posts that block the road.
We then cross the bridge loaded with tourists and drive onto the island. We then have to drive down the very narrow streets, again loaded with pedestrians, to get to Via Antiche Mura and make a right. It was just up the street on the left. We pulled up to the door and at 8:30 PM we checked into the Corte Regina Hotel [Via Antiche Mura 11,
+39-03-091-6147, open April-October.]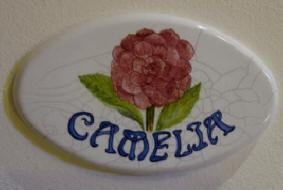 Christina (the owner) (below left) was very nice in welcoming us and gave us our room named "Camelia."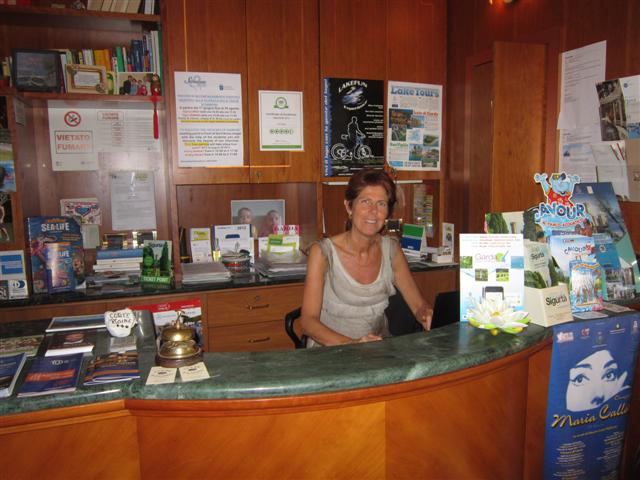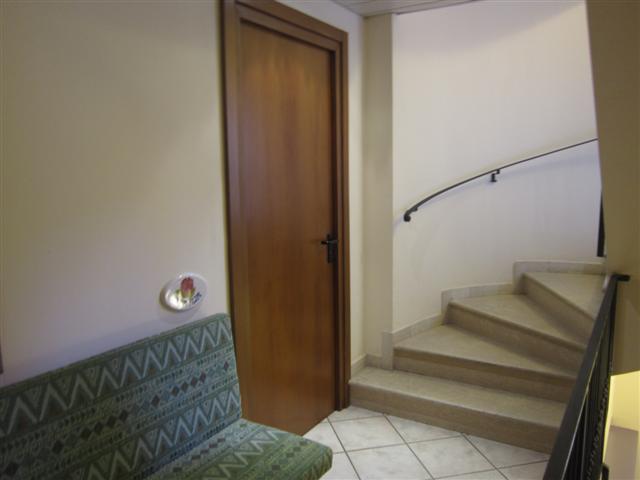 There is no elevator and she was nice enough to save a requested room on a low floor so we only had to go up one flight. I parked the car out front (below left) and gave Christina the key. We quickly got our bags out of the car and into our room so we could get to dinner at our favorite place before they closed on a Sunday night.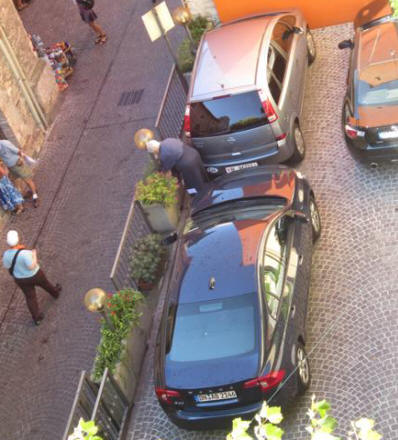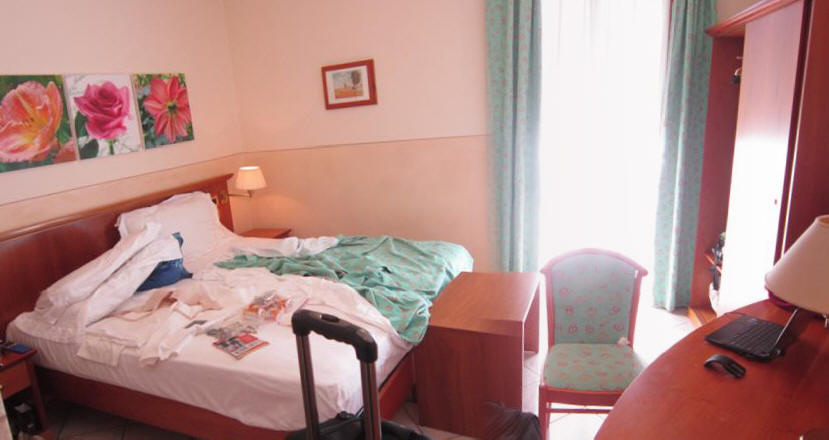 As you can see, the room is very nice and really not much different from what we get at the Hotel Sirmione.
She also gave us a room with a little balcony (below left) out front over the main entrance with a view out on Via Antiche Mura (meaning Old Wall.)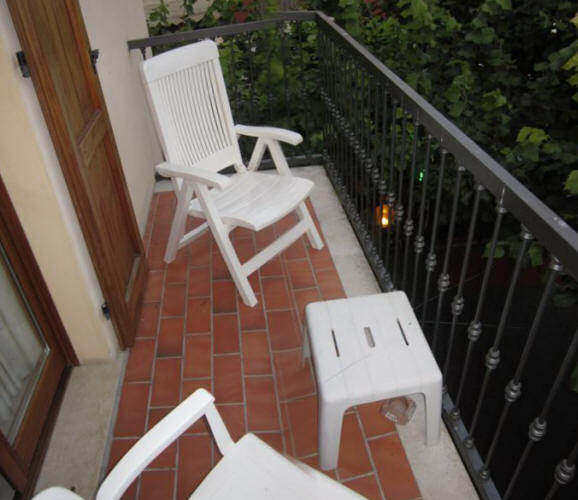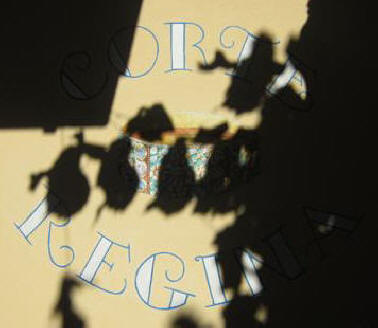 We then walked over to Piazza Porto Valentino and at 9:15 PM we sat down for dinner at Ristorante Valentino [Piazza Porto Valentino 10,
+39-03-091-6112, valentinosirmione@gmail.com.]

We are now in Italy so we have to pay a coperto of €2.50 each. We first ordered a bottle of prosecco called Valdobbiadene to share. I started with my usual favorite, prosciutto e melone and shared some with Marcia.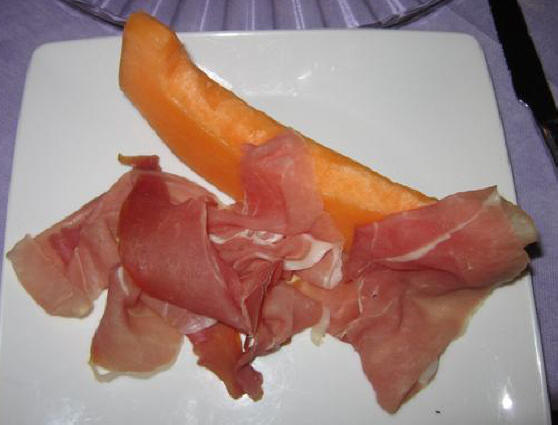 For an entree, I was dying for a pasta dish so I had tortellini panna prosciutto e piselli (i.e. with prosciutto and peas in cream sauce) (below left) while Marcia only had spaghetti Bolognese (below right.)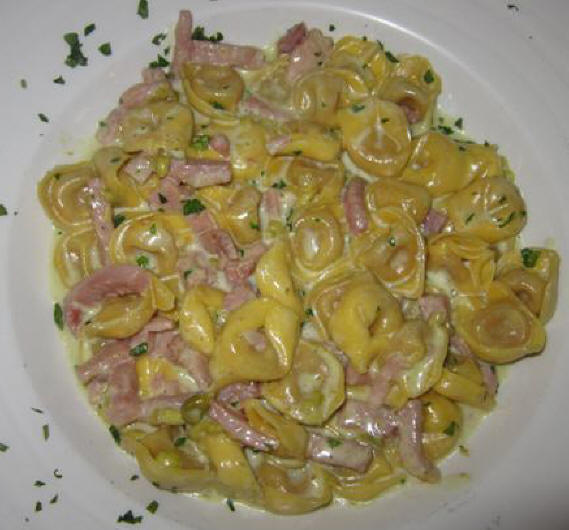 Our waiter, Giovanni, was very good. We rated the meals as Good this time. We found out that Fabio (the owner) and Massimo (the chef) are no longer with them. Maybe that's why. Fully satisfied, we ambled our way back to the room and at 11:10 PM we each had a gelati at one of the many gelato shops. We got back to the room and went to bed early. Going from bratwurst to pasta is really enjoyable.
---
Monday, September 2, 2013
---
I awoke at 6:10 AM and then again at 9:00 AM by church bells since we are right near the church, Santa Margherita. I decided to get up and at 10:30 AM went to the top floor for their free breakfast. I was surprised at how big and nice their breakfast area was.
I had some granola and some caffe. I had lost a full 20 pounds the three months before this trip and I guess I have gone off my regimen now. They have free WiFi so I did some email while up there looking at the nice views.
The views from up here are spectacular but it was impossible to get a photo that showed the room and also what was out the window. So I took one shot focused on the room and an identical shot focused on the window and then edited the two together (below.) Left is a view of the lake and right is a view of the Scalini Castle.
Here are some close ups out the window.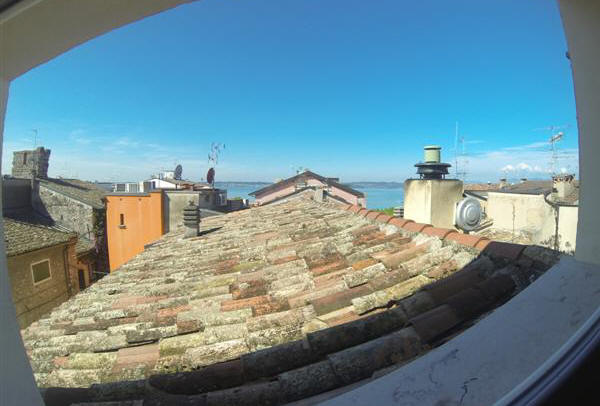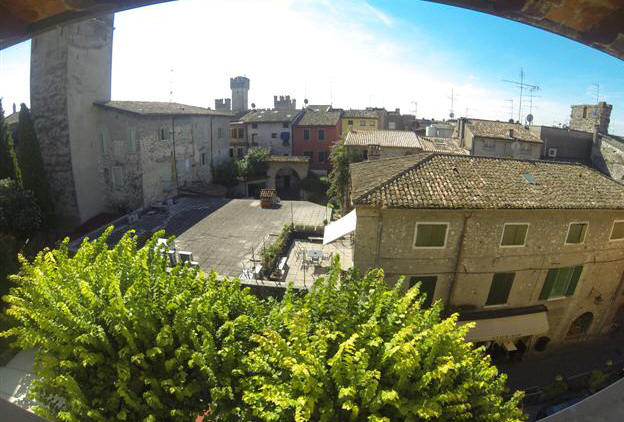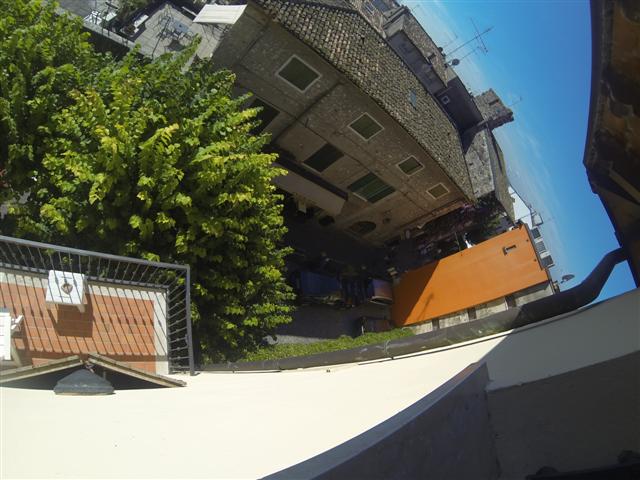 When I was done at 11:45 AM I went downstairs to the little shaded courtyard out front (below left) and made a call to the VP Bank in Liechtenstein about our card (below right.) I had tried to withdraw cash several other times in Munich and last night at ATMs but it was always rejected no matter how small the amount. I finally reached Phillip and he told me he would check into it and call me back. Note the gold security chip in the card; it only works with a PIN number.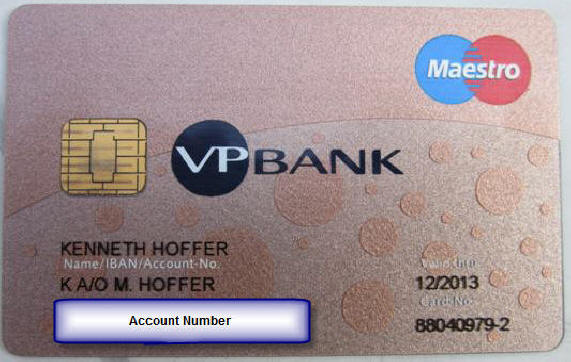 He called me back and told me that our cards had expired (even though it says the expiration is not until this December) and that they had sent us new cards. I told him we never received them. He then surprised me with the fact that in December they are closing all accounts with American citizens because of the Swiss/US banking controversies. He promised that one new card could be made in about a week and could be sent to us. I told him that Warsaw was probably the best place since we would be there for three days. Now we have no way of getting any cash until next week and thus will only have credit cards to use. It was a good thing that before we left we had gotten a Charles Schwab card that does not charge currency conversion fees.
Done with that, at noon I went through the underpass (below left) to have a cappuccino at my usual favorite place, Bar da Gino [Piazza Flaminia 2 ,
+39-3-091-6050.] I was so happy to see Anna still there (looking elegant as usual,) her son Bruno and his wife Gina, who all recognized me and welcomed me as if I was there everyday. Anna is still not doing email or internet so I am hoping Bruno will show her this website.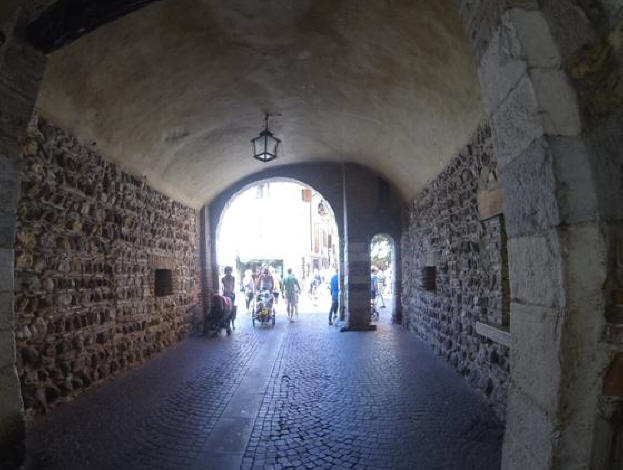 As usual my favorite seat was available.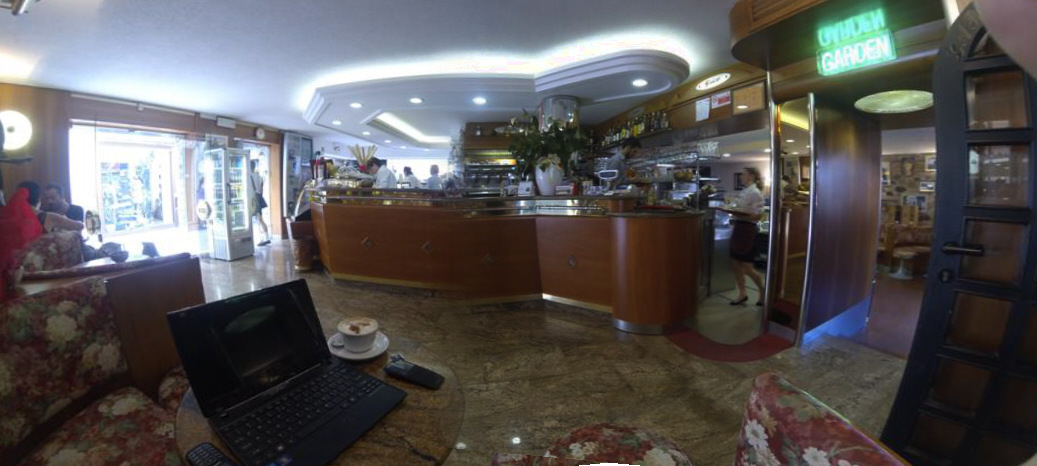 But my battery started to die and I found a place in the back room where I could plug in.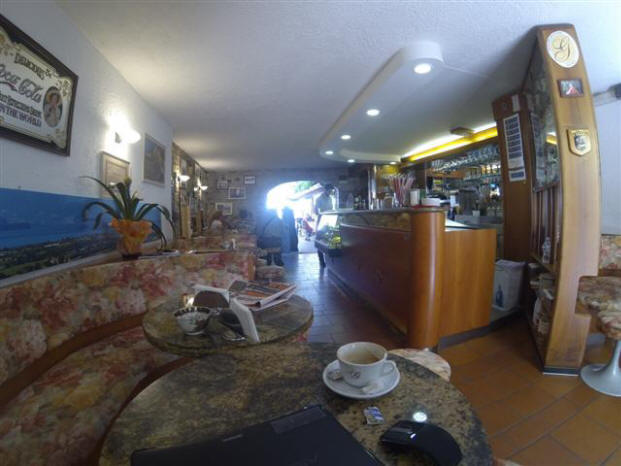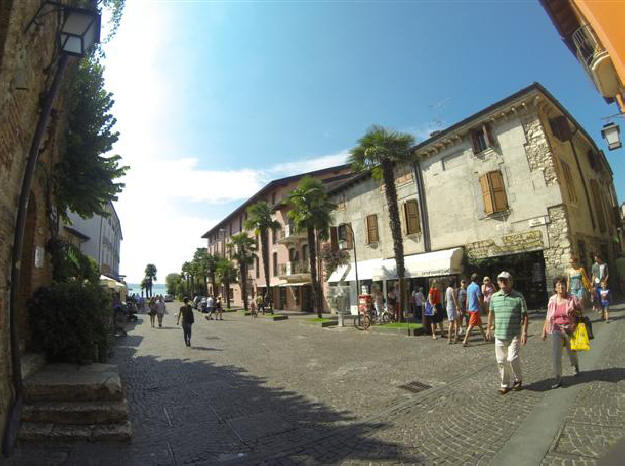 At 1:00 PM Marcia had her lunch at Ristorante Re Desiderio [Via Antiche Mura 11,
+39-3-099-6325] right next door to our hotel, and had tortellini panna prosciutto which means she liked that dish I had last night. At 2:30 PM I walked back to the hotel and changed into my running gear and at 3:15 PM headed to the beach which is just down the via Antiche Mura. When you arrive, you see the back part of the castle.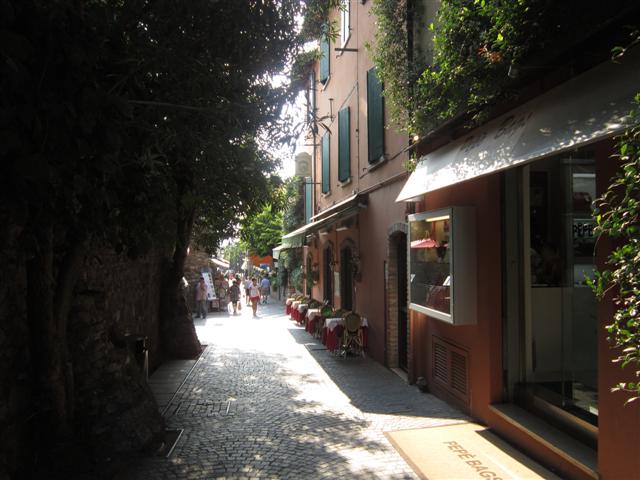 I sat down at the beach bar called Bar La Torre [Via Antiche Mura 22,
+39-3-091-6509] and ordered another cappuccino. I sat and relaxed and worked on this website for a little while watching the people enjoying the beach.
I then took a walk along the beach, which is very stony, and got my feet wet.
Above and below are side-by-sides of GoPro photo (left) and Canon photo (right.)
At 5:00 PM I walked to our hotel and and then walked by the Scalini Castle (above, below left.)
By 6:40 PM I got to my spot across from Hotel Sirmione (below left) and started my run along the lungolago ...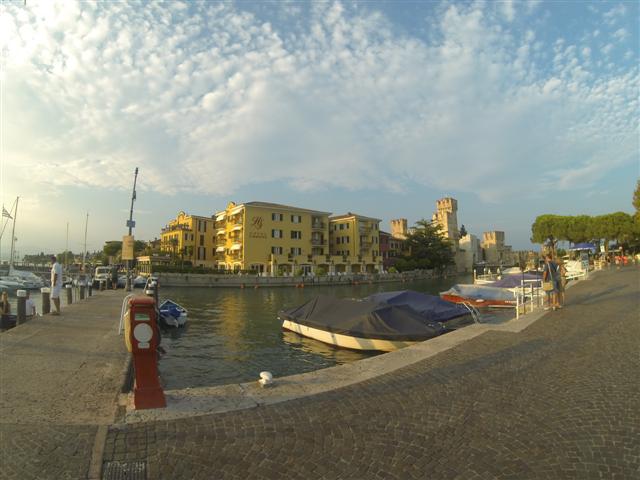 ... (above right) along the lake to the park (below left) across from Villa Pioppi as usual (which is exactly one mile.)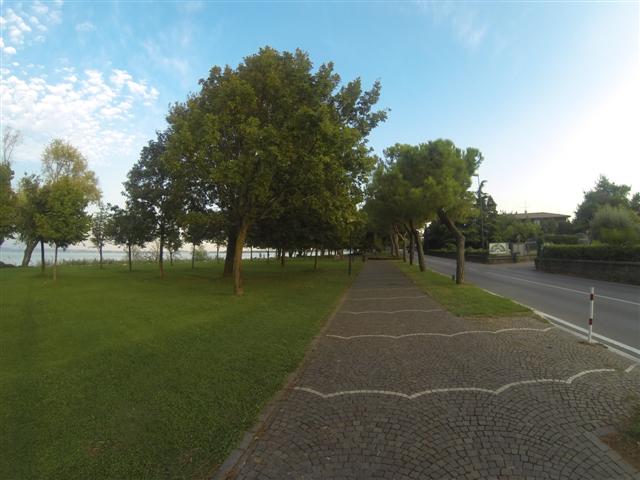 When I got back at 7:30 PM I went over to the restaurant (Re Desiderio) next door to the hotel, where Marcia had lunch, because they had charged her for two copertos when she was by herself as well as for a glass of wine which she did not have. She never checked the bill, but I did. They owed us €10 ($13.50) and they did not give it back without a fight. I ultimately succeeded. Maybe you should be careful here and check your bill before you pay it.
At 7:50 PM we went over to the pier balcony at the back of Hotel Sirmione where we always have a glass of prosecco at sunset. This time it cost a whopping €9 ($6.10/glass.) But look at that view (GoPro left) and the sunset over the lake (Canon right;) I guess it was worth it.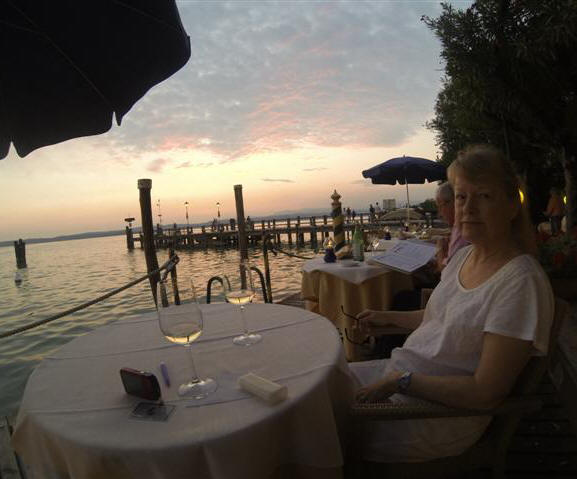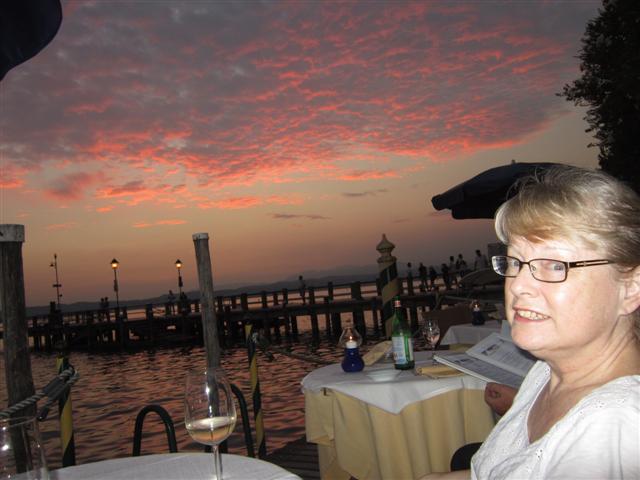 Just a reminder of where we sit on this tiny island at the tip of this split into the lake at the base of the Alps.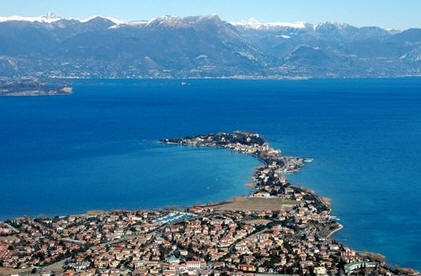 We left there and headed for dinner but stopped in at 8:30 PM at Hostaria Vinoteca [Piazzetta Mosaics 6,
+39-30-990-4432] for another glass of prosecco which this time only cost €6 ($4/glass.) At 9:10 PM we sat down for dinner at Trattoria La Fiasca [Via Maria Maggiore 11,
+39-30-990-6111.] We ordered a bottle of Prosecco Superiore (Conegliano Valdobbiandene by Furlan) and a bottle of Paradiso sparkling water to share.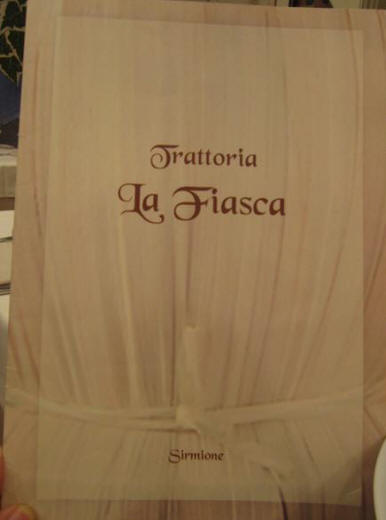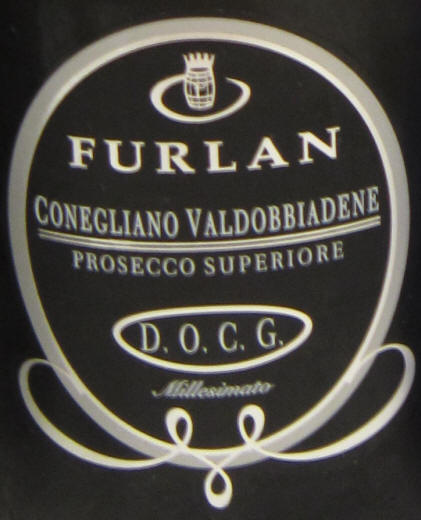 I Just had spaghetti carbonara (below left) which was pretty good while Marcia had branzino (below right) ...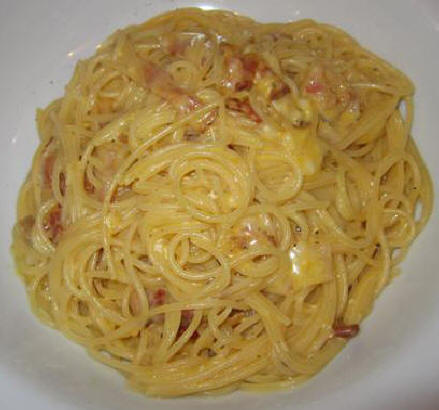 ... with steamed spinachi (below left.) The staff was not very friendly in this place. The spaghetti was good but her fish was overcooked. There was not much else on the menu that looked interesting to me.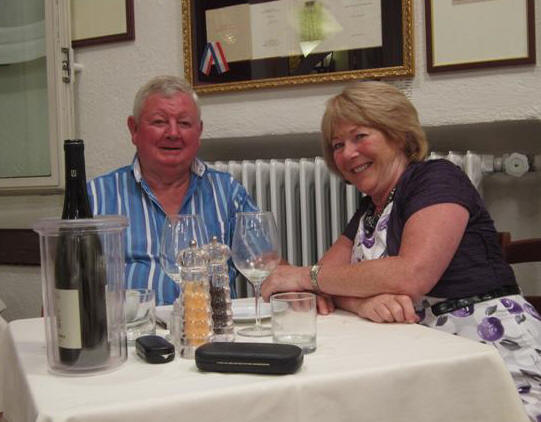 While there, we met a delightfully jovial couple from Dublin (above right) named Gordon and Kay Begley. We had a nice long chat with them, especially about Ireland. Not being fully satisfied with dinner, at 10:45 PM we wandered over to Ristorante San Lorenzo [Via San Salvatore Quasimodo 4,
+39-03-091-6186.] I ordered their pizza margherita and we also had some proscecco and limoncello. Here it is without flash (left) and with flash (right.) It wasn't bad.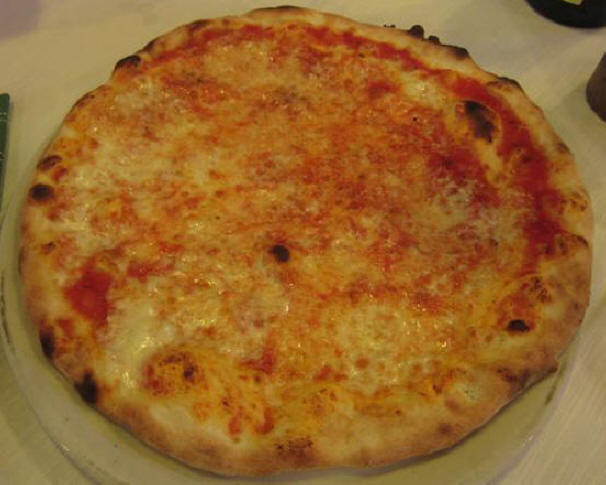 At 11:15 PM we headed back to our hotel, but I had to have a gelato I call piña colada because I ask for half pineapple and half coconut. Boy, it was good and hit the spot.
Marcia wandered around and I got back to the hotel at 11:30 PM and wound up having a long chat with the owner Christina's husband, Carlos (below left.) He's a very nice guy.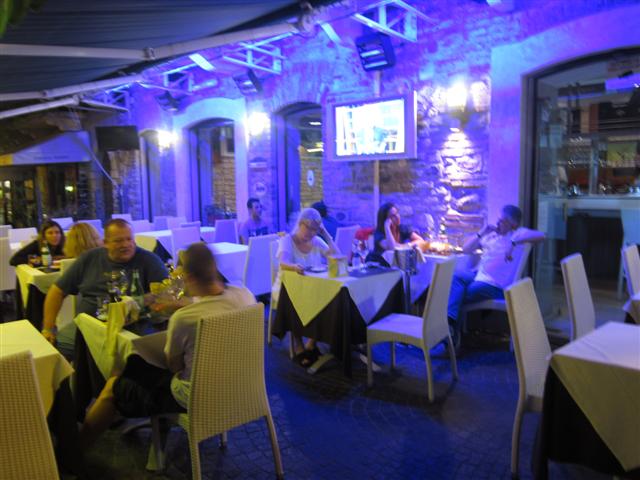 Marcia had gone on her own and I later found her at 11:45 PM at Bar Bounty [Piazza Castello 32,
+39-03-091-6009] (above right) so I joined her and we had limoncellos, some proscecco and water. We got back to the room at 12:30 AM and went to bed.
Our Italian phone numbers while here are me +39-334-799-1081 and Marcia +39-334-799-1145 (which is new.)
---
Tuesday, September 3, 2013
---
SIRMIONE to ZOAGLI
I awoke at 5:05 AM and again at 9:15 AM and by 10:25 AM I was on my same run to Villa Pioppi. Jet lag must be kicking in now. I got back to the hotel at 11:00 AM and packed up and loaded the car which was parked right out front. At 11:30 AM I went for my last time back to Bar Gino and had two cappuccinos and worked on the computer. This time I sat in their back patio area because my seat had been taken.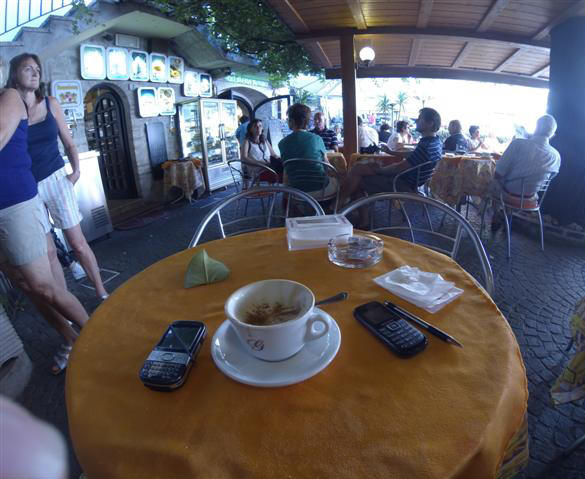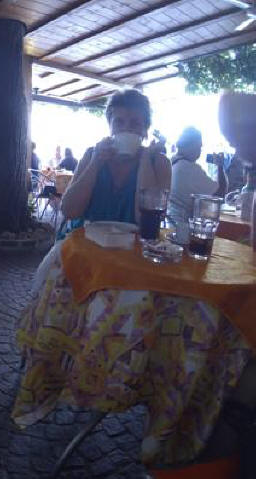 Crazy thing happened. I had been searching on my phones for the past month looking for a contact for the two couple we had met in Hungary on the last trip. They were from Gdansk, Poland and told us to contact him if we ever came there. I wanted to let him know we were on our way. For some reason I did a search on the old Palm phone for "Poland" and suddenly up popped his name and number. His name is Mike Korneszczuk and I decided to go ahead and try to call him. Luckily he answered the phone and remembered us. He will be waiting for us when we arrive in Gdansk. Another luck out. At 12:15 PM I went back and checked out of the hotel and paid the bill.
At 12:20 PM Marcia was buying gifts at Donum Di Zeni Sara [Via Casello Bondini 2,
+39-03-091-6589.]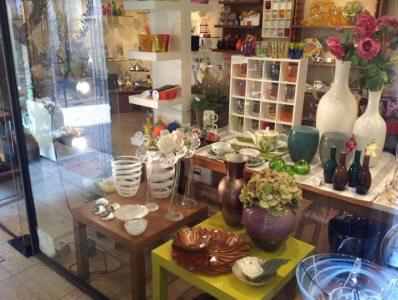 She got back, we got in the car and left Sirmione at 12:35 PM. I drove the 176 miles (293 Km) to Santa Margherita, near Portofino in Liguria. At 3:25 PM we paid the Autostrada toll of €20.10 for the whole trip. The route (below left) took us 203 miles. At 3:30 PM we arrived in the coastal city of Rapallo where I needed a pitstop. Then we drove on to Santa Margherita. At 4:00 PM I found my usual way to Piazza Mazzini, and as usually happens, I lucked out and found the only open space to park. This happens every time I come and I don't know why.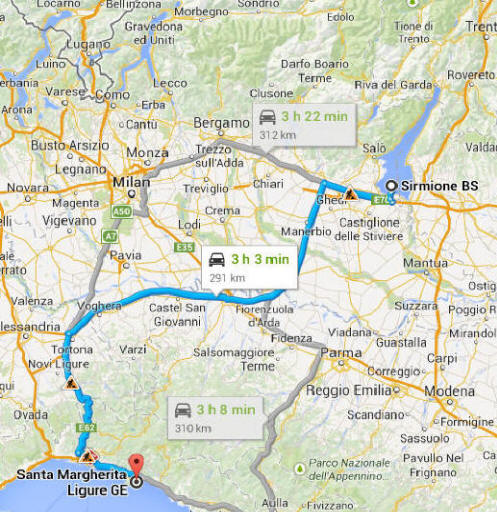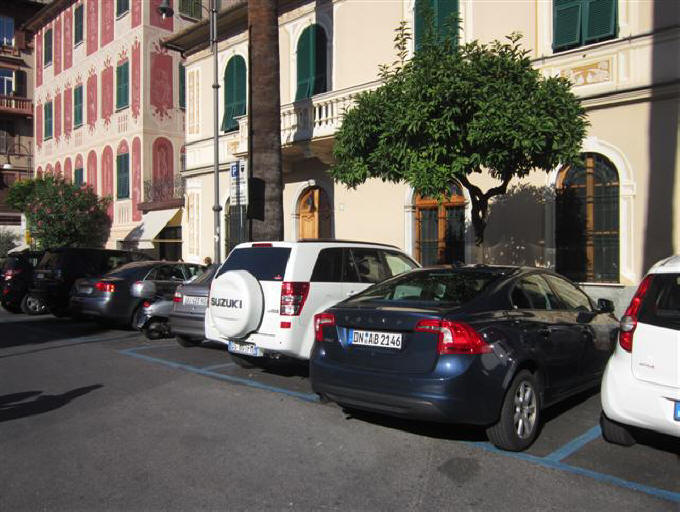 I then went into the TIM phone shop (below left, in front of the white truck) and the girl there, Camilla, told me that my two phone chips were absolutely expired and that I had to buy new ones. Here we go again. So I paid the $40 and got two new Italian chips.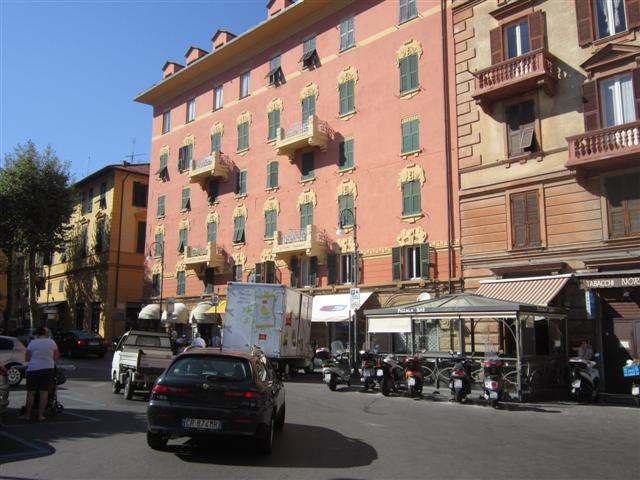 While I was doing that, Marcia went over and had lunch just down the street at Gepi [Largo Amendola 20,
+39-0185-403-2243] (above right and below.) She had a crepe with ham and cheese and a coka-lite.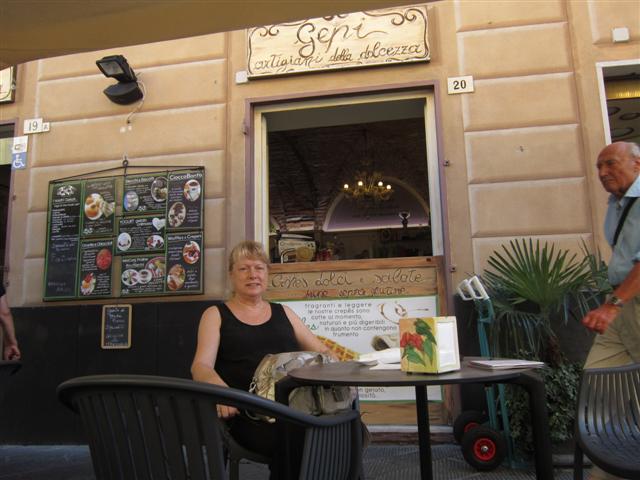 I then called Tania to let her know we were here and on our way. She told us to meet her in a place in Zoagli.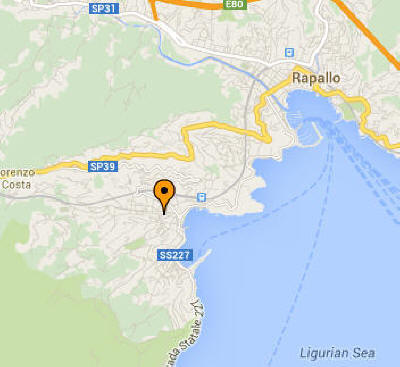 At

5:10 PM Marcia drove (above right) the 5.6 miles (9 Km) to the little coastal town of Zoagli (flag left, coat of arms right.) This town has a population of 2,500 people. We arrived in the center of town (below left) at 5:30 PM and drove down into the underground parking lot (below right.) Below left is a stock photo of the main piazza with its surrounding buildings and mine of the parking entrance where you park underground under the main piazza.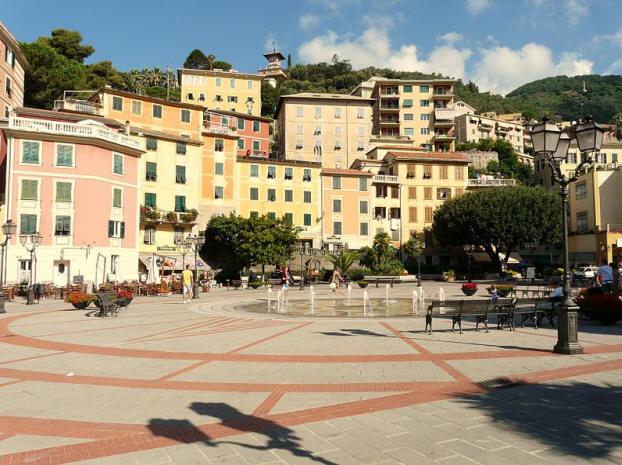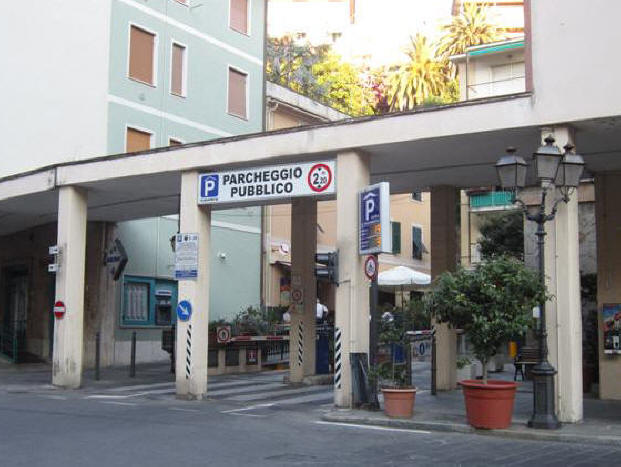 We climbed the stairs up to the central piazza and went to Era Ora Caffe [9, Piazza XXVII Dicembre,
+39-339-673-1356.] It either was or is now called Tordo Rosso [
+39-018-525-8208] because I can't seem to find Era Ora anywhere. Below left is a stock photo of Zoagli's railway bridge by the water and its beach. On the right is my photo of the memorial plaque placed here in 2005.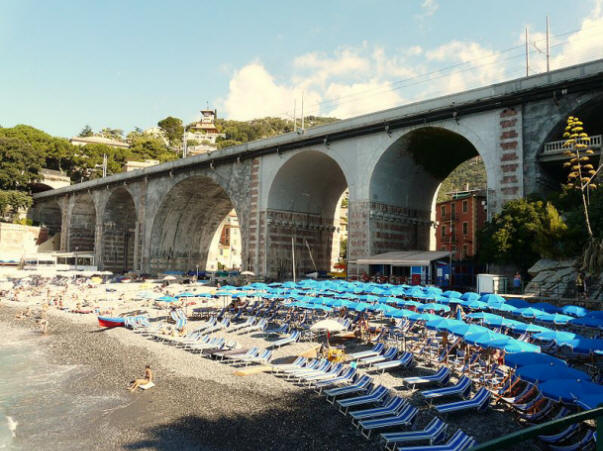 Background: The reason for the name of the main piazza is because during WWII, on December 27, 1943, Zoagli was unexpectedly bombed by the RAF and nearly destroyed killing 44 people . They were probably targeting the railway bridge, but unknown to them, the railway was not being used anymore because it had been destroyed in several other places.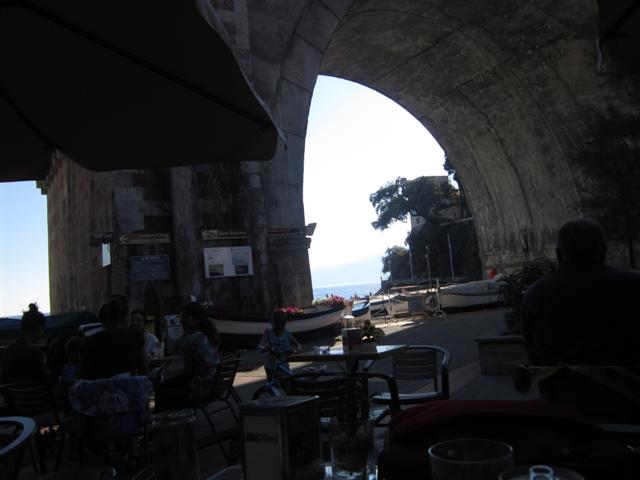 Here we are sitting out on the patio. At 5:40 PM I ordered a cappuccino and Marcia and I each had a Coka-lite while we waited for the others. With that they bring out all these free snacks to munch on which is usual in Italy.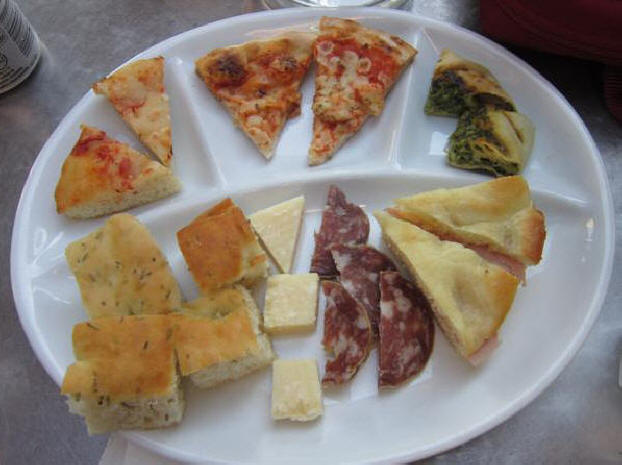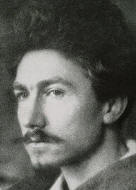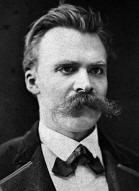 Two famous people loved Zoagli. The German philosopher Friedrich Nietzsche (1844-1900) (left) and the American ex-pat poet and fascist sympathizer, Ezra Pound (1885-1972) (right.) The latter spent much time here while living in nearby Sant'Ambrogio. Interestingly, both men wound up with mental breakdowns. At 6:45 PM I wanted to walk around to take some photos of the beach and train bridge with the GoPro camera. The signage on the bridge (below) points you left to the Lungomare Canevaro and the Torre Saracena (built in 1563) (seen in photo below) and to the right to the Lungomare del Naviganti.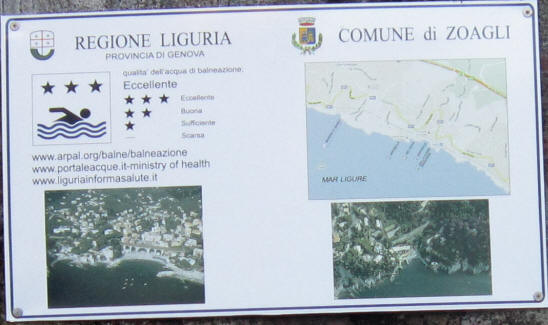 Here are the GoPro photos of the piazza and Era Ora Cafe.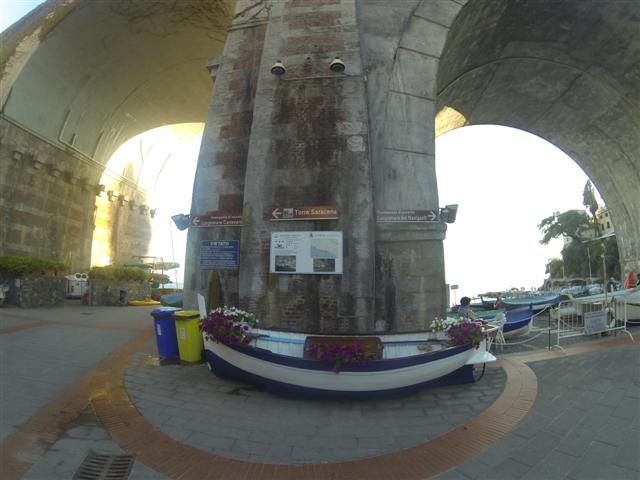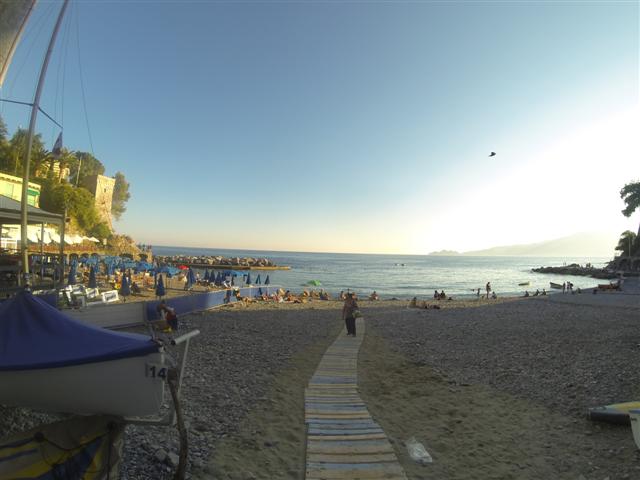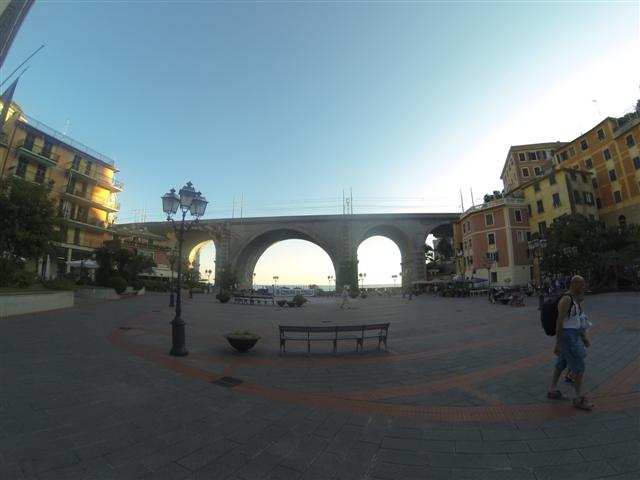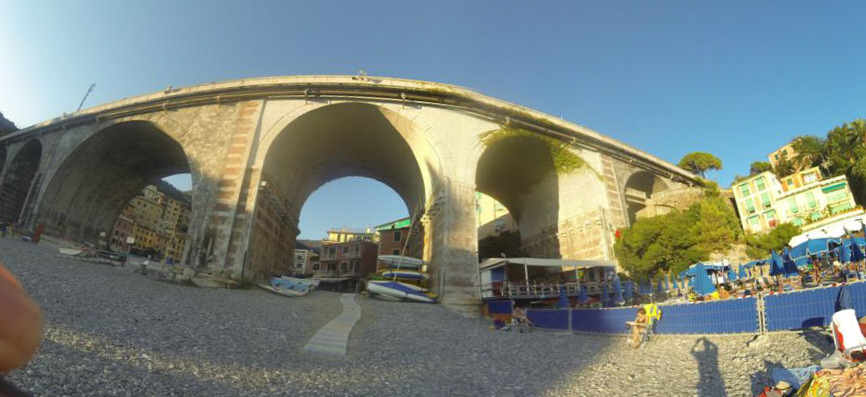 This PhotoStitch panorama from the Canon photos shows the bridge on the left and the tower on the right.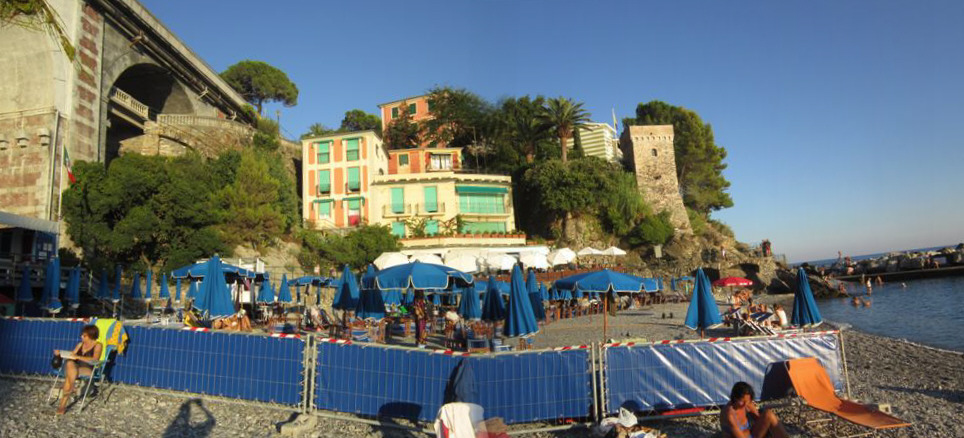 This one shows the whole beach area with the tower (torre) on the left.
There is no way you can walk on the beach in bare feet. You need sandals to walk on all these rocks and pebbles; it is not a sandy beach.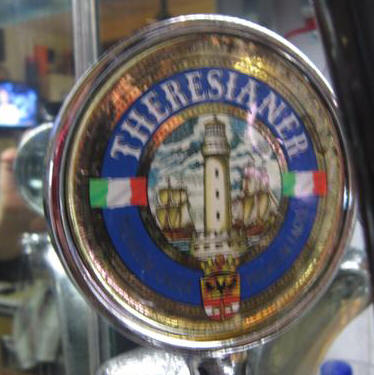 Finally at 9:10 PM, my Bolognese colleague and collaborator, Dr. Giacomo Savini, arrived and we had a great time meeting up again. We had some Italian beer (Theresianer) together and I started in with the reason I had asked him to come all the way from Bologna - so I could relate the history of the IOL Power Club (IPC) which started in 2005. Because one of our founders, Dr. Norrby, chose to retire, Giacomo was unanimously invited to replace him on the Executive Committee and he was then elected as Treasurer. I felt he needed to know all the history of the Club.
At 9:45 PM Tania arrived and introduced us to her mother Elena who was visiting from Moscow. We had never met her before. We all chatted for a while before leaving for dinner. Tania recommended we go to Rapallo. We went down in the garage to get our cars and for some reason the machine gobbled our ticket and at night there is no way to get out. Giacomo got on the emergency speaker of the pay machine and spoke with someone in Italian and figured out some plan to allow both our cars to get out with only one ticket. He drove up first and got the gate open and then jumped out of his car to keep it up while we drove through. Unfortunately, he left his door wide open and forgot to put his car in park and it started to roll backward. He made a mad dash to get back in but not before the large stone column crumpled his door. He did get the door to close somewhat but all in all not so nice. Now he is sure glad he made this trip.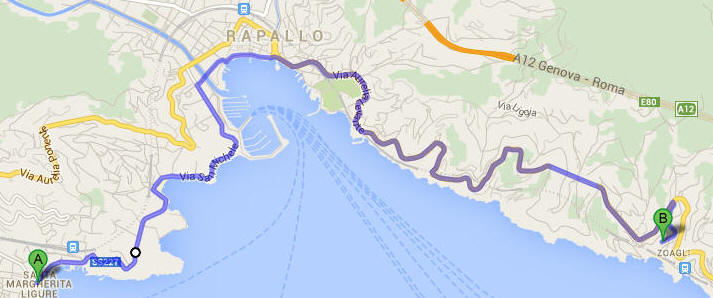 At 10:15 PM all three cars drove to Rapallo and at 10:30 PM we sat down for dinner at Amici Miei [Lungomare Vittorio Veneto 25,
+39-01-855-7480] (below left, stock photo right.) It is right on the coastal road with great sea views.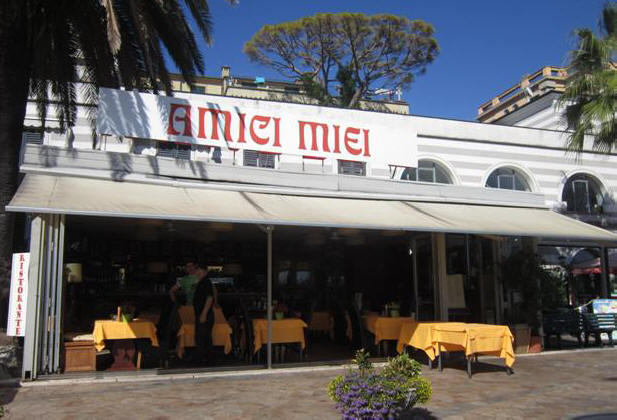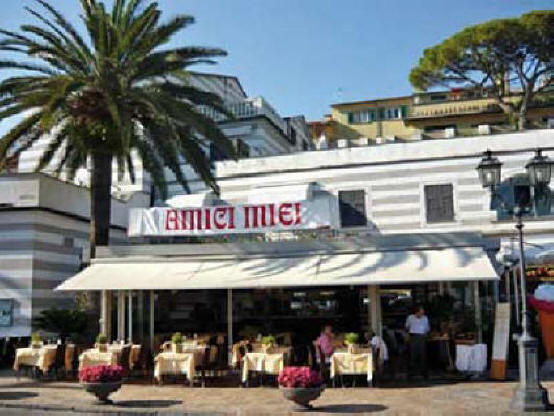 Our waiter took our photo (below left): Tania (R) and her mother Elena (L) (in front); Giacomo (L) and Marcia (R) (in center) and me at the end. Marcia had spaghetti vongole (with clams.)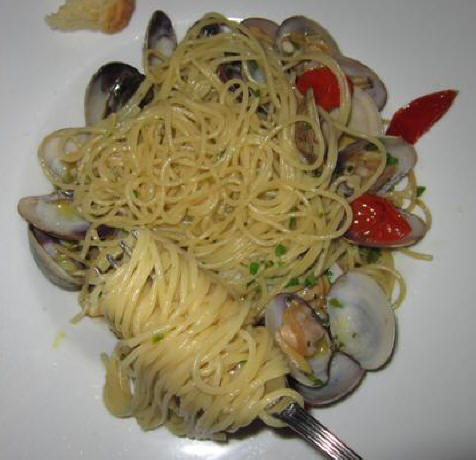 I had a bowl of fresh steamed clams followed by a dish of penne arrabiata.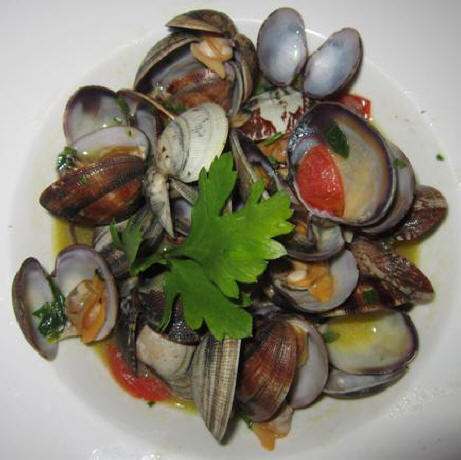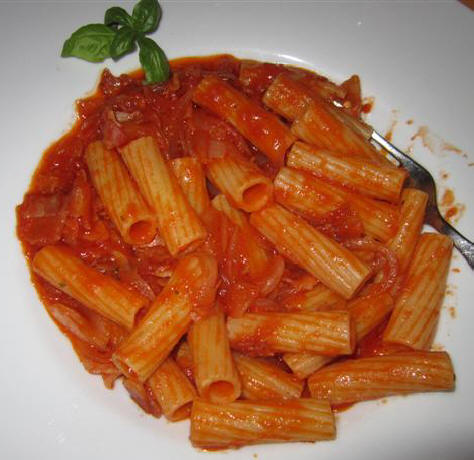 The others had polpo e patate (octopus with potatoes) (below left,) langoustines (Tania) (below right,) ...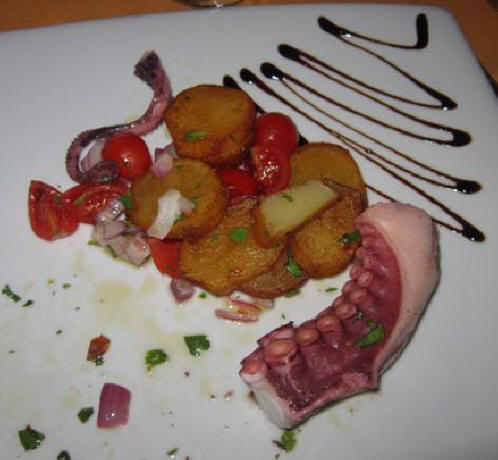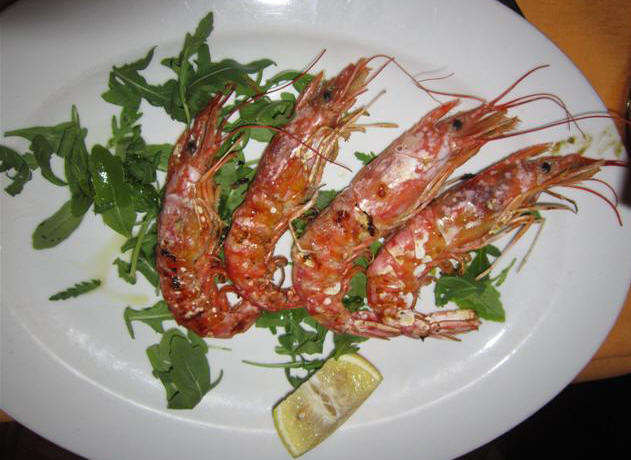 ... spaghetti al'aragosta (with lobster) and a chocolate mousse dessert.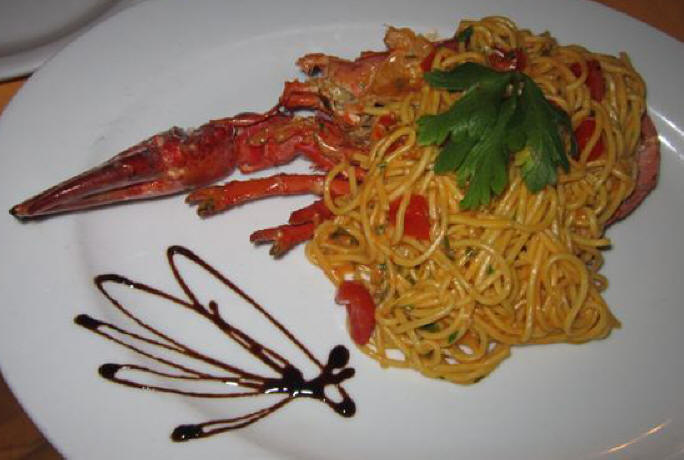 We all enjoyed our meals and at 12:40 AM we paid the parking of €2.50, and then drove to Dima and Tania's house. At 1:00 AM we had some wine and I continued with my discussion of the IPC with Giacomo into the wee hours. We had an enjoyable time.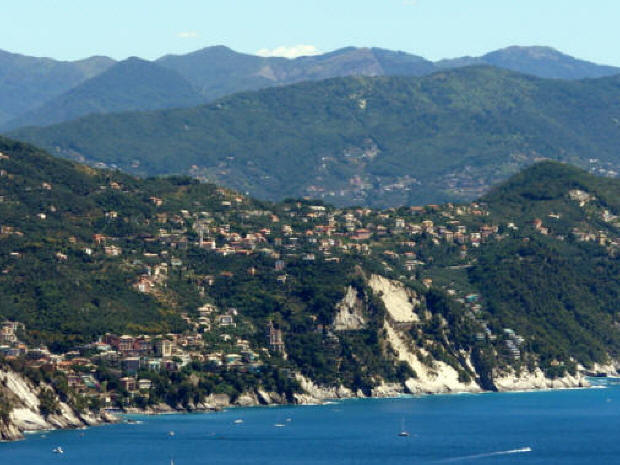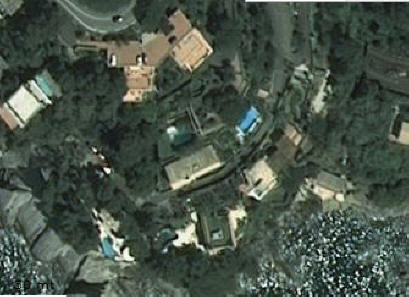 I finally gave up and at 2:00 AM, I went to bed.
Kenneth J. Hoffer, MD
Zoagli, Italy
Sent 7-15-2014
If you enjoyed these travels or wish to add comments on the places we visited
Please Leave Me a Message by clicking the spinning @ sign below.