Dr. Hoffer's Travel WebSite This site was last updated 02/15/15

POLAND13 #4 Zoagli to Monteriggione

---
September 4-6, 2013
---
---
Wednesday, September 4, 2013
---
ZOAGLI
I woke at 9:55 and again at 10:10 AM. Since Giacomo was already awake, I got up and we chatted more about the IPC and the several ophthalmic studies we are working on together.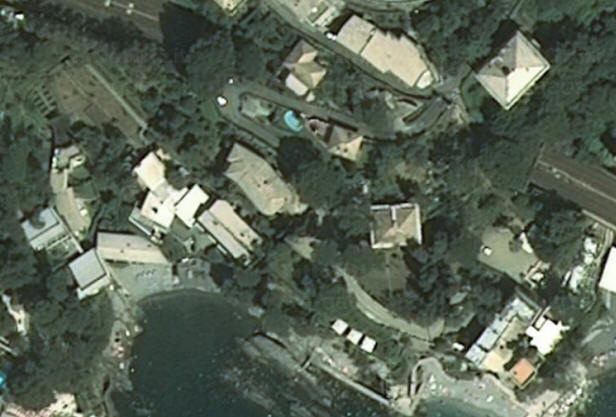 At 11:00 AM, I gave him a pair of my running shorts to swim in and we climbed down to the sea. As you can see it is a good way down there. This is the GoPro view from the back area of the house.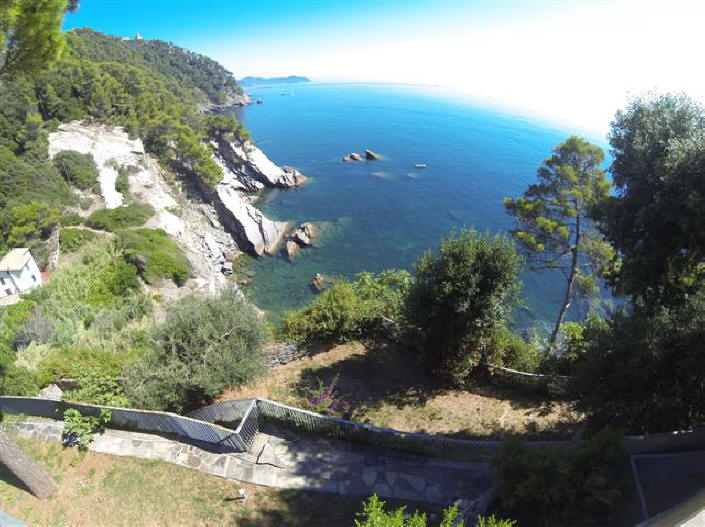 These are one of the various switchback stairways which wind there way to the bottom.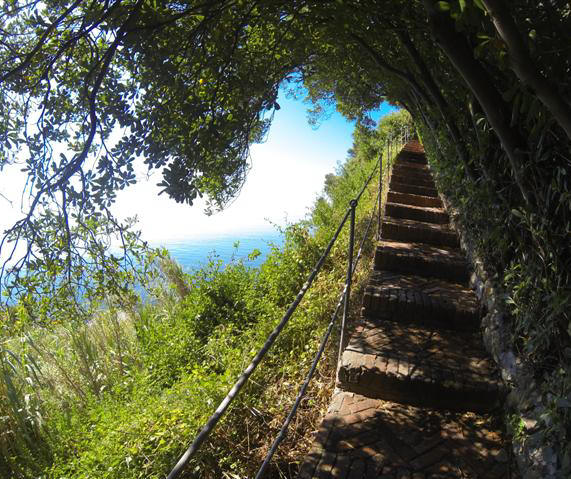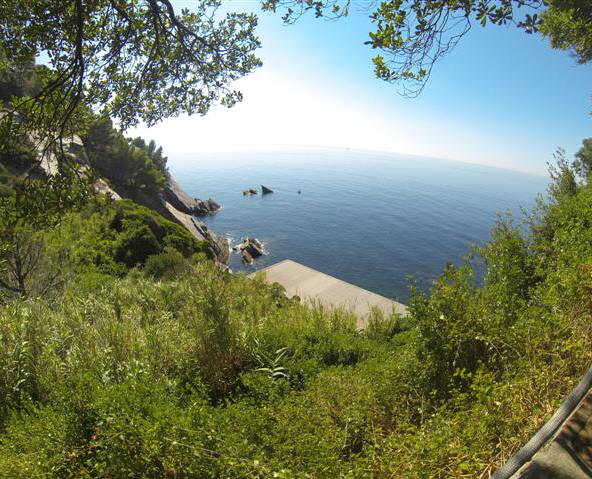 But, once you get down there, it is just so beautiful. There is a private beach for the houses here.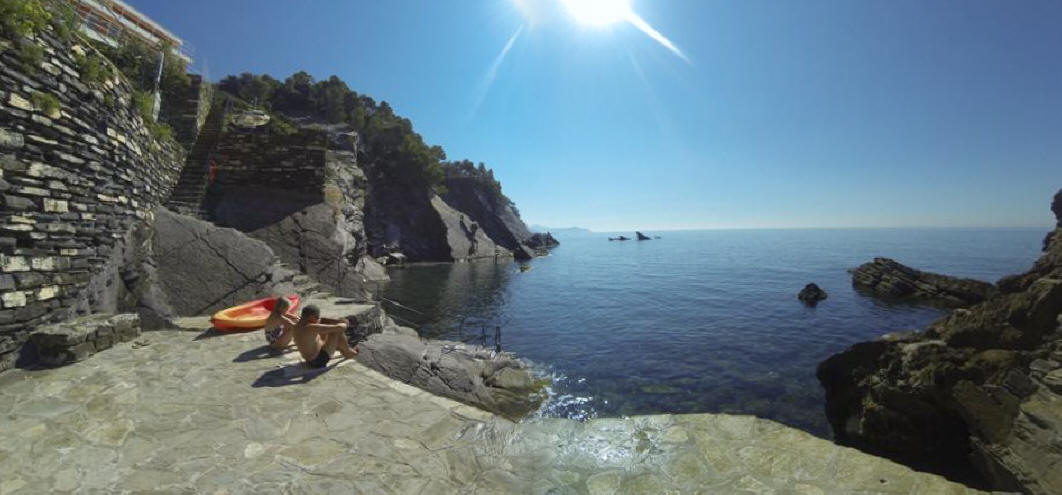 Giacomo is ready to try it (Canon left, GoPro right.)
At 11:15 AM he jumped into the sea and took a nice swim. I tried getting half in but it was just too cold water for me. We climbed back up to the house and at 12:00 PM I made some coffee and we continued our discussions.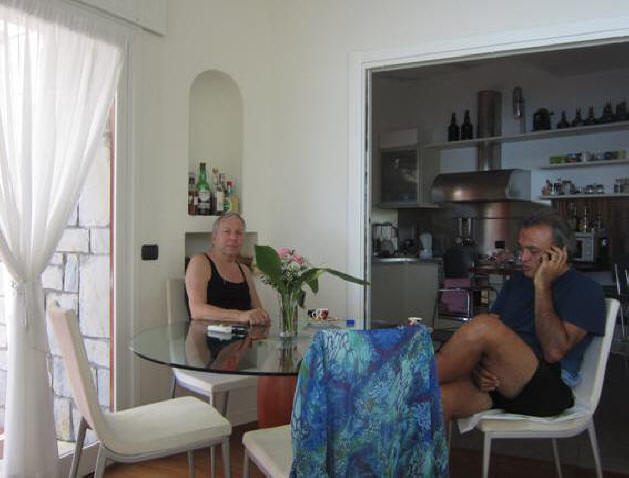 Because of our total lack of cash assets, at 12:15 PM, Tania loaned me €1700. Later, I emailed my secretary and had her wire that amount in dollars to her daughter, Anastasia's bank account in Miami where she is now starting her first year in college. She is my goddaughter who lived with us in Santa Monica for one year of high school. This worked out perfectly. We needed Euros and she needed dollars. At 12:45 PM, I convinced Giacomo to take a swim in the beautiful pool before he leaves. Dimitrii's dog Patrick kept a sharp eye on him while he was swimming.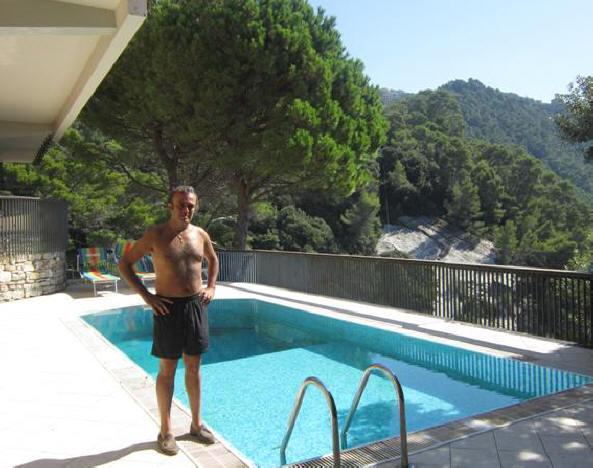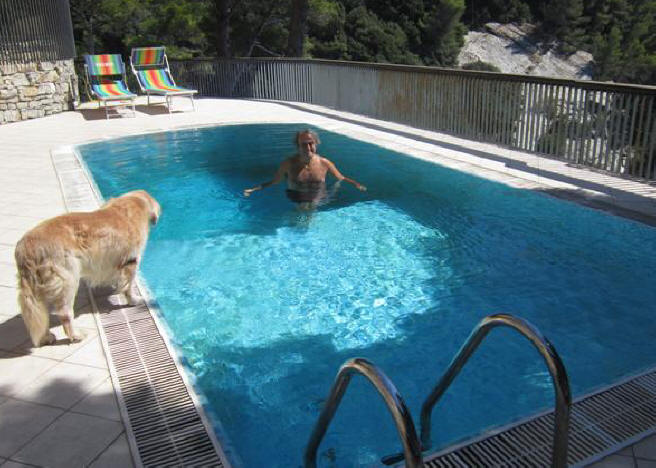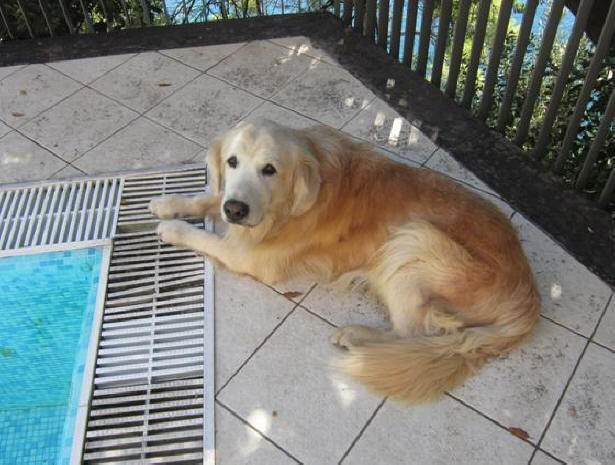 Patrick is really getting old now and a lot slower. I remember when Dima got him as a puppy in 1999. Giacomo finished his swim and then had to take off for the long drive back to Bologna while holding the broken driver-side door so it wouldn't fly open when turning. At 2:00 PM I decided to take a swim in the pool also and then showered. It was very refreshing. I tried to get Dima's WiFi working but didn't have any luck. I then went around and took some GoPro photos of the property. Below left is the pool deck and on the right is the pool from above.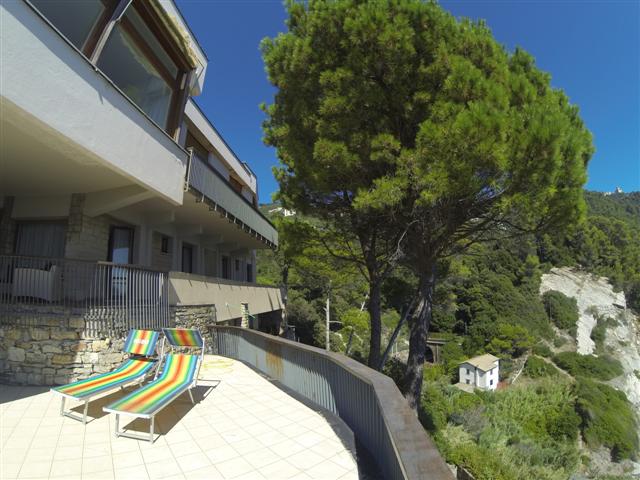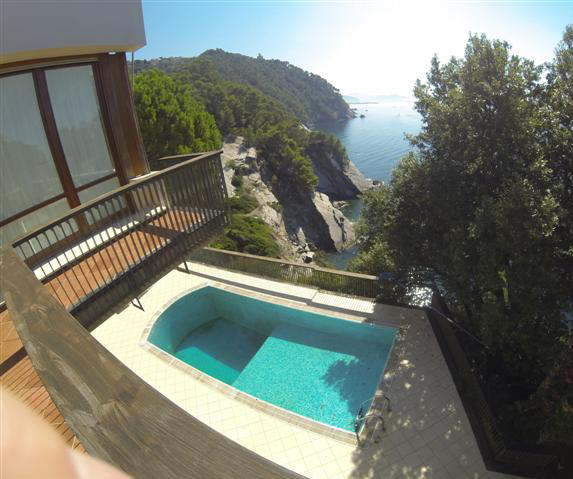 This is an interesting shot of the pool against the sea and the top floor from the pool deck.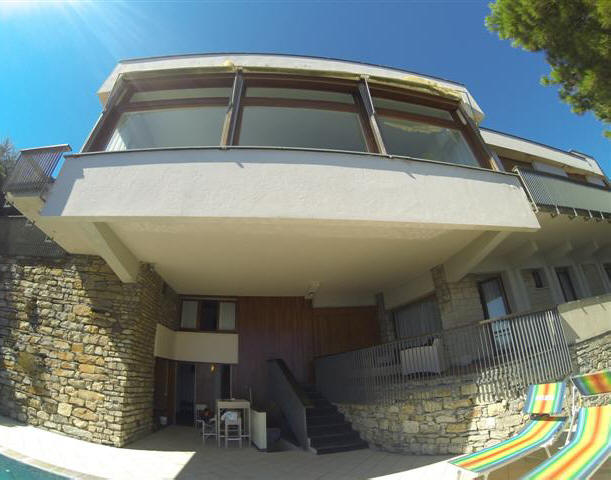 From the pool deck there are external stairs leading down and up to the main floor of the house (below left.) On the right is a PhotoStitch GoPro shot of the yard which leads to the exercise house.
At 5:10 PM, I walked down the ramp way (below left) to the parking area (below right) and took the car and drove to Santa Margherita.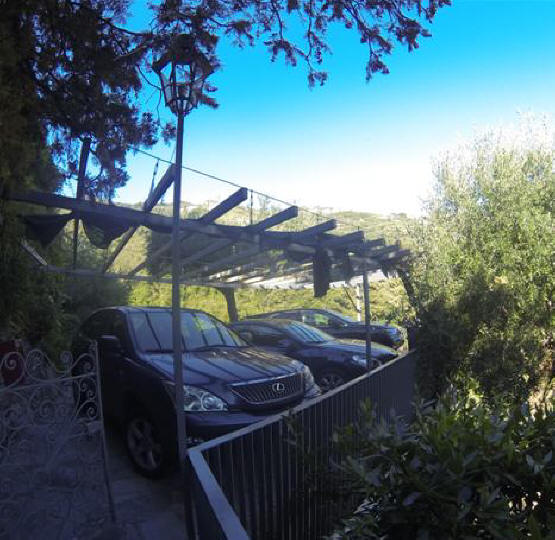 I arrived at Piazza Mazzini at 5:30 PM and this time I was not lucky. The only place I could put the car was in a handicapped space. At 6:35 PM, I took off on my usual run (map) down the waterfront streets and through the park by the sea (below right.) My usual path (below left) leads me to the breakwater and when I run to the end of that, ...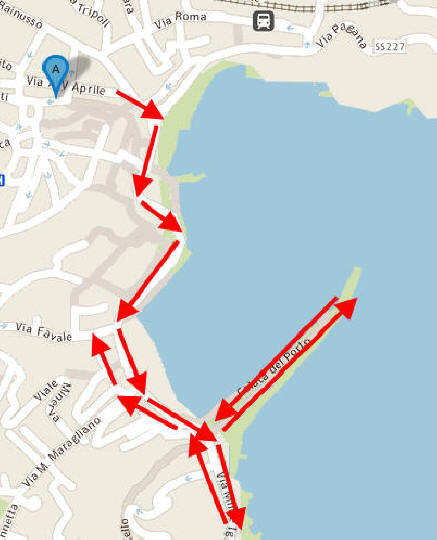 ... the views back across the bay to the city are just beautiful. I love this charming city.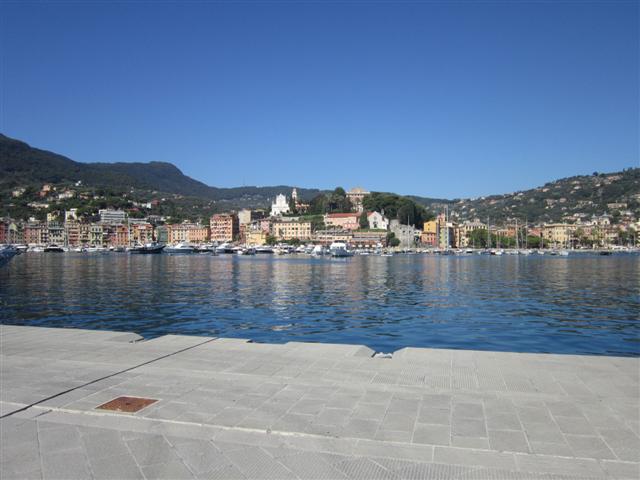 When I was done I wended my way to the central piazza and got photos of the outside and inside of Santa Margherita Church with the GoPro camera (ignore the curves.)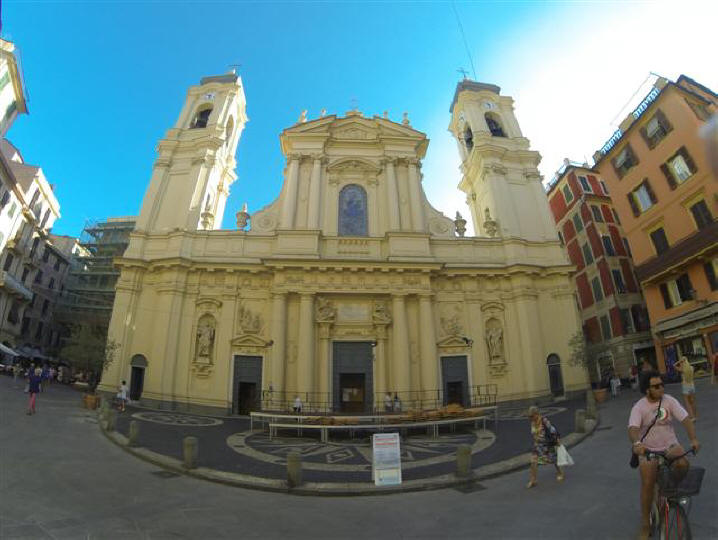 The city has gotten into the idea of installing public sculpture around the town.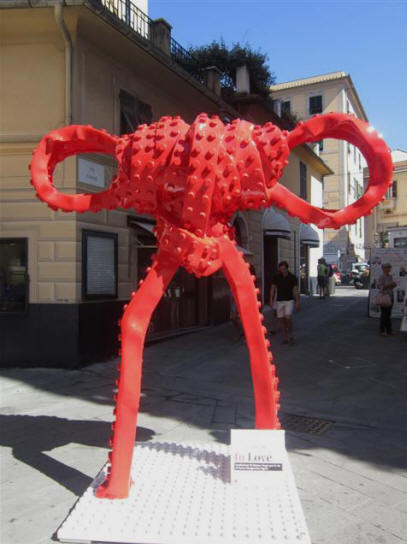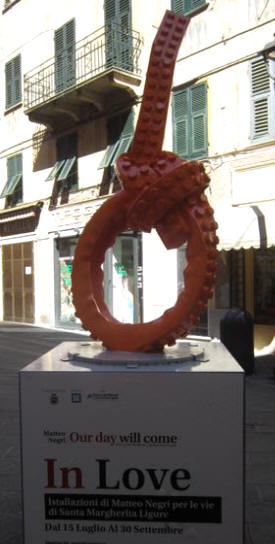 Because it was open, I then went into the fish market (below left) which was bustling and busy. They have a large chart in the window describing all the local fish that they catch here. I went inside and it was a little smelly.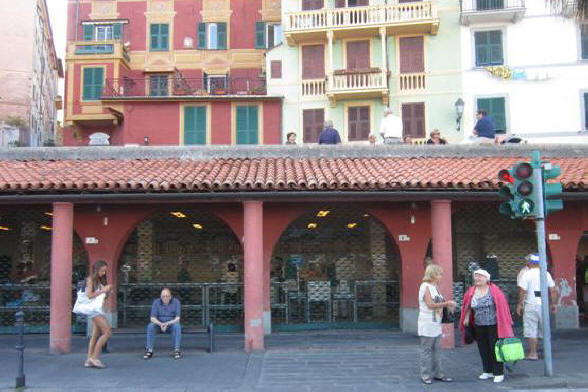 These guys were alive and swimming in the sea a few hours or minutes ago.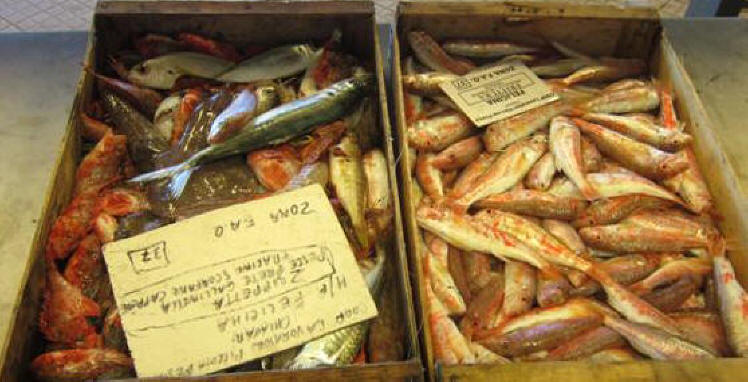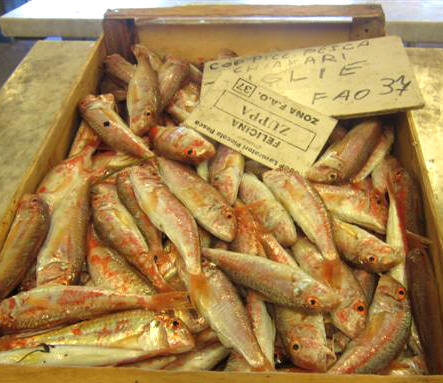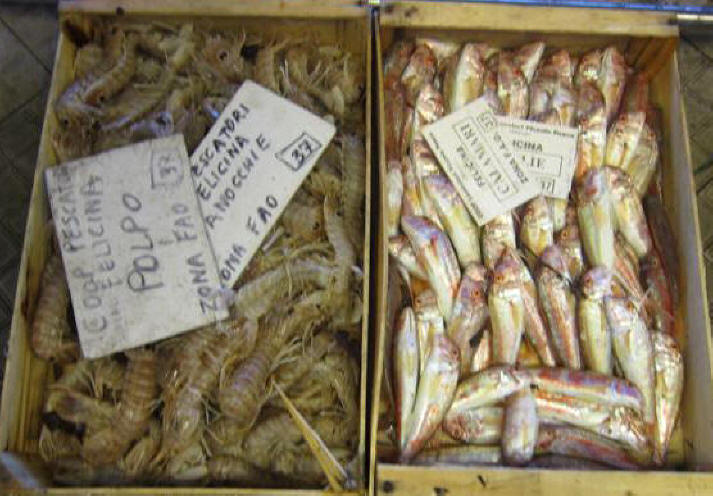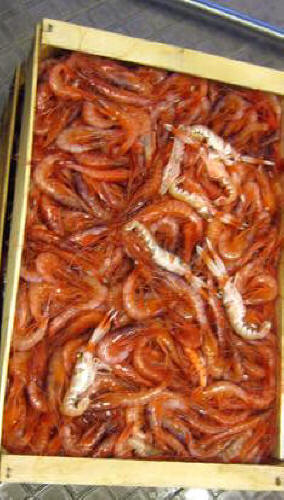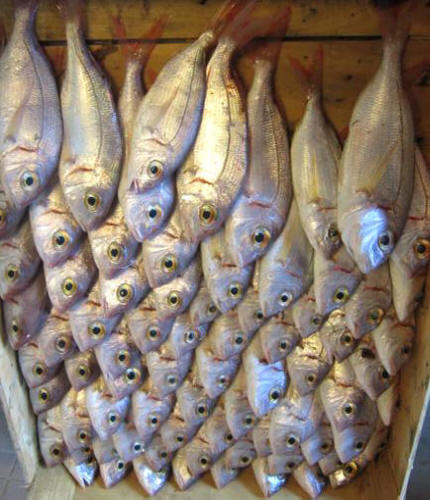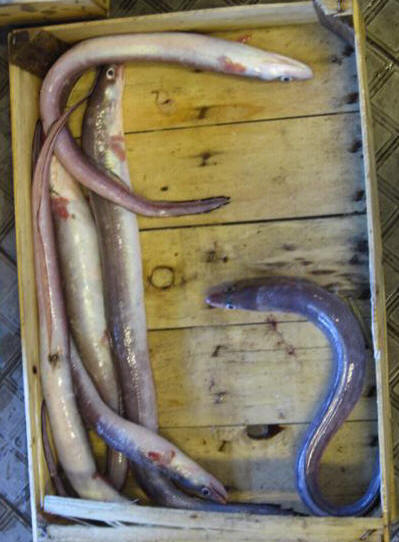 When I was done, at 7:10 PM I discovered a new place and had two cappuccinos and a coka-lite at Plaza Café [Piazza Marcia Liberta 15,
+39-0185-187-0592, plazacafe@fastwebnet.it] (below.) They had free WiFi so I was able to use Booking.com to get rooms for Udine, Italy, Wien, Austria and Ostrava, Czech Republic. So now we are set for several days.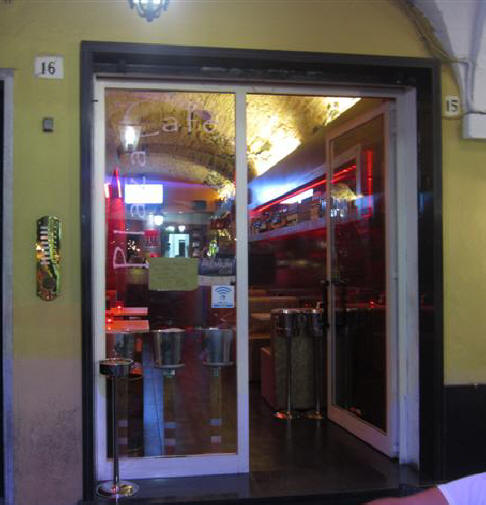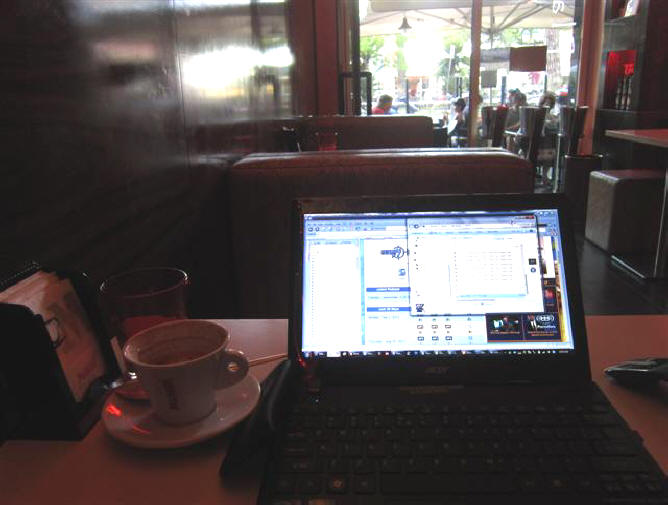 Tania told me they would all meet me in town for dinner. So at 9:30 PM I met them at Ristorante da Alfredo [Corso Marconi 3/A,
+39-018-528-8140.] Below are stock photos from their website; staff (below left) and chef Salvatore (below right.) Watch their VIDEO of Salvatore cooking up his seafood/pasta specialties. Its very good.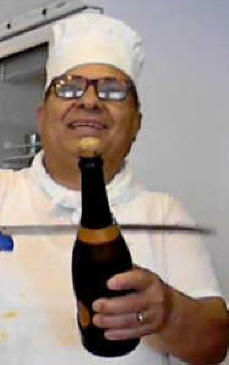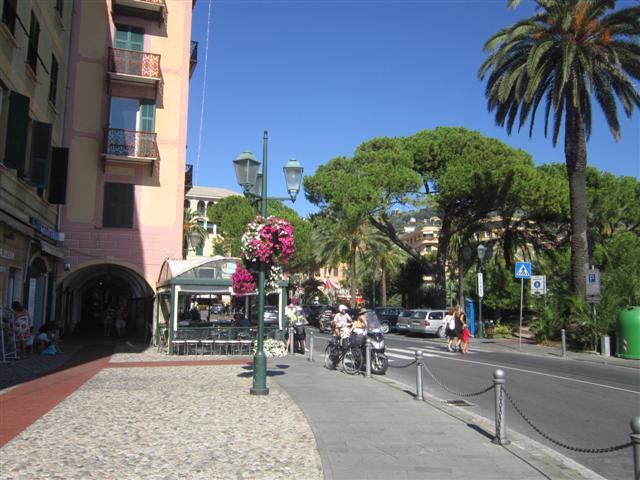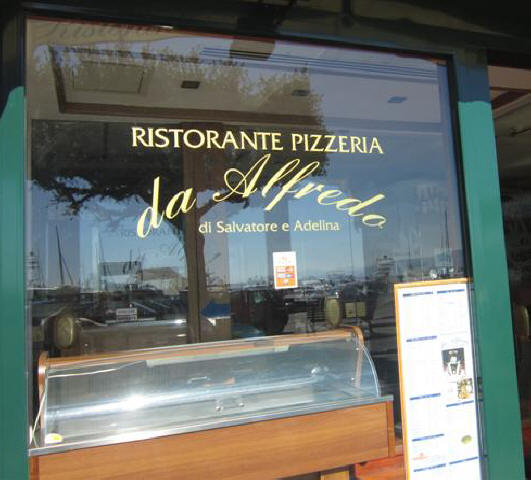 The sun went down and here are the three ladies waiting for me to rejoin them.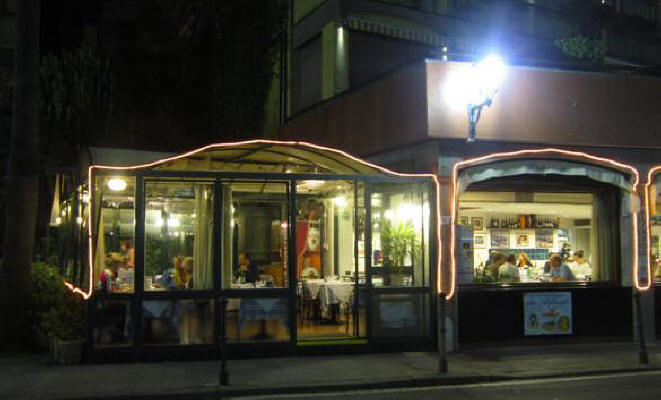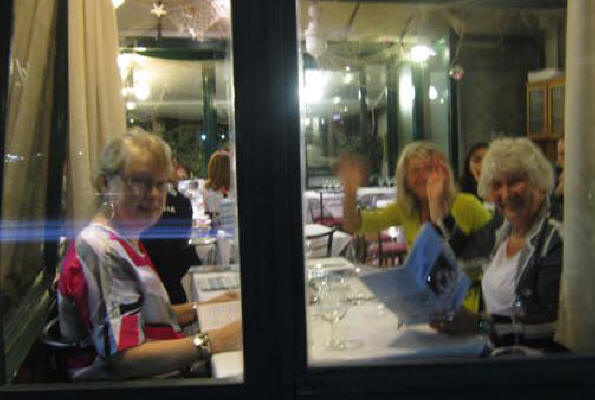 Their menu is quite extensive and is mainly fresh seafood from guess where.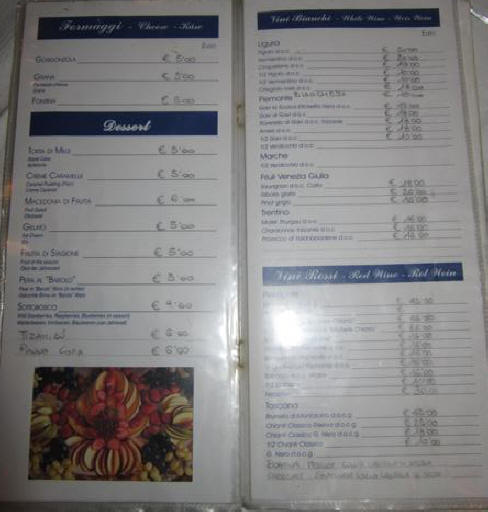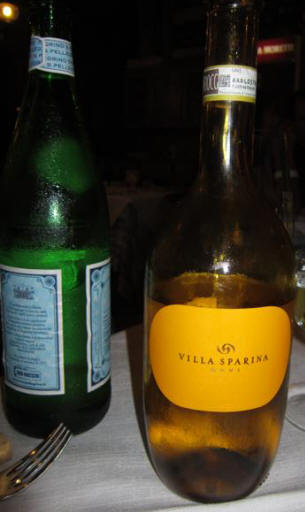 We ordered a bottle of Villa Sparina, Gavi di Gavi. I first had an order of spaghetti Bolognese followed by ...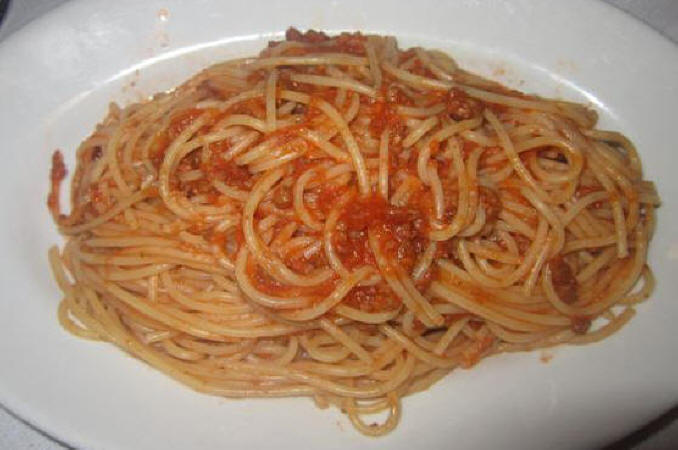 ... a plate of spaghetti ala vodka. Having two primis is a no no In Italy, but I was really in the mood for pasta. Marcia had just veal scallopine (below right.)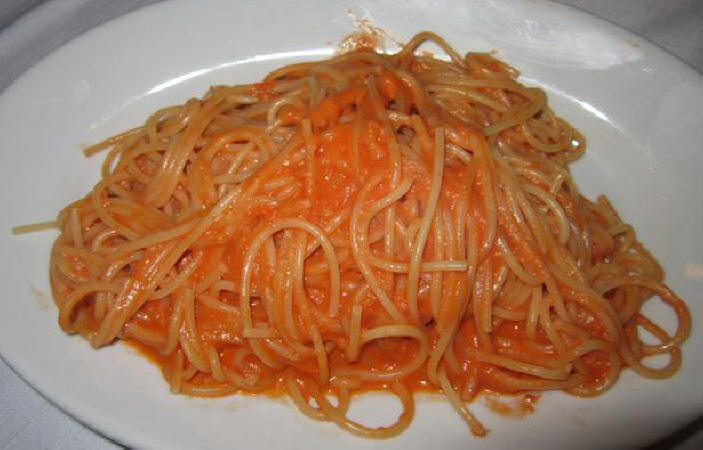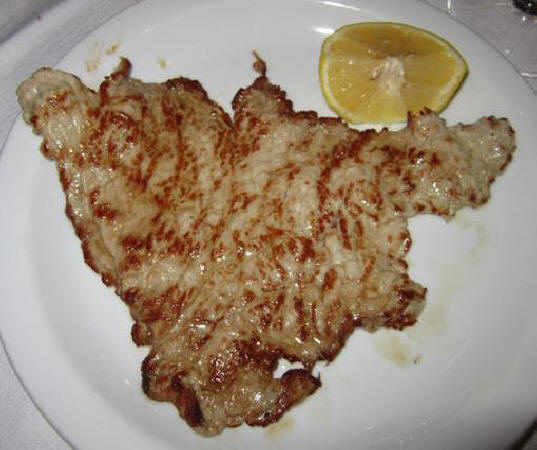 When we were done, at 11:30 PM, we drove back to the house and got to bed at 2:00 AM.
---
Thursday September 5, 2013
---
ZOAGLI-MONTERIGGIONE
Today is one week in the EU. I awoke at 6:00 AM and 9:05 AM and repeated my drive to Santa Margherita and parked in Piazza Mazzini near the TIM store. By 10:40 AM I was running the streets again. At 11:10 AM I stopped in my favorite men's shop, Mortola's [Via Partigiani D'Italia 26,
+39-018-528-6044] (below left) and this time I saw my friend, Antonio Mortola (below right,) the owner, who I have known since 2000. He reminded me about his macular scar in his left eye. I then called Dima and discussed the last time he had examined him in Milano from my referral years before. If you need men's clothing while here, this is the place to go. Its been here since 1905.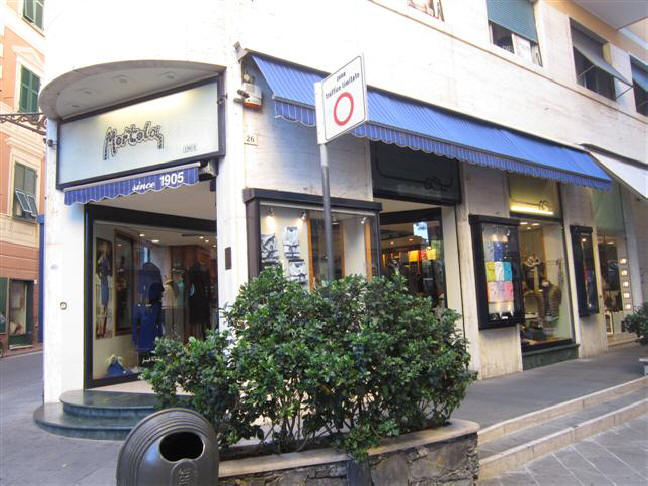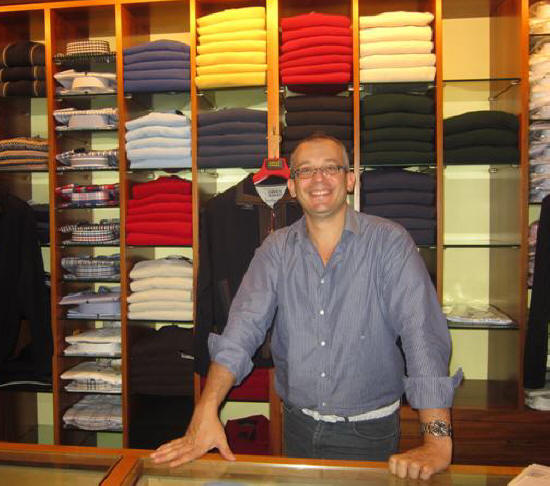 At 11:25 AM, I started wandering along Via Palestro and was intrigued by some knives in the window of F. Cozzio [Via Palestro 30,
+39-018-528-9194,] which sells crafts and gifts. They looked pretty good so I bought a neat ceramic kitchen knife (center) for €24 ($32.) At 11:35 AM I was back to the TIM phone shop [Piazza Mazzini 6,
+39-01 8-528-1218] and I again talked with Camilla (below right on the left) and Roberta (right) about the problem I was having with the TIM website in not being able to purchase more phone time online. They told me they would work on it and I should come back later.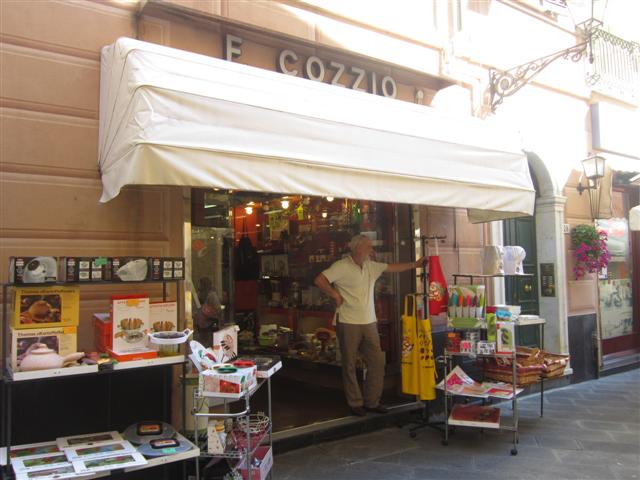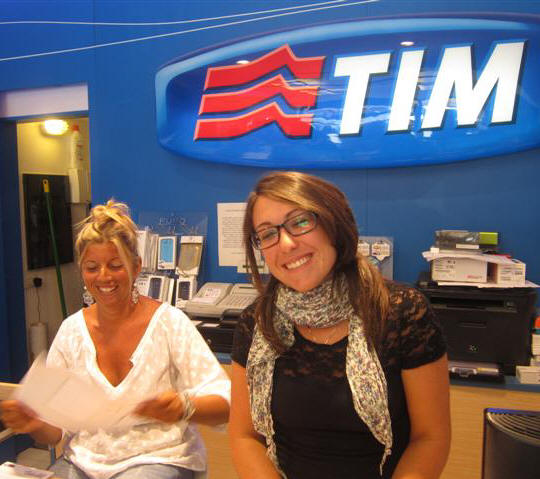 At 12:00 PM I wandered over to this new jazzy-looking place called Sotto Zero [Piazza Caprera 21,
+39-018-528-2603] (above left) and had a cappuccino. I started out in their patio outside and when they told me they had free WiFi, I went inside and sat at one of these modern tables (below left) and worked on my computer.
I took a look out the back door and they also had another patio out there (above right) that was pretty busy. At 1:00 PM I got on Booking.com and settled on a hotel for three nights in Krakow. It looked like an incredible deal. After that, I knew I needed to break these three €500 bills Tania gave me because no one will accept them in stores and shops. So I found a nice bank (below left) to go into to do this simple task. I went through the dual locking doors to get in and I see the one teller there dealing and arguing with this man about something. Many papers were being signed and this went on for twenty minutes while I stood and waited.
Finally it is my turn at 3:00 PM and I ask the teller to exchange the €500 bill into ten €50 bills. He jumps back suddenly and asks me sternly, "Where did you get that!" I was a little stunned and told him my friend had loaned it to me because I had no cash and told him about my bank card problem. He thought for awhile and then asked me if I had my passport. I told him I don't carry it when I go for my run but that I have my California driver's license which is ID in America. Again he pondered and finally relented and started printing out a lot of forms that I was to sign. He made a copy of my license, had me sign four papers which he dutifully rubber stamped and then reluctantly gave me the change. I then asked him if I could change the other two bills I had with me and he said, "Solo uno! Solo uno!" (Only one.) What an experience. Only in Italy.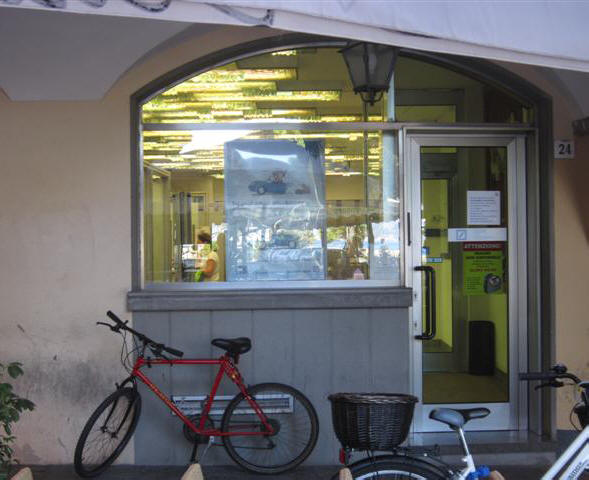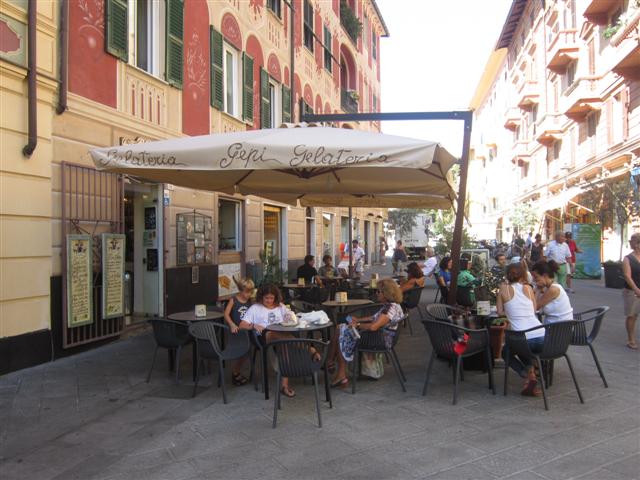 At 3:30 PM, I stopped for a Coka-lite at Pestarino [Via Palestro 20,
+39-018-528-7055] (above right) while waiting for the TIM to open after their "afternoon siesta." In my wanderings, I came across this really nice framed wall map display put up by the city. As you can see this whole bay where Portofino, Santa Margherita, Rapallo and Zoagli sit is called Golfo del Tigullio.
I was the first one in the door at the TIM shop at 4:01 PM and Camilla added €10 to my phone since I couldn't do it online and they had no way to fix it. They were very nice. Then I walked over to the car and discovered I had gotten a parking ticket. I drove back to the house and got there at 4:30 PM. I immediately got all packed and loaded the car. At 7:10 PM, we said good-bye to Tania (center) and her Mom, Elena (left.) We enjoyed meeting her.
We drove up the winding road to Via Aurelia and then Marcia drove the first 157 miles (253 Km) southeast past Chiavari, La Spezia and Carrara and then I drove the next 100 miles (160 Km) east past Lucca to Pistoia. We have gone from Liguria to Toscana.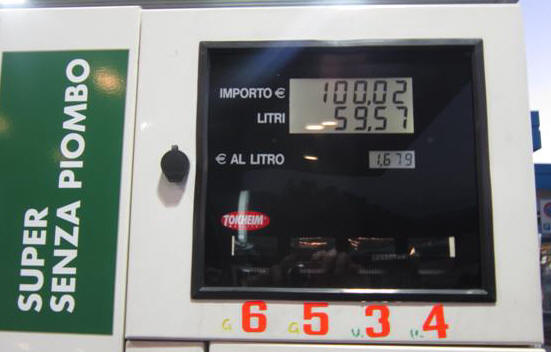 There we had to fill up the tank again at a Tamoil station. To fill the tank our diesel gas cost us €100 ($132) for 60 liters (16 gal) at $8.26/gal. Then at 8:40 PM, Marcia drove the remaining 58 miles (93 Km) south past Firenze to Monteriggione arriving at 9:35 PM.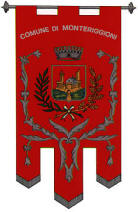 The total trip was 315 miles (507 Km) and

the Autostrada toll was €19.50.
[Background: The reason for a trip to Tuscany when we are here to tour Poland is simple. Alessandro Foggi is a bright Italian businessman who has a company called Visia Imaging. His company, located in San Giovanni Valdarno near Arezzo, manufactured a new optical biometer (Aladdin, right) for Topcon EU which will compete with the Zeiss IOLMaster (1999) and the Haag-Streitt Lenstar (2009.) He wanted to put my formula (Hoffer Q) in the instrument and signed a license agreement with me and then flew the instrument to me in Santa Monica so that I could check that it was programmed accurately (it was.) He stayed with us for two days and we had a chance to get to know each other. He has several other companies, one of which is a Borgo (hotel) near Siena and he invited Marcia and I to come and stay there a few days when we were next in Italy. Since we were visiting in Zoagli, we figured we would make the little side trip to accept his invitation.]
I had never heard of this place before and it is very interesting. It is the Medieval walled city of Monteriggione (Official Site) (below, flag above left; coat of arms, below right.) It is special because it is one of the few left in Europe with walls 360 degrees complete. It was built by the Sienese from 1214-19 as a defensive position against their enemy, Florence, and it is even referenced in Dante Alighieri's famous Divine Comedy.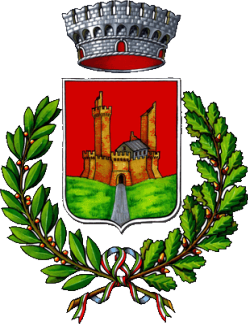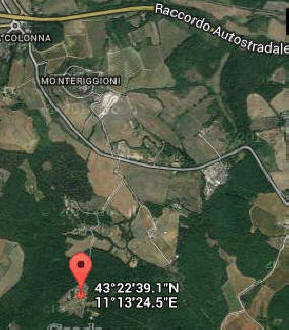 It was a little tricky to ultimately find his agriturismo hotel (red dot on maps above) but we finally
made it and at 10:10 PM we checked into Borgo Gallinaio [Strada del Gallinaio,
+39-057-730-4751.] Gallinaio means henhouse in Italian. Alessandro had reserved a special room for us on the first floor and his manager's wife, Carla Izzo checked us into our room which was named Siepe (which means hedge.) Here are four stock photos from his website.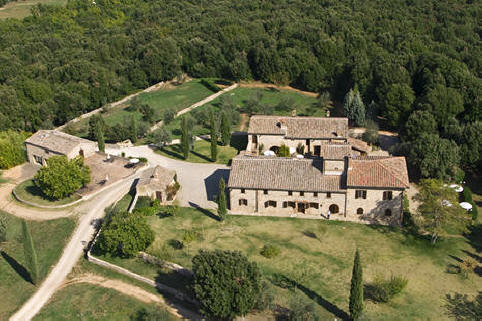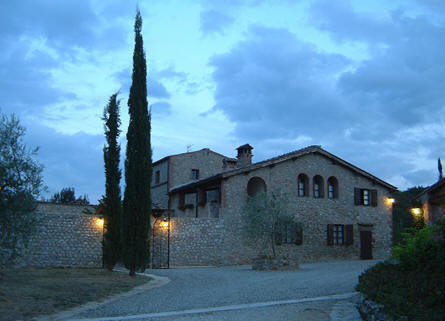 This is a real working farm and is really out in the middle of nowhere. It has 4.5 out of 5 stars by both TripAdvisor and Booking.com. We were able to park near the back door of our room (below left) and unloaded the bags easily. Below right is his manager, Alessandro Izzo, a wonderful guy and a very interesting fellow.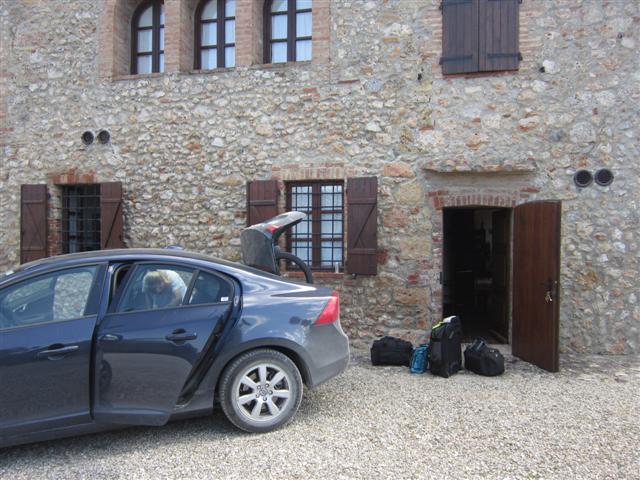 Then I parked the car in their lower lot. Our room was large and very nice as you can see from the GoPro (left) and Canon (right) shots from one end of the room ....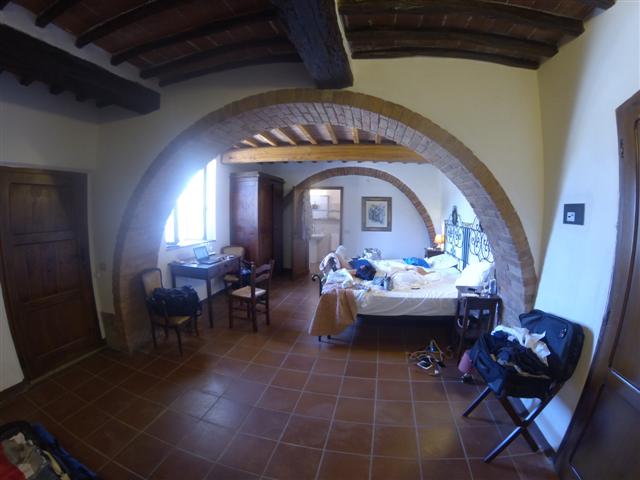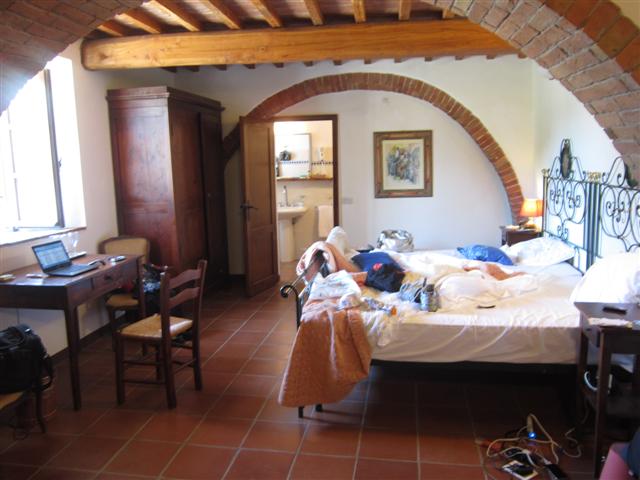 ... and from the other end. It had a nice big bed.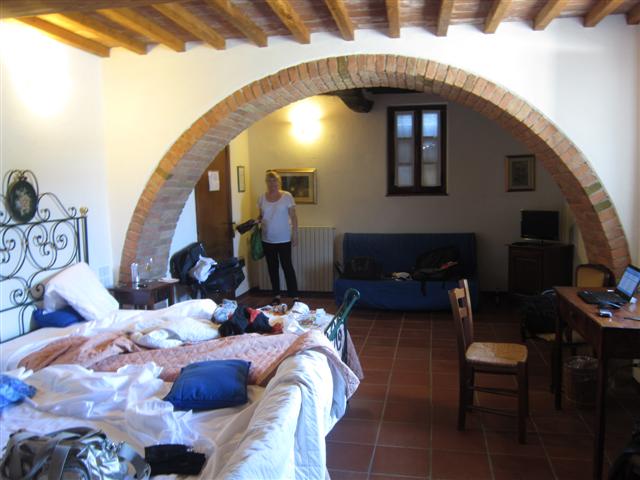 The bathroom, at one end, was large and very nice (with bidet) and the windows had bars on them.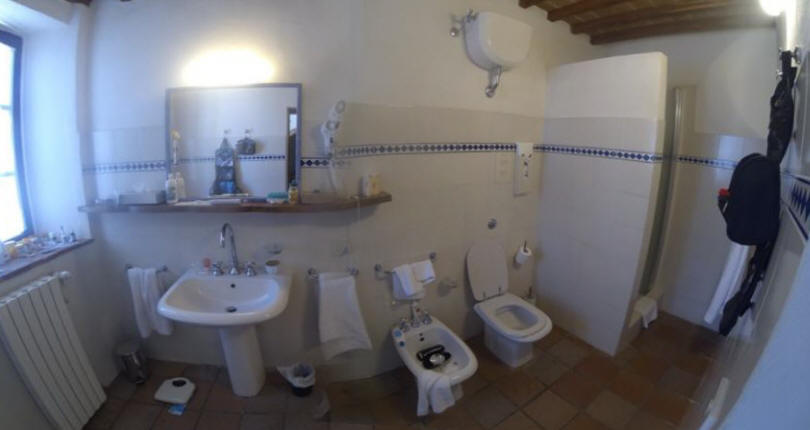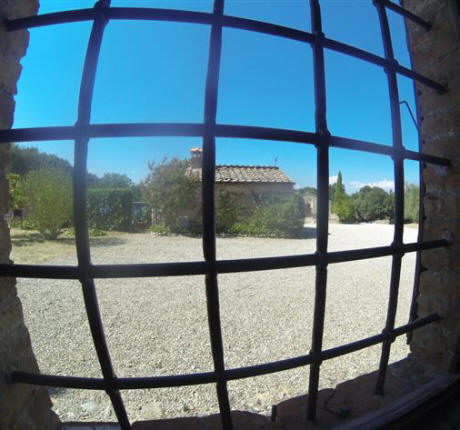 At 10:30 PM Carla told us to hurry and get dinner in their restaurant before the kitchen closes. We were seated at a table in the outside patio area and shown the menu for tonight. I ordered a familiar bottle of Tuscan white wine that I know very well called Vernaccia di San Gimignano (Capella St'Adrea) which we enjoyed in the balmy evening air. I keep my refrigerator at home full of this Vernaccia. If you have never tried it, go get some; I think you will.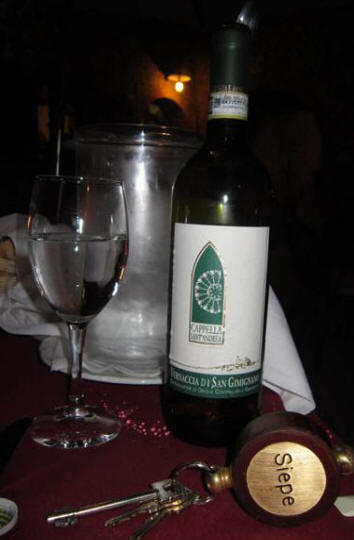 We were both served a primi of fusilli with meat sauce (below left) followed by a secondi of rabbit with olives, and a mixture of broccoli, cauliflower and carrots (below right.) This was the dinner for the night.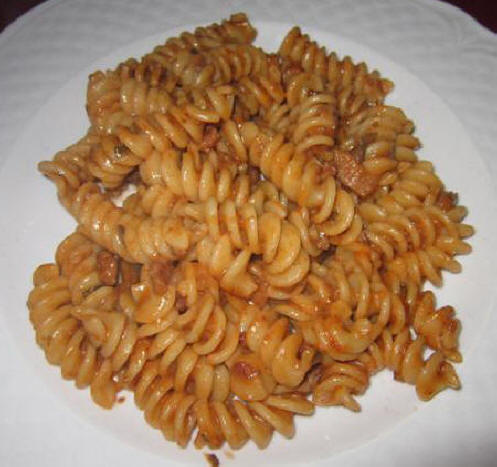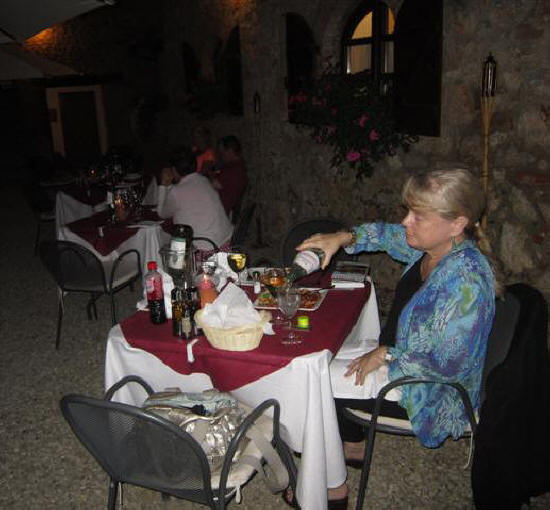 After dinner she served us biscotti with vin Santo after dinner wine.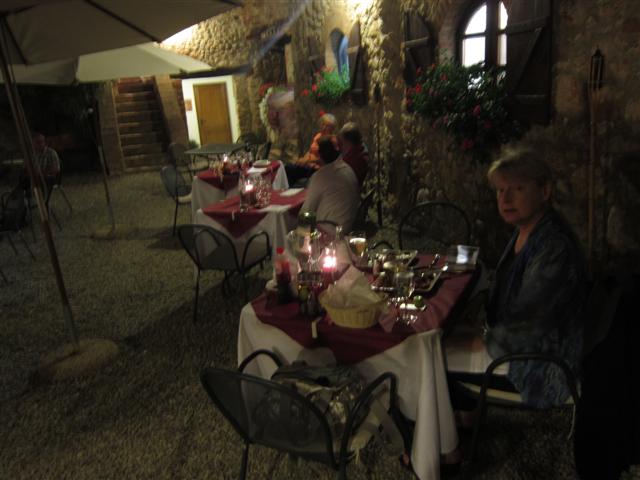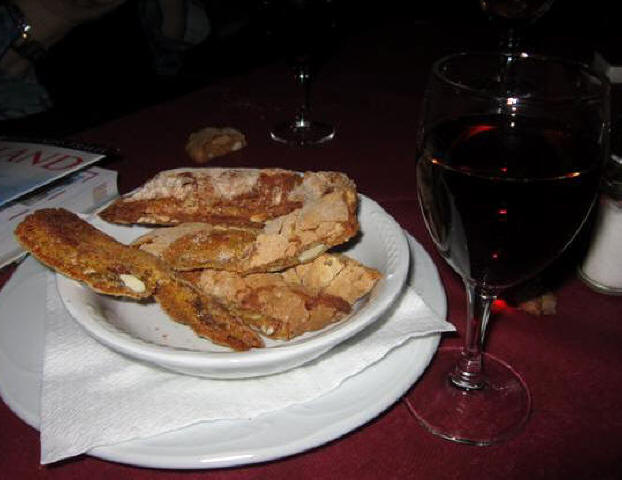 Our waitress was Debra and we rated our meals as Good. We enjoyed relaxing outside on this beautiful balmy night listening to all the Belgian tourists who were also finishing their dinner and telling jokes and laughing. It was quite enjoyable. We went back to our room and got to bed at Midnight.
---
Friday September 6, 2013
---
I woke at 4:45, 6:15, 7:45 and 10:15 AM; so now the jetlag is really setting in. At 2:00 PM they were able to make me a very nice cappuccino and I had free WiFi so I was able to get the money transferred to Anastasia in Miami and get my email done. I then walked the property to take some pictures. From the courtyard (below left,) I walked away from the main building (the back, below right.)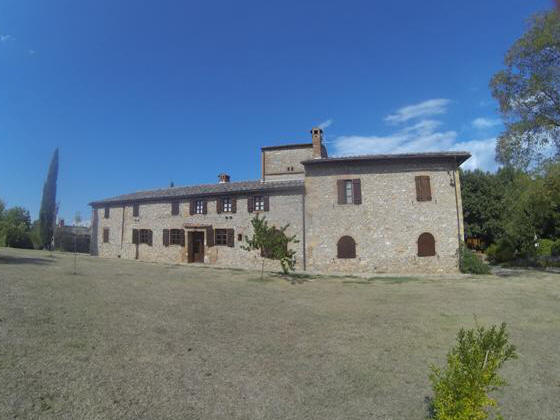 Nearby there is another building where there are chaise lounges and umbrellas set up for sunning.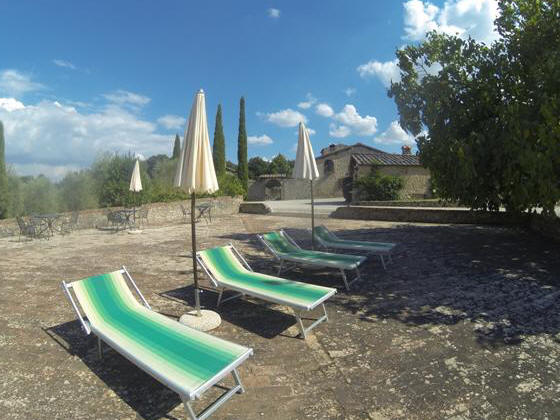 Then I went around the side of the main building and you can go through the olive trees (below right.)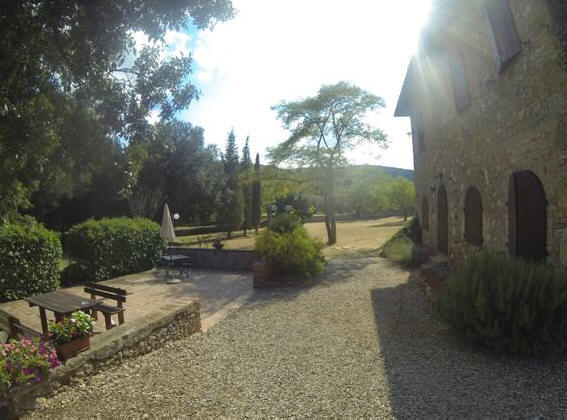 I then came back to the Borgo and into the dining room area (below left) and worked on my computer until 4:00 PM. Below right is the reception area next door and our room is the door behind the white couch on the left.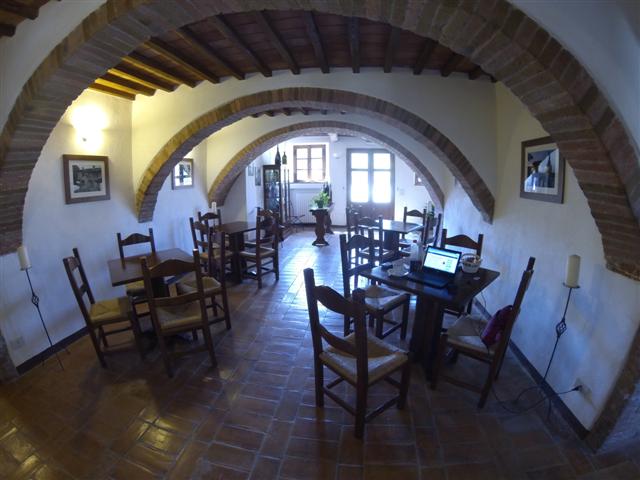 We then decided to go see the historic town. We got the car and I drove to the hill town of Monteriggione which was only 1.5 miles (2K) from the Borgo (stock aerial photos below.)
The roughly circular walls, totaling a length of 1,870 ft (570 m,) follow the natural contours of the hill. There are 14 towers on square bases set at an equidistance and two portals or gates. One gate, the Porta Fiorentina (left) opens toward Florence to the north, and the other, the Porta Romana (right,) faces Rome to the south. The main street within the walls connects the two gates in a roughly straight line.
[I had never heard of this little jewel in Italy and thus explored it extensively and am including a large amount of details on this city.]
Here is the shot I got as we approached the city.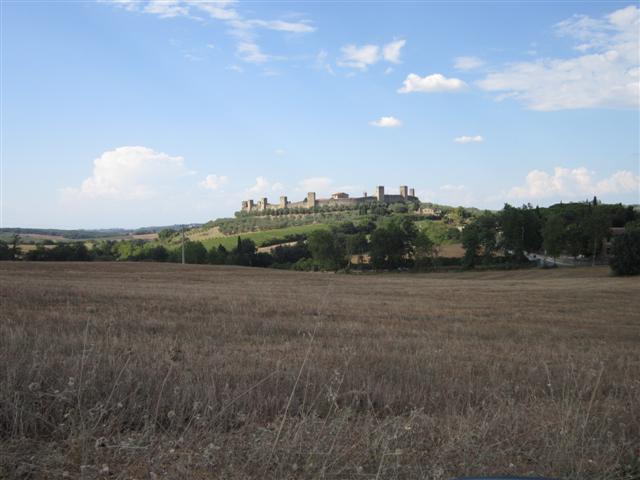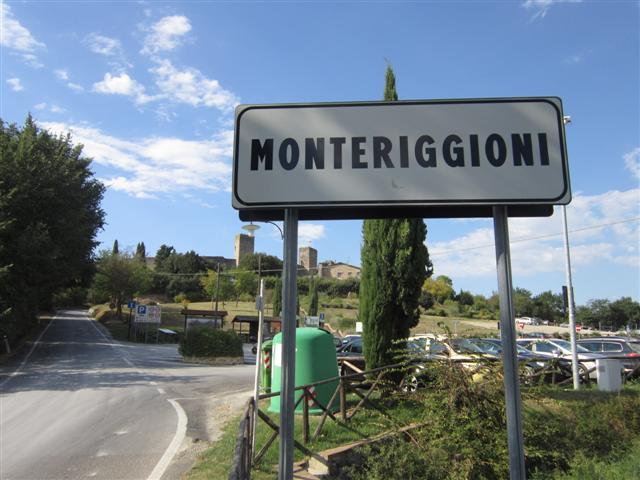 We parked in their lot (above right) and at 4:15 PM we walked up to one of the two gate entrances, the Porta Romano.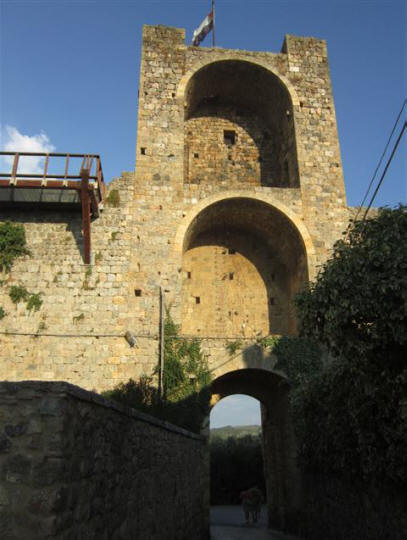 Above left is from the inside of the portal. Below is the approach (GoPro left, Canon right.)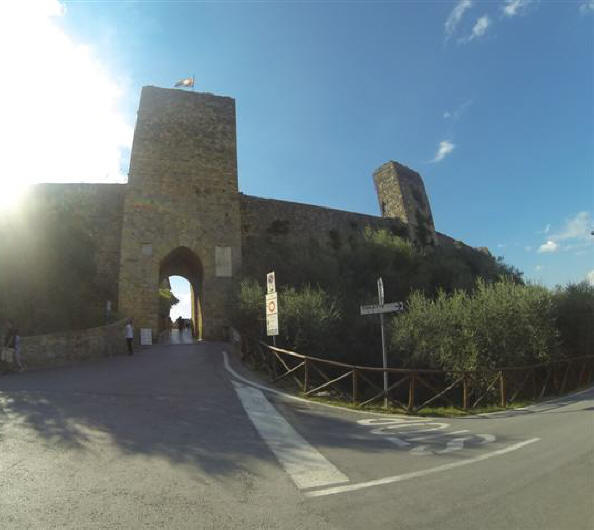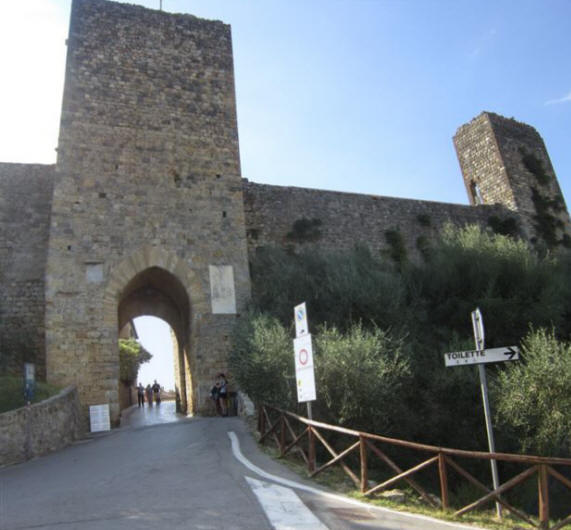 Once through the gate you are immediately in the main area called Piazza Roma (stock photo below.) We are now 700 ft (200 m) above sea level.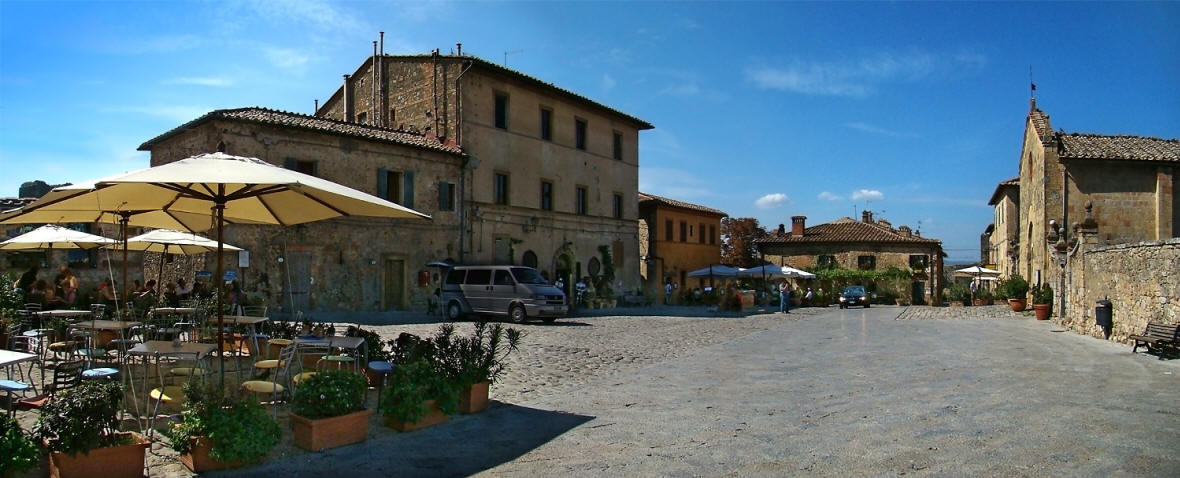 At 4:35 PM we decided to sit down at Osteria Gelateria Antico Travalgio [Piazza Roma 6A,
+39-057-730-4718] because Marcia wanted to get something for lunch.
It was very pleasant to sit and look around and get the lay of the land.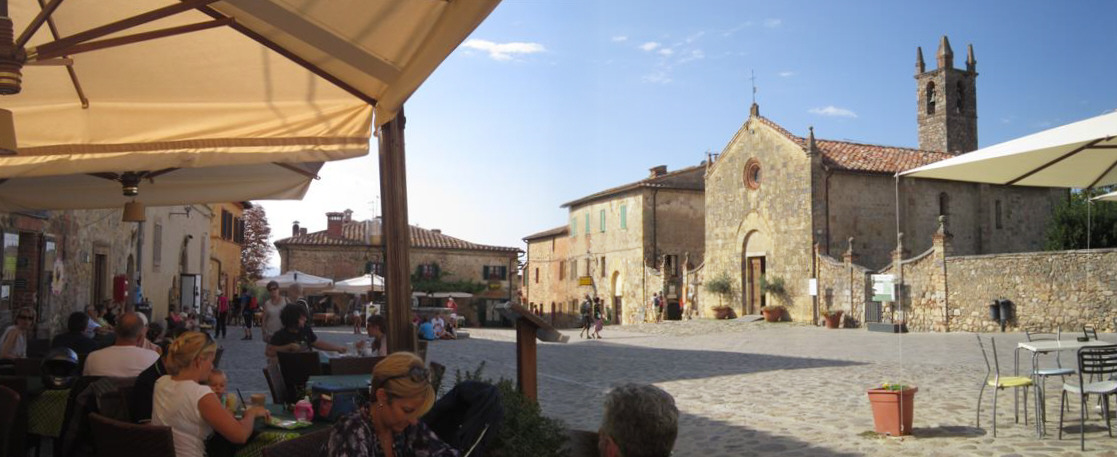 I got a cappuccino and Coka-lite while Marcia went inside and ordered five bruschetta with various toppings and a water.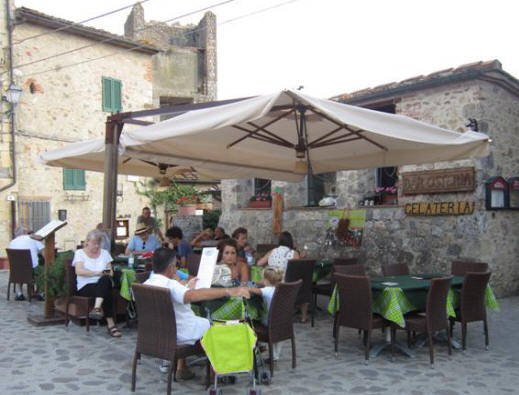 All of a sudden we kept getting dive-bombed by these bees that were attracted to the soda cans. Several of them went into the can and got soaked. I got one of them out and he was saved (below right.) You can see all the foam covering his body and wings.
Time to get away from the bees. I walked over to see the main church across the piazza. It is called the Santa Maria Assunta Church and is Romanesque with a very plain facade.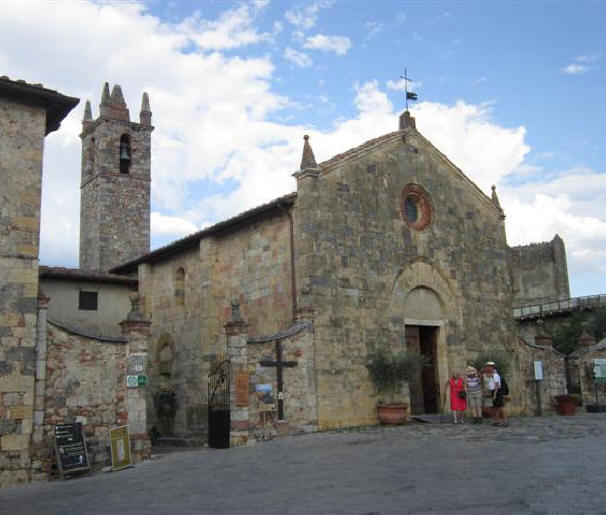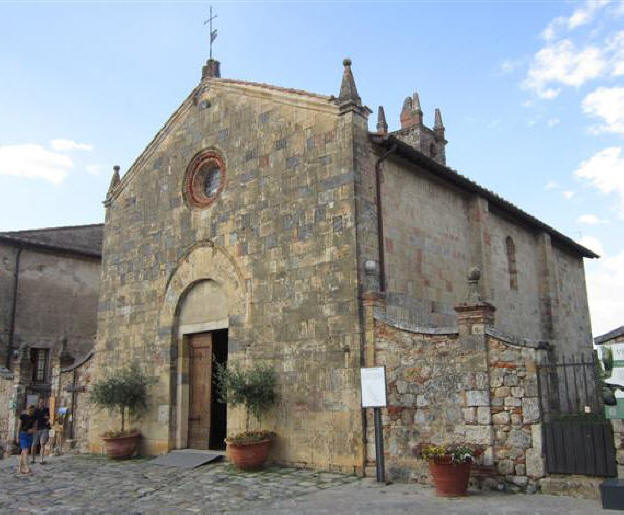 The church was consecrated sometime between the building of the defensive walls (1213) and 1235, when the peace treaty between Siena, Florence, and Poggibonsi was signed here. Santa Maria Assunta's association with pilgrims tracing the Via Francigena route (see below) continues to this day. There is a notice on the door offering lodging assistance to pilgrims. The tourist information office is on the left. Here are the views inside the chiesa (Canon left, GoPro right.)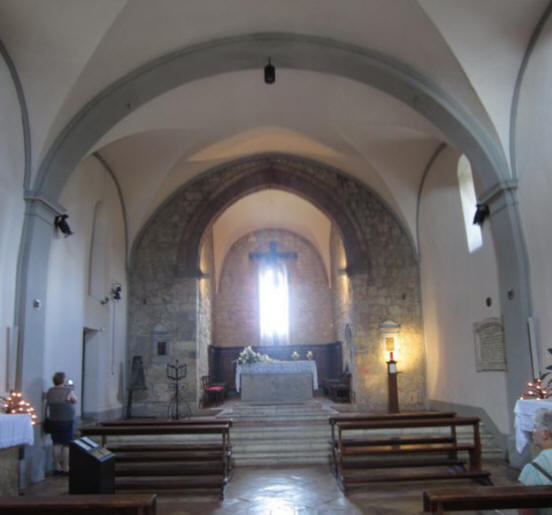 At 5:00 PM I wanted to walk around the piazza and streets and came across the fancy Hotel Monteriggione [Via Primo Maggio 4,
+39-057-730-5009] (GoPro below right.)
Below left is a Canon shot of the entrance and on the right is the interior dining room.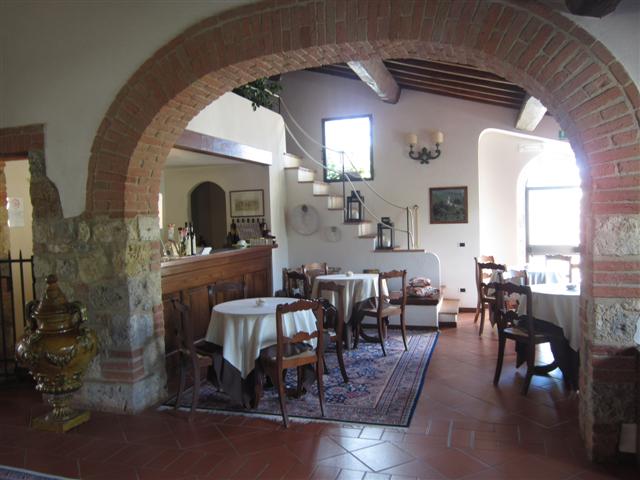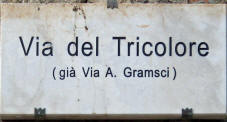 As can be seen on the map below there are three main streets; Via Primo Maggio [May 1st] (top,) Via del Tricolore [3 colors, the Italian flag] (middle) and the Via Matteotti (bottom.) There is a very nice English brochure which can downloaded by clicking HERE. Then I walked down Via Tricolore and looked in all the little shops and restaurants along the way.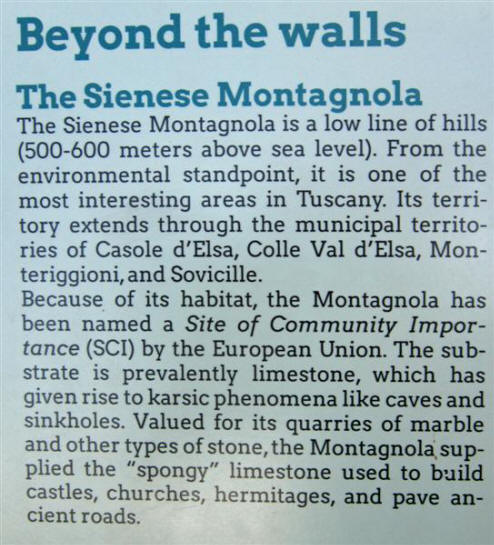 Obviously many of them are for the tourists.
It was interesting to see the houses where the people actually live in this museum. It has a population of a little less than 10,000 people. Hard to believe there are that many people here.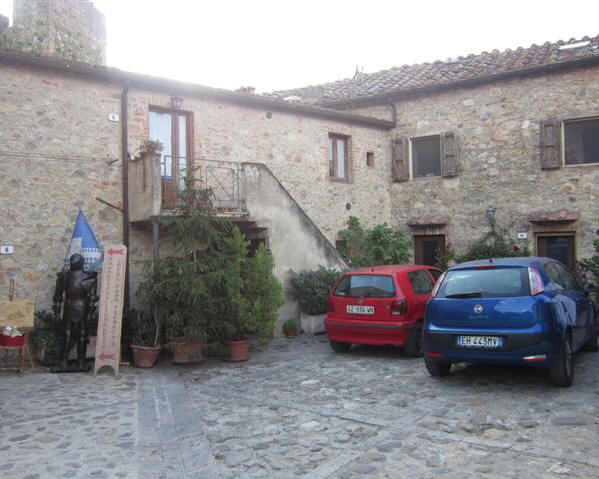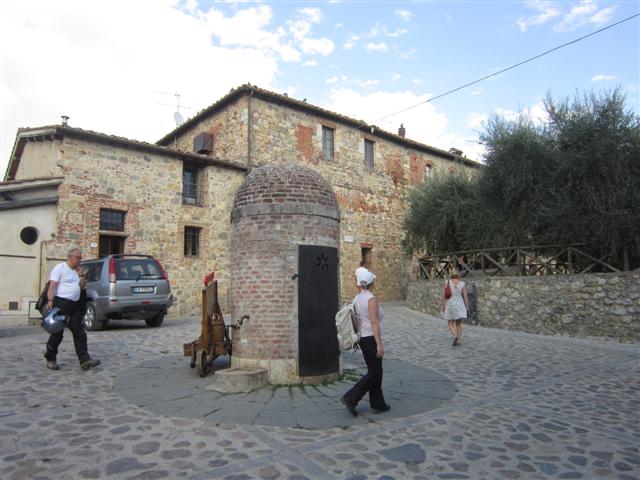 Then I finally reached the other portal to the north, Porta Fiorentina (below right.)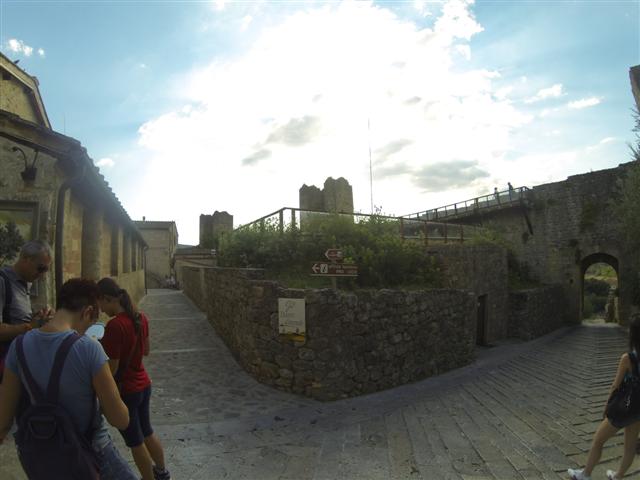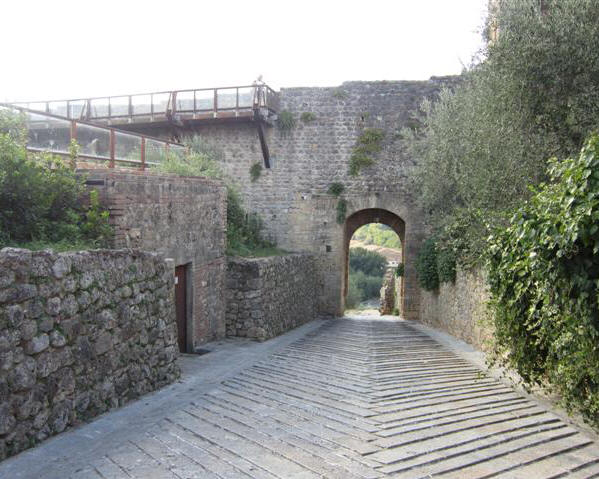 Marcia also went on her own after lunch and bought some souvenirs at Boschini Monica [Via Primo Maggio 23.] At 6:00 PM I bought a little model of the walled city (right) for my collection at La Cerchia [Piazza Roma 3] for €5.
After that I decided it was time to climb the city wall. There entrance was over near the Porta we entered. It was 50 steps to get up there and they charge you €2 to do it. Once you get up there, the views looking out are spectacular. Note the rainbow in the clouds in both panoramas below.
Then turning inward, you get this view of the city inside the walls.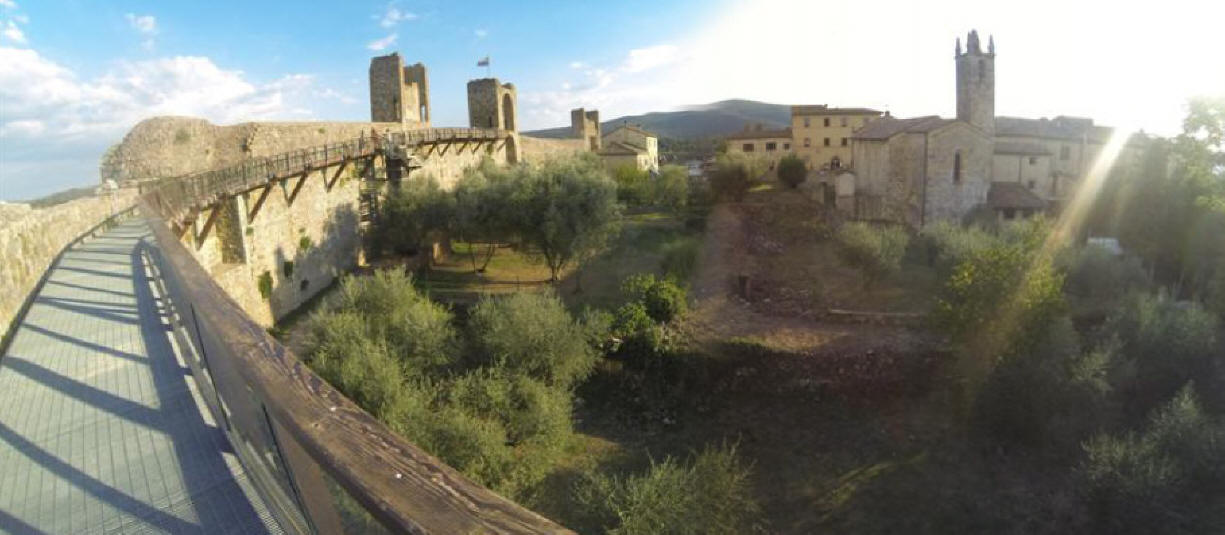 Here (using GoPro) is looking to the left (below left) and to the right (below right.)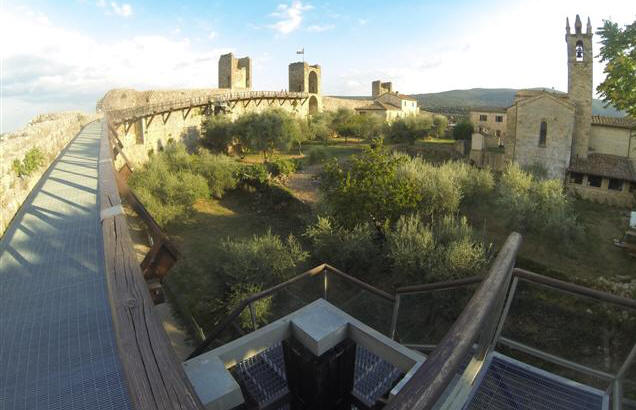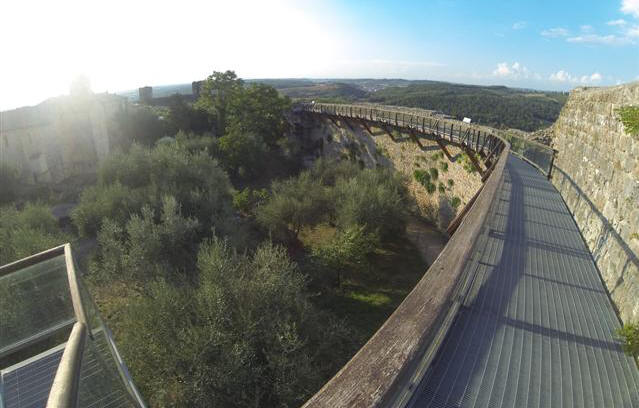 While I was doing that, Marcia was buying some clothes at Artes [Via Primo Maggio 21,
+39-0-118-287-0525.] Alessandro had called me earlier to have us meet for dinner at the Borgo, but I told him that when Marcia and I are on these trips we hate to eat at the same place twice so he suggested he would pick us up at 7:30 and take us to Siena for dinner. So, at 6:15 PM, I was worried it was getting too late, so I figured the best place I could do my run on flat ground was to run from the piazza, down the hill and into the parking lot (stock photo below, below right.)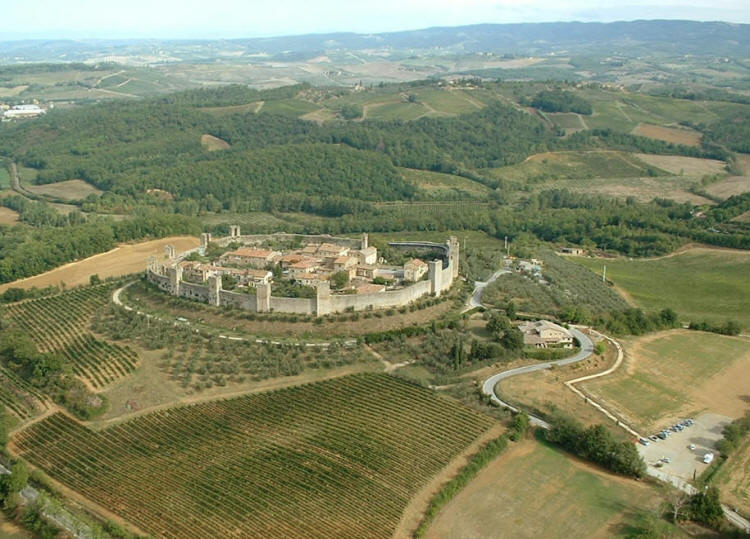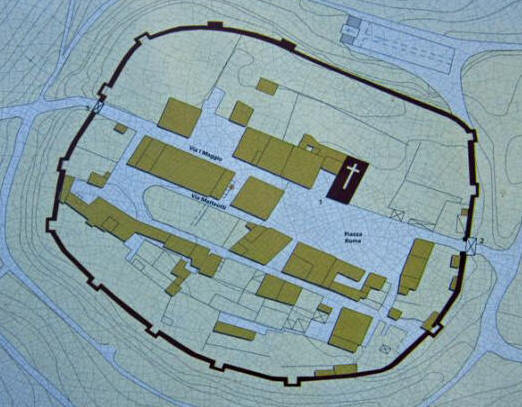 While I am running, I'll let you read (if interested) the history of this place and the historic Via Francigena. If not, just zoom past it all. These are the tourist information signs posted throughout the city. Also they have an app you can get for Android or iPhone called "Monteriggione 3.0."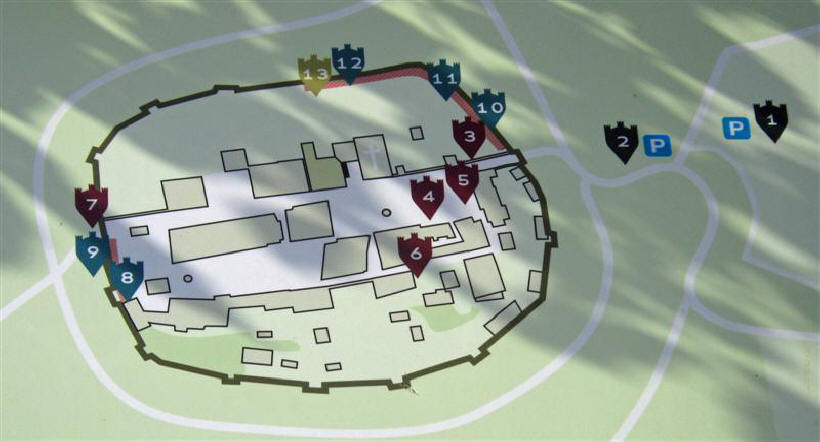 Cinta muraria = Stone wall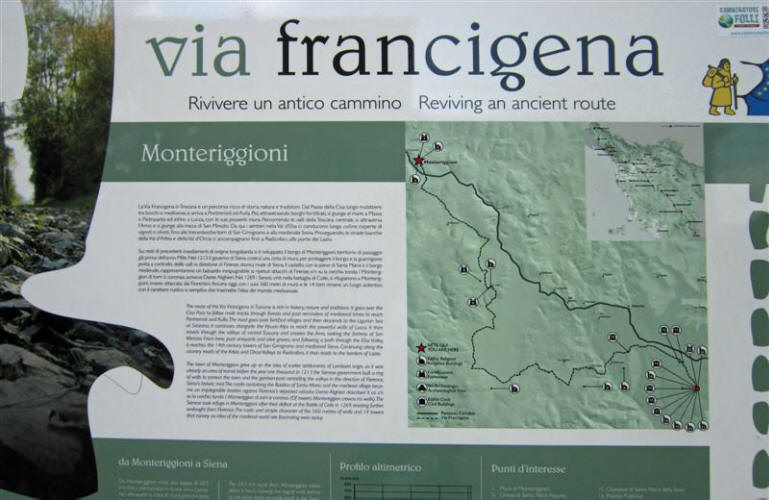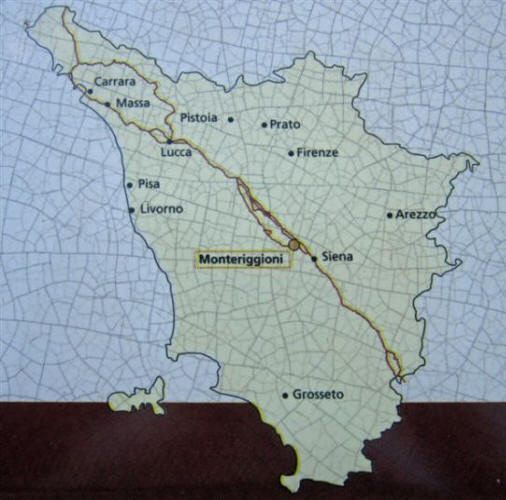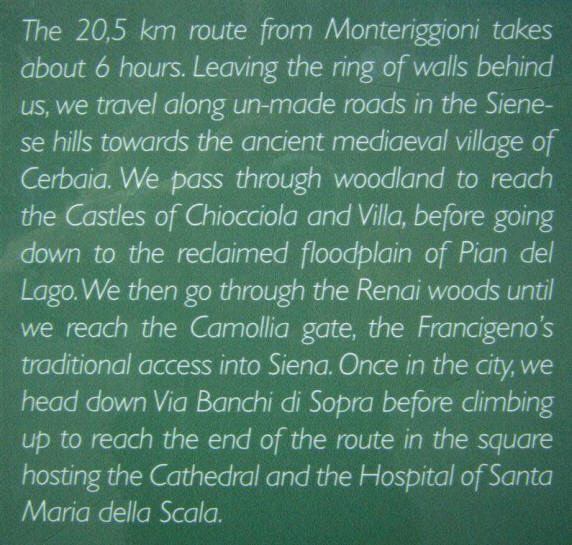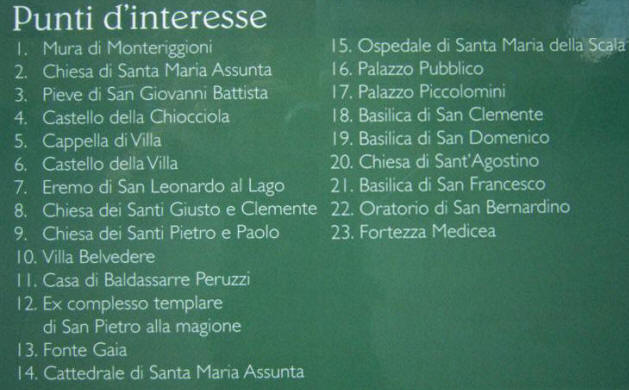 Punti d'interesse = Points of interest. Pretty interesting, huh? At 6:50 PM I was done with my run so I texted Marcia to meet me at the car in the lot and then we drove back to the Borgo. Here is how Monteriggione looks at night.

By 7:00 PM we were both ready. At 7:45 PM Ale arrived and introduced us to his wife, Mimma. We sat and chatted in the courtyard for a few minutes.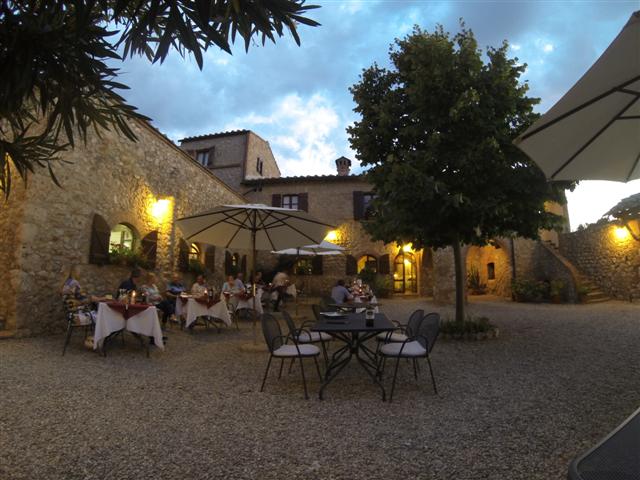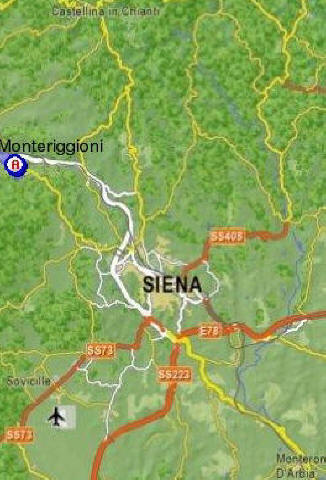 While we were sitting and talking, I mentioned to Ale that I had learned how to ask someone's name in Italian by saying "Como si chiama" but the person I asked always responded with "Io?" (meaning "Me?") and pointed to themselves. I wondered why they did that, since I was asking them. He told me that I should be saying "Como ti chiami" instead. That

was a multi-year puzzle solved.
At 8:20 PM we got in his car and headed (white line, map above right) for the Autostrada and on to Siena (flag left, coat of arms right.) Siena was founded in 70 AD and has a population of 52,000. It was an independent republic for 400 years until it was finally conquered by Florence and Spain in 1555.
It was difficult finding a place to park but after we did, we wended our way toward the center of this famous old city. The last time we were here was 1997 during the famous Palio horse race through the center piazza (Il Campo) (stock photo below.)
We finally got to the Campo and I had to take some photos even though it was nighttime.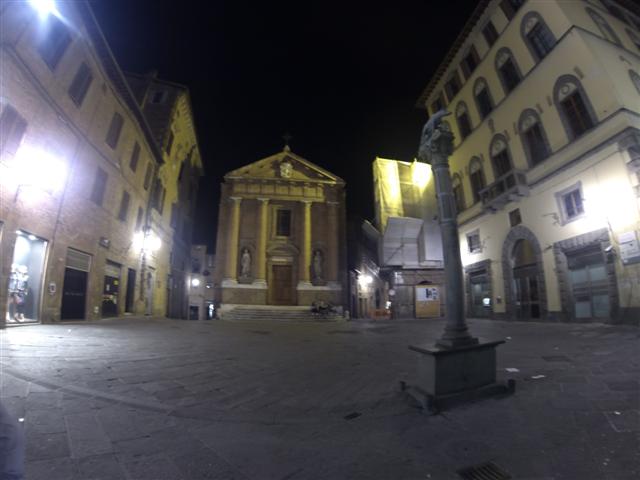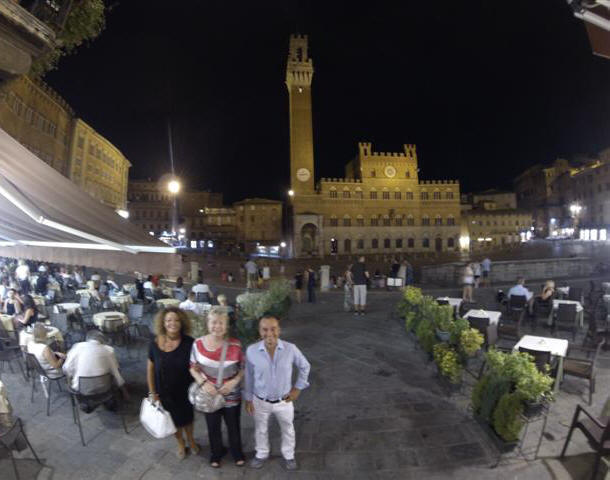 Even the GoPro can't capture the whole thing, so here is GoPro photos PhotoStitched together.
From the Campo we wandered down Via del Porrione to find the restaurant. We then came across the beautiful Piazza Salimbeni. On the piazza is the Palazzo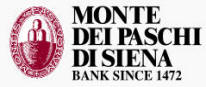 Salimbeni, a notable building and the medieval headquarters of Monte dei Paschi di Siena, the oldest surviving bank in the world and Italy's third largest bank. It was founded in 1472 and is still a major player in the Sienese economy. It has 3,000 branches and 33,000 employees worldwide. Below left is my Canon shot and on the right is the GoPro.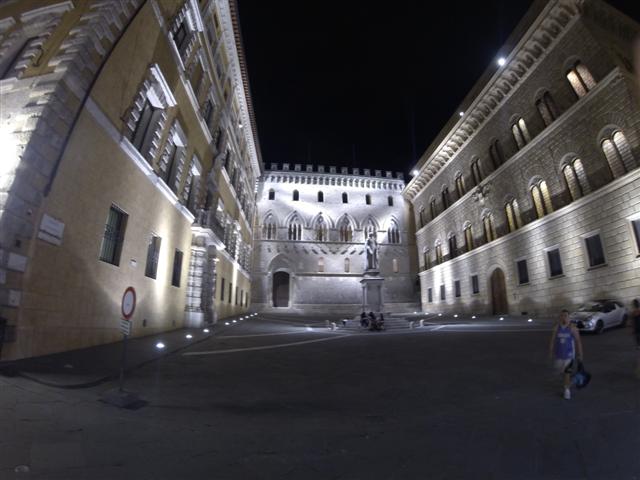 Here is a stock photo of it (below left) along with a stock photo of the statue in the center of the piazza of Sallustio Bandini completed by Tito Sarrocchi in 1880 (below right.)
Here, in these narrow streets, the GoPro is able to capture the sense of these streets.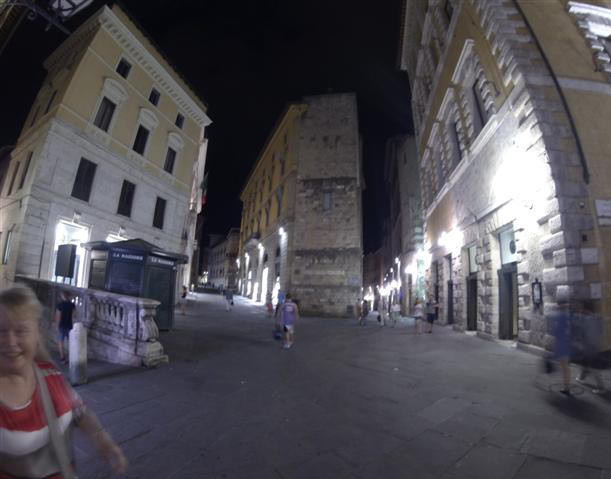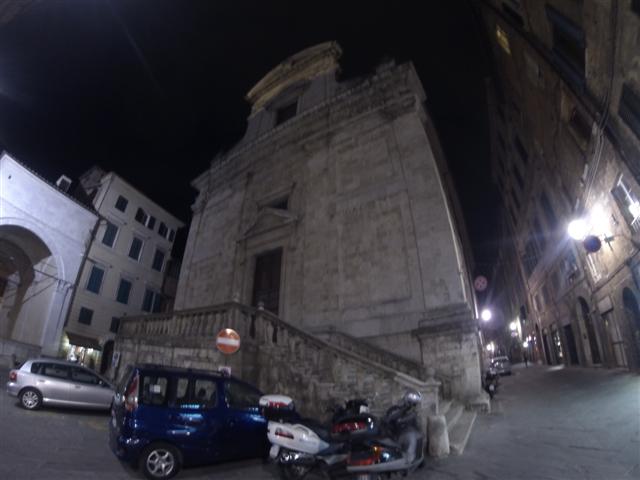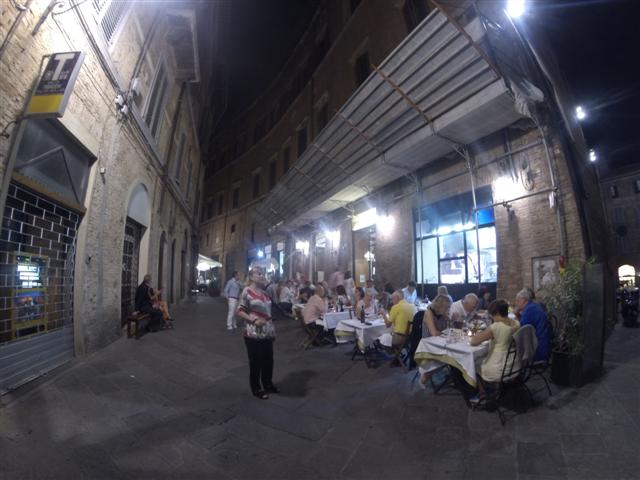 Ale tells us that we have finally arrived (above right.) I got them to pause a take a photo in front of the place. The photo on the left is the natural photo (not showing the sign very well) and on the right is one I edited so the sign can be read.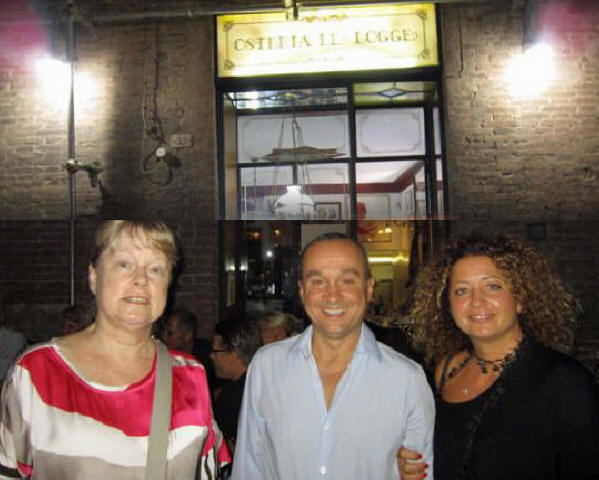 Ale had discovered this restaurant last year and really wanted to return here. So at 9:15 PM, we
sat down for dinner at Osteria le Logge [Via del Porrione 33,
+39-057-748-0131.] The chef here, Gianni Brunneli, is quite famous. Here are some stock photos of the place.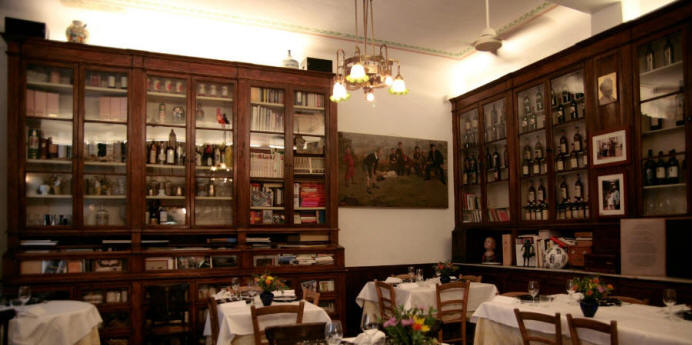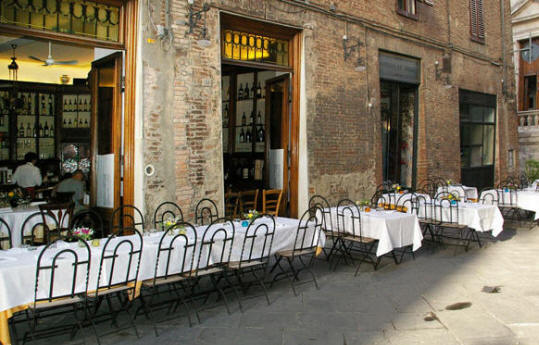 They offered us a free glass of prosecco (sparkling Italian vino) which was a welcome refreshment after all that walking. Then Alessandro ordered a bottle of Chianti Classico Reserva from Castell'in Villa (below left) for dinner. In the center photo you can see our party over in the far left by the window.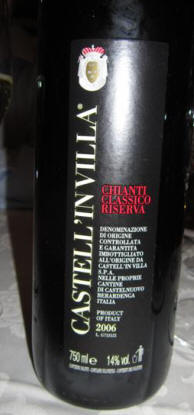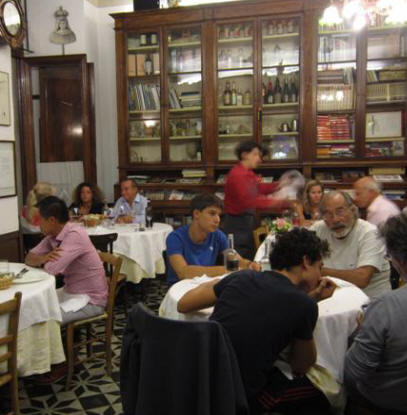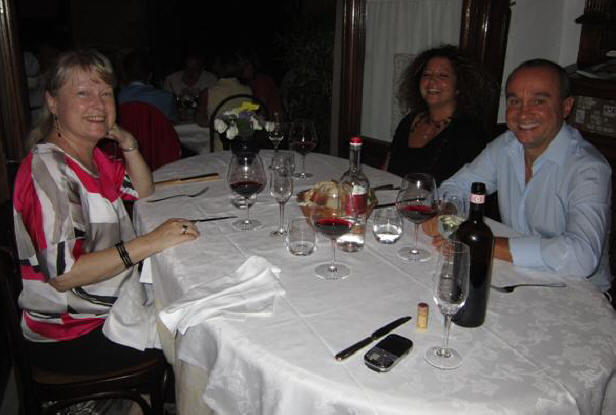 We then looked over their handwritten menu (Oggi si mangia = Today to eat) and I was able to read most of the Italian.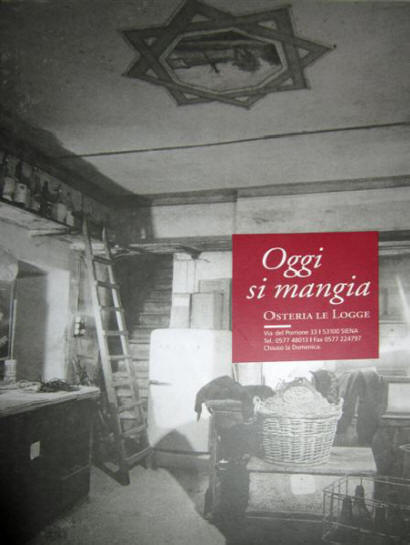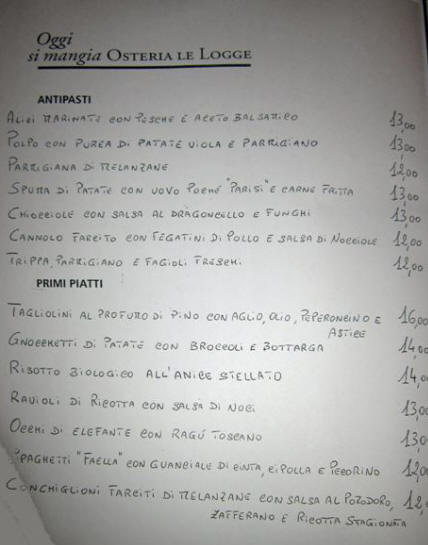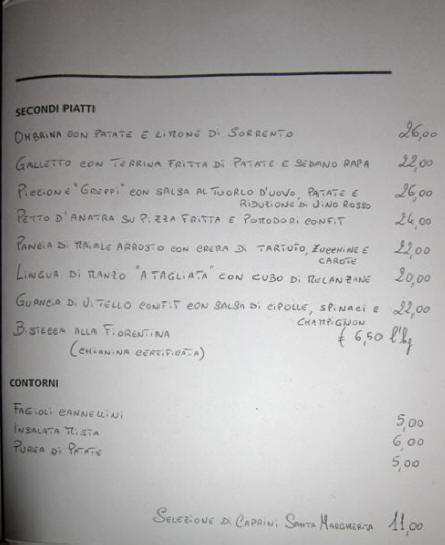 Without knowing what Ale was ordering, I ordered a primi of "Faella" con guanciale di cinta, cipolla e pecorino (spaghetti with pork cheek bacon, onions and cheese) (below left) and then for secondi I had Guancia di vitello confit con salsa di cipolle, spinaci e champignon (veal cheek steak with a sauce of onions, spinach and mushrooms) (below right.) It was exactly what Alessandro ordered. What a coincidence.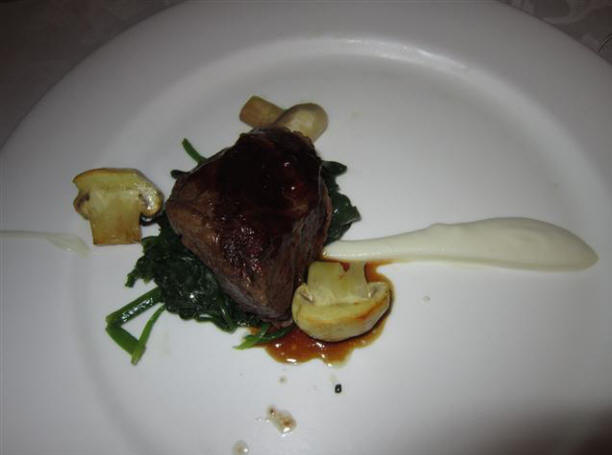 Marcia had mixed insalate (below left) followed by Occhi di Elephante con ragu Toscana (elephant eye pasta with Tuscan pork/beef sauce (below right.)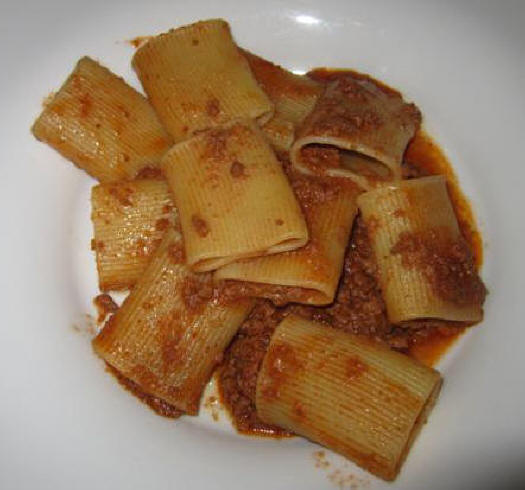 Mimma had rabbit with spaghetti. After dinner they showed us the Dolci (dessert) menu.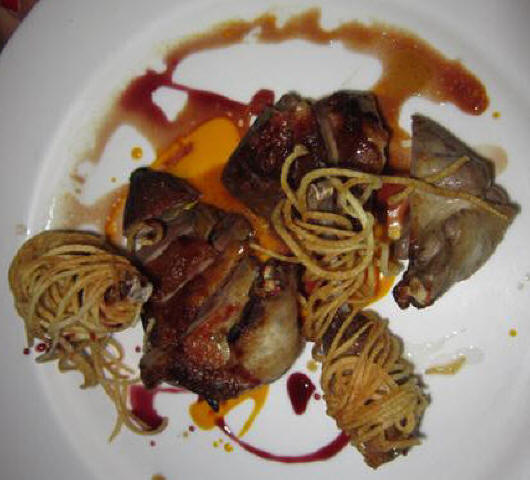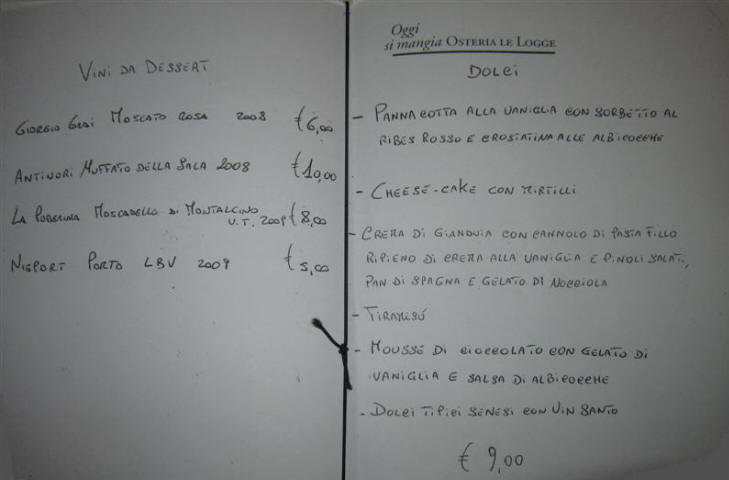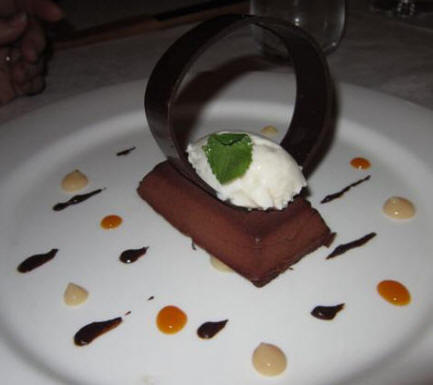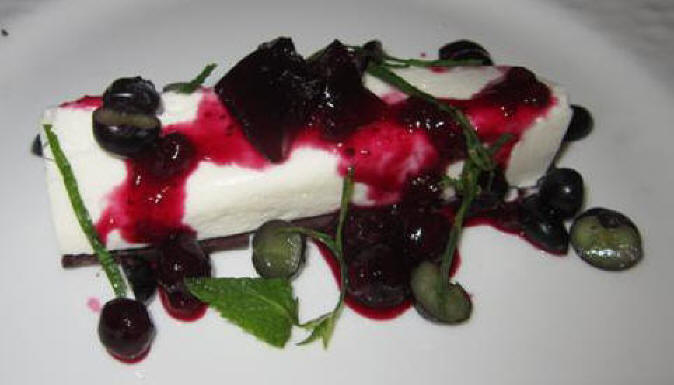 We each had a different dessert, mine being the panna cotta, below right.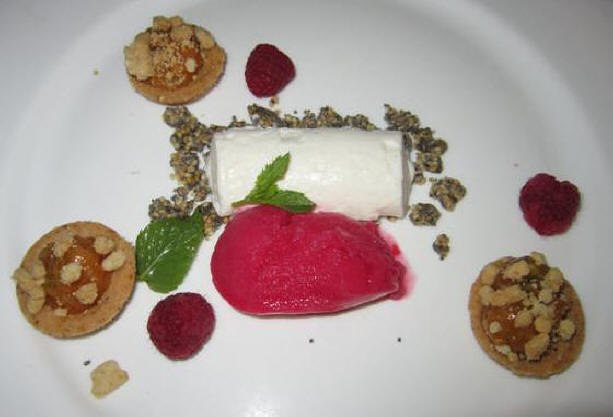 Our waitress was Gina and we rated our dinner as Good. I didn't really care for the veal cheek, but I couldn't tell Ale that. He'll know it now. I went to the men's room and then snuck behind the counter to pay the bill. I was completely hidden but Ale somehow spotted me and raced up to prevent me and would not allow me to take care of it, regardless of my protests.
We left and ambled our way through Siena, back to the car and at 12:20 AM, he drove us back to the Borgo and we arrived at 12:50 AM and headed to bed. A wonderful evening. At 1:30 AM, before I fell asleep, I called my friend and Med School roommate, Richard Klotz and wished him a Happy Birthday. I said good-bye quickly because it costs a fortune on these phones to call the US.
Kenneth J. Hoffer, MD
Monteriggione, Italy
Sent 7-27-2014
If you enjoyed these travels or wish to add comments on the places we visited
Please Leave Me a Message by clicking the spinning @ sign below.