Dr. Hoffer's Travel WebSite This site was last updated 02/15/15

Vienna Panorama
---
September 9-10, 2013
---
---
Monday, September 9, 2013
---
VIENNA-OSTRAVA
I woke at 3:20 AM, 7:15 AM and 11:35 AM. I got up and at 1:00 PM I showered, packed up and loaded our bags into the car. At 1:45 PM I checked out of the hotel. Lucky for us we didn't have to pay for parking out front (below left, our car sitting on the left.) The breakfast room (below right) is nice but I wasn't interested in trying for a cappuccino there.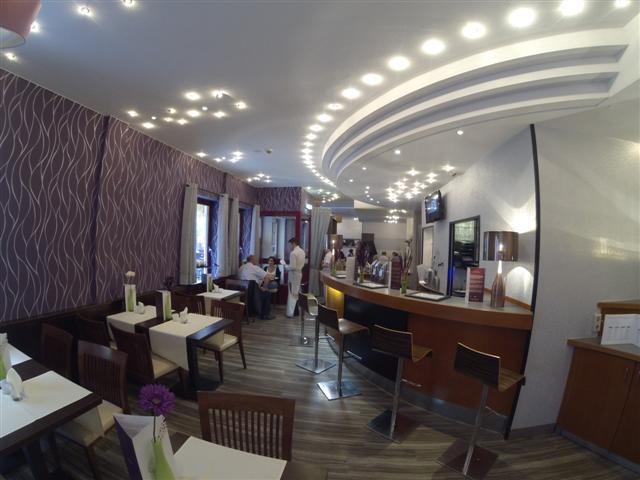 I wanted a coffee house, so at 2:00 PM I walked up the street to get a cappuccino at a place called Daniel Moser [Rotenturnstraße 14,
+43-1-513-2823.] It claims to have first opened in 1685. It was pretty good.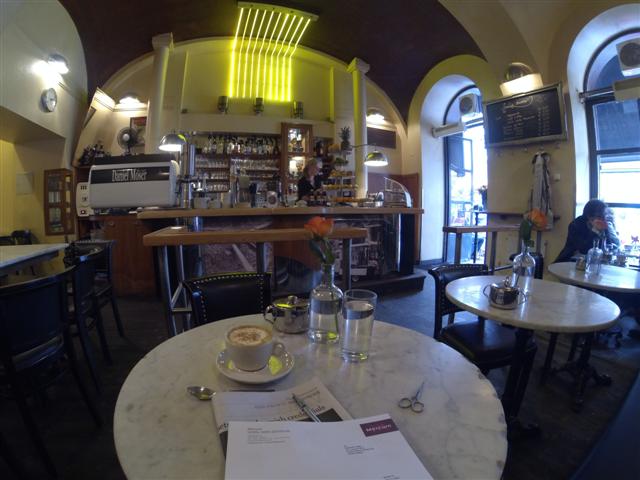 While I was relaxing, at 2:30 PM, Marcia had her lunch at a nearby Nordsee [Rotenturmstraße 4,
+43-1-512-2789] just up the block and had fish with rice and a cokalite. After that she bought some cough medicine at Brady-Apotheke Zum Roten Turm [Rotenturmstraße 23,
+43-1-533-8165.]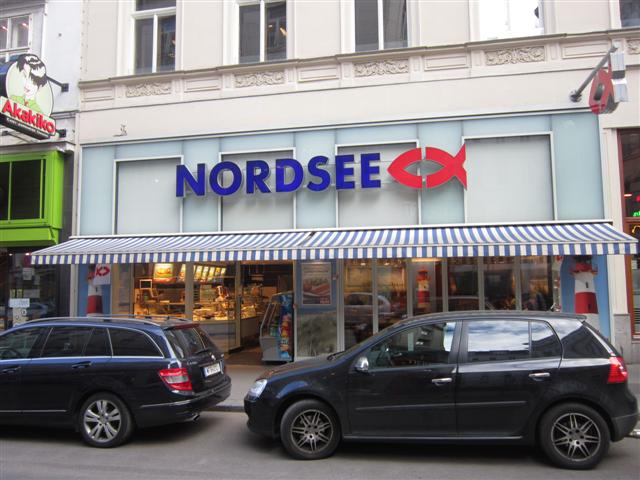 I finished my coffee and at 3:10 PM I started my run to the Schotten Ring. Near the Metro Station they were handing out free samples of milk (above right.) Here is some of the very nice architecture I passed on my run.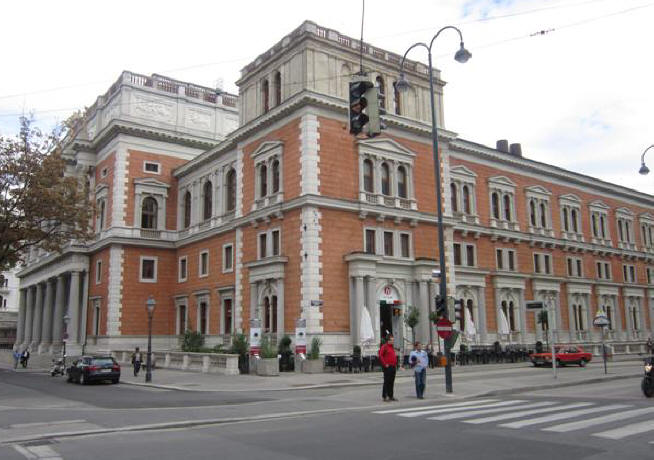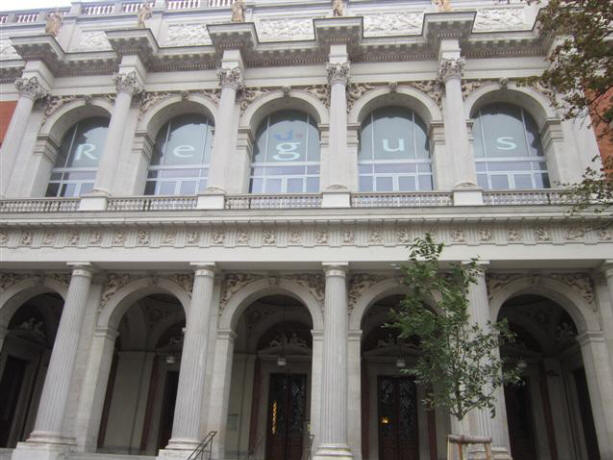 Below is the special bicycle and walking track that I ran on which goes alongside the Ring. It was very nice.
The only problem is that I had to make sure I was not in the bicycle lane and get hit.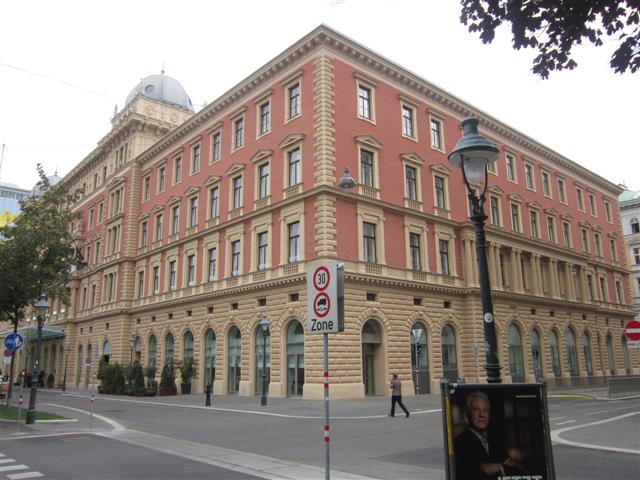 Above I am at the corner of Schotten Ring and Neutor Gaße.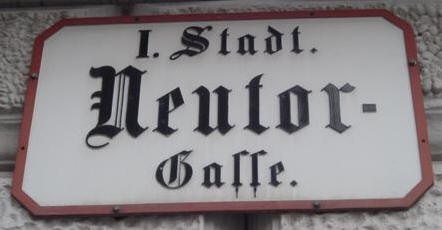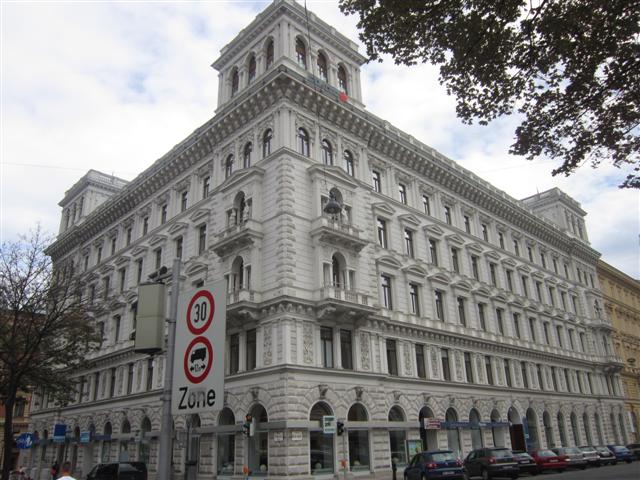 I came across the historic Baroque St. Peterskirke on Petersplatz.
Here are two interior shots from Doc Brown's Travel Site. It is quite beautiful.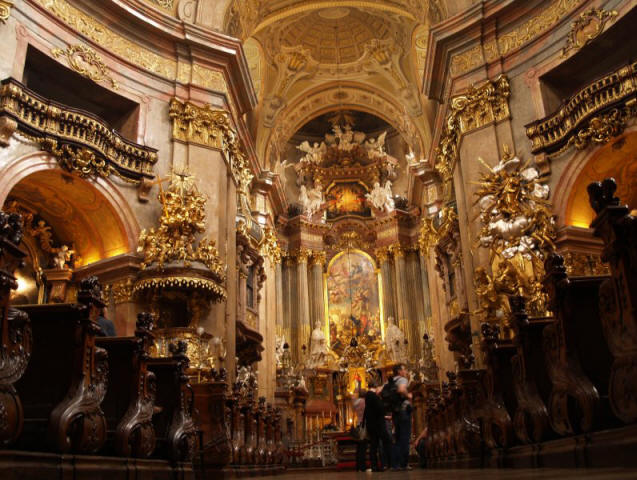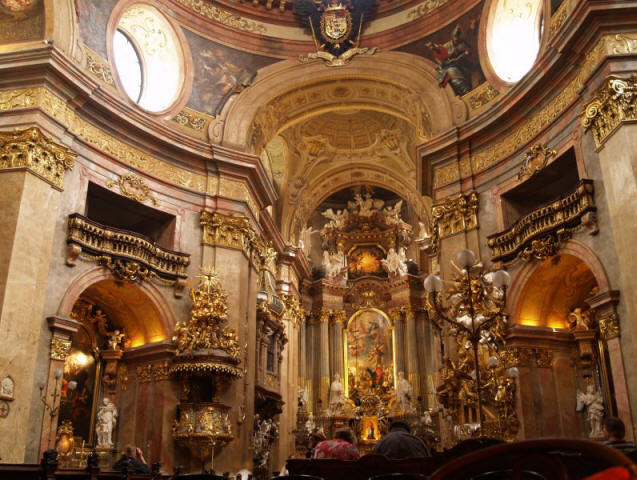 At 3:30 PM I stopped to buy an EU USB plug at Paul Siblik [Heinrichsgaße 2,
+43-1-533-3121] for €10. Then on my way back to the hotel I stopped in the nearby BILA grocery [Franz Josefs Kai, 29] and bought nine Zipfer beers which I wanted Brian to sample when we met up with him in Lithuania. I got eight Urtyps 0.5 L cans and a couple of Zipfer Shandys since I know he likes a Shandy (lemonade + beer.) They charged me €0.25 for a silly plastic bag. Then at 4:10 PM I bought some maps of Poland, the Baltics and an EU relief map at a bookstore called Buchhandler Morawa [Wolzeile 11,
+43-1-513-751-3450.] I continued my way back to the hotel and saw this tiny little hot dog (and Klobassi) stand called Artur sitting in the middle of the boulevard strip. It looks like Coca-Cola made it.
I also went by the Eigentums Wohnungen, which is a condominium complex.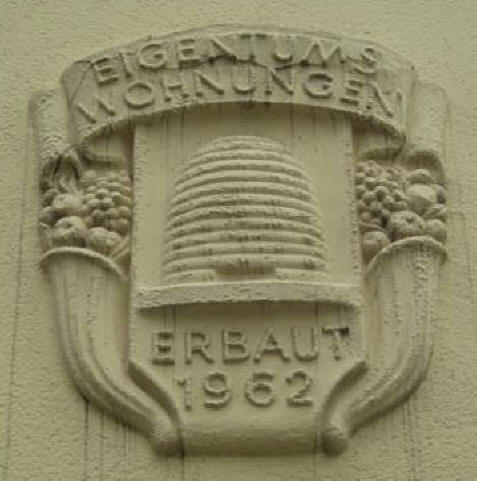 I got back to the hotel area and to the restaurant we were at last night (below left.) Nearby was a store selling antique cameras and I got this photo of the similar Leica camera (below right) that I bought at the US Army base near Frankfurt, Germany on our Honeymoon in 1970.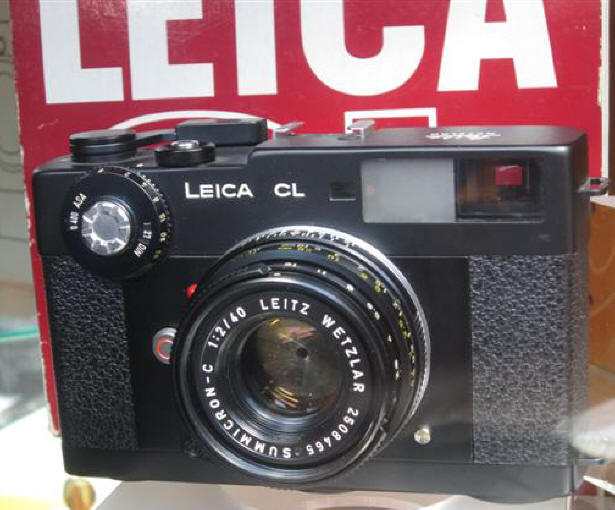 Heading to the hotel I found the street where my bar was where I could get a Zipfer beer. It is at Grashofgaße and Köllnerhofgaße.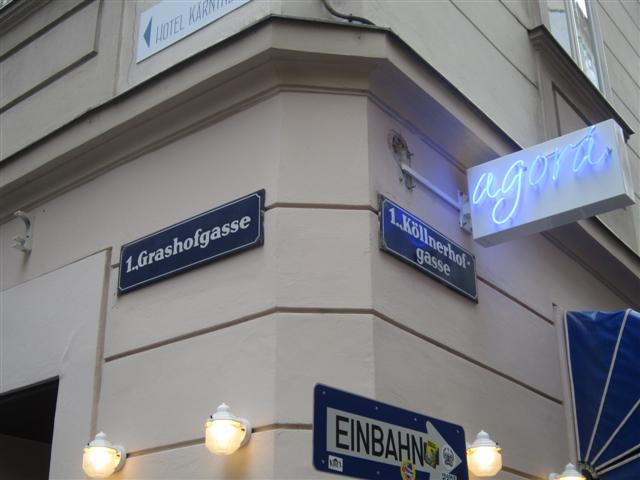 Here it is; Bane's Bar. You can see their Zipfer sign and lamp on the right. Too bad they were closed last night.
Continuing on I came upon the memorial statue of Gutenberg.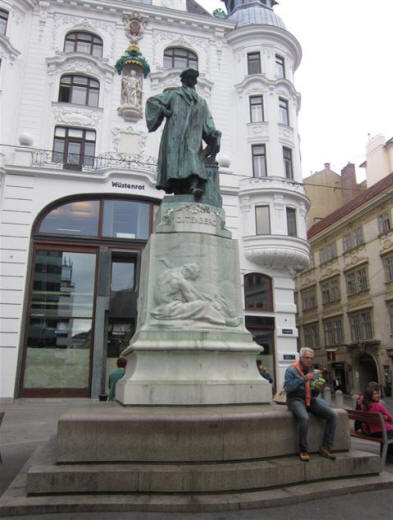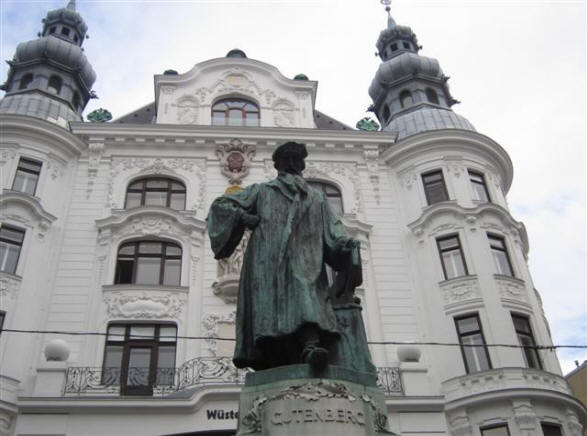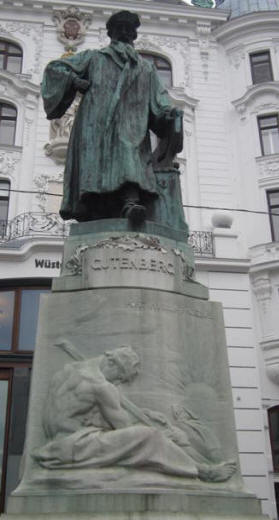 This was erected in 1900 to celebrate 500 years of the great master of book printing.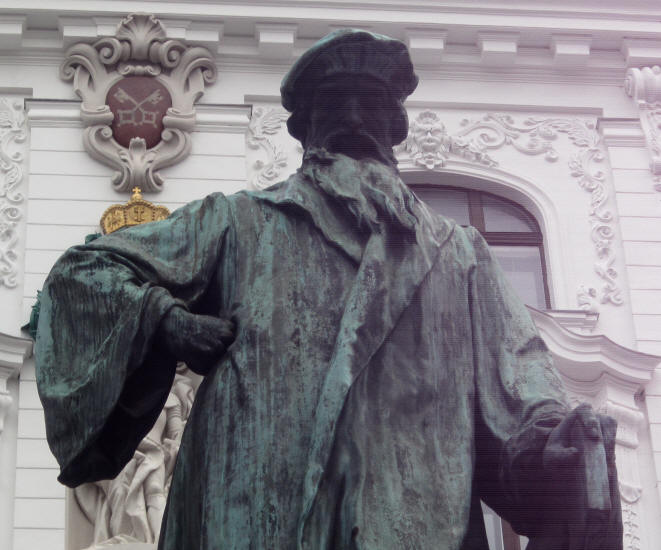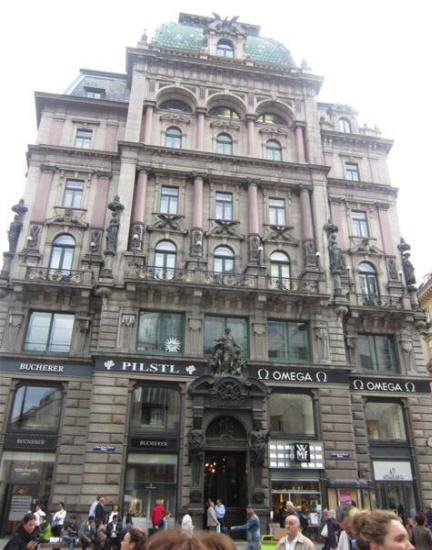 At 4:30 PM I met Marcia in the main St. Stephanplatz and took some GoPro photos of the Dom (St. Stepen's Cathedral.) Below left is from the front left side and on the right is from the front right side.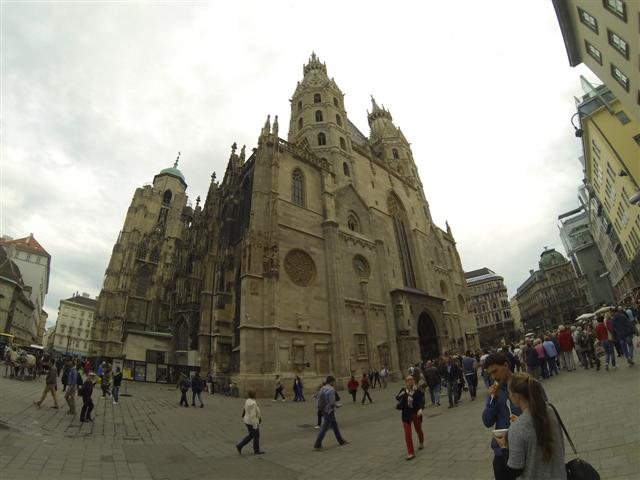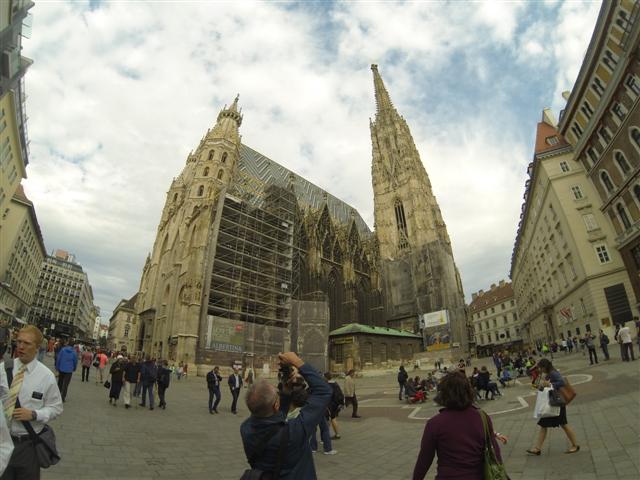 Here is a shot from the back left side. Below right are the massive buildings around the Dom. Because of the tight quarters, you could only get shots of the whole Dom with a wide-angle lens.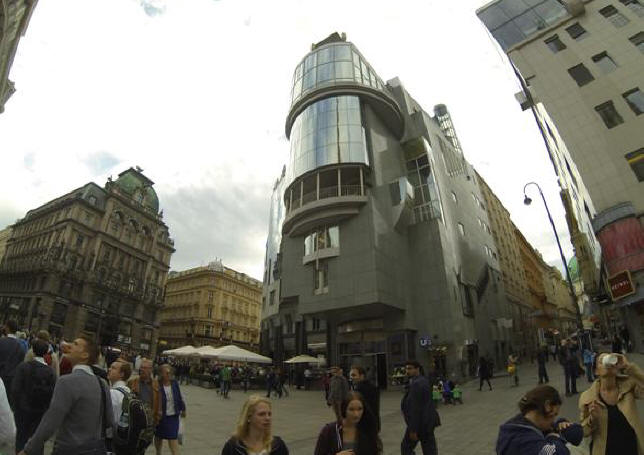 I went inside quick and got some interior shots. Below left is looking toward the altar and on the right is the view back toward the entrance showing the organ above the door.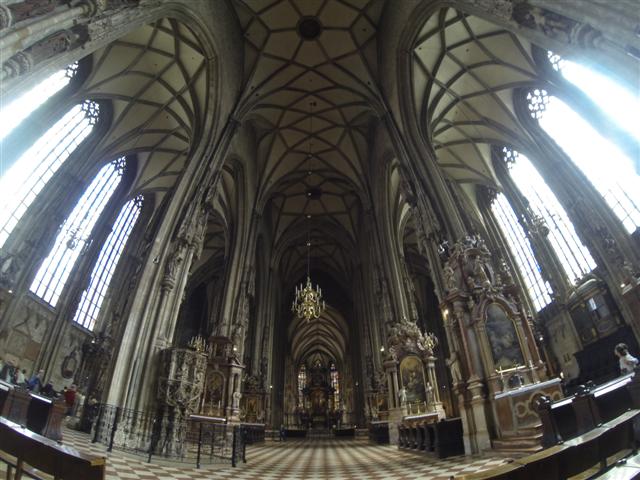 At 4:40 PM we decided to stop in Café de l'Europe [Am Graben 31,
+43-1-532-1469] near the Dom (below.)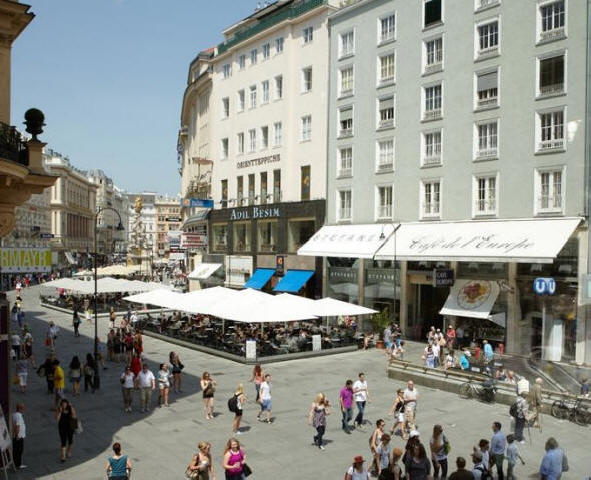 We were seated way in the back portion of the place.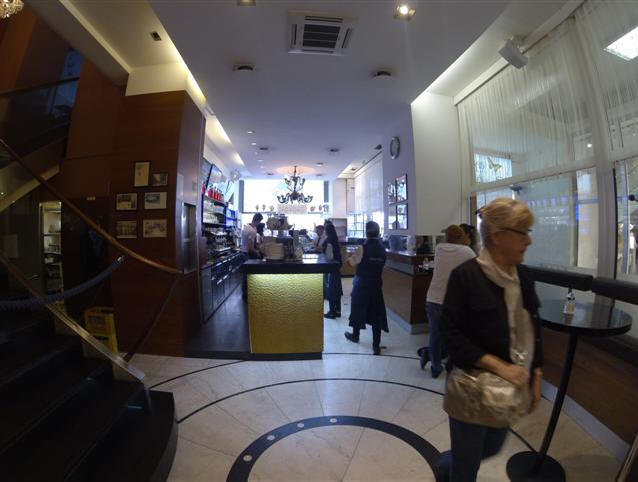 I ordered a cappuccino and Marcia had a hot chocolate and an apfel strudel.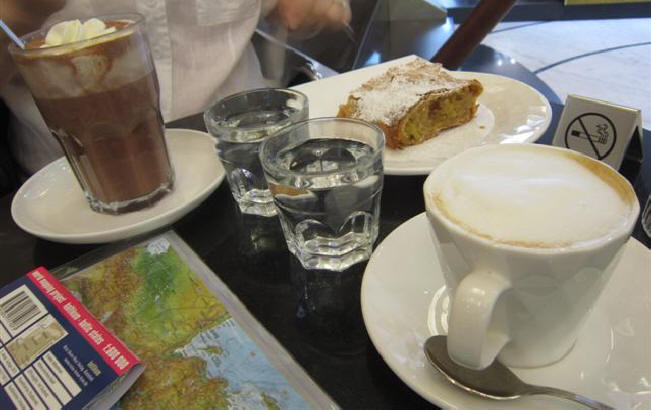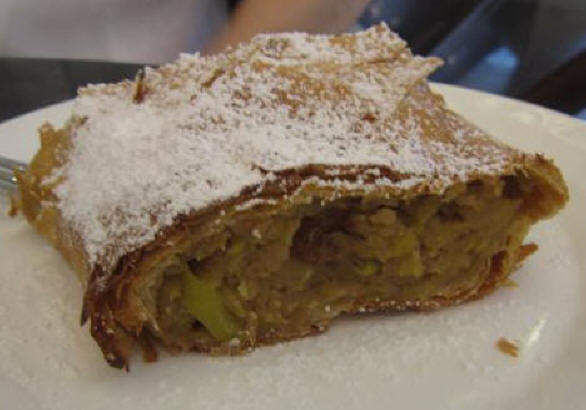 Here are shots of more architecture as we walked back. Note the art etched into the corner (below left.)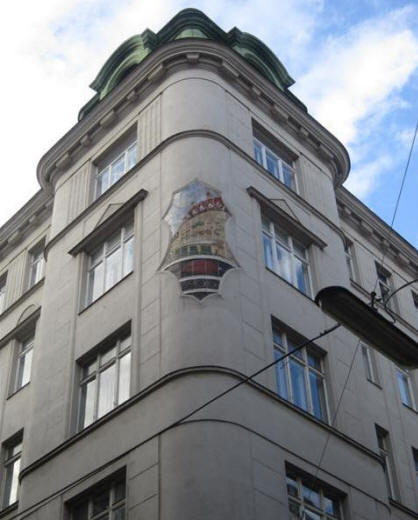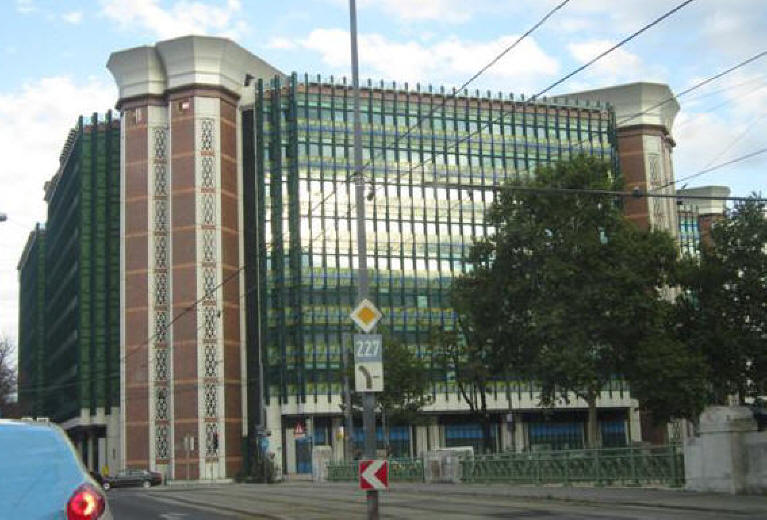 We walked back to the car and since we were all packed and ready to go, at 5:40 PM, I did the 187 mile (302 Km) drive north past Brno and then northeast to Ostrava and at 6:40 PM we entered the Czech Republic.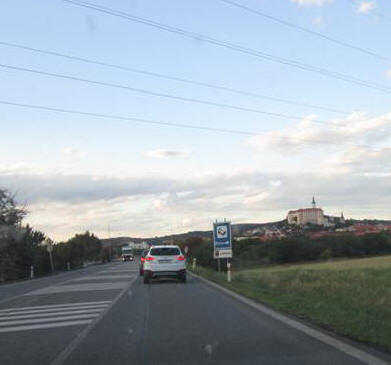 At 8:25 PM we arrived in the city of Ostrava, Czech Republic which we visited in 2011. It took me 2:45 hrs. Ostrava is located at the confluence of the Ostravice, Oder, Lučina and Opava rivers. It is the third largest city in the Czech Republic and the second largest urban agglomeration after Prague.

The GPS easily helped us find our hotel and at 8:30 PM we checked into Mercure Ostrava Center [Ceskobratrská 18/1742,
+420-59-560-6600]
(below left.) Below right is their restaurant in the central courtyard above the parking area (stock photos.)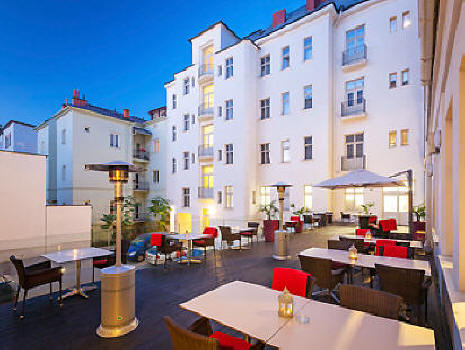 We were given Room #229 by Adéla and Eliška. I asked them and got a late check out for tomorrow of 2-3 PM. I couldn't decide which was the better photo of them.
This place, in my opinion, is the most elegant and beautiful Mercure hotel in all of Europe and we have stayed in most of them. Below left is the entry from the large parking lot and on the right is an example of the main lobby areas.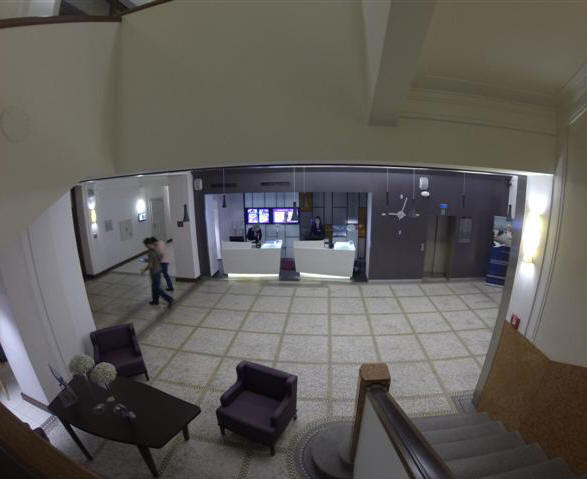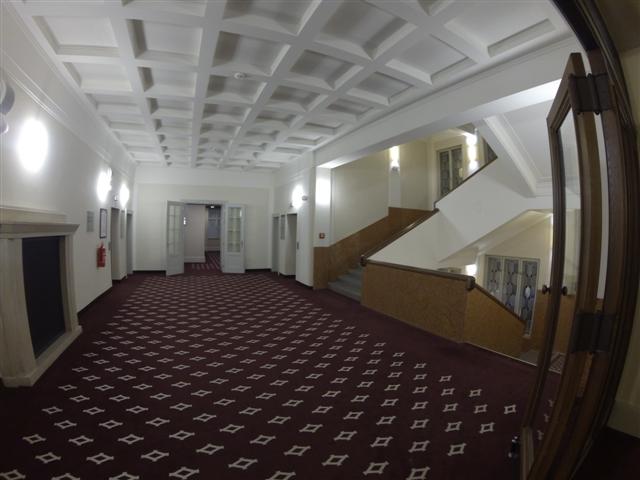 Here you can see the quality of the hallways to the rooms.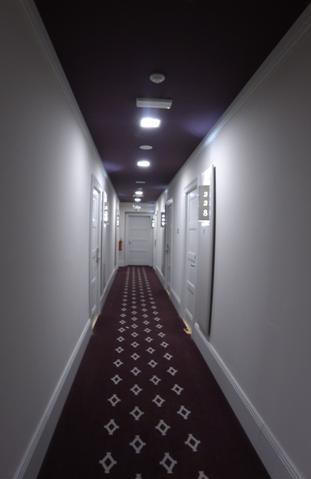 We got into our spacious and well-appointed room (GoPro shots) and unpacked and at 8:45 PM I decided to have one of those Zipfer beers I brought with the sandwich I had with me.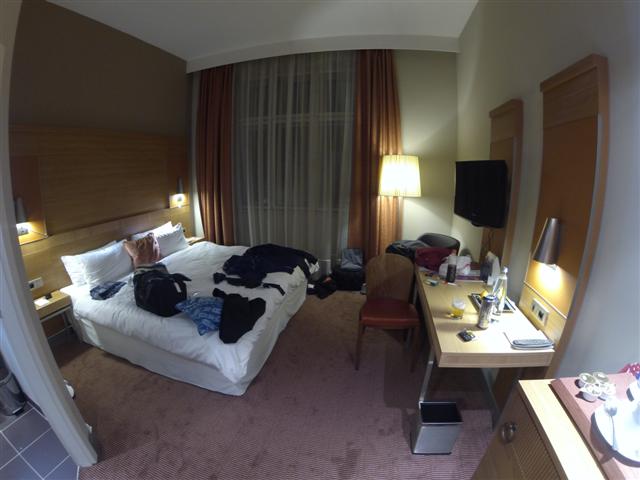 As is usually the case for us, Mercure gives you a free welcome drink. Below is the voucher they give you.

So at 9:00 PM, we went to their very fancy and modern bar and I had local Czech Bernard beer and Marcia had a glass of local white wine. It came with snacks. A nice welcome.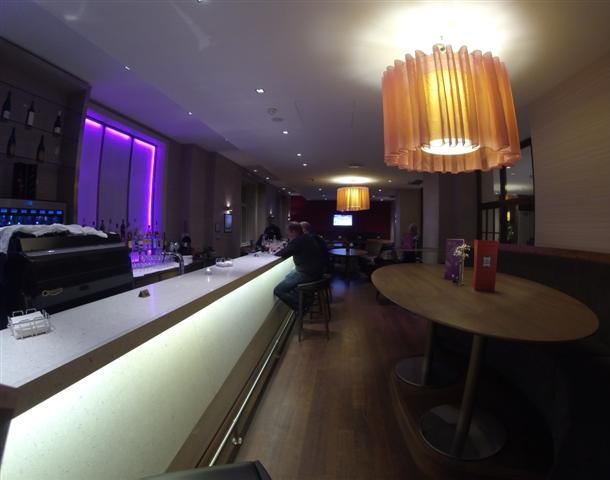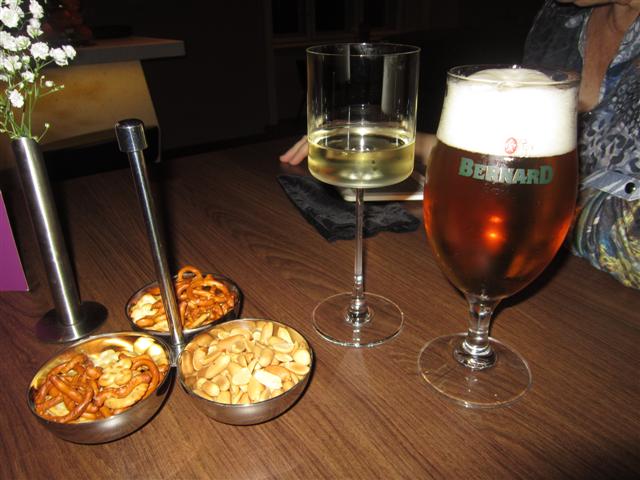 At 9:30 PM we left and walked to dinner. A little about Czech currency. Kč is the symbol for a Czech Koruna ("crown") which is worth about $0.05. Below are the 5000, 2000, 1000, 500, 200 and 100 koruna notes that have been used since 1993 when they split from Slovakia. It is interesting, but only 22% of the Czech population wish to convert to Euros.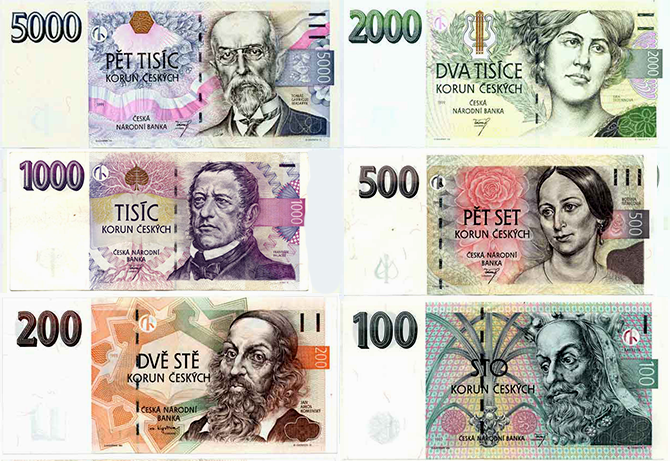 The koruna is divided into 100 haléřů (cents.) Below are the 10, 20 and 50 haléřů coins (left,) the 1, 2 and 5 koruna coins (center,) and the 10, 20 and 50 koruna coins (right.)
Ostrava has a population of 310,464 (2011) and covers an area of 83 mi2 (214 Km2.) It used to be a big industrial hub with many iron mills, air pollution and not very pretty. They have cleaned up much of what was falling into decay (below.) It was known as "Iron City." Flag of Ostrava, below right.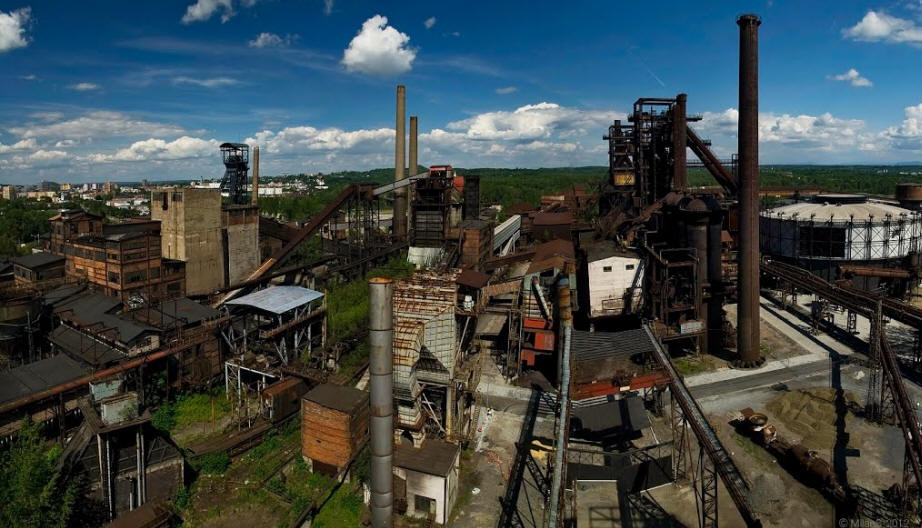 They have developed some of them into event spaces (below) which seem quite popular. We've never seen them. The Vítkovice complex Dolní oblast underwent extensive reconstruction. The giant gas container for blast furnace gas (around 70 m wide and 33 m high) has been modified into a concert hall for 1,500 visitors, a gallery, café, etc. After all the clean-up, Ostrave is still the most polluted city in the EU.
We reached our destination at 9:45 PM and sat down for dinner at Moravská Chalupa [Musorgského 9,
+420-59-612-4937] (below.) We had to pay what they call a couvert (similar to the coperto in Italy) which was 10 Kč each. This is the charge just to sit down.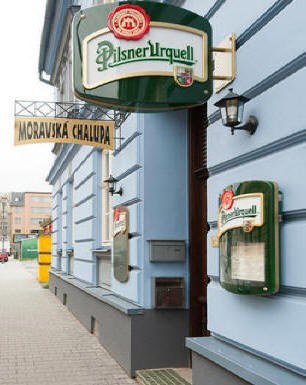 I ordered a Radegast beer and for a starter I had Wallachian bean smoked meat soup (they call polevka.)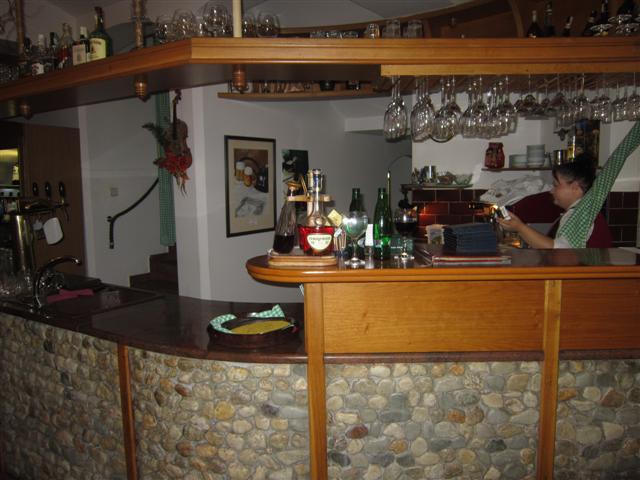 For my entree I had three pork loins on a potato pancake with cabbage (they call Hodovni jidla.) Below left is how it arrived with bacon and pickles on top. Below right is opening up the pancake to see the pork.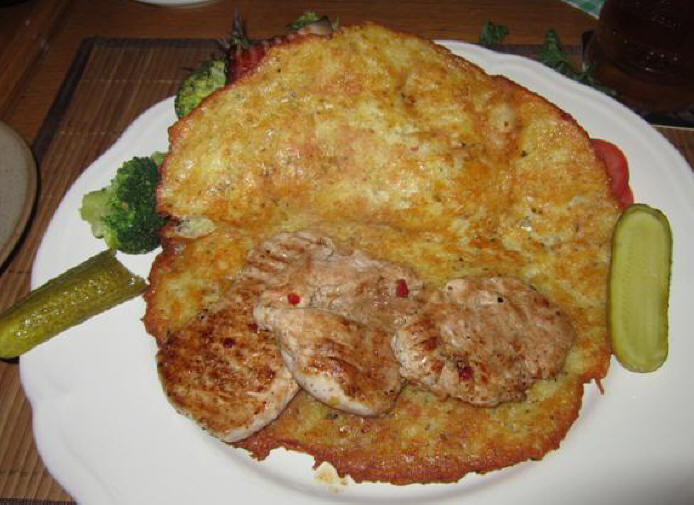 Marcia had white wine and Acquila water and then chicken breasts stuffed with camembert, breaded and fried (they call Priloha kurechi maso.) It came with salad, corn, carrots and broccoli (below right.)
Our waitress was Suzanna (below left) and she was very nice and let me buy the Radegast
beer glass (below right) for 200 Kč (€8) to add to my beer glass collection. The dinner cost 690 Kč ($25.) Not a bad deal and we rated the dinner Good-Excellent.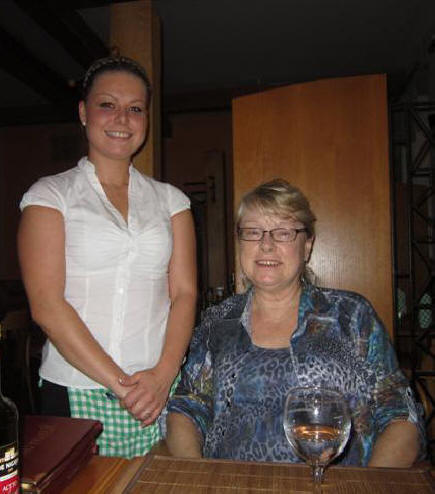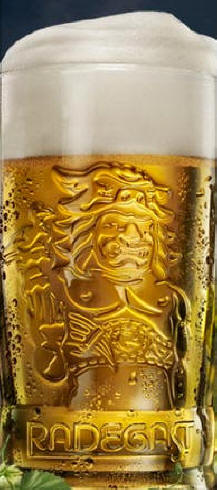 At 10:50 PM we walked back to the hotel and at 11:00 PM we went back to the hotel bar and Marcia had a white wine and I had an Irish coffee. It was funny how they served it (below left:) They give me a tray with a half cup of coffee, a shot glass of Irish whiskey on the side and some steamed milk - just crazy. This is what it looked like after I mixed it all together (below right.) It didn't taste much like a real Irish Coffee.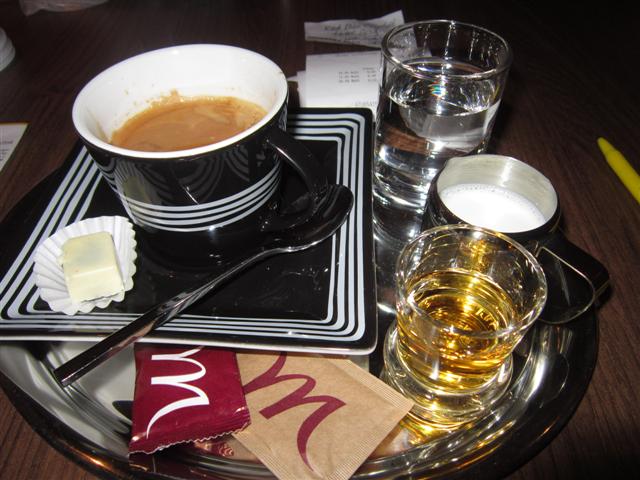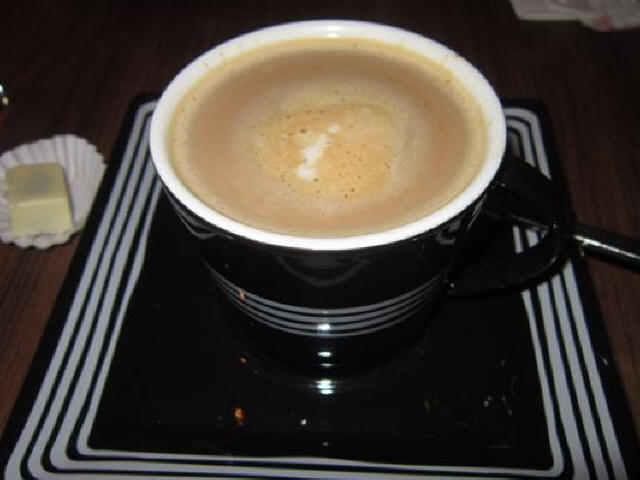 We went back to the room and I did some email and also booked our hotels for Vilnius, Lithuania and Riga, Latvia using Booking.com. I got to bed about 3:45 AM.
---
Tuesday, September 10, 2013
---
OSTRAVA-KRAKÓW
I woke at 8:50 AM and again at 10:25 AM and then went to the free breakfast and had a cappuccino. I didn't eat anything but instead made myself a sandwich using bacon, three meats and three different cheeses with tomatoes (below.) I wrapped it up for the road trip and then went back upstairs and slept a little more to wake up at 12:45 PM.
I have forgotten to mention that on every EU trip the mosquitoes are just waiting for me, We do not have them here in Santa Monica, so I never get bitten. Once I reach the EU all that changes. They go after me voraciously and they get me everywhere on my body. The bites are so itchy that I wind up developing large welts and they last a long time. Here are only a few examples: 4 welts around my knew (left,) one between my toes (center) and a large one on my middle finger (right.) They get me right through my clothing. Most of these I got in Italy, as usual.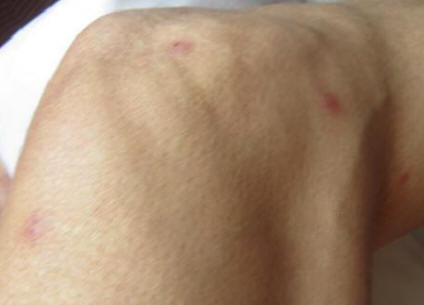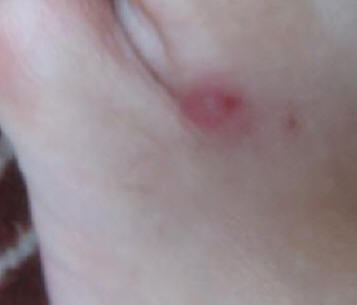 Enough of that. The breakfast area was set up so you could make your own cappuccino.
The Mercure hotel (below) sits across the street from a little park and next to a church called Evangelický Kristův kostel, the Evangelical Christian Church.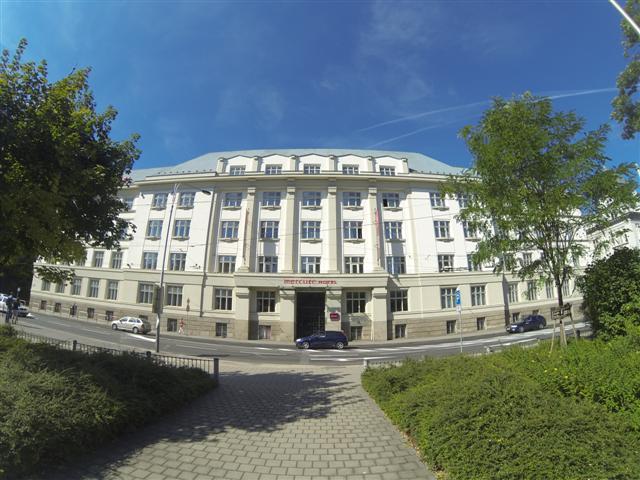 At 2:15 PM I started from the park and did my run to the area I had been to before where the central plazas are located.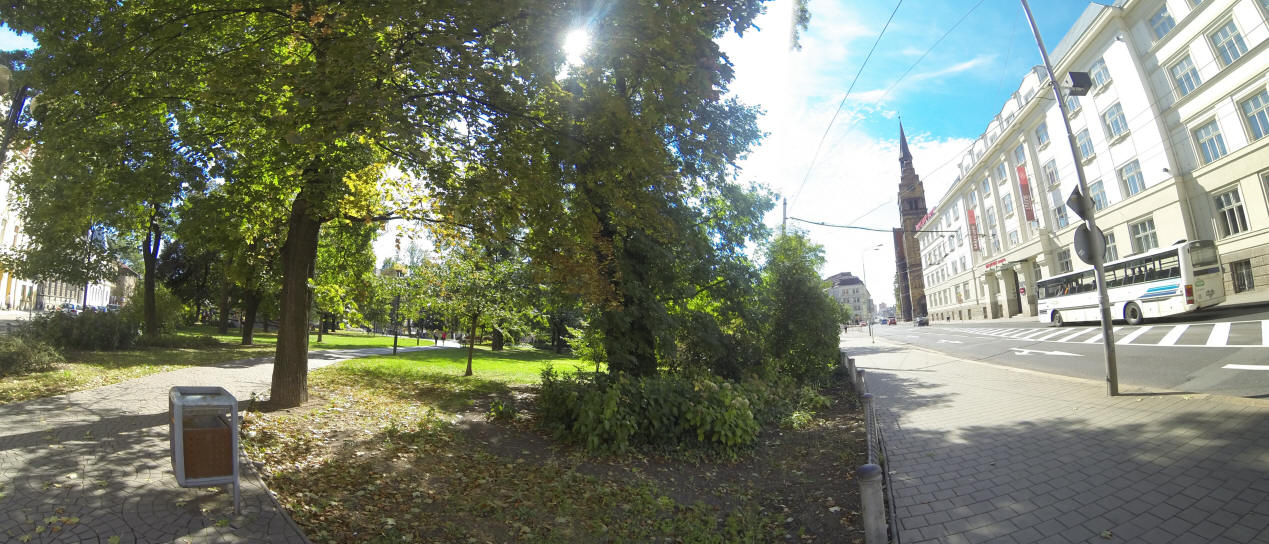 The park is called Husuvsad (Jan Hus Park) and at the other end of it, here is the view looking back at the hotel (below left) and the view looking toward the city (below right.)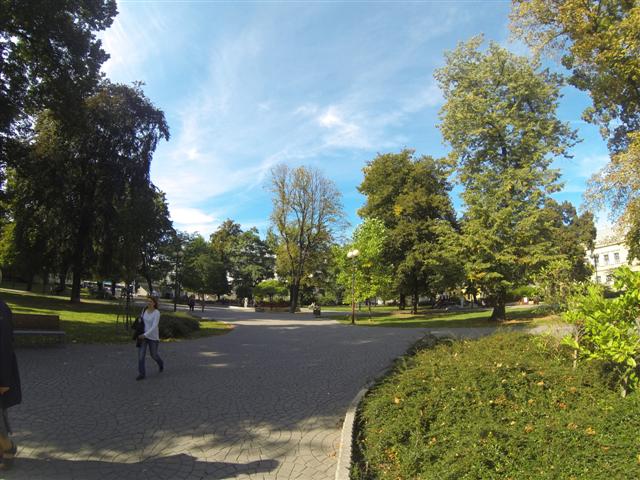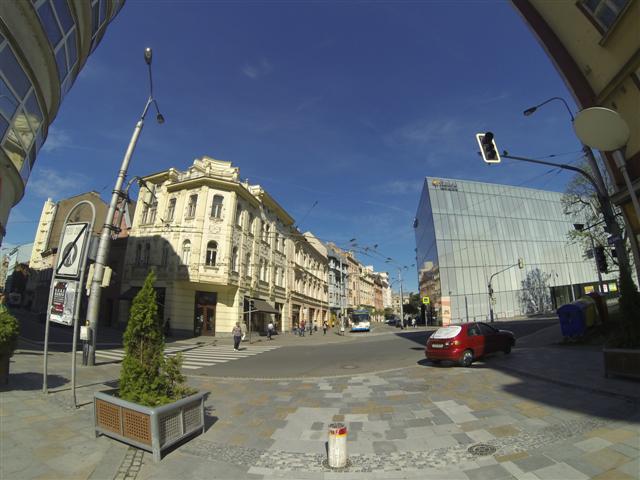 In the park there is a memorial stone (below left) stating: "Pamatce Padech hrdino a úćastnikú vitezne bitvy Zborova" (below center.) This translates to: "In memory of fallen heroes and participants of the victorious battle of Zborova." This is a battle that occurred in 1917 at the end of WWI, where Czechoslovak Legions succeeded in defeating the Central Powers (German and Austro-Hungarian Empires.) You can read about it by clicking the link above. Near the entry gate to the park is the little Elizabethan Chapel (below right.)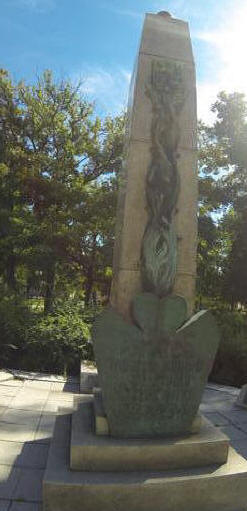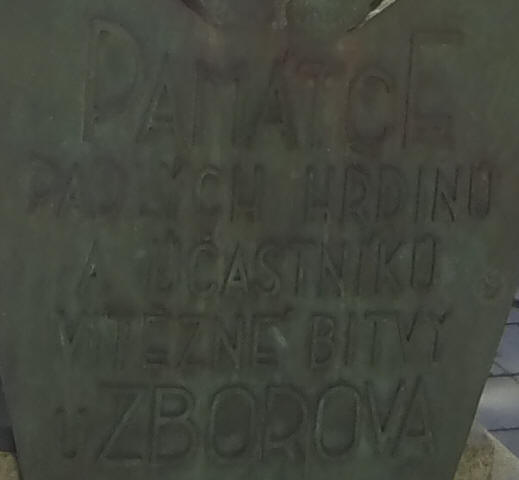 I continued running into the main streets of the city. There is the Post Office on the left as I ran down Poštovni St.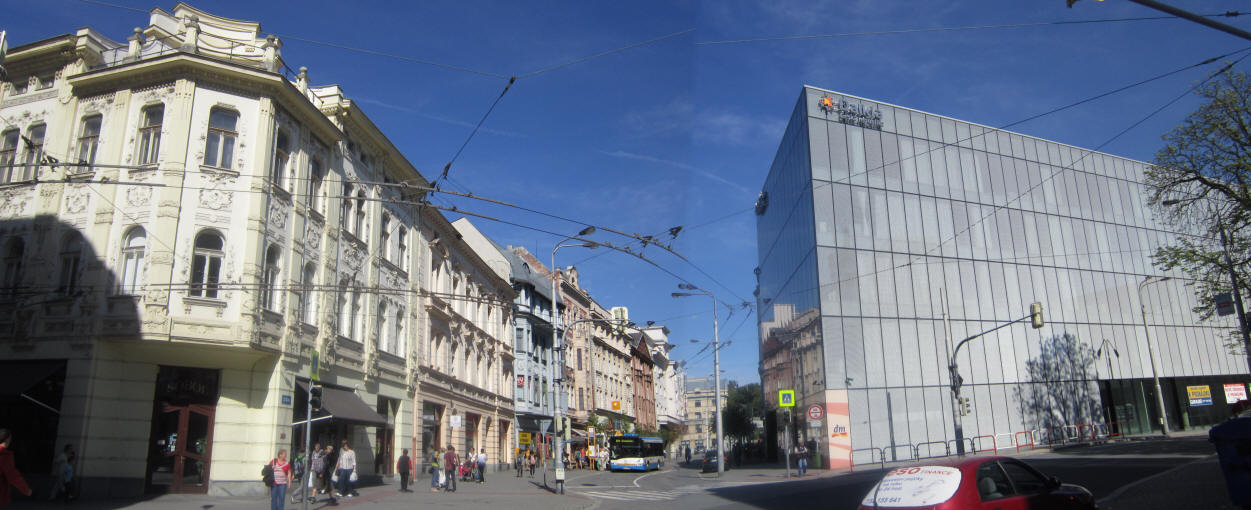 As you can see, the architecture is quite nice and well kept up.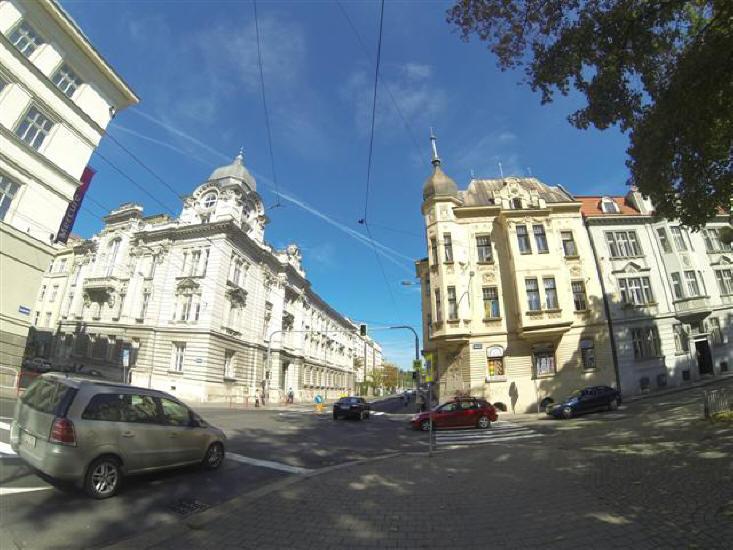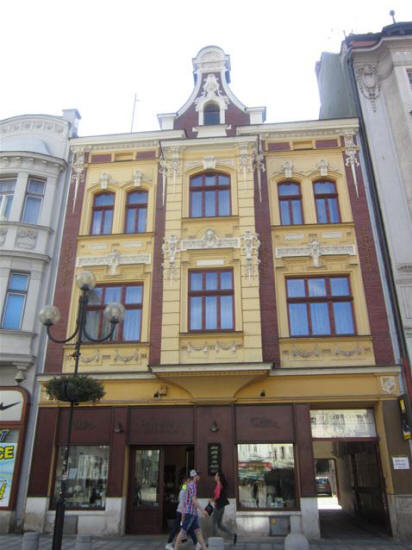 I came into a large plaza area (GoPro below left, Canon right.) Officially it is called Jiráskovo náměstí (Jirásek Square) but this small, perfectly formed square is known as Kuří rynek (meaning 'chicken market') after its former function.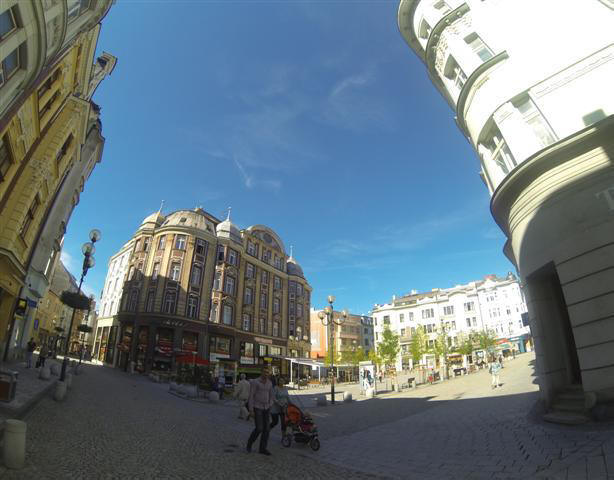 Below left is a vertical PhotoStitch of this beautiful building that has a nice coffee shop on the ground floor. On the right is a piece of street sculpture I saw on Poštovni St.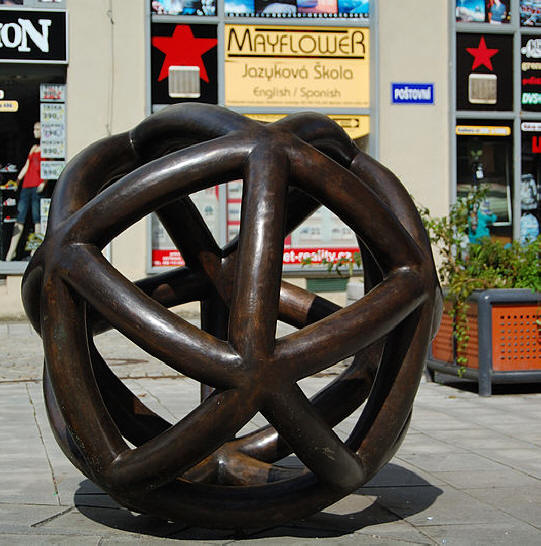 At 2:30 PM I had to take this photo of David in his Coffee Bus. His sign should read "Káva s Sebou" but it's in English. Sitting all by itself was this steel sculpture of a girl.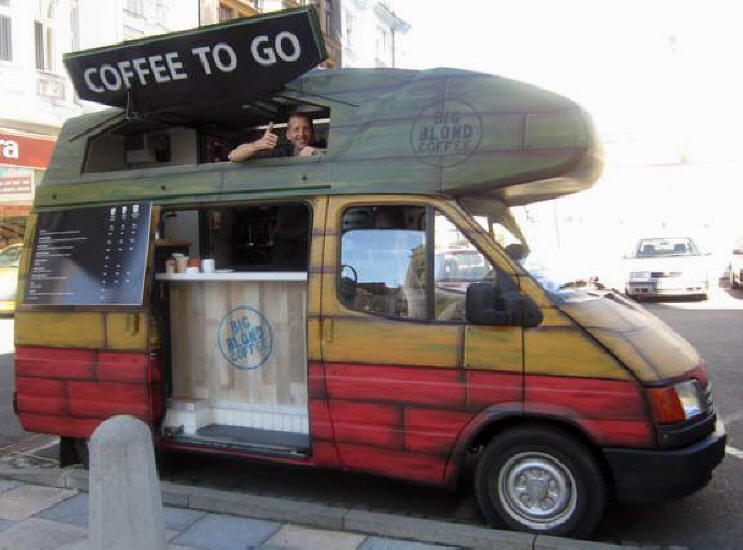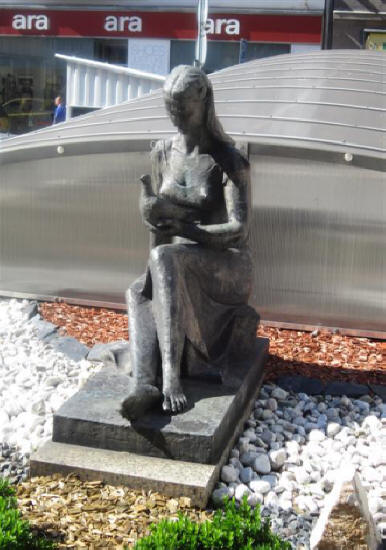 Then I found this man (below) selling Pravé slovenské sýry (Slovakian goat cheese.) He has a little range oven next to his stand where he can cook things for you.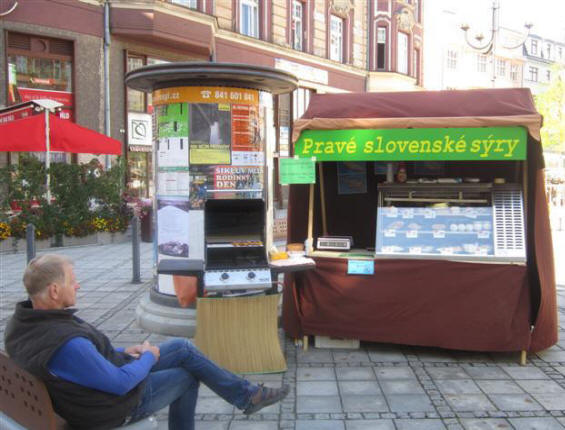 Then I came across this electronics store selling all the latest in notebooks (notebooky,) iPads and telephones.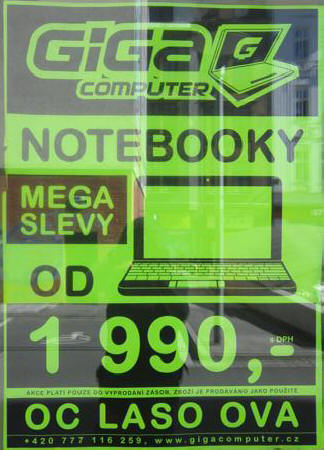 Below is a Canon (left) and a GoPro (right) shot of the pretty white Kostel svatého Václava or Church of St. Wenceslas (Roman Catholic) on Church Square [Kostelní náměstí.] It is Gothic built on Romanesque foundations, is the oldest surviving building in Ostrava and also the oldest Catholic church in the North-Moravian metropolis.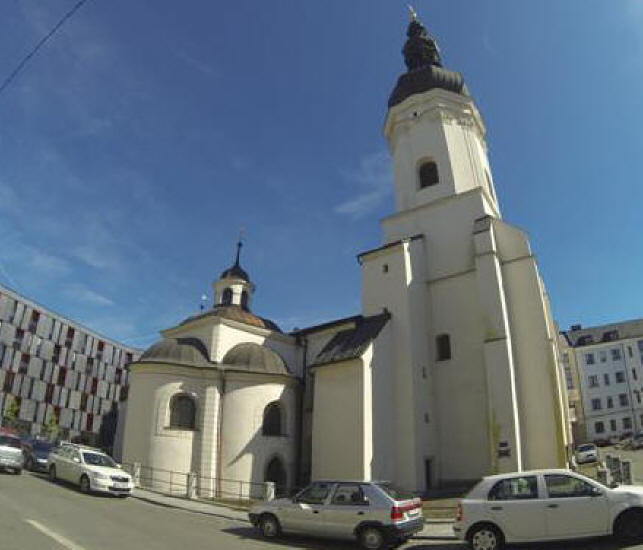 You can see that the church is only a block away from Masaryk Square (map) and you can see the blue sign on the restaurant to the left of the church (center.) I went by a shop with guns, targets and a boar's head in the window.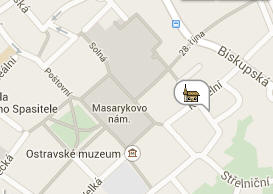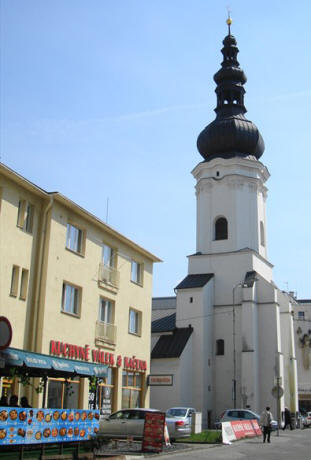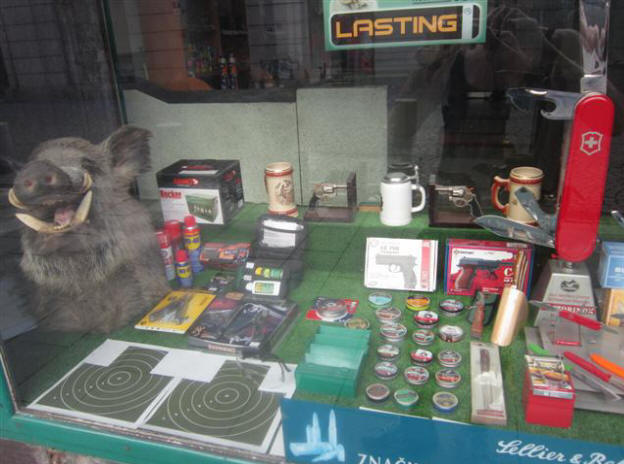 I took a sequence of photos of the long blue sign outside that restaurant (above) displaying the various Czech dishes they has available. The PhotoStitch combination winds up a little bendy and hard to read so ...
... I made the photos larger so that you can see the great variety of Czech dishes and their names.


The map below shows the route of my run through downtown Ostrava.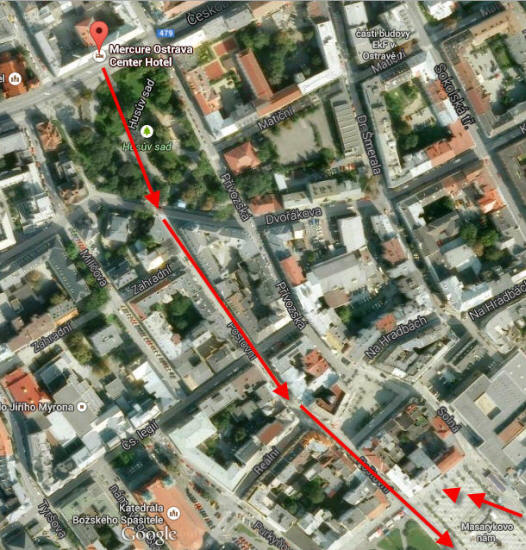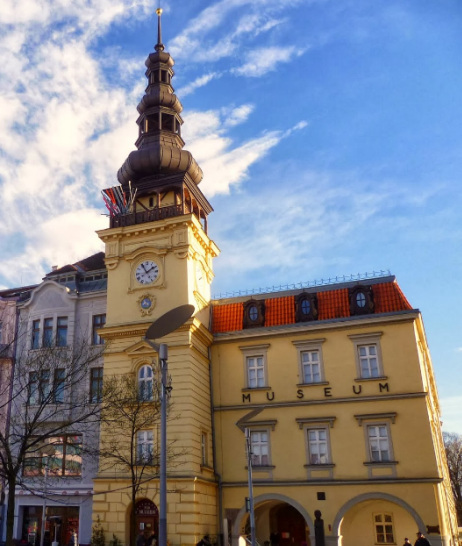 I went through Ostrava's main square called Masarykovo náměstí (Masaryk
Square.) It is named after, Tomáš Garrigue Masaryk (1850-1937, right) the first president (after WWI) of the newly independent (from Austria-Hungary) Czechoslovakia. Masaryk was re-elected as president three times: in 1920, 1927, and 1934. Under his watch, Czechoslovakia became the strongest democracy in central Europe. The square is flanked with large buildings. Here you can visit the Ostrava Museum (above right,) which occupies the former city hall building, dating from 1539. From the top of the tower you have a view of the square, whose paving stones form a pattern like a Persian carpet. Every hour the museum's chimes sound a melody which is accompanied by a jet from the fountain built into the surface of the square.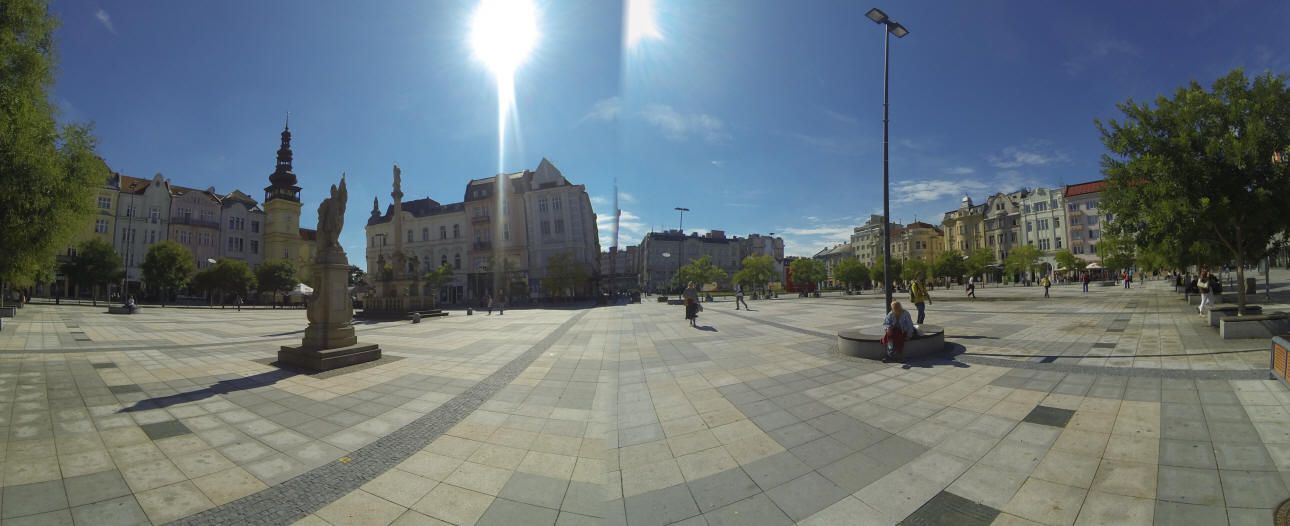 In the upper left of the above photo you can see the Marian column (built in 1702.) It is the oldest surviving Baroque work of sculpture in the city. This column is a traditional depiction of the Virgin Mary and is 40 ft (12 m) high. During the communist era the column was removed and replaced with a statue of a "people's militiaman," so for many years the square was guarded not by the Virgin Mary, but by a burly man holding a machine gun.
At 3:20 PM Marcia had her lunch at Stella Marina [Sokolska Třívida 968,
+420-59-513-6922] (stock photos below) and had pstruh salát and water called Panna Neperlive.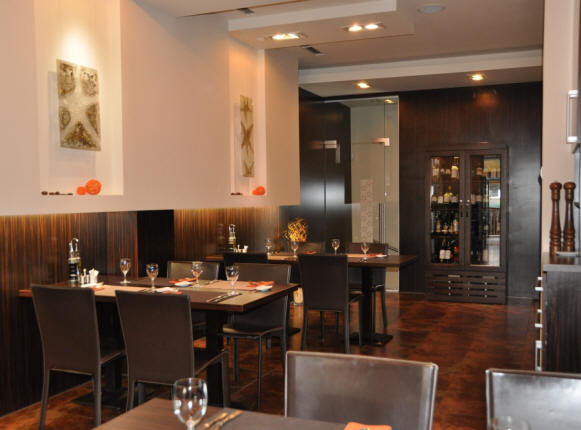 After I was done
running, at 2:45 PM I got back to the large square and had a cappuccino at Cukrárna u Babiçky [Masarykovo náměstí 1498,
+420-77-793-8900 or +420-77-788-0596] and as they were making it, I discovered I did not bring any cash with me and couldn't pay for it. I owed her 36 Kč. I tried to explain to the lady but she got very upset and did not trust me to come back and pay it. It wasn't a pretty scene getting out of there. Below are photos from their website.
These are my shots of the exterior and interior.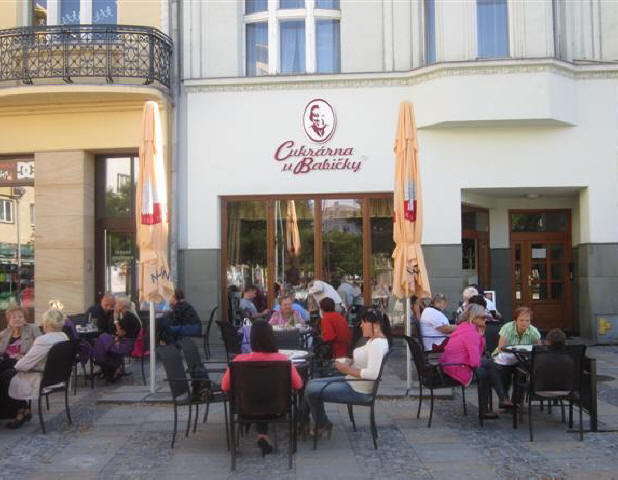 On top of it all, the cappucciono wasn't really all that great. It was nice sitting outside in the plaza.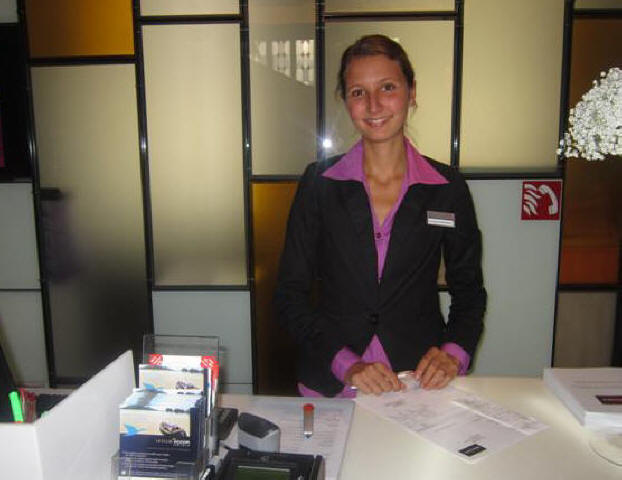 At 4:00 PM I got back to the hotel, got online and booked our hotel for Tallinn, Estonia. At 4:15 PM we checked out of the hotel which cost us $164.09 (€121.25.) We did have to pay 250 Kč for parking the car. Krystina (above right) at the desk was kind enough to take 50 Kč (36Kč+14Kč tip) from me and take it back to Cukrárna u Babiçky and pay the angry lady. That was nice of her.
After we loaded the car, at 4:30 PM, Marcia drove our way first north on the A1 heading to Łódź and then southeast past Katowice to Kraków for 104 miles (168 Km) which should have taken 1:20 hrs but it took two hours.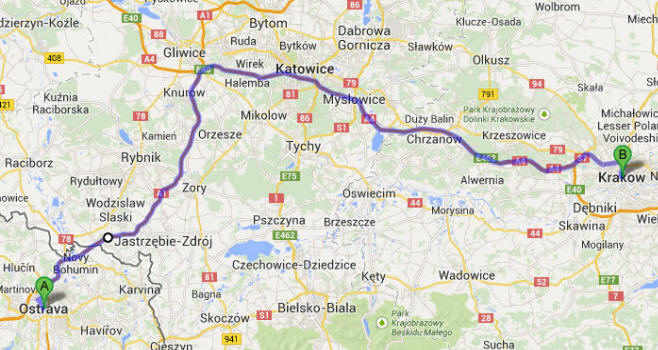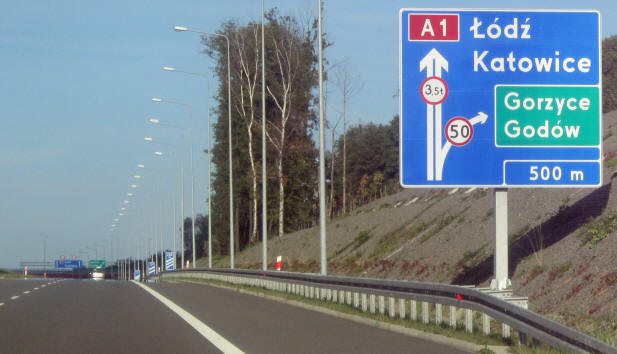 Once we got on our way, I enjoyed that sandwich I had made this morning with seeded mustard. It was good.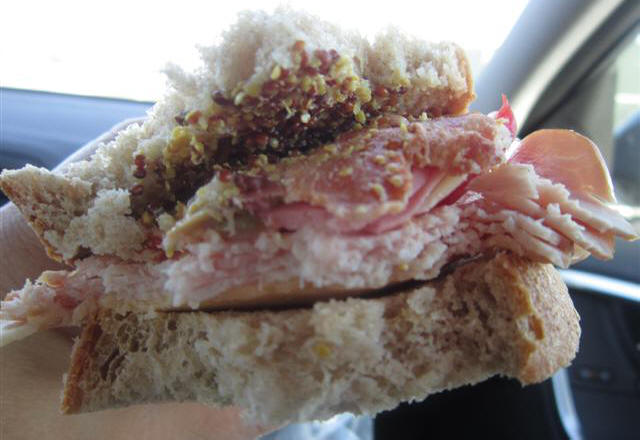 At 4:50 PM we finally entered our destination country: Poland. At 5:50 PM we paid the Autostrada toll of zł 9. All I had was a €50 bill so for that she gave me zł 196 in change. I figured therefore that €50 equaled 205 zł. It is more like 211 zł, so I lost 6zł ($1.75) in that exchange. Once we got into Poland I noticed something quite unusual - they went nuts building modern bridges everywhere. I took shots of as many different styles as I could to demonstrate this phenomenon as well as signage along the way [Ignore the dirt on the windshield.]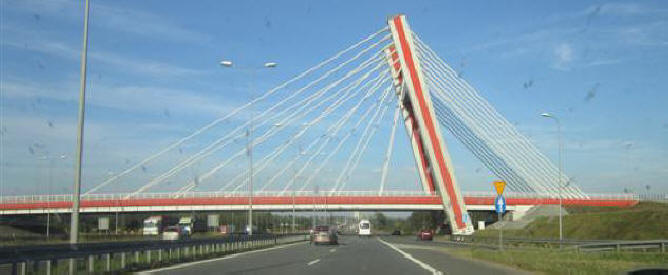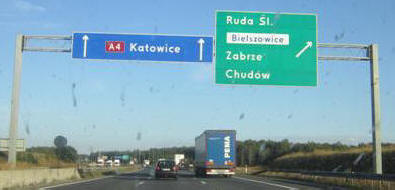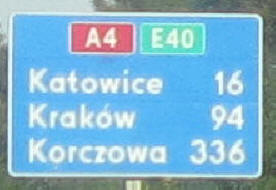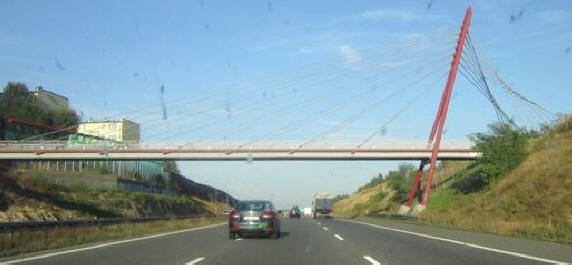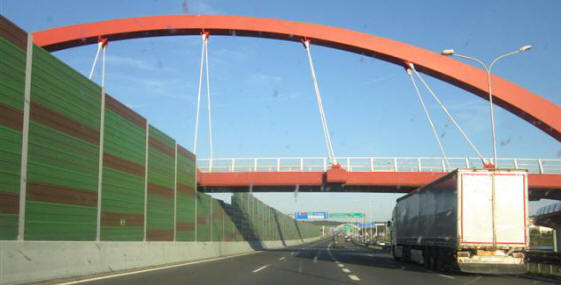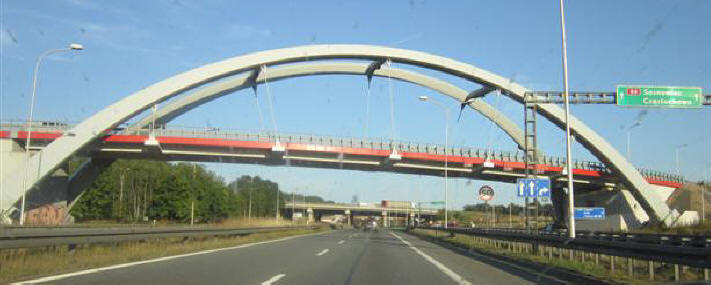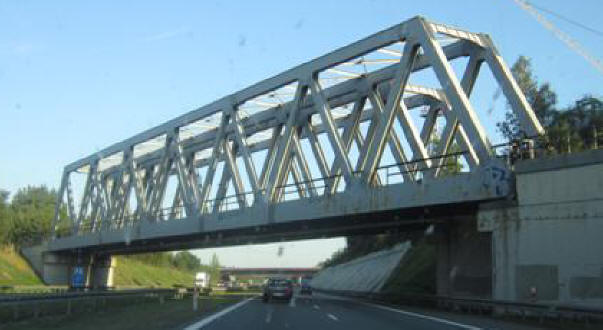 We went by the exit for Muzeum Piwowarstwa (Brewing Museum) which exhibits the tradition and history of Tyskie Brewery with photos, collections, mugs, barrels, bottles, washers and many other exhibits associated with beer. It is located in Katowice on Tychy St in a renovated 1902 evangelical church. [I will get to try Tyskie tonight at dinner.] Since we will never get to see it, here are stock photos of the museum.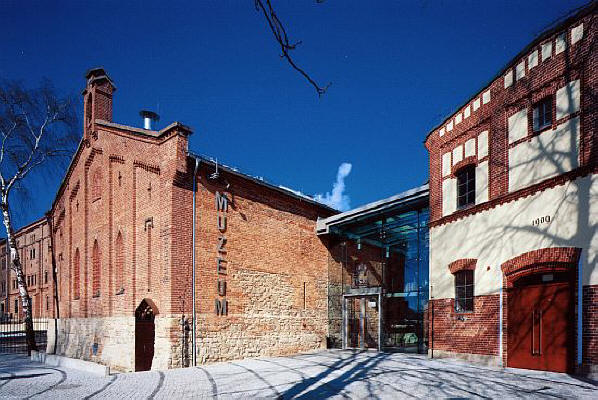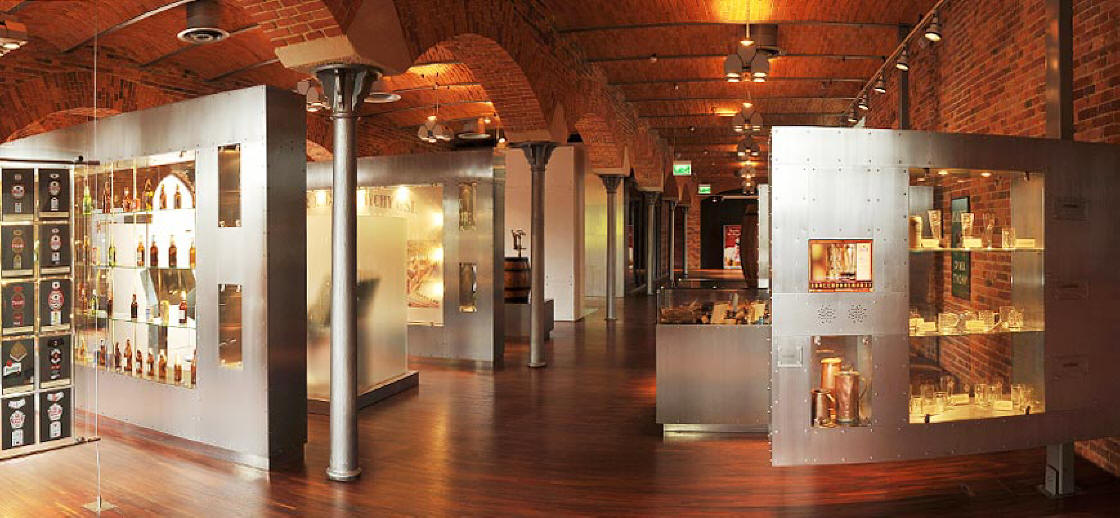 You can see the interior was once a church. Looks like a nice place to visit.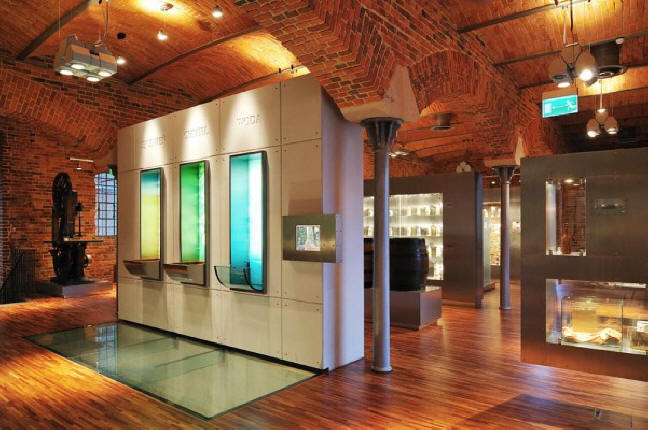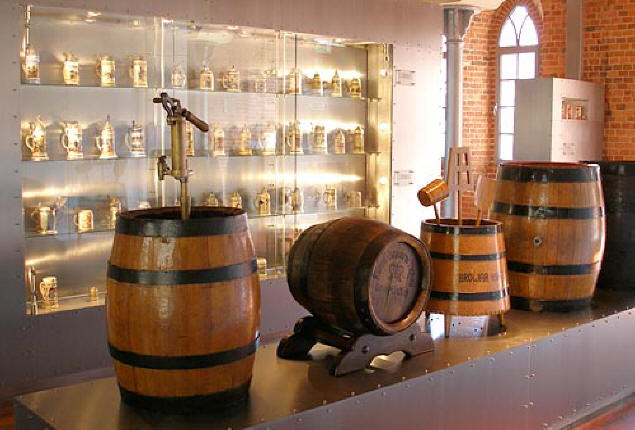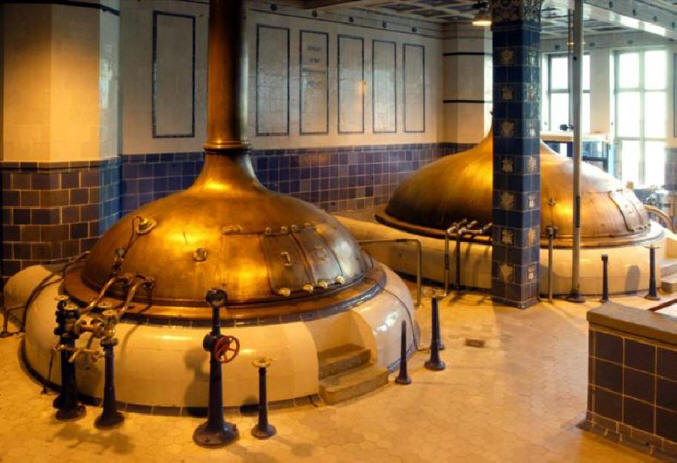 At 6:15 PM we paid another road toll of 9 zł and get off the freeway and wended our way into the downtown. I got a few pictures out the window as we drove around.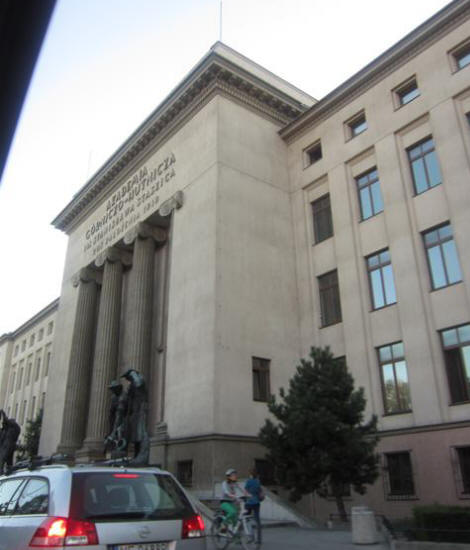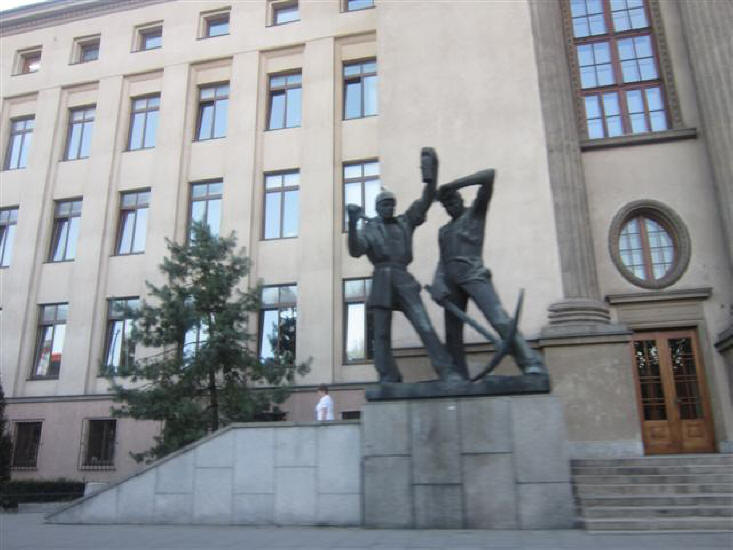 Here is the Muzeum Naradowe, an art museum.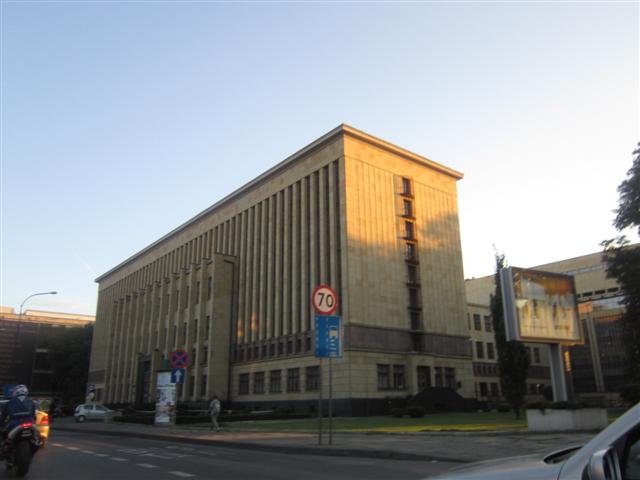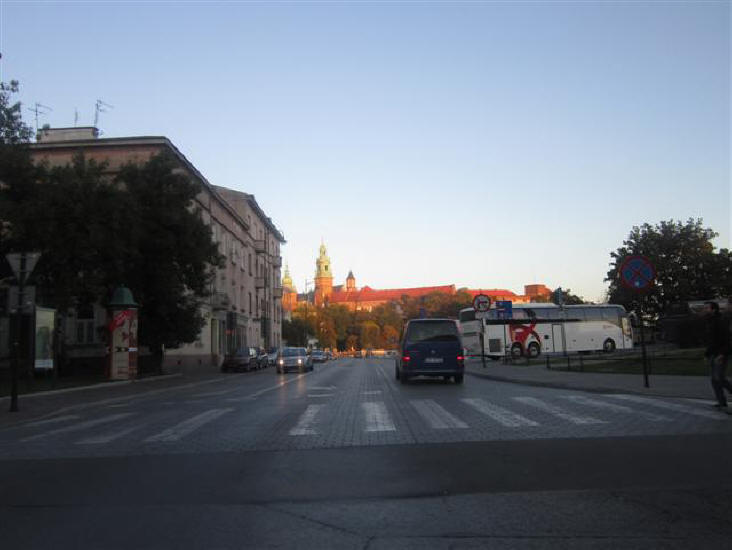 They have well-marked signs (above) indicating the speed limits (Km) in various situations. It's hard to memorize, so I took a picture. As we enter the center of town I caught this shot of Wawel Castle (Zamek Królewski na Wawelu) (above right) up the Wawel hill. Below are stock photos of it. It sits on the Vistula River.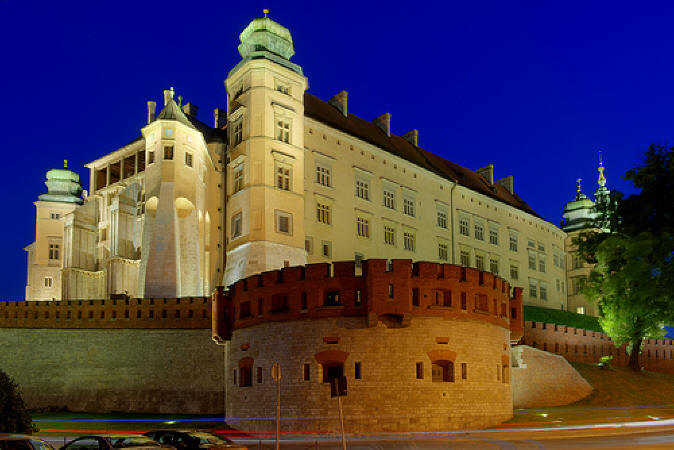 Now that we have entered Poland, it is interesting to note that Germany (map below left, in red) (357,114 Km˛) is only 1.14 times as big as Poland (in blue) (312,685 Km˛) or Poland is 12.4% smaller than Germany. France (center) is 1.76 times larger than Poland. Poland is a pretty big country in Europe. But compare it to Texas (right.)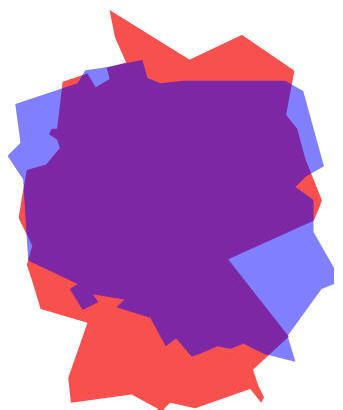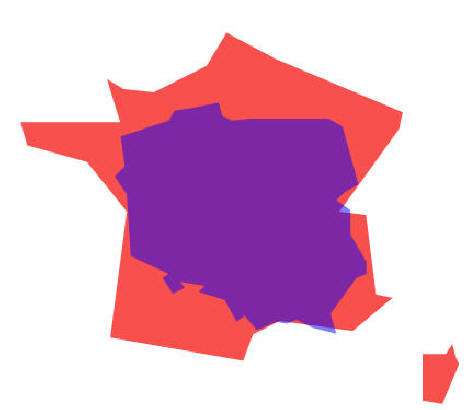 Let's look at the Polish currency. Their monetary unit is called a złoty [pronounced zwah-ti.] That funny little letter L with a slash ( Ł or ł ) is pronounced like a "W." The ICO letters for the currency is PLN. It was previously PLZ but changed when they devalued it by 10,000 PLZ gave you one PLN. That is a pretty hefty devaluation. Can you imagine having to exchange $10,000 old dollars to get just one new one? Their bills are all the same size and here are photos of the various denominations.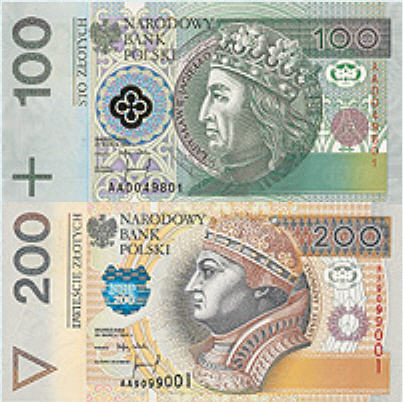 The złoty is subdivided into 100 groszy. Below are the 1 and 2 groze and 5, 10, 20, and 50 groszy coins. On the right is the bi-metallic 5 złoty coin. As with the Czechs, though they are committed to converting to the Euro, the majority of the population is not in favor of it and it will require a change in their constitution and so far there is not the 67% majority in their parliament that it takes to do that.





At 6:30 PM we arrive in downtown Kraków. The GPS took us right to our hotel but we didn't know it because it had no obvious signage that we could see. We kept going around in circles in great frustration looking for the place. After 15 minutes of this, I finally gave up and pulled into the parking lot of this huge hotel called the Hotel Royal [Ulica sw. Gertrudy, 26-29.]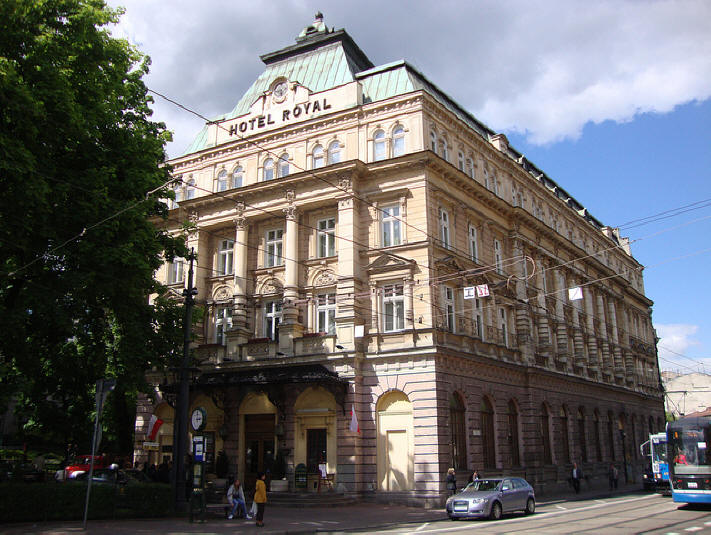 I asked the guy tending the lot if he knew where Hotel Santi was
but said he had never heard of it in very broken English. He wouldn't let us park there but we went inside anyway and after walking around finally found the bar. We asked the bartender Thomas (bent over just above my red computer bag, below left) and he had never heard of the hotel name either. He told me to go ask at the reception desk (right) and I wound up walking a full block to the opposite end of the hotel. After checking, the gentleman told me he could not find our hotel. I walked all the way back to the bar and told Thomas the result and he started making some calls while I opened my computer and started looking for it online. At 6:50 PM we ordered a beer and wine and Thomas told me he called several people and no one has ever heard of the Hotel Santi. I began to wonder if this was the first time I was going to be scammed by Booking.com. During all this, Marcia found a book to read from the lobby and she was enjoying it so much she took it with her.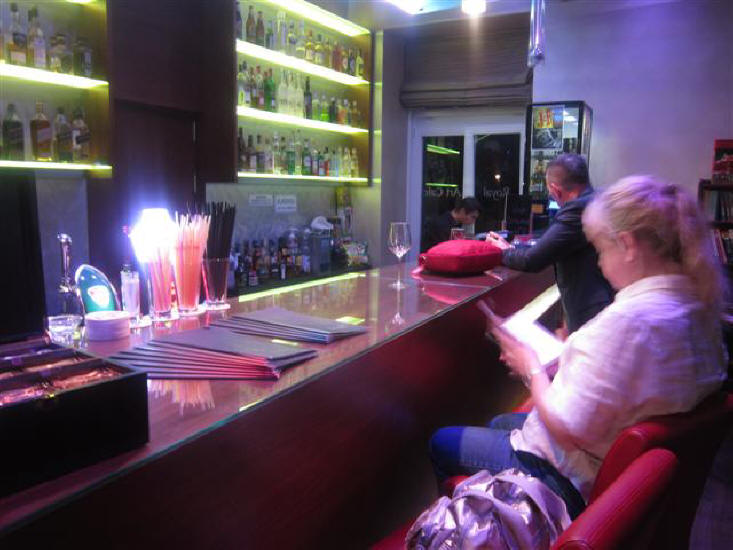 We left here at 7:30 PM and fought our way out of the parking lot with the attendant yelling something at us. It's a good thing we didn't understand Polish. He was mad. I decided to go back to Dominikańska street where the hotel is supposed to be located (map above, A is the hotel, B is the Royal) and I got out and started walking the street looking at every spot along the way. I finally see a window with a man sitting at a desk on his computer and decided to ring the bell. Well, this was the hotel. That only took us a full two hours to find this place. The man was Peter and he tells me how to find Poselska street to get to their parking lot. This was also quite tricky, especially crossing through the big pedestrian street and getting people to let you go through and entering the "No Entry" street. Here are the directions (from their website.)
They now list themselves as "Aparthotel Santi": To get to the hotel's parking, please follow the direction to Straszewskiego St or Hotel Radisson. The only possible way is to turn left from Dunajewskiego St to Poselska St. There is a sign "No entry" but it doesn't refer to our guests. Please continue on Poselska St until you see the Monastery and on the left you will notice a wooden gate with the name of Santi.
We went out front and I took a photo of Marcia in front of the hotel in the dark (below left.) Would you ever guess this is the hotel? The photo on right is the same one but adjusted for lighting by PhotoShop.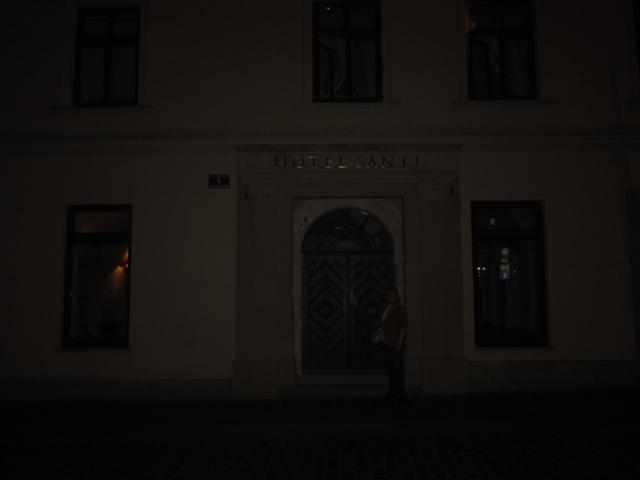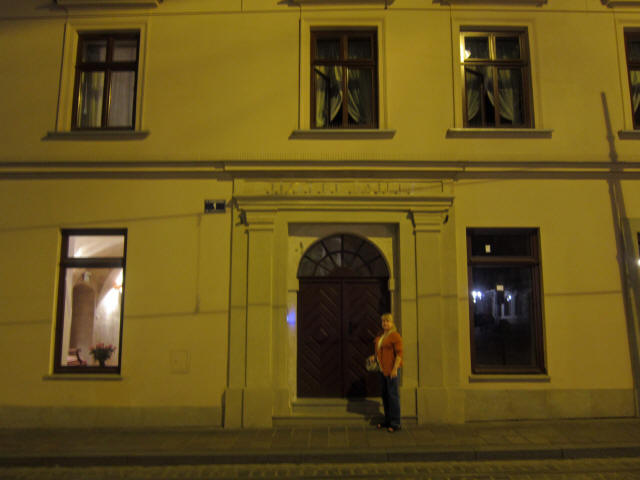 Here is the similar photo I took with a flash (below left.) Now you can barely see the name "Hotel Santi" in gold letters just above the solid door. You can see the No. 1 on the left side. Below right is a photo from their website. You can see how at night this is a very non-descript building.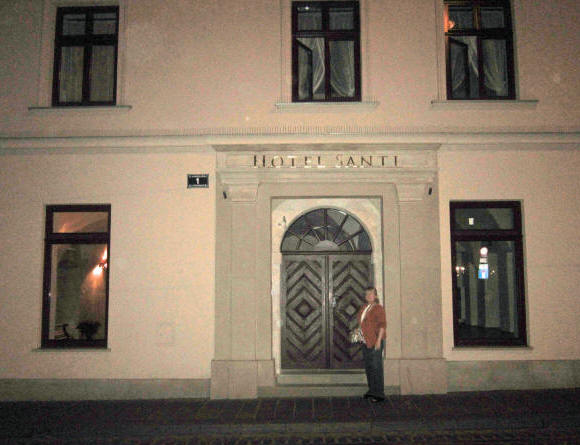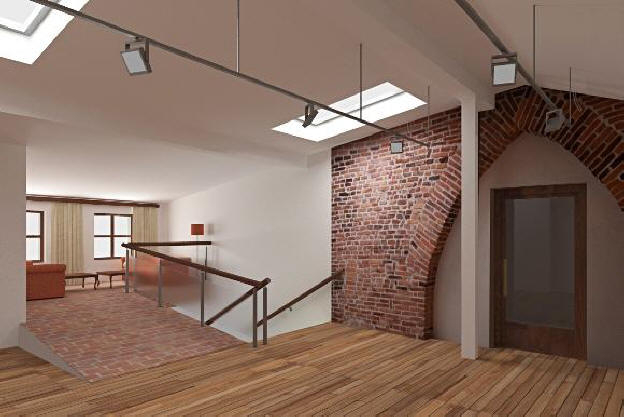 Finally parked in the lot, at 8:15 PM, we checked into Hotel Santi [ul. Dominikańska

1,
+48-
6-692-2289 or +48-79-799-1337 or +48-12-357-2013.] I had booked this through Booking.com for €329 (1406.75 zł) for three nights plus parking would be 80 zł per night. Peter checked us in and gave us Room #105 (GoPro below.) I was really impressed with the moderness of the interior (above) and with the size and the quality of the room (below.)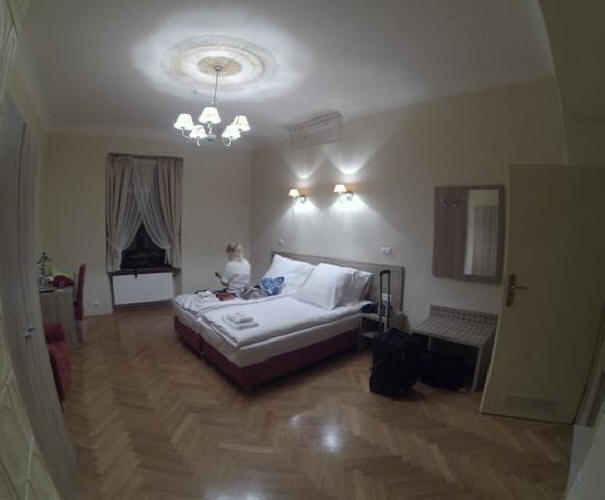 Below are two PhotoStitched Canon shots.

I went to look for the refrigerator and looked in the cabinet in the desk and there wasn't one there. However there was room and plugs for it. I called downstairs and they told me that the hotel was brand new and they had just opened for the first time today! NOW I understand why no one ever heard of this place.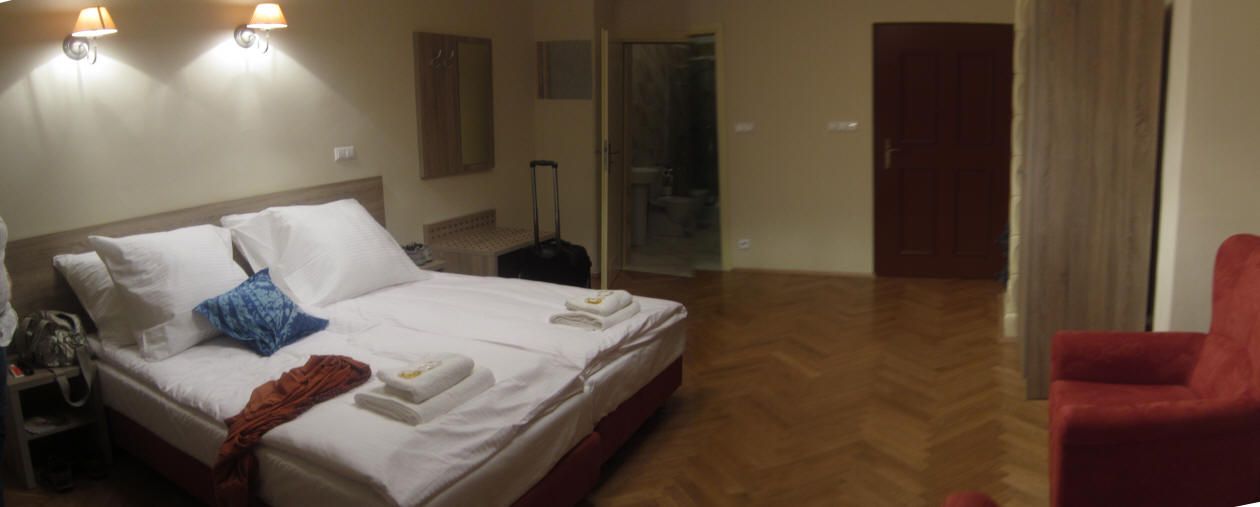 He told me they would get a refrigerator for us tomorrow but that never happened; the refrigerators never arrived even though each day they promised it would.
[Hopefully they have been installed by now. I found this photo on their website, so maybe they have.
I also hope they have improved their exterior signage.]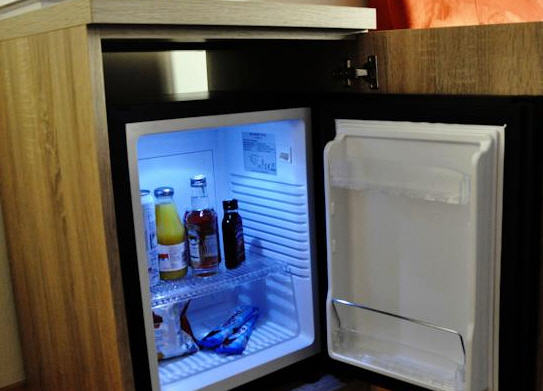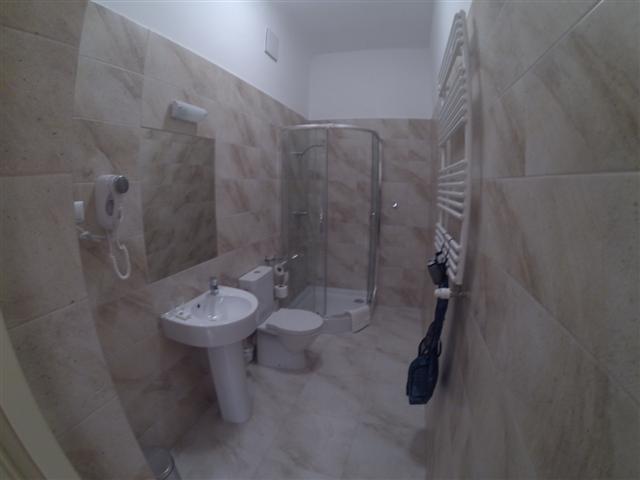 The bathroom was fantastic (GoPro above right, Canon below left.) After getting settled in, Peter told us a great place to have dinner and that we had to head for the Market Square just a block away. When we got there it was already dark and the area was quite busy with many places to go (below right.)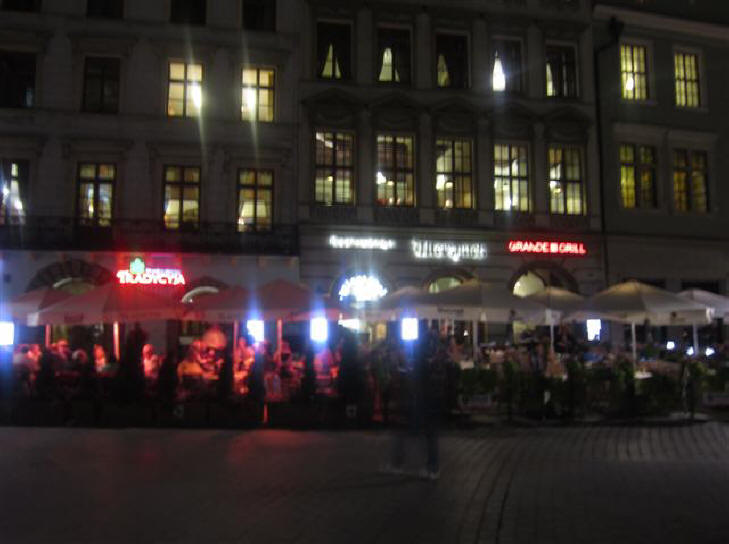 After a little looking around, at 8:55 PM we decided to go into this interesting place called Buddha II [ulica Rynek Głowny 5,
+48-12-424-9600.]
It was a little dark inside (below left) and there weren't many people there. We found our way to the neat little bar off to the side (below right) and sat down.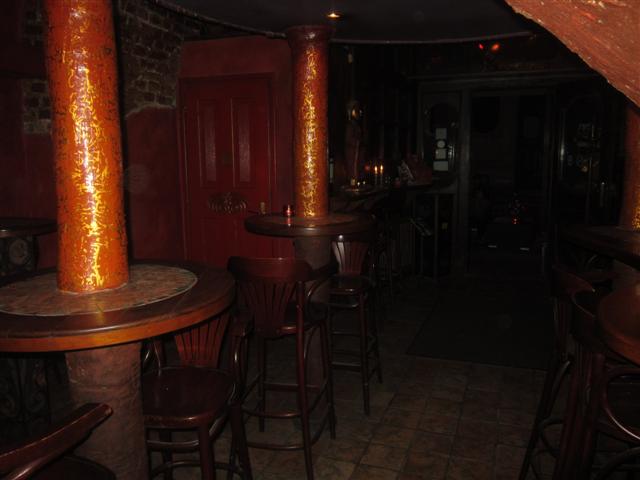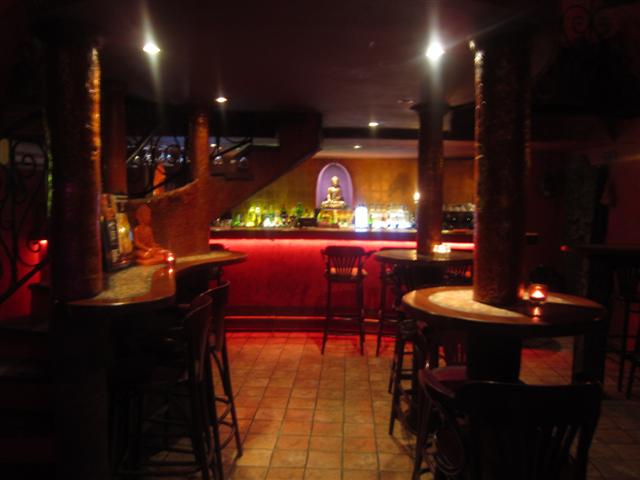 I ordered a Polish Perla beer and Marcia had her usual local white wine. The servers, Kris and Alex were very friendly and we had an enjoyable time with them. They spoke fluent English.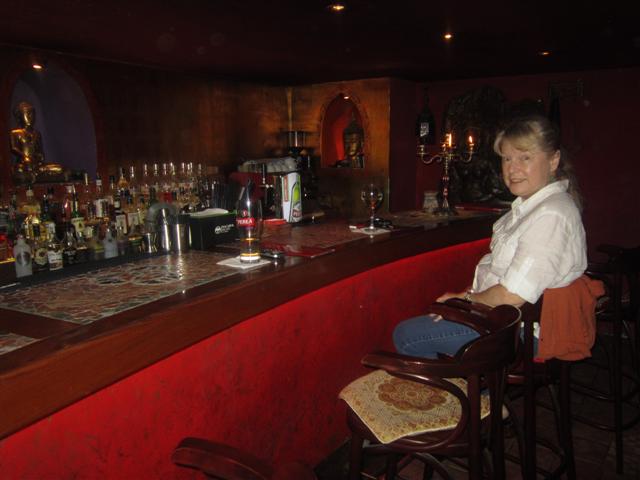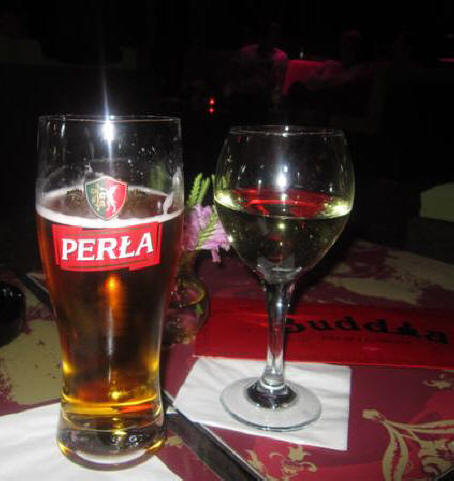 We later moved out into the main area where they had these comfortable cushions and someone wanted to take a photo of us.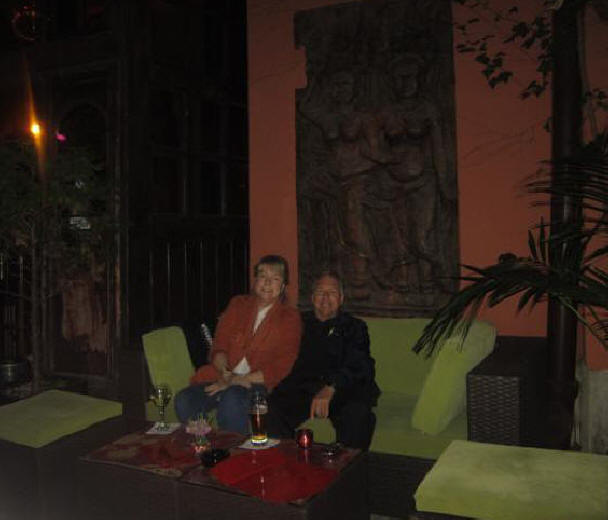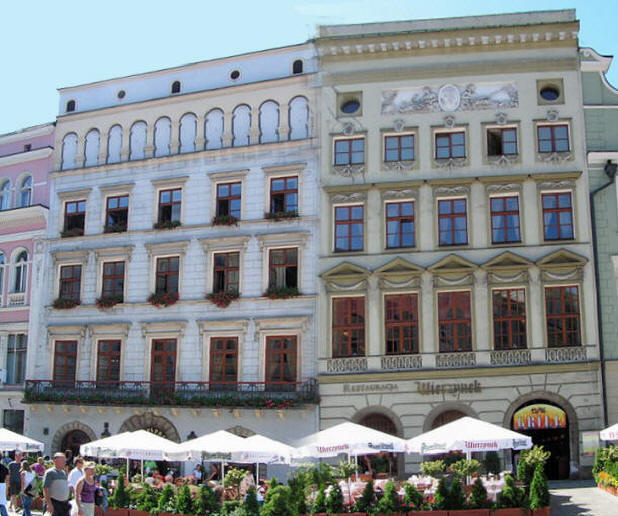 We then wended our way back to where we were told would be a great restaurant. At 9:40 PM, we went for dinner at Restauracja Wierzynck [Rynek Głowny 15,
+48-12-424-9600] (above right.) They claim to be the
oldest one in the city, having begun in 1364. It is located in the Market Square. It
was founded in 1364 by King Casimir III the Great (1310-1370) (left) as a restaurant under the name Wierzynkiem. The name refers to Nicholas Wierzynka a writer of the time. A famous banquet was held there attended by the King and Emperor Charles IV (Holy Roman Emperor) and many other kings and princes. Casimir also built Wawel Castle.
The restaurant is located in building Morsztynowskiej (No. 16) and building Pinocińskiej (No. 15) as well as on the floor of the house Hetmańska (No. 17) (above right.) The ground floor is a cafe. The first floor consists of four rooms: the Column Room (below left, my shot right,) Wierzynkowej, Clock Hall and ...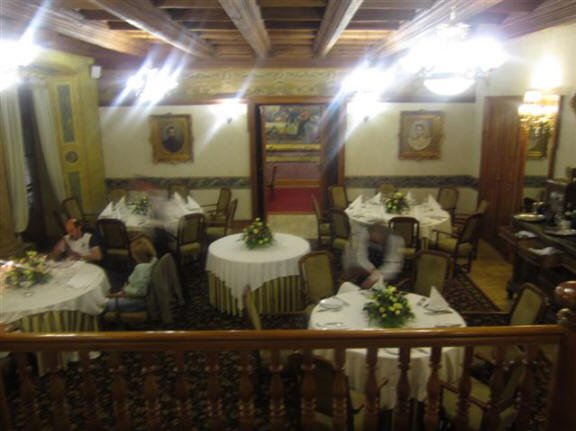 ... Tatra (Chamber of Imagination) (two views below) where we were seated at one of the window alcoves.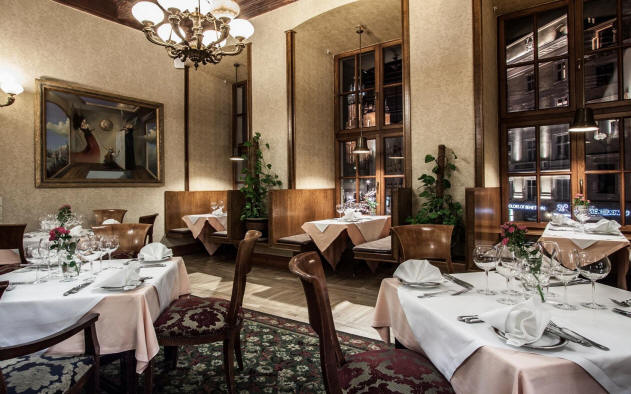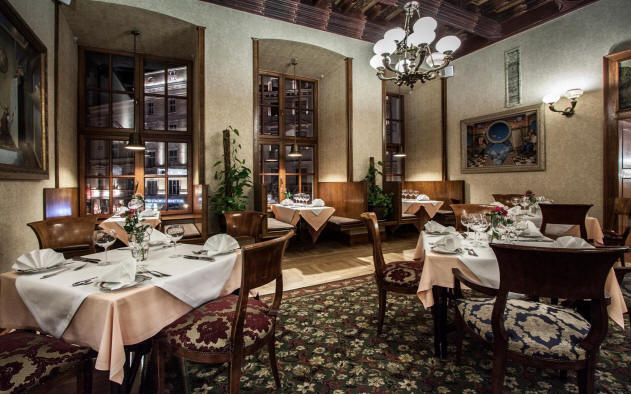 Half a floor above this is the Knights' Hall (below.) Pretty sumptuous place for a get-together.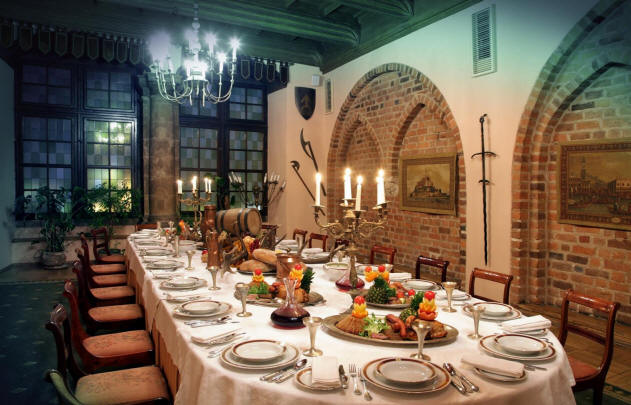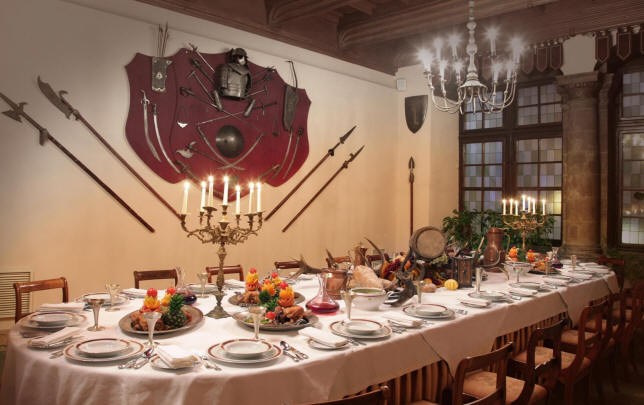 On the second floor there are three rooms: Pompeian Room Large and Small and Renaissance Hall. Currently, the restaurant is run by Elżbieta Filipiak, the wife of Kraków businessman, Janusz Filipiak.
As I said, we were seated in the Chamber of Imagination in the window alcove in the far right corner (below.)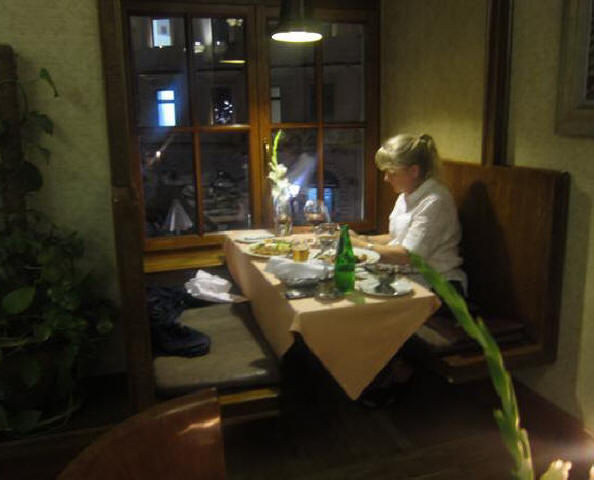 We looked over their huge extensive multilingual menu.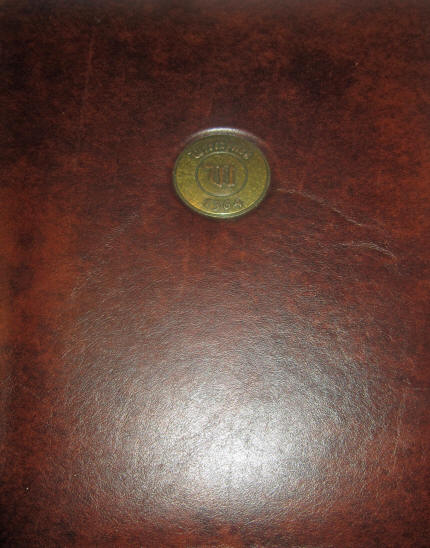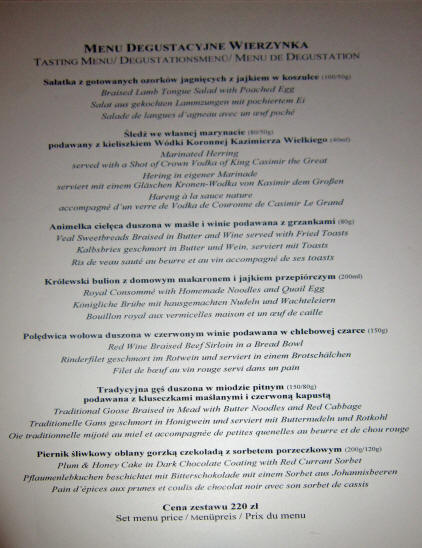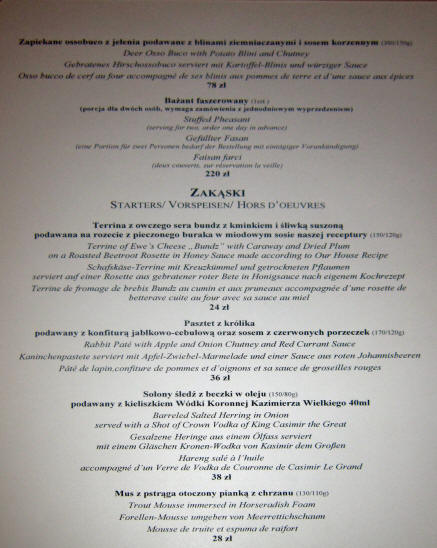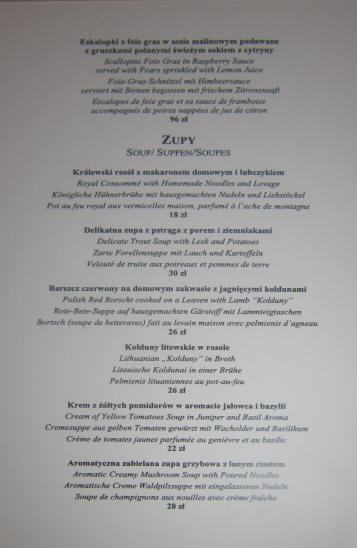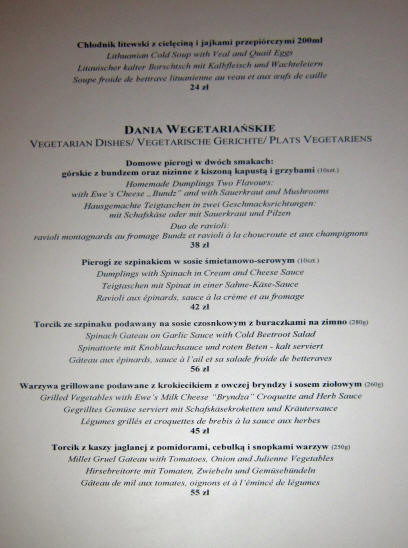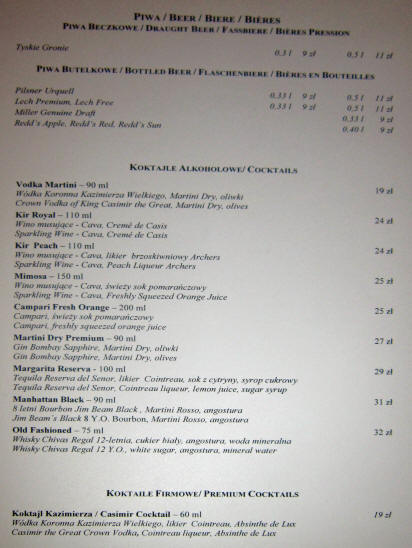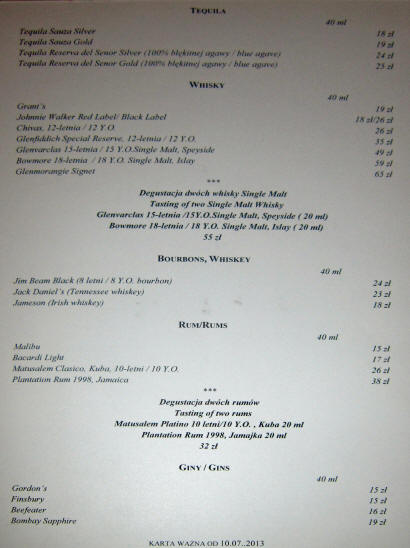 I ordered a Polish Tyskie beer and then a half bottle of Beaujolais Villages wine (80 zł) and Kinga Pieniňska sparkling water 0.70 L (11 zł.) Now I've tried Tyskie beer and it is pretty good.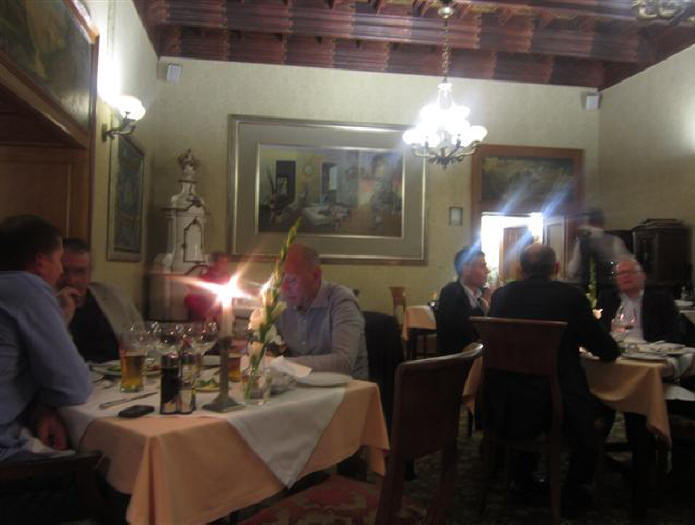 They first brought Marcia and I each a free amuse bouche which was goat cheese tureen with carrot and balsamic puree (below left.)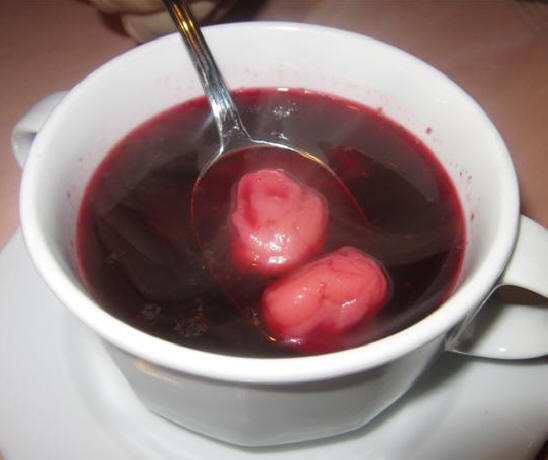 I love Russian borscht, so I started with a cup of "Polish red borscht cooked on a Leaven with Lamb "Kolduny" dumplings" (Barszcz czerwony na domowym zakwasie z jagnie, cymi koldunami (above right.) Then I had "duck baked with apples in pear aroma with stewed potatoes and traditional cranberry sauce" (Kaczka pieczona z jablkama w aromacie gruszki podawana z duszonymi ziemniakami I sosem z'urawinowym wlasnej receptury) (below.) On the left is how it arrived and on the right is once I started cutting into it. I finished dinner with a cappuccino.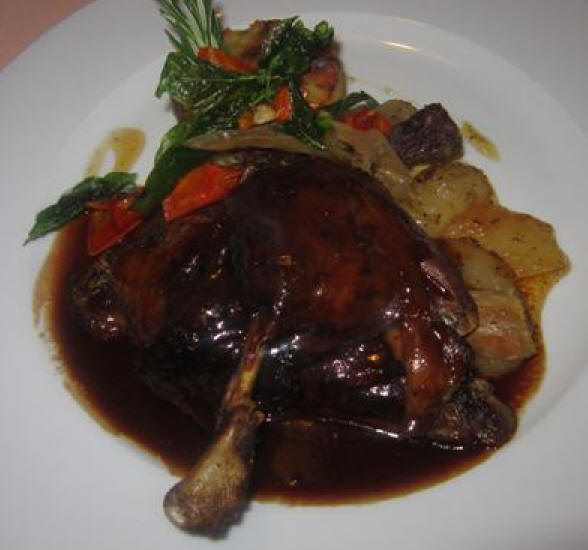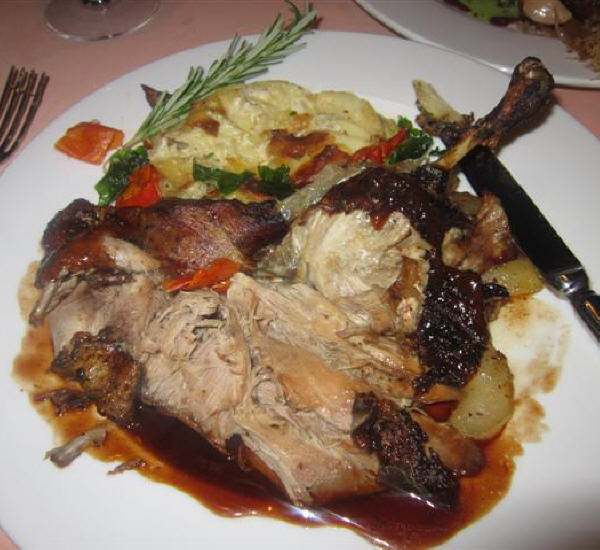 Marcia had this beautiful "beef tenderloin in red wine and goose liver sauce on a potato and leek pie with spinach" (Pole, dwica wolowa w sosie z czerwonega wina I ge, siej wa, tróbki podawana na placku ziemniaczano-porowym ze szpinakiem.) I don't think she saw the word "liver" or she would not have ordered it.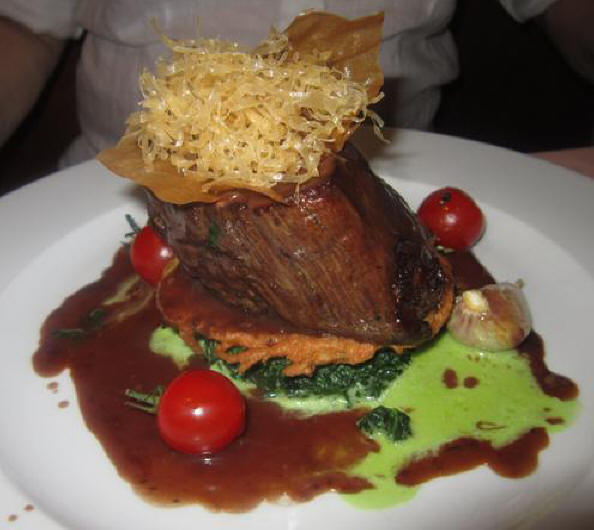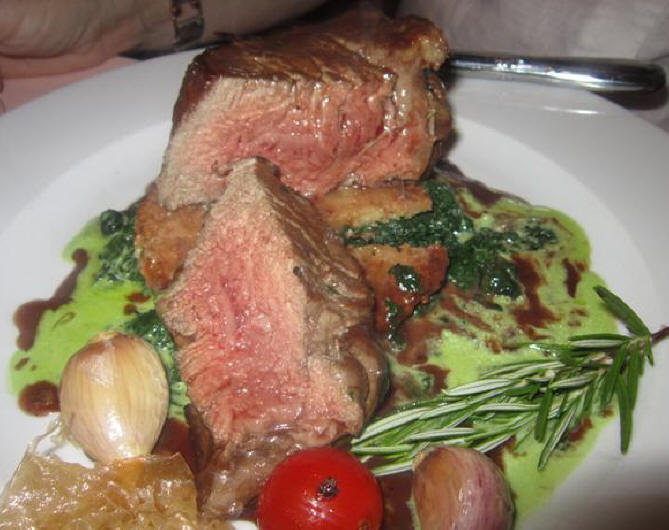 Both our dishes were incredible. Our wonderful waiter Michael (below) took great care of us the whole evening. He brought us these aperitifs to try; Lubelska Wiśniówka (left) and Old Krupnik liqueur, which we each tried. He happened to mention that the owners here keep all the credit card tips. We rated the dinner here as Fabulous. The whole dinner came to 352 zł ($112.74) which was a tremendous bargain. We left there quite pleased.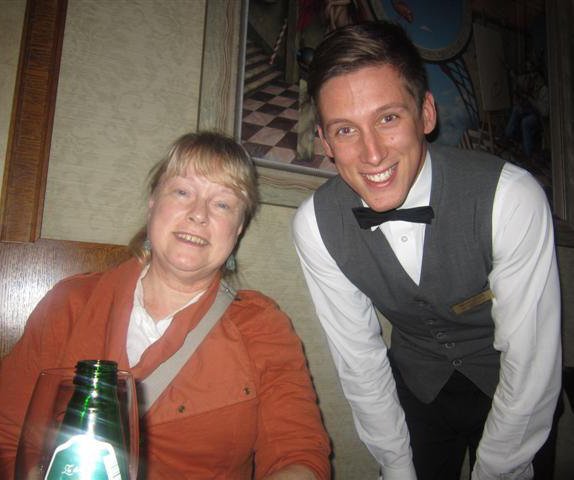 Before we left I got this shot (left) of the stairway and also of the well-appointed rest room (right.)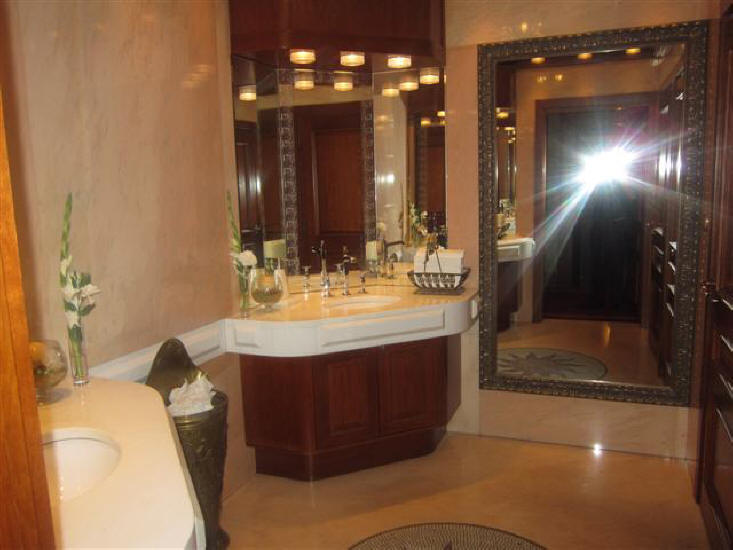 We left there at 11:30 PM and I cojoled Marcia into taking a "short little" walk in the Market Square. We wound up walking all the way around the whole perimeter which calculated out to be a full half mile.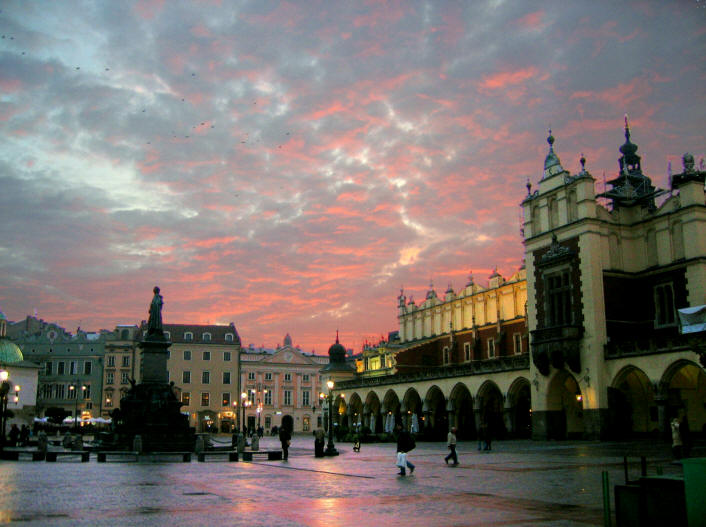 We got back to our room at 11:55 PM and I turned on the TV and wound up watching Bonanza in Polish. The WiFi was free and I did a little email and then finally got to bed at 1:00 AM.
Kenneth J. Hoffer, MD
Kraków, Poland
Sent 11-26-2014
If you enjoyed these travels or wish to add comments on the places we visited
Please Leave Me a Message by clicking the spinning @ sign below.