Dr. Hoffer's Travel WebSite This site was last updated 01/07/18
Flag of KRAKÓW
---
Friday, September 13, 2013
Kraków-Warsaw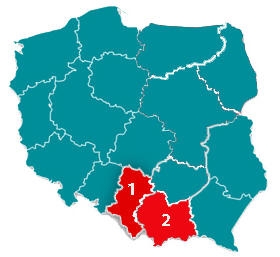 ---
So far, we have traveled through the Silesian region (Slaskie) [1] to get here and today we will drive from Kraków in Lower Poland (Malopolskie) [2], through Swietokrzyskie region [3] north to the center of the Masovian region (Mazowieckie) [4] where Warsaw is located. Below are some nice maps of Poland for orientation or download (right click).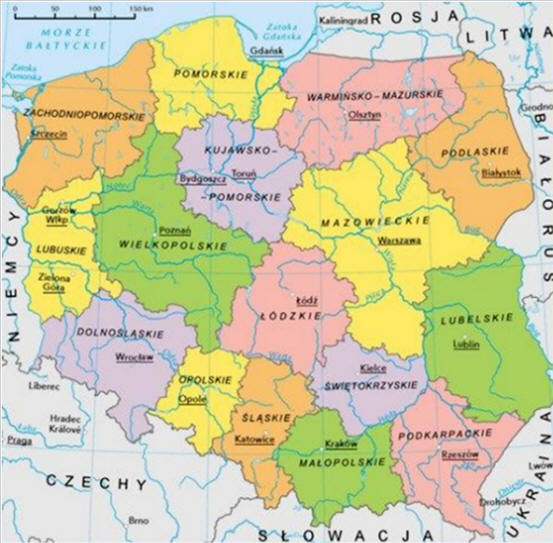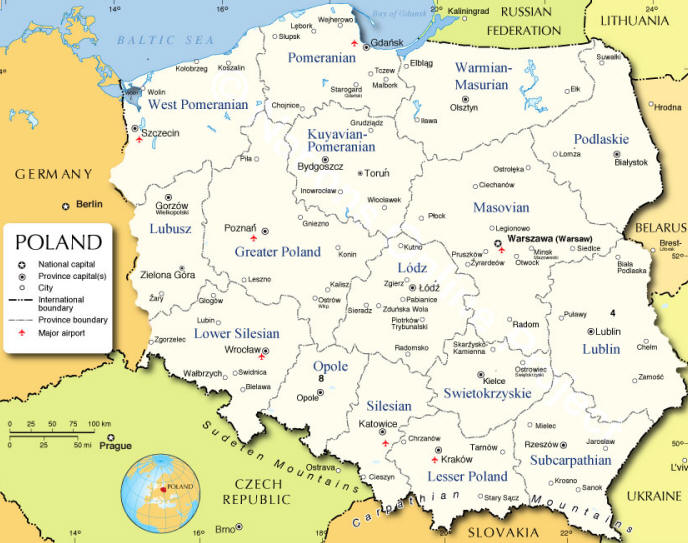 Here is a more detailed map (left) and one (right) showing the telephone area codes after +48-.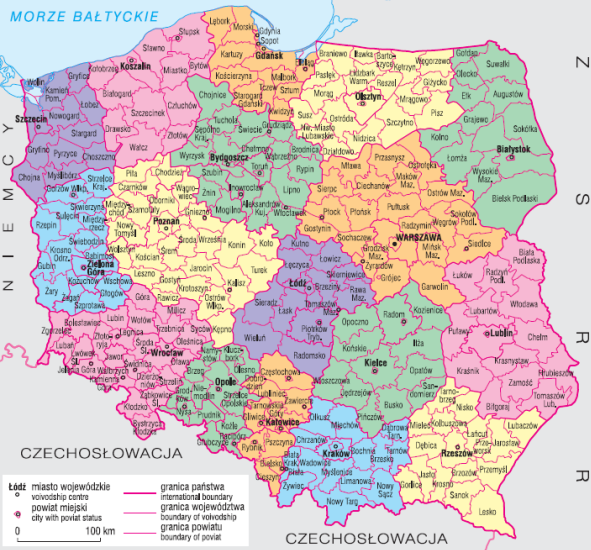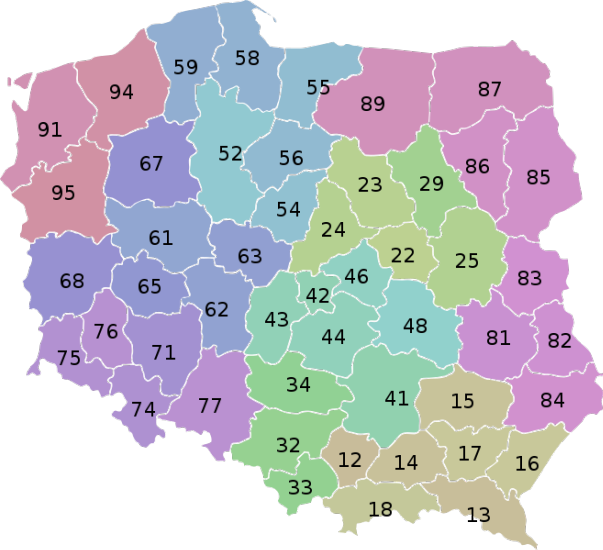 I woke at 9:35 AM and again at 11:00 AM. We had to check out today, so it was time to get up earlier, get packed, do my run, some touring and then head north for Warsaw. At 2:00 PM, I went downstairs and checked out of the hotel which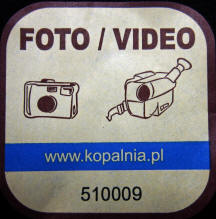 for three nights cost us Ź1406.73 (only $329). I was able to talk Agnieliska (Agnes, below left) and later the Manager out of the 3 x Ź80 = Ź240 ($56) for the parking due to the fact we were never told about the parking fee when booking, our not getting the promised refrigerator and the horrible night trying to find the hotel due to their poor signage.
I sat down in the reception area and did some research on where to go to see places in the life of St. John Paul II which I want to visit before leaving the city he spent his youth in. These are what I found: in Debniki; 10 Tyniecka St, St Stanislaw Kostka, the Crypt of St. Leonard under Wawel Cathedral, 19 & 21 Kanonicza St, Planty gardens, and the Bishop's Palace at 3 Franciszkanska ulica. I'll see how much I can get to.
I then took a little tour of the hotel main floor which is a restoration of an old convent. They preserved the old brick archways ...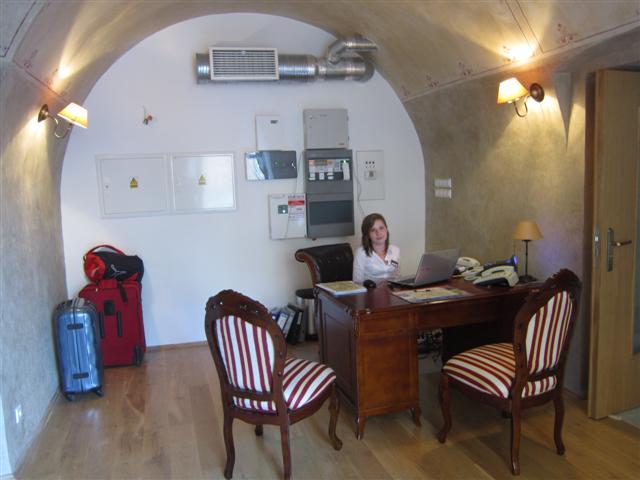 ... and some of the cave-like features. Below is their little breakfast area.
I then went out to the back of the building where our car is parked and reorganized some things.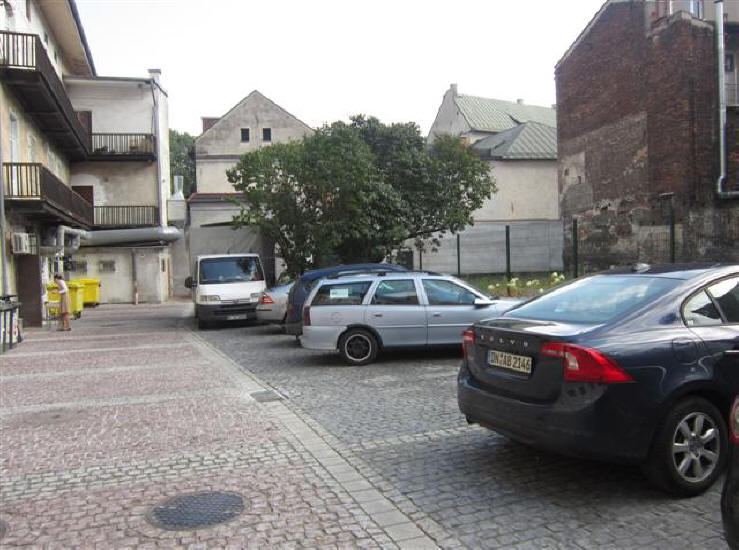 I left the hotel and past the Dominikanie church and went around the corner to this main street, Stolarski.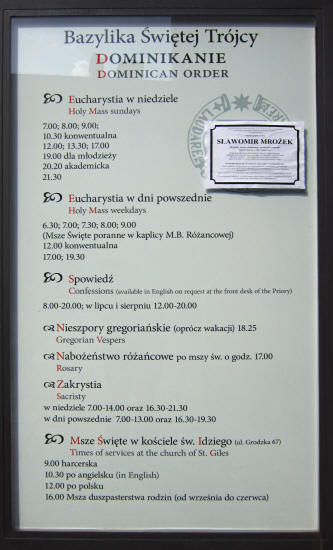 At 2:10 PM, I came across this place called Ambasada Śledzia [ul Stolarska 8,
+48-66-256-9460] and had two cappuccinos for Ź10. They had outdoor seating but I went inside to the bar.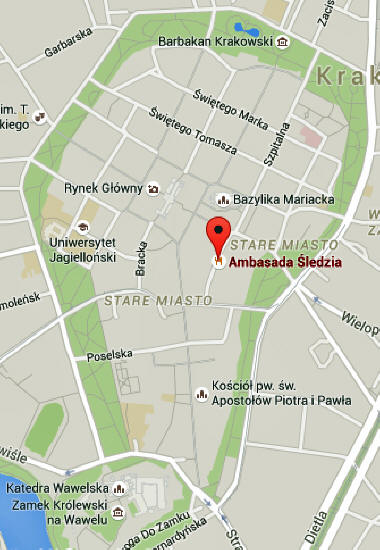 As you can see (above right; below: red box) I am right across the street from the American Consulate. I tried to get Jacob (below left) to sell me a rubber bar mat but no matter how hard I persuaded, he just wouldn't do it.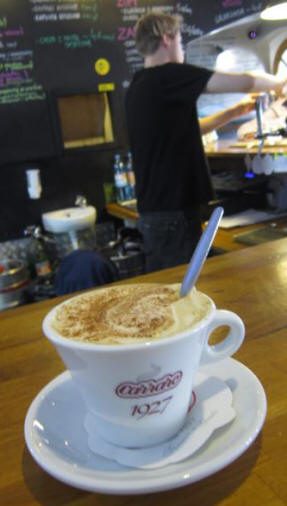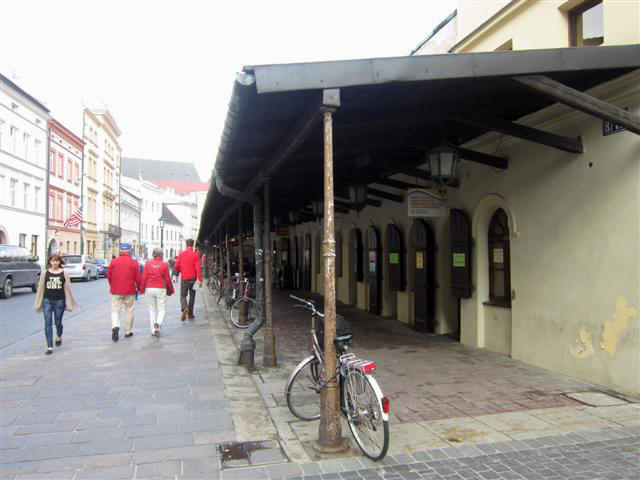 Here are some stock photos of the place.
While looking for these photos, I came across a very interesting website that allows you to "walk" all over Kraków. While exploring it, I discovered that the photos were taken before our hotel had been refurbished. This is what it looked like - in pretty bad shape. What a job they did fixing it up. Try this CLICK.
I then went next door at 2:45 PM to this little ceramic place called Pracownia Ceramiki Artystycznej (ul Stolarska 8] (below) and bought a pin for Ź8.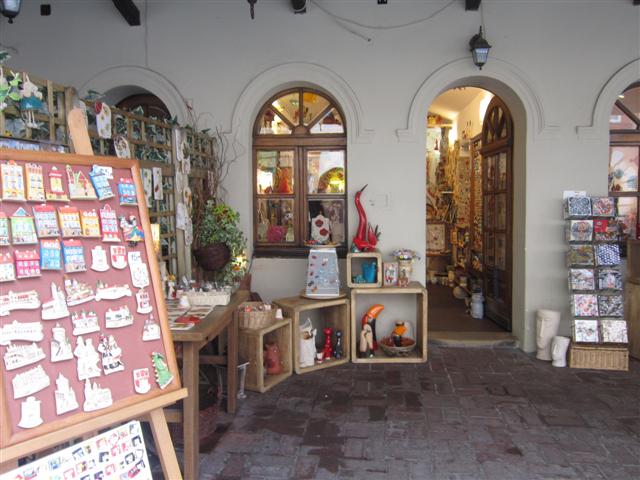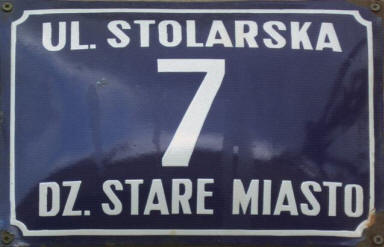 Below is a shot I took of the American Consulate and also the nearby German Consulate. I couldn't procrastinate any longer so, at 2:50 PM I started my run to Wawel Hill where the castle is.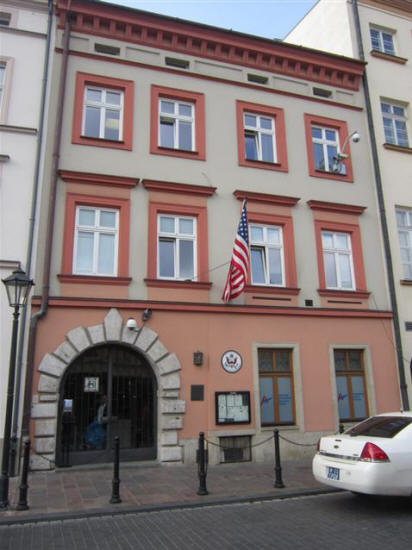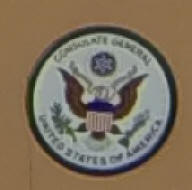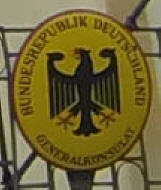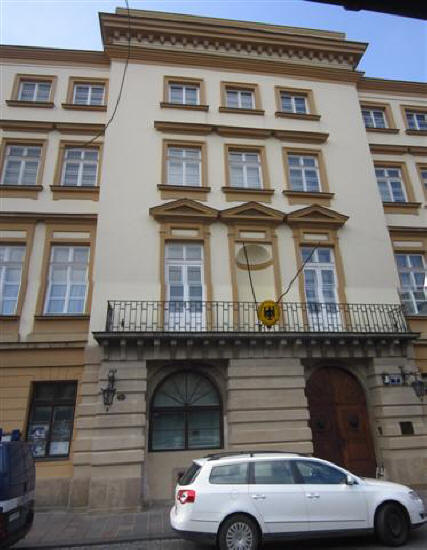 At 3:00 PM, Marcia exchanged €100 to Ź412.50 at Kopiecka. Then she went to have lunch at Restaurant (Etterem) Balaton [ul Grodzka 37,
+48-12-422-0469], a Hungarian place, and enjoyed a goulash soup for Ź29.

I took photos later of the outside and ...
... the interior which is not plush but typical country Hungarian.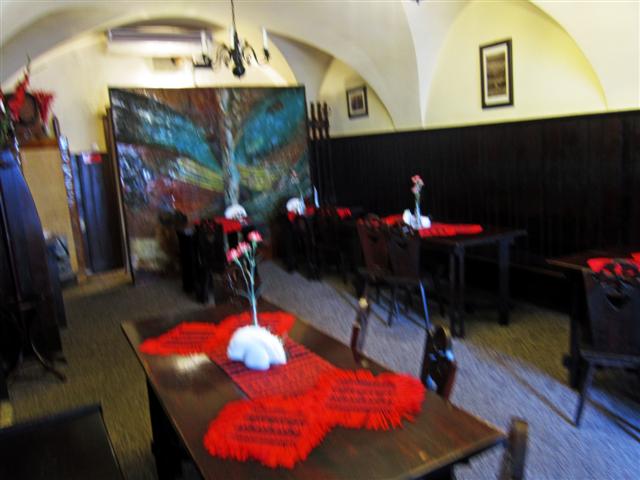 I went by the Czartoryski Museum and Library (Muzeum Książąt Czartoryskich w Krakowie) [19 Św.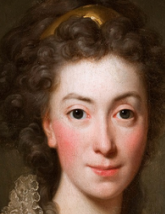 Jana Street,
+48-12-370-5460] was founded in the city of Puławy in 1796 by Princess Izabela Czartoryska (1746–1835) (right). Their collections were partly destroyed during the November uprising of 1830–1831 and the subsequent confiscation of the their property by the Russians. Most of their holdings, however, were saved and moved to the Hôtel Lambert in Paris. In 1870, Prince Władysław Czartoryski moved them to Kraków, arriving in 1876. Kraków had been granted a degree of autonomy following the Austro-Hungarian Compromise of 1867. The best-known work at the museum is Leonardo Da Vinci's "The Lady with an Ermine" (below right), the artist's only painting that remains in a private collection, and, the only one in Poland. Worth a visit.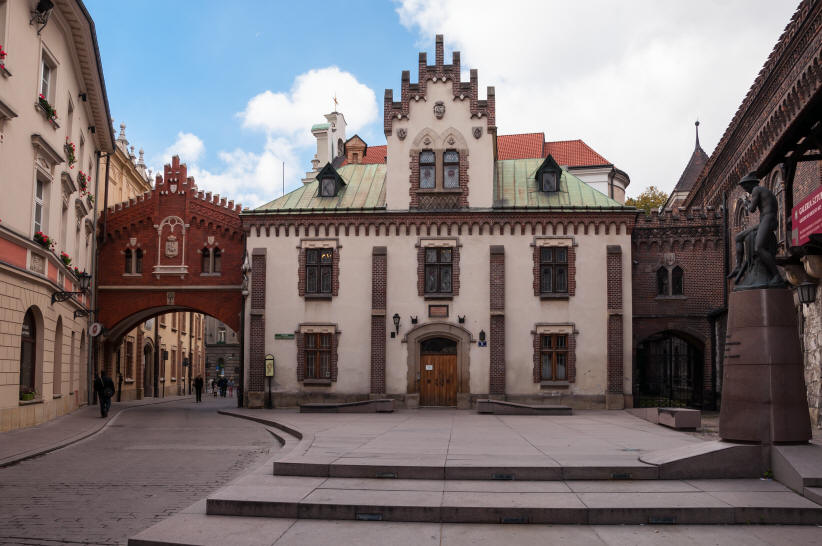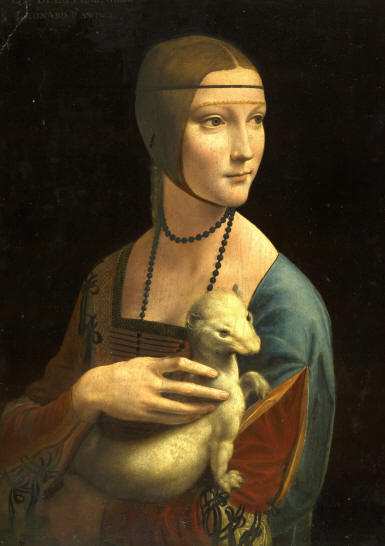 I kept running to my ultimate goal: Wawel Hill (map). I got a shot of one of Kraków's manhole covers.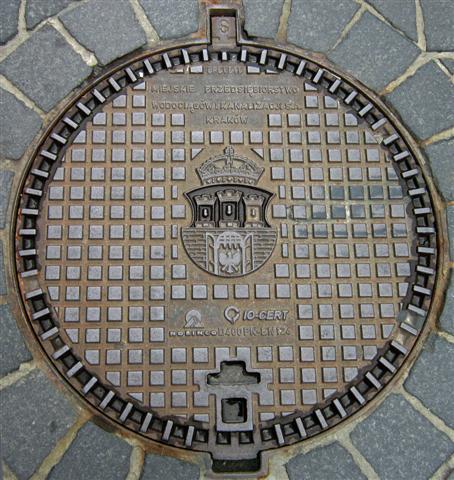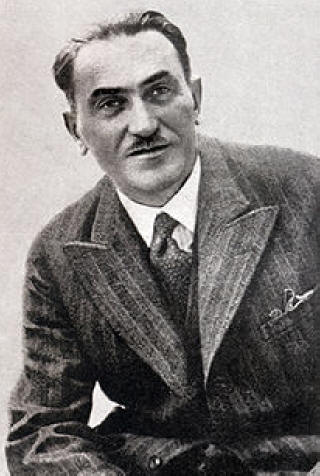 Along the way through Planty park, I came across this large stone art work (below left) and a bronze memorial to Tadeusz Boy-Żeleński (1874–1941) (above right) who was a pediatrician and gynecologist but was most famous as a Polish stage writer, poet, critic and the translator of over 100 French literary classics into Polish. He was murdered in 1941 by the Nazis, in what became known as the massacre of the Lviv professors.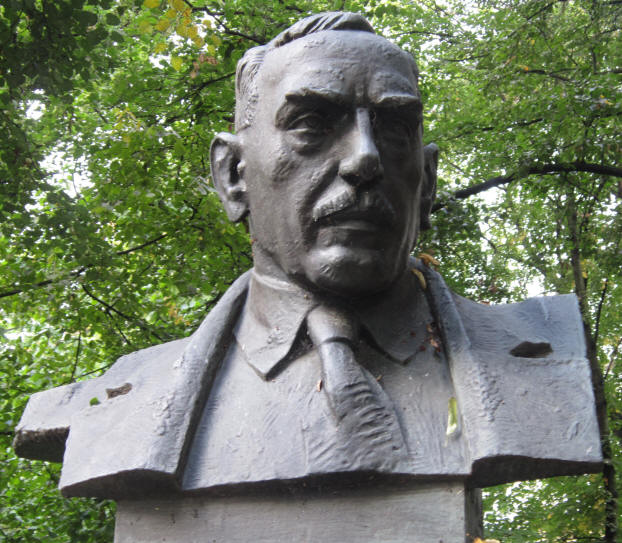 Then I got to the foot of Wawel Hill but had to run around to the entrance. This wasn't it.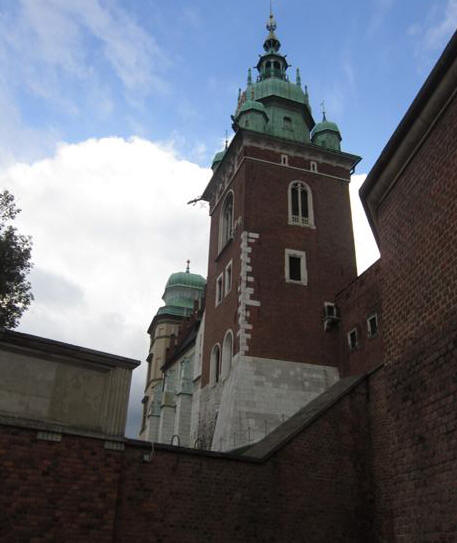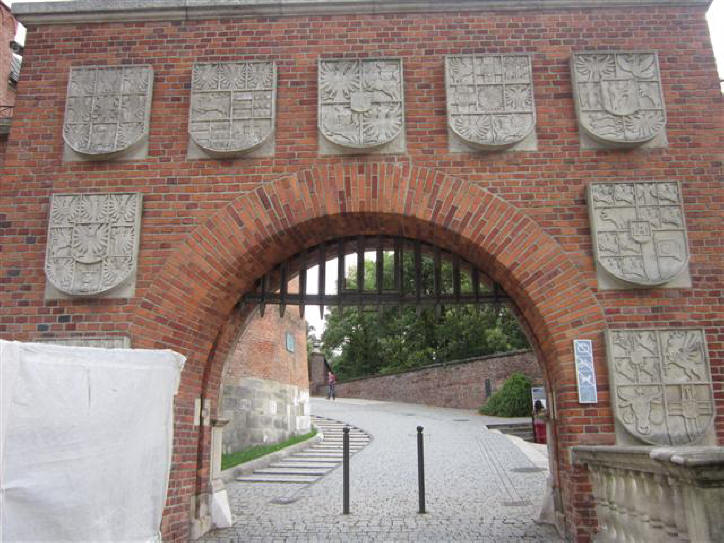 Here is one corner I had to run around with the Royal Castle above and the Bastian guarding it below. I used PhotoStitch to put three photos together to get this.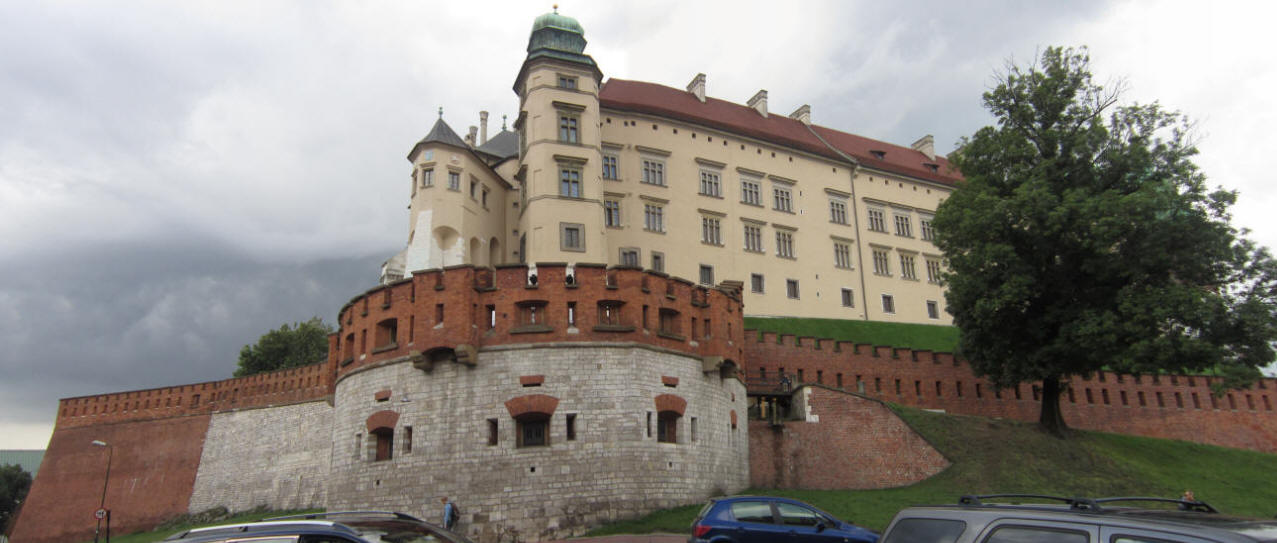 Except for the Planty Park run, I have been paralleling the Royal Route (Droga Króleswka) to get here. The link describes the Route very well.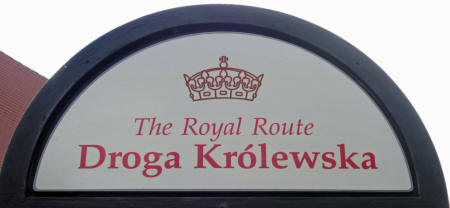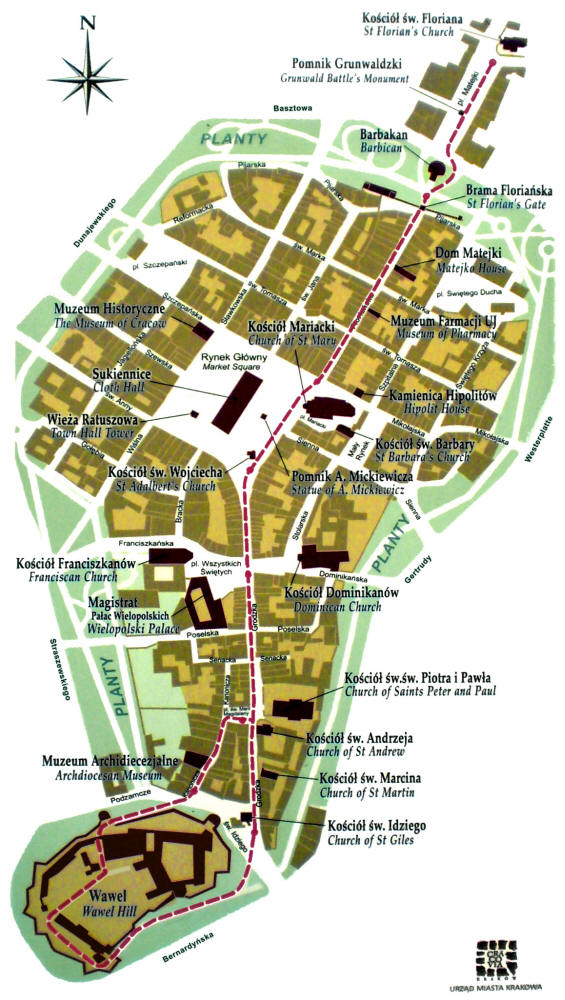 The map of the Royal Route points out the historic points of interest along it. It starts in the north outside the old city at St. Florian's Church (left) and goes through St. Florian's Gate (right)...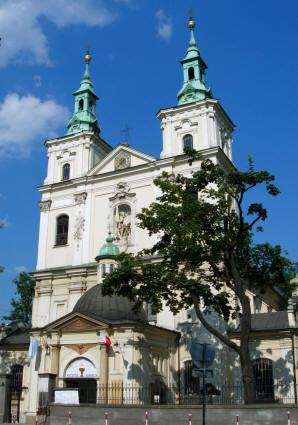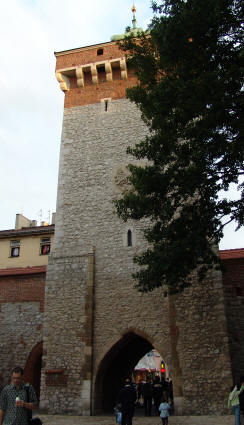 ... then into the Main Square and ...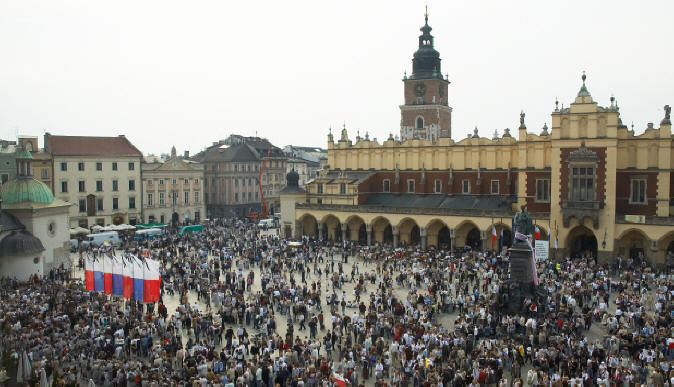 ... and past St. Mary's Church (far left), the St. Francis Church on our hotel street (center left), past the Church of St. Peter and Paul (center right), and finally St. Andrew's Church (far right) before reaching Wawel Castle Hill where I am now. This is the route the Kings took entering the city.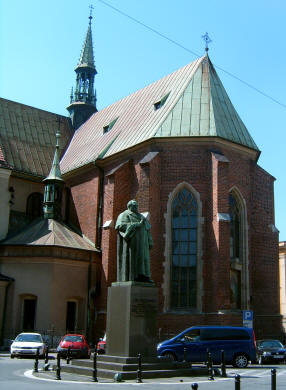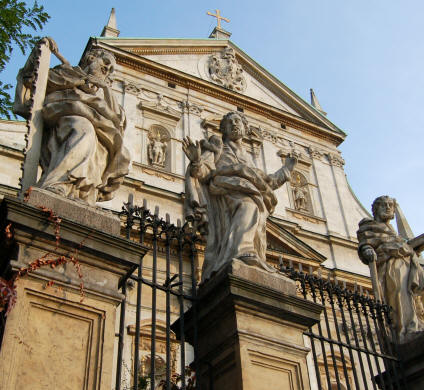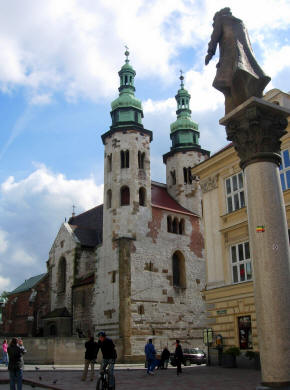 On the wall, there was this plaque. Translation is "Monument to Tadejsza Kościuszko destroyed by the Nazis in 1940. Rebuilt and given to the city as a gift from the city of Dresden (Germany) in 1960."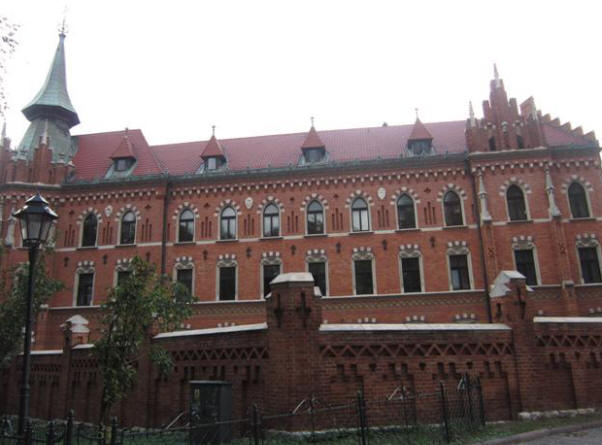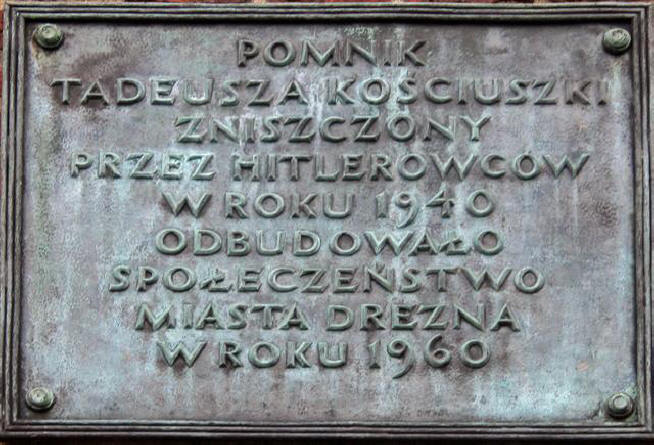 Here are the only photos I could get of it from below since I didn't know what it was when I took the pix.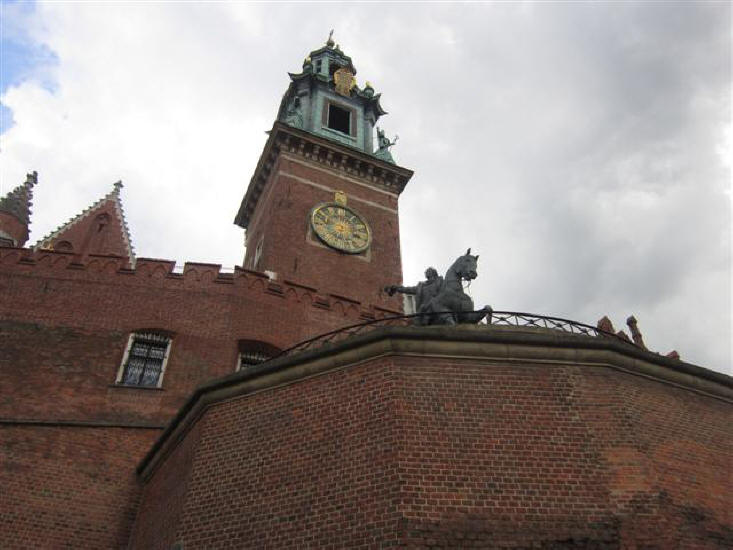 We can't ignore this famous Polish general, Thaddeus Kościuszko, who helped greatly in the American Revolution. Here are stock photos of his monument and portraits of him.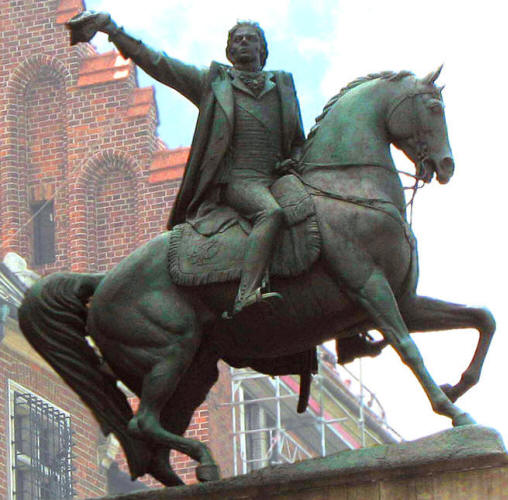 Below right is a replica of the statue given to the city of Detroit by the city of Krakow.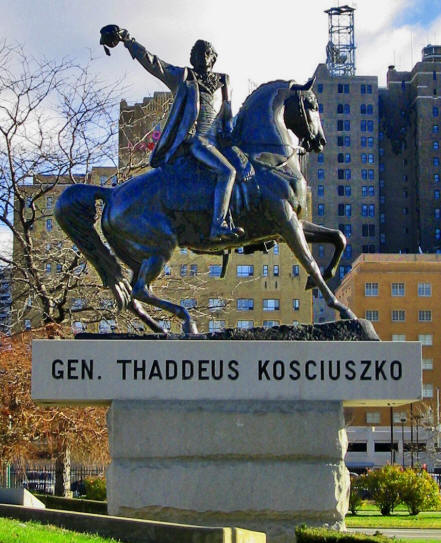 Here are stock photos of where he lived in Philadelphia (31 Pine St.), Fort Clinton at West Point NY, which he fortified (below center) and the urn containing his heart which is housed in a crypt in Wawel Cathedral (below right). He died in Solothurn, Switzerland and his body was brought to Kraków, while his organs are still in Solothurn except for his heart.
There is also the Baszta (Tower) Sandamierski (stock photo below).
Here is a stock photo of the interior of the tower since I didn't go inside.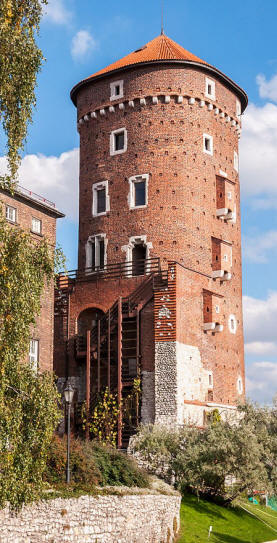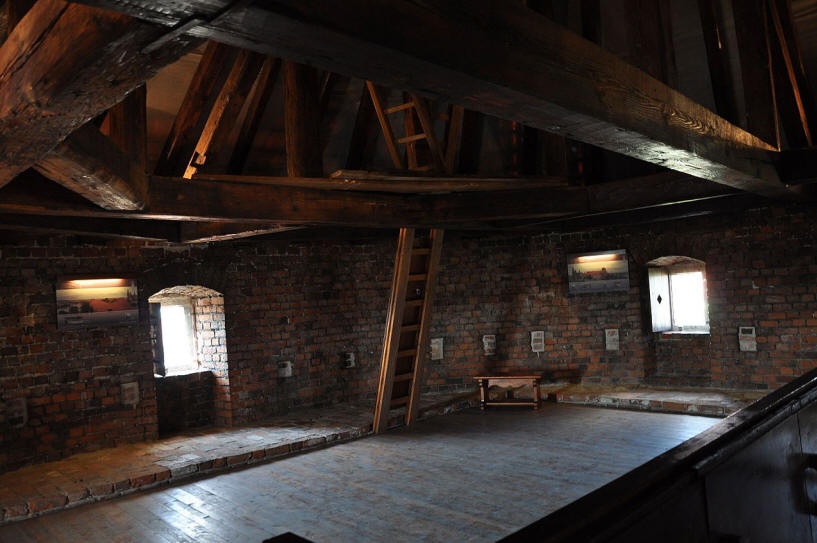 Another interesting thing to see is the famous legend of the fiery dragon of Wawel Hill. Somehow I completely missed it but here are stock photos of it I found. It "breathes fire" at regular intervals and is a big tourist attraction. On the left is a shot during the day and on the right, one at night. How I missed this I do not know.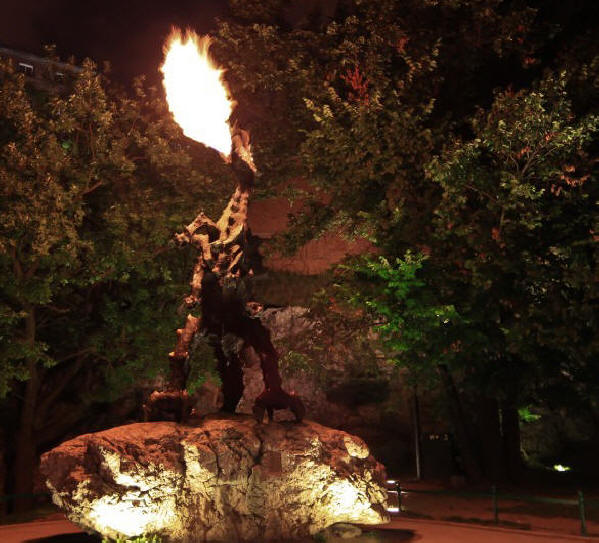 I finally arrived at the foot of Wawel Hill where the entrance to get to the Castle and Cathedral is located. As I went to the right there is a long ramp going up the hill (below red line). I climbed up it.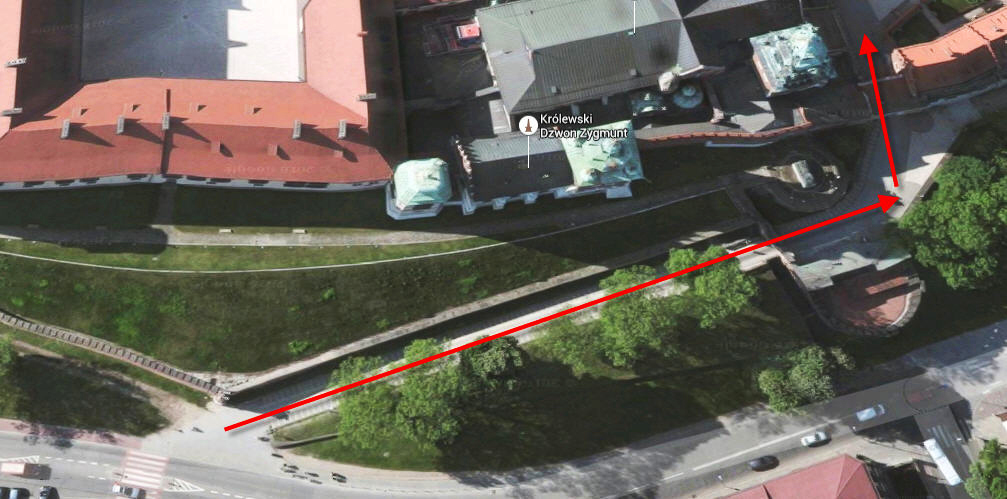 Below is the approach to the main entry ramp for Wawel Hill. You can see the vendors on the long ramp waiting for the tourists.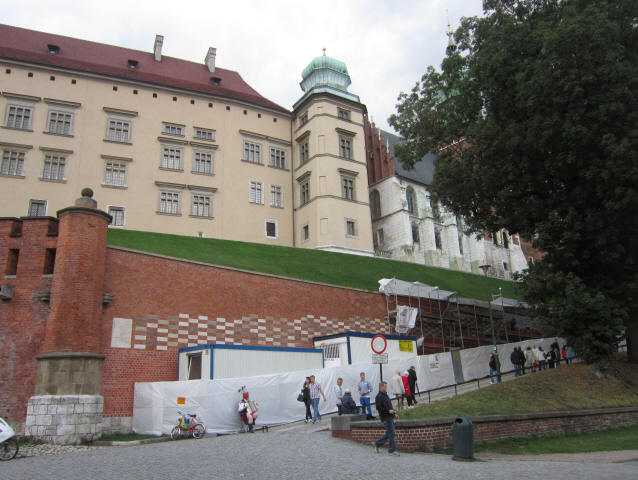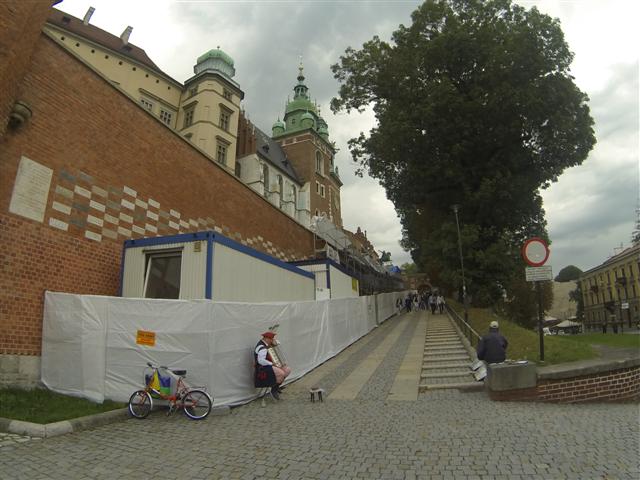 Here is the PhotoStitch compilation of this corner (a little off in the center).
Just before going up the ramp, I got this shot up ulica Kanonicza (below left) and then of an old car used to shuttle people to Schindler's Factory. I had forgotten all about this and it reminded me to go see it before we leave for Warsaw.
Below is an aerial in the orientation of my approach to it, with the Vistula river on the right; ramp at bottom.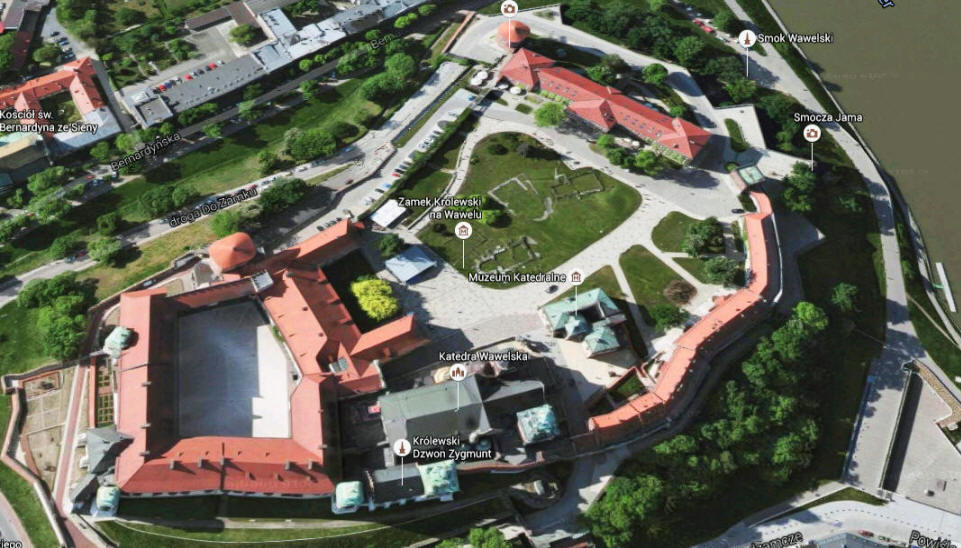 As you walk up the ramp you can see the structures above. Then you arrive at the top and climb the stairs through the entry portal into the complex grounds. This is called the Vasa Gate which was built in 1595 by King Sigismund III to commemorate the birth of his heir.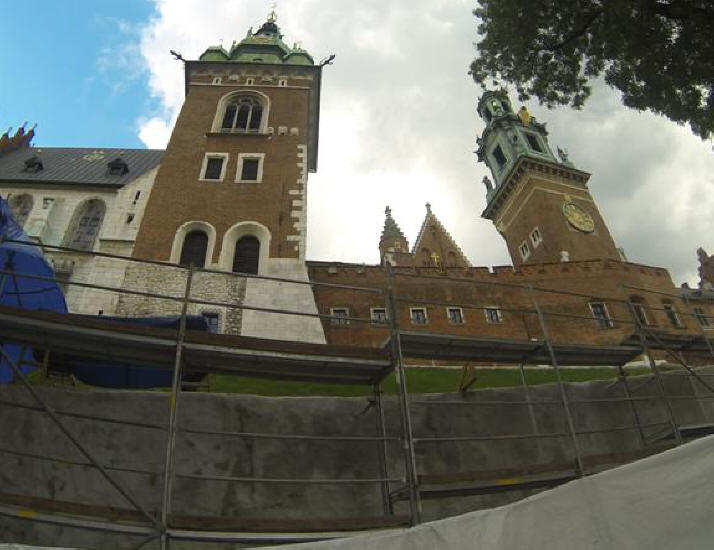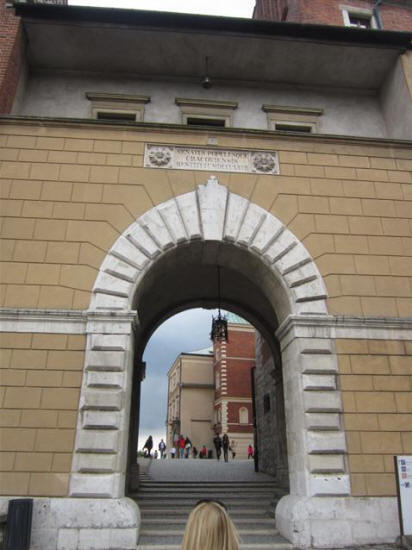 Once up there, when you look to the left the first thing you see is the massive Cathedral (below). On the right is a beautiful stock photo I found of the Hill complex with the Cathedral on the left.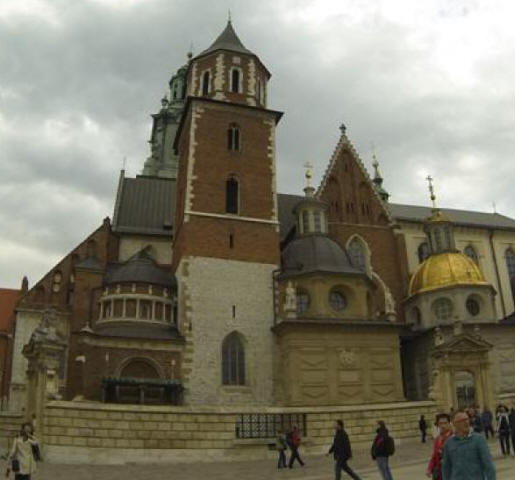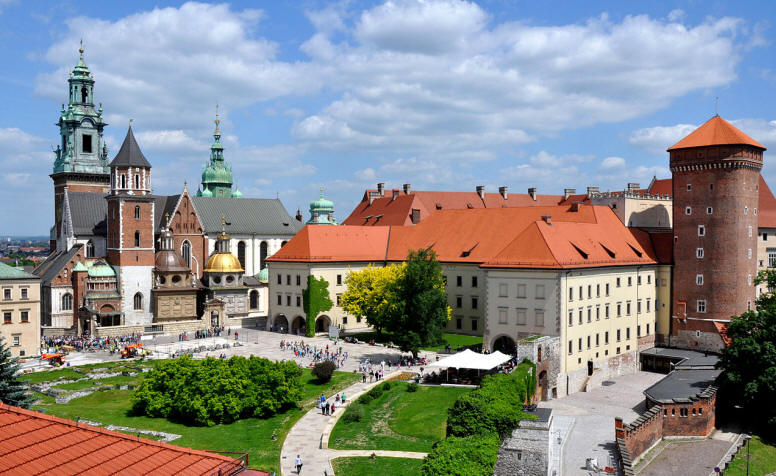 Below is the aerial of the plaza with the river on the left showing the two directions in which I photographed.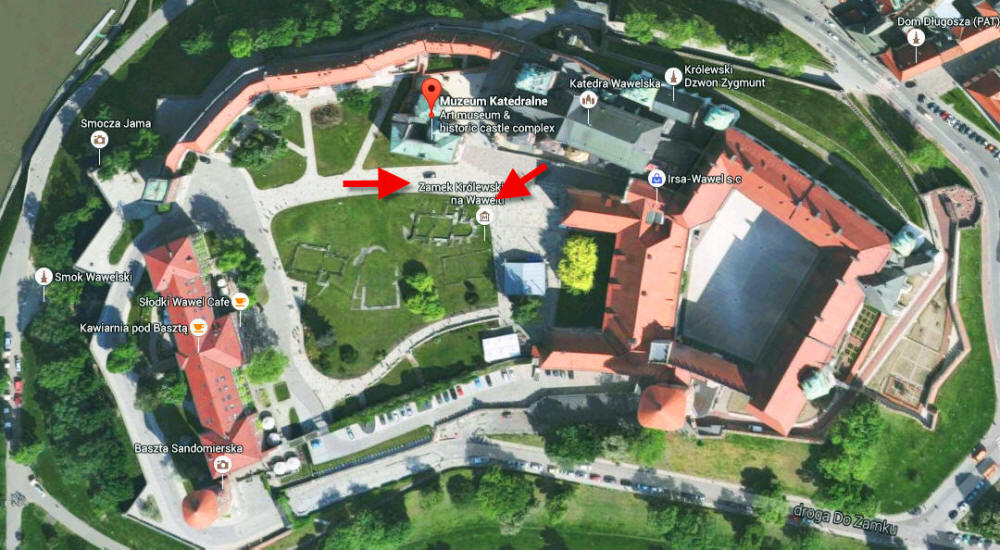 Here is the panorama of this huge plaza looking to the left with the Cathedral on the left and ...
... here is looking to the right across the ruins of the old Royal Castle.

I turned to the right and there was the entrance to the John Paul II muzeum (above, to the very right). So at 3:20 PM, I bought an entry ticket for Ź12 and went inside. The museum is right next to the entry gate and the Cathedral (stock photos I found).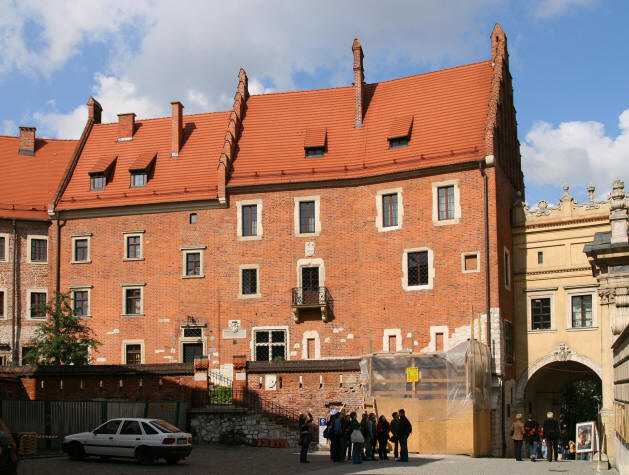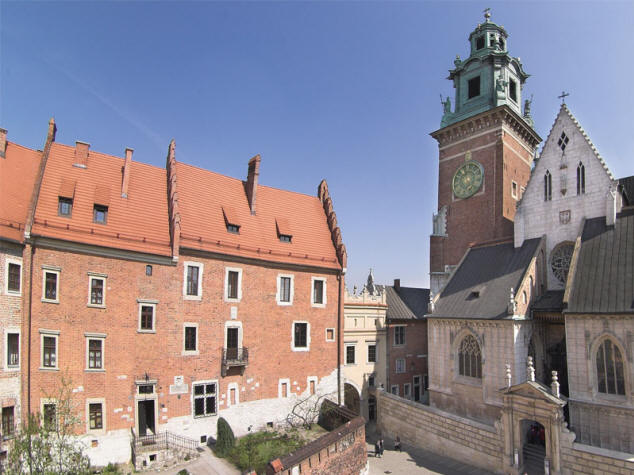 Here is the building with the bronze statue of John Paul II in front of it (lower left).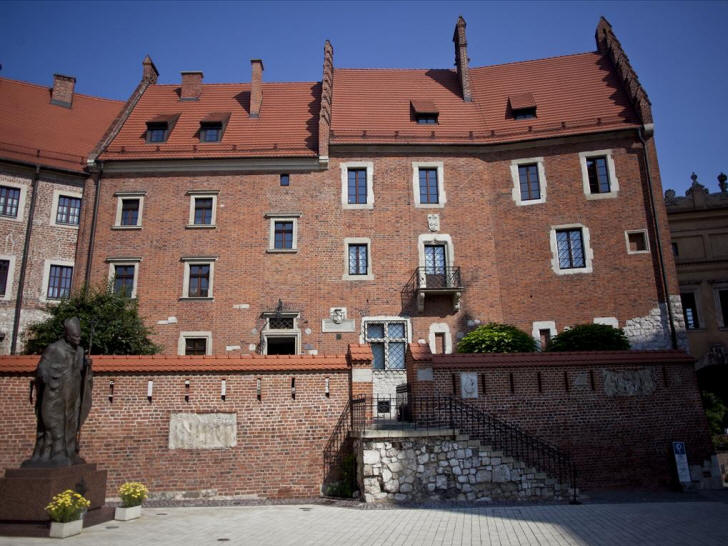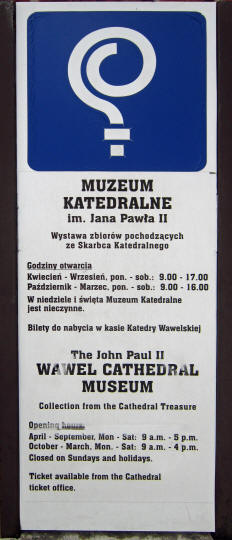 Here are the shots I got of his statue. The light was not great for getting detail.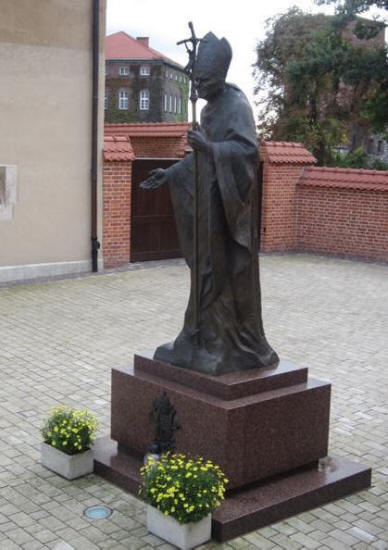 Below are the signage and the steps to enter the museum.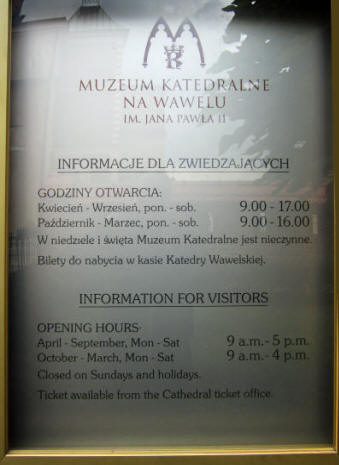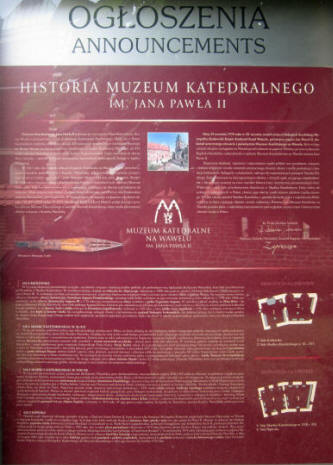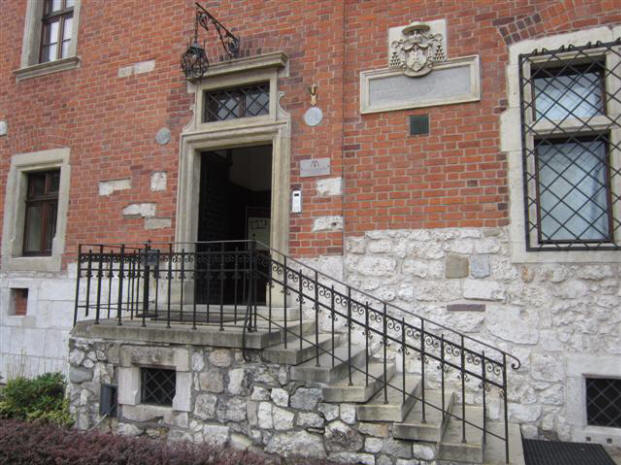 The museum is composed of two 14th Century buildings. In 1975, Cardinal Karol Wojtyla (John Paul II), decided to transform the building into a Cathedral Museum, where objects from the Wawel Cathedral would be kept and exposed. On September 28, 1978, on the 20th anniversary of the day he was anointed as bishop, he ceremonially opened and blessed the Wawel Cathedral Museum, which was to be his last official duty at Wawel before he became pope.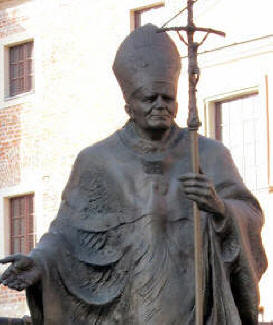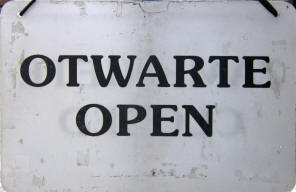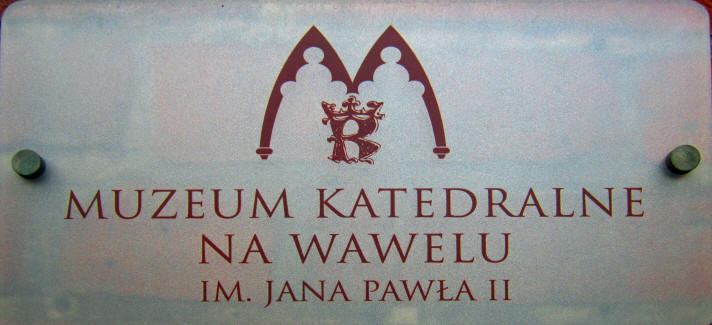 After thoroughly looking through my photos from both cameras, I found not one photo from the interior of the museum. Then I remembered; they were watching me like a hawk and I decided to just give up taking any pictures. The big surprise was that after hours searching on the internet, this is all I found of photos from within; three ancient chasubles (left) and John Paul II's miter (right). Their prize is "Kmita's Chasuble" of 1503, a masterwork of Gothic embroidery (below, far left) [see my photo later]. As I remember there were many old chalices and church regalia.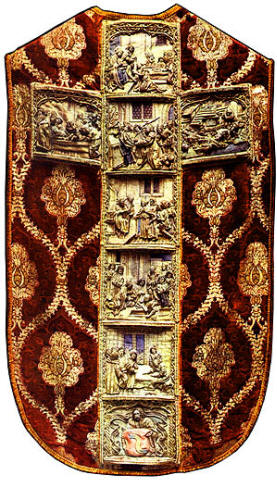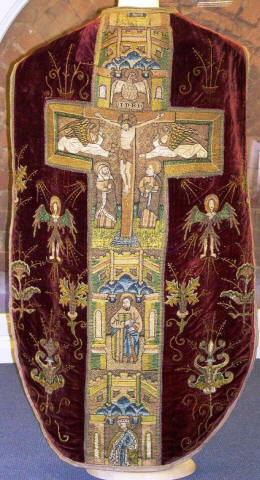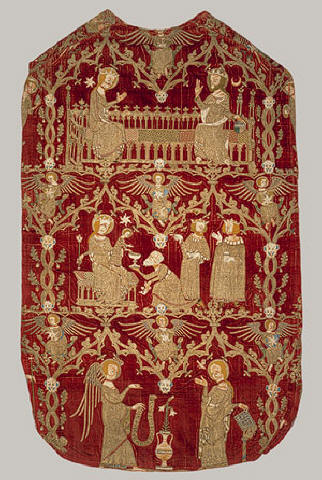 The Cathedral Museum exhibition presents the most precious objects which were kept in the Cathedral Treasury: the oldest polish regalia, handicraft, clothes, paintings and sculptures, as well as a section devoted to the memorabilia related to Pope John Paul II. The exhibits are organized according to their historical and artistic value, and exhibited in four rooms:
1) Royal Room - houses the regalia and gifts of the Polish monarchs to the Cathedral: St Maurice's spear, the coronation mantle of King Stanisław August Poniatowski, the coronation sword of King Augustus III, the Golden Rose of queen Maria Josepha, the crown, scepter and orb of King Casimir IV, and the list of bishops of Kraków.

2) Cathedral Treasury Room (11th–16th Century) - houses the collection of objects donated to the Cathedral by kings, bishops and aristocrats: the silver box known as "Saracene-Sicilian case", the chasuble donated by Cracow Voivode, Piotr Kmita, objects found in the grave of bishop Maurus (silver chalice and patena, a golden ring, a bone bead and a lead tablet), Hedwig glass as well as the slabs from an 11th Century stone building.

3) Cathedral Treasury Room (17th–20th Century) - monstrance of Bishop Stanisław Dąmbski, miter of Bishop Andrzej Lipski, the collection of chalices of bishops of Kraków, crosier of Bishop Adam Stefan Sapieha, saber, portrait and orders of Prince Józef Poniatowski.

4) Papal Room – contains the memorabilia related to Pope John Paul II: papal clothes (cassocks, biretta, zucchetto and sash), miter handed over to the Cathedral during the papal visit in Poland, armchair used by John Paul II and Benedict XVI during their visits to the Cathedral, goblet made of coconut and silver (presented to the Museum by Cardinal Wojtyla, on its opening day.
There is a list of important items contained here at Wawel Cathedral and Wawel Complex websites. I left the museum and then at 3:35 PM, I went behind this wall (below left) and found the marble-columned entrance to the crypts below the Cathedral. "Dormiunt Vigilant" means "Sleep Watch" in Latin.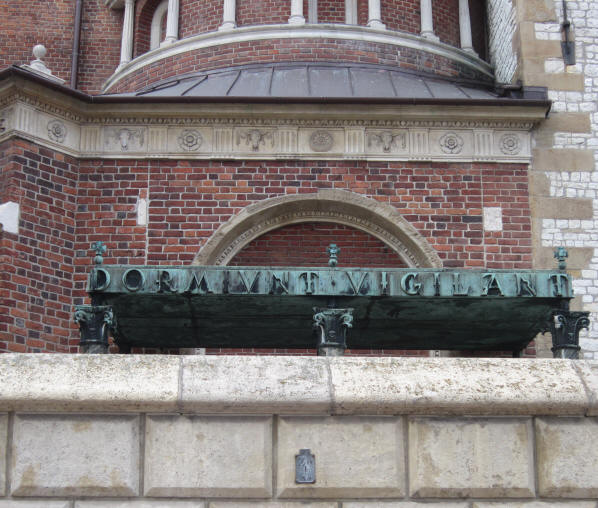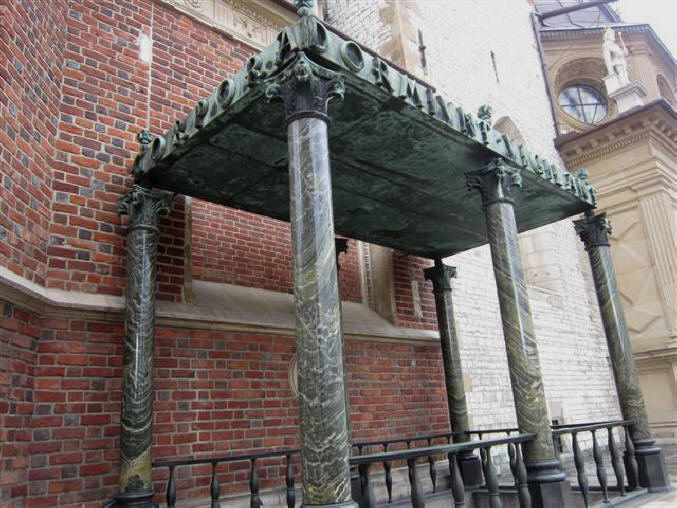 Here I had to buy a ticket (below) for the whole Cathedral. With it came a map of the interior, but all in Polish.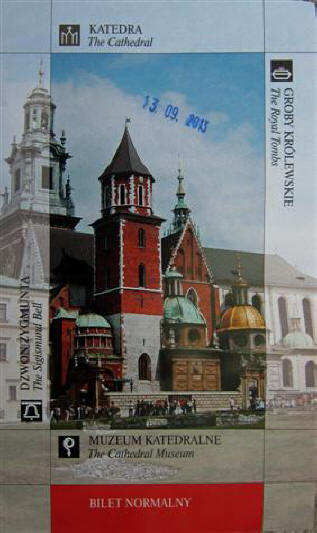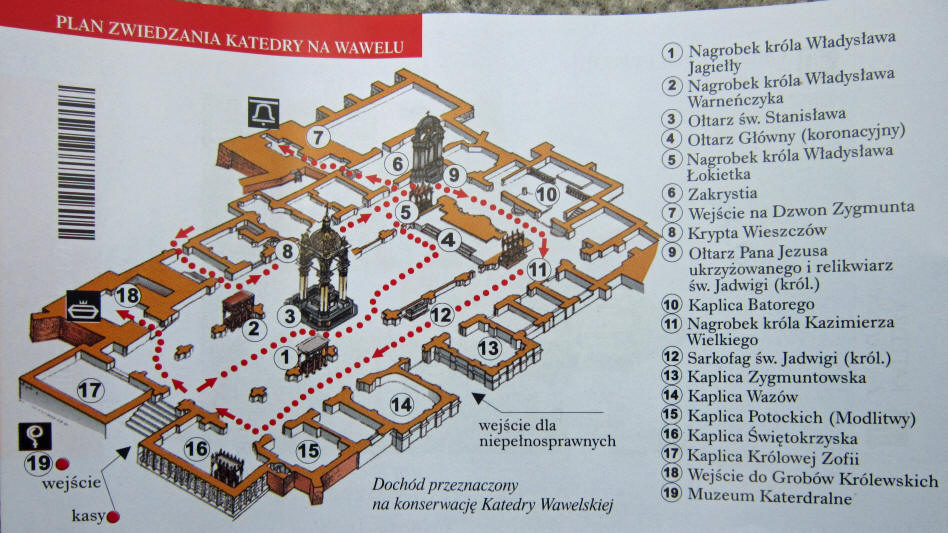 The crypt contains many famous Poles. As you will see, the history of Poland is contained here.
I found this map of the crypts to use as a guide to show where I went and what I saw.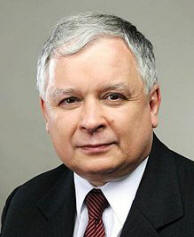 As you can see from the map above, you climb down from the entrance (stock, below left) and then you turn to the left to enter the large room circled in red. This room contains the more recent tomb of the previous President of Poland (2005-10), Lech Aleksander Kaczyński (1949-2010) and his wife Maria Helena Mackiewicz. who died together in a plane crash while landing in Smolensk, Russia in 2010 under much controversy.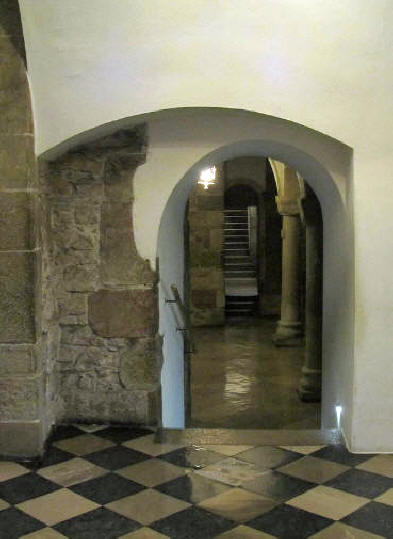 This is the photo of their crashed plane.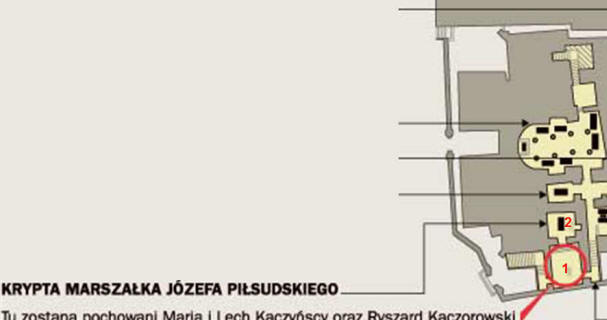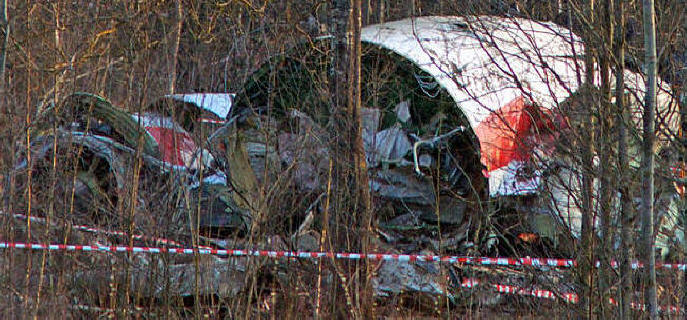 The next room immediately behind this [2] contains the tomb of the famous general and President of the Republic, Józef Piłsudski (1867-1935) who I discussed during my visit to the Salt Mines.
He was the Commandant of the Polish 14 Cavalry Regiment Jazłowiec noted on the plaque below right.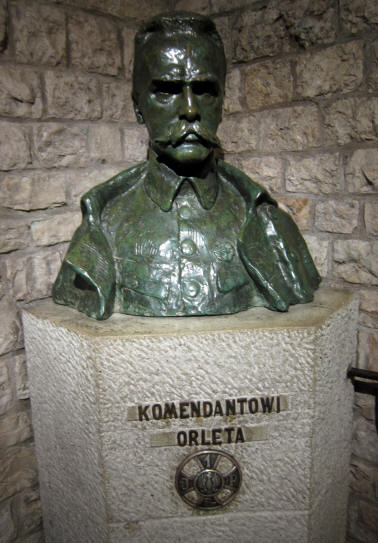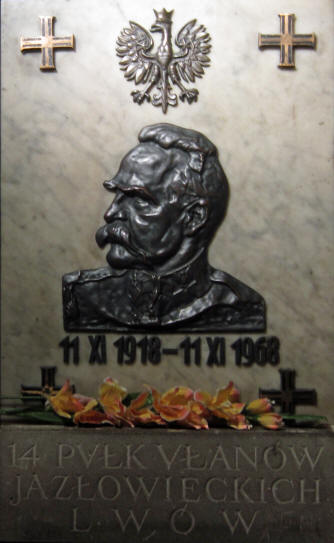 Below left is a stock photo of the entrance to his tomb and a photo of his body lying in state.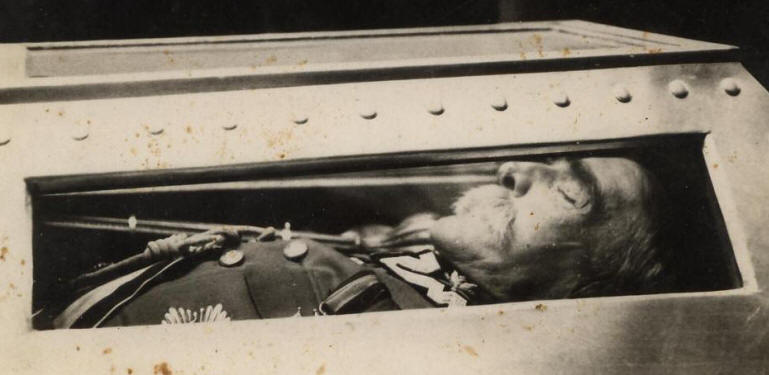 Here is what it says about him on the plaque: (a little blurry but readable)

I came out of those rooms and went down the hall and took a left into the Krypta Stefano Batorego [3].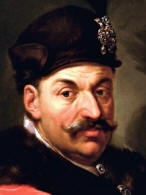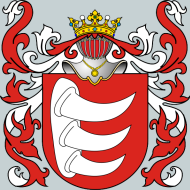 Here is the tomb of King Stefan Batory (Stephen Báthory) (1533-86) who was a Prince of Transylvania in 1571 and became King of Poland in 1576. He waged a war against Russia and won some territory. He died in 1586 of uremia and was succeeded by Sigismund III Vasa (1587-1632). His coat of arms is on the right. Stock photos above and below.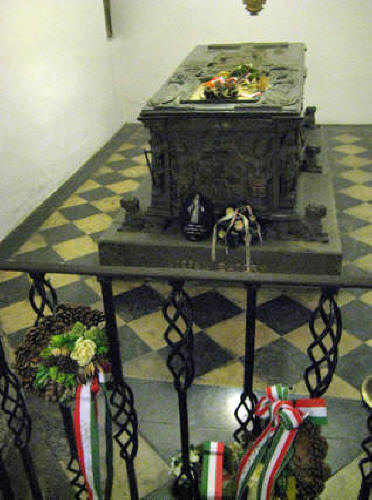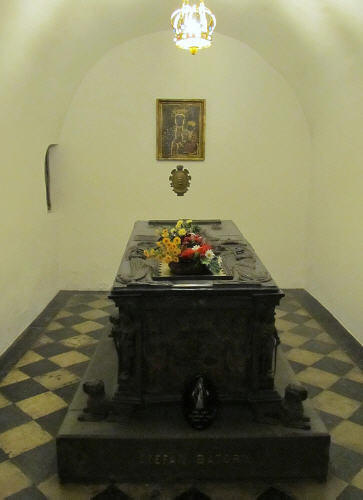 I then continued down to the last room which is quite large. It is St. Leonard's Romanesque Crypt which was founded in the 11th Century (1038–1039) by Casimir I the Restorer who made Kraków his royal residence as the capital. King Sigismund I the Old (1467-1548) really created these tombs in 1533 when he transferred the body of his first wife to a purpose-built vault underneath the brand-new exquisite chapel later named after him. He joined her in 1548. Below are stock photos of a main area with an altar where John Paul II said his first Mass.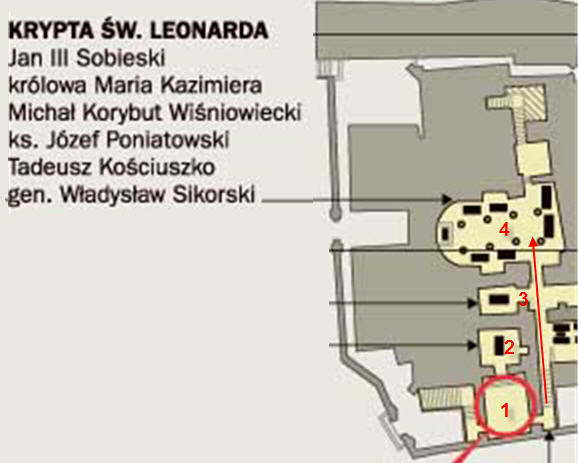 Crypt of St. Leonard [4] contains: Jan III Sobieski, Maria Kazimiera, Michael Wiśniolecki, Josef Poniatowski, Thaddesu Kościuszko and Wladyslaw Sikorski. Below is a stock photo of the tomb of John III Sobieski (1629-96).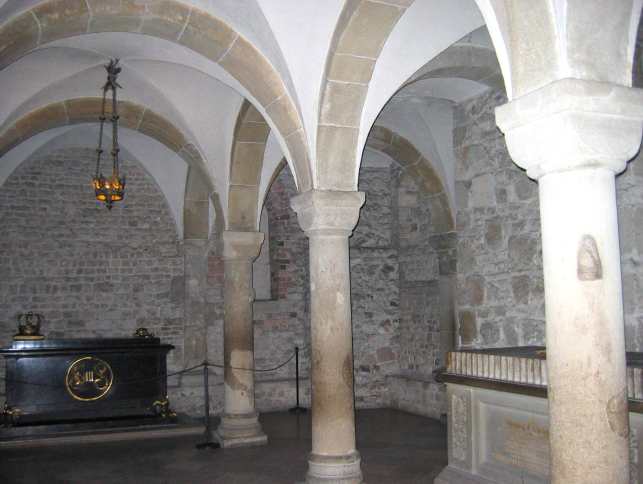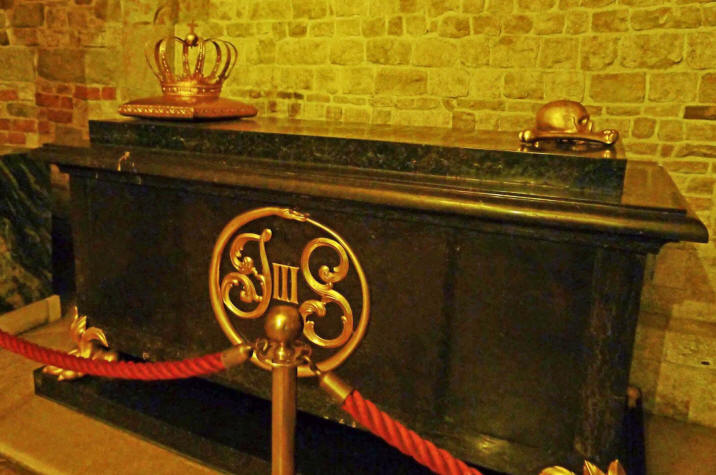 Sobieski (below left) was elected King in 1672. Below center is the monument to him in Warsaw and one in Gdansk (below right).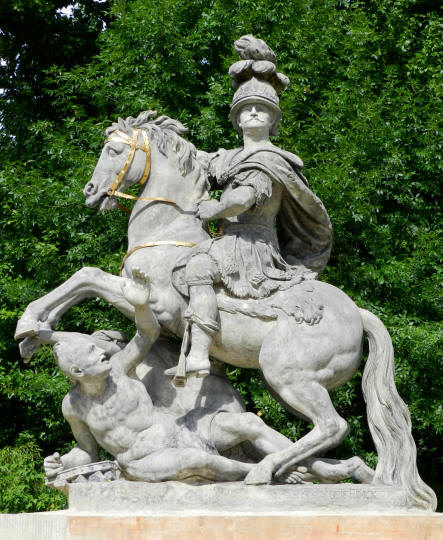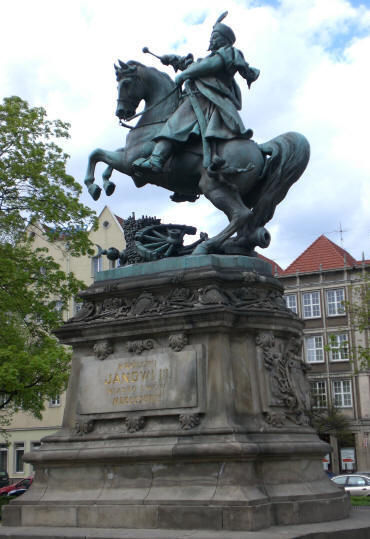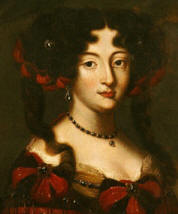 Sobieski's greatest success came in 1683, with his victory at the Battle of Vienna, in joint command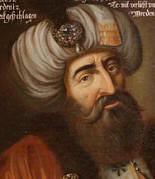 of Polish and German troops, against the invading Ottoman Turks under Kara Mustafa (1635 –1683)) (left). The Pope and other foreign leaders hailed Sobieski as the "Savior of Vienna and Western European civilization". Next to him is the tomb (above) of his wife, Queen Maria Kazimiera (Casimir) of Arquien (1641-1716) (right). She was the wife and consort to two Polish kings; Władysław IV Vasa and later his brother (who succeeded him) John II Casimir Vasa. At court she met John Sobieski, who arrived there in 1656 and they were married from 1674 to his death.
Below left is a stock photo of the crypt where they buried our American Revolution hero, Thaddeus Kosciuszko (Tkoscivszko) (see above). Below right is Prince Józef Poniatowski (1763-1813), Polish leader, general, minister of war and army chief.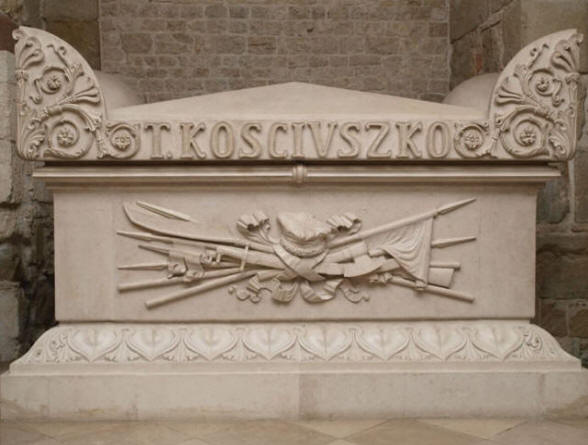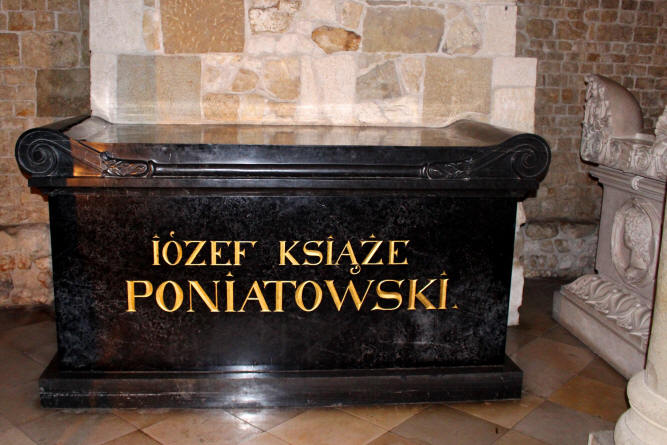 Poniatowski (below center) became a Marshal of the French Empire under Napoleon. Below right is his monument in Warsaw. He was the brother of the last king of Poland Stanisław II Augustus (1732-98) who oversaw the final partition of Poland and the end of the Commonwealth in 1795 and then abdicated to St. Petersburg.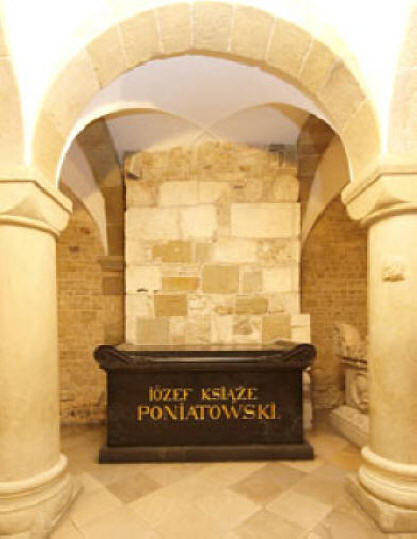 The next tomb here (below center) is that of Władysław Sikorski (1881-1943) (below left) who was Prime Minister of Poland (1922-3) and later of the Polish Government in Exile (1939-43). He was Commander-in-Chief of the Polish Armed Forces. Sikorski made a big issue with the International Red Cross to investigate the Katyń Forest massacre (where it is claimed Stalin had Polish officers massacred). Below right is his monument in London.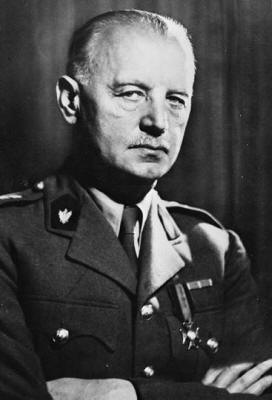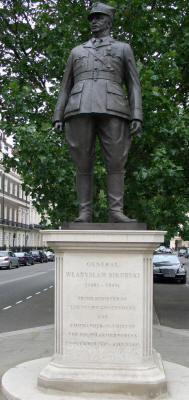 Here it is larger and the plaque on it. Below right is his funeral procession outside the Cathedral here.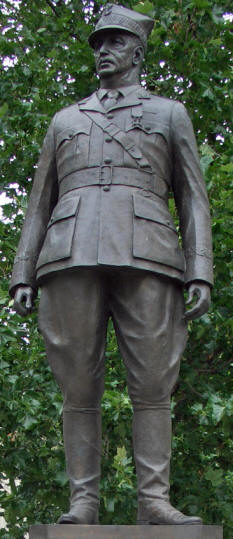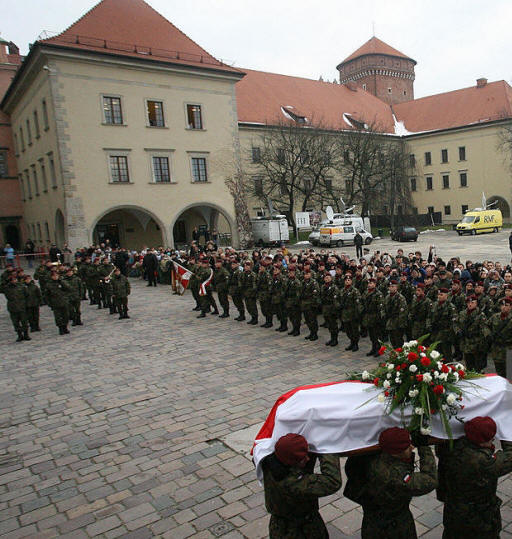 Katyń Forest was where President Kaczyński (see above) was flying to, in memorial of the 60th anniversary of the massacre, when his plane mysteriously crashed in Smolensk. In July 1943, a plane (below center right) carrying Sikorski plunged into the sea immediately after takeoff from Gibraltar, killing all on board except the pilot. Of course there were controversial conspiracy theories. In 1993, his remains were exhumed and transferred by the Polish Air Force to Wawel Cathedral (above right). Below is Sikorski meeting with Stalin (left) and with Churchill and De Gaulle(center).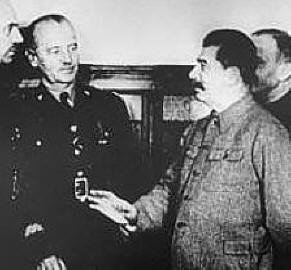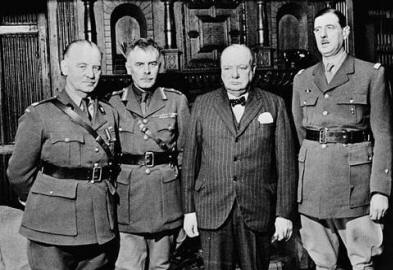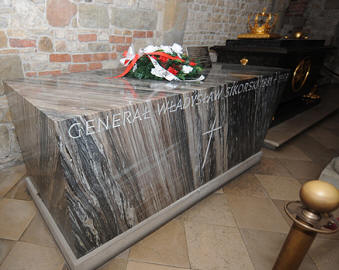 The last sarcophagus (below left) in the St. Leonard's crypt is that of King Michael Korybut Wiśniowiecki (1640-73) (below right). He was elected king after the abdication of Jan II Casimir (see below) and fought wars defending Poland from the Ottoman Turks. He was quite a dandy, with all that hair (or wig). He was buried here in Wawel on January 31, 1676 in this sarcophagus funded by the Austrian Emperor Franz Joseph I.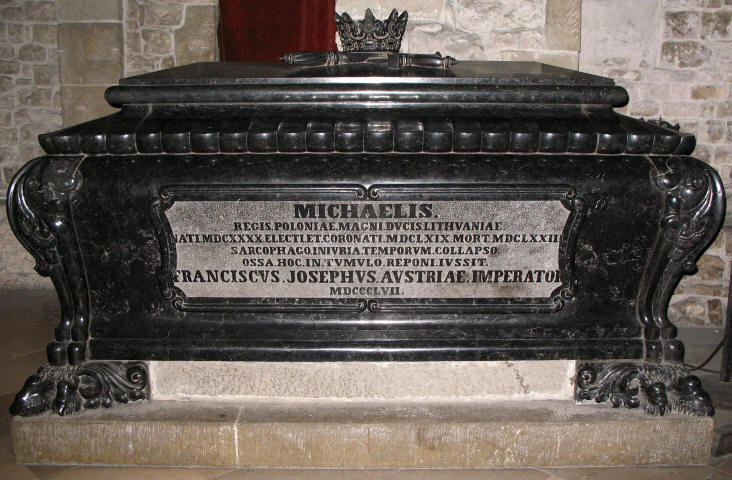 Below are paintings of him at different ages and his memorial in the Cathedral above.
There is also note that Maurus, the Bishop of Krakow from 1110-18 AD, continued the construction of the Wawel Cathedral first begun by Wladyslaw Herman. The first phase ended in 1115 with the dedication of the lower church, the Crypt of St. Leonard. He died three years later, on March 5, 1118 and was buried under the floor of the crypt; virtually forgotten for over 800 years. On October 14, 1938, in the course of conservation work, his tomb was accidentally discovered. In it they found the bishop's ring, chalice and paten, a lead plate engraved with the name "MAVRUS EPC", which speaks of his death (Viam Universe Carnis Ingressus EST).
I leave this crypt [4] and walk back towards the entrance and make a right turn down this long hall and reach the crypt called Krola Władysław IV [5].
This crypt contains Władysław IV Vasa (below left/center) (1595-1648; elected king in 1632) as well as that of his wife Queen Cecilia Renata of Austria (below right), daughter of Ferdinand II (Holy Roman Emperor). Remember, kings were not hereditary but elected by the Polish Sejm (parliament). He was succeeded by his half brother John II Casimir Vasa. The center portrait is by the famous Peter Paul Ruebens.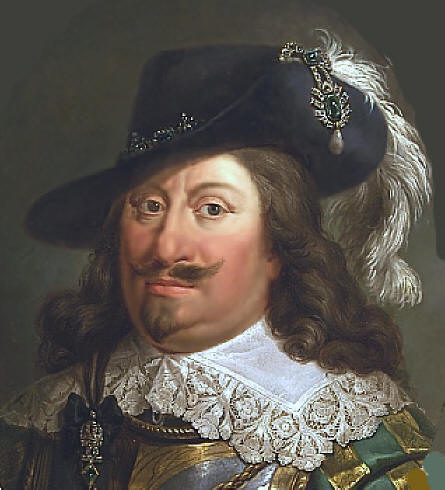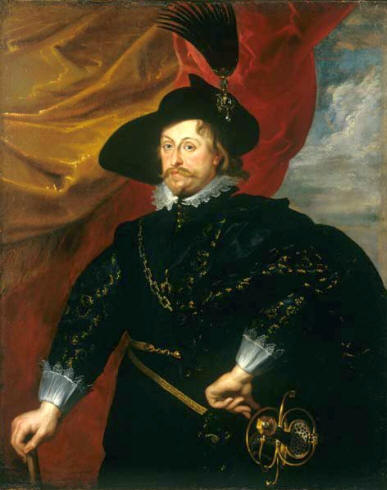 Sigismund Column was erected by him (in honor of his father) in Warsaw in 1644. Sigismund III Vasa moved the capitol of Poland from Krakow to Warsaw in 1596. The original red marble column (below left) was knocked down by the Nazis in 1945 (below right) and ...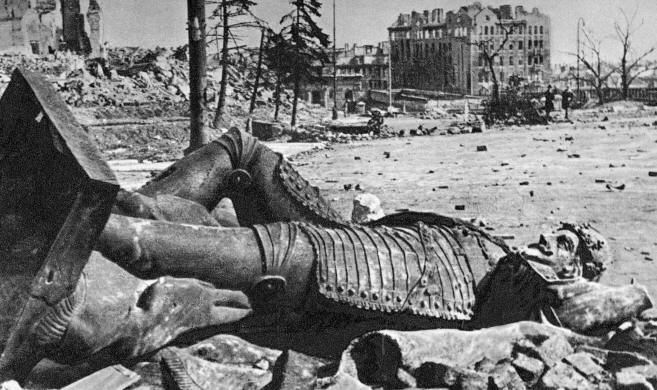 ... it was entirely rebuilt to a height of 72 ft (22 m). He is wielding a sword and a cross. Below is a 12 Ducat coin of 1637 celebrating Vladislaus IV's three victories over Russia, Turkey and Sweden.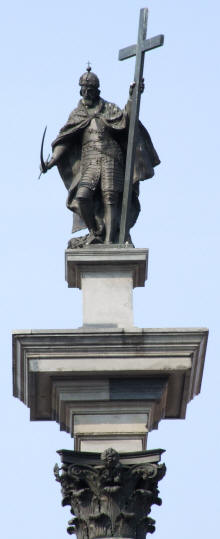 Also here in Crypt [5] are the tombs of the sibling children Grand Duke Sigismund Casimir Vasa (Zygmunt Kazimierz Waza) on the right and Anna Maria Izabele on the left.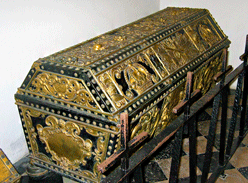 Sigismund Casimir (below left) was the Crown Prince of Poland (1640–47) and the only legitimate son of King Władysław IV and his first wife Queen Cecilia Renata (above). He was named after his grandfather Sigismund III and his uncle John Casimir. He died at the young age of 7 from dysentery. His father was so distraught, he could not attend his funeral. Anna Maria Izabele Wazówna was born two years after her brother in 1642 and died one month later from epilepsy. Their parents must have suffered miserably.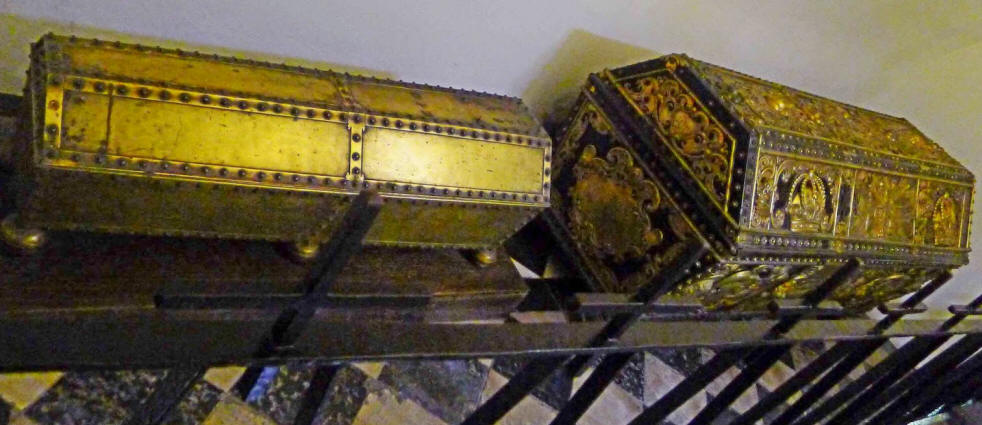 I walked from there [5] to the end of the tunnel called Krypta Zygmuntowska [6] which contains nine tombs.
It holds [A] Sigismund II August, [B] Anna Jagiello, [C] Olbracht Jageillończk, [D] Anna Austriaczk, [E] Aleksander Karol Wasa, [F] Stanislaw Leszczyński, [G] Barbara Zapolya, [H] Anna Maria and [I] August Mocny. There are four large tombs in the front with a very small one centered between them probably holding a child (below right) and a tomb in an alcove on the right wall.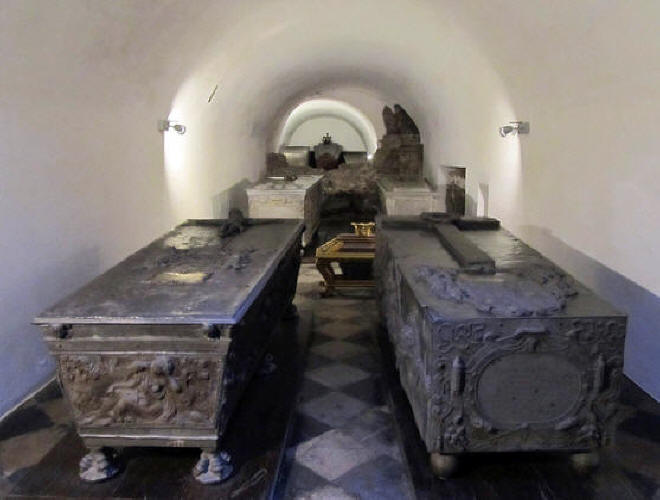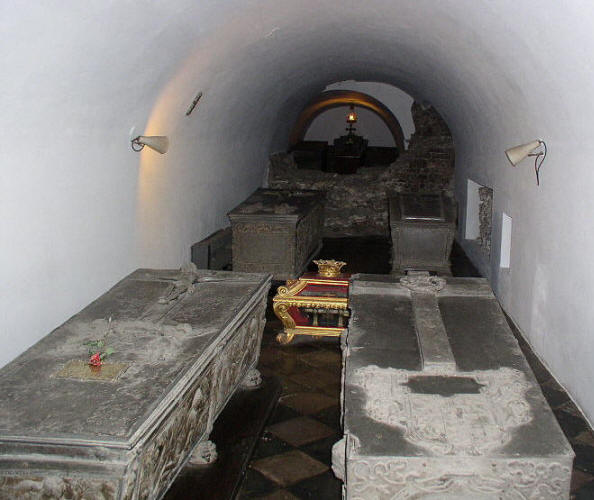 The tomb on the left is Sigismund II August ([A] below) and the one on the right is Anna Jagiellon ([B] below).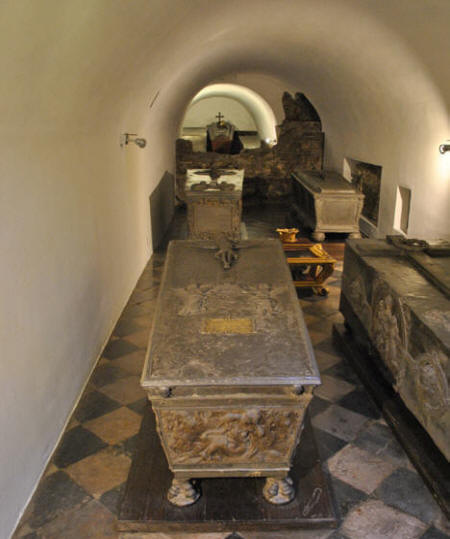 [A] Sigismund II August Vasa (1520-72) (below left), the son of Sigismund I The Old became the last of the Jagiellon Dynasty which started in 1386 with Wladyslav II Jagiello. He remained childless, and through the Union of Lublin introduced an elective monarchy to Poland. There is a monument to him (center lower and below right) and his father (center, upper) in the Cathedral above.
The next is [B] Anna Jagiellon (1523-1596), one of the three daughters of Sigismund I (below left at her coronation as Queen). In 1576 she married Stefan Batory (see [3] above), who was basically the king of Poland and wielded the real power. She ruled jointly with him and after her husband's death in 1586 she could have kept on as Queen but since she was childless she decided that her nephew should rule and Sigismund III Vasa was elected by the Sejm as the next Polish king. This caused the end of the Jagiellonian dynasty and the beginning of the Vasa dynasty (originating in Sweden; 1587-1668). Her memorial in the Cathedral above (below right) was built by her. She stuck her husband in another vault.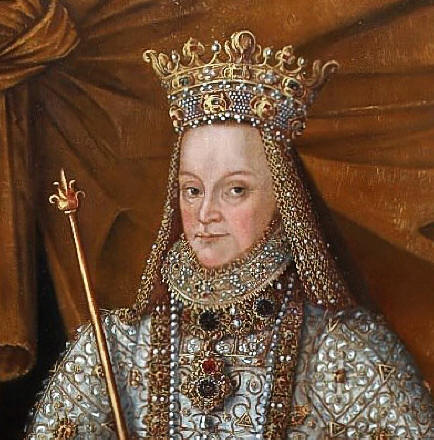 As you go further down the tunnel, there is a knee-high "stone wall" guarding the end of the tunnel which holds one large tomb and two smaller ones on each side (below right). All are stock photos; I was being watched.
There is also [C] Olbracht Jageiłłoń (John I Albert) (Jan I Olbracht) (1459-1501) (below left) was the third son of Casimir IV Jagiellon (1427–92) (below center). He began his reign in 1492, when Columbus was discovering America. He lead a grand crusade against the Ottoman Turks, but not so successfully. Below right is Jan's tomb.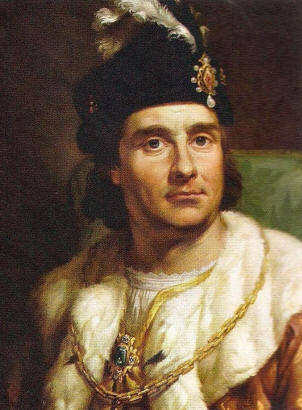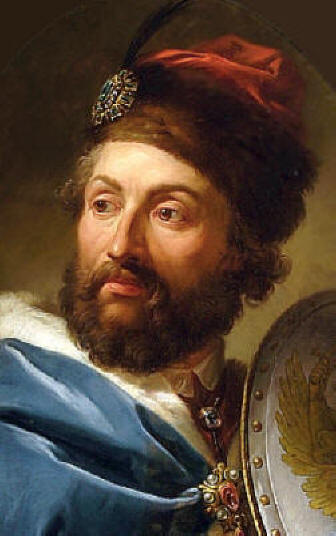 Then [D] Anna of Austria (1573-98) (below) who was the first wife of King Sigismund III Vasa (in 1592). Anna was a daughter of Charles II of Austria and Maria Anna of Bavaria. Her paternal grandfather was Ferdinand I, Holy Roman Emperor. In 1594, she followed her husband to Sweden, where she was crowned as the Queen of Sweden in Uppsala. Her only surviving son was elected King Władysław IV (see above in his own crypt). She died young at age 25.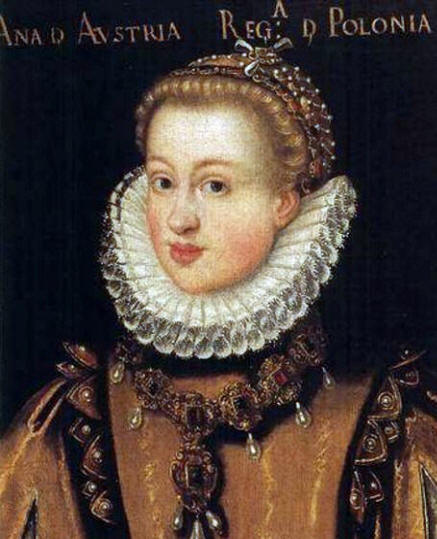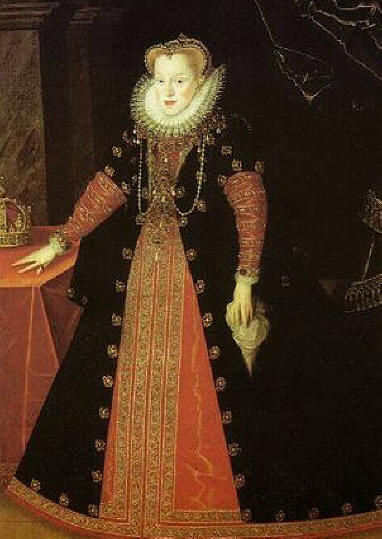 [E] Alexander Charles Vasa (Aleksander Karol Waza) (1614–34) (below left, as a boy) was the fifth son of King Sigismund III Vasa and his wife Constance of Austria (see below). He died young at age 20 from smallpox.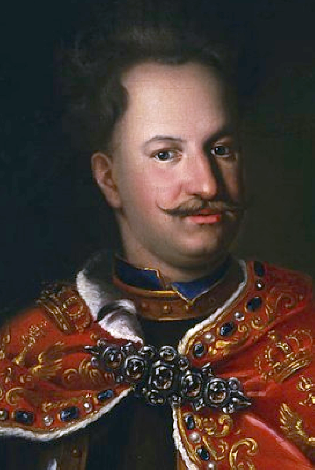 Then the famous [F] Stanisław Leszczyński (1677–1766) (above right) who was King of Poland, the Grand Duke of Lithuania, the Duke of Lorraine (France) and a count of the Holy Roman Empire. In 1702, King Charles XII of Sweden marched into Poland and forced the Polish nobility to depose their king, Augustus II the Strong (see below) and placed Stanisław on the throne in 1704. The early 18th Century was a period of great problems and turmoil for Poland. In 1709, Charles was defeated by the Russians and he withdrew back to Sweden, leaving Stanisław without any real stable support. Augustus II regained the Polish throne, and Stanisław left the country to settle in the French province of Alsace. In 1725 Stanisław's daughter Marie Leszczyńska married Louis XV of France. He was the longest surviving Polish king. Originally buried in the Church of Notre-Dame-de-Bonsecours, Nancy, following the French Revolution his remains were brought back to Poland and buried in the royal tomb here. From 1725 to 1733, Stanisław lived at the Château de Chambord, a little shack in the Loire Valley (below center). Stanisław was still living at the time of the birth of his great-great-granddaughter, Archduchess Maria Theresa of Austria, in 1762, and later died at the age of 91.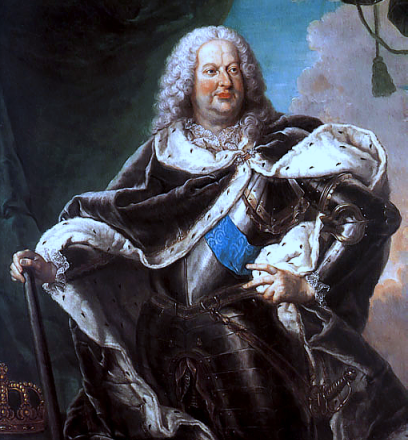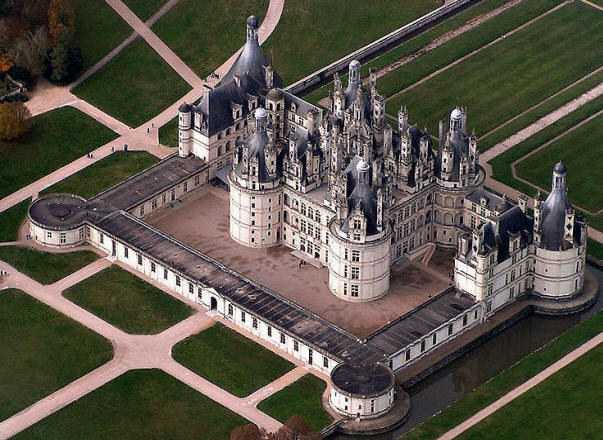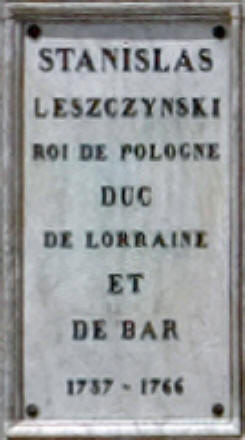 In Nancy, France, they greatly honor him with their main city plaza named after him (below) and a large statue of him in the center. The plaque on the statue is above right. I had a cappuccino in the shop near the entry gate in our 2005 France trip.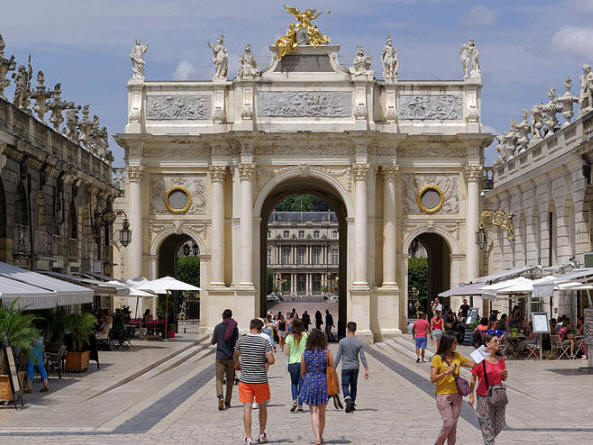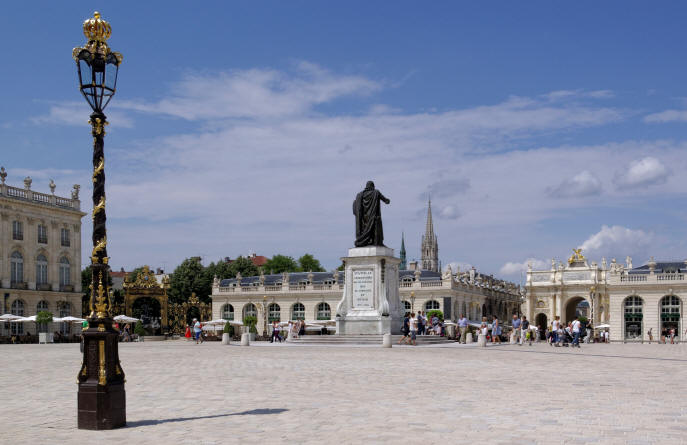 [G] Barbara Zápolya (1495-1515) was the first wife of King Sigismund I the Old and was of Hungarian nobility and died early (at 20) after the birth of her second daughter. The stock photos below are of her bust which is located in Olesko Castle in the Ukraine.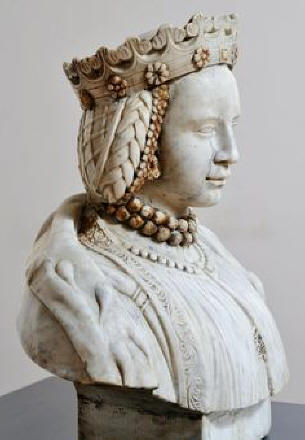 [H] Anna Maria Vasa (1593–1600), daughter of Anna of Austria, died at age seven. She is probably the child in the little tomb in the center (above).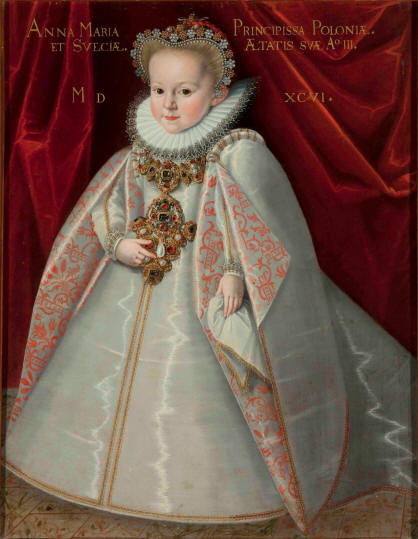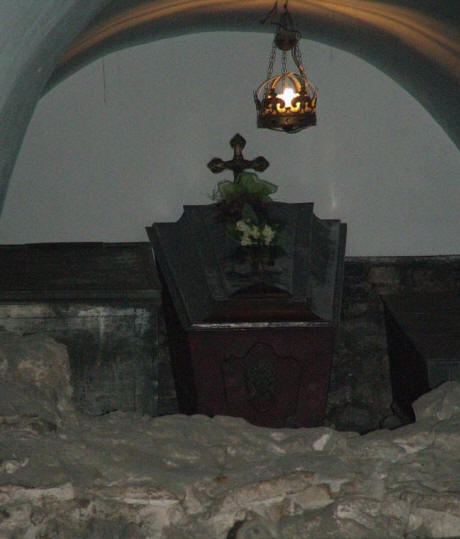 [I] Finally, at the very end of the crypt tunnel is the coffin (above center/right) of Augustus II the Strong (August II Mocny) (1670-1733). He was King of Poland twice; from 1697-1706 (ousted by the Swedes and replaced with Stanisław Leszczyński) and again from 1709-1733, when he died. He was born in Dresden and of the House of Wettin; he was Elector of Saxony (as Frederick Augustus I). He established the Saxon capital of Dresden (where his heart is buried in the Hofkirke) as a major cultural center, attracting artists from across Europe to his court.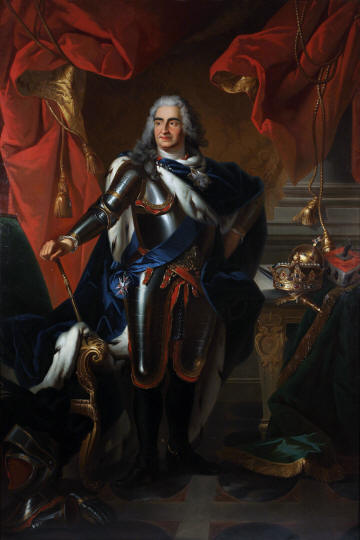 Augustus also amassed an impressive art collection and built lavish baroque palaces in Dresden and Warsaw. He introduced the first public museums, such as the Green Vault (Grünes Gewölbe) in 1723 [I visited it in 2007], and started a systematic collection of paintings that are now on display in Dresden's Old Masters Gallery (below right). He was married to Christiane Eberhardine (1671–1727) of Brandenburg-Bayreuth (below left) but she stayed in Germany while he cavorted mercilessly with many women in Poland. It is claimed that Augustus had as many as 382 illegitimate children - a pretty prolific gentleman.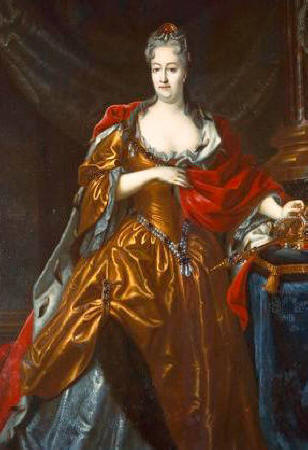 As I walked back from [6], I turned left into a hallway that led to Krypta Królewska [7] holding only one sarcophagus, that of Sigismund I The Old (Sraty z synem) (1467-1548), the big kahuna who the Bell is named.

Sigismund was the fifth son of Casimir IV and in 1499 became margrave of Lusatia and governor of all Silesia in 1504. During his rule, his judicial and administrative reforms transformed those territories into model states. He succeeded his brother Alexander I as grand prince of Lithuania and King of Poland in 1506. In 1521 Sigismund made peace with his nephew Albert, Grand Master of the Teutonic Knights, a paramilitary religious order that ruled East Prussia. Sigismund, influenced by his wife, brought Italian artists to Kraków and promoted the development of the Polish variety of the Italian Renaissance. Although a devout Catholic, he accorded religious toleration to Greek Orthodox Christians and royal protection to Jews. Below center is a painting of him by the famous artist Lucas Cranach the Younger (1515-86).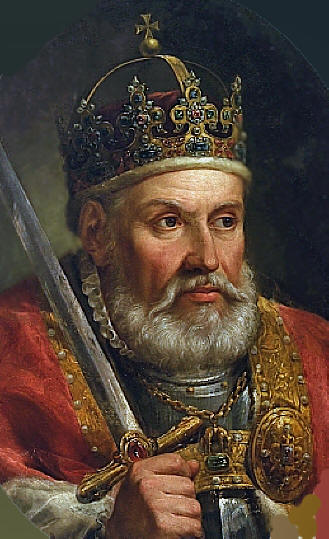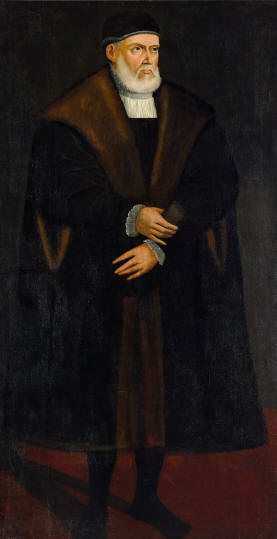 Above is his royal signature and below is a coin medallion of his and his eagle emblem.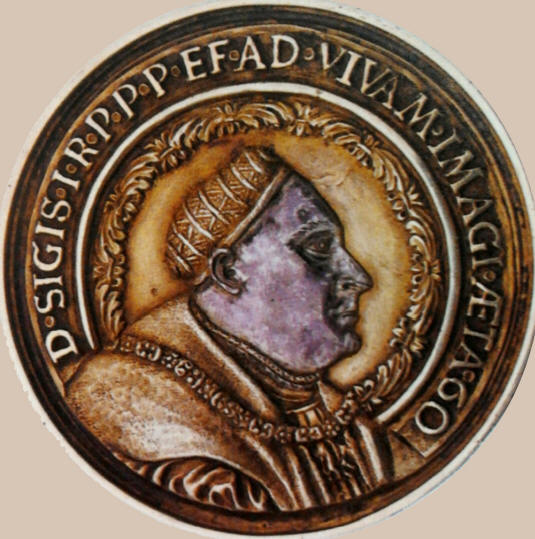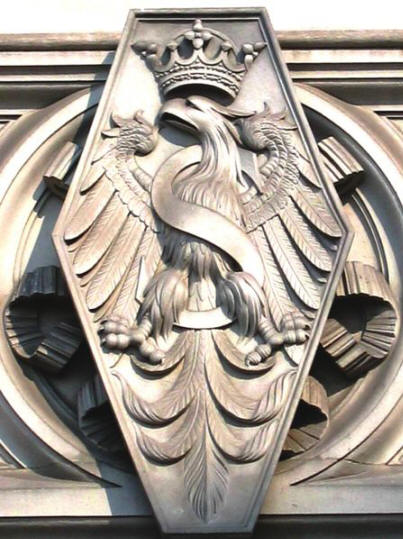 He married Bona Sforza (1494-1557) of Milano and Bari, Italy, a daughter of the Holy Roman Emperor. After he died she moved back to Bari and a year after returning she was poisoned by her trusted officer, Gian Lorenzo Pappacoda acting on behalf of King Philip II of Spain so he could avoid repaying the sizable debts he owed her. She was buried in St. Nicholas' Basilica in Bari [We visited in 1997], where her daughter Anna Jagiellon had a tomb made in the current Renaissance style for her remains. Below right is the garden at Wawel in her honor.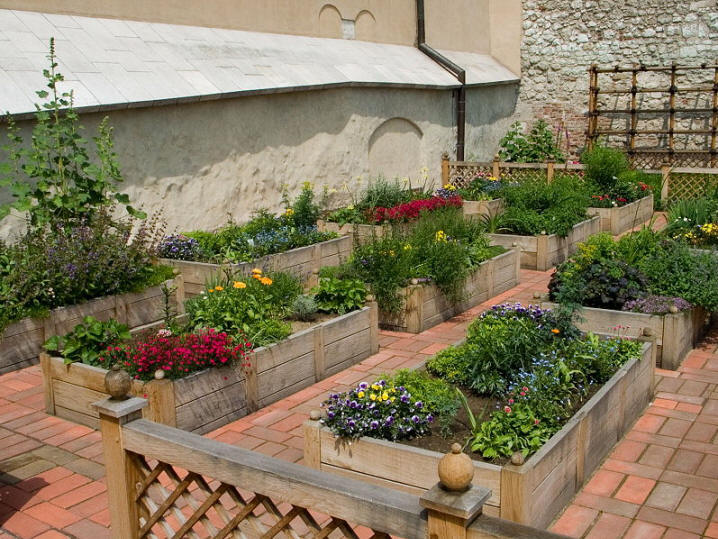 Ten portrait miniatures of the Jagiełło Family as painted by Lucas Cranach the Younger circa 1556. Below (L-R) is Sigismund I the Old, his wife Bona Sforza, his son Sigismund II Augustus, Elizabeth of Austria, Barbara Radziwiłł and ...

... (L-R) Catherine of Austria, Isabella Jagiellon, and Sigismund and Bona's three daughters: Catherine Jagiellon, Sophia Jagiellon and Anna Jagiellon. It seems they all wore the same dress and hat for the sitting.

From there the tunnel lead to the last crypt, Krypta Wazow [8] holding the tombs of [J] Sigismund III Vasa, [K] Konstancja Austriaczk (Austria), [L] Cardinal Jan Albert Vasa, [M] Ludwicka Maria Gonzaga, [N] Jan Kazimierz and [O] Jan Sigismund Vasa.
We start with [J] Sigismund III Vasa (Zygmunt III Waza) (1566-1632) (below). He was King of Poland and Grand Duke of Lithuania, monarch of the united Polish–Lithuanian Commonwealth from 1587 to 1632, and King of Sweden from 1592 as a composite monarchy until he was deposed in 1599. He was the son of King John III of Sweden and his first wife, Catherine Jagełłonica (daughter of Sigismund I and Bona Sforza).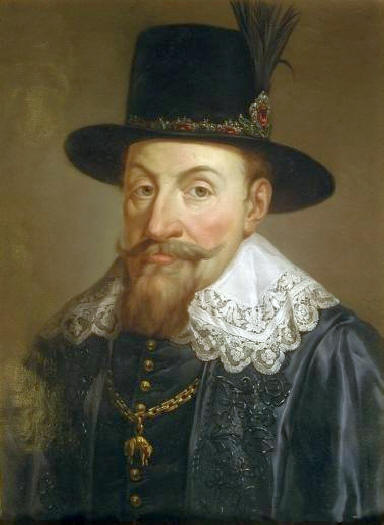 Above right is a Sigismund III bronze from 1611 and on the right is his royal banner. He had five children with Anna, his first wife and seven with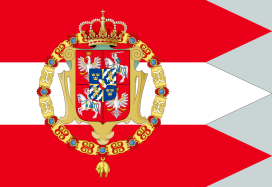 Constance, his second. Most of his reign involved shuffling his Commonwealth forces between wars in the east (with Russia), in the north (with Sweden) and in the south (with the Ottoman Turks and Tatars). He ultimately lost the Swedish crown. An unsuccessful assassination was attempted in Warsaw in November 1620 by nobleman Michał Piekarski, stabbing him twice (below center). He developed mental problems after the death of his second wife Constance, his first wife's sister (see [K] below), and later died of a stroke on April 30, 1632 at the age of 65 in the Royal Castle in Warsaw. He was buried here (below right) and was succeeded by his son, Władysław IV.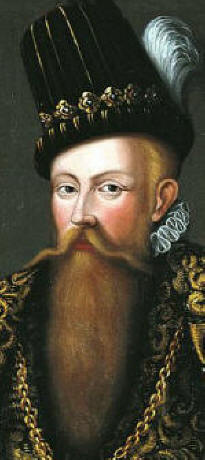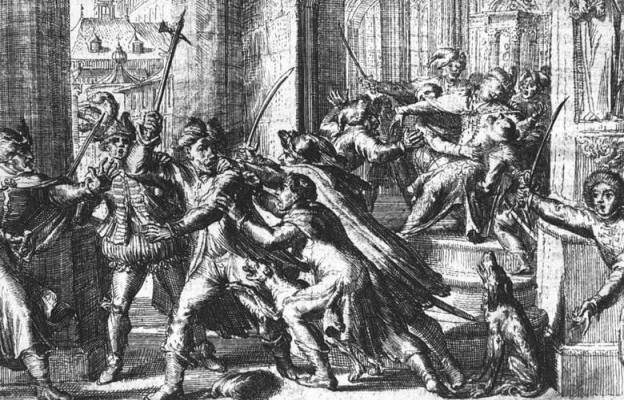 [K] Constance of Austria (Konstancja Austriaczk) (1588-1631) (below) was a daughter of Charles II of Austria and Maria Anna of Bavaria. She became Queen of Poland when she married King Sigismund III Vasa after his first wife Anna (her sister) died. She was the mother of King John II Casimir. She was proficient in Spanish, Latin and Italian and only learned Polish after her wedding, but rarely used it. In 1623, Constance bought the city of Żywiec (frowned on by the nobility) located at the edge of southern Poland which is now famous because in 1852 the "national beer" Żywiec, was established by Charles' son Archduke Albert; it was purchased by Heineken in the 1990s. In 1626, she made it forbidden for Jews to settle in her city.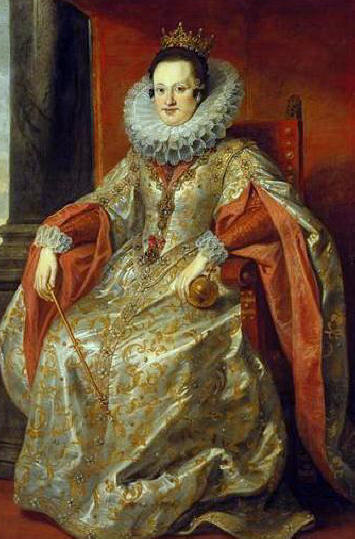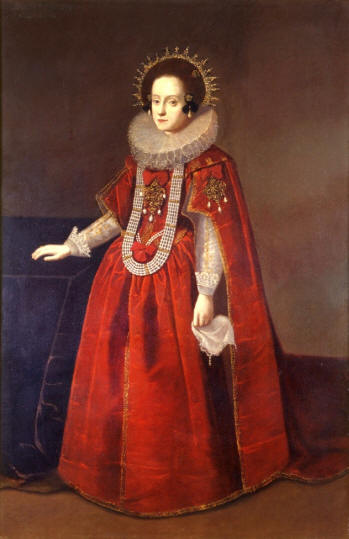 [L] Cardinal Jan Albert Vasa (Jan Albert Waza) (1612–1634) (below) was a Polish cardinal and a Prince-Bishop of Kraków. He was the son of King Sigismund III Vasa and Constance of Austria. In 1632 his cardinal nomination was declared in public by Pope Urban VIII. He died in Italy in 1634 in Padua, Italy where he was likely sent by his brother, King Wladislaw IV Waza on a diplomatic mission.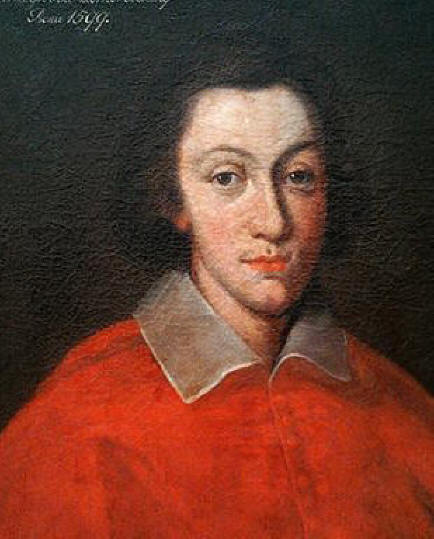 [M] Marie Louise Gonzaga (Ludwika Maria Gonzaga) (1611–67) (above right, below) was a French princess and noblewoman who wound up marrying two Polish kings; first Władysław IV Vasa (see above in [5]) and after his death, his brother John II Casimir. As such she was Queen of Poland both times. She was a strong supporter of an autocratic monarchy and thus disliked by the highly democratic Polish court and nobility. However, she managed to stay involved in the Commonwealth's politics and she founded the first Polish newspaper. Together with Queen Bona Sforza of Milan (above), she is regarded as one of the most influential and powerful Queens of Poland. Below are two of her portraits and also a drawing of her with both of her husbands; Władysław on the left and John II on the right.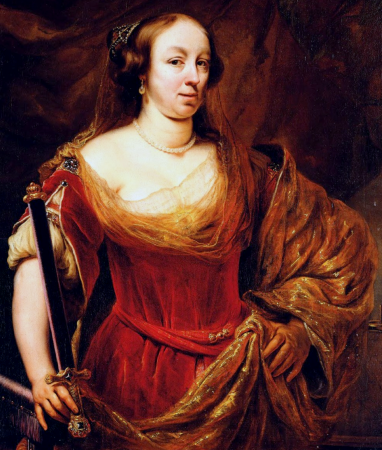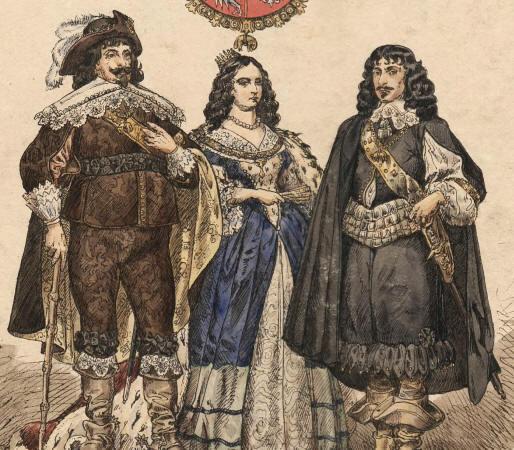 Below is a painting of her glorious entry into Gdansk in 1646 (left) and her death mask (right). She was buried here but her heart was buried in the Church of the Visitation Sisters in Warsaw.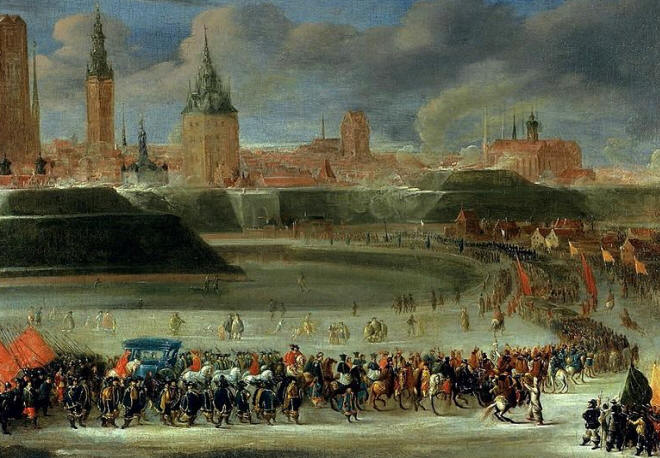 [N] John II Casimir (Jan Kazimierz Waza) (1609-72) (right, below left) was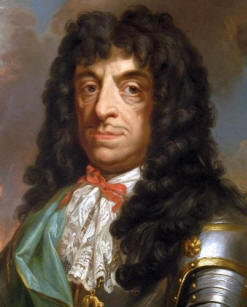 the son of Sigismund III Vasa (1566–1632) and Constance of Austria (1588–1631) and married his brother's widow. In 1668, still grief-stricken from her death, he abdicated the throne of the Polish-Lithuanian Commonwealth. Before he became king, he was captured by Cardinal Richelieu and imprisoned in Vincennes, France for two years but later released. He was later named a Cardinal by Pope Innocent X. Following his abdication Michał Korybut Wiśniowiecki (Michael I) (see above) was elected king and crowned in 1669.
He returned to France and joined the Jesuits becoming abbot of Abbey of Saint-Germain-des-Prés, the oldest church in Paris (6th Century) (below right). Before his death, John Casimir intended to return to Poland, however, shortly before the journey in Autumn 1672 he fell ill from the news of the fall of the city Kamieniec Podolski, which was seized by the Ottomans. He then turned to Pope Clement X to ask for assistance for the Commonwealth in a defensive war against the Turks and went to the city of Lvov and made a great oath before the Papal Legate making the Virgin Mary the "Queen of Poland" which is still the case today. A painting of this event is below center.
The French, who were secretly in contact with him during his stay in the abbey, were astonished by such a great affection of the king to remember the loss of his kingdom, and so concerned about the loss of only one city. Nevertheless, distressed and seriously ill he died shortly after the unexpected Turkish invasion in 1672 from apoplexy and was buried here in Wawel while his heart was interred in the Abbey of Saint-Germain-des-Prés.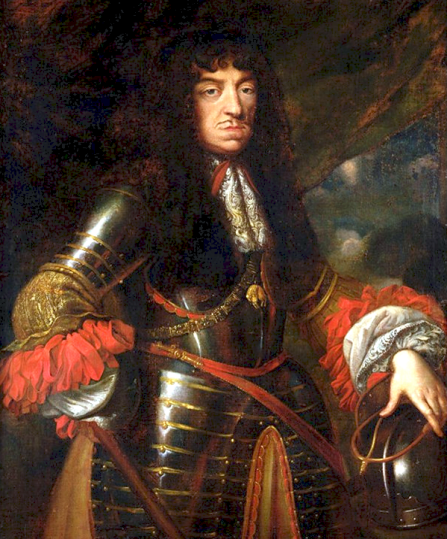 [O] Jan Sigismund Vasa 1652 (1652-1652) was the son of John II Casimir and Marie Louise Gonzaga and died at six weeks old. I never located his tomb, but below left are two coffins with the Jagiełłonian emblem and on the right is tomb of a Vasa King.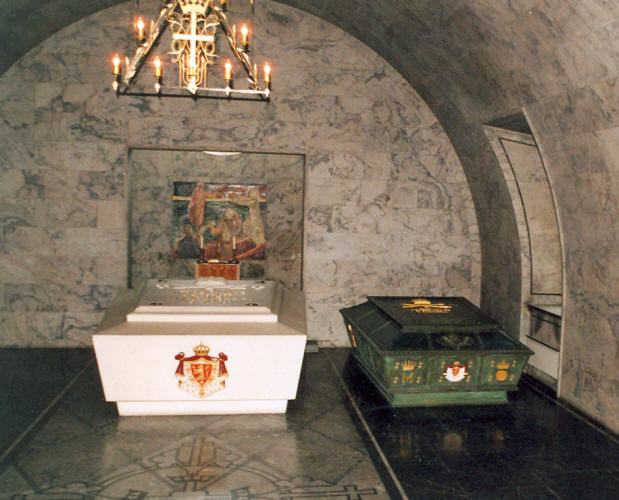 ---
These tombs have covered so much of the history of Poland, I thought it necessary to complete it by adding those pivotal people that have shaped Poland's history, even though they are not buried here at Wawel Cathedral. [If uninteresting, just use the scroll bar to pass all this.]
FOUNDERS of POLAND (Legend)
According to legend, it all started after the Tower of Babylon when God made all the people speak different languages. Three brothers, Lech (spoke Polish), Czech (spoke Czech) and Rus (spoke Russian) went off in different directions. Lech came to present day Poland and wanted to build the first settlement to ensure safety for him and his people and when he became mesmerized by a white eagle (below left) in the sky, he said: "Let's build a nest!" This is why the first capital still has the name Gniezno (nest) now. The legend has its grounds in the Polish coat of arms which has an eagle as its symbol. Below center is a depiction of Lech II. His name is even on the famous beer (below).
His descendent, Krakus (Krak or Grakch) was a legendary Polish prince, king and founder of Kraków, and the ruler of the tribe of Lechitians (Poles). Krakus is also credited with building Wawel Castle and slaying the Wawel Dragon by feeding him a dead sheep full of sulfur. This is how Krak, a simple cobbler, became Krakus the prince, and later king. The first recorded mention of Krakus is from 1190. He is also said to have defeated armies of the Roman Empire, which were attacking from the south.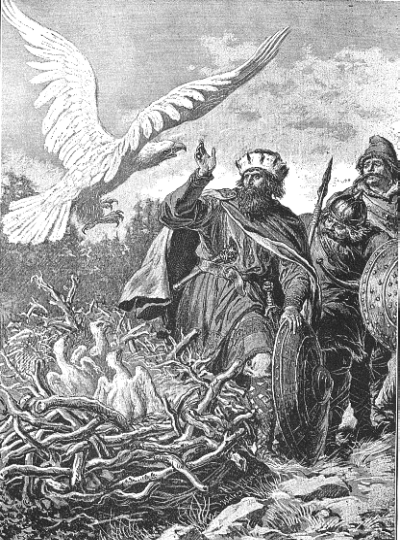 There is the Krakus Mound located in the Podgórze district of Kraków. It was thought to be the resting place of King Krakus but no evidence has ever been dug up. It is located on Lasota Hill (889 ft (271 m) high), approximately 2 miles (3 Km) south of Kraków's city center. It has a diameter of 197 ft (60 m) and a height of 52 ft (16 m). Lech II was a legendary ruler of Poland mentioned by 15th century chronicler Jan Długosz. Legend says he was the son of
Krakus.

FIRST CHRISTIAN RULER of POLAND
Siemowit (also Ziemowit) (800s) (below left/center) was, according to the chronicles of Gallus Anonymous, the son of Rzepicha and Piast the Wheelwright, who is considered to be the first monarch of the Piast dynasty.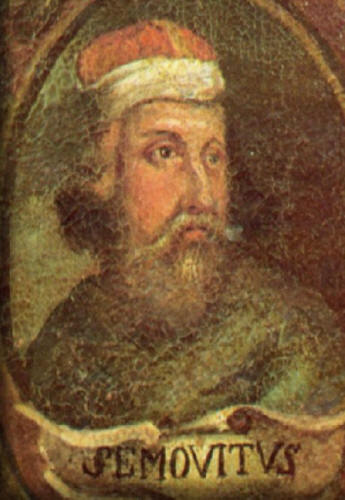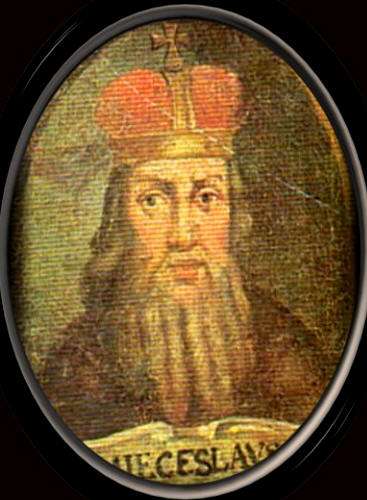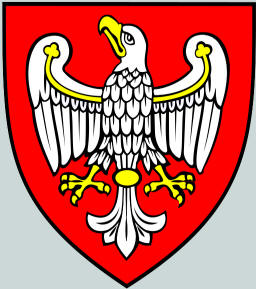 More importantly was Mieszko Dagome (930–992) (right, above right) who was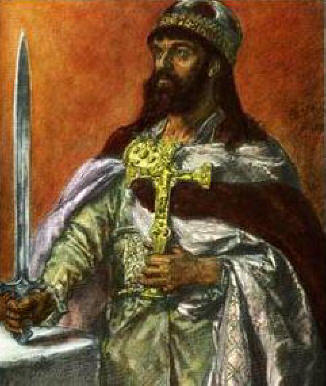 the ruler of the Polans from 960 until his death. The founder of the Piast dynasty (coat of arms above right), he was a son of Siemomysł (left) (who was a grandson of Siemowit (above left). The Piasts' royal rule in Poland ended in 1370 with the death of King Casimir III the Great.
After Mieszko's conversion and baptism, as the first Christian ruler of Poland, Mieszko I is considered the de facto creator of the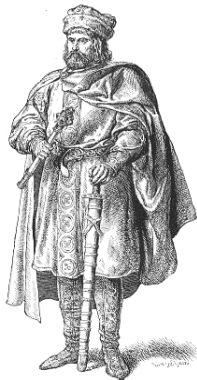 Polish state. He continued the policy of both his father and grandfather, who were rulers of the pagan tribes located in the area of present-day Greater Poland. His accomplishments are: 1) Unification of Polish lands; Mieszko's state was the first state that could be called Poland, 2) Acceptance of Roman Catholicism and therefore inclusion of his country into the mainstream civilization and political structures of Roman Catholic Europe, 3) Erection of churches: The Gniezno Cathedral was constructed during Mieszko's rule. It is likely he also founded the Poznań Cathedral, 4) Possibly during Mieszko's reign, Poland began minting its own coin, the denarius, 5) At the end of his rule, he left to his sons a territory at least twice as large as what he inherited from his father. The most significant were the additions of Silesia, Western Pomerania, and probably Lesser Poland including Kraków.
Below left is the tomb of Mieszko I and a memorial to him and his son Bolesław I (below center) in the Poznań Cathedral (below right) which Mieszko erected.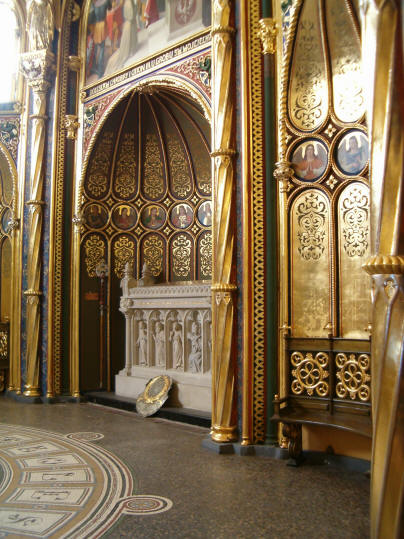 FIRST KING of POLAND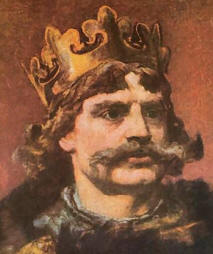 Bolesław I the Brave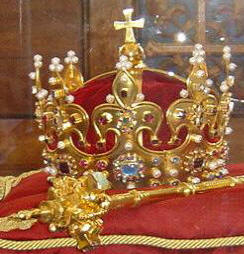 (Bolesław I Chrobry) (967-1025),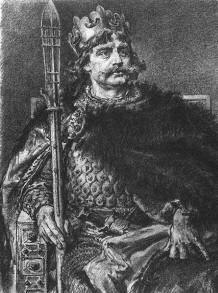 was the son of Mieszko I and his wife, Dobrawa of Bohemia. According to theory, Bolesław already ruled Lesser Poland during the last years of his father's reign. When Mieszko I died in 992, he had divided Poland among his sons, but Bolesław expelled his father's last wife, Oda of Haldensleben, and his half-brothers and reunited Poland under him between 992 and 995. In one of his expeditions in 1018, Bolesław I captured the city of Kiev, and installed his son-in-law Sviatopolk I as ruler. According to legend, Bolesław chipped his sword when striking Kiev's Golden Gate. Later, in honor of this legend, a sword called Szczerbiec ("Chipped Sword") would become the coronation sword of Poland's kings. Finally, near the culmination of his reign, in 1025, he had himself crowned (replica of crown above) King of Poland thus becoming the first Polish ruler to receive the title of rex.
From 1025 to 1261, there were a succession of Piast Polish Kings with much fragmentation of the Kingdom.
One of them was Wenceslaus II Přemyslid (Wacław II Czeski) (1271-1305) (below left) was the King of Bohemia from 1278,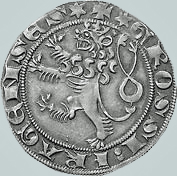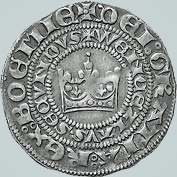 the Duke of Kraków from 1291 and the King of Poland from 1300. His fame is due to the silver mine discovered in 1298 in the city of Kutná Hora [We visited in 2011] in Central Bohemia (today Czech Republic). He took control of the mine by making silver production a royal monopoly and issued the Prague groschen (Grosz praski) coin, which became the most popular of the early Groschen-type coins. Coin front, left; reverse, right. Kutná Hora was one of the richest European silver strikes ever: between 1300 and 1340 the mine may have produced as much as 20 tons of silver a year for a total value of $550,000,000 today. His son, Wenceslaus III (1289-1306), succeeded him (for one year) upon his death and he was the last King of the Přemyslid dynasty when he was murdered in 1306 at the age of 17 by an unknown assassin in Olomouc [Also visited in 2011]. Below right is a map of the three kingdoms he ruled; Poland, Bohemia and Hungary.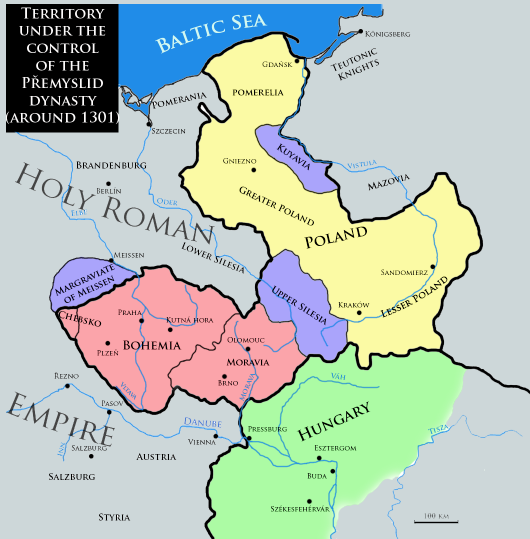 Here are some more depictions of Wenceslaus II and a silver coin (center) with his likeness on it.
The kingdom of Poland was then claimed by Władysław I Elbow-High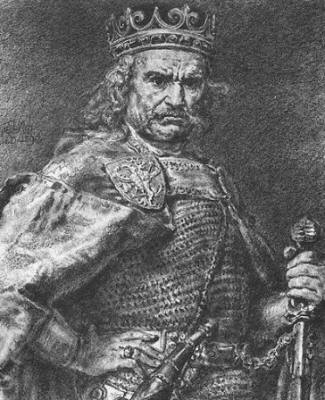 (Ladisłaus I Łokietek) (1261-1333) (left: young; right: old). Because of his short height he was nicknamed "Łokietek" (elbow-high). In 1318, he embarked on a coronation campaign. The pope, though initially unwilling, finally granted his approval and Władysław was crowned King of Poland on January 30, 1320 in Kraków. The coronation was a sign that he had overcome Poland's internal fragmentation and re-united the country as an independent kingdom under his rule.
A Polish-Teutonic War (1326–1332) occupied Władysław's last years. In 1331, he fought the Battle of Płowce in Kuyavia against a group of Teutonic knights. Other groups of enemies withdrew to the north. After numerous casualties, the armies were stalemated, though Władysław's forces conquered the field,
captured some prisoners and stopped the expansion of the Teutonic Order in the region. He endeavored to establish a uniform legal code throughout the land and in this code, he assured the safety and freedom of Jews and placed them on an equal footing with Christians. When he died (tomb left) in 1333 in Kraków, his 13 year-old son, Casimir III the Great, inherited Lesser Poland.
His son, Casimir III the Great (Kazimierz III Wielki) (1310-1370) (below)
inherited a kingdom weakened by war and made it prosperous and wealthy. He reformed the Polish army and doubled the size of the kingdom as well as reforming the judicial system and introducing a new legal code. He built extensively and founded the University of Kraków, the oldest Polish university. The 50 złoty note with his image is to the right. He also confirmed privileges and protections previously granted to Jews and encouraged them to settle in Poland in great numbers (he protected them as "people of the king").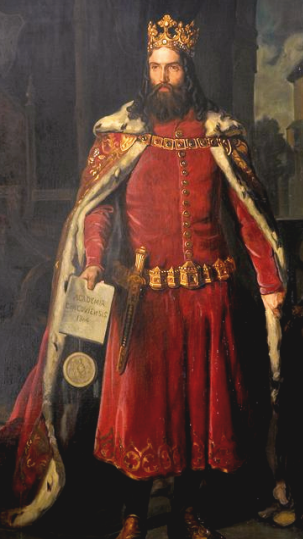 Thus, he was the last Polish king from the Piast dynasty. His sarcophagus is in the Cathedral above (below). Below right is a memorial to him in Niepołomicach, 25 km from Krakow.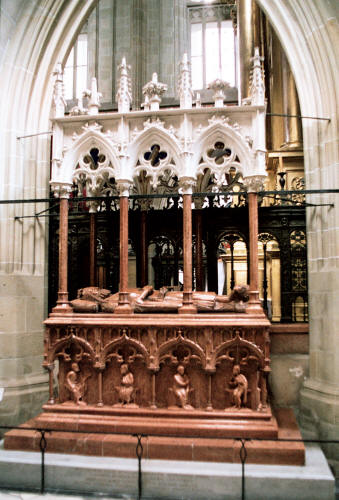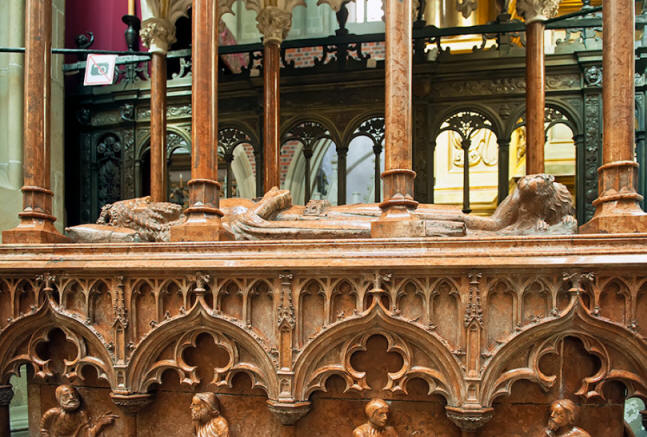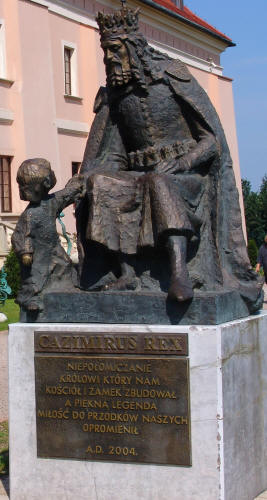 Casimir left no lawful male heir to his throne, producing only daughters, so when he died in 1370 from a hunting injury, his nephew, King Louis I of Hungary (1326–82) (Ludwik Wegierski) (below), succeeded him as King of Poland in union with Hungary.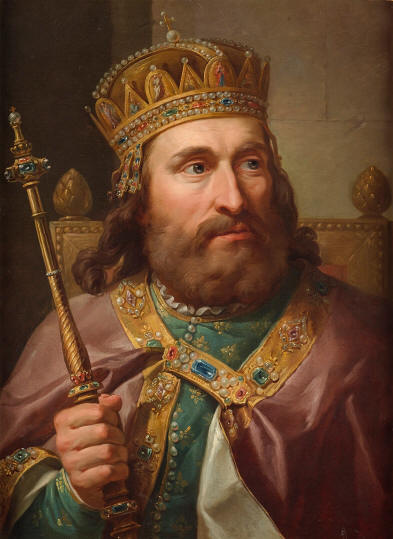 Louis I (above) only ruled for 12 years and when he died, his daughter Jadwiga (Hedweg, a Hungarian) became "King" of Poland until she married Władysław II Jagiełło (Jogaila) (1352-1434) who was Grand Duke of Lithuania (1377–1434).
He became King of Poland (1386–1399) alongside his wife Jadwiga, and then sole King of Poland. Born a pagan, before the marriage, he converted to Catholicism and was baptized as Władysław in Kraków in 1386. The King's conversion and its political implications created lasting repercussions for the history of both Lithuania and Poland. In 1387 he converted Lithuania to Christianity. His own reign in Poland started in 1399, upon the death of Queen Jadwiga, and lasted a further 35 years laying the foundation for the centuries-long Polish–Lithuanian union. He started the Jagiełłonian dynasty in Poland that bears his name. The dynasty ruled both states until 1572 and became one of the most influential dynasties in the late medieval and early modern Central and Eastern Europe. During his reign, the Polish-Lithuanian state was the largest state in the Christian world.
Jogailłła (below left) was the last pagan ruler of medieval Lithuania. After he became King of Poland, as a result of the Union of Krewo, the newly formed Polish-Lithuanian union confronted the growing power of the Teutonic Knights ("the Germans"). The allied victory at the Battle of Grunwald in 1410 (see poster in Auschwitz museum from yesterday), followed by the Peace of Thorn, secured the Polish and Lithuanian borders and marked the emergence of the Polish–Lithuanian alliance as a significant force in Europe. The reign of Władysław II Jagiełło extended Polish frontiers and is often considered the beginning of Poland's Golden Age. Below is a 100 złoty note with his image, his crowning and the image on his sarcophagus.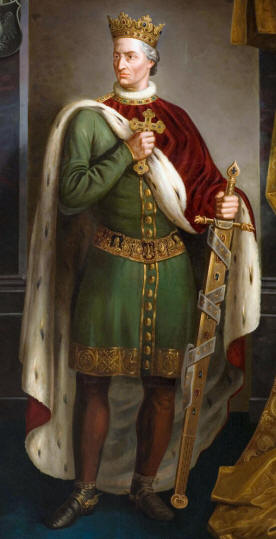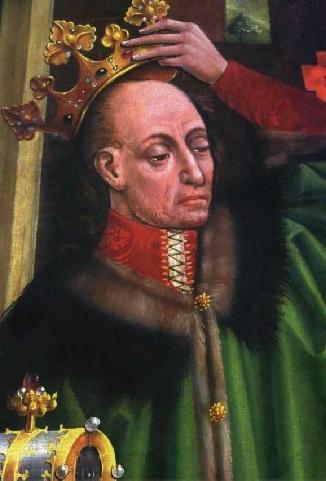 Władysław II (above center, right) died in 1434, leaving Poland to his elder son, Władysław III () (below left), and Lithuania to his younger son, Casimir IV (1427-92) (below center), both still minors at the time. His death ended the personal union between Poland and Lithuania. However, Casimir succeeded his brother Władysław III (killed at the Battle of Varna in 1444) as King of Poland after a three-year interregnum, on June 25, 1447.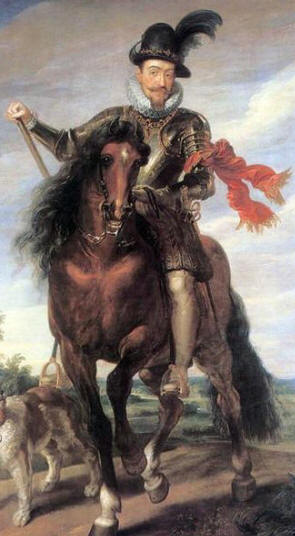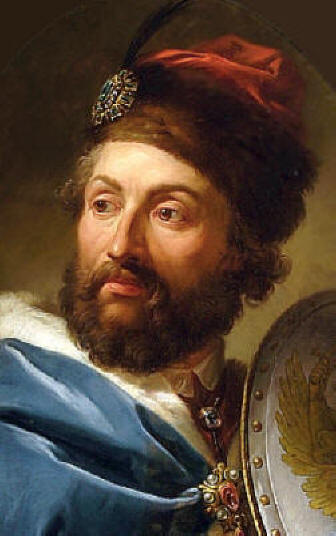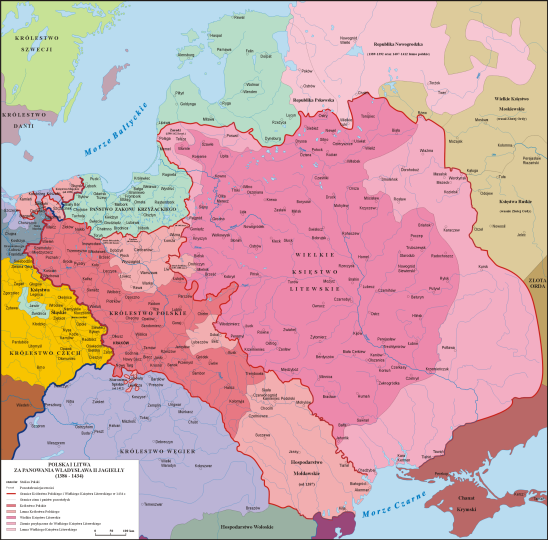 Władysław Warnenczyk III (1424–1444) (right), also known
as Władysław of Varna, was King of Poland from 1434, and King of Hungary and Croatia from 1440, until his death at the Battle of Varna. During this famous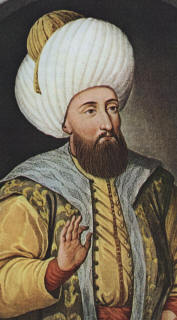 battle with the Ottoman empire, the young king rushed 500 of his Polish knights against the center of the enemy. He attempted to overrun the Janissary infantry and take Murad II (the Ottoman Sultan, left) prisoner, and almost succeeded. But, in front of Murad's tent, Władysław's horse either fell into a trap or was stabbed and the king was slain by mercenary Kodja Hazar, who beheaded him while doing so. His head was given to the Sultan and was later taken to the Ottoman court. Neither the head or body of the king have ever been found. Władysław was succeeded in Poland by his younger brother, Duke Casimir IV of Lithuania, in 1447.
There is a legend that he survived the battle, went to Jerusalem and then to Portugal where he remained in secrecy and settled in Madeira where he was protected by King Afonso V of Portugal who gave him lands and was best man to his marriage to Senhorinha Anes.
THE LAST KING of POLAND
Stanislaus Augustus Poniatowski (1732–1798) (left, right, below) was the last King and Grand Duke of the Polish–Lithuanian Commonwealth (1764–95).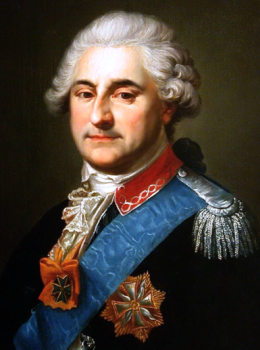 He remains a controversial figure in Polish history. Recognized as a great patron of the arts and sciences and an initiator and firm supporter of progressive reforms,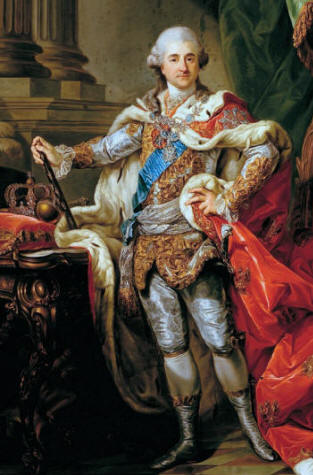 he is also remembered as the last king of the Commonwealth whose election was marred by Russian involvement. He is criticized primarily for his failure to stand against the partitioning of Poland, and thus to prevent the destruction of Poland.
[LEFT: To me, he looks like George Washington.]
Arriving at the Russian imperial court in Saint Petersburg in 1755, he became romantically involved with the 26 year-old Catherine Alexeievna (the future Empress Catherine the Great, reigned 1762–1796), three years his senior. It is also very likely that Anna Petrovna (1757–1758), Catherine the Great's second child, was his daughter. With her support, in 1764, he was elected King of Poland. Against expectations, he attempted to reform and strengthen the ailing Commonwealth. His efforts met with external opposition from Prussia, Russia and Austria, all interested in keeping it weak and from internal conservative interests, which saw reforms as threatening their traditional positions.
The defining crisis of his early reign, the War of the Bar Confederation (1768–1772),
led to the First Partition of Poland (1772). The latter part of his reign saw reforms wrought by the Great Sejm (1788–1792) and the Constitution of 3 May 1791. These reforms were overthrown by the 1792 Targowica Confederation and by the War in Defense of the Constitution, leading directly to the Second Partition of Poland (1793), the Kościuszko Uprising (1794) and the final Third Partition of Poland (1795). This basically marked the end of the Commonwealth. Stripped of all meaningful power, he abdicated in November 1795 and spent the last years of his life in semi-captivity in Saint Petersburg.
He died after a stroke in 1798. Pope Paul I sponsored a royal state funeral and on March 3, he was buried at the Catholic Church of St. Catherine in St. Petersburg. In 1938, when the Soviet Union planned to demolish that Church, his remains were transferred to the Second Polish Republic and put in a church in the city of Wołczyn, his birthplace. This was done in secret and it caused a controversy in Poland when it became known. In 1990, due to the poor state of the Wołoczyn Church (then in Belarus), his body was transferred to Poland once more, to St. John's Cathedral in Warsaw (right), where, on May 3, 1791, he had celebrated the adoption of the Constitution he had co-authored and endorsed. A final funeral ceremony was held on February 14, 1995. August III preceded him and he was succeeded by Alexander I of Russia as King of Poland.
---
For a complete list of all the Rulers of Poland click on this link. The longest ruling (1386-1434) monarch of Poland was Władysław II Jagiełło, who reigned jointly with his wife Jadwiga until 1399. He was the beginning of the Jagiełłonian kings (Coat of Arms below left) who reigned from 1386 to 1572 when elections were begun. After that, Poland was ruled by the House of Vasa (Coat of Arms below right). [See the famous recovered Vasa Ship in Stockholm from our Scandinavia Diarios of 2001.]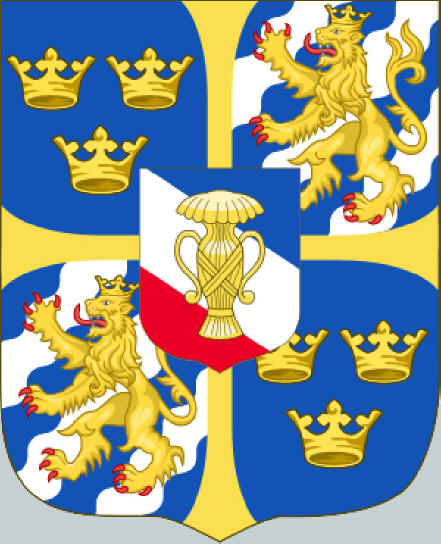 After climbing back up from the crypt, I then went back into the Cathedral Museum where I first started and quickly and surreptitiously got these shots; first of the famous Piotr Kmita's Chasuble from 1504 (see above), ...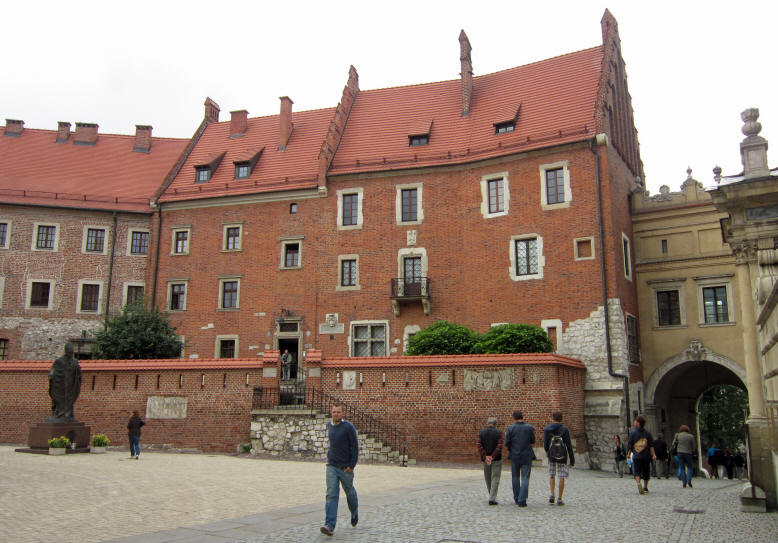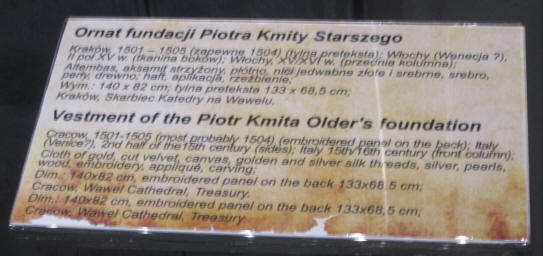 ... and blurry photos of a case displaying items including a sword (below, far left), a crown (center left), and a tall case displaying the gold sword of St. Maurice (center right). Far right is a stock photo I found of it.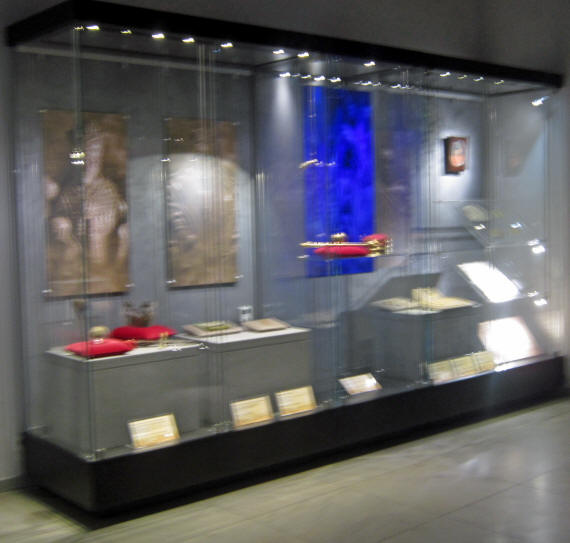 After getting those photos in a hurry (I didn't get caught), I ran back and got some photos of the Cathedral exterior. There were two statues of Polish Kings and ...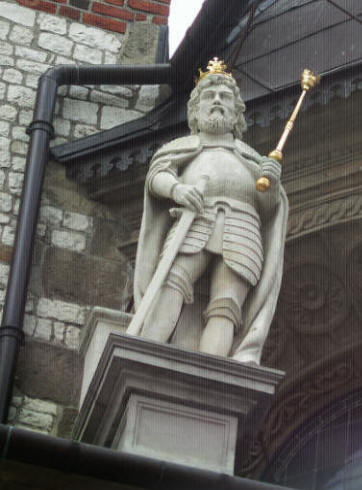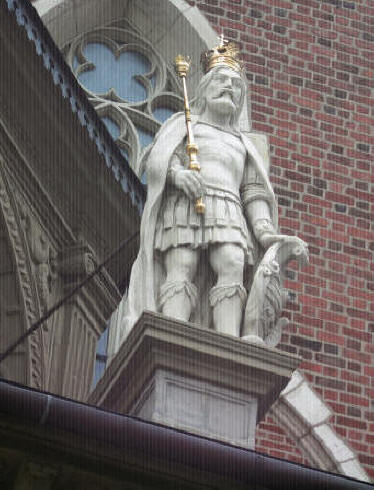 ... a large crest with a Latin plaque saying something in Latin about King Casimir.
I then entered the Cathedral (Katedra na Wawelu) front entrance, whose official title is The Wawel Royal Cathedral of St. Stanislaus BM and St. Wenceslaus M.
Below left is a stock photo close-up of the "dragon bone" to the left of the entry door (above). There is also the sign in front forbidding everything and giving directions to the Cathedral, crypt or bell tower.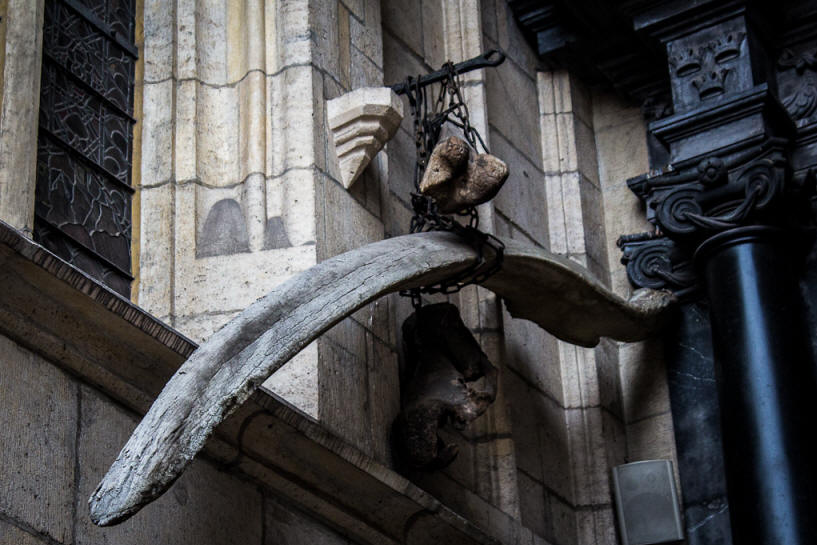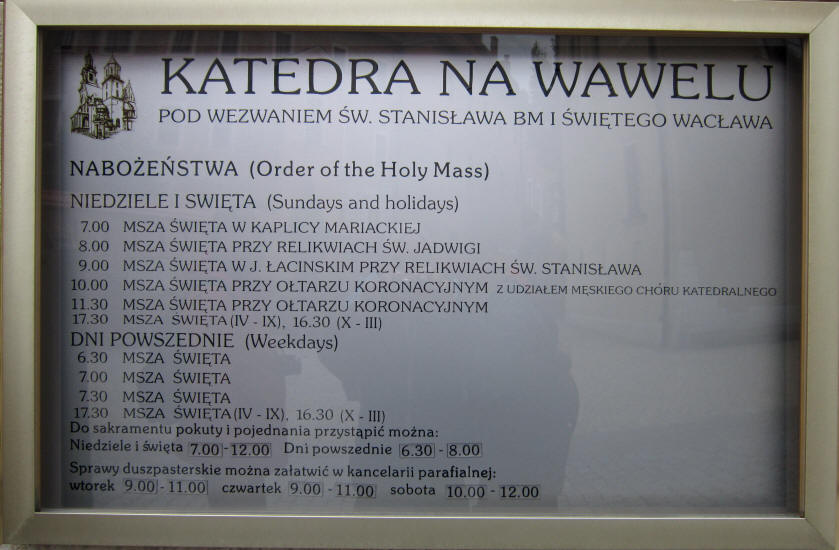 Below is a really complete map of the Cathedral interior pointing out all the notable sites. In case you plan a visit, just right click on each of them to download them.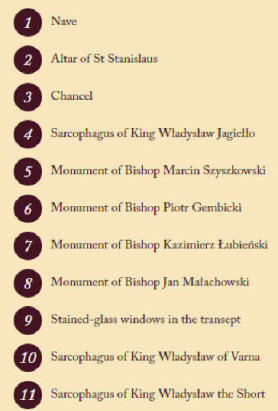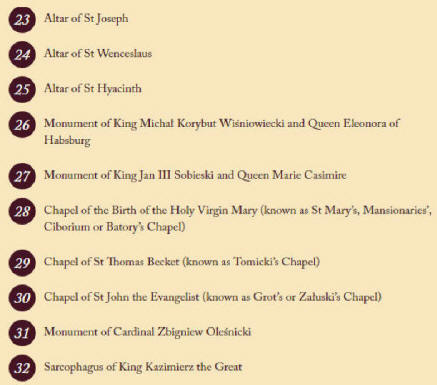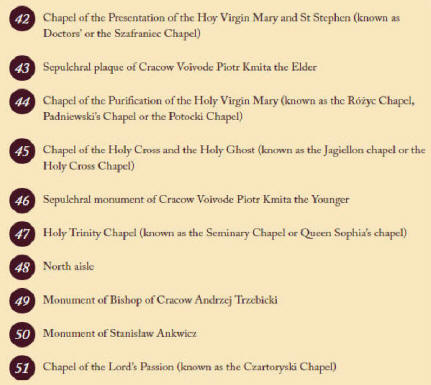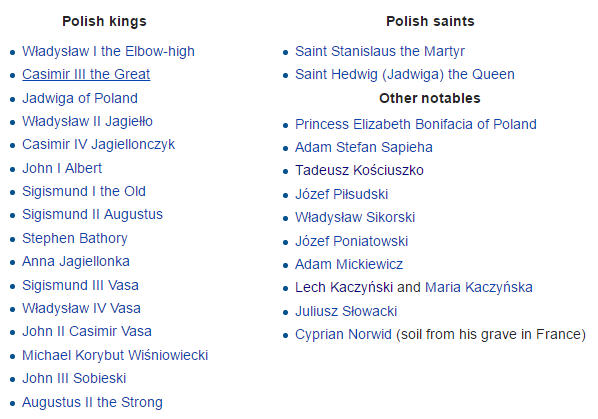 They absolutely would not allow photos inside, so these were very difficult to get; the only shots I took were with the GoPro camera because it is tiny. Below left is looking toward the main altar while on the right is one of the many chapels, this one hung with large tapestries.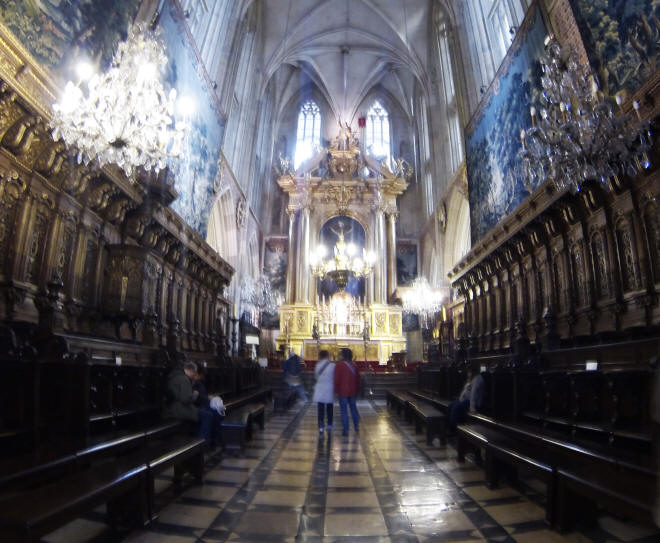 Here are stock photos of a side altar (below left) and the Sacristy (below right).
In the center of the Cathedral is the large tomb of [3] St. Stanisława in map below. The other memorials and tributes are in order [1] Władysława Jagiełły, [2] Władysława Warneńczka, [5] Władysława Lokietka, [6] Sacristy, [7] Sigismund Bell Tower, [8] Wieszczówa crypt, [9] St. Jadwigi Reliquary, [10] Stefan Bartoly, [11] Kazimierza Wielkiego, and [12] St. Jadwigi Sarcophagus. Most of these we discussed from their tombs below in the crypt.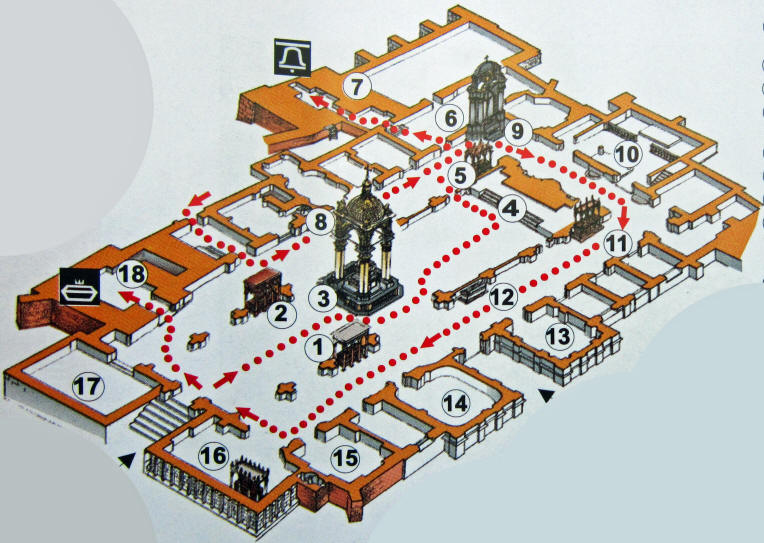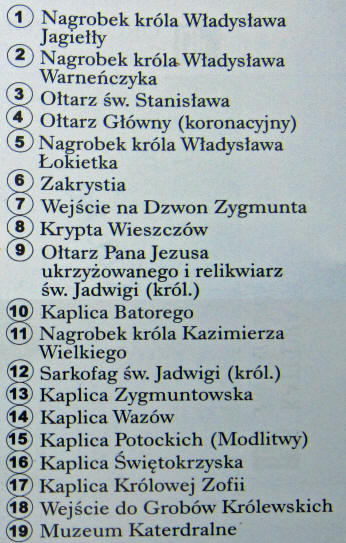 Below are several photos I was able to get of the sarcophagus of St. Stanisława, [3] in the diagram above.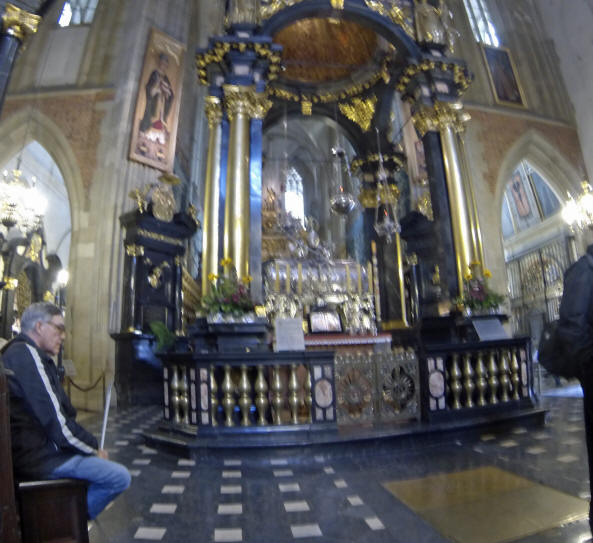 St. Stanisłaus (right) of Szczepanów (1030-79) Martyr was the Bishop of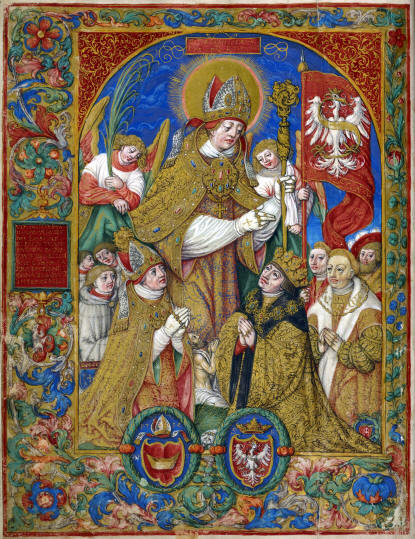 Kraków, known primarily for having been martyred by the
Polish King Bolesław II the Generous (or Bold) (1042-82) (left). In 1079, Bolesław had a conflict with the Polish nobles which ended in open revolt and Bolesław being deposed and banished from the country. These circumstances may have been aided by Bishop Stanisłaus, who had excommunicated the King for his marital infidelity and may have been involved with the barons' opposition movement, plotting to remove the King and to place his brother Władysław Herman on the throne. Bolesław II unilaterally declared Stanisłaus guilty of treason and on April 11, 1079, assaulted and then personally used his sword to murder Stanislaus during the celebration of Mass. Though the Bishop had privately and then publicly warned the king to repent of adultery and other vices, Bolesław chose a course of action more characteristic of his nickname, "the Bold". One story says Bolesław II was taken in by King Ladislaus I of Hungary (a future saint), and was later poisoned by an assassin. The other says he went to Rome to beg forgiveness from Pope Gregory who imposed a penance to wander incognito as a mute repentant. In 1082, he reached the Benedictine Abbey at Ossiach in Carinthia (a southern region of Austria), where he was taken in and did all kinds of hard work until he finally was reconciled in the Sacrament of Penance and died.
I could find no depiction of St. Stanislaus (tomb below left) but below right is a tomb dedicated to Bolesław II at that Abbey which when opened revealed a male body and the remains of a Polish knight's armor dating from the 11th Century.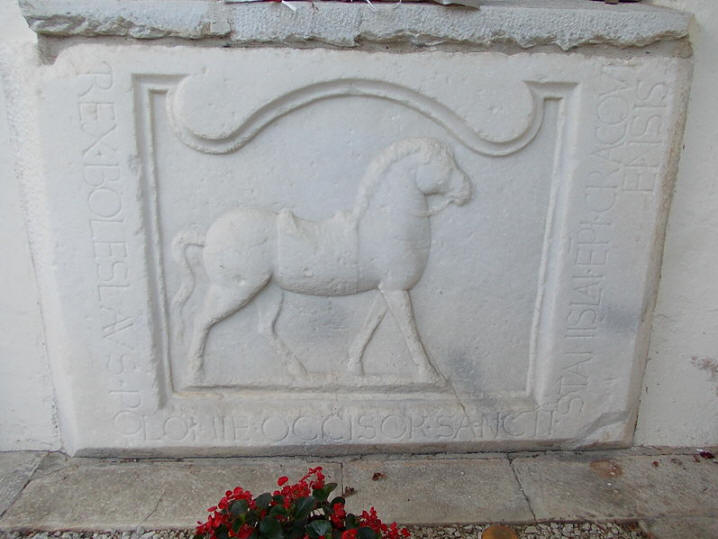 The inscription around the edge of the tomb states "Rex Boleslaus Polonie occisor Sancti Stanislai Epi Cracoviensis" ["Bolesław, King of Poland, murderer of Saint Stanislaus, Bishop of Kraków"].

Because my photos are low quality, here below are stock photos of St. Stanislaus' sarcophagus.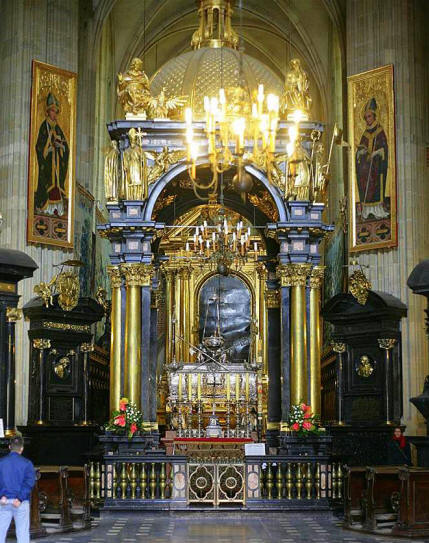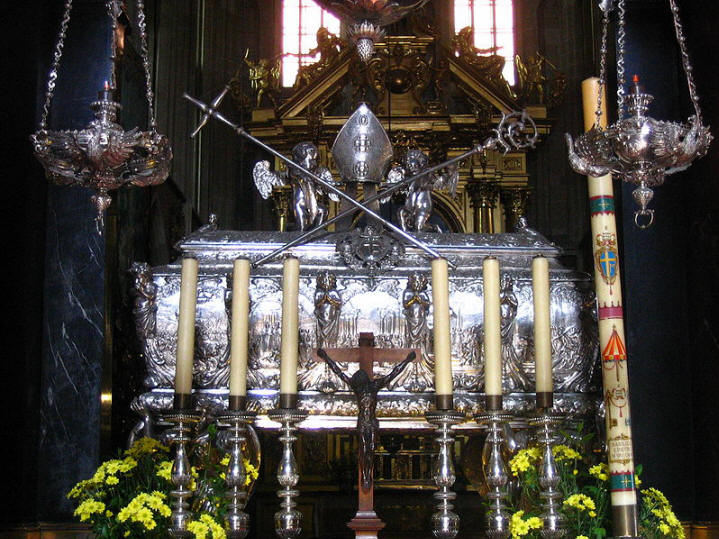 Below is the my photo of the detail of the choir stalls leading to the Main Altar and a sarcophagus.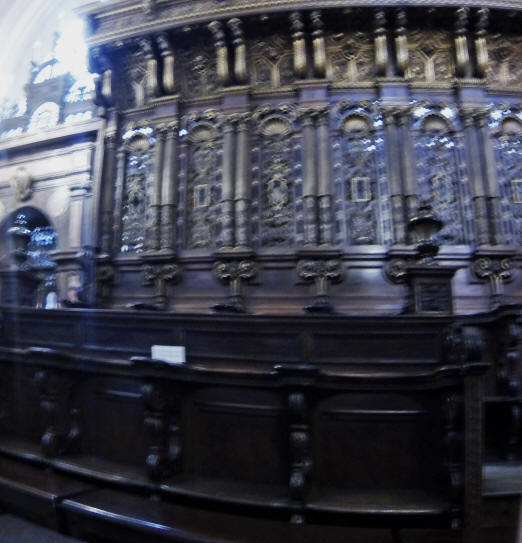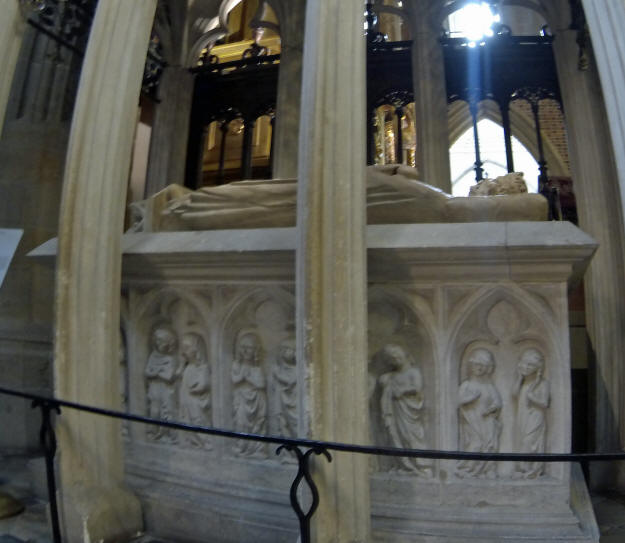 The sarcophagus of St. Queen Jadwiga (Hedwig) (1373-99) is beautifully done [12] (stock photos). She was the daughter of the Hungarian King and became Queen of Poland (first woman ever to rule Poland) and later a saint (see above and Salt Mine account from two days ago).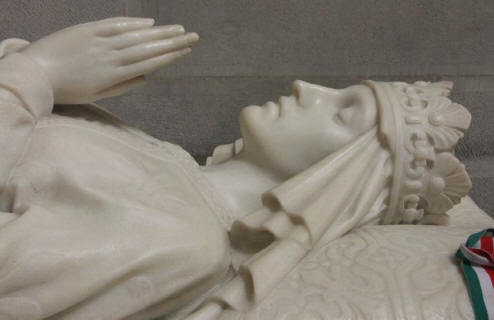 Below, in a side chapel, is the famous Black Crucifix of Kraków. It is the crucifix of Queen St. Jadwiga (Hedwig) which was brought by the then fourteen-year-old daughter of the Hungarian King to her new kingdom's capital in 1384. She spent hours praying daily before it. These are stock photos of it because I completely missed it.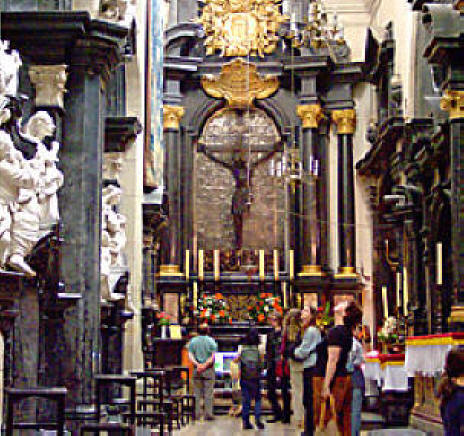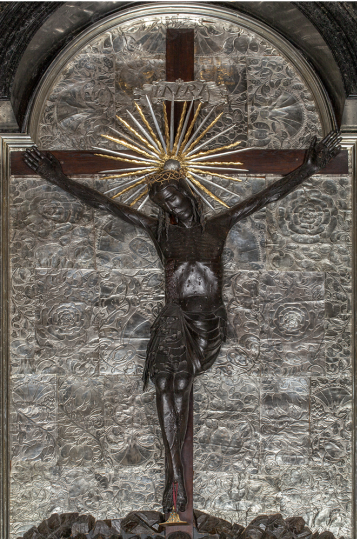 Below left is the only shot (right edge) I got of the 15th Century late-Gothic Hungarian red marble sarcophagus of Casimir (Kazmierz) the Great [11]; on the right are stock photos of it with one looking down on the face.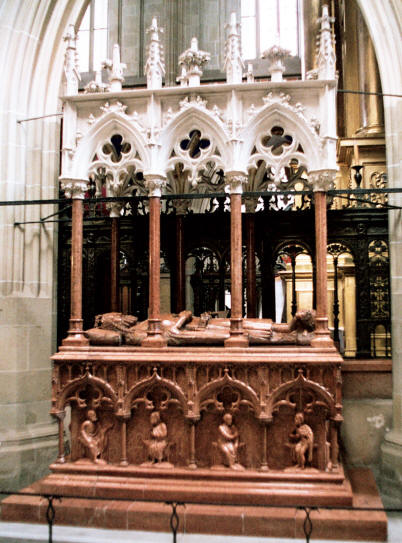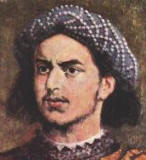 Here is the sarcophagus of Władysław Warneńczyk III (1424-44) (left), also known as Władysław of Varna; Varna being the battle where he was killed. He was also the King of Hungary from 1440-4.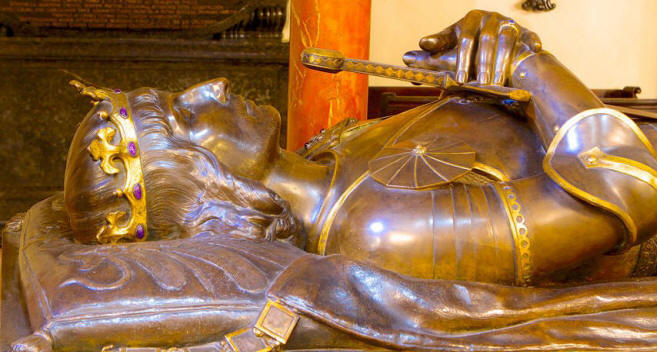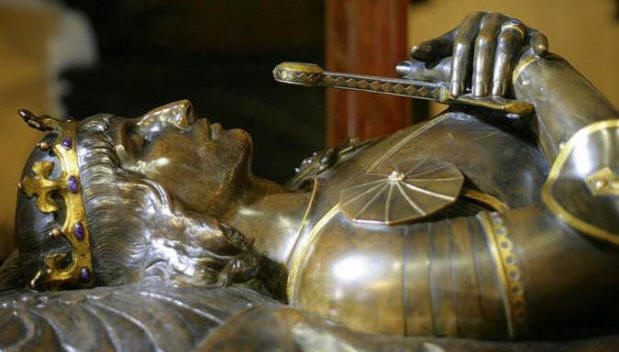 Below is a map of the names of the various side chapels.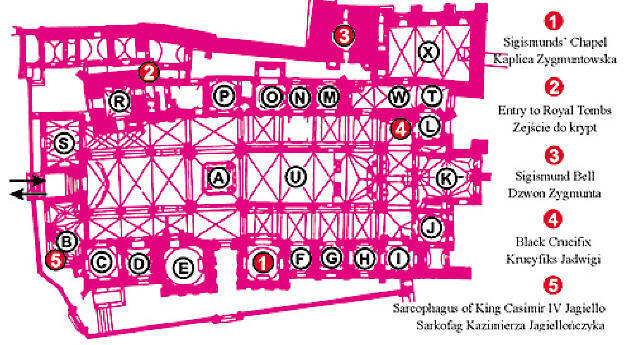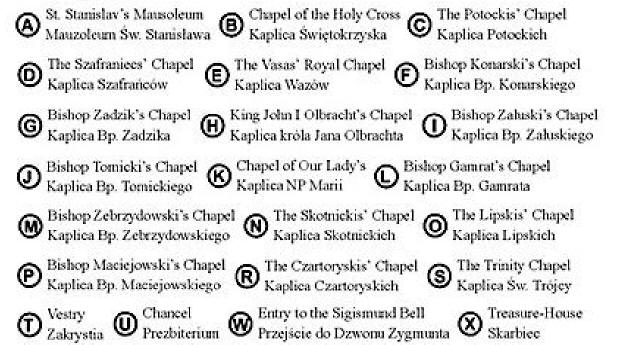 Here are other sarcophagi of other kings; (below left) and Władysław Warneńczyk III (below right).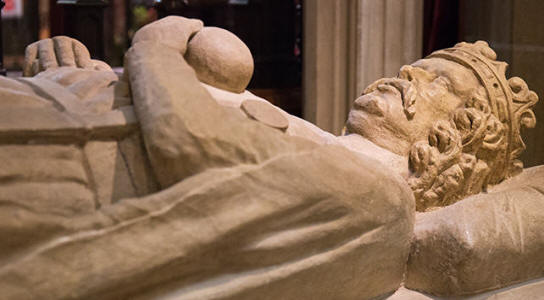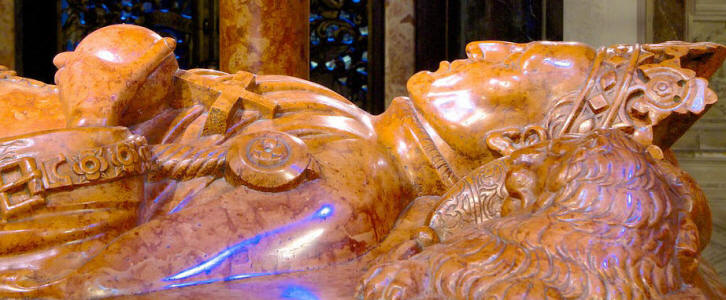 Stefan Bartoly (left) (white map [10]) his tomb is below in the crypt. Below right is the memorial to King Michaeł Korybut Wiśniowiecki (pink map [26]) whose tomb we also saw below in the crypt.
There were these side altars with tombs in them, on the left is King Jan Albert (Olbracht) ...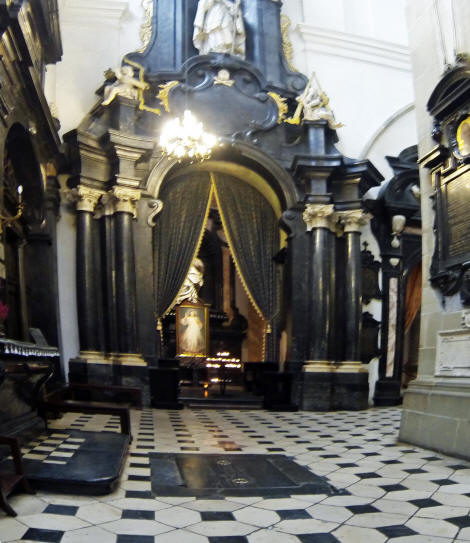 ... a lot of marble sculpturing and the crest of Sigismund I the Old.
I didn't find the Vasa Chapel (that I remember) so here are stock photos of it.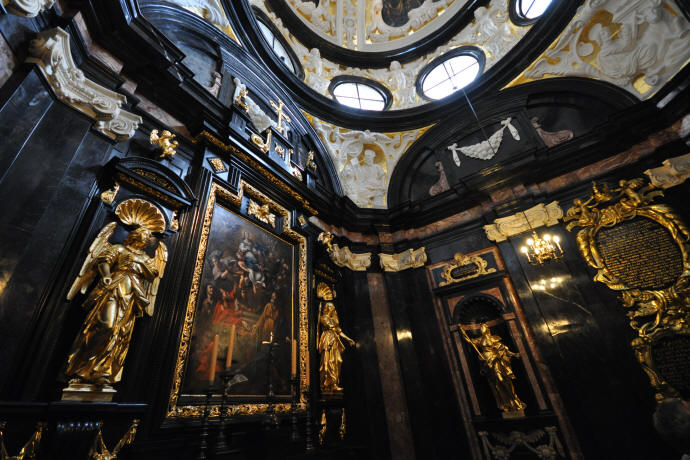 I came across the place where you climb the church tower to the bells. At the entrance they had this large bronze plaque and also a sign regarding the dimensions of the bell.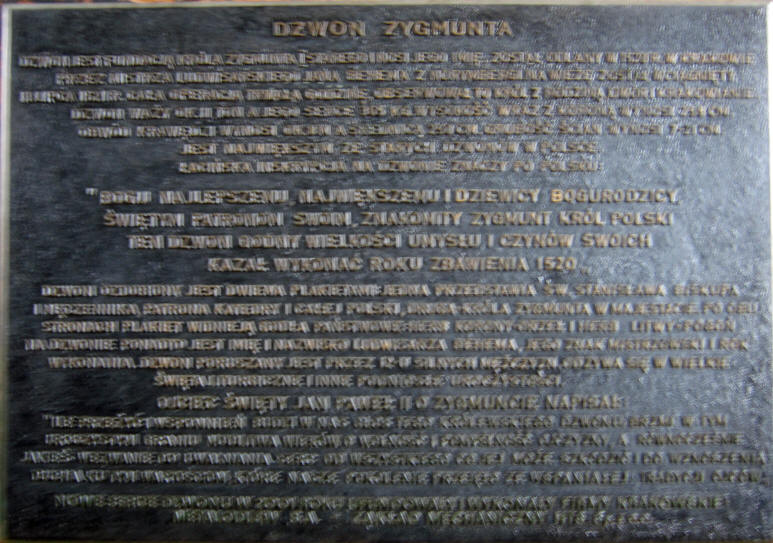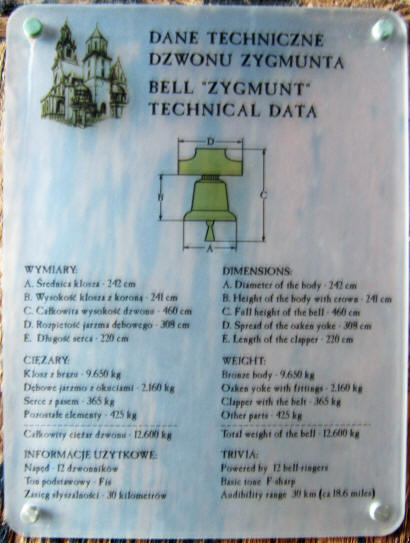 They had another descriptive sign for the bell that I enlarged so the English can be read.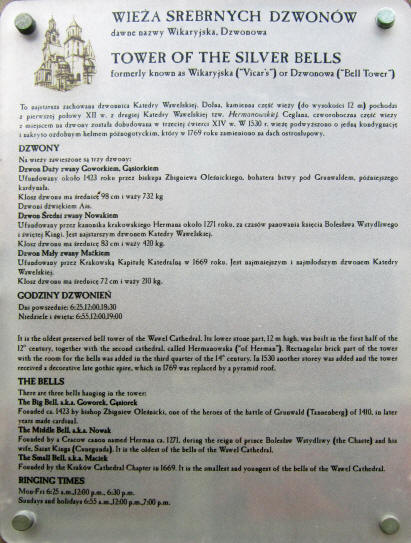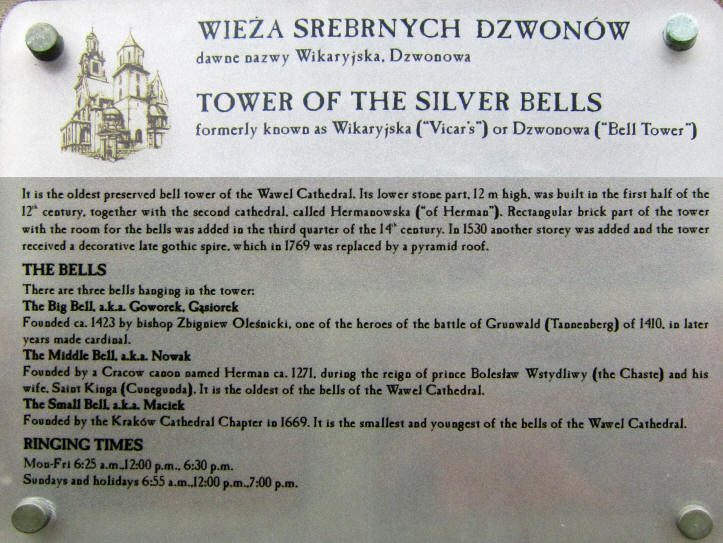 So, at 3:45 PM, I gritted my teeth and used my climbing technique to attack the 78 wooden steps (below left) straight up to the first bell (center) with the dent and then up to the famous Sigismund Bell (Dzwonu Zygmunta) (right).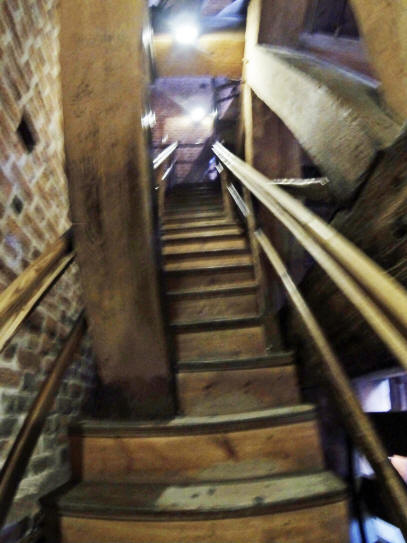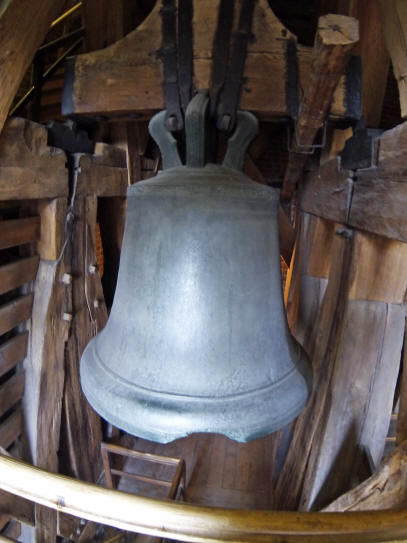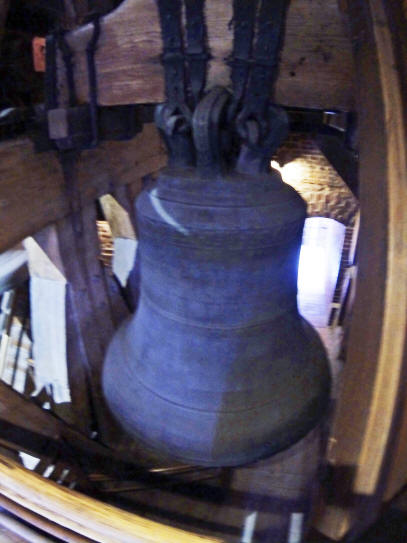 It was very difficult to get the right angle to photograph the bells and the lighting was terrible. I got one of the clapper and the inside of the bell (below center). Here are the dimensions of the big bell so it is readable.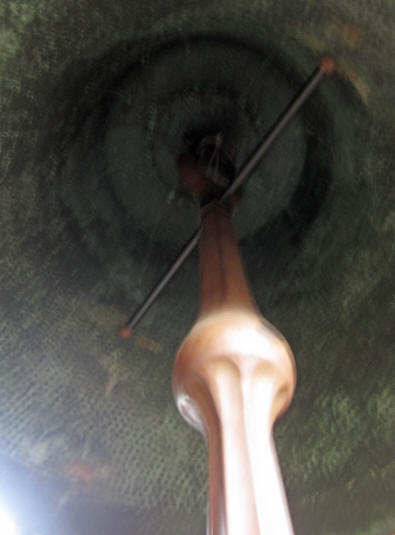 Here are stock photos which show the detail much better. See the year 1520 (MDXX); a long time ago.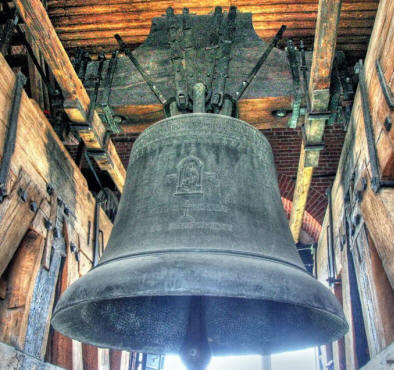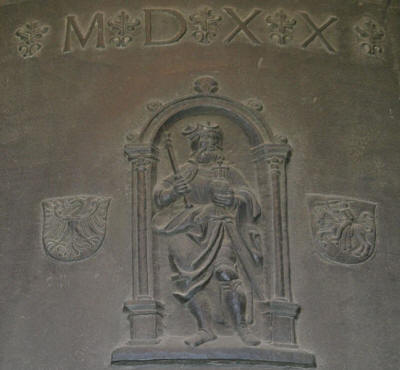 At the very top of the tower, I got this panorama of the city using PhotoStitch. St. Francis church can be seen to the left and St. Mary's church to the right with the Main Square between them. To the right of St. Mary's is the Dominican church across from our hotel.

I climbed down from the belfry very slowly because my legs were giving out very badly; I could barely walk. It took me a while. While still inside the Cathedral, I immediately found the interior entrance to the Wieszczów Crypt (or Crypt of the National Bards) and slowly climbed down there. See map (below left) in the center of the church. When you get down there, it is like a long tunnel hallway. I first came across the sarcophagus of Adam Mickiewicz (1798–1855) (foreground), whose large monument is in the city main square (later, far below). He was a famous Polish Romantic poet and is considered one of the "Three Bards" of Polish literature along with Juliusz Słowacki and Zygmunt Krasiński. He died in Istanbul in 1855 and his body was later moved and buried in Montmorency Paris cemetery in 1861 but in 1890 his body was re-entombed here in the crypt.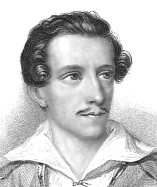 The tomb behind his is that of Juliusz Słowacki (1809–49) (right). He was another famous Polish Romantic poet as well as a major figure in the Polish Romantic period and the father of modern Polish drama. He was originally buried in a tomb at Montmartre Cemetery in Paris (below left) but in 1927, his remains were moved here (right) to the Wawel Cathedral with a huge celebratory funeral (center). He died at age 40 of tuberculosis.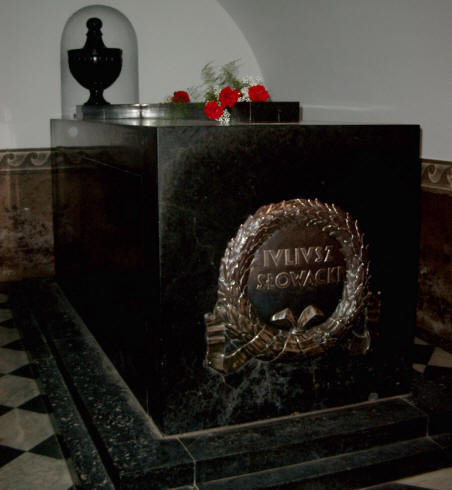 Below are my GoPro shots of Mickiewicz's tomb that I took surreptitiously and ...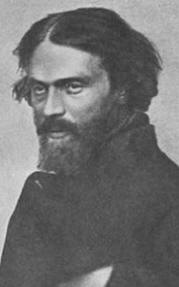 ... the other end of the sarcophagus with Mickiewicz's (left) profile on it (below left). Here are GoPro shots of Słowacki's tomb (below
center) and the marble urn in the alcove of the back wall (below right). This urn is a symbolic tribute to another famous Polish bard, Cyprian Norwid (1821–83) (right). Norwid's original and non-conformist style was not appreciated in his lifetime but his work was rediscovered and appreciated during the Young Poland art period of the late 19th and early 20th Century. He is now considered one of the four most important Polish Romantic poets. He lived for a year in New York City, arriving in 1863. He also died of tuberculosis at age 62 and was buried in Paris' Montmorency cemetery (as was Mickiewicz). In 2001, 118 years after his death, this urn, containing soil from his grave, was enshrined here. His image (above right) in bronze is in the Cathedral.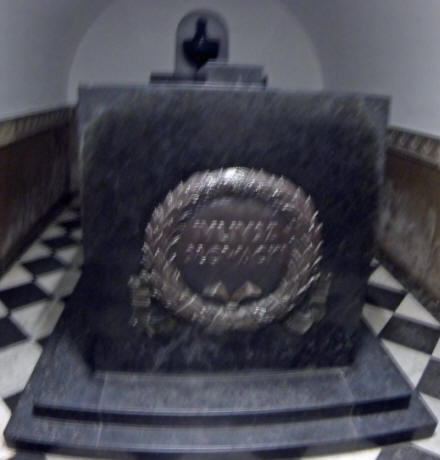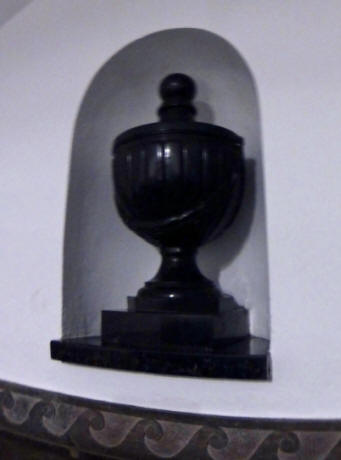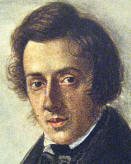 Frédéric Chopin (1810–49) is buried in Pčre Lachaise Cemetery in Paris [which I visited in our 2010 Paris trip]. Below left is his Paris grave. However, after WWII, in 1945, his heart was brought from Paris (below center) to the Holy Cross Church in Warsaw and placed in a column in the church (below right). The Poles are very proud of their most famous child prodigy composer and solo pianist who started out in Warsaw but spent the last 18 years of his life in Paris. He is honored here with the plaque.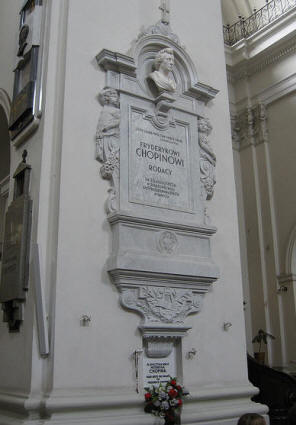 He died much too young, at age 39, from either tuberculosis or cystic fibrosis, cirrhosis or alpha 1-antitrypsin deficiency. Below are stock photos of his death bed scene painting and the death mask they made.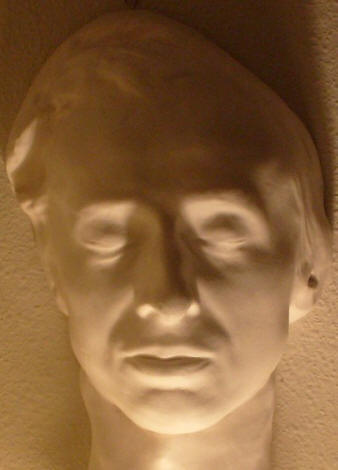 Below is the only known photograph of Chopin. On the right is the memorial plaque to him here in the crypt.
At 3:55 PM, I climbed back up the stairs to see what I had missed in the Cathedral. I saw a lot (below) but without my own photos, I remember little.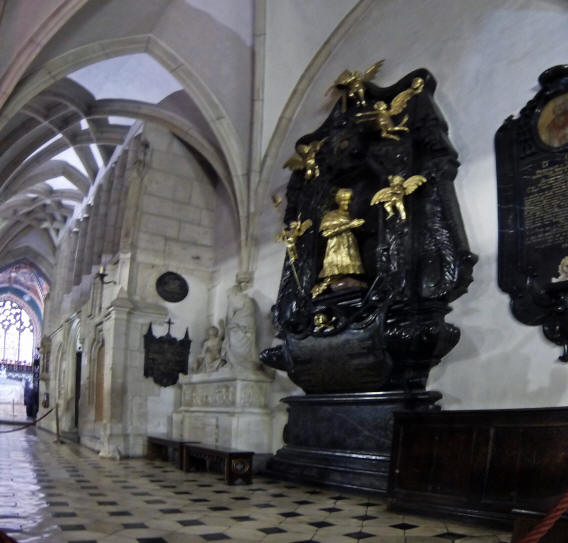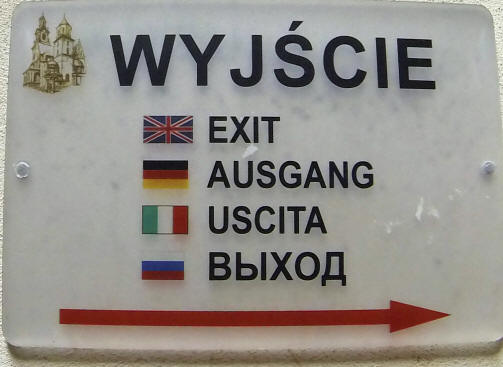 I finally found the exit and walked through this passageway (below) which takes you out to the Royal Castle.
Unfortunately, it was now just after 4:00 PM and the Castle was closed. So I went into their souvenir shop and wound up buying a Polish coin set for Ź65 ($21.29), a small figurine of St. Mary's Church for Ź15 and a map of Poland for Ź10. Since I missed going in the Royal Castle, here is what I missed:
The following are the permanent exhibitions of the Castle:
1) Royal Chambers (State Rooms) - historical interiors, tapestry collection of Sigismund II Augustus,
royal portraits, Italian Renaissance furniture, Italian and Dutch paintings of the 14th to 17th century.
2) Royal Private Apartments - rooms where the Polish royalty lived and period furniture and art.
3) Crown Treasury and Armory - regalia, jewelry, precious weapons, armors and caparisons; Polish and
West European. Oriental Art: Chinese and Japanese ceramics, Turkish tents and banners, Turkish and Persian weapons and carpets.
4) The Lost Wawel - archaeological and architectural reserve of the early 11th Century church of Sts.
Felix and Adauctus with objects excavated by archeologists on the Wawel Hill; ornate
stove tiles of the 16th and 17th Century. Multimedia presentation of the Wawel Hill's history.
5) Dragon's Den - big cave said to be the fiery monster's hideout (stock photo below).
I missed all of this. The Castle Senator's staircase circa 1600 and the Castle Birds Room. [Stock photos]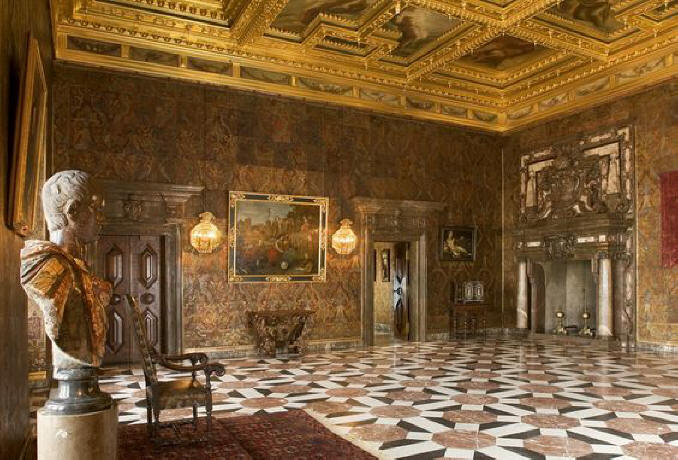 The Castle Baroque Eagle Room and the Castle Sigismund III Vasa Chapel circa 1602 (reconstructed).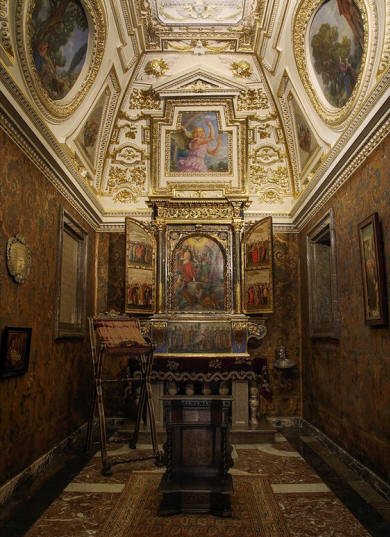 I did walk around the Castle courtyard and got these shots using my Canon and PhotoStitch.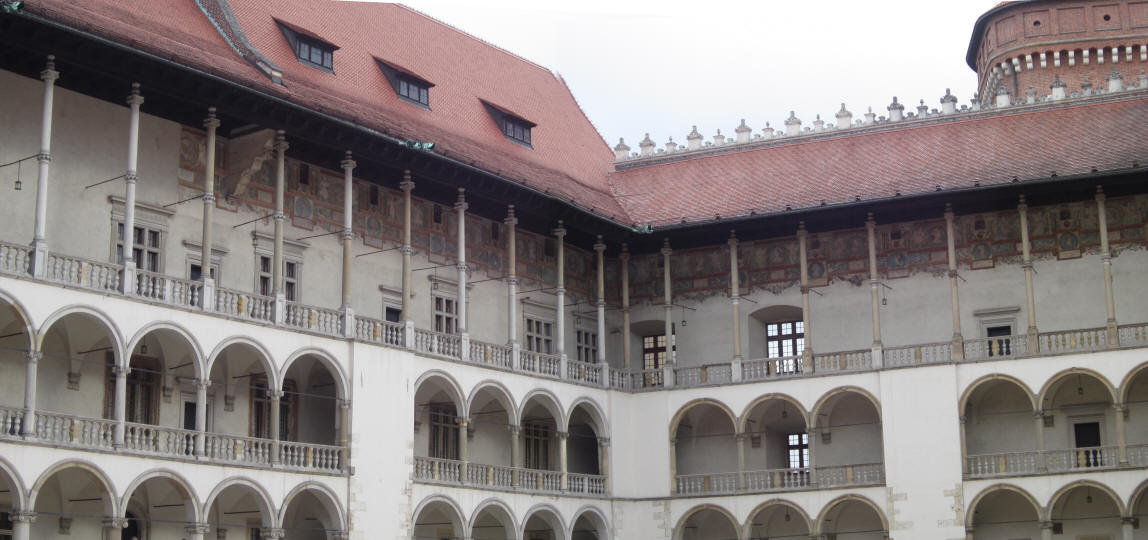 They have these signs outside showing the different stages of recovery of the Castle. I blew up the part in English on the right. As usual, if uninteresting, just scroll past them. The first is concerning the earliest use of the Castle in the 18th Century.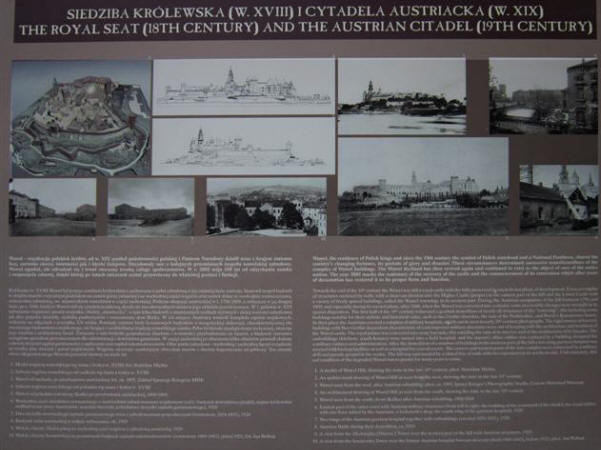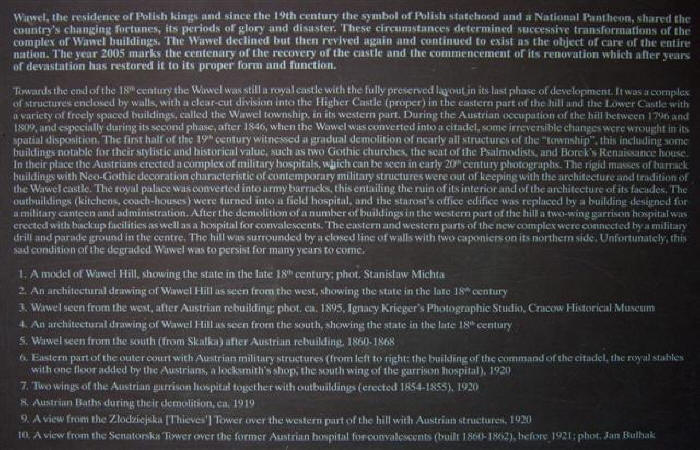 Then regarding the return of Wawel Hill to the Polish nation.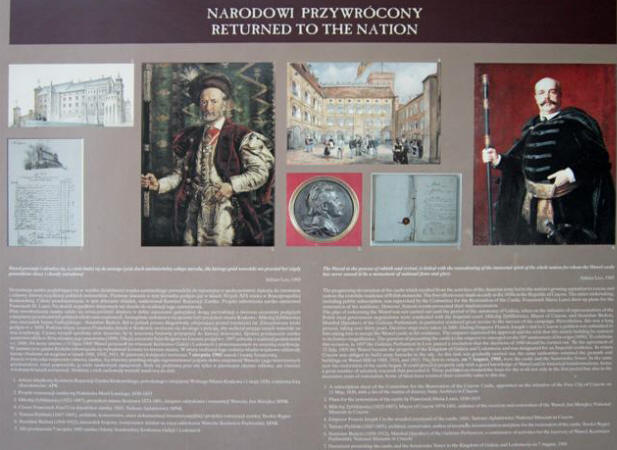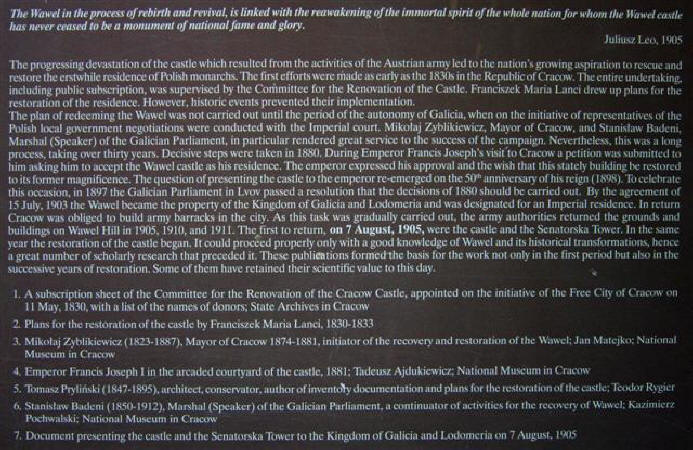 Then about the First Restoration (1905-14).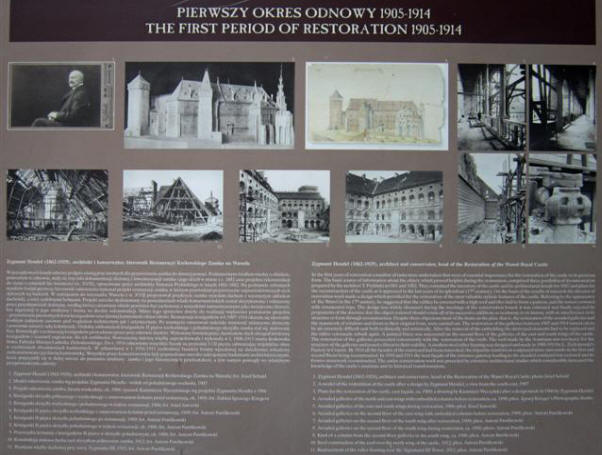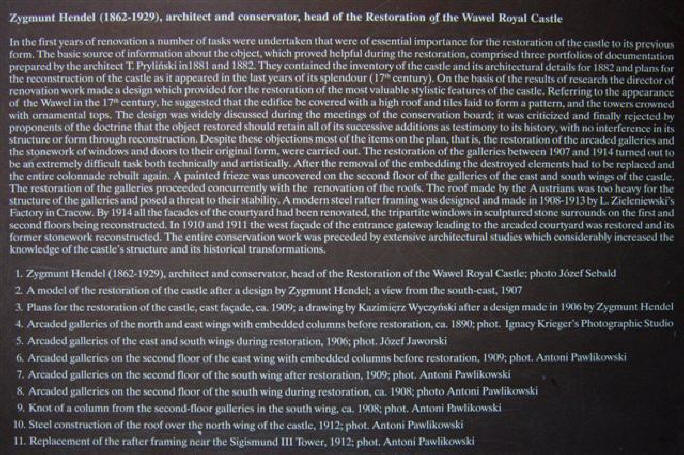 Then the Second Restoration (1916-39).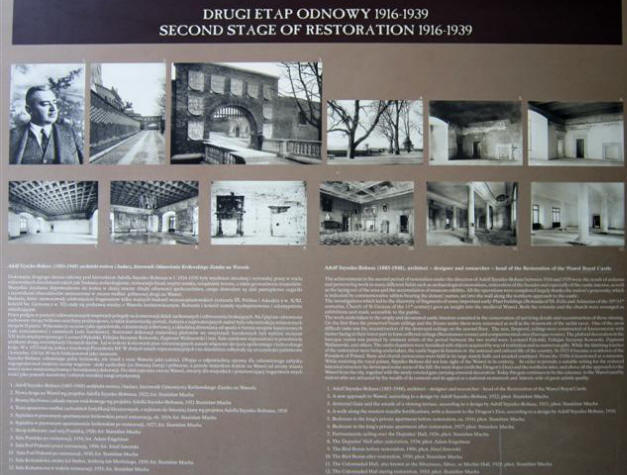 I was finally leaving the Wawel Hill grounds and passed by the main Castle ticket office (which was closed) and as I passed the entrance to the Cathedral a man offered to take a photo of me at the Cathedral door.
I headed back down the slanted walkway at 4:25 PM and on my way down there was a little girl with an accordion and a tip dish that I took a picture of. The minute I did she jumped up and started yelling and screaming as if I was attacking her. It was quite scary. I hurried off quickly.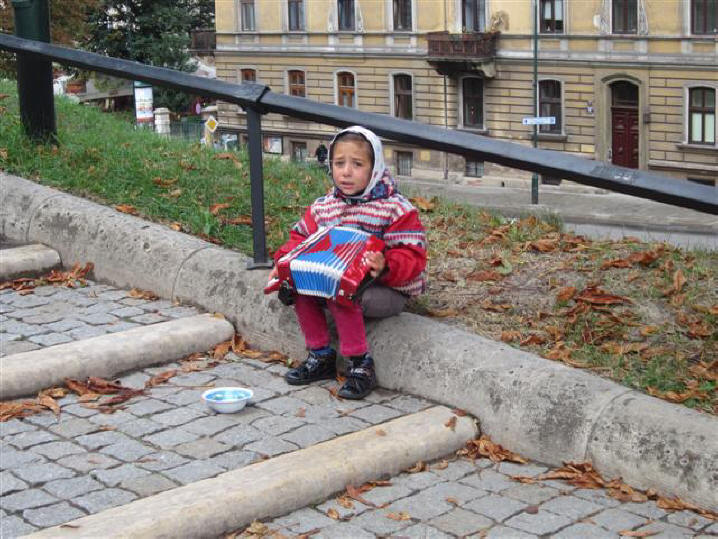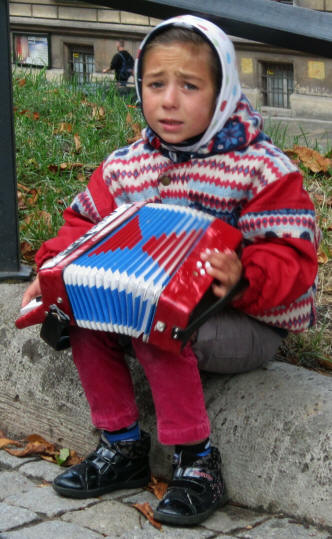 I started walking down ul. Podzamcze and made it to ul. Kanonicza (below left).


I kept walking to find the places associated with John Paul II and at 4:30 PM I arrived at the Hotel Copernicus [ul. Kanonicza 16,
+48-12-424-3400, 800-916-4339] (above right/below).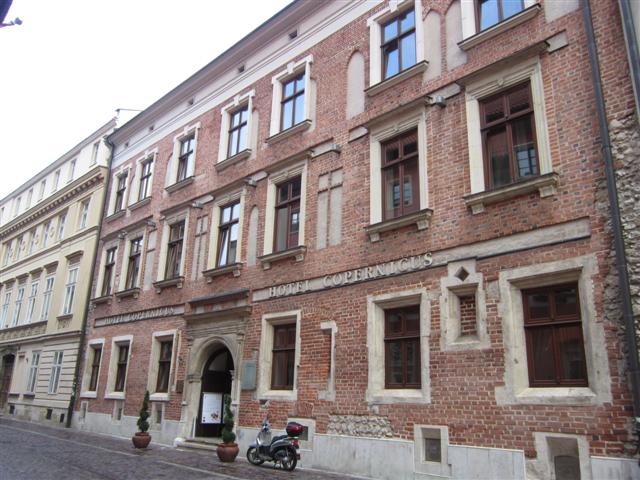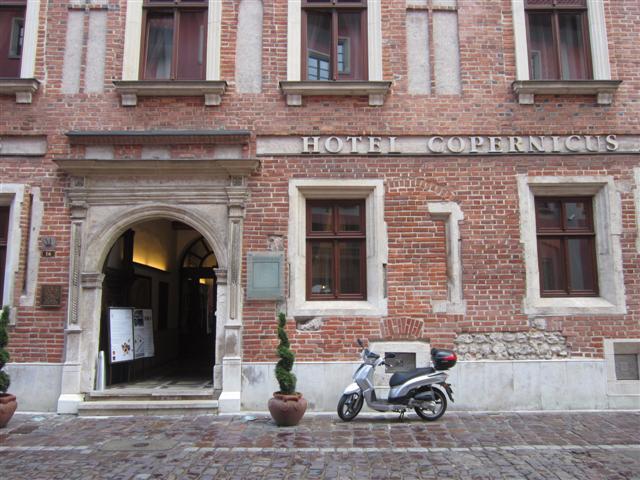 It looks like a very nice place to stay (5 star). Here are some stock photos from their website. Here are views of their lobby.
Below is their pool (from their website). You can see their logo (below center) in the floor of the pool. It is Copernicus' map of the Solar System.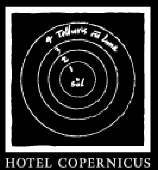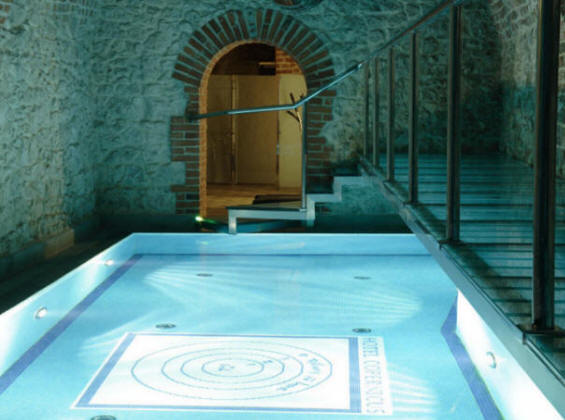 The remainder are their dining rooms ...

... and their lovely dining patio with scenic views of Wawel Hill (below right).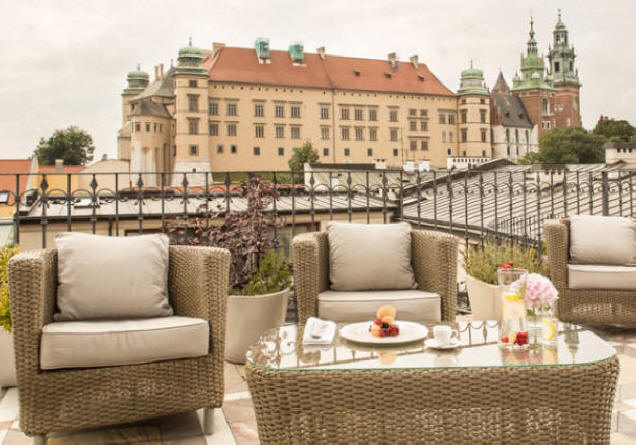 I went inside and took this photo of an ancient map of Kraków.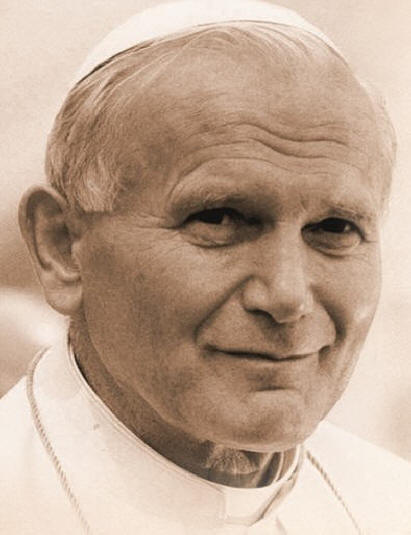 Next door is the John Paul II Center [ul. Kanonicza 18,
+48-12-429-64 71] founded in June 1995 which, of course, closes at 4:00 PM.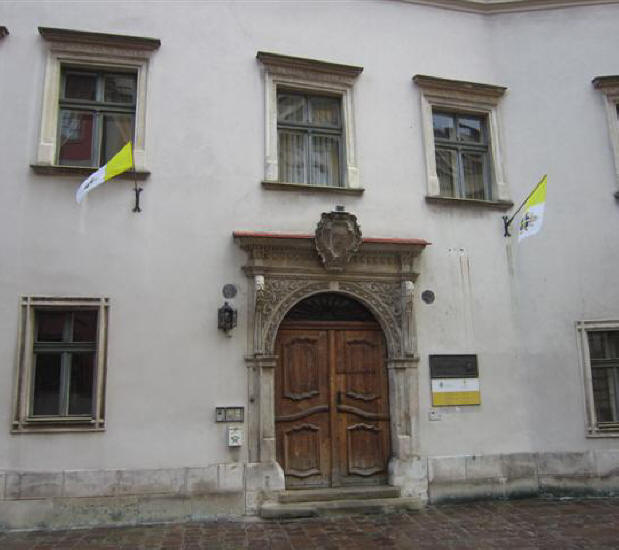 Then, right next door to that, at No. 19 is the House St. Stanislaus, and the apartment where Fr. Karol Wojtyla lived from 1951-67. It is now the seat of the Archdiocese Museum in Krakow (of course closed now). It was originally built in 1370, destroyed in 1768 and rebuilt in 1790. Below are my photos of it.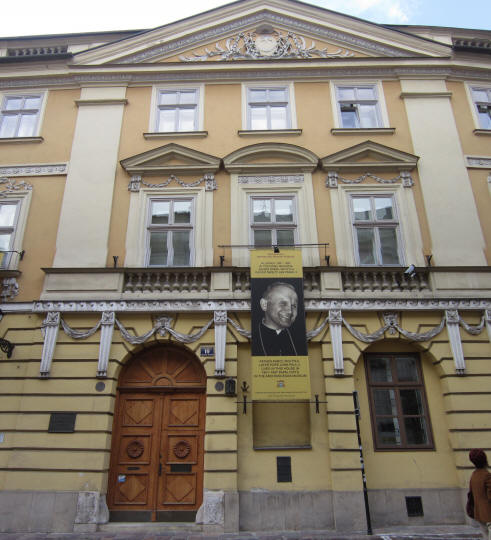 Below left is a stock photo of it and below right is where he also lived at 21 ul. Kanonicza, the so-called Deanery which was built in the 2nd half of the 14th Century.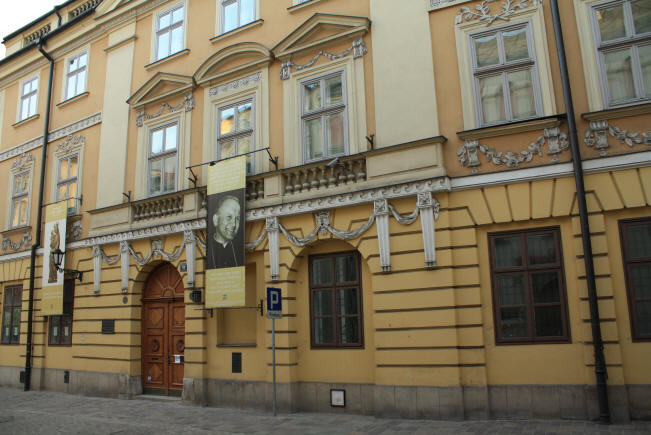 Then farther down at No. 15, I came across Smak Ukraiński [15 ul. Kanoniczna (since moved to ul. Grodzka 21),
+48-12-421-9294], a little Ukrainian restaurant for coffees and desserts.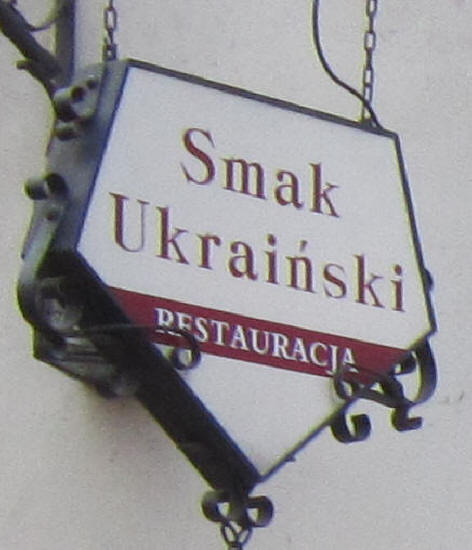 Below is a photo of their new Grodzka location (they kept the sign) and the interior from their website.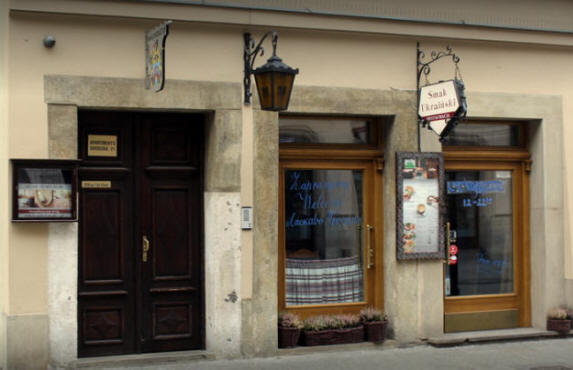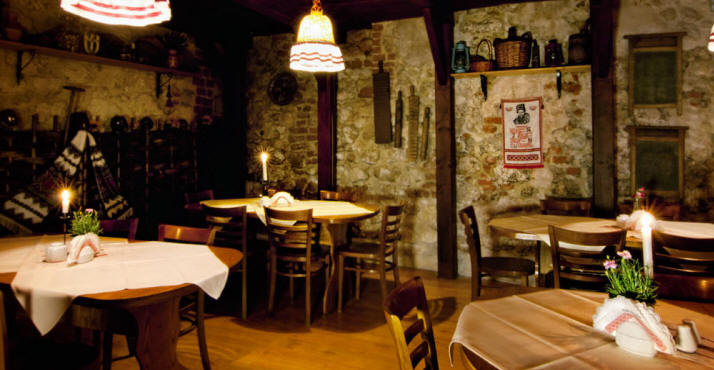 I walked by the Spanish Consulate housing the Institute Cervantes (the Centro Cultural Espaňol).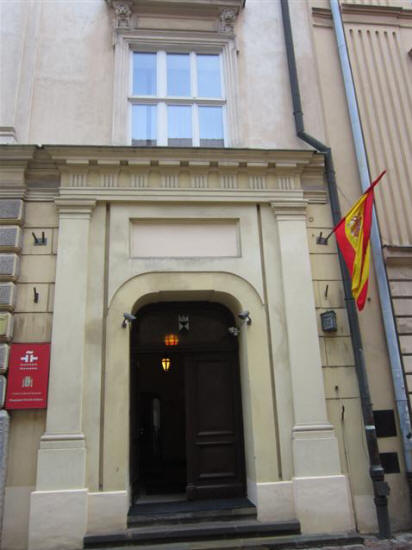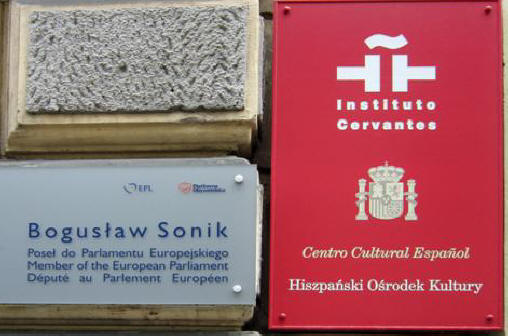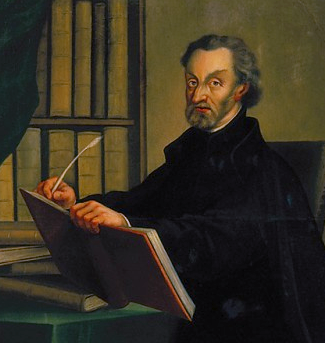 Then I came across Mary Magdalene Square (Sw. Marii Magdenleny) which lies between Kanonicza and Grodzka and is a quarter acre in size (10,732 ft2; 997 m2). In the center is its monument to Piotr Skarga (1536-1612) (above right), a famous Jesuit writer who was a leading figure in the Polish-Lithuanian Counter-Reformation, known for his popular book on the "Lives of the Saints".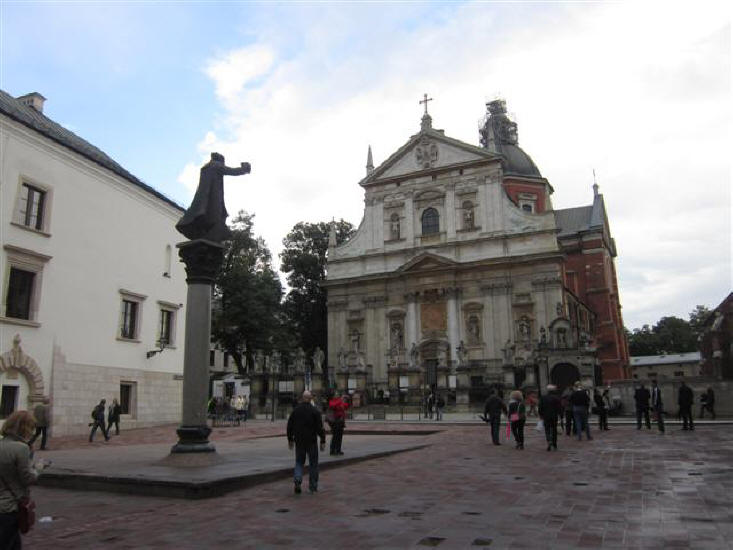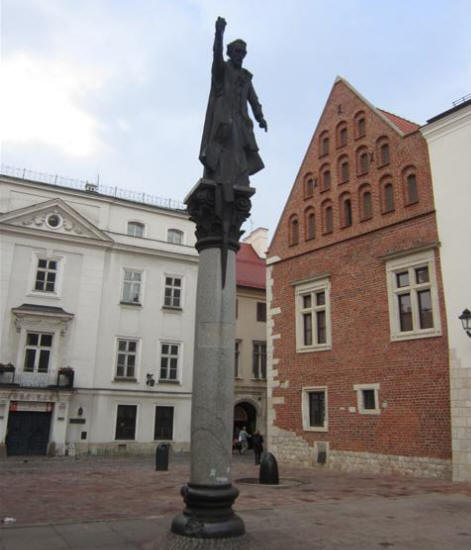 Below are two stock photos showing him in more detail.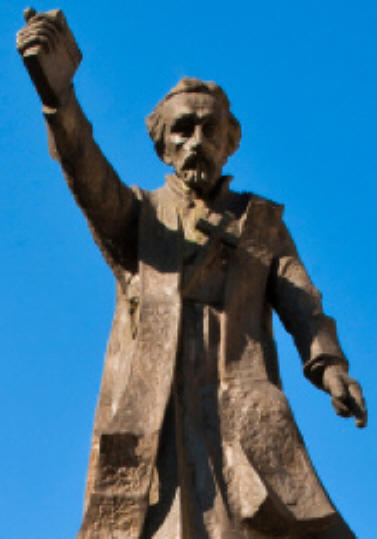 The two churches bordering the Square are St. Peter and Paul (below left), the first Baroque church in Poland and the Church of St. Andrew (below right). I took photos of them on the first night we were here.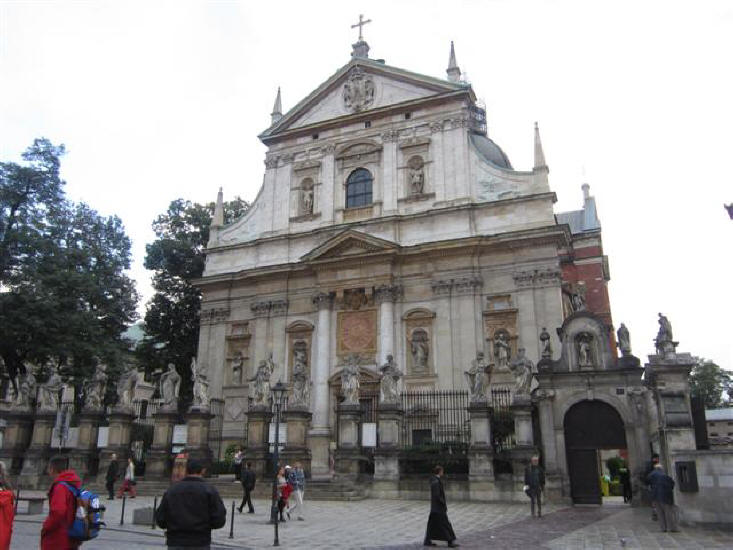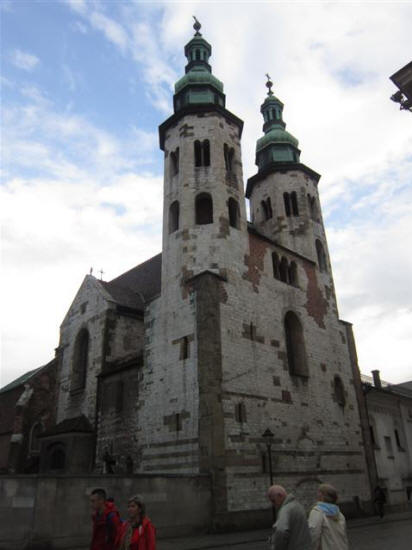 Below are three stock photos of the Square; left is a night shot of the church and right is looking across the Square to the other side.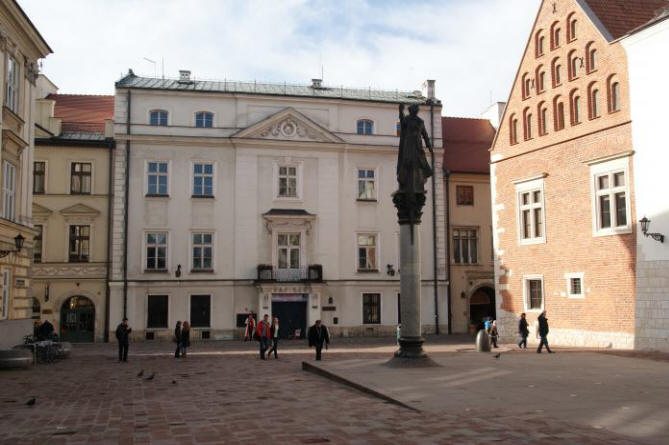 I turned from the Square and looked down Grodzka (below left) with St. Andrews on the left side and you can see at the end a little white church. Here is the value of the high megapixel photos with this Canon camera that allows me to blow it up so large that I can get a shot of that church (below right). See how clear the leaves on those trees are. Both photos below are from the same picture.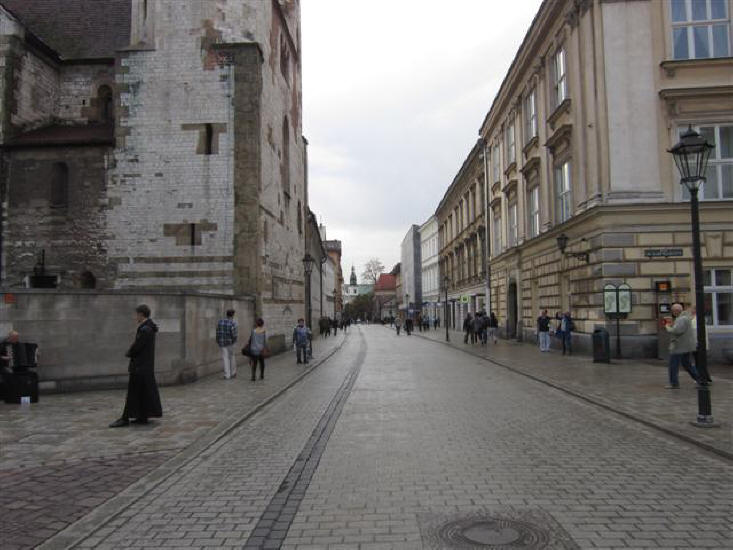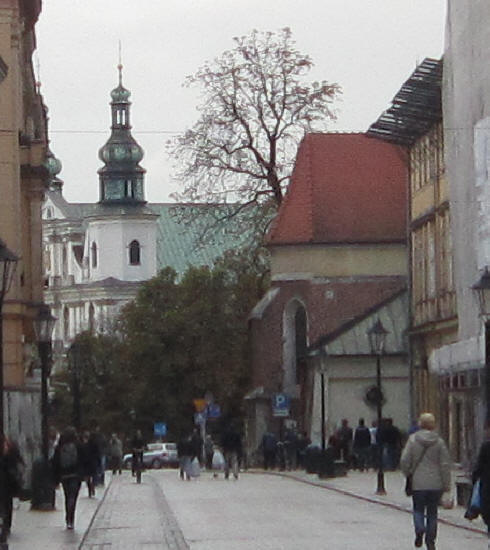 On my way down Grodzka, I walked by the Balaton Etterem Restaurant where Marcia had lunch and took some photos (way above) and also got better photos of the murder victim of September 7th (yesterday). I was back on Grodzka street. At 5:00 PM I took some pictures of the Wieztka restaurant we went to and its entry reception.
While I was at it, I got another type of police car. Below right is what that ad photo screen covering the building construction looks like when you PhotoShop it. Below right is a Kantor Exchange with its rates - you can see US $ was going from Buy 319.58 zł to Sell 301.75 zł.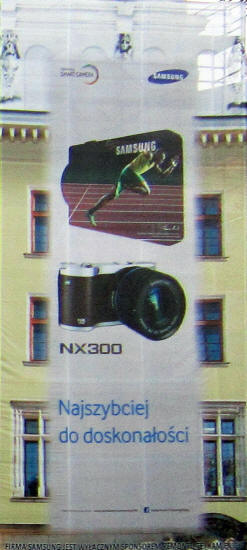 Then I arrived back in the main Square and put together some more PhotoShop panoramas. Below (with the obvious glitch) is the view to the left.
This one is looking to the right with the Cloth Hall on the left and St. Mary's church in the distance (right).

I went by and into this music and video store selling souveniers.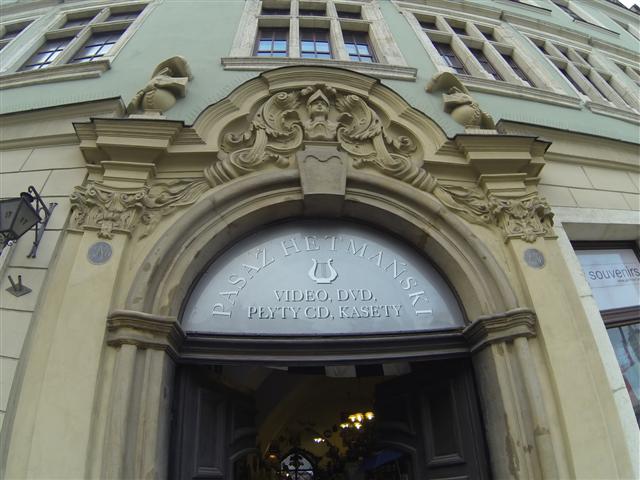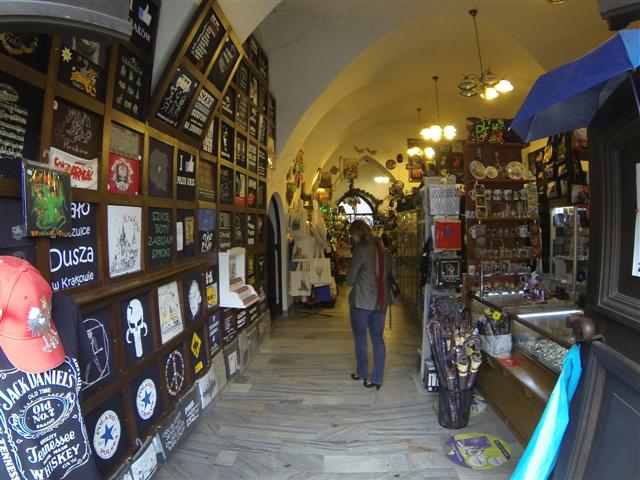 Nearby was the Restaurancja Tradycyja [Rynek Główny (Main Square) 15,
+48-12-424-9616] which is a rather fancy Polish-Italian place.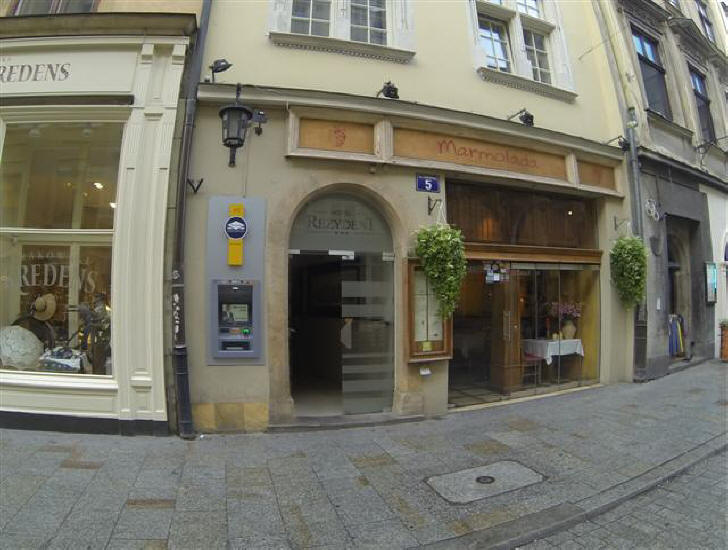 From there website you can see it is quite nice upstairs and down.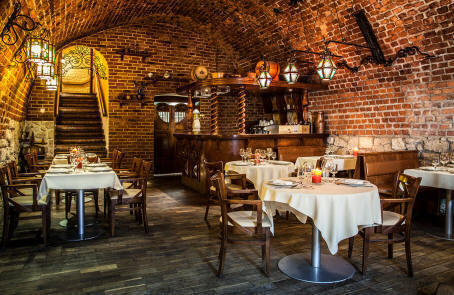 Here are the pretty streets leading into the Square. I got this shot of a Źywiec beer emblem in metal.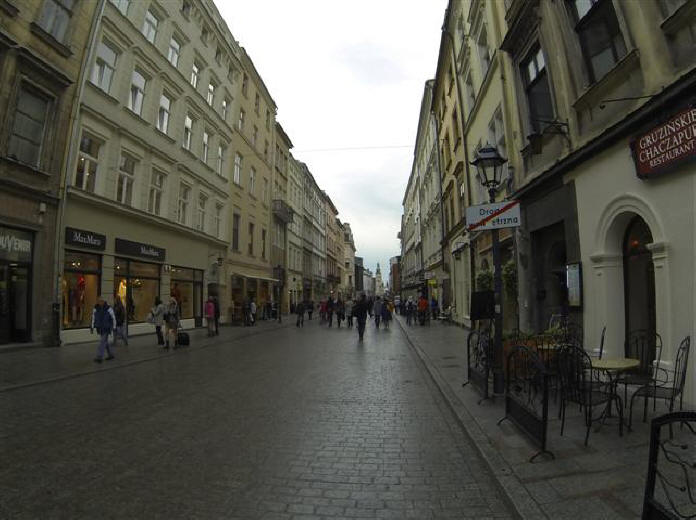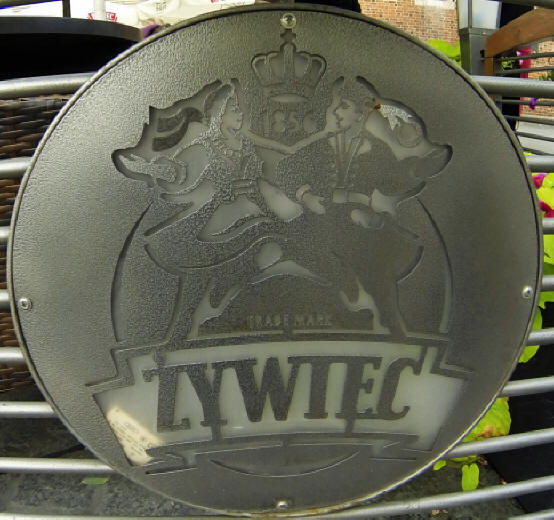 A couple of doors away is the Wentzl Hotel [Rynek Glowny 19,
+48-12-430-2664] bragging that they are the only hotel in the Market Square (stock photo below right).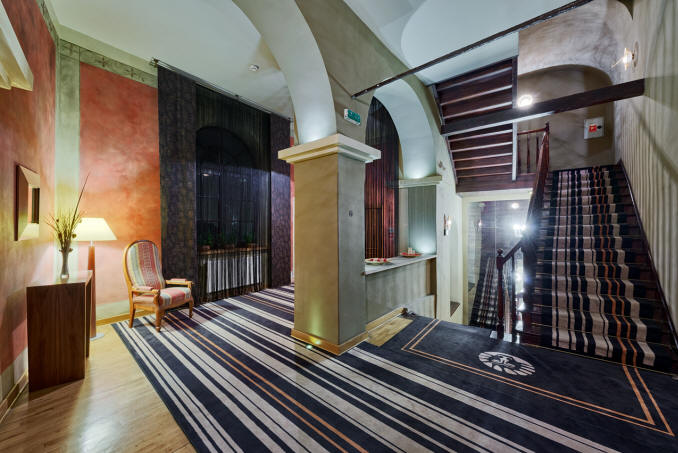 Here are photos of the interior (above right, below left) from their website and exterior shots ...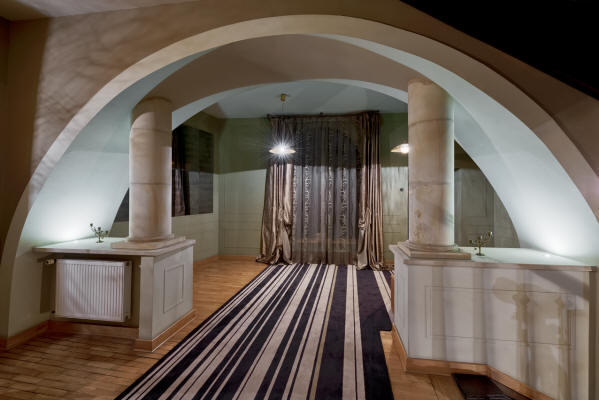 ... as well as beautiful photos of their position on the Square.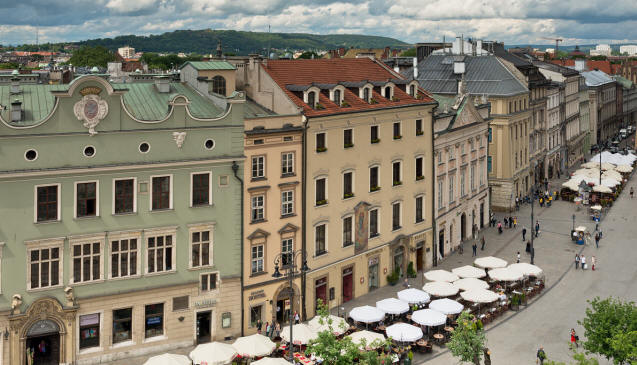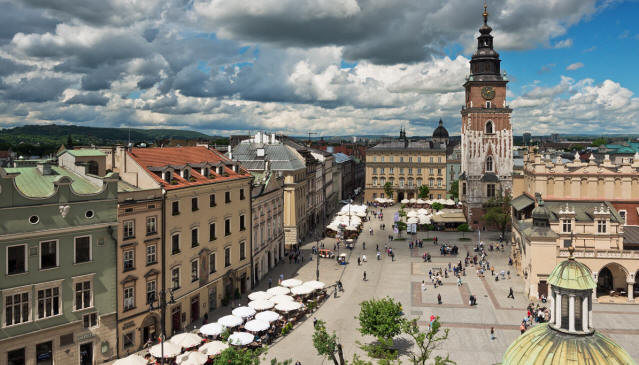 They also had this very nice photo of the Cloth Hall at night.
Before I got further, I got this photo (left) of the little St. Adalbert church (stock photo below right).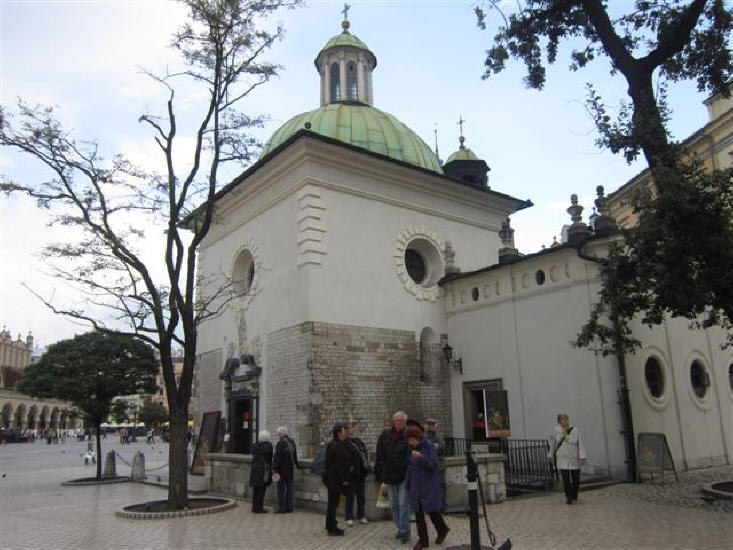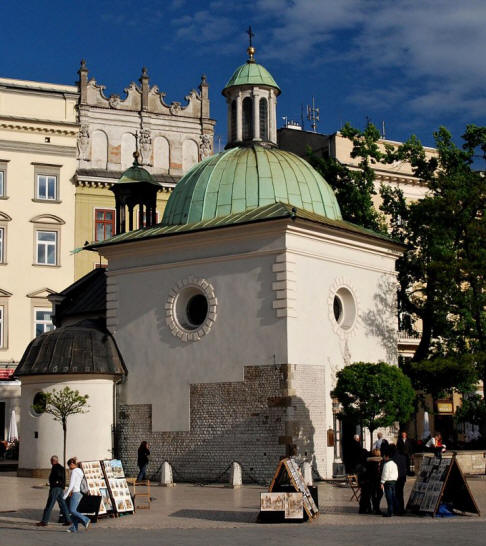 Of course it was closed at this time so here are stock interior photos of the altar (left) and the organ (right).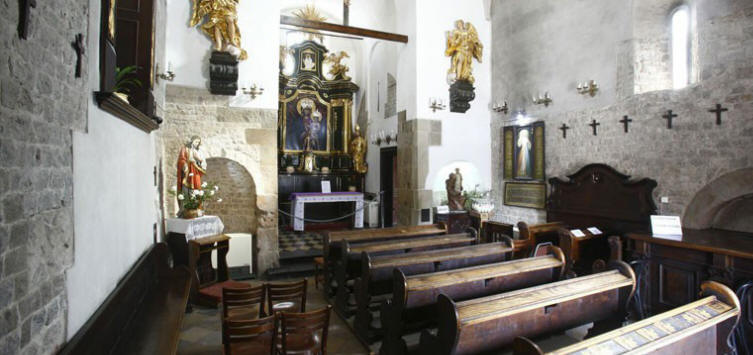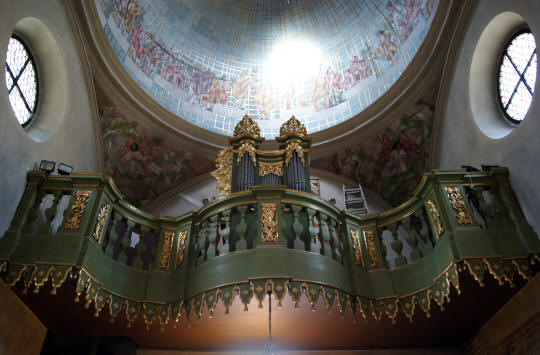 Now looking again to the left is my PhotoStitch photo of the City Tower to the left of Cloth Hall.
When you get to the center of the square, you cannot miss the statue of Adamowi Mickiewiczowi, the greatest Polish Romantic poet of the 19th century (see above). It was unveiled on June 16, 1898 on his 100th birthday.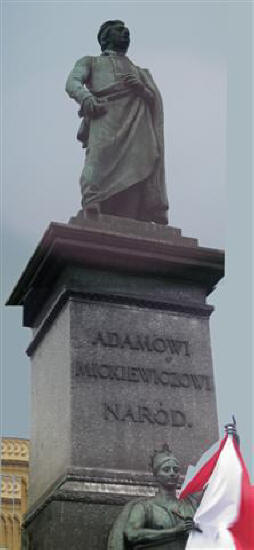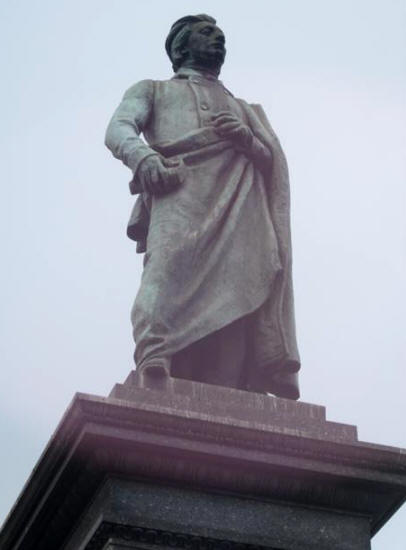 I was difficult getting a clean shot of it because there was a demonstration going on.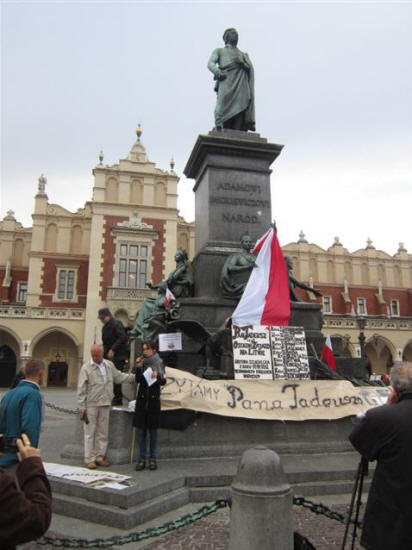 Here is a stock photo of it I found and a photo of what the Nazi's did to it after taking Kraków.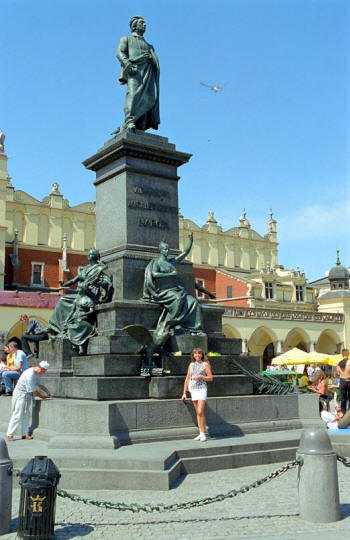 At 5:10 PM I wanted to visit St. Mary's church but no inside photos are allowed; very tricky. On the outside was this plaque about John Paul II.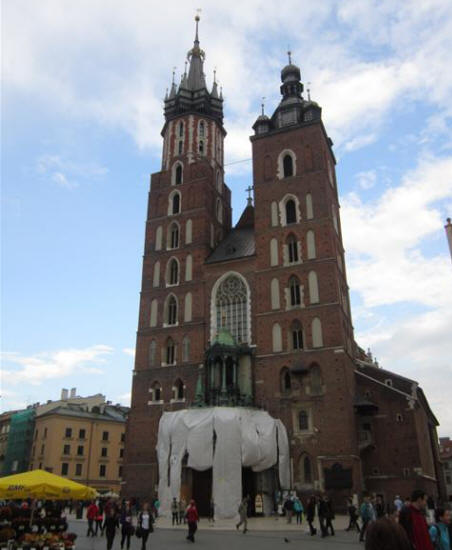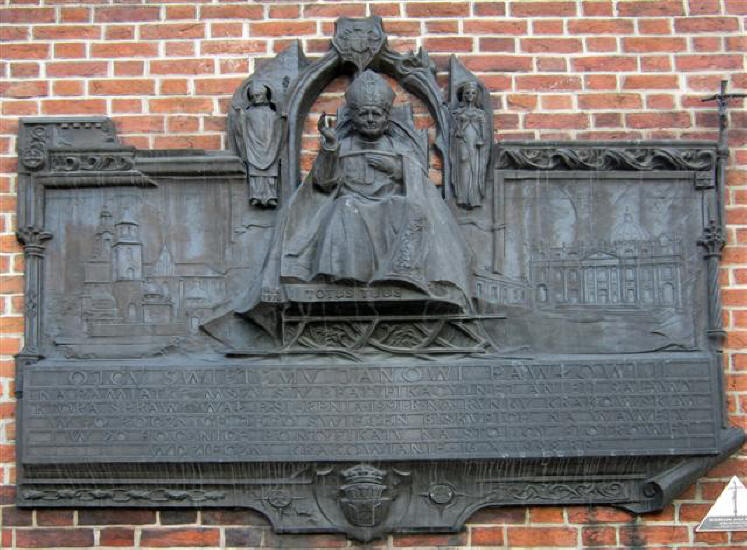 There was another (below) to Antoni Dolega, a bugle caller. It says "On 3 July 1901 years on duty in the highest tower of St. Mary went to eternity firefighter - bugle call player Anthony Dolega."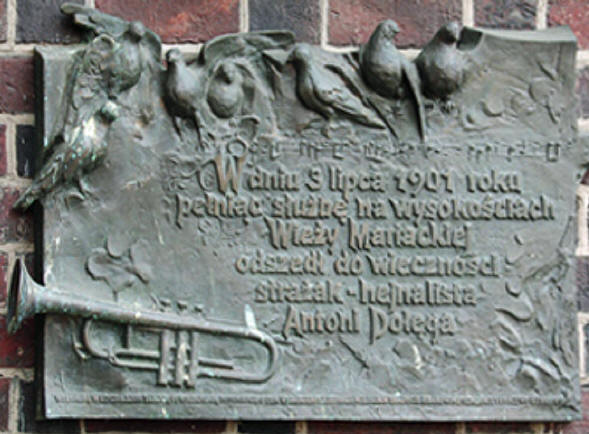 The bugle call (hejnał) is inseparably linked with St Mary's Church. It is played every hour on the hour (for over 600 years) from the taller church tower (266 ft, 81 m) by duty guards and marks the time. In the past it served as a warning of fires or enemy attacks. It's also the subject of a legend of a mediaeval bugle player who sounded the alarm on spotting approaching Tatar hordes. He was able to warn the city, although before he could finish playing, his throat was pierced by an arrow fired by one of the invaders. Ever since then the melody stops abruptly in the same place when he was killed playing it.
After going inside this big beautiful church, I was able to get a few photos but they aren't great. Left is the main altar, center is the pulpit and right is the votive candles.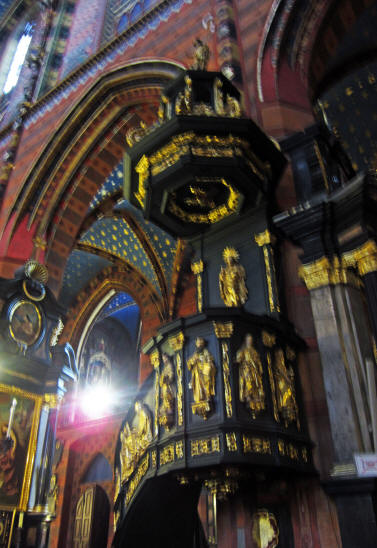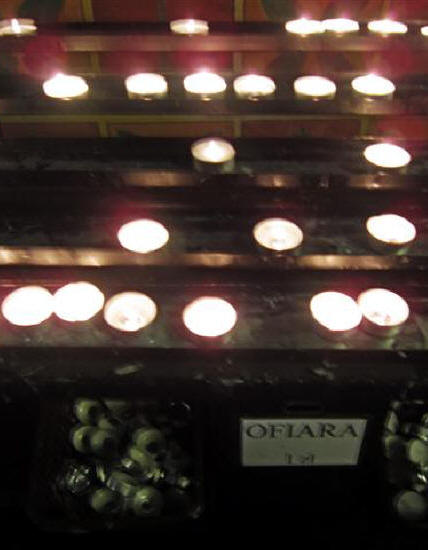 I lit a candle for my brother Gary (above right). Now here is a spectacular stock photo of the altar and ...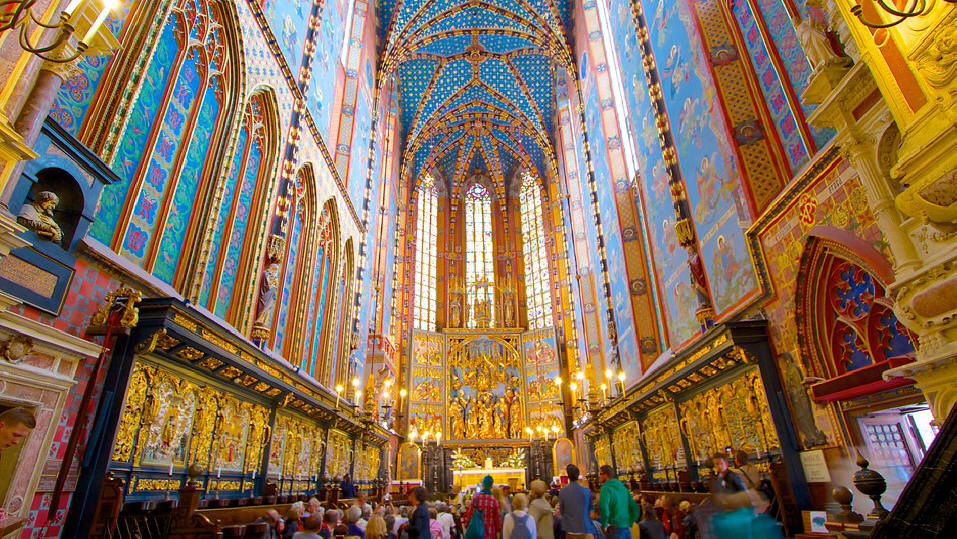 ... the incredibly beautiful cieling.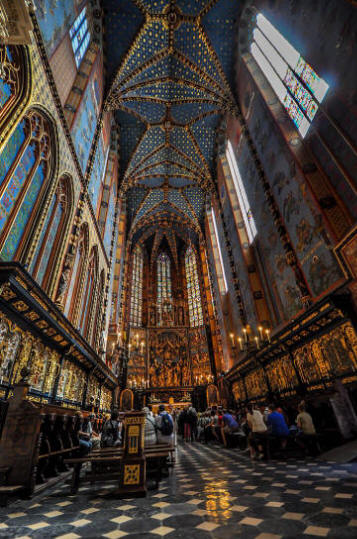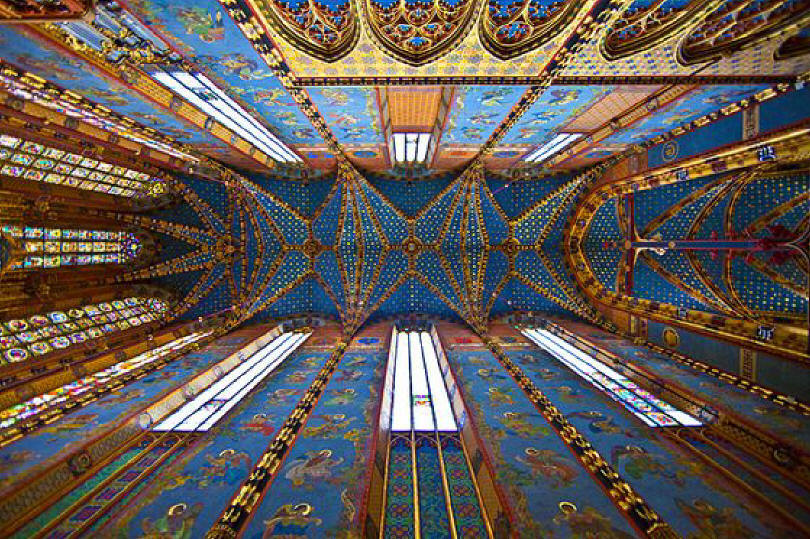 Here is a closer look at the splendid triptych behind and above the altar.
I wasn't in there long, so at 5:15 PM I headed over to really see the interior of the Cloth Hall. It is a very long series of merchandise booths.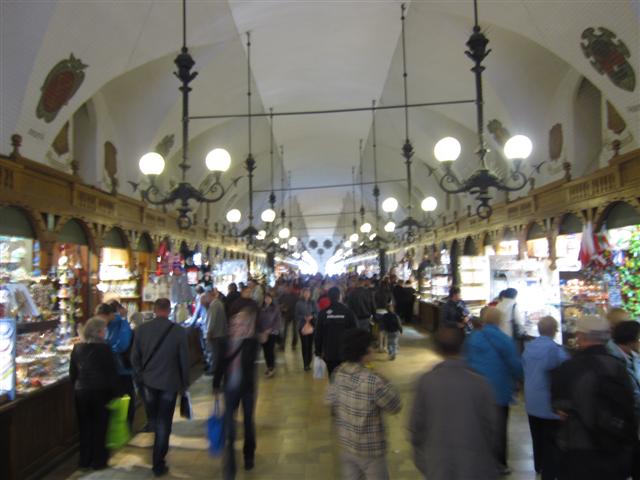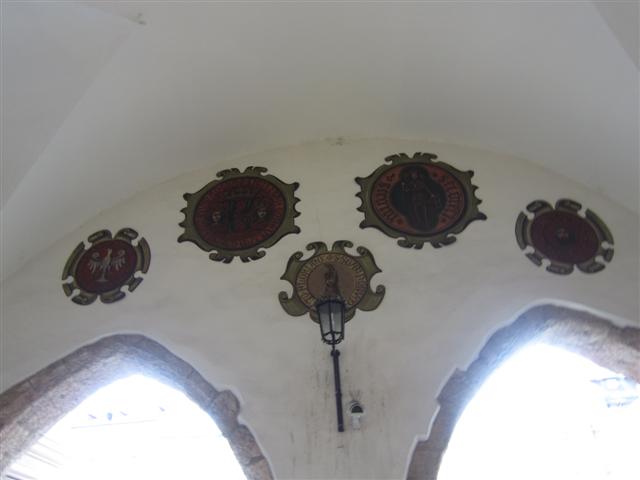 I took some example photos of the individual booths.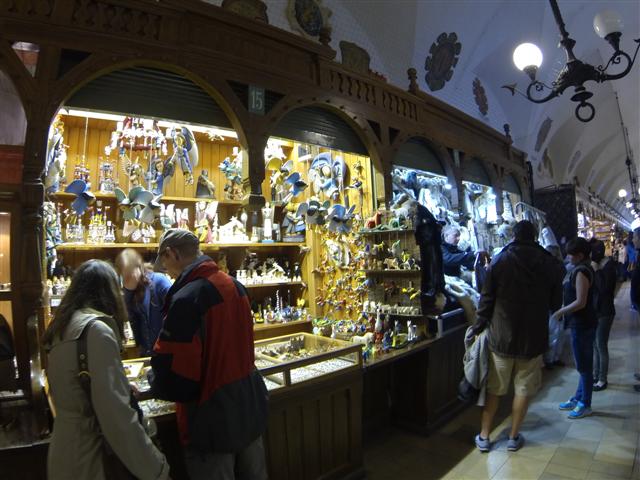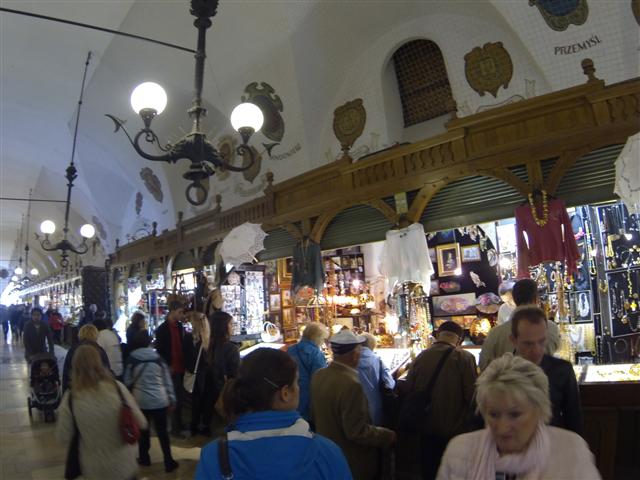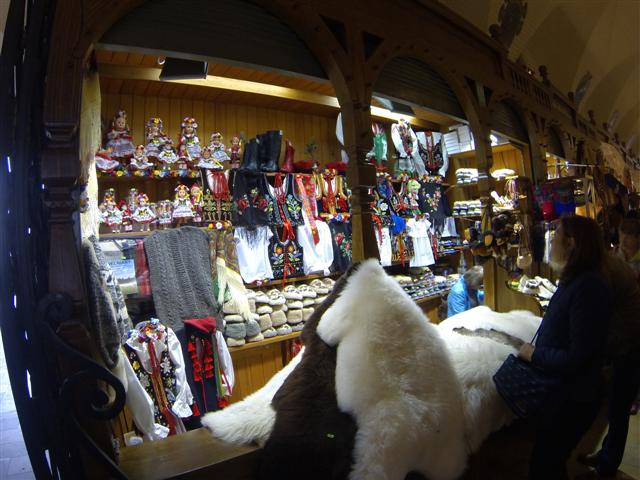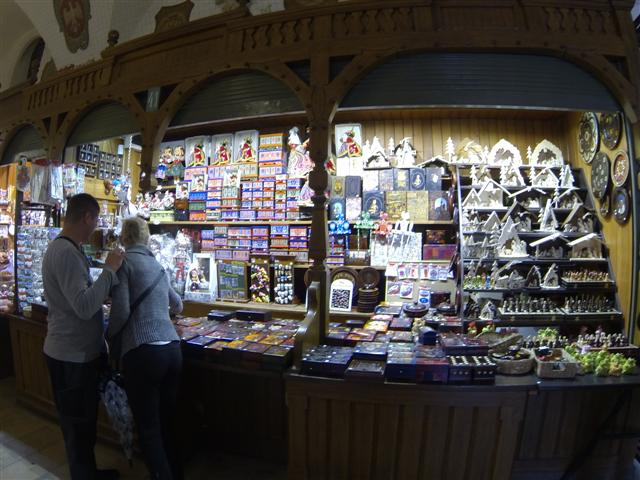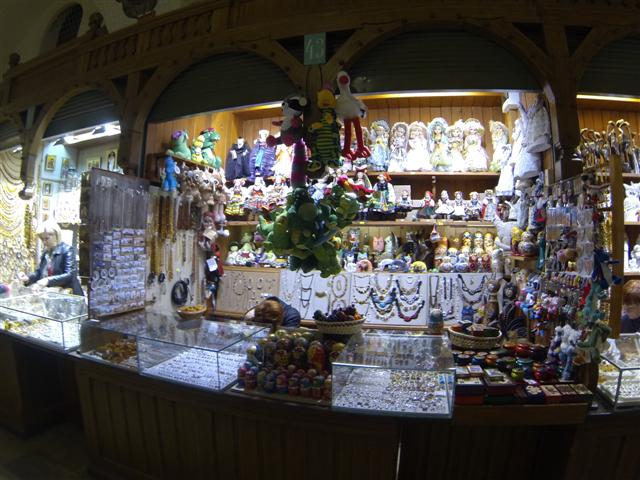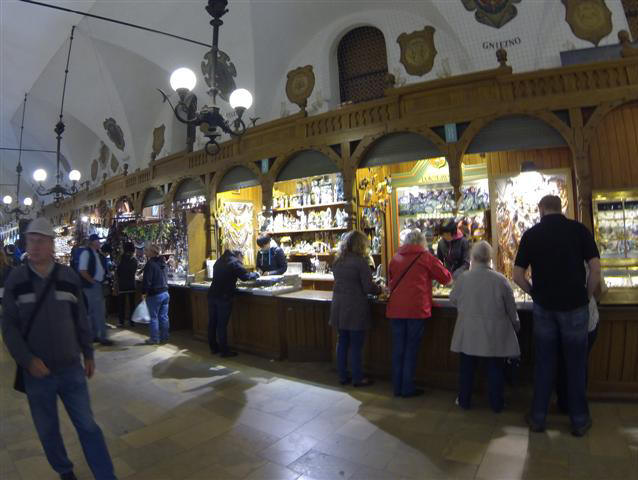 I never saw anything I needed to lug home on the plane. The plaque says this has been here since the 13th Century, was extensively "modernized" in the 1970s and restored again about three years ago.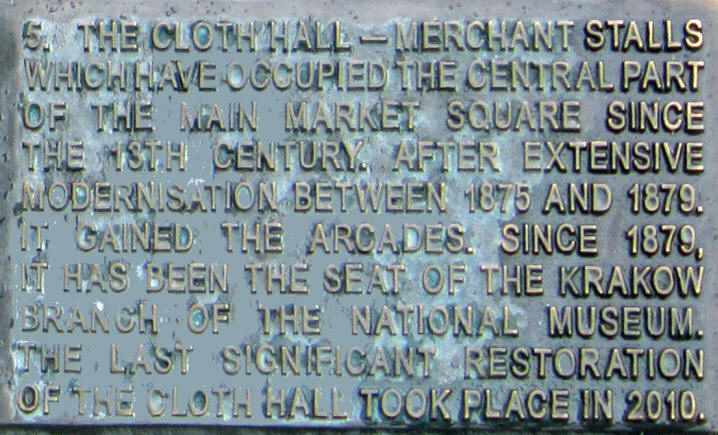 Outside was this metallic model of Cloth Hall with plaque (above) in English on the right lower end..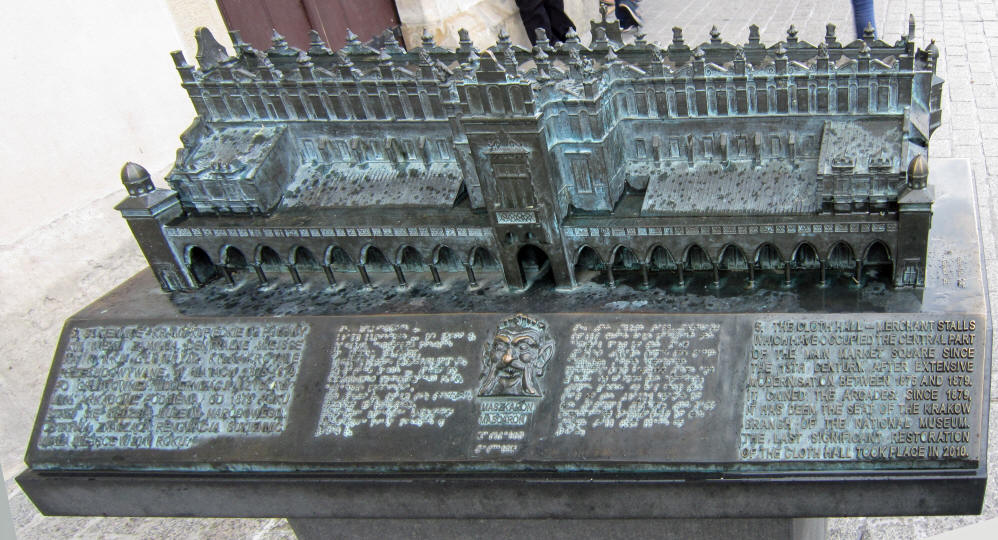 Near here is this huge sculpture of a head called "Eros Bound" by Igor Mitoraj (1944–2014), a Polish sculptor (above right). This massive piece is almost 12 ft (3.5 m) long with a height of over 6.6 ft (2 m). I can't believe I didn't take a picture of it, so here are two stock photos I found.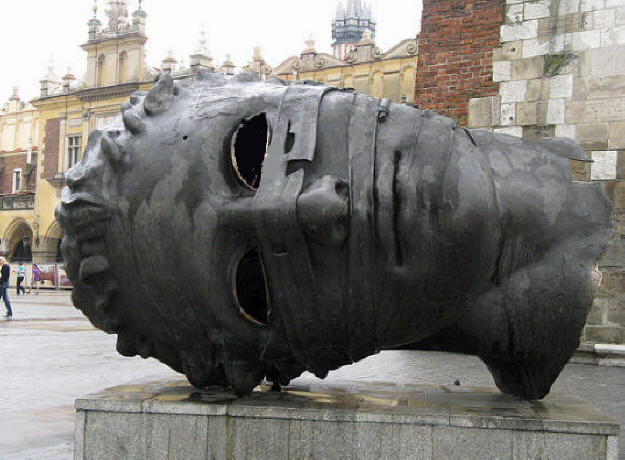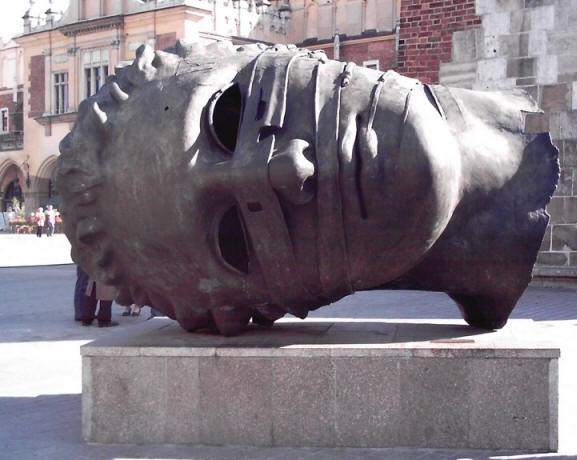 This (below left) is another of his works in Regensburg, Germany titled "Centurion III". I then headed over to take a photo of the City Tower (center) and the plaques on it.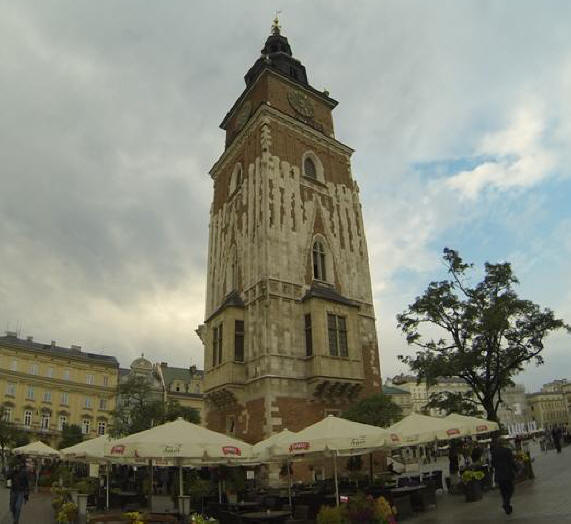 This one below left is regarding John Paul II and says: "You gave us faith and hope, you gave us solidarity and freedom. Father bless every day of his beloved city and our homeland." While I was doing this, at 5:20 PM, Marcia was buying clothes at H&M [Galeria Krakówska, Pawia 5] (below center/right).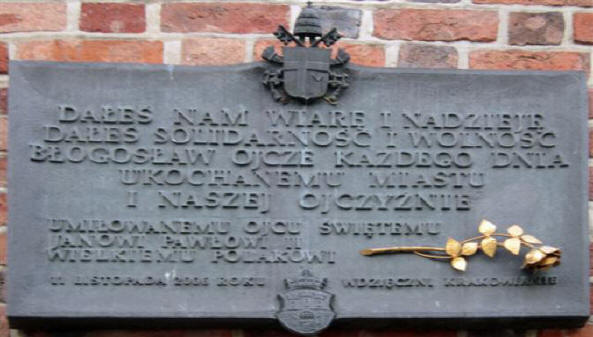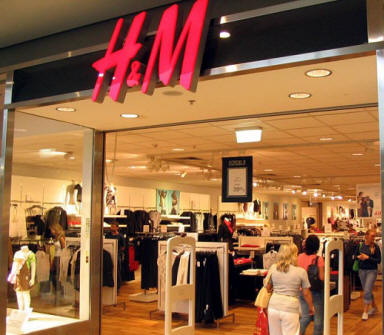 I left the Square and turned right up ul. Dominikanska until at 5:25 PM I arrived at St. Francis Basilica (below left). I knew this was John Paul II's parish church.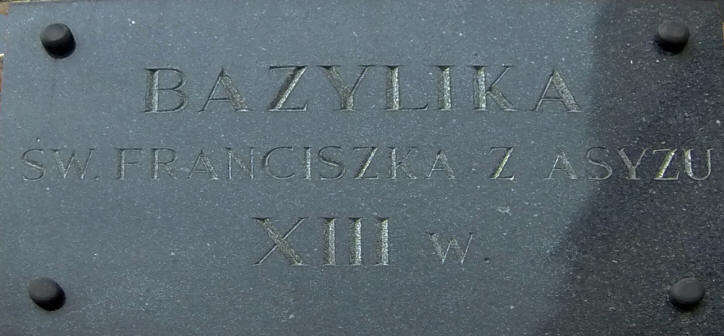 When I went in, it was quite dark inside and these photos are about the best I could get with the GoPro and PhotoShop (below).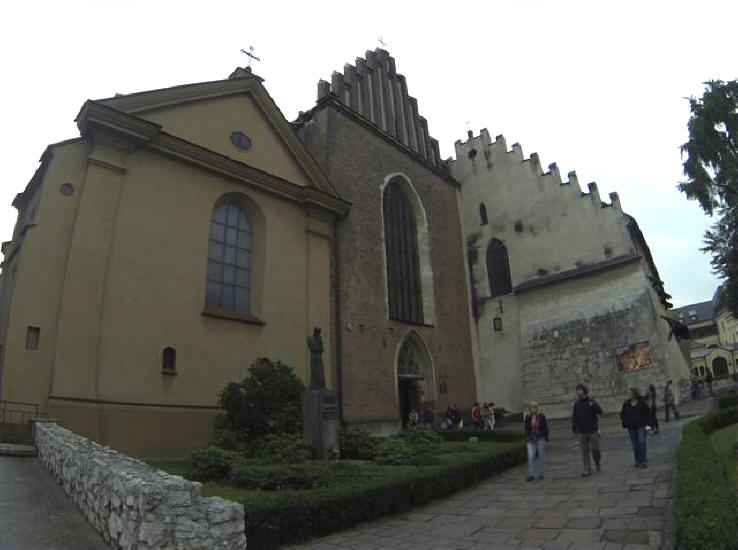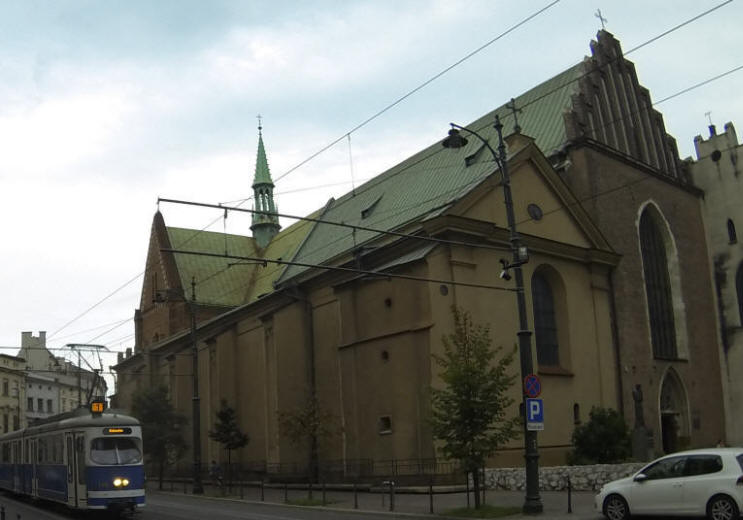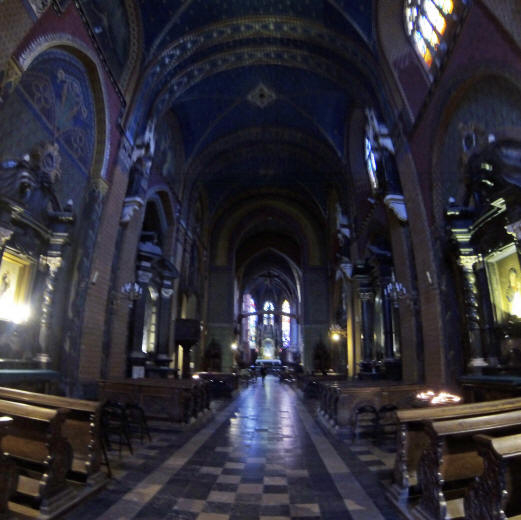 These are looking toward the main altar.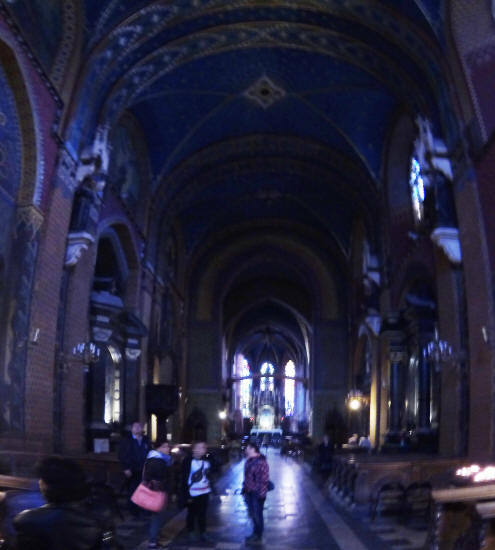 Below left is closer to the altar and on the right is looking back at the entrance.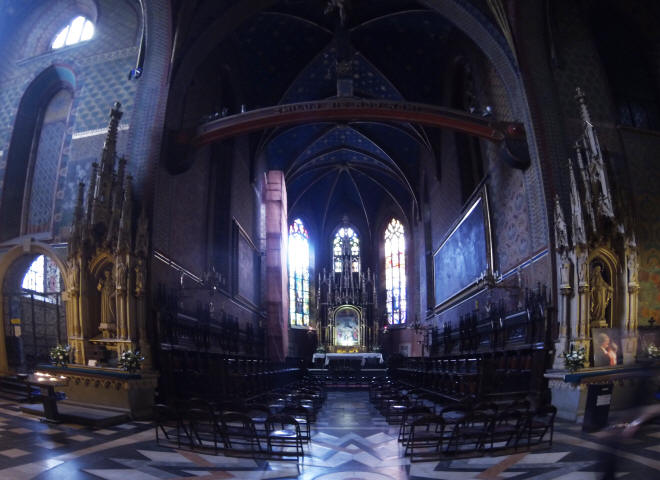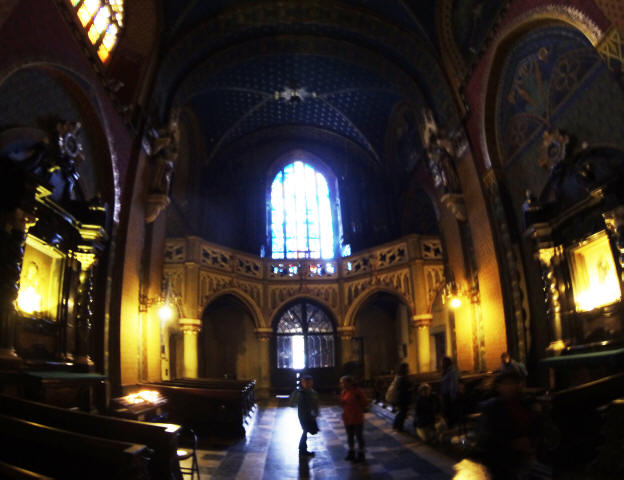 Tt's a shame they didn't have the lights on. I noticed they were distributing communion so I participated and then knelt in one of the pews (below left). A few minutes later a woman came over and pointed out that where I was is where John Paul II knelt after receiving holy communion. I couldn't believe it but she pointed out the plaque in front of me that stated this (below right). I must admit, for a Catholic, this was a special way of ending my three days in Kraków.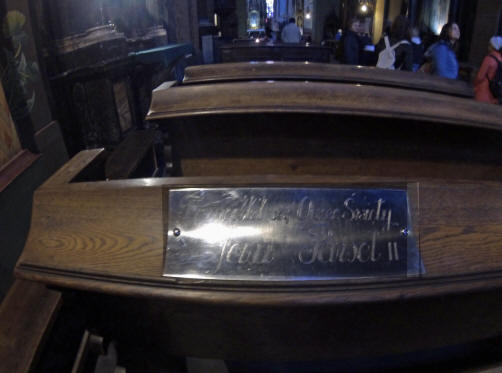 I left there and went just up the street to the Bishop's Palace at 3 ulica Franciszkanska. This is where John Paul II lived when he was the Archbishop of Kraków during the years 1963-78.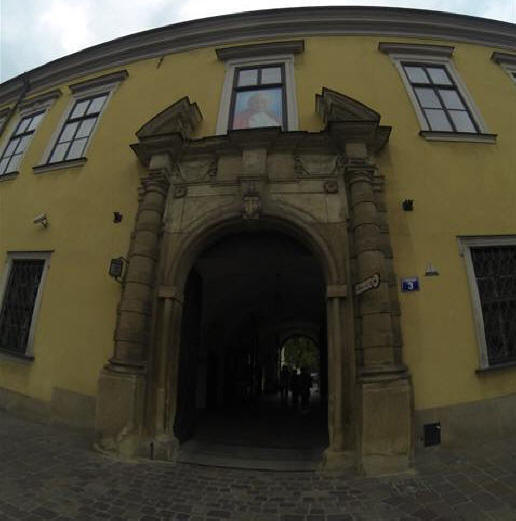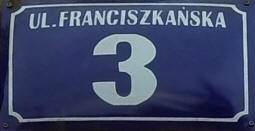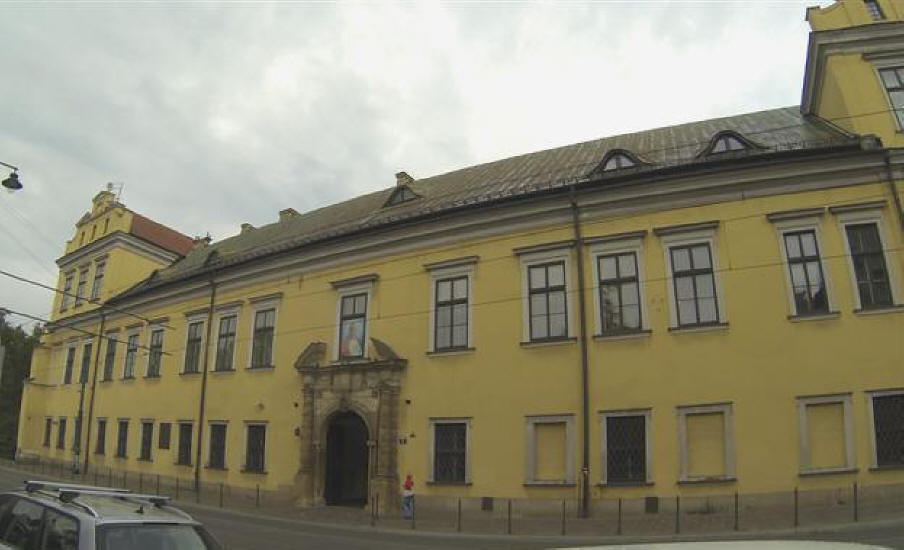 Here are more descriptive stock photos of the Palace from both angles. This palace is the seat of the Bishops of Kraków.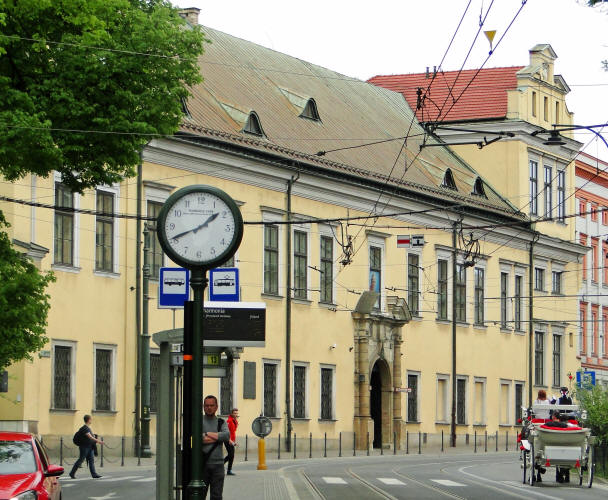 It was now getting very late so at 5:30 PM, I started walking back to the hotel and got there quickly. While loading the car, the manager, Adam Koz, questioned me again about why I hadn't paid the parking fee. After a long discussion he finally relented and gave me the free parking of Ź240. All checked out and the car completely loaded, we said good-bye to beautiful Kraków and at 5:40 PM we started our long drive east to Warsaw. However, I had remembered that Schindler's Factory was just on the outskirts of the city, so we set the GPS for it and headed there first. We arrived at 5:50 PM and I went to take some photos. I learned that you can only visit the actual Schindler Muzeum by advanced appointment, so I was left with just getting external pictures. It was probably a good thing because we still had a long drive to go. Here is the building and the entry.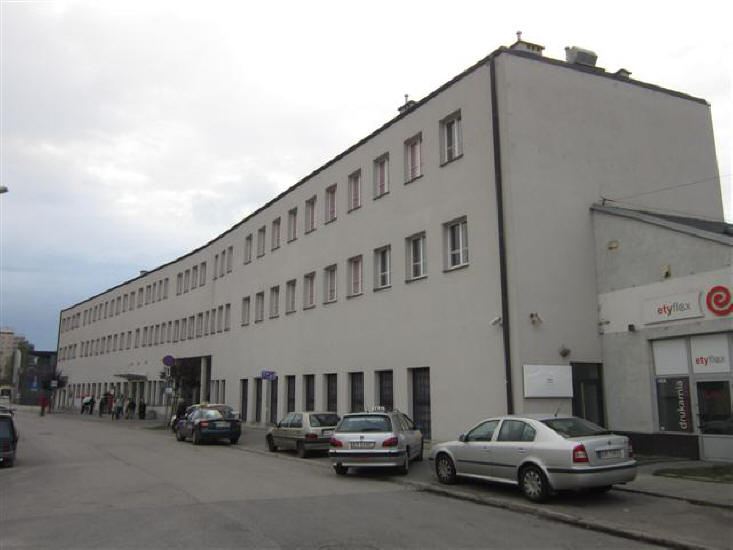 Here is the building from the other end using the GoPro.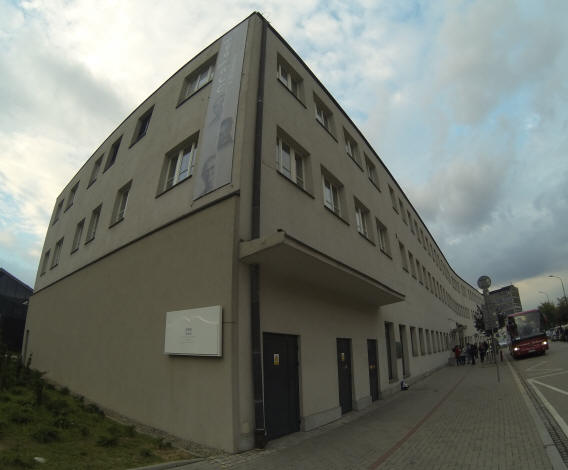 It is located at 4 ulica Lipowa. They listed there hours of operation. Nearby I saw this ad for "New Collections" at the Galeria Kazimierz.

At the corner of the building were windows with the photos of the people Schindler saved.
Here are the individual windows.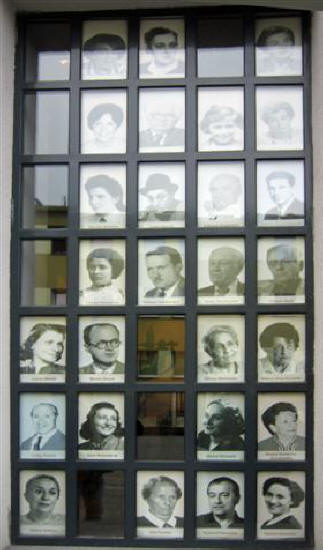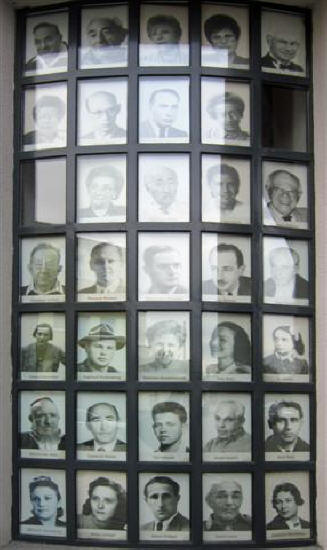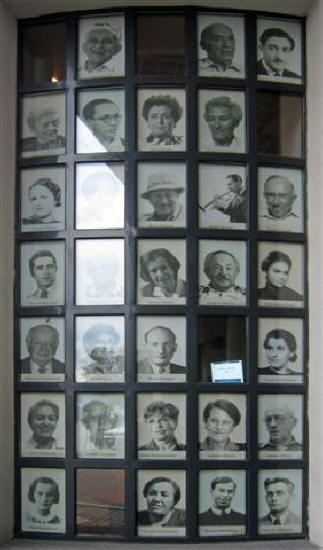 I got to peak in the entrance and get this photo (above) of a piece of industrial equipment on display. Before we left I got this photo of the nearby Contemporary Art Museum of Kraków which, of course, we did not have time to explore.

At 6:00 PM Marcia started our drive north to Warsaw and after 50 minutes we had to pay an freeway toll of Ź9. Then after 17 miles (28 Km), at 7:00 PM we pulled off and got gas at an Orlen station.

The diesel gas cost us Ź375.54 for 64.86 L which came out as $6.58/gal.
I went inside to pay and also bought a large coke-lite for Ź11.48. It's a pretty big place.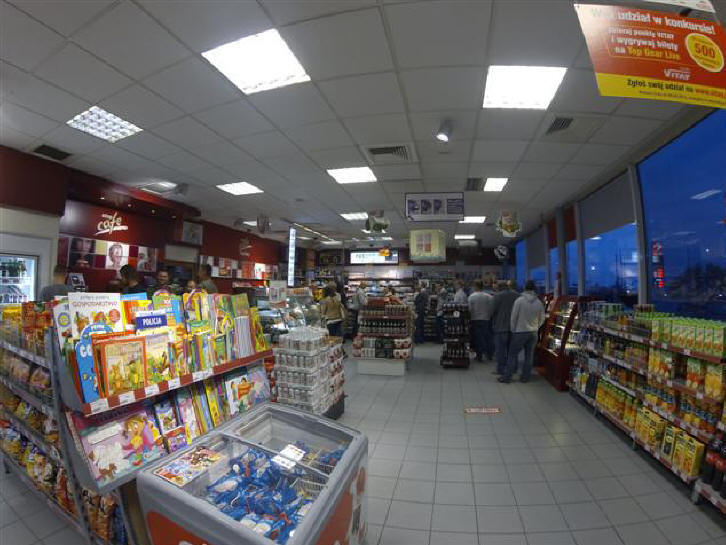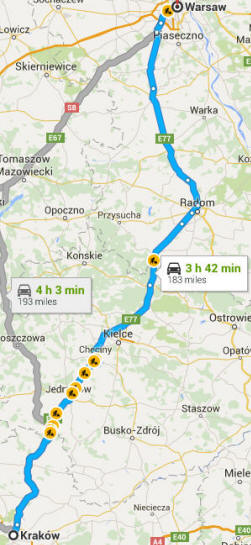 The map (above right) shows our trek from Krakow to Warsaw. At 7:20 PM Marcia got us back on the road heading north for another 99 miles (159 Km) which took one hour and 40 minutes. At 7:50 PM we paid another freeway toll of Ź9 and then at 9:00 PM, we had a pitstop at a place called Bar Sarenka, open 24 hours.
As you can see the facilities are in an outside building. I kept watch outside as Marcia went in.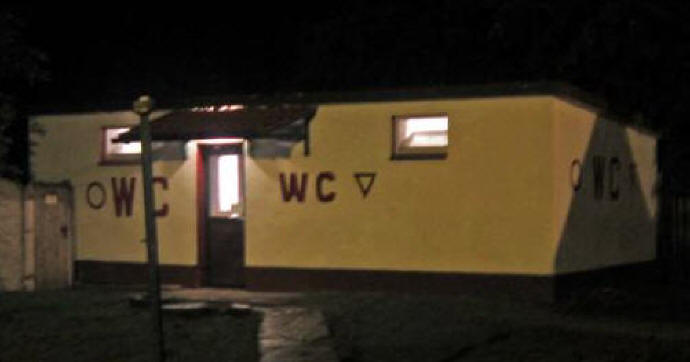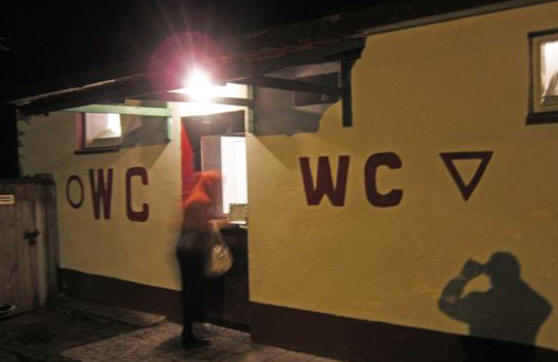 At 9:15 PM I did the driving for the remaining 111 miles (179 Km) which also took
1:40. At 10:55 PM we finally arrived
in Warsaw. The total trip was ‪227 miles (366 Km) and took us 4:20 but the delays added 0:35 making it five hours. We did not have a hard time finding our hotel (below), so at 11:00 PM, we checked into the palatial Hotel Polonia Palace [Aleje Jerozolimskie 45, Sródmiescie,
+48-22-318-2800]. I had booked the room through Booking.com for €285, a little more than I usually like to spend. Lukasz checked us in and gave us room #542. He also gave us four free "welcome drink" tickets. This is the only shot (right) I got of the front of it before we went in. I'll take some tomorrow.
What a glamorous place this was! Wow. I was really impressed. We took their fancy elevators to the 6th floor and we entered our room. Boy, were we pleasantly surprised by the size and quality of our room (below).

They even had luggage racks and the bathroom was modern, roomy and as good as it gets.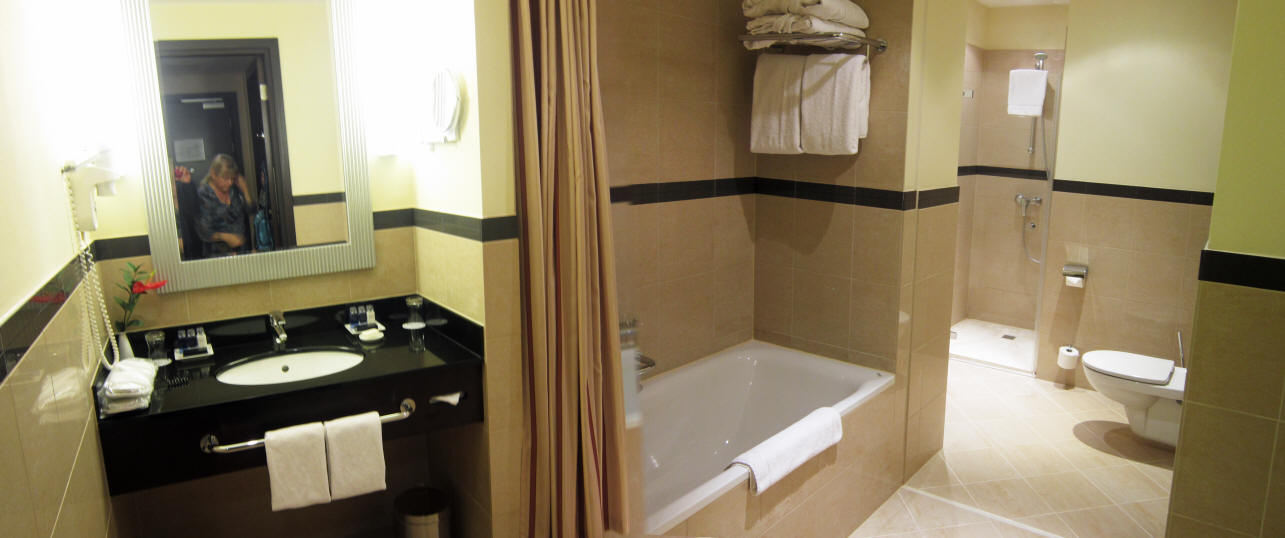 I had requested free WiFi when I booked the room so at 11:05 PM I went back to the front desk and pushed for a free WiFi code which he gave me. Then he told me a package had arrived. When we were in Munich we discovered our VP Bank card wasn't working and during our time in Sirmione I talked to the bank and they said they would send me a new card. Well, it finally arrived by FedEx. I was very relieved.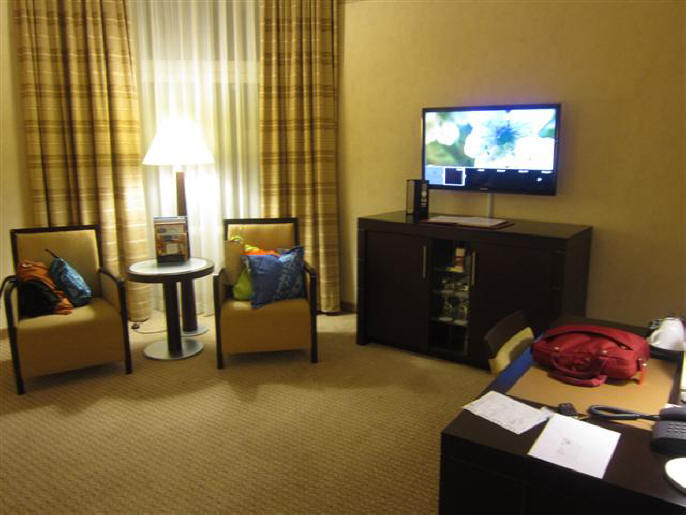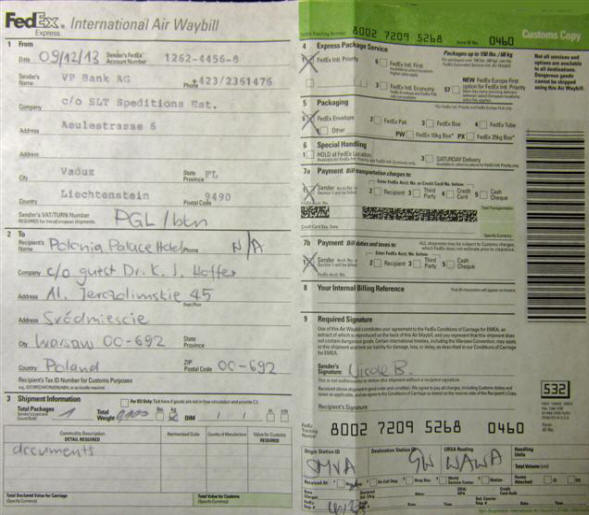 We got settled in but now it was past 11:00 and we had to find a place to eat. I only eat one meal a day (dinner), so I was hoping to get something decent. Lucky for us the bar/restaurant in the hotel stays open late (10:30 AM-1:00 AM). Somebody's watching over us. So at 11:30 PM we went into Bojangles Bar [in hotel,
+48-22-318-2835] to get our free welcome drinks.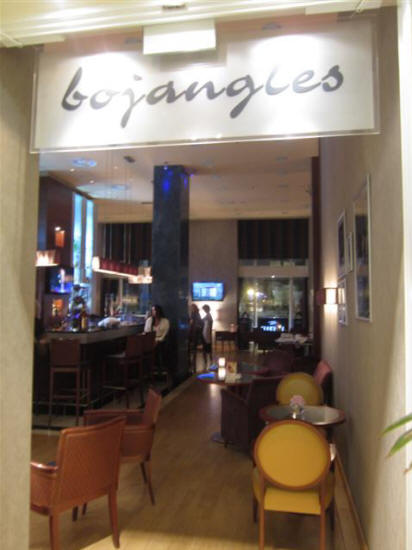 I had a Žywiec beer and Marcia had a glass of Sauvignon blanc. What a modern and lovely place.
We then took a look at the menu and, since it was so late, decided to just eat at the bar.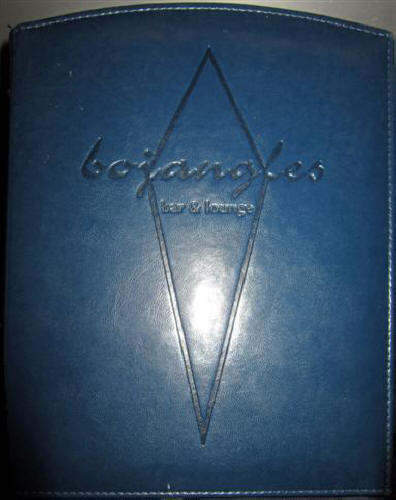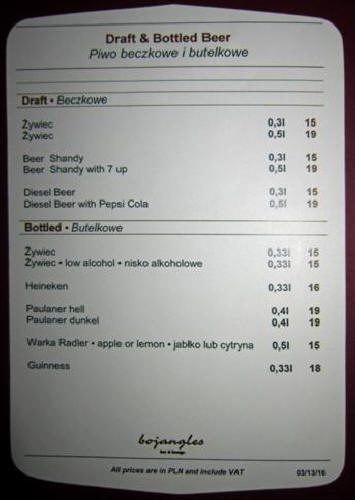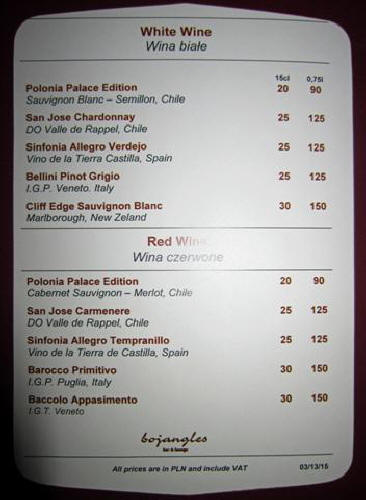 It was very interesting; they had Polish items, a list of Italian items, ...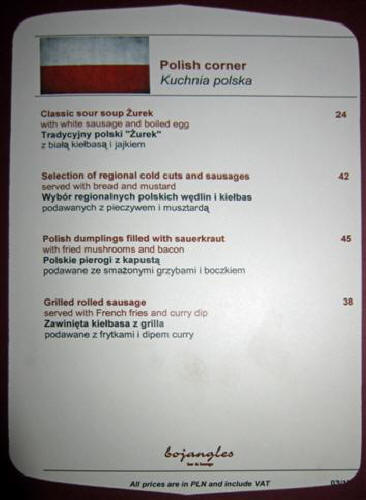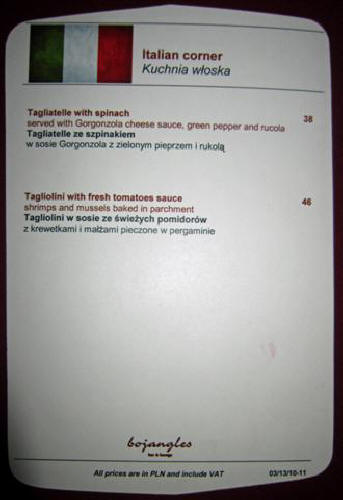 ... American items, Spanish tapas choices, ...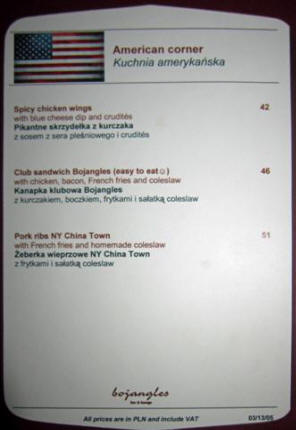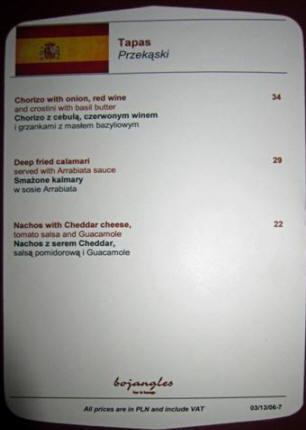 ... an Asian corner, a list of burger choices and finally several desserts.
At 11:45 PM, we ordered dinner. We split a bottle of Ochagavia Silvestre (above) white wine which is from Santiago, Chile. I had an order of pork ribs "Chinatown" with coleslaw and French fries for Ź51, followed by a Vienna cheese cake for Ź29, which was a little too dry for me.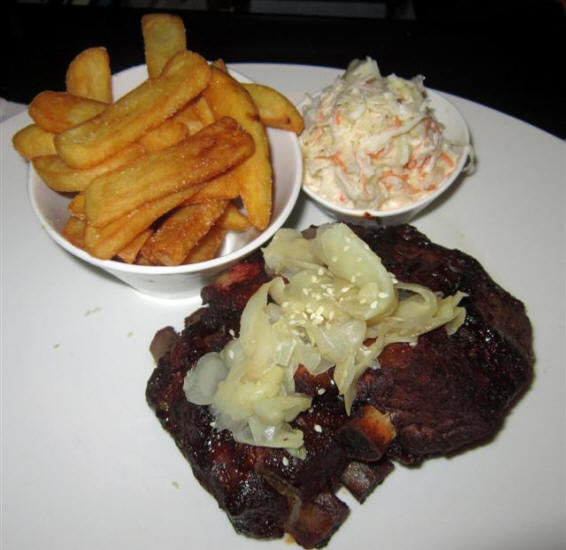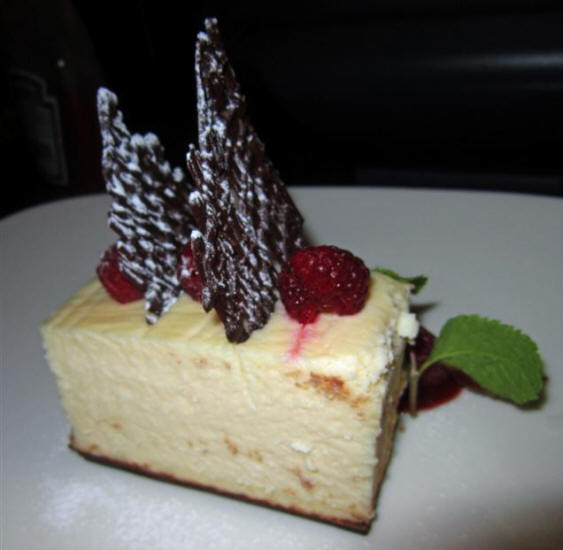 Marcia had a plate of salmon (Losos) teriyaki with white rice served on a vegetable slaw for Ź65.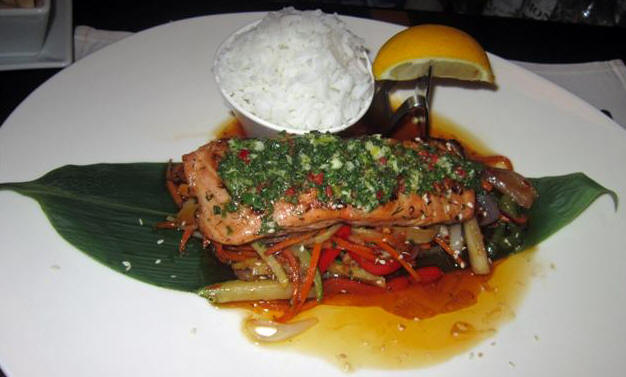 Our waiters were Barthelmiew and Pawel who were both very good. We rated our dinner as Excellent and the total came to only Ź185. We finished up and headed to our room at 12:55 AM. Here are some photos I took of this beautiful hotel.
It really is a palace and worth the price we paid. We got to bed at 2:00 AM. Not as grueling as the Salt Mines or Auschwitz, but certainly a very full day of touring.
Kenneth J. Hoffer, MD
Warsaw, Poland
Sent 10-2-2016
If you enjoyed these travels or wish to add comments on the places we visited
Please Leave Me a Message by clicking the spinning @ sign below.