Dr. Hoffer's Travel WebSite This site was last updated 01/07/18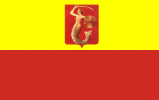 POLAND13 #10 Warszawa Capital 1

Flag of Warsaw Centrum

---
September 14-15, 2013
---
---
Saturday, September 14, 2013
---
The city of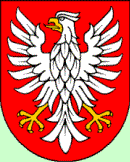 Warsaw is in the Masovian Voivodeship or Mazovia Province (Województwo Mazowieckie) (Flag left, Coat of Arms right) is the largest and most populous of the sixteen Polish provinces created in 1999. It occupies 13,737 mi2 (35,580 Km2) of east-central Poland, and has a population of 5,324,500. Its principal cities are Warsaw (1.73 million) in the center of the Warsaw metropolitan area, Radom (226,000) in the south, Płock (127,000) in the west, Siedlce (77,000) in the east, and Ostrołęka (55,000) in the north.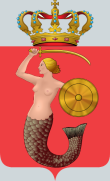 This is our fifth day in Poland and
we are in the capitol of this proud country that has suffered so much through the ages because of it's position between Germany, Sweden and Russia.
Warsaw (Coat of Arms left, Centrum City Flag right) was completely destroyed during WWII and most of what we are seeing is the combined product of what was built during the Communist Era (1945-89) and the modern era (1990-today)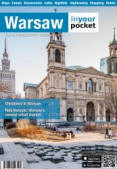 that has been changed and added to since they became a free and independent country in the EU.
If you would like to download a very nice Guide Book for the City of Warsaw just right click on this book photo (right) or click Guide. There maybe newer versions on the internet.
I woke at 6:05 AM and again at 7:05 by Marcia, who was having some abdominal pain. I woke again at 10:45 and then finally woke at 2:00 PM - yesterday really wore me out. The day is shot, so I will probably not get to see much touring today. I got dressed for my run and then used the GoPro to get some more photos of our room.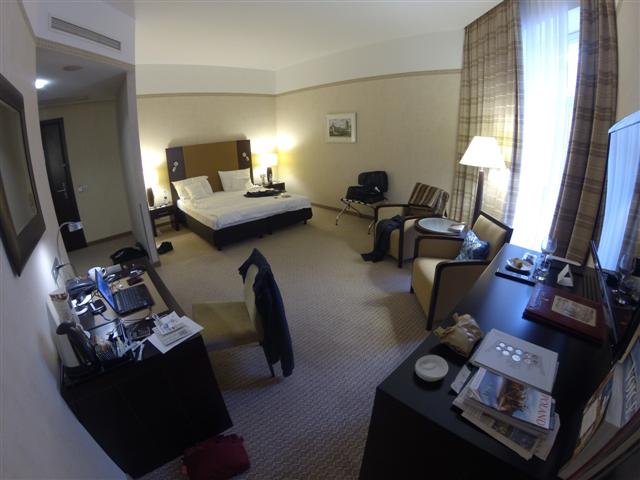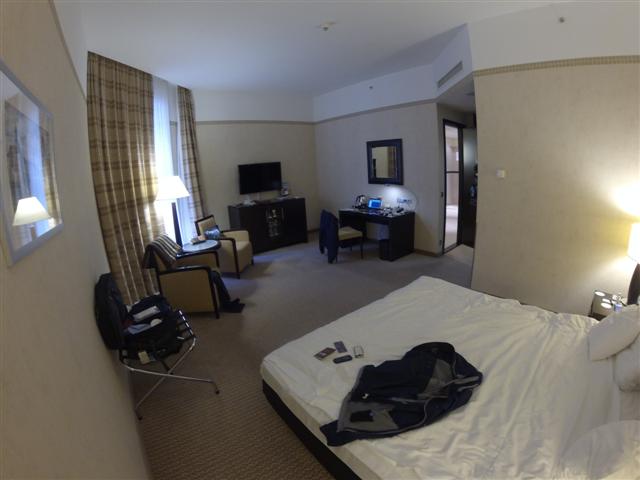 On the right below is an example of what I have to set up electronically in every hotel we get to just to keep the phones, cameras and computers alive; each needs an EU converter.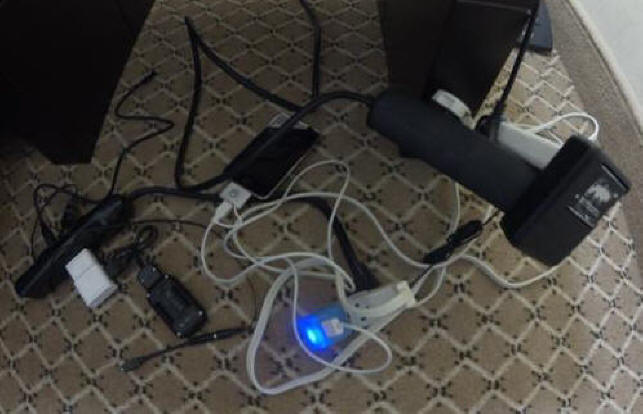 The GoPro wide-angle gets the whole bathroom in one shot. The hallways were very upscale.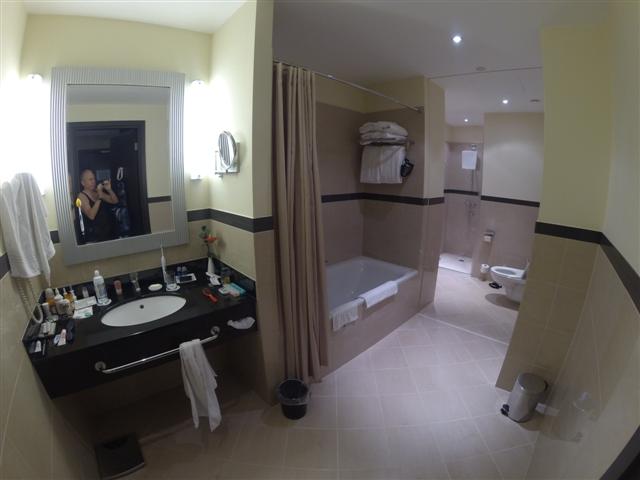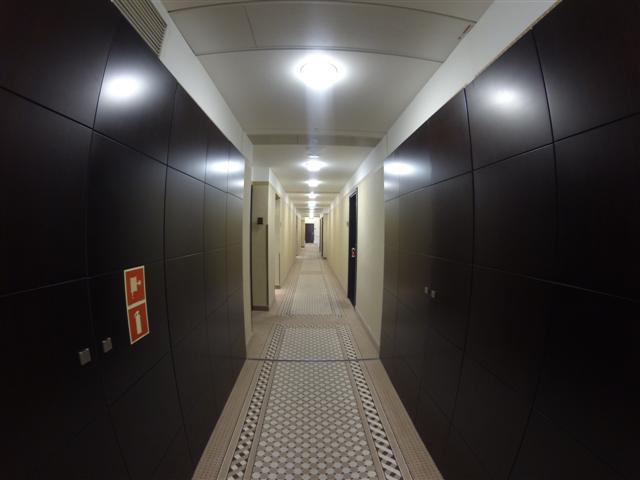 Here is our room (left) and the modern elevators (right).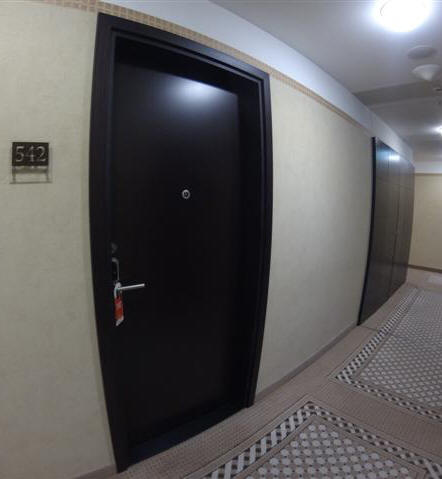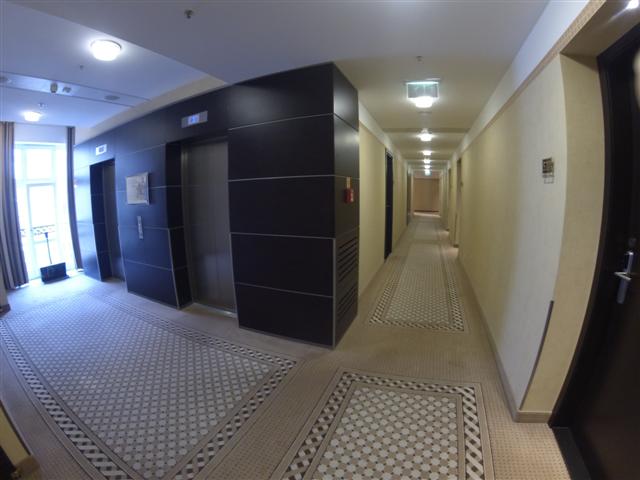 Again, here are the stairways with the intracate ironwork.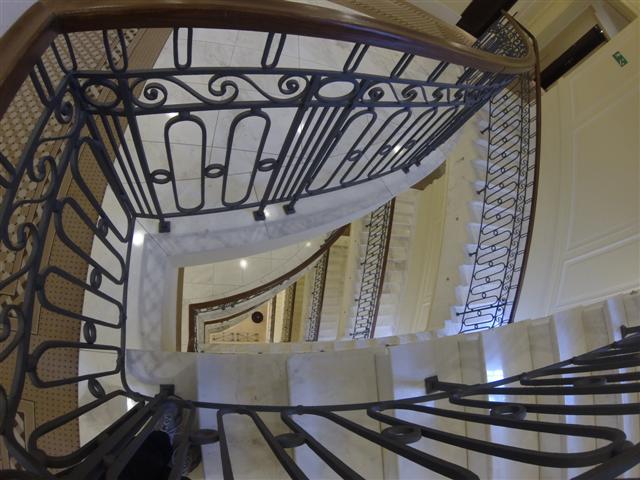 I was looking for excuses to put off running (as I often do) and decided to walk outside the hotel and take a lay of the land and smell the air. There was this huge Novotel Hotel just down the street (left) and the telephone company building located across the street (right). You must remember, Warsaw was COMPLETELY destroyed, so that all I am seeing has been rebuilt since the end of WWII.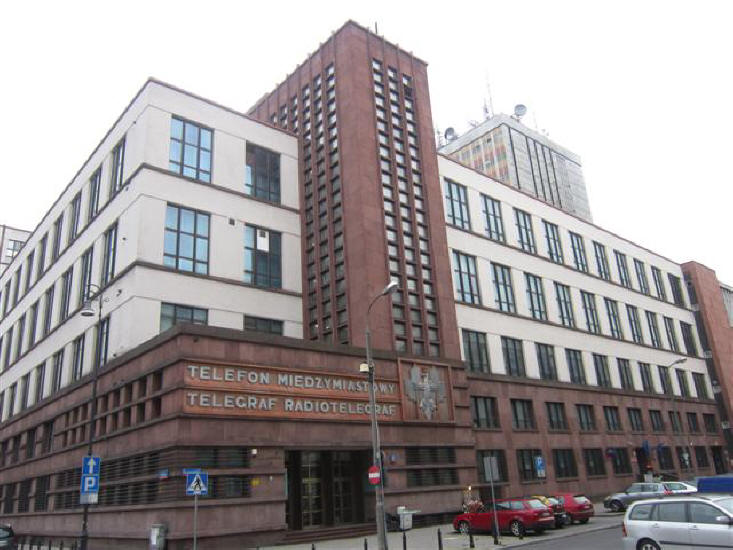 Below left is a GoPro shot of the telephone building. Across from the Novotel was a chain liquor store called MSC-Alkohole [ul. Marszałkowska 99/101].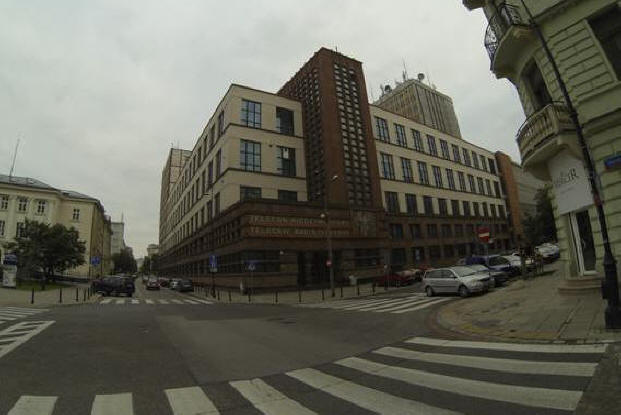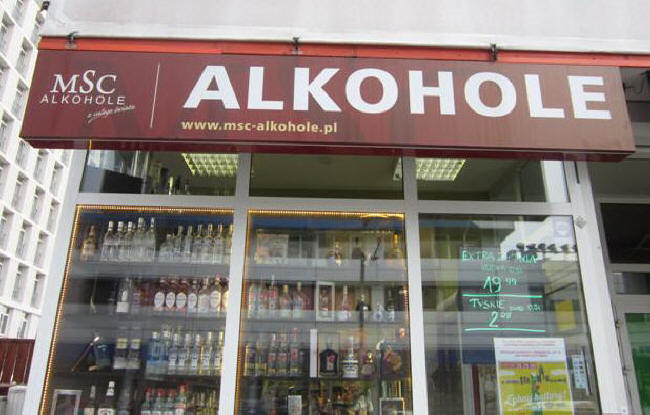 I headed back to the front door of the hotel (left) and then went around to the left side to check on our car which we parked last night just outside the side entrance (blue Peugeot in front of the door, right).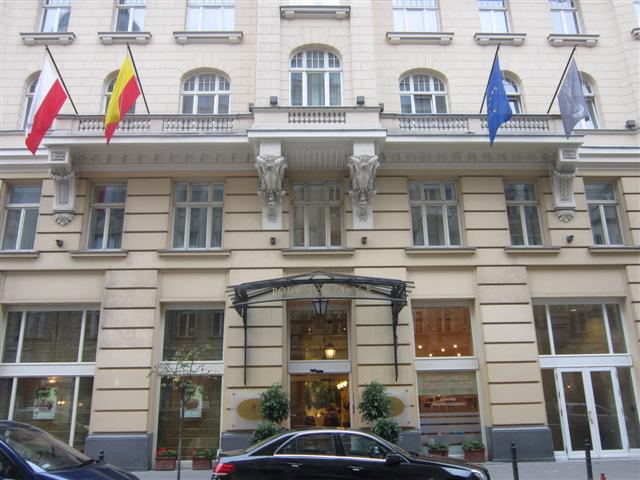 Here are the wide-angle GoPro shots of the hotel.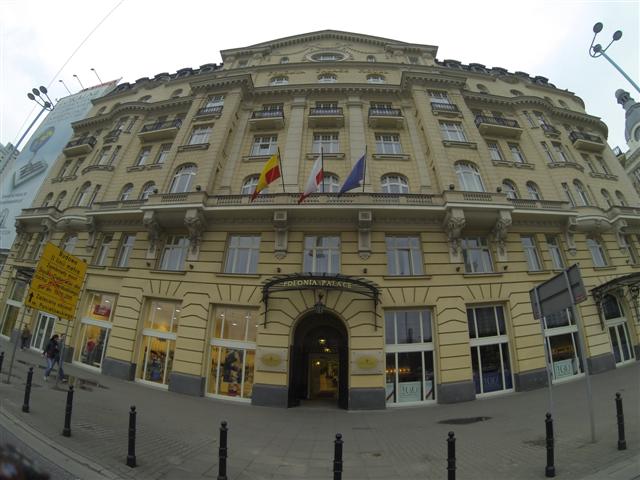 Looking across the street you can see the most famous landmark in Warsaw. It is the Palace of Culture and Science (Pałac Kultury i Nauki, or just PKiN) (
+48-22-656-7600) and built specifically by Stalin as a gift to the Polish people but the people thought it was ugly and refer to it as "Stalin's Penis". It was built in the 1950s and was almost demolished after the fall of the Berlin Wall. Blocking my view of it (below right) is an ad for the Vin Diesel movie "Riddick".
Here are some stock photos of the PKiN building complex which is massive and ...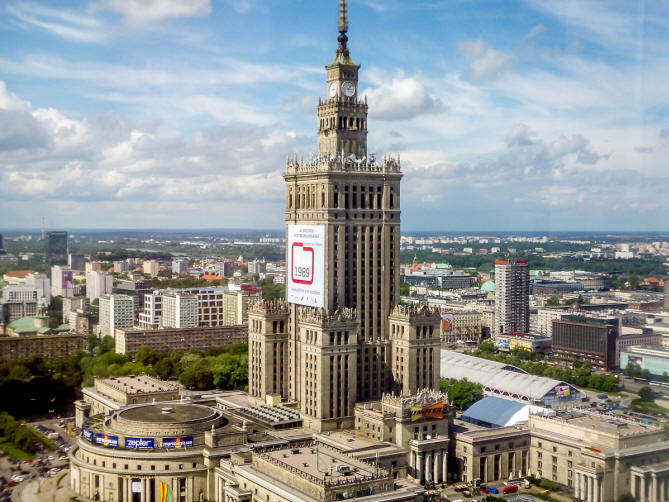 ... a stock photo(below) from the 30th floor terrace. It houses 3 theaters, 3 museums, a multiplex cinema, 3 universities, the Troika restaurant and bar, a post office and a shopping mall. The entry ticket costs Ź20. Call and check for times.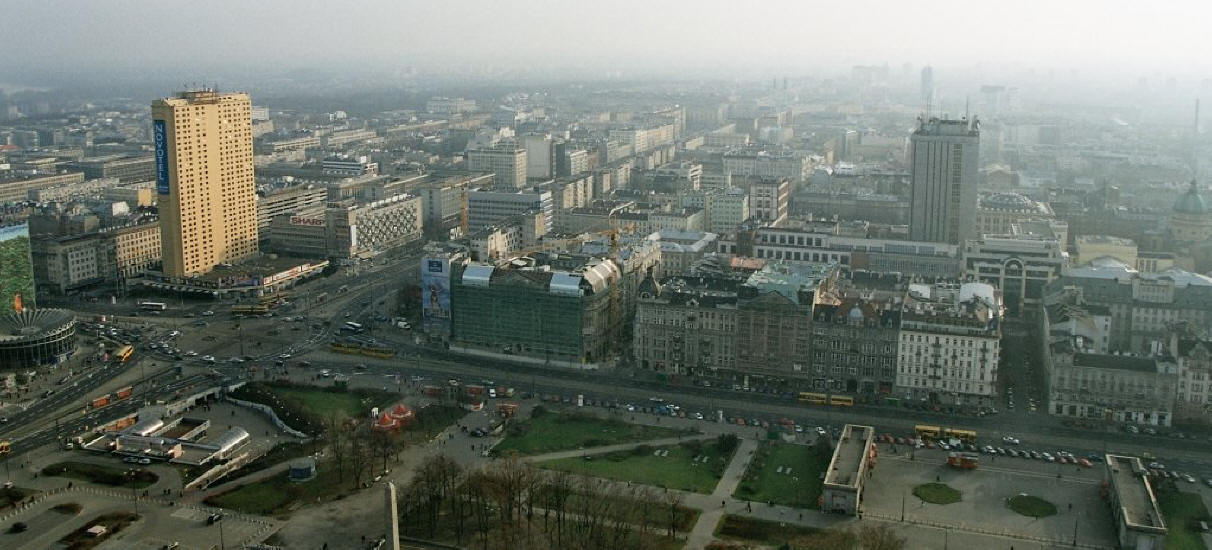 From here you can see our Polonia Hotel, the tall Novotel on the left and the big intersection you are not allowed to cross except underground. Below is a beautiful night shot of the building (stock). In my searches, I discovered several panorama websites which are beautiful to look at: Panorama Royal Palace, Panorama PKiN Bldg, Panorama Old Town and the 360 Warsawa site. Just click on them and view.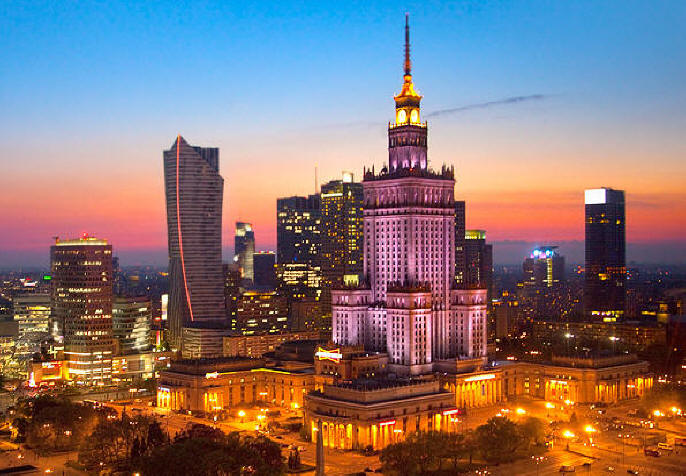 At 3:30 PM Marcia went for lunch at that classic Polish place called Starbuck's [ul. Aleje Jerozlimskie 63]. Then at 4:35 PM she got some things at a nearby drugstore called Jasmi Drogeria [ul. Aleje Jerozlimskie 54] and then some eye drops at Super-Pharm.

I got back inside the hotel and went up the elevator to the floor the fitness room is on. The GoPro took this interesting shot showing the empty atrium space in the center of the hotel.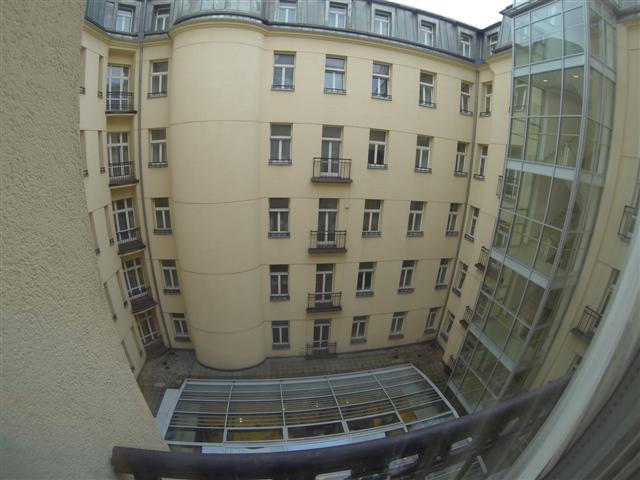 At 5:00 PM I finally did my run and started on their nice treadmill (below) and then went into the streets.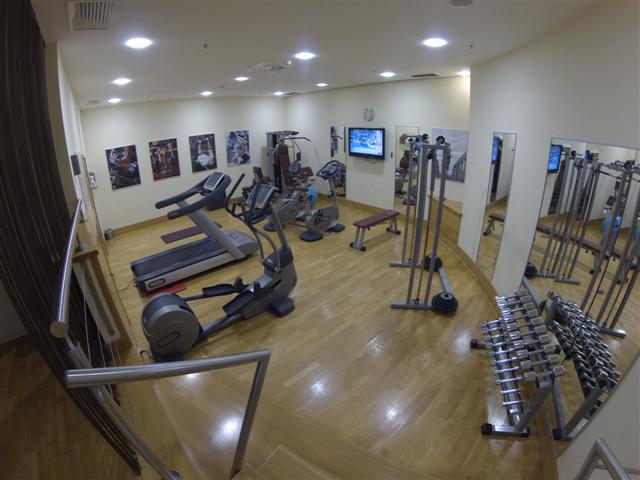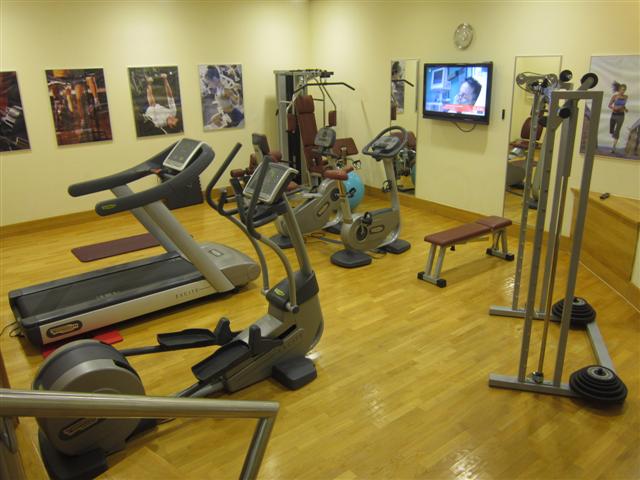 The main intersection near our hotel is the crossing of ulica Aleje Jerozlimskie and ulica Marszałkowska, both major highways (shown above). You cannot actually cross either street. You have to go down into an underground area that has a big square shopping area and then come back up the exit you want to get to the other side. I was running down Marszałkowska and then turned at the street behind our hotel called Nowogrodzka. Remember, the main street in Kraków is Grodzka, so this must be New Grodzka. I came across this closed Kebab and Falafel shop with a sign for a variety of sandwiches.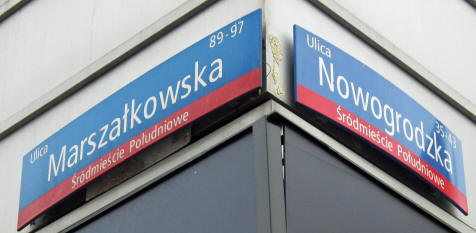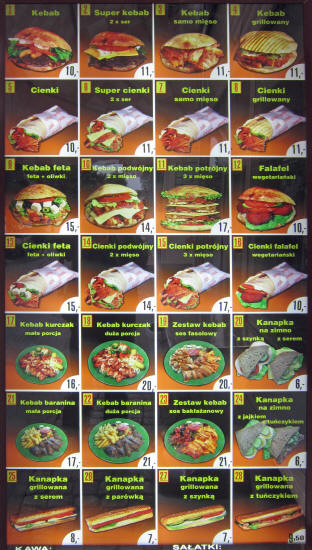 Then, another sign for Klucz Mobile (Key Mobile), a prepaid phone service started in 2013. The sign lists their country charges. Since they give help also in English, this might be an excellent way to have a phone in Poland. I thought some of their architecture was quite interesting (below right).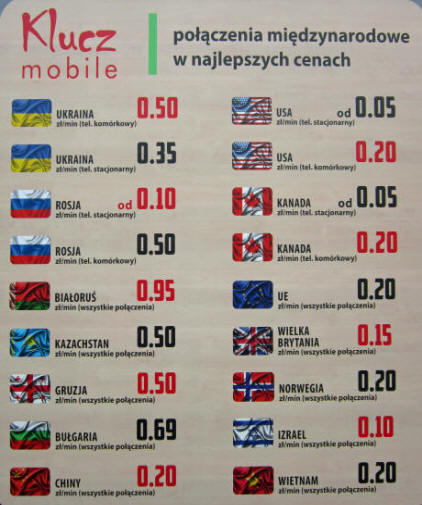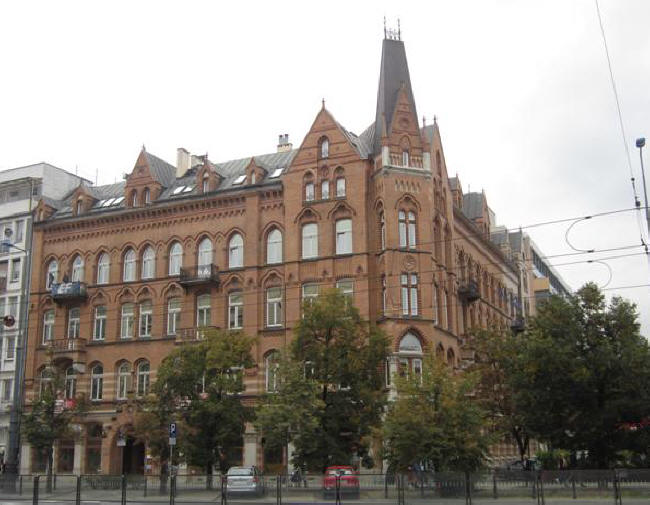 I took these photos to give an idea of the streets here with their modern trams.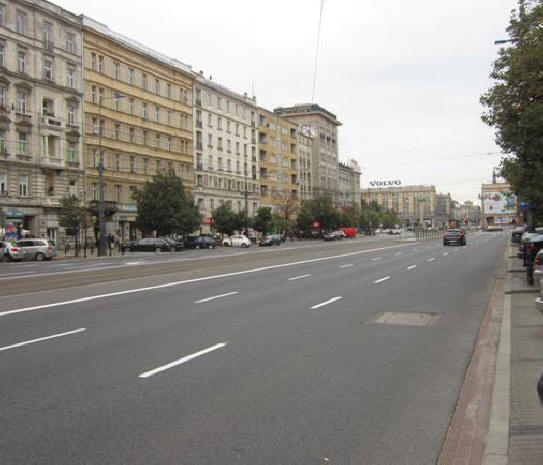 Here is a 5-car tram passing the Novotel. They had many of these kiosks along the streets.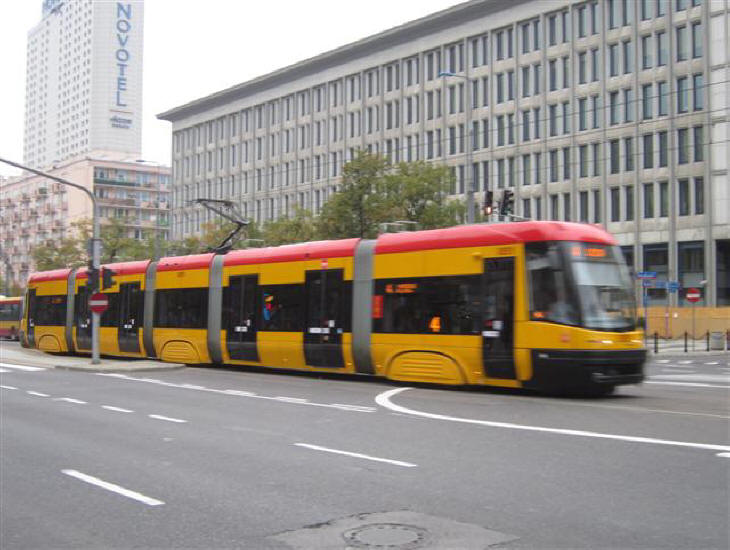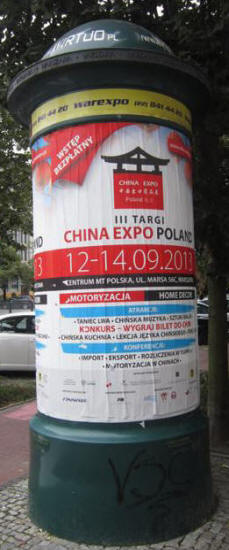 I came across this shop selling colorful Polish pottery which was quite beautiful.
Even through the glass window, the pictures came out quite nice after PhotoShop.
Then of course, they have a sex shop on the street next door to a shop selling wares from the Czech Republic "Sklep Czeski" (below left). There was another shop selling Polish folk figures (below right).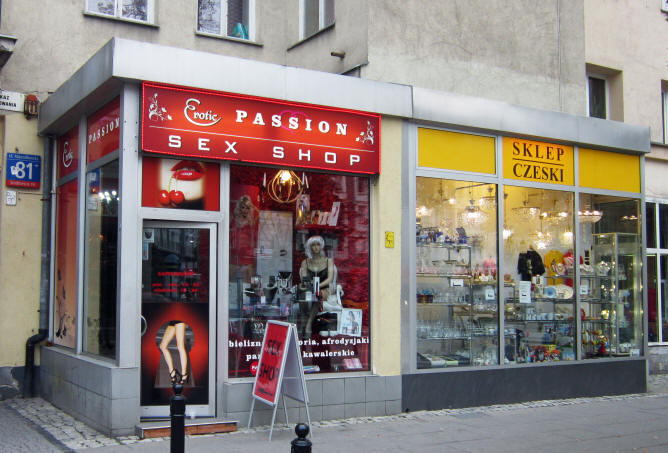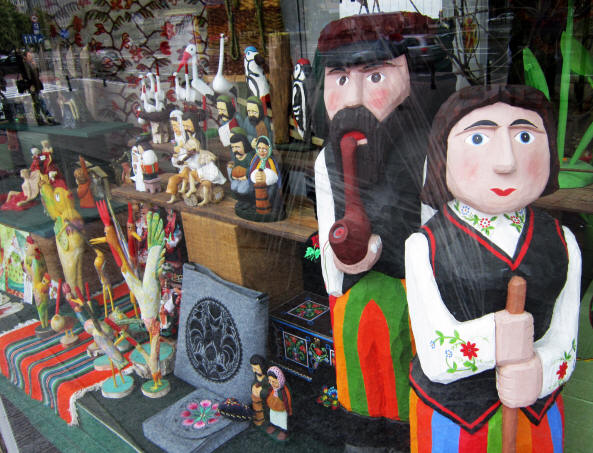 I went by a Bank Polski office and then a little beer garden at Ferment Pub & Klub [ulica Marszałkowska, 99/101,
+48-22-622-0003] with some guys enjoying some suds.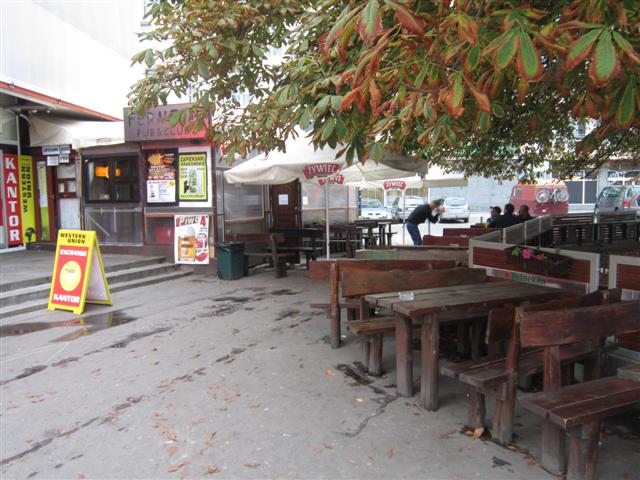 Below are two stock photos of it.
I then wanted to escape my confines and headed down the stairs below the intersection to see all the shops they had there. It was a lot of walking to look at all four sides. The shops were mostly little individual entities and not chain places. The shopkeepers I came across here were somewhat rude and antagonistic; not nice at all.
I got these shots below to remember some of the local beer brands I had never heard of before such as Mních and Magnar. As it turns out, they are not Polish beers; the former is from Slovakia and the latter is UK cider.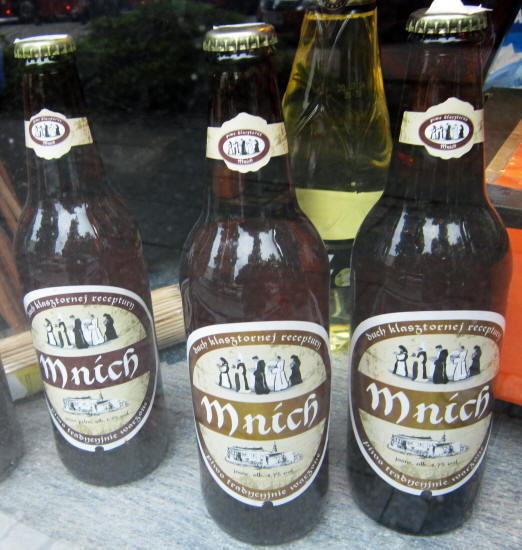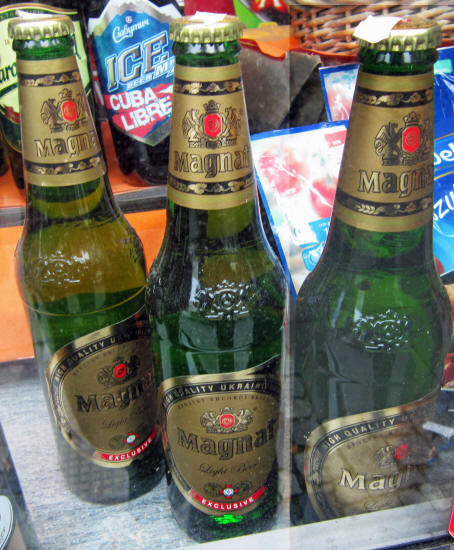 Here are the real Polish beers; in bottles: Zywiec, Tyskie, Zubr, Lech, Okocim, Warka, Debowe and Tatra...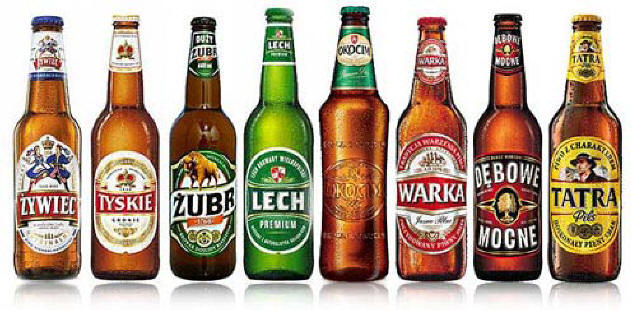 ... and in cans: Debowe, Lech, Okocim, Perla, Specjai, Tatra,Tyskie, Warka, Zubr and Zywiec. Most are GOOD.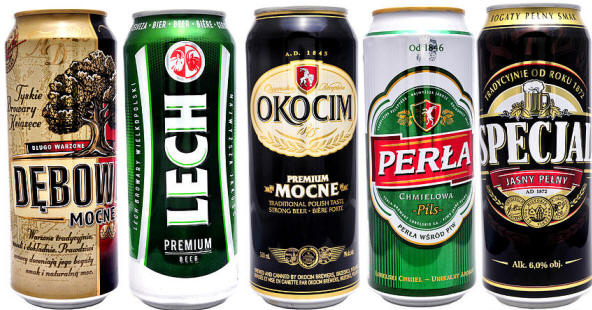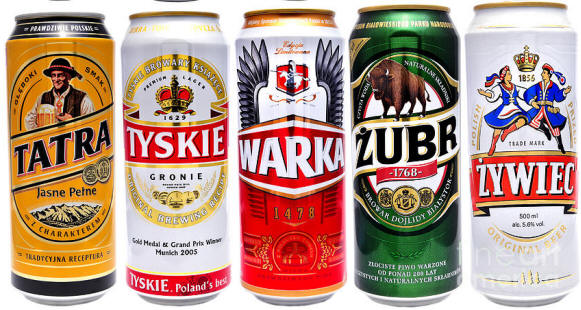 When I was finished with my run, I withdraw Ź1000 at a BNP ATM using my brand new VPBank card that I just received last night. I repeated this at a place called Skok but got only Ź500 this time. I got back to the hotel at 5:45 PM to relax and have a cappuccino. Below right is a shot of their entry hall.
I wound up enjoying two cappuccinos for Ź32 at the same Bojangles where we ate last night.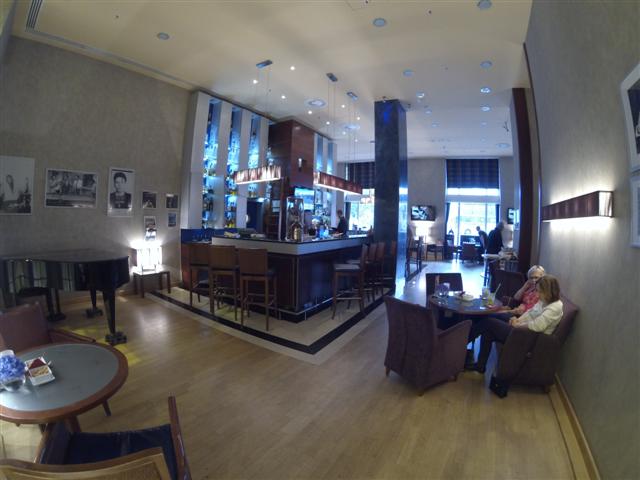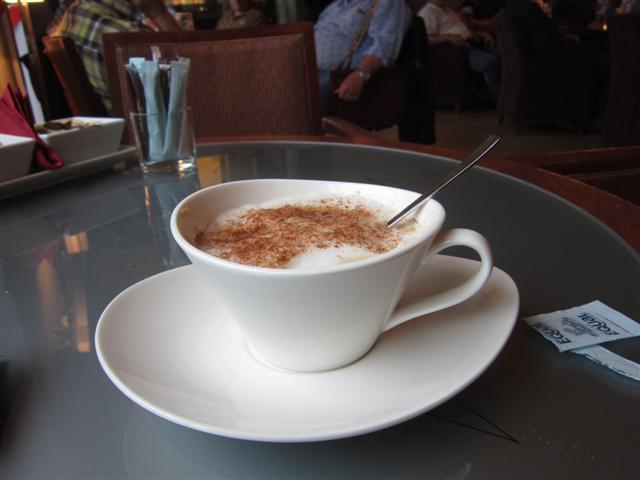 It was that time of day when most others were having cocktails.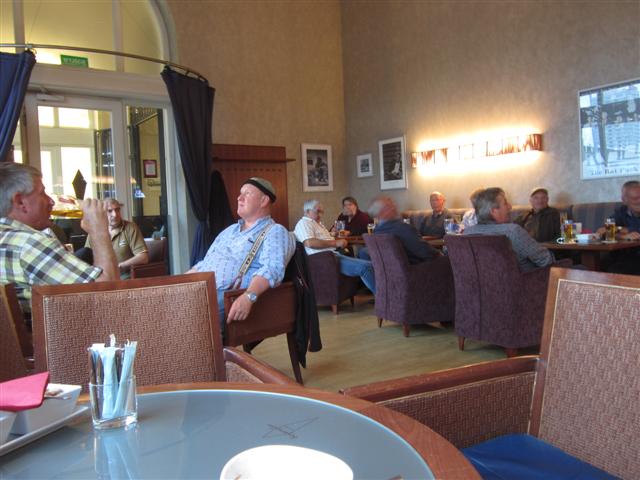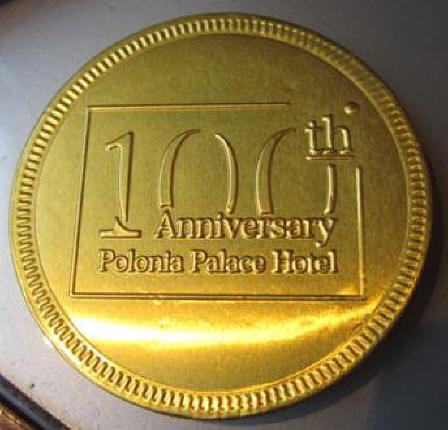 I walked around the main lobby area (below) and they were giving out chocolate coins (above) celebrating the hotel's 100th anniversary.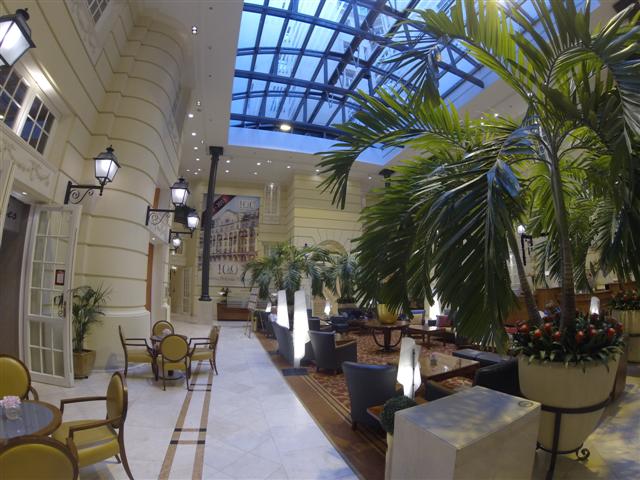 By 5:40 PM Marcia
was on a shopping spree; she got some clothes at Marks and
Spencer [Blue City, Al. Jerozolimskie 179,
+48-22-206-4386] and then at 6:10 PM she did the same at Van Graaf [ul. Kielbasnicza 32,
+48-22- 222-1030] and again at 6:30 PM at I Am Shop (Sklep) [Al. John Paul 82,
+48-22-356-1108] all in the Arkadia shopping mall, the largest one in Poland. She should be well-dressed now. After all that work, at 7:00 PM she got a coke at Szyneczka Delikatesy [A. Jerozolimskie 51]. At 7:50 PM, I went to the desk and got information about Mass for tomorrow. I went up and got changed and then at 8:00 PM, we cashed in our free drink vouchers (below left) and got a free beer and wine at Bojangles bar.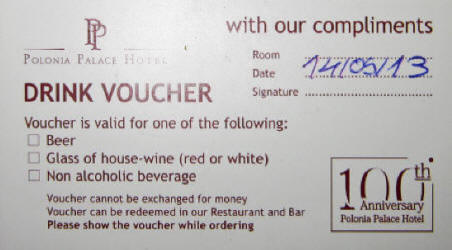 The fancier sit-down restaurant next door is called Strauss but we never used it.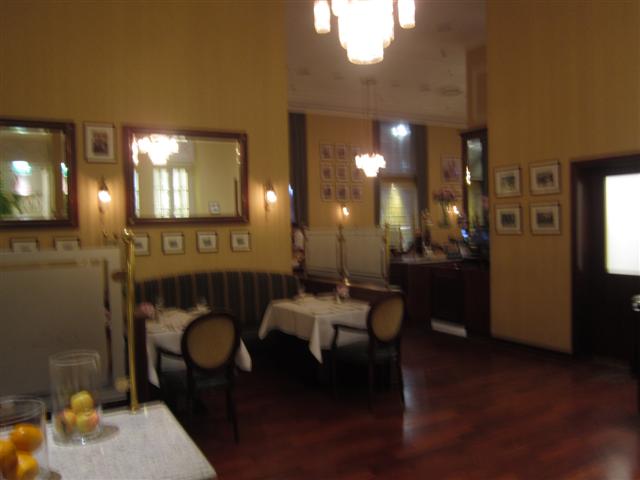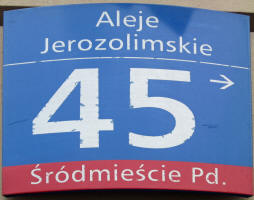 We had parked the car illegally at the side door of the hotel (see above) and were told we had to move it, so at 9:00 PM we went and moved it to where we were told, the Metropole Hotel [ul. Marszałkowska 99A,
+48-22-325-3100] parking lot next door (below). They told us it was completely safe and protected even though the lot was uncovered and outside. We moved it and I said a prayer.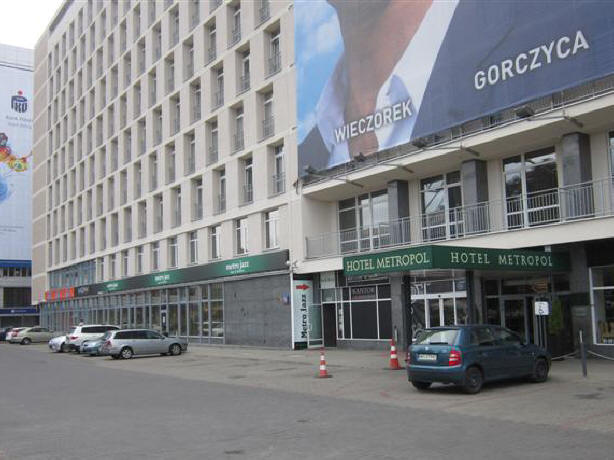 Thanks to our long trip yesterday, this day was very short and uneventful (we slept). So at 9:00 PM, we headed out to find a place for dinner. We were told there was a good restaurant district nearby so we headed there.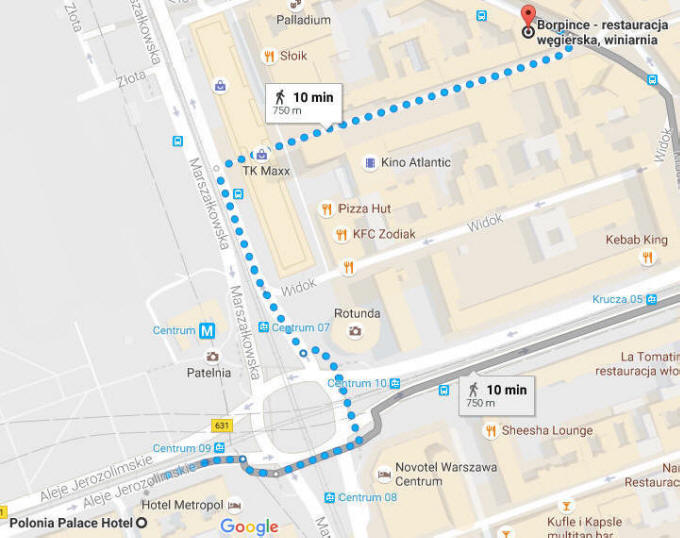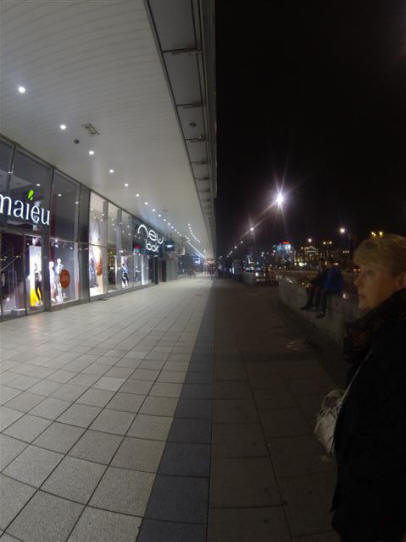 We had to start on our street, Jerozolimskie (below) and cross under the big intersection and then come up and walk into the fancy shopping complex to get to the dining streets.
I got a photo of the PKiN lit up at night (left) and then turned back and got a shot of our street and our hotel on the left side (below right).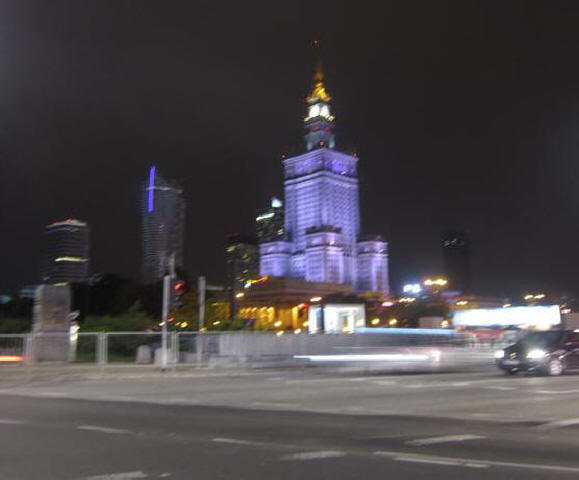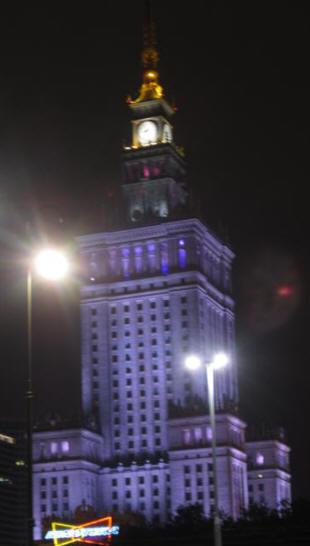 We got to ulica Nowy Świat and ulica Foksal. We passed by a Belgian fries place and then I got an example of one of their payphones.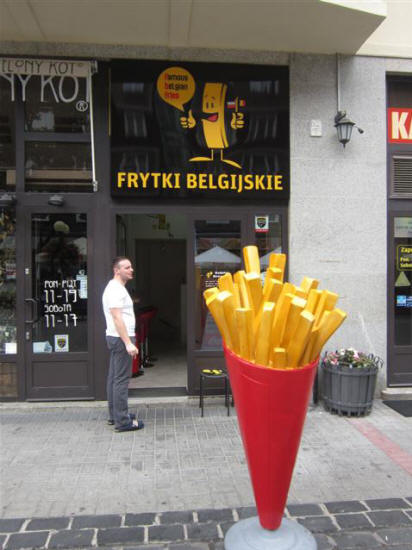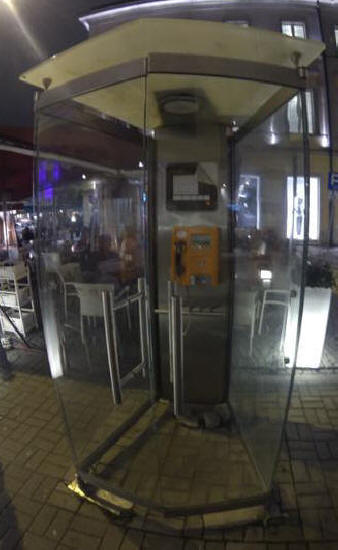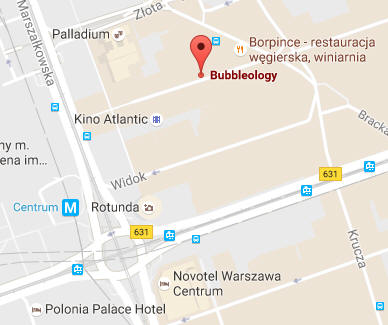 Then we were fascinated by what is called Bubbleology [ulica Chmielna 26,
+48-69-300-2218]. It's a bubble tea store. Marcia had to take a photo of their unique window display.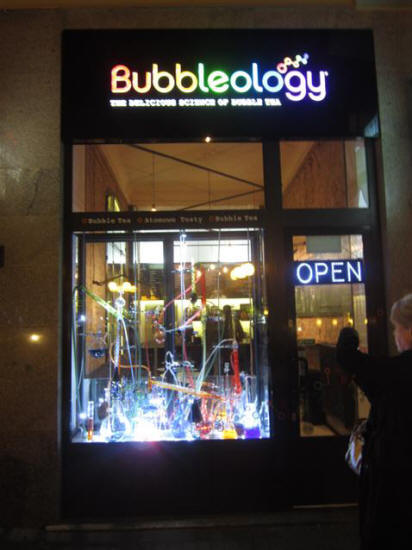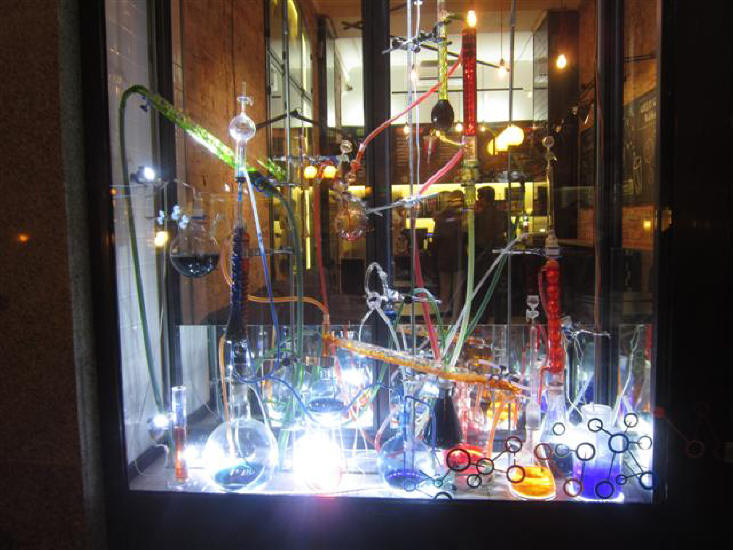 We finally got into the nice newly-built shopping and dining streets.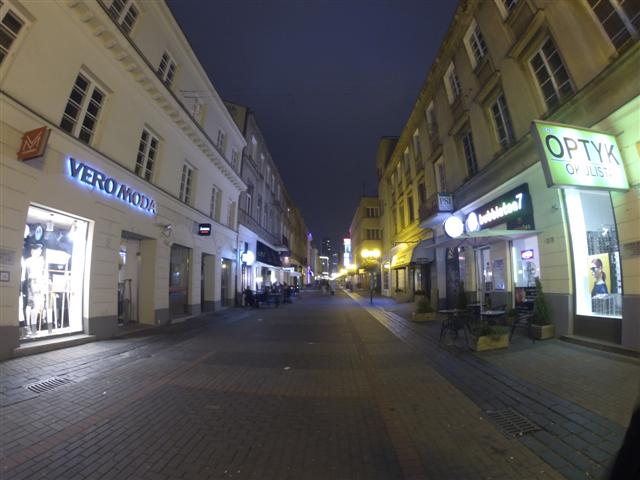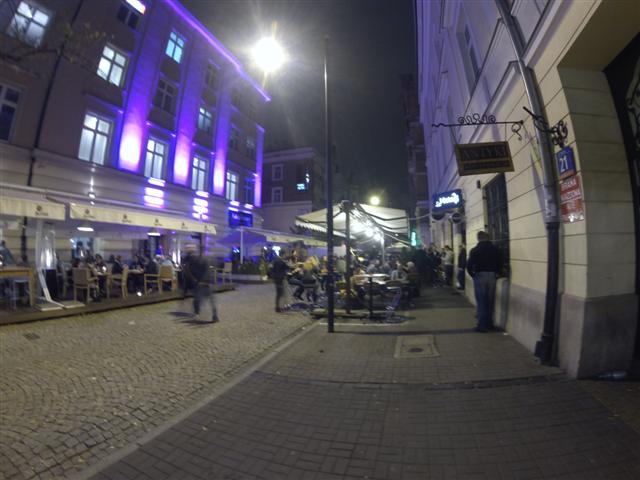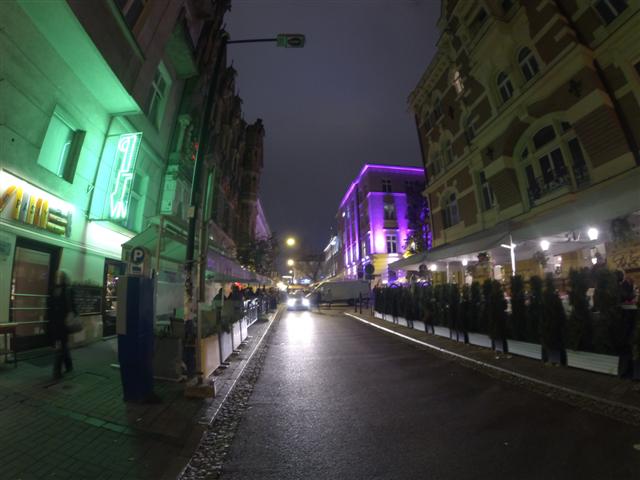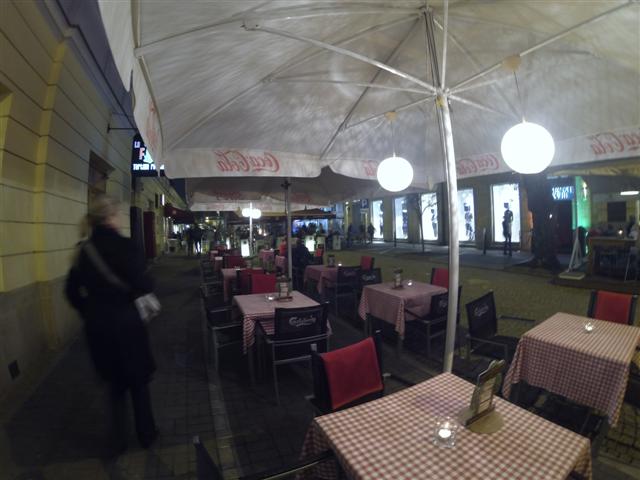 There were a lot of people around at 9:00 PM at night and many restaurants and bars - it was Saturday night.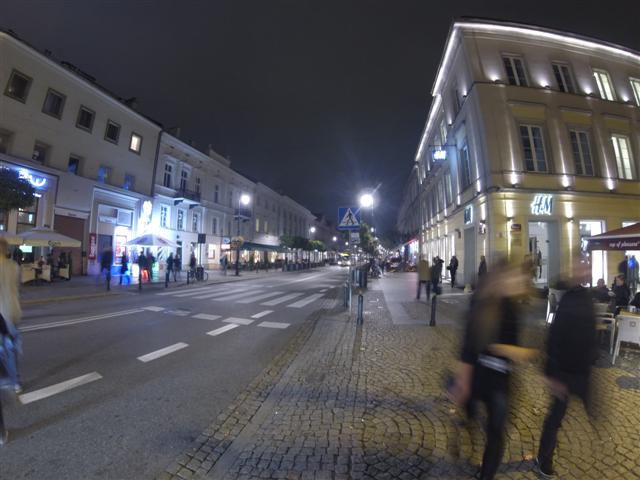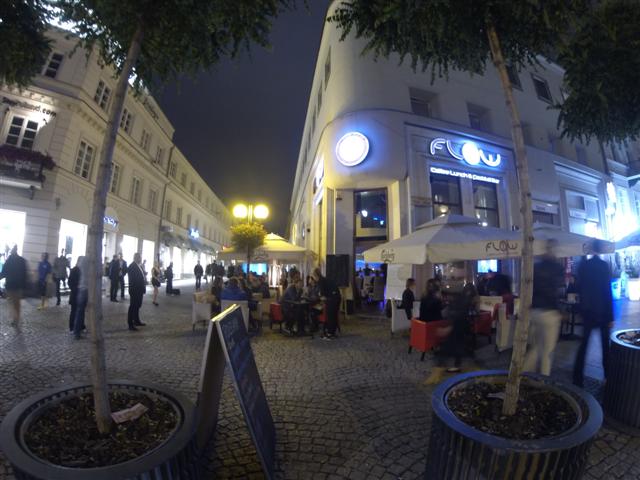 At 9:30 PM, we decided to pick this nice looking Hungarian restaurant located in a cellar. These are daylight photos I took the next day.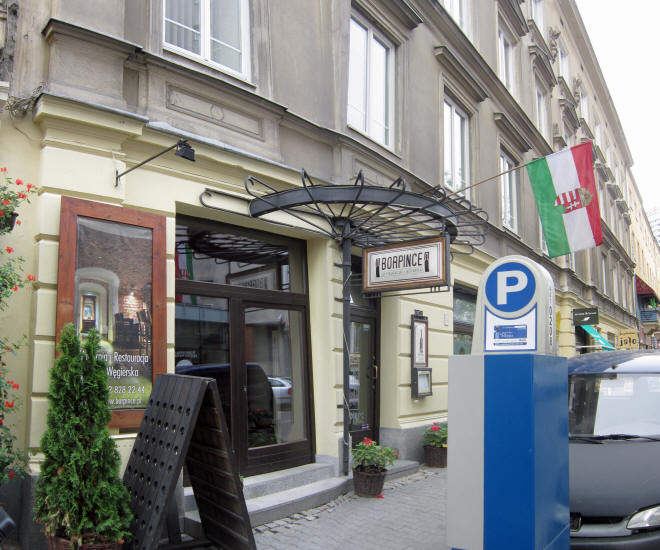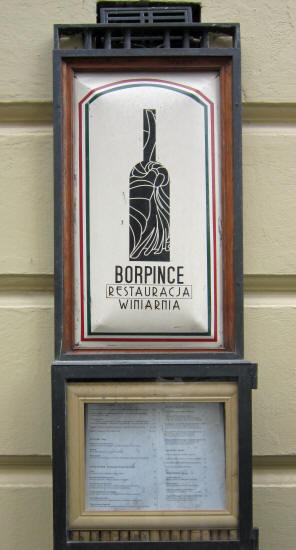 We walked in and down the stairs (photos from their website) ...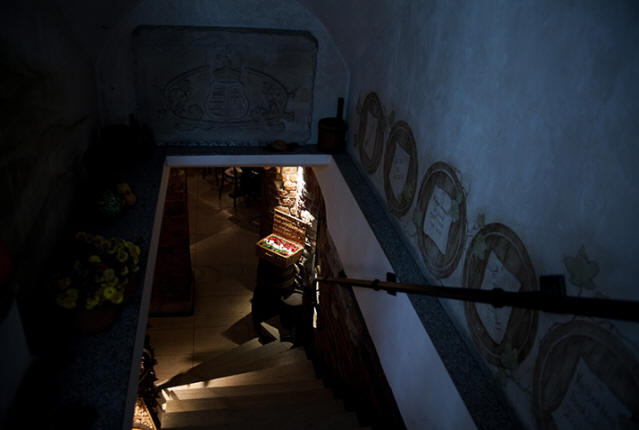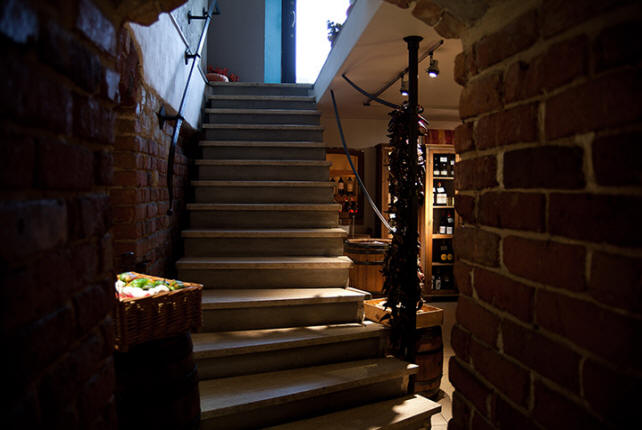 ... into this beautiful space. It is called Borpince [ul. Zgoda 1/3,
+48-22-828-2244]. They did a very nice job with this place.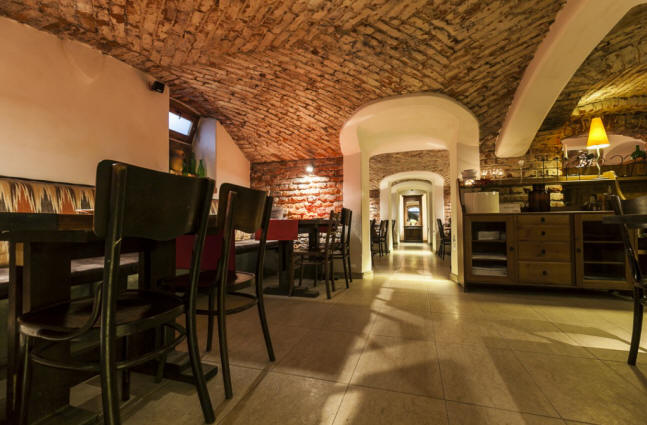 We were given one of these side tables against the brick wall - a comfortable table for four.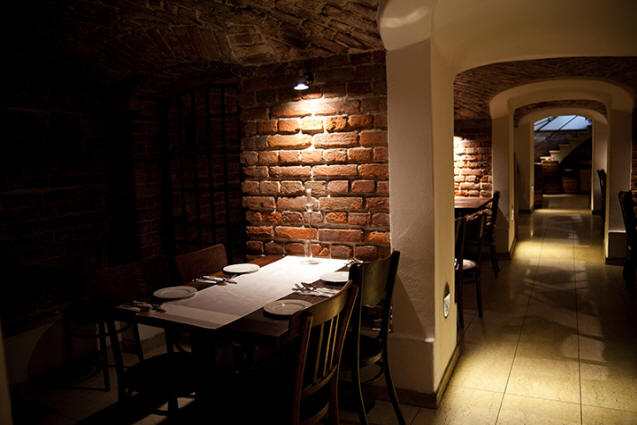 Since we hadn't made a reservation, they couldn't seat us immediately so we decided to sit at their entry bar and order a bottle of Hungarian wine (list below) called Löezedombi Szürkebarát István Jásdi (Pinot Gris) for Ź135 ($40). It is from the Lake Balaton region in Hungary [which we visited in 1970, 1997 and 2011].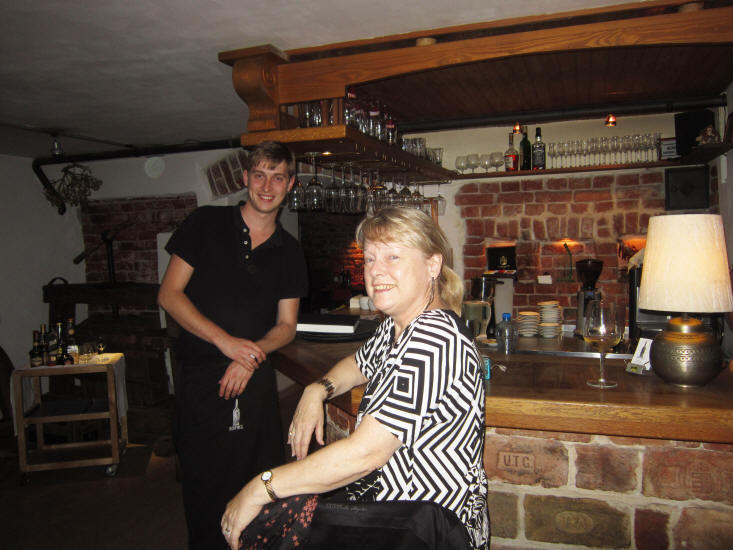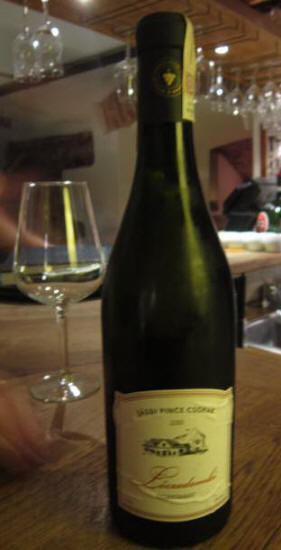 Here are my photos of the room (left) and Marcia at our table (right).
They only had one brand of beer, Tyskie, but their wine list was 100% from Hungary. This is a rarity, so take a look at the variety of Hungarian wines there are. The quality has come back after the Communist Era ruined it.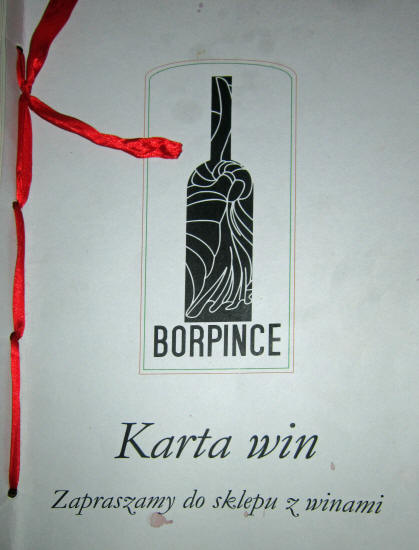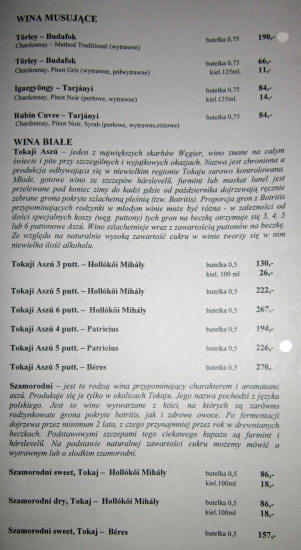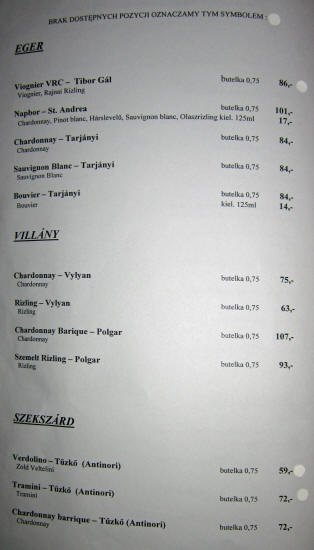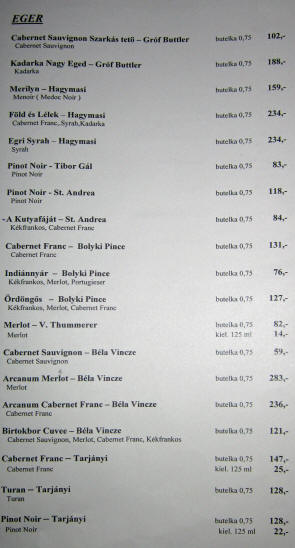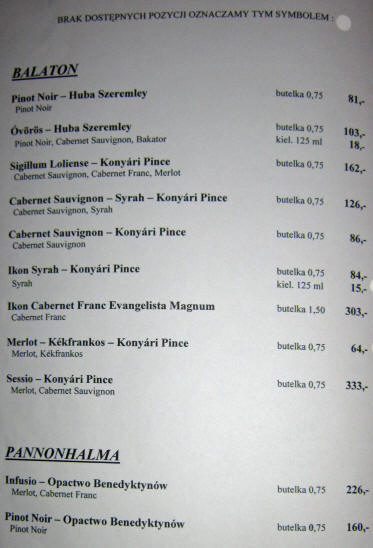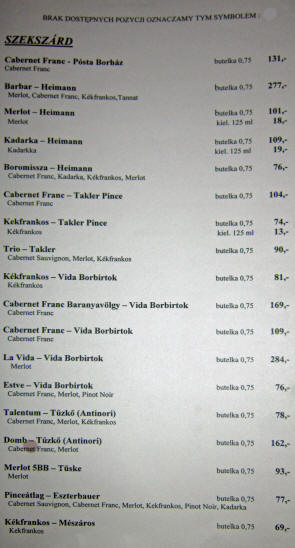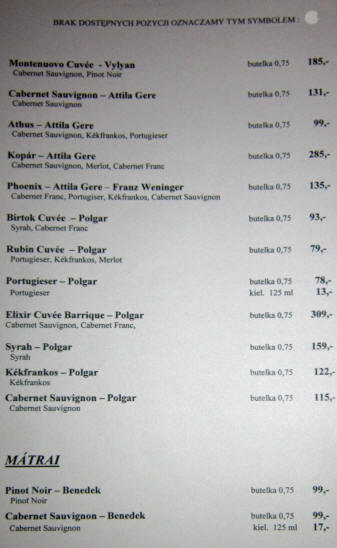 Now we looked over their menu (below right) and I was eager to have some Hungarian food again.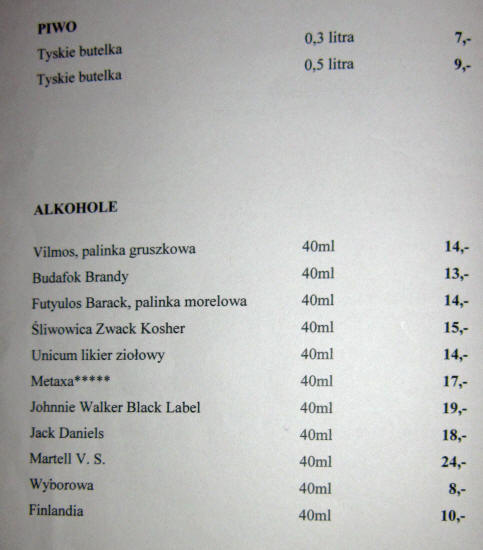 Their menu says they are a restaurant and a wine shop.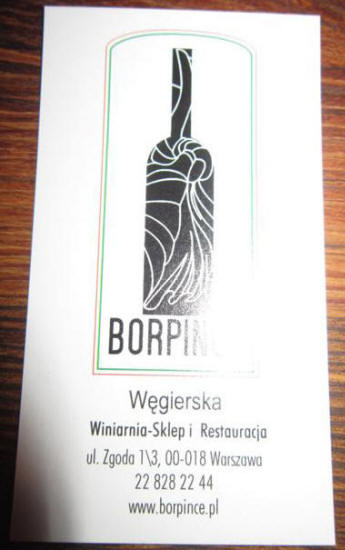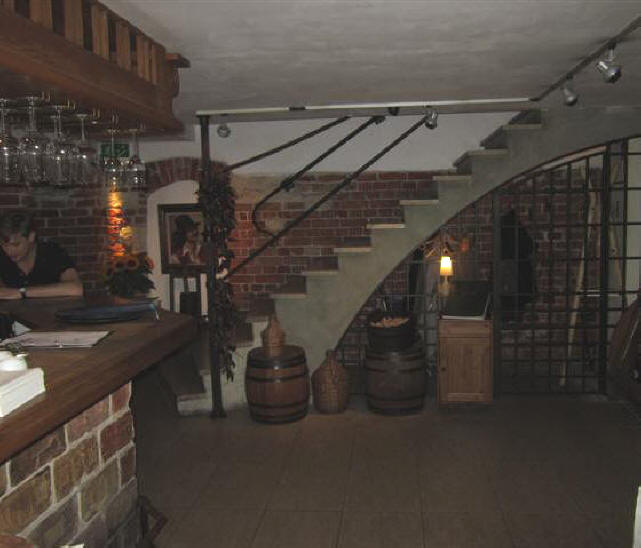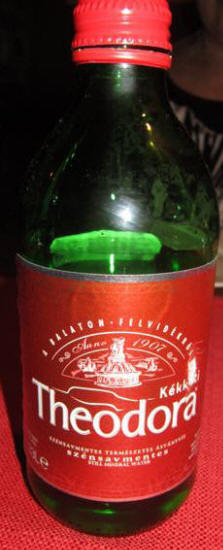 We ordered a bottle of Theodora still water from Lake Balaton (above right). They brought us some beautiful bread with two different interesting Hungarian spreads to put on it. Both were very good.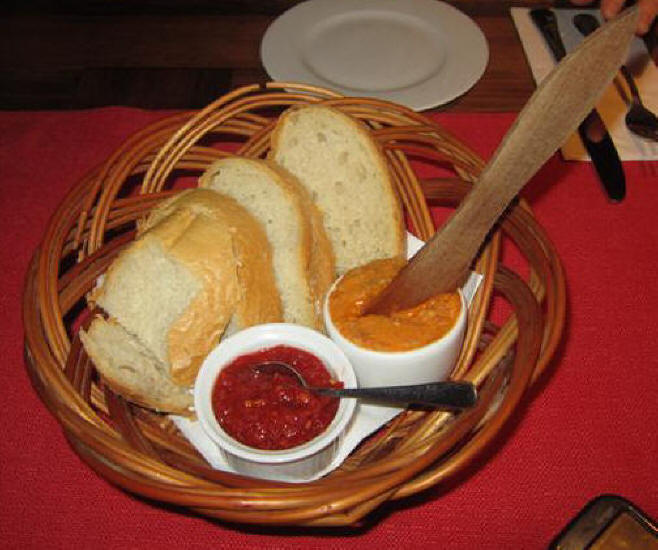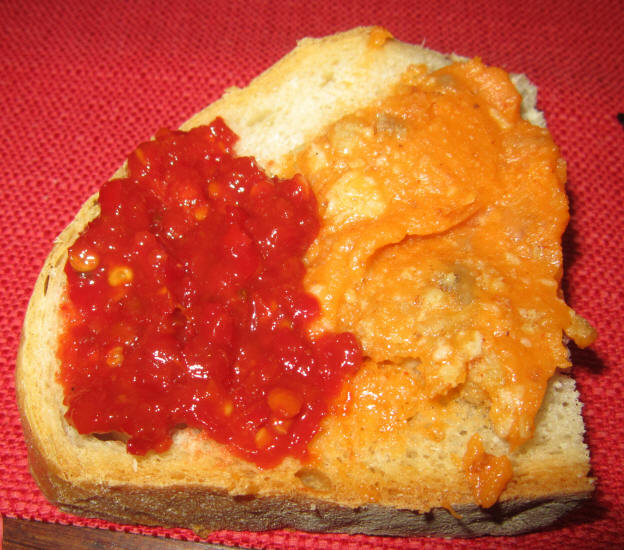 We ordered an appetizer called Hidegtá ("mixed Hungarian favorites") (Pólmisek wyjątkowych specjałów we, gierskich dia 2 osób (person) (Ź48). After we finished most of that, Marcia had an entree of catfish steak in garlic marinade on a bed of spinach with pomme frites (Fokhagymás harcsafilé spenótágyon: Stek z suma w marynacie czosnkowej, podany z dusonym szpinakiem I opiekanymi ziemniakami) (Ź38).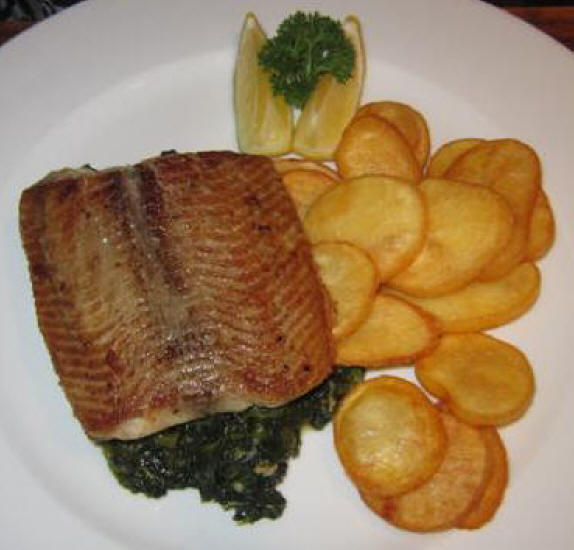 I was eager to order some good Hungarian beef goulash with nokedli (dumplings) and potatoes (Bográcsgulyás: Kociolek zupy gulasowej z wolowina, ziemniakami zacierkami I ostrá papryka). It was served in this metal hanging bowl.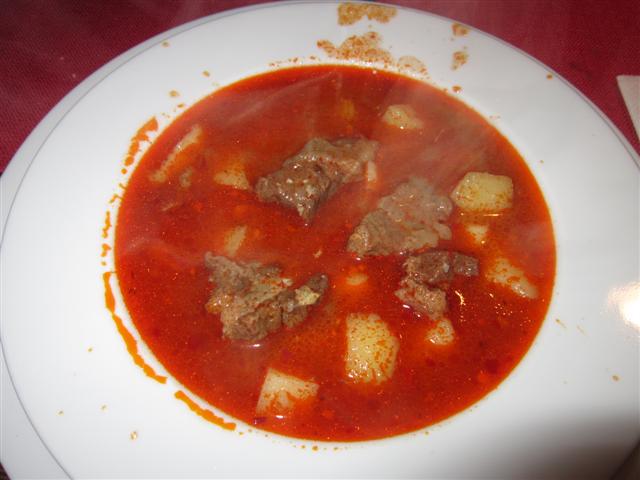 It was really good, so for desert I had a Gundel Palacsinta which is a classic Hungarian crepe with walnuts and chocolate syrup (Plonácy naleśnik z orzechami włoskimi I polewá czekoldowa) (Ź24).
Our waiter Arthur treated us extremely well and we rated the dinner as Excellent. The whole meal with wine cost us Ź416 ($125). At 12:15 AM, we started walking back to our hotel and went back through the shopping complex passing by the T.K. Maxx store.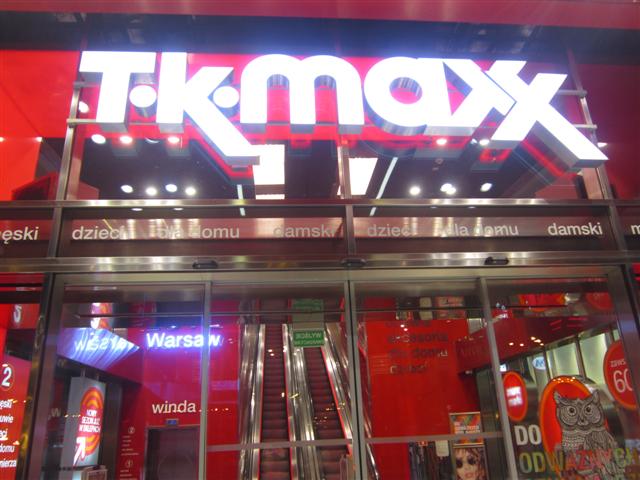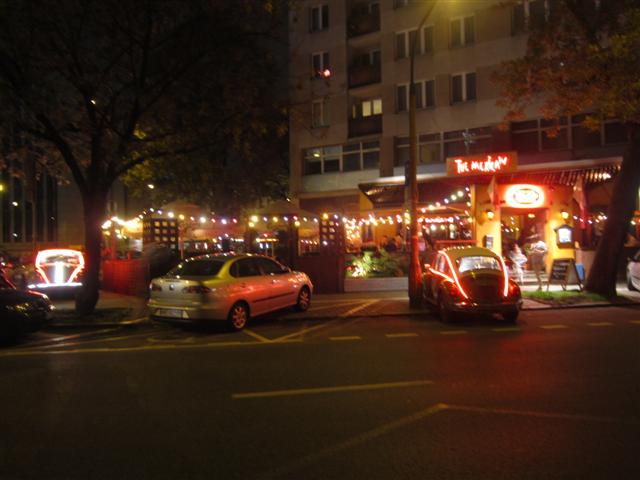 We went to the front desk at 12:30 AM and Lukasz gives us two more free drink vouchers. So what could we do but go back to Bojangles bar and use them. I had a Źywiec beer and Marcia a glass of white wine. I sat there and did all our receipt records. Marcia went upstairs to bed and while finishing up at 1:00 AM, I met a fellow from Limerick, Ireland named Brendan (below left) who sang Irish songs to me until 2:00 AM in the morning. Does traveling get better than this?
[It is hard to believe that two years later we were in Limerick, Ireland.]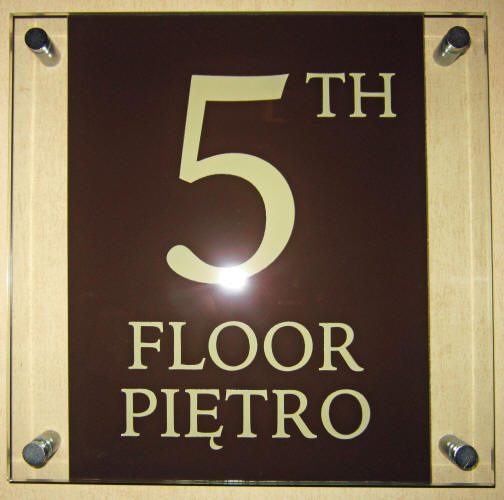 I finally gave up and got up to the 5th Floor (Piętro) and went to bed at 2:40 AM. It is a shame our first full day in Warsaw was so uneventful, but those three days in Kraków and the drive really wore us out.
---
Sunday, September 15, 2013
---
I woke at 6:55 AM, 10:00 AM, and then at 10:30 AM, Marcia woke me from a vivid dream of a little miniature horse that came up to me. I petted it and it liked me so I was trying to figure out a way to take it home. Then I woke up and decided to get dressed if I wanted to make it to Mass on time. So at 11:45 AM, I started my run on their treadmill, as yesterday, and then ran out of the hotel and headed to church.
I started shooting pictures of everything and the first was this hop on/hop off Warsaw "CitySightSeeing" bus.

I got a photo of this sign on the front of the hotel describing some of its history and, of course, another picture of the PKiN and nearby buildings across the street.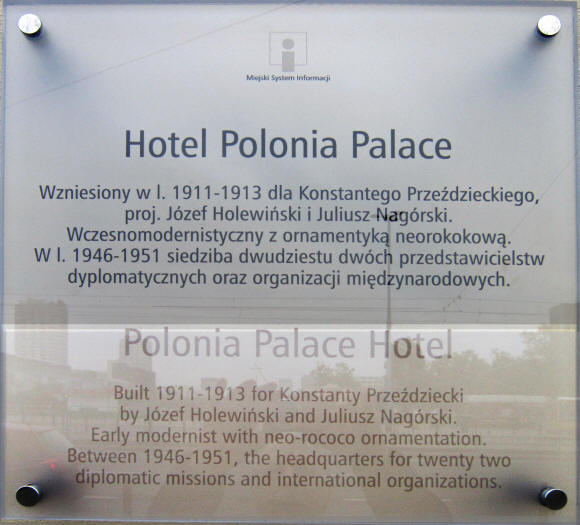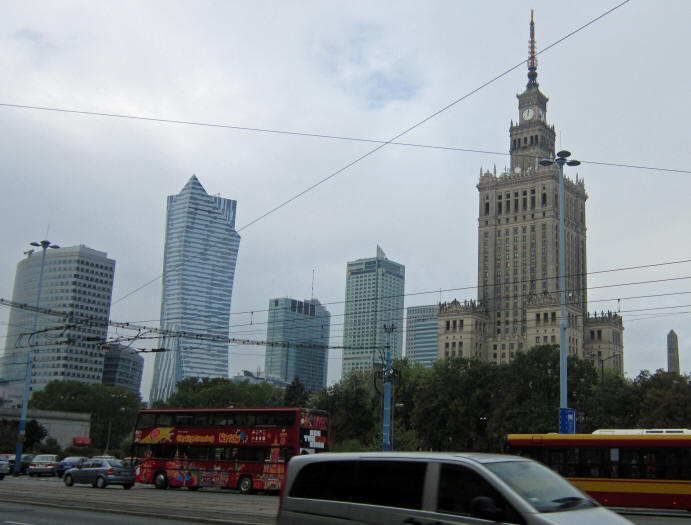 I then walked to the intersection and down into the underground crossing until I got to the correct stairs leading me out and...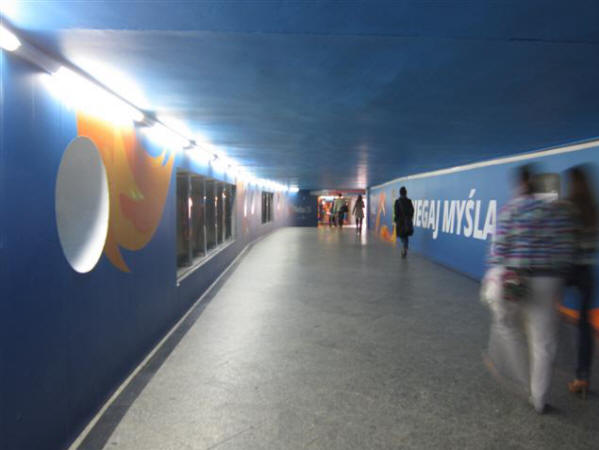 ... I found Oscar Coffee before I went up.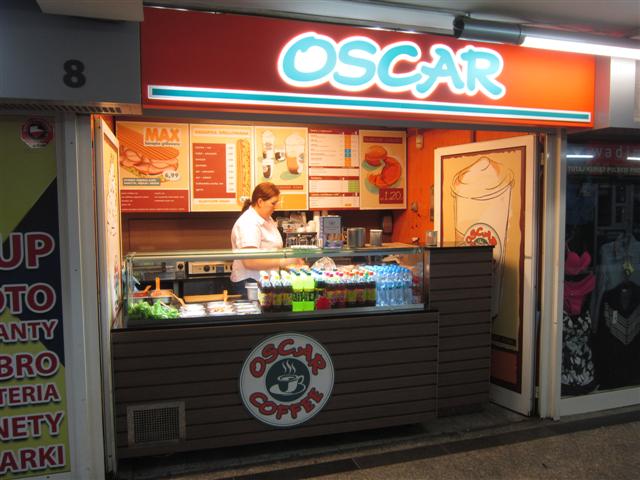 When I got to street level there was this sign giving directions to the nearby Federaja Konsumentów (the Consumer Federation), Teatr Kwadrat (the Kwadrat Theater), Filharmonia (Philharmonic), Palladium and Instytut Francuski (the French Institute).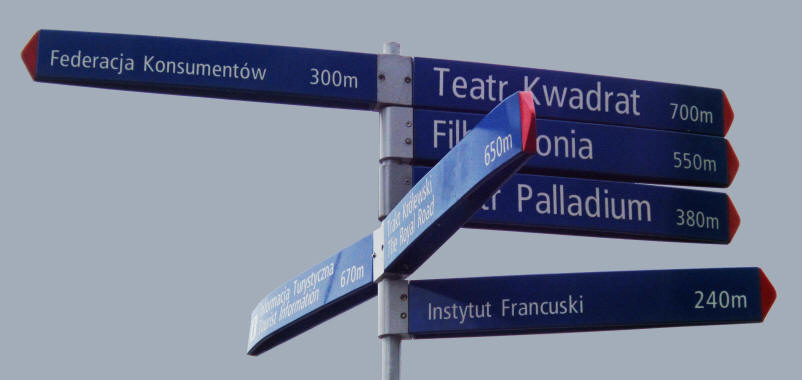 I got another photo of the PKiN building and a nearby police (policja) van.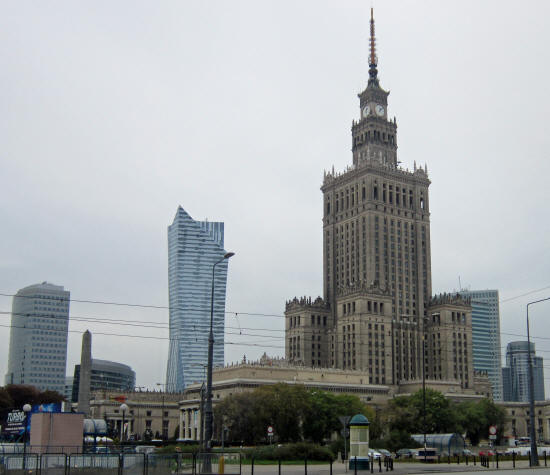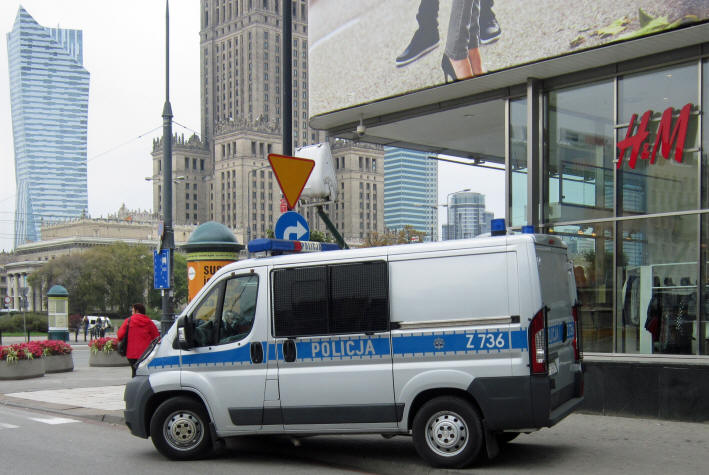 I then walked by the Amica apartment building, JATOMI Fitness Studio, Starbucks, KFC and Burger King.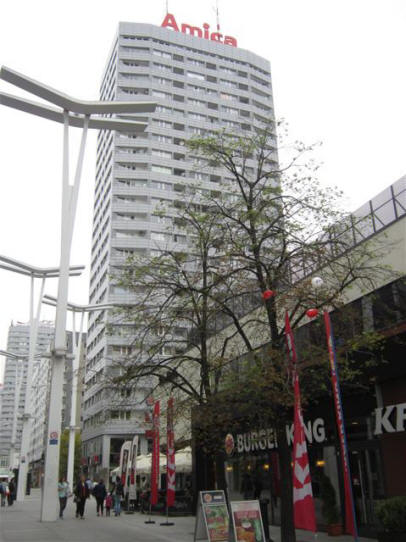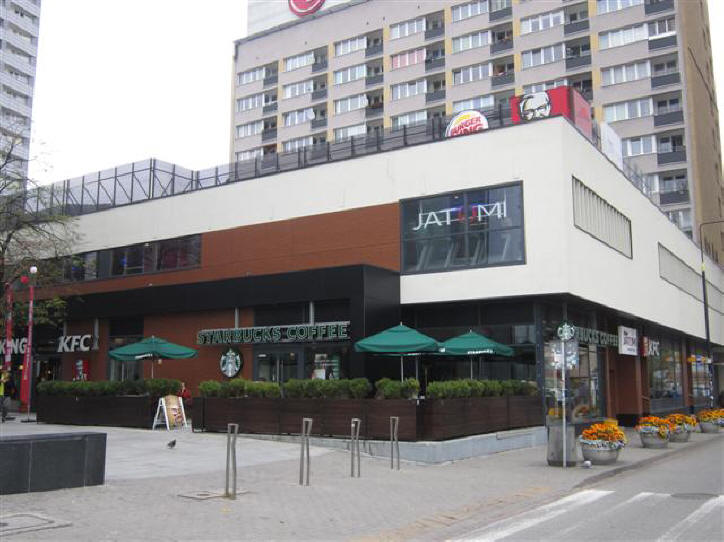 They also had a Pizza Hut and a small park nearby.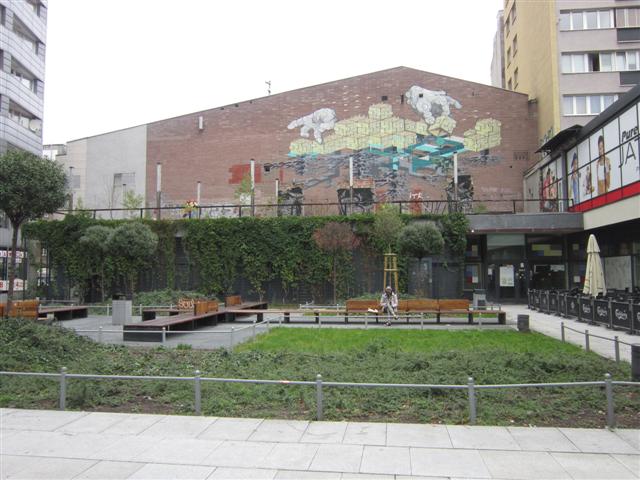 Running along Chmielna, I passed the Sioux Restauracje [ul. Chmielna 35,
+48-22-827-8255] and

T.K. Maxx [ul. Marszalkowska 104/122,
+48-22-827-0004] which we went by last night. Its name sounds like a ripoff of the American brand T.J. Maxx (logo right) but its not. When they opened subdivisions in the EU they had to avoid a popular UK brand name starting with "T.J." so they changed it to "T.K.".
[The Sioux is now permanently closed.]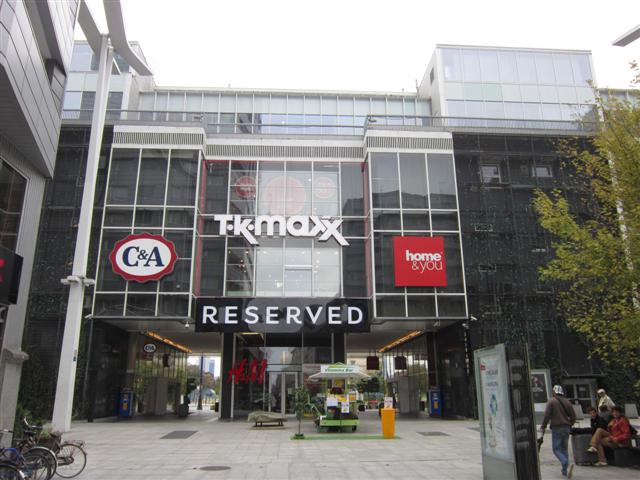 Also on ulica Chmielna, is the Atlantic movie theater and the Residenz St. Andrew Palace, a very nice looking apartment building.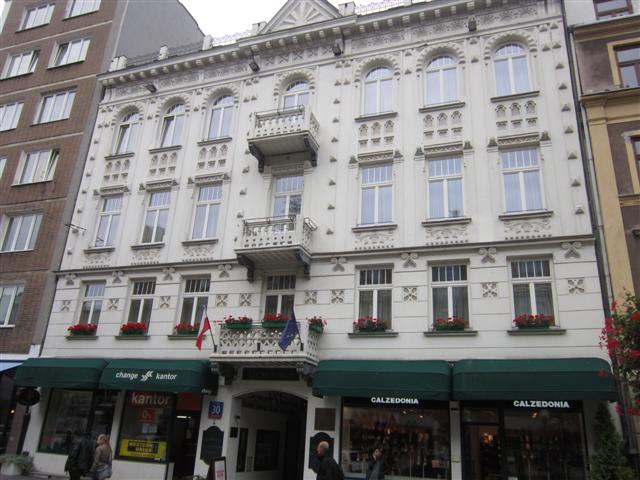 I then went by Restaurancia Zgoda [ul. Zgoda 4,
+48-22-8274] and the Alkohole again.
This is the area we went by last night (below left) and then I saw the large Krajowa Rada Społdzielcza building [ul. Jasna 1] with the eagles perched on top. It contains the Muzeum Historii Spółdzielczości (Museum of the History of Cooperatives) and the The National Council of Cooperatives [
+48-22-596-4300].
I finally arrived and attended the 12:00 PM Mass at Holy Cross Cathedral (Kościół Św. Krzyża) [3 ulica Krakowskie Przednieście,
+48-22-826-8910] which is located prominently on Warsaw's "Royal Route".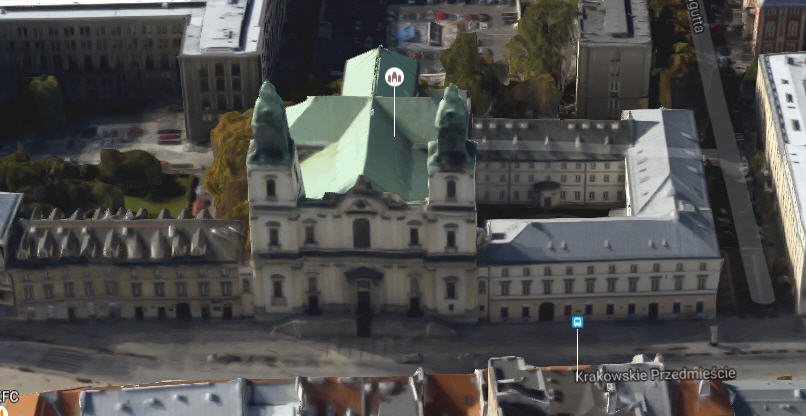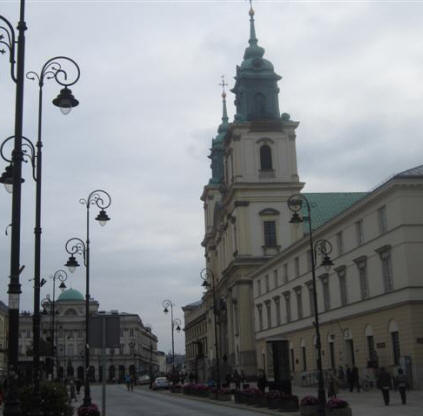 Above left is a Google maps shot and above right my Canon shot. Here are GoPro shots of the street outside.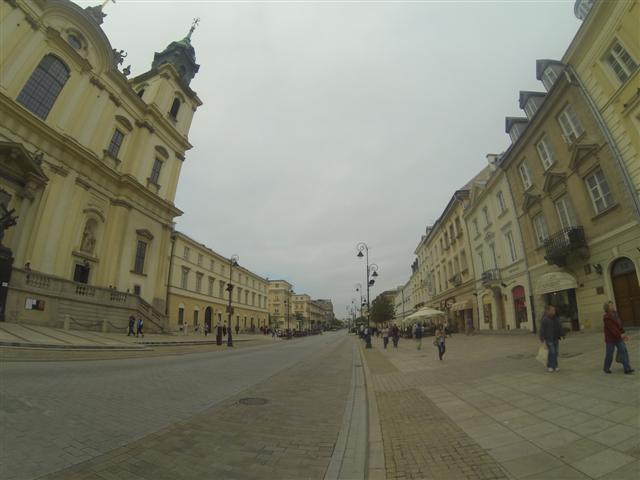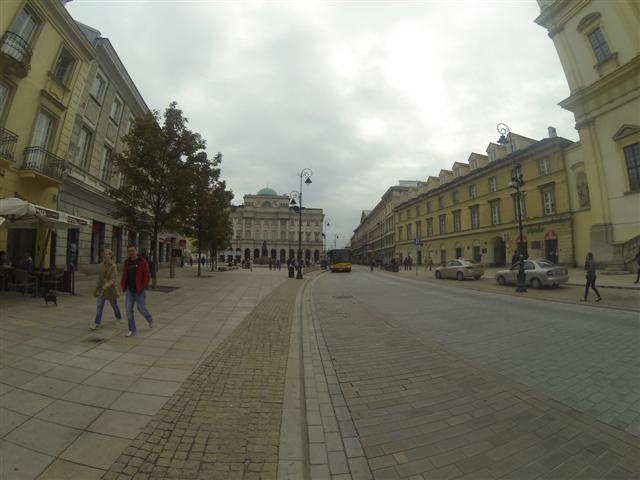 Here is the front of the church using the GoPro (left) and a stock photo of it (right). Note the cube on an angle at the bottom of the photo showing Canaletto's painting of the church from the 1700's.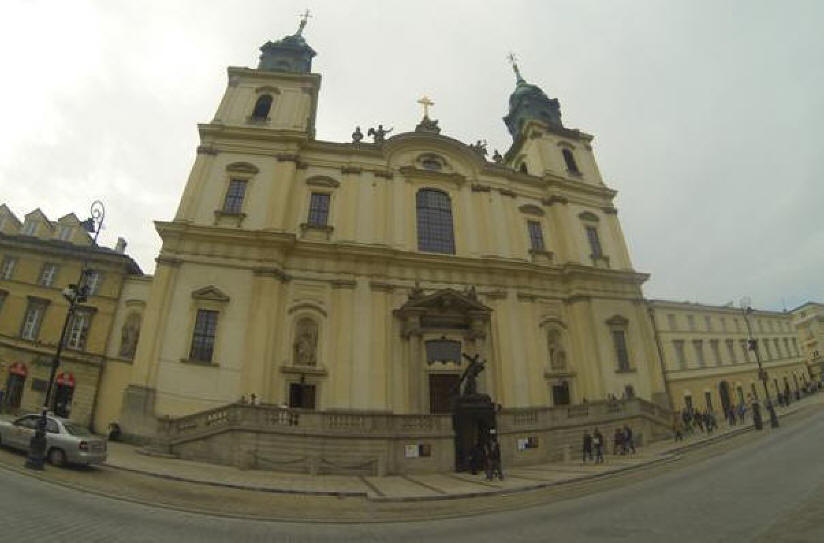 Stock photo left. Then my photos of the very large statue of Christ carrying his cross in front of the entry.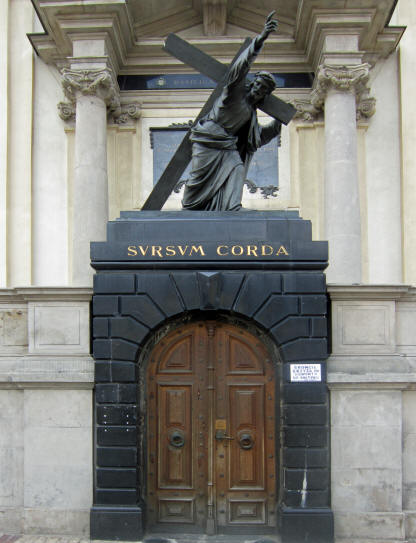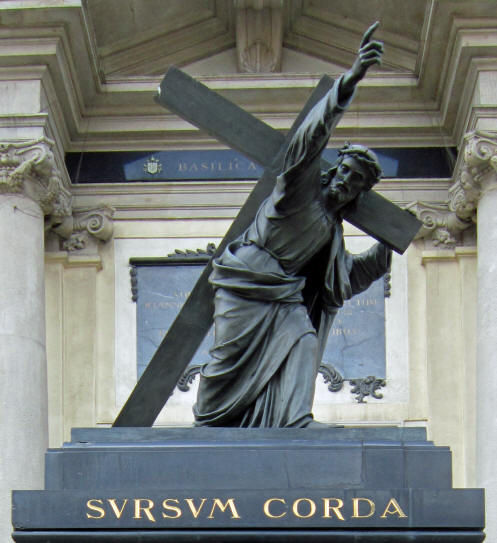 Below left is a scene of the church painted by Canaletto in 1770. He was a famous Venetian painter born Bernardo Bellotto (1721-80) (left), the nephew of his more
famous uncle Giovanni Antonio Canal (1697–1768), who taught him his craft. Bellotto accepted an invitation in 1764 from Poland's newly elected King Stanislaus Augustus Poniatowski to become his court painter in Warsaw in 1768. Here he remained some 16 years (for the rest of his life). His paintings of Warsaw, 26 landscapes painted between 1770-80, came to embellish the so-called Panorama Room (later Canaletto Room) at the Royal Castle here but were later relocated to Russia, then restored to the Polish Government in 1921. They were used in rebuilding the city after its near-complete destruction by German troops during World War II. Below right is a stock photo.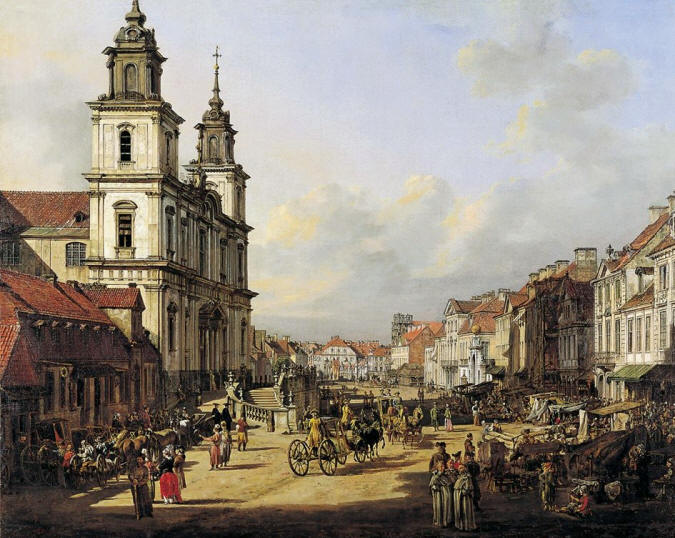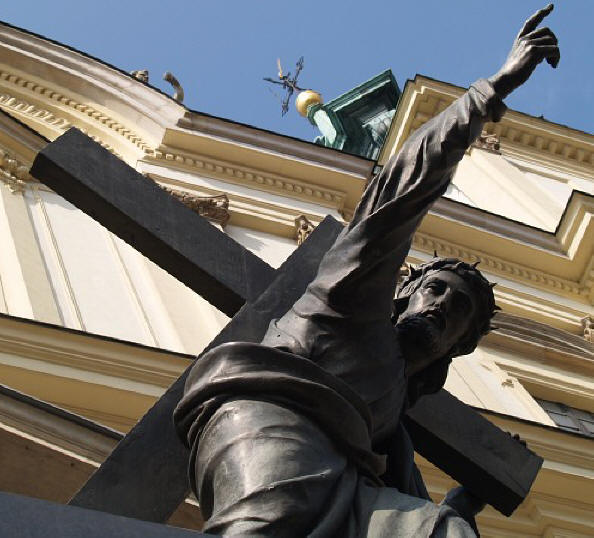 The older Canaletto (Canal) made paintings primarily of Venice, Rome and London but also visited Munich, Dresden and Warsaw. To view 596 of his collection visit this LINK. Below are just two of his well-known works of Venice; left the Grand Canal, right the Palazzo Ducale.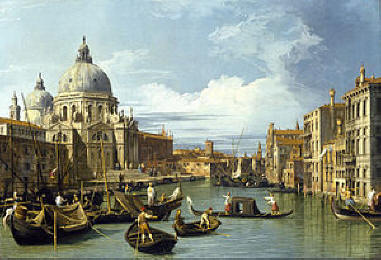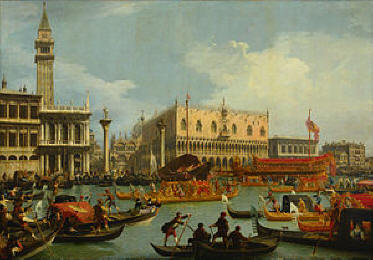 Below left is an image of the Cathedral in 1828 and on the right from 1890.
8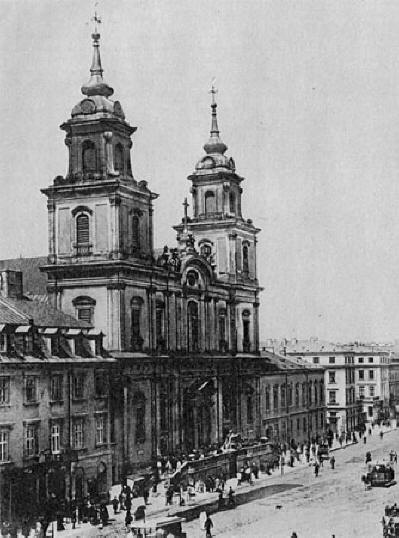 Below left is what it looked like in 1945 after the Nazis demolished it compared to its reconstruction today.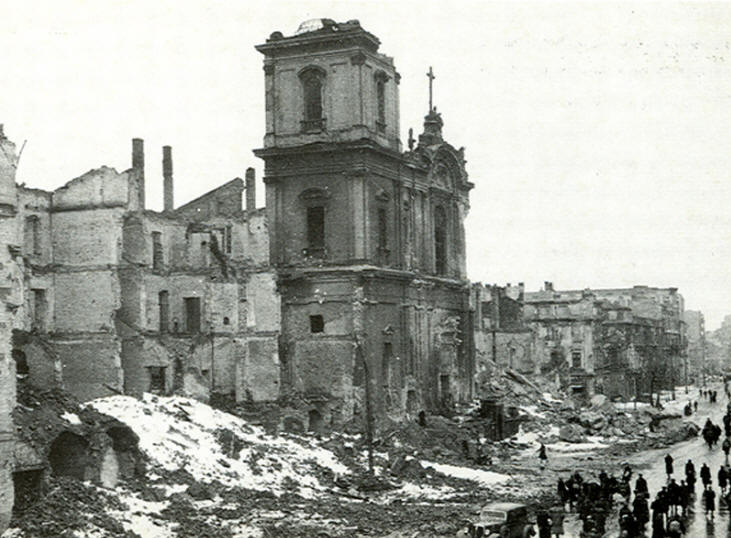 Below is one of the statues (center) in the alcoves and the plaque (right) of the Parish of the Holy Cross.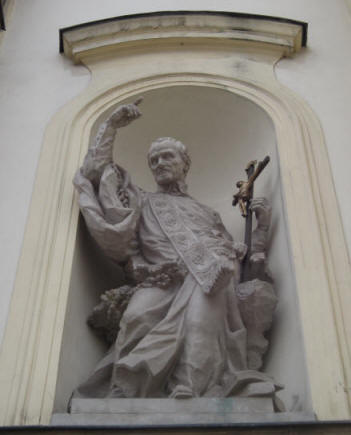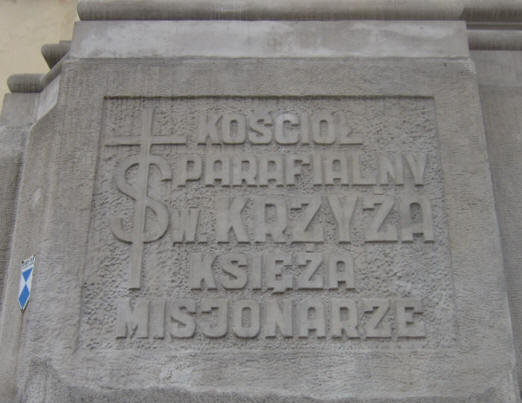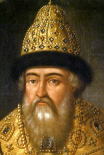 The nearby building is the Staszic Palace (below), the seat of the Polish
Academy of Sciences (since 1827) with the beautiful bronze statue of Copernicus in front. The building is on the reverse of the older 50,000 Źloty note which in 1993 became worth 5 źloty - today basically worthless. Interestingly, the building was first started in 1620, when King Zygmunt III Vasa ordered the construction of a small Eastern Orthodox chapel, as a proper burial place for the former Tsar Vasili IV (right) of Russia who died in Polish captivity. Vasili IV was a very interesting character in Russian history and a figure in Alexander Pushkin's famous play "Boris Gudonov". Below is my Canon shots of the building.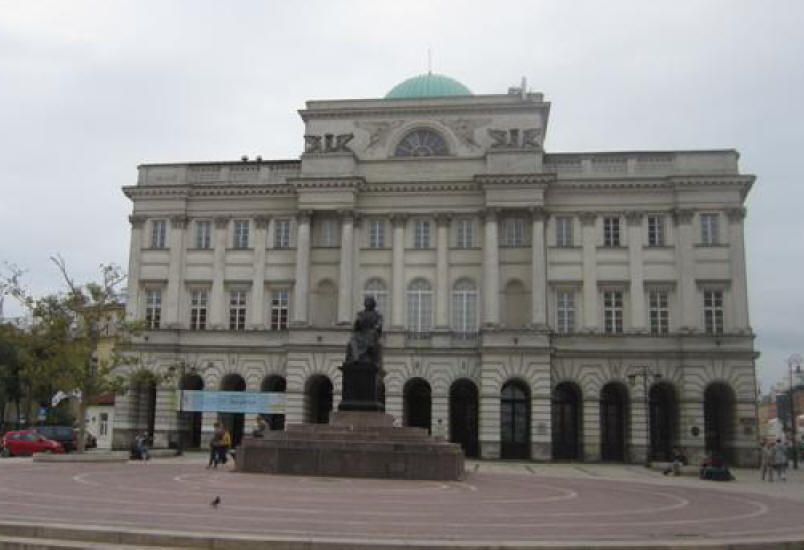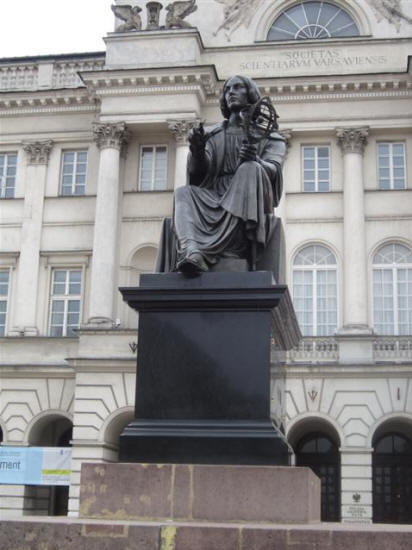 These are the GoPro shots of it.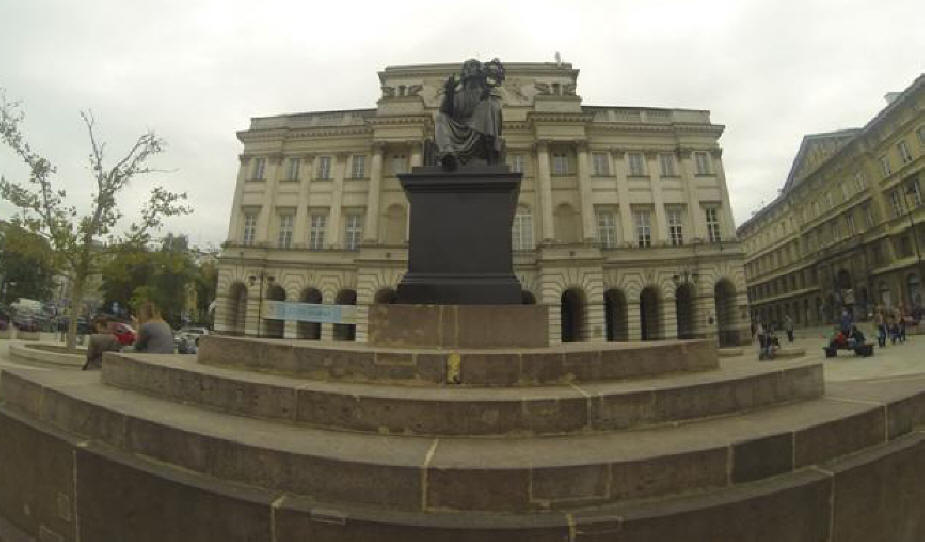 The Copernicus statue was sculpted in 1822 by the Danish sculptor Bertel Thorvaldsen (1770–1844) (below). It is a 9.2 ft (2.8 m) high sculpture of a seated Nicolaus Copernicus with a compass in his right hand. The photo of Thorvaldsen below right was the first photograph ever taken in Denmark.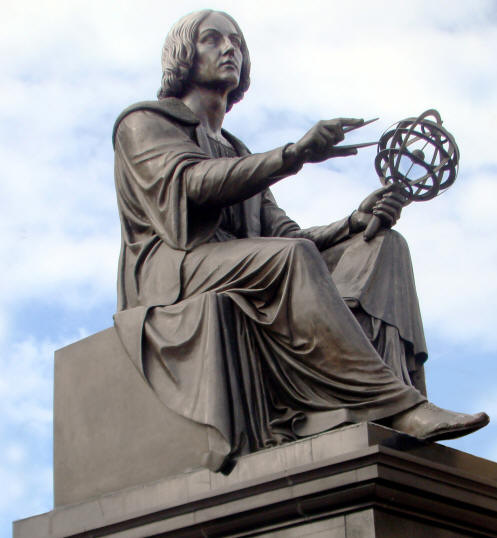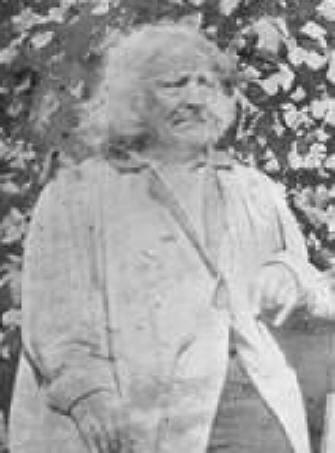 Here is my GoPro PhotoStitch picture of the street going from the church (left) to the Staszic Palace (right).

Below is the same scene but from the Canon PhotoStitched pictures.

Here are two stock photos of the area.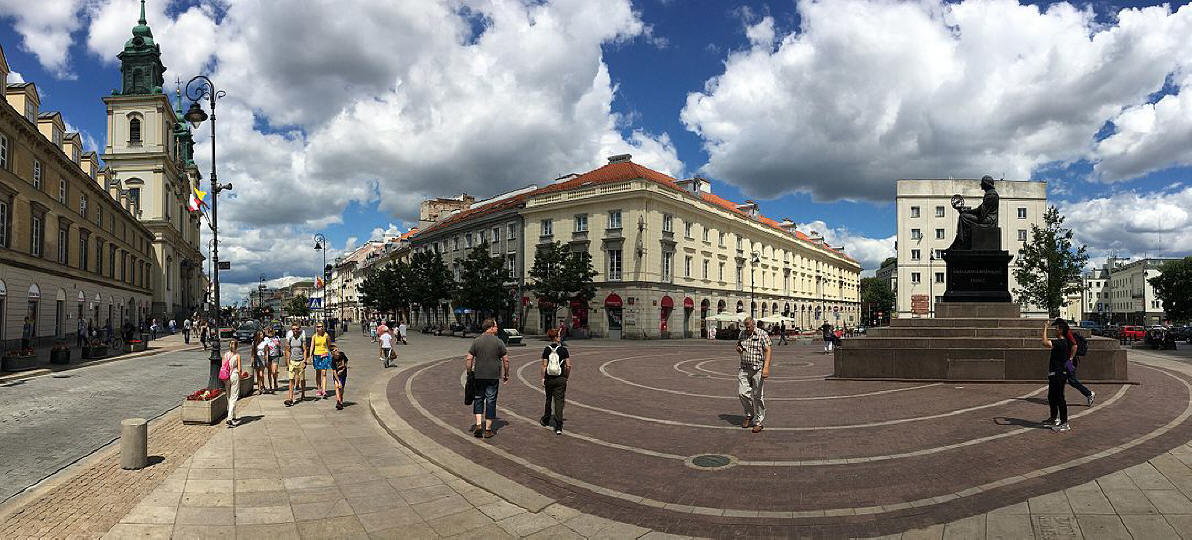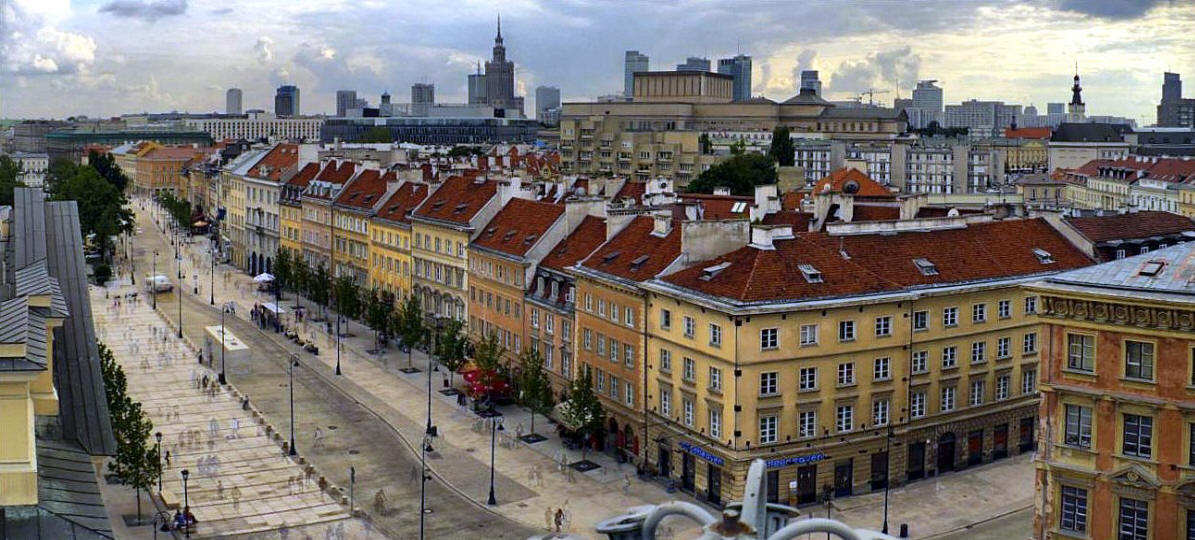 Below is the interior of the church looking toward the main altar (left) and looking at one of the side aisles (right).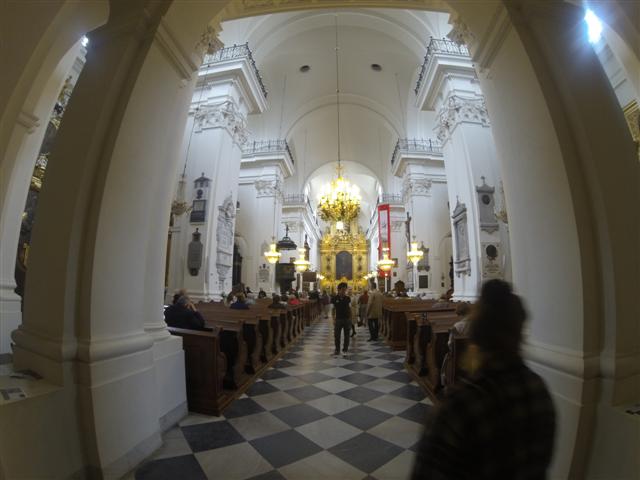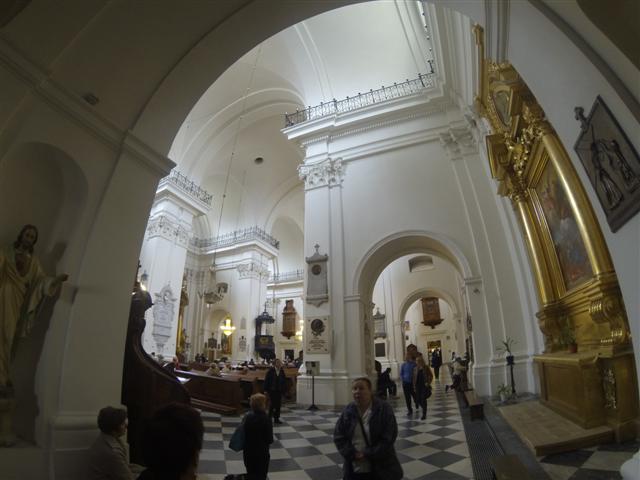 Here is a PhotoStitch of the main altar and the Mass attendees.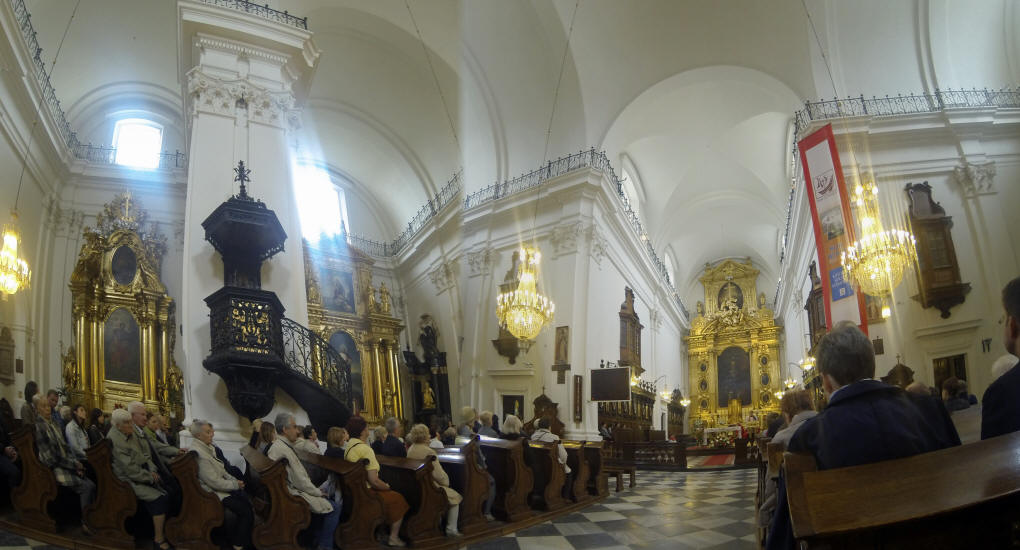 Below are my Canon shots approaching closer and closer to the main altar showing the beautiful choir stalls on either side. Note the square screen on the left side (below left).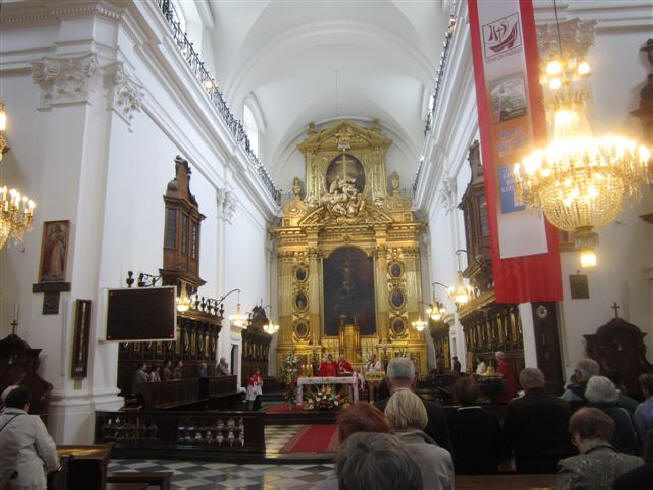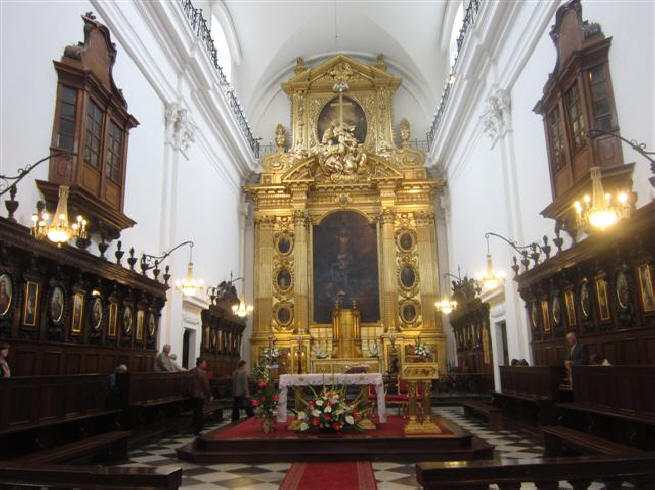 That screen projects the words to the music to be sung. A very modern way of doing it. This is my Canon shot of a side altar.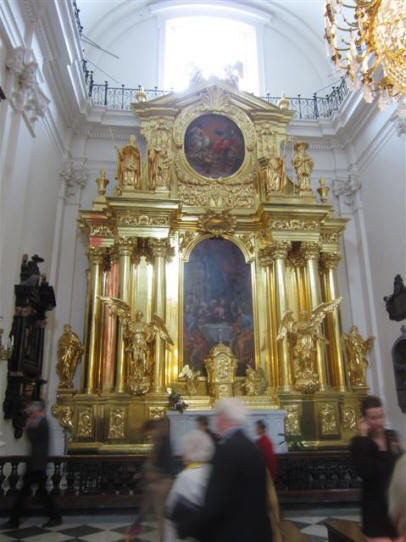 Here is a stock photo looking toward the altar.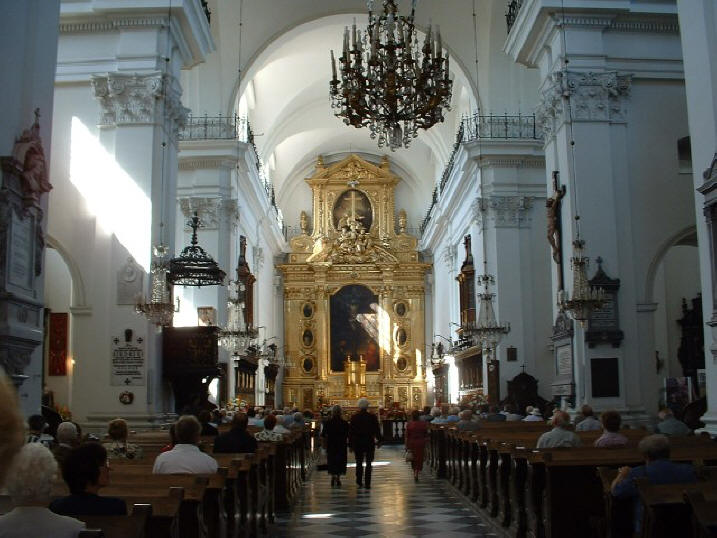 Here are some beautiful photos from their website showing the front (left) and the rear (right) of the church.
Here is a close-up of the altar (left) and the left side aisle (right) showing the wood-carved confessionals.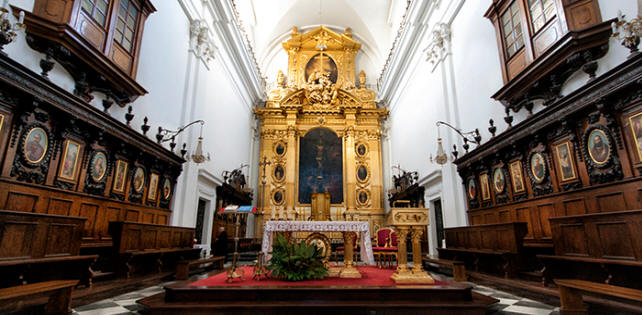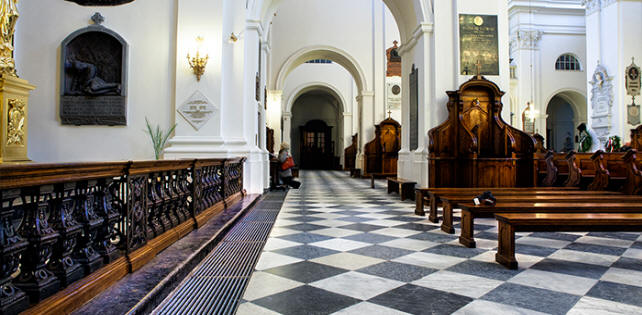 Here are my Canon shots looking back toward the entrance and a close up of their beautiful organ which was built in Salzburg, Austria in 1925 and is the largest organ in Warsaw.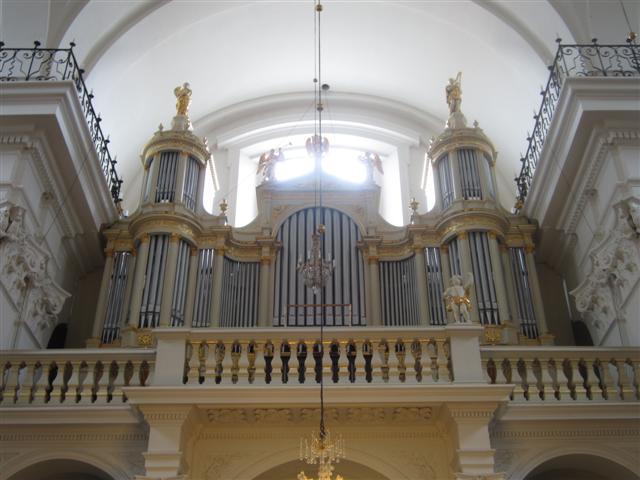 Below left is the pulpit, center is a icon shrine to Mary and on the right, their Mass schedule list.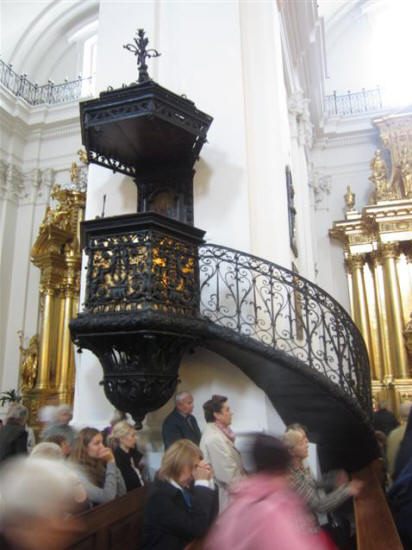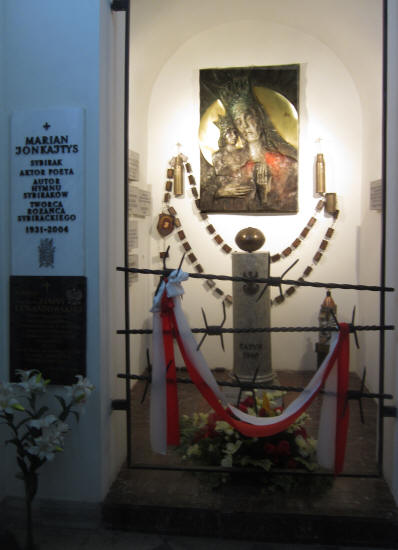 Below left is my shot down the right aisle. At the very far left you can see the column containing Chopin's heart and on the column in the center is the Aleksander Bolesław (1847-1912) memorial plaque. He was known as Boleslaw Prus (but he was actually Alexander Glowacki). He was a Polish writer, novelist, and journalist of the period of positivism. He was a co-founder of Polish realism, chronicler of Warsaw, thinker, educator, social activist and a promoter of hiking and biking.
Below are stock photos of him (left), a monument to him in the square in the Krakow suburb of Warsaw (center) and his tomb (right).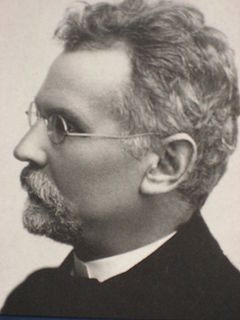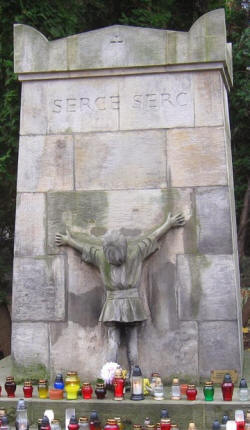 Here are my shots of memorial plaques; first for Michael Bogozinski (left), then Janowi Nieprzeckiemu (1792-1874) (center), and for Fryderykowi Chopinowi where Chopin's heart is buried. I searched the internet but could find nothing about Bogozinski or Nieprzeckiemu.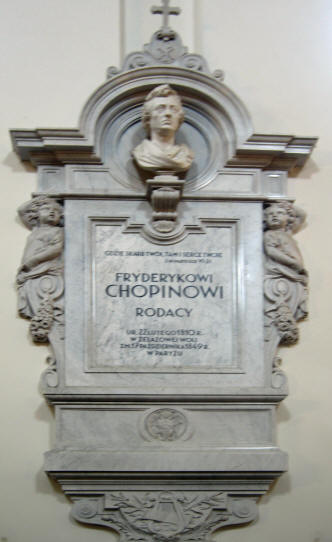 I left the church and noticed these two marble plaques on each side; in Latin (left) and Polish (right). It says "John Paul II, Supreme Pontiff, on January 21, 2002, designated the title Minor Basilica to the Holy Cross Cathedral."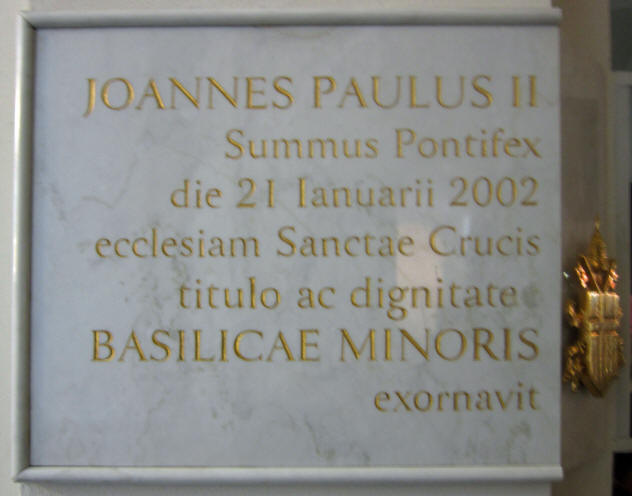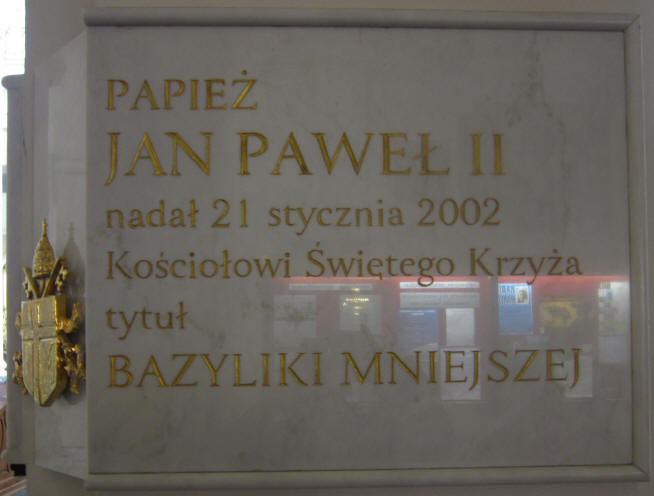 I was now in need of some coffee, so at 12:50 PM, I walked down Krakowskie Przednieście (ul K-P) past some bicycle rental racks (below left) and went by Saint Honoré Bakery [ul K-P 18,
+48-50-814-3987] (2 umbrellas) (below right) for pastries, Galaria Atak (above it) [ul K-P 16-18,
+48-22-826-5055] an art gallery and Restauracja Pod Messalką [ul K-P 16/18,
+48-22-826-9599] (1 umbrella) which serves local cuisine at reasonable prices.
I then found a place for a cappuccino at Costa Coffee Heaven [Krakowskie Przednieście, 8,
+48-22-828-2858] for Ź10.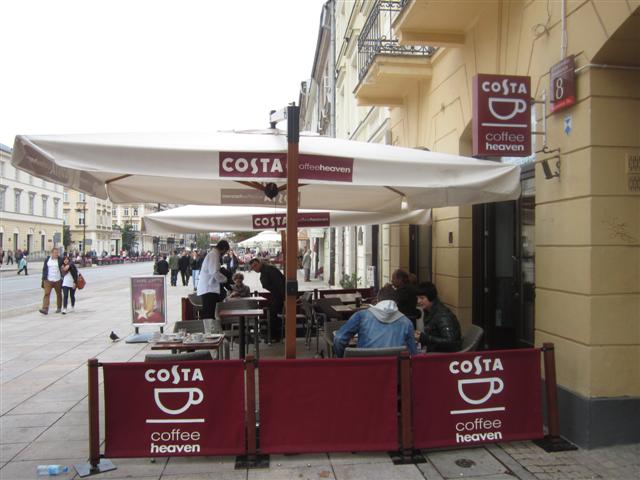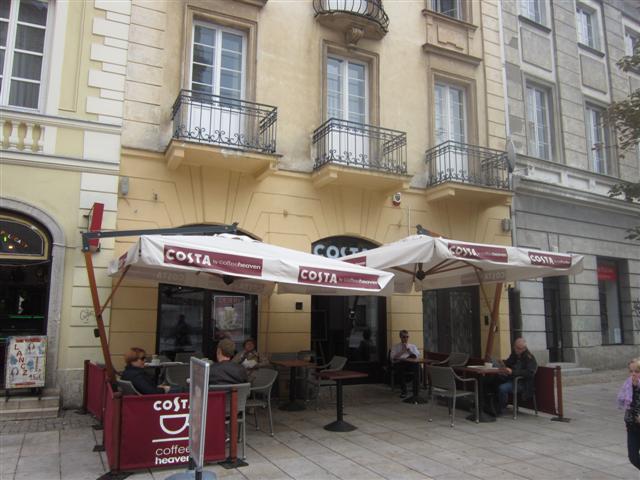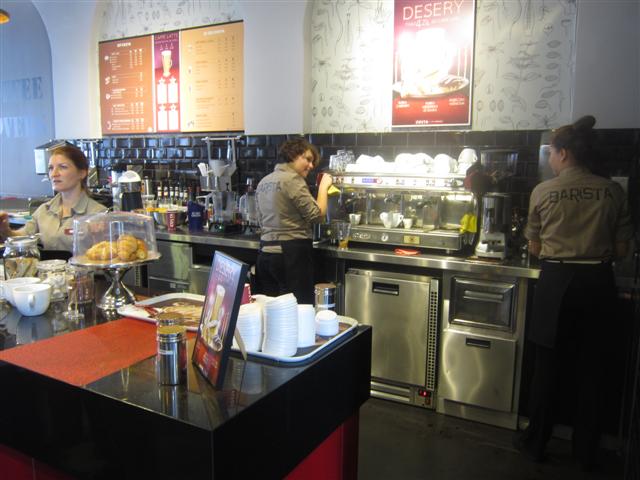 It is a nice modern place and pretty big with plenty of places to sit.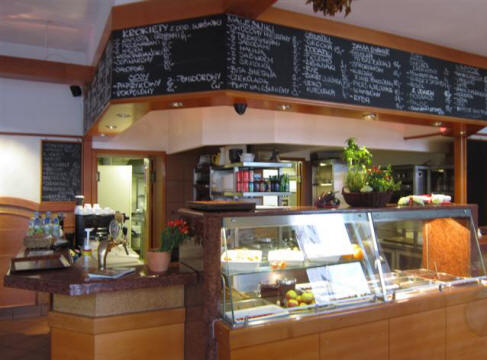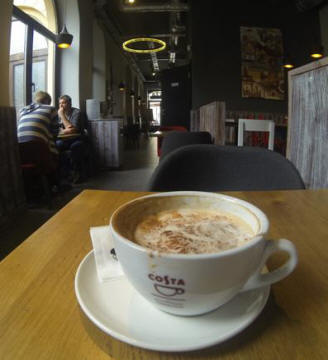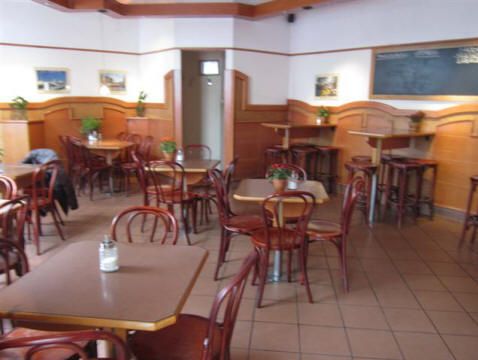 The sandwiches they had looked very good; too bad I'm not hungry.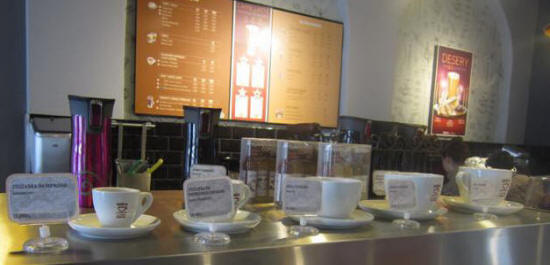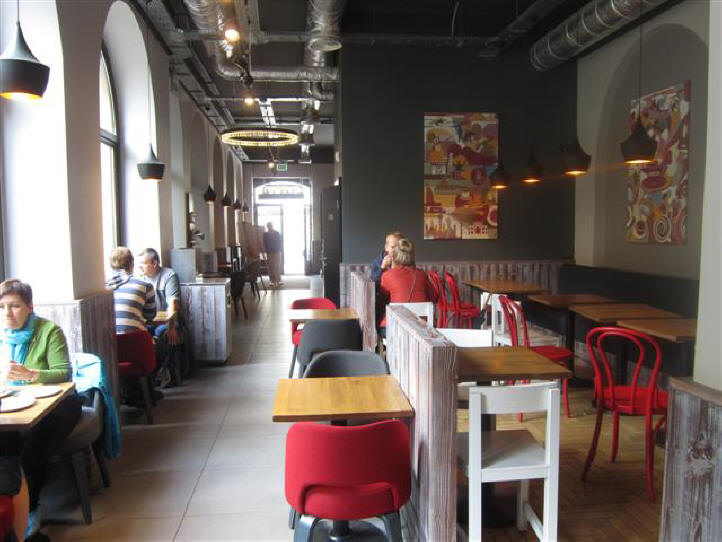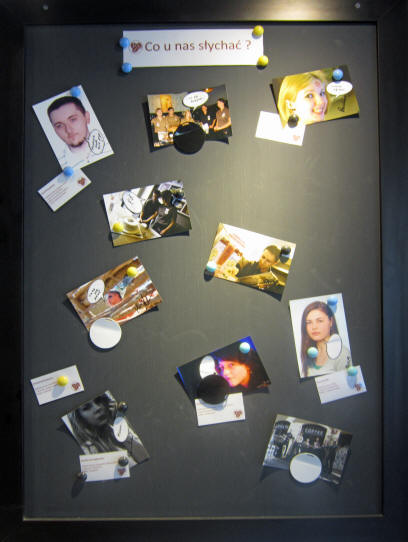 I finally got my Polish translations for words I should know.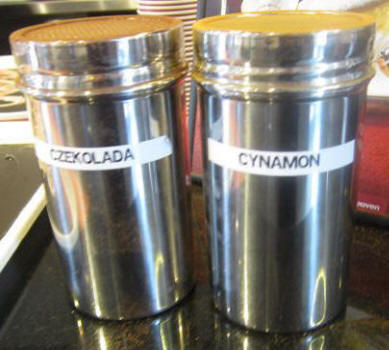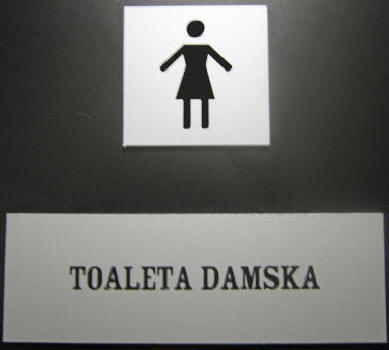 I discovered later that Costa is a franchise that covers all of Poland (map below). At 2:10 PM, I left and started my walk down Warsaw's Royal Route, photographing everything I saw that was interesting - so, bear with me. If it's too much for you, simply scroll down. I wanted to catch the flavor of this city in the short time I have left.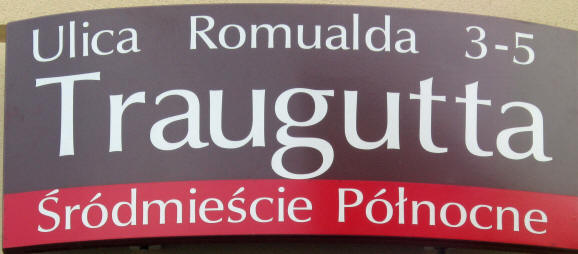 Here is a stock panorama view of my walk today from the Cathedral (left) to the Royal Castle (right).

At 2:15 PM, I turned left on ul. Traugutta and discovered where they have their food fair after Mass. It was in a little courtyard behind the church (below left). There was a pretty big gathering after the next Mass.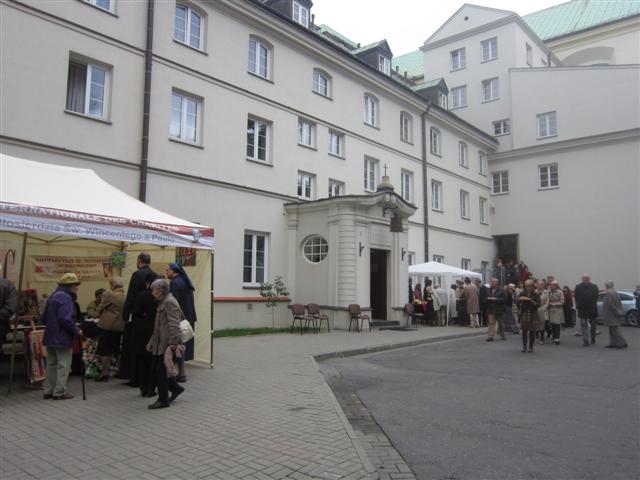 There were real nuns with habits on which was nice to see. They were selling a lot of handmade art, ...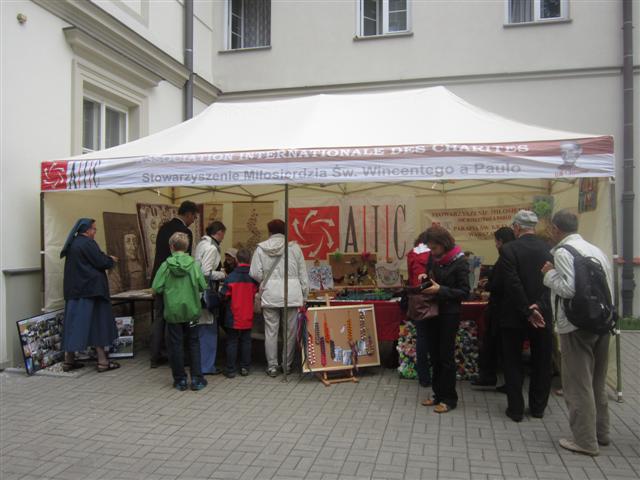 ... cakes, tarts and tempting baked goods as well as ...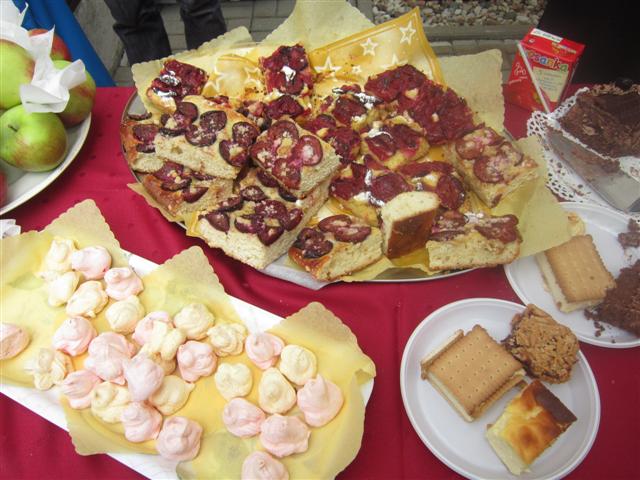 ... booths with embroidery goods.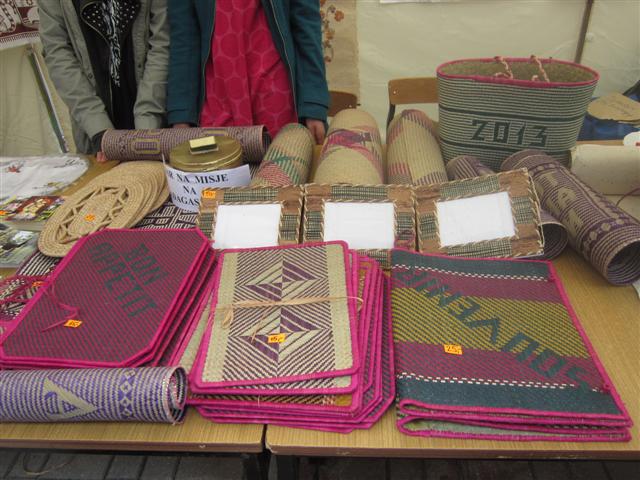 I then came across this restaurant called Krokiecik [ulica Zgoda 1,
+48-22-827-3037] with its menu display. It is right next door to Borpince where we ate last night.
[Now I find out it is permanently closed.]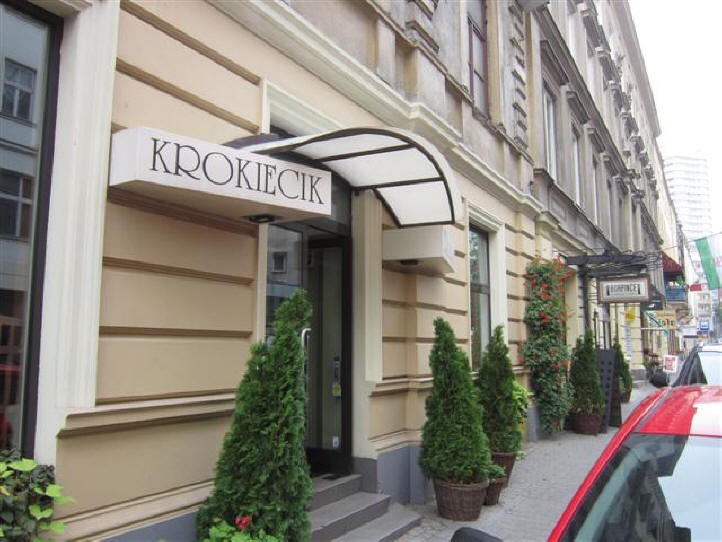 I came across this interesting directional sign for Borpince next door (where we ate last night) as well as a Plus phone store.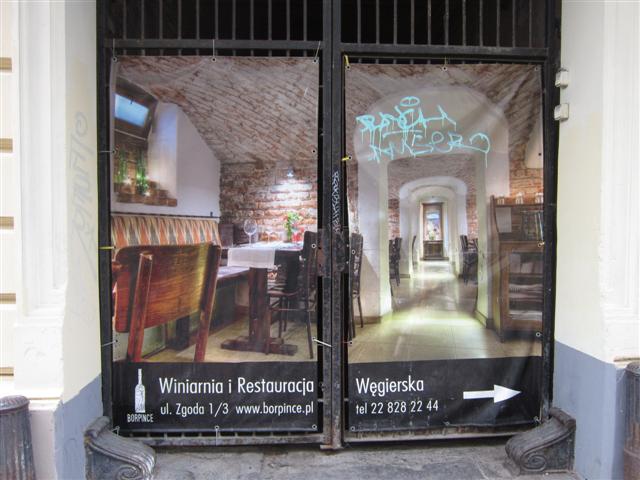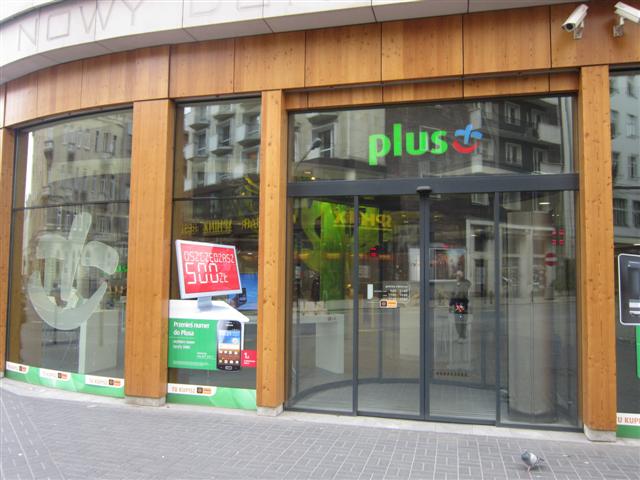 In this large intersection near ulica Chmielna was the Sphinx Retauracja Grill Bar serving Oriental and international cuisine and one of 100 places they have in Poland.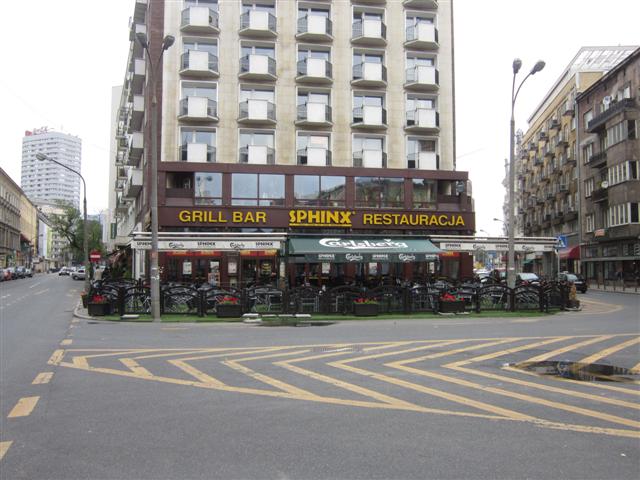 Then there was the Georgian wine bar, Winiarnia Tbilisi [ulica Puławska 24,
+48-73-963-1296] and the Flow Bar [ulica Lipowa 41,
+48-51-930-0068] a place for coffee, drinks or lunch.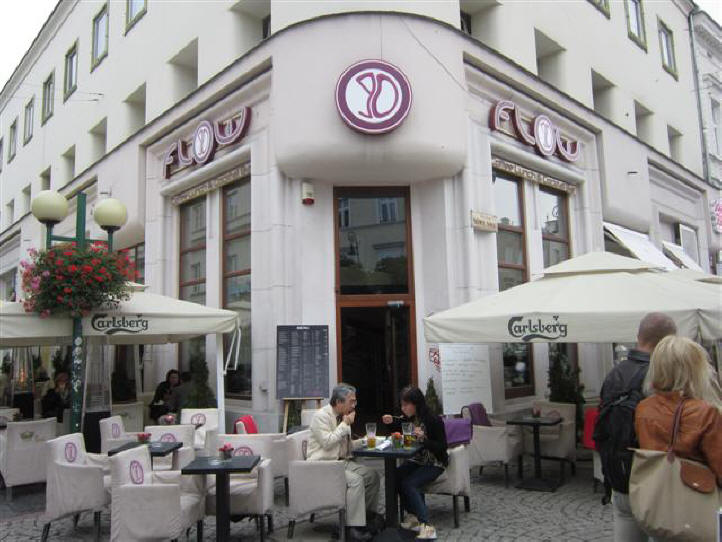 Soon I was walking along ulica Nowy Świat, one of the classier streets in downtown.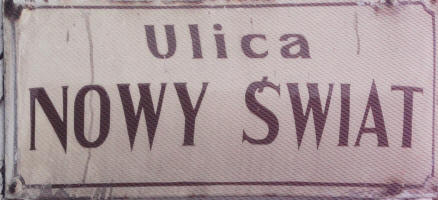 I went by the very large A. Blikle Cafe [ulica Nowy Świat 33,
+48-22-826-0569] an ice cream, deli and pastry shop founded by Antoni Kazimierz Blikle in 1869.
Here are stock photos of the interior (left) and their display of sweets (right).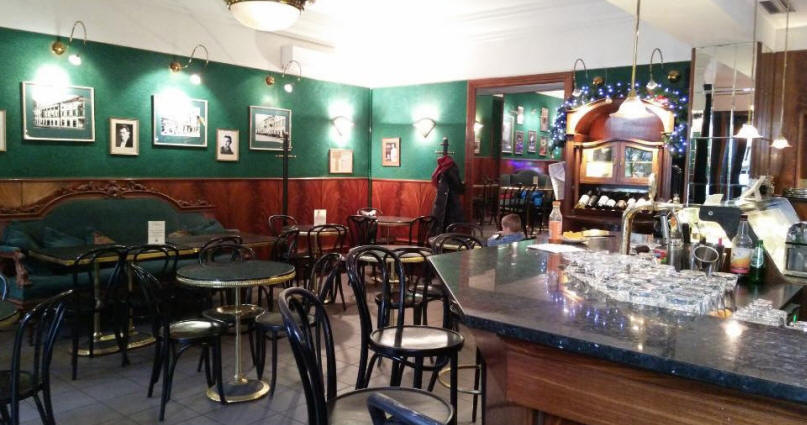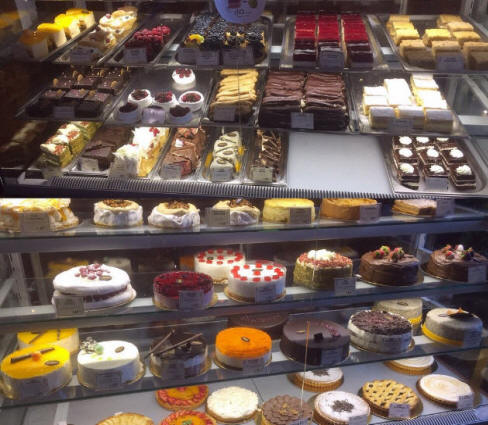 This memorial on the building was to Melchior Wańkowicz (1892-1974) who was a Polish army officer, popular writer, political journalist and publisher. He is most famous for his reporting for the Polish Armed Forces in the West during World War II and writing a book about the famous battle of Monte Cassino in Italy with Polish soldiers.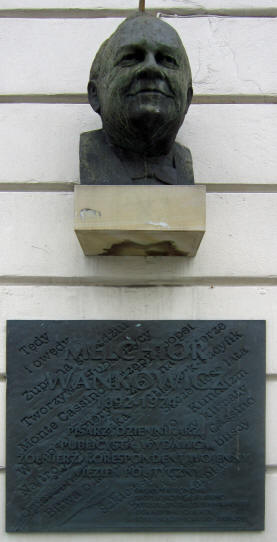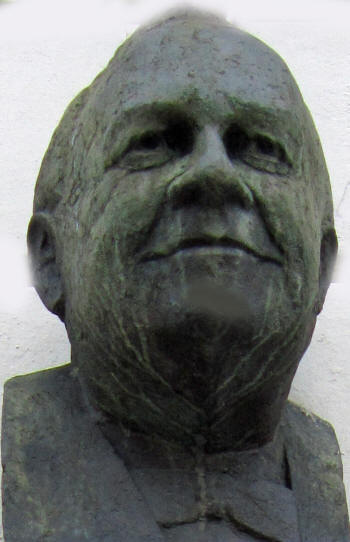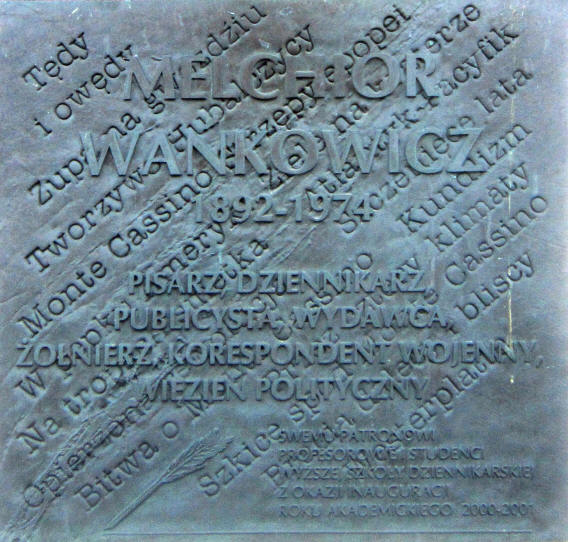 Here is his photo (below left) and his gravesite in the Powązki Cemetery in Warsaw. He looks very much like Robert Osborne (below center left), the film historian on Turner Classic Movies (TCM). [who died in 2017]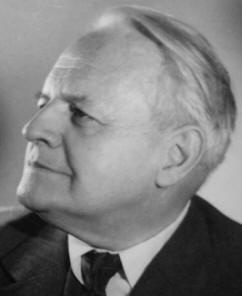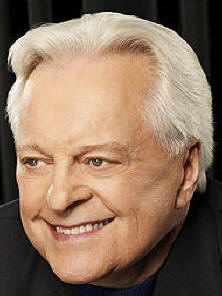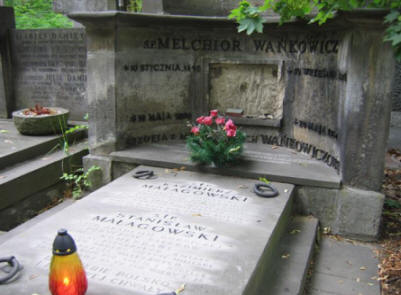 Then I wound up on ulica Ordynacka. Have you forgotten yet that this city was completely demolished almost 70 years ago? I thought these flowers along the street and on the balconies were a beautiful addition. I wish Santa Monica would do this.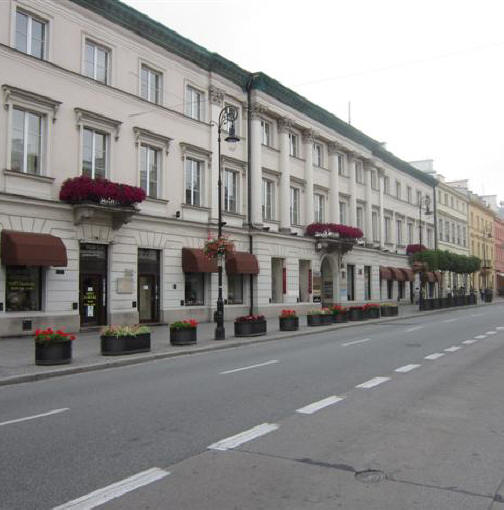 I then wound up in front of the Warszawski Daily Rehabilitation Center. Below right is a stock photo of this building.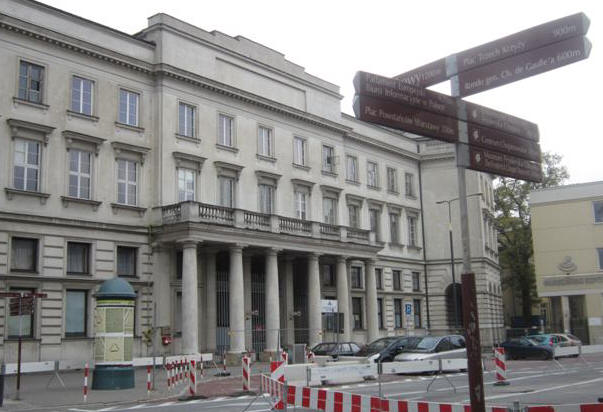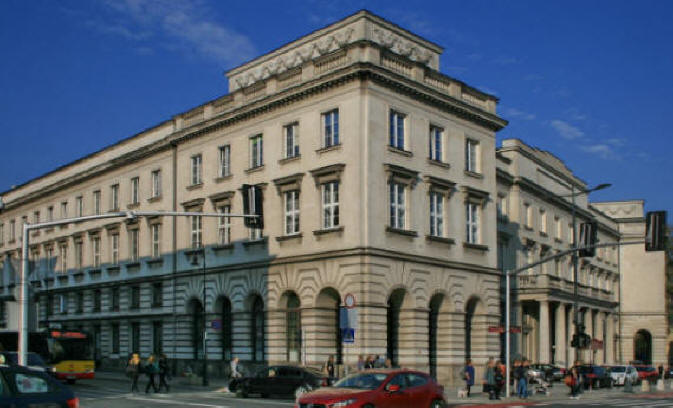 Below left is another stock photo of the front. Nearby is a multi-sign post indicating important landmarks.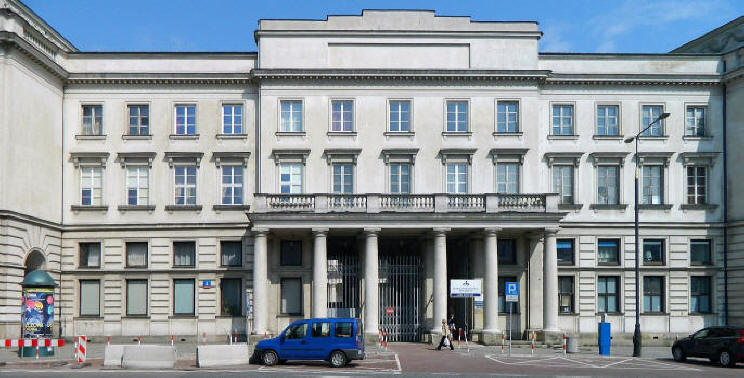 The signs directs you to Plac Trzech Krzyźy (Three Cross Square, below left), Rondo gen. Ch. de Gaulle (below center), Parlament Europajski Biuro Imformacyjne w Polsce (EU Parliament Information Office, below right), ...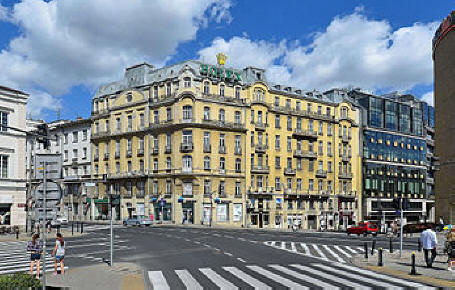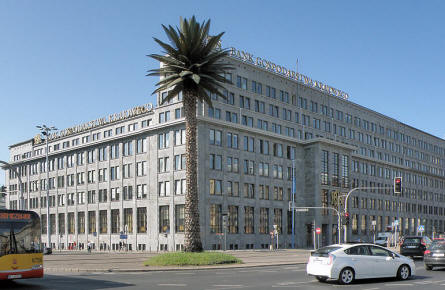 ... Plac Powstańców Warszawy (Warsaw Uprising Square, below far left), Universytet Muzyczy Fryderyka Chopina (Chopin University of Music, below center left), Centrum Chopinowskie (Chopin Center, below center right), Muzeum Fryderyka Chopina (Chopin Museum, below far right). I'm in the center of everything.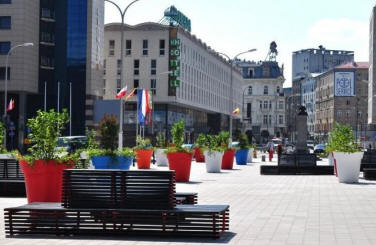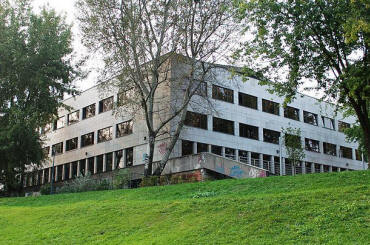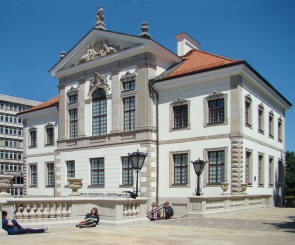 As you can see, Chopin is quite revered. I am now at the corner of ulica Świętokrzyska and ulica Nowy Świat.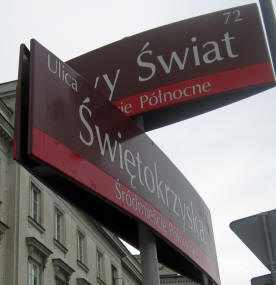 At 2:35 PM, I came across this plaque (below) that reads: "Celebrating the centenary of the nation in defense of their rights in the time of the Polish November Uprising fulfilling the will of their ancestors to express the honor of free Poles 1831-1931." This was also known as the Polish–Russian War (1830–31) which was crushed by Czar Nicholas I. 40,000 Poles and 22,000 Russians were died in the war.
Then I came upon the Laboratorium Reportaźu; Rekrutacja Dokumentalistyka/Laboratorium (Laboratory Reportage; Recruitment of Documentaries/Laboratory) at ulica Nowy Świat, 69. Above right is a PhotoShopped blow-up of that sign you can see hanging in the entrance of the building (below left). Google maps shot below right.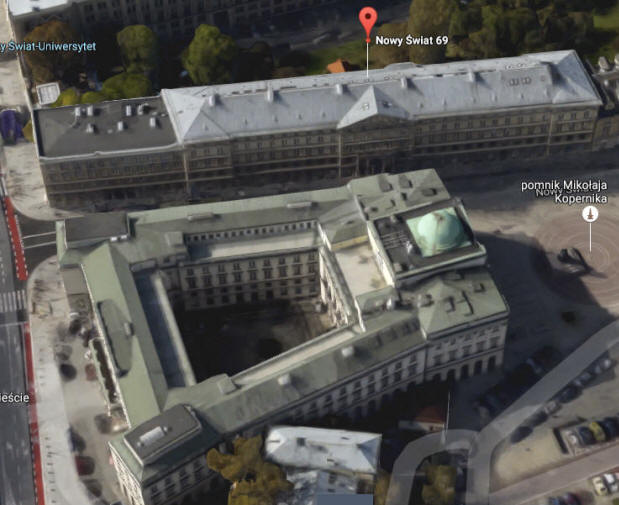 Below is my blow-up of the beautiful architectural frieze at the top of the building.
I usually take a shot of each country's phone booths (left), parking meters (center) and an example of a car license plate (right).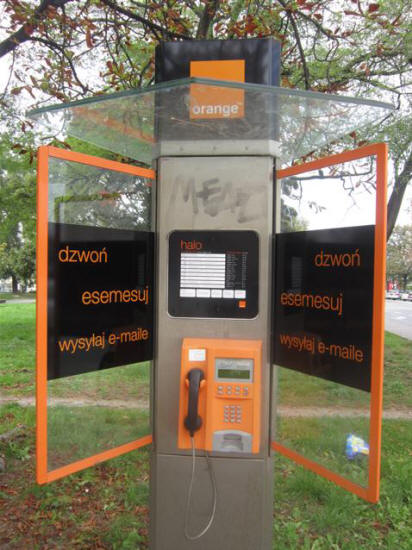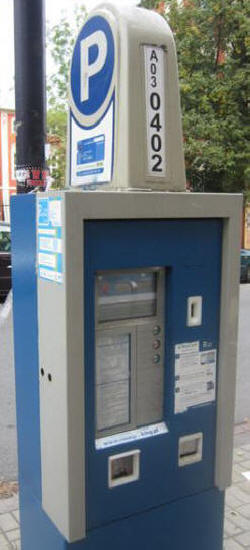 Here is an example of some interesting architecture. This tree was growing out of the ground at a very acute angle allowing it to flourish over the park.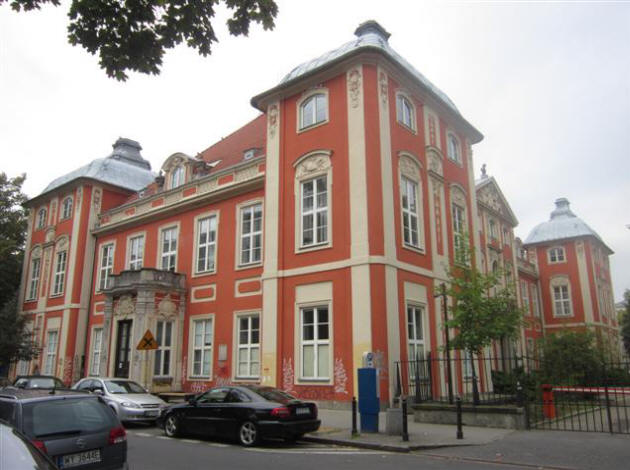 This classic building is the Pekao Polish Bank.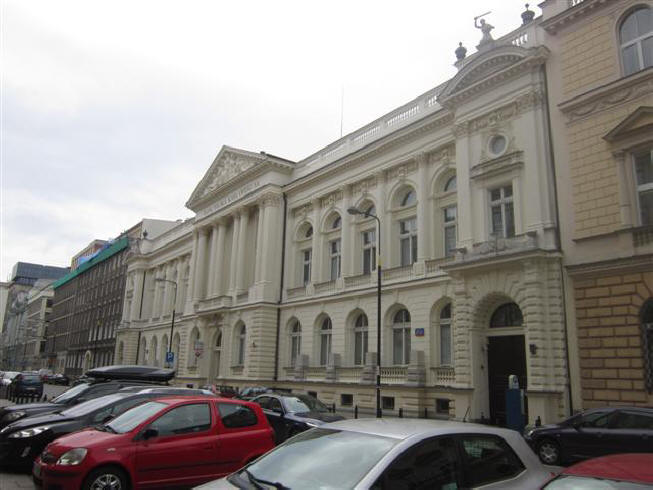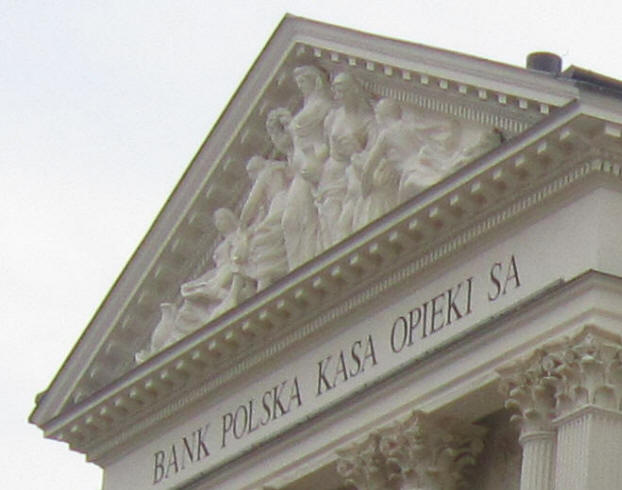 It is now 2:30 PM and I reach the Kościół Ewangelicko-Augsburski w Rzeczypospolitej Polskiej (Evangelical Church of the Augsburg Confession in Poland) [plac Stanisława Małachowskiego 1,
+48-22-556-4660] which is the largest Protestant (Lutheran) church in Poland.
Above is the GoPro shot and below left is the Canon shot. The large building, on the left of it above and below right, is the National Museum of Ethnography (Państwowe Muzeum Etnograficzne w Warszawie) [Kredytowa 1,
+48-22-827-7641].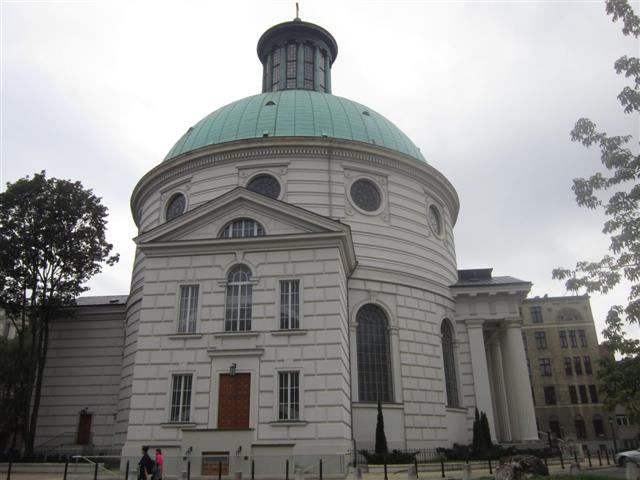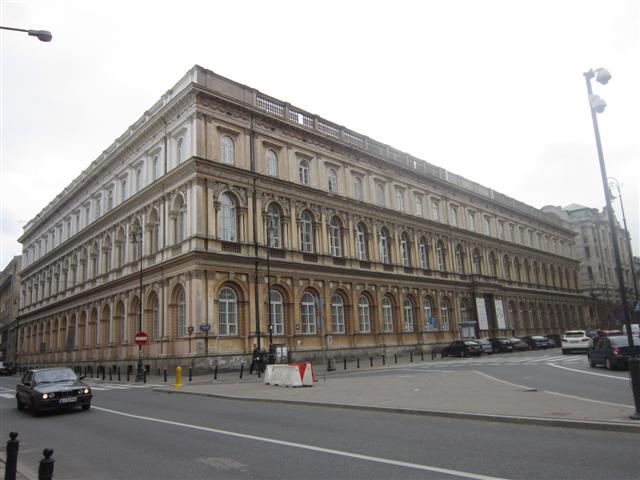 It (below) was founded in 1888 and displays folk culture, clothing exhibits and has a children's section.
The church is also known as the Holy Trinity Church and as "Zug's Protestant church" because it was designed by Szymon Bogumił Zug (1733-1807); it was constructed between 1777–1782.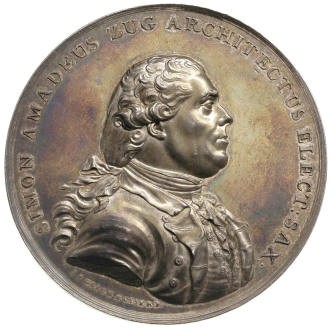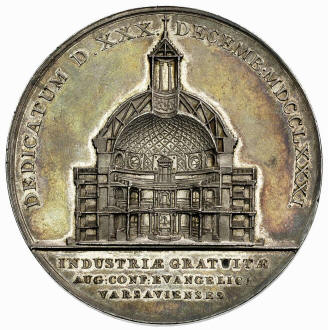 Above left is the coin with Zug's image on the front and the church on the back. Above right is his grave in the Lutheran cemetery of the Evangelical-Augsburg in Warsaw [ul. Młynarska 54/56]. Below are my shots of the exterior.

I ran inside and took some photos. Below left is a nice stock photo of the church and on the right is my PhotoStitched GoPro panorama of the beautiful 110 ft (33.4 m) dome which is 190 ft (58 m) high with beautiful acoustics. Chopin performed here in 1825 in the presence of Tsar Alexander I of Russia (the year the latter died). Alexander (right) is famous for being the first in 400 years to conquer Paris in 1814.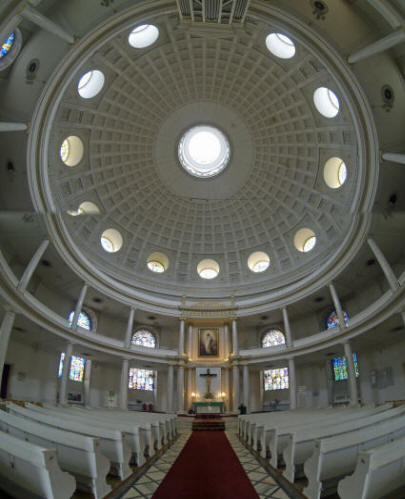 Below left is the Cannon shot of the interior. Below right is a stock photo of how the Holy Trinity Church looked before it was rebuilt after it's WWII destruction.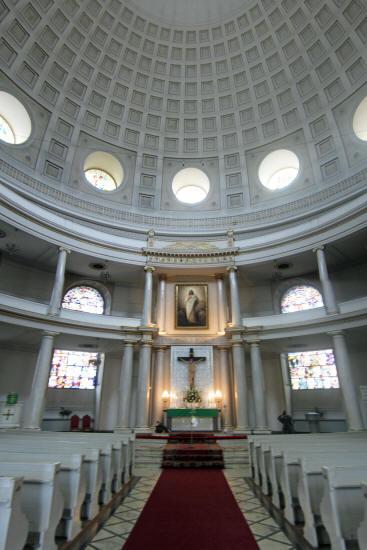 This is the entry door of the church and another shot of the beautiful dome interior with its operculum.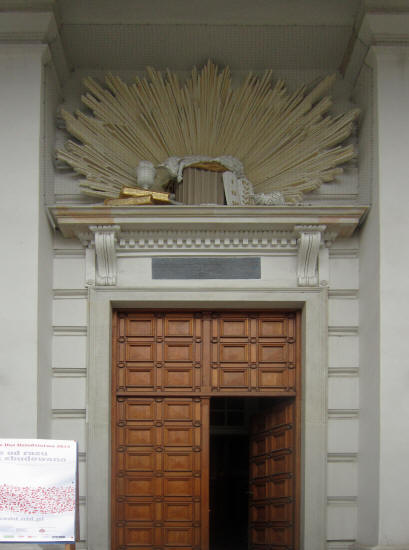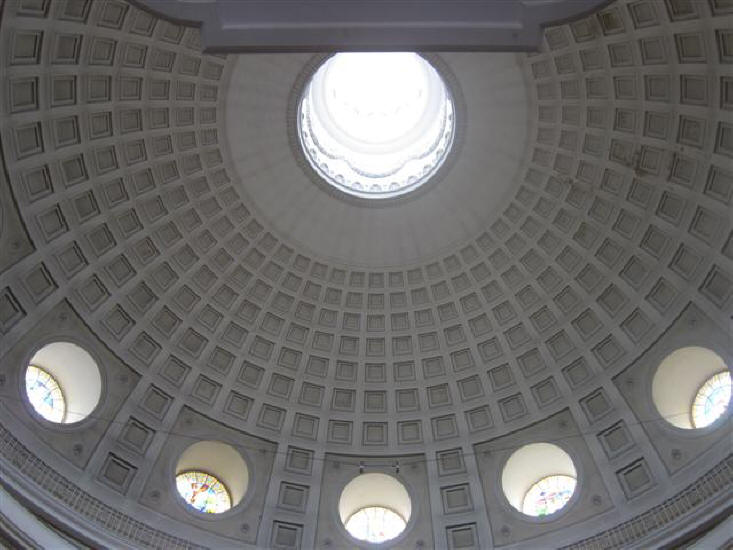 Below is the display above the church door covered in wire to keep the birds out.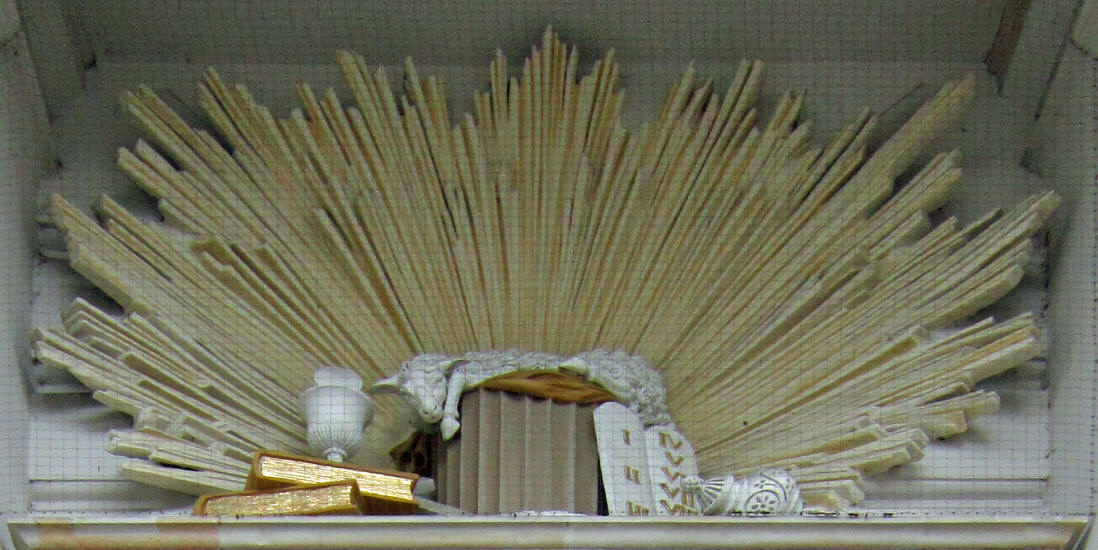 Below left is the sign outside the church. Nearby was a poster of all the classical buildings in Warsaw.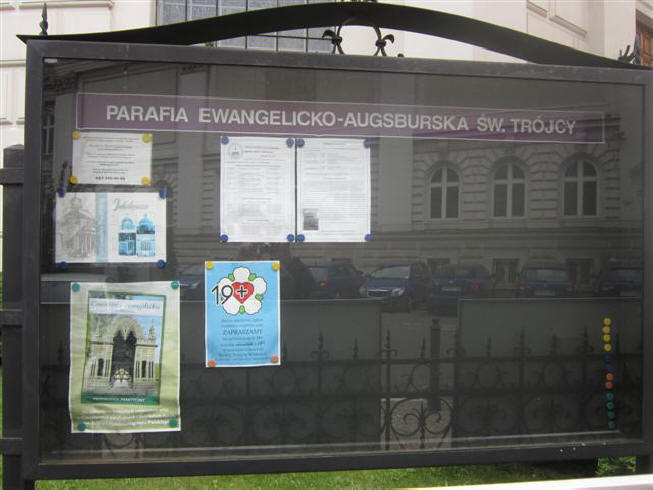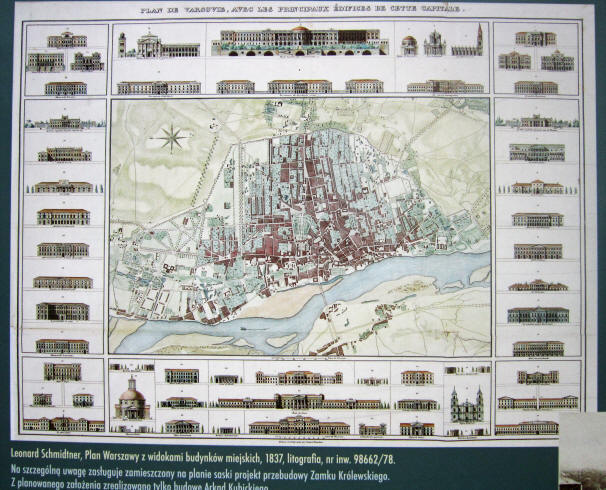 I left there and then came to the Church of St. Joseph of the Visitationists or Kościól Opieki sw Jozefa (Kościól Wuzytek) or simply the Visitationist Church [ul. Krakowskie Przedmieście 34,
+48-22-826-6585] built from 1664-1761. Below left is a Google maps shot of it and below right is Canaletto's 1780 painting of it.
Below left is my shot of the exterior and the beggar sitting in the entryway. You can barely see him/her in the doorway to the right.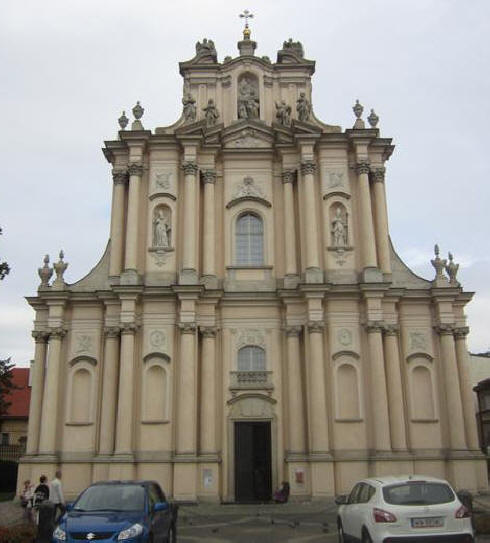 Nearby is a monument to the "Home Army" (Armia Krajowa) stating "In memory of the soldiers of the national army group "Bartkiewicz" doing battle in this region in the Warsaw Uprising of 1944".
In front of the church is a memorial statue (below) to Stefan Cardinal Wyszyński (1901–1981) who served as the bishop of Lublin from 1946-48, archbishop of Warsaw and archbishop of Gniezno from 1948-81. He was made a cardinal in 1953 by Pope Pius XII as the Cardinal-Priest of Santa Maria in Trastevere in Rome.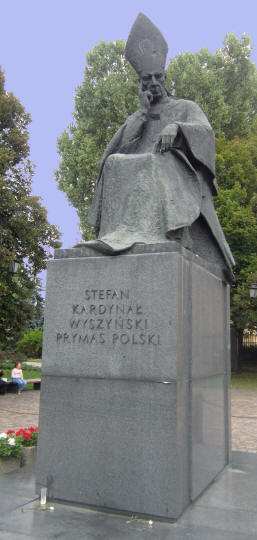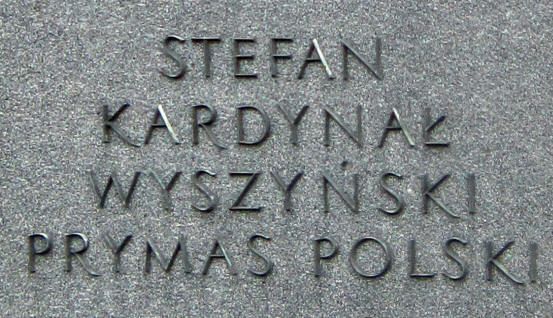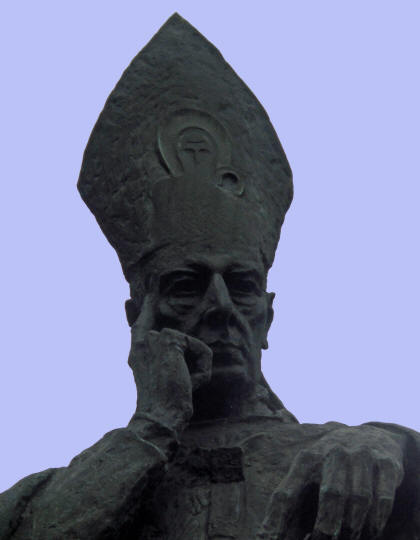 Below center right is his mausoleum and far right is a photo of him preaching.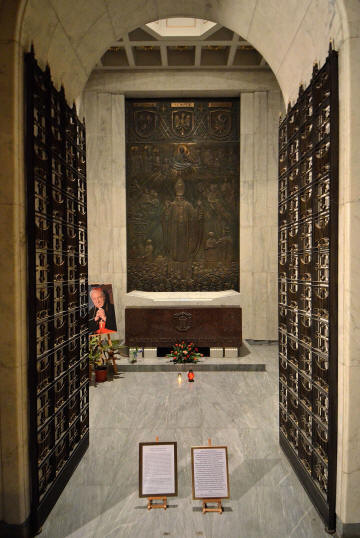 He later assumed the title of "Primate of Poland" and was often called the Primate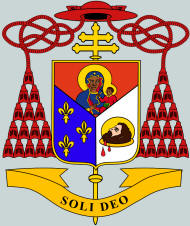 of the Millennium. He is well known for his heroic and principled stand against Nazism and Communism and because of his connections to St. John Paul II, he played a key role in urging then-Cardinal Wojtyla to accept his election as Supreme Pontiff. To many he was the unquestionable leader of the Polish nation (the uncrowned king of Poland), in opposition to the totalitarian government controlled by the Soviet Union. He is also credited with the survival of Polish Christianity in the face of its repression and persecution during the 44-year reign of the Communists (1945–89). He himself was imprisoned for three years and is considered to be a Polish national hero.
At 2:45 PM, I went inside the Visitationist's Church and here are my GoPro shots of the main aisle and altar.
Below is my Canon shot of the main altar ...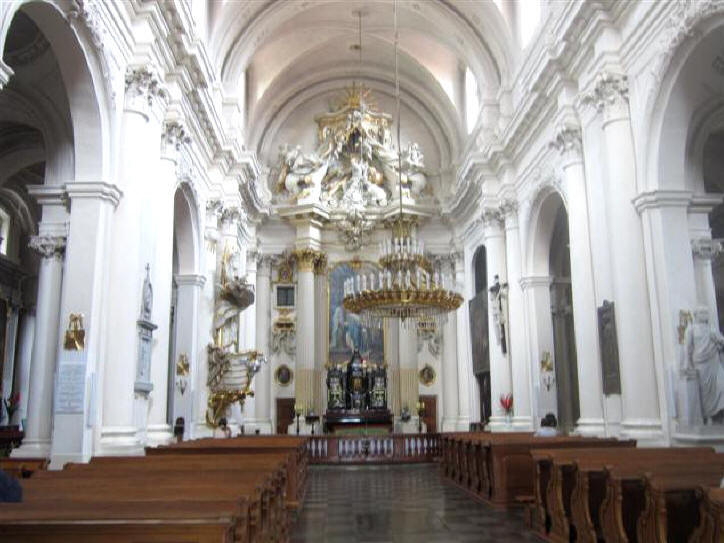 ... and below are stock photos of the main altar (left) and the pulpit (right).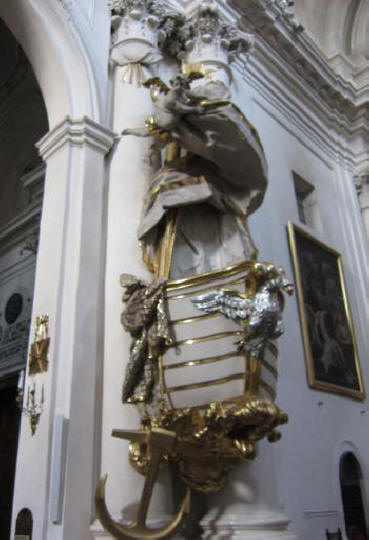 Here are my photos of the large placards placed outside in a little park next to the church (below left). They relay the history the Wola Massacre during the Warsaw Uprising starting August 1, 1944 titled "The Memory of Wola" (Wola Pamięci). Wola was the name of the district here in Warsaw (red area in map below).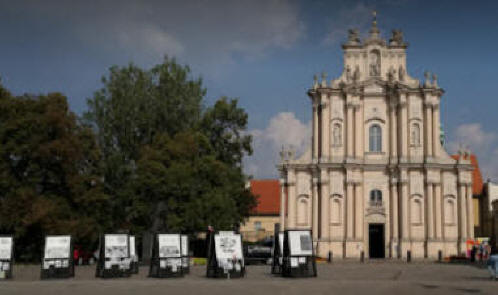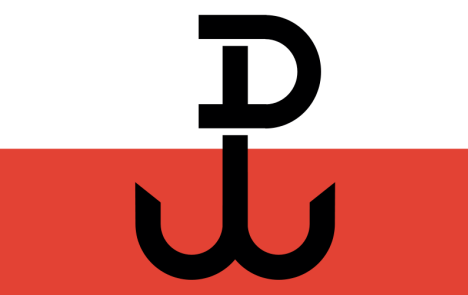 The Nazis murdered 150-200,000 civilians during this uprising and Himmler said it was the toughest battle they ever had to fight in all of WWII. This Uprising is often confused with the Warsaw Ghetto uprising which occurred a year earlier. Above right is the flag of the Polish Home Army which fought the Nazis. Below left is a monument to the brave Polish who fought and died. Below right is the first of the many placards.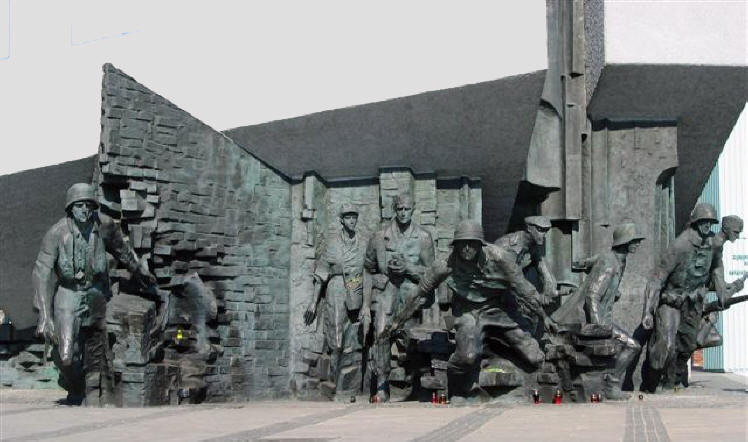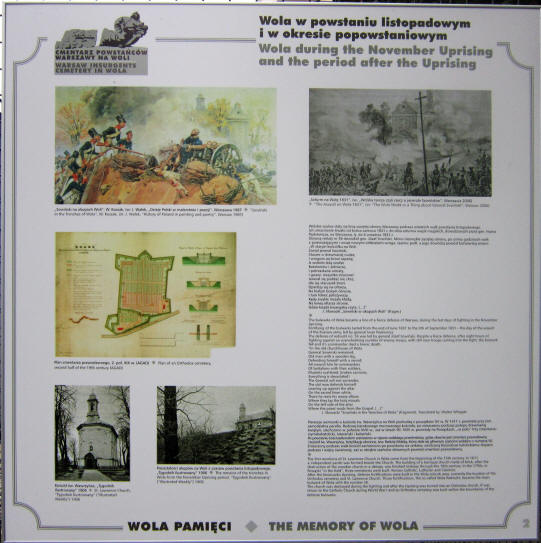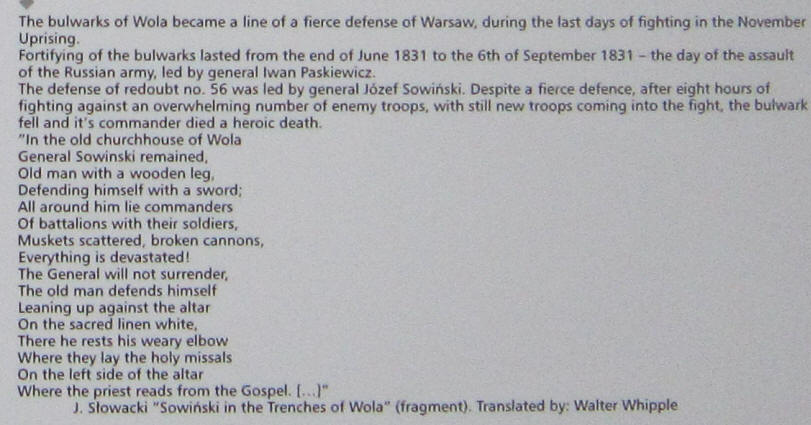 Below are stock photos of some of the devastation left after the Nazis got through with the downtown area.
Left you can see the central Old Town. Center is a Nazi plane bombing it. Right is the Old Town in flames.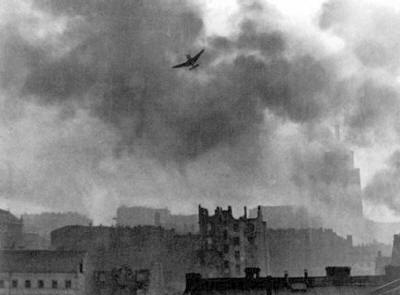 Below left is a photo of what the Old Town looked like in 1945 and what it looks like today (right).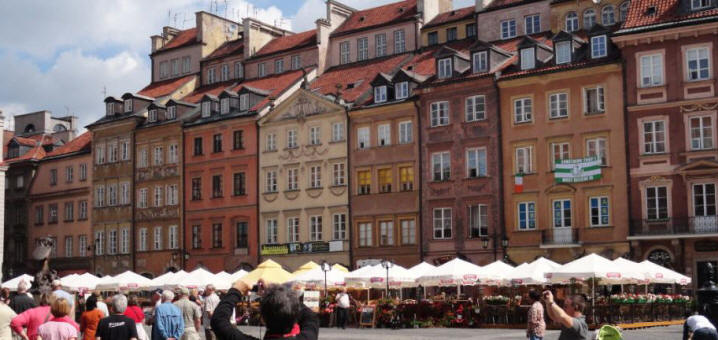 Below are stock photos of two other memorials that were erected commemorating this Wola battle.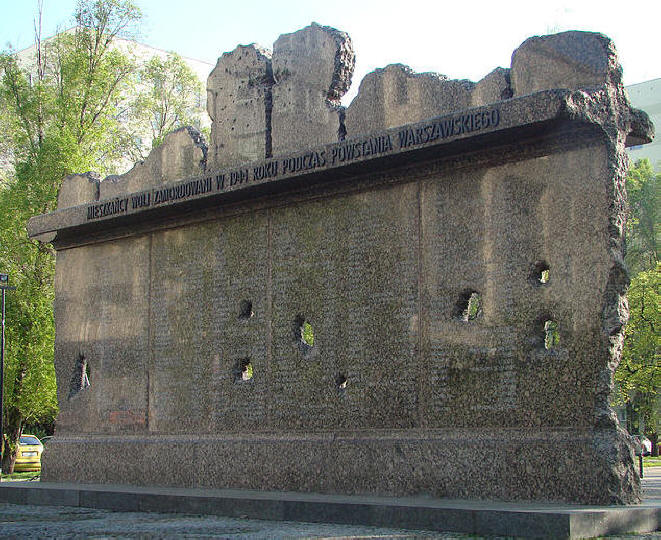 Below are the remaining placards that I photographed about the Society of Friends of Wola.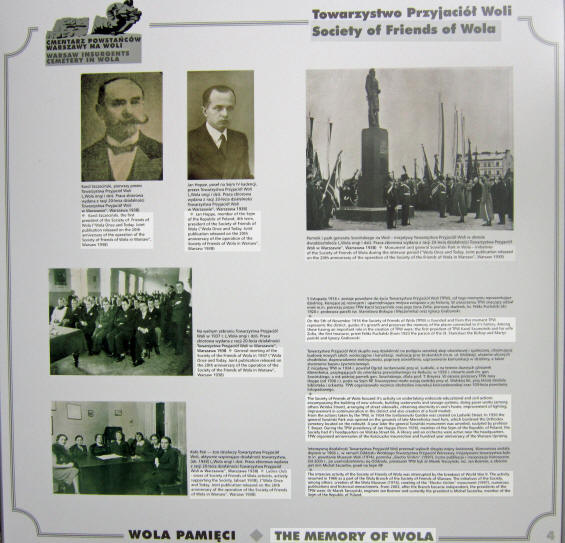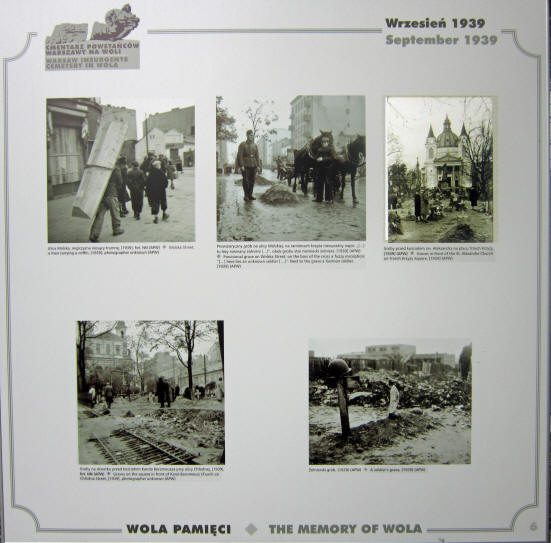 If you wish to read these displays, simply right click and download the photo and then enlarge it.
Above right is the cemetery for those killed. Below discusses the exhumations of all the bodies.
These are about the Warsaw Insurgents Cemetery in Wola.
These are about the funeral for the martyrs that was held on August 6, 1946.
Right near by was a small park (below left) which had many displays along the walkway showing scenes from WWII. This one (below right) is from September 1939 showing photo of the German Army High Command (OKH) planning at the Falerty Palace.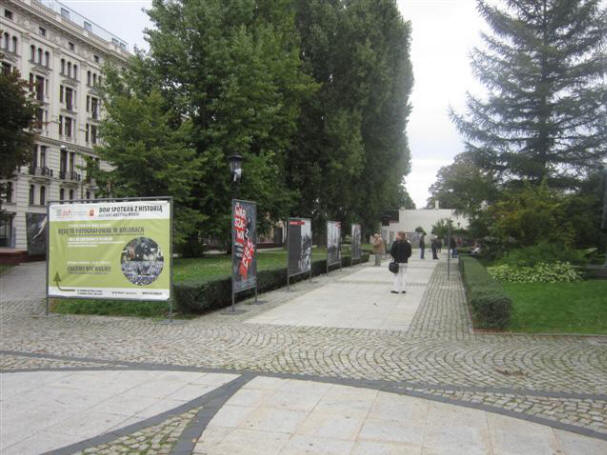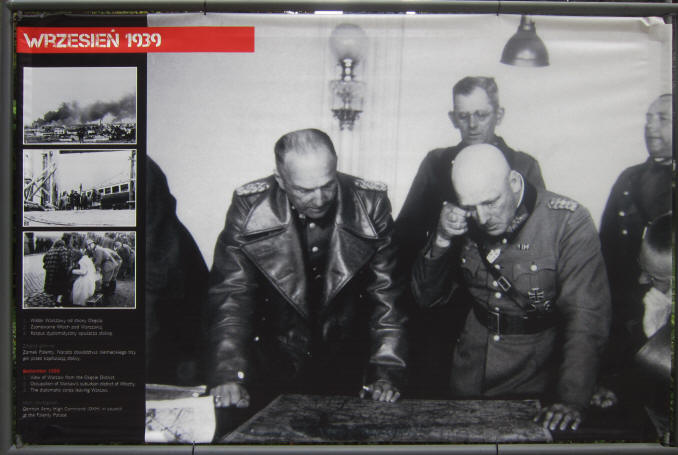 On the left is of the Warsaw-Vienna Railway Station at the beginning of the German occupation and on the right is of a German soldier talking to Polish policemen October 1, 1939.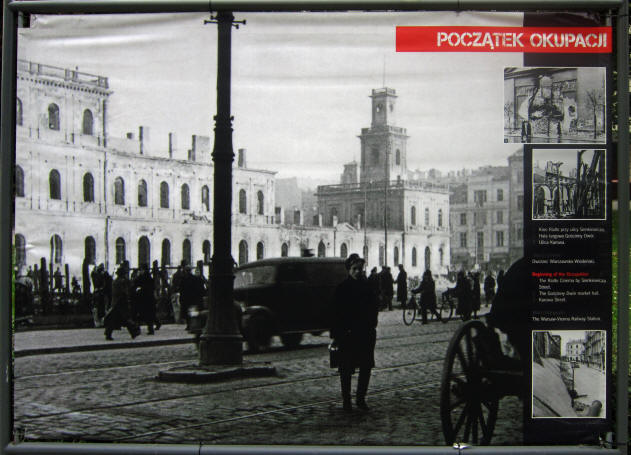 The left shows the Victory Parade in Warsaw on Aleje Ujazdowskiw on October 5, 1939. On the right is a aerial photo of the Źiliborz District in central Warsaw from July 27, 1944 showing President Wilson Square. The bottom center gray area is the demolished Ghetto.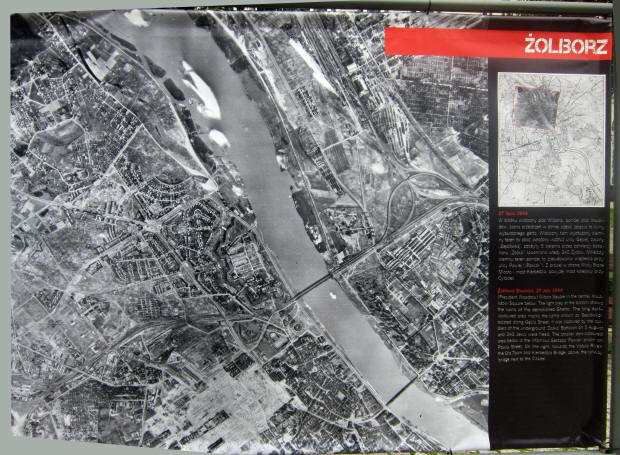 The left shows map of the Jewish Środmieście District on September 17, 1944. On the right is aerial shot of the Wóla District on September 17, 1944.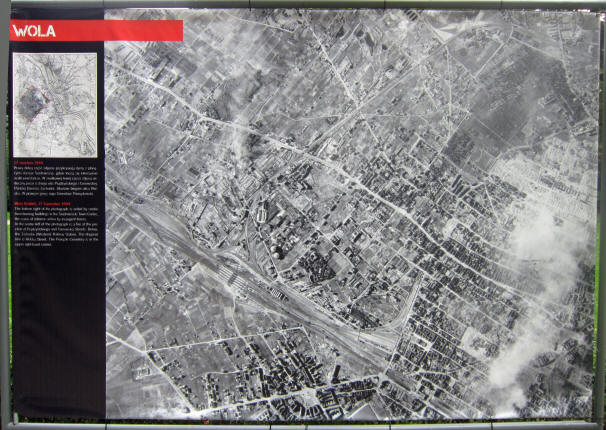 The left shows aerial map of the Praga District on October 7, 1944. On the right is that of the Mokotów District on December 5, 1944.
The left the Czerniaków District showing the Bajka ship on the Vistula River and St. Alexander's Church. On the right is the Wóla District showing the Gasworks.
This one (left) is the Powiśle District on September 1, 1944. From the park here, I looked up the street to see this modern architecture - very nice.
Right next door to the Visitationist's Church is the Pałac Tyszkiewiczów [Krakowskie Przedmieście, 32] Palace Tyszkiewicz.


This is my shot of the sign on the Palace Tyszkiewiczów. Above and below are stock photos of it.
Below is a stock photo of the side of the Palace nearest the church (see above).
The Palace was finished in 1788, burnt down in 1944 and rebuilt again from 1948-56. Now it is part of Warsaw University. Below is the front entrance with its four telamons (male caryatids). Boy, look at those six-packs.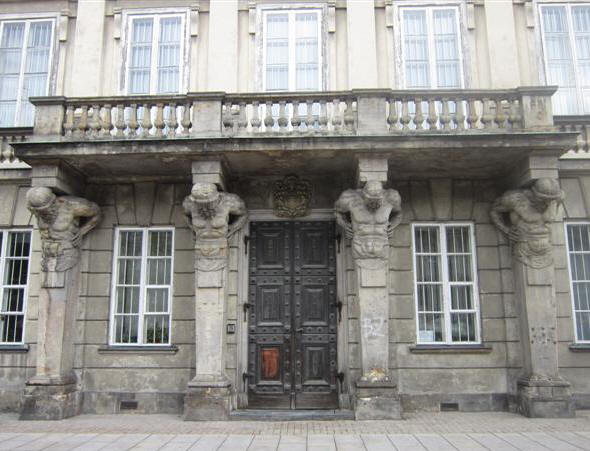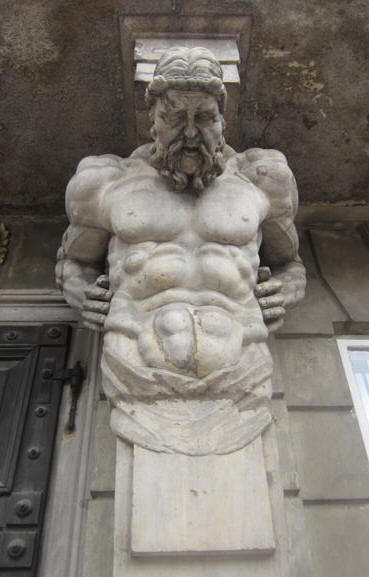 I wandered farther and came across St. Francis Church (Kościół pw. Stygmatów św. Franciszka)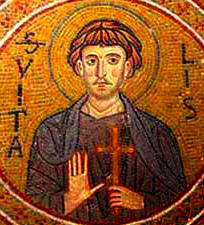 [ul. Zakroczymska 1,
+48-22-831-2031]. Started in 1645 and completed in 1733, this baroque masterpiece (below left) holds some relics of St. Vitalis of Milan given by Pope Benedict XIV in 1754. Vitalis (left) was martyred in Ravenna, Italy in 171 AD by Roman consul Paulinus. His glass coffin is in a chapel on the left (below center). There are many religious relics scattered around here Which were also donated by Pope Benedict. The church held the first free mass in Warsaw following the flight of the Nazis. Below right is how it looked in 1945.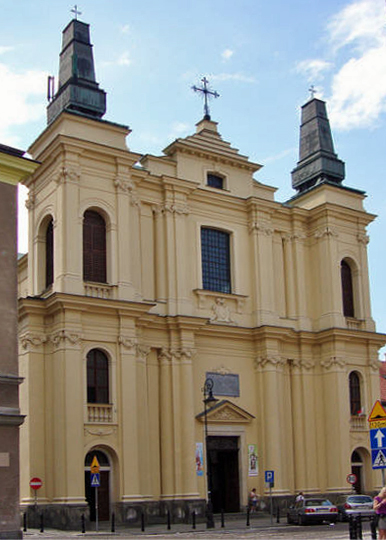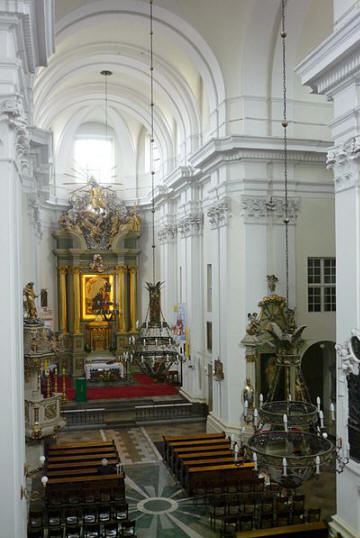 I then went by the historical site of Bank Handlowy (1873-4) [ul. Czackiego 13-23] destroyed in 1944 and rebuilt 1948-50.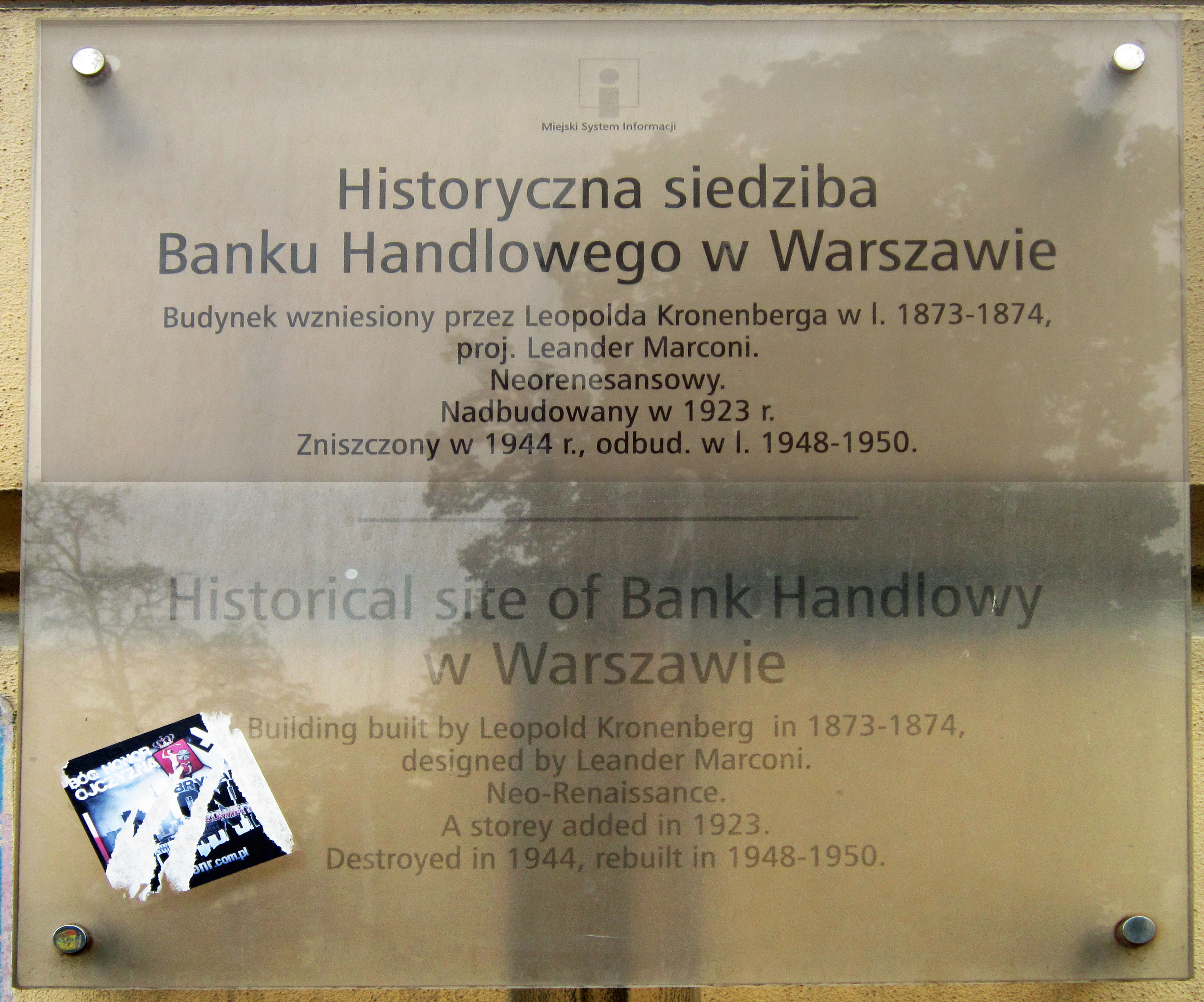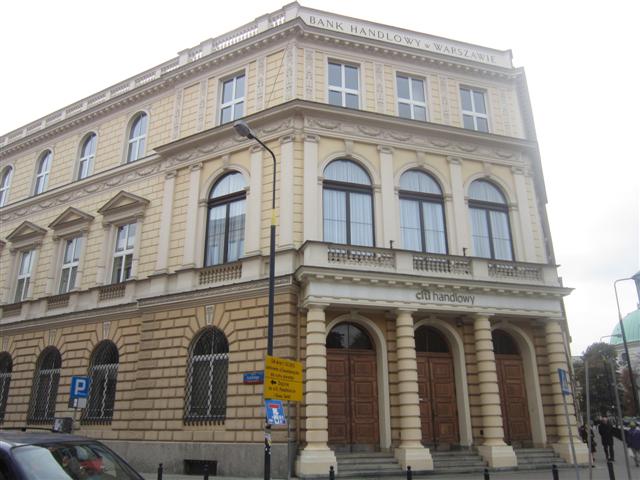 A little further was the Academy of Fine Arts in Warsaw Pieknych (Akademia Sztuk Pięknych w Warszawie) (since 1812) [Krakowskie Przedmieście 5,
+48-22-320-0200] which is a public university of visual and applied arts.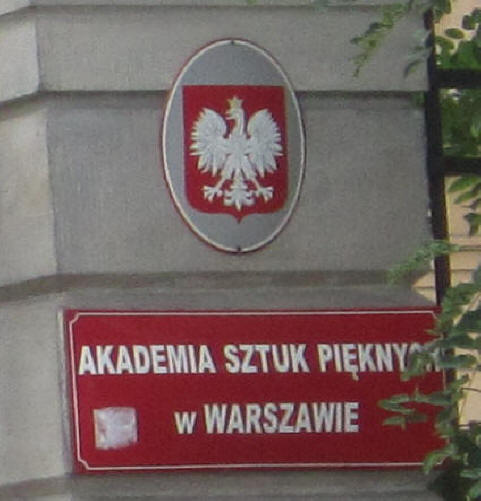 You can barely see the building through the trees (above right) so here is a stock photo of it (below left). Below right is the University of Warsaw entry gate [ul. Krakowskie Przedmieście, 26/28,
+48-22-552-0000].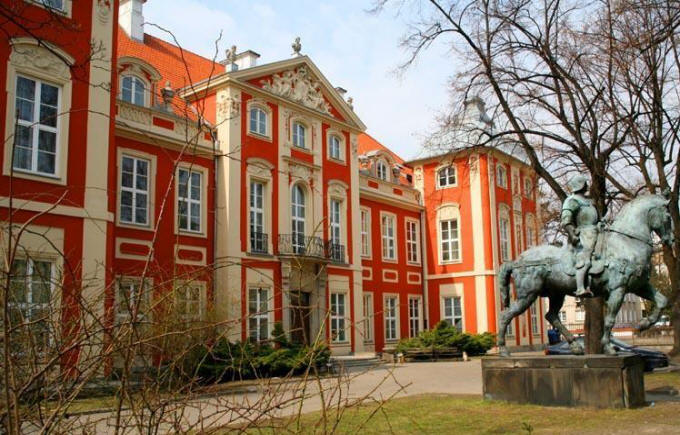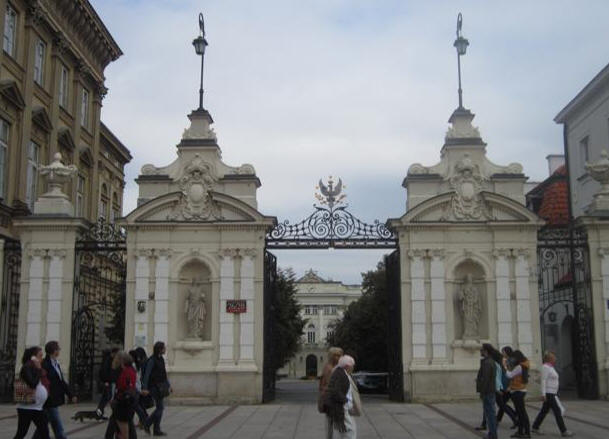 Then I came across the Browarmia (Browar) Restaurant [ulica Królewska 1,
+48-22-826-5455], a brick-walled basement brewpub serving 12 craft beers as well as Polish and international dishes. They have a large outdoor seating area (below left). On the right is an interior stock photo.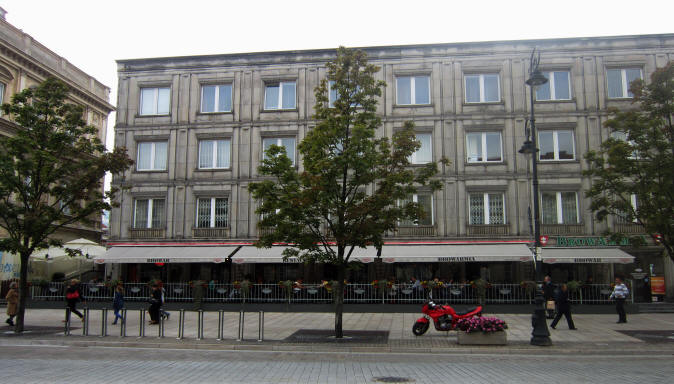 Here is the Mercedes-Benz Building and a city owned building.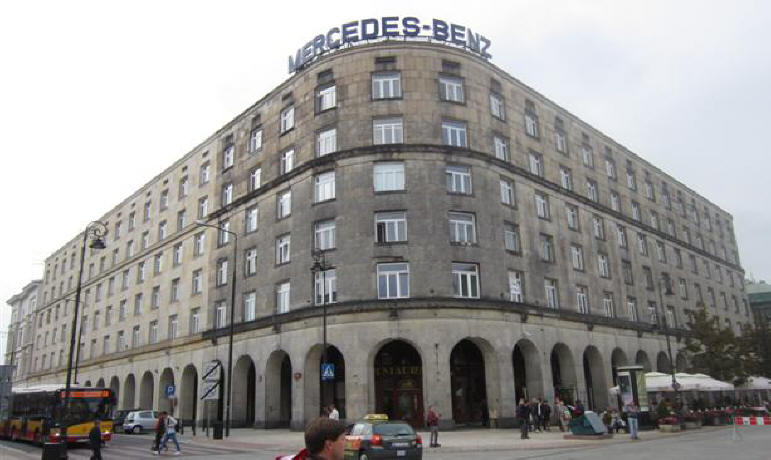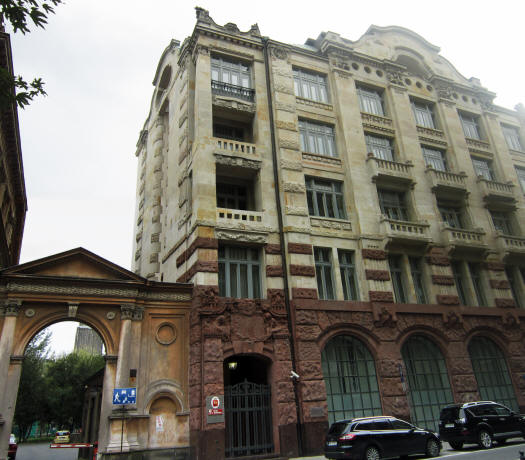 Here is a sign showing that the Paid Parking lot is completely FREE (Wolny).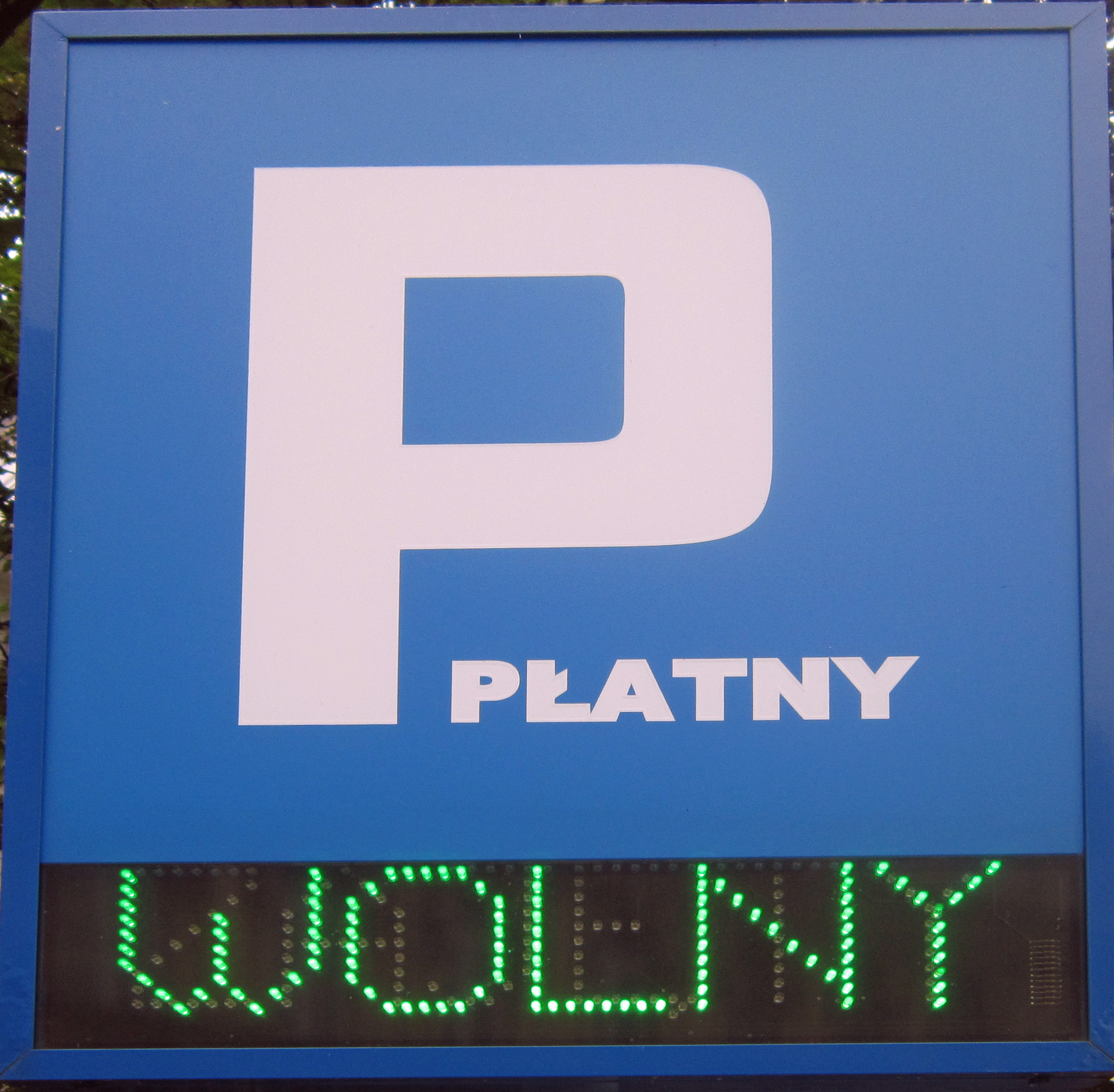 ---
TO BE CONTINUED

---
It is a shame that it has taken me 15 months to send this Diario #10 on Warsaw (sent #9 on 10/2/2016). I guess I should be lucky that life has been busy enough to keep me from completing it but the major reason is that I saw so much and did so much on that day that the page kept getting longer and longer so it finally just didn't fit on one page. So I continued onto Diario #11. All this has prevented me from even starting Ireland 2015 and Greece 2017 which I will now do.
Kenneth J. Hoffer, MD
KHofferMD@AOL.com
Warsaw, Poland
Sent 1-7-2018
If you enjoyed these travels or wish to add comments on the places we visited
Please Leave Me a Message by clicking the spinning @ sign below.