Dr. Hoffer's Travel Site This site was last updated 09/13/12
SCAND2003 #22 Trondheim: Museet & Nidaros
---
Thursday, June 26, 2003
---
We parked the car near the river and walked to a hotel to get a city map and then wandered into the Kunstmuseet (Art Museum). There were many paintings by this famous Norwegian named Opdahl who I had never heard of.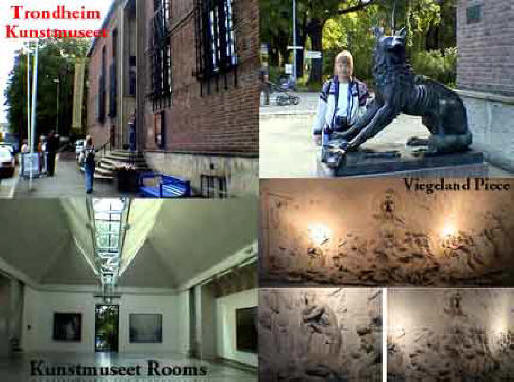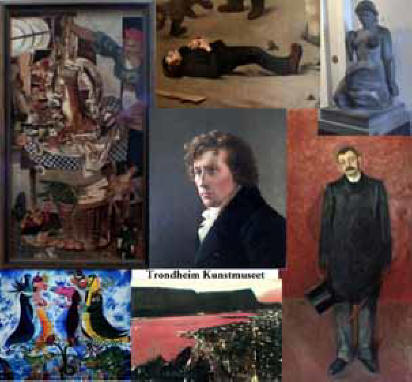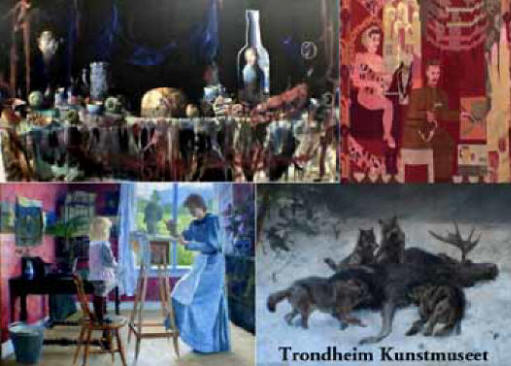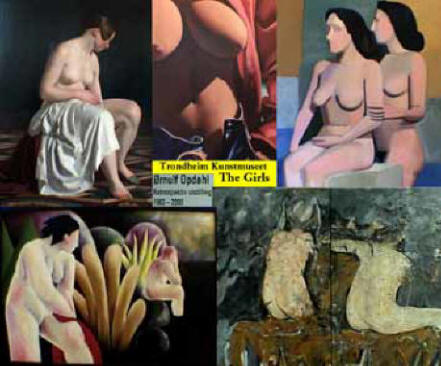 We left the museum and then wandered around and found the major main street called Munkegata with its open market and was it large and full of many neat, clean and interesting booths. I was almost tempted to eat some of the fabulous looking food being cooked.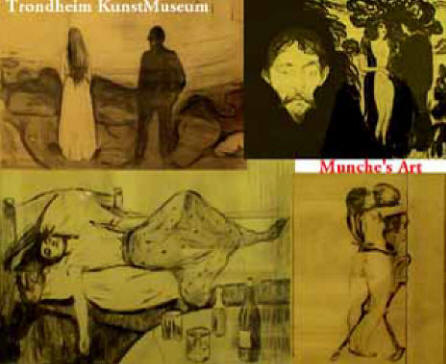 The woman at the museum told us the best coffee was at Dromedar (yes, "the camel") Kaffebar (above right) and we found it. We had cappuccino and latte sitting outside in the absolutely beautiful sunny weather. What a change from Bergen. I even bought a shirt at a stand. We then found the tourist bureau and got ourselves oriented. We walked directly to the huge Nidarosdomen (the cathedral, below right) and luck would have it for Marcia, they had a Bach organ recital starting at 1 PM.
Marcia ran right in and sat down to listen. They are really strict about cameras here for some reason so it made it more challenging for me video the whole place. They were watching me like a hawk.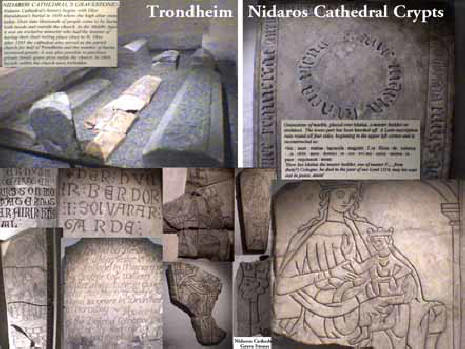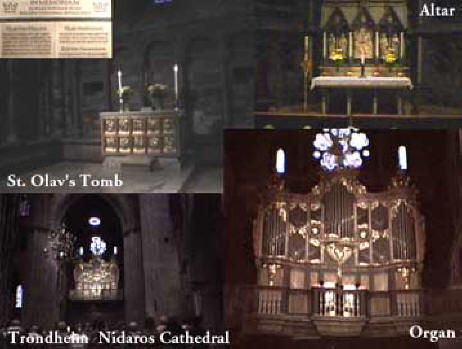 I got bored sitting there so I went downstairs to the basement level to see the crypts museum of the earlier church. While I was down there I could still hear the organ music all the time anyway, so I'm glad I got up. The crypt had many elegantly preserved tombstones and burial plots dating back to ancient times (above left.) After viewing all of them I climbed back up just as the concert was ending (above right.)
Now that we could all walk around I was able to discover St. Olav's tomb situated near those of many of the early Norwegian Kings. The altar was rather small but elegant but the prize piece was the main organ on the left side which was used for the recital.
Kenneth J. Hoffer, MD
KHofferMD@AOL.com
Trondheim, Norway
Sent 4-2-04
If you enjoyed these travels or wish to add comments on the places we visited
Please Leave Me a Message by clicking the spinning @ sign.