Dr. Hoffer's Travel Site This site was last updated 09/13/12

SCAND 2003 #33 Finally Finland

---
Friday, July 4, 2003
---
I woke up on the 4th of July at 11:00 and by noon we were checking out of the hotel. We have now spent a total of 20 days in Norway (a day shy of 3 weeks,) 23 days in Scandinavia and this is the 37th day of this trip. Clemet was a real character and he let me get on this make shift computer in some back room. I was able to get my AOL email done and I was very grateful.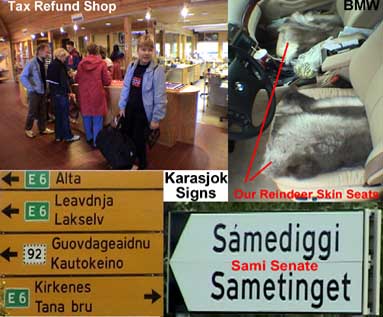 Ever since we have been in Norway, Marcia has been collecting all the Tax Free vouchers and keeping the items sealed in their original bags. Since we are leaving Norway today, this will be the last chance to cash them in. We drove over to the Tax Free shop located in the Sapmi Center and lugged in all the crap we bought. Now the rules are supposed to be pretty strict. The bag is sealed and stapled at the store where you buy it and never to be opened until you get home in the US. Things like sweaters and clothing, we wound up needing to wear. When the girl looked at the bags, she didn't seem to care much. It's probably a bigger deal in the big cities and airports. When we got done with all the vouchers, we got back 1,505 NKr ($184). Since we had to get rid of all our Norwegian Kroner, Marcia spent it all on Sami earrings and some rings which were all conveniently located right there.
We left the center and headed for the huge Sami Parliament (Sametinget) building (Kautokeinoveien 50, +47-7-847-4000) which opened in 1989. The new building (below) we saw was inaugurated in 2000 by King Harald of Norway.
The architects (Sundby & Halvorsen) designed the plenary hall to look like a pointed Sami summer tent (or lavro.) When we got there the entire place was unfortunately closed but we got pictures of it. We left at 1:55 PM and Marcia then drove south soon arriving at a bridge across the Tenojoki River thus crossing the Finnish border at 2:10.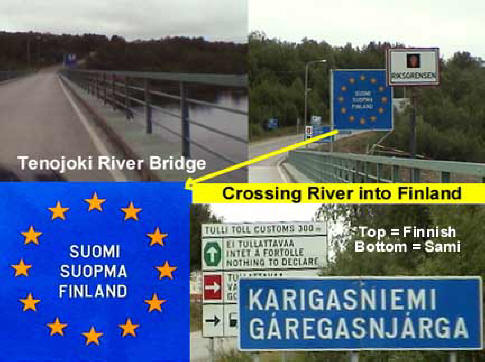 Since Finland time is GMT+2 and Norway is GMT+1, we just lost an hour, so it is now 3:10 PM. Finland has a population of 5.2 million which is only half that of Los Angeles. It covers 130,500 miles2 (338,000 Km2) and much of that is covered in lakes. An interesting fact is that the new nation of Finland in the 1930's was the ONLY country to ever pay its debts to the US. Nokia, the cell phone leader of the world is what has brought this country to the forefront of the 21at Century.
The first town we drive through is Karigasniemi and we barely saw it.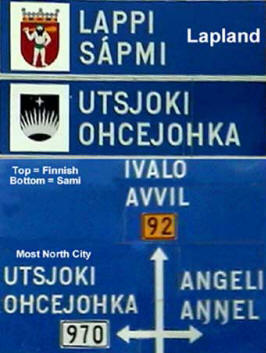 Marcia drove the 73 miles to our first Finnish town called Inarin where we filled up the tank at a Shell station at 4:10. Inarin is situated at the mouth of the Juutuanjoki River where it meets Lake Inarin, the sacred lake of the Sami people. It is the second-largest lake north of the Arctic Circle in the world, at 420 miles2 (1,088 Km2.) It is frozen over from October to June. We could really tell we were in a different country because the language (which is distantly related to Hungarian) is totally unrecognizable to us. Norse, Swedish and Danish are related to German, so you could sort of guess what things meant. Forget it here.
Marcia then drove south 25 more miles arriving at the city of Ivalo at the southeastern end of Lake Inarin at 4:50.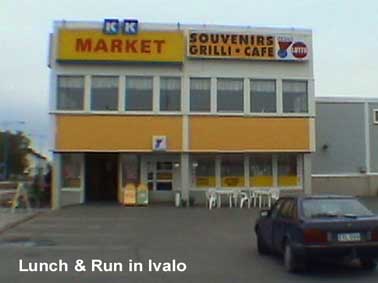 Marcia was going to hunt around and find some lunch while I did my run. I was already in my running outfit so I just started running straight south out of town on a level stretch of highway on nice wide walking areas. The air was fresh and clear and it was a very nice run. Marcia found a hamburger joint next to the K&K Mart [, +XXX-,] but said it wasn't all that great. We left at 5:55 and then I did the driving. Fifteen minutes later I have to slam on the brakes to prevent hitting a pack of dumb reindeer that just ran across the highway into oncoming traffic. This was the most urgent I have ever had to stop a car. I stopped just in time or those critters would have done some real damage to the BMW.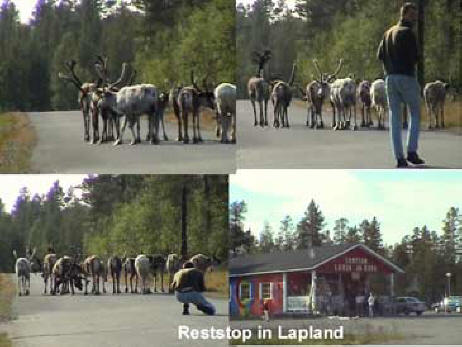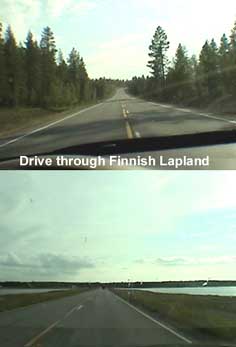 A little shaken up and constantly looking along both sides of the road for reindeer, I drove the 99 miles south to a little town called Sodankylä [So-dan-ki-lah] arriving at 7:20. We stopped at a coffee shop (above) that gave us free coffee. This guy and I were fighting for photo positions for this pack of reindeer outside. Then Marcia drove the remaining 80 miles south to our destination, the large city of Rovaniemi [Roh-Van-Knee-Aim-ee].
Five miles north of town we crossed the Arctic Circle for the second time, this time going south. The Traingular arch over the highway signals the circle.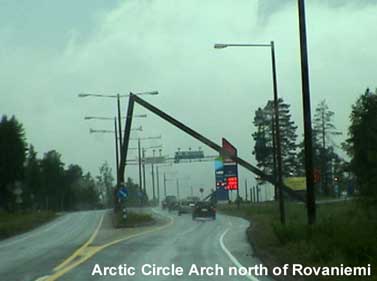 We were now back in the Temperate Zone. They have a big touristy production of a Santa Claus Land here with a special Santa Claus Post office but we decided to skip it and get to the hotel since it was 9:00 already and we were getting hungry.
I finally found a globe that shows that Nordkapp is at the same altitude as Nome, Alaska.
Kenneth J. Hoffer, MD
KHofferMD@AOL.com
Rovaniemi, Finland
Sent 8-16-04
If you enjoyed these travels or wish to add comments on the places we visited
Please Leave Me a Message by clicking the spinning @ sign.