Dr. Hoffer's Travel Site This site was last updated 09/13/12
SCAND 2003 #34 Rovaniemi: Lapland Capitol
---
July 4-5, 2003
---
---
Friday, July 4, 2003
---
The GPS worked pretty well this time and took us right to the Cumulus Hotel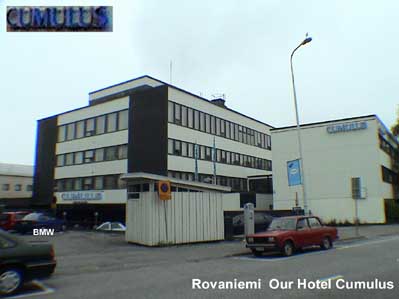 [Valtakatu 23, +358-1-633-3600] right in the center of downtown (right.) We checked in at 9:15 and when we got to our room on the third floor, I noticed that it was extremely hot and muggy in the room. Since it was nice and cool outside, I tried to open the windows but they were double-paned and micro-sealed for the cold winters up here except for two small little 8x3 inch slits that barely let any air in. I went down to the desk and was told the hotel has no air conditioning but they would give us a fan. We took the fan up and started it and then got out of there fast.
We went straight to the pedestrian street, Koskikatu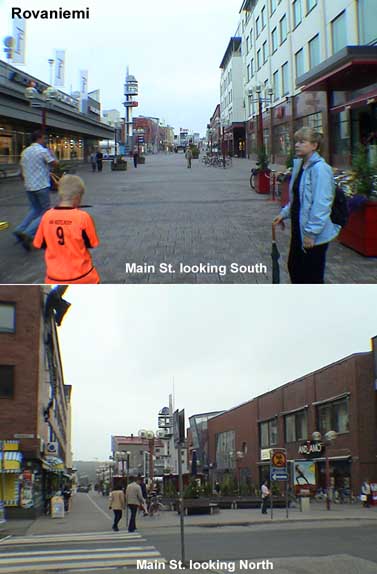 (between Rovakatu & Pohjanpuist) (left) to find a corner store and bought two Finnish Telia phone chips so that our cell phones would work in Finland. It is amazing how they go dead the minute you cross the country's border. We also are now in the Euro world again and had to get some Euros from the ATM machine. Rovaniemi is the capitol and gateway to Lapland with a population of 35,400. After the Nazis burned the entire city to the ground when they left during WWII, the city was rebuilt by the famous architect, Alvar Aalto, with the streets radiating out from the center in the shape of reindeer antlers (which can only be obvious from the air.)
By 10:00 we were exhausted and needed a beverage. After walking around town a little we found this really neat Pub called Hemmingway's [, +358-1-] (below left) (it's a chain.) I had a Guinness and Marcia her Chardonnay and we asked for advice on places to eat while I set up the chips in our phones. It was getting late so we went for the place they recommended next door called Martina [, +358-1-] (below right) (also a chain) and though it felt like we were at a Denny's, the food was fantastic.
We split a bottle of French Mediterre Chardonnay and started out with an excellent pizza Margherita. We had three antipasti: a small chicken basket, lemon and shrimp, and BBQ mussels with melon; all very good
For an entrée Marcia had chicken breast béarnaise with Swiss potatoes and vegetables and I had the large chicken basket of fried breast meat with fries. We really enjoyed this meal from start to finish.
We walked back to the hotel and the room was still so excruciatingly hot and humid I couldn't stand it. Marcia went to bed anyway but I went back out and had a cappuccino at Zoomit, a nifty nightclub in the Santa Claus Hotel (really, that's the name) [Korkalonkatu, +358-1-632-1321] (above left) and worked on my photos until 3:20 AM. I finally gave in and went back to that Hell-hole and somehow fell asleep. It was really miserable.
---
Saturday, July 5, 2003
---
I woke up at 7:00 and by 8:30 I was working on my photos. I got up at 11:30 and by noon I was doing my run through the city streets (below left) and down to the river area and saw the big new Jätkänkynttilä Bridge (below right) across the Kemijoki River as it joins the Ounasjoki to become the Ounaskoski River. After I was done I went and had a cappuccino at Hemmingway's at 12:35. I then went back to the hotel and we packed up and checked out of the hotel at 1:30. I had an aggressive argument with the lady at the desk regarding the room rate for having such an ungodly HOT room. She apologized profusely and that was as far as I got – no rate reduction.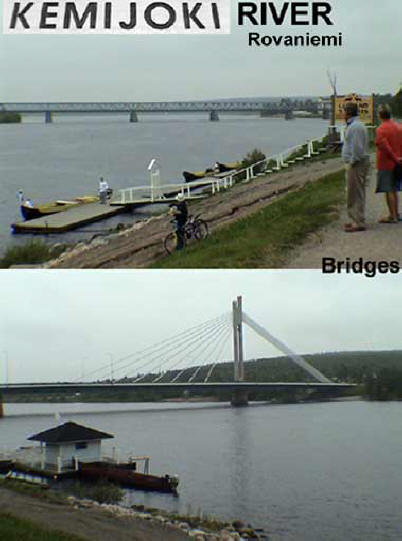 We had read about this fantastic museum in Rovaniemi called the Arktikum Center [Pohjoisranta 4, +358-1-631-7840,] just a few miles out of town. We headed over there and toured the entire place. It is quite impressive and modern (below left.) Note the detail in the ancient runes on display (below right.)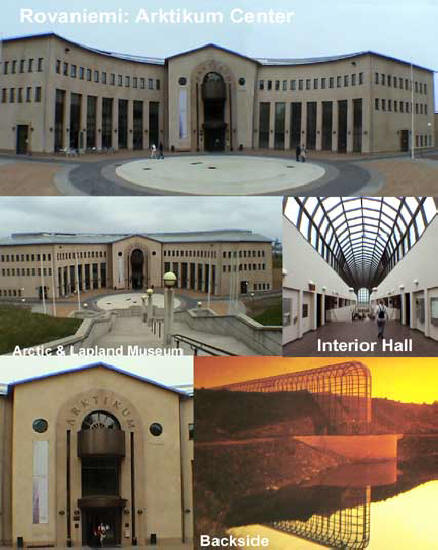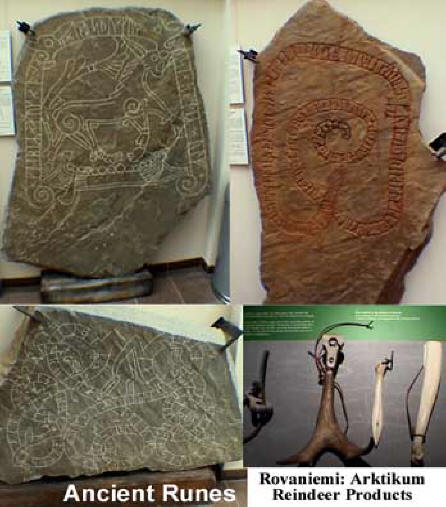 It focuses on Arctic flora and fauna and was full of art by local artists and many artifacts of Nordic peoples from Europe (Sami culture,) Asia and North America. After exploring the entire place, Marcia needed lunch so we went to the Artikum café and she had lunch while I had a cappuccino.
I thought the black and white photos of the Sami people were very interesting. I can't imagine living their lifestyle. I'm sure they can't mine.
Kenneth J. Hoffer, MD
KHofferMD@AOL.com
Rovaniemi, Finland
Sent 8-10-04
If you enjoyed these travels or wish to add comments on the places we visited
Please Leave Me a Message by clicking the spinning @ sign.