Dr. Hoffer's Travel Site This site was last updated 09/13/12

SCAND 2003 #35 Oulu: Western Finland

---
Saturday, July 5, 2003
---
By 4:00 we were finished seeing the museum and ready to head south, but I remembered I had left our Finland D-K (expensive) tour
book at the hotel so we made a 15 mile round trip back to the hotel to get it. At 4:30 Marcia drove the 75 miles south to the city of Kemi while I worked on the Oslo photos. Kemi has a population of 23,500 and sits on the coast at the top of the Sea of Bothnia where the Kemijoki River empties. The large ice-breaker ship, the Sampo, spends its summers here as a restaurant. At 6:15 Marcia drove the remaining 65 miles southeast along the coast to our next stopping point, the city of Oulu [Ooh-lou,] a university town. When Sweden ruled here, they called it Uleaborg. It was founded in 1605 by King Karl IX of Sweden and has a population of 123,000. They originally prospered from tar extracted from timber but now it is their microchip industry.
We found the Ramada Oulu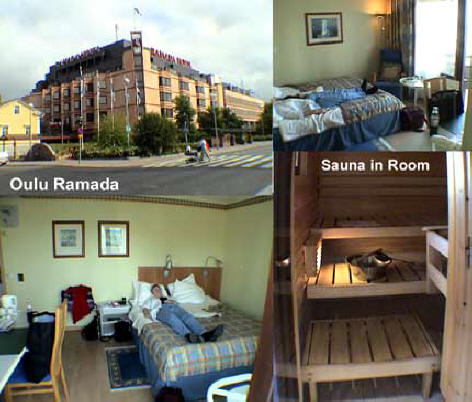 [Kirkkokatu 3, +358-8-883-9111] easily and checked in at 7:20 (right.) This was an expensive hotel at €132 ($155.) The hotel is modern and beautiful and the room was great with a built-in sauna in the bathroom which neither of us used. Our view was the imposing Cathedral across the street.
Now if you don't know who Dimitrii is, you haven't been reading these Diarios. He planned for our trip to Russia and hired a girl to take us all around St. Petersburg when we get there. Her name is Polina Sheviakova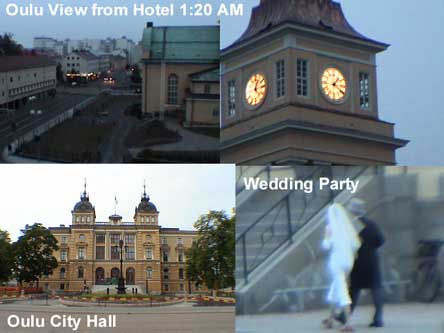 [+7-812-934-5232]. At 9:00 I finally reached her cell phone and talked to her about our upcoming arrival in St. Petersburg on July 10th. She told me that all the arrangements were made and she was awaiting our arrival. I was relieved that her English was pretty good. After this, Marcia and I got into an argument about what I don't know but it was one of the few we have had on this trip. After three decades of marriage, spending 24/7 together for three months can wear a little.
At 10:00 we headed for dinner and found another Hemmingway's [, +358-] where I had a Guinness and Marcia, a chardonnay.
It was now so late that the only restaurant that was still open was the one at the Ramada Hotel, so we headed back there and had dinner at 11:00 PM. We had beer and wine and the first course was mozzarella and rocket salad, followed by salmon, creamy smoked salmon soup and I had a steak. It was just OK but what could we expect at this time of night. We went upstairs to the room and I worked on video-photos and the Oslo photos until I finally fell asleep at 2 AM.
---
Sunday, July 6, 2003
---
Now its Sunday again and I discovered that t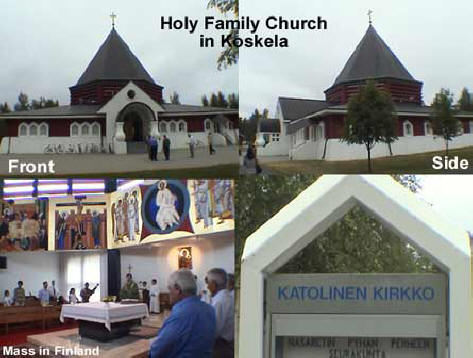 he only Catholic Church (Katolinen Kirkko) was in a nearby town called Koskela. I woke at 10:30 and by 10:55 I was in a cab to Koskela and arrived in time for the 11:00 Mass at Holy Family Church [Liisantie 2, Koskela, +358-834-7834.] The Homily in Finnish was stimulating. After Mass, I waited for a cab and at noon took it back to the Ramada. At 12:10 I had a cappuccino at the special upstairs room at the hotel and it was free. I went to my room and changed and by 2:00 I was running the streets of Oulu (mainly along the pedestrian street called Rotuaari) all the way to the seaport area on the river called the kauppatori.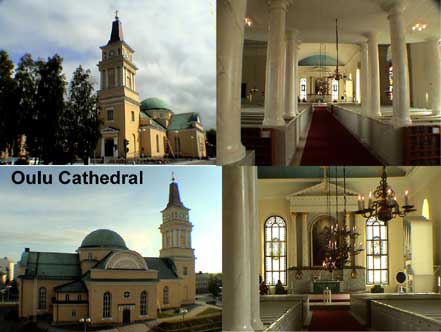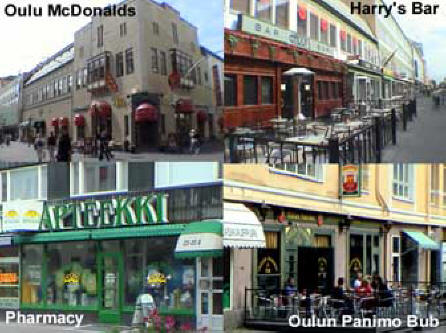 This was a really nice run and I saw a lot of this very charming little city of Finland. I saw the Cathedral (which is not Catholic) and City Hall as well as some of the interesting pubs. A pharmacy here is called an Apteekki. The street art was quite interesting.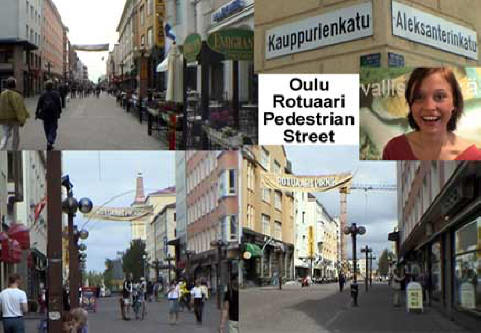 I went into the majestic McDonalds and the menu was interesting in Finnish but I was surprised to see this large alabaster statue of a nude in the eating area.
I got down to the sea and ran around the Oulu Quay area with its interesting buildings. It has all these red wooden storehouses (below left) which now contain restaurants, bars and craft shops. I went through a few of them. They also had booths and tents set up here.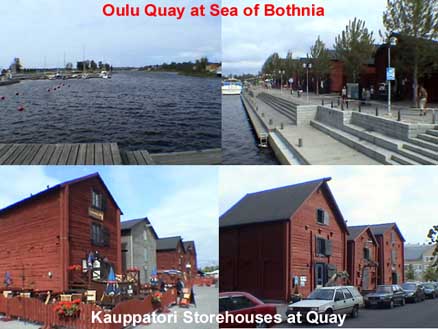 I didn't quite understand this funny little fat bronze soldier (above right.) When I got back to the hotel, I talked the girl at the desk into letting me do AOL email at one of their computers. They were very nice about it and I got it all done. I did waste another hour or so but it was worth it catching up on email for free before we headed southeast to the lake region.
Kenneth J. Hoffer, MD
KHofferMD@AOL.com
Oulu, Finland
Sent 8-23-04
If you enjoyed these travels or wish to add comments on the places we visited
Please Leave Me a Message by clicking the spinning @ sign.