Dr. Hoffer's Travel Site This site was last updated 09/13/12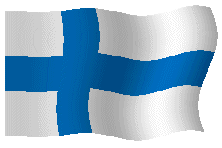 SCAND 2003 #36 Kuopio: The Lake Region

---
Sunday, July 6, 2003
---
We finally left the city of Oulu at 4:30 and Marcia drove the 144 miles south to Asematie while I was still working on the Oslo photos. I think I may have spent too much time on them, because I keep getting farther and farther behind. We arrived in the town of Asematie at 7:00 PM and Marcia had a snack. I indulged as well and had some chocolate croissants (below.) The mosquitoes here are very large; I'm in trouble. It was interesting that they had a sign in the restroom asking not to throw trash into the toilet but in Russian and not in Finnish (below.)
At 7:25, Marcia drove the additional 35 miles south to the charming city of Kuopio. Kuopio is in the province of Savo and has a population of 87,000 people. It was founded in 1782 by King Gustav III of Sweden but only prospered after the Saimaa Waterway (connecting all the lakes here) was opened in 1856. They are a very industrious people and this is a big University town.

We arrived at 8:30 PM and I tried the hotel I had previously booked called the Cumulus as we had in Rovaniemi. The place was nothing special and the lady showed me a room which was not air-conditioned (just like the last one.) I decided the hell with that and we set out to look for places that were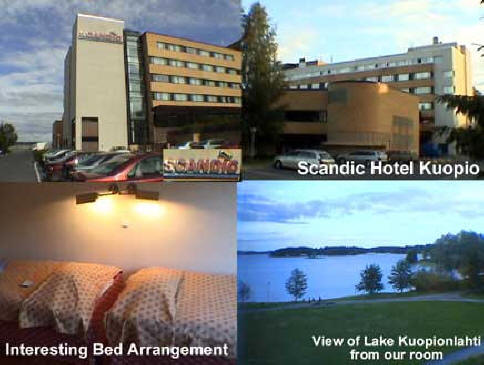 directly on the lake. We drove and drove all around the lake front area until I finally spotted the Scandic Hotel [Satamakatu 1, +358-1-719-8111] right on the lake front. They had a nice room at a reasonable price so we checked in at 8:45. The twin bed arrangement was unusual. They were in a line along the wall head to head (right.) After unpacking, we took a leisurely stroll along the beautiful lake walk to the restaurant area just north of the hotel. The area was very lively with outdoor eateries using large pans cooking up "I don't know what" but it smelled good. There were three big pans labeled: Kebab pitaleivällä, Pyttipannu and Kana Paella (below left) and each serving was about €5 ($6.)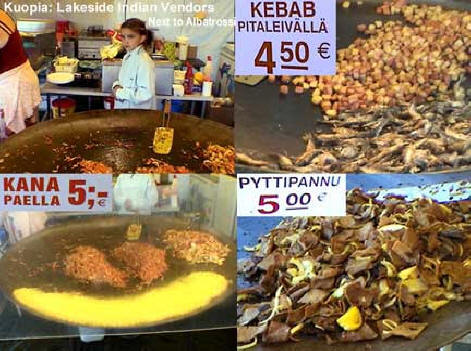 We stumbled into this large place called Albatrossi (above right) for a beer and wine and it seems this place is an example of the Finnish penchant for dancing. It had several separate bars with large areas set aside for dancing and many Finns were drinking and dancing. While I went to the men's room, Marcia told me several gentlemen asked her to dance. She told me she refused all their requests.
Since it was getting late, we headed to a place across the parking lot called the Vanha Satama Pub [, +358-1-719-7304] which was fairly casual and looked interesting. We each had two house beers and wines during dinner and we started with a goat cheese salad. I had penne pasta with salmon and scampi and Marcia tried the fried venaces (fish.) For dessert, I had the berry cake with ice cream and Marcia had the cheese with cloudberry jam. We finished up with an espresso and a caffe latte.
It was only 11:50 when we left the restaurant, so we headed back to the Albatrossi for an after dinner drink and we danced the night away until closing time. We had one hellava good time. We are enjoying Finland. We walked back to the hotel on a balmy evening looking at the lake while it is still daylight. Back at the room I finally finished the Oslo photos and got to sleep at 3 AM.
Kenneth J. Hoffer, MD
KHofferMD@AOL.com
Kuopio, Finland
Sent 9-3-04
If you enjoyed these travels or wish to add comments on the places we visited
Please Leave Me a Message by clicking the spinning @ sign.