Dr. Hoffer's Travel Site This site was last updated 03/02/13

SCAND 2003 #44 St. Petersburg to Moscow
---
Sunday, July 13, 2003
---
On our last day in St. Petersburg, I woke at 9:30 and by 10:00 I was on the hotel's treadmill and then bounded off it, down the stairs and ran down Nevsky Propekt to Karansky Cathedral (below) and and then back.

Just a reminder of the wonderful things we saw in this great city. The Grand Cascade at the Peterhof Palace (below left,) the Catherine Palace (below right,) ...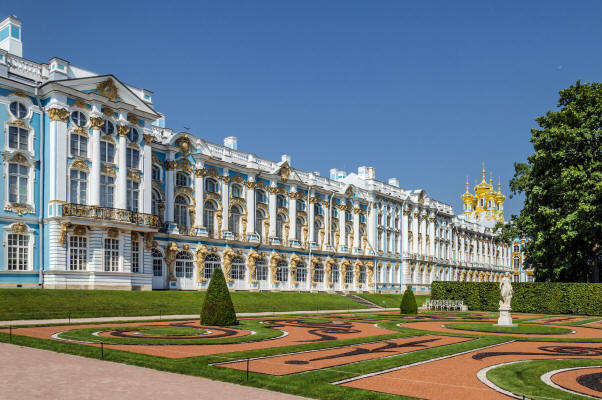 ... and the Russian Museum, Michael Palace (below.)

Incidentally, St. Petersburg has been the Sister city of Los Angeles since 1990.

Then there is the famous Hermitage. This museum ranks, with the Prada in Mardrid and the Louvre in Paris, as one of the most important art museums in the world. Above is the extent of the complex with the Winter Palace on the right end.
Polina picked us at 11:00 and took us back to the Hermitage to see things we missed because we were so late when we visited it the last time. The collection here contains around three million exhibit items, including: 16,783 paintings, 621,274 works of graphic art, 12,556 sculptures, 298,775 works of applied arts, 734,400 archaeological monuments, 1,125,323 numismatics and 144,185 other exhibit items. This museum was founded in 1764 when Empress Catherine the Great purchased a collection of 225 Flemish and Dutch paintings from the Berlin merchant Johann Ernest Gotzkowski. Click this link for the official site for the Hermitage. Below are my shots of the outside of the Hermitage Winter Palace building.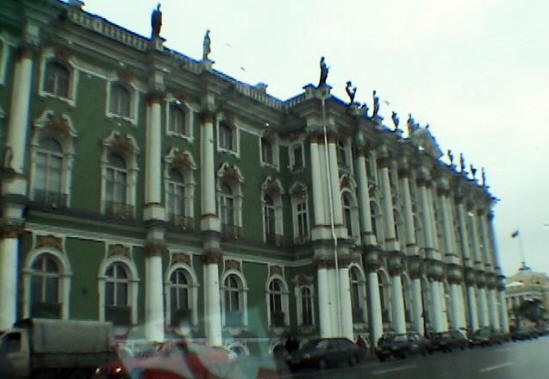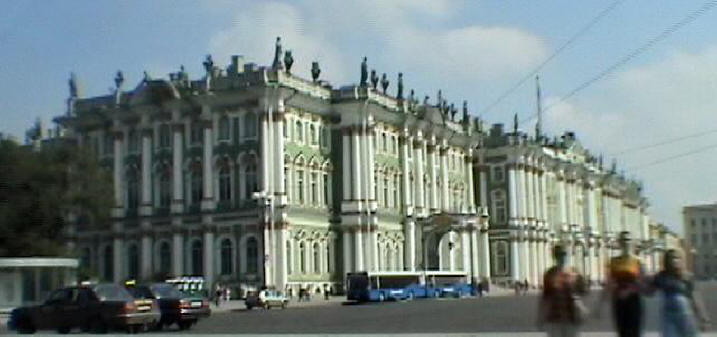 When I paid for our tickets, I also bought a camcorder permit allowing me to photograph anything I wanted. They give you a little sticker to put on your shirt so the guards ("Babushkas") know you are allowed to photograph. This is a sane and fair way to do it. I hand it to the Russians. If you want to photo; simply pay a small extra fee. I got a lot of Picasso works and those of many other famous Western artists. As usual, if you are not a fan of art, just slide past it all. But if you are slighlty interested in art, you will learn a lot. Here we go. To give an overall feel of this immense museum, I've included these beautiful stock photos (below) of some examples of the rooms.
Statue Hall (left) and the Hall of St. George (right.)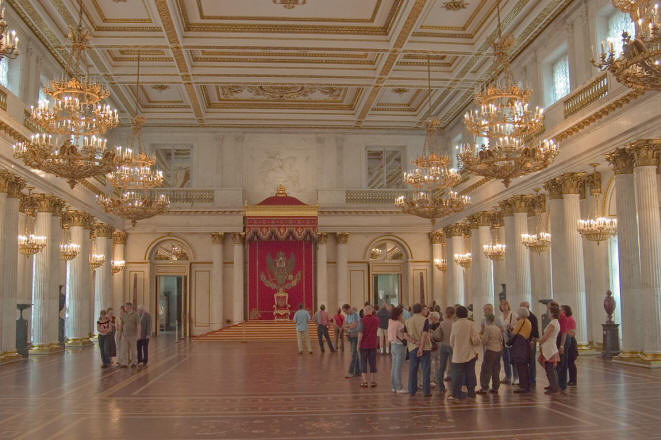 The Majolica Room (left) and the Italian Room (right.)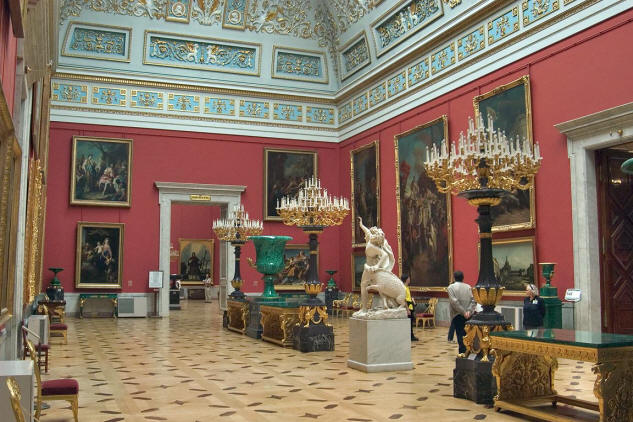 The Dutch Room (left) and the Armorial Hall (right.)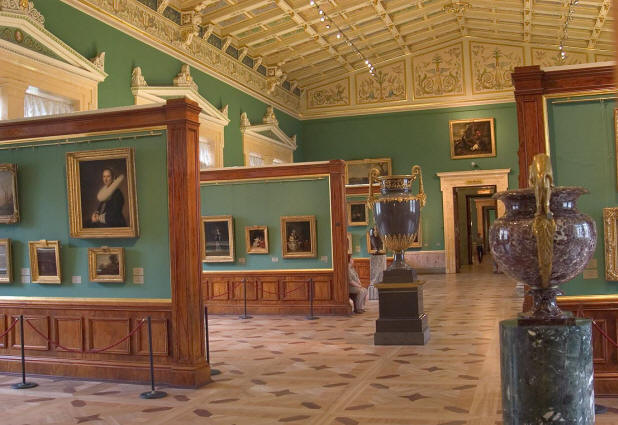 The 1812 War Room (left) and Hall of 20 Columns (right.)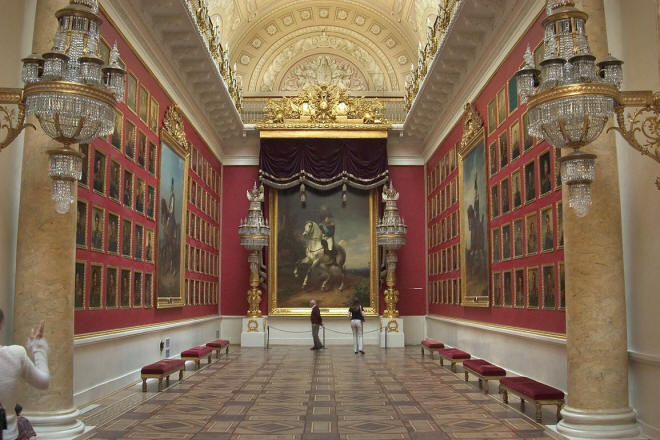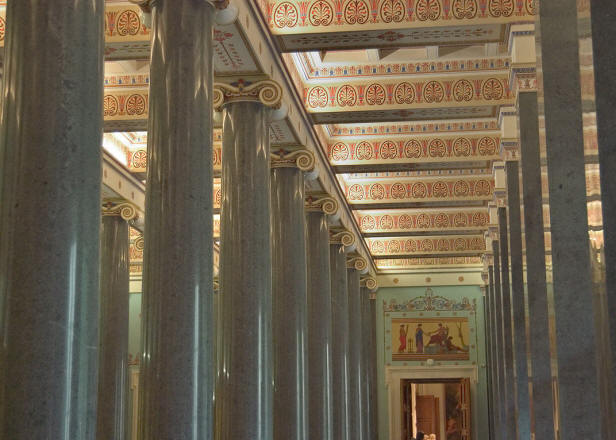 The Egyptian Hall (left) and a living area in the Winter Palace (right.)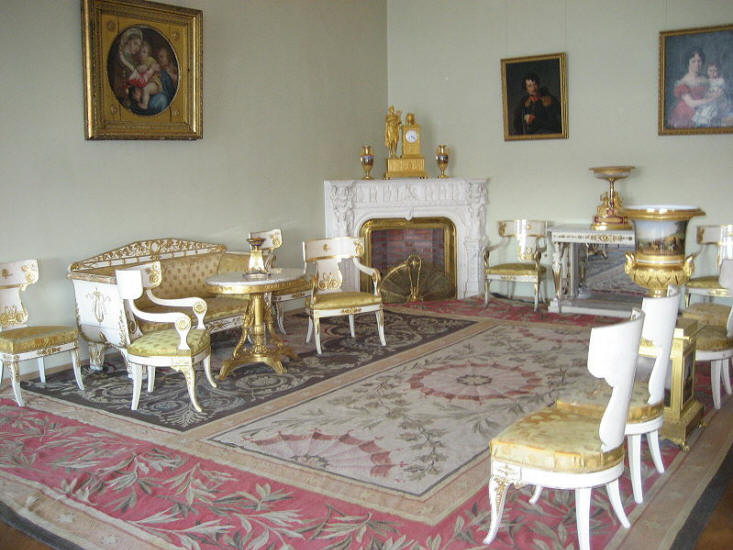 The Throne Room (left) and my photo of starting our tour (right.)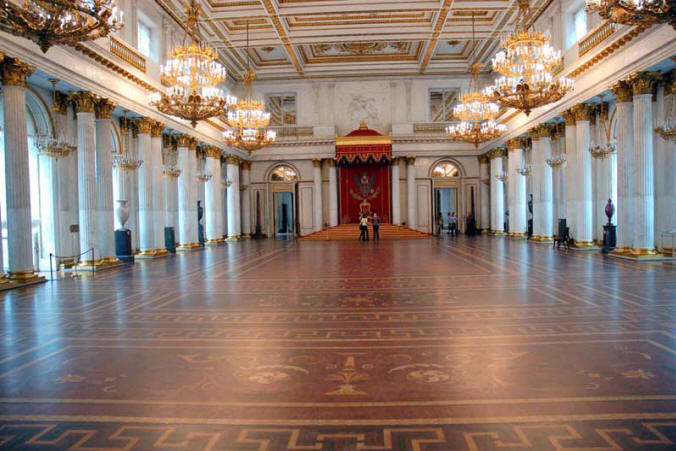 Now we will start with my photographs (starting from above right.) Stock photos are outlined in black.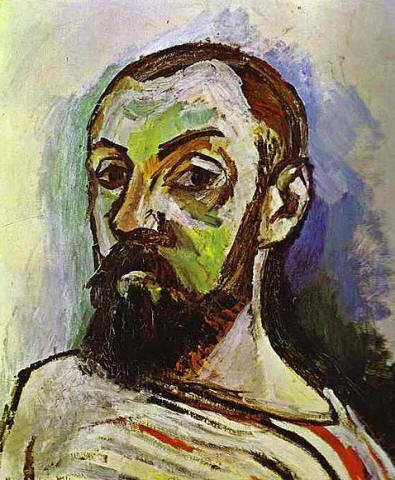 I like to start with the paintings. They have 36 paintings by Henri Matisse (right) (1869-1954,) the famous
proliferative artist of France. Matisse (self-portrait, above right 1906) was born in Le Cateau-Cambrésis, Nord, France and in 1887 he went to Paris to study law. Matisse is commonly regarded, along with Pablo Picasso and Marcel Duchamp, as one of the three artists who helped to define the revolutionary developments in the arts in the opening decades of the 20th Century. In 1917, Matisse relocated to Cimiez on the French Riviera, a suburb of Nice. In 1952 he established a museum there dedicated to his work, the Matisse Museum in Le Cateau, and this museum is now the third-largest collection of Matisse works in France. Matisse died of a heart attack at the age of 84 in 1954 and is interred (below right) with his wife, Noelle Matisse-Parayre, in the cemetery of the Monastère Notre Dame de Cimiez.
Below left is a stock photo of one of his paintings to compare to the photo I got of it directly below it.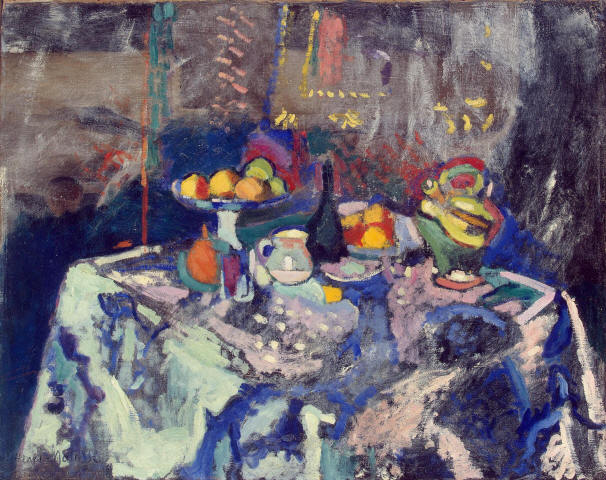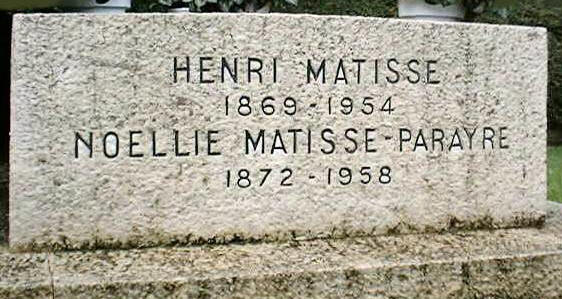 Henri Matisse: "Vase, Bottle and Fruit" (1906) and "Woman on a Terrace" (1907)
Henri Matisse "Dishes and Fruit" (1901) and "Bouquet (Vase with Two Handles)" (1907)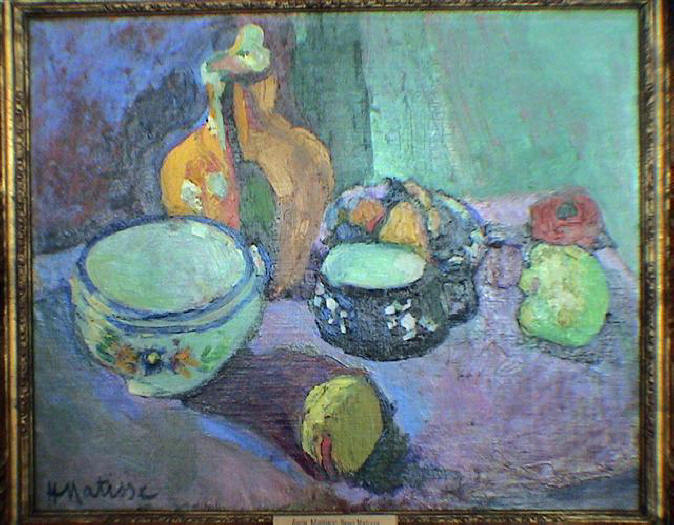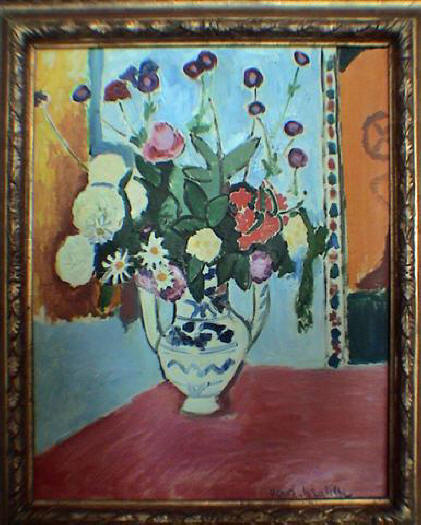 Henri Matisse: "Dishes and Fruit on a Red and Black Carpet (Le Tapis Rouge)" (1906) and "View of Collioure" (1905)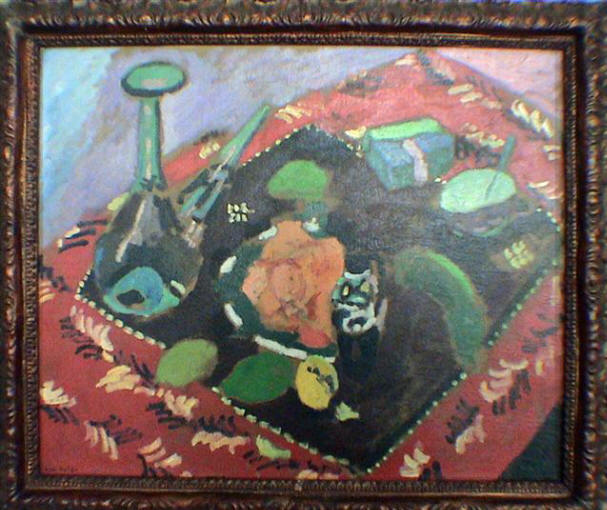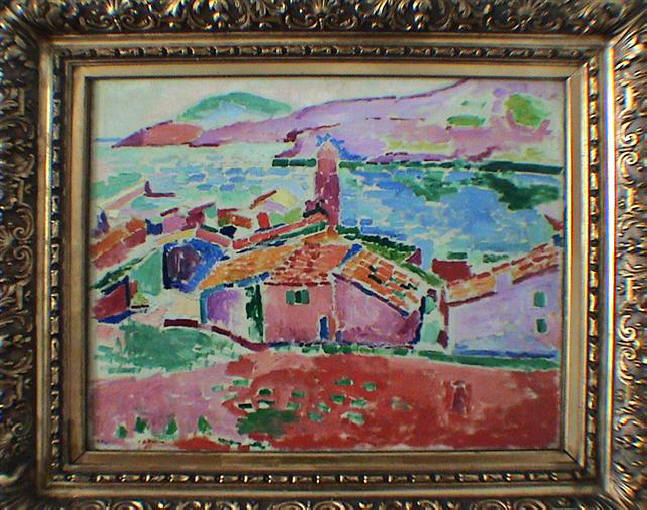 Henri Matisse: "Seated Woman" (1908); "Nude. Study" (1908) and "Nude. Black and Gold" (1908)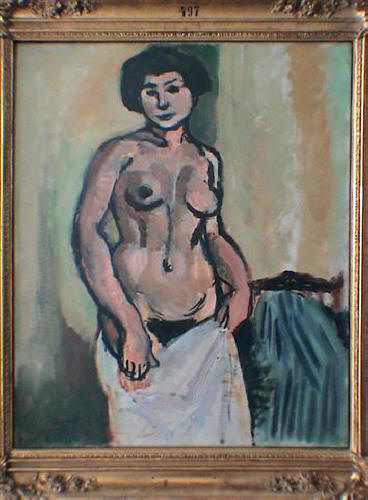 Henri Matisse: "Music" (1910) and "Dance (2nd Version)" (1910)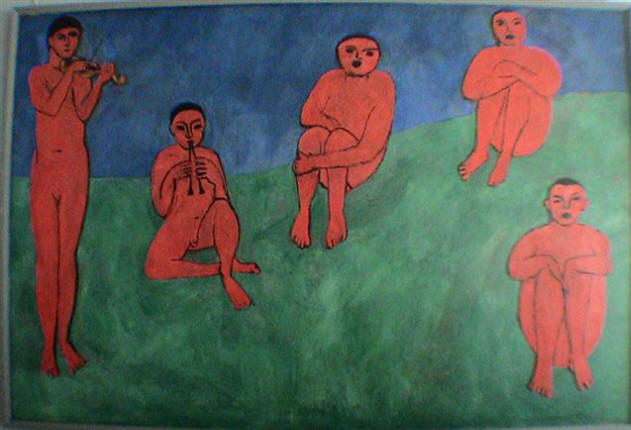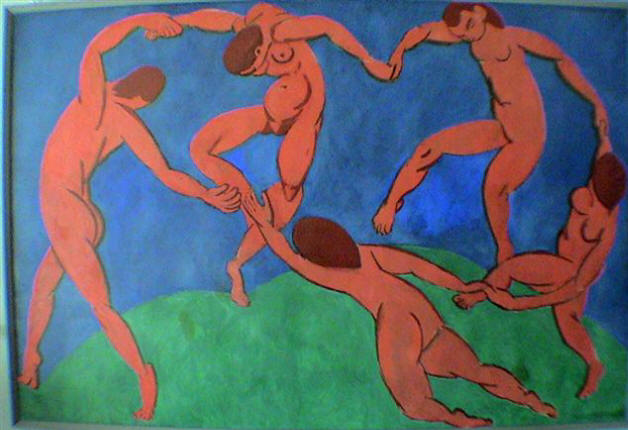 Henri Matisse: "Pink Statuette and Jug on a Red Chest of Drawers" (1910) and "Nymph and Satyr" (1908)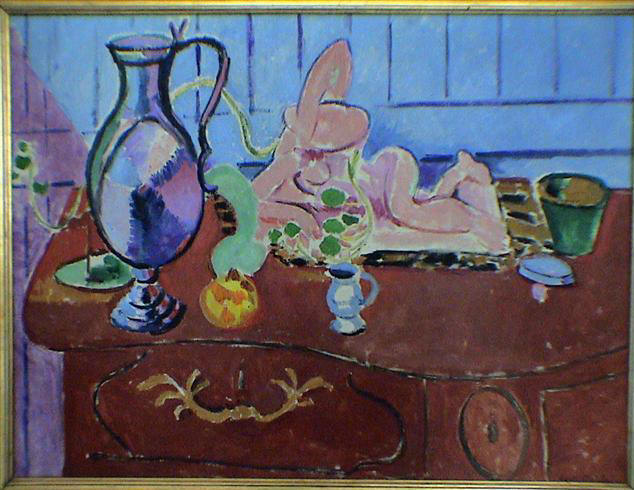 Henri Matisse: "Painter's Family" (1911) and "Blue Pot and Lemon" (1897)
Henri Matisse "Vase of Sunflowers" (1912) and "Portrait of Lydia Delectorskaya" (1947)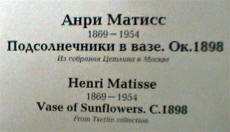 We now wandered into the Picasso area with 32 of his pieces. Pablo Picasso (1881–1973) (right) is very well-known, of course.
He was born in Spain but spent most of his adult life in France going back and forth from Barcelona and Paris. As one of the greatest and most influential artists of the 20th Century, he is widely known for co-founding the Cubist movement, the invention of constructed sculpture, the co-invention of collage, and for the wide variety of styles that he helped develop and explore. Among his most famous works are the proto-Cubist "Les Demoiselles d'Avignon" (1907) in NYC (below left) and "Guernica" (1937) (below right) which is his portrayal of Hitler's blitzkrieg bombing of Guernica during the Spanish Civil War. We saw this monumental work in the Museo Reina Sofía museum in Madrid in 2001. It is a huge piece of art.
"Les Demoiselles d'Avignon" (1907) "Guernica" (1937)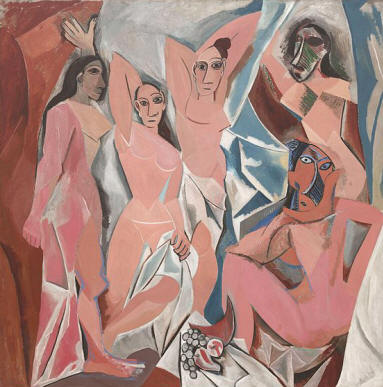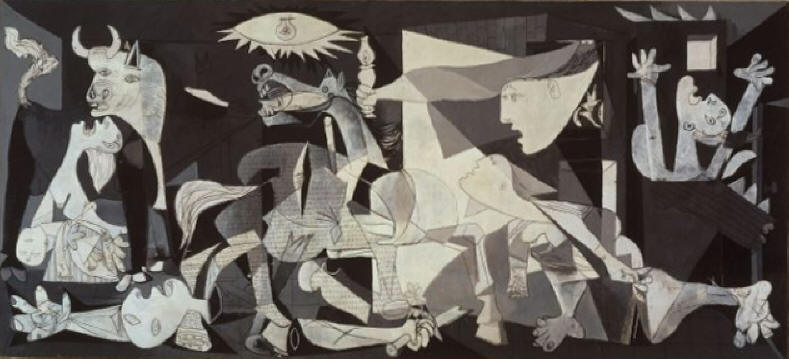 At the very left below is Picasso's "Portrait of Soler" from 1903. The remaining three ...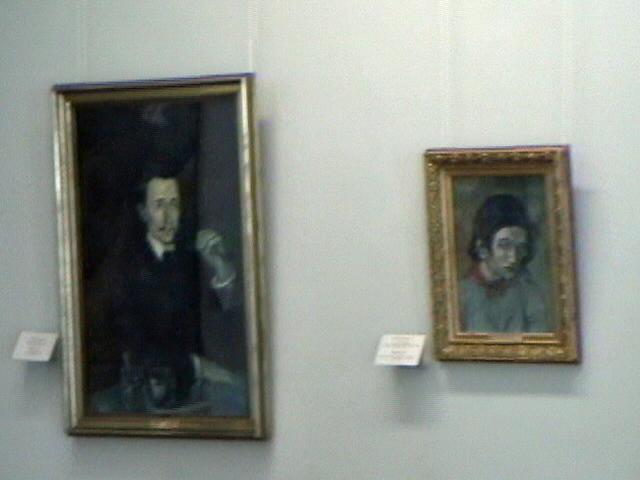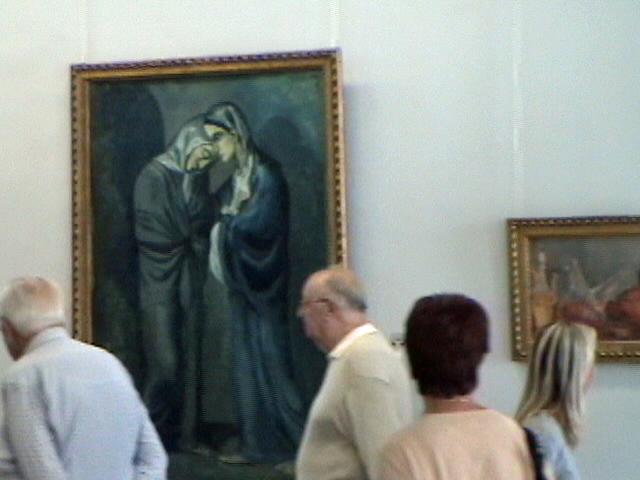 ... from (L-R) are shown below in greater detail.
"Female Head" (1902); "Two Sisters (The Meeting)" (1902); and "Glass Vessels" (1906)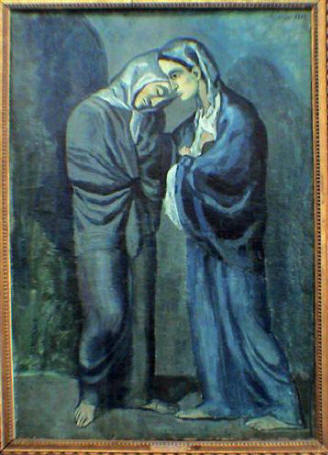 Pablo Picasso: "Absinthe Drinker" (1901)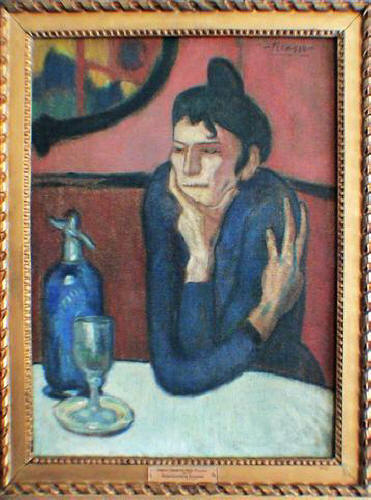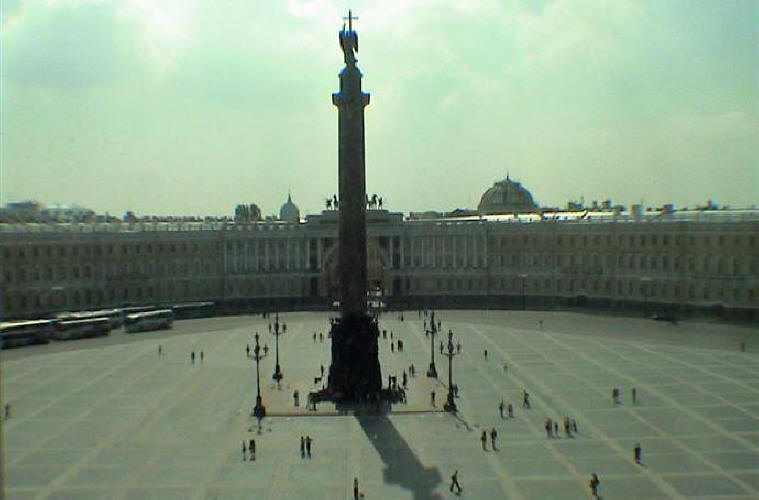 Every once in awhile, I took some shots of the central courtyard of the Hermitage from an unobstructed window. We then entered the more abstract Picasso area.
Pablo Picasso: "Dryad" (1908); "Woman with a Fan" (1907); and "Friendship" (1908)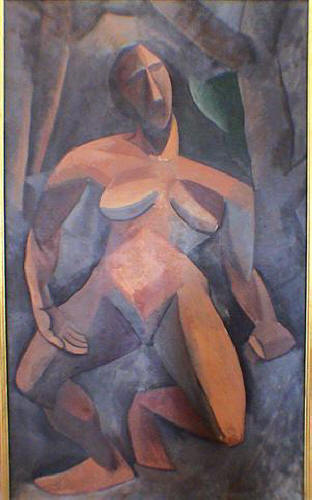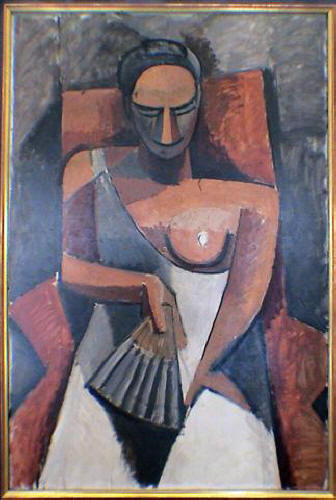 Pablo Picasso: "Three Women" (1908); "Composition with Skull" (1908); and "Nude (Bust)" (1907)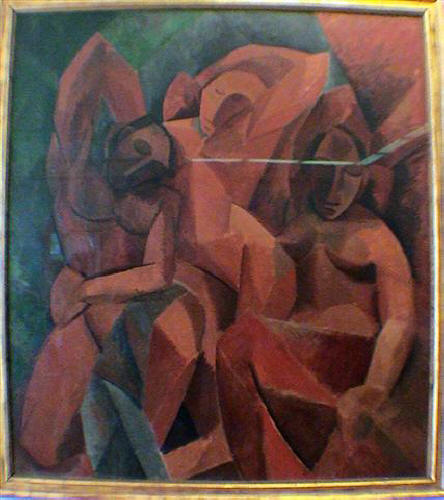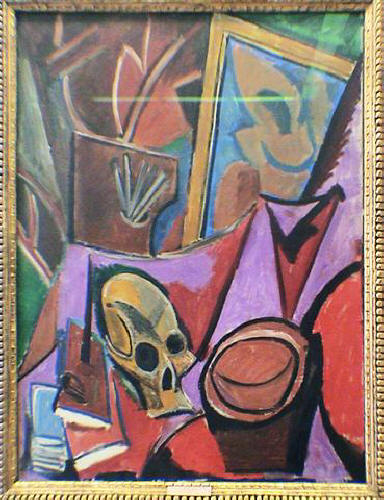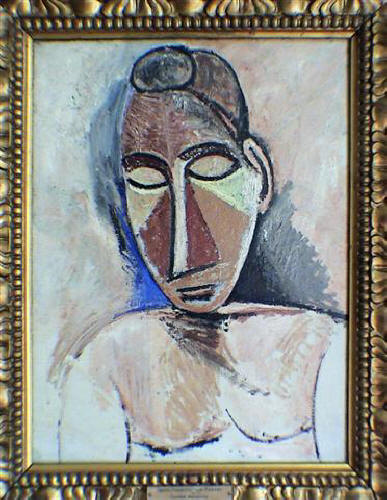 Pablo Picasso: "Bathing" (1908); and "Farm Woman (Full Length)" (1908)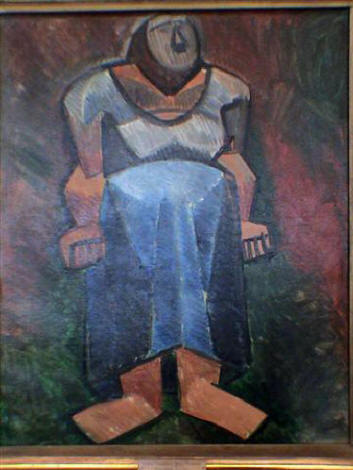 Pablo Picasso: "Farm Woman (Half Length)" (1908); "Flowers in a Grey Jar" (1908) and "Young Woman" (1909)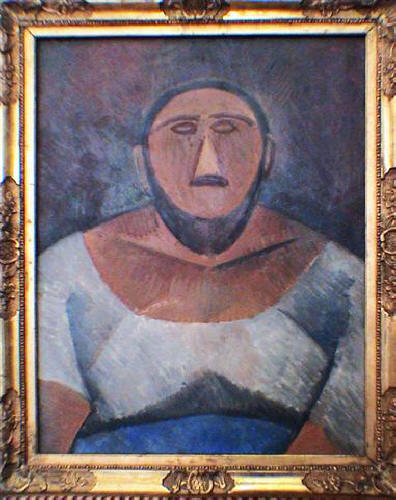 Pablo Picasso: "Nude" (1909); "Woman with a Mandolin" (1909) and "Table in a Cafe (Bottle of Pernod)" (1912)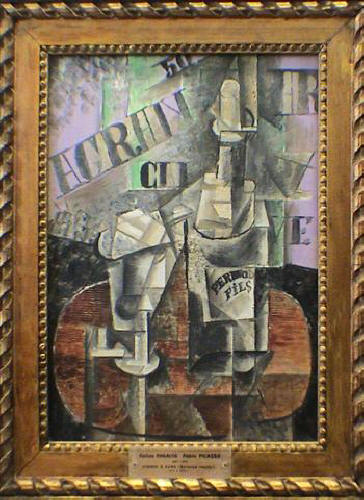 Pablo Picasso: "Musical Instruments" (1912); "Clarinet and Violin" (1913); Unknown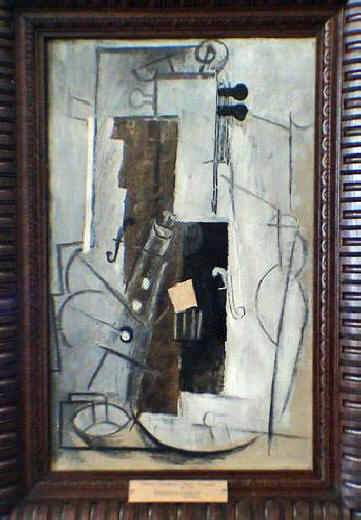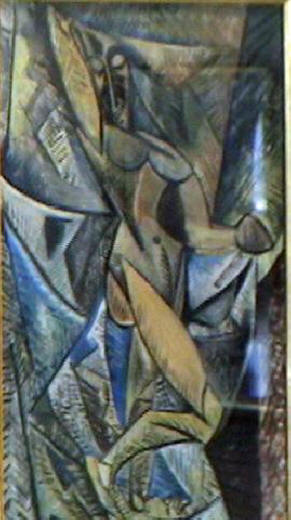 We then entered the area of Cézanne where they have 18 pieces. Paul Cézanne (1839–1906) (right)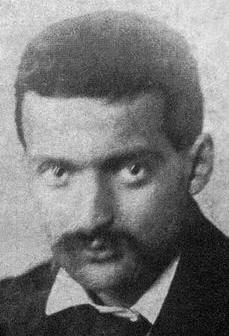 was a French artist and Post-Impressionist painter whose work laid the foundations of the transition from the 19th-Century conception of artistic endeavor to a new and radically different world of art in the 20th Century. Cézanne has been said to be the bridge between late 19th-Century Impressionism and the early 20th Century's new line of artistry called Cubism. The statement attributed to both Matisse and Picasso was that Cézanne "is the father of us all." He was born in Aix-en-Provence, in Provence in the south of France and died there in his house/atelier up on a hill above the city which he purchased and lived in.
[His house in Aix-en-Provence is now a museum which we visited in 2005.]
Paul Cézanne: "Mount Sainte-Victoire" (1898) and "still Life with a Curtain" (1895)
Paul Cézanne: "Smoker" (1892) and "The Banks of the Marne" (1890)
Paul Cézanne: "The Banks of the Marne" "Girl at the Piano" (1868)
They have seven Pissaro's here, but I only got one of them. Camille Pissarro (1830-1903) (below left) was a Danish-French Impressionist and Neo-Impressionist painter born on the island of St Thomas (US Virgin Islands) and lived in Paris and London. During his lifetime, Pissarro sold few of his paintings but by the 21st Century his paintings were selling for millions. during the 1930s many of his paintings were stolen from their Jewish owners and even now their descendents are having a difficult time legally getting them back.
Paul Cézanne: "Place du Theatre Francais in Paris" (1898)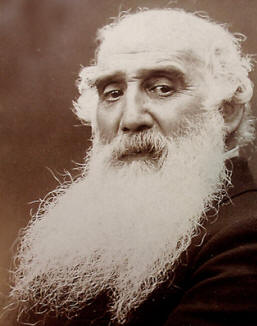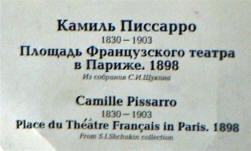 Then we entered into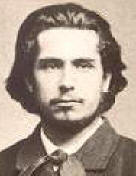 the Monet area holding 14 of his works. Claude Monet (1840-1926) (young left, old right) was a founder of French impressionist painting and the most consistent and prolific practitioner of the movement's philosophy of expressing one's perceptions before nature, especially as applied to landscape painting. The term Impressionism is derived from the title of his painting "Impression, Sunrise" (1872) (below left;) the subject of the painting is the harbor of Le Havre in France. He was born in Paris but was raised in La Havre. In April 1883, he discovered Giverny in Normandy and bought a house there, where he planted a large garden with a lily pond and bridge and where he painted for much of the rest of his life. He died there in 1906.
Claude Monet: "Impression, Sunrise" (1872) and "Steep Cliffs near Dieppe" (1897)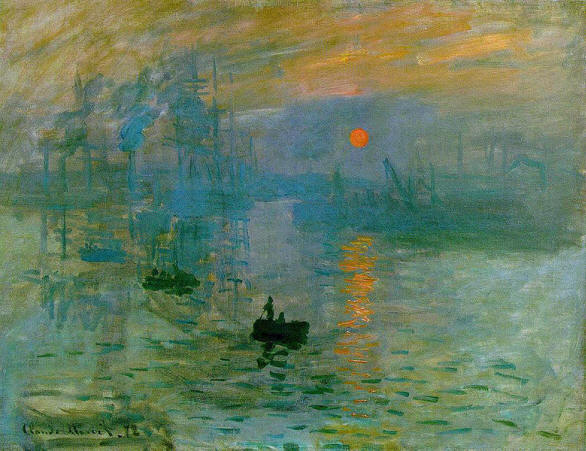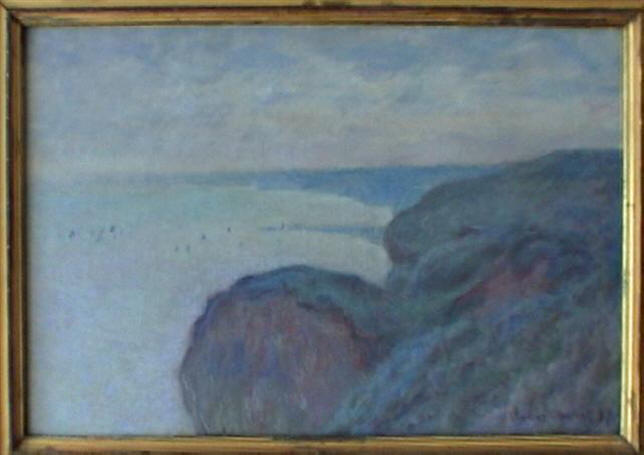 Below left is a 1922 photo of Monet (on right) on his bridge. At age 86, he died of pneumonia and was buried at the old cemetery (below right) in his beloved hometown of Aix-en-Provence.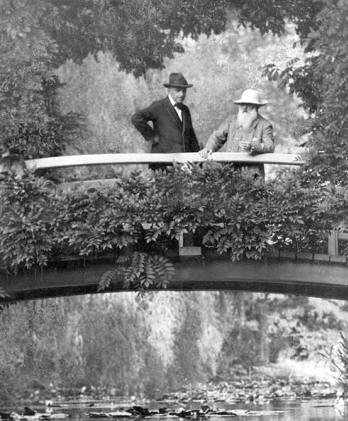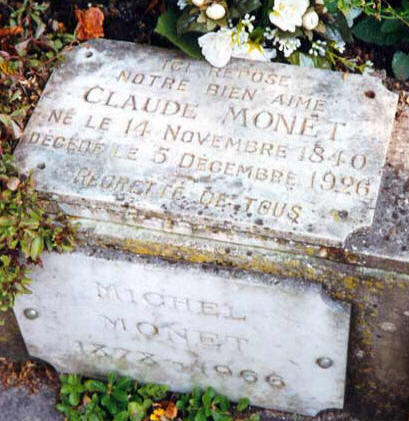 Claude Monet: "Waterloo Bridge. Effect of Fog." (1903) and "Meadows at Giverny" (1888)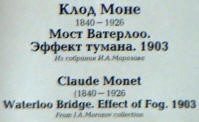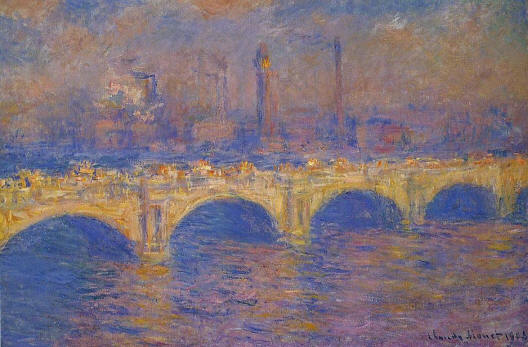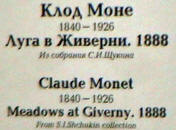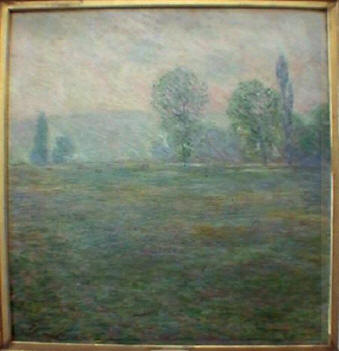 Claude Monet: "Poppy Field" (1891)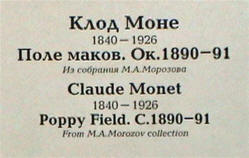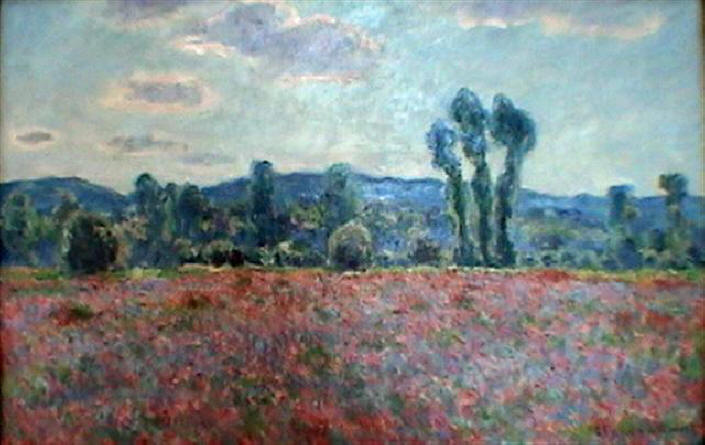 Claude Monet: "Lady in the Garden Sainte-Adresse" (1867)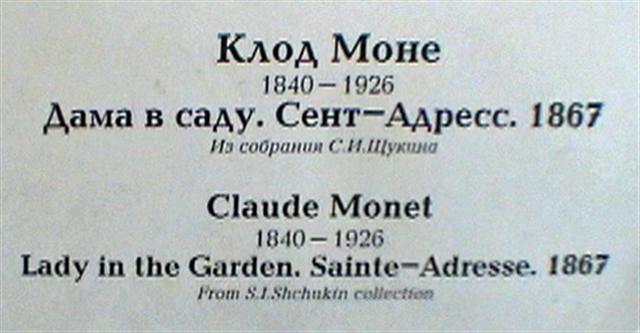 They have nine Latours but I only got a photo one of them. Henri Fantin-Latour (1836-1904) (below right) was a French painter and lithographer best known for his flower paintings and group portraits of Parisian artists and writers. Whistler brought attention to him in England, where his still-lifes sold so well that they were practically unknown in France during his lifetime. He was born in Grenoble and died of Lyme disease in Buré in Lower Normandy in 1904. He was interred in the Cimetière du Montparnasse in Paris.
Henri Fantin-Latour: "Bouquet of Roses and Nasturtiums" (1883) and "Self Portrait" (1859)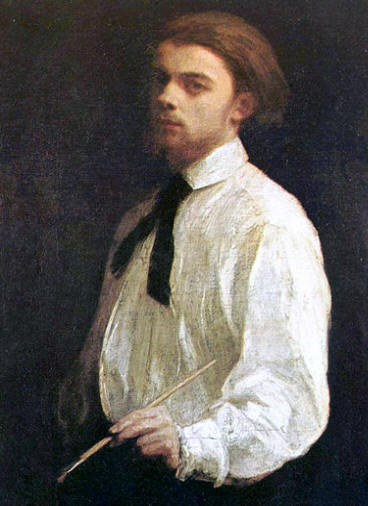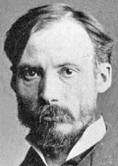 We then saw the Renoirs of which they have 21. Pierre Auguste Renoir (1841-1919) (right) was a French Impressionist painter born in Limoges, Haute-Vienne. In his early years he visited the Louvre in Paris for inspiration and in 1919, he visited the Louvre to see his paintings hanging with those of the old masters. He died in the village of Cagnes-sur-Mer, in Provence soon afterward. He had suffered from severe rheumatoid arthritis but was able to continue painting right to the end.
Pierre Auguste Renoir: "Woman in Black" (1876) and "Portrait of the Actress Jeanne Samary" (1878)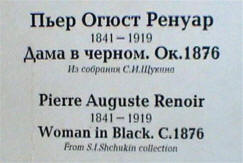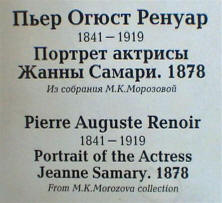 Pierre Auguste Renoir: "Girl with a Fan" (1881) and "Boy with a Whip" (1885)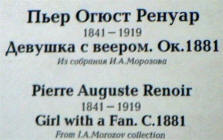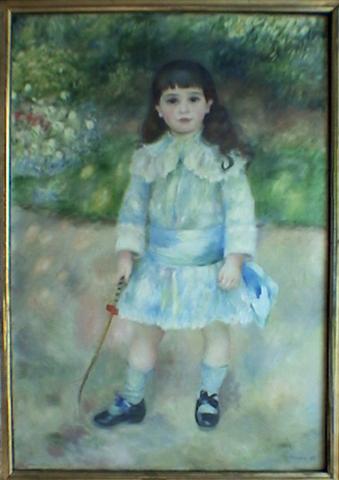 Another peak out the window at the massive plaza.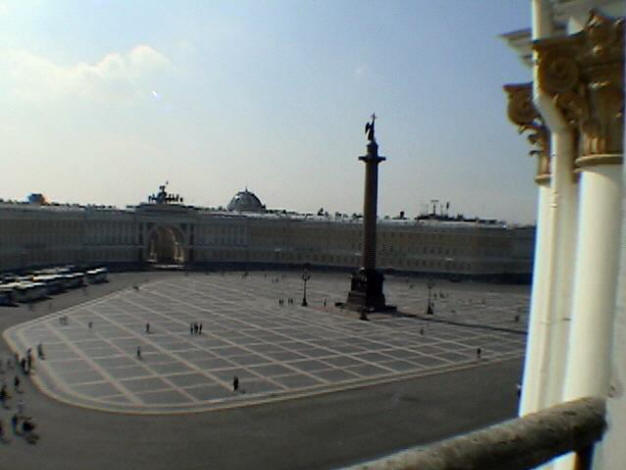 Of course they have some van Goghs; eight of them. I have carefully covered this famous Dutch artist, Vincent van Gogh, in previous Diarios.
Vincent van Gogh: "Cottages" (1890) and "Lilac Bush" (1889)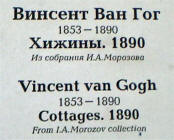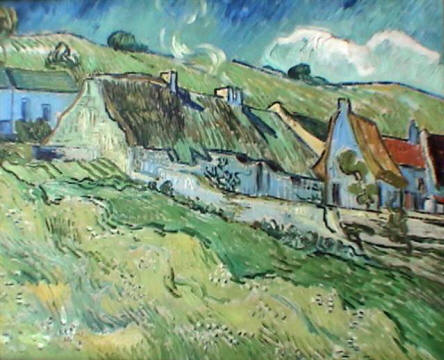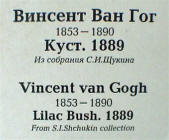 Vincent van Gogh: "Memory of the Garden at Etten (Ladies of Arles)" (1888) and "The Arena at Arles" (1888)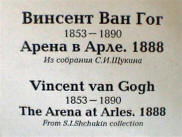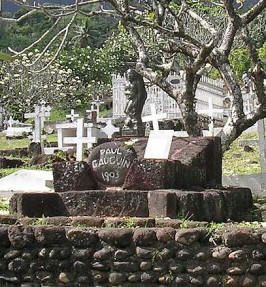 We turn the corner and we are in the Gauguin section; they have 19 of them here.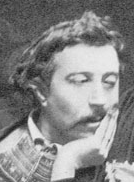 Paul Gauguin (1848-1903) (left) was a leading French Post-Impressionist who was, after his death, recognized for his experimental use of colors and synthetist style that were distinguishably different from Impressionism. He was born in Paris, grew up in Lima, Peru and moved back to Orleans, France at the age of seven. He became a close friend of van Gogh for nine weeks. He suffered from depression and left France and worked on the Panama Canal for two weeks when he was fired. In 1891 he sailed to French Polynesia where he became a pedophile of young girls, many of whom he painted. He caught syphilis and died of a morphine overdose at the age of 54. He was buried (above right) in Calvary Cemetery (Cimetière Calvaire,) Atuona, Island of Hiva 'Oa. A real nut job.
Paul Gauguin: "Woman with Fruit" (1893) and "The Idol" (1898)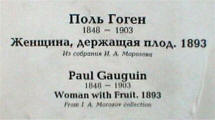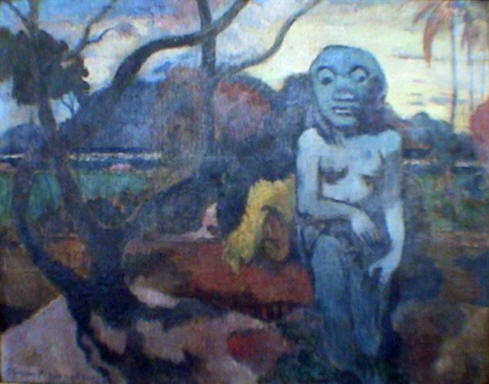 Paul Gaugin: "Scene from Tahitian Life" (1896) and "The Canoe" (1896)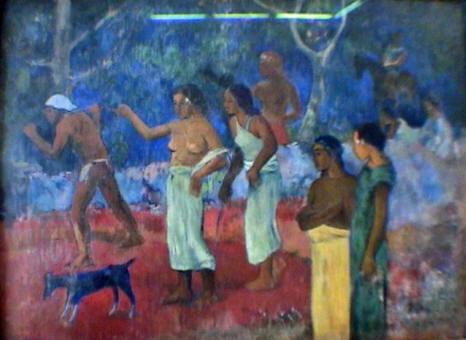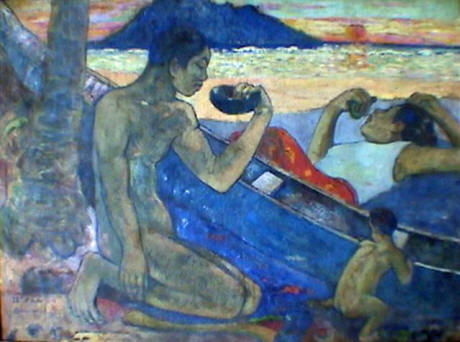 Here is a look at some of the galleries you pass through.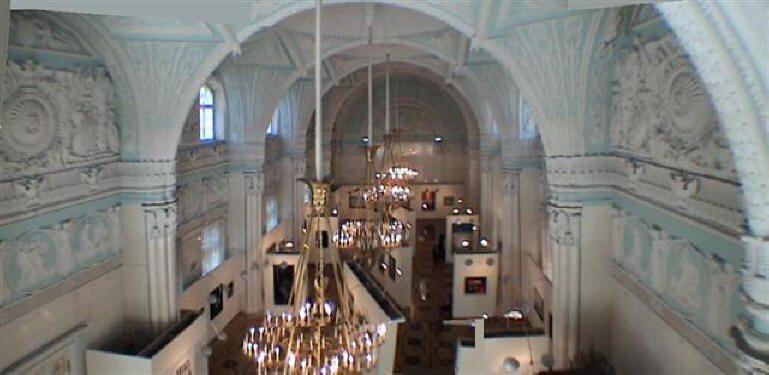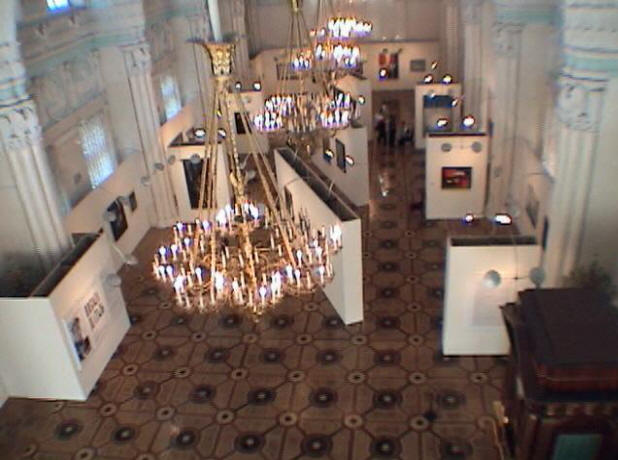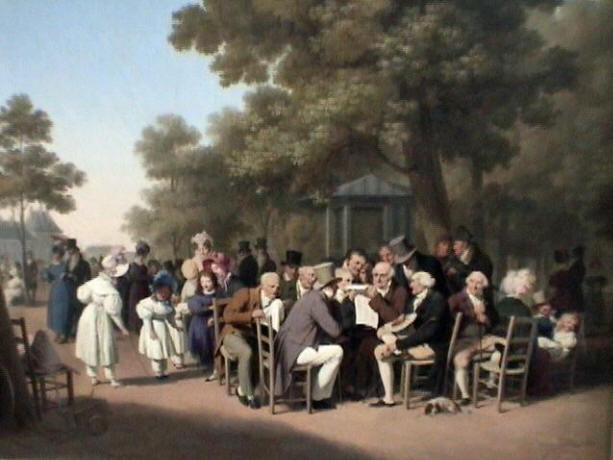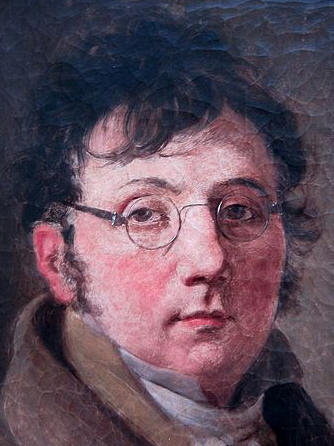 Then I saw a few lesser known artists but there paintings were quite interesting, so I got photos of them. The first is Louis Leopold Boilly (1761-1845) (self-portrait, right,) another French painter, who was born in La Bassée in northern France and died in Paris. He was quite famous during his lifetime. They have six of his pieces here.
Louis Leopold Boilly: "Poloticians in the Tulleries Garden (1832) [Full painting above, close-up below]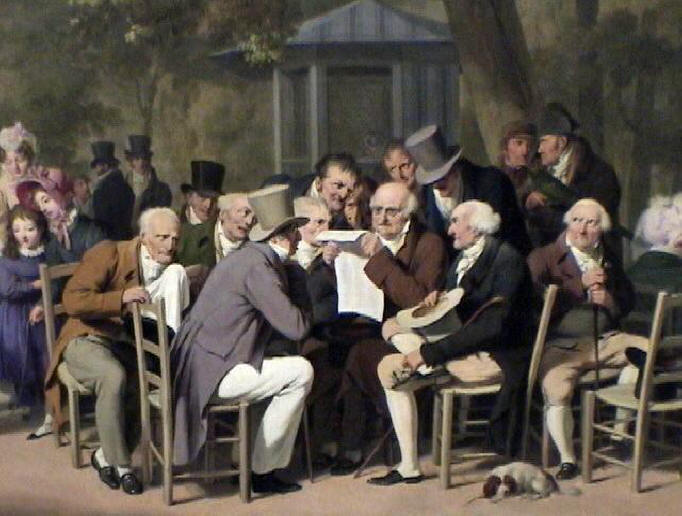 The second was his contemporary, Pierre Narcisse Guérin (1774-1833) (right,) another French painter, born in Paris and well-regarded while alive. He went to Rome and at the age of 59, died and was buried in the church of La Trinité de Monti by the side of artist Claude Lorrain. They have seven of his works here.
It was very difficult to photograph this piece without getting a large reflex from light coming in from the windows, so I photographed it in sections. Below is the lower portion showing Morpheus.
Pierre Narcisse Guérin: "Morpheus and Iris" (1811)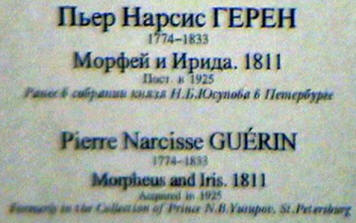 The left below shows most of the piece; the center is close-up of Iris and on the right is a stock photo of it.
The third work of art is by Jean Léon Gérôme (1824-1904) (right,) also French, who was born in Vesoul, Haute-Saône. The range of his work included historical painting, Greek mythology, Orientalism, and portraits bringing the Academic painting tradition to an artistic climax. He is considered one of the most important painters from this academic period, and in addition to being a painter, he was also a teacher with a long list of students. They have four of his paintings.
Jean Léon Gérôme: "Slave Woman Sold" (1884)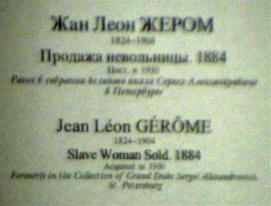 Below are closer shots of the central figures (left) and the crowd of bidders (right.)
The fourth and last is by the French painter François Léopold Flameng (1856-1923) who was a printmaker and illustrator born in Paris and died there in 1923. This huge painting is the "Bathing of Court Ladies in the 18th Century." He was famous while living and was granted France's highest civilian honor, the Legion d'Honneur, and he designed France's first bank notes. Flameng later received renown for his paintings of World War I. He was named honorary president of the Society of Military Painters and was an accredited documenter for the War Ministry. Ten of his works are displayed here.
François Léopold Flameng: "Bathing of Court Ladies in the 18th Century" (1856-1923)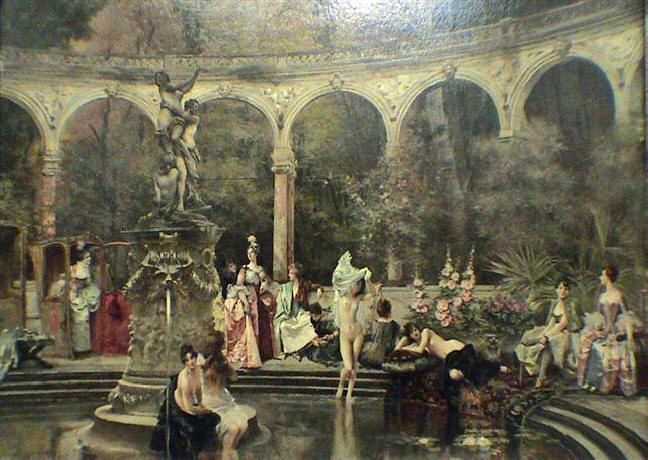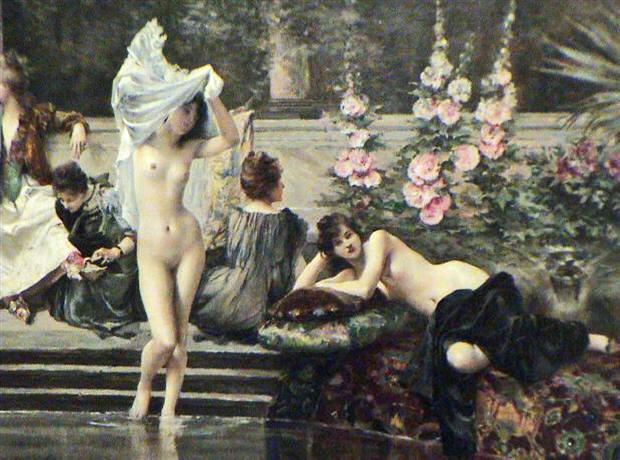 The first three are photos I took of it and below right is a stock photo I found.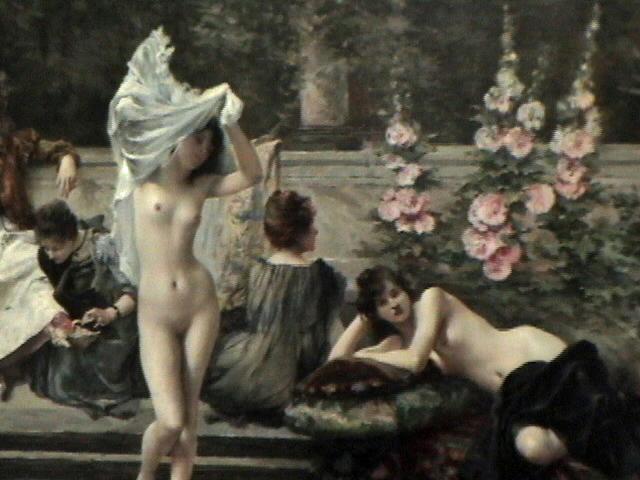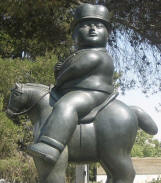 I had to get this interesting bronze table sculpture from

two angles due to its complexity. It is by Fernando Botero and titled "Still Life with a Watermelon." Botero (1932-) (right) is a Colombian figurative artist whose works feature a figurative style (called by some "Boterismo") which gives them an unmistakable identity. You may have seen some of his charactersitic "fat" people paintings or sculptures (right) which are displayed in cities around the world. He was born the second of three children in Medellín, Colombia. He is very well-regarded.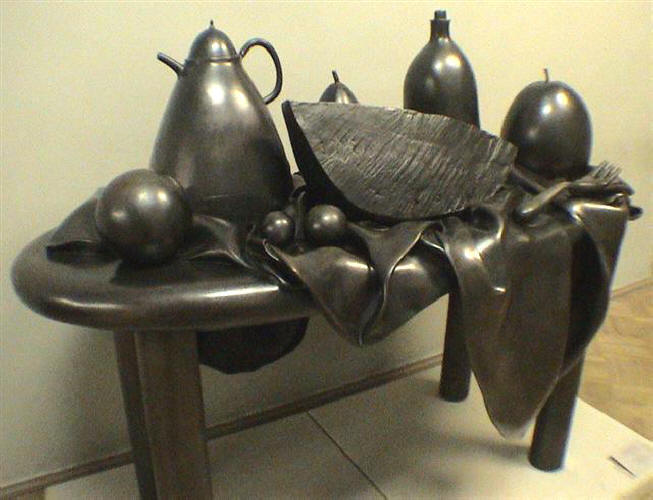 Jean-Antoine Houdon (1741-1828) (left, by Boily) was a French neoclassic

al sculptor. He is famous for his portrait busts and statues of philosophers, inventors and political figures of the Enlightenment. Houdon's subjects included Benjamin Franklin (1709,) Jean-Jacques Rousseau (1778,) Molière (1781,) George Washington (1788,) Thomas Jefferson (1789,) King Louis XVI (1790,) Robert Fulton (1804,) Napoléon Bonaparte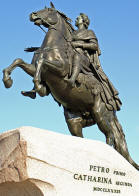 (1806,) and finally Voltaire (below left.) Now that is certainly a historic list of personages. John Adams persuaded him to cross the Atlantic to do Washington. The profile of Washington's bust that he made was used on US postage stamps.
Center left is "Portrait of Voltaire" sculpted by Marie-Anne Collot (1748-1841) (above right)one of the few female French sculptures. She was born in Nancy and died in Bourdonnay in Moselle, France. Falconet, her teacher, brought her to Russia (1766-78) and left it to her, since she was so gifted for sculpting portraits, the difficult task of making the head of Peter the Great for the equestrian statue called "The Bronze Horseman" (right) here in the city.
Jean-Antoine Houdon: "Voltaire" (1781) Marie Anne Collot: "Portrait of Voltaire" (1770) UNKNOWN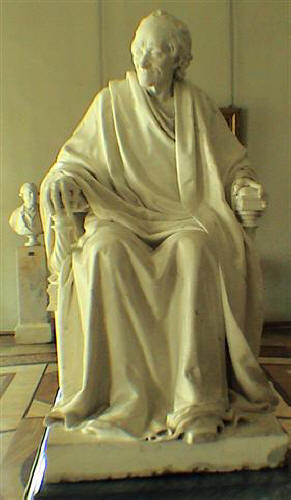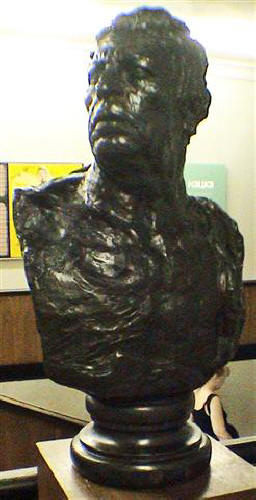 In Room 81, the Majolica Room are two classic works by Raphael and a sculpture by Lorenzo Lorenzetti, his pupil.
Raphael: "The Holy Family (Madonna with the Beardless Joseph)" and close-up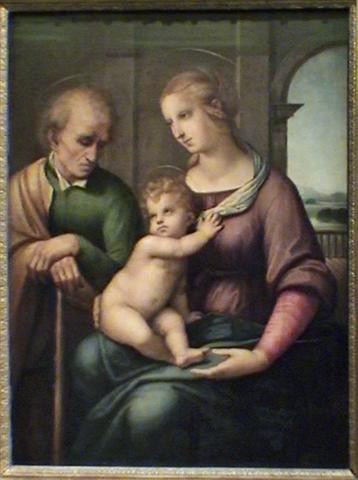 Raphael: "Madonna and Child (The Conestabile Madonna)" and close-up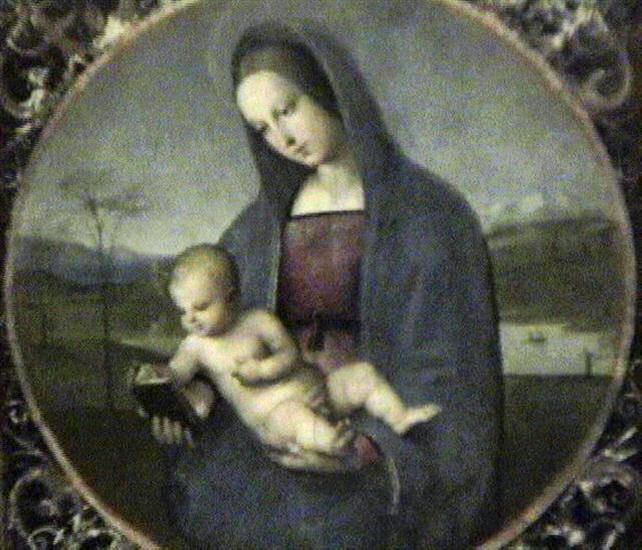 Lorenzo Lorenzetti (1490-1541): "A Dead Boy on a Dolphin"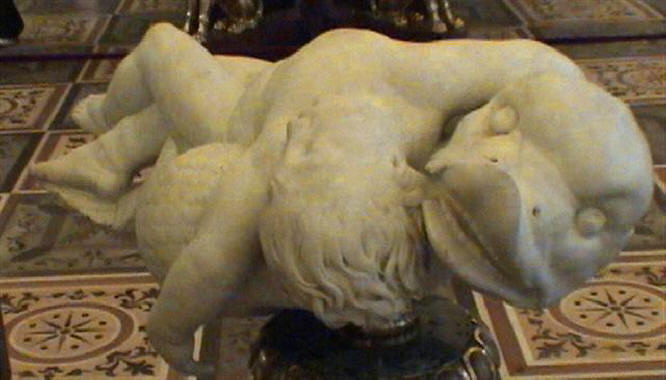 Unfortunately, I did not get the titles or the artists names for the busts above right and many others (below.)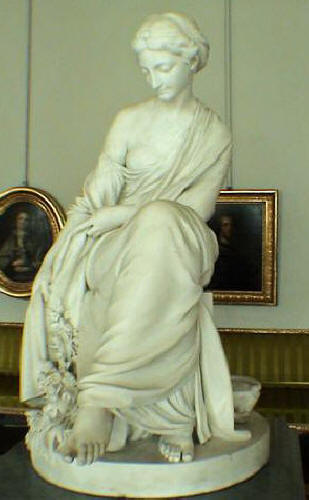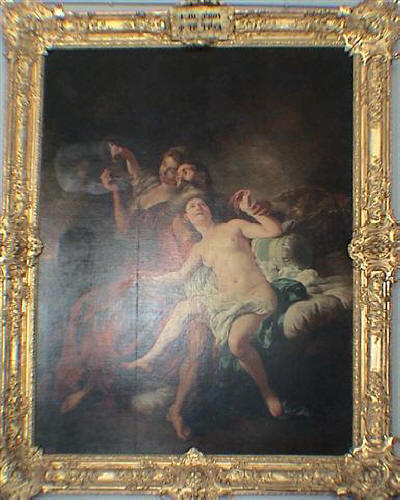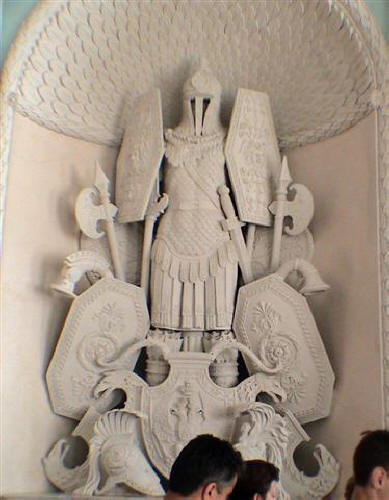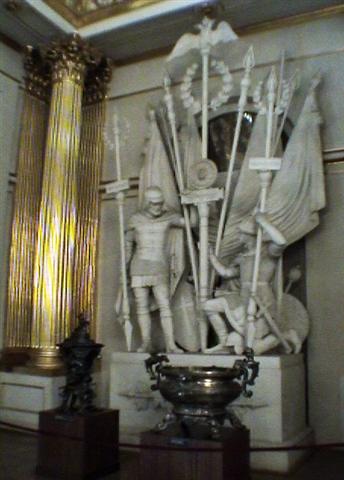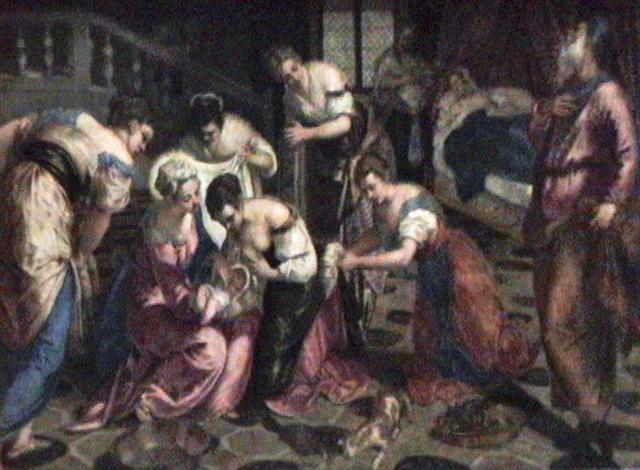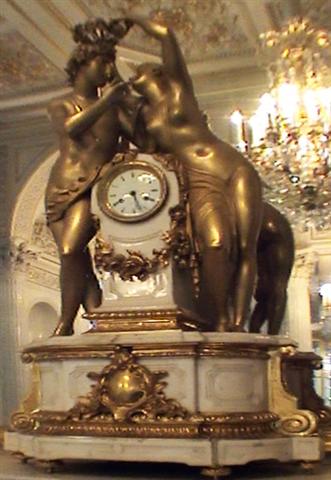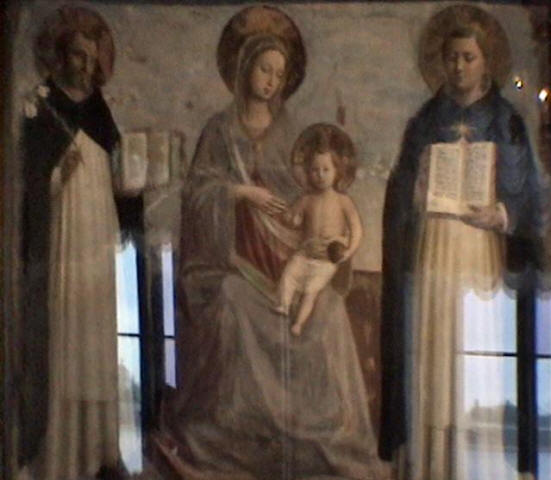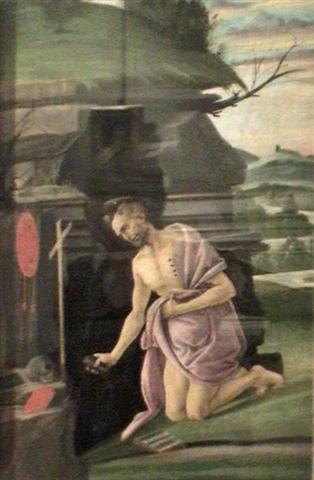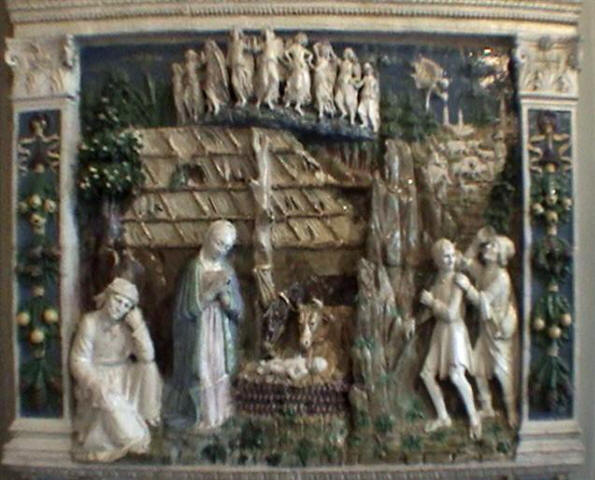 This one is cute with the person spying on the two lovers.
In the Winter Palace, here is Bartolomeo Rastrelli's

(right) (1700-1771) "Jordan Staircase" built in 1762. He was an Italian architect working in Imperial Russia. He developed an easily recognizable style of Late Baroque, both sumptuous and majestic. His major works, included the Winter Palace and the Catherine Palace in Tsarskoye Selo which are famed for extravagant luxury and opulence of decoration.
It is from this stairway that the Imperial family watched the Epiphany baptism ceremony in the Neva River commemorating Jesus' baptism in the Jordan River. Below left is a stock photo and the rest are mine.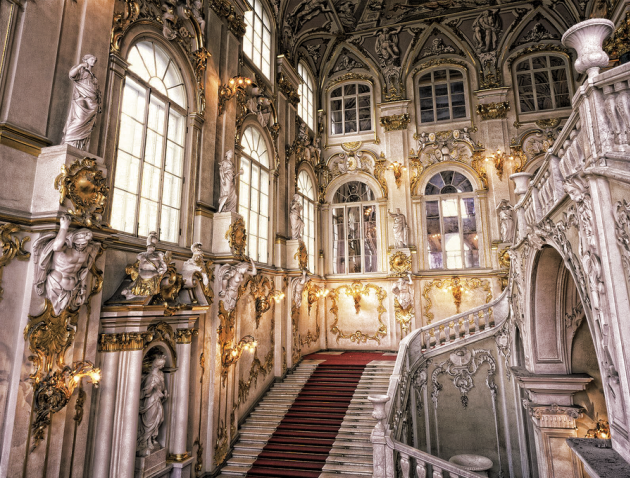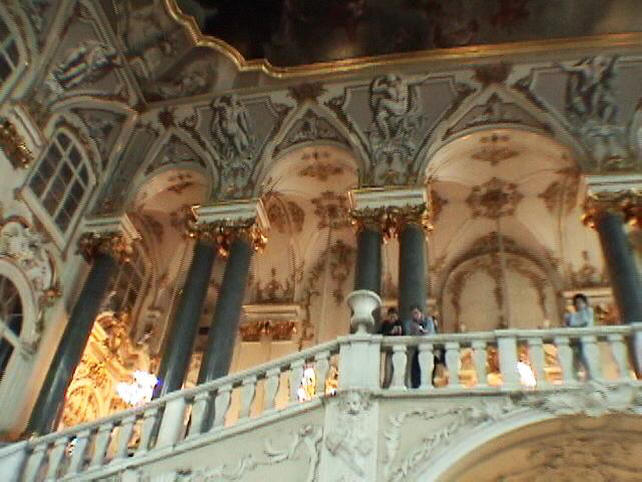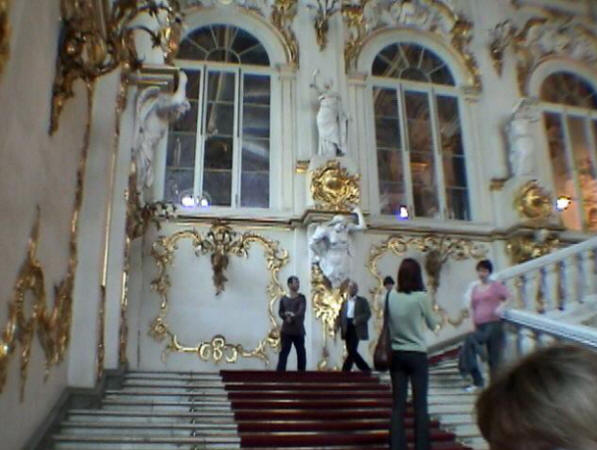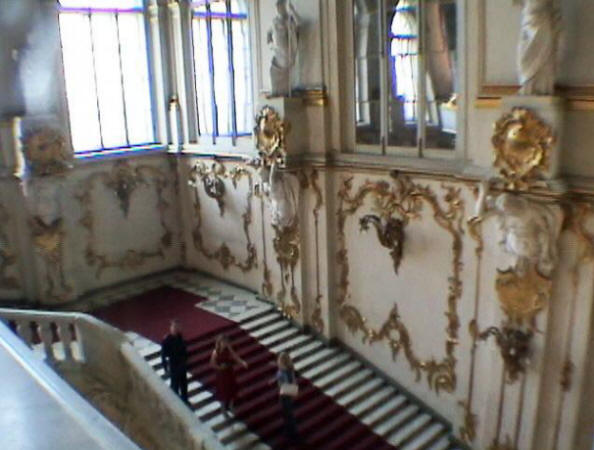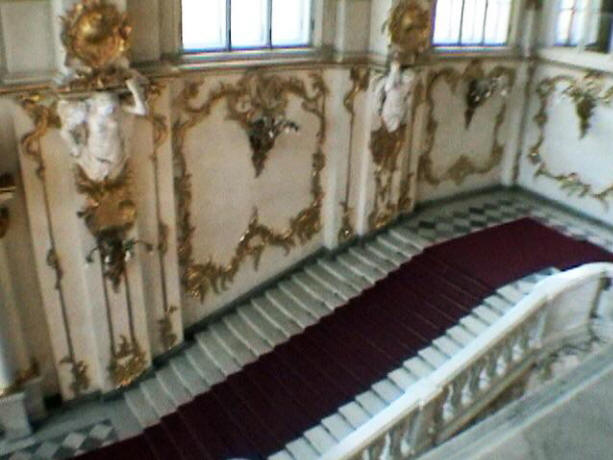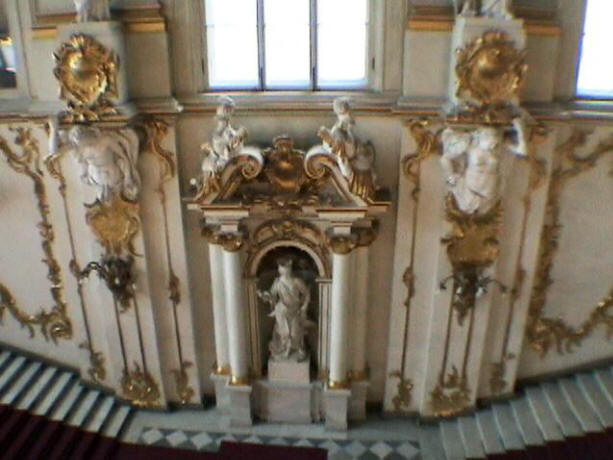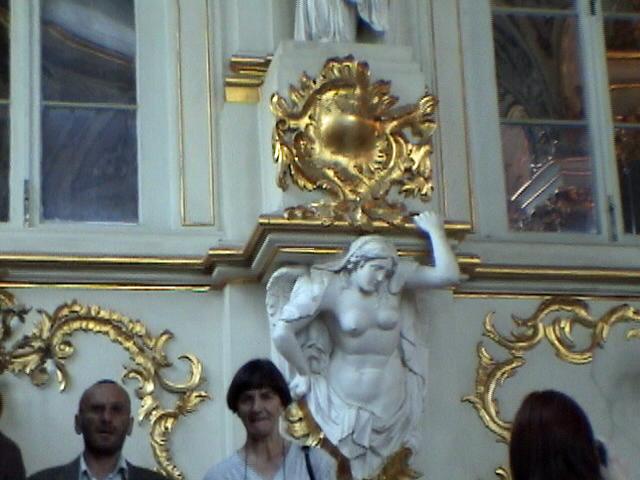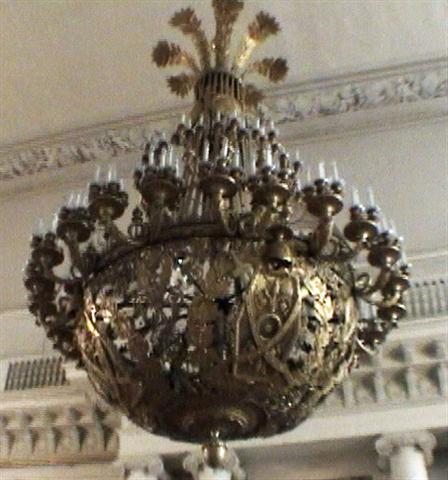 We now enter the Small Throne Room dedicated in 1833 to the memory of Peter the Great.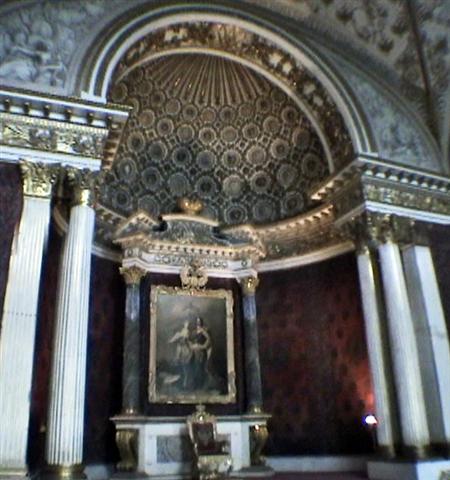 The silver-gilt English throne was made in 1731.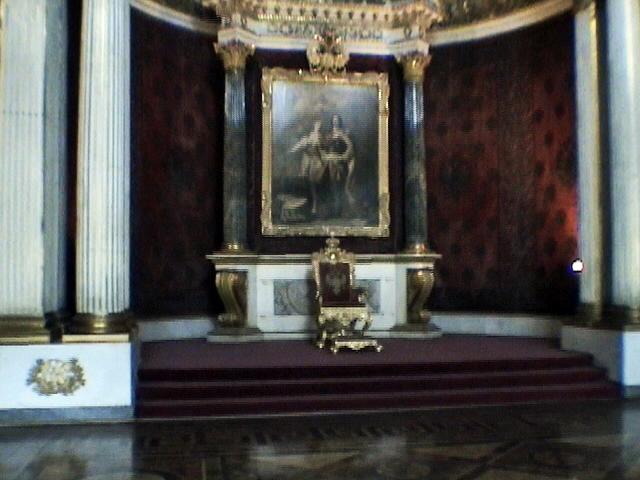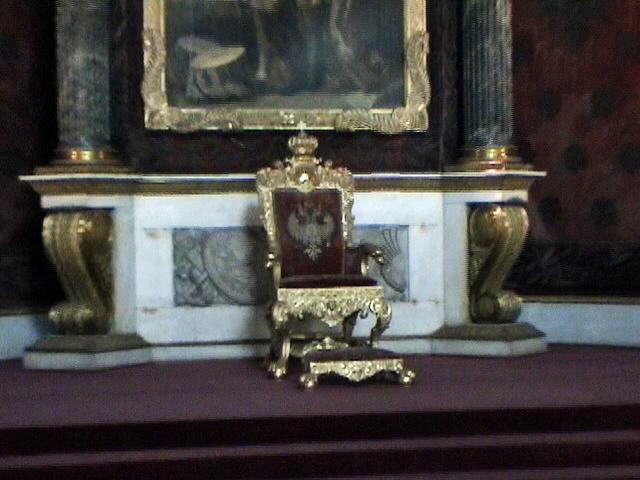 The painting above the throne is of Peter the Great and his wife.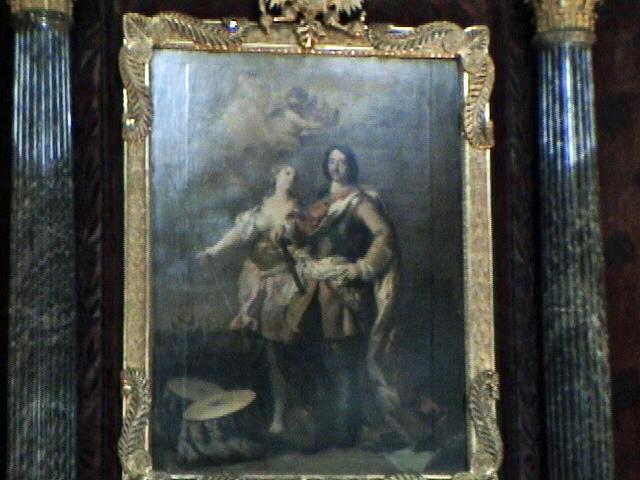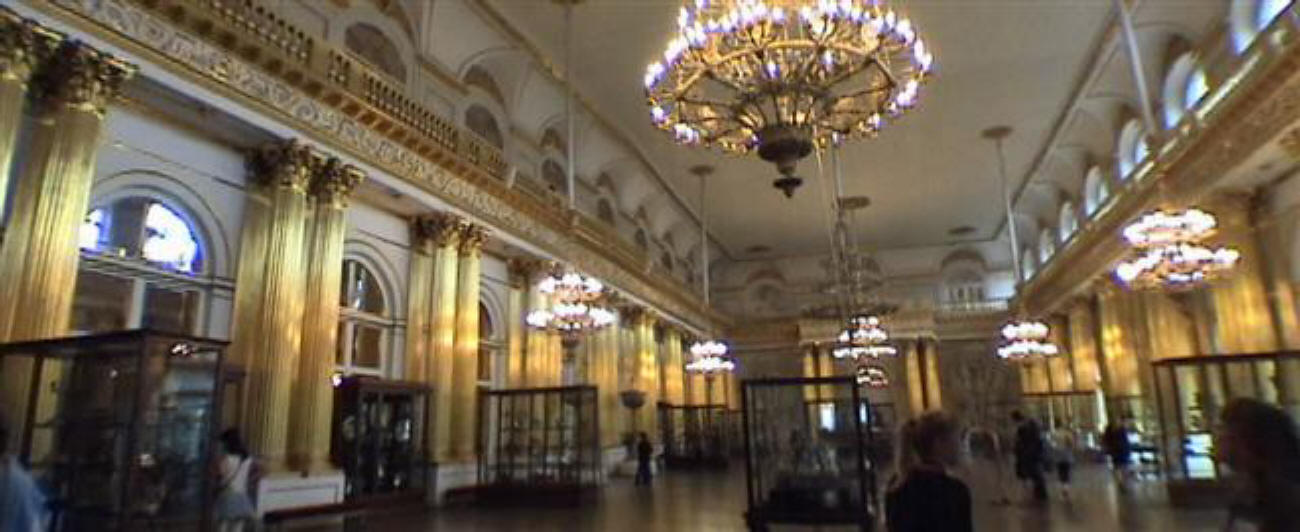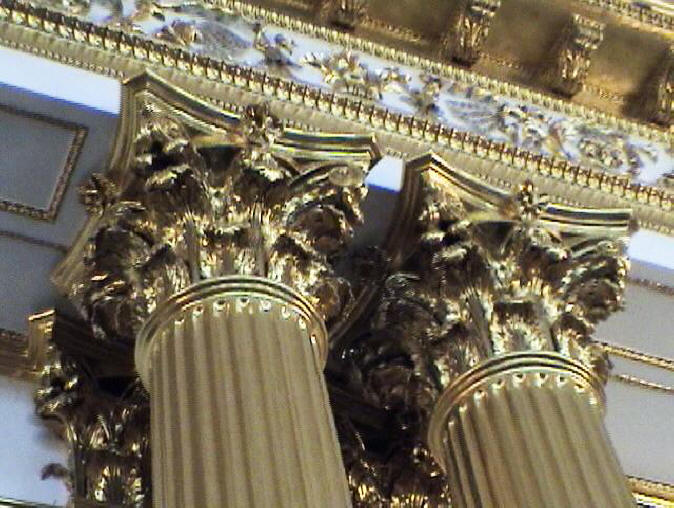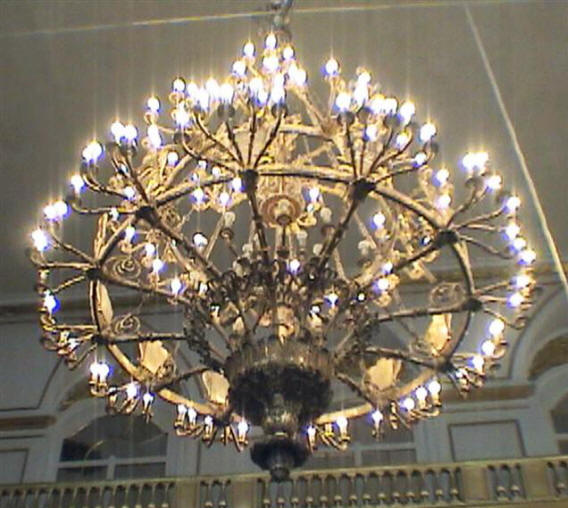 Below right is the 19 Ton Malachite vase made in Siberia. They have a lot of them in the various palaces.
We are now entering the 1812 Gallery (when Russia defeated the French) which is covered floor to ceiling in portraits of the 332 generals who fought against Napoleon. Tsar Alexander I chose Carlo Rossi to design it as a replica of the Waterloo Room in Windsor Castle in London. The large painting of Napoleon sits prominently at the end of the room (below.)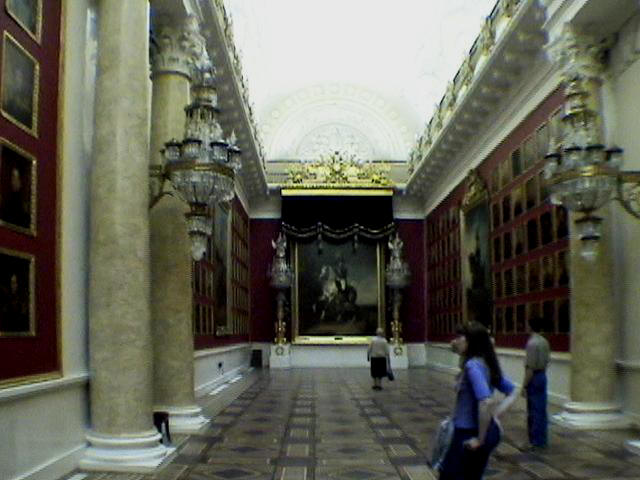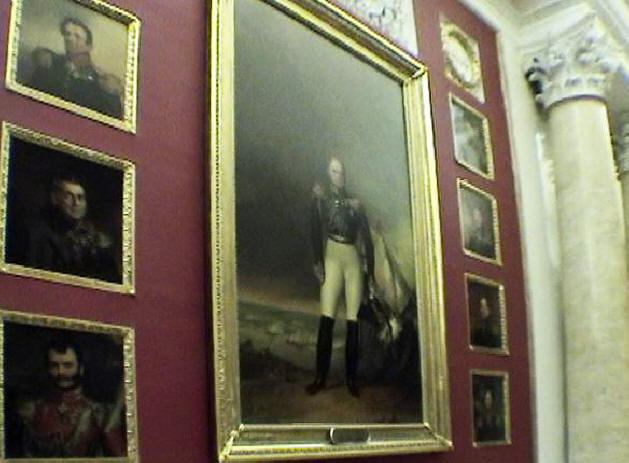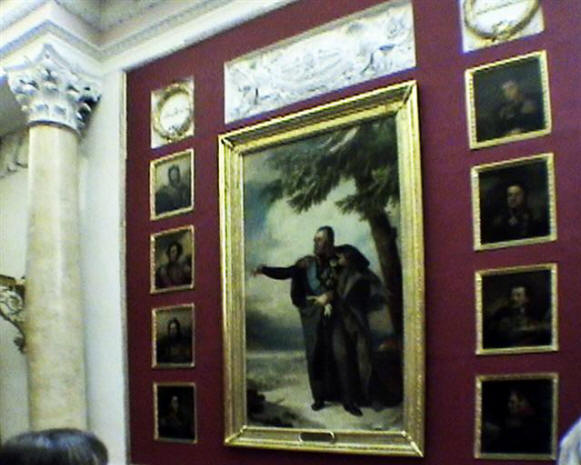 We are now entering the Winter Palace State Rooms.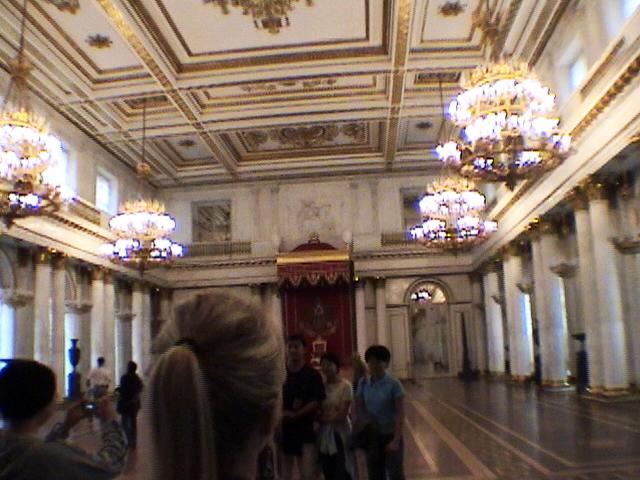 The parquet floor is very intricate and characteristic of Russian palaces.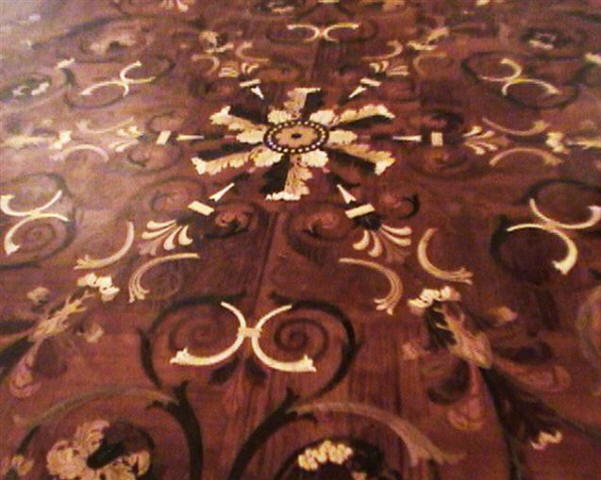 The design of the floor (above) is a mirror image of the designs on the ceiling (below.)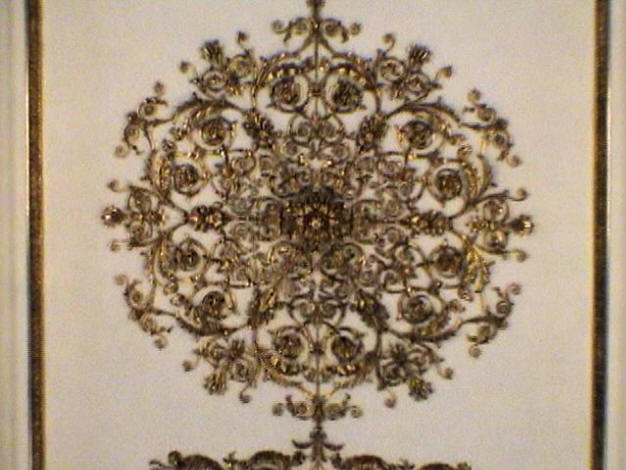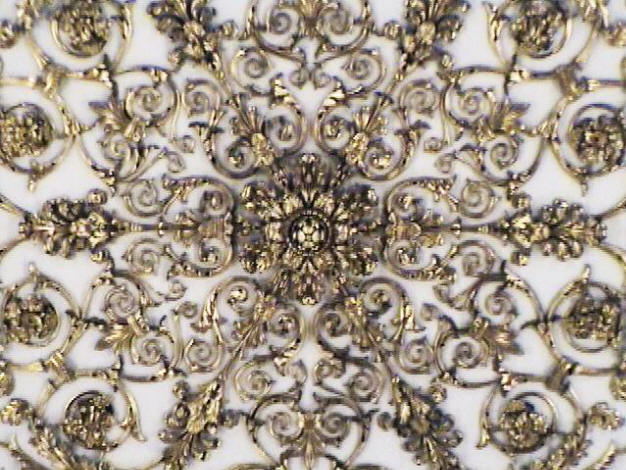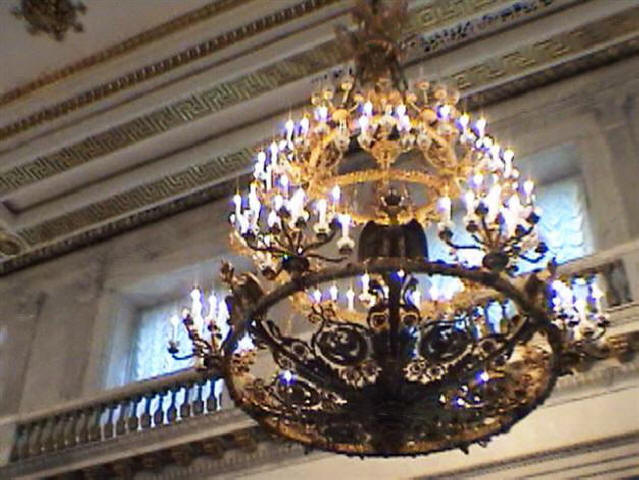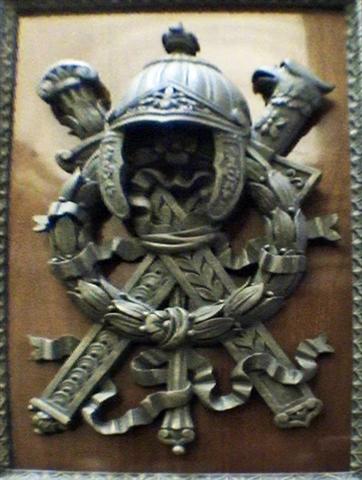 Below is the Great Throne Room or Hall of St. George.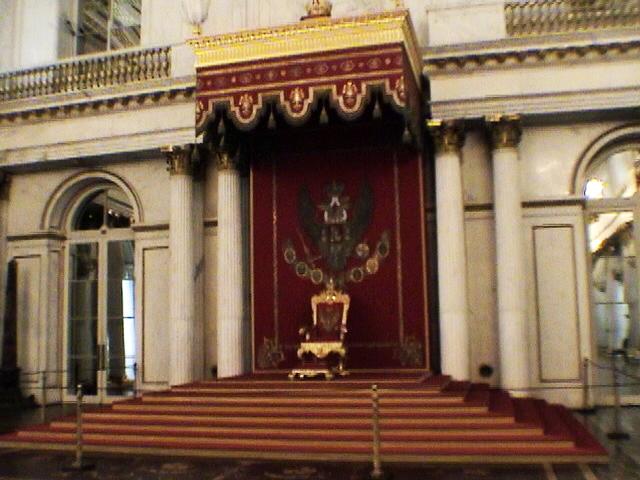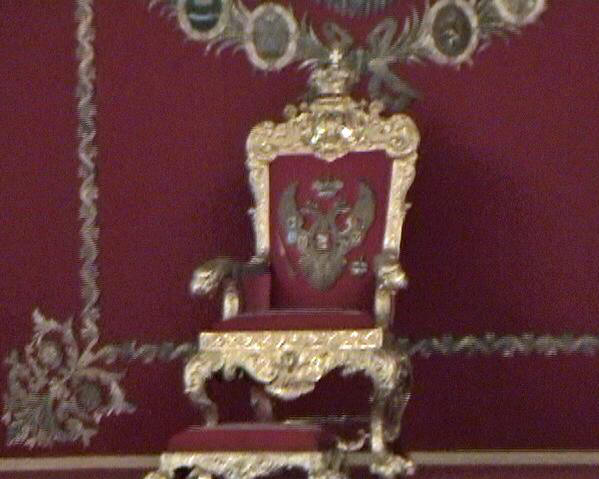 Out the window, is a view of the Neva River. Then we enter room #303, the Dark Corridor, which is dimly lit (reasons photos are grainy) whose walls are filled with French and Flemish tapestries.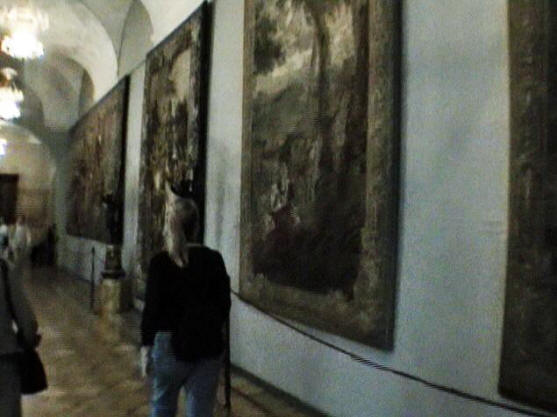 Here are just two examples of the tapestries.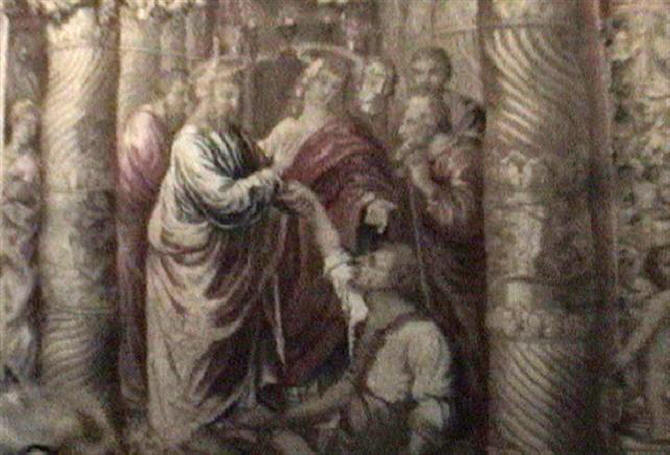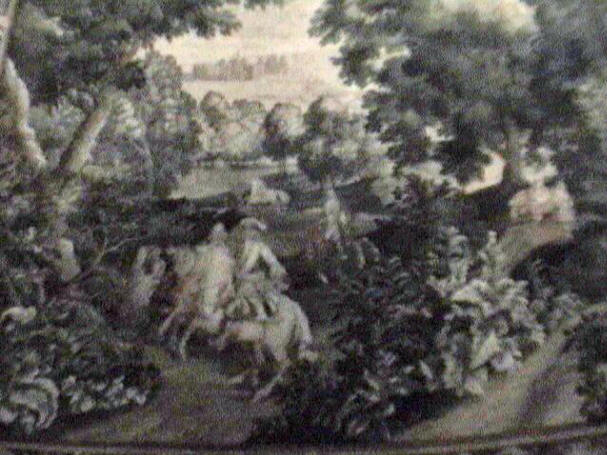 Then we enter the Nicholas Hall where people would dance between the towering Corinthian columns.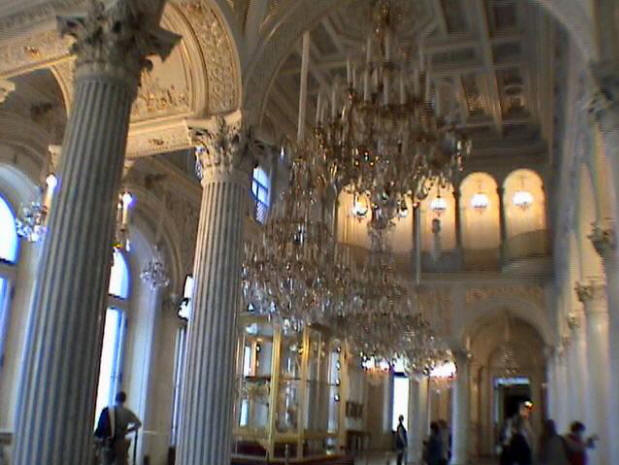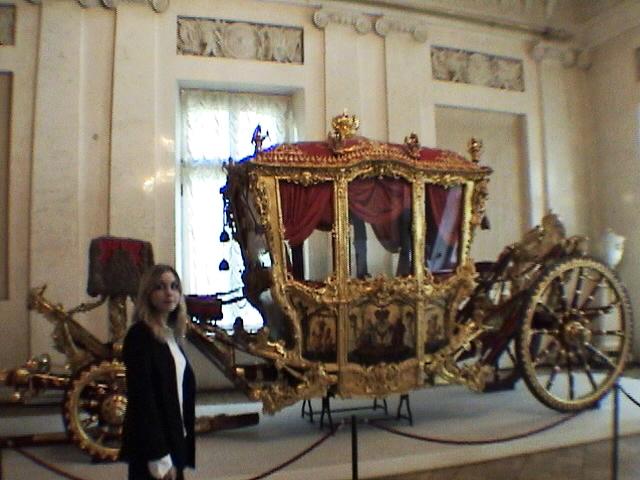 Somewhere I made it to the carriage room (above right.) We then entered the Pavilion Hall (1850-8) which is a white marble and gold hall designed by Andrey Stakenschneider. It replaced Catherine the Great's original interior.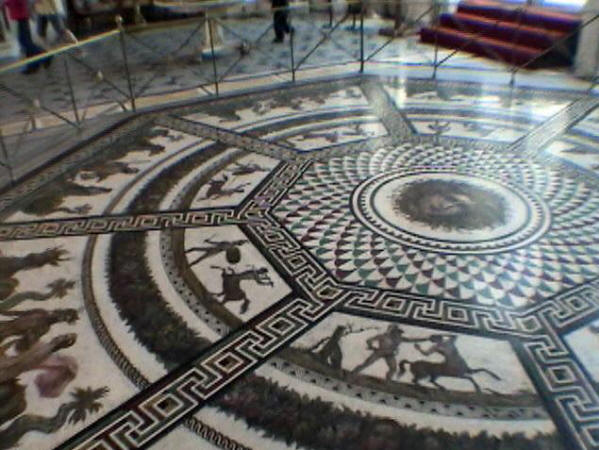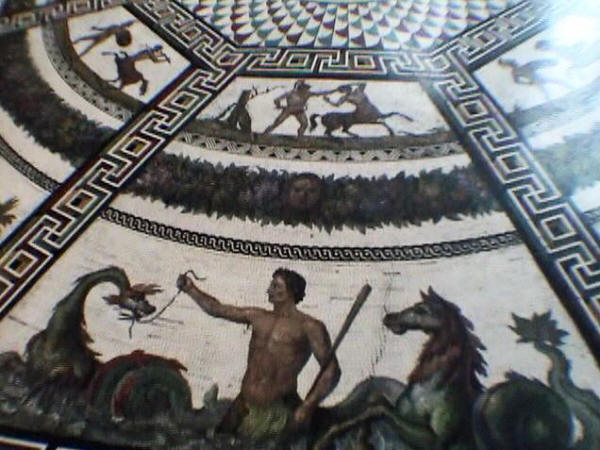 In this room we find the famous Peacock Clock designed by Englishman James Cox in 1772. It was owned by Catherine's lover, Prince Potemkin.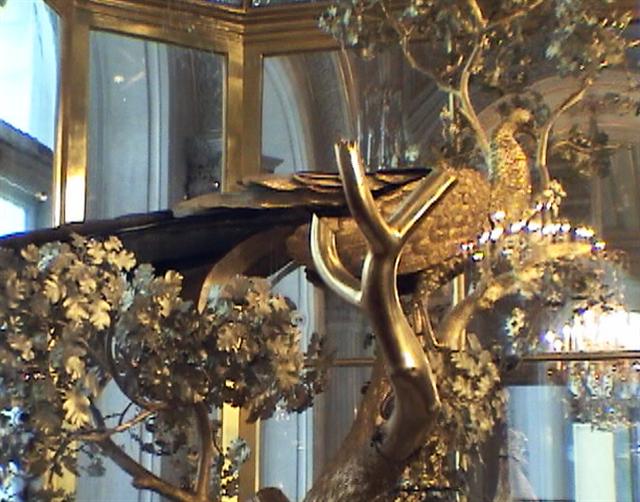 Next are two of the three Della Robbia porceleins they have here.
Andrea Della Robbia "Boy with Garland" and Giovanni della Robbia "Madoonna and Child with the Angels" (1500)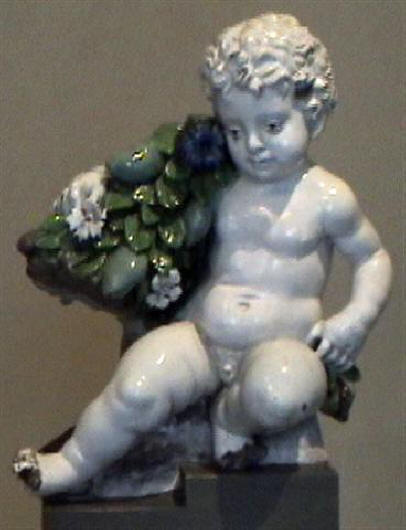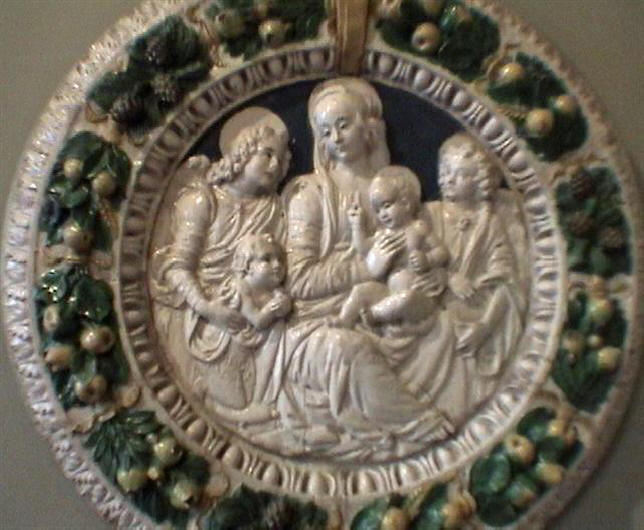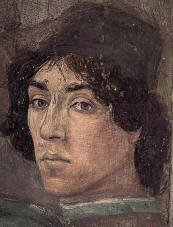 Fra. Filippino Lippi (1457-1504) (above right) was another influential Italian High Renaissance artist. They only have two of his works here and I got a shot of both of them. He was born in Prato and died in Florence.
Filippino Lippi: "Adoration of the Christ Child" (1480s) and "The Annunciation" (1496)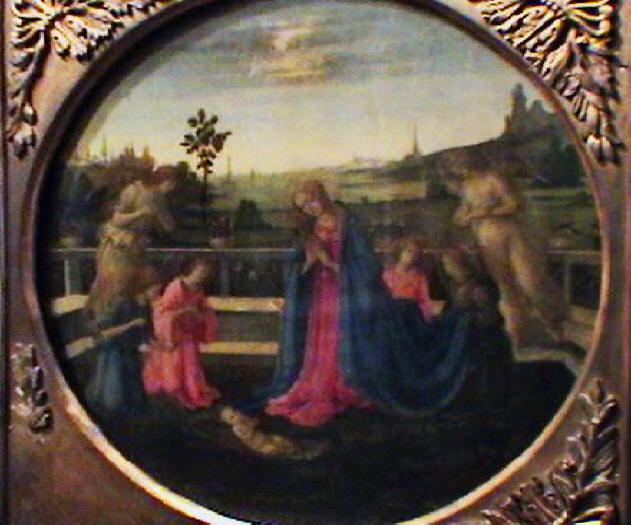 Below left is the painting "Bust of St. Sebastian"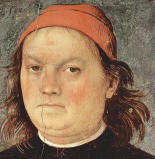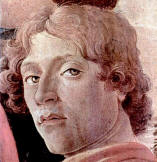 by Perugino Pietro (1446-1523) (self-portrait, left) an Italian Renaissance painter of the Umbrian school, who developed some of the qualities that found classic expression in the High Renaissance. Raphael was his most famous pupil. He was obviously well-regarded during his lifetime since in 1480, he was called to Rome by Pope Sixtus IV to paint fresco panels for the Sistine Chapel walls. He was born in Perugia and died of the plague in 1523 in Fontignano. Like other plague victims, he was hastily buried in an unconsecrated field, the precise spot unknown.
On the right is "St. Dominic" by Sandro Botticelli (above right) (1445-1510,) one of the most famous Italian Renaissance painters. He was born and died in Florence and is buried in the Church of Ognissanti there. On the left of each is the photo I got and next to it a stock photo of the work.
Perugino Pietro "Bust of St Sebastian" (1494) and Sandro Botticelli: "St. Dominic" (1505)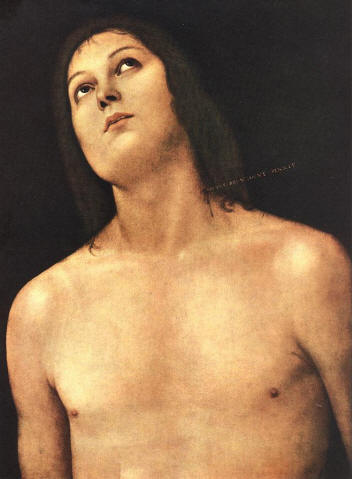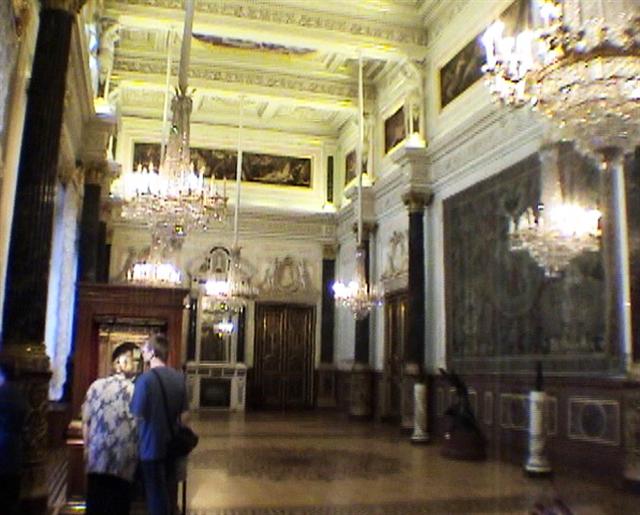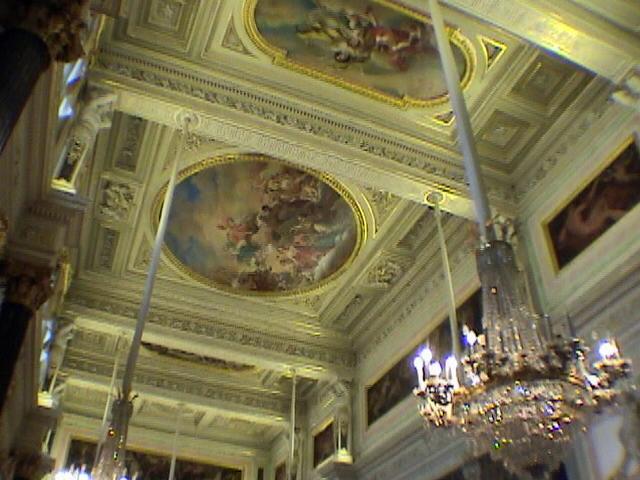 Below left is a close-up of the mural on the ceiling above right.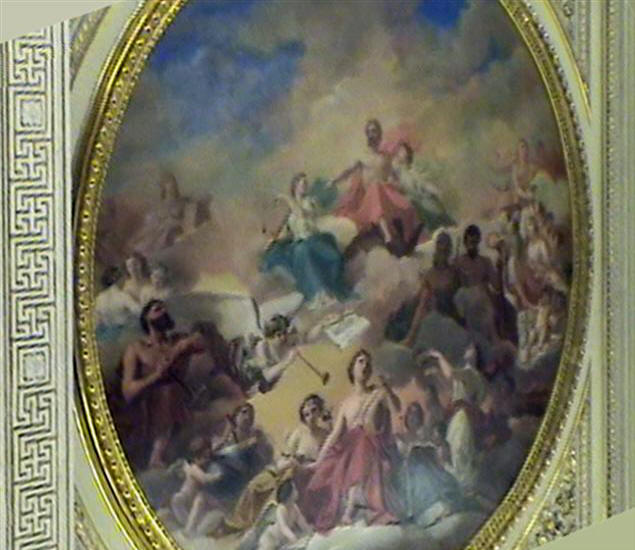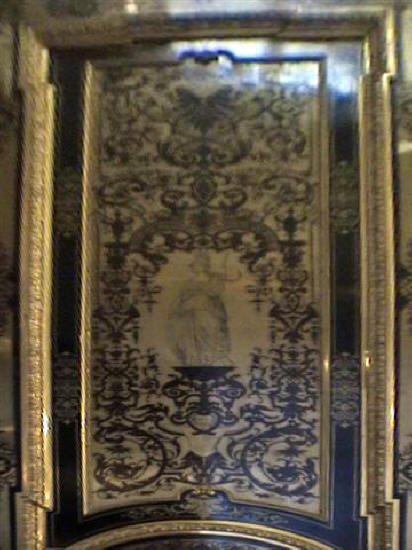 They only have two Da Vincis and I got both of them.
Leonardo da Vinci: "Madonna and the Child (The Benois Madonna)" (1478) and "Ditto (The Litta Madonna)" (1490)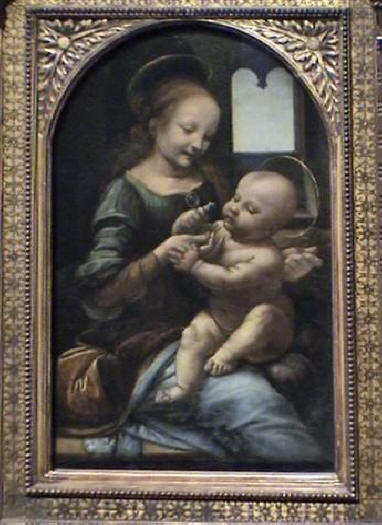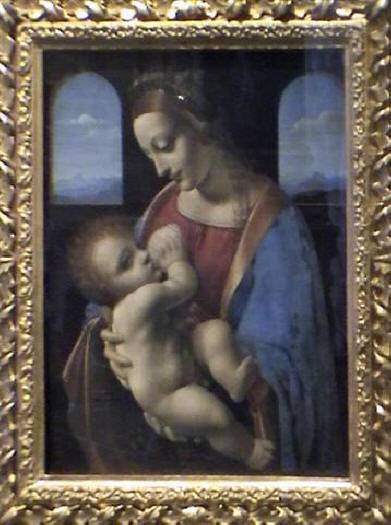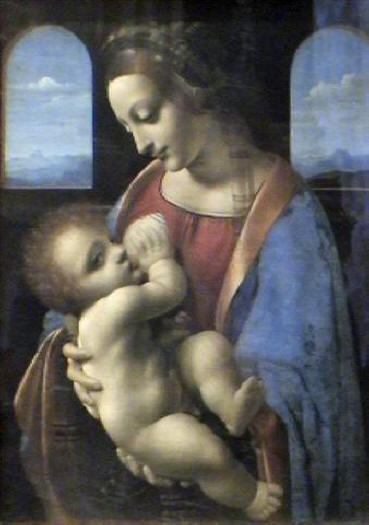 We then walked down the Raphael Loggias. Catherine was so impressed by Raphael's engravings in the Vatican that she commissioned copies to be made in 1787. She had the Pope's coat of arms replaced with the Romanov two-headed eagle.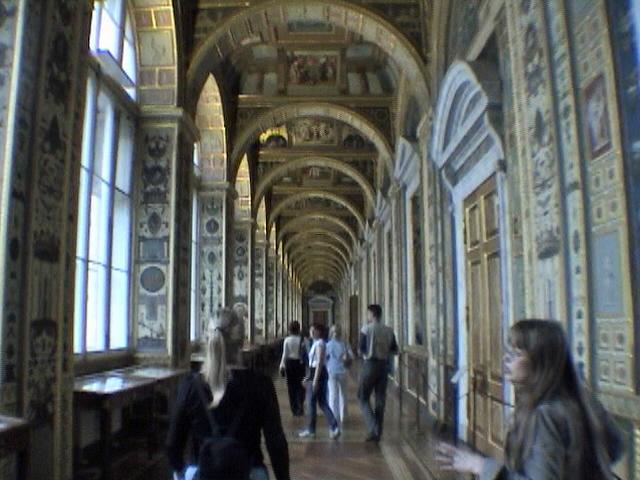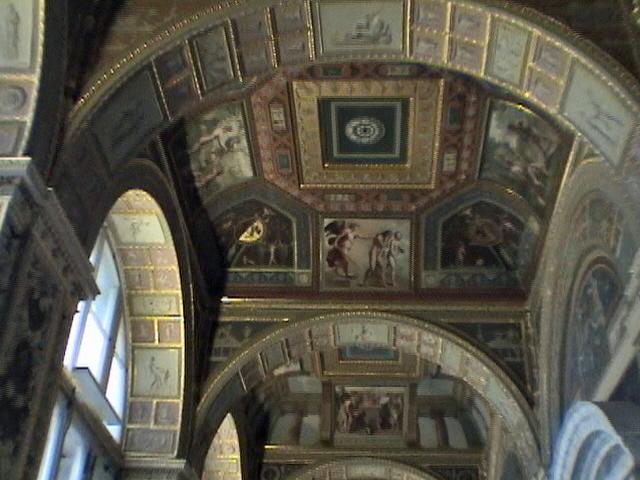 There were many frescoes painted on the walls of biblical stories.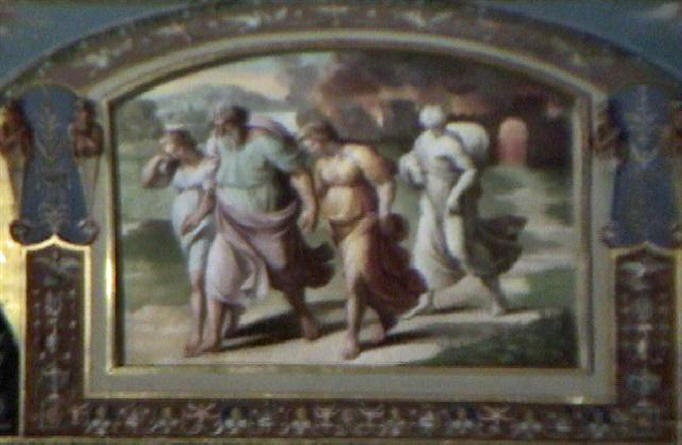 Lionello Spada (1576 – 17 May 1622) (School of Carvaggio) "Martyrdom of St Peter" (Early 1600s) Stock Photo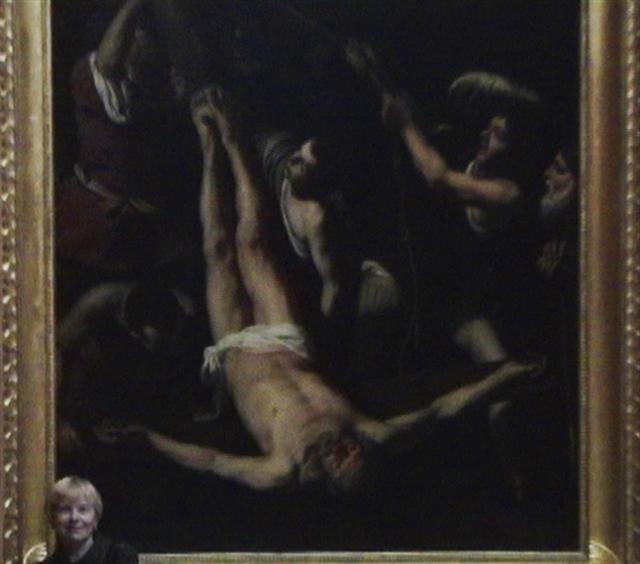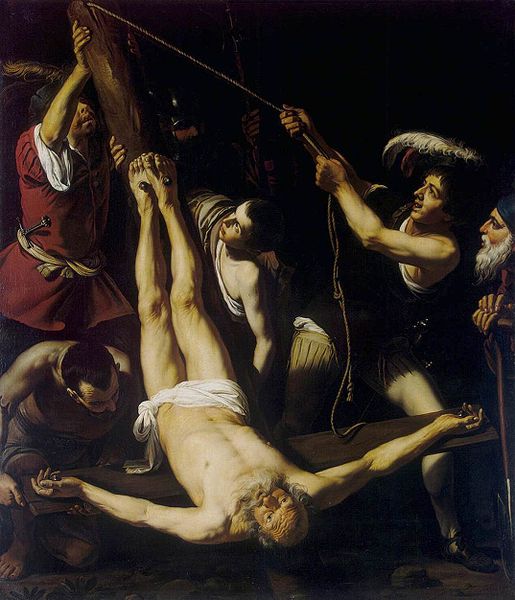 I then got shots of Canaletto's painting of Venice and the beautiful statue "The Death of Adonis" by Giuseppe Mazzuoli (1644-1725) who was an Italian sculptor working in the Bernini-derived Baroque style. He was born in Volterra and trained in Siena but spent most of his adult life working in Rome where he died.
Canaletto: "Arrival of the French Ambassador in Venice" (1742) and Giuseppe Mazzuoli: "The Death of Adonis" (1709)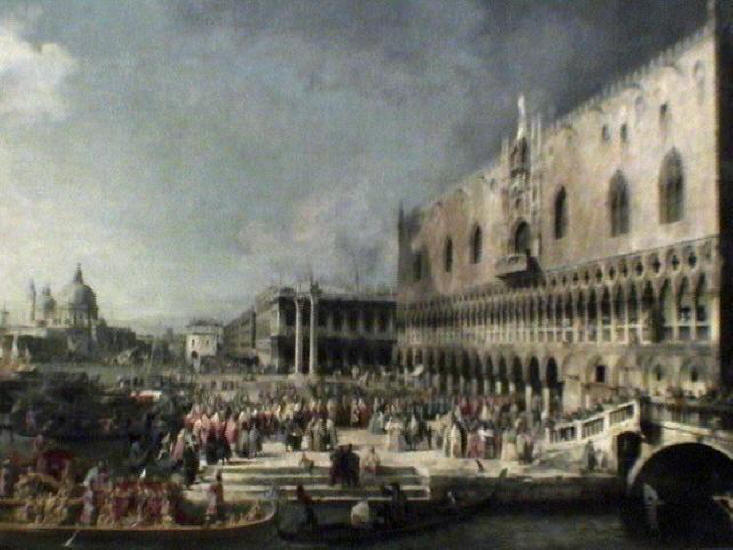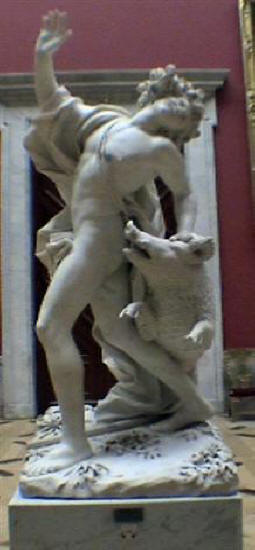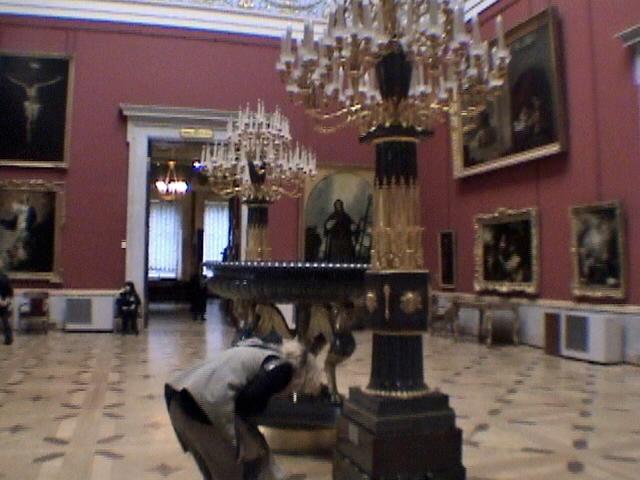 They have only one by Francisco Goya (1746-1848)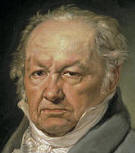 (left,) below left. He was a Spanish romantic painter and printmaker regarded both as the last of the Old Masters and the first of the moderns. Then there were the Rembrandts. Rembrandt van Rijn (1606-1669) is a famous Dutch artist I have discussed in previous Diarios.
[I have a big story about Rembrandt in Amsterdam on our 2009 West EU trip]
"Portrait of Actress Antonia Zarate" (1811) Rembrandt van Rijn: "Danae" (1636)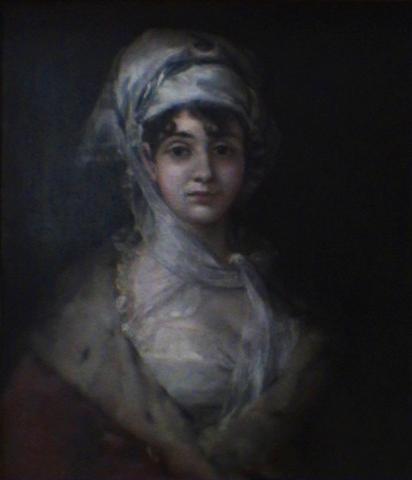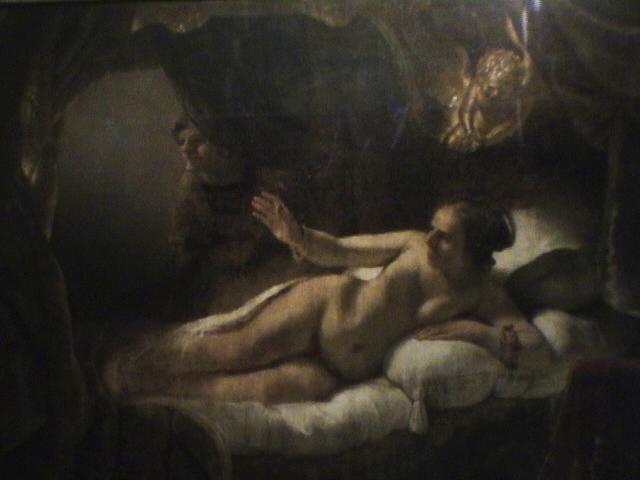 Rembrandt van Rijn: "Portrait of an Old Man in Red" (1642) and "Old Soldier" (1630)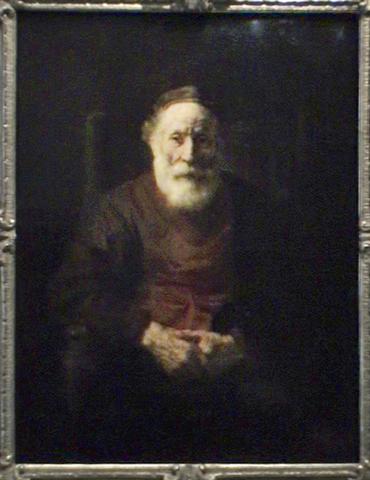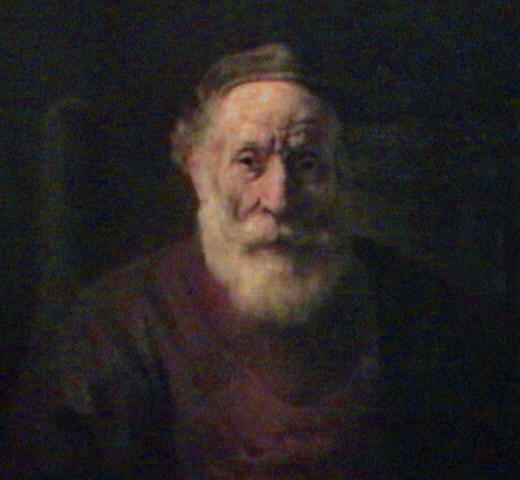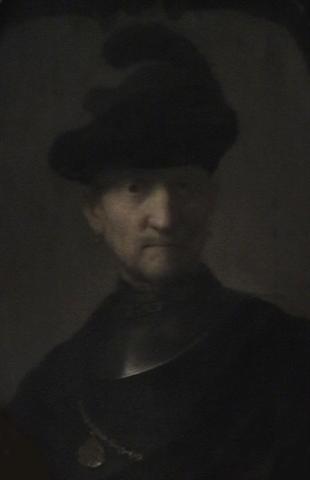 Rembrandt: "Portrait of Baertje Martens" (1640) "Haman Recognizes His Fate" (1665) and "Holy Family" (1645)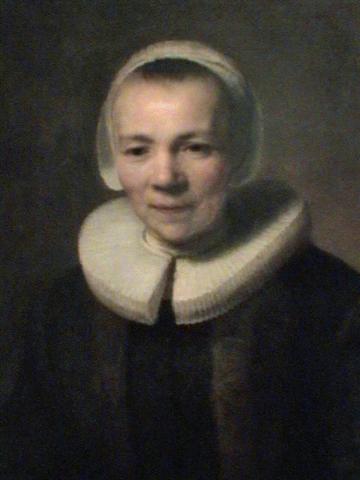 Rembrandt van Rijn: "Return of the Prodigal Son" (1668)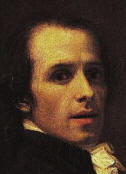 Then we reached the hall of sculptures (above and below) showing many Roman copies of Greek statues. Below are stock photos of the many works by Antonio Canova (1757-1822) (right, self-portrait 1792,) who was an Italian sculptor from the Republic of Venice who became famous for his marble sculptures that delicately rendered nude flesh. The epitome of the neoclassical style, his work marked a return to classical refinement after the theatrical excesses of Baroque sculpture. He was was born in Possagno and died in Venezia. To see all his works click HERE.
Antonio Canova: "Psyche and Cupid," "Paris," "Orpheus," "Funerary genius," "Ebe," and "Dancer with hands on hips"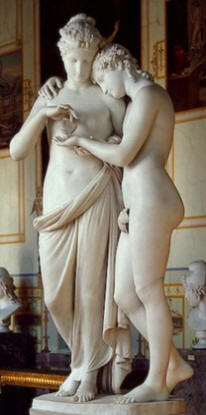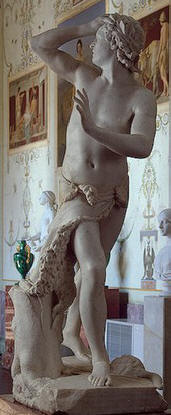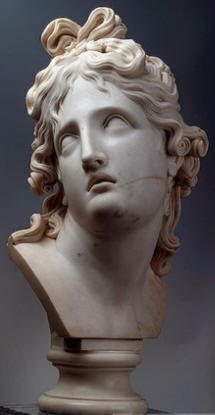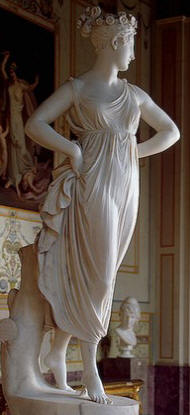 These are stock photos of the three of Canova works that I photographed (below.)
Antonio Canova: "Psyche Revived by Cupid's Kiss," "Winged Cupid," "The Three Graces"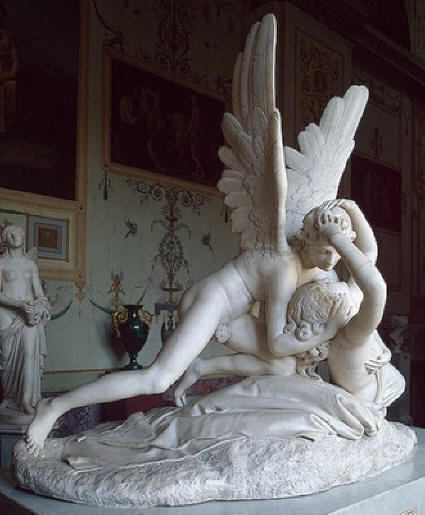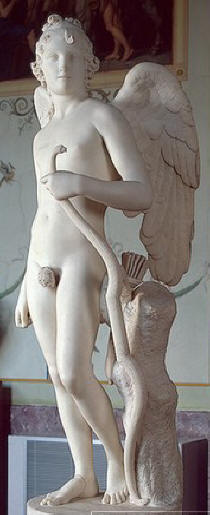 Below left (and above left) is Canova's "Psyche Revived by Cupid's Kiss" (1796) and his "Winged Cupid" (1797.)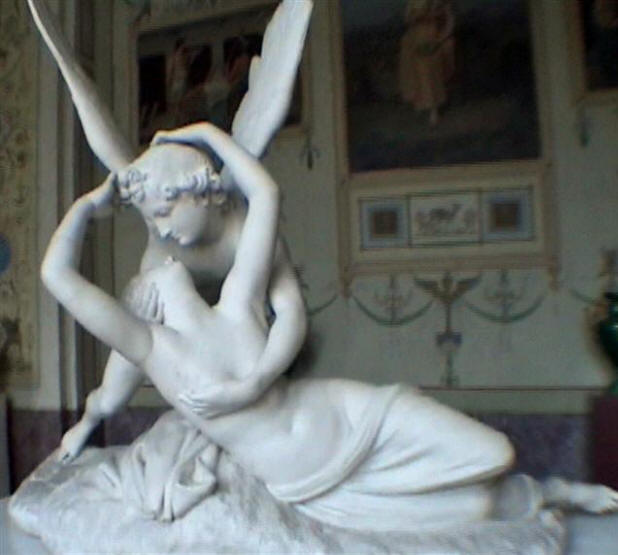 Below left is his "The Three Graces" (1814) representing (L-R) the daughters of Zeus: Euphrosyne, Aglaea and Thalia - who were said to represent beauty, charm and joy. On the right is one of the many halls we traversed.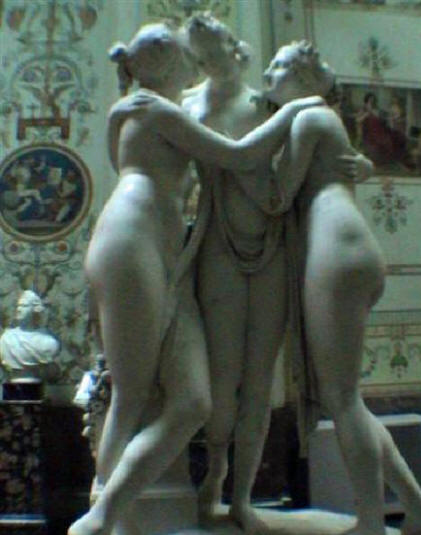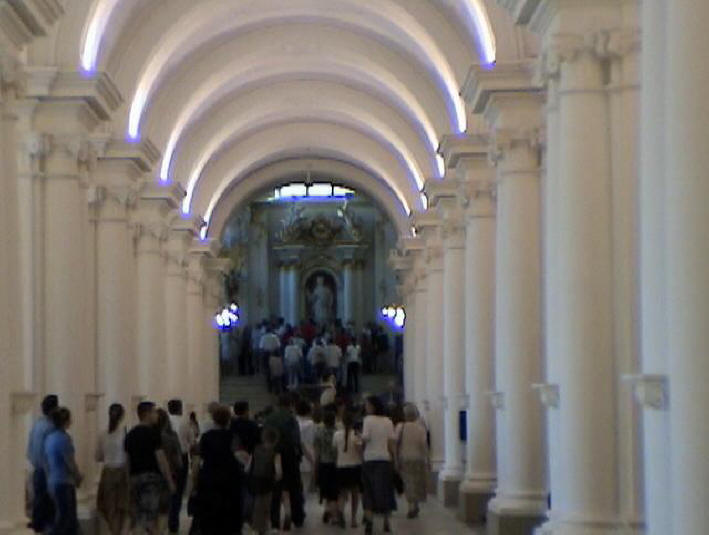 Below, on the far left, in Room 107, is the Roman "Seated Zeus (Jupiter)" in marble and bronze from the 1st Century. There is also a gallery of portrait busts of Romans from the 2nd-3rd Centuries AD. Center left is a Roman marble "Bust of Emperor Balbinus" from the second quarter of the 3rd Century AD. Next is "Aphrodite" (below center right,) a very fine 1st Century Roman copy of a Greek original. Below right is an Egyptian statue.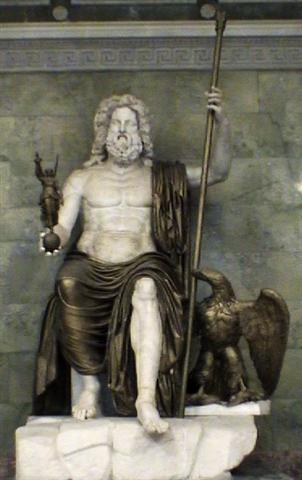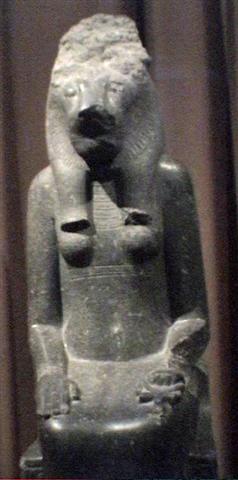 Here is an ancient Roman sarcophagus and the 1st Century Roman "Panther."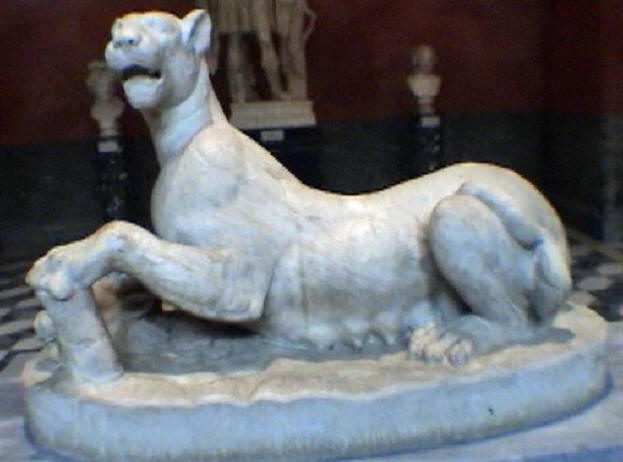 We finally get near the end and Polina leads us to the gift shop. Marcia found some gifts to take home.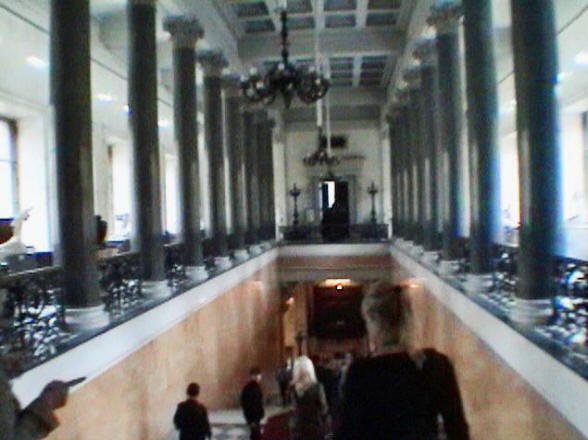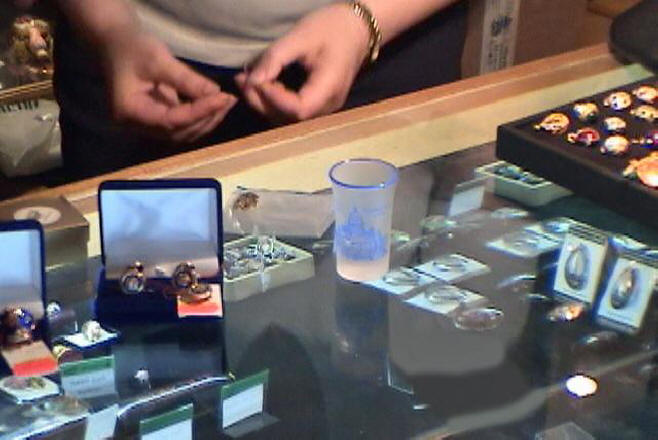 We made our way down to the ground floor and the main plaza.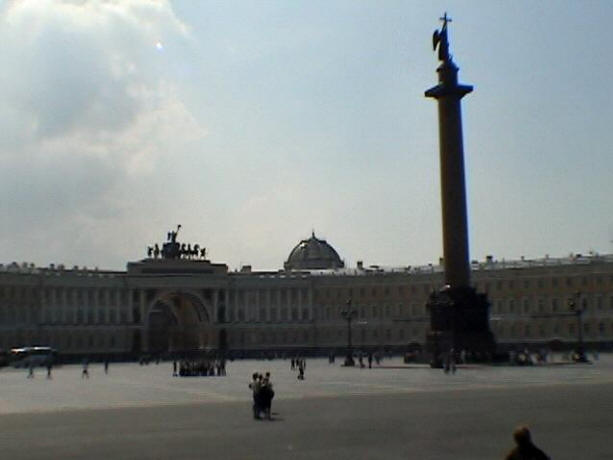 Below left is the top of one of the Imperial gates. I got this shot of Polina in the huge plaza.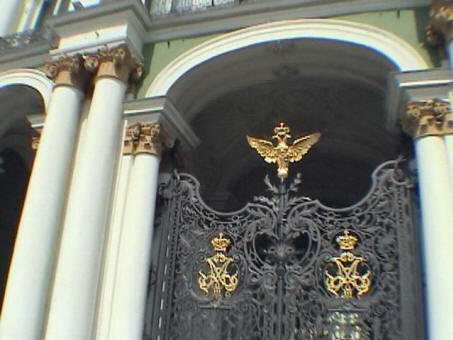 We were really pooped. It would take a full year to see everything they have at this monumental museum. What an incredible experience and of course I recommend that if you come here, you cannot miss it. Plan ahead.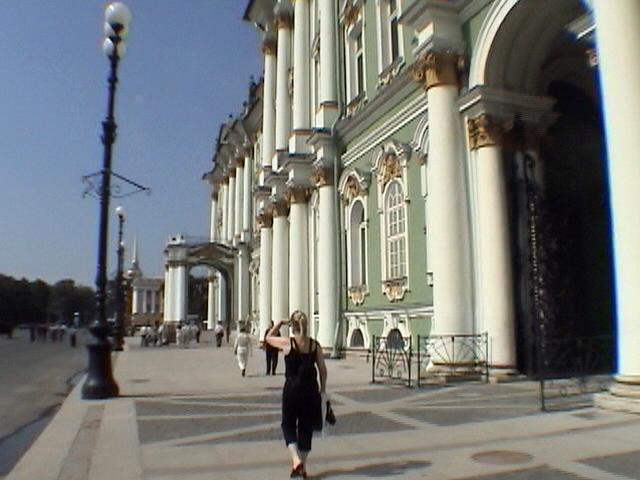 I know I saw many of the other famous artists but did not get any photo of their works. Here are the famous ones with the number of pieces that are in the Hermitage: Peter Paul Rubens (41,) Antoon Van Dyke (23,) Tiepolo (9,) Nicholas Poussin (8,) Titian (8,) Paolo Veronese (8,) Auguste Rodin (8,) Edgar Degas (5,) Lucas Cranach (4,) Joshua Reynolds (3,) Zubaran (3,) Diego Velázquez (3,) Tintoretto (2,) Edourd Manet (2,) El Greco (2,) Caravaggio (1,) Henri Toulouse-Lautrec (1) and Hans Holbein (1.)
After an hour and a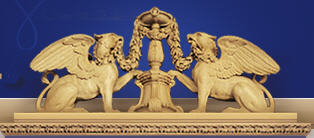 half, Marcia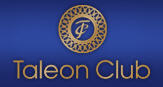 was very tired and hungry, so Polina took us to and dropped us off for brunch at the Taleon Club [Eliseev Palace Hotel, Moika River Emb., 59,
+7-312-5373 or +7-812-324-9911.] This is the most expensive restaurant in the city and is open until 3AM. Unfortunately, they took my camera so there are no photos of the inside and the spectacular layout of food. I don't know why they were so picky about me taking pictures. You can see it is in this building at the end of two canals.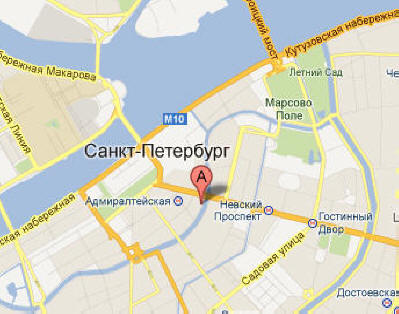 Thanks to the internet I found these stock photos of this incredible hotel. To see a movie panorama of the exterior and one of the entry stairs click the links.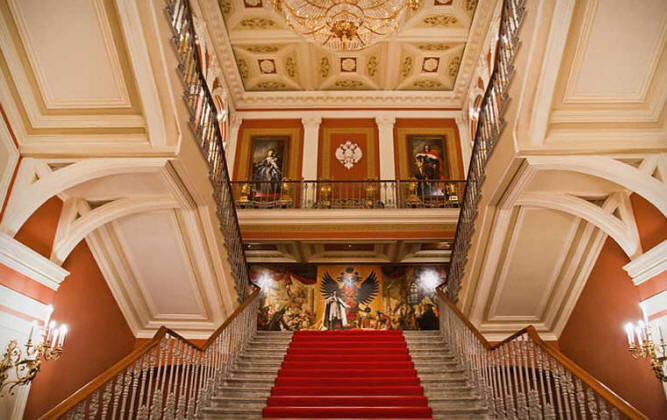 Here are the dining rooms.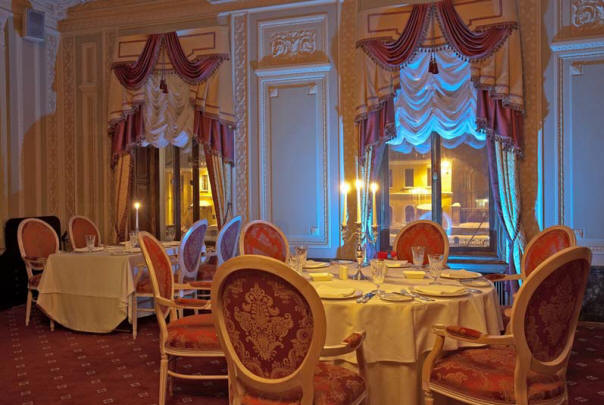 The archways were quite elaborate.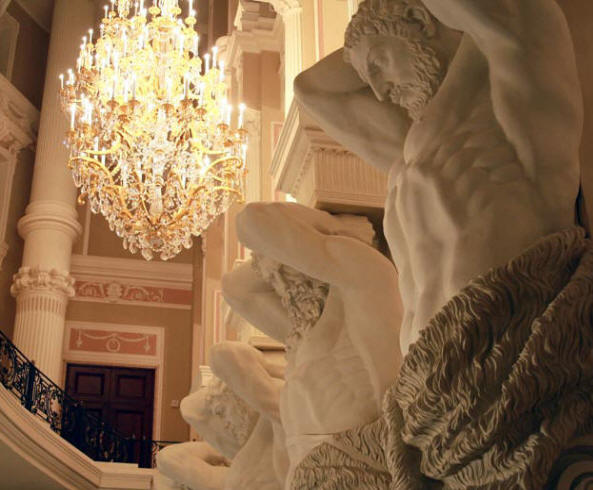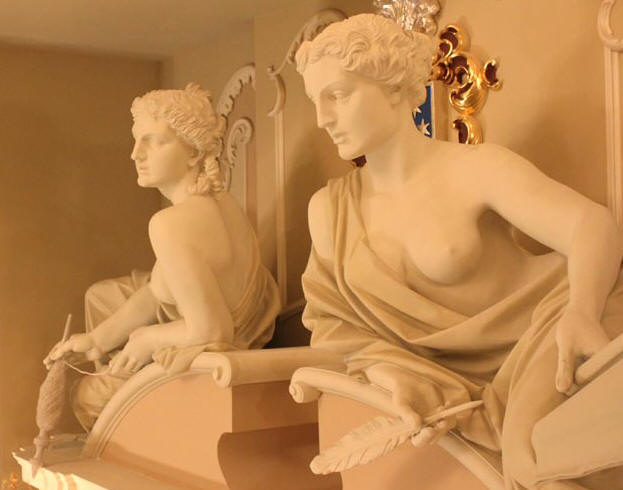 I don't enjoy eating lunch but just had to partake of this experience. I had a cappuccino
and this full champagne brunch including crab sausage finishing off at almost two hours later with an espresso. The restaurant is in the Eliseev Mansion and they invited us for a tour of it which was very nice. After a half hour of that we walked back to the hotel and checked out at 2:50, packed at 3:00 and Polina picked us up at 3:20 to drive us to Moskovsky Station (the one that goes to Moscow.) It was a very nice and fancy station with many nice shops and lots of people streaming in and out.

Our train was at 4:00 PM so we had less than 25 minutes to get on it.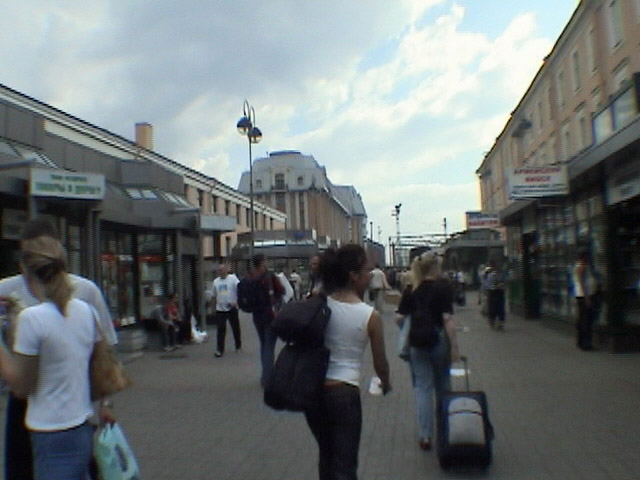 The crowds were pretty thick.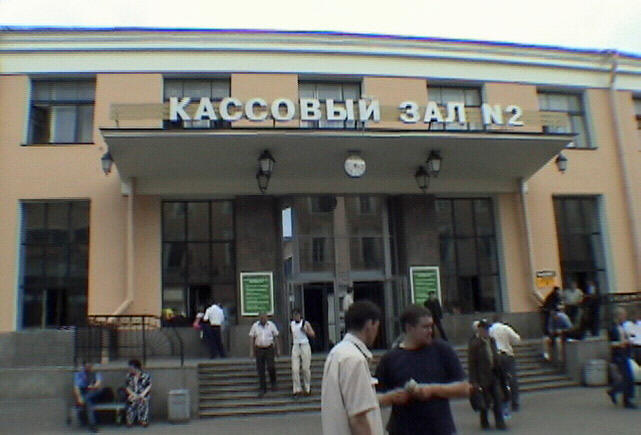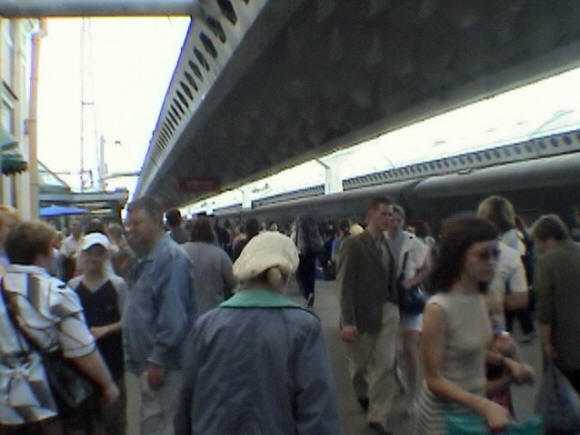 We finally found our train and loaded the bags on. We had left the car and most of our stuff in Helsinki.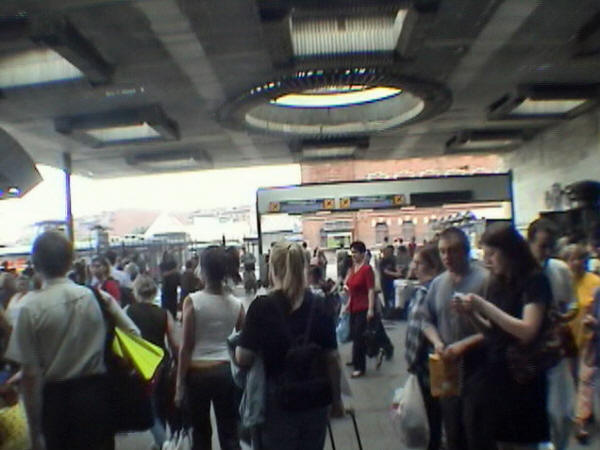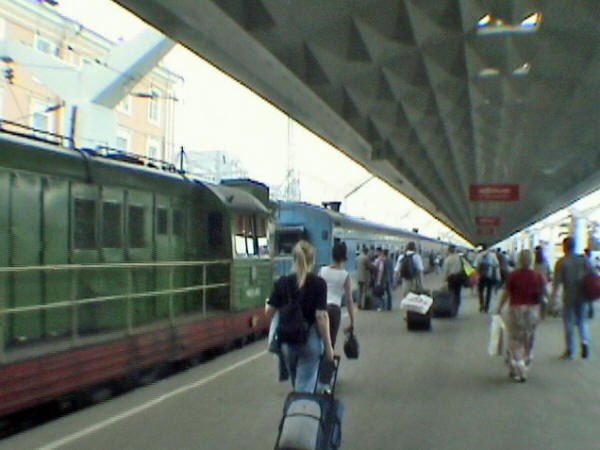 We said our goodbyes to Polina, knowing we would probably never see her again. When I went to pay her the $100/day fee for the three days (that Dimitrii had told me,) she explained to me that it was supposed to be $200/day. I felt very uncomfortable and called Dimitrii immediately asked for confirmation. He called me back in a few minutes and told me there was some kind of mix-up and that I should pay her the $200/day. That's twice what I thought I had contracted for. It took the edge off just a bit because I thought I was getting a run-around. She was worth it though, and I knew it would help her raising her little daughter.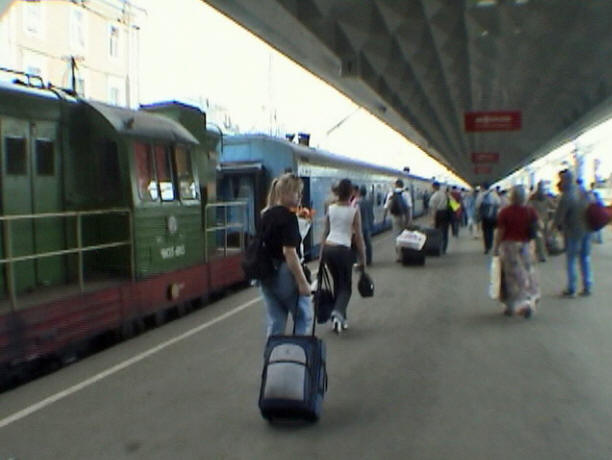 We had purchased our First Class tickets to Moscow which cost $100 and at 4:00 we boarded the train #159 (Seats 29 & 30) and boy was it HOT! The train slowly eased out of the station and soon we were whooshing through the Russian countryside which was less bleak than the train from Helsinki.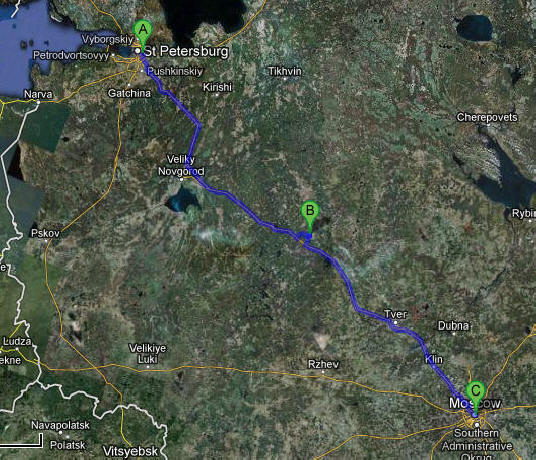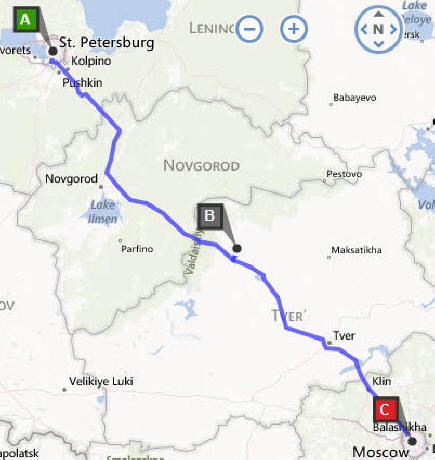 At 7:00 we stopped at Bodogoe (B in maps above) which is 221 miles and 5 hours and 40 minutes from St. Petersburg. They served a packaged lunch with water.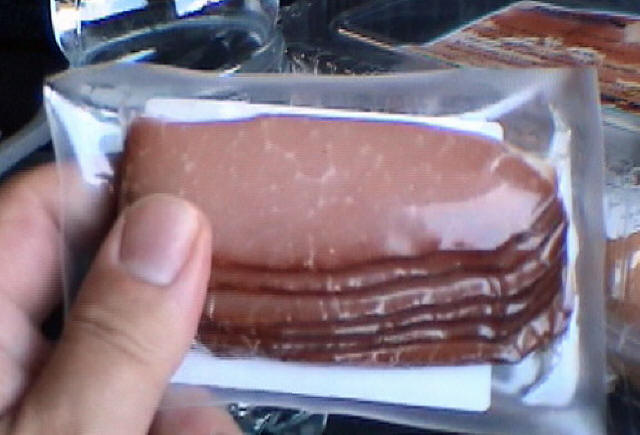 Later we were served dinner. I had some kind of meat and Marcia had salmon. Not as good as Amtrak!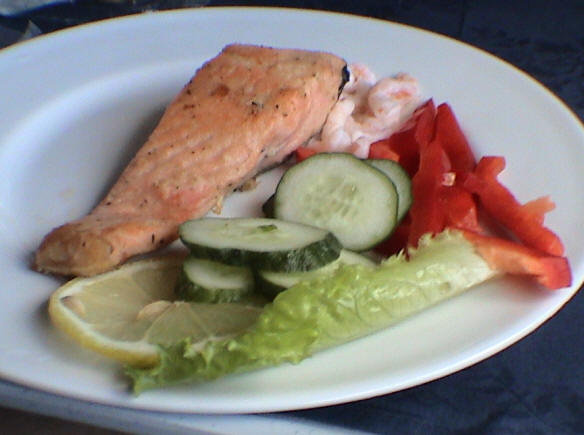 Below are some of the scenes on the trip.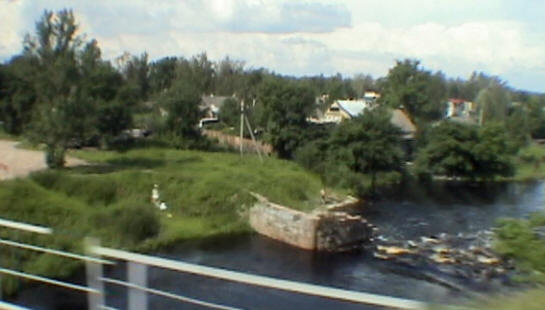 The housing was somewhat drab.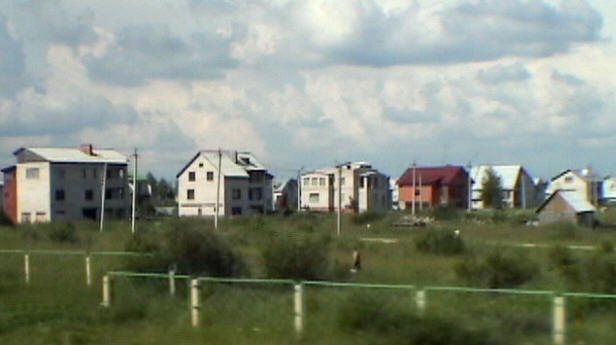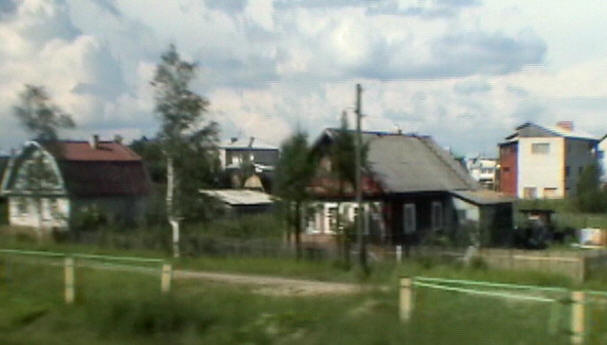 We crossed several rivers.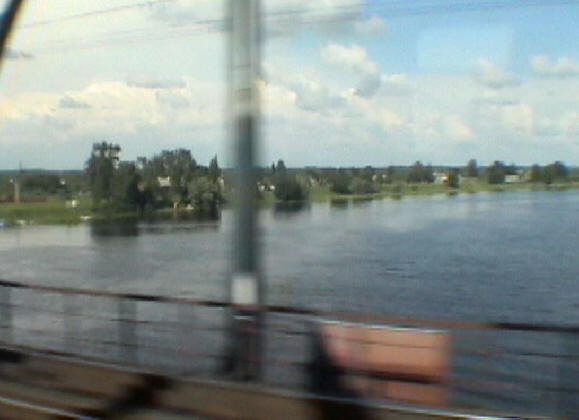 We passed a lot of old delipated manufacturing plants.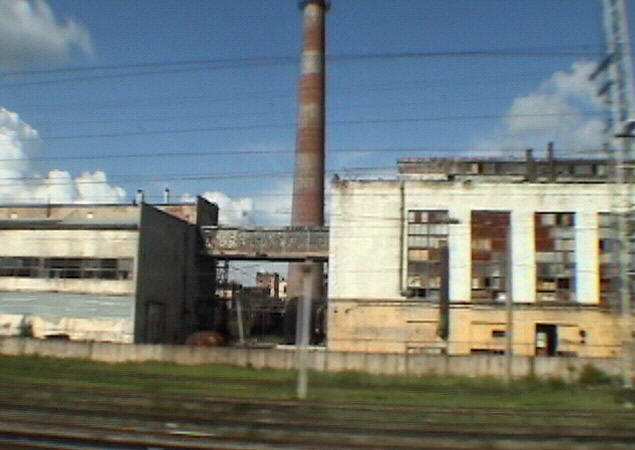 Some of the scenery was very nice.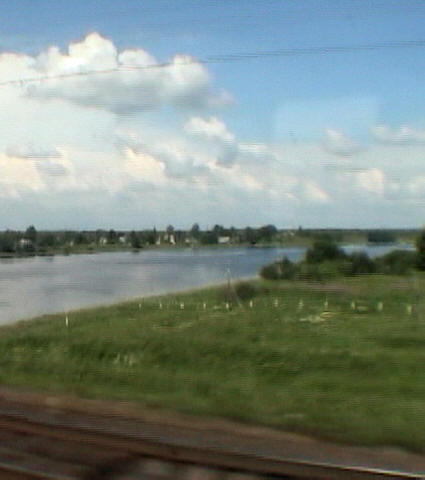 As were some of the little towns.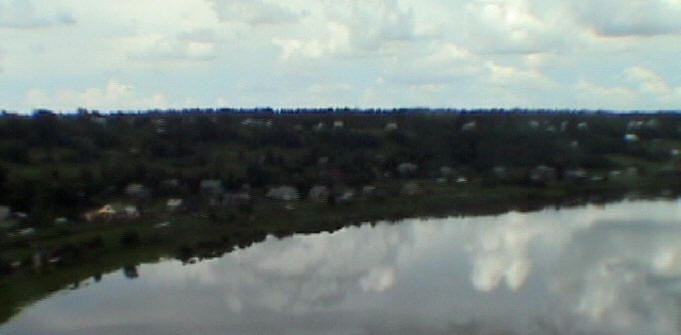 Here is our "First Class" car and Marcia getting a few winks.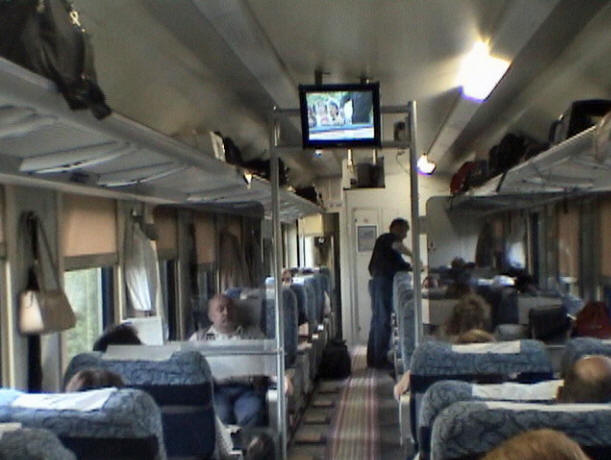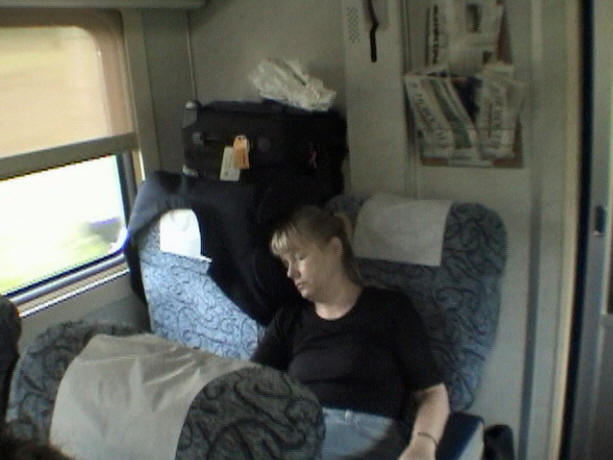 The toilet was interesting in that it had the automatic seat wrapping. I was surprised.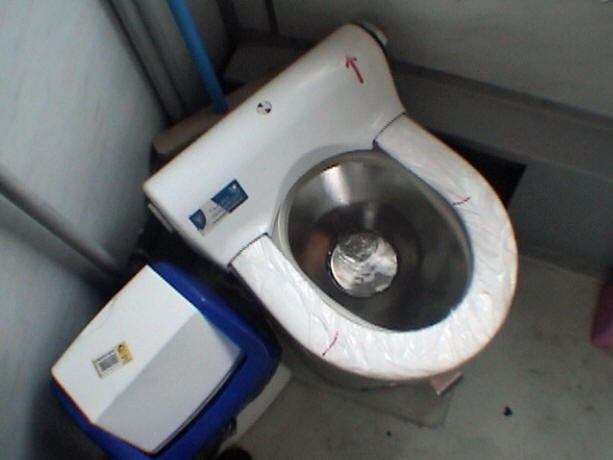 At 9:20 we arrived in Moscow's Leningradsky Station (below) located in Komsomolskaya Square. The trip from St. Petersburg by car is 460 miles (Km) and takes 11.5 hours.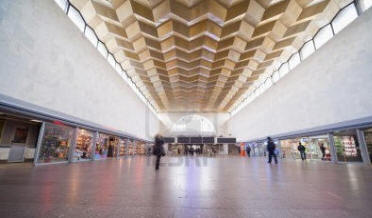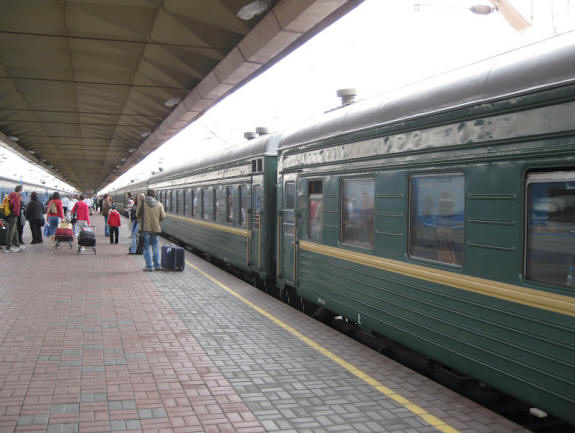 As I looked out the window of our train car (above right) in nervous anticipation, there I spotted Dimitrii and Irene (our dear friend from Spain) running up to greet us along with a large good-looking man I did not know. We got our bags off the train (of course, no attendants to help us) and greeted them with great hugs and
kisses. Irene had worked out her visa issues and had flown to Moscow two days earlier. This is the first time she has ever been here. Then Dimitrii introduced us to Vladimir, his driver when he's in the city. Dima was given an brand new BMW 740i by a very grateful patient he had operated on here in Moscow, so he hired Vlad to always have the car ready for him. We got to the car and Vladimir loaded our bags and whisked us through the streets of downtown Moscow. He took us all to Ristorante La Grotto [Bolshaya Bronnaya ulica, 27/4,
+7-694-3057] for dinner. Vlad doesn't speak or understand one word of English and has no desire or need to. But he is warm and we all hit it off with him very well.
[2013: La Grotta restaurant is now closed, and is now named Piccolino.]
We sat down for dinner at 10:00 PM. With Dima and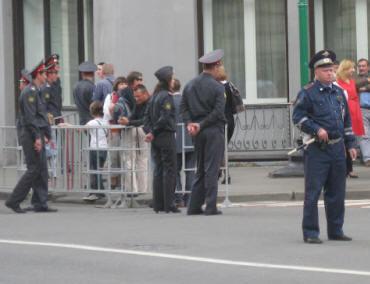 Irene, we had pizza Margherita and then I had penne arrabiata followed by duck a l'orange and washed it down with beer and red wine. [Sorry, no photos.] Marcia had a salad and spigola (fish) with red wine and vodka sorbet. The others had rucola and pomadorini with branzino (Mediterranean sea bass) then sorbetto limone and lots of vodka.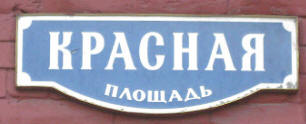 After finishing our espresso, we piled back into the beemer. It was Dima's idea to show us Red Square (below) at midnight. We parked the car and went to the entrance (sign right) to walk in. The police (left) blocked our entrance. The problem is it was completely closed due to a bombing that occurred there earlier in the day that killed the cop that tried to defuse the bomb. Dima tried everything to persuade them to let us in including a little bribe but nothing worked. We were sunk. Just our luck, the day we arrive.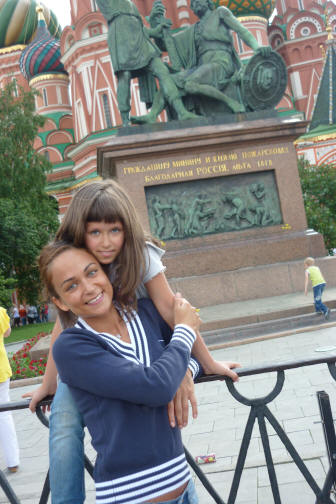 [Above right is a photo of Polina and her daughter that she sent me from Red Square in 2009]
We had to give up and we drove around a little and then Vlad took us to our hotel. It was 12:30 AM when we got to the desk and checked into the Renaissance Olympic Hotel [Olympijskij Prospect 18 L,
+7-95-931-9833.]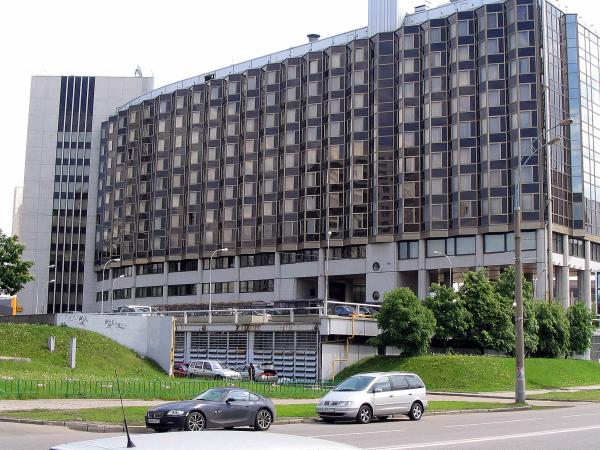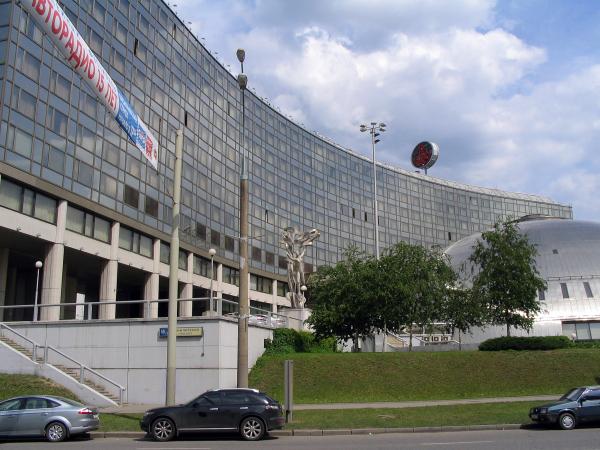 Dimitrii picked this place for us. Here is the drive-up entrance. You can see how they spell "Renaissance" Pehbssahc and Moscow as Mockba. On the right is the external and internal entry.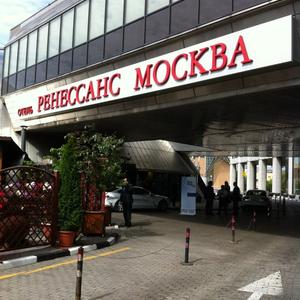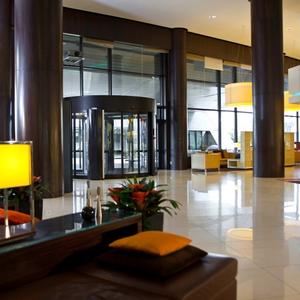 Below is the entry, the reception desk and lobby areas.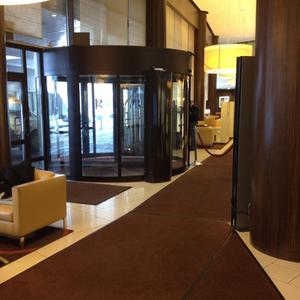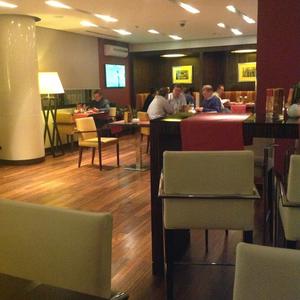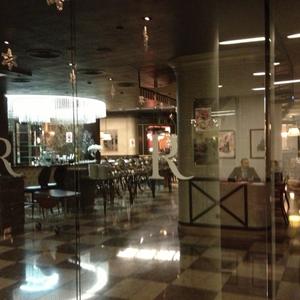 Below left is the bridge to the Dome Theater. In the center is an aerial view of the man restaurant and on the right is the hallways in this curved hotel.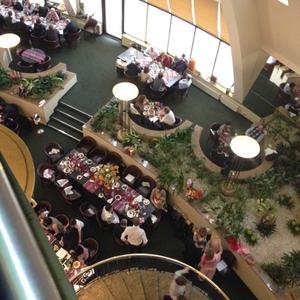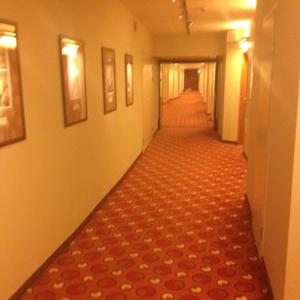 Below right is an example of the lobby area. They gave us room #908 on the 10th floor (to us.) I didn't have a photo but believe it or not, I found this stock photo of a room that looks exactly as I remember it including my cloths on the back of the chair (below right.)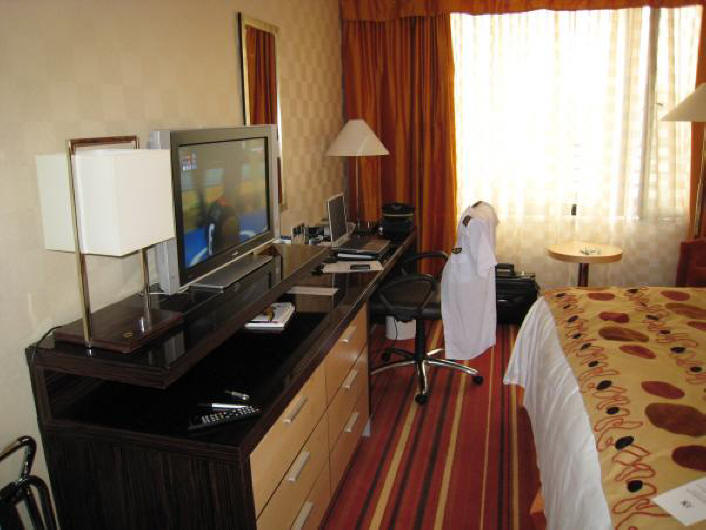 Here are stock photos of how the hotel looks at night.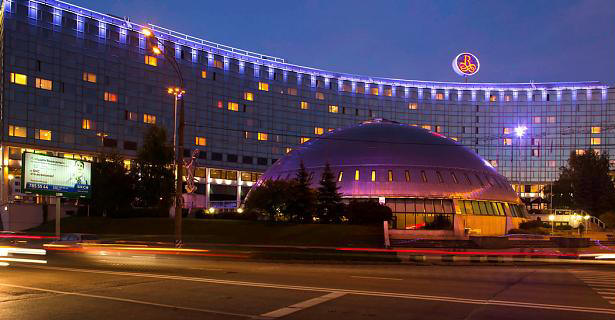 We finally got to bed at 2:45 AM. What a day!! I can't believe we are in the capital of the "USSR."
Kenneth J. Hoffer, MD
KHofferMD@AOL.com
Moscow, Russia
Sent 3-1-2013
If you enjoyed these travels or wish to add comments on the places we visited
Please Leave Me a Message by clicking the spinning @ sign.