Dr. Hoffer's Travel Site This site was last updated 05/05/11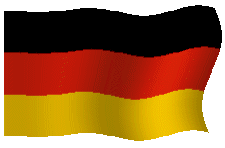 UK1999 #39 Köln to Bad Hersfeld
Date: 9/2/99
We mad-dashed got up at 7:30 AM, I did my run and Marcia had breakfast. A quick cappuccino and wait in line to pay to see Canterbury Cathedral (the Vatican of the English Church). Henry VIII had St. Thomas Becket's tomb destroyed and now there is only a candle to commemorate it. Geoffrey Chaucer wrote the "Canterbury Tales" describing people in the middle ages on pilgrimage to Becket's memorial.
We then raced out of town heading south to reach Dover with 1 hour advance of our 11 AM Hovercraft appointment. Then the girl at check-in says, "You're booked on the 10 AM and it just left and the 11 AM is totally booked." You can imagine the gentle response that I gave to that news. Finally they agreed to refund £10 for 1st class and to make us the first car on the Seacat catamaran that leaves at 11:30 and takes 1 hour instead of 35 minutes like the hovercraft. We got on it first and, as always, bad things have their advantages. We could actually see the beautiful white cliffs of Dover this time because there wasn't all the spray covering the windows like in the hovercraft. Before we knew it we were in Calais and on our way. In France no one asked to see our passports or anything (EU I guess). We got on super highways through Belgium (met guys from the punk rock group "Ignite" from Huntington Beach at a Rest Stop near Ghent).
While waiting to leave in Calais, we got a callback from Dr. Robert Schapira from Cologne. He is a very good surgeon and very busy in private practice (which is unusual in Germany). I have known him for over 10 years. His wife, Marita booked a room for us at the Crowne Plaza. We drove straight there and at 8 PM Robert picked us up in his new green Porsche 9??. We drove to his house and Marita made a wonderful and interesting German dinner for us. Robert's wine collection is out of this world, and even I could tell they were good.
Next morning we get up slightly late (very good wine) and run the Habsburger Ring (road), cappuccino at 4 Cani and then to Robert's Surgery Center to watch some surgery and do email (wouldn't work at the Holiday Inn).
Our goal is Vienna, but the main theme now is for Marcia to visit some of the sites her father was at as a surgeon in WW II, opening up concentration camps through Germany and Austria. He had never talked about it but she learned the route he took from a bunch of papers she recently discovered in the attic of her Mom's home in Rockland, Me. After she read them (they had never been seen by anyone before) she became very interested in what he had done over here. This was her stimulus to finally use a computer. She got on line and tracked down some of the men that were with her Dad then. The first town we go to is Meiningen which is straight east, so we take off from Cologne at 4:30 PM, cross the Rhine and finally give up in a little town called Bad Hersfeld, in Hessen (where the Hessians came from). We scrounged around and finally found the central area ("innenstadt") and a nice restaurant. We had one of the best dinners we have had on this trip. A nice German girl (daughter of an American) who helped us with our menu, told us there are problems with drugs in the town. And here we are in the very heart of Germany in a "backwater" town. You can't escape it anywhere!
In the morning a nice run through the beautiful little town with the crisp smell of autumn just on the edge. A cappuccino here is a coffee with a glop of whipped cream on top – ugh! I had rasnici for a snack since we missed getting it last night. It was very good (as we remembered it from our honeymoon trip to Yugoslavia in 1970). As I walked through the town, I passed an older, heavy-set woman that looked just like my maternal grandmother who raised me from age 4-7. She was of "German extraction" but I have no history about it. She died at age 57 when I was 13. It suddenly hit me. Could I be a Hessian? I'll never know.

Kenneth J. Hoffer, MD
KHofferMD@AOL.com
Bad Hersfeld, Hessen, Germany
Sent 9-2-99
If you enjoyed these travels or wish to add comments on the places we visited
Please Leave Me a Message by clicking the spinning @ sign.