Dr. Hoffer's Travel WebSite This site was last updated 07/27/14

WEST EU 09 #2 Munich BMW Fiasco
---
Tuesday, June 2, 2009
---
I woke at 4:45 and again at 6:10
and then slept until 8:05, finally getting up at 10:35 AM. I dressed and headed out at 11:45 to find the T-Mobile shop to buy some more time on my German phone chip. I then found the Vodafone store and they checked the Vodafone chip Marcia bought in Egypt and told me it was no good here. I got back to the hotel and at 12:20 PM we caught a cab to pick up our new BMW. Instead of the dealership we have gone to on all previous trips, this time we have to go to the new BMW Welt (BMW World) that was completed in 2007, just after our last pickup. What a spectacular place. The buildings are huge and modern and it houses a BMW Museum similar to what Mercedes-Benz has in Stuttgart. Below is a Photostiched picture of the interior.

The corporate headquarters and management offices are in the tall building you see through the window (below.) The flight of stairs was dramatic.
They direct us to the new European Delivery reception area where you wait for your representative. They have all sorts of food and drink available for free while you wait. We didn't wait for long.

Rolf arrived, welcomed us, and took us to one of the simulated driving cubicles where Marcia was to try out some of the driving features of her new car. She sits at the console with a steering wheel, gas pedal and brakes while observing the effects on her car in the video screen.
They go all out as you can see Marcia's name and car model are in the upper left of the first slide and they match the color of the car. Marcia said it was easier driving the real car then doing the simulation. Notice that the license plate for our car (M 1097 Z) is displayed on the car in the animation.
After this, Rolf takes us down and shows us the car which is sitting on a circular pedestal in the floor and with a remote control he gets it to go in circles. Then a girl comes out and takes a photo of us in front of the car. All this was new to us and nothing like the six previous pickups.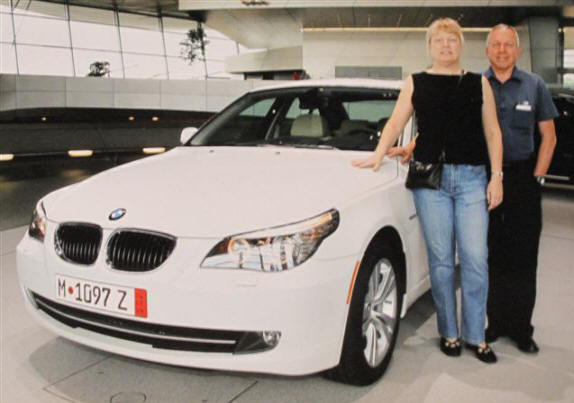 At 12:50 PM, as the car is turning, I notice the expiration date on the German license plates and it says "14/07/09" which I immediately conclude is July 14th, only six weeks from now.

I turned to Rolf and asked what was going on since we were going to be in the EU for four months.
Rolf, Marcia and Sylvia
Rolf opens his official book binder and shows me the page where in large print it says we will be in the EU for one month. I told him that we explicitly told the Center BMW people in LA that we would be in the EU for four months. You can't order the car until you give them an exact pickup date and a dropoff date. That is when he told me we could not take the car today until the proper plates were on it. I immediately got upset
and asked where this mistake was made. They didn't know but would find out. [More on that after we get back] I told him we had to be in Vaduz, Liechtenstein tomorrow night because I had already paid in advance for two nights at the hotel there and then I had to give a lecture in Luzern, Switzerland the next day. He reassured me not to worry and he turned me over to Sylvia who gave us vouchers for free taxi fares back to the hotel and for returning tomorrow. At 3:40 PM we took the free taxi back to the hotel. We arrived at 4:10 PM and discovered Marcia had no chip for her phone. She posed in front of the large bronze wild boar on the main pedestrian walk (above.) It marks the corner where we turn to get to the hotel.
I changed and at 6:15 PM I left the hotel (below left) and went out for my run up Leopoldstrasse to CADU near the University (blue umbrellas below) and back.
Walking back I took another shot of King Leopold and went by a building with this plaque noting that "Sissy" Elizabeth, the Queen of Austria and Hungary was born here in 1837.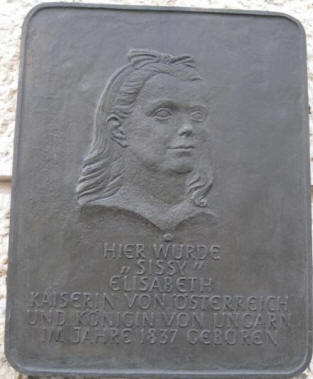 I finished up in Marienplatz and noticed that for the first time in years the Rathaus (City Hall) wasn't covered with scaffolding somewhere. Without a wide angle lens you can't stand back far enough to get the whole building in one shot. Below left is a Photostitch of four shots (below left.)
I walked around a little and went past this Hirmer building with large stone men covering the front and then past the entrance to the Ratskeller below the Rathaus.
This is weisse spargel (white asparagus) season in Bavaria and street vendors are selling them everywhere you go. They are also on all the menus, especially spargel soup.
At 6:20 PM Marcia bought a new T-punct phone chip number for €10.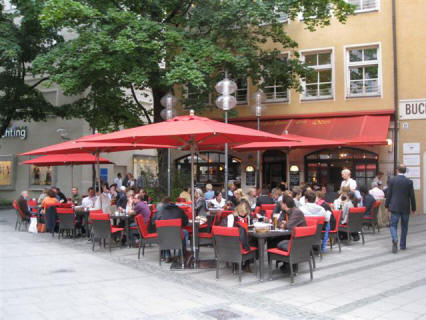 People were enjoying themselves at the outdoor cafes. I got back to the hotel at 6:50 PM and in the room I noticed I couldn't find my special Mercure hair brush I bought at the Mercure Hotel in Chemnitz, Germany in 2007. I changed and went down to the desk and complained to Dirk that the maids must have discarded it accidentally. He told me that was impossible. Then we got in a discussion of a hotel in Munich when we return in late September (28-29.) I had booked the Novotel Hotel but for an outrageous amount due to the fact that it was during Oktoberfest. He said he could book a room for me here for much less so I asked him to do it. He then canceled the Novotel for me.
At 7:05 PM I walked to Opern Platz and took photos of the Spatenhaus where we ate last night. Below is a shot of the beautiful Opera house.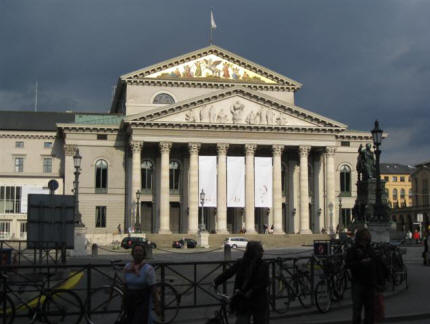 At 7:30 PM I stopped for a cappuccino at my other favorite place, the San Francisco Coffee Co (above right.) The cappuccino cost €3 ($4.10) but you get a free hour on the WiFi internet so I was able to do my AOL email. After almost an hour of being online, at 8:25 PM I picked up and walked to the hotel and realized I was 15 minutes late for our scheduled meeting. Marcia and I then headed out.
At 8:40 PM we met Anton (Toni) Hilger and
Arne Matthäus
who work for a division of B&L called Technolas. At 8:50 PM we all walked to Frauenplatz which is the area surrounding the nave of the Frauenkirke (church.) We sat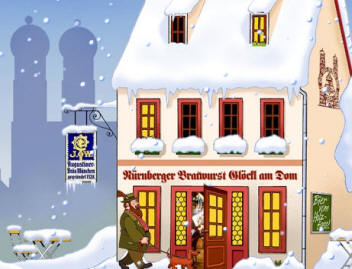 down for drinks at the Nürnberger Glöckl am Dom (left) so that Anton could buy me the beer (helles) he owes me for emailing him a journal paper he requested. This beer was a house brew as can be seen by the emblem on the glass. They taught us that a "Radler" is the German term for an English shandy which is a mixture of half beer and half lemonade or other non-alcoholic drink. These are good when you have to drive a car later.
At 9:00 PM we decided to have dinner here at the Nürnberger Bratwurst Glöckl am Dom [Frauenplatz 9,
+49-89-291-9450] (below: building with the little blue crest in front.)
It is a really neat place but since it was so nice no one was eating insode.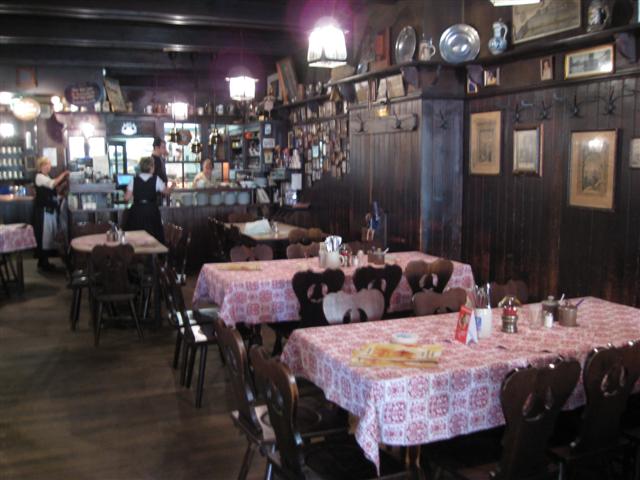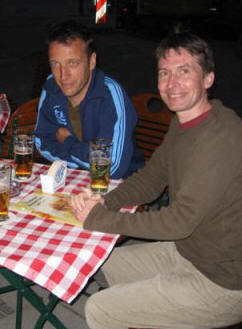 Toni is on the left and Arne is on the right in the above right photo.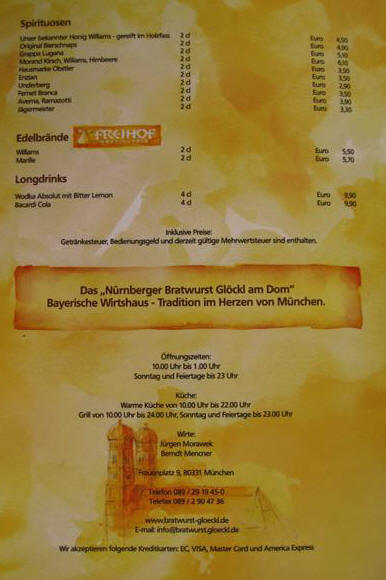 Here are the drink menus.
Then we looked over the food menus.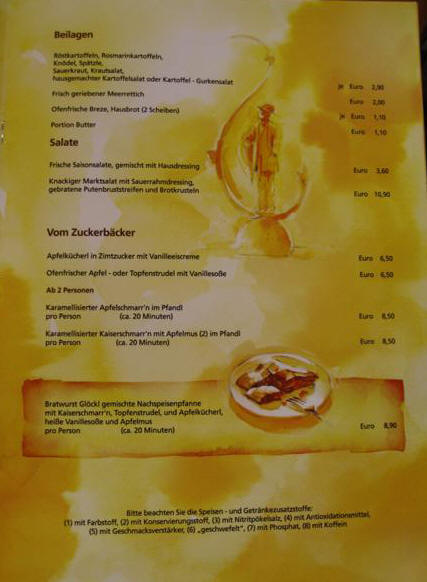 I ordered two bratwurst mit kraut (Fränkische Bierwörschtla) (below left) along with two more helles and a pretzel. Marcia had mixed wursts with kartoffelensalat (Glöckl-Platte) (below right) and trocken (dry) wine called Grüner Veltliner.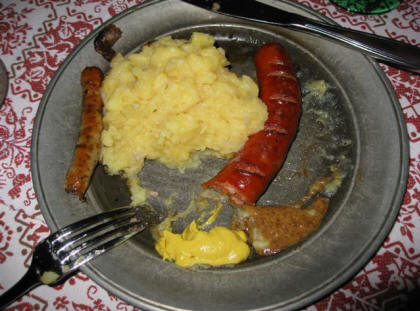 The dinner was great but I forgot to take pictures before we started eating. Toni and Arne left us, so at 11:40 PM we ambled over to the nearby Killian's Irish Pub [Frauenplatz 11,
+49-89-242-198-9911] and I had a perfect Guinness nightcap and Marcia had wine.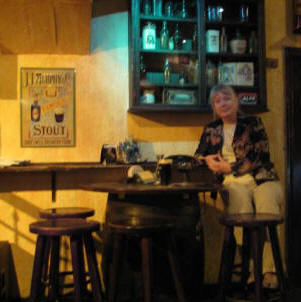 I see from the glass that this is the 250th anniversary of Guinness. We enjoyed the live guitar singer until it was time to take off and we walked back to the hotel. I decided to sit in the lobby and have a €2 espresso at the front desk and Derik gave me a brush but it wasn't the one I lost in the room. How in the world did the brush just completely disappear on its own? I went to bed at 12:30 AM.
Kenneth J. Hoffer, MD
KHofferMD@AOL.com
Munich, Germany
1-5-2010
If you enjoyed these travels or wish to add comments on the places we visited
Please Leave Me a Message by clicking the spinning @ sign below.