Dr. Hoffer's Travel WebSite This site was last updated 07/27/14
---
Wednesday June 3, 2009
---
I woke at 3:15 AM, 5:15 and then slept at 6:30 until I awoke again at 8:15 and got up at 9:00 and packed up my bags. As you can see our room was pretty nice for a reasonably-priced hotel (Mercure.)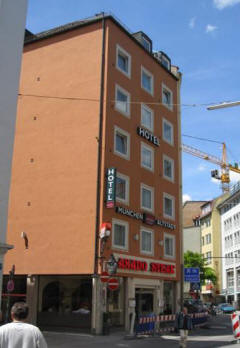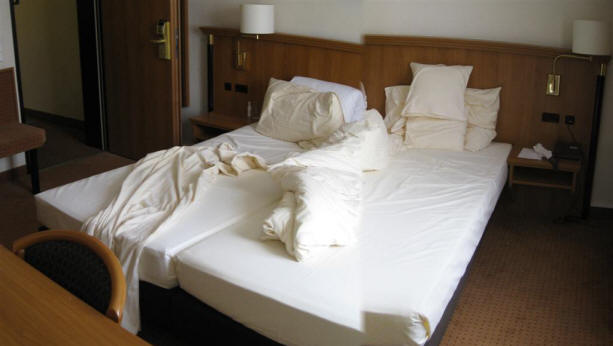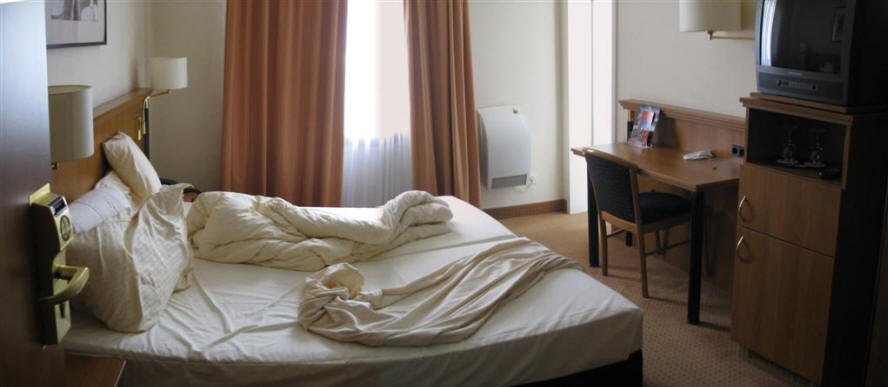 At 9:45 I went out and shopped the phone stores and learned that T-Mobile was the best new phone chip to get. At 10:00 AM I again stopped in at the San Francisco Coffee Co. for a cappuccino.
I sat at the window counter with the great view of the pedestrian plaza and got free WiFi to get the LA Times crossword puzzle, download Rush and do my AOL email. Then I filled out the forms requested by the VP Bank in Liechtenstein.
I walked back to the hotel and took some photos of the places we went last night.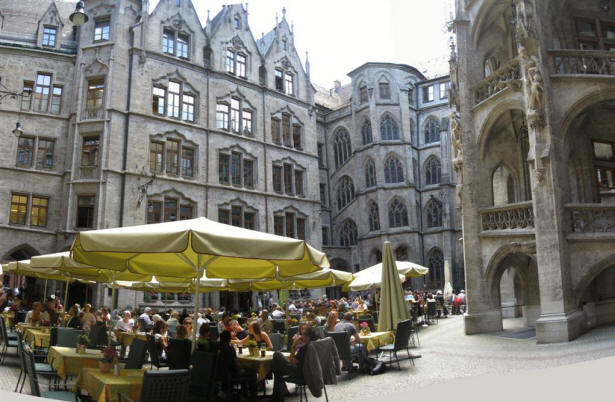 I couldn't pass up taking pictures of the menu at the Rathaus Ratskeller showing the typical Bavarian dishes.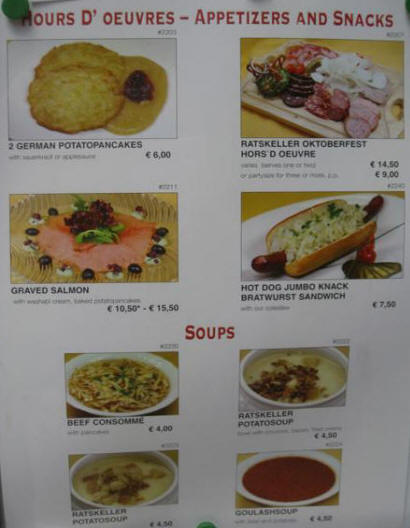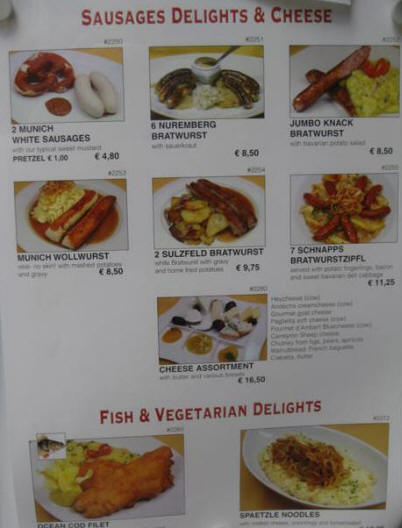 Looks pretty good, huh? I then neared Marienplatz passing by the Altes (old) Rathaus (below left) and tried again to get the best shot of the "gold" statue of Mary in the center of the Platz (right.)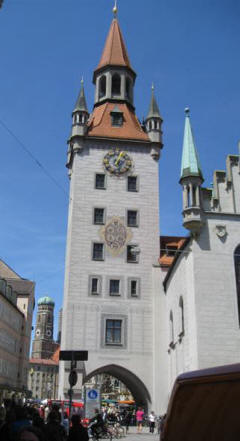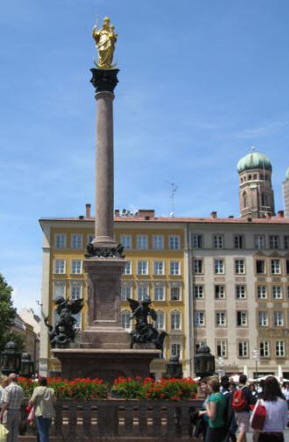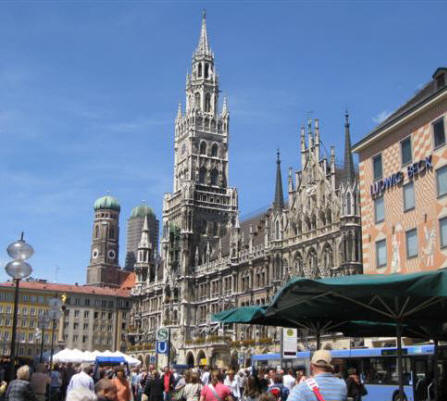 Just under the arch near the Altes Rathaus is about the best place to get a photo of the Neues (new) Rathaus in one shot. I then came across this little bronze of Julliette (without Romeo) with a commemorative plaque.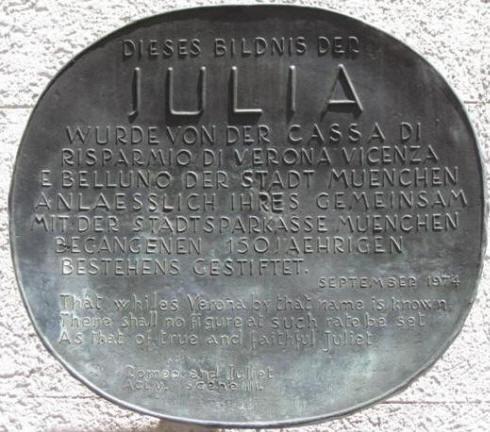 After I got back to the hotel, we gathered our things and at 12:30 PM we checked out of the hotel and I used my Accor vouchers to pay for some of the bill. As it turns out the vouchers were only good for Accor hotels in France but only on a weekend. Not knowing that, I pushed him and somehow he was able to take them. These are from points earned on previous trips. The elevator broke down and being on the 3rd floor we had a hell of a time getting all the bags down four flights. Remember in the EU the ground floor is zero and the first floor is one flight up. The basement is -1 which you can see the tile floor of in the photo.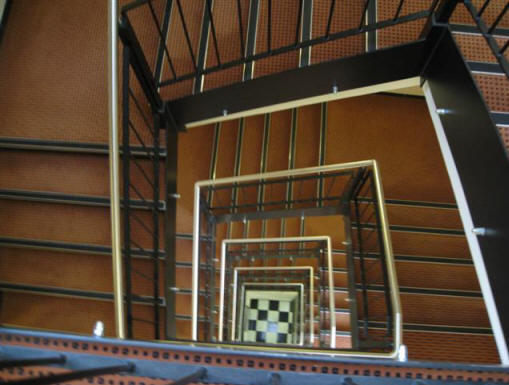 I then asked them to fax the forms I filled out to the VP Bank. At 12:40 PM I went for my run but took a different route and wound up in a grand market near Westenriederstraβe.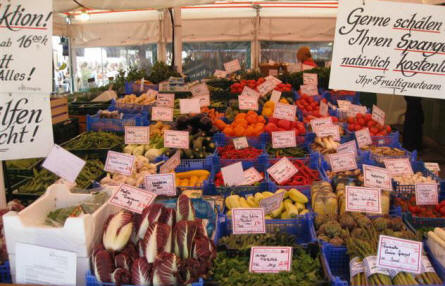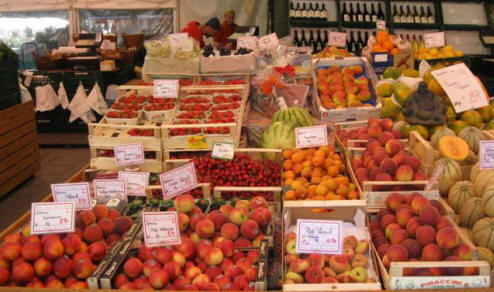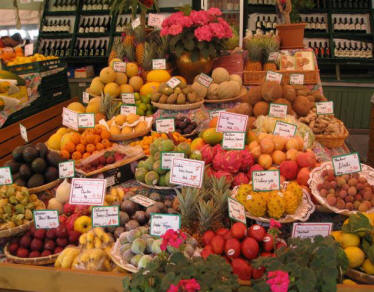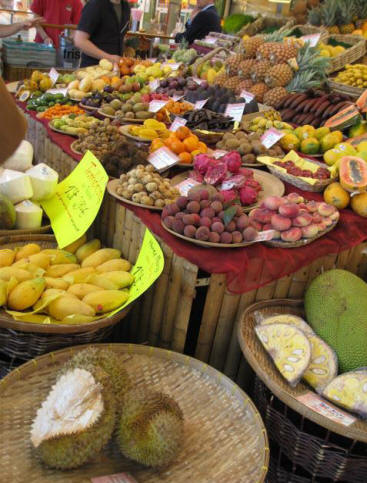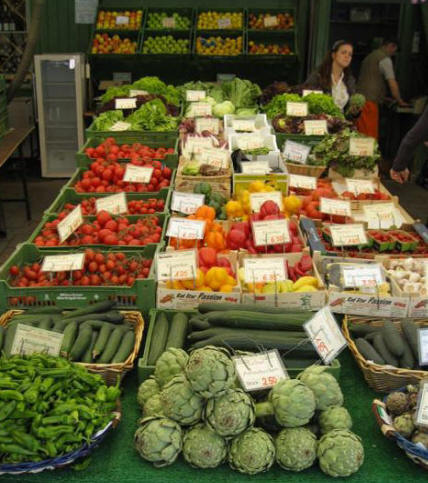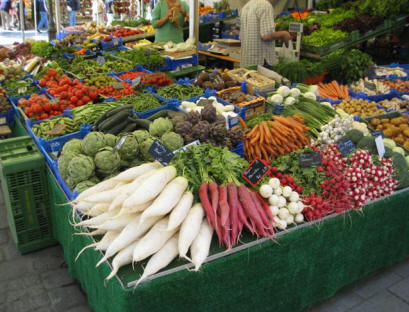 As you can see the produce was fresh and quite spectacular. By the way, here are the different denominations of the German Euro coins: from left to right €0.01, €0.02, €0.05, €0.10, €0.20, €0.50, €1 and €2.
On the way back I caught these whimsical figures of performers located on the corner of buildings.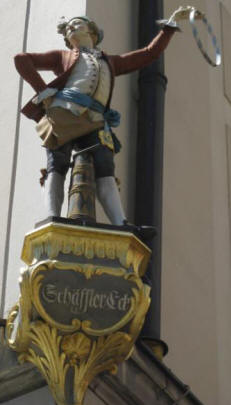 Elections are coming up so there are many political ads posted everywhere. The Feldherrnhalle was built by King Ludwig I 1841-44.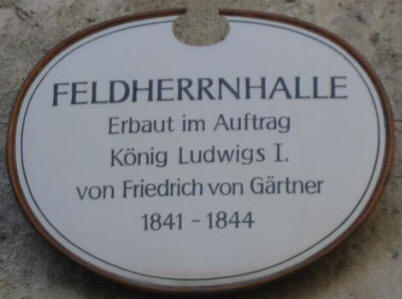 I got back to the hotel and used our room to change and as I was leaving I get a call from Sylvia at BMW asking me where I was. I told her we were on our way and that she had told us not to come before 1 PM. Then she tells me she has good news and bad news. I told her to give me the bad news first. The German government cannot issue new license plates that quickly and we cannot pick up our car. What is the good news? They are going to give us a loaner today. I was really aggravated about this big screw-up and still got no answer as to who was at fault. At 1:50 PM we used the vouchers to take a cab back out to BMW Welt. Of course, this time, we have to load all our bags into the cab. As usual we are traveling "light."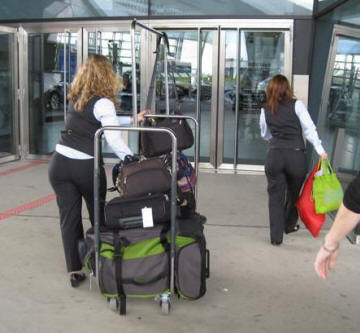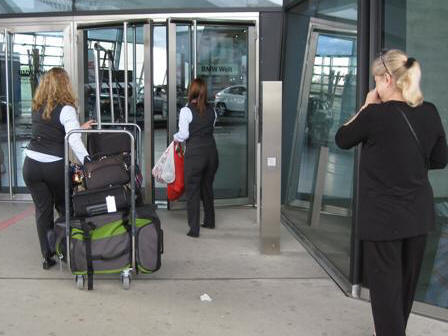 We arrive and unload all the bags and they put them in storage while we went upstairs. This time I was able to get some pictures of the outside of this place.
Above right is the area where the BMW Museum is. Later we took a quick look inside but didn't have all day to see the whole thing. Sylvia met us again and had us fill out the paper work and Marcia had to sign some papers.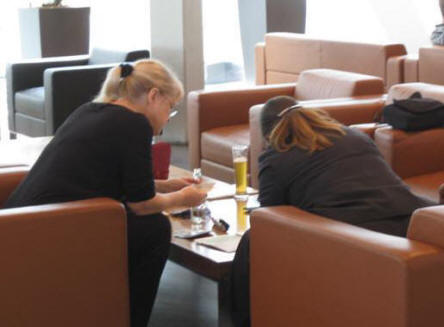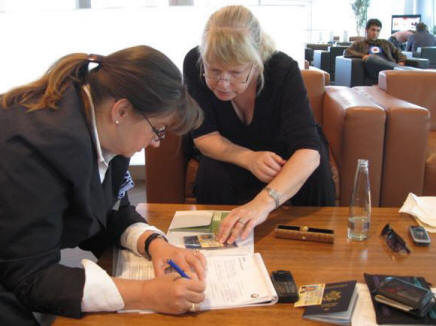 Still in a bad mood, Sylvia tried to console me by telling me the loaner car was nice. I was expecting they were going to give us some clunker or Mini Cooper with no trunk space. She assured me by telling me it was a BMW 535i which had a bigger engine than our car. I asked her what year and she told me it was a 2009. Well that isn't all that bad since this is 2009 and our new car is a 2010. Having little options I accepted the inevitable and had another free cappuccino. Sylvia told me we might need to drive the car until our scheduled drop off in Nice in late September.
Marcia and I were each given a voucher to purchase items in the BMW store on the first floor. We looked around in there for awhile and found a key chain and a windshield squeegee. Then I went to the food area and used the remainder to get three large bottles of German beer varieties [which incidentally never got drunk until sharing them with the Castleman's on the cruise at the end of September.]
When we got done shopping our vouchers, they got our bags out for us and loaded them into the car parked in front of the entrance. They helped us load the bags in the huge trunk and we were ready to go. The car was gray but absolutely beautiful and I noted it only had 1,978 miles on it and the plates expired in October (19/10/09.) Not all that bad, but I wanted OUR car.
They gave Marcia a run through on the operation of the car while at 4:10 PM I got a call from our banker, Marco Vogt, at VP Bank and we set up a time for us to come to the bank and open the account. At 4:15 PM we finally left BMW Welt (A) and Marcia drove mainly west then southwest for the first 80 miles to Vaduz (B.)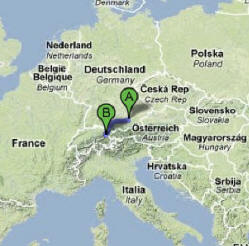 It was a cloudy but clear drive and after an hour and a half we stopped for a breather and bathroom break.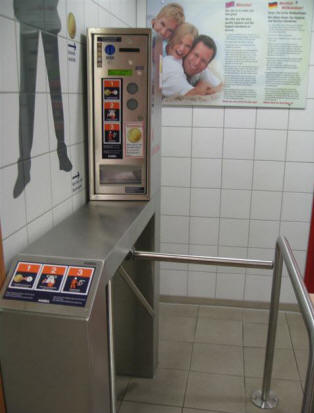 Here is the bathroom deal at these stops. To enter the restroom, you have to put a Euro coin in the slot for the gate to open (upper right.) It then gives you a receipt to exchange for food, coffee or goods in the shop. So its free if you buy something.
At 5:50 PM I drove south past the great Bodensee for the remaining 70 miles through Austria and the Pfänder tunnel which is 4.1 miles (6.7 Km) long. We were not able to find a place to buy the mandatory Austrian road permit so we were lucky to sneak through this sliver of Austria without getting caught. If they stop you the fine is €150 in CASH! Also, we were used to paying 50 Swiss Francs (abbreviated as "CHF") to enter Switzerland, but this route allowed us to enter the country through the backside for free.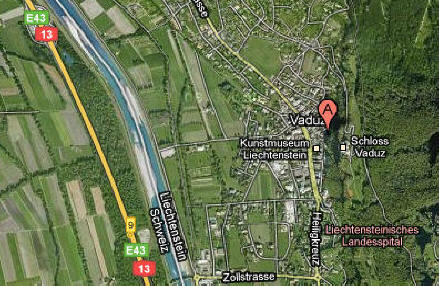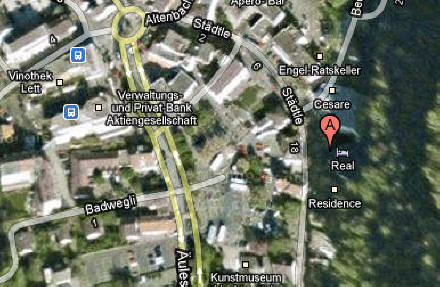 After driving through Switzerland for awhile, at 7:00 PM we crossed into the tiny country called the Fürstentum (Principality) of Liechtenstein and its capitol city of Vaduz [Vah-dootz] (above left.) We checked into the Residence Hotel (Room #304) [Städtle 23,
+423-239-2020, welcome@residence.li] (above right.)
When I knew we needed to be here to open our bank account and then be in Luzern to give a lecture, I thought it best to book a room for 2 nights in advance, something I rarely do. I found this hotel on the internet after negotiating with several of them by email.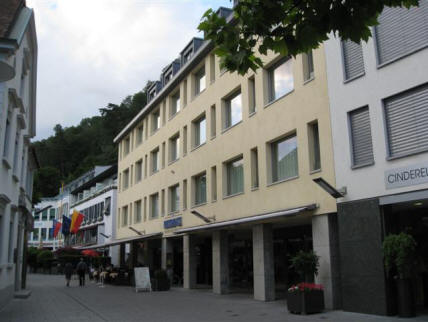 I booked it with Thür Martina and had to guarantee it with a credit card in advance to get the deal. The two nights would be 170 CHF ($154.38) excluding breakfast, which I thought was fair. Parking would be 20 CHF/day. Another good hotel next door is Hotel Restaurant Real, [Städle 21, Vaduz, 5/20

+423-232-2222 (contact Simone Giesler).]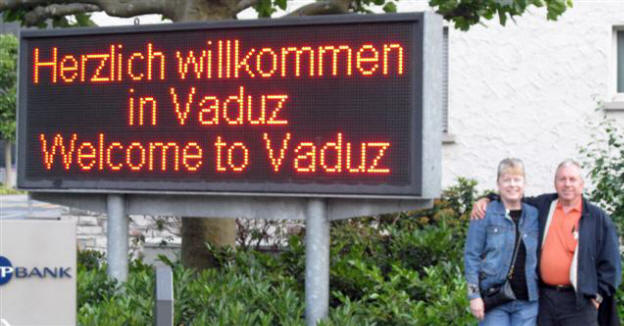 Above left is the city's coat of arms. We checked in up on the second floor and their receptionist was very sweet in taking great care of us.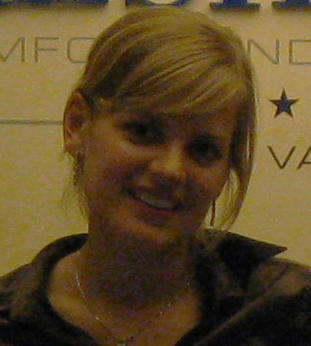 Our room is again on the third floor (4th) and notice that our room has a name: Gamprin which I assumed, since there was a crest with the name, that it might be the name of a region in Liechtenstein (see map below.)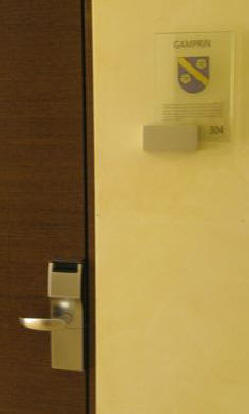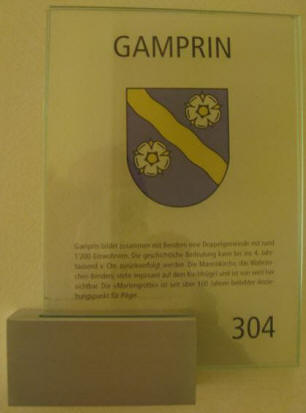 We entered the room and it was really lovely with a nice King-sized bed and nicely done.
We unpacked and at 7:30 PM we came downstairs and parked the car in front of the hotel in a little nook hoping no one would notice (thus saving 20 CHF/day.) We then headed out and ambled our way down the main street (Städtle strasse) which was very lovely. At 8:15 PM we stopped and had a beer (Löwengarten) and wine at a funky game/sports bar called Zwei. The bartender was very nice to Marcia.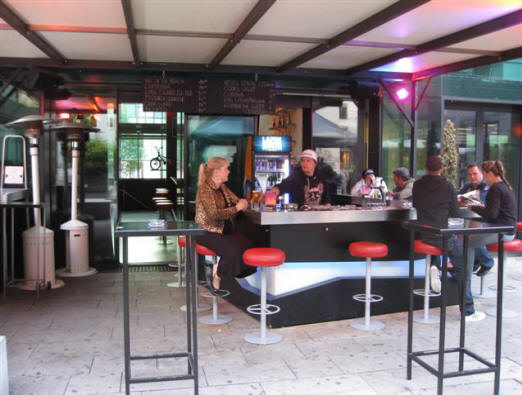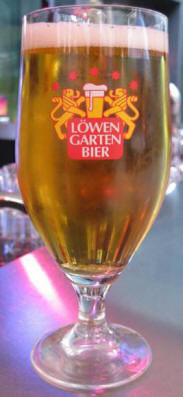 We then walked further along the street heading north and then uphill on Herrengasse and looked up at the castle (below left) on the hill above the city. Then at 9:00 PM we got to the Gästhaus Löwen [Herrengasse 35, Fürstentum,
+423-238-1144.] the place where we were recommended to have dinner. (below right.) This hotel has been here since 1360.
We walked past all the empty indoor tables onto the outdoor terrace where we were seated. I was a lovely balmy evening. I had a Liechtensteiner Brauhaus Hell's bier (locally brewed beer) which was very good.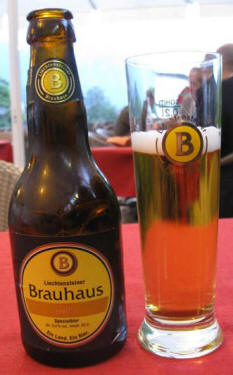 Then for dinner I had their mixed grill of pork-veal-lamb-bratwurst that came with a baked potato and vegetables (below left) [Schweins-Kalbs-und Lammfleisch und Wurst mit Kartoffel und Gemüse.]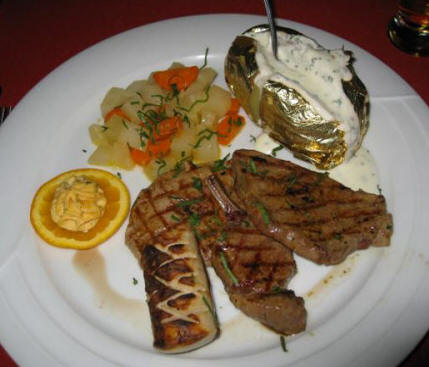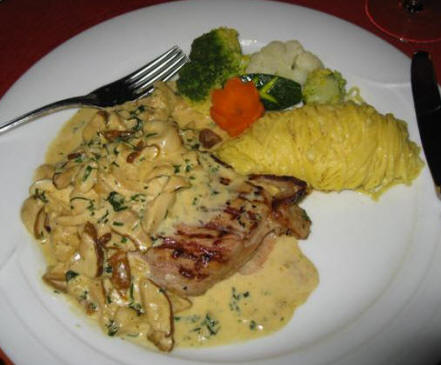 Marcia had weisse wine trocken (dry white wine) and then a steak of saddle of veal with fresh chanterelle mushrooms in herbscream with homemade noodles and vegetables (above right) [Kälbsrückensteak mit frischen Pfifferlingen in Kräuterrahm dazu hausgemachte Nudeln und Gemüse.] It was really lovely eating outside on the terrace and the service was good.
The dinner was all pretty good. You can see we were basically sitting in a vineyard they call the Stöcklerwingert. We finished up, walked back to the hotel on a balmy evening and got to bed at 12:45 AM.
---
Thursday June 4, 2009
---
I awoke at 4:45 AM and went back to sleep at 5:30 and woke at 7:15 then slept until 8:45 AM. I got up at 8:55 and headed out looking for a place for coffee. Below is the neighborhood I was in near the foot of the mountain.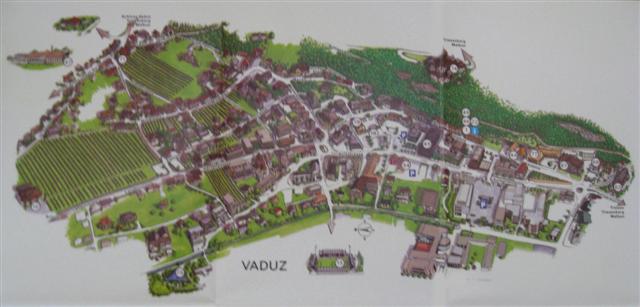 As I walked around, I got a shot of the metallic statues of people that were around the plaza. You can see the flying man in the right of the left photo.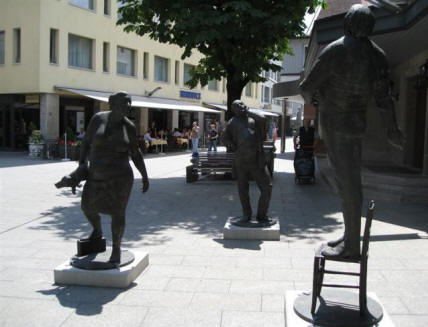 The other hotel nearby, Hotel Restaurant Real, is in a nice location up against the forestry of the mountain range.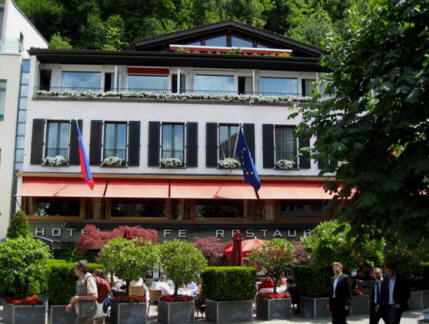 At 10:45 I decided to try for a cappuccino at Adler Gastronomie Brasserie [Städle 15,
+423-232-2383] which was really not far from our hotel (below left.)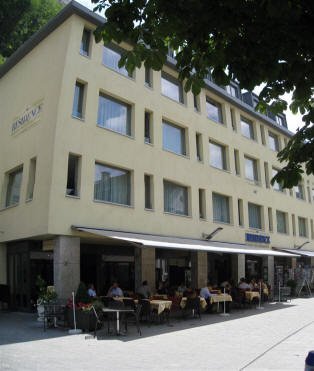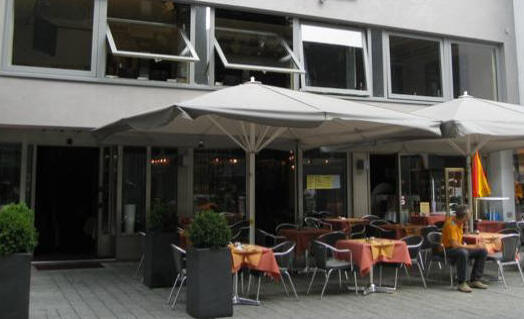 I sat inside at the bar with my Acer computer and finished all my slides for my lectures that I needed to give at the Swiss meeting in Luzern. The barman was a nice guy and made me a good one.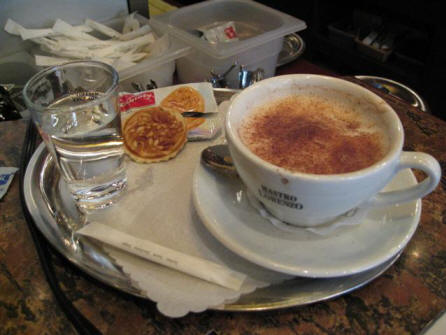 I finished up and got back to the room at 1:00 PM and headed out for my run. I took a look in the store on the ground floor and I bought some country flag patches for sewing on my running shorts. Then at 1:50 PM I began my run down Lettstraße heading for the Rhine River which is the border of this tiny country (blue line along the left.) They sure are good about their signs directing you to all the sights and hiking trails.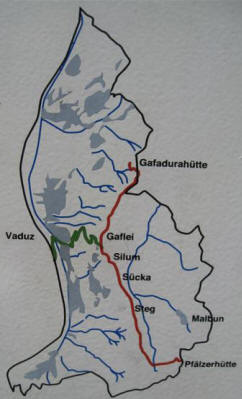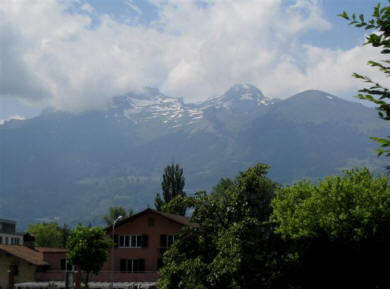 I kept running straight for the river, not knowing whether I would reach it but I sure did and it was quite breathtaking.

In both directions, you can see the mountain ranges to the west.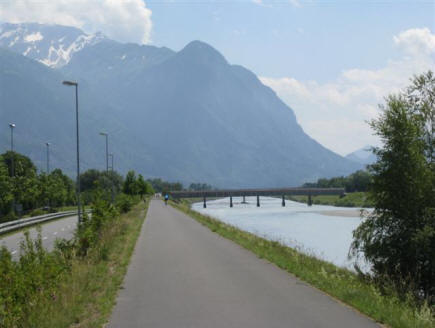 The bridge you see in the distance is a covered bridge across the Rhine that looks like it has been there for quite awhile. Below are stock photos of the outside and inside since I did not have time to go all the way down there to photograph it.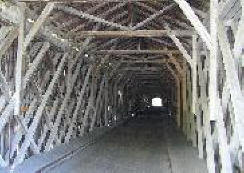 And, of course, the border between Liechtenstein and Switzerland runs down the center of the Rhine. As I walked back, I photographed the Rheinpark Stadion (stadium) I had previously ran by. It was a medium-sized soccer stadium right near the river.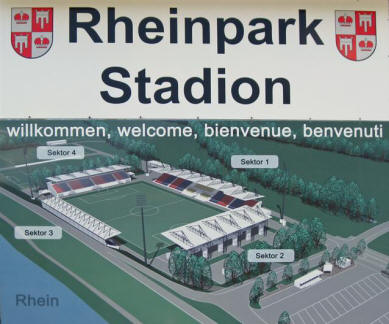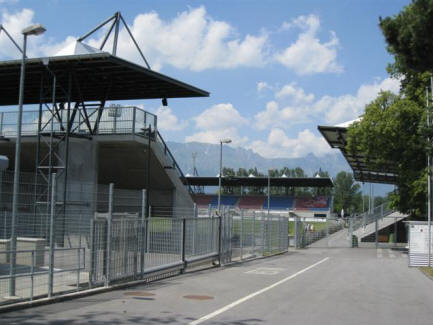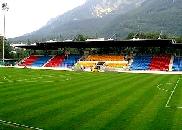 I believe this is where the soccer games are held for the country. Here is a stock photo of the field because I could not get beyond the gate to see inside. I got this photo (below) of the mountains behind Vaduz using the zoom lens. Notice the castle in the lower right of the photo.
I zoomed in on it and this is the best shot I could get.
Below are some of the sites I saw on my walk back to town. It seems they will have some kind of equine event a couple of days from now. There were several of these crosses with flowers along the route.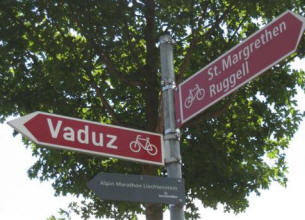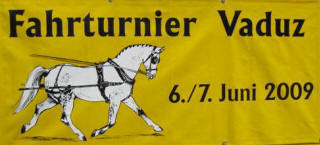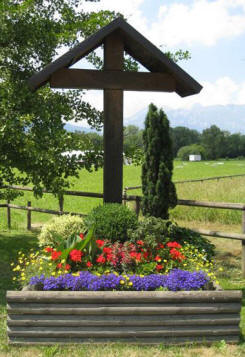 As I got closer to town I crossed this creek that flows parallel to the Rhine and this inviting restaurant.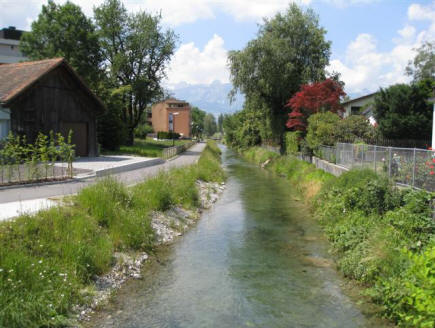 Once back in town I came across this rather unusual aluminum sculpture cutout and they had cow bells for sale everywhere. Then I looked up, just above the VP Bank building and there was the castle.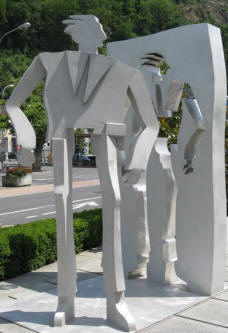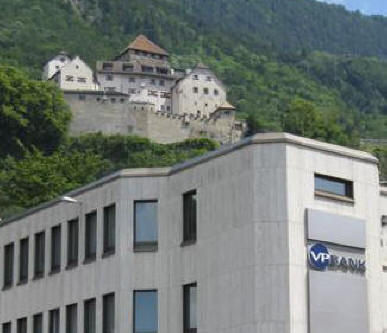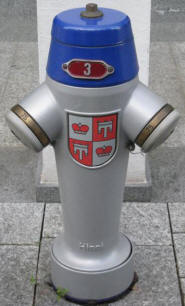 Their buses were sleek and modern and they have the fanciest fire hydrants I have ever seen anywhere in Europe. At 2:30 PM I bought a pin but it cost a whopping €4.5 ($6.33) which is much higher than I have paid in the past. While I was on my run, Marcia had lunch at Adler Gastronomie and had an omelet and coffee. What a coincidence we would both find the same place.
Now it was time to be a tourist and see as many sites as I could. Below are shots of the Städtle pedestrian street in both directions (left north, right south.)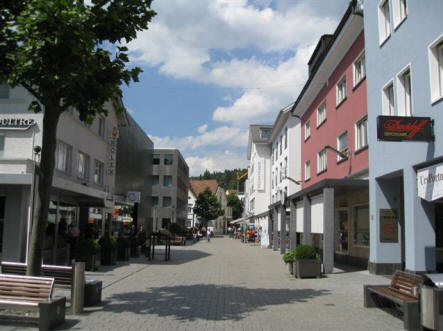 I headed south to see what I would find. First you notice all the big bank buildings.
Then there are all the signs (left) directing you to the many hiking trails (right) they have here.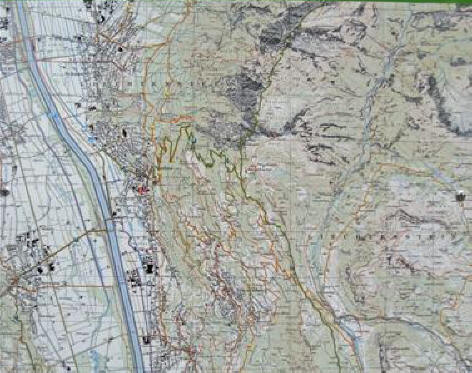 They sell postcards of the present ruling Prince and his family and Vaduz chose the cow as the ubiquitous painted images cities have set up in about every city in the world.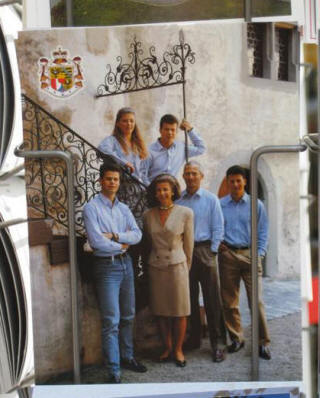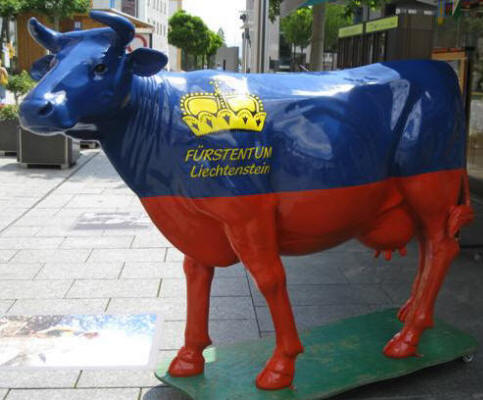 I walked by the former hotel called Vaduzerhof (3 Städtle) and then I came across the municipal museum of Vaduz (below) and inside they had many local Vaduzian and Liechtensteinian products for sale (didn't see any false teeth.)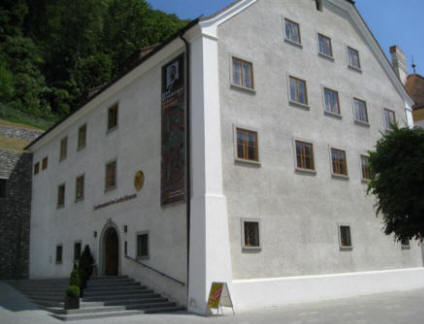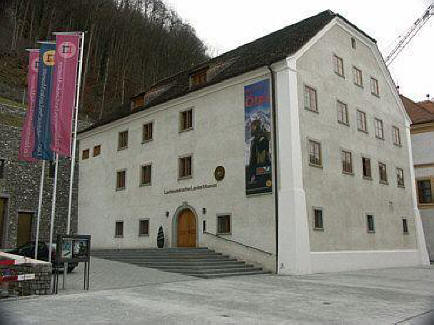 They had a series of scale models depicting the development of the city (left) and examples of living conditions in earlier days (right.)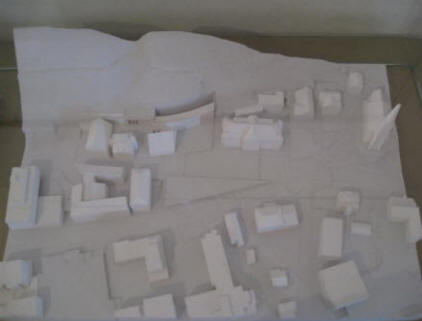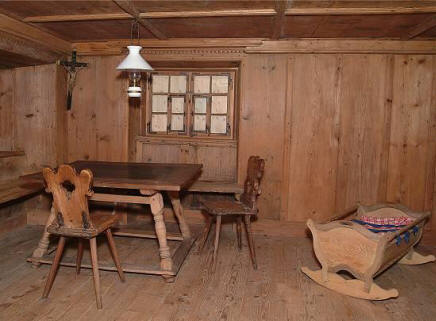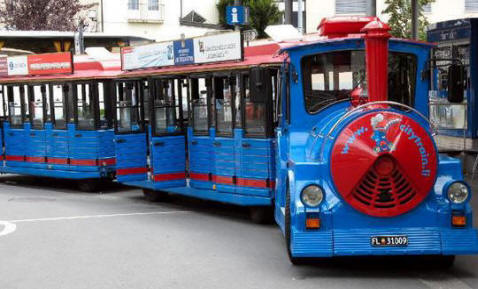 Every city in Europe seems to have these little touring trains going around town, Here are some more of the sculpture pieces they have in town. On the left is called "Hochsitzen" (sitting high) and then the flying man on a pedestal (center) and finally the ...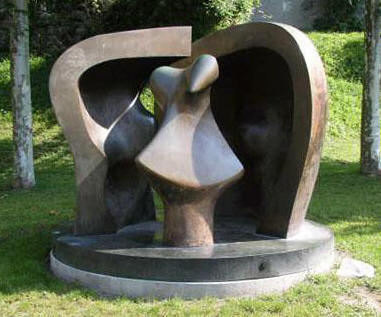 ..."Figure In A Shelter" by Henry Moore in 1983. Below are some stock photos of museum art, cuckoo clocks and this interesting metal "XX."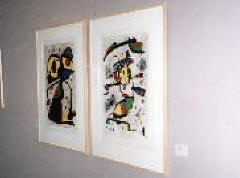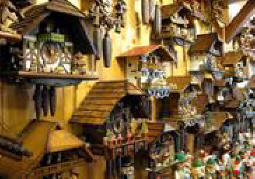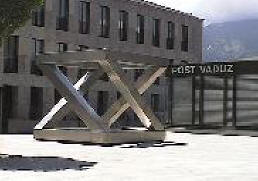 As I meandered along I passed a school that looked like it was for music. Out in front was a bronze statue and a plaque (stock photo below.)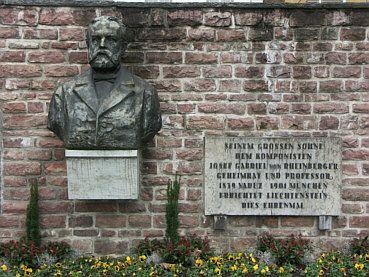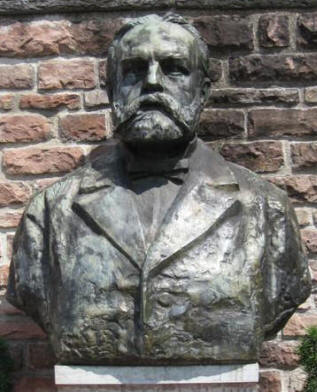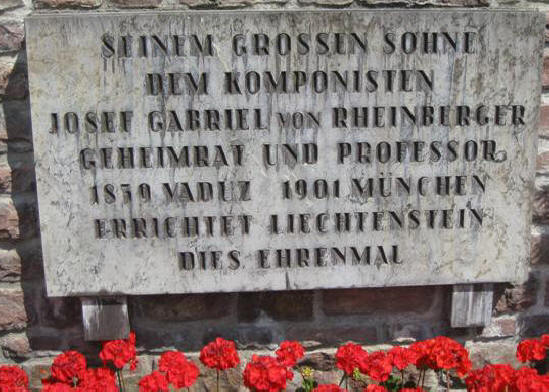 Above are the shots I took. The plaque says "Our great son, Joseph Gabriel von Rheinberger, Privy Councilor and Professor, born in Vaduz 1839, died in Munich 1901."
At the end of the pedestrian street I crossed the large intersection and found the Cathedral of St. Florin or Vaduz Cathedral (St. Florinskirche in Vaduz or Kathedrale St. Florin.)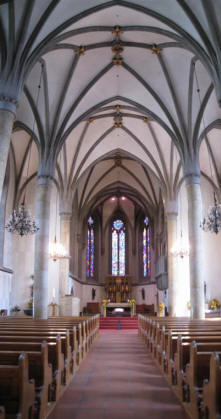 It is a neo-Gothic church which was originally a
parish church.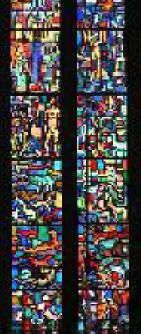 It is quite nice inside (stained glass, right.) It was built in 1873 by Friedrich von Schmidt on the site of earlier medieval foundations. Its patron saint is Florinus of Remüs (Florin,) a 9th century saint from the Vinschgau Valley (left) in northern Italy. Vaduz was elevated to an Archdiocese by Pope John Paul II on December 2, 2002. Before then it was the Liechtenstein Deanery, a part of the Swiss Diocese of Chur. The solemn public ceremony took place on December 12, 1997. The altar was unusual with its depiction of Christ in his tomb. The rectory gardens across the street were very nice.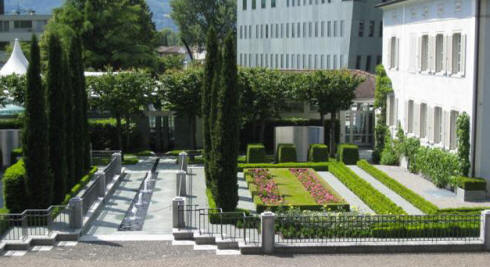 There were alcoves in the external façade of the church and on each side was a very large modern bronze statue of the Virgin Mary. Below are stock photos.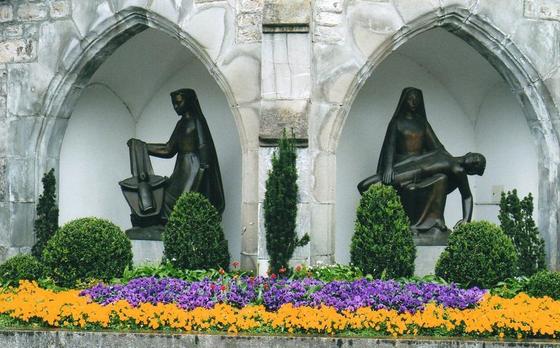 One statue is of Mary holding Christ at his birth and the other holding Him at His death (Pieta.) I have never seen that combination before. Below are my photos.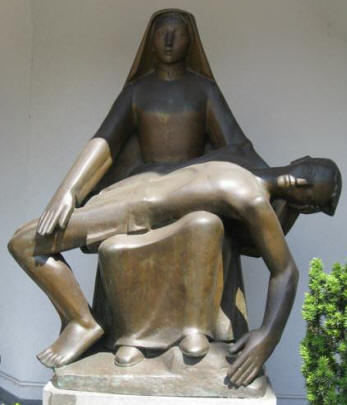 On the way back, heading north, I took photos of the Liechtenstein Parliament, a magnificent building with a specially tiled roof. Since Vaduz is the capital, here is where the elected representatives from around the country meet and make law.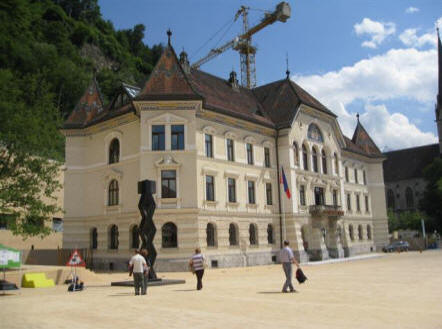 A little farther north is the new Parliament building (above and below left,) which I don't think is quite as nice. Nearby is the Liechtenstein Center where you can get your passport stamped but...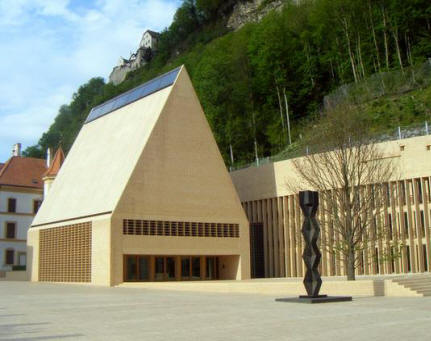 ...it will cost you $0.65. Here are some examples (stock photos.)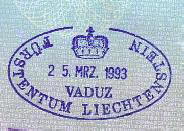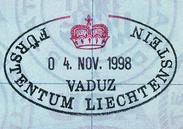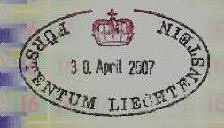 I continued north, past our hotel to the other end of town and found the Rathaus (City Hall) with a bronze plaque out front.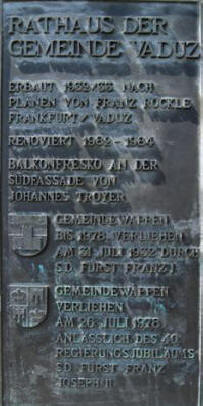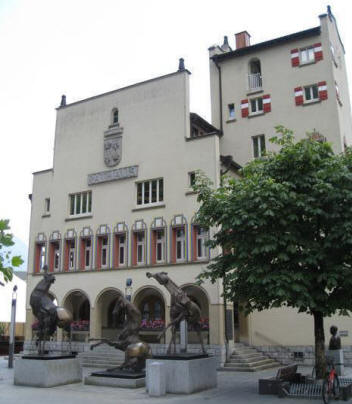 In front was a statue of the previous Prince, Franz Joseph II, (more on him later) as well as this strangely beautiful bronze triple sculpture of three horses called "Tre Cavali" by Nag Arnoldi in 1983. I had to take shots from different angles to get the 3 dimensional feel of it...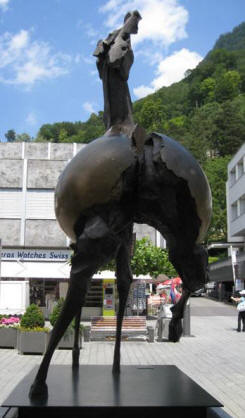 ...and I downloaded more; here are different angles from stock photos of this massive sculpture.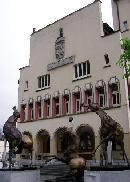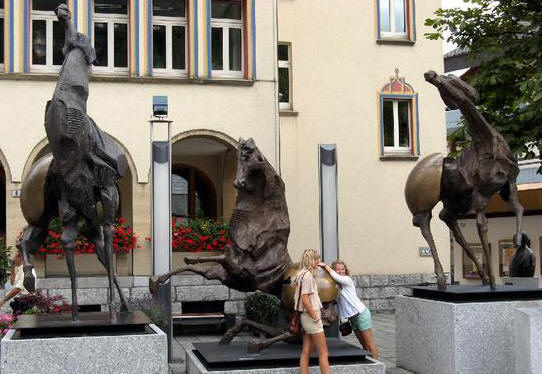 There was also a plaque noting that Goethe had visited here on June 1-2, 1788. I then passed by the Quantum House again and reached the central plaza area to walk east.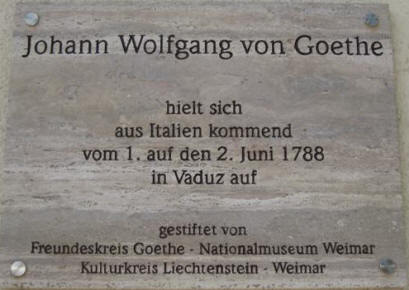 Near the Rathaus was this large plaza where public events are held. Below is a stock photo showing the large chess board on the pavement.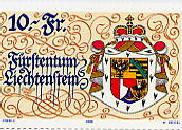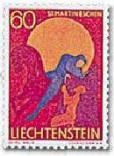 One-eighth of Liechtenstein's revenue derives from the sale of their postage stamps. Their postal administration brings out four regular and four special issues each year, and the well-designed stamps (which are printed in Austria and Switzerland) are bought by collectors all over the world. They have postage stamps in the sidewalk like we have the stars on Hollywood Blvd.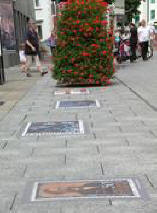 Here I came across a walkway back to the hotel and this interesting miniature of the Vaduz Castle.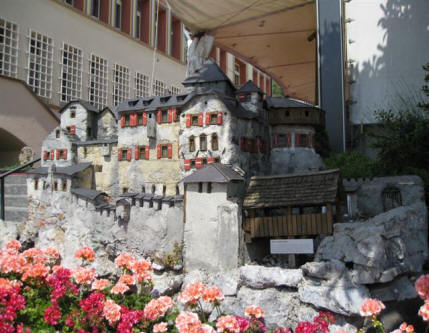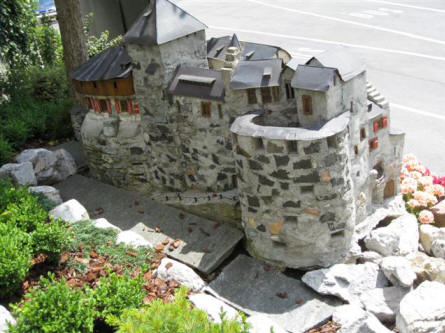 They also had a very nice detailed map of the city nearby.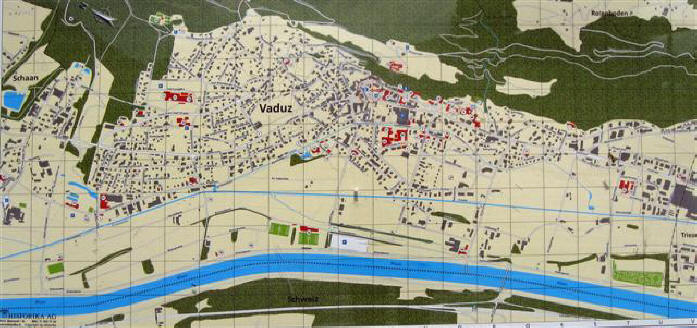 At 3:30 PM I was back at the hotel and worked on submitting my FDA
IOL testing paper to the journal. Then we headed out at 4:00 PM to the bank in town to open our account with VP Bank [Aeulestraße 6, Vaduz
+423-235-6655.] Marco Vogt (below right) was the banker who helped us and he was just perfect. It went very easily. We would get our card with the Smart chip in a week or so. [They have since moved Marco to their branch in Australia.]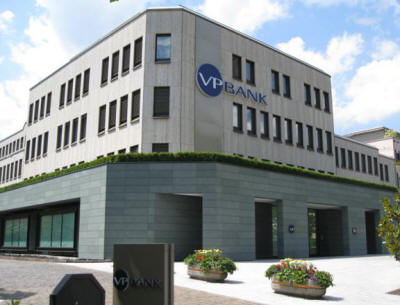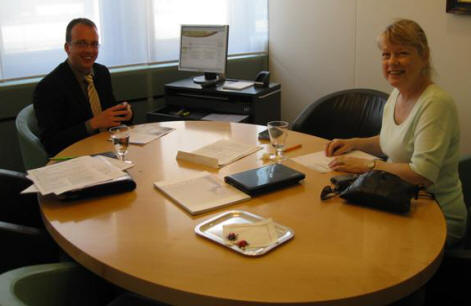 It may seem odd for an American to open an account in a bank here with all the problems with Americans, the IRS and Swiss banks. Our only reason was to obtain a credit card with a Smart "gold" chip in it to allow us to withdraw our funds at ANY ATM anywhere in Europe. Most don't realize this but not every ATM in the EU will accept a regular American credit card without the Smart chip (note: "gold" chip in card below) and we did not want to carry any cash with us while traveling. You need a PIN number with the chip to withdraw cash. Unfortunately, Marcia had one too.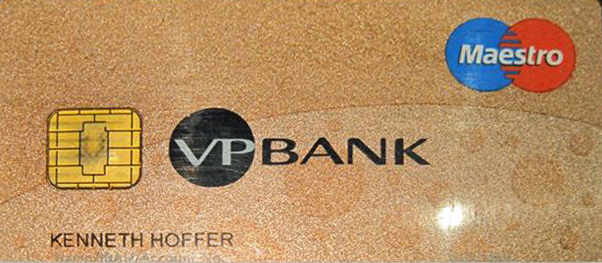 For six months before we left I investigated getting one from an American bank all to no avail and then tried Swiss bank branches in the US. These Swiss branches were leery of opening new accounts with Americans at this time. I discovered it was just not possible. The chips are too expensive for American banks to mass produce for everyone so they do not do it. Then at the last minute, I learned I could open one here, near Munich and just a few miles from Luzern where I would be going to lecture. Above is the card we later received which worked flawlessly wherever we went. All gas stations accepted them but it was not able to be used in some hotels and restaurants because it is not a full credit card.
We finished up with Marco at 5:45 PM and back at the hotel I got on the computer and completed the FDA paper while drinking one of the beers I got at BMW Welt. It was now time for some culture, so at 6:35 PM we decided to try out their main art museum called the Kunstmuseum on the main street. Below left is a stock photo of the museum from the traffic street side and below right is my shot of it from the pedestrian (Städtle) street side.
Outside the museum they had several large bronze sculptures. The one below is by Gunther Stilling (born the same year I was) which was large and really quite detailed.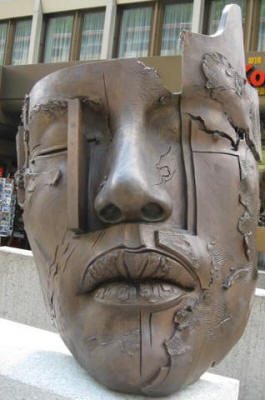 The other was in the courtyard and done by the famous Columbian artist from Medalliin, Fernando Botero (below left,) famous for his depictions of overweight people. It is called the "Resting Lady." It is one of only three and done in 1993.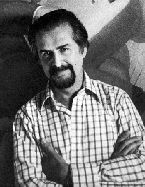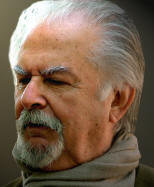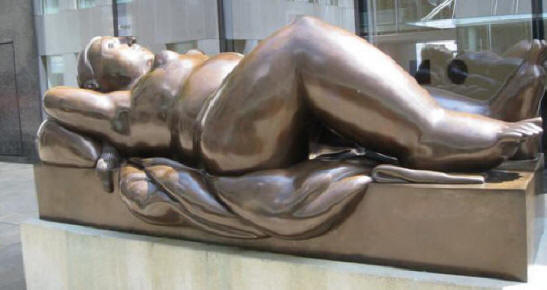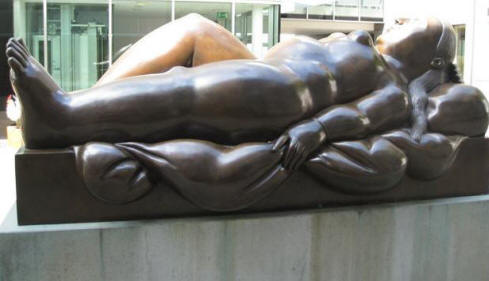 We paid to enter the museum and it wasn't earth-shaking but I did get some shots of the art though no photos were allowed. Below is a hallway of photographs that I think were victims of the Holocaust.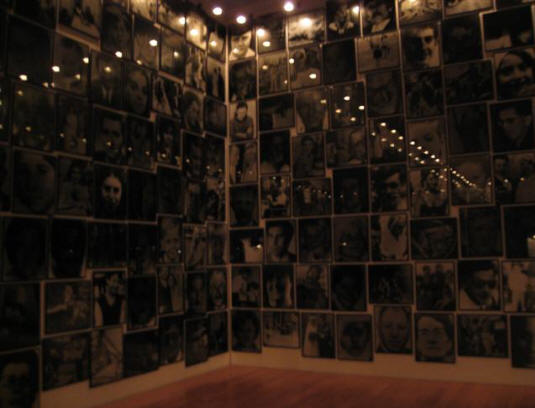 There was also this special tortoise shell (no descriptions in English) and some nice pieces by Peter Paul Rubens (Antwerp, 1577-1640)...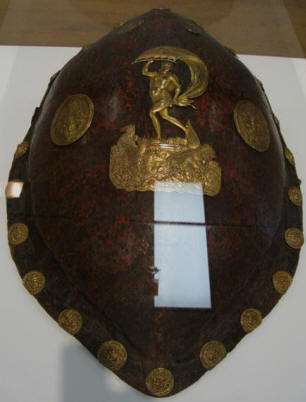 ...along with an Andy Warhol (NYC, 1928-1987) called "Marilyn Monroe."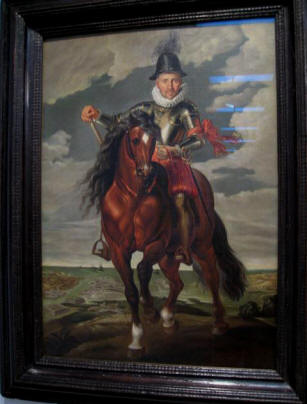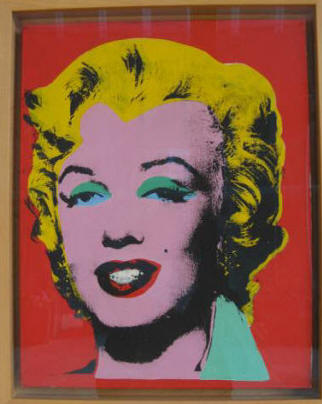 There was also a full size "The Thinker" by Auguste Rodin (Paris, 1840-1917) as well as other assorted art.
They really made a big deal about this artist that created these little tiny metal sculptures that created these larger shadows on the wall when reflected by a candle flickering. I didn't get it, but art is art. You decide.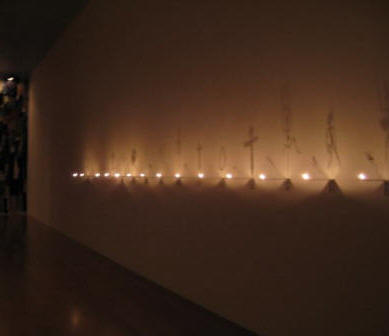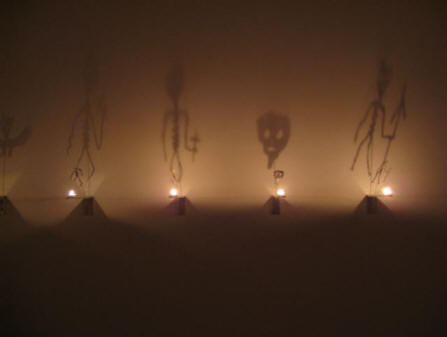 [To read about the 2010 controversy regarding the Leichtenstein Family Art Collection click here.]
It took only a half hour for me to see the entire museum, so at 7:00 PM I went out into their patio area and ordered a Brahaus Hell's beer and waited for Marcia to finish and then she joined me for a glass of fume blanc. Then at 7:30 PM we headed out to a place recommended to us for the "best pizza in town."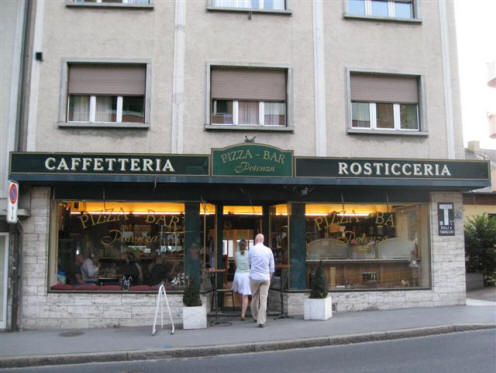 It was called the Pizza Bar Potenza [Herrengasse 9,
+41-79-222-0079] and it was a lovely place but the pizza margherita we ordered for an appetizer before going to dinner was unfortunately lousy.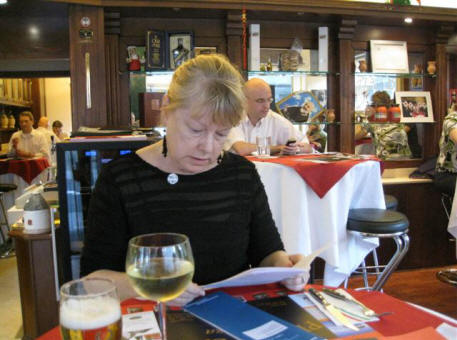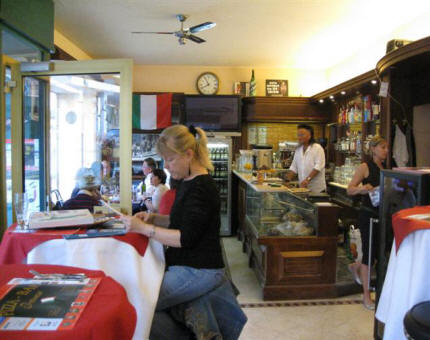 I had a Edenspez bier and Marcia, a chardonnay. I really like taking pictures of Marcia; I can't help it.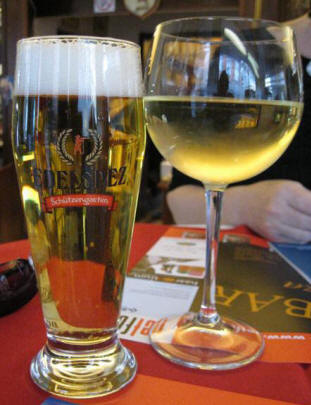 We walked back to the car which thankfully had no ticket on it and at 8:15 PM we headed for dinner in the other place recommended to us. We hoped we would fare better on this one. Marcia drove the 6 miles on E43 to the southern-most city called Balzers [Bawl-zers.]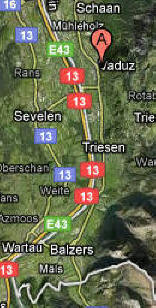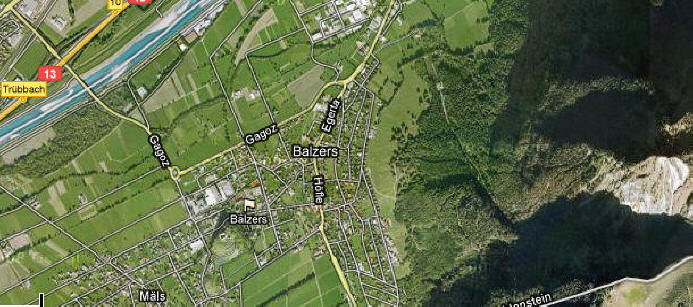 We arrived at 8:30 PM for dinner at Ristorante Enoteca Leonardo [Höfle 2, Balzers
+423-384-1433.] They also had a little castle on a hill nearby called Gutenberg Castle. Leonardo's was in the building on the right.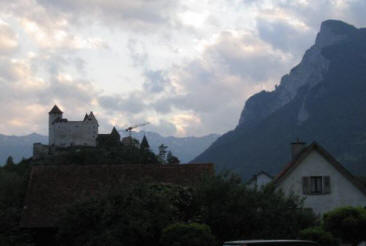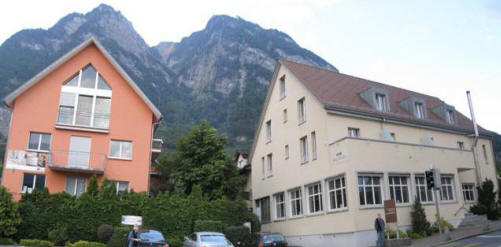 Below are stock photos of three aspects of Gutenberg Castle.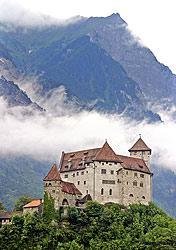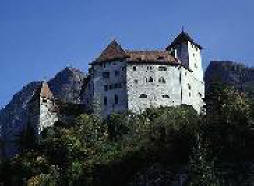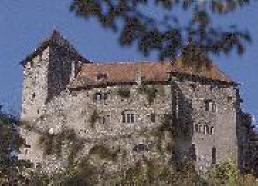 After we were seated, we met the manager, Pino Mascoli (below) who told us he was from Bari, Italy. That is the city we went to in 1997 to meet Dimitrii to do the PRL phakic lens surgery (See Italy Trip.)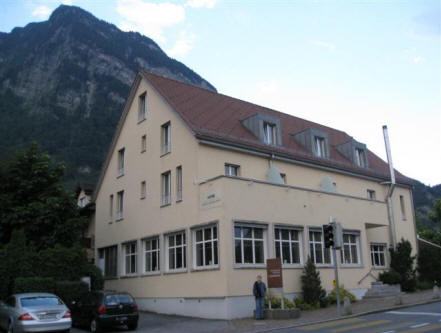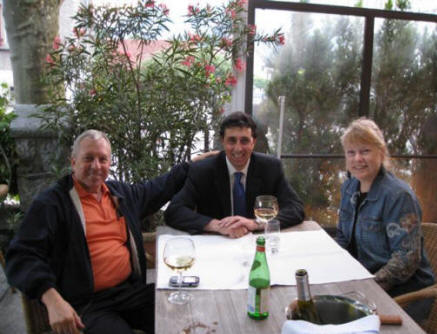 He treated us very nicely. We sat outside in the patio under this huge indigenous sprawling tree as the sun started setting.
Marcia and I ordered a bottle of Sant'Elena Pinot grigio '06 as we browsed through the menu.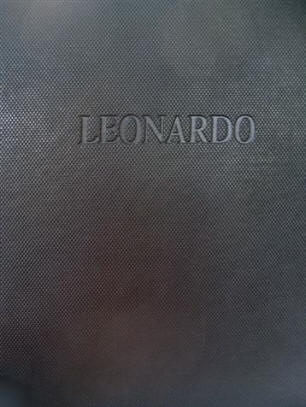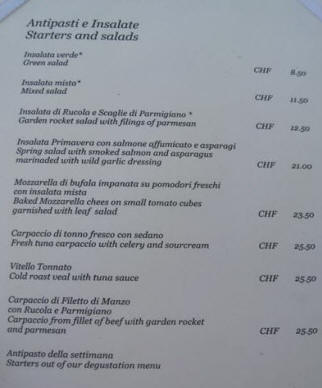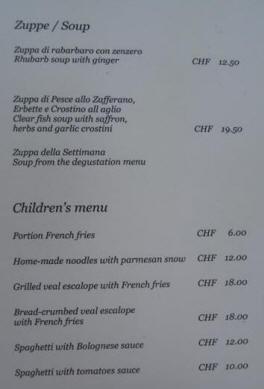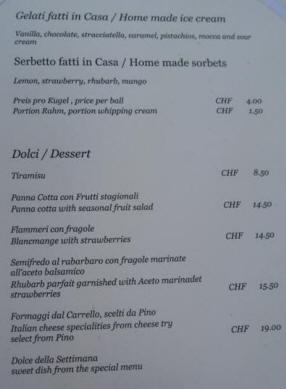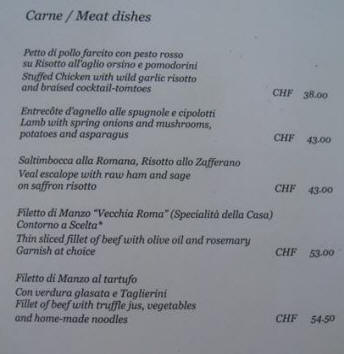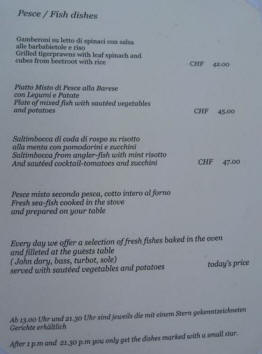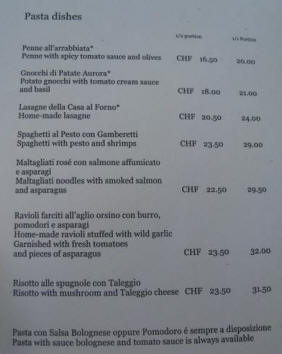 We started off sharing a plate of Italian salami (below left) and then I had a dish of Penne l'arrabiata (below right.)
Marcia had fried buffalo mozzarella with tomato sauce (below left) and then an entree of mixed pesce (fish) of sole and salmon ala Barese (right.)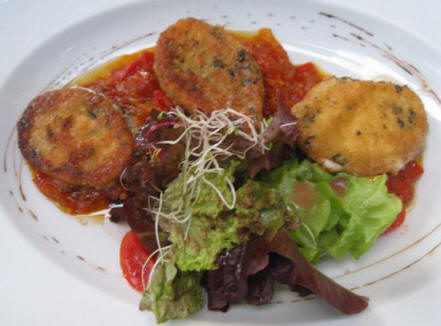 For dessert I had panna cotta (below left) and she had rhubarb semifredo (right.)
All of it was very good even though the the penne was a little dry. I looked around the restaurant and of course they had an obligatory homage to Leonardo Da Vinci (The Last Supper) and...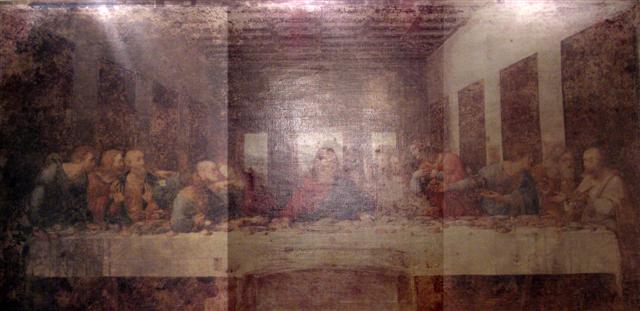 ...a wonderful special proscuitto slicing machine from Italy.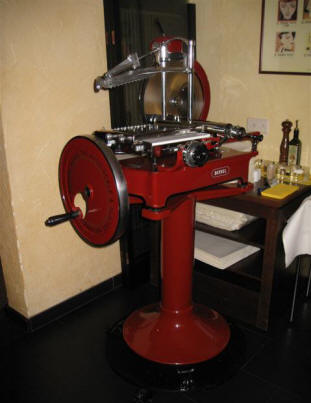 At 10:00 PM we drove back to Vaduz and at 10:30 PM I finally uploaded my FDA paper to the Journal online. The jetlag was really setting in and at 10:45 PM I went to bed and just crashed.
Kenneth J. Hoffer, MD
KHofferMD@AOL.com
Vaduz, Fürstentum von Liechtenstein
1-30-2010
[Today I celebrate quitting Smoking 25 years ago.]
If you enjoyed these travels or wish to add comments on the places we visited
Please Leave Me a Message by clicking the spinning @ sign below.