Dr. Hoffer's Travel WebSite This site was last updated 06/22/12
WEST EU 09 #9 's-Hertogenbosch

Noord-Brabent Flag
---
Thursday June 11, 2009
---
How about some history of this area. Neanderthals lived in this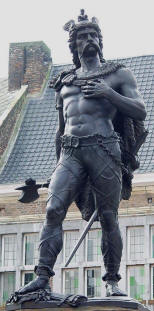 region about 55,000 BC, followed by the Reinde
er Hunters in 11,000 BC, the Bandkeramikers ("linear pottery culture") in 4500 BC. The Eburones people lived here between the Maas and the Rhine Rivers since the Ice Age when Roman troops defeated their leader Ambiorix (right) in 57 BC. He led a rebellion whereby he slaughtered an entire Roman legion and Caesar had to come back in 54 BC and put him down after 2 years of fighting. He is now considered a hero by Belgium.
After the fall of Rome, the Romans left here around 350-400 AD and later the Franks, under Clovis, invaded and took over around 500 AD.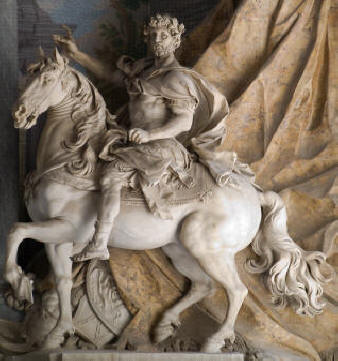 Later, his grandson Charlemagne (above & è) coalesced the Fra

nkish peoples and expanded his kingdom to include what is now most of Western Europe including this area. He was crowned the first Holy Roman Emperor by the Pope in Rome. When his Empire (below left) crumbled after 850 AD, multiple lords ruled these areas until the Duke of Brabent took over in 1244. Later it fell into the hands of Burgundy and then fragmented for years after that.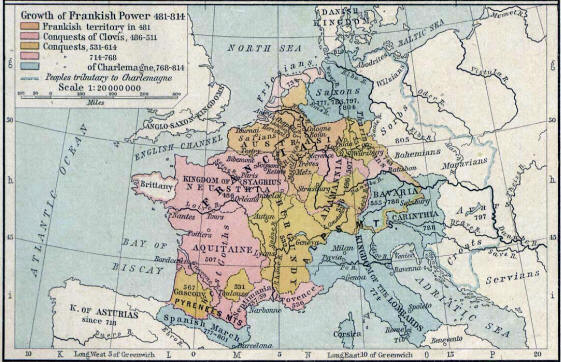 In 1579 the city was captured by Alexander Farnese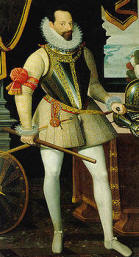 , the Spanish Duke of Parma (right) and the Spanish ruled here until 1632 when Frederik Hendrik (Prince of Orange, left) gained control for the Dutch. The Spanish
sympathized with the Catholics of the southern Low Lands against the Protestant majority in the rest of the country. Locals often joined in in helping the Spanish dominate the area preventing persecution from the Protestants. This is also why the predominantly Catholic Belgians split from the Netherlands in 1830 (see history chart above left.) The Orange coat of arms is on the left.
Below are three ancient depictions of the Spanish conquest of Maastricht in 1579 which was a major event in the history of this city.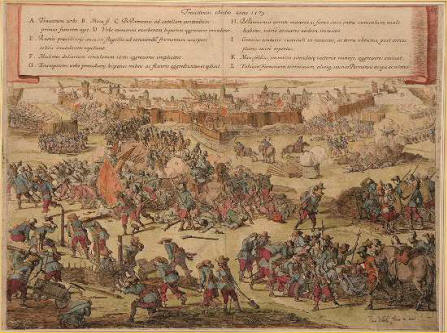 Above left shows the fighting in the Vrijthof area and above right is the siege of the walls of the city. Below is fighting on the St. Servaas bridge.
Another interesting historical note, as mentioned before, is that the famous
"4th musketeer," the Comte d'Artagnan (Charles de Batz de Castlemore) was killed here while fighting for the French King Louis XIV in the 1673 French-Dutch war when the musketeers attacked the city. d'Artagnan was killed in battle on June 25, 1673 when a musket ball tore into his throat at the Siege of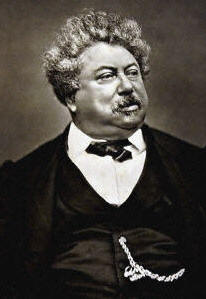 Maastricht. The French historian Odile Bordaz believes that he was buried in Saint Peter and Paul Church in Wolder, Netherlands. His statue is in the Aldenhofpark and he inspired the French writer, Alexander Dumas (left,) who made him a literary hero in his famous novels the "Count of Monte Cristo" and "The Three Musketeers."
Under Napoleon from 1794-1814, the fragmentation in the Netherlands ended. In 1815 Limburg became a province of the Netherlands with Maastricht as its capital. The Belgian revolt occurred in 1830 which split Limburg between Belgium and the Nederlands, but the battle of Kermt in 1831 left Maastricht with the Dutch. Coal mining was very big here from 1899 to 1974. The Netherlands was neutral in WWI but during WWII the Nazis captured the city on May 10, 1940 and they were liberated on September 17, 1944.
The American Cemetery is located off the N278, the provincial highway running between Maastricht and Aachen (Germany.) It is on Thoroughfare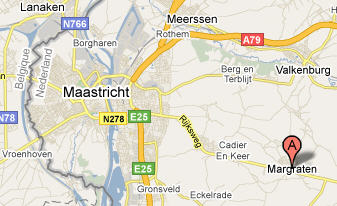 Rijksweg in the nearby town of Margraten. This is the only American WWII cemetery in the Netherlands. More than 8,000 U.S. servicemen were buried here. This cemetery was formed from 64 acres (26 hectares) of farmland which was liberated on September 13, 1944 by units of the 30th Infantry Division of the First American Army during their push to the German Ruhr region.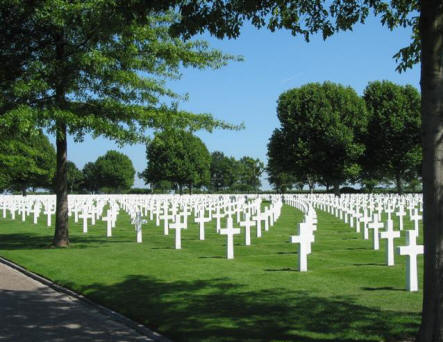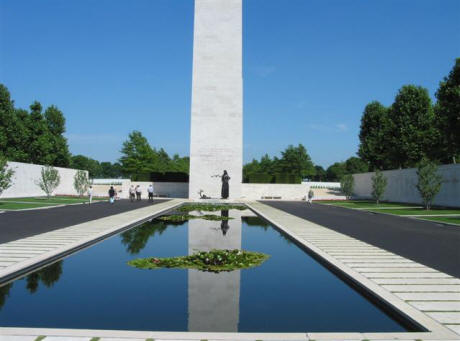 In front of the tower, there is a group of bronze figures: one is a grieving woman with doves next to a new shoot growing from the tree destroyed by the war.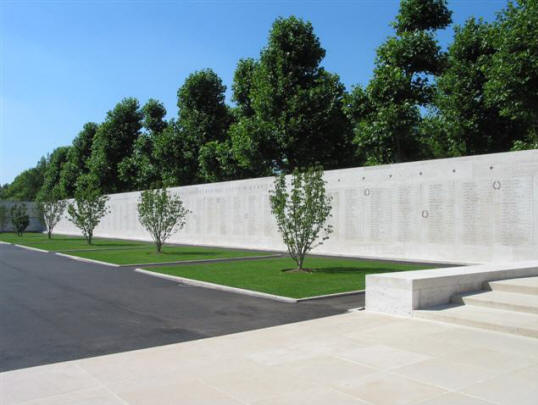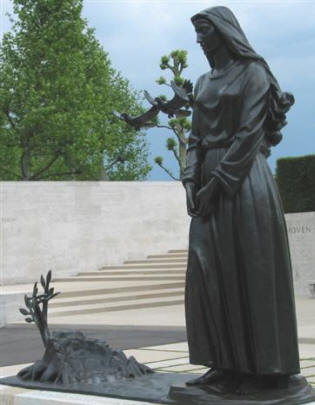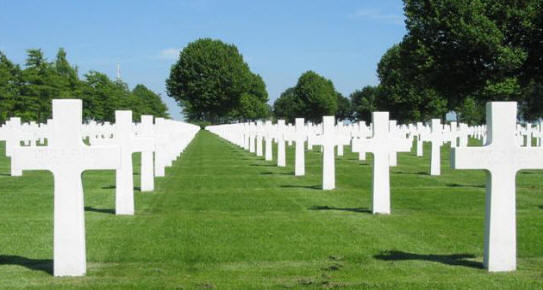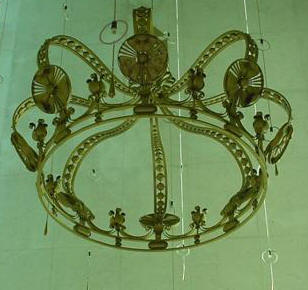 Above right is the chandelier in the chapel donated by the Dutch people. This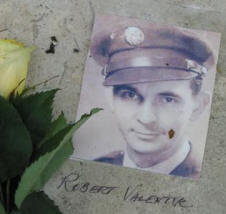 cemetery was one of the first in which American soldiers who fell in action in Germany were buried. The Ninth American Army opened the cemetery for use on November 10, 1944. The Dutch government had previously taken possession of the ground and made it available for this purpose in perpetuity. The architects who designed it were Shepley, Bulfinch, Richardson and Abott from Boston, MA.
On December 9-10, 1991, the Maastricht Treaty on the European Union was negotiated and later signed here on Feb 7, 1992 by the 12 founding members of the former European Community. It laid the groundwork for the introduction of the Euro dollar.
---
Marcia woke me at 9:45 AM and again at 11:30 AM. At Noon I got a surprising and welcome return call from Aneke Worst and made arrangements to visit her and Jan later in our trip when we return to the Netherlands. I then got up at 12:30 PM and we packed and checked out of the hotel at 1:20 PM. The parking for 2 days cost us €41 but we had little option. Below is a Photostitch shot I took of the hotel's dining room.
Here is what their delightful "living room" looked like.
I had an interesting encounter while checking out. A man was checking in and giving the lady a bit of a time because he was claiming he was a high ranking officer in the Russian police, whatever that meant. He wore this odd red uniform that I am not sure was real with a whip on his holster. I asked if I could take a photo of him and he adamantly refused. Very strange guy.
Marcia headed off for lunch and shopping and I went out to explore this city some more. At 1:30 PM I visited the Sint Janskerk Evanglican church which didn't charge a fee to enter, only a fee to climb the tower. Here is a stock photo of the view of the city from the tower of the church, which I decided not to climb. You can see the Vrijthof square (left) in front of St. Servaas church.
Below is a metal sculpture over a grave (left) and another on the wall in black and white marble (right.) Note the skeleton.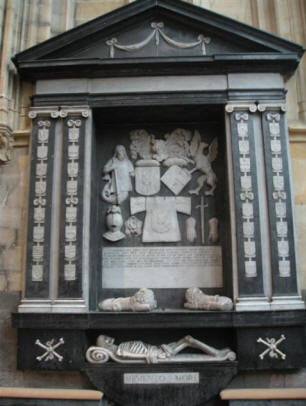 These are leftover from the days when it was Catholic. Below is the forward (left) and rear (right) views of the St. Janskerk, which, as is usually the case in Protestant churches, is devoid of statues and paintings. The organ is the most striking thing in the church.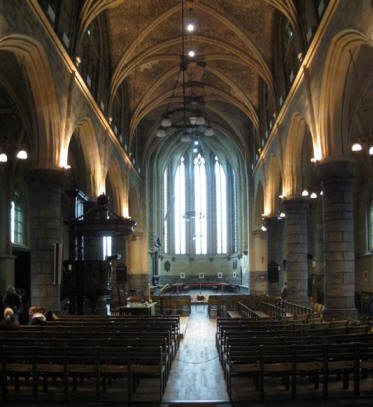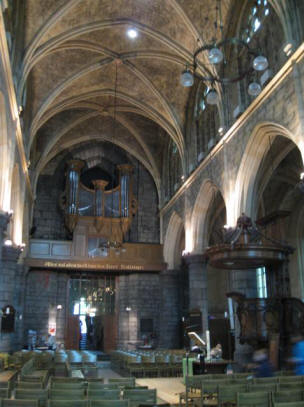 As you can see (above left and below,) the altar area has been completely emptied and replaced with a semicircle of pews and small modern art pieces on the wall. Funny that religious art had to be removed and now its replaced with modern art.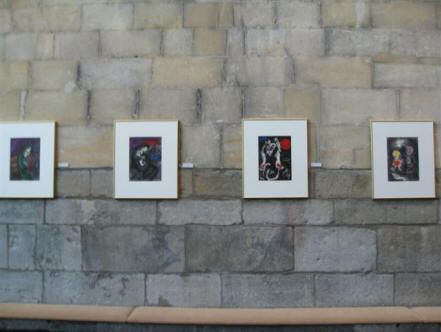 Here is a close up of some of the pieces (below left) and an example (below right) of the art that was hung here.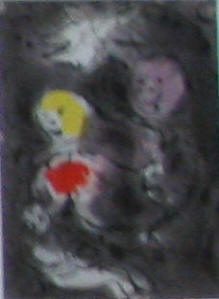 They also had this scale model of the Sint Janskerk building.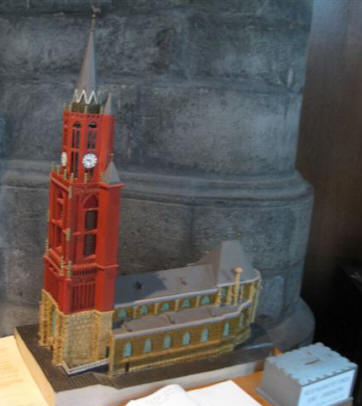 At 1:50 PM I left there and worked my way around to the entrance (below left) to Sint Servaas church and had to pay $2.20 to get in to see it (below right.)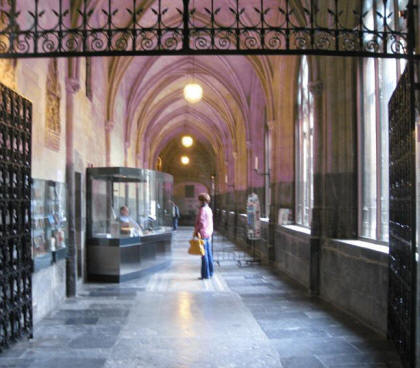 There was this interesting fountain out front with a statue of the Saint.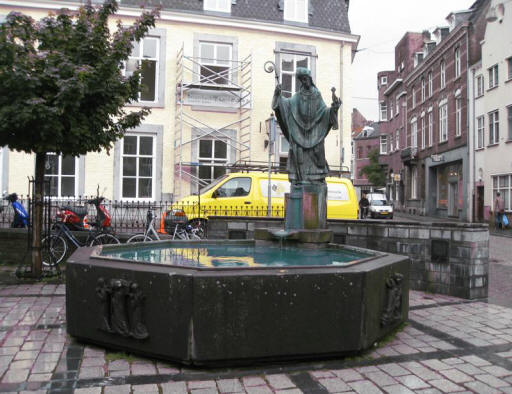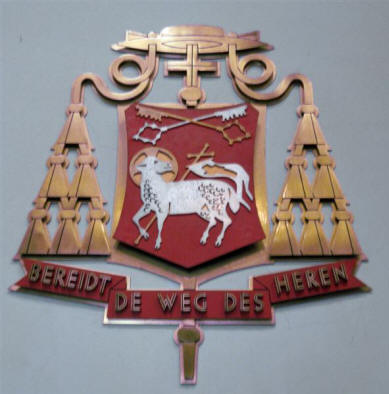 As you walk down the cloister hallway there is a large crucifix on the wall.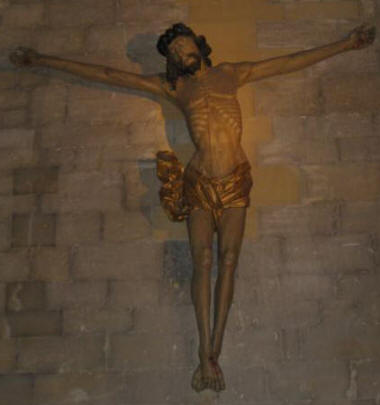 I finally got my photo of the great bell called the "Granma" and then entered the Schatkamer or Treasury (below right.)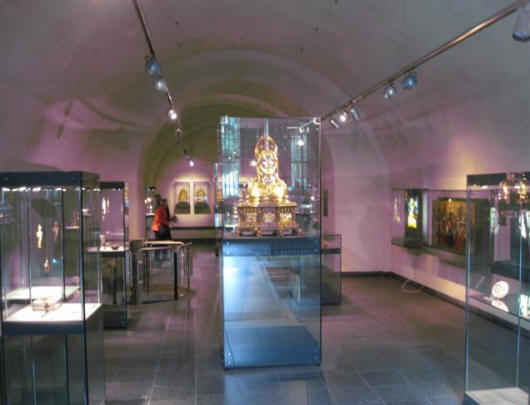 Here is my shot of the bust of St. Servaas and the cross he wore which was made in Trier in 890 AD. It is ivory with gold, precious stones and enamel.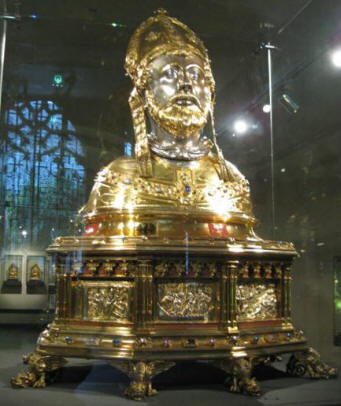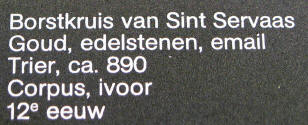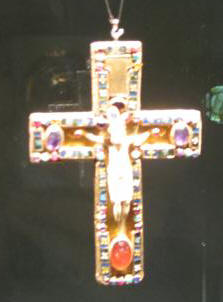 Here is a reliquary that says Mary and St. John in gilded silver from the 15th Century.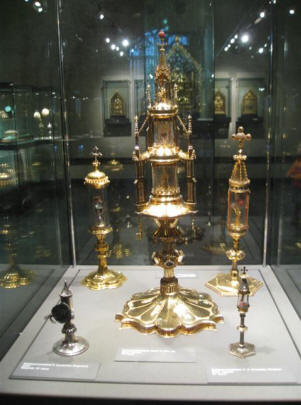 And pilgrim staffs of wood, silver and ivory used by St. Servaas.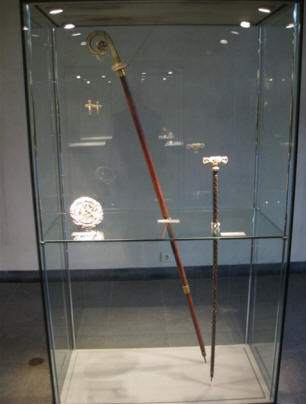 This is a reliquary holding the bones of what appears to say St. Agnes.


This one is a reliquary holding the right arm bones of what appears to say St. Catherine but the paper inside appears to say St. Thomas Apollona or Apostle.

There were many other beautiful old reliquaries holding bones of saints.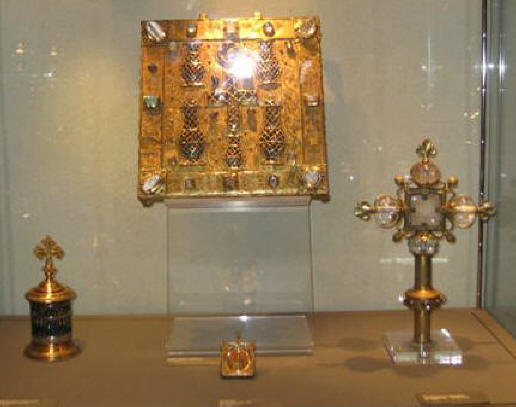 This one shaped like a book holds various organs in different areas.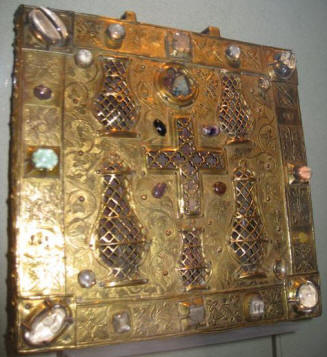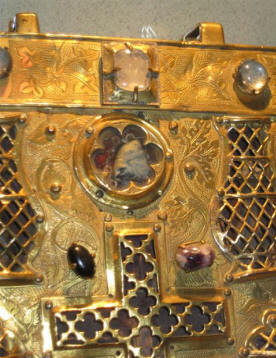 This one is the silver gilded patriarchal cross which supposedly holds a piece of the Holy Cross. Hard to believe it is here.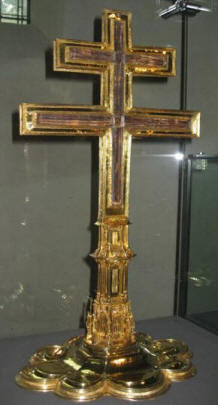 I finally find the famous Noodkist and got

my own photos of it. I took pictures from all sides with and without flash. It was made in 1160 AD and made of wood, gilded copper and precious stones.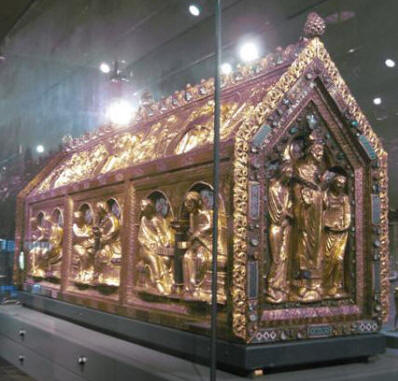 Below right is the difference between using a flash (center) and not (right.)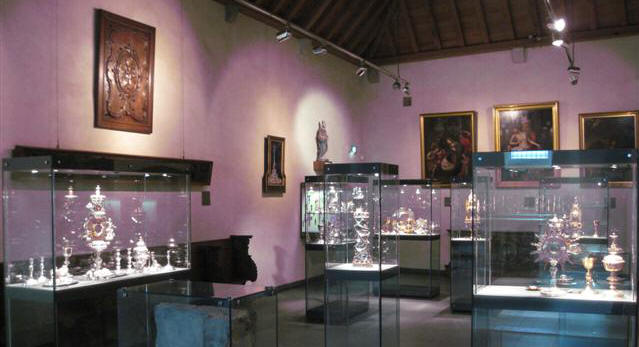 Below are various religious artifacts that are very old.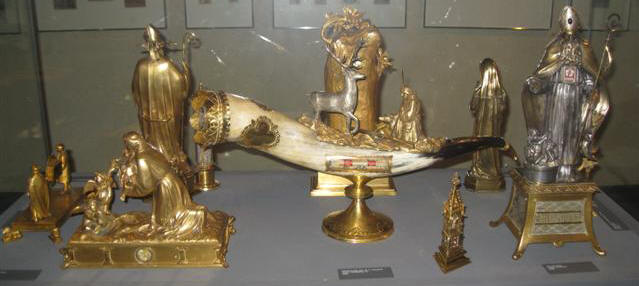 As you can see there were many things to see here.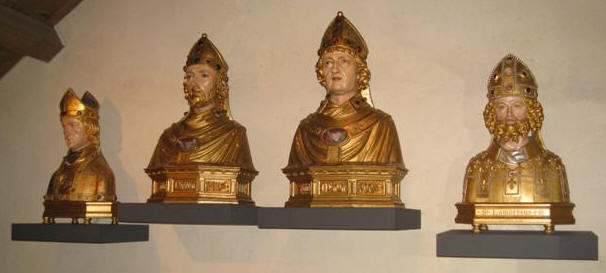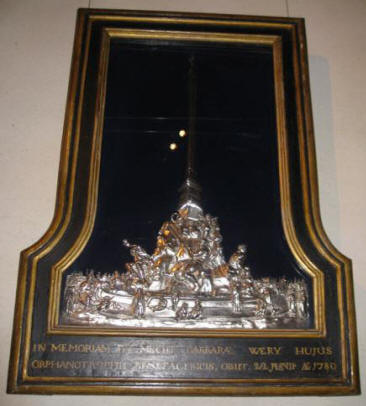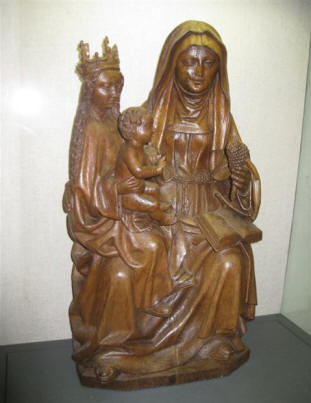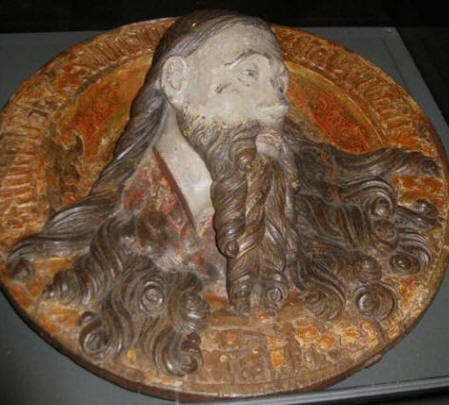 Below you can read from the posted sign about the story of the various excavations done here over the years.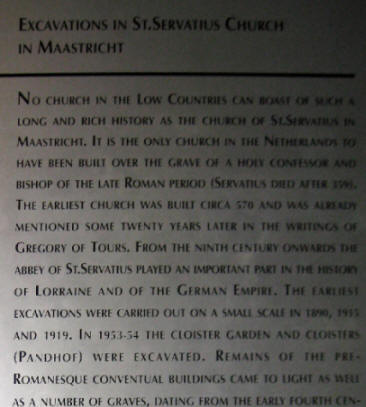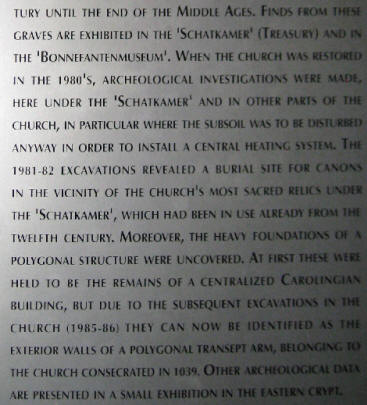 Below you see the excavated foundations of the original church.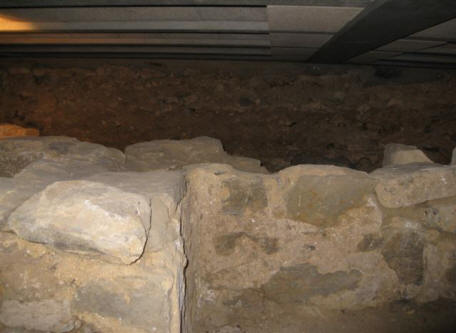 I went back up and walked into the main church. Here is my shot of the nave looking to the rear toward the organ. I get these shots of the beautiful ceilings by centering and laying the camera on the floor and doing a time-release shot after stepping out of sight. The camera never moves no matter how long the diaphragm is open.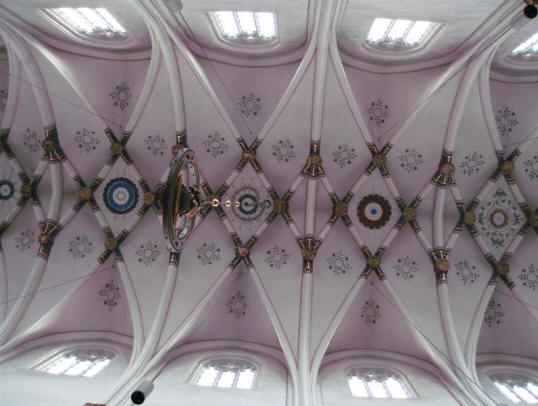 There was a girl playing the organ and it was just beautiful to listen to.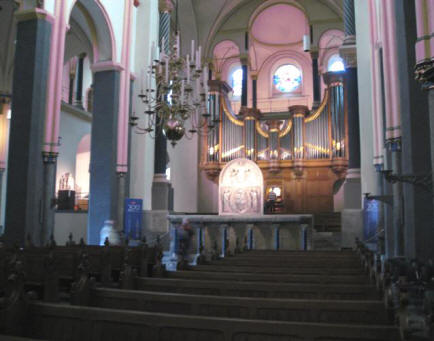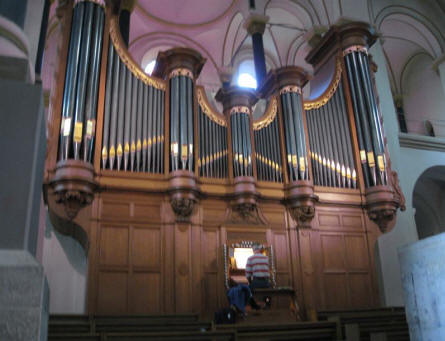 Then I got to the spot where St. Servatius (Servaas) was buried indicated by a tile on the floor and signs directing to the crypt below.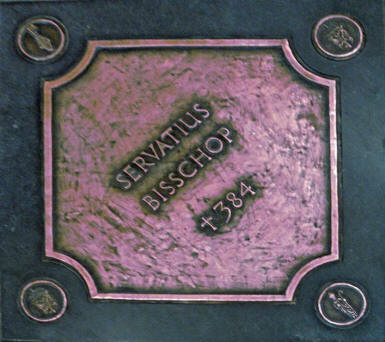 I climbed down the stairs and these are my photos of the burial crypt and room.
Behind the metal meshwork window is the original spot he was buried.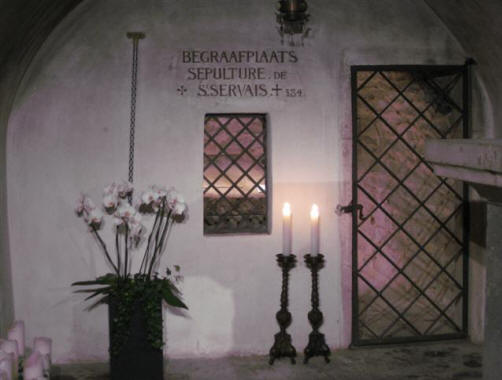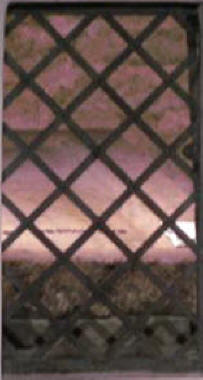 Outside the crypt they have a small chapel where Mass can be held.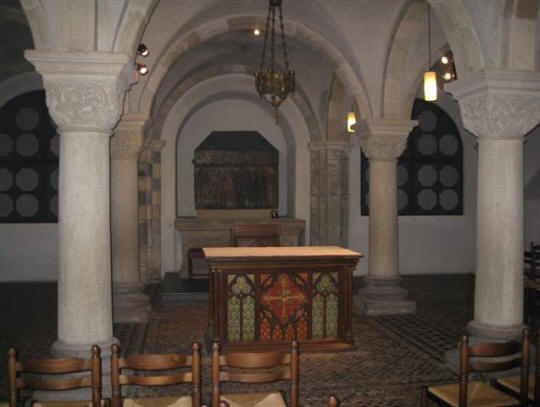 I walked back up to the main floor and there was still a lot more to see: the statues of Christ (above center) and St. Servaas (above right.)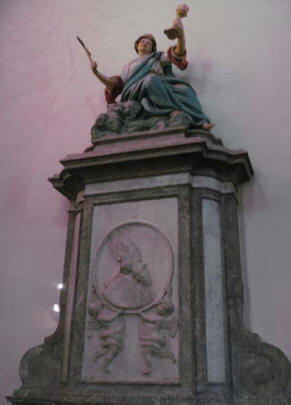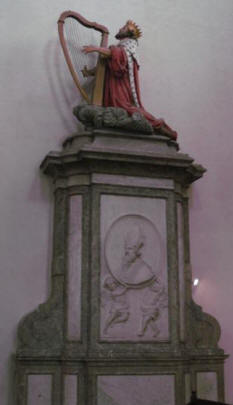 There were several grave memorials or mausoleums but the one of Hermani Frederici Comtis de Berch from 1669 (below) was quite interesting with this woman sitting up next to him in marble.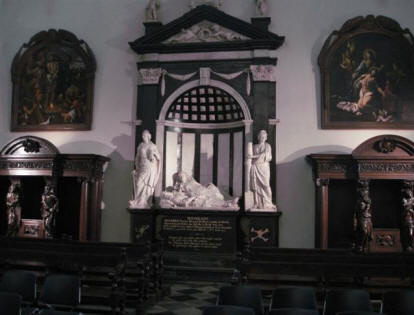 There was this Pieta (below left) of Christ and his mother and a painting of the upside down crucifixion of St. Peter (below right.)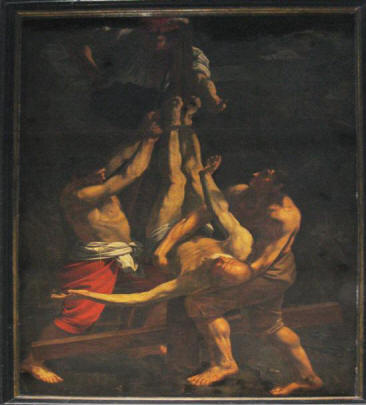 As I walked around behind the altar area, I came across these beautifully carved wooden confessional stalls.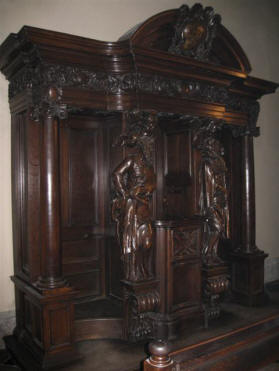 Contrary to yesterday, these are my shots of the incredible medieval stained glass windows. Center is a blowup of one of the depictions in the window below left (4th from the left.) All were taken without a flash.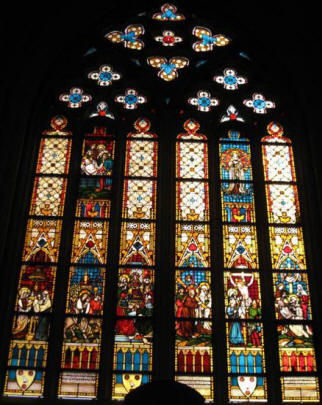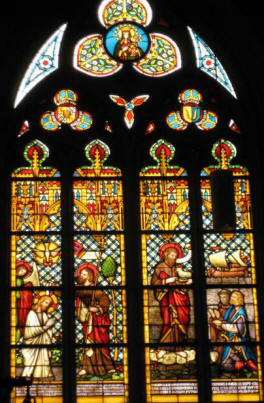 Below is a comparison of the old (left) with the modern ones that have been added (center and right.)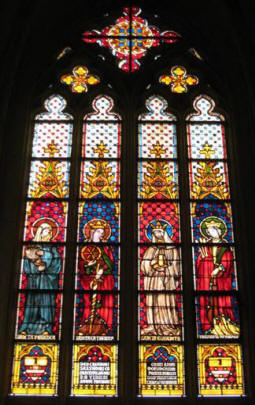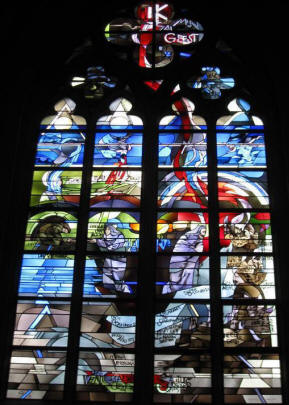 I took my own shot of the mosaic tiles on the entrance floor.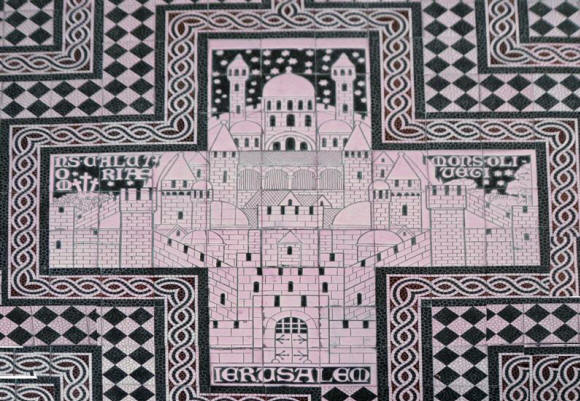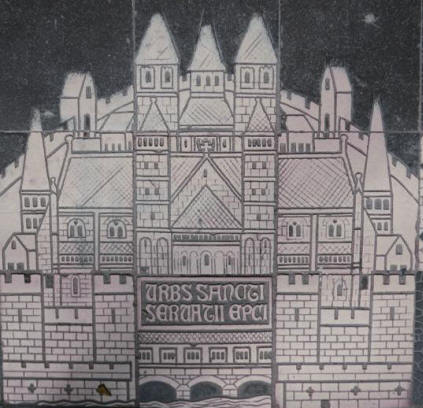 I got back outside and figured it was getting time to head out. I came across this Post Office building but thought it interesting that here in Limburg they had the coat of arms of Noord-Brabent, the province to the north. The reason was that at one time this was also the mint for Brabent.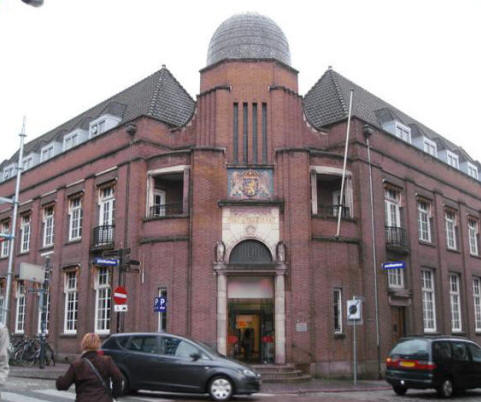 On the subject of mail, I kept seeing these signs on people's mailboxes which show combinations of Nee (no) and JA (yes) and couldn't figure out what they were for. I finally asked and found out they are indications as to what types of unsolicited mail you want to receive, thus cutting down on junk mail. Neat idea.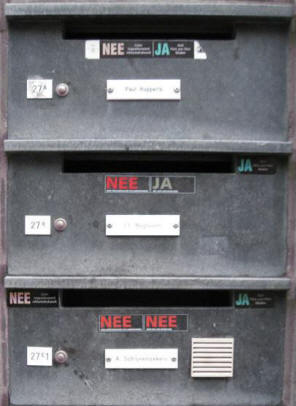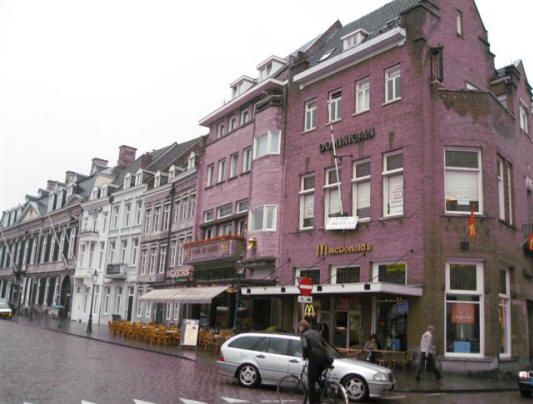 Of course the McDonald's (above right) was just off the Vrijthof in a very classy old building. Below left is a stock photo of the Mosae Forum, their large new (2007) shopping complex located near the Markt behind City Hall on the bank of the river. It has 18 shops plus a fine food market with 29 speciality shops.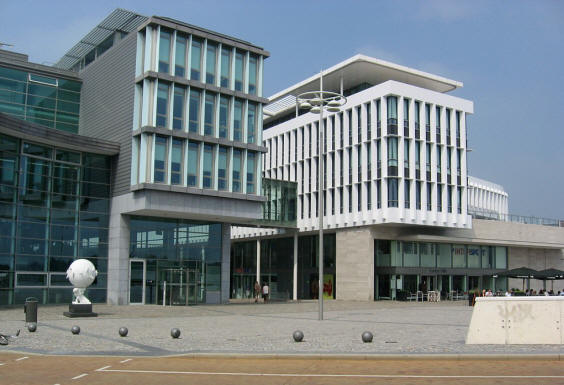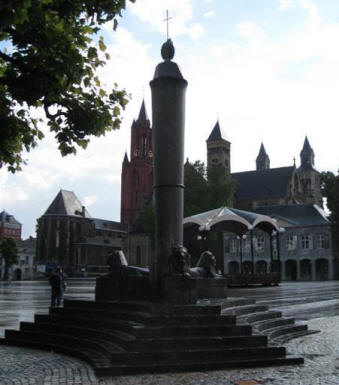 I got back to the Vrijthof and got this shot (above right) of their column surrounded by three marble lions. With the two churches in the background it was raining like mad in the Vrijthof (below left) but later cleared up (below right.)
Nearby you can see the parking of thousands of bicycles, which are very prevalent in the Netherlands.
At 2:00 PM Marcia was shopping and bought some handbags, belts, books and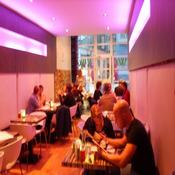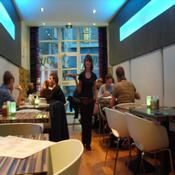 a jacket at de Bijenkorf after which she had a lunch next door of Pompoensoep (pumpkin soup) at Kiwi [Achter het Vleeshuis 27,
+31-43-321-6375] (left and right.) At 2:50 PM I decided to get out of the rain and have another cappuccino at the neat Grand Café D'n Ingel [Vrijthof 13,
+31-43-321-7226] (below right.)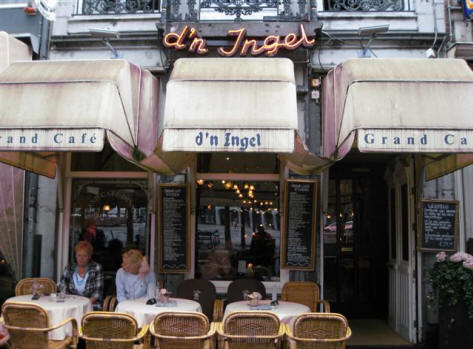 When it stopped raining you can see all the people relaxing in the outdoor patio seating of all the places down the block (above left.) I sat in the window at the front far right (below left.)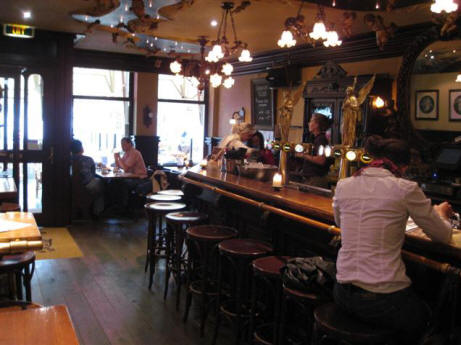 At the table next to me, I met a young man who was a beer distributor for the southern part of the country. He was a very nice chap and warned me that the Dutch people in the north are not as friendly as those here in Limburg. He prefers it here for that reason. The place was pretty big in the back (above right.) Then at 4:15 PM, I had yet another cappuccino at the Coffeelovers I went to yesterday. At 4:30 PM Marcia bought some mints and combs at a drugstore chain called Kruidvat. At the same time, I stopped back in the Hi Society phone shop and bought another €20 top up card from Rolf and he helped me put it on the phone. As you can see below, it is not always so easy to interpret the Dutch to know what to do.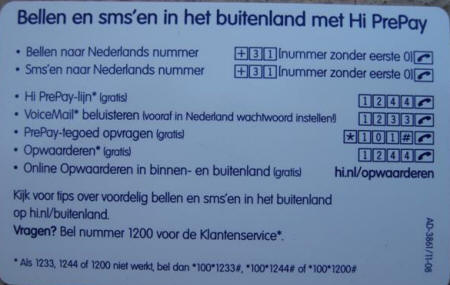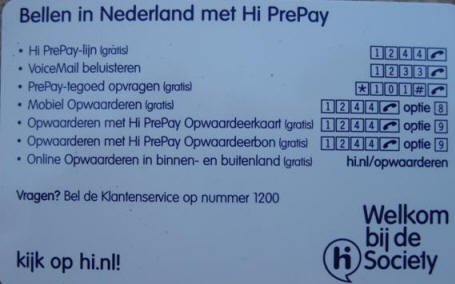 I left there and was heading back to the car when at 4:40 PM I
stumbled upon this interesting little pub that had always been closed when I
went by. I decided to explore inside the In De Moriaan [Stokstraat 12,
+31-43-321-1177] and since it was a little too early for a beer, I had yet another cappuccino. It was one of the smallest pubs I have ever been in. They had a stairway up to restrooms. The proprietor (above right) was behind the bar when I was there (below right.)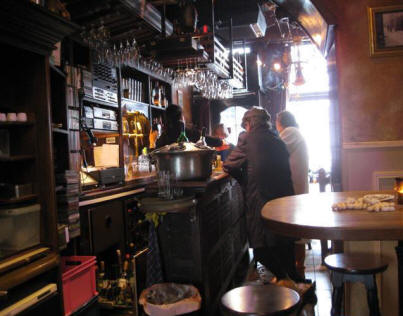 I took a look in the back and they have this little back patio where they can serve food. Below right is a stock photo of the patio crowded with diners.
At 4:40 PM I wandered into some shops and bought a pin for €3.95, while Marcia was buying supplies at V&D and then at 5:00 PM she went for a kaffe at the Metropole in the Vrijthof up the street from where I was and I met her there. She looks cute sitting there waiting for me.
All of a sudden at 5:10 PM it started to rain again and this time it turned into hail. It was quite something. We decided it was time to
head out of here. Before we leave Limburg, click on the picture of the brochure on the right to download an excellent brochure in pdf format on Southern Limburg and all its sites. We went back to the car and at 6:00 PM Marcia drove the 80 mile trip north then northwest past Eindhoven to Rosmalen which is a suburb of a major city called 's-Hertogenbosch in the next province. On the way out of town I got this shot of one more church. If you need Acrobat Reader click here

.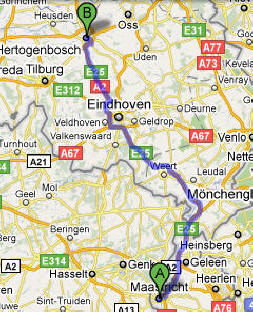 We are now entering the province of Noord-Brabent (green above) (yellow in map below) bordered by Belgium in the
south, the Meuse (Maas) River in the north, Limburg in the east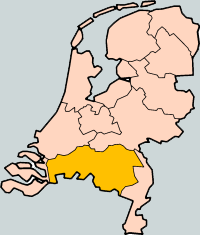 and Zeeland (purple) in the west. After the Union of Utrecht was signed in 1579, Brabant (flag right, coat of arms below it) became a battlefield
between the Protestant Dutch Republic and Catholic Spain, which occupied the southern Netherlands. In 1796, when the Netherlands became the Batavian Republic, Staats-Brabant became a province called Bataafs Brabant. This status ended with the reorganization by the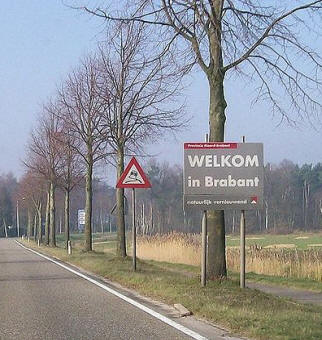 French when Napoleon conquered this area. In 1815, Belgium and the Netherlands were united into the United Kingdom of the Netherlands, and the province of North Brabant was established and so named to distinguish it from South Brabant now in present-day Belgium, which seceded from the Kingdom in 1830.
The province has an area of 1,900 mi² (4,919 km²) with a population of 2,415,946 thus a population density of 1,272/mi²(491/km².) Its major cities are Eindhoven (the largest,) Breda, Tilburg and 's-Hertogenbosch, its capitol. Dutch attempts to introduce Protestantism into the region were largely unsuccessful; North Brabant remained strongly Roman Catholic. Today it is 67% Catholic and 7% Protestant.
As I said, we drove up the E25 passing Eindhoven on our way.
It was interesting to see the number of nuclear power plants we passed.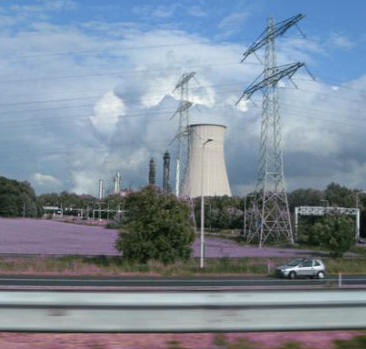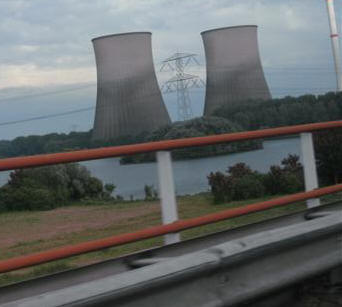 The city 's-Hertogenbosch (literally "The Duke's Forest") [French:
Bois-le-Duc, German: Herzogenbusch, Spanish: Bolduque and Italian: Boscoducale] is the capital of this province, though not the largest city. The Dutch colloquially seldom say the full name 's Hertogenbosch but rather Den Bosch which is traditional Dutch for "The Forest."

Arriving in Rosmalen at
7:30 PM, we checked into the Mercure Hotel [Burg Burgerslaan 50,
+31-73-521-9159.] This (below) is again another Accor hotel.
Other hotels in Den Bosch are the Golden Tulip [Burg Loeffplein 98,
+31-73-692-6926,] the Best Western Eurohotel [Kerkstraat 56,
+31-73-613-7777] and Mövenpick [Pettelaarpark 90,
+31-73-687-4674.] The Rosmalen city flag and crest are on the right.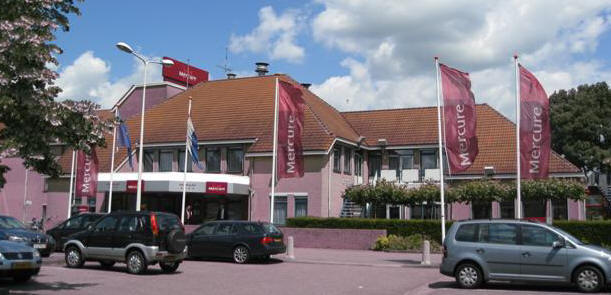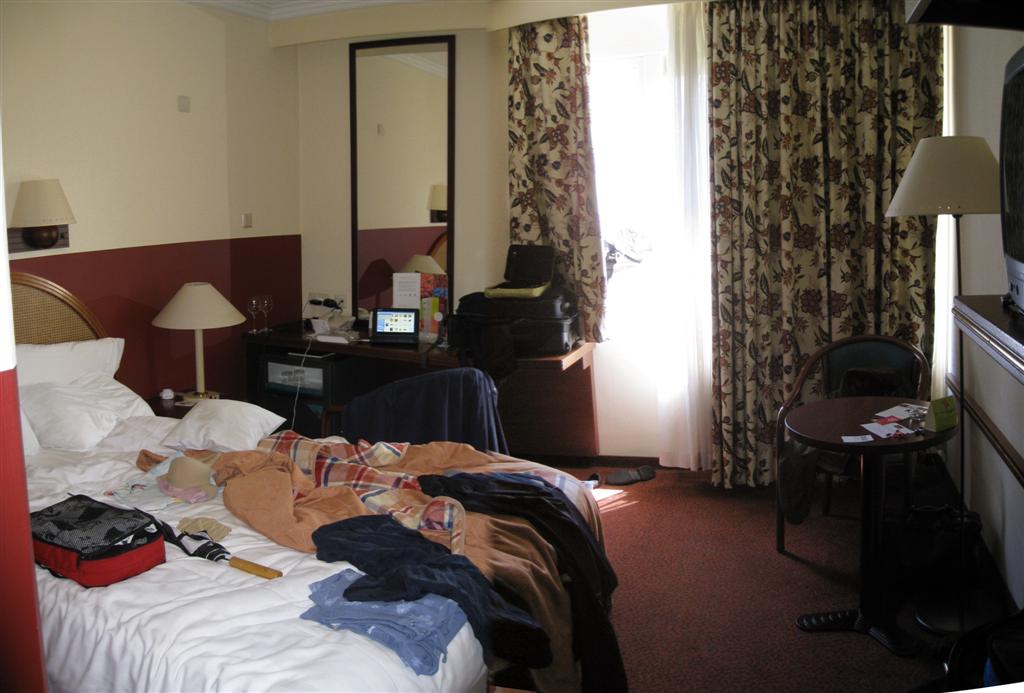 We got into the room (above right) and unpacked and at 7:45 PM I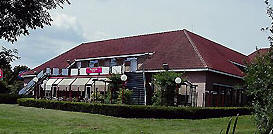 used the Accor T-Mobile WiFi which cost me €5 for 1 hour and downloaded Rush, got the puzzle and did some email. I hadn't run yet today so I changed into my running rain gear and at 8:20 PM Marcia drove the 3 miles to nearby Den Bosch. We found a place to park and then headed to the large pedestrian street and found a place for Marcia to wait for me while I ran. Marcia decided on this little place called Bagatelle Petit [Hinthamerstraat 29,
+31-73-614-6412] with outdoor tables. This is where I first became alerted to the fact that Dutch women are quite attractive.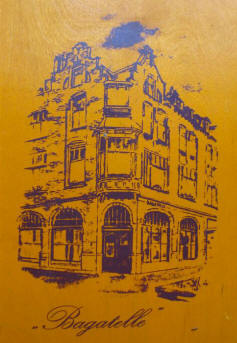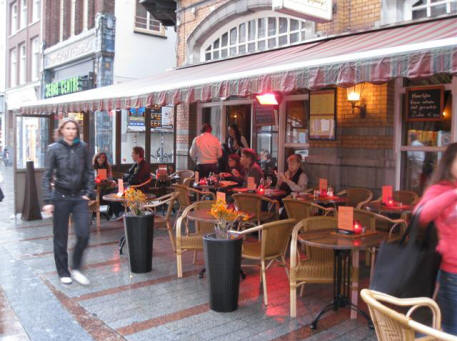 Marcia settled in and got something to drink and I went on my run and found myself at the opening of this huge square.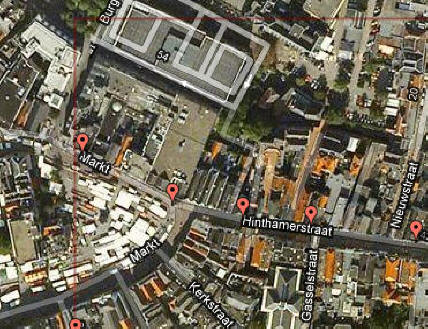 Above is looking back at Hinthamerstraat and below is looking out onto the huge plaza. At 8:30 PM I started my run into the plaza and then it immediately started to rain. I sure have been lucky on this trip. I pulled out the umbrella while I was running and it kept getting blowing inside out; it was fun.

I did these Photstitch panoramas of the plaza; above is "wide angle" and below in normal. Each projects a different feel about the extent of the plaza.
You see the prominent statue in the center of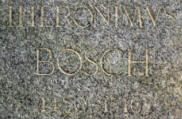 the plaza? Guess where the famous 15th Century Dutch painter Hieronymus Bosch came from? Den Bosch; he lived his whole life here. They have him holding his brush and palette with a quixotic smile on his face. His works are very strange, especially for his time.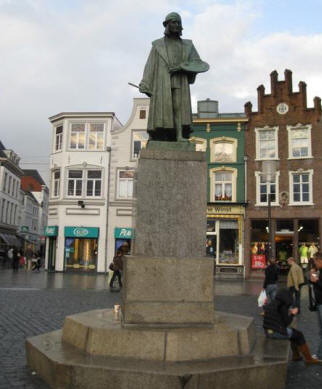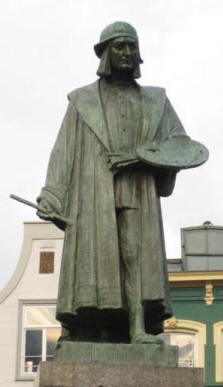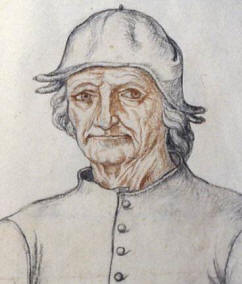 Hieronymus Bosch (left, by Jacques Le Boucq in 1550) was born Jeroen Anthoniszoon van Aken in 1450 and died here on August 9, 1516. His last name means his family was originally from Aachen, Germany, nearby. His work is known for its use of fantastic imagery to illustrate moral and religious concepts and narratives. He did many triptychs and his work has been likened to that of Salvador Dali. Here are some examples of his famous works. To really appreciate the details, right click and download an image and blow it up. Many are quite surreal.
Below is "The Temptation of St. Anthony" (left,) "Ecco Homo" of 1490 (center) and "The Stone Operation" (right.)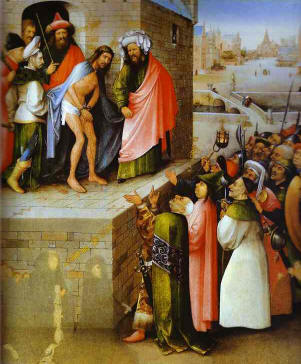 Below from left to right is "Paridiso," two paintings titled "Hell" and "The Death of the Miser."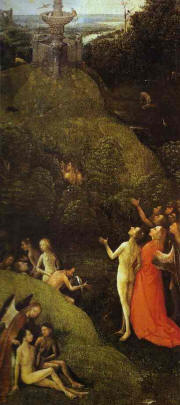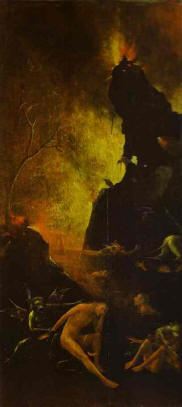 Here (below left) is the more famous triptych he did called "Haywain." It depicts (from left to right) Heaven, Earth and Hell. On the right is another "Temptation of St. Anthony."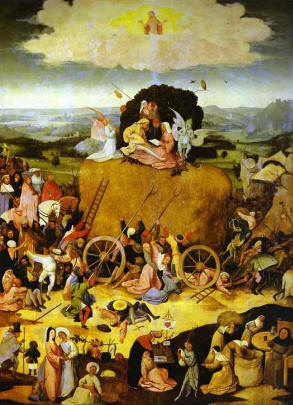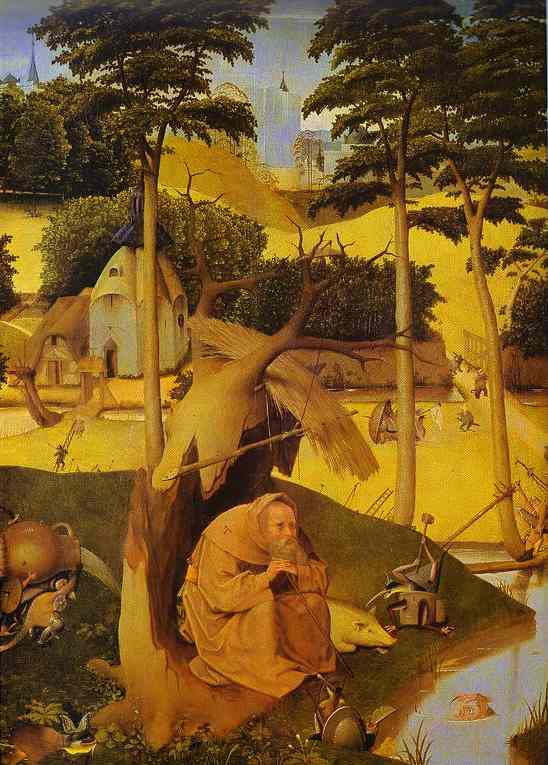 Below is his most famous and memorable piece called "The Garden of Earthly Delights" which you may have heard of. The details are incredible. To see them click on the photo and download the 9 MB file which will take some time to download but is worth it. The tiny details are incredible.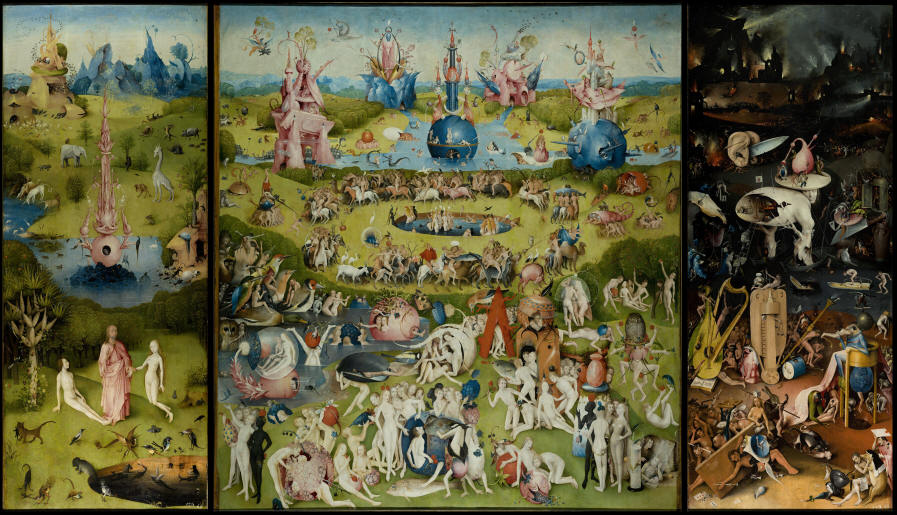 Here is the last one which I left large so you could see the details. It is titled "The 7 Deadly Sins and 4 Last Things" done in 1485. Can you name the sins?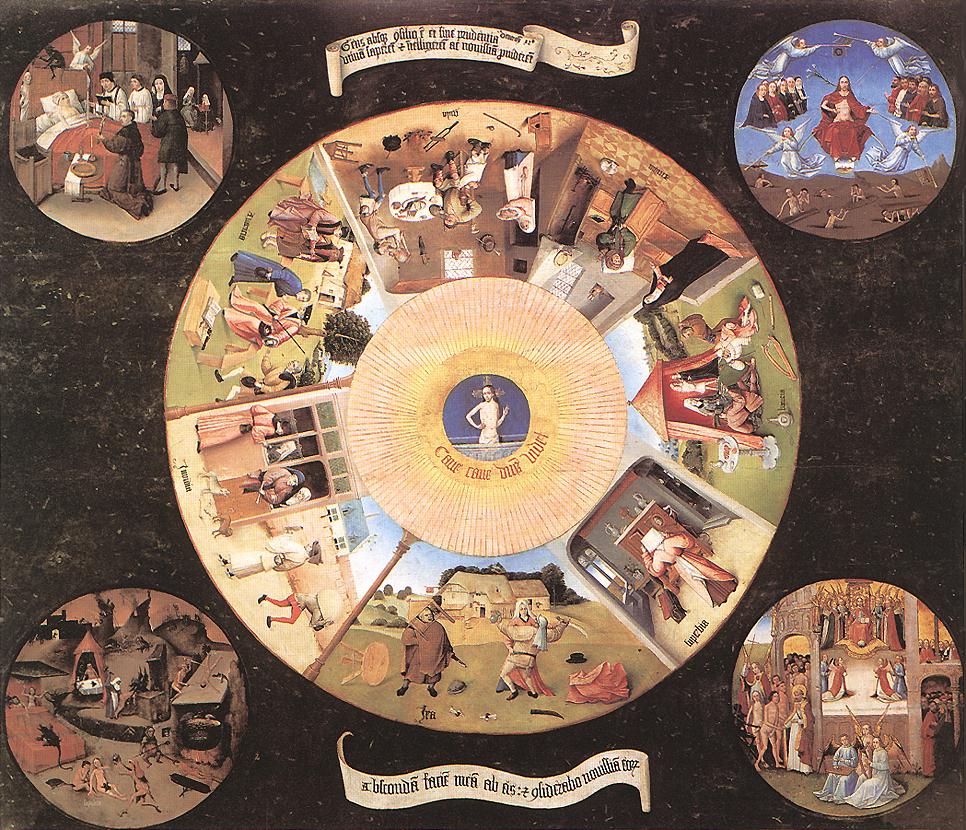 Four peripheral circles at the corners detail "Death of the sinner," "Judgement," "Hell" and "Glory". These surround a larger circle depicting the 7 deadly sins. Wrath is at the bottom, then (clockwise) Envy, Greed, Sloth, Gluttony, Lust and Pride. The scenes are from everyday life rather than allegorical representations of the sins. At the center of the large circle, representing the eye of God, is a "pupil" in which Christ can be seen emerging from his tomb. Below Christ is the Latin inscription "Cave Cave Deus Videt" meaning "Beware, Beware, God Sees." Once you have seen his art, you will never miss a Bosch painting in a gallery or museum.
At 8:50PM I came across their prestigious City Hall on Markt which says "MDCLXX" (1670.)
Below is a blowup of the statuary on the top crown of the building.

Then there was this building labeled "Hotel Central" which is really the Golden Tulip Hotel I mentioned above.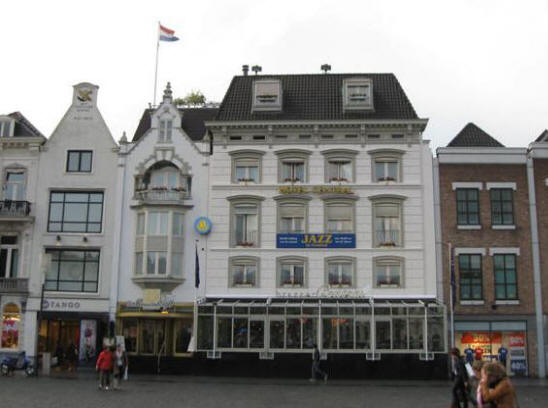 I ran my way to Hoge Steenweg and got t

hese shots this building with this classical Dutch architecture. It is labeled "F. Van Lanschot Bankiers N.V." which is an independent bank providing financial services to high net-worth individuals.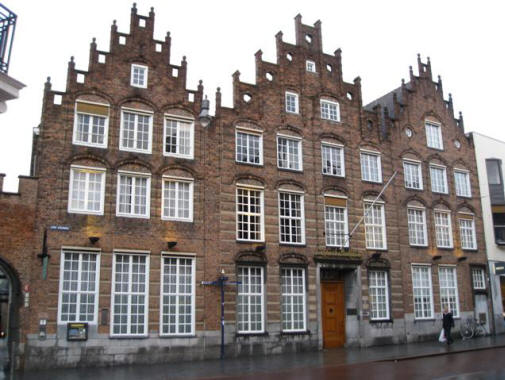 They also have a St. Janskerk and it is very huge. Below are two stock photos I found because...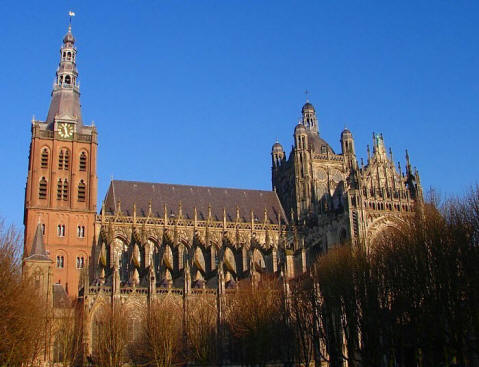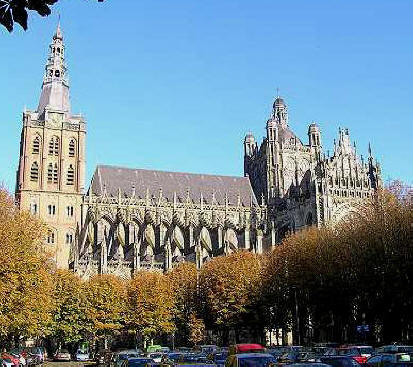 ...my shot of the church was all covered with scaffolding (below.)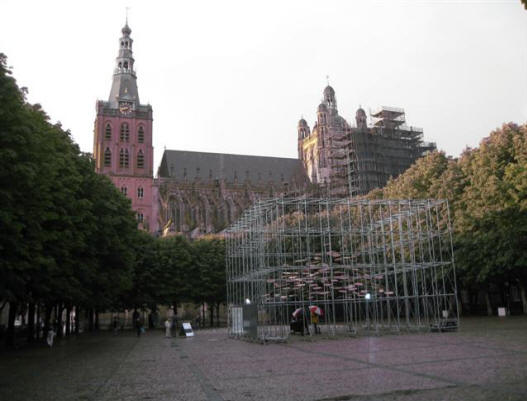 As I went down the various streets, trying to remember them so I wouldn't get lost, I took photos of what I thought was interesting. Below is this shield hung out in front of a building that may be religious because of the stone statue in the niche (left.)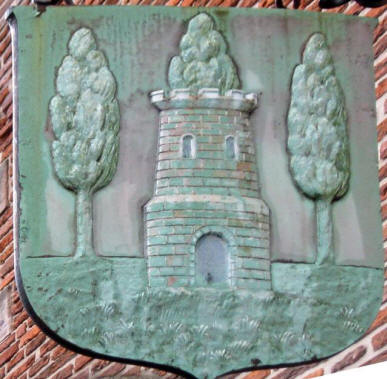 I have no idea what this little winged wizard frog holding a wand and a gift meant, but it was cute.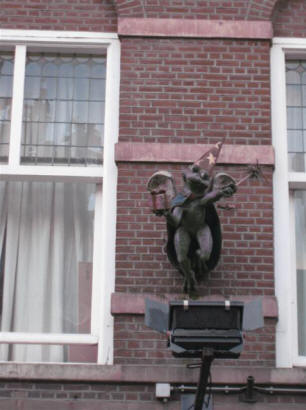 Then I came across this large wall art labeled "Maatschappij van Brand verzekering voor het Koningrijk" showing a King heading out to battle. The translation is "Society of Fire insurance for the Koningrijk." It was really a beautiful piece.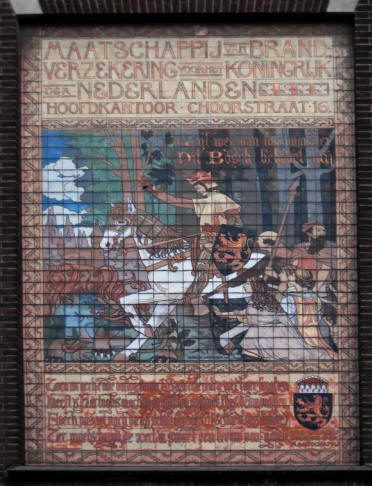 I got back to the main Markt and they had these two large trucks with their sides opened up selling fresh fish cooked as you want. I decided to wait until I finished running to get some shots of this but when I got back they had already closed them down. This is why I usually try to take photos while I am running.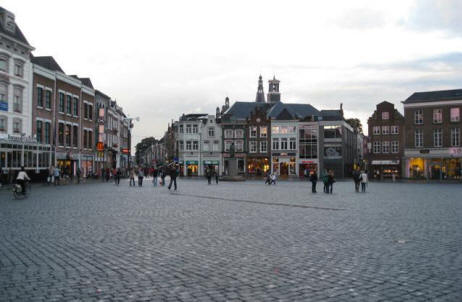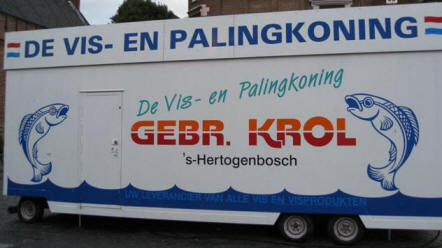 This square is huge and there are many classy stores and tons of restaurants all over it. I finally was done and found my way back to the Bagatelle at 9:00 PM to join Marcia and helped her finish her glass of wine.
We were told that the place to eat was at a restaurant on this little street called Korte Putstraat, so we asked for directions and finally found it. Boy, were they right. We walked up and down trying to decide which one to go in and they all looked great. This was worse choosing then the street in Lyon, France or Brussells, Belgium.
Above you can see the quartet playing music in the street with outdoor tables on both sides of the street. It was really festive and lively. At 9:20 PM we finally decided to have dinner at this very inviting and popular place called Bistro Tante Pietje ("Aunt Peachy") [Korte Putstraat 14,
+31-73- 612-7027.] Below is their extensive menu which can be read if you download the photo and enlarge it.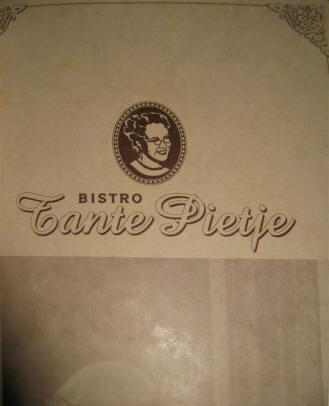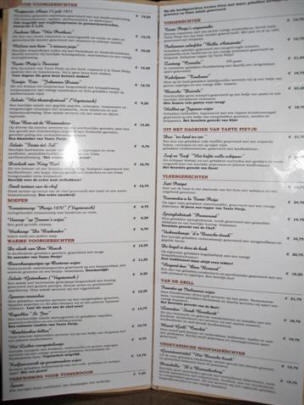 The place was jam-packed and it since we had no reservation (which we never have) it looked like it might be difficult. I decided to chat up the pretty waitress and she asked us to wait just a minute and she would get us a table. We finally got one and Marcia sat down while waiting for the table to be setup (below.) It was the last empty table in the place.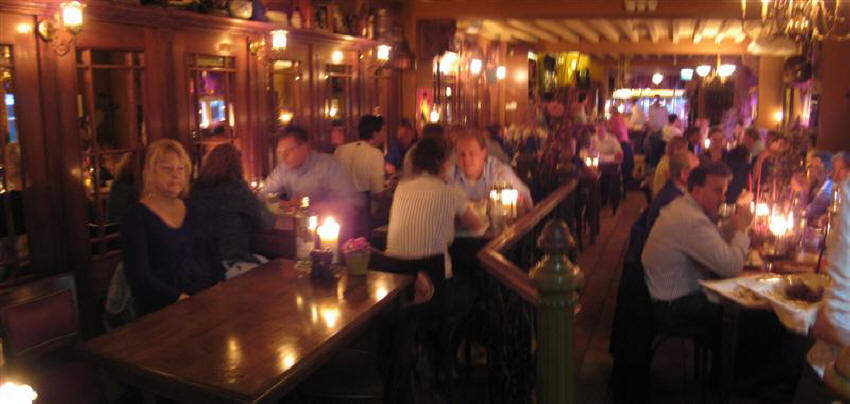 This place was really lively and I could see we were going to have a great time; and we did. I ordered a glass of Hertog Jan bier and Marcia had water with gas. Our waitress demanded to take a picture of this old couple; she was very nice.
I started with (below left) "Grandmother's" veal sweetbreads in red port wine sauce with apple slices (Kalfszwezerik op grootmoeders wijze Krokant gebakken kalfszwezerik met een rode-portsaus en stukjes appel.)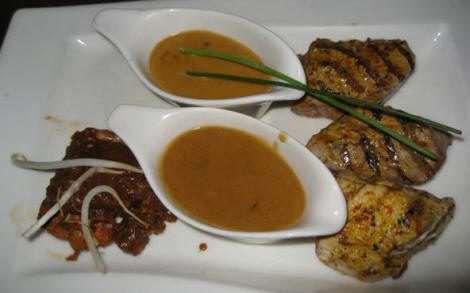 Then for my entree (above right) I had the Mixed Grill "Courbet" of pork tenderloin, veal escalope and chicken breast with a saté and peanut sauce (Deze mixed grill bestaat uit varkenshaas, kalfsoester, kipfilet en saté met pindasaus.)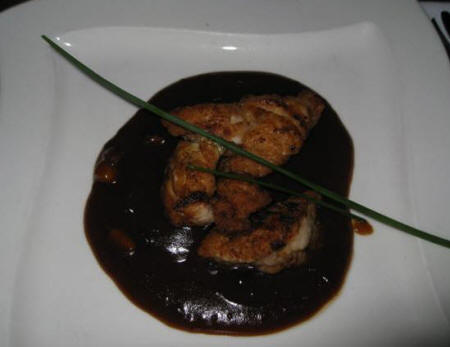 We shared these 4 sides (above left) of two types of salads (above) and roasted potatoes and French fries (below.) Marcia ordered a glass of local white wine and still water and then for dinner she had Tournedos a la Tante Pietje which is fried beef filet with creamy pepper sauce (Op eigen wijze gebakken ossenhaasfilet, geserveed met een romige peppersaus.) Then she had strawberries with whipped cream (below) for dessert and I had a cappuccino. All excellent!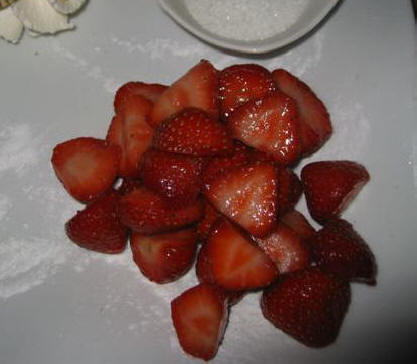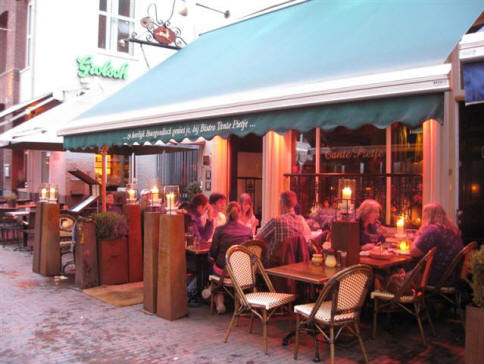 We enjoyed being inside but many people enjoyed the outside dining area. I think we picked the best place but all the other places were also packed. I researched the other good places to eat on this street:
De 5 Kamers [Korte Putstraat 23, +31-73-613-2779]

Le Méridien [Korte Putstraat 20, +31-73-612-2226]

Brasserie In den zevenden hemel [Korte Putstraat 17, +31-73-690-1451]

In de Bossche Eetkaemer [Korte Putstraat 9, +31-73-613-2828]

Bruschetta [Korte Putstraat 7a, +31-73-612-5232]

Allerlei Visserij [Korte Putstraat 19, +31-73-614-1770]
After walking around for a little while, we walked back to where we parked the car and at midnight Marcia drove the short 3 miles back to our hotel. When we got back we decided to have our Accor Favorite Guest free glass of wine and sat and relaxed awhile until we went to bed at 1:15 AM. It was a good decision to stop here on our way to Amsterdam and visit this, our 2nd province of the Netherlands.
[Today is the Baptism of my two little grandsons (Wesley and Erik) and my grand-niece Eva - a 3-in-1 at St. Monica's Church]
Kenneth J. Hoffer, MD
KHofferMD@AOL.com
Den Bosch, Nederlands
6-12-2009
If you enjoyed these travels or wish to add comments on the places we visited
Please Leave Me a Message by clicking the spinning @ sign.