Dr. Hoffer's Travel Site This site was last updated 05/18/13

---
May 24 to June 3, 2007
---
[Well, here we go for the 6th time and celebrating our 10th anniversary of European 3-month travels. I am writing this on my Palm phone sitting in the Dresden Museum cafe in the heart of the old East Germany. I have not had the time or inclination to write any Diarios until today because I know that it is impossible to keep pace with them while traveling. Since I have only gotten as far as Moscow in our 2003 Scandinavia trip and as far as Lyon for our 2005 trip to France, I must go about this a different way. I thought of writing short diarios with just a few photos and sending them out while here and then fill in the details and all the photos later. [Unfortunately, that never happened.]

Diario #1 will recount my Amtrak trip from LA to Boston and our visit in Maine. Diario #2 will be our flight and arrival in Germany. In planning ahead, I decided to shorten the flight from LA to Munich from 12 hours to six by using up my free Amtrak miles and go First Class on the train to Boston. This way Marcia and I could visit Rockland, Maine, her hometown. We were there in 2004 to spend the whole month of August with her mother, just two months before she died at the age of 94. She got very sick during our trip to Scandinavia in 2003 and I prayed she would get better and at least last long enough for us to spend a month with her in the summer of 2004. My prayers were answered almost precisely.
---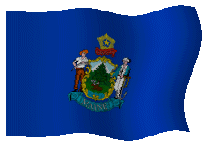 PRE-TRIP TO MAINE
---
California to Maine by Amtrak and car.
---
Thursday, May 24, 2007
---
I did my last run on my treadmill at home at 1 PM and spent the next three hours doing final packing. Going through the planning for what to pack for a three month trip never gets easier, but we did it. At 4 PM I went to Peets for my last cappuccino and met Vince Daukis there by coincidence. Vince, you'll remember, got me started building this website for my Diarios. At 5 PM, Marcia drove me to the downtown LA Union Station.
Scene left and right at LA Union Station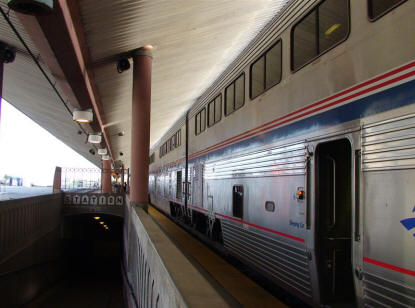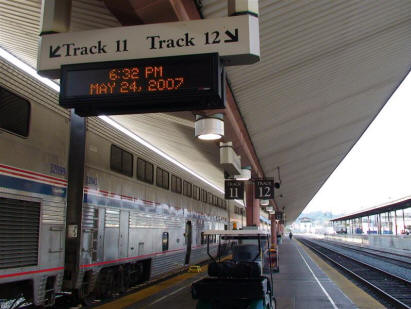 By 6:30 the redcap was putting my bags into my bedroom aboard Train #4, the Southwest Chief, and we pulled out of Union Station remarkably on time at 6:45. Below is the route and stops for the Southwest Chief.

After getting settled in, I went to the dining car at 8:15 to have dinner and was in bed by 4:30 AM.
---
Friday, May 25, 2007
---
I woke at 9 AM and then again at 11:30 and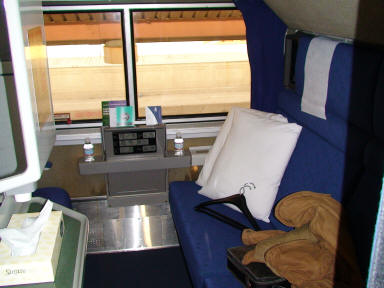 we were just arriving in Albuquerque, where I could get off the train and do my run. The air is thin here, so it is a little more difficult. I stopped in a the Third Alarm Cafe in the bus part of the Transportation Center at 12:15 and had a cappuccino and bought a newspaper. We departed Albuquerque on time at 12:40. I had dinner at 8 PM and was in bed by 12:45. At left is a photo of a Deluxe bedroom on the Southwest Chief before the beds are made up. You get a desk and your own private bathroom with shower in your room.
---
Saturday, May 26, 2007
---
I awoke at 2 AM and then slept until noon. We arrived at Chicago Union Station three hours late at 6:20 PM due to some flooding we encountered during the night. My car attendant helped me get my bags off the train and I rolled them to the cab stand in front of the station. He drove me to the Ritz Carlton Hotel on E Pearson St. I went to the Carlton Club on the 12th floor, thanks to my friend and colleague, Dr. Manus Kraff of Chicago.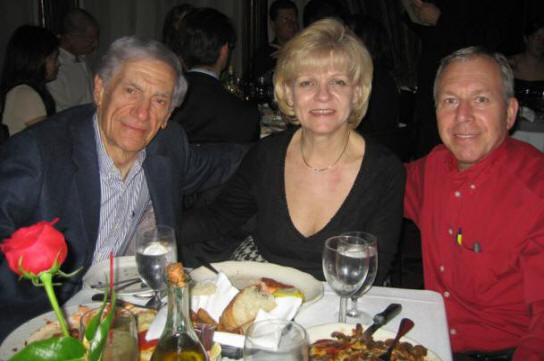 I had called him yesterday and he told me I could use his private club to do my run. At 6:45, I did my run on their spa's treadmill. At 7:25, I took a cab to Il Mullino New York Restaurant [1150 N Dearborn,
+1-312-440-8888 (corner of Elm)] to join Manus and his wife Mary Jo who took me out to dinner. We had a very good time reminiscing about the old days. When I started the ASCRS (Cataract/Lens Implant Society) in 1974 I chaired all the scientific meetings until I retired in 1981. I recommended that they replace me with Manus Kraff. They did and he chaired the meetings for the next quarter of a century. He helped make the ASCRS meetings the most attended in the world today for eye surgeons worldwide. For that I am most grateful to him.
At 9:10 I took a cab back to Union Station and I got on the Lake Shore Limited (Train #48) at 10:00 and we took off on time.
Below is the route with the stops of the Lakeshore Ltd from Chicago to Albany and the Albany-Boston (non-sleeper) route. Below right is our train conductor.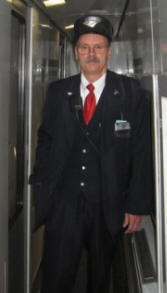 At 10:15, I enjoyed a wine and cheese event and met James and his wife from St. Louis. Due to an error, they originally put me in a small bedroom. I asked the conductor (above right) if he could get me a larger one, since that is what my Amtrak points entitled me to. He said he had to call Guest Rewards and go through a lot of stuff but he finally came through and got me into a deluxe large room at 11 PM. He's a great guy.
Below, walking through the sleeping car and baggage car (where I have done my run in the past.)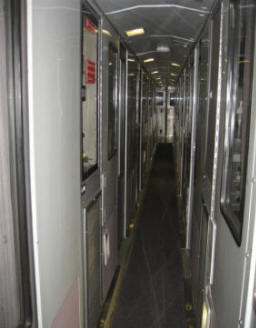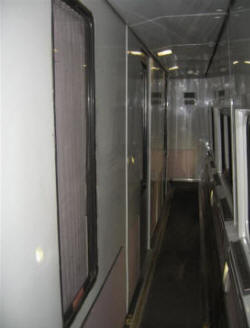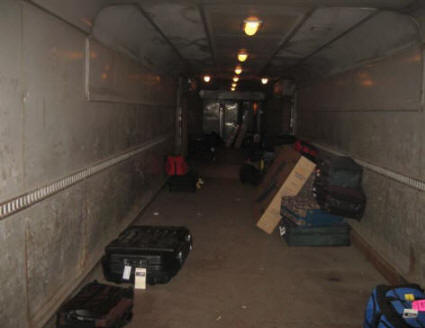 When I was in the smaller bedroom, I called and talked to my 4 year-old granddaughter Anabella, but I guess I was too loud because the nude old guy in the room opposite of mine exposed himself when he pulled his curtains open to yell at me to quiet down. That was a sight I could have missed. I finally went to bed at 4 AM.
---
Sunday, May 27, 2007
---
On this fourth day away, I woke at 7:30 AM and then again at 11 and found we had arrived in Rochester, NY, one hour late. I unfortunately missed Sunday Mass. Marcia flew from LAX to Boston at 3 PM. The train arrived in Albany, NY at 4:05 PM. I now have to get on another train that doesn't have bedrooms. At 4:10, I did my run in the station and finished it on the train. That happens when there isn't enough time.
table-Cloth dining room and wine and cheese. Not a bad way to travel.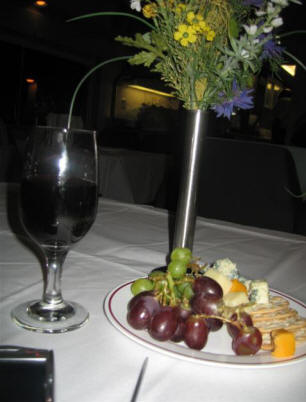 We departed from Albany at 4:45 on Train #448 in Business Class which means I no longer have a private bedroom. At 9:30 PM, Marcia called to tell me she had arrived and was driving the rental car to her brother Charlie's house in Melrose (a suburb of Boston.) The train arrived at Boston's South Station at 9:45 PM and I wheeled my bags into the food court area. I bought three Auntie Anne's pretzels but they were stale. Charlie and Marcia picked me up at 10 PM and we drove to his house. His wife, Cathy prepared a wonderful dinner of Cobb salad and Key lime pie. It hit the right spot. It was good to see them again. I went to bed at 1 AM.
---
Monday, May 28, 2007
---
Today is Memorial Day (in 1970 Memorial Day was our wedding day.) I woke at 10 AM and then again at 3:30 PM and again at 5 when I finally got up.
I went out for my run through the town of Melrose at 6:30 and at 7 had a cappuccino at their downtown Starbuck's. This is a rare Starbuck's that makes a decent cappuccino. I can remember when they had no idea what a cappuccino was in this town. I got back to the house and at 8:30 the four of us went to dinner at the fabulous Legal Seafood Restaurant in Cambridge [5 Cambridge Center,
+1-617-864-3400 or 20 University Rd, 617-491-9400.] This place is one of the best for seafood on the East Coast and their main place in downtown Boston is great [100 Huntington Avenue,
+1-617-266-7775.] If you are in the Boston area, you have to try it. I went to bed at 2 AM but was not able to sleep all night which is very unusual for me. It can't be jetlag; I haven't been on a jet yet.
---
Tuesday, May 29, 2007
---
I woke up at 7:30 AM and again at 8:30 when I got up and got into my running gear. To makeup for missing Sunday, I ran to St. Mary's Church for Mass at 9:10. I then went to Starbuck's for a cappuccino and then to CVS Pharmacy. My cardiologist put me on large doses of fish oil and they came in thick heavy glass jars. To cut down lugging 4 months of them to Europe, back in April, I asked my friend Dimitrii to take them back home to Milano with him along with several weeks worth of my other vitamins and non-prescription medications. He was going to give them to me when we met at the Vienna meeting three days after we arrive in Germany. However, he just told me he may not make it to the meeting and I might not see him until a month later in Rome for Kevin's Wedding. So I was shopping to make up the missing stuff I would need in the interim. I got back to Charlie's house at 1 PM and did my AOL email and downloaded Rush on Charlie's computer.
We packed our bags and at 2:30 PM we left Melrose and headed northeast to Maine. We crossed the Maine border at 4:20 and arrived in Freeport and had our first lobster rolls ($42.10.) At 4:50, we drove to
Rockland. We arrived at 6:05 and checked into the Berry Manor Inn B&B [81 Talbot Ave,
+1-800-774-5692, +1-207-596-7696.]
It's two blocks up the street from the house Marcia grew up in. The owners, Cheryl and Mike, converted one of these old manor houses on Talbot Ave into an heirloom. We got unloaded into one of the lovely rooms in the converted garage (right.) The bedroom was plush and the bathroom was huge with plenty of room and a Jacuzzi tub.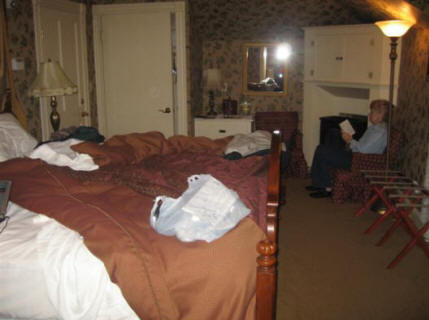 Then we went down to her Mom's house at 7 PM. We met with Charlie's son Matt and his girlfriend Jana. Matt inherited the house where Dr. Wasgatt also had his medical practice office, when Mrs. Wasgatt died.
Eleanor Wasgatt (left) Matt & Wes Wasgatt (right)
The photo was taken at Wesley's wedding in Florida, where he lives. Matt has done a lot to improve the house so some rooms could be rented out. Marcia then drove us northeast to the nearby charming seaside resort town of Camden and we had dinner at the Water Front [Bayview St.,
+1-207-236-3747.] I guess the lobster was so good, I forgot I to take any pictures. Camden is a very picturesque little place that Rocklanders say is too touristy, but I like it. Below left is an aerial photo of Camden and its port and on the right is my panorama of the downtown area.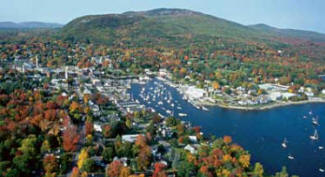 Below are some shots I took of the harbor in 2000.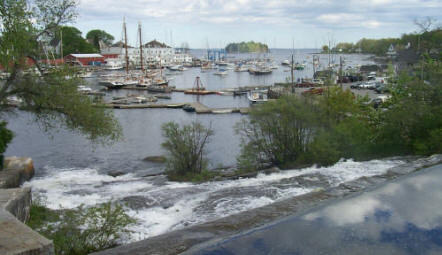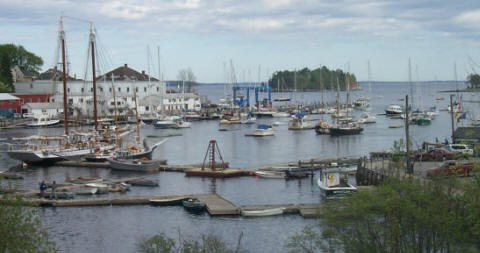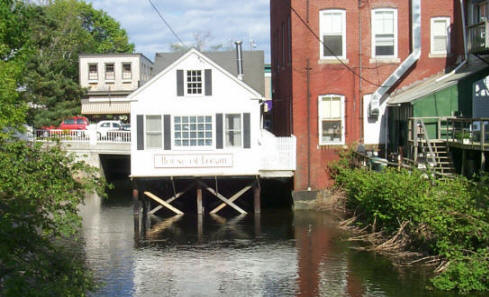 The river runs through the town and many of the buildings sit on piers over it.
We then went up the street to our favorite old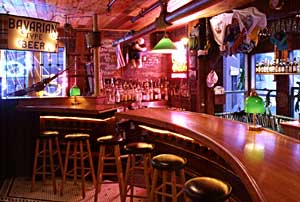 Cappy's Chowder House [
+1-207-236-2254] and had an after-dinner drink at their friendly bar (left). This place has been here for 27 years and was named after Cappy Quinn (right,) who was old Maine stock, born and brought up on
Eagle Island in Penobscot Bay. They claim fame

for their clam chowder which you can order online. They made history recently when the Feds came in an confiscated their framed gull they had hanging behind the bar for many years. The story behind this rare gull is interesting.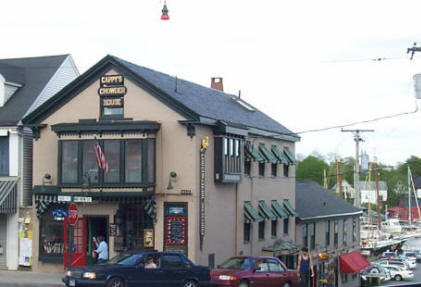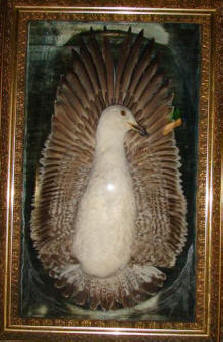 We relaxed and had a good time. We drove back to Rockland and I got to bed at 2 AM.
---
Wednesday, May 30, 2007
---
I woke up at 12:30 PM and again at 2 PM. I went back to sleep at 4 and got up at 4:30. By 6 I was on my run, down Talbot street, south on Main St., through downtown Rockland to the portside gazebo (below right) near the MBNA complex. I have done this run many times over the years and it is good especially when it rains - the gazebo is large enough to run circles in.

Fifteen years ago, MBNA credit card company, came to Rockland and made it one of their credit card headquarters. They built a large complex near the old port and in doing so beautified it with wooden walkways along the water and a beautiful gazebo.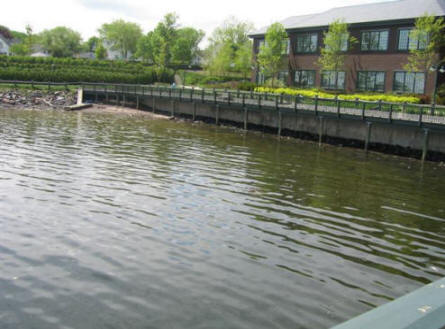 As I walked back to town on the wooden walkway I noticed a lot of large dead fish floating near the shore (below.) They were all over the place and I never found out what killed them.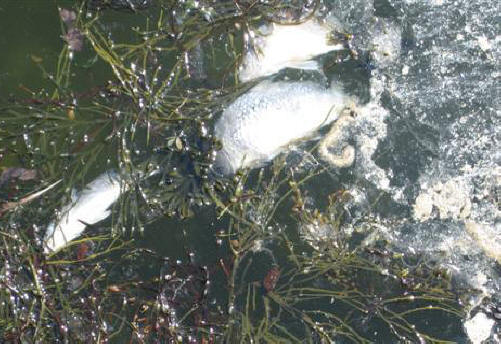 MBNA left Rockland a couple of years ago and with them went a lot of jobs. In the meantime, Rockland changed for the better and is now in competition with Camden as a resort destination with sophistication.
At 6:30, I had a cappuccino at the Rock City coffee shop and did a puzzle. The LA Times puzzle is printed in the Boston Globe. They changed their name from "Second Read." I caught Marcia reading with a coffee.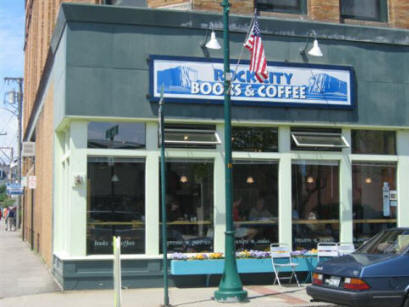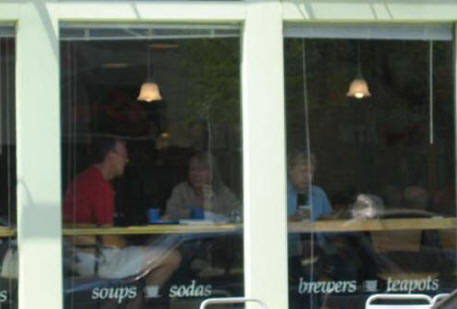 I walked back to our room and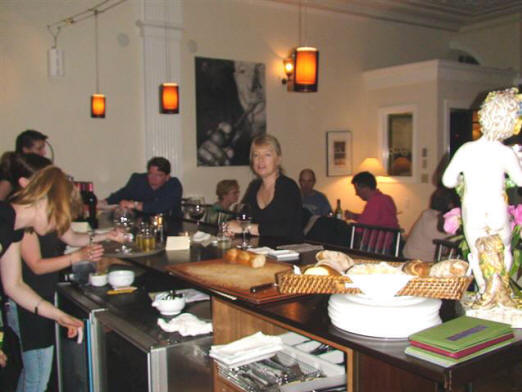 changed and then Marcia and I went downtown at 8 PM and had some excellent wine and olives at our favorite little place called "In Good Company" [415 Main St,
+1-207-593-9110.] Melody Wolfertz has added something very special to downtown Rockland. There are selections of excellent wines and they serve "small bites" that go well with the wines. They have been starting to add more substantial fare such that you could make a dinner of it.
Today is our 37th Wedding Anniversary but...
...the special restaurant I wanted to take Marcia to (Primo) was closed on Wednesdays, so instead we postponed our anniversary dinner until tomorrow night. We then went to dinner at 8:30 to our other favorite, Cafe Miranda [15 Oak Street,
+1-207-594-2034.]
They have this huge eclectic menu that is fun to read but it takes a half hour just to get through it. Here is the list of just the appetizers.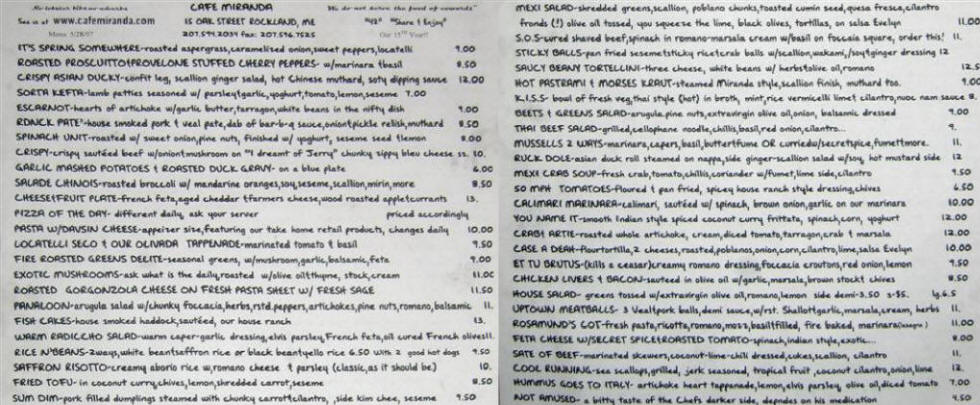 Did you read all that? Below is the other side of the menu with the entrees - unbelievable!
The problem is that every one of the over 100 (it seems) items sounds great. And then when you get it, it always is. I decided on an appetizer of "Crispy Asian Ducky Confit" with scallion ginger salad (below left) followed by "Uptown meatballs" of veal and pork with shallots and garlic (below right.) They were both great.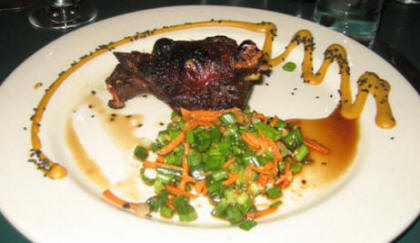 For entrees Marcia had Veal Scaloppini Milanese style and I had pulled chicken paprikash with large imported spaetzle noodles that looked like papparadelle. What a fabulous anniversary dinner.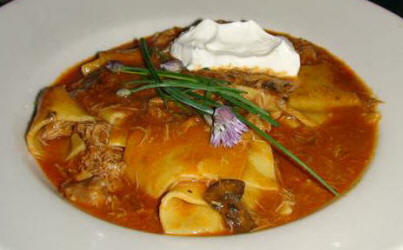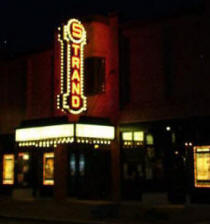 As we walked back to the car we passed the entirely renovated old Strand movie theater. Another example of what gentrification has done to this little lobster port on the coast. Rockland is the very last large city on the way northeast to the border of Canada.
We drove back to the hotel and I was able to do all my email before going to bed. Overall a very romantic evening.
---
Thursday, May 31, 2007
---
I woke up at 8:30 AM and got up at 10. At 10:30, I was doing email again using the hotel's WiFi. At 10:30 Marcia went to Rockland Diner and bought three lobster rolls ($41.) I was fixing the buttons on Diarios #5 and 6 on the France website and I added some text. At 11 AM I went for my run to the gazebo again and then had my cappuccino at Rock City.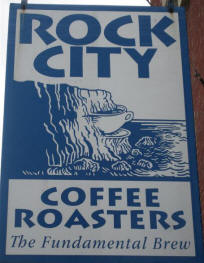 When I got back to the room I started looking up the German resort Heiligendamm on the Baltic Sea. Several people said we should be sure to see it.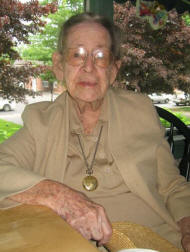 It is in the old East Germany and Bush and the G-8 leaders were meeting there this summer. I was never able to find where it was located. At noon Marcia drove us north to Farmington and we arrived there at 2 PM. This is a University of Maine town. We got to the advanced living center to visit Marcia's 99 year-old Aunt Martha. She taught at U of M and is still in great shape and sharp as a tack. She has this habit of giving family members many of her things so she won't "have to leave them to anybody."
We visited with her and enjoyed our lobster rolls and then drove back to Rockland. We then drove to the cemetery to visit the Wasgatt family plot, since I had not seen it since Marcia's mother, Eleanor died.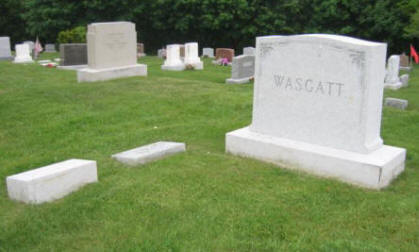 Below on the left are the headstones for Marcia's grandparents,
Dr. Rowland Wasgatt and his wife Josephine. He was a physician as was his son Wesley. He was killed in a car accident in 1931 when he was 58 and his wife died at age 53. Her parents are on the right. Wesley died at age 68 and Eleanor at 95. Wesley's sister Mary (above left) died at age 90 and her sister Martha will celebrate her 100th birthday in 2008.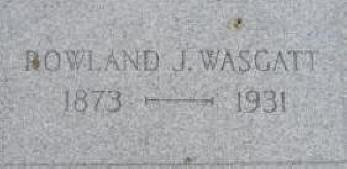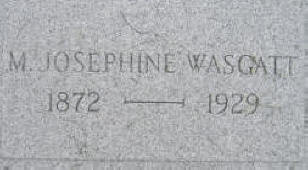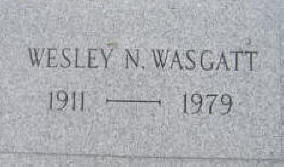 We got back to the Berry Manor to change for our postponed Anniversary dinner at the best restaurant on the coast, called Primo [
+1-207-596-0770,] run by Lucy Yanz. They also have restaurants in Orlando and Tucson. [Photos from Primo]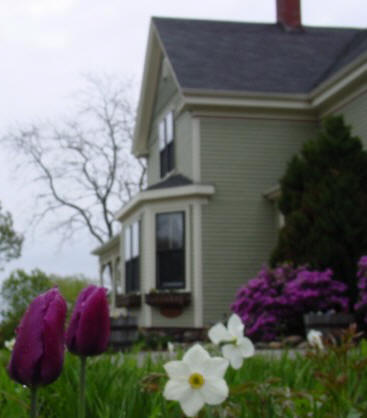 Lucy is proud of the reputation gained by her fine restaurant. We enjoyed a glass of fine wine at their newly redesigned bar area and then were seated. They have their own greenhouses so the herbs are fresh.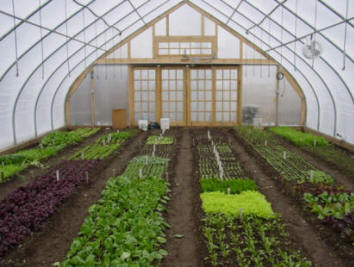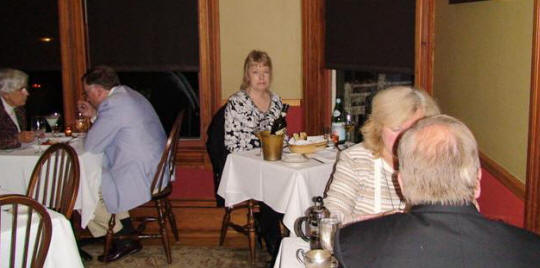 Marcia tried the red greens salad and then Coho salmon.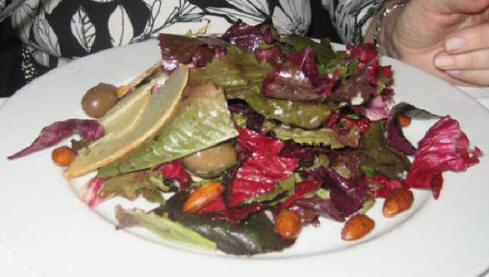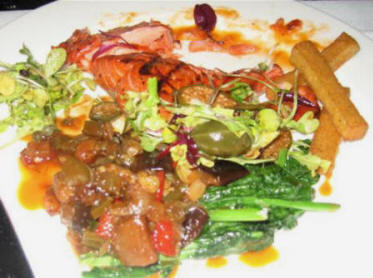 I had sausage stuffed calamari as an appetizer and then for an entree, seared scallops with papparadelle and morel mushrooms.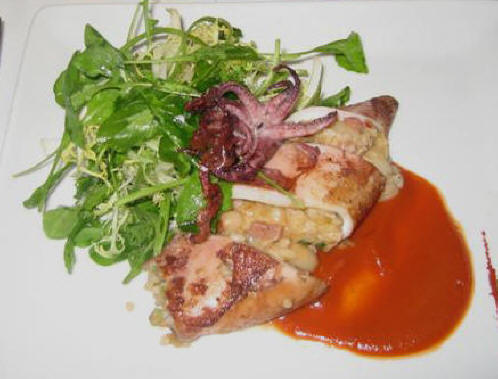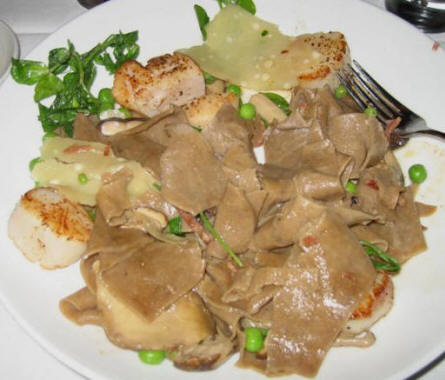 The dinner was fabulous and we drove back to the Inn and went to bed.
---
Friday, June 1, 2007
---
I got up and at 1 PM and went on my run to the MBNA gazebo again followed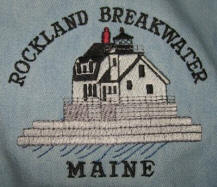 by a cappuccino and puzzle at Rock City. At 2 PM Marcia drove us to the nearby town of Owl's Head to visit Alice Robinson. Marcia's father, Wesley Wasgatt, MD, delivered half the people in this town before he died in 1979. Alice was his office manager and a long-time friend of the family. We got there at 2:30 and we had tea with Alice (center) and another friend of hers, Nancy Lamb (right.)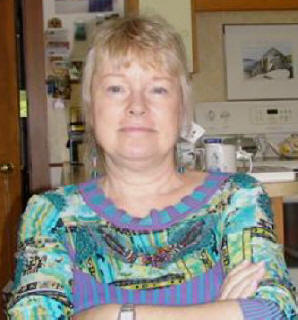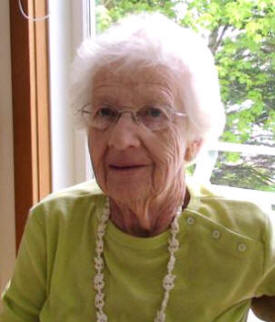 It was good getting together with them again. We went back to the Berry Manor Inn and waited for Carl and Linda Woodman to pick us up for dinner. They are a couple that were Marcia's high school classmates.
Carl was a lobsterman for many years and still does it today; Linda is a teacher.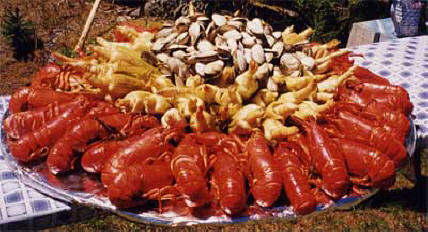 Above is a photo of us having lunch after our return from our five week trip to Italy in 2000. My beard gives it away since that is the only time I ever grew one. Years ago, when our kids were young, Carl took us all out lobstering with him. They have never forgotten the experience of hauling in the lobster traps and "playing" with the live lobsters and crabs that he was pulling out.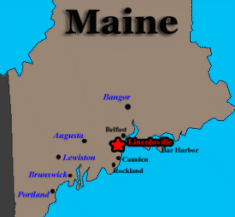 That evening, we took them to Melody's place called In Good Company [415 Main Street, +1-207-593-9110] for a glass of wine, since they had never been there before. We love this place very much and wanted to introduce them to it. At 6:30, Carl drove us north on Highway 1 along the coast to Lincolnville Beach and we stopped in the Whale's Tooth Pub [2531 Atlantic Hwy,
+1-207-789-5200] for some Guinness and wine. Carl and I had a good time chatting with the bartender.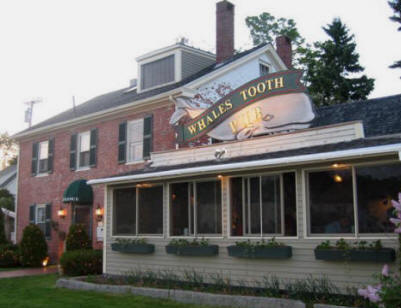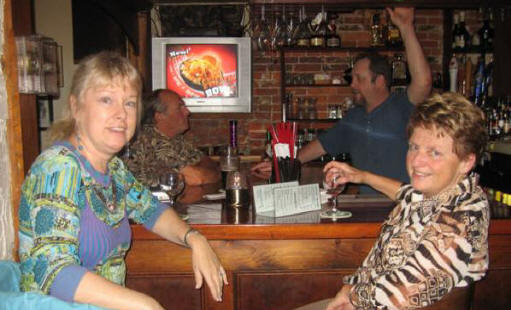 Instead of going to our usual, the famous Lobster Pound [
+1-207-789-5550] on the shore, we decided to have dinner directly across the street at Chez Michel [
+1-207-789-5600.]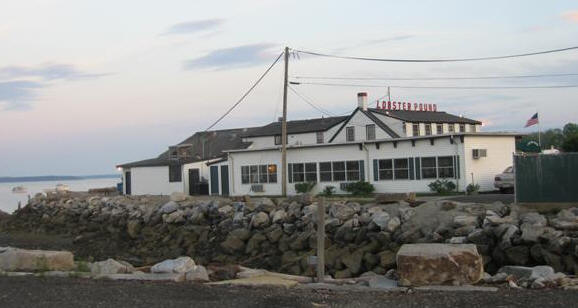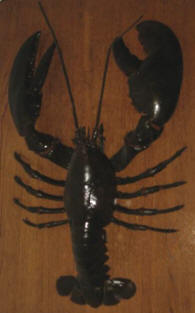 They had this 20 pound lobster on the wall that was mammoth (above right.) We ordered some wine and then I had blackened haddock as an appetizer and then a 2-pound lobster with fries and coleslaw. It was a fantastic. This is what coming to Maine is all about.
[Want to see a video of how to eat a lobster? Click lobster.]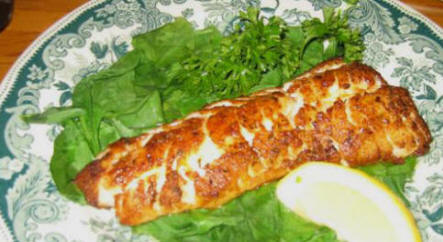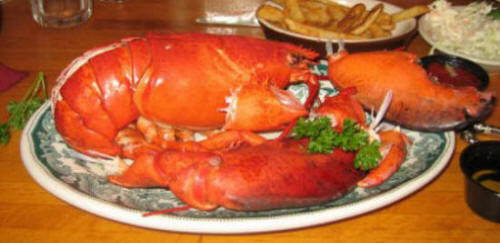 [Want to get some delivered live from Maine? Click Order.]
Marcia had a bowl of lobster bisque and then a bowl of lobster meat. She's gotten tired of all the work picking through a lobster. I haven't yet.
We drove back and got to bed relatively early. It was great seeing Carl and Linda again.
---
Saturday, June 2, 2007
---
I woke up at noon and called Lufthansa to verify our flight to Munich. Then at 2 PM, I ran to the gazebo again and then a cappuccino at Rock City. At 3 PM I went to the Rockland Cafe and I got two lobster rolls. I took a walk through downtown and went in the art gallery and up to the roof-top where they had some very nice art pieces and a nice view of Main Street.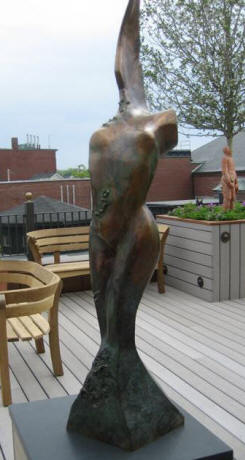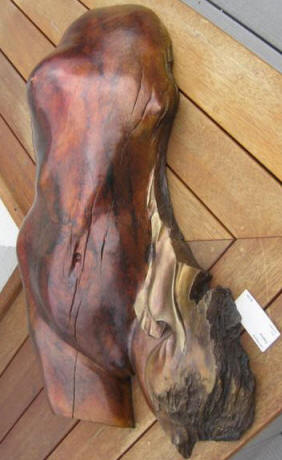 I walked back to the Inn, changed and drove to St. Bernard's Catholic Church for Confession with the priest there, whose mother used to play the organ at Marcia's parent's Congregational church where we were married in 1970. When I got back at 5 PM, Marcia and I drove to that church to see the chair (below right) dedicated to Marcia's mother, Eleanor.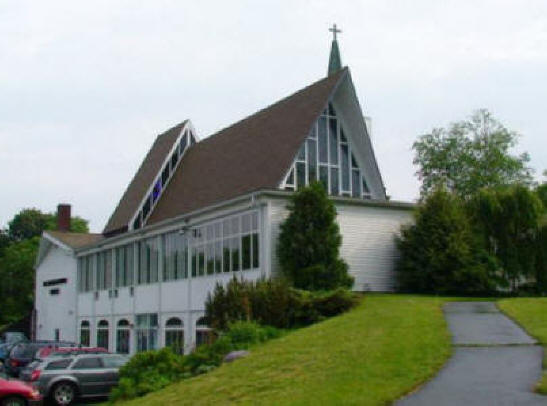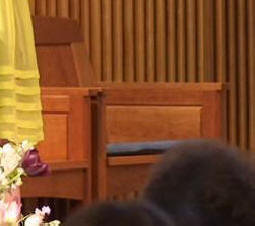 We got back to the Berry Manor, packed up, and we left Rockland at 5:10 PM. Marcia then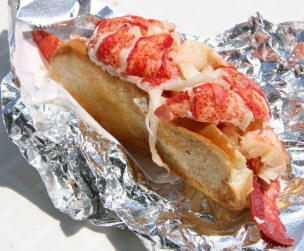 had us on our way back to Melrose, MA. At 5:50 we stopped in Wiscasset at the world famous "Red's Eats" and I got a lobster roll, a crab roll and a fried haddock sandwich ($36.) Red's opened in 1938 and is located on Water Street on Route 1 just over the bridge across the Sheepscot River. The lines are usually long but there is always a place to sit in the patio in the back.
We arrived at Charlie's house at 8:30 PM and after unloading, he made a cookout BBQ steak dinner for us which was a perfect way to have our last home-cooked meal for awhile.
We would be leaving soon, so we sat and talked for quite awhile over some very nice red wine and then we went to bed.
---
Sunday, June 3, 2007
---
On this, our 11th day from home, I woke at 10:45 and drove to barely make it to the 11:30 Mass at St. Mary's. I then went to CVS Pharmacy to shop a little and then back to the house and took a nap at 2:20. I woke at 3:30 and by 4:30, I was on my run through Melrose again. I stopped in the Melrose fish restaurant and got an order of haddock which was very good, even though the waitress was very nasty to me. At 5 PM I stopped into a shop called Runner's Edge and found this perfect running jacket for the rain for $85. I thought it was much too expensive but I just had to have it for the trip.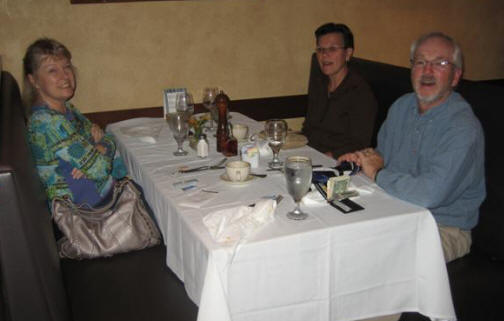 I later learned this was a very wise extravagance. I went back to CVS Drugs and then at 5:30 I had a cappuccino at Starbucks and did a puzzle. We later went to dinner with Charlie and Cathy at 7:30 at an Italian place called Papa Razzi [Chestnut Hill Mall, 199 Boylston Street, Chestnut Hill, MA,
+1-617-527-6600]. It was a really popular place and very nice. I had a great piece of haddock and then spaghetti Bolognese (forgot photos.) As you may have guessed, haddock is my favorite fish and I can't get it in California or in Europe so I had it every chance I could.

We got back to Charlie's house and went to bed relatively early. But we had to completely reorganize all our stuff for our flight to Germany tomorrow. I'm glad we took the extra time to visit Melrose and Maine. I'm not looking forward to the flight tomorrow, but here we go - Germany.
Kenneth J. Hoffer, MD
KHofferMD@AOL.com
Munich, Germany
Sent 2-20-2008
If you enjoyed these travels or wish to add comments on the places we visited
Please Leave Me a Message by clicking the spinning @ sign.
We Have Now Toured All the Major Countries in Western Europe
Photos May Be Downloaded or Printed by Right-Clicking on Them
© Copyright 2009 Kenneth J. Hoffer, MD