Dr. Hoffer's Travel Site This site was last updated 03/03/11
Monday July 11, 2005
I woke up at 10:45 and then again at 11:20 when I finally got up. By 11:30 I was making web pages up to #24 and copying Palm notes to July 10. I got around to getting my running gear on and at 1:20 I went on my run. While I was gone, Marcia used my computer to write her feelings about her trip to Dachau.
On my run, I got more photos of this cute little town.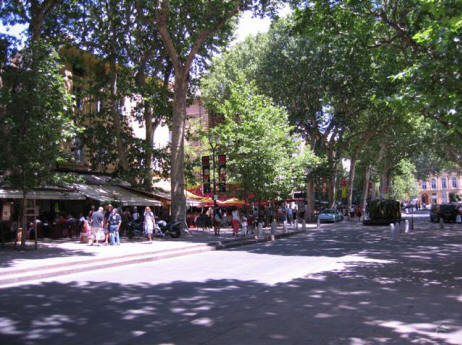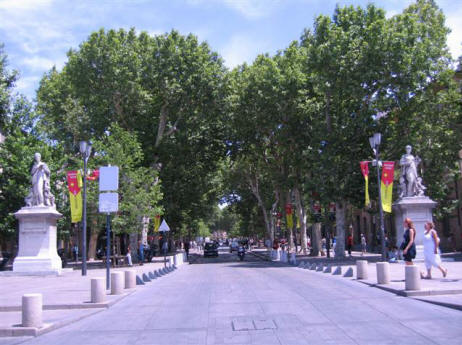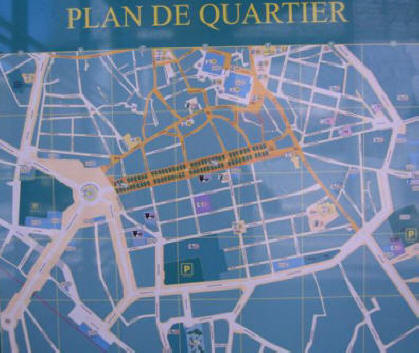 I finished my run through the streets of the town and at 1:50 I had a cappuccino at Café du Roi René. After relaxing doing a crossword puzzle, at 2:30, I walked the streets and bought a pane chocolat (a little croissant-like thing with a very small strip of chocolate inside) and then walked with my computer open looking for a WiFi spot. I finally found a live one at a place called Uncle Sam's.
I called Marcia and she joined me there for lunch and watched me load her Dachau story into FrontPage and then upload it to the website. She was impressed when we went directly to the website and there it was, pictures and all.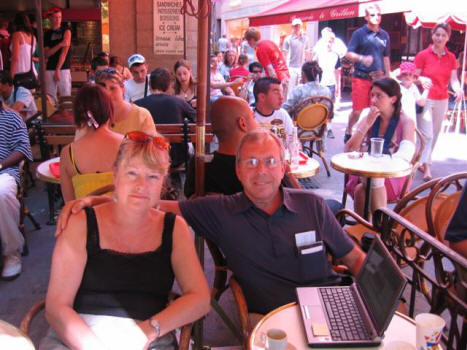 I then did my AOL email for a while and headed back to the room to change.
I had read that the head of Mary Magdalene was kept in a church in a little town nearby called St-Maximin-la-Ste-Baume, so at 4:30 we drove to see it. We arrived at 5:00 and went inside the Basilica Ste-Marie-Madeleine, which pretty much dominates the little town. The basilica was built on the tombs of Mary Magdalene and St. Maximin, the martyred first bishop of Aix. They hid the bodies of the saints from the Saracens and they were only rediscovered in 1279. In 1295, Charles II, Count of Provence, built the basilica.
The central area shows the work on the church stopped in 1532
The retable is quite spectacular (photostitch shot.)
The Basilica has one of the finest organs in France. It has 3,000 pipes and was built in 1773 by Jean-Esprit Isnard. Napoleon's brother, Lucien, saved it from destruction by the Revolution by having the "Marseillaise" played on it whenever a visiting official arrived.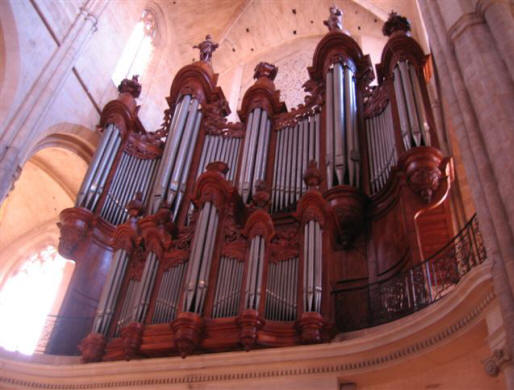 Below left is the story is the story of Mary Magdalene, as they describe it. The skull is kept at the end of the long underground crypt.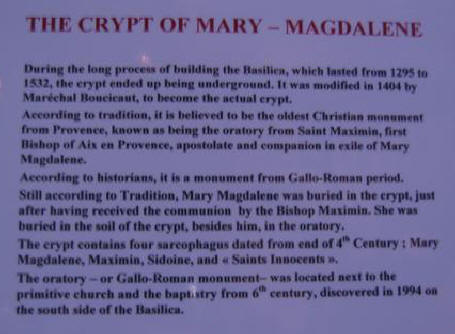 The sarcophagi to the left and right are pictured below. One is of St-Cedonius, a 4th Century saint. This was once the burial vault of a Roman villa.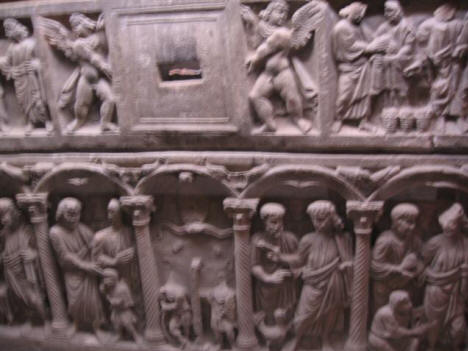 As you can see the skull is protected behind some pretty heavy iron gating (you can see it in the upper center with the 3 reflexes off the glass). I thought this was very fascinating, after all the relics I have seen on all our trips through Europe.
It is hard for me to believe that the skull of one of the most important people in Christian history is being preserved in this little place in Provence. I look at it like this: if it not true, so what? and if it is true, Wow! So I took some pictures (which were almost impossible to get.) Can you see the skull looking at you in the photos below? Could this be the real head of THE Mary Magdalene? They claim it is. More later about how the three Marys took a boat from Palestine and wound up in France. They also had tombs opened of Christians of those years.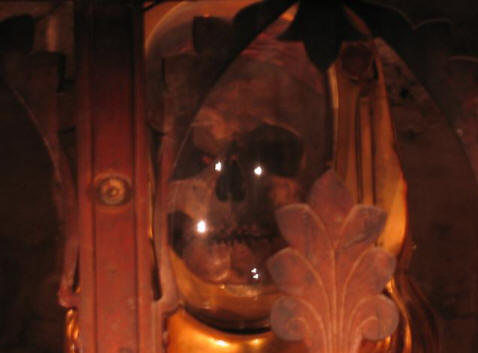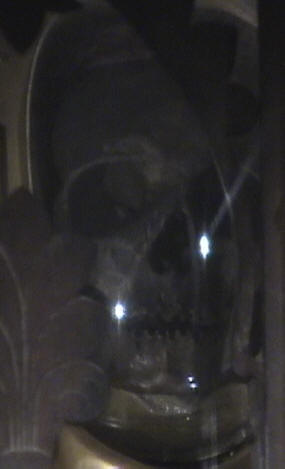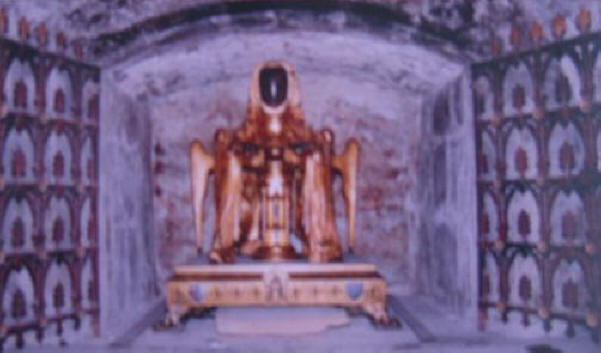 Above is what the reliquary looks like when the iron bars are opened. There is very little else in this little town, so at 6:00 we drove back to Aix and arrived a half hour later. I enjoyed relaxing by the pool working on diarios and to my surprise, Marcia came down and went for a swim, which was was unusual for her.
We finally got ourselves dressed and ready for dinner and drove to this fancy place we had made reservations for earlier. At 9:30 we arrived at Clos de La Violette [10 Ave de la Violette,
+33-(0)4-42-23-3071].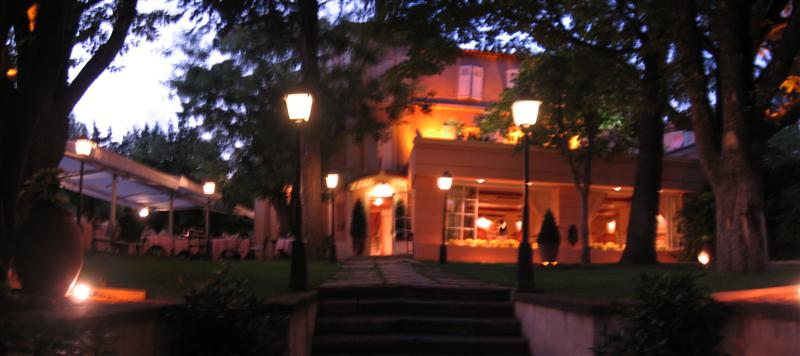 The Chef, Jean-Marc Banzo (in white, in the door and below right), is supposedly very well thought of. The tables were outside on the front lawn (to the left) of this beautiful house. The place was very fancy, very stiff and very formal.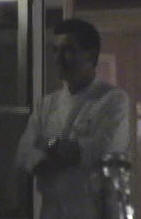 We ordered a bottle of Badoit [Bad-wah] water and a bottle of Chinon Vieilles Vignes Phillippe Alliet (Loire Valley) and they brought us some olive bread.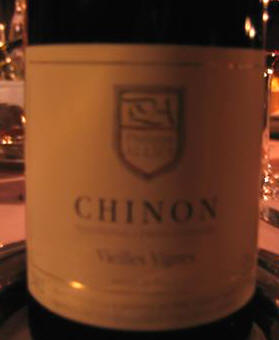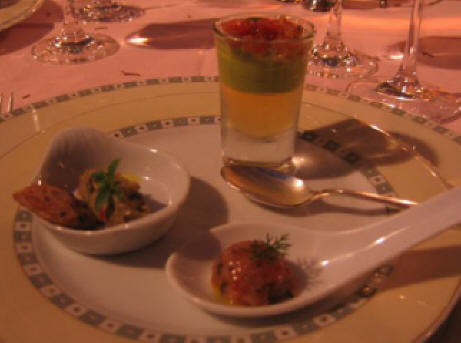 They brought us some chef's tasters which were very interesting.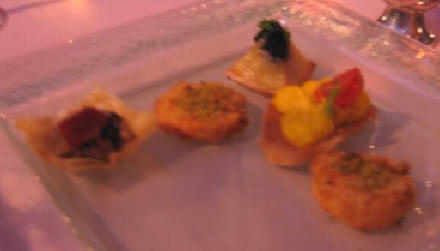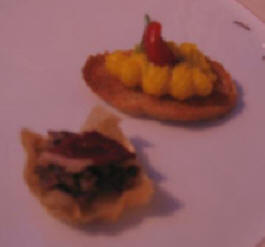 I wanted to get some butter (buerre) for the olive bread but no waiter would come around. I finally went against protocol and waved one down. This caused everyone to look at me - incredible. Fifteen minutes later, still no butter. I finally got up and went into the house and asked the waiter in there why I couldn't get some butter before the food arrives. He told me it had to be "prepared." I asked if he needed help milking the cow. He did not think that was funny at all. Ten more minutes later, he comes out with a flourish, carrying a large tray with a covered metal terrine (like they do bringing you an entree) and sets it down and lifts the lid. Voila - there's the butter, a half hour after requesting it. I thought this was absurd and unfortunately remained aggravated for the rest of the dinner. And of course, Marcia wasn't happy with me.
For an appetizer (entrée in French ), Marcia had crab for €48 ($58), and I had clams.
Marcia had red mullets with vegetables for main course (entree in English; viandes in French) and I had lamb with potato gratine.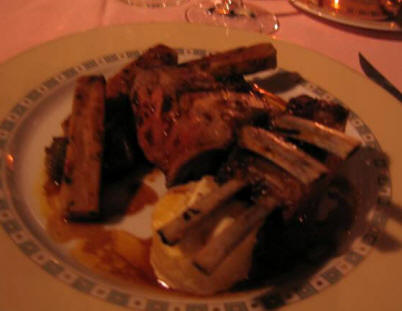 The potatoes were very good but I had to ask them to cook the lamb some more because it was raw. This is what I got when it came back.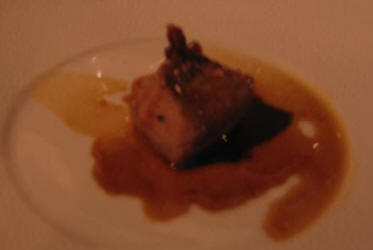 The portions were small and the bill came to €212 ($260). I paid the bill with no tip and left a little angry. Needless to say we were going to stop trying to find high-class, high-reputation restaurants from here on in.
We drove back to the hotel at 11:30 and I tried to book the next Mercure hotel on their internet site and discovered that I have to pay to get on line to book in their hotel - really ridiculous. I'm in an even better mood now, so instead of going to bed, I grabbed my computer and walked back over to Mirabeau street to the Uncle Sam place and had a beer and uploaded Diarios #10 and 11. When they closed I sat at the edge of the fountain and did AOL email and downloaded the latest Rush shows. There's the computer sitting on the edge of the fountain.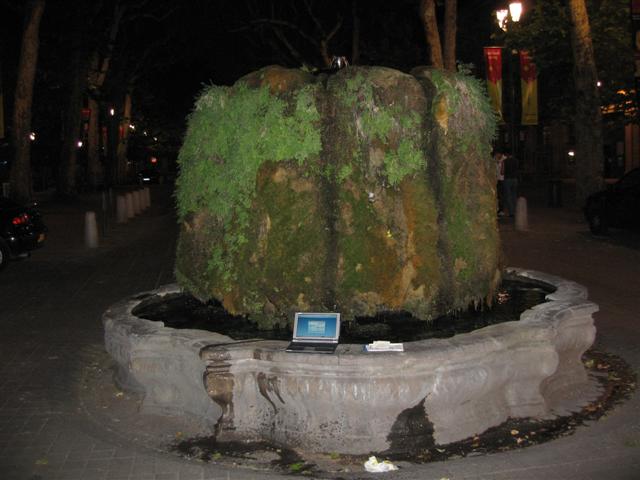 I walked back to the hotel. Here is how I hook the recharging of the phone, the Palm, the camera battery recharger and the video camcorder battery charger using the multi-extenders.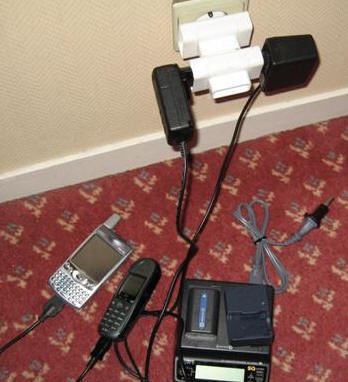 I got to bed at 3:30 AM
Kenneth J. Hoffer, MD
KHofferMD@AOL.com
Aix-en-Provence, France
011-33-66-602-3431 KJH
011-33-66-892-7343 MH
Sent 9-20-05
If you enjoyed these travels or wish to add comments on the places we visited
Please Leave Me a Message by clicking the spinning @ sign.