Dr. Hoffer's Travel Site This site was last updated 08/04/10
IBERIA2001 #38 Mojácar to Alicante
We knew we wanted to go south to the coast and then work our way around and then north to arrive in Barcelona on the 28th but we weren't sure where to go next. I had marked the city of Almeria but Manuel booked us in a Parador in a little town on the coast called Mojácar (moe-hah-car). We leave at 5:30 and Marcia drove the 104 miles south to Almeria arriving at 7:40. We didn't stop because will still had a ways to go. The city seemed huge from the freeway. As we traveled north the scenery in this area is very similar to the Old West and it is the area where Sergio Leoni filmed all the spaghetti westerns with Clint Eastwood such as "A Fist Full of Dollars." There is an area here where they have a full Hollywood set but it is way out of the way near the point. After Marcia drives 60 more miles we finally arrive in Mojácar at 8:40. It is a tiny little white town on a hill but the Parador is 2 miles away right on the beach. It is called Parador Reyes Católicos (Fernando, we finally made it). The place was fantastic and only cost $82 for the night. Interesting about this area is that they use these stick figure symbols called Idianos (photo) and several years ago they discovered some caves with the same symbol etched on the walls that date to 3000 BC. They say this is the oldest continuingly used (5000 years) symbol in history. After we got checked in and unpacked we relaxed on the veranda near the pool and shared a bucket of sangria. The night air was absolutely perfect (Sept 23) and it was really nice to just relax with no sights to see. We decided against wandering around looking for a place to eat and settled on dinner at the Parador, since they usually have been good. We decided to try for the 1st time a bottle of Rosado (which is like Rose wine in US) but the waiter didn't allow me to try it first (never happened before). As we drank it we looked at each other and read our minds - it was bitter and terrible. I asked him to bring us something else which he did. I ordered a veal tenderloin (17 Euros) and specifically asked it to be pink not red and he understood English well. Marcia ordered special prawns caught nearby.(21 Euros). Everything was good but when the entrees arrived my veal was red and Marcia got this tiny bowl of shrimp in garlic with nothing else with it. I knew if I asked them to cook it some more it would come back as charcoal, so I ate it. Actually it was huge and the largest I'd ever seen. At the end of the meal I talked to the maitre d' and told him our experience compared to the other Paradores and he said the entire meal was free. I told him that it was not necessary but he would not charge us. We strolled to bed at midnight.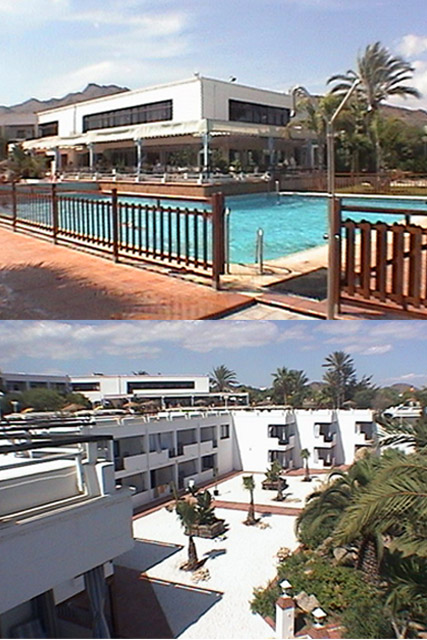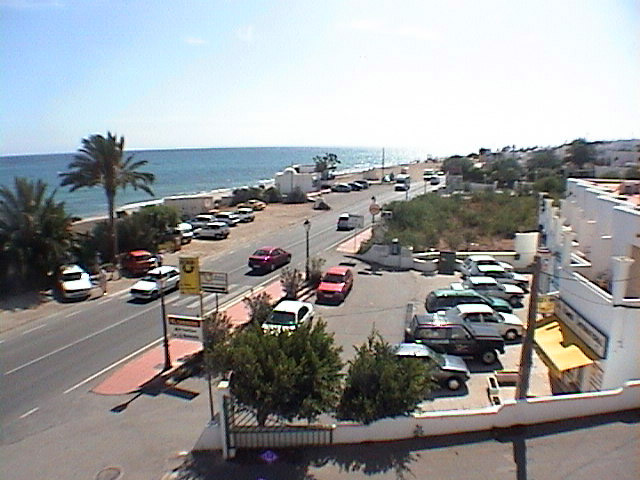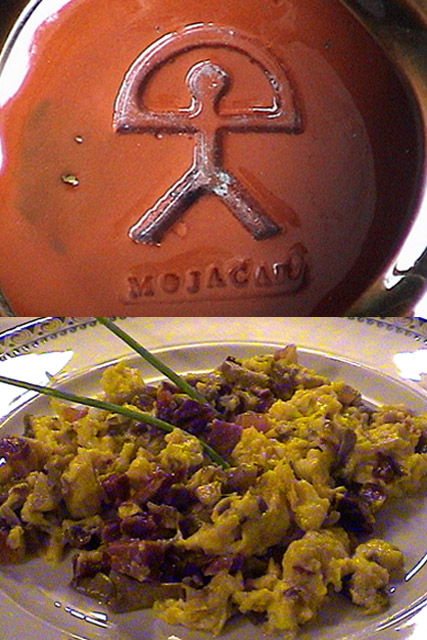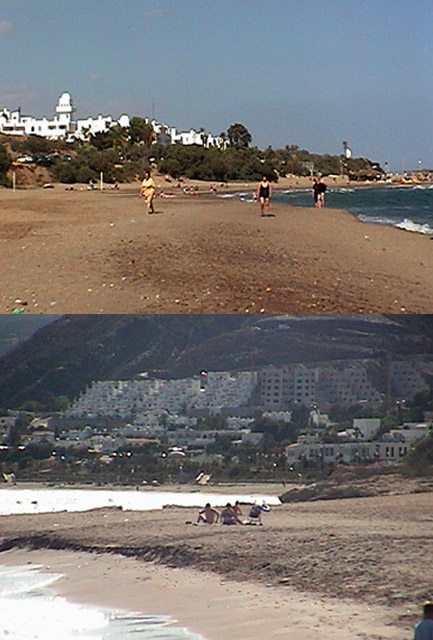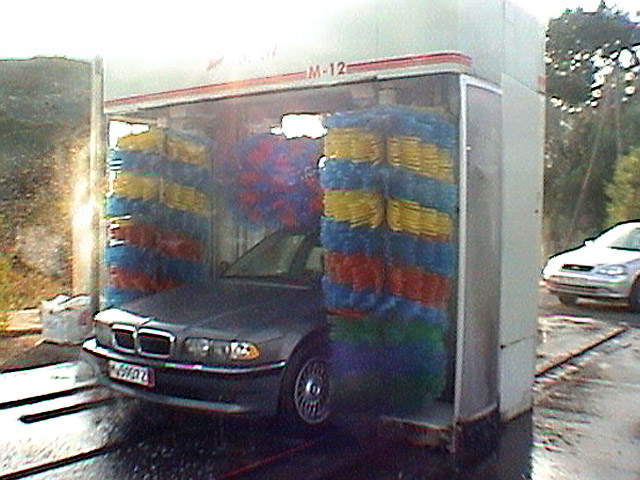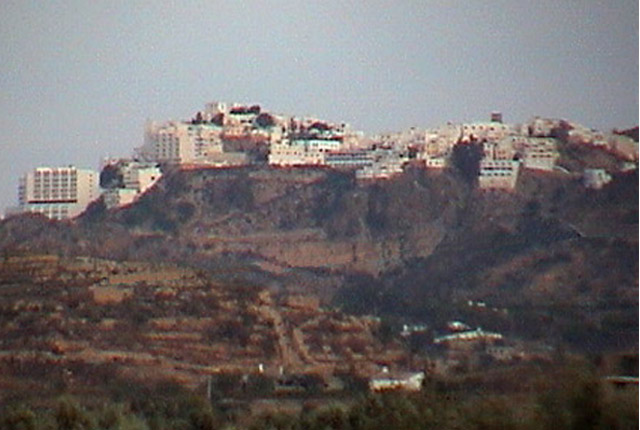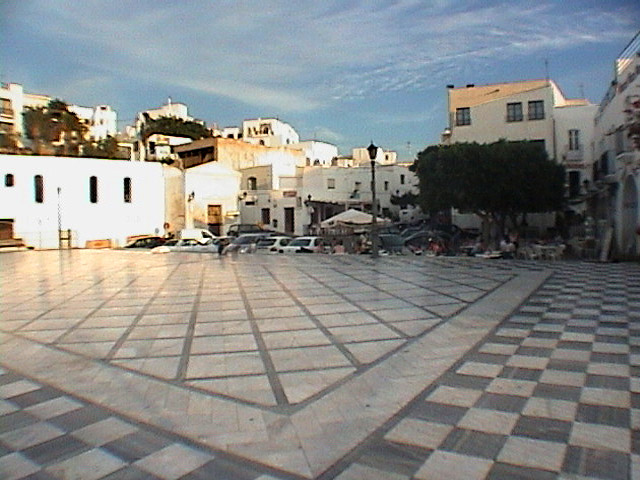 I awoke at 9:30 and went out at 10:30 for a cappuccino and write my diario poolside for awhile because it was so peaceful and beautiful. I felt I was on vacation. But that ended and I went for my run and did it along the beach with the beautiful Mediterranean on my left and a cool breeze blowing in the hot sun. At the end I found a little crappy English pub that said Internet outside. I went in and she had a computer in the back room so I did email for an hour and sent Chapter 36. Because I was late and it was so nice out I ran most of the way back up the beach. When I got to the Parador, I couldn't stand it anymore and jumped in the Sea for a swim. A couple of kids going to college in Edinburgh were spending the nights on the beach and they watched my things for me. When I got back to the Parador I jumped in the pool which was great. We had checked out earlier (they were harassing us) so I changed and we headed out. What a lovely place to stay for a week rather than one night. As we drove inland we needed gas so while filling up I noticed an completely automatic single self-serve carwash. I guy was just doing his. So I purchased the token for 500 pesetas ($2.75) and put the beamer through it. It was the 1st time we had washed it since we picked it up in Munich. It only took 10 minutes and it was dry and perfect when it was done. We then drove up the hill into the actual town of Mojácar and took some pictures of the landscape. Of course we were now late again and Marcia drove the 145 miles to the coastal city of Alicante. We were now out of Andalucía and into the province of Valenciana. Dr. Alio got us booked into the Meliá Hotel near the Marina and beach and for only $126 you wouldn't believe the huge suite we had with balconies on both sides - Wow! The view of the castle all lit up on the hill above was gorgeous. I decided to reward Marcia by opening the champagne in the minibar and then we headed to the Marina area and the restaurant Dr. Alio recommended called Darsena. It was really quite nice and all they serve is about 50 different rice dishes and we had that for dinner. It was very good. The bars in the area were beginning to start hopping so to duck the crowds we went into an English pub for a Guinness and Rioja. It was a lovely romantic evening and we got to sleep at 3 AM.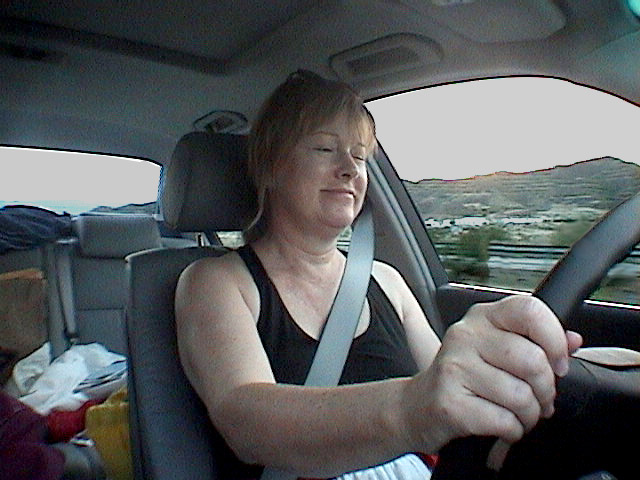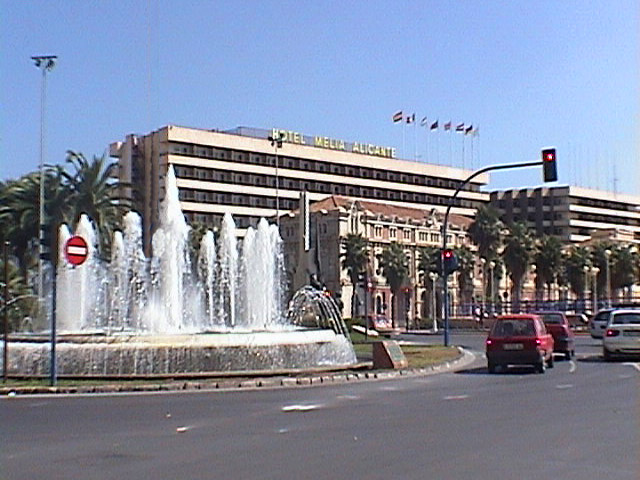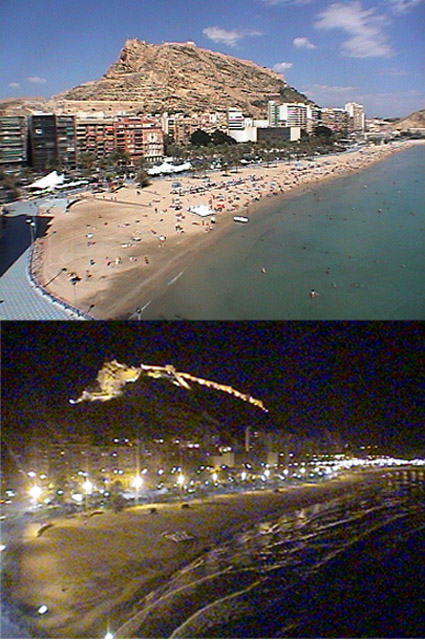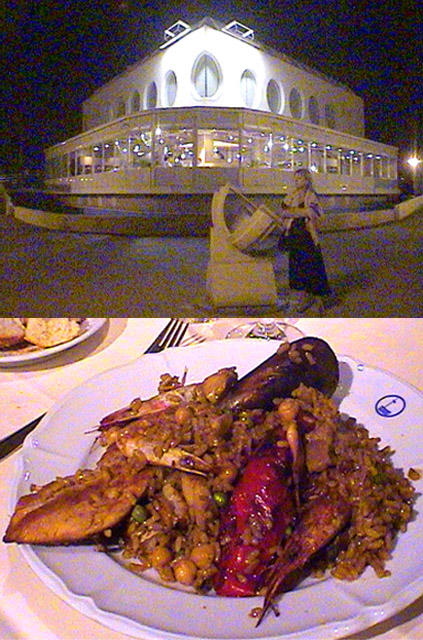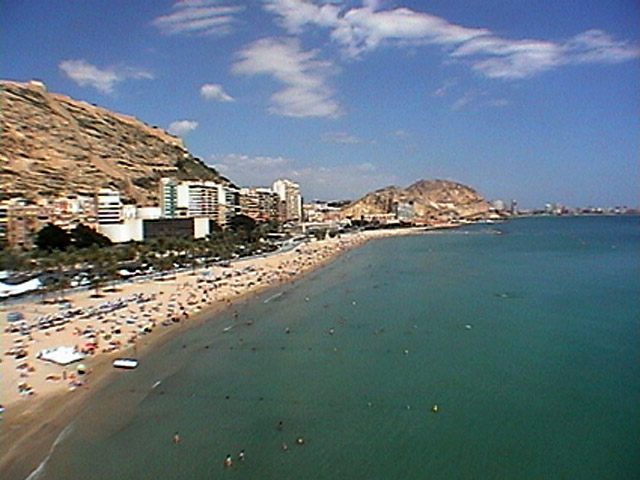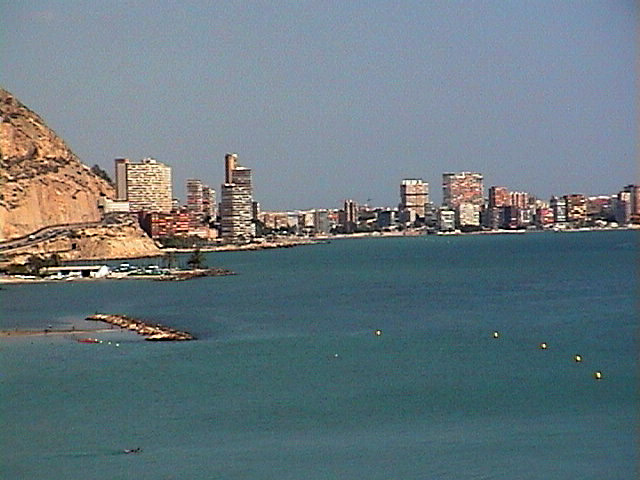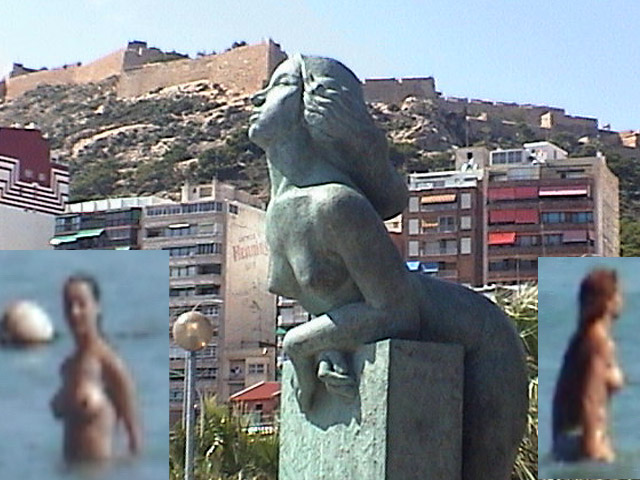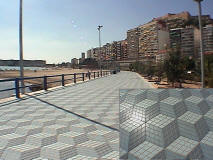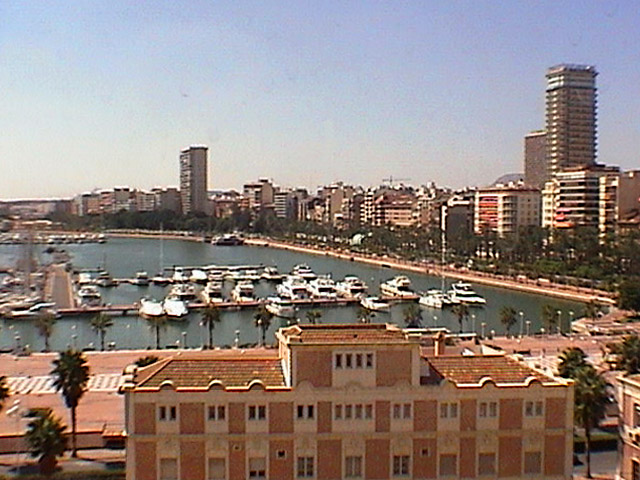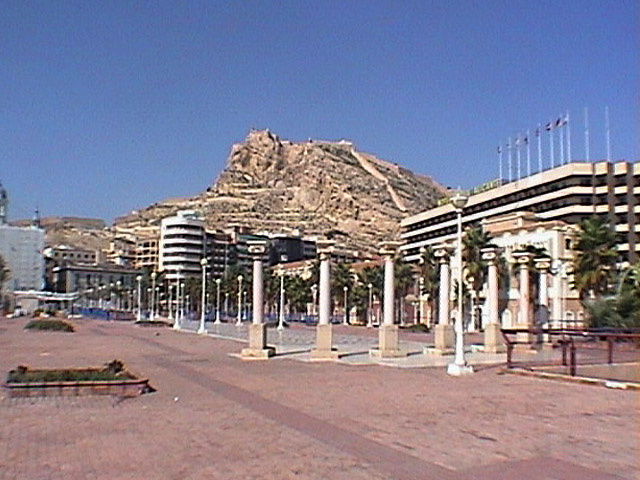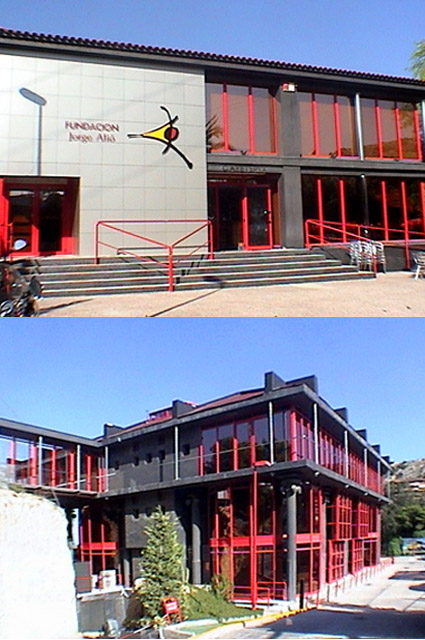 I woke at noon. We cringe when we hear that horrible ringing phone to ask if we are staying another day - actually to say "Get the Hell out!" So we dashed to get packed and checked out at 2 PM. At 2:45 I took my run on the beautiful Alicante beach and then went into town and had a cortado at Cafe Lizarron. Last night Marcia had parked the car right in front of the hotel and we thought it was alright. It was there when I went for my run. As I near the hotel, Marcia calls to see if I have the car. I knew immediately it had been towed. On the pavement they leave a yellow triangle sticker which tells you where it was towed to. We have to walk way out on the pier and finally come to the fenced-in impound area and find the car. Inside is a very docile but mean looking pit bull. No answer to my ringing the bell so I went to the cops across the street who tell me they have nothing to do with the towing. It's getting tight now because I am supposed to be at Dr. Alio's Clinic at 4:30 to see the patient he called in special for me to see. I called and let him know I would be late. Finally the tow truck arrives with a new victim in tow. He tells us he is sorry about the NYC thing but it will cost us 9000 pesetas ($50) to get our car. He ties the dog up, lets us in and we pay him. I now change my clothes right in the lot and we take off to find the clinic. A lot of circling but we finally find it at 5:30 (1 hour late). What a place. After being shown around by his staff, Dr. Rodriguez takes me in to see the patient that was just implanted with the new ThinOptX acrylic lens that goes through a 1-1.5 mm incision. The vision was excellent without glare complaints and the eye looked great. I had the chance to videotape it with my camera as well as with their slit lamp camera and also do a UBM (special ultrasound exam) on the anterior segment and take the photos with me. Marcia was treated at the cafeteria in the clinic while I was doing this. Finally Dr. Alio is able to take a break from operating (from 9 AM to 10 PM) and we had a chance to chat. They were all very nice. He invited me in to watch surgery but we had told our friends we would get to their house in La Plana at 6:30 and it was 7 already. As usual, we are leaving late and start the drive north.
Alicante, España
Kenneth J. Hoffer, MD
KHofferMD@AOL.com
SENT 10-4-01
PHOTOS: 38 Mojácar 38Alicante
If you enjoyed these travels or wish to add comments on the places we visited
Please Leave Me a Message by clicking the spinning @ sign.