Dr. Hoffer's Travel Site This site was last updated 08/04/10
Chapter 41 Orba to Ibiza
Since it was Sunday it was quite easy to get out of the city of Barcelona. I felt cheated that I wasn't able to spend more time in this fantastic city. We won't have much time here when we return to leave España. As we were leaving it reminded me how safe you feel in Spain. You really can walk anywhere at almost anytime in their cities which is similar to the US in the 1950s. People let their children walk to school by themselves and many don't lock their doors all that tight. America is the greatest country in the world but somewhere we have lost these little aspects of life that really have much to do with the "quality of life." I have been told that many Spanish-Americans (not Hispanics) have and are moving to Spain just for that reason - the safety of life here. They have something special and I hope they don't lose it.
Marcia did the whole 300 mile drive south to the little town of Orba in exactly 4 hours (Average 75 mph).
That wasn't the plan. I was going to drive some of the way but I collapsed to sleep (which is unusual because I like to see the scenery) and she didn't wake me up. The GPS got us back to Brian's house pretty well (we entered the location in the computer when we were there before). We arrived and got to see Krysha who we haven't seen in 2 years. She introduced us to her friends, Tom & Sue from Birmingham, UK and they started pouring the Champers. I had coffee instead. Brian arrived later from a business trip to Denia and then we all enjoyed a wonderful dinner Krysha put together outside by the pool. This time we stayed in the apartment downstairs and we had a little more privacy than last time we were here. Got to sleep at 3 AM.
Woke at 11:30 and got a chance to talk to Dimitrii who was still in Berlin after returning from Stockholm helping Dr. Bo Phillipson implant his 1st PRL lenses in Sweden. No idea about ferry tickets yet so I did my same run down the hill into the orchard groves (without sprayers) and was it HOT. When I climbed back up the hill I jumped in the pool for a swim and was it cold. Krysha served us lunch and then after reorganizing all our bags so that we had all we needed in one bag, Brian drove the BMW with us to the Denia Ferry station. I get in line to buy roundtrip tickets to Ibiza and they cost $165 for the two of us (without car). The ferry is a sleek beautiful and very fast boat called the Federico Garcia Lorca (famous writer).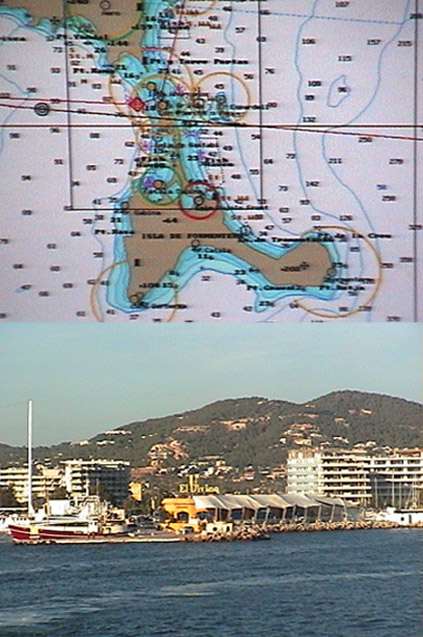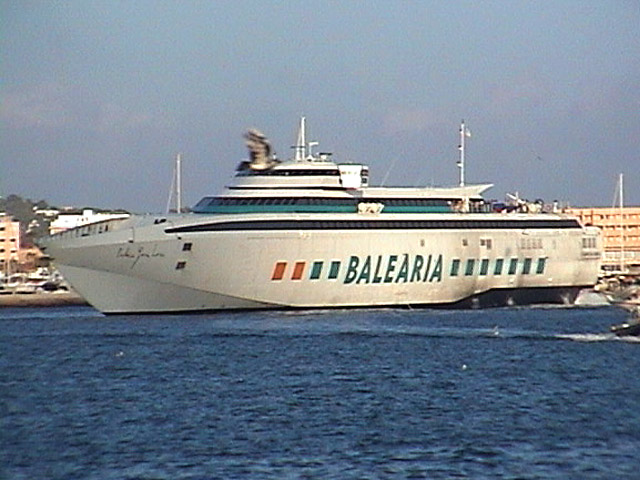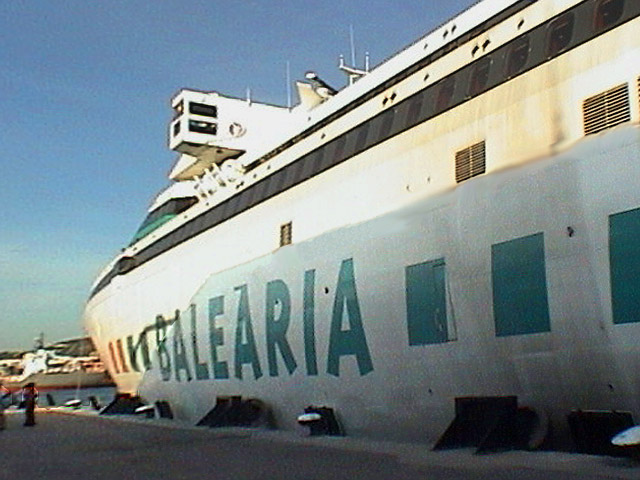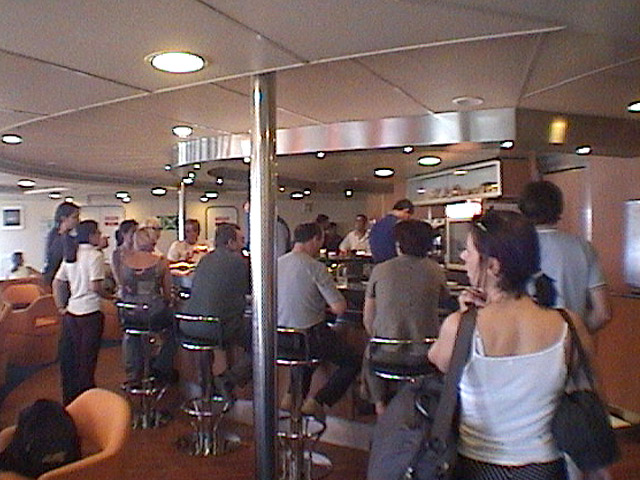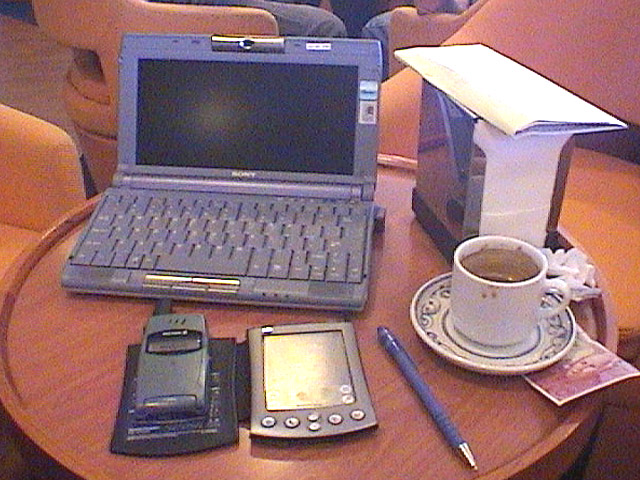 Once this thing got going it was very fast and took only 2 hrs rather than the 4 we were originally told to get there. Once we get there and disembark, we find no cabs so we rolled our bags along the seaport streets until I spotted a travel agency. I went in to ask about the ferry to Mallorca the next big island of the Balearics and find out there is no ferry from Ibiza to Palma on a Wed and that we must go tomorrow or Thurs (which would mean only 1 day in Palma). There is no ferry from Palma to Ibiza on Thurs so best bet is to stay 3 days in Palma and go from Palma directly back to Denia on Fri. I bought the tickets for this from them and then we found a place to buy more digital video tape because I was running out. We rolled the bags to the hotel and I am disappointed because it is in the center of town and no where near a beach. Oh well. I then book a hotel in Palma through Meliá booking for the Meliá Plaza. We walked back to the port area and watched the crowd while having B&W at an outdoor cafe called Bar Mar y Sol. Out of the blue I get a call from Vince asking about the Vette. Then I get a call from his boss to discuss some business. The Hotel had recommended 2 restaurants so we walked around the town to find them. After looking at both, we choose Sa Caldera and I enjoyed some spaghetti bolognese and roast pollo along with Rioja Bordon. Marcia had gazpacho and pepper steak with flan for dessert while I had annanas. A little espresso and pacharán finished off for us the most fabulous meal we had had in a long time. We walked back to the hotel to find a fax from Manuel saying he had booked us at the Tryp in Palma. Got to bed at 3 AM.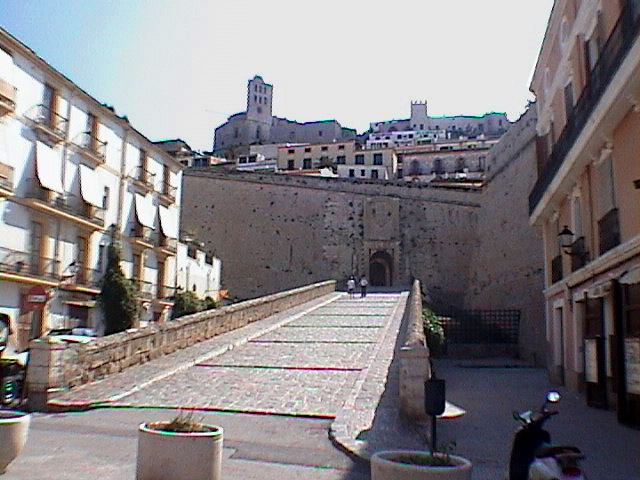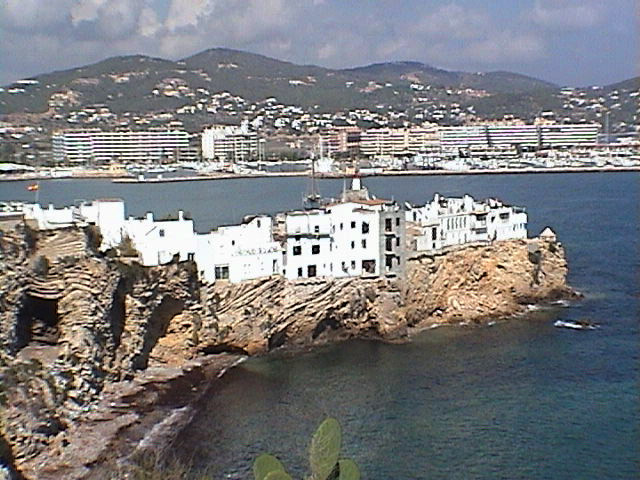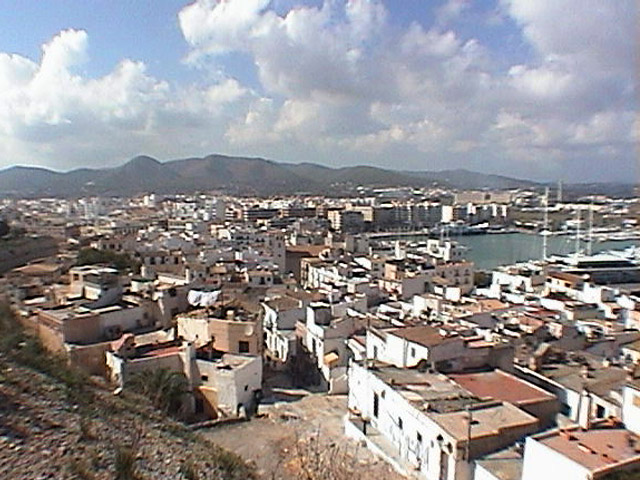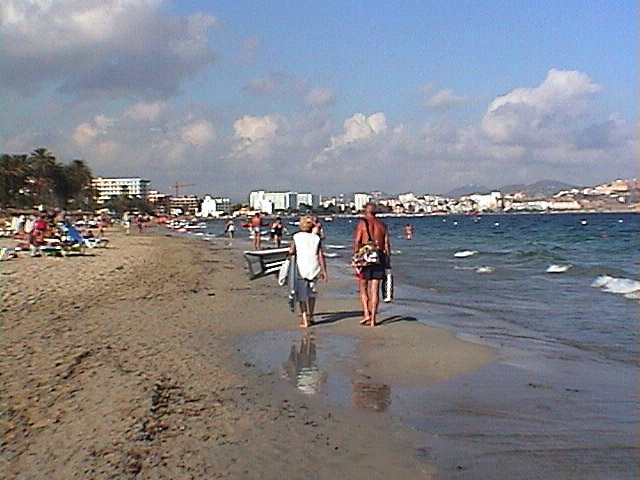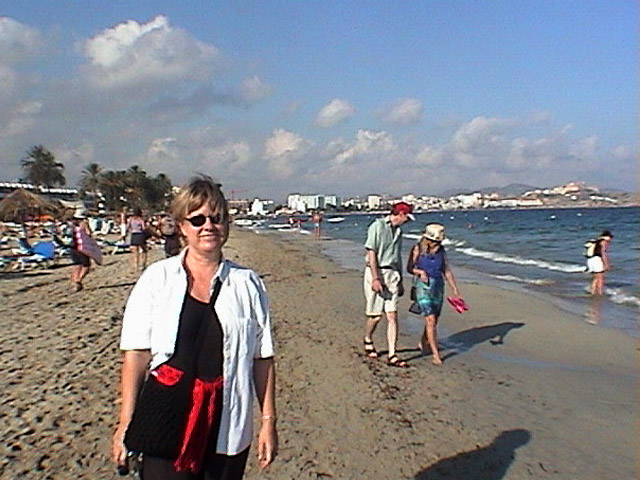 Woke up at 11:15 and was very tired but threat of a 50% extra room charge if we didn't get out of the room got us moving. We checked out at 1:00 PM and I had a cap at the bar until 3:15 when I took my run through the city (which is really called Eivissa (eye-bee-sa)) and went all the way to the lighthouse in the harbor. Then I went up to the castle at the top of the hill for pictures. I looked for an internet cafe and the one I found uses Linux, so I couldn't transfer files or open anything: I gave up. We then hired a taxi to take us to see the beaches of Playa den Bossa and noticed that there were many hotels here on the beach that we could have stayed at. Oh well, next time. In Palma I want to be at the beach (as the lady promised). The taxi took us back to the hotel to change and get our bags and then took another taxi to the ferry terminal again to catch the Lorca for Palma at 7 PM. As we waited we watched this huge ferry come into dock from Denia and it was quite a sight to see him dock this thing like he was parking a compact car.
Eivissa, Ibiza, España
Kenneth J. Hoffer, MD
KHofferMD@AOL.com
SENT 10-12-01
PHOTOS: 41Ibiza
If you enjoyed these travels or wish to add comments on the places we visited
Please Leave Me a Message by clicking the spinning @ sign.