Dr. Hoffer's Travel WebSite This site was last updated 05/18/13
IDEAS
Vacation Rentals
| | | | | | | |
| --- | --- | --- | --- | --- | --- | --- |
| | Made With | | | | | |

---
Tuesday, August 17, 2010
---
I woke at 9:00 and again at 12:55 and got up at 2:10 PM. At 2:30 I started carefully packing for the flight. When I finished, I dressed in my running gear and drove downtown at 3:00 PM for a cappuccino at Starbucks and at 4:25 did my run through the streets. I then returned to CVS pharmacy and bought some scissors and a phone bag.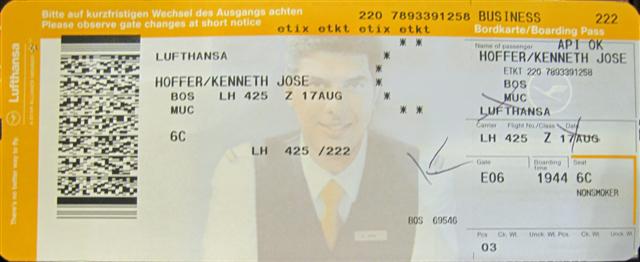 I drove back to the house, loaded the car and at 5:40 PM Marcia drove us to Logan Airport and we dropped off the car at Hertz. At 6:10 we caught the Hertz bus which took us to Terminal E (below left) where we went to the Lufthansa

desk (below right) and checked our bags, got our tickets (above) and amazingly breezed through security quickly at 6:45.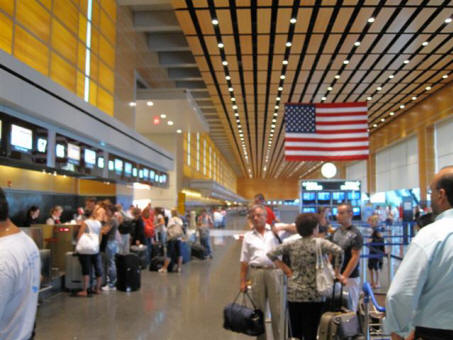 We got to the Business Class Lounge (below left) at 7:00 and at 7:30 I took my Klonopin 0.5 mg. We called the kids to let them know we were on our way. At 8:00 we boarded the plane which was a Lufthansa Airbus 340-600. You can see our carryon luggage (below right) is much less this time; Marcia's two bags are in the rear and mine in the forefront are two bags plus my computer bag holding two small Acer ($300) computers.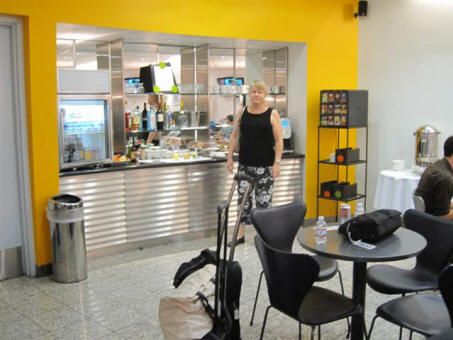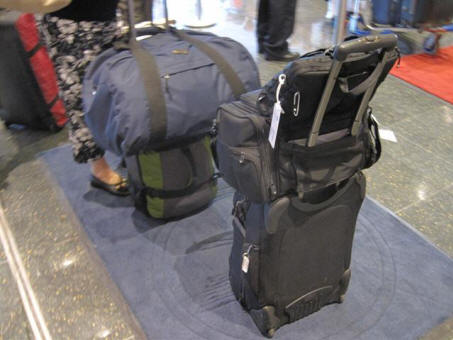 We settled in our seats and at 8:10 I took the other Klonopin 0.5 mg along with 8 Melatonin tablets. We took off at 8:20 on Flight #425 (Seats 6AC) expecting an 8 hour trip. Below left is the Business Class section with its comfortable chairs and the console (below right) that controls your seat.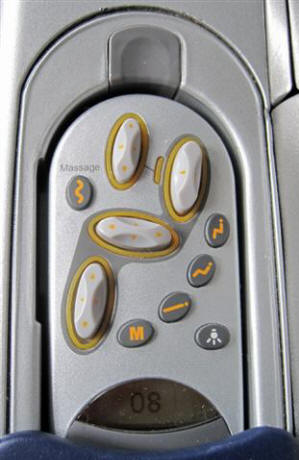 At 8:35 I fell asleep. I woke at 10:00 PM and had dinner.
It was smoked salmon with a sauce (above left,) then cod with a tasty mashed potatoes (above right,) white wine and an assortment of cheeses with dried apricot and walnuts. Can't wait for dinner when I land. After that I drifted off into dreamland again.
---
Wednesday August 18, 2010
---
Today is Anastasia's first day at St. Monica's High School where she will be going for the whole year. Her Mom, Tania, will be staying with her until we get back home.
I woke up at 1:05 AM (EDT) needing the bathroom. At 2:30 Marcia woke me up telling me we would be landing shortly. Earlier I had taken a shot of the screen (left) showing us flying over Newfoundland. Now I got some shots of dawn breaking out the window (below.) We landed at exactly 3:15 AM (EDT) which is now 9:15 AM (CET = Central European Time) and we came in 30 minutes early. The flight took 5 minutes less than 7 hours.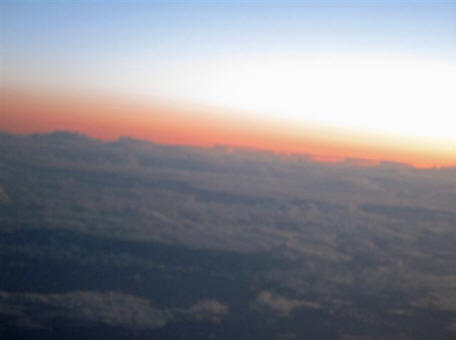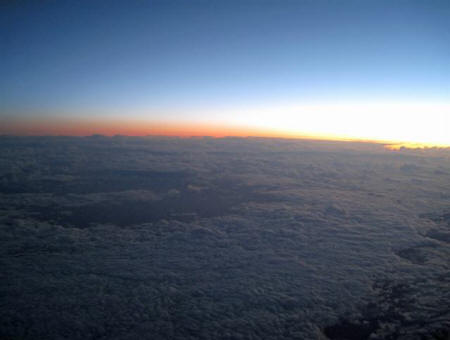 As we were heading into Munich, I took some shots of the Bavarian countryside (below.)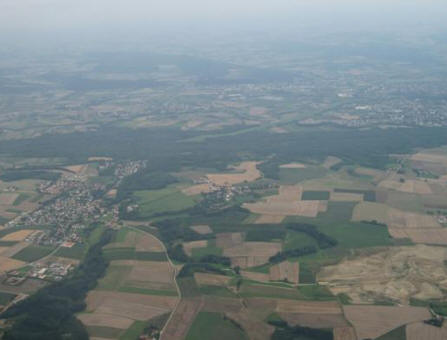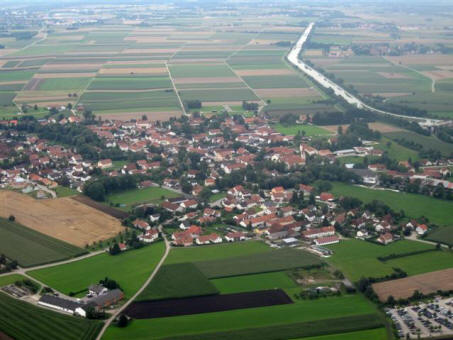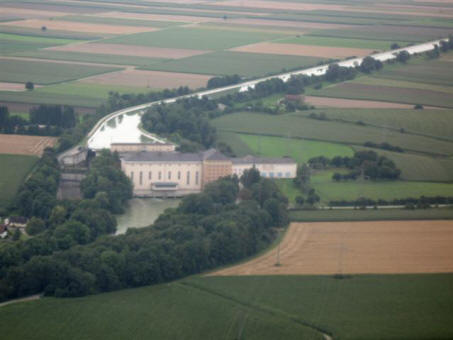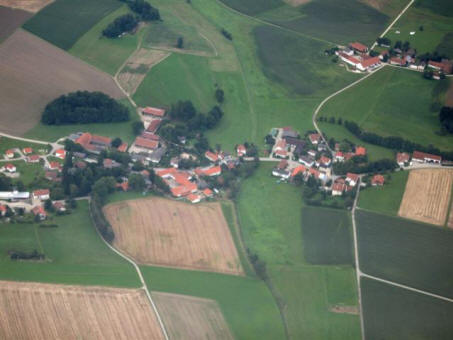 Look at those cute little towns down there. We taxied up and joined all the other Lufthansa planes at the gates. I thought the painting on the AirBerlin plane was interesting.


I watched as they swung the ramp out to meet our plane.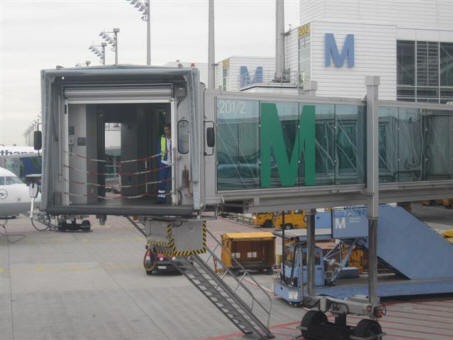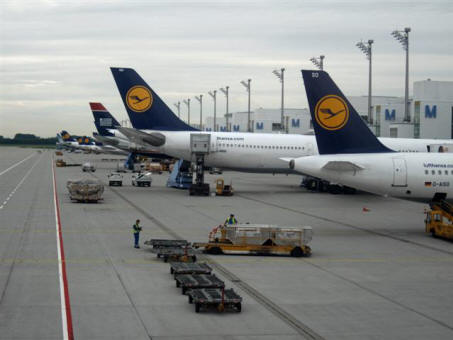 We got off the plane, passed quickly through passport control, waited a little while for our luggage and then flew through customs with no questions.
By 9:50 AM we are getting in the cab heading to downtown Munich. It cost us €59.20 which is $78.37.
Its a good long ride and we arrived at 10:30 and checked into the Mercure Altstadt Hotel [4 Hotterstraße, +49-89-23-2590, €89.25/n] (above) and got a room on the first floor (Room #117,) which remember, is one flight up.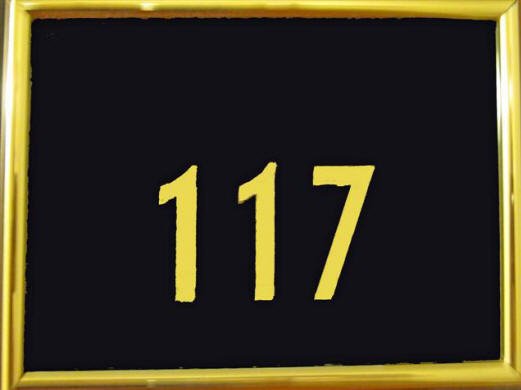 After getting the bags to the room, I decided to take a look at the free breakfast (Früstuck) which was a mistake because for me this was like dinner time and I decided to sit down and enjoy it. I had scrambled eggs, bacon, a soft-boiled egg with toast, a meat & cheese sandwich, watermelon, a brezl and a cappuccino (below.)
After that full repast, I retired to our room and at 12:15 I took a nap and slept until 6:45 PM (which is 12:45 PM my time;) I was out for 6 hours. I got up at 6:50 and by 8:00 I was on my run to Leopoldstraße. As I wandered back toward Marienplatz and on to Kaufingerstraße (the main shopping street,) I came across this group (below left) playing very nice music and then took a picture of this large fountain (below right and below.)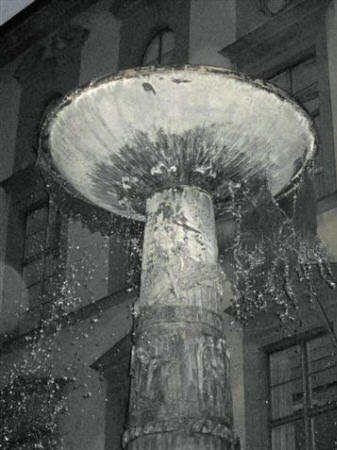 The Hirmer Building (below right) with all the flowers on it was beautifully lit up as dusk was approaching.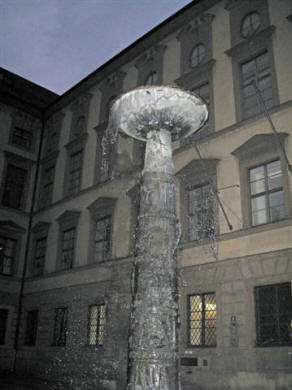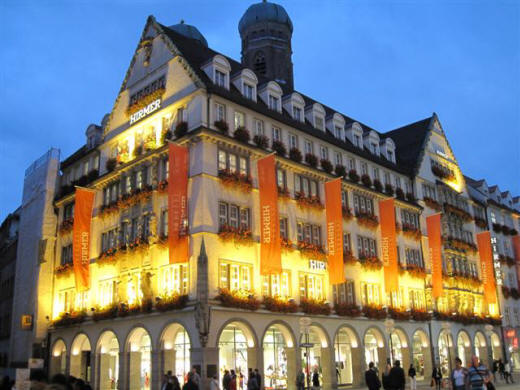 I got back to the hotel and changed and at 9:35 we walked a couple of blocks through Marienplatz. Here are two PhotoStitch shots of the Neues Rathaus which I have photograhed so many times. This time it is free of scaffolding.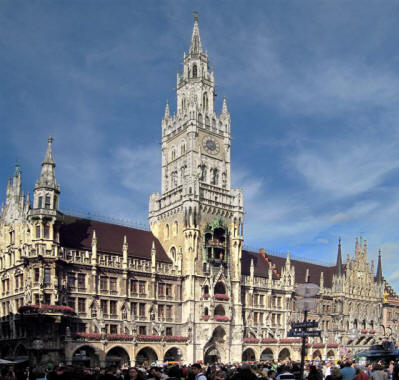 We continued down Residenzstraße to Operaplatz (Opera House across the street, below right) to have dinner at our favorite place, Spatenhaus [12 Residenzstraße, +49-89-290-7060] (below left.)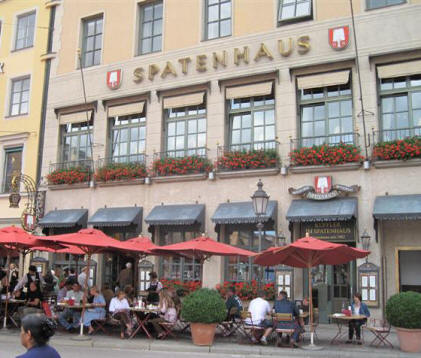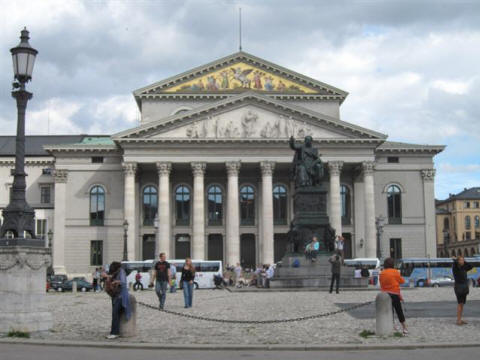 They seated us in a nice area near the window (below.)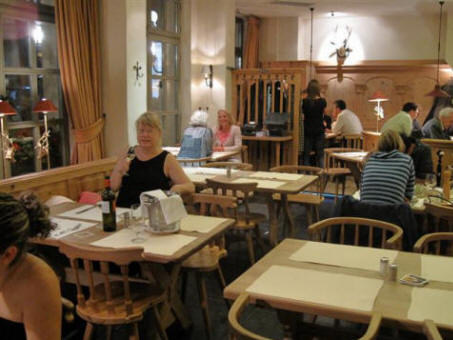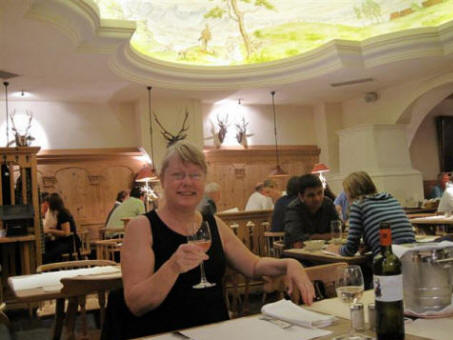 It was nice to sit down and get back into a normal routine. We started by ordering a familiar bottle of Silvaner Kugelspiel Kuffler '09.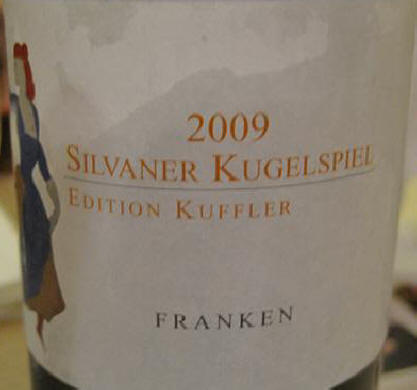 Before sharing that, I had a glass of Becks beer with a beautiful pretzel (below left.) Be warned; they put a basket of pretzels in front of you and charge you for each one you eat any part of - "bread" is not free. For dinner I had crispy suckling pig with spaetzle (below right) and ...
... red cabbage (below left.)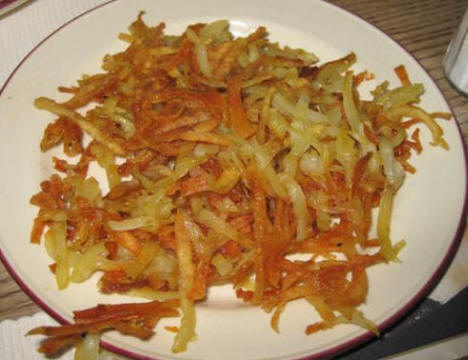 Marcia had cucumber salad (below left) then her favorite, wienerschnitzle with berry sauce (below right) and hashed potatoes (above right.)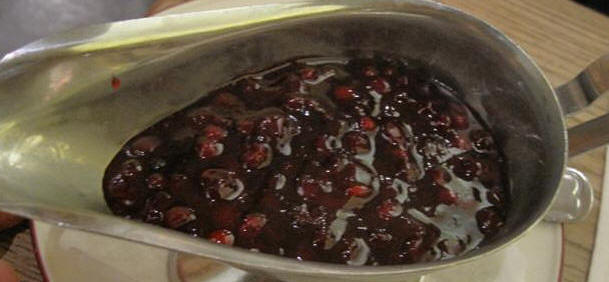 She wanted more berry sauce and they brought her a huge tureen of it (above.) For dessert we shared a beautiful apfel strudle mit schlag (whipped cream) (below.)
It was all excellent and a good feeling to be back. We then took a stroll around the corner and at 11:25 PM we stopped in at Luigi Tambosi's am Hofgarten [Odeonsplatz 18,
+49-089-29-8322] (below left,) where I often stop for a beer or cappuccino after my run. Their table candles were quite unusual (below right.)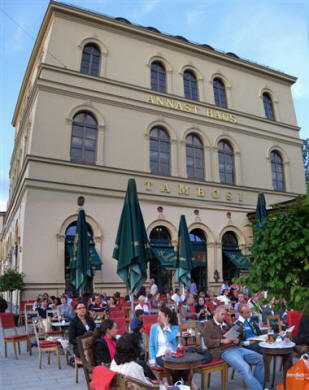 Below left you see two ladies playing with their electronics; one is Marcia. We had an Augustiner pils and a glass of Riesling.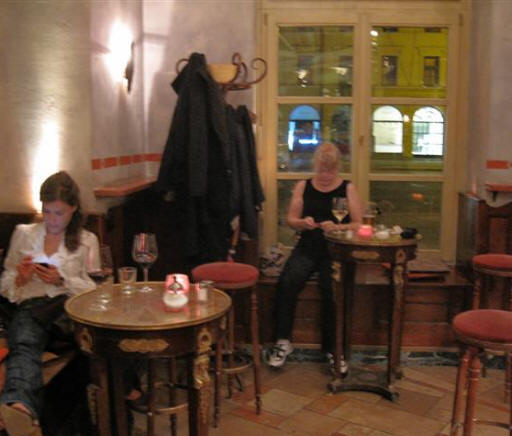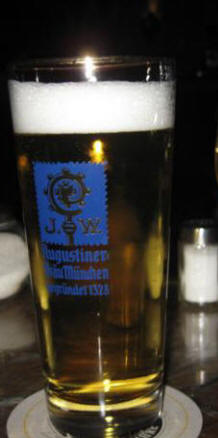 We relaxed and enjoyed the ambience and then walked back to our room and got to bed at 2 AM. Our first day in the EU over.
Kenneth J. Hoffer, MD
KHofferMD@AOL.com

Munich, Germany
1-21-2011
If you enjoyed these travels or wish to add comments on the places we visited
Please Leave Me a Message by clicking the spinning @ sign below.