Dr. Hoffer's Travel WebSite This site was last updated 07/27/14
---
"This page is dedicated to my only brother Gary, who died today, June 20, 2011, at age 65 of liver and kidney failure. I will miss him very much and I believe he is with my mother now waiting for my arrival someday.

When he arrived at my house 3 months ago we were talking and he mentioned that there were no pictures of him on my website. I told him it was because he was never in Europe with us. That stimulated me to do this Honeymoon Diario next and add things about my life that would allow me to put pictures of him on it. I was hoping to get it finished so I could show it to him, but I was a little too late."

KJH June 20, 2011
---
Marcia and I in Belgrade hotel on our Honeymoon (below left.)
Our first grandson, Wesley Michael just celebrated his second birthday on May 24, 2011 (below right.)
---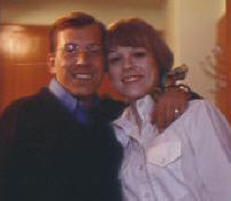 This Trip Diario series is a recounting of the first trip Marcia and I have ever taken to Europe (or anywhere else for that matter.) Before we went on this trip which was our honeymoon, we had to get married so I will show a little of our wedding first.
---
First I want to show some of my favorite pictures of this girl I married.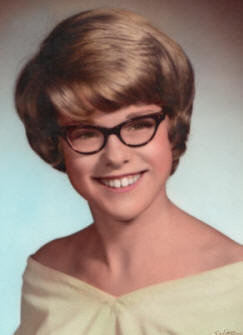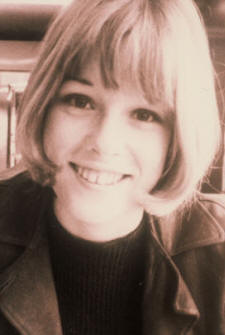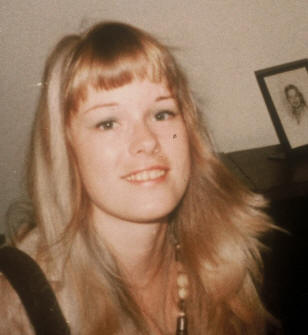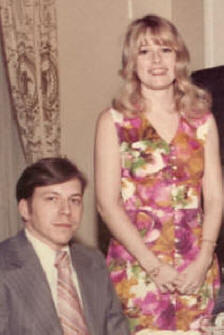 As background, Marcia's parents, Wesley and Eleanor, were married (below) in the First Baptist Church in Freeport, Maine on June 15, 1937, before the outbreak of WWII. He went into medical practice in Rockland, Maine, as his father Rowland did before him.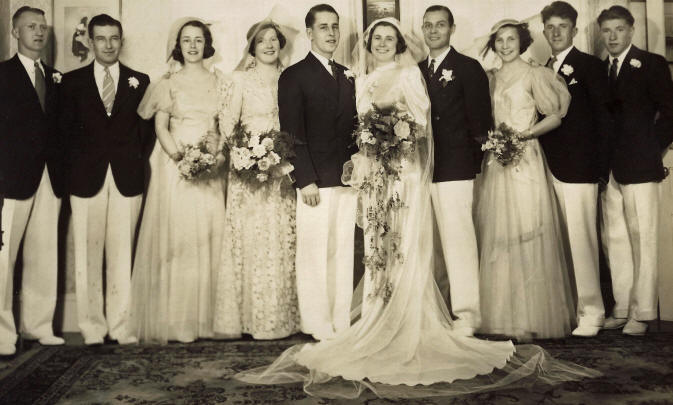 Note the dress Eleanor wore (above) is the same one Marcia will wear for our wedding (below.) Our daughter, Kristin, said she will wear it for hers. My parents, Mary and Joseph (below) were married in Jamaica, Queens, New York City. Below right is my brother Gary with our first grandchild, Kaylin, when she was a year old (2001.)
---
We met, fell in love and I asked her to marry me three months later. Three months after that we went to Rockland to meet her parents. Here are rare photos of Marcia and I at her parents house at Christmas, 1969. And was it cold.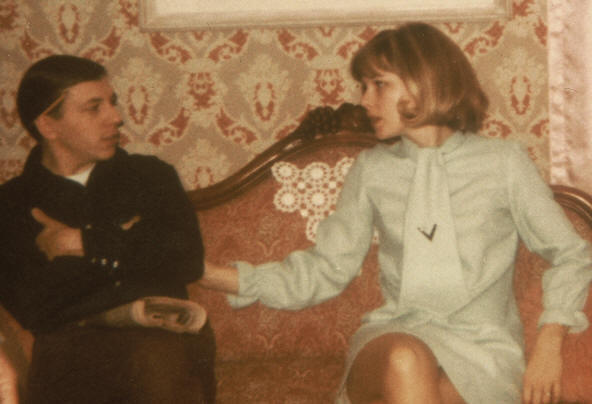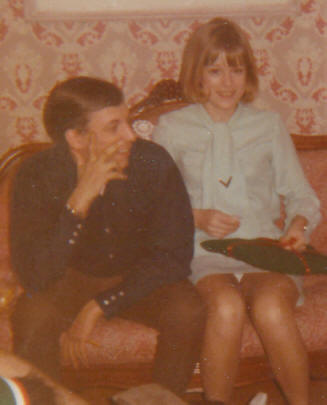 I liked her parents immediately. He was outwardly quite stern, but we got along very well. It was there we planned for a Spring wedding and so that I would never forget my anniversary, I picked Memorial Day as the day (which was always May 30.) Little did I think someday Congress would change that to a 3-day weekend and make it a floating holiday. But, in 42 years I have never forgotten my anniversary.
[Below: In Pat O'Brien's in New Orleans 1980s]
The residency program would allow only two weeks after the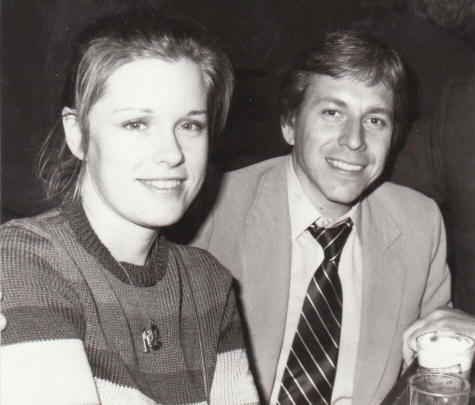 wedding for a honeymoon. So it came to deciding where we would go on a honeymoon, not how long. My personality is not to follow the crowd. I didn't want to do the usual; Paris, London, Rome, Niagara Falls. Having been embarrassed being half-Hungarian as a kid in high school, I had just read the 1000 year history of the Hungarian people and became very interested in seeing what they were about. And, since Hungary was right next door to Yugoslavia, we could also see what my internship friend Peter Mitrevski was talking about when he told me his country was so wonderful. And besides, both these countries were Communist - that's different. We therefore booked a trip that would take us from Boston to Belgrade, the capital of Yugoslavia.
I flew to Maine since Marcia had driven there in her Corvair with our dog in advance to get prepared. Marcia's parents had arranged the wedding at the Rockland Congregational Church, so I went along with that. I wasn't about to push Catholicism on them. Below left is the wedding announcement, center is the newspaper announcement and right is Marcia at her shower (I wonder where that tea set is now.)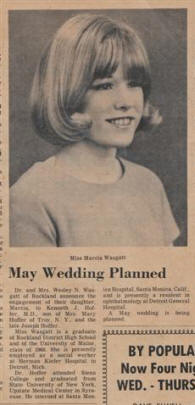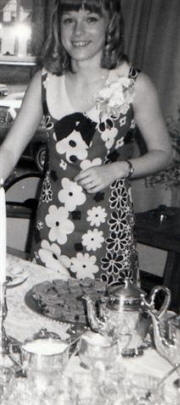 ---
Saturday, May 30, 1970
---
Here is the Congregational church where the wedding will be held.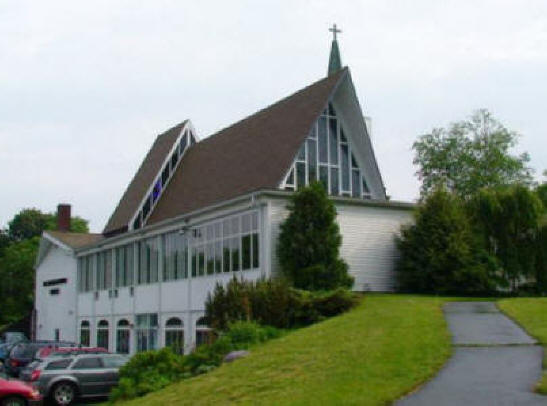 Below is Marcia getting ready with her mother and with her Maid of Honor, Barbara Kenny.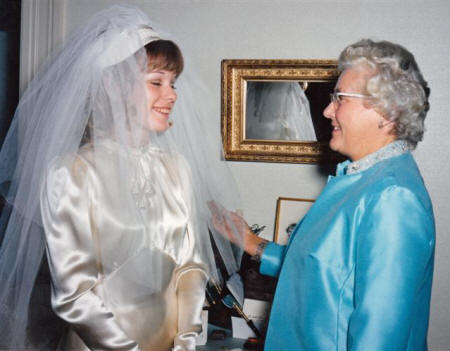 I decided that instead of being nervous I was going to make this the happiest day of my life - and I did. I was forewarned about Rev. Montieth, the Congregational minister, giving me his mandatory session about the "birds and the bees" so I helped him shorten it when I reminded him that I was a licensed physician and had delivered 13 babies. Her father was very proud leading her down the aisle.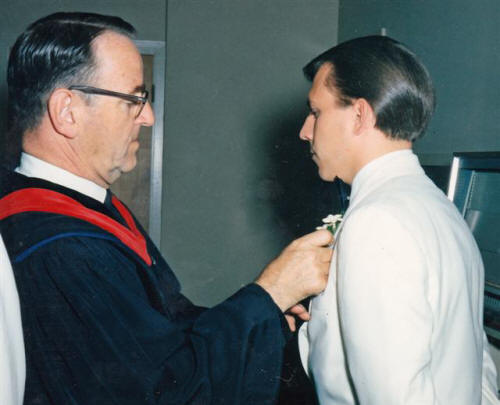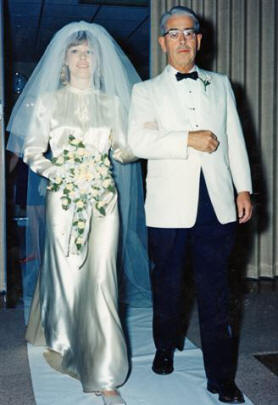 Marcia wore her mother's wedding dress from 37 years earlier (see way above) and I wore a white tux. Rev. Montieth officiated our saying our vows and then we kissed. My brother Gary was my Best Man.

Now we are man and wife. My bachelor days are over. I walked her down the aisle and I kept hoping I wouldn't trip.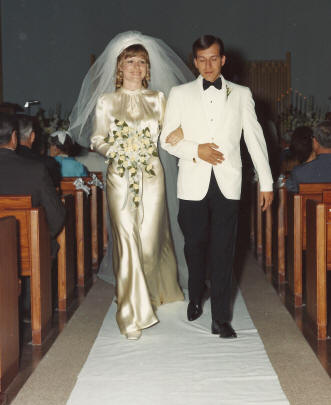 Below is Marcia and I and the Hoffer/Wasgatt family photo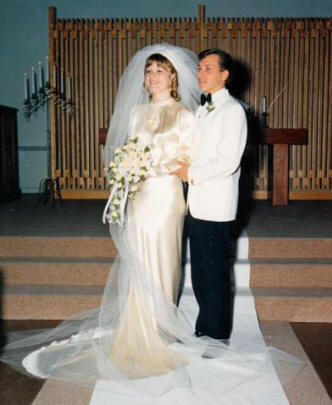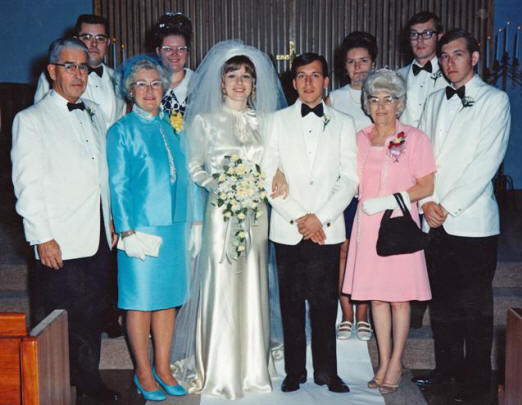 Photo L-R: Dr. Wesley W, Rowland W, Eleanor W, Ann W, Marcia, me, Barbara W, Mary H,
Charles W and Gary H.
Below is the wedding party photo.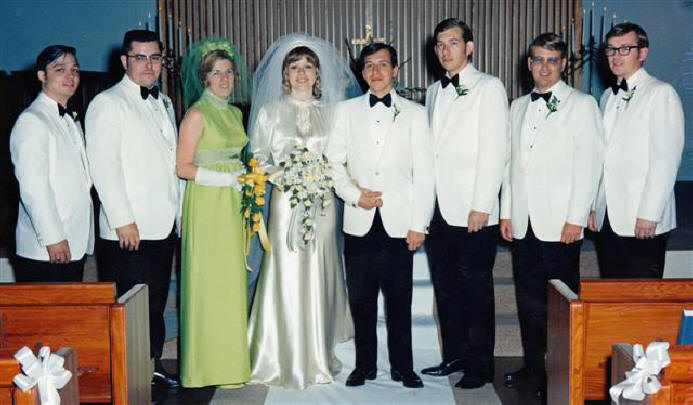 Photo L-R: Woody Janese, Rowland W, Barbara Kenny, Marcia, me, Gary H, Gil, Charlie W.
My brother was my best man and the ushers included Marcia's brothers Rowland and Charlie and two of my friends from medical school, Woodrow Janese MD (Buffalo) and Gilbert Elian MD (Manhattan.)
[Woody became a Neurosurgeon and lives in Houston and Gil became an ophthalmologist and practiced in San Jose, CA. I was so disappointed my friend Jim Pulaski couldn't make it.]
We left the church and headed to the Tradewinds Hotel for the reception.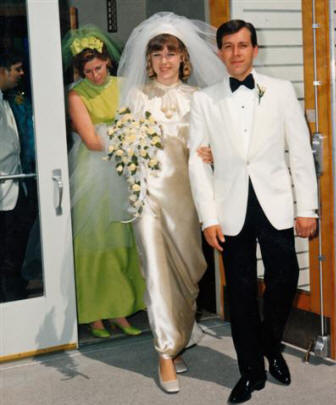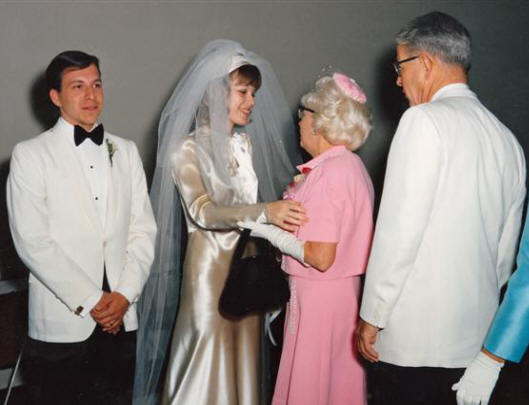 My mother Mary (in pink) really liked Marcia very much and you can tell by the look on Marcia's face. It was now time for the toast by the Best Man.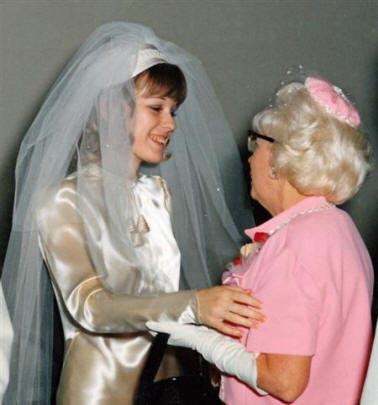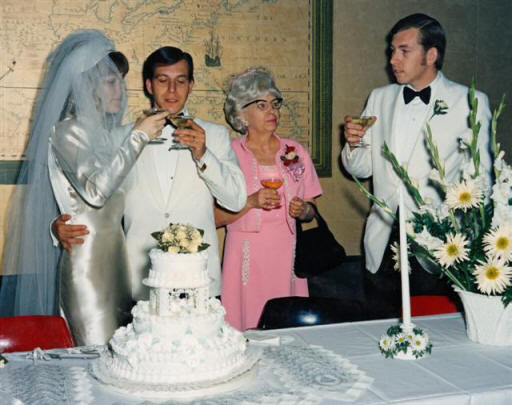 You can see the proud look on my mother's face as Gary was talking.
Marcia and I champagne-toasted our marriage and then it was time for cutting the cake.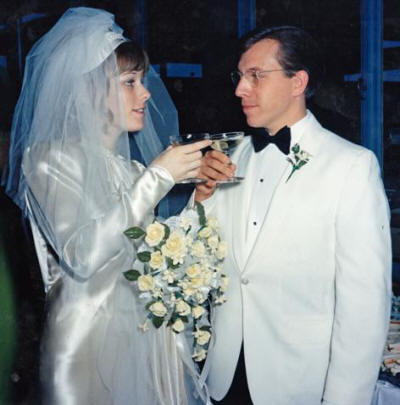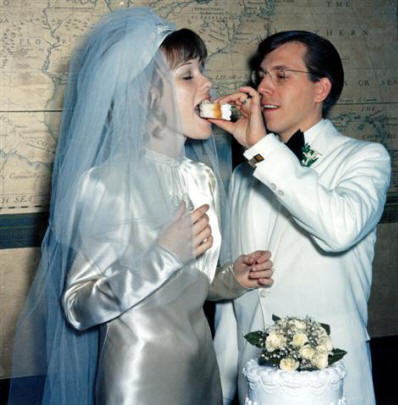 Then I did the garter throwing...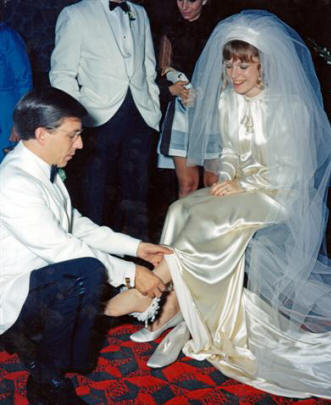 ...and Marcia threw her bouquet. It was a great party and we danced for quite some time. Below right is a photo of her Dad, my brother and I.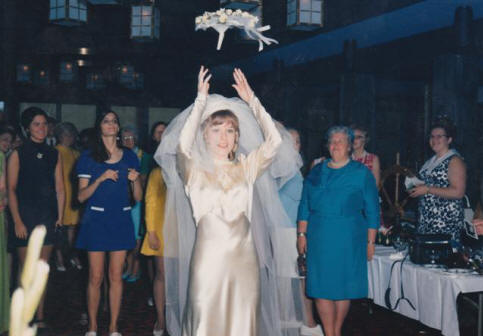 We then changed clothes and headed out in Marcia's Corvair, which she had driven from Detroit. Behind the car is Charlie and his wife Barbara (nee Buttman, died in 1986 from recurring breast cancer.) She was the mother of Wesley and Matthew Wasgatt.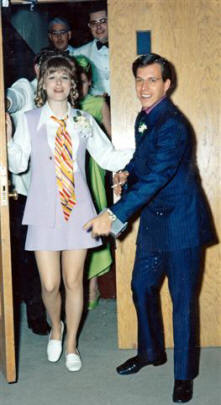 One last photo of us with just our parents (L-R: Wesley, Eleanor, Marcia, me and Mary.)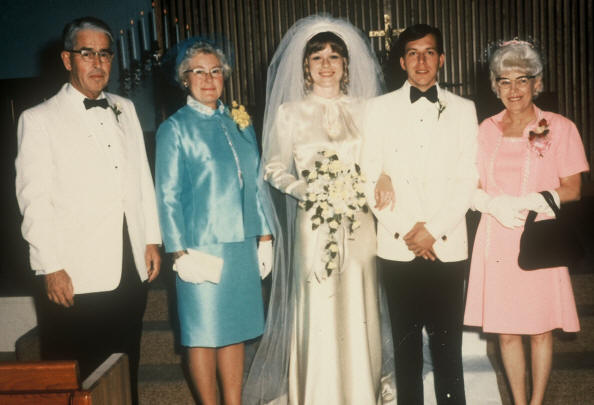 Now back to the Honeymoon Trip.
---
Sunday, May 31, 1970
---
KEN & MARCIA'S HONEYMOON TRIP
Today, my medical school buddy, Gil Elian, drove us to Boston so we could get on our TWA jet from Logan Airport which will take us first to Frankfurt, Germany. Below is a photo of my 1970 passport. Note the New York return date of June 15th (no long trip, this one.)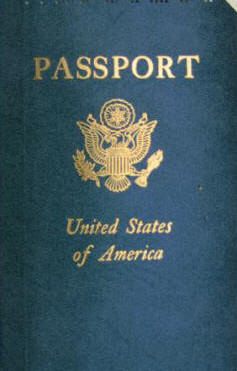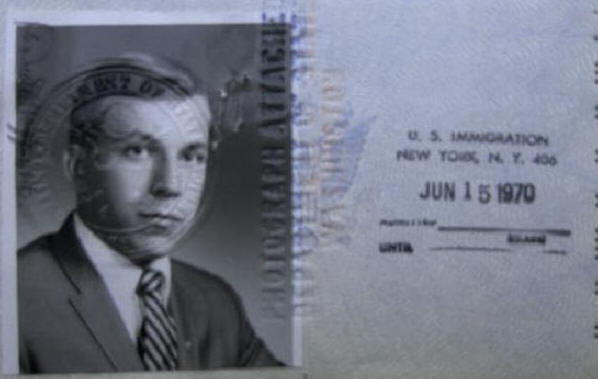 Here are the visas we obtained for Yugoslavia (left,) Hungary (center) and Romania (right) all given to us by Communist governments. I don't remember why we had obtained one for Romania because we never went there, though that is where the Transylvanian part of Hungary is located since WWII and maybe I thought we would go there.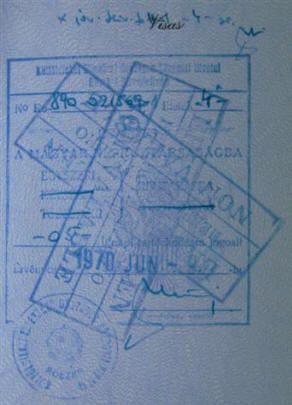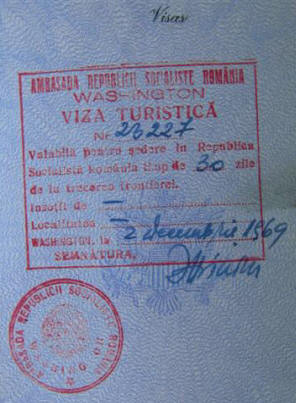 I remember little of the flight except that it seemed long. Here is the only photo I have of Marcia in downtown Frankfurt. She sure looks cute.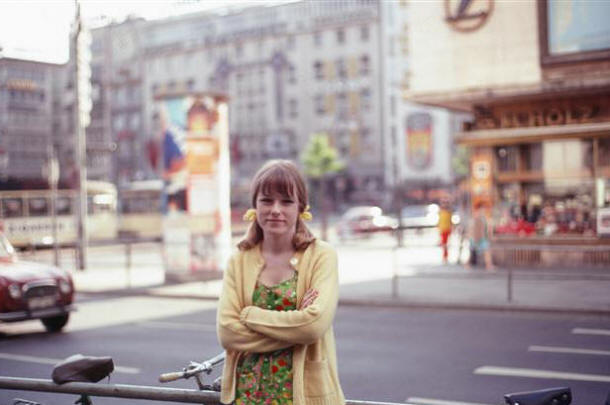 Aside: While I was attending Siena College, I got a job as a lab technician at Leonard Hospital in North Troy (below.) [No longer a hospital today.]
Along with salary, they gave us room and board and that is when I moved out of my mother's apartment at age 18. While working there, one of the other technicians was also a college student but at RPI, to become a math professor like his father. His name was Merle Preble and over a period of time, we became very good friends and I convinced him to change his plans and go to medical school instead. When he did, his father basically disowned him and refused to pay for any of his further education so he wound up signing up with the U.S. Army so they would pay for his medical school tuition. After he graduated from the University of Virginia Medical School in Charlottesville, he had to enter the Army and was a doctor at the Army base here near Frankfurt. Perfect coincidence. He invited us to stay at his apartment that night. That night, we had dinner, a few beers and some laughs and went to bed.
[Many years later, Merle moved to San Francisco and then to Idaho. He took up flying his own airplane and wound up dying when his plane crashed during a snow storm in the mountains of Idaho. Doctors and private planes don't mix well. He introduced me to a colleague of his while in the Army and Forrest Tennant, MD and his wife Miriam became good friends of ours over the years.]
Kenneth J. Hoffer, MD
KHofferMD@AOL.com
Frankfurt, Germany
Sent 1-1-13
If you enjoyed these travels or wish to add comments on the places we visited
Please Leave Me a Message by clicking the spinning @ sign below.