Dr. Hoffer's Travel Site This site was last updated 08/04/10
It was 7:30 PM when we took off from Monte Carlo and Marcia drove the 114 miles east along the French and Italian Riviera to arrive in Genoa at 9:50. As we crossed the border from France into Italy, I removed the Spanish Movistar chip from Dima's phone and put back his TIM chip but then I discovered that it still didn't work and couldn't figure out why. I couldn't make calls or send digital messages. Now I have to find a TIM store somewhere and find out what's the matter with his phone. The GPS found the Star Hotel President on Corte Lambruschini easily and we got checked in and unpacked quickly to have a beer and wine at the lobby bar and ask for a decent restaurant at this late hour. They recommended a little place called La Taverna da Michele which is several blocks away so we decided to get the car from the garage and drive there. We drove around in circles but finally found it, the GPS was dead wrong again. We had vino bianco and a beer starting with a pizza marguerita which surprisingly was not special. I had spaghetti vongole (clams) and Marcia had veal slices with zucchini and we finished off with an espresso and limoncello. We drove back to the garage and went to the lobby bar. Marcia went up to bed while I had another limoncello and a beer while I put the last 3 days expenses in the Palm. I struck up a conversation with the bartender, Fausto, and another guy named Andre who was from London and spent weeks at a time in Genoa. He was expecting his first child in a month so I tried hard to get him to quit smoking. I finally gave up and went to the room and got to bed at 3:30 AM.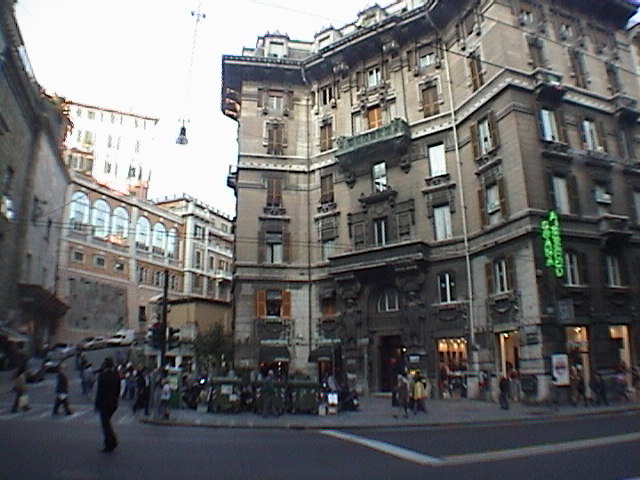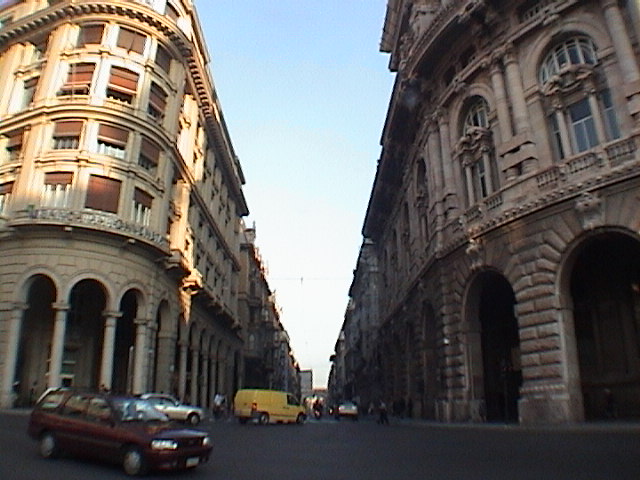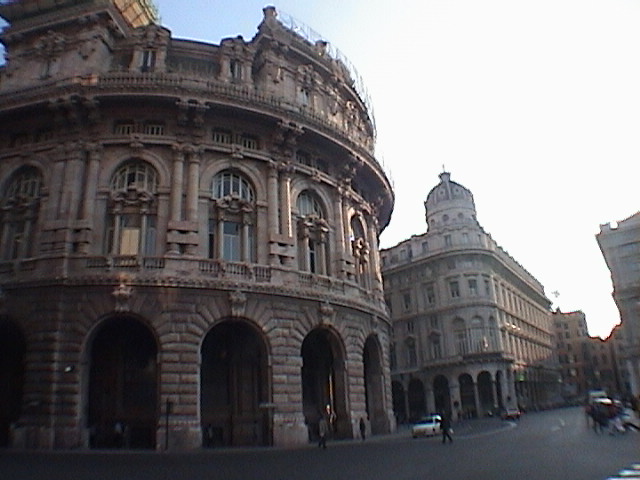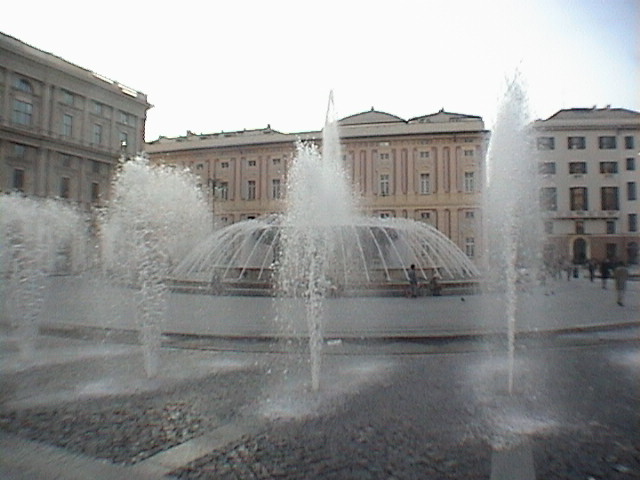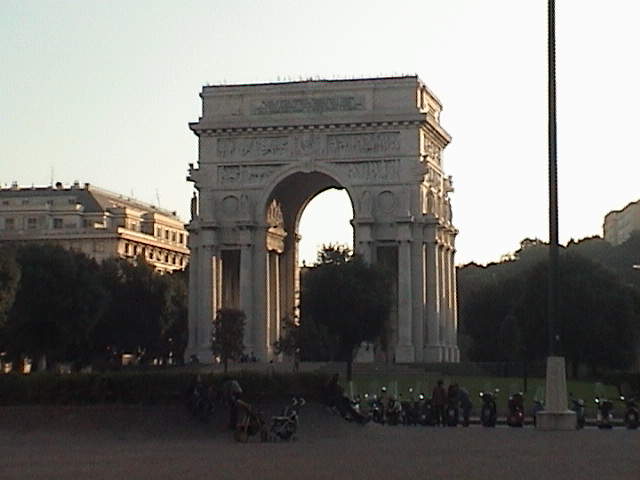 I woke up at 11:20 and today is the 90th day we have had possession of the BMW. If we turn it over to Harms after 90 days there is no California sales tax on the car when we receive it in California. Today Dimitrii flies to Paris to teach a PRL lens implant surgical course to French surgeons. By 1:30 we got up and packed and checked out of the hotel at 3 PM. I had a cappuccino in the lobby bar and worked the computer until 4:50 when I changed and went for my run in the streets of Genoa. As I ran down toward the sea, my short visit here in 1997 was starting to come back to me and I was oriented as to where I was so I headed up the main street to the central piazza where the palace is. This is where the G-7 Economic Conference was held with all the rioting that occurred just about the time of our arrival in Milano back in July. It was spiffed up from what I remember and I took a few pictures along the way. We didn't need to visit Columbus's birthplace and other sites because we did that in '97. On the way back I bought 2 really nice red shirts (one was corduroy) and a pretty bouquet of flowers for Tania. The lady at the flower shop directed me to a TIM phone store around the corner and after waiting in the usual line, the girl at the counter diagnosed my problem as one of being totally out of money on the chip. What a coincidence that I had used it all up just before I removed the chip in Spain. She let me put $50 on the chip by credit card and then I could call Tania and tell her the phone was OK and when we might be arriving in Milano. I stopped in a book store and bought a tour book of Venezia in English for our upcoming trip there. We have 3 at home which we forgot to bring. When I got back to the hotel, I changed my clothes in the garage (no one was around) and met Marcia in the lobby bar and had a cappuccino with Fausto again and finished the Palm expenses report. It was now 7:15 PM when we headed out of Genoa to go north to Milano.
Genova, Italia
Kenneth J. Hoffer, MD
KHofferMD@AOL.com
SENT: 11-20-01
PHOTOS: 54Genova
If you enjoyed these travels or wish to add comments on the places we visited
Please Leave Me a Message by clicking the spinning @ sign.