Dr. Hoffer's Travel Site This site was last updated 05/05/11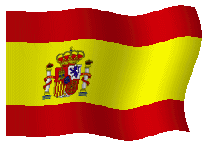 IBERIA2001#10 Finally España: Aiguiblava
From Montpellier it was a straight drive south on the A-9 (France) A-7 (Spain) to finally reach the border and enter into Spain. As we crossed the old Customs stations (no longer used since Spain is in the European Union) there is a large replica of an Aztec pyramid. I thought this strange since this architecture was built way before Spain ever conquered the Aztecs.
The drive south turned finally east near Figueres off the freeway to the coast (Costa Brava) past Las Bisbal (the ceramics capital) and to the town and area of Begur (Begar in Catalan). We are now in the "nation" of Catalunya and since King Juan Carlos made it fully legal again the people use the Catalan language which is a mixture of French and Spanish. Now an exit is either a Sortida in Catalan or a Salida in Castellano. All signs are labeled in both languages.
After crossing very winding roads which showed off BMW engineering, we finally arrive a Parador de Aiguablava (Aigua=water, blava=blue in Catalan). What an experience! We check in and are told the room is "special" on the top floor. We get to the room and it is huge with a very large bathroom with a full 5-person Jacuzzi tub, marble floors and all the 1st class amenities. The bed was larger than king-size and we also had a full couch and desk. Then we stepped out on the terrazzo and viewed the most spectacular scene of the coast I have ever seen. I wondered if maybe we could spend the rest of our 3 months right here. I immediately called the desk and asked if we could stay a second night after I found out we were paying $130/night for the room. You can't get into a garbage can for that in big cities in the US. We took a stroll down the long trail to the beach which was in a protected inlet on the opposite side and relaxed with a glass of wine. Then we realized we did not have any pesetas, only dollars, marks, shillings francs and lire. Maybe we could use the credit card? There is a limit of 1000 ($5.26) pesetas and we had only spent 320 ($1.68) for the two glasses of wine. ¿Can you believe wine for 84 cents a glass? So to meet the minimum we had two more glasses, a diet coke and an espresso. We had made reservations for dinner at the Parador's beach restaurant and were seated slightly up the hill amongst the pine trees on a beautiful balmy (almost cool) night. Here we were afraid we would be sweating to death in Spain in August and it was just beautiful. We ate paella for the first time and had wonderful clams. The climb back up the hill caused a need to try the Jacuzzi.
The next morning I am begging the desk for 1-2 more nights and told it is "todo impossible". She tried the Hotel Aiguablava across the bay and seven other hotels in the region to no avail.
I got fooled on my run which I thought would be downhill and turned out to be one complete mile of running straight up a steep hill (without a break in the elevation). I couldn't believe this 58 year-old body could do it but it did. I ran all the way around the bay and then walked down the hill to the Hotel Aiguablava and discovered (as I did later), that Spanish woman seem to be completely comfortable wearing nothing above the waist while at the beach. Thank God they all don't, and in some cases I wished some of them did. After that experience I needed a cappuccino. The waiter there told me that all these hotels are booked a year in advance by Spanish people. I noticed I saw no Americans and only a few English and French. As I headed back to the Parador, I had to pass by the clear blue waters of the cove beach. I decided to take off my running shoes, belly pack and just wade in a little to cool off. Within 2 seconds I was swimming up and down the cove. I can't express how spectacular it was. Getting back to the hotel I took a dip in their pool while waiting to see if the impossible would happen regarding them giving us another night or another room. Lo and behold they had a different room available but 15 minutes later we learned we could stay in the same room one more night. Can't believe the luck we have had. Perfect example of traveling our way and not trying to book everything in advance. We would never have been able to experience this. Irene told us we should see several things while in Costa Brava so we headed out to the nearby town of Begur (did email at the local library (Biblioteca)) and then drove west and then south to the little seacoast town of Calella (Kah-lay-yah) di Prefugell. It was absolutely picturesque and though it was very touristy, it was touristy for Spanish and French tourists, not Americans. We strolled around until deciding on a beach front place to have vino and tapas. Tapas are small portions of various foods that you can make a meal on. We ordered grilled sardines which were wonderful and chicken croquets and cod fritter which were absolutely horrible. We have to learn this tapas thing a little better. We then settled on a nice place for dinner which was fairly good but not GREAT. After dinner I was so tired from the accumulated early AM runs (especially this AM) that I fell asleep at the table drinking strong espresso. We finally drove back and crashed.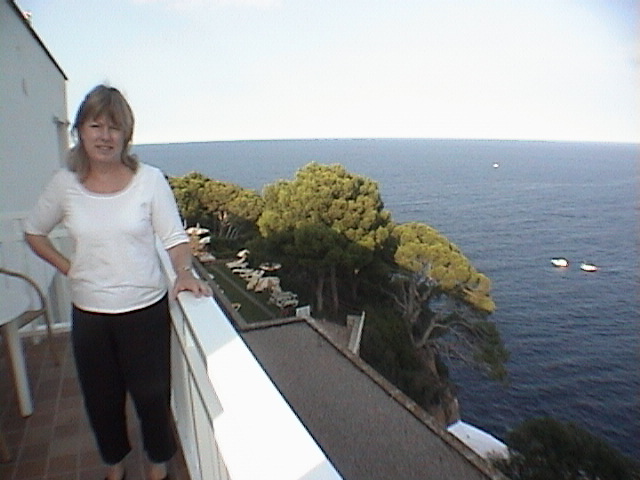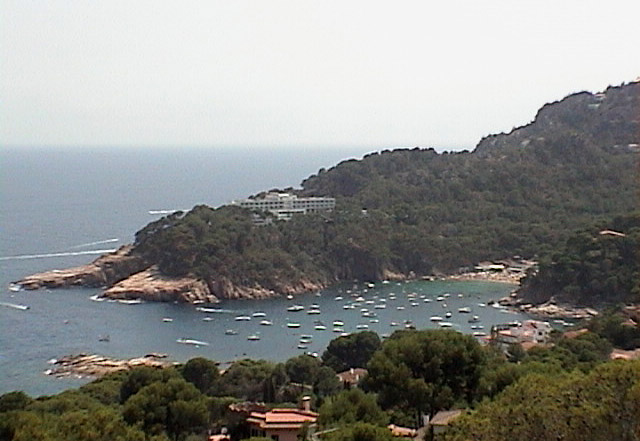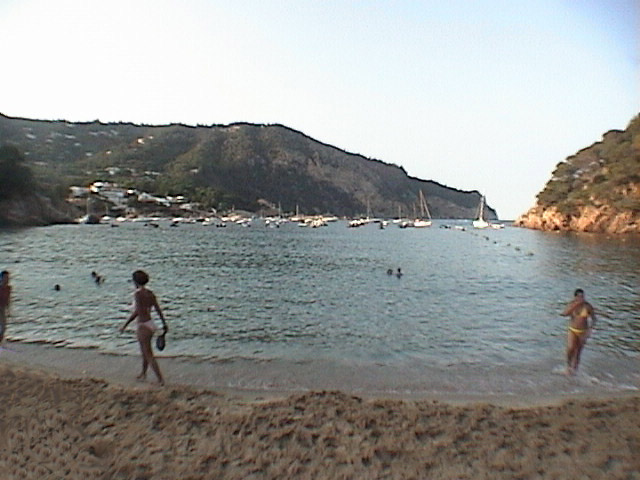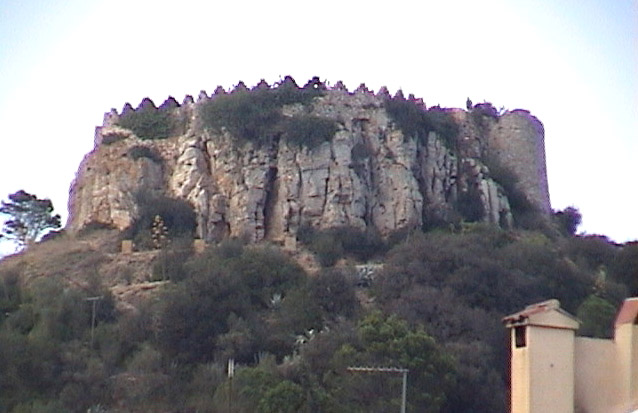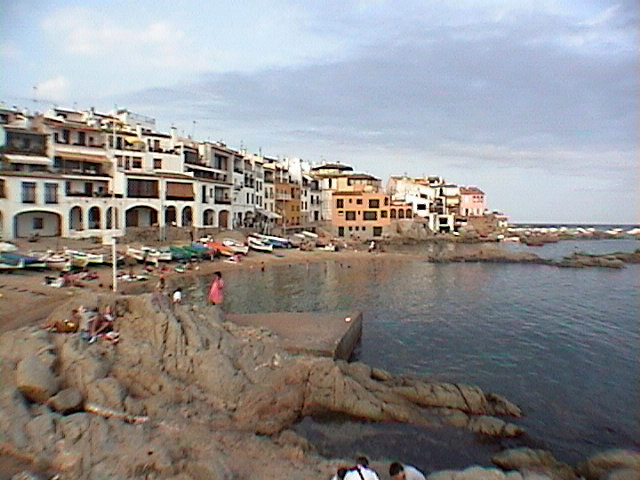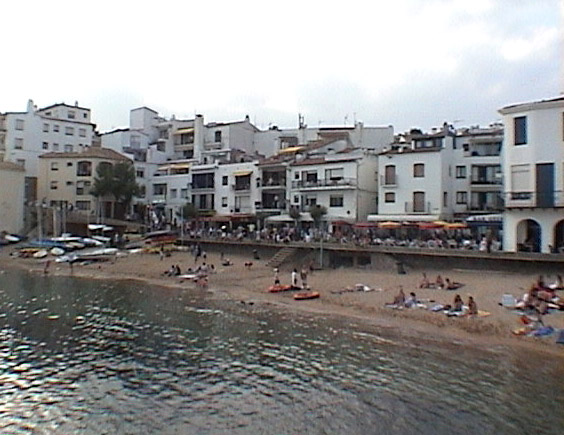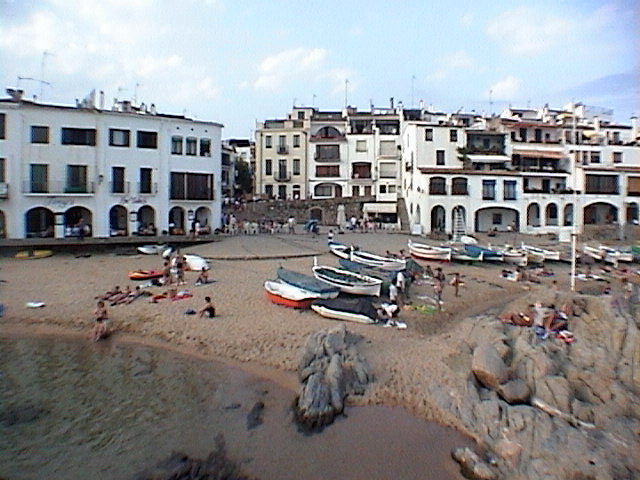 Aiguablava, España
Kenneth J. Hoffer, MD
SENT 8-11-01
PHOTOS: 10Aquiblava
[1) Costa Brava view from room terrace, 2) View from Parador across bay to Hotel Aiguiblava, 3) Marcia on the terrace, 4) View of the Parador on tip of peninsula, 5) View of the bay, 6) The beach where I swan, 7) Aztec pyramid at border into Spain.]
If you enjoyed these travels or wish to add comments on the places we visited
Please Leave Me a Message by clicking the spinning @ sign.