Dr. Hoffer's Travel Site This site was last updated 08/04/10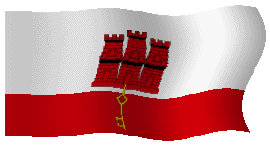 IBERIA2001 #35 Cadiz to Gibraltar
We (Marcia) drove the 80 miles south through the Andalucían countryside to approach the unique peninsula sticking out from the southeast coast. The Autopista crosses a bridge to get to the center of it and then we drive up the peninsula which skinnys way down so that water is visible on both sides through the buildings. It then broadens out a bit and we arrive at the old gate of the city of Cadiz (cah-dee). The city was first inhabited about 3000 BC and they claim be the oldest city in Europe. They also claim that Hercules founded the city (pretty popular guy in Spain, this Hercules). The city juts out into the Atlantic Ocean and around its perimeter it is walled to protect it from storms. The Phoenicians first had a port here, called it Gadir and used it as a base to trade with England. Later the Romans called it Gades and Julius Caesar held his first public office here. The Moors captured it and held it for several centuries giving it up to Ferdinand & Isabel ("the Catholic Kings" or "Reyes Católicos") during the Reconquista. We arrived at the Parador Atlantico which is at the very end of the peninsula, at 7 PM and after checking in we see the room is a 3 room suite. I called down to see what was up and they said that was all they had and there was no extra charge - what a luck out this was. We looked out of one of our two balconies to see the ocean and a beautiful pool area with restaurant attached. Marcia was tired from her cold and wanted to sleep awhile, so I took my computer down by the pool and merely relaxed with a cappuccino for 3 hours; it really was a pleasure not rushing to see sights. At 10:30 I woke Marcia and we walked the tiny cobbled streets of the old city to Meson El Candil (recommended by Cadogan guide). It was a simple little place but they had the best steamed clams I have eaten outside NY State. But we came for the pollo al ajillo (chicken with garlic & paprika) and was it fantastic even though a little on the dry side. We enjoyed the local wine and then walked back to the Parador. On the way back we saw the Teatro Falo, a huge orange building which stands next to the Medical School of Cadiz. In front of the school is a statue honoring an ophthalmologist who died in 1915. I watched CNN and got to bed at 3 AM
I woke at 11:30 and the front desk was giving us the bum's rush probably because we were in a suite. This hasn't usually been a problem for us here in Iberia as it has been on all our other trips. Instead of getting into it with them we hustled to check out at 1:15, put our bags in the car and then had a cappuccino in the Parador. I dressed for running so I ran the city perimeter walls all the way to the Catedral, one of the biggest in España. It's museum closes at 1 PM for the day so we are going to miss this one. I then ran through the streets exploring the city until I came across guess what - another tower to climb. I couldn't pass it up so I paid the 300 pesetas and climbed Torre Tavira to take beautiful photos of the city and the peninsula. I then looked for the Cyber café and found it was closed. I walked a little farther and found the real one and the man at the desk said it didn't open until 6PM (in 2 hrs). I pleaded and he let me get on one of the computers for 5 minutes, enough time to send Chapter 32. On the walk back you can see the huge walls and the large square blocks of concrete that were dropped in front of them to protect from the sea. They also had a lovely beach area and I was really tempted to take a swim. When I got back to the Parador, I discovered Marcia enjoying a relaxing rest poolside in one of the lounge chairs. The weather was just about perfect, not too hot and not too cool. I decided to take a swim in the pool which was very refreshing but not as exciting as the young guys that were jumping from the walls into the sea. After changing we decided it was time to head out but I wanted Marcia to see the Fort that was out in the ocean and walk to it by the walkway I had seen people using to get out there earlier. We parked the car and went to walk out on it put we saw a police car stopped on the walk way. He told us it was closed because of high tide and would not be safe to go on for another hour. Oh well maybe next time. You could see the huge waves crashing over the walkway. It was beautiful to look at and the cop said there was nothing to go into once you get out there.
Marcia drove 92 mi around the southern tip of Spain past Trafalgar where the famous sea battle was won by Lord Wellington (he died in the battle). In the London Trafalgar Square is named for this. We continue around and slightly up the coast and there it is in all its glory, the Rock of Gibraltar. I have always wanted to see it since I first learned about it as a schoolboy. We arrive at the city of La Línea (The Line) in Spain and head south across the border on Winston Churchill Blvd. We didn't know it at the time but we were crossing a jumbo jet runway as we went across. The runway runs sideways to the peninsula the province of Gibraltar is on and this is the only place they could put a runway. Gibraltar has been inhabited for a very long time. A skull of a Neanderthal woman was found in the caves here that predates the first one found in Neander, Germany by 8 years. The Neanderthal Man should be called the Gibraltar Woman. Everyone used the "Rock" as a strategic guard point across the straight of Gibraltar.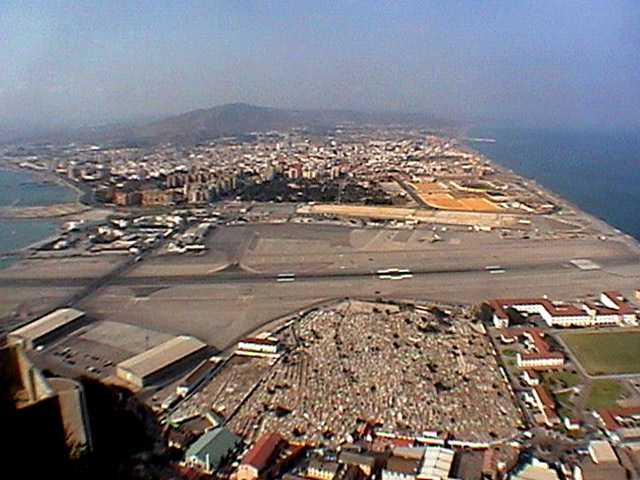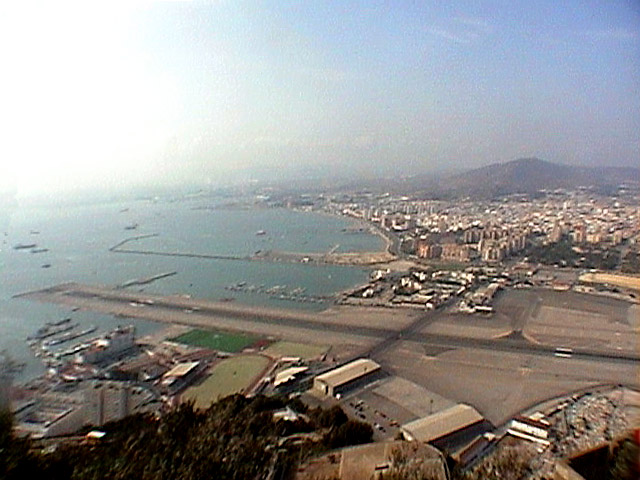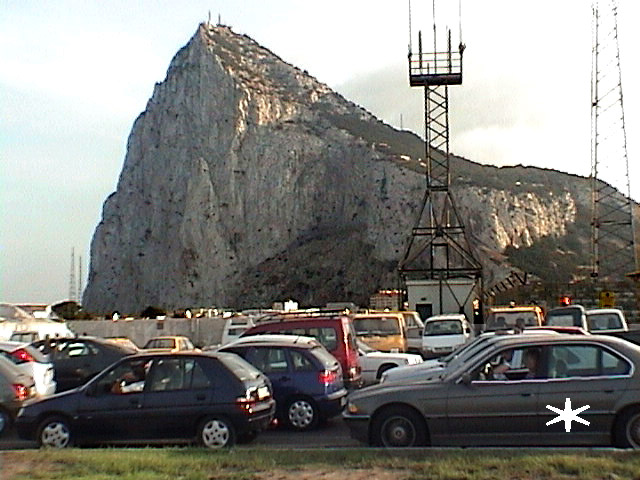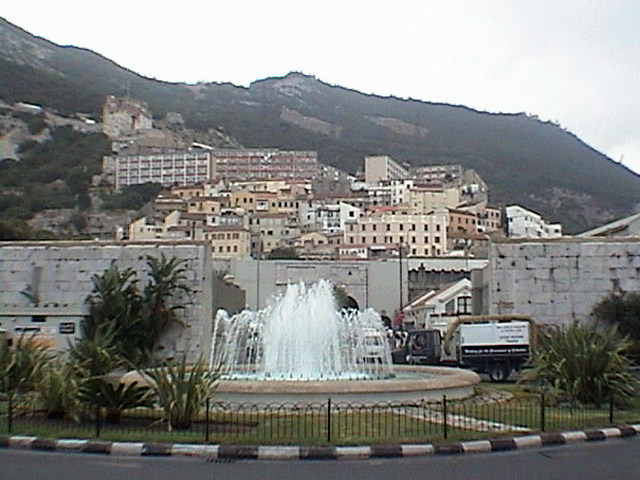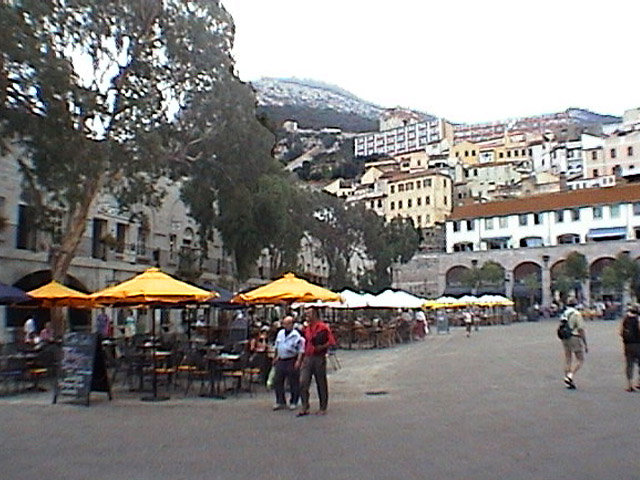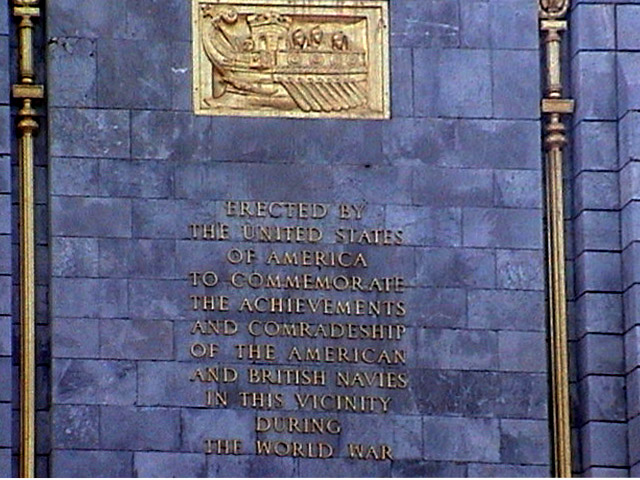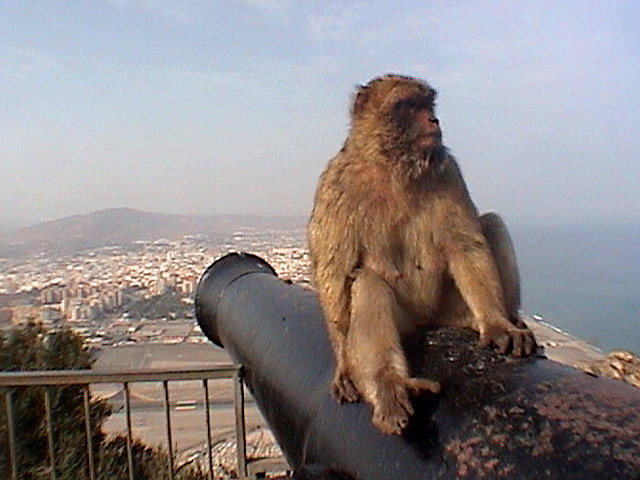 The Rock is called Mt. Calpe and with Mt. Abaya in Morocco 13 miles away they are called the Pillars of Hercules. Spain was so happy with the help England gave them fighting the French, they gave the "Island" to them "in perpetuity" in 1704. They regretted this and only 60 years later they were waging war with England to get it back. In one battle the Brits dug long siege tunnels through the rock to station guns to shoot down on the aggressing Spanish. After several attempts they reluctantly gave up. Under Franco's regime they closed the border between Gibraltar and Spain for 16 years, to no avail (that's when the Brits built the airport. Under King Juan Carlos the border was reopened but only in 1985 and they still want Gibraltar back and the mood is belligerent. It is no longer the strategic place it once was and most of the British military have been moved. England gave it protected independence but in 1996 a vote was taken and 99% voted against joining Spain. The residents forced the English by treaty to always defend its independence.
As we drove around we couldn't find the Elliot Hotel anywhere. I finally went into a hotel and asked an Indian man for directions. He yelled to me how easy it was and gave me a map and specific directions. Those directions were to go the wring way up one-way streets - the B. We went in circles around the town 3 times and finally found it thanks to a man in the street. Since I had already run, I really was enticed by the English pubs with the Guinness signs so we went for a walk down the main street. It really felt like we were back in England as we passed all the English shops, restaurants and pubs. Now I know why Fernando likes Spain so much; you can understand overheard conversations and start up a conversation with anyone in no time, something we have not been able to do in Iberia because we don't speak Spanish or Portuguese. There are 30,000 people living on this little rock with 3000 Spaniards crossing the border each day to work. Because of the closed border there were a lot of Genovese Italian people here for many generations. I got to see the wealthiest man on the rock who was a Genovese. I spied a little place that looked comfortable so we went in to Ye Olde Rock pub for a Guinness and wine. Oops, we forgot to get English pounds, but they accept pesetas, so we were OK. The money here is Gibraltar pounds with pictures of QE II on them but they are not accepted in England. While enjoying our fluids, we met a local named Lorraine and she recommended 2 restaurants, one of which wound up being closed (Simon's). The other was Kerry's and it was still open. The place was really very cozy and well done. I had a spinach with bacon gratin then pollo ajillo again (which was different from Cadiz) and Marcia had onion soup and swordfish followed by splitting an apple pie. We enjoyed it all and headed back to the Elliott. It was now 1 AM so Marcia went up to bed while I stopped at the little Italian place across the street called Il Piccolo Mondo for a cappuccino. I overheard this 57 year-old local saying he jogs 3 times a week so I asked him for advice as to where to run. He told me where to go to run around the Rock and we chatted for a while about the place and its people. He strongly recommended that we take a taxi tour of the place tomorrow. The owner refused to let me pay for my cap. I finally got to bed at 2:30.
I sprang up early at 10:30 and by noon I headed out to conquer the Rock. I ran through the town to Casemates Square, exited the city gate, made a right at the BP station and all the way around the Rock to the other side. When I finally stopped and looked up at it, it was amazing. This huge white thing looming over me. It really was spectacular. After taking about a thousand 1000 photos, I headed back to town and joined Marcia for a cap at the same place as last night. I tried one at Casemates Square put it had a foot of whipped cream on it and I just wasn't in the mood, so I walked. Marcia and I walked the town and found the Internet cafe and sent off Chapter 33. It was like all of the internet cafes, very humid inside. We walk all the way back and found the taxi rank and bumped into Francis who offered us a tour for $50. We decided to take it rather than argue with him. It was actually very good. We climbed the side of the Rock itself and first reached St. Michael's Cave which was used as a hospital in WW II, now they have concerts in it. It was beautifully lit and worth the look. He then took us higher to where the Barbary tailless apes live. There are several colonies of these apes and they were believed to be brought here by the Moors. They exist nowhere else in all Europe and it is said that the British will leave when the last one dies. They take very good care of them, needless to say. We then went even higher for views of the whole island and to tour the Siege Tunnels, then back down past the Moorish Castle (now a prison) and the cable car to arrive at the very tip of Gibraltar to see the Shrine to Our Lady of Europe which has been there for over 500 years.
We paid and thanked Francis, who is a native Gibraltar, for an excellent tour, got to our car and geared up for the grueling border crossing back into Spain.
Gibraltar, UK
Kenneth J. Hoffer, MD
KHofferMD@AOL.com
SENT 9-23-01
PHOTOS: 35CadizA 35CadizB 35GibraltarA 35GibraltarB
If you enjoyed these travels or wish to add comments on the places we visited
Please Leave Me a Message by clicking the spinning @ sign.