Dr. Hoffer's Travel WebSite This site was last updated 08/10/18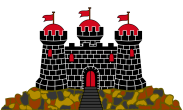 IRELAND15 #10 GLENEAGLES TO EDINBURGH TO STRANRAER

Flag of Edinburgh


---
July 26-27, 2015
---
---
Sunday, July 26, 2015
---
The Roman Catholic Church is not very popular in Scotland (see 1999 Diarios); it is actually hated. It's usually very difficult to find a church for Mass but luckily for me, Auchterarder has a little tiny one tucked away on a back street not far from our Allandale House B&B. So since they only have one Mass on Sunday and it is at 9:30 AM, we had to get up earlier today. Marcia went down and enjoyed the free breakfast (below left) while I headed out at 9:00 AM for my run to Our Lady of Perpetual Succour Church [11 Castleton Rd,
+44-178-682-2146].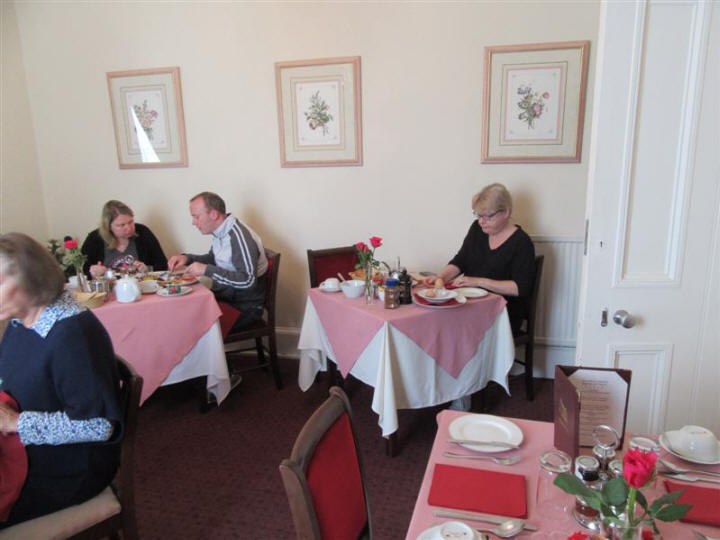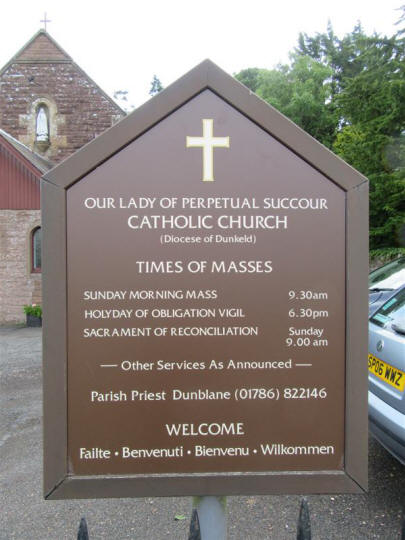 When I finished running, I found the church and it was quite tiny and hidden among the small houses on the block. Unlike in most of my European Masses, I actually understood what the priest was saying during his Homily.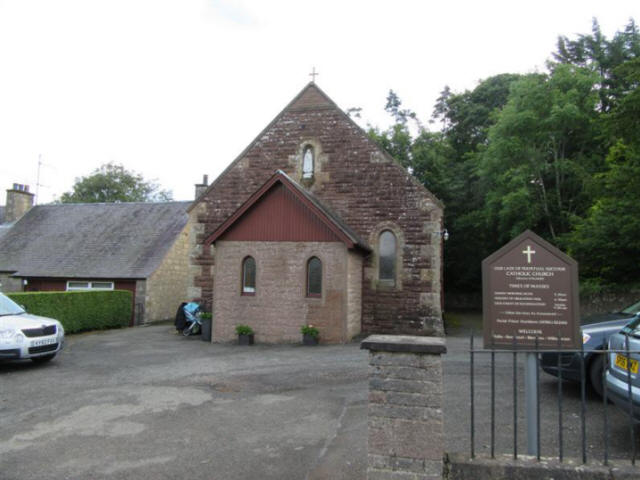 On my way back from church, I took a few shots of the local area including this very nice house (below right).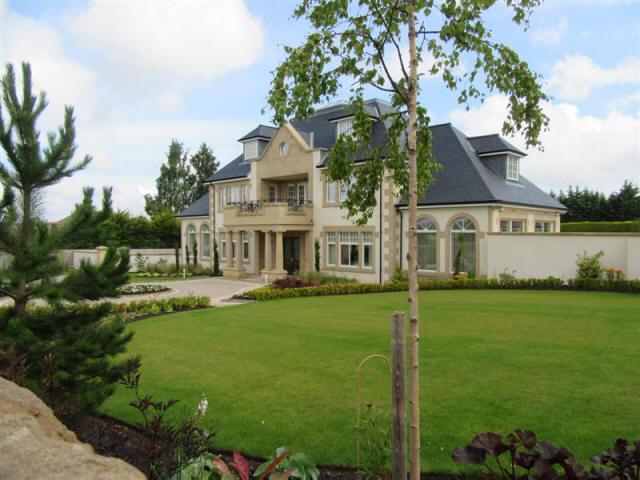 I got back to the hotel and paid my final installment for our stay of ₤240 ($370) and then got packed up to leave. I then drove over to Gleneagles for the final session of the IIIC meeting and got some shots of the hotel from the side. This PhotoStitch is a little angled but you can see the length of it.
The meeting is over, I'm back at the hotel, the bill is paid, we are all packed and it is time to drive to Edinburgh to visit our friends Wendy Eales and her Mum Hazel. We headed southwest from Auchterarder and got on the A91 at Blackford to head southeast to Kinross where we turned onto the M90 going directly south to get the bridge (below right) that crosses the Firth of Forth which is where the River Forth empties. It was heavily overcast.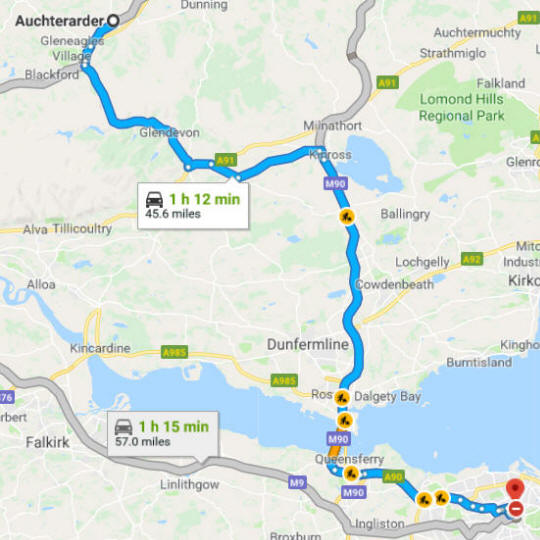 This is no small bridge but a major world bridge leaving County Fife (red in map left) the place where golf was invented at St. Andrews. We visited it in 1999. There are two bridges that cross the Firth (estuary) (map below right); the road bridge (green), the rail bridge (red) and one that is being proposed (white dotted).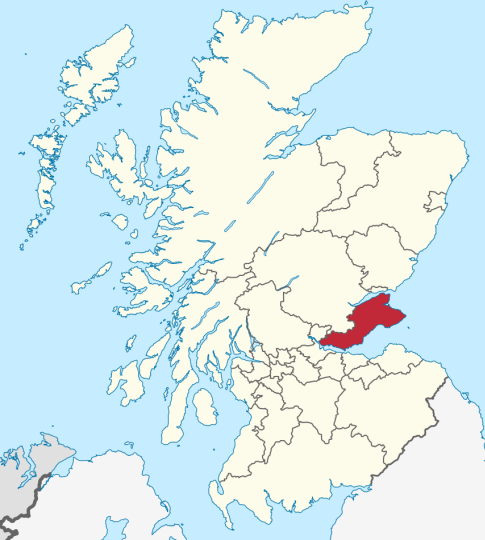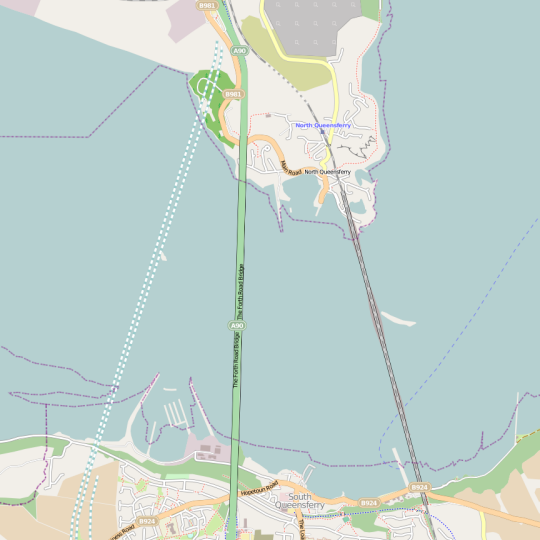 Here is a beautiful stock aerial panorama of the two bridges crossing to the town of Queensferry; the older train bridge is the red one on the right.
Construction of the Forth Rail Bridge began in 1882 and it was opened in 1890 by the Prince (future King Edward VII). The bridge spans a total length of 8,094 ft (2,467 m) and when it opened, it was the longest single cantilever bridge in the world, until 1919. It is a World Heritage Site. Seventy-three men died during its construction.

The Forth Road Bridge (stock photo), which we are crossing, was opened in 1964 and only seven died during construction. At a total length of 8,241 ft (2,512 m), it was the longest suspension bridge span (1.6 miles) outside the United States and the fourth-longest span in the world at the time of its construction.

We approached it (below left) and once on it, we could see the Rail Bridge on our left (below right).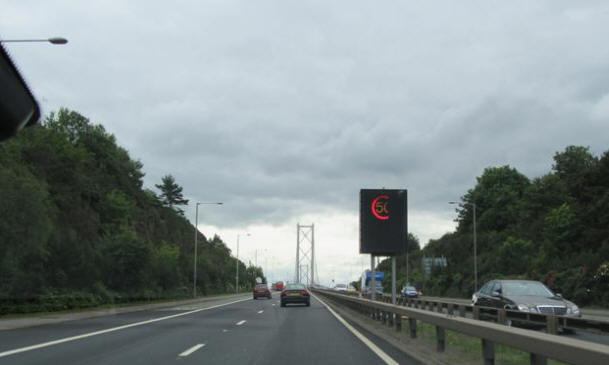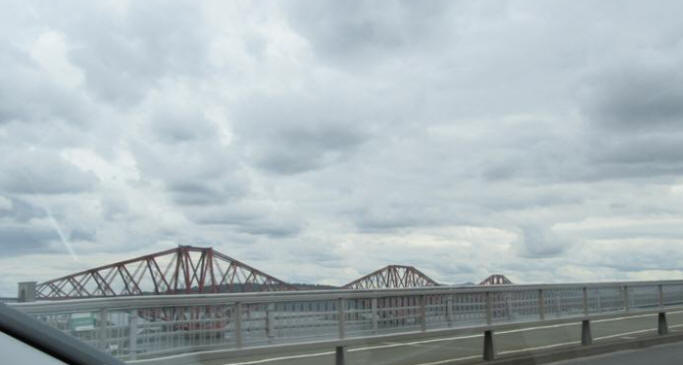 As we were going under the towers, we could see the heavy cables holding it up.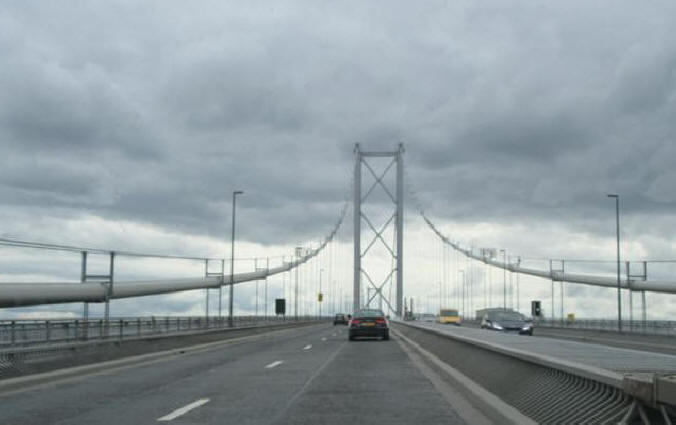 The stock photo (below left) shows the housing for the all the cables. It appears there is something under construction nearby (below right).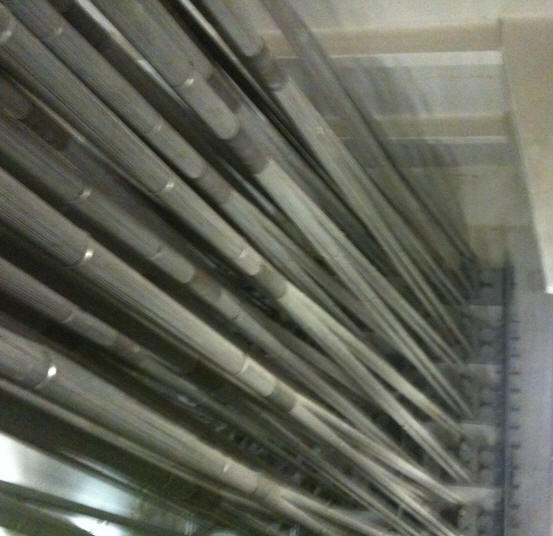 [It is a bit scary to discover that because the bridge we crossed was deemed unsafe due to aging, that in 2017, it was replaced by that "proposed bridge" (above) now called the Queensferry Crossing. It is a three-tower cable-stayed bridge, with an overall length of 1.7 miles (2.7 Km) and it opened in August 2017. (Stock Photo)]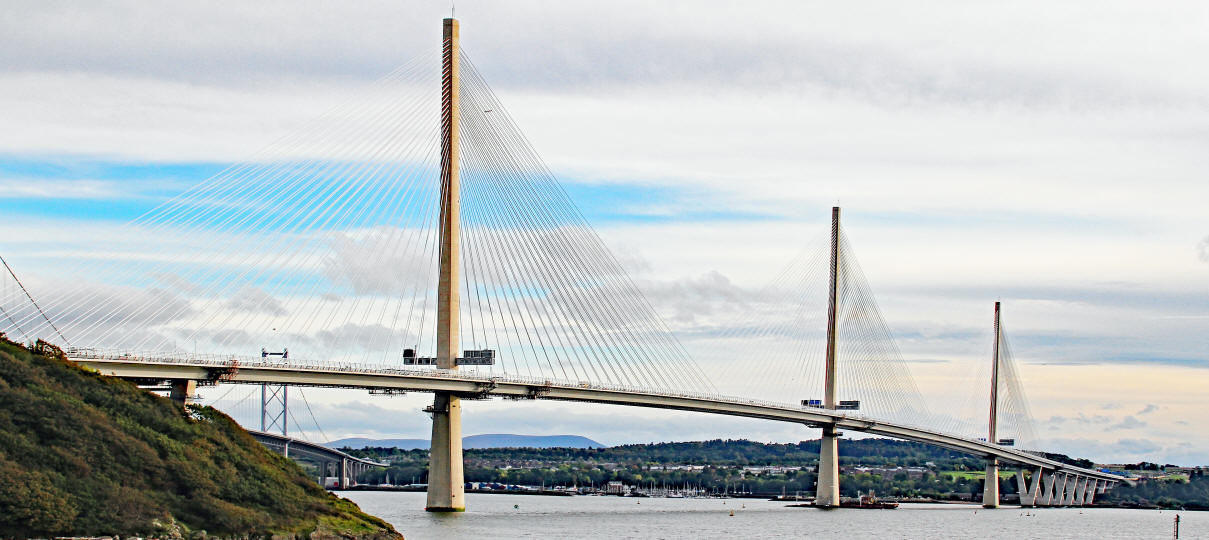 We are heading off the bridge route and entering the outskirts of Edinburgh. The trip was 55 miles (88 Km) and took us about one hour and 15 minutes.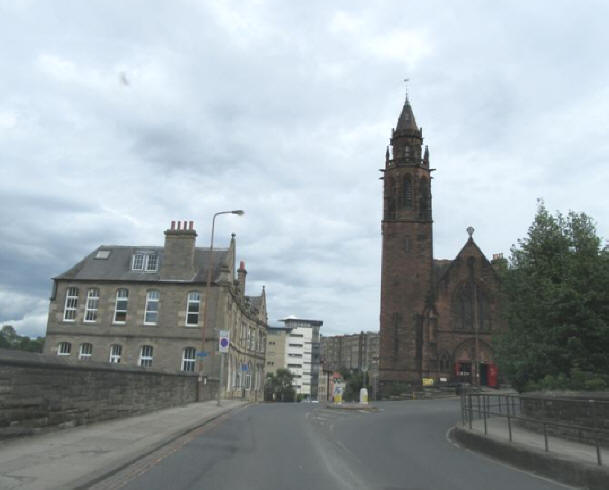 Below is a stock photo of the whole city.


We were now in central Edinburgh, the capitol of the independently-governed, devolved state of Scotland (flag left, coat of arms right). Edinburgh is the seat of the Scottish Government, the Scottish Parliament and the supreme courts of Scotland. An official City Guide is available. The population of the City of Edinburgh is 507,170 with 1,339,380 for the metropolitan region. The climate here is milder than places such as Moscow and Labrador which lie at similar latitudes. Below left is a drawing of the city from 1670 showing the Castle on the hill. The city sits on the Water of Leith (River Leith) (below right).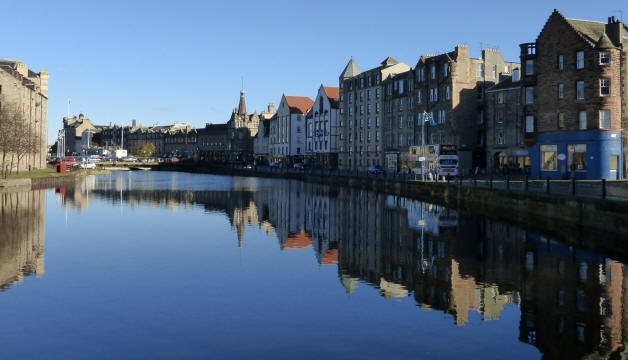 Below is a map showing the river running near the edge of the New Town (brown) and into the top of the West End (orange); the Old Town (dark brown) is south. See our thorough tour of this city in UK1999 Trip Diarios.
The GPS took us right to our hotel, The Bonham [35 Drumsheugh Gardens,
+44-131-226-6050]. Wendy
had recommended it for us and I scheduled it on Booking.com. It looks like an apartment building and has the UK flag hanging outside.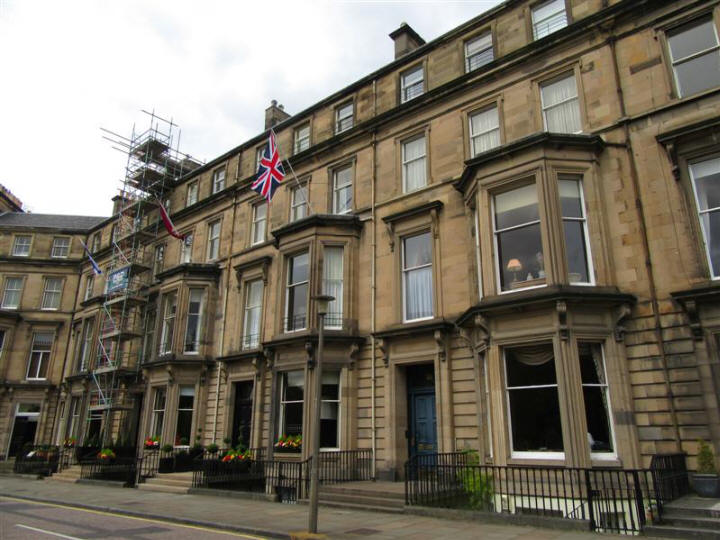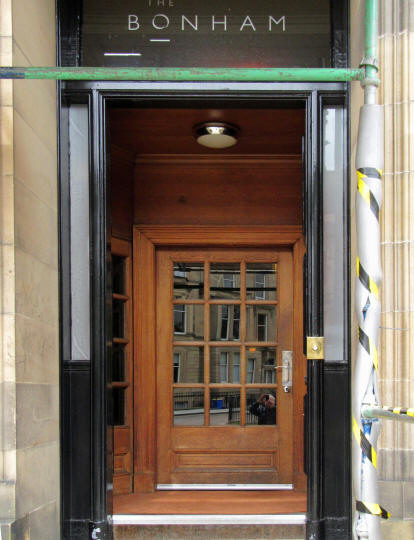 We went inside and checked in and then you go through the door on the left (below right) and go up the stairs (below left). We decided to take the elevator up which is that door beyond the little desk.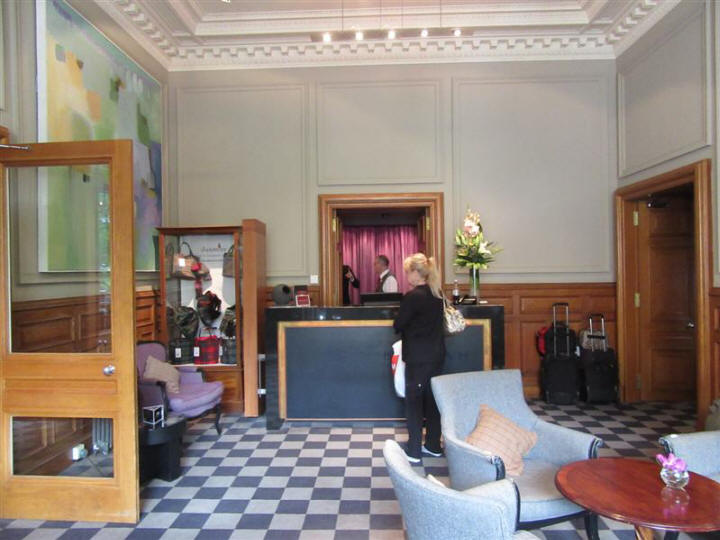 This is the view when you turn around from the reception desk, looking out the window. You can see we are in the West End and a couple of blocks from the Leith River.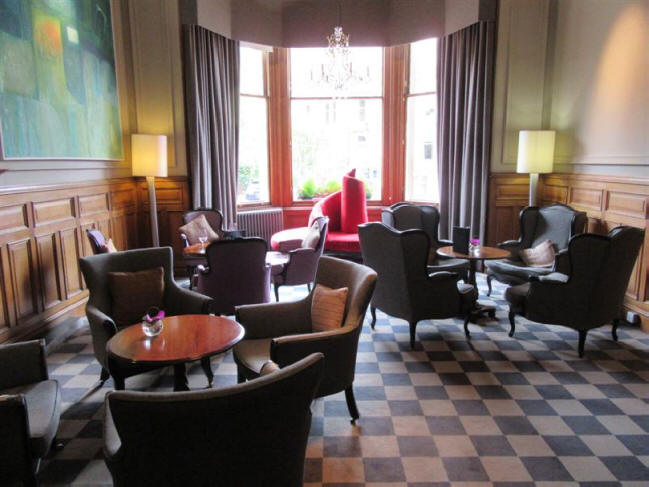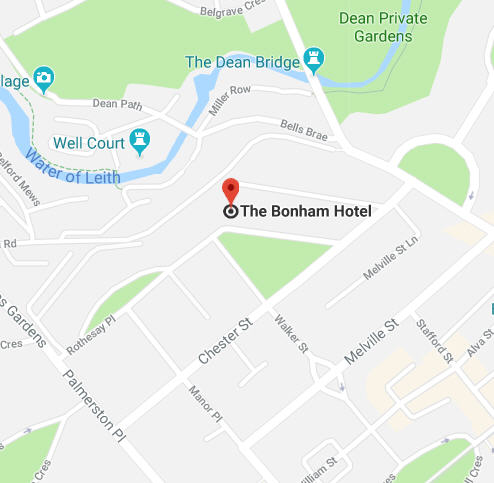 Before I went upstairs, I took a look at the restaurant in the hotel which seemed rather busy.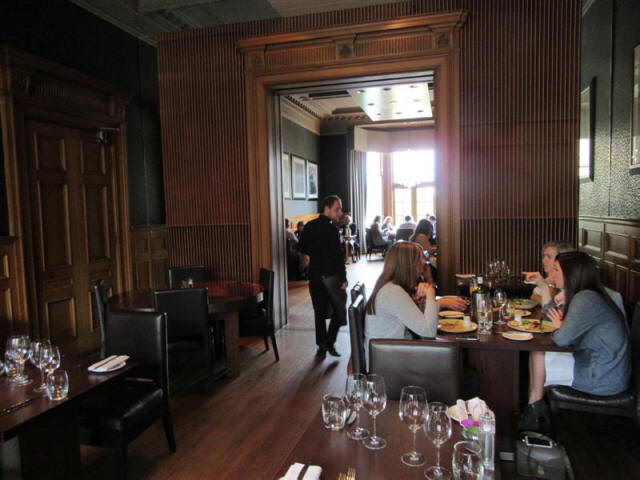 Here is a PhotoStitch shot of Marcia posing by the bed in our room.
I got a few shots with the GoPro camera showing the desk by the window.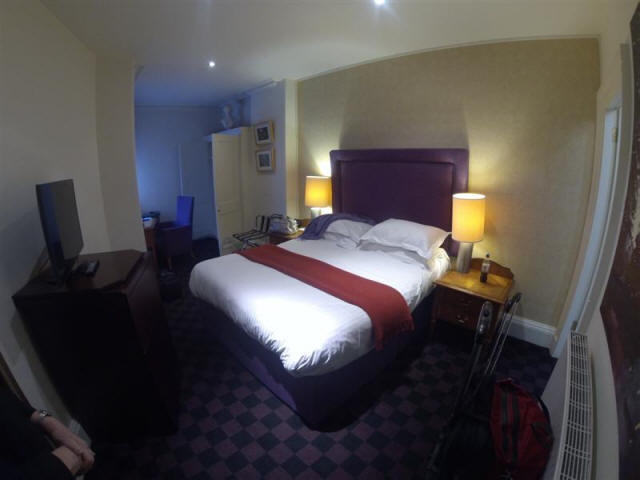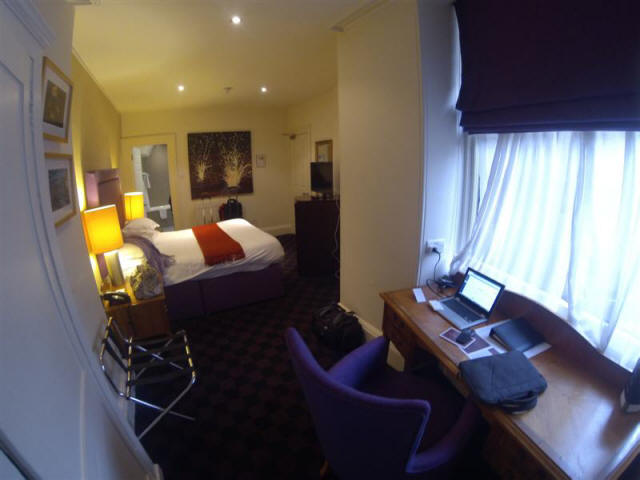 This Canon shot (left) shows the door to the perfectly adequate loo (right).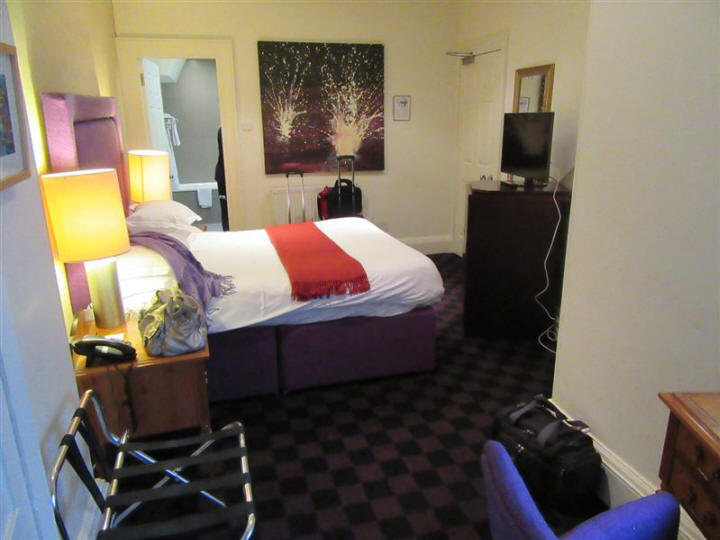 I got unpacked and then set up my computer so I could use their high-speed free WiFi. We then got dressed to head out to meet Wendy and Hazel. It was a little early for that, so Marcia needed her lunch first.
We went by the Drumsheugh Gardens, a little park just across the street from the hotel.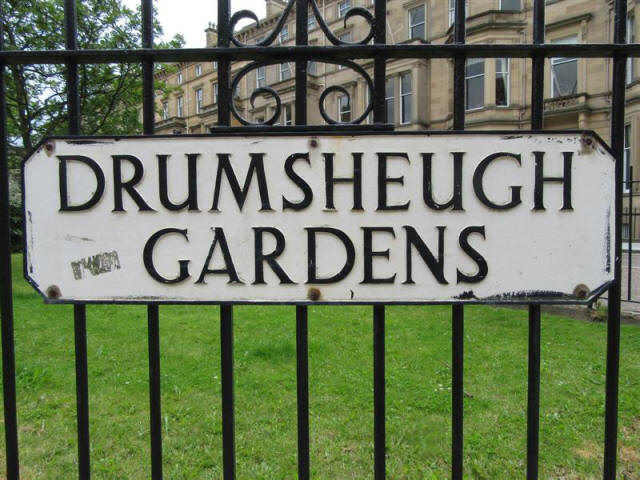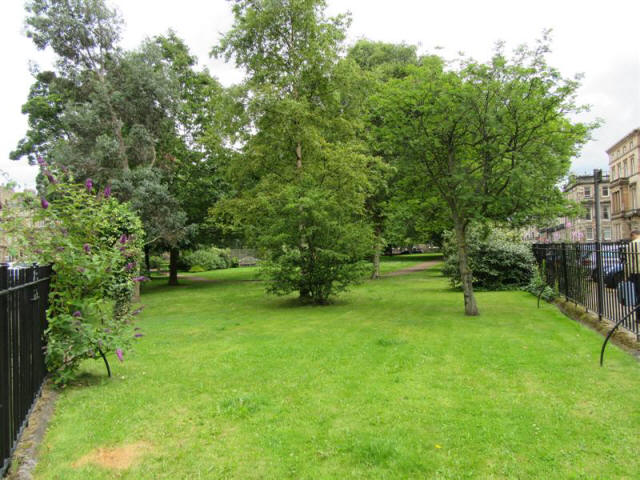 Below you can see the park just across from the long building the hotel is part of (my PhotoStitch). We turned left from the hotel onto Walker Street (on the right) and at the end of that block, we made a right onto Melville Street and went one more block.

This is what we saw as we made the right onto Melville Place to see what was around for eating (PhotoStitch).
Here is a stock photo of what we came across down the block.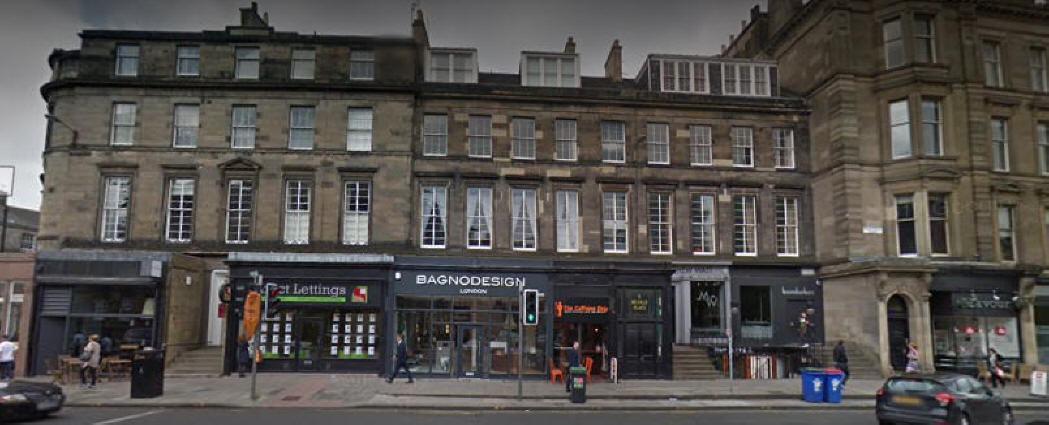 At 2:00 PM, we went into The Caffeine Drip [10 Melville Place,
+44-131-538-9579] (above with orange sign, below). Marcia hates it when I make her pose in front of these doors before we go in; thus the timid smiles.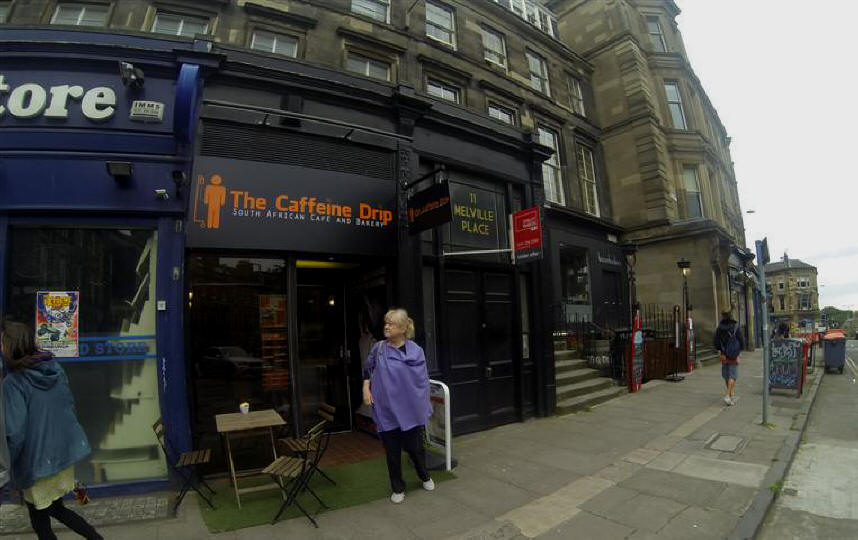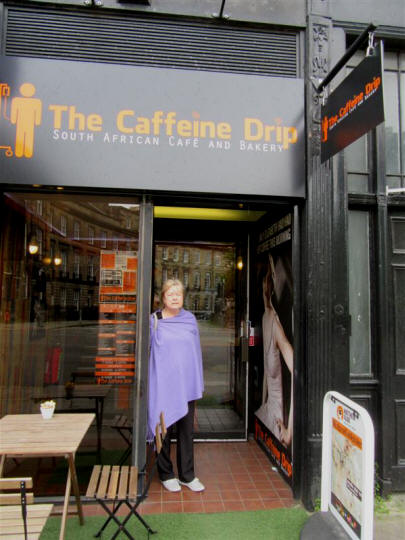 This place is quite popular and they were very busy. It took some jockeying to find find a table to sit down.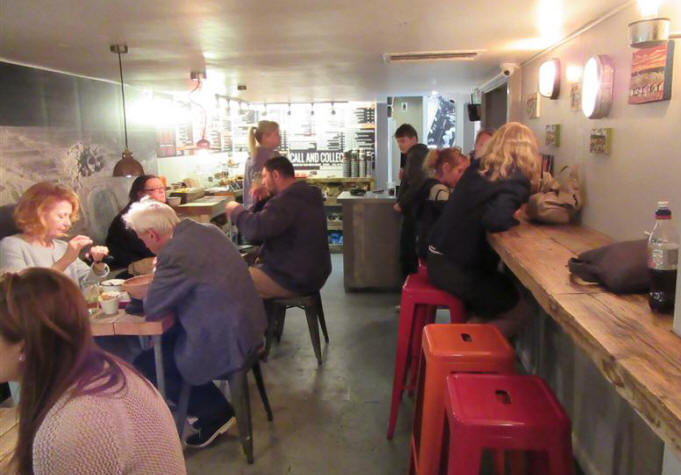 While waiting, I quickly ordered and got a cappuccino (left), and when we finally got a table Marcia ordered a hearty lunch of split-pea soup (right) for a total cost of ₤7.80 ($12).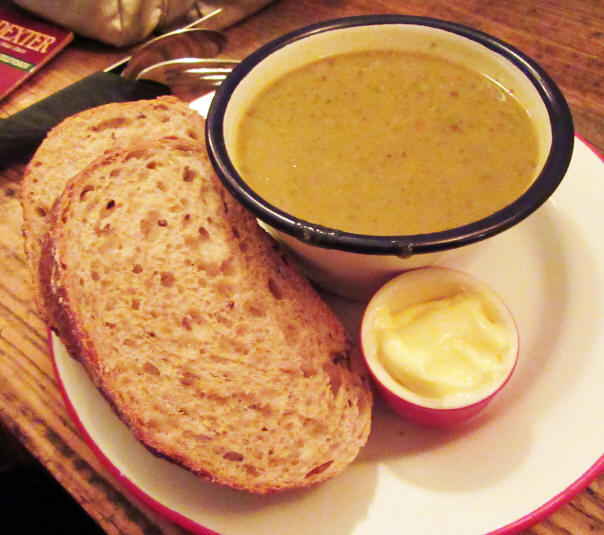 When we were done, I went outside and took a photo of this closed kiosk called the "999 Coffee Box" selling coffee and sandwiches (below left, center) and one of their nearby solar-powered parking meters (below right).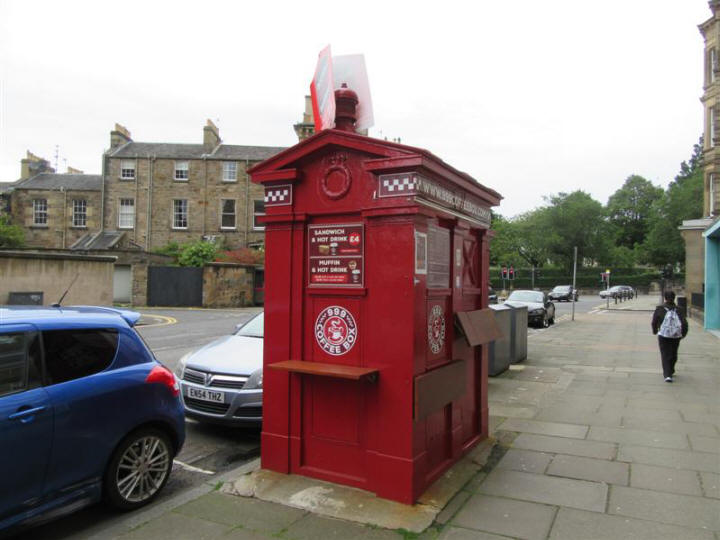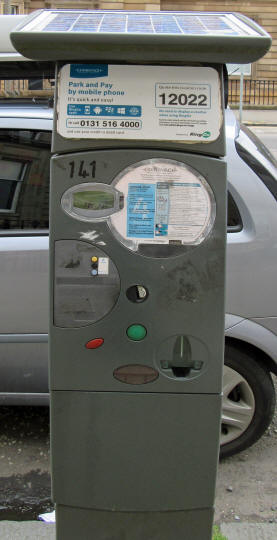 We then walked back to the hotel and got our car to use the GPS to find Wendy's place. It was a little overcast and somewhat dreary.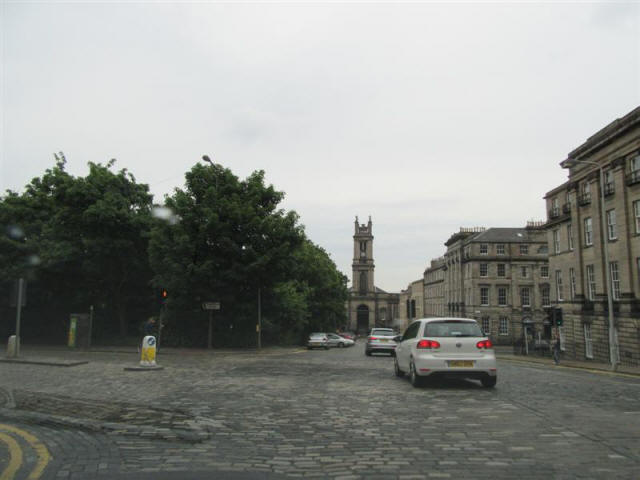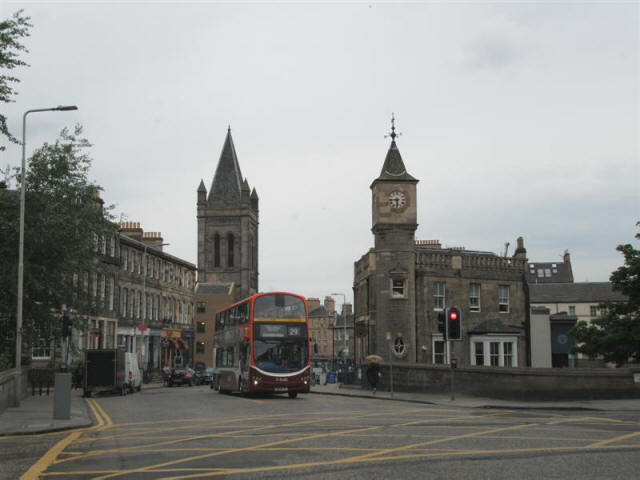 Wendy had also recommended the place where they were staying; the Hamilton House Stockbridge [15 Hamilton Place,
+44-800-917-5992] but I checked it out and they require a minimum three night stay and they demand a ₤500 ($770) deposit as well as an ₤85 ($131) cleaning fee on top of the rental of ~₤640/night (~$984). It can be booked at HomeAway. Since we were there for only one night, this option was out. The drive to the Stockbridge area in New Town is less than a mile and takes less than five minutes. Parking is an issue.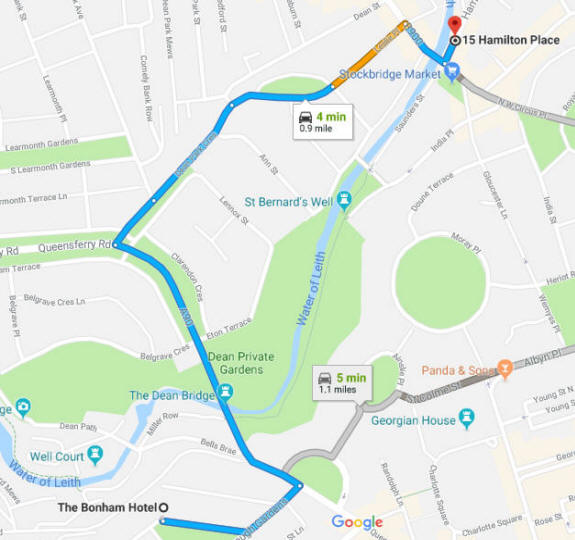 Thus we had a hard time finding a place to park, once we were in the vicinity. So, since it was Sunday, I told Marcia we should take a chance parking in this Scotmid Grocery [56-60 Hamilton Place] parking lot for "Employees Only". She did a good job squeezing into the very last available spot (car near chain).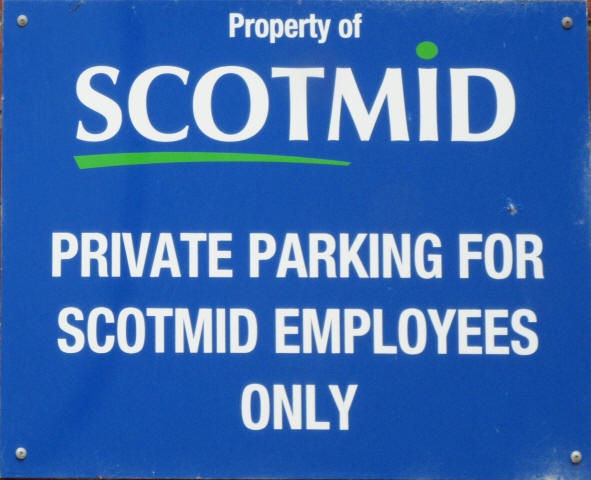 Following our directions we went down this back street and finally found the entry door to the apartment. It is right next door to an entry labeled The Salvation Army.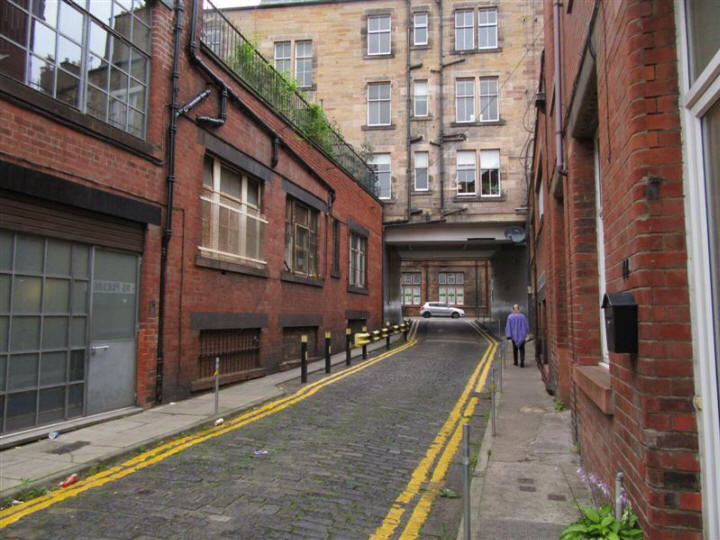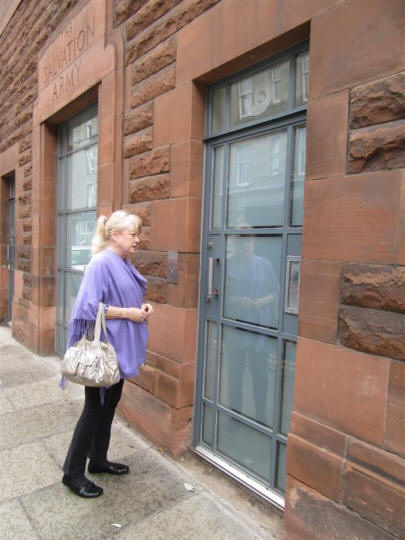 We see Wendy often with John in Carmel every time we go up there, but how great it is to finally meet up with her in her homeland of Scotland. Of course, she immediately opened a bottle of champagne to celebrate our arrival.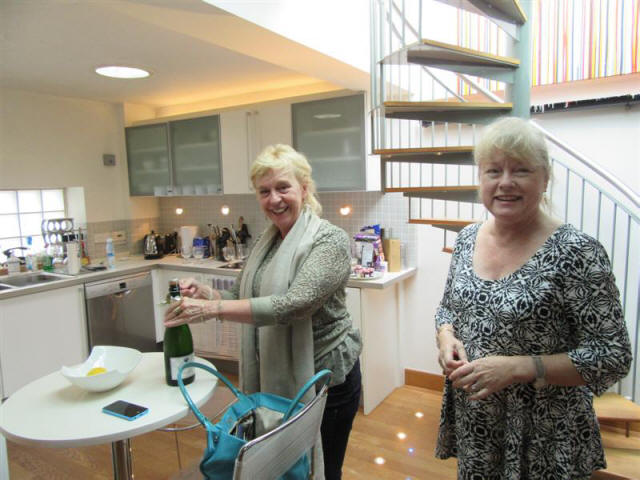 Then we got to enjoy it with Wendy's mother, Hazel Twiname (center), who we stayed with at her home in Kirkcudbright, Scotland back in 1999 and have seen her several times when she visited in Carmel. She is a charming, delightful lady to hang out with and we miss that she hasn't been coming to Carmel in several years.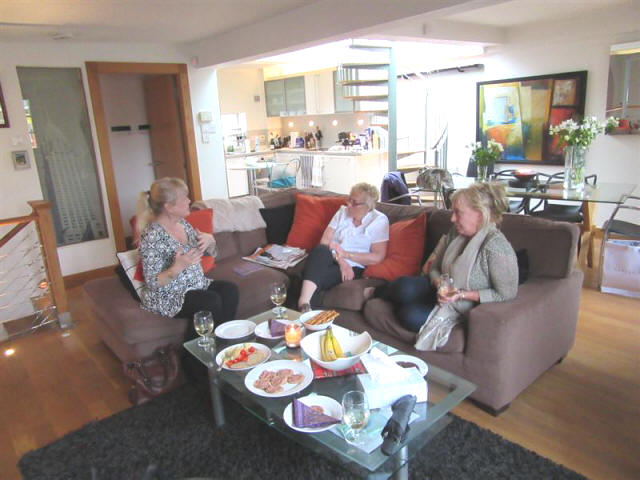 When we finished, Wendy took us up to the roof deck of the apartment ...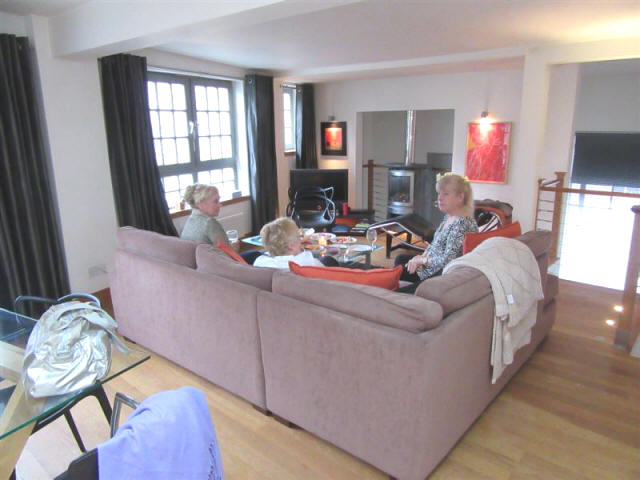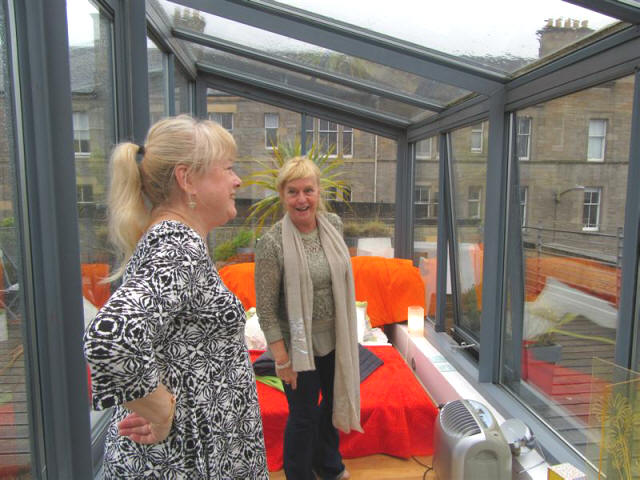 ... to show us the view of the city from there. They even have a BBQ stove up there. The below PhotoStitch is not the best, but you can get the idea. You can see this is a beautifully appointed very large full-facility apartment which was rated the third best place to stay in the whole UK.

Below are photos of it from their rental site; below left showing the BBQ, center and right the living room.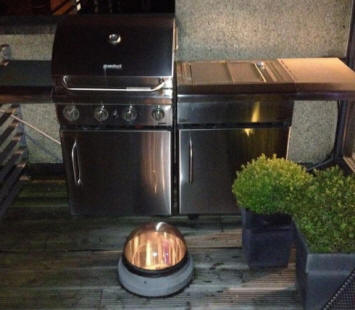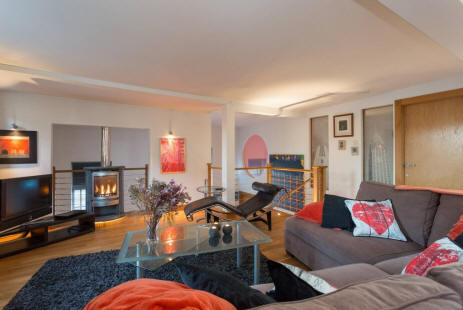 These are of the upper deck quarters with the view.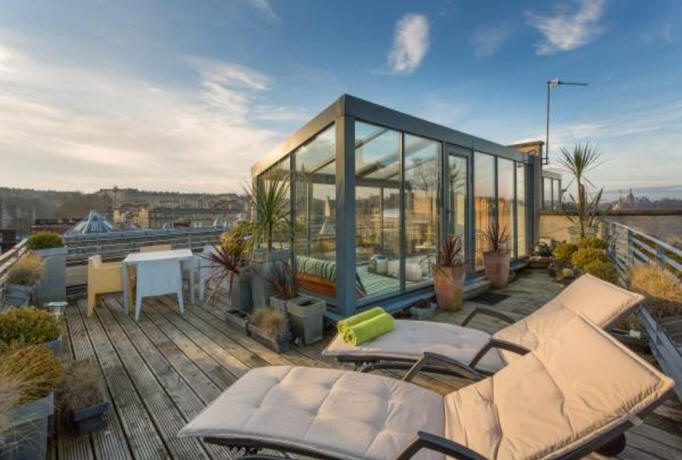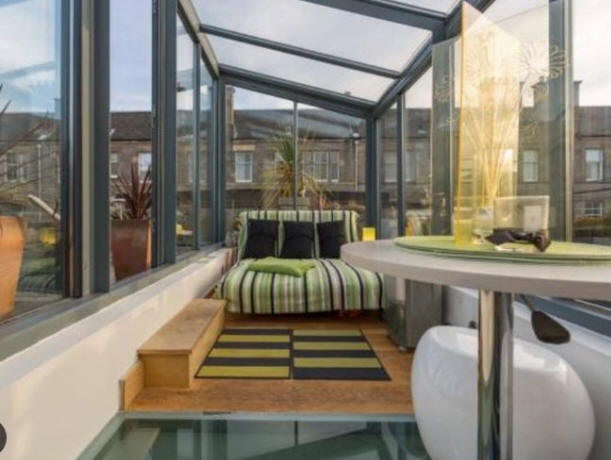 We went back down to get ready for dinner and were hoping to see Wendy and John's twin boys, Alexander and Gregory but unfortunately they both were out like lights (below left). We headed out and, of course, it started to rain.
We caught an Uber (below left) and Wendy took us to a restaurant called Angels With Bagpipes [343 High Street,
+44-131-220-1111] whose head chef is Fraser Smith.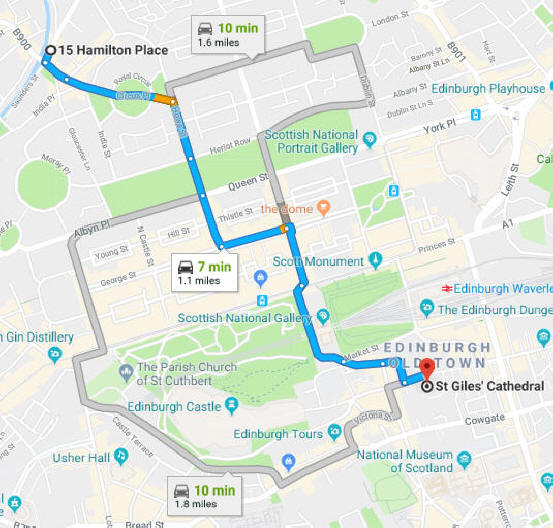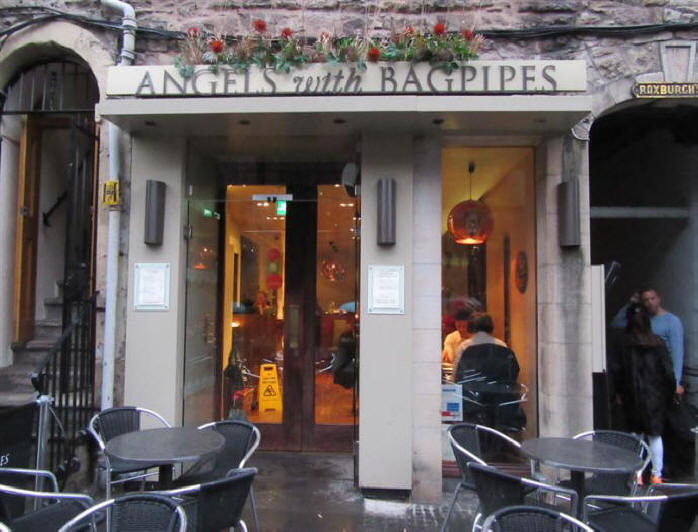 It is directly across the street from the famous landmark, St. Giles' Cathedral which I took a shot of (below left). The church is also also known as the High Kirk of Edinburgh, which is the Mother Church of Presbyterianism and contains the Chapel of the Order of the Thistle. The statue (stock photos below right) out front is of Walter Montagu Douglas Scott the 5th Duke of Buccleuch (1806-84) (right). He was an important Scottish politician in the British government and, I assume, important to the Scots.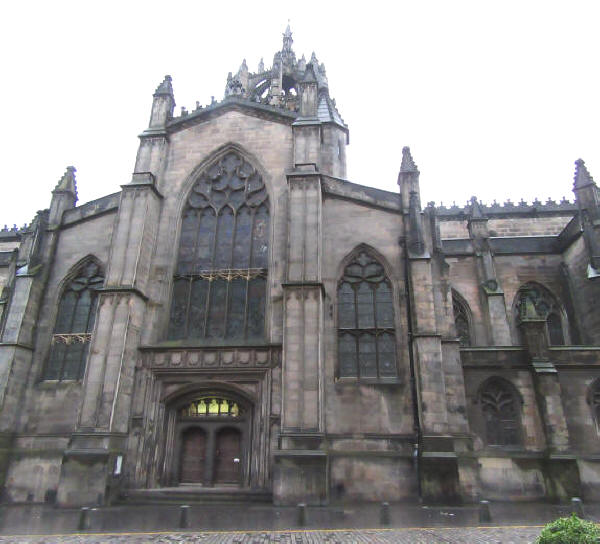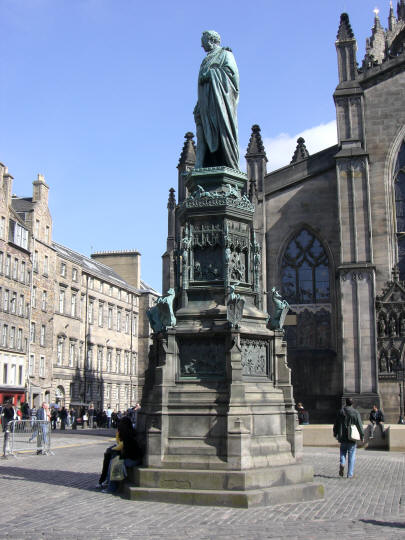 This stock photo below left shows the "crown" on top a little better than mine (above laft). Inside the Thistle Chapel is a wood carving of an Angel with Bagpipes (two stock photos).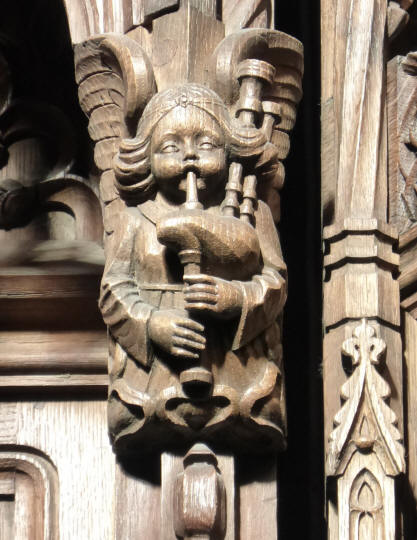 Below is a stock photo of a 360º panorama of the interior of the church. Isn't that beautiful?
We entered the restaurant and the place was quite busy for a Sunday night.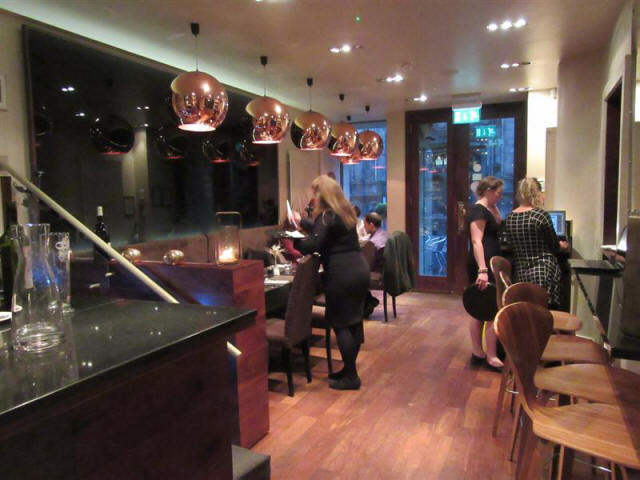 They gave us a nice table by the window. I went outside and got a shot of them through the window.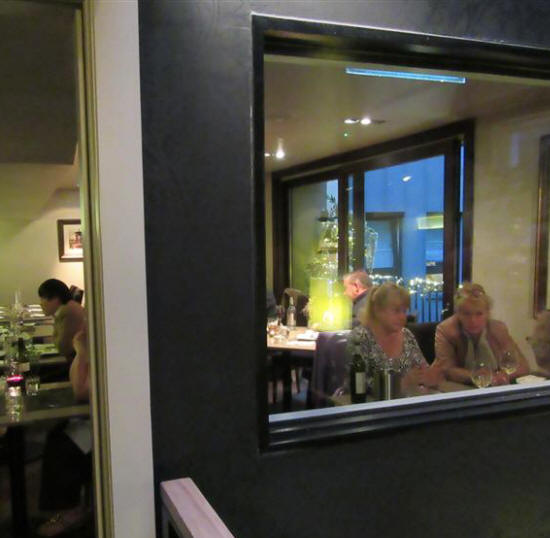 When I came back in, I noted they had this interesting bronze statue of a nude angel with bagpipes. We looked at their menu and then ordered a bottle of Campo Flores Verdejo Sauvignon Blanc from Castilla, Spain.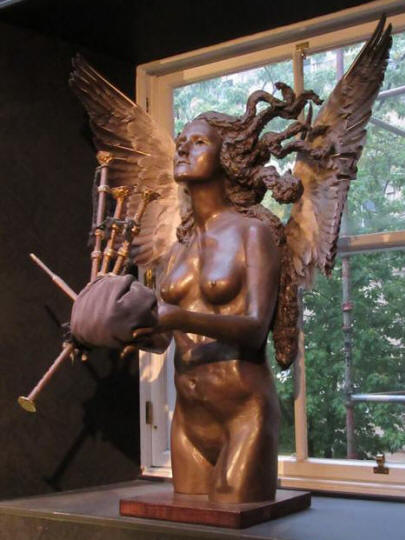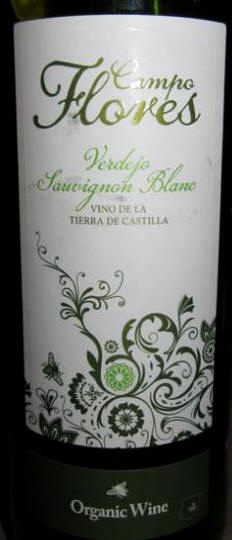 I started with the creamed potato soup (below left) and Marcia had the rocket and Parmesan salad (right).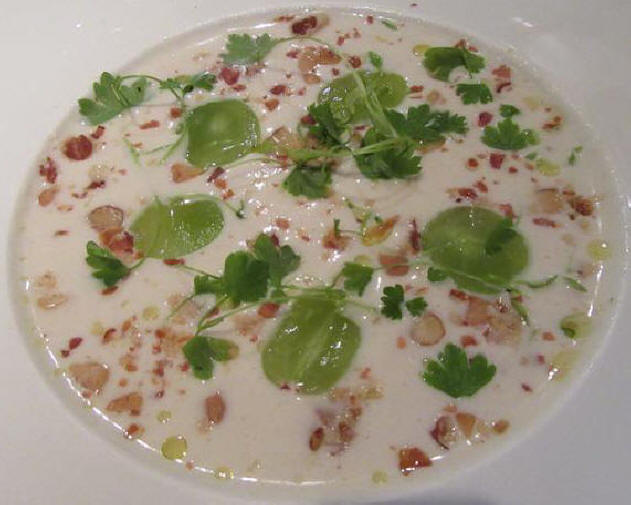 Wendy and Hazel had the 8 oz ribeye steak (below left) and I had the 8 oz fillet steak (right).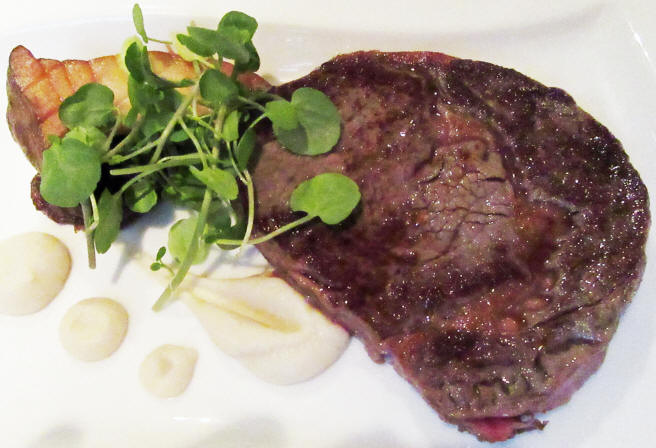 Big surprise: Marcia had their salmon with red pepper, cabbage, quinoa and salsa verde.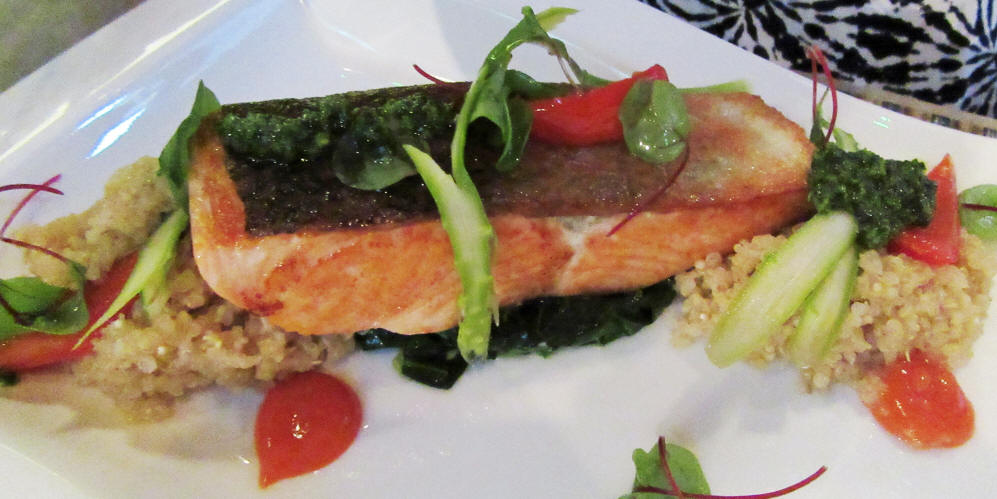 We had a wonderful evening with the two of them and were very glad we stopped in to see them. It was starting to get dark, so we all took an Uber back to their apartment, said our good-byes and Marcia drove us back to the hotel and we got to bed around 2:00AM.
---
---
Monday, July 27, 2015
---

Above is the famous Edinburgh Castle on the left (stock photo). You can see the crown top of St. Giles over on the right.
We got up a little earlier than usual because of the drive we have to do today and have to check out of the hotel. So, I went with Marcia, before my run, to see their breakfast layout. It looks like it was pretty much gone.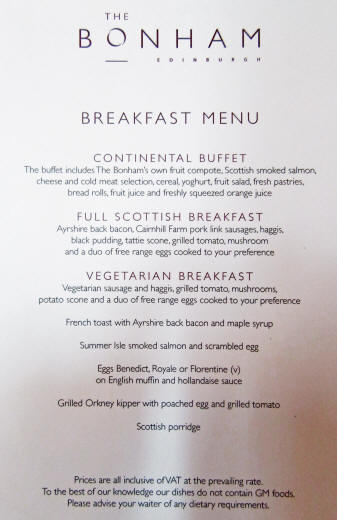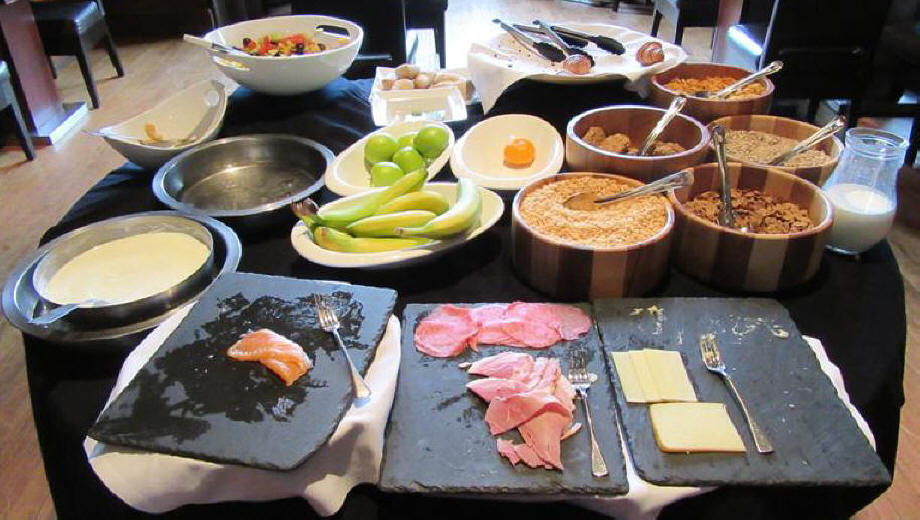 Marcia got some fruit and a couple of fried eggs which were beautifully done.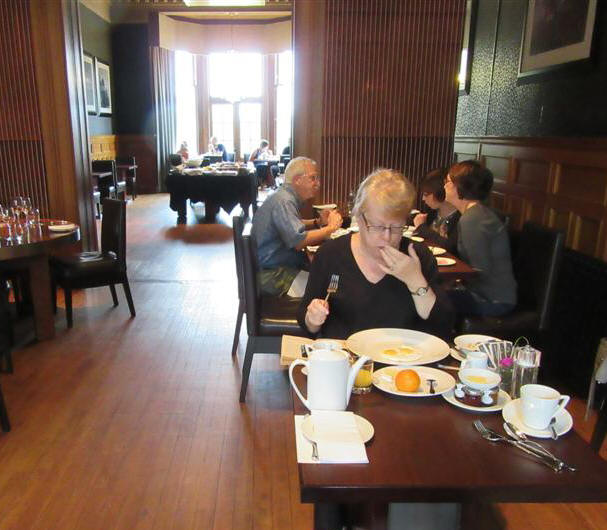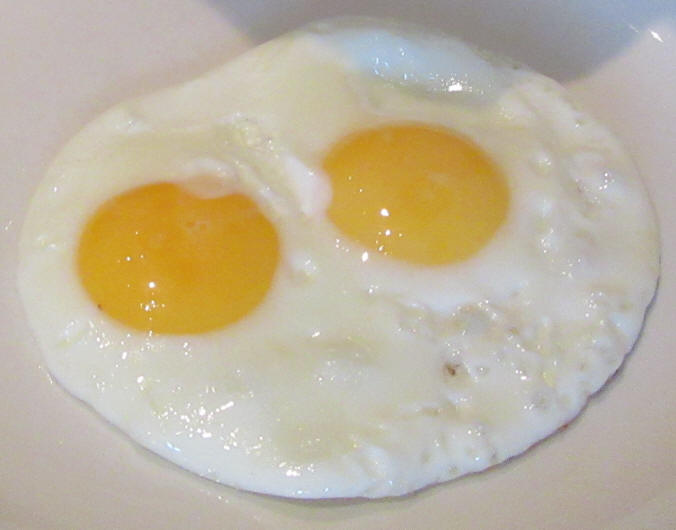 Below is a typical Scottish breakfast.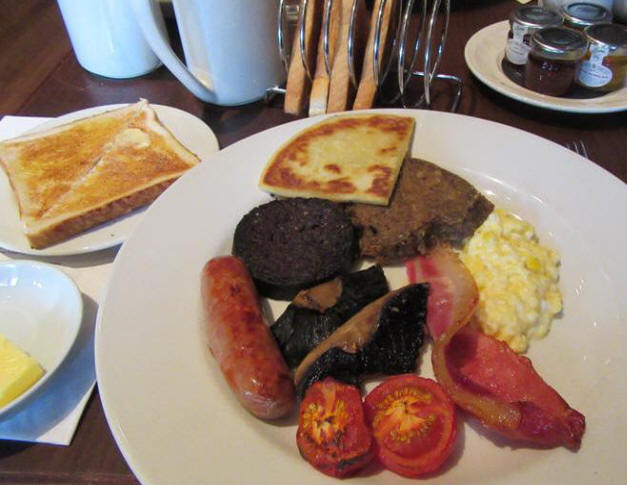 I went and checked out of the hotel at 1:48 PM. We then went out to check on the car in the lot before I did my run. (above right). As I was doing my run through the neighborhood, I came across the Japanese Consulate in this building.
Then as I ran down this street (below), I was coming up on the back side of St. Mary's Cathedral, another Scottish Episcopal church.
I ran around the side to see the full length of the Cathedral and this is one of the rare times I have had to use four photographs to get it all in - I could not get far enough away to get it in one or two shots and didn't bring the GoPro camera. PhotoStitch has a special grid process that will let you join as many photos as you have into one picture. The results aren't always fantastic but here is the result of this one (below left). See if you can find the splice lines. As you get around to the other side, you come to the entrance (below right).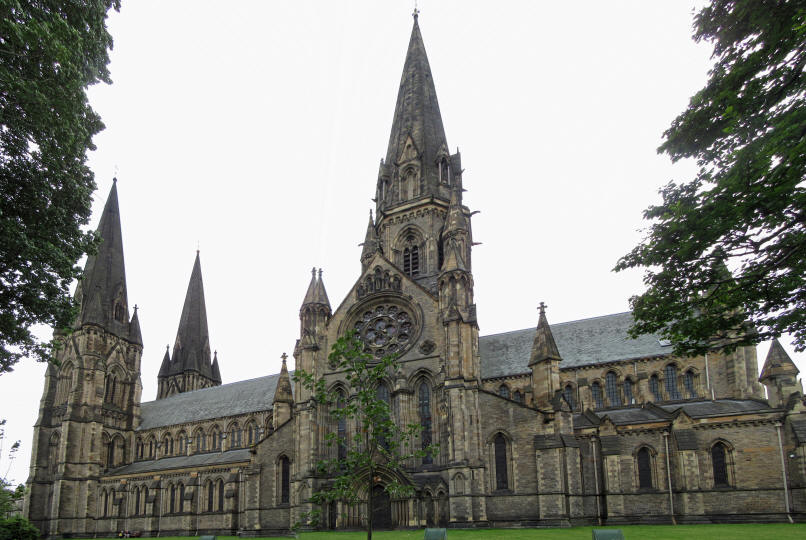 I ran inside and got a shot of the interior.
As I kept going on this block, I passed the Russian Federation Consulate.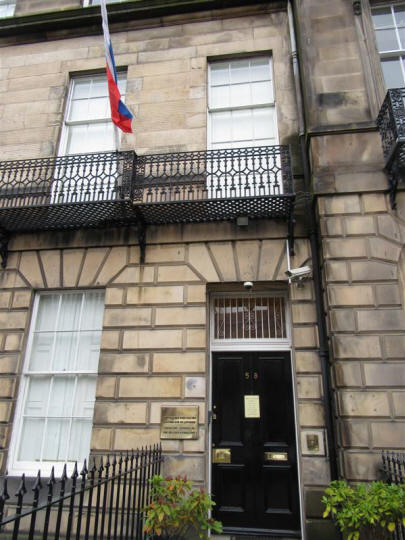 In the center of a small square on Melville street was a statue of Robert Viscount Melville (1771-1851). Even though it was overcast the brightness of the sun was in the wrong direction for getting a good photo ...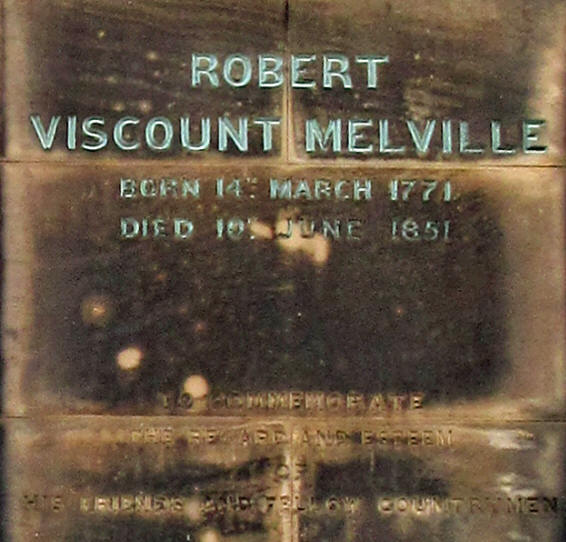 ... as can be seen in the close up (below left). His name was Robert Dundas (stock photo, below center) and he was the 2nd Viscount Melville after his father. He became the "leader" in Scotland and was the First Lord of the British Admiralty and later became the Dean of the College of St. Andrews. The Melville street I am on is named after him; stock photo of statue (below right).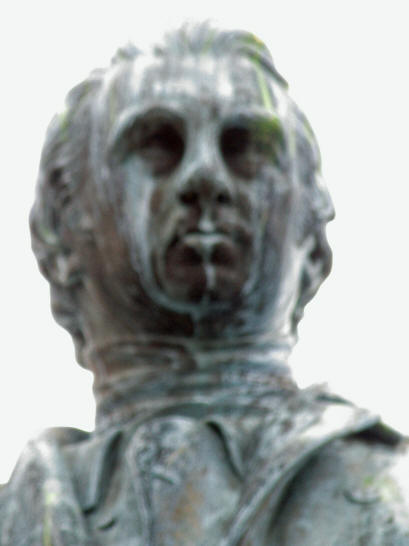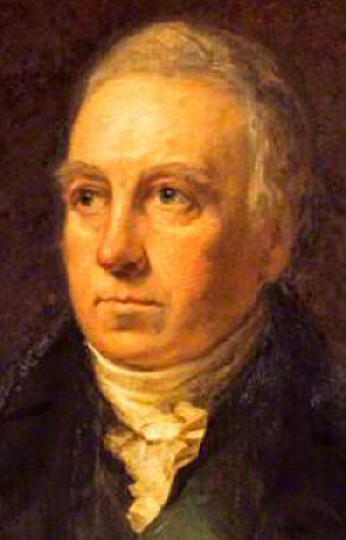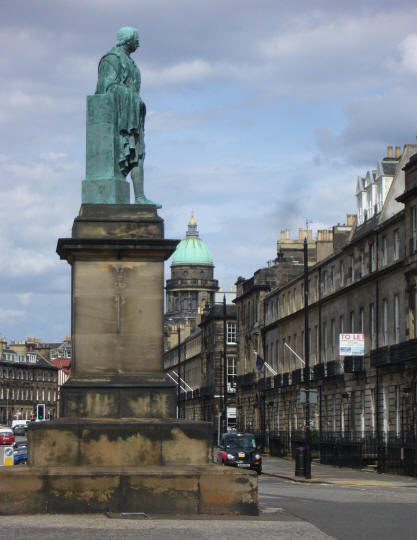 He was buried in the Dundas family vault in the Kirkyard (cemetery) of Lasswade (below left), a little town nine miles south of Edinburgh. The vault (below right) contains the first five Viscounts Melville. Obviously, in Scotland, he is very famous.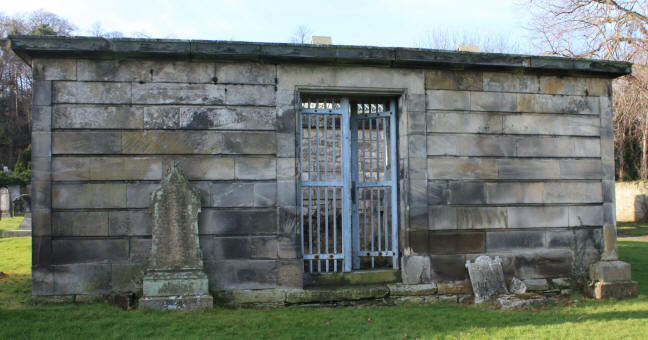 After coming across the Netherlands Consulate, I began to figure out that our neighborhood is actually Embassy Row.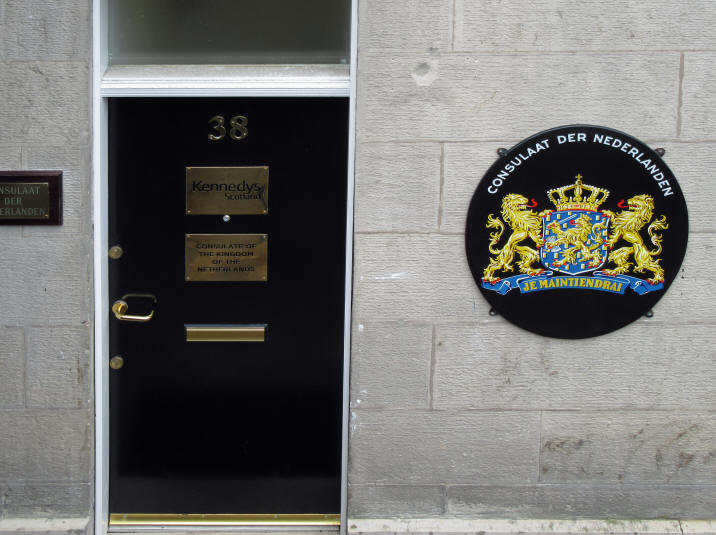 Of course, there was the Italian Consulate General.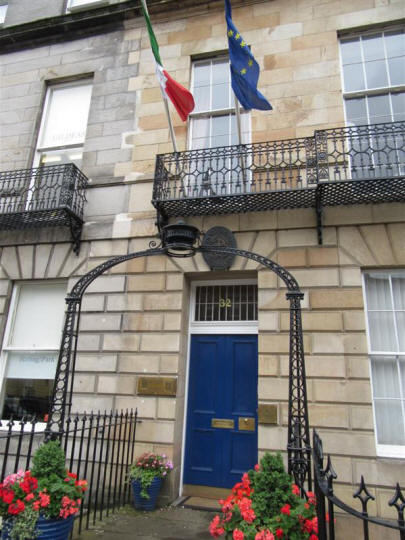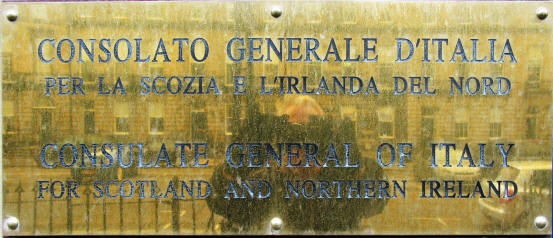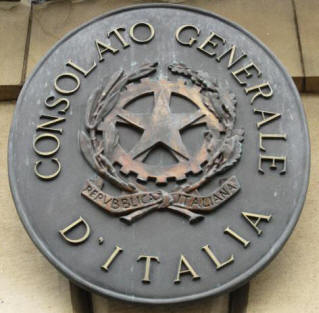 I then got into the main traffic near the corner of the Spanish Santander Bank (below left) and near some buildings that were impressive. The first (below right) is the Ghillie-Dhu [2 Rutland Place,
+44-131-222-9930] at the corner of Shandwick Place. It looks like the building was once a church.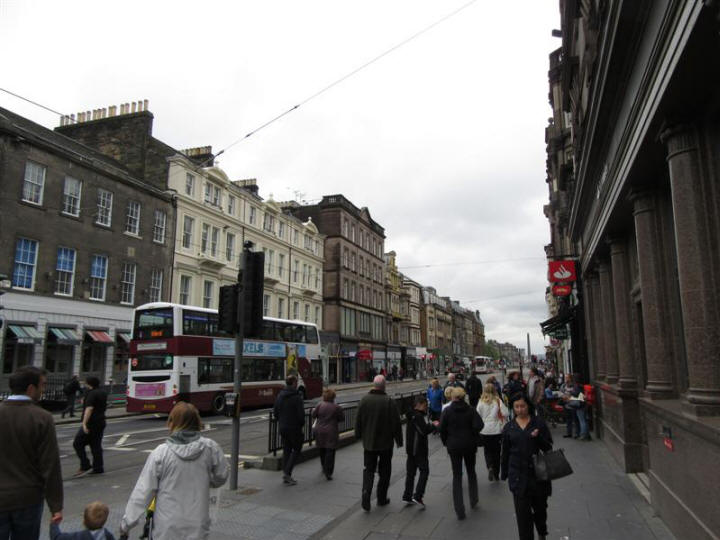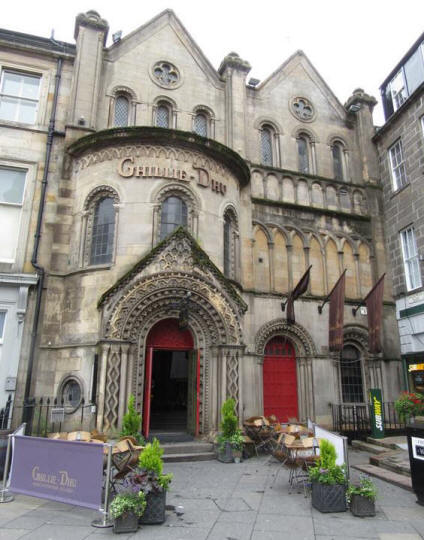 You can see I am several blocks away from the Bonham on Drumsheugh Gardens. Next door is a Subway and the Princes House on Shandwick Place.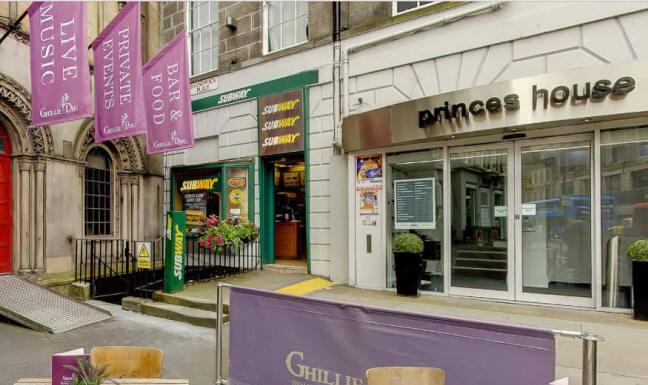 I didn't get pictures of the inside, but they have done a marvelous job redoing what was obviously a church. Here is the bar (left) and the seating in the bar (right) (photos from their website).

Here are their booths for dining.
Look at what they did to the main alter and center of the church.
I continued walking and by 2:40 PM, I was in front of the House of Fraser building on Princess Street. In front of the department store were these two giant horse heads.
[This Fraser building was sold in January 2018.]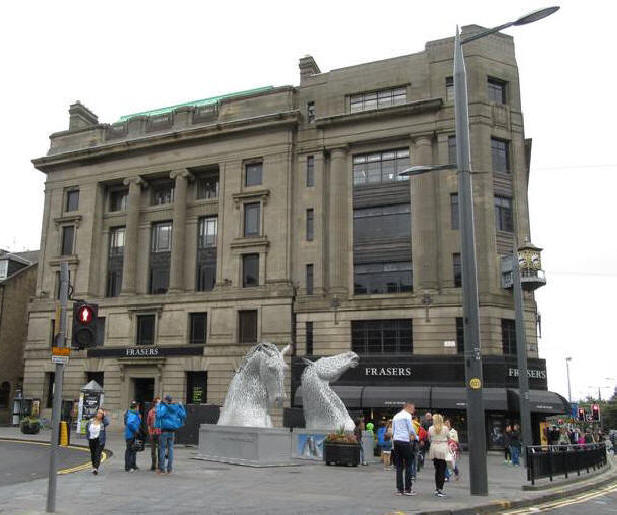 They are a copy of the Kelpies which are 10 times bigger (stock photos below) and located at a park called the Helix in the nearby town of Falkirk. They lie on each side of a canal. Below are stock photos of the Kelpies near the canals. There are two sets of one-tenth scale copies which are sculpted from steel then galvanized using a hot dip process and welded by hand from small plates of steel. The one I am seeing must be one of them.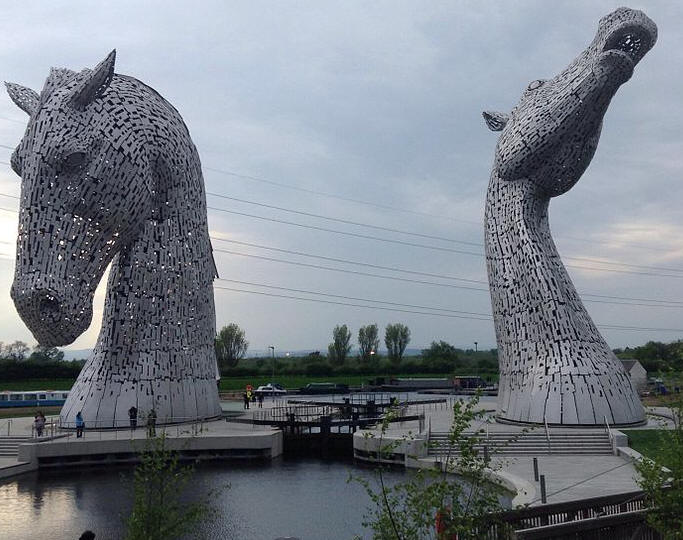 The big Kelpies are 98.4 ft (30 m) high and weigh 336 US tons (300 UK tonnes) each. They were designed by the Scottish sculptor Andy Scott and were completed in October 2013. There are many of his works at his website. They are built of structural steel with a stainless steel cladding. Below left is what they looked like during construction and then the final result (right).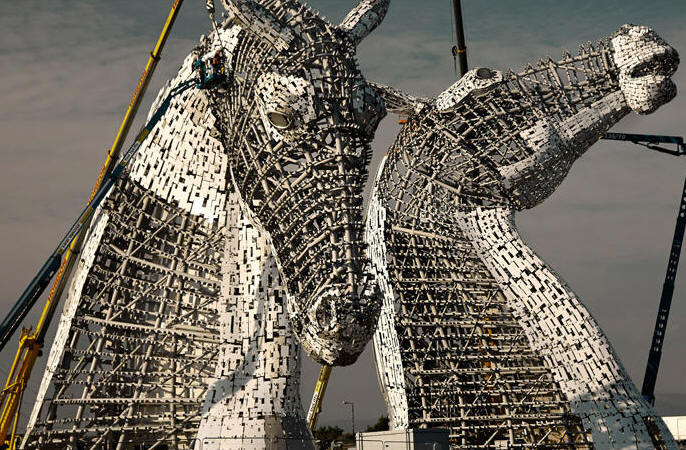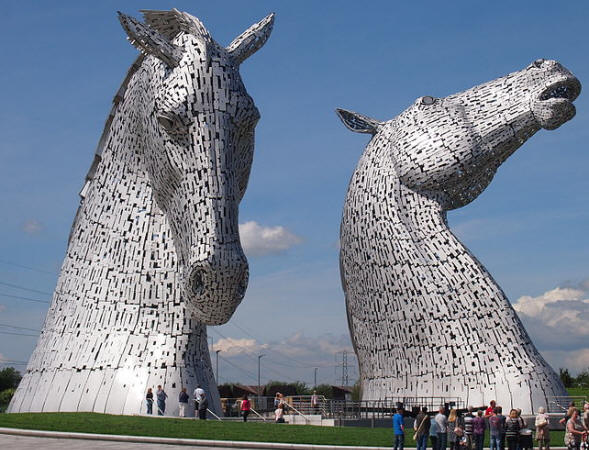 The Queen came to see them (in pink, below left) with real horses on display. Below center and right is Scott's sculpture "Rise" in Glasgow harbor which is quite nice as is most of his work (all stock photos).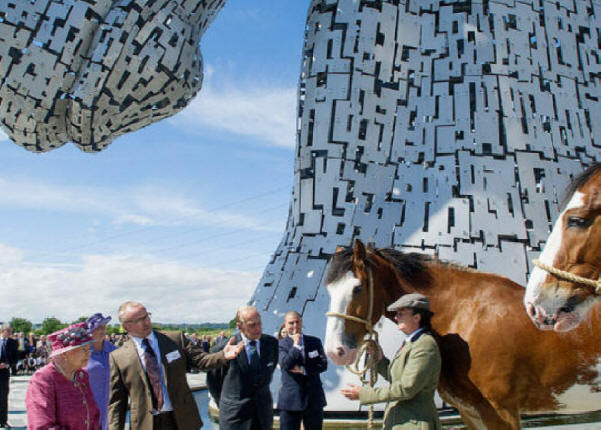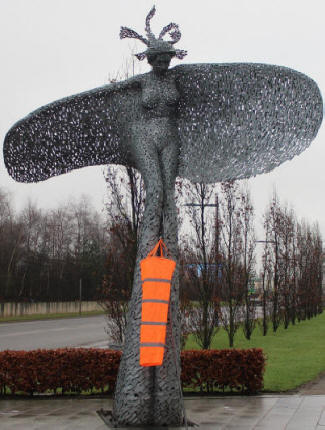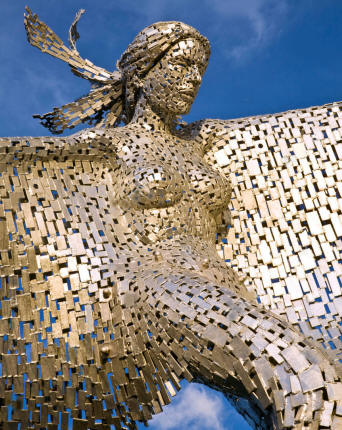 They are painting cows here in Edinburgh; every city seems to have one. This one is in front of and sponsored by Kyloe restaurant [1-3 Rutland St,
+44-131-229-3402] right next door to the Ghillie-Dhu. They label themselves as a "gourmet steakhouse". From here I could get a shot of the buildings up on the Edinburgh Castle hill (below right).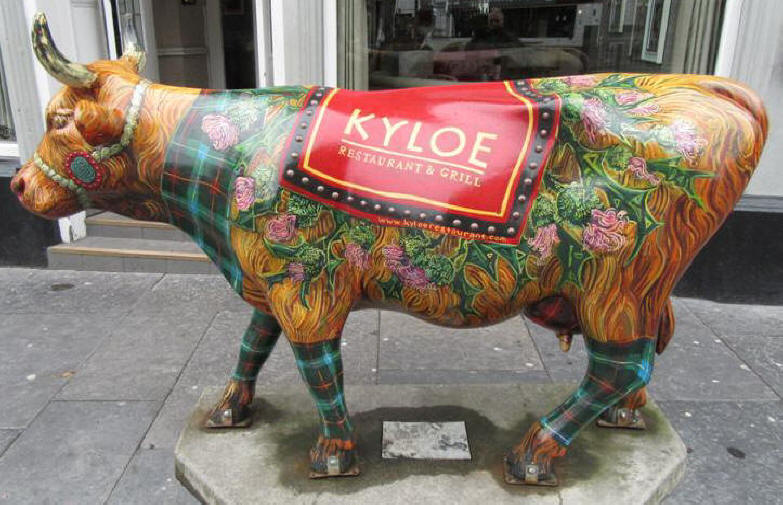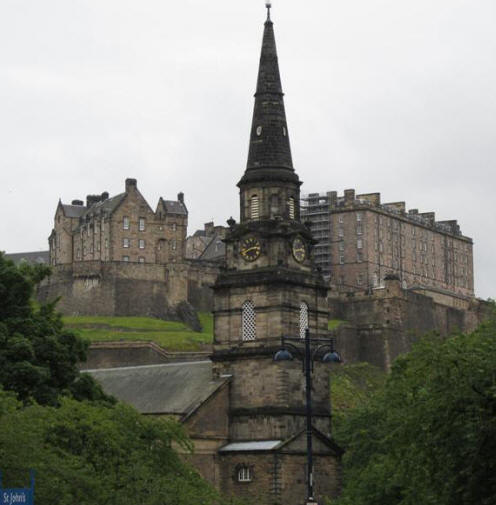 Then I passed by the Waldorf Astoria Edinburgh - The Caledonian [Princess St,
+44-131-222-8888].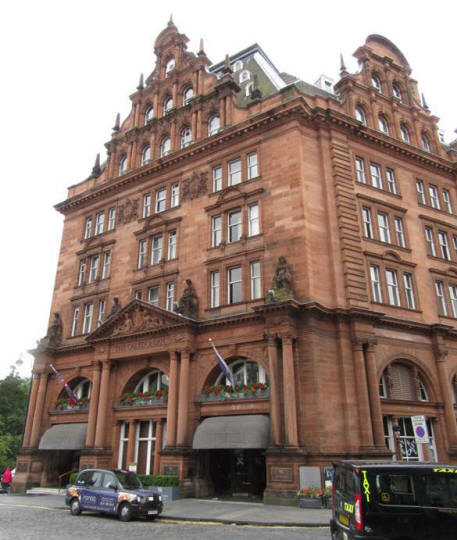 Inside, the lobby and stairway are quite modern and impressive (photos from their website)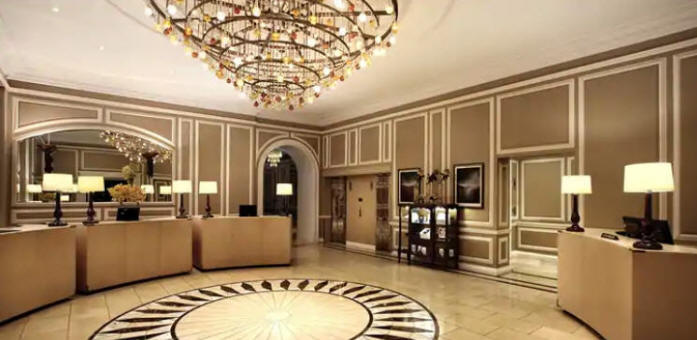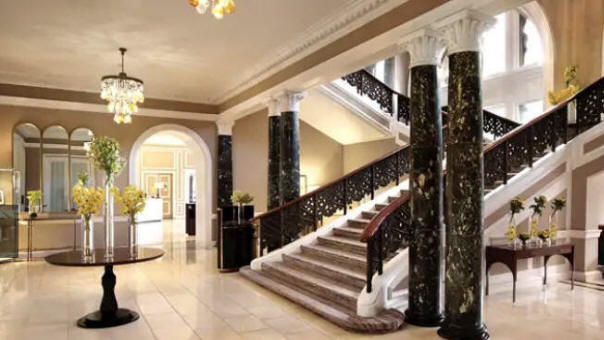 Their restaurant is called the Pompaduer (below left) and the bar is The Caley Bar (below right).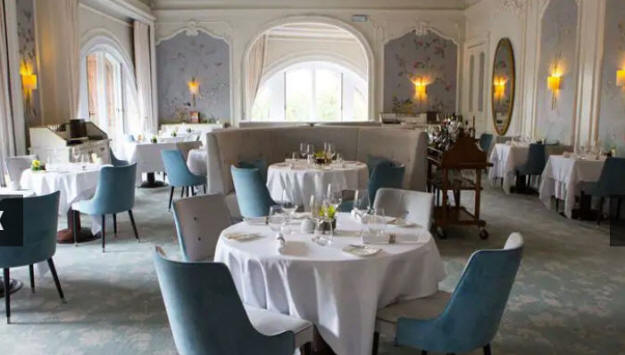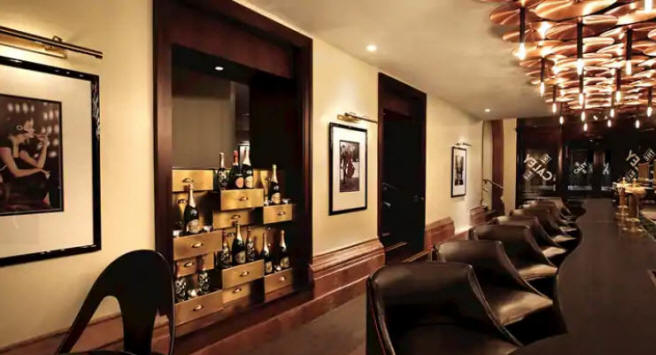 I came across these city maps posted in the street.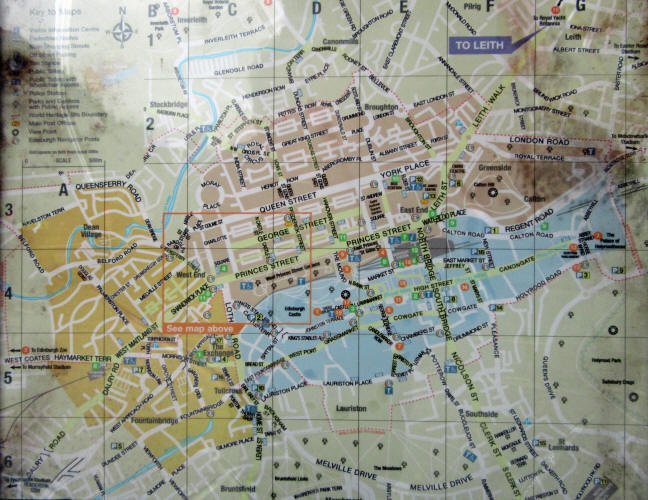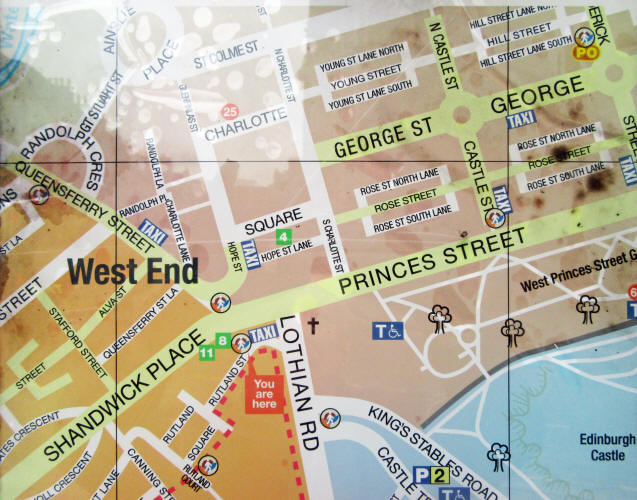 From the map below, you can see our hotel street (Drumsheugh Gardens on the left) is a short walk to Melville Street (center) where Caffeine Drip is and the triangle corner of Queensferry and Charlotte Streets (right).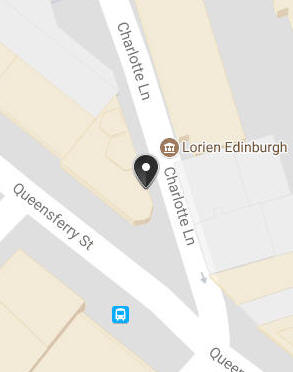 Here is my photo of that corner (below left) showing the Pinocchio Coffee and Sandwich Bar [39 Queensferry Street] directly on the corner and the Chimichanga restaurant [39A Charlotte St,
+44-131-225-9205] to the right of it. While I was out on my run, Marcia went back to The Caffeine Drip and had another bowl of their split-pea soup with a sandwich which came to ₤9.20 ($14.15) and I joined her, at 3:48 PM, for a cappuccino for ₤2.85 ($4.38).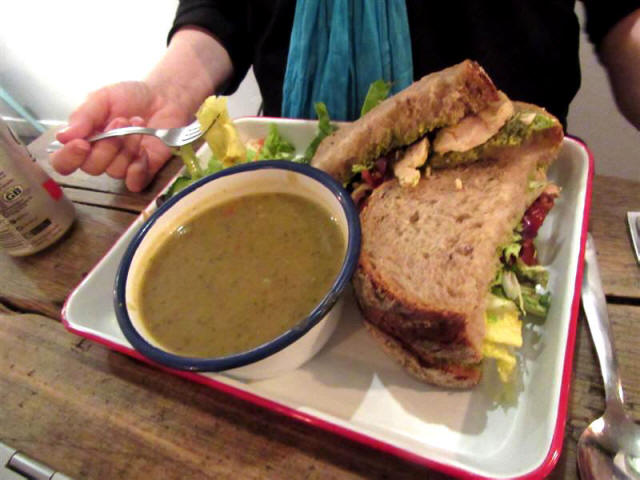 [Both Pinocchio and Chimichanga are now out of business.]
We then walked back to the Bonham, retrieved our bags from the concierge, loaded the Peugeot and headed west and then southwest to spend the night near where the ferry leaves for Northern Ireland.

We passed this stone boat-shaped roundabout in Girvan on the coast of the Firth of Clyde, saying "Whit's Yer Hurry?". I guess they want you to stay.

You don't get fantastic photos out the window while the car is moving, so I found a much better photo of it thanks to "Tales From the Road".

From Girvan, we only had less than thirty miles to go to get to our destination of Stranraer on the A77.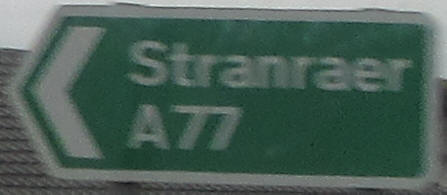 Below is the devilish thing you have to be on the lookout for: SPEED CAMERAS. And, of course, it was still raining.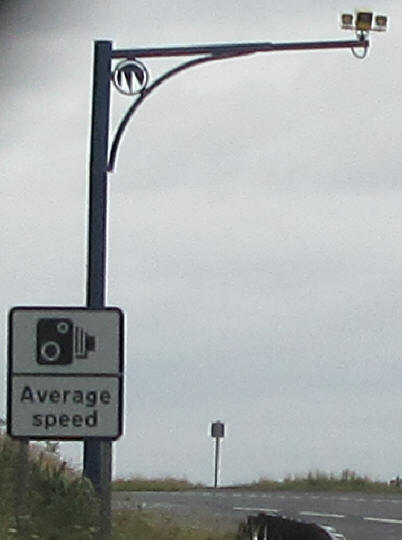 We did a lot of driving right along the coast.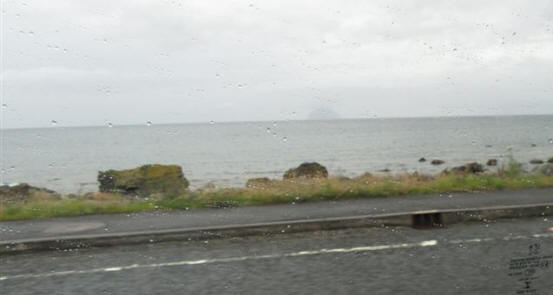 Here we saw another cute sign saying "Haste ye Back".
As we make this slight bend, we start to see the end of the coastline and Loch Ryan in the far distance.
Below is a map of the 140 mile trip from the Bonham to Stranraer which took us about three hours. We first headed west and then at Glasgow went southwest. You can see the edge of Northern Ireland at the very bottom left.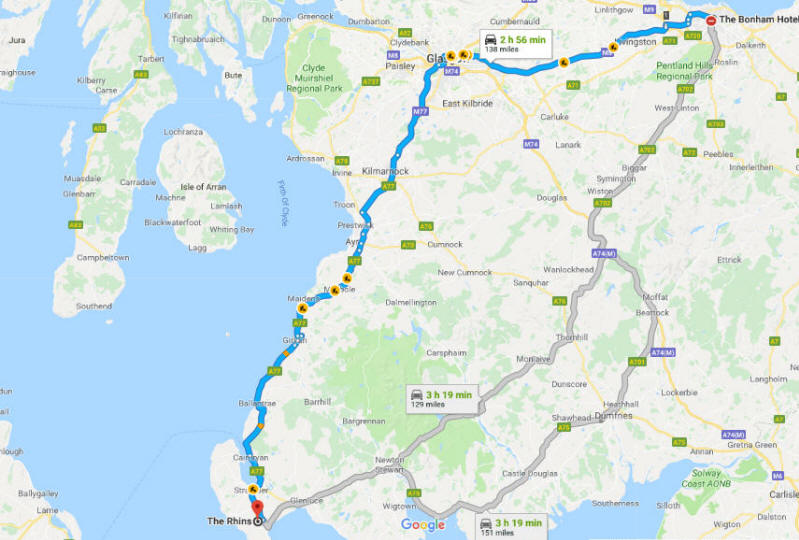 We finally pass Cairnryan and arrive at our hotel which is several miles before you enter the city of Stranraer. Stranraer used to be the main ferry service to Belfast but it was transferred to nearby Cairnryan in November 2011. We are now in the county of Dumfries and Galloway (map below right). This B&B is called Rhins of Galloway [A77 Coast Road,
+44-158-120-0294] (purple arrow, below center) and I got it on Booking.com for ₤105 ($161.54) which is a little higher than I like to pay for a room.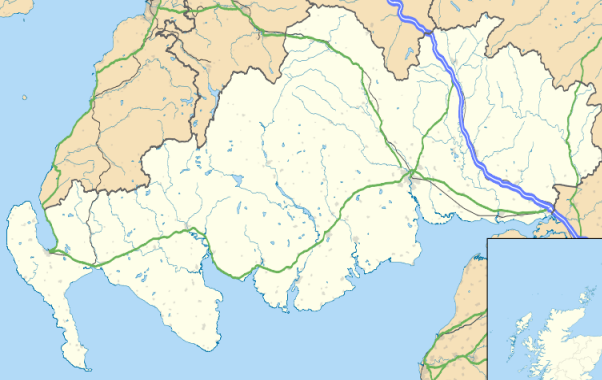 Here are two stock photos of the hotel and ...
... here is mine using PhotoStitch.

We parked the car out front (above left), climbed the stairs and checked in with the owners Paul (left) and John (right) (below right).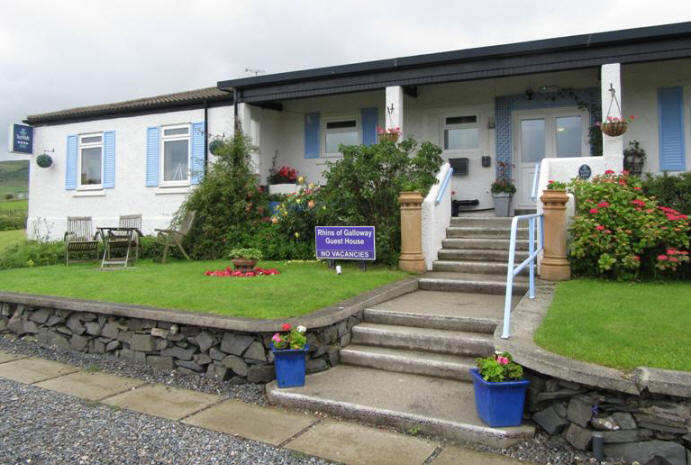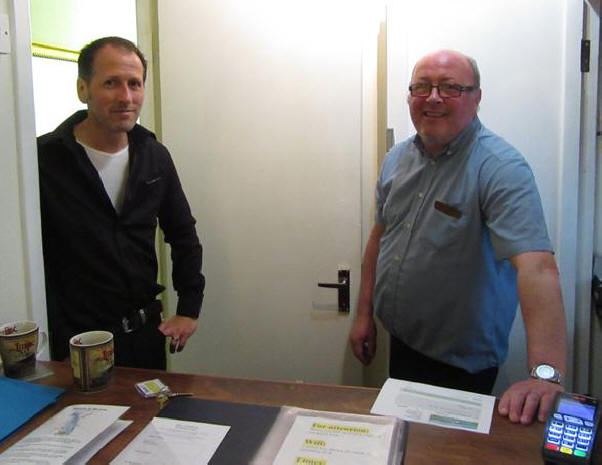 Below left is the entry door to Reception. They have an extensive WiFi setup to cover the whole building.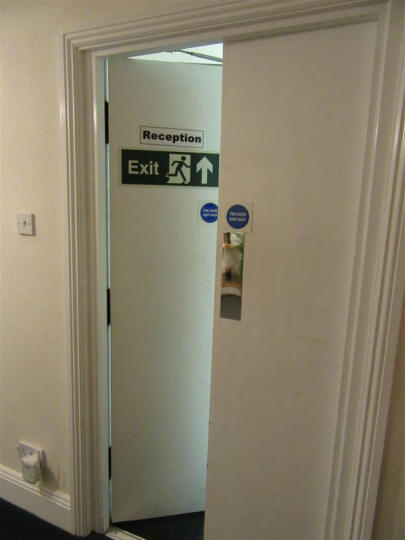 They gave us the "Churchill Suite" #3, which must have been because they liked us. This place was huge with a separate bedroom (left door, below right) and a "living room" area (door right) and certainly worth what we paid.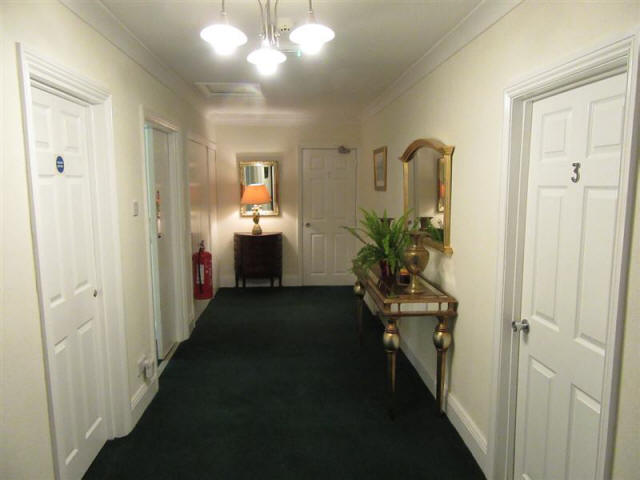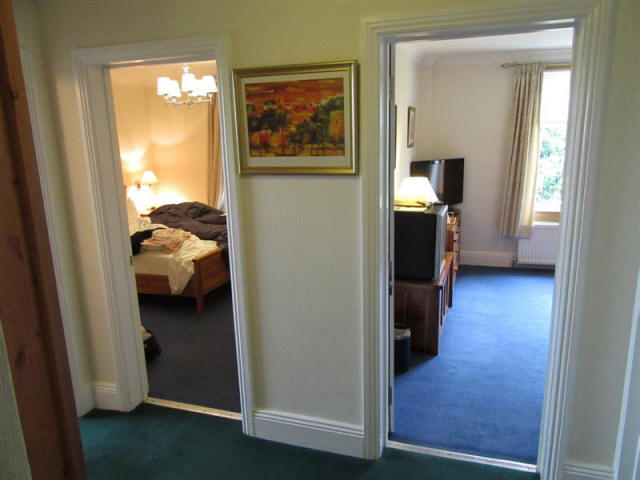 Here is the PhotoStitch picture of the bedroom.

The living room was also quite large with TV, refrigerator and chairs and couches for several people.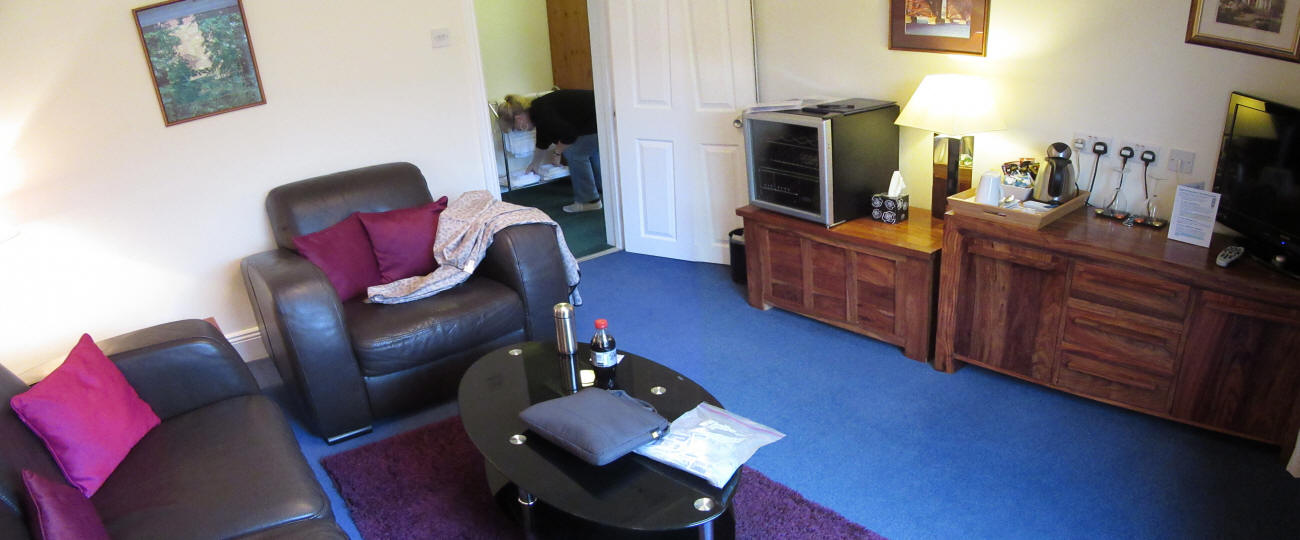 Below is the view from the other side.
There was also a door that led to a place for towels and bag storage.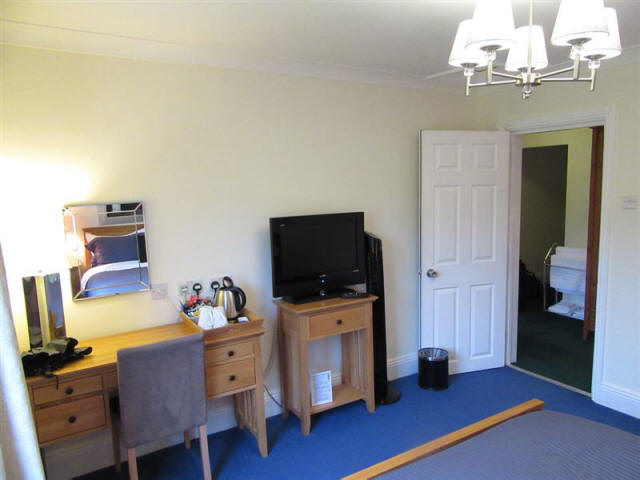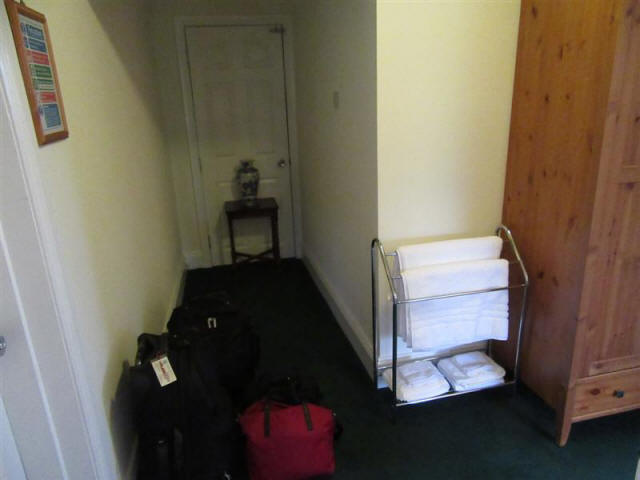 The bathroom was certainly adequate. Looking outside the window, it was still raining.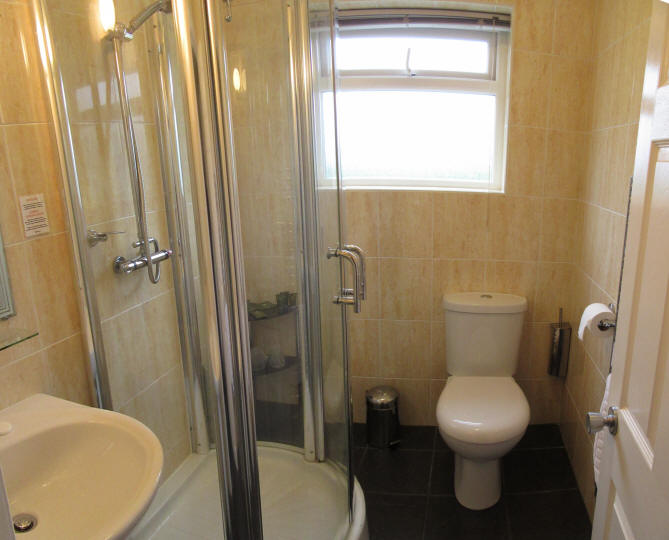 After getting settled, we knew we better get to dinner before everything would be closed. We had to continue another 6.5 miles (10.5 Km) to get into Stranraer which took about fifteen minutes. They had recommended the Custom House Restaurant [North Strand Street, Stranraer
+44-177-688-9727]. It is a beer garden with the phrase "Last Stop Before Ireland". Marcia has her umbrella still out.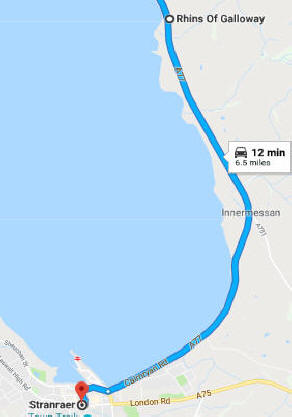 We weren't quite sure what we would be eating in this place, but it looked nice and we headed in.
You may have heard the rumor that Brits drink their beer warm. On our trip to London in 1999 that was true but the Moon Over Water pub we went into in Leicester Square early on in our trip, had one small special dispenser tap for Guinness Extra Cold. This was specifically for Americans who like their beer cold. Things have come a long way in these 16 years in that it seems all the beers here are cold: Belhaven Best, Carling, Strongbow and Tennent's are all labeled "Extra Cold". We asked them to check our IDs but they passed on that.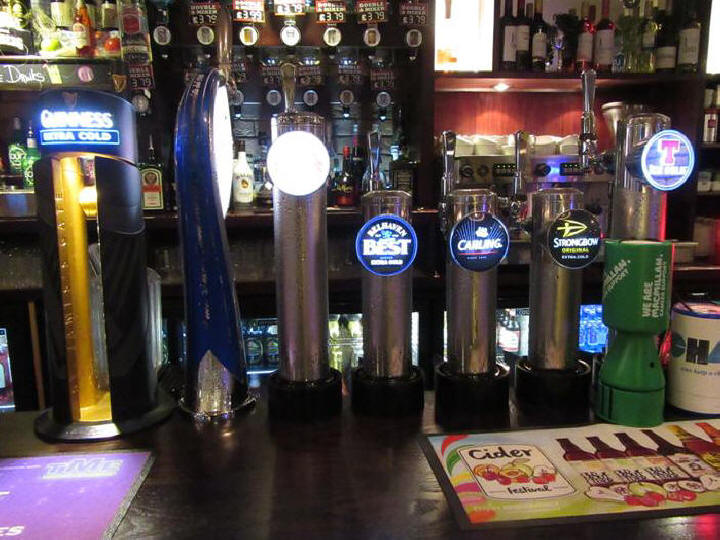 Their menu looked pretty interesting.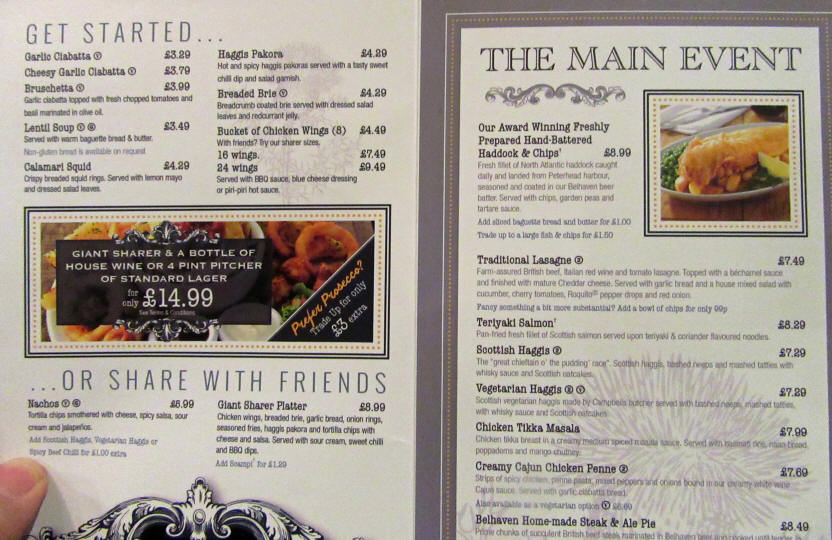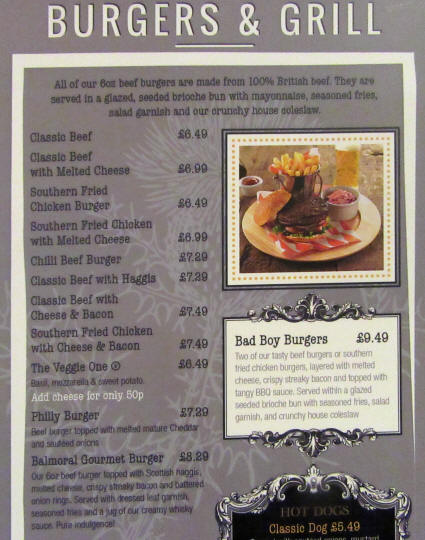 We first sat at the bar and I had a pint of cold Guinness and Marcia a glass of white wine.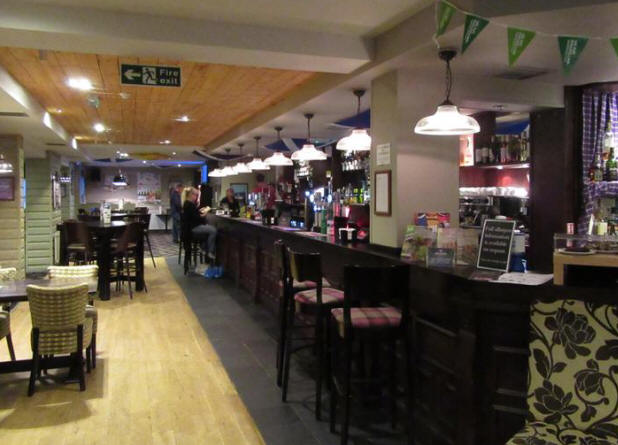 I ordered a plate of chicken wings as a starter and Marcia ordered a cheeseburger and fries for dinner.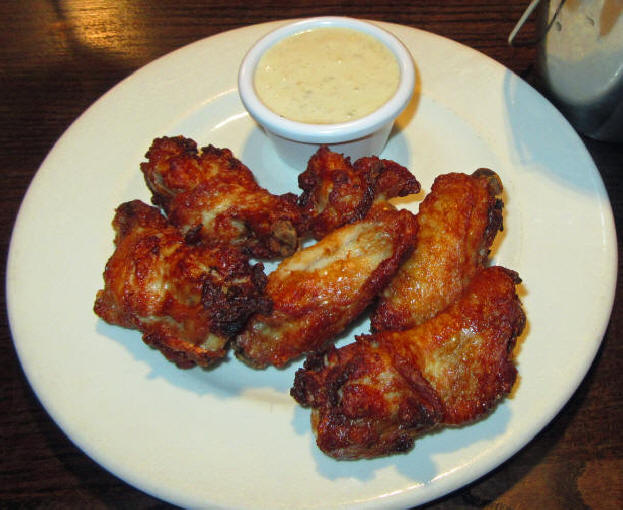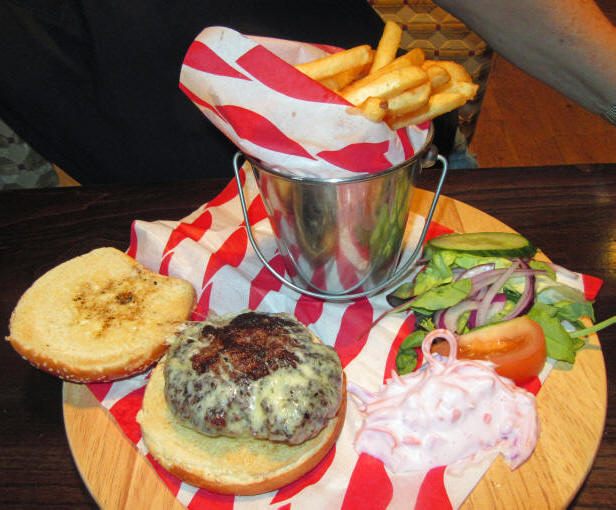 Marcia has to deconstruct her burger to make sure there is not an atom of onion on it. Since I was still in the UK, I got an order of fish and chips with peas that came with Sarson's malt vinegar.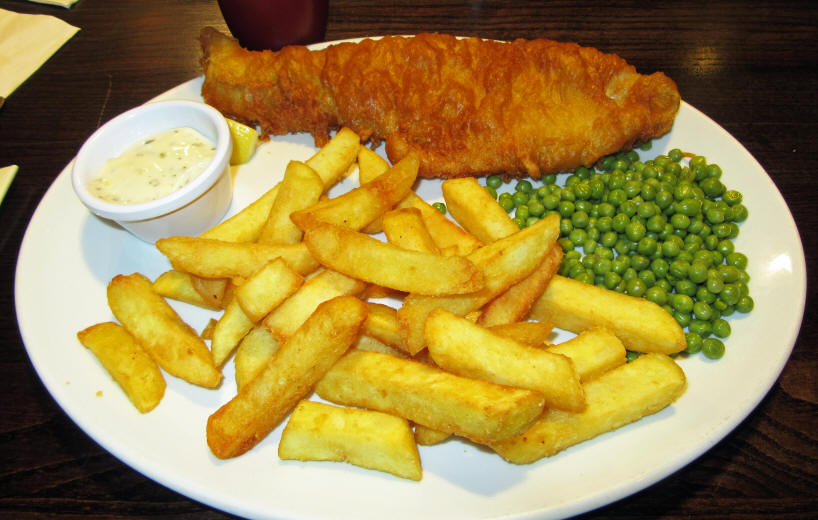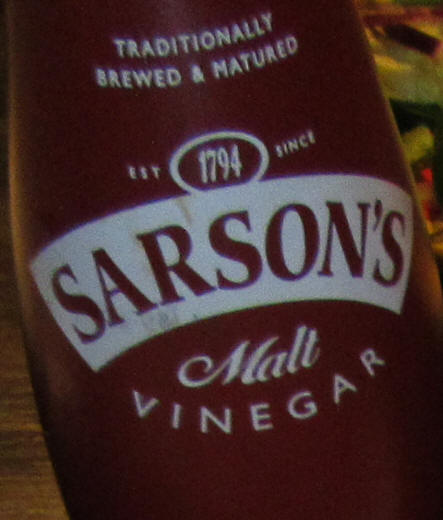 These two (below) took wonderful care of us and made our dinner here on a rainy night very special. Again, the dilemma of which makes a better picture: without (left) or with flash (right). You choose, I couldn't.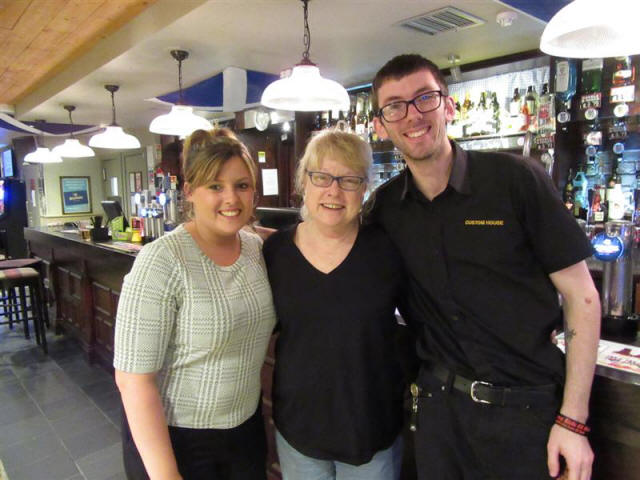 [We knew their names but because of the Palm crash, their names have been lost.]
The whole meal and drinks cost us ₤43.63 ($67.12). We paid up and then drove back to our hotel and got to bed at around midnight again. Tomorrow we drive five minutes to Cairnryan (below) to get the ferry and finally arrive in Northern Ireland and the city of Belfast for a thirty day adventure through Northern Ireland and the Republic of Ireland.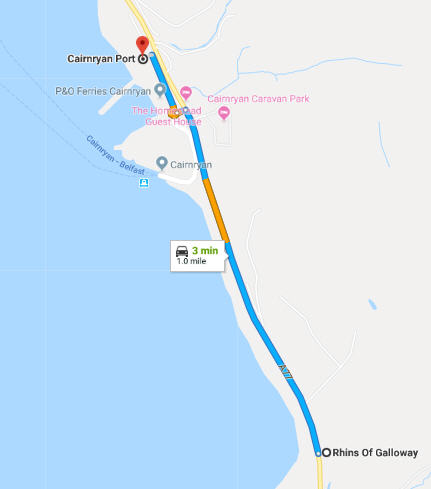 Kenneth J. Hoffer, MD
KHofferMD@AOL.com
Stranaer, Scotland
Sent 8-02-2018
If you enjoyed these travels or wish to add comments on the places we visited
Please Leave Me a Message by clicking the spinning @ sign below.