Dr. Hoffer's Travel WebSite This site was last updated 06/20/18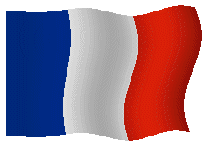 IRELAND15 #4 Calais to London: 16 Years Later

---
Saturday, July 18, 2015
---
Important to the history of this city are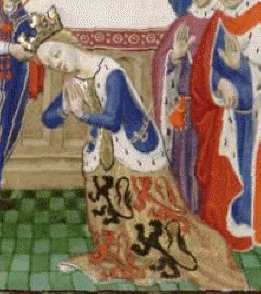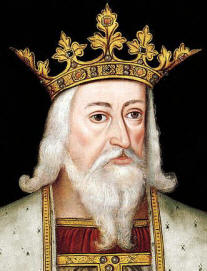 the events of the 14th Century. Calais to Dover in England is only 22 miles (36 Km). So, in 1346, English wool trade interests and King Edward III's (right) claim to be heir to the Kingdom of France led to the Battle of Crécy between England and France, followed by Edward's siege and, after eleven months of appalling suffering, the townspeople surrendered and he captured Calais in 1347. Angered by their resistance, the King demanded reprisals against the town's citizens for holding out for so long and ordered that the town's population be killed en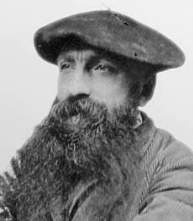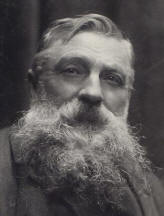 masse. He agreed, however, to spare them, on condition that six of the principal citizens would come to him, bareheaded, barefoot and with ropes around their necks, and give themselves up to death. On their arrival he ordered their execution, but pardoned them when his queen, Philippa of Hainault (above left), begged him to spare them.
This event is commemorated in "The Burghers of Calais" (Les Bourgeois de Calais), one of the most famous sculptures by Auguste Rodin (1840-1917) (left and right

), erected in the city in 1895. [A replica of this sits just in
front of the Parliament Building in London - See UKIreland1999.] After sparing the lives of the delegation members, King Edward drove out most of the French inhabitants, and settled the town with English people. The French did not regain Calais until 1558 by a surprise attack by Duc de Guise. In WWI it was briefly in British hands. Calais flag left; Coat of Arms right.
Below are two paintings depicting the Queen begging Edward (on right) to spare the Burghers (on left).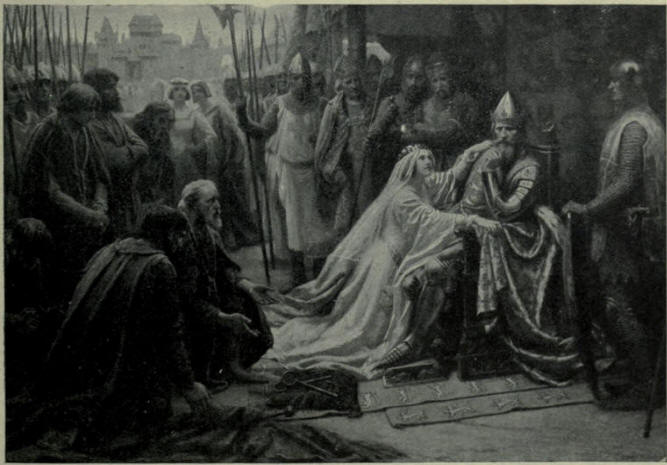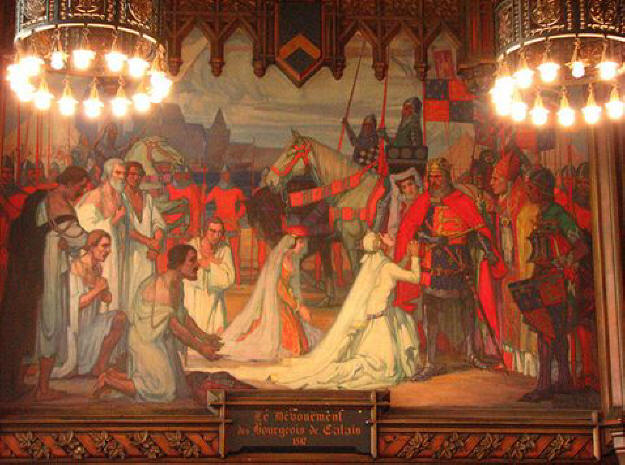 Since I had already booked our ferry for today online, I got up early, at 9:23AM, and enjoyed their nice shower. Of course you have to know that "chaud" means hot and "froid" means cold.

Since breakfast was still being served, I had to go down and make myself a sandwich. They had a pretty substantial layout ready. Marcia (below right) was already there enjoying her breakfast as usual.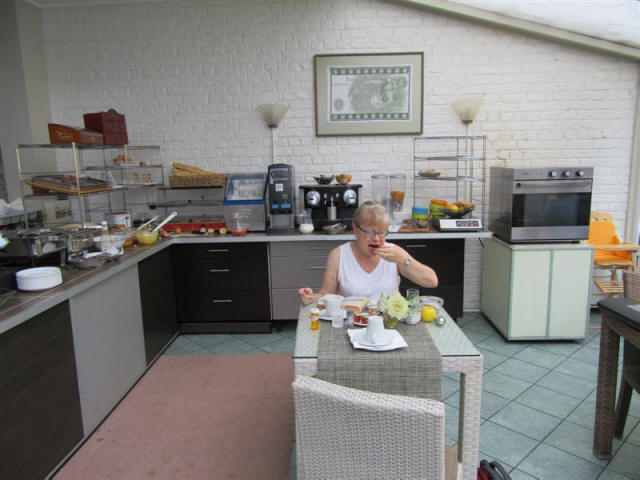 I made a healthy ham and cheese sandwich with fresh tomatoes and took it up to the room to put it in the refrigerator. I had my running gear on, so I headed out to get my run over with. I walked around the block to the other side of the Art Museum (across from our hotel) which faces on the big park.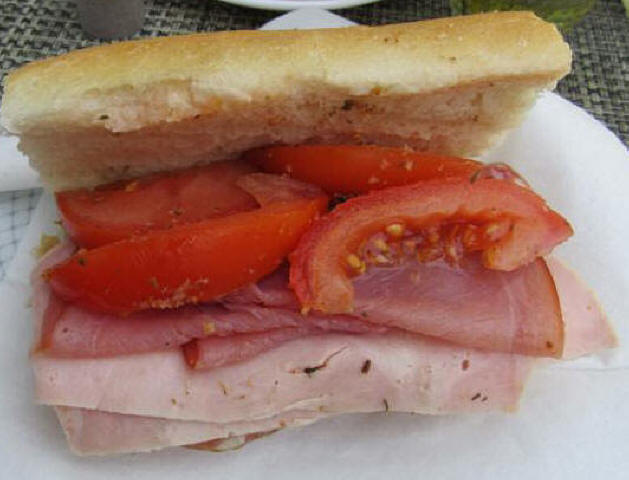 As you can see below, it was very nice and quite huge. I usually eschew parks because I want to explore the place I'm at and I can see trees and grass anywhere. But the traffic looked a little tricky here and I thought this would be a little safer.

As I ran down these wonderful hedge-lined trails, I was able to take a few photos.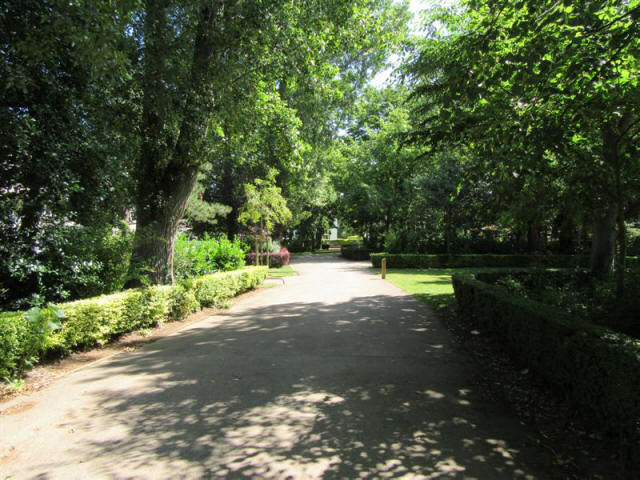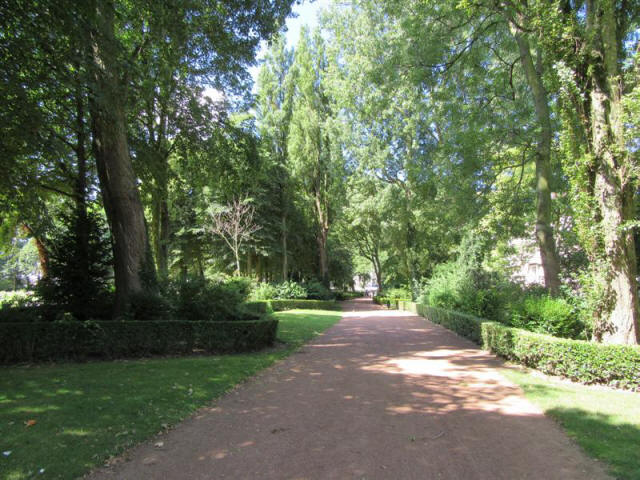 I went by this large pond in the center (PhotoStitch Canon shots).

Passing the pond, I arrived at a large flat area with park benches and ...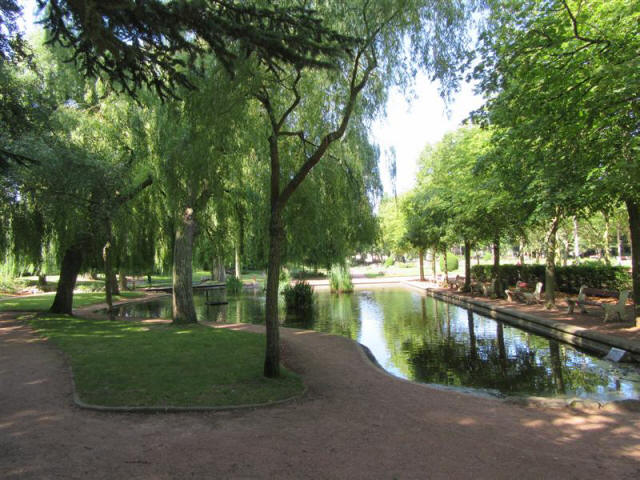 ... this large concrete structure with stairs leading to two doors on it. I never found out what it was.

I finally arrived at the front entrance the Richelieu Gardens which was originally set up in 1862 on the city's fortification grounds and redesigned in 1956 after the war (read below center). They have these very nice large metal plaques describing the history of the city ("Histoire de la Cite") in both French and English. This one was #21. Below right is the "Symbol of Peace" grasping the olive branch.

Below left is a grand view of the memorial. On the right is a closer view showing the statue and engravings.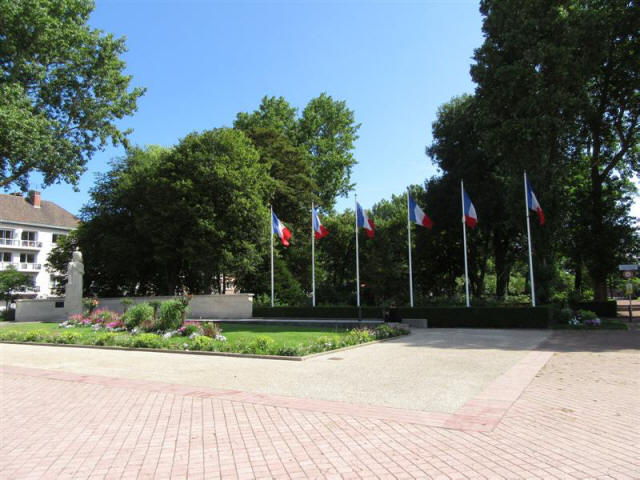 I was now finishing my run on city streets and came across two more colorfully painted elephants.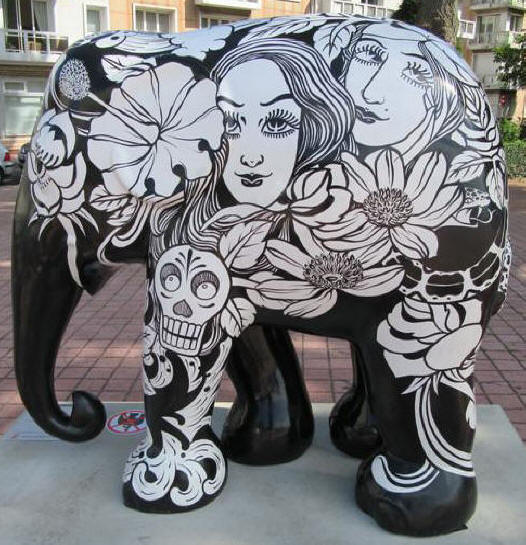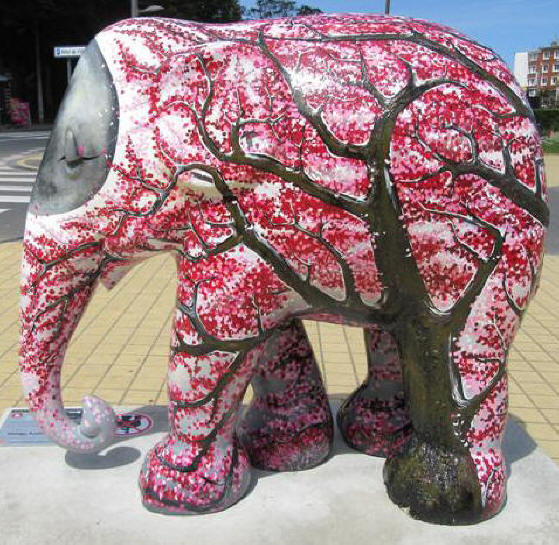 [While in Washington, D.C. in April, 2018, I came across one in the Washington Convention Center (left) and one near the Madison Hotel (right).]
Now finished, I wanted to rest and get a cappuccino so, just across the Parc (below left), I stopped in the L'Hovercraft [11 Place du Maréchal Foch,
+33-32-134-5973] (below right) mainly because I remembered with fondness our 1999 ride on the hovercraft across the English channel and they don't have the hovercraft anymore.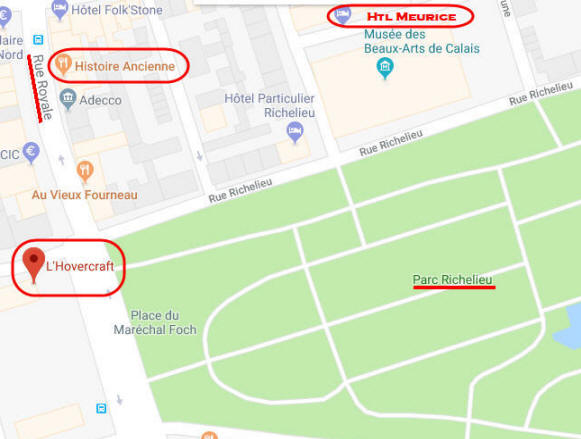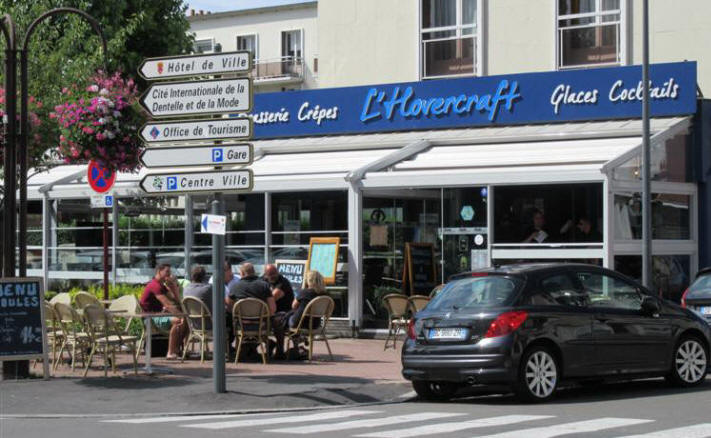 Here is a flashback to 1999. Here is what the Hovercraft looked like as it was landing on the shore in Calais (below left) and as it sat on the sand being refueled, reading for passenger entry (below right). It's the Princess Anne.

Pedestrians walk up the staircase and those with cars drive up the ramp in the back. While crossing the Channel you can see little out the windows because of all the spray. It only took thirty minutes to cross and was great.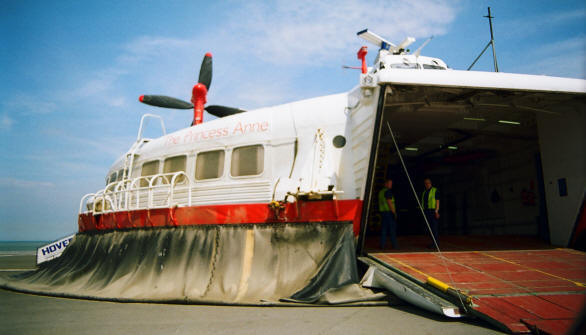 This is my 1999 photo of the Princess Margaret being loaded with cars.
I sat inside the cafe at the first table by the window and watched all the people and traffic going by. The cappuccino was only so so. Below is a stock photo of the interior of the cafe. The coaster for my drink was a Hoegaarden Rosée beer.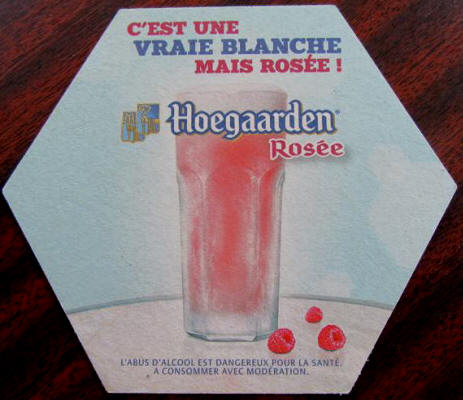 They were celebrating their 50th Anniversary a year early? No, this is a stock photo from 2016 (below left).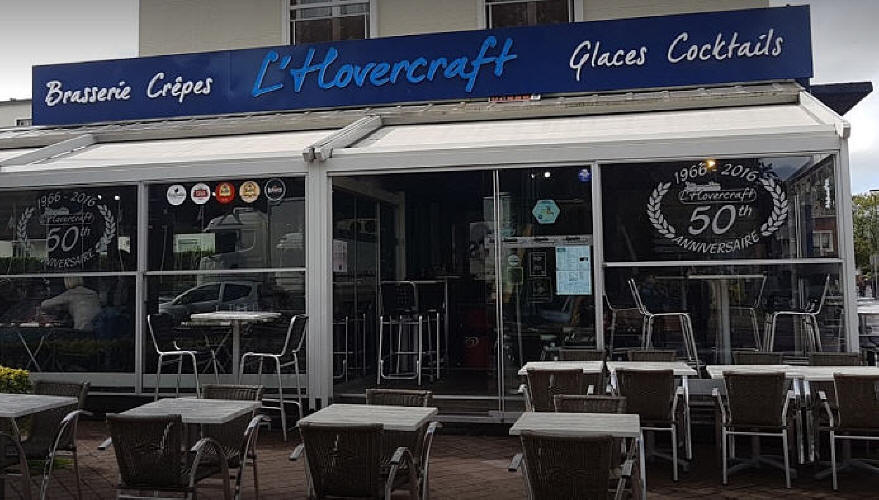 When I was finished, I took a fast walk on Rue Royale through the city and passed the Colonne (column) Louis XVIII (above right, stock photo). As I went along, I noticed that they have a pretty clean and lively downtown.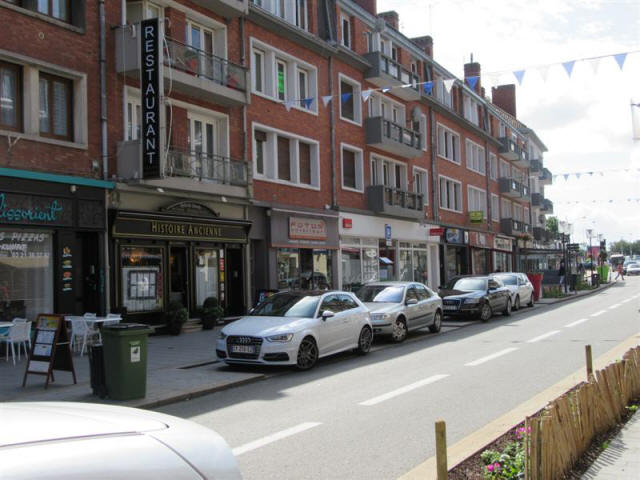 The Family Pub [33 Rue Royale,
+33-32-197-2276] has outdoor seating (below left) and a nice bar (right).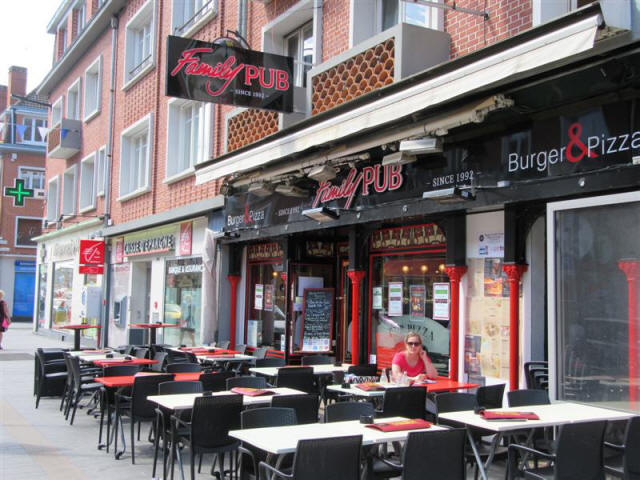 On the other side of the street they have a city Casino [59 Rue Royale,
+33-32-119-1666] (below) which was pretty quiet at this time of day (stock photo below right).
Here on the corner is the Café de Paris [72 Rue Royale,
+33-32-134-7684]; the interior is quite modern.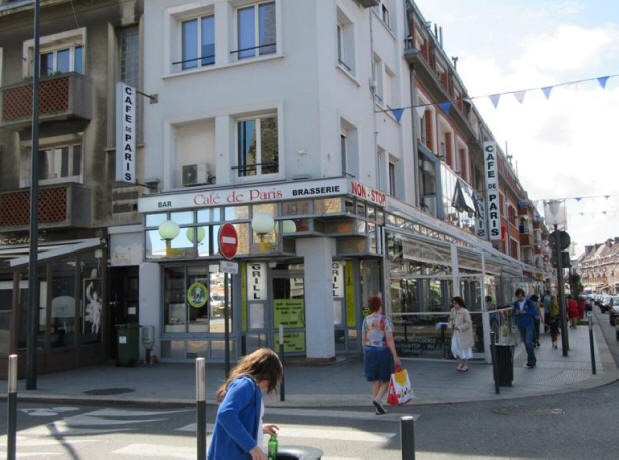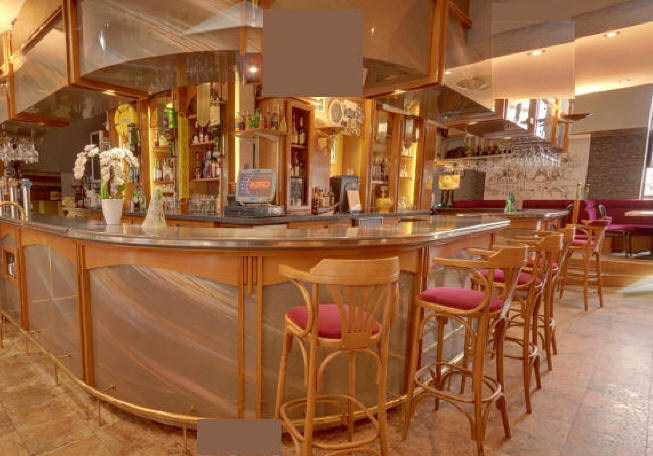 I continued my walk and used the ATM at the Crédit du Nord on Royal Street.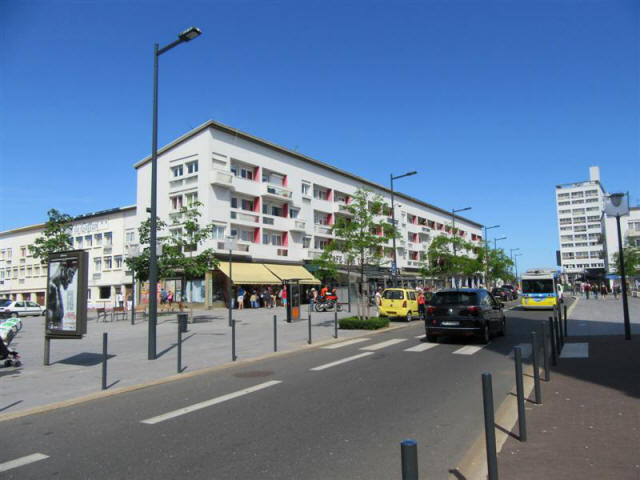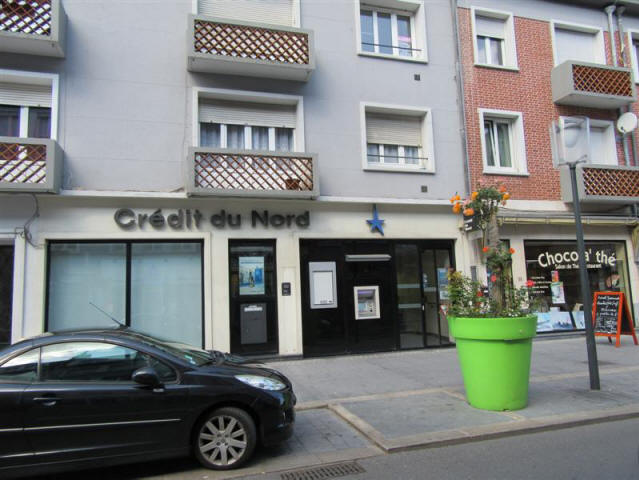 I then kept walking until I came upon the huge Hôtel de Ville (City Hall, stock photo below) which was built just after WWII, with its soaring belfry in typical grand Flemish style. There is a beautifully manicured garden in front with a very interesting statue array (see below).
Concealed in the quiet park opposite it, is one of the largest Nazi bunkers which is about 328 ft (100 m) long. It is now called the "Musée de la Seconde Guerre Mondial" (WWII Museum) [Parc Saint Pierre,
+33-32-134-2157].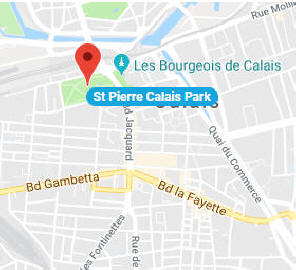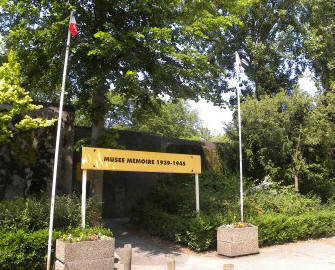 They also have a surviving Nazi bunker left on the beach (stock photo, below left). My Canon shot of City Hall, below right.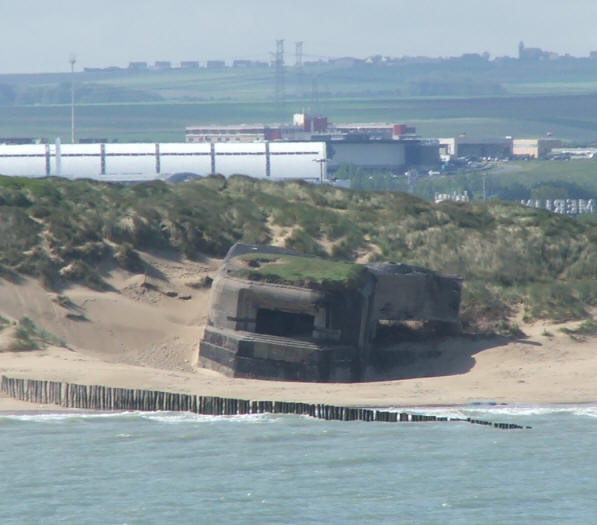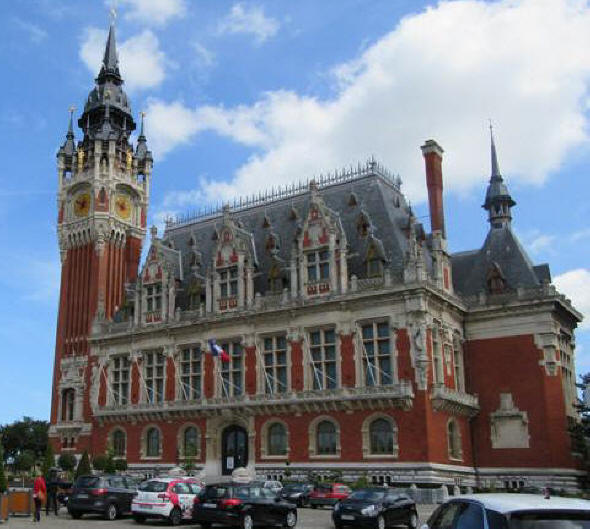 That special statue array out front is the famous "Burghers of Calais" by August Rodin, which was placed in the formal gardens in front of City Hall in 1895. This is Rodin's rendition of the anguish of the six city burghers who surrendered themselves to the conquering English King to be killed in place of all the citizens (see beginning of Diario . Note the ropes around their necks and barefooted. This is my shot from the right side (below left), the only one I took (I don't know why I took only one). Here are some stock photos; from the rear left side (below right) ...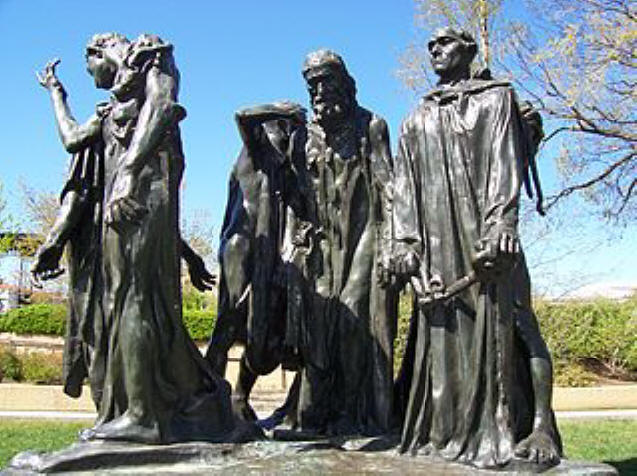 ... and here is from the front left side (below left) and from the front right side (below right).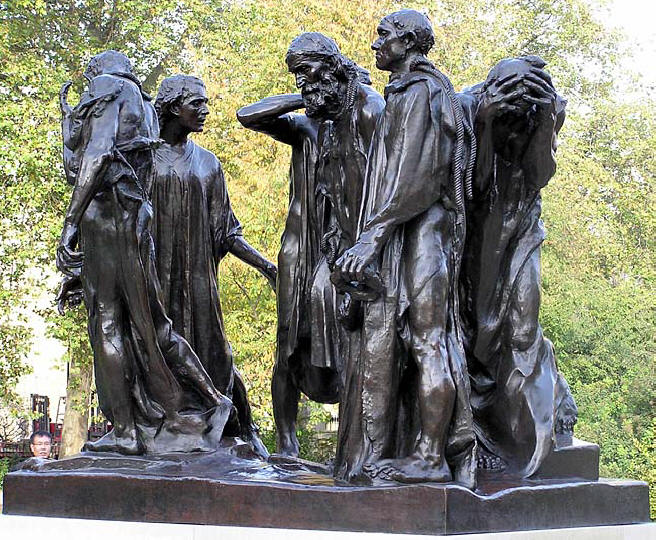 The plaque on it basically describes that it was voted on by the municipal council on September 26, 1884, designed by Rodin and installed on June 3, 1895 with the President of France, Felix Faure, in attendance.

This other plaque mistakenly states that the Burghers were killed but they were really saved by the Queen.

I did get this other shot of it with City Hall in the background. Here (below right) is the exact photo I took in 1999 of the replica of this piece that stands in front of the British Parliament in London.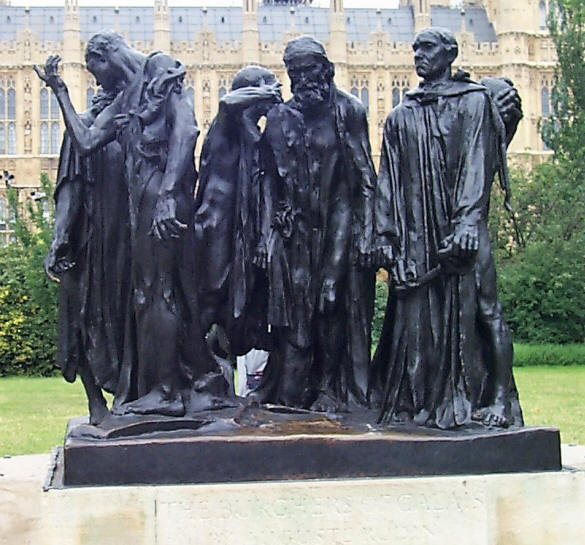 They also had these large metal plaques telling the history of the city (below right) both in French and English. I'll let you read the blow-up of the English.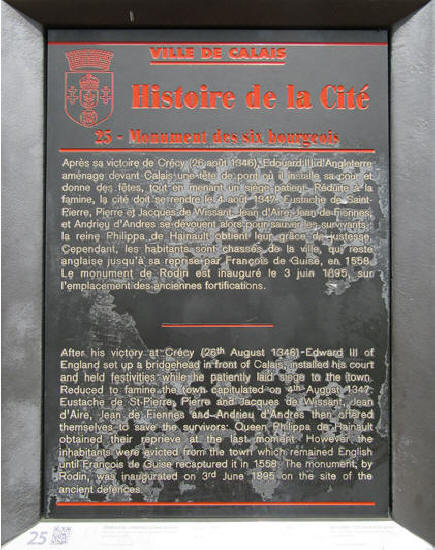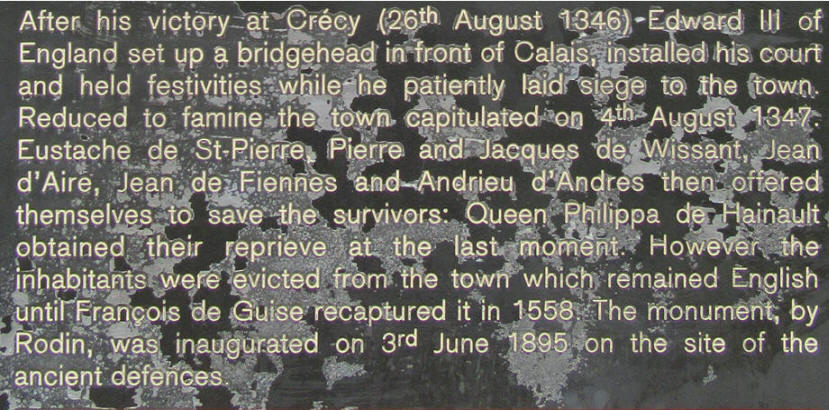 This is my shot of it a little to the left (below left) and of the clock tower (below right) showing it's almost 1:00 PM.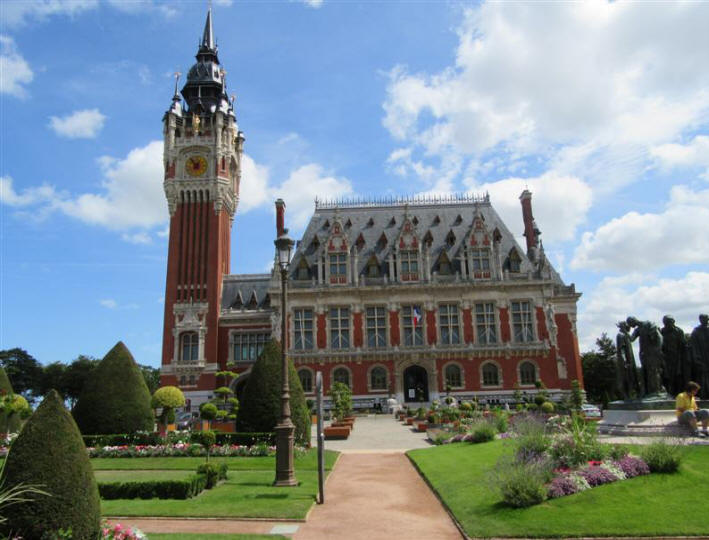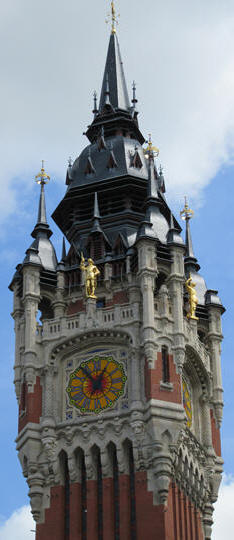 The benefit of this 18 Mpx Canon is that I can blow-up my photo to show the detail of the clock (below left) and the gold armored soldier (below center). The stock photo of it (below right) is a little brighter.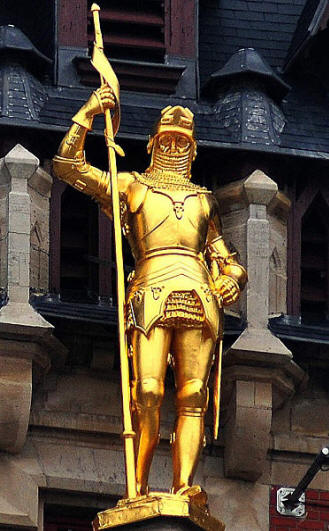 I can blow-up the shot more to see the detail of the face but it now begins to lose quality. When you get farther into the downtown area, it really is a busy place (stock photo, below right).
Farther down, on Boulevard Jacquard, they have this large white marble War Memorial to both wars.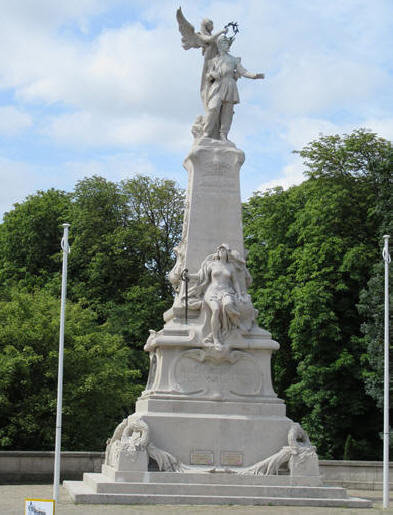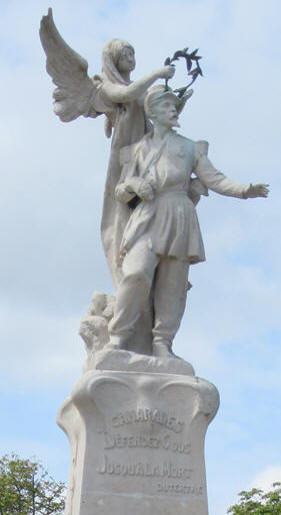 Below left is the central part of the monument with a blow-up of the plaque below stating "The sons of Calais who died for their country".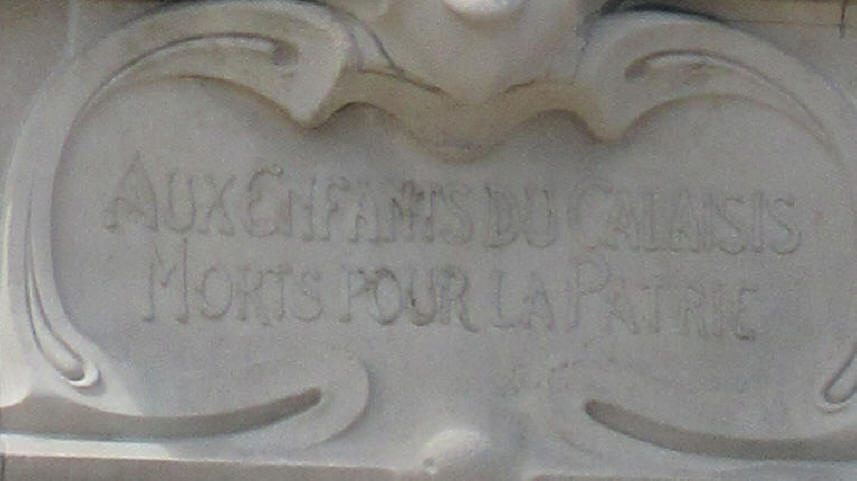 Below left is a 1919 postcard of the Memorial and Jacquard Street. Below right is similar era postcard of Rue Royale and one ...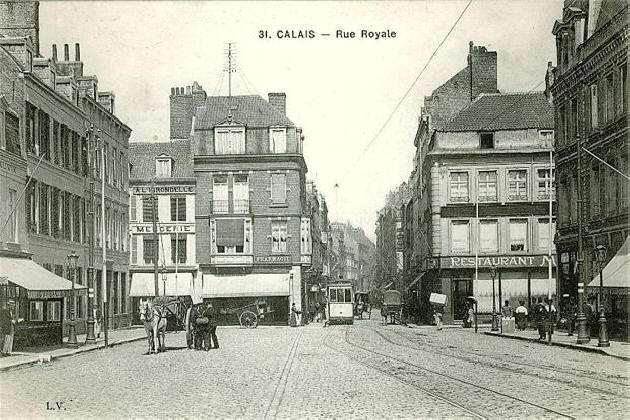 ... of today (stock).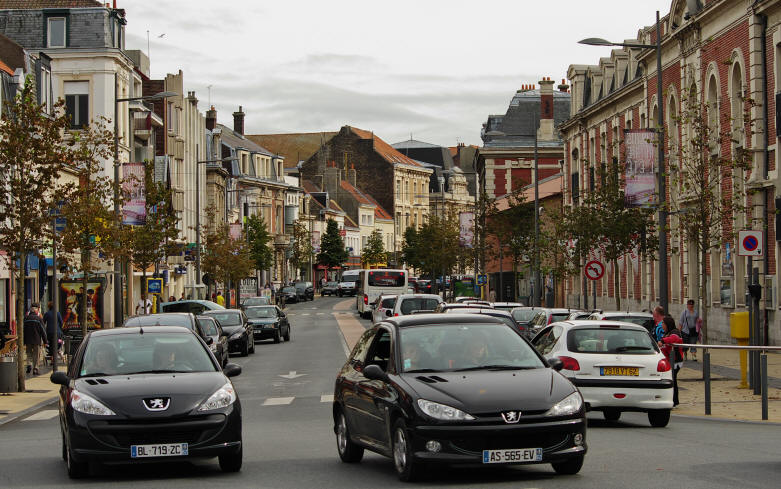 At 12:50 PM, I went by the Calais Theater (Le Théâtre Municipal) with a large statue in front. It is copied from the opera house Palaise Garnier in Paris. Since I was racing by, I only got this one shot of it (below left); below right is a stock photo of it.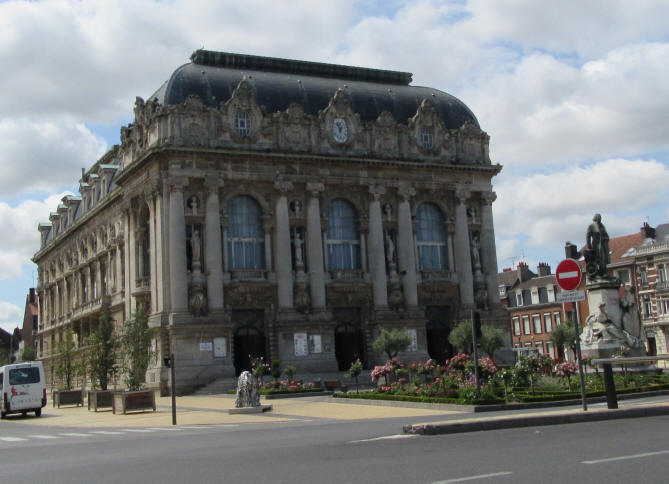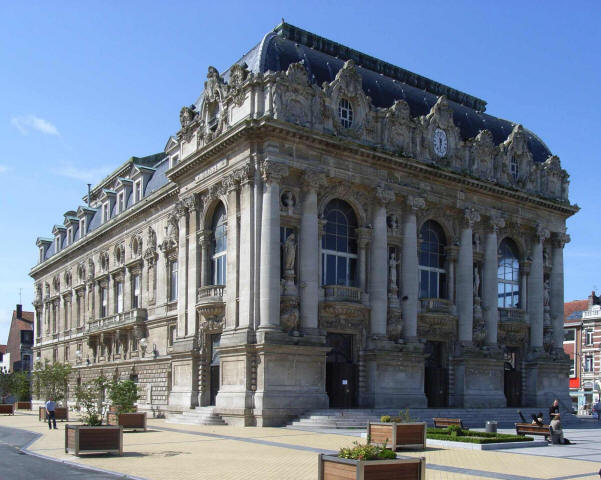 [This is the photo my granddaughter Anabella (age 15) took of the Palaise Garnier in Paris on her visit there in April 2018.]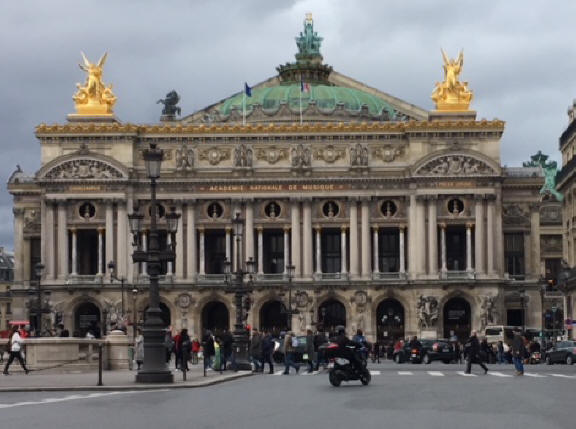 Here are old postcards of the Calais theater from the early 1900s.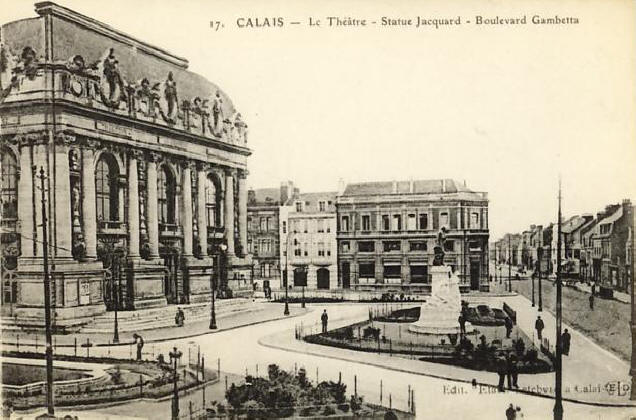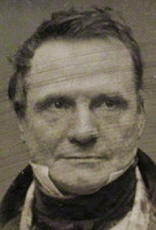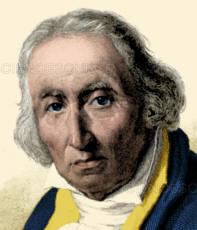 The statue in front is a monument to Joseph-Marie Jacquard (1752-1834) (left) born in Lyon, who invented a loom for making lace which won a bronze medal at the Paris Exhibition. The loom used punch cards to direct it and was the earliest precursor to computing. Charles Babbage (1791) (right), a Londoner, used his idea to design the first real computing device (the "Difference Engine") and he was also the first to invent the ophthalmoscope for looking into the eye at the retina. He never popularized it, so credit was given to the German ophthalmologist, Hermann von Helmholtz (1821-1894). Babbage's computer (below left) is in a London museum and each half of his brain is displayed (below right) in two different museums there.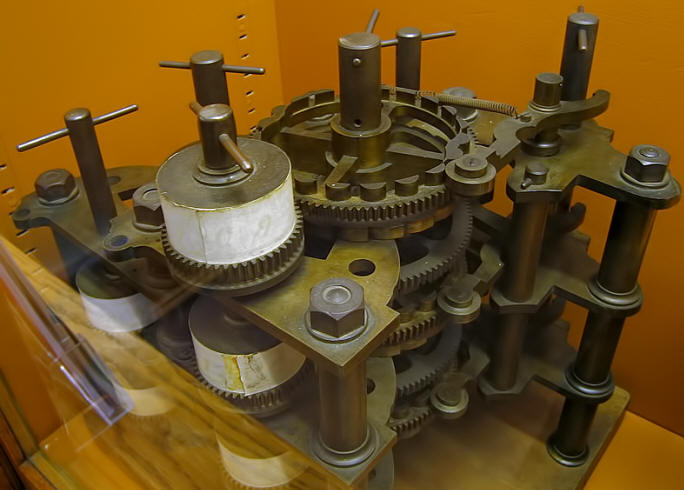 Jacquard's "computer" loom (model, below left) made great advances for the wool and lace (below center left) industry in Calais. Center right looks like a drawing or a painting of Jacquard, but it is a image made of cloth using his punch card loom. Far right is an enlargement of one of the angels on the Jacquard monument.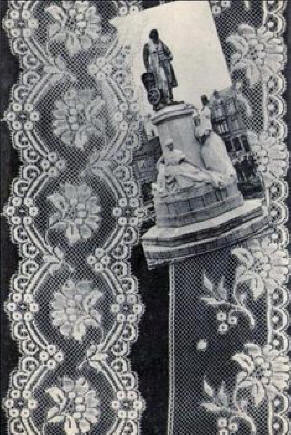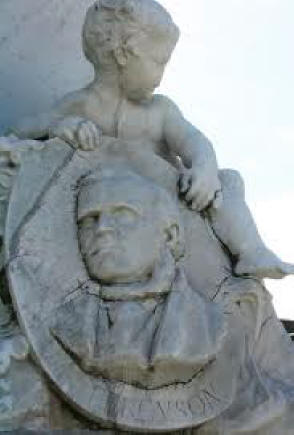 Since my only photo of Jacquard's monument is the one above, I found some very nice stock photos of it from every angle.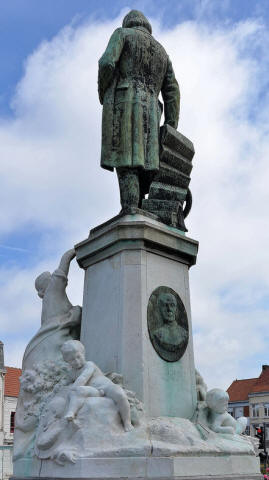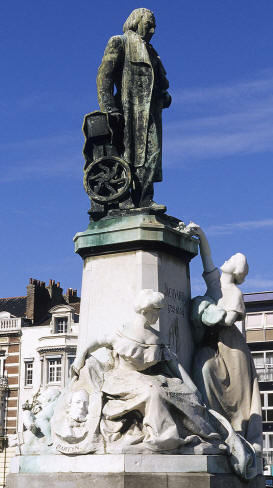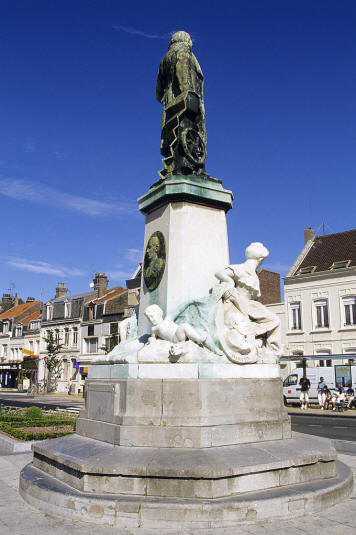 From the back (below right) you can see how they added the loom covered with a folded roll of his punch cards.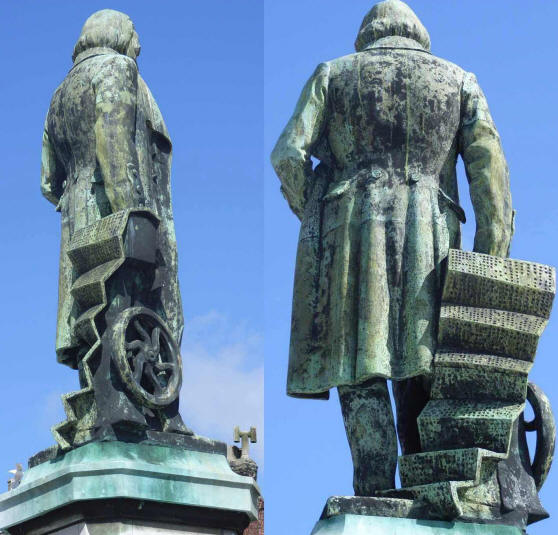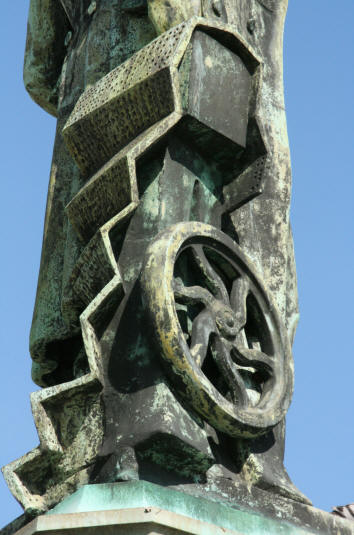 I arrived back at the hotel on Rue Edmond Roche and got this PhotoStitch shot of the art museum
across the street. Even though this has been a very brief glimpse of the historic city, I must admit that I found it very much nicer than my impression of it from 1999. I would recommend that if you stop here for any reason plan for a few extra days to explore it; especially the fine dining.

I got back to the room, packed up, loaded the car and checked out of the hotel. It was now time to hope the GPS would take us to the right place to catch the ferry I paid for on the internet. I took some photos of the other areas of the city we had not been in before; some nice (below left), some not so great (below right).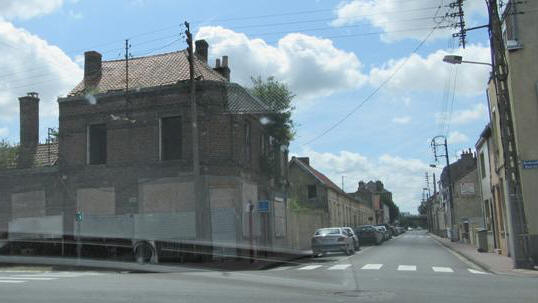 As we got farther out of the center, it really became quite rural. I blew-up (from the photo on the left) the photo of their water tower with "Calais" scrawled across it.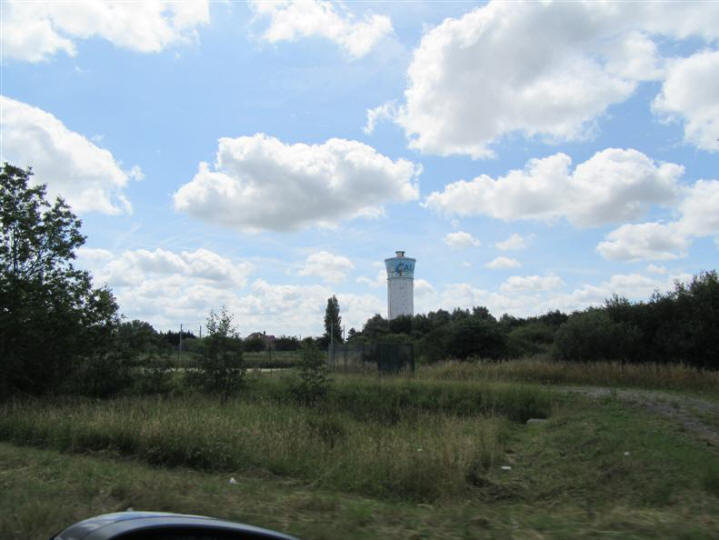 Now we just had to keep the signs straight while looking for the signs saying "Car Ferry". Not so easy!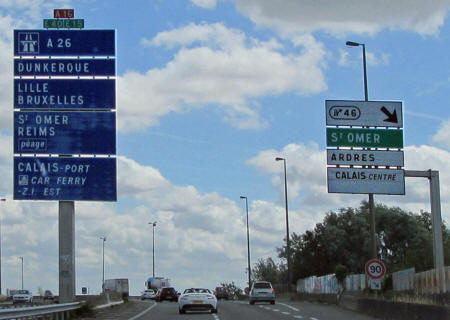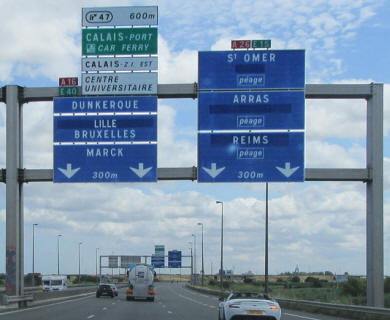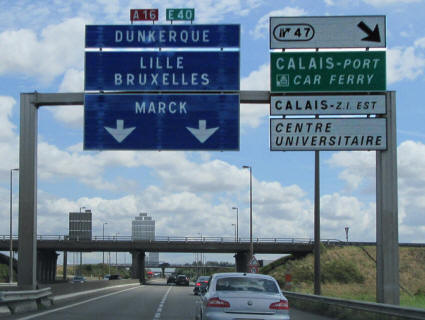 At 1:07, we were almost there and the GPS had us on track.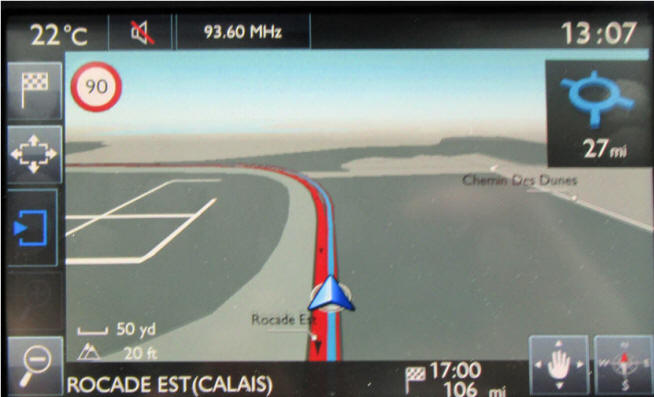 You have to make sure you get in the correct lane for passenger cars (below left) and then an open lane for the correct passport control (below right).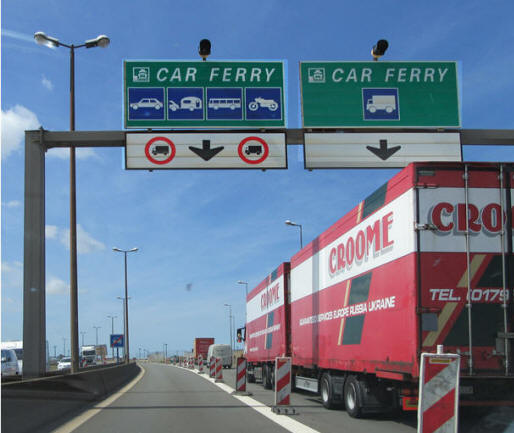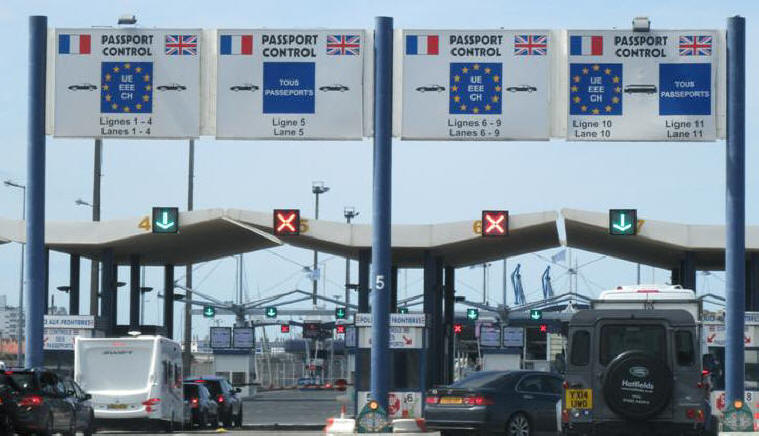 Okay, we made it. We showed our passports and flew through this gate (below left) and then we were directed to the next stop, the P&O Ferries kiosk to pick up ...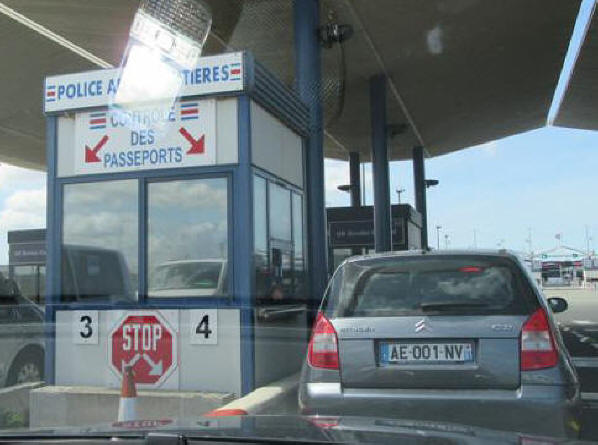 ... our prepaid tickets. They also gave me one to place on the windshield. We were directed to park in Lane 203.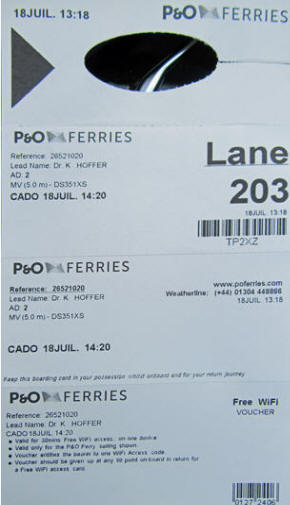 We weren't there early but we wound up being the very first car in our lane. Since we had to sit for a while, it was now time to eat the ham/salami and cheese sandwich I had made this morning in the hotel breakfast room.
I then got out and took some photos of the port area around us. Below left is their Port headquarters office and below right you can see the ships lined up.

I believe this is our ship (below left) with the gangplanks for pedestrian passengers. Below right is a stock aerial photo I found of the whole port complex.

Finally we get started and are directed to follow this circuitous route to finally get on the road elevated so that we can drive right onto the ship.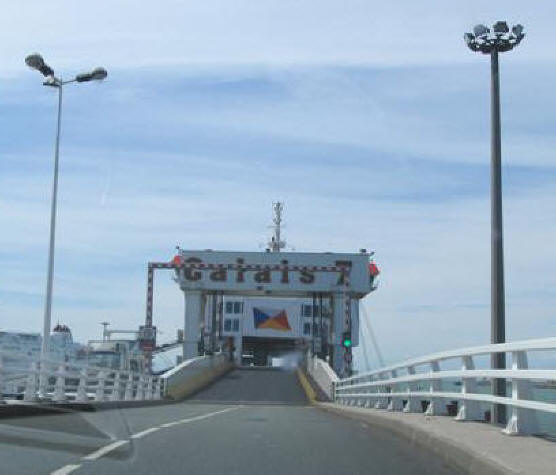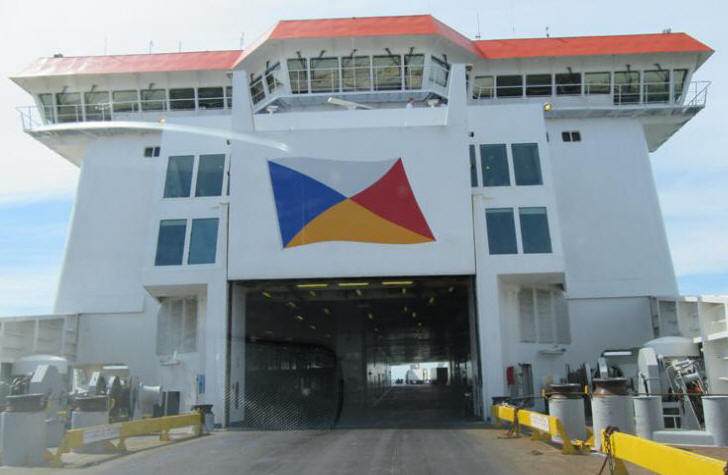 We were the first car off the line thus there were no cars in front of us. Once inside the ship we were given directions to keep driving forward.
We wind up driving across the entire ship right to the outside area and park the car in the spot that is the first car to drive off - what a luck out. I guess buying a priority ticket pays off. When you are at the backend you have no idea what a pain it is waiting to get off and then the traffic you are in once on the road. Marcia looks pretty happy.
We got out of the car and locked it and then walked on the deck to the inside where the elevator is.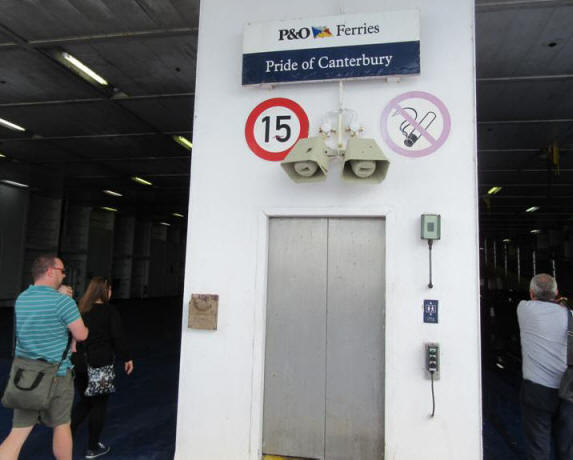 Our ship is the "Pride of Canterbury" and they have a map plan on the wall showing what's on all the decks. The stairs take you either up to Deck 8 where the Club is or down to Deck 7 where they have a Family Lounge Bar, a shop, a coffee shop and a video games room.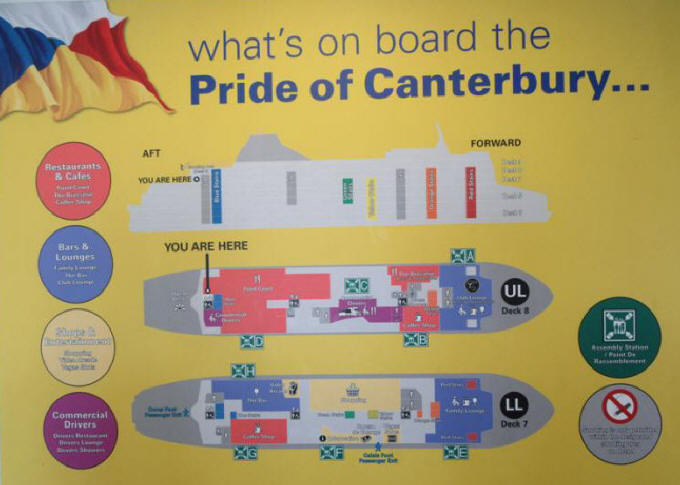 Marcia found a table to relax and I went around and took photos of all the areas on the ship. Being the first ones on, the places were all empty. It will be getting pretty crowded by the time we depart. Below left is a huge seating area with tables and on the right a different table arrangement set up for eating.
Our classier tickets allowed us in the fancy lounge/bar area (below). They called it the Brasserie.

I then went into the Club Lounge (below right).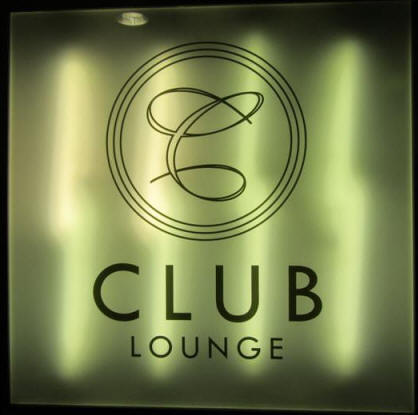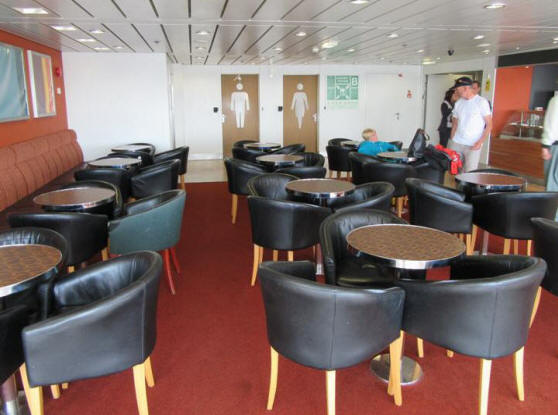 I wound up getting outside on a deck to get some shots of the port from the ship before we depart.
It took quite a while to fill that ship but finally we were on our way.

Above and below are the views as we pulled out of the port. The map shows the trip we will take across the English Channel.

As we get farther out (below left) we cross paths with another P&O ferry heading to Calais (right).

Marcia relaxed and enjoyed reading her book and checking out the scenery but then she wanted her lunch so we wended our way to the Food Court and took a look at what they had.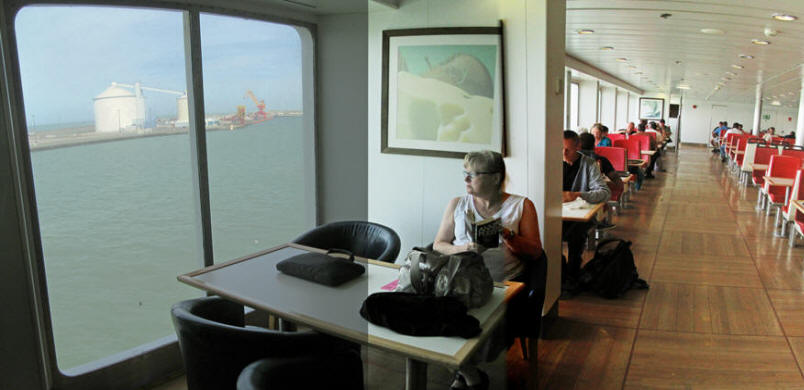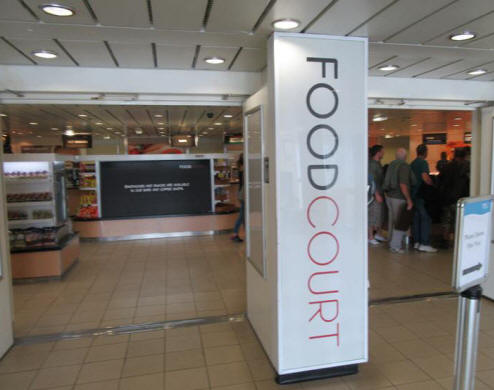 They did have a large variety of cooked foods including fried meats, chicken and potatoes as well as vegetables and a variety of pasta dishes. It all looked pretty good to me but I will wait until dinner tonight in London.
So at 3:23 PM, Marcia had a roasted chicken breast with its wing with mashed potatoes and English peas which came to €11.80 ($18.15). She says it was pretty good.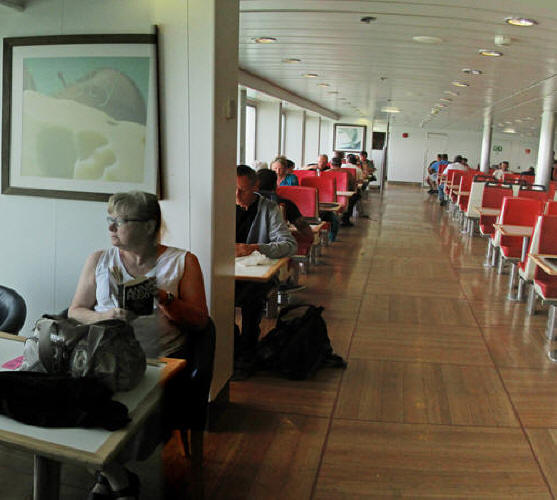 While she ate, I wandered into the P&O Off-Shore Shopping Store [
3208-864-2752] and at 4:18 PM I bought some stuff for a total of €65.15. My special ticket gave me a free WiFi card (below) which ....
... I entered into my computer (below left) but the service was quite spotty and I never got it to work. I worked on my computer until suddenly we were arriving in Dover.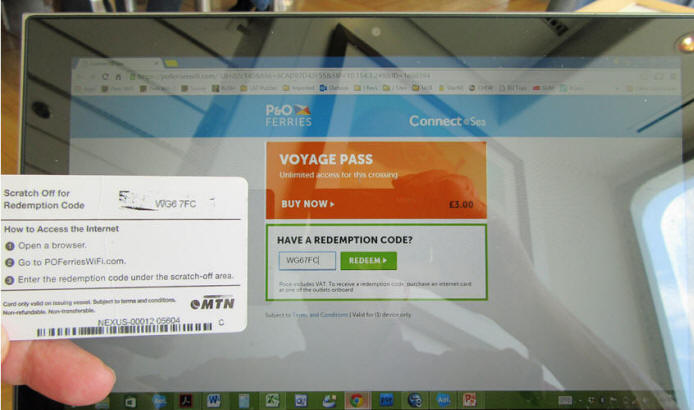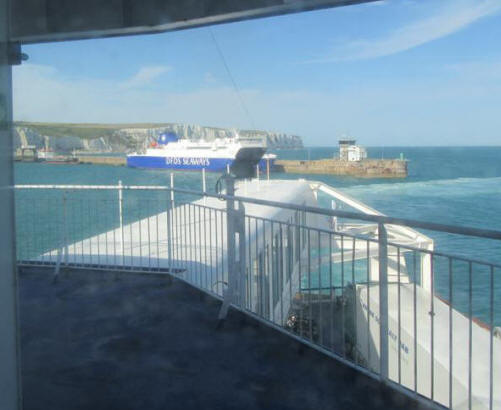 Wow, looking out and seeing those beautiful white cliffs again was a thrill - we were here in the UK again.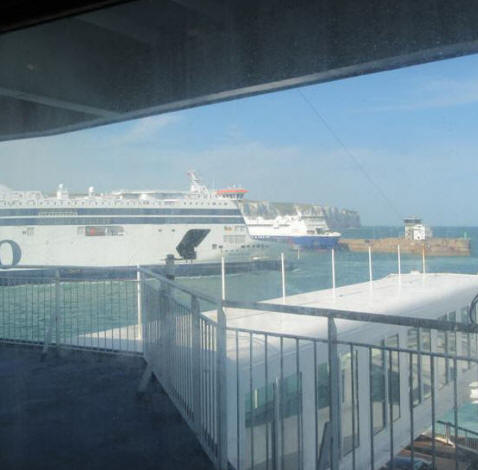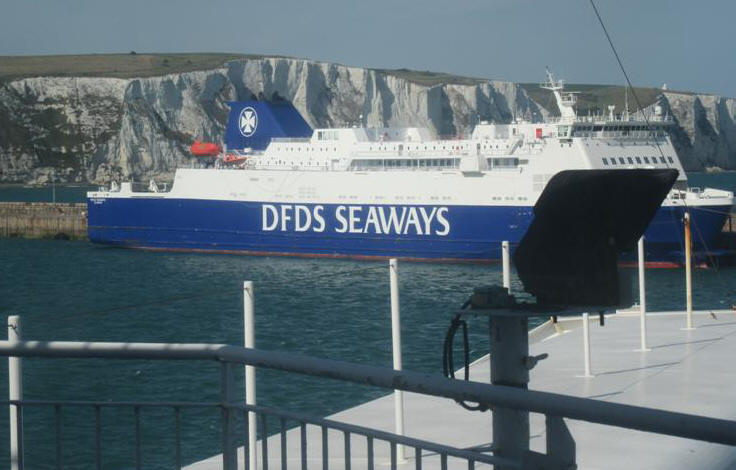 They look nicer the closer you get.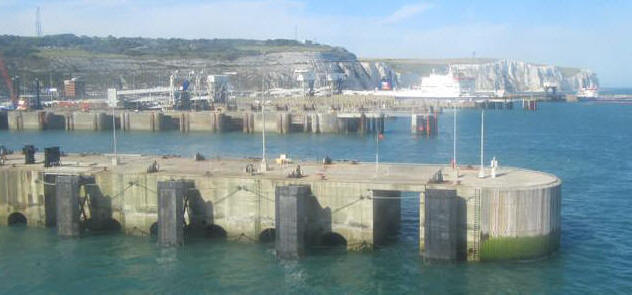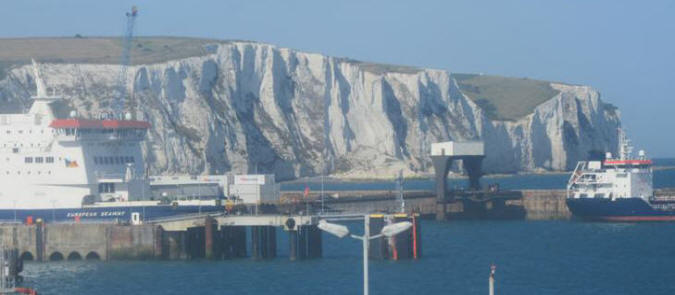 We now had to go get on the elevator and get back to the car to disembark. The ship is pulling in to the dock so it can hook up to the ramp to drive off (below left). On the right you can see our dark Peugeot is really in position to be the very first car off the ferry.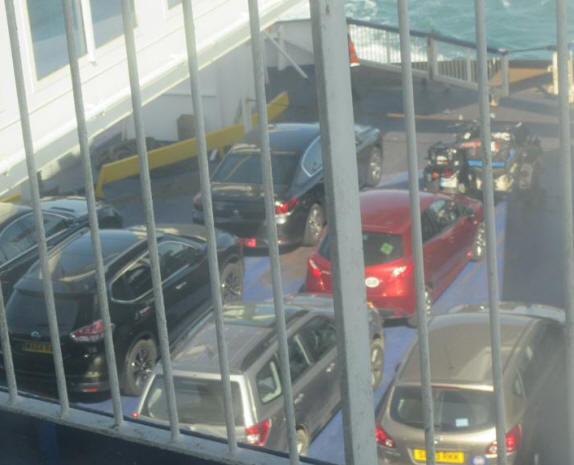 We are now firmly docked at #9. We start driving off the ship.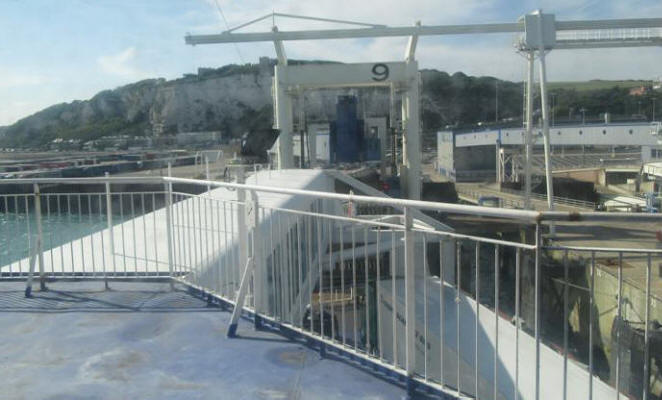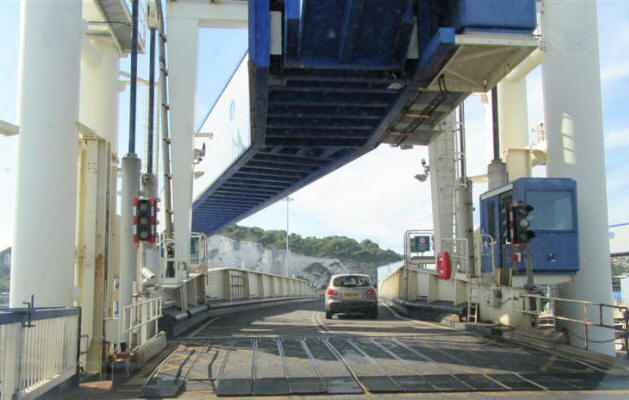 This is our view of the port as we wend down the ramp.
We finally arrive on flat ground.

Being the first off the ship certainly has an advantage as far as traffic is concerned. It certainly was worth the little extra for the premium ticket. Later this highway will be packed with cars.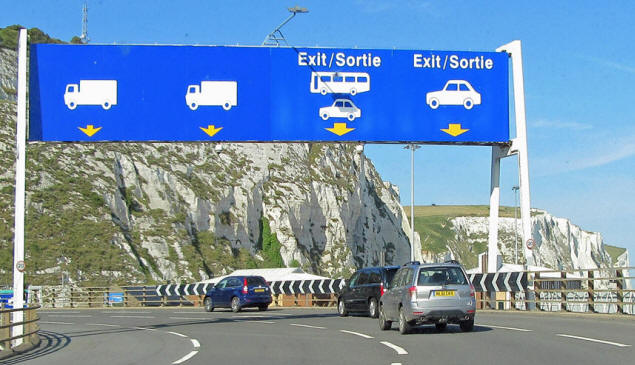 After being on a one-way road, we finally merge into two-way traffic. The white cliffs start to thin out.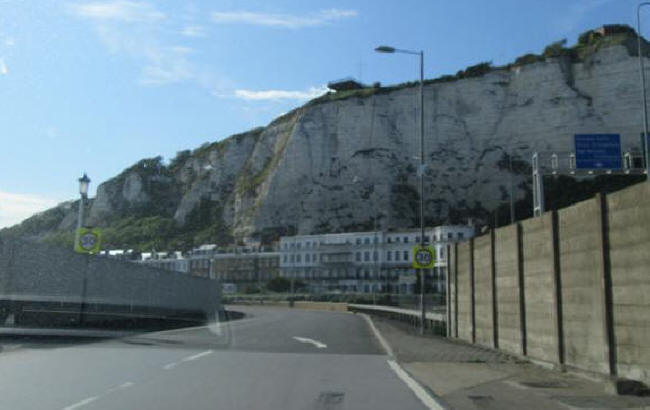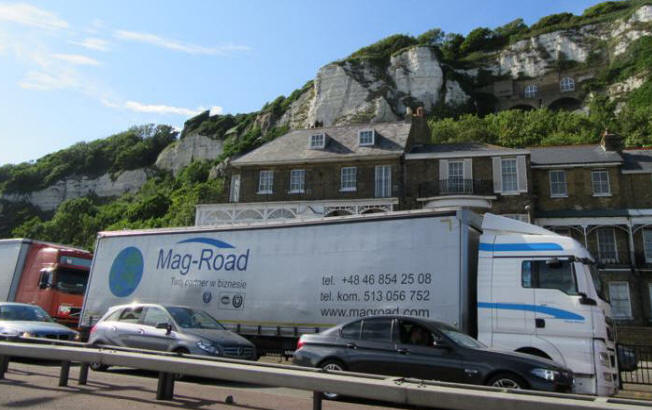 Soon we are on normal roads heading northeast from Dover to London.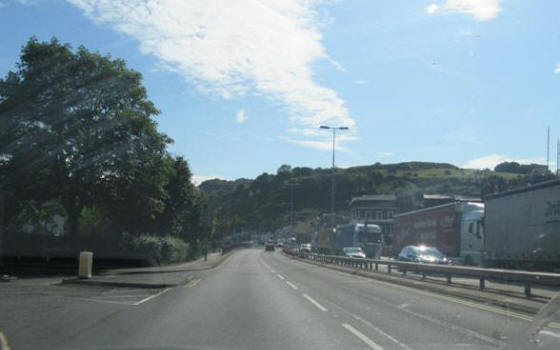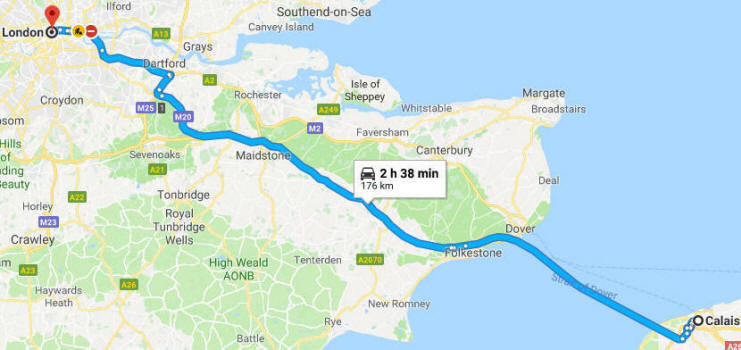 There were quite a few tunnels to get through on the way; mostly pretty clean and modern.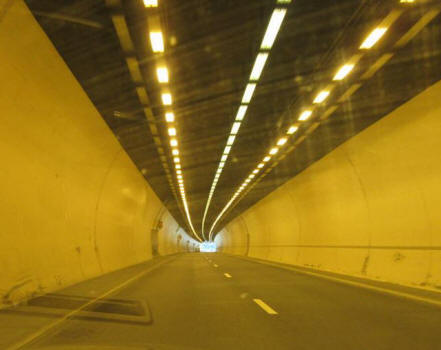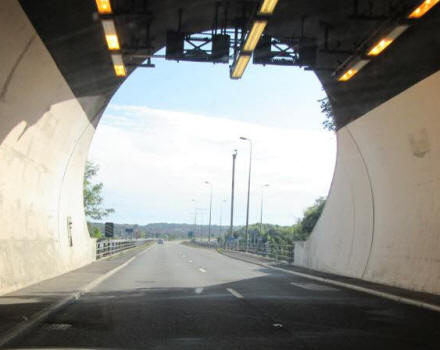 Now, for the big surprise. As we went along I noticed the large semi trucks heading south towards Dover.
Both lanes heading south were packed and then the traffic slowed to a complete stop.

Then there was a gap with a police car control. Above that was this solid line of trucks that ...

... spread for exactly 10 miles (16 Km) which I clocked on the odometer. Absolutely incredible. We found out later that this was caused by customs and immigration control in going from Dover to Calais. You do not want to be going south.
We finally arrived in the very peripheral southern suburbs of London. The photos don't describe it. It was like being in a third world country. I didn't get the feeling it was safe to get out and walk around. I surmised it would get better the closer we got to central London but it never did until we were a half a mile from the hotel. This city has drastically changed since we made this same drive 16 years ago; and not for the better.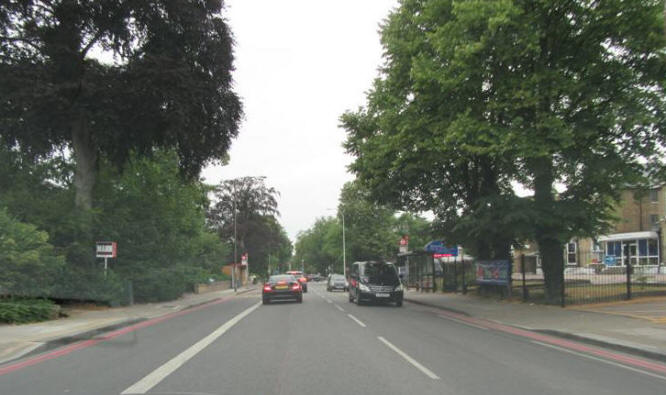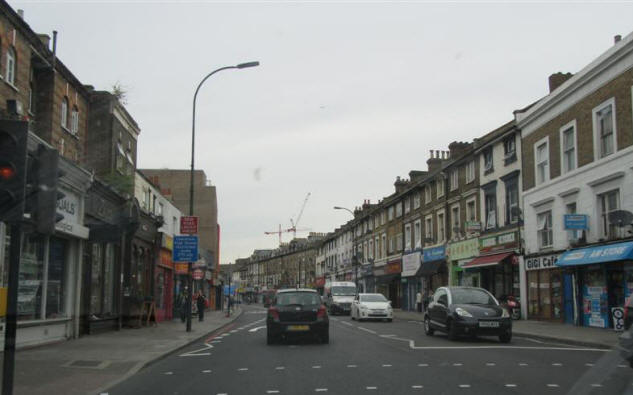 We were finally entering central London. I assume they have cameras all over the place.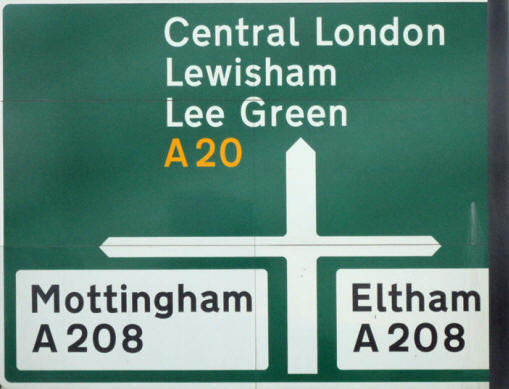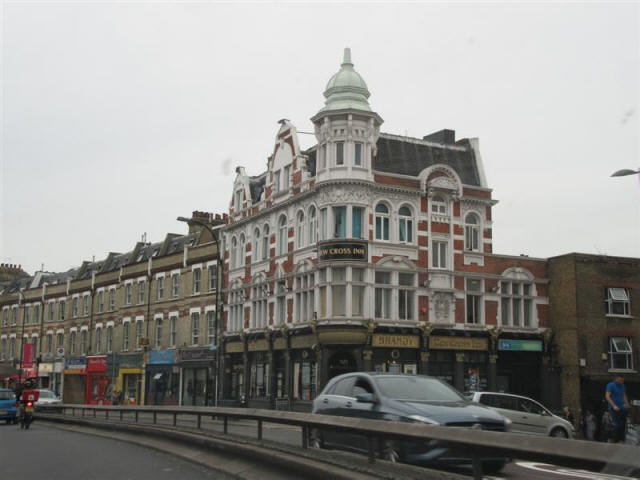 Now it was starting to look more like the London I remember.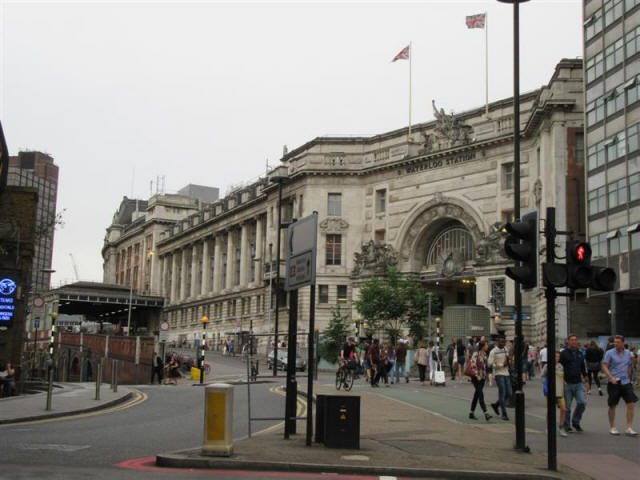 As we crossed the River Thames, I could see St. Paul's Cathedral (center) and ...
... the Millennium Ferris Wheel (left), the British Parliament (center) and Big Ben (right). Happy to be back.
The GPS was now honing in on our hotel and we would soon be in Bloomsbury.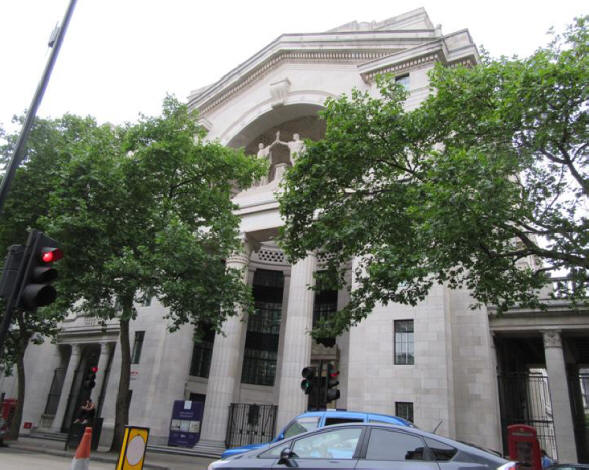 From the maps below, you can see our route to get to the Holiday Inn, our home for the next five days.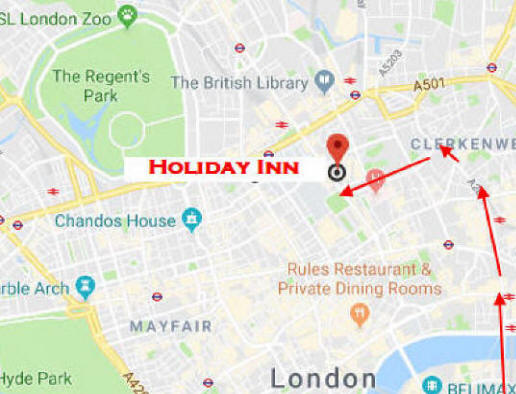 Note the Chandos House, in map above right, where we will have the IIIC Dinner in four days. We arrived on Coram Street and pulled into the underground parking for the hotel. At 6:00 PM, we checked into the Holiday Inn Bloomsbury [Coram Street,
+44-871-942-9222] Room #426, which I got with Booking.com.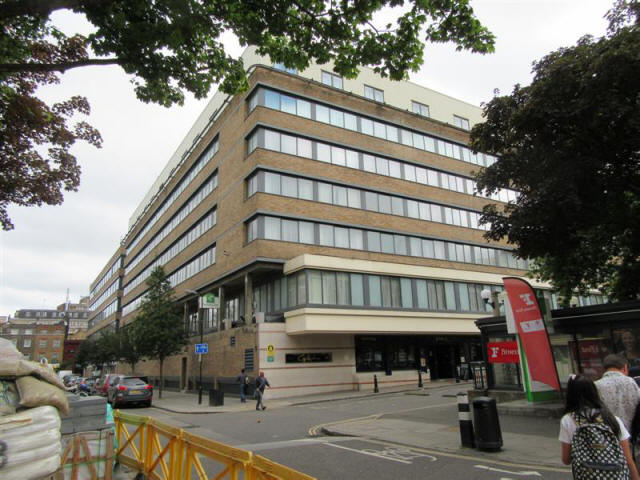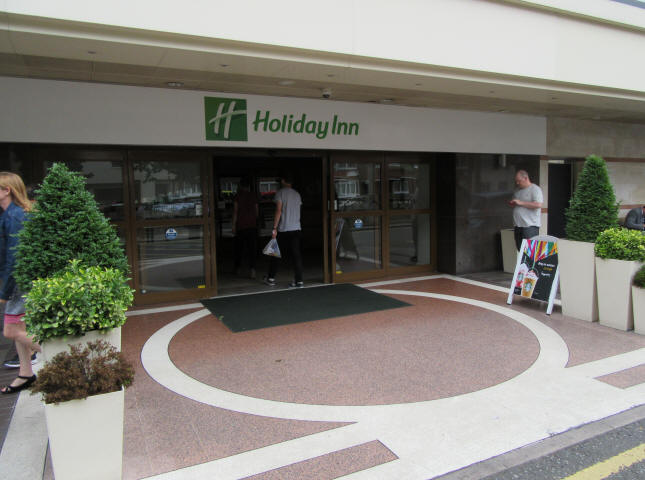 When we stayed here in 1999, at this same hotel, it was called the Post House Bloomsbury. Holiday Inn took it over and put several million into it to refurbish it.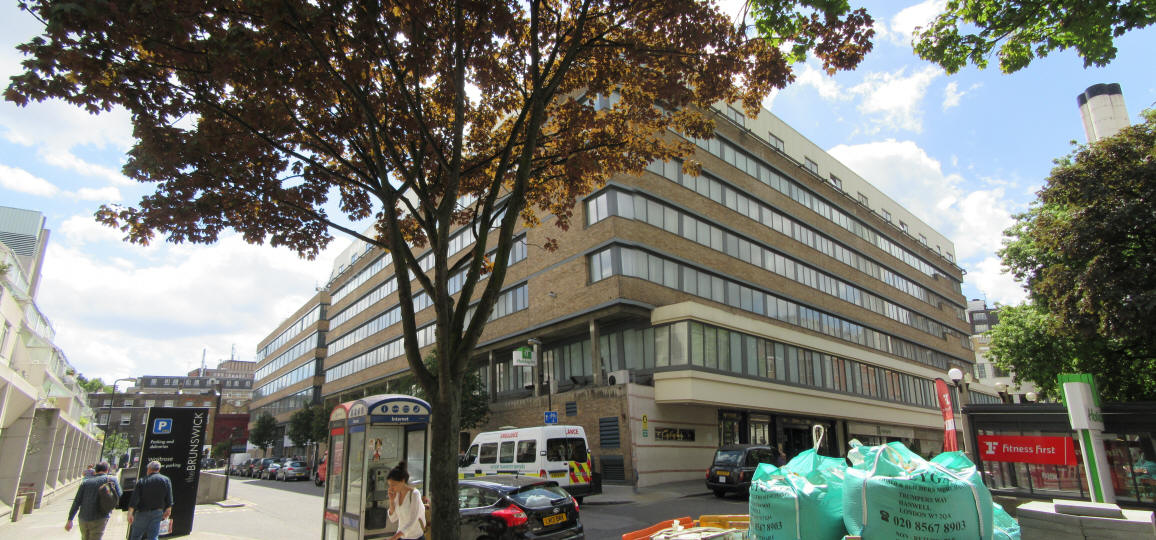 If you walk down Herbrand Street on the left side of the hotel entrance (above, PhotoStitch Canon), after one block you will arrive at the Russell Square Tube station and get to anywhere in London. I was very glad to see that they didn't remove the wonderful pub on the ground floor now renamed as Callaghans Sports Bar & Restaurant (below left). The lobby for checking in (below right) is very clean and modern but no one I ever dealt with there was British.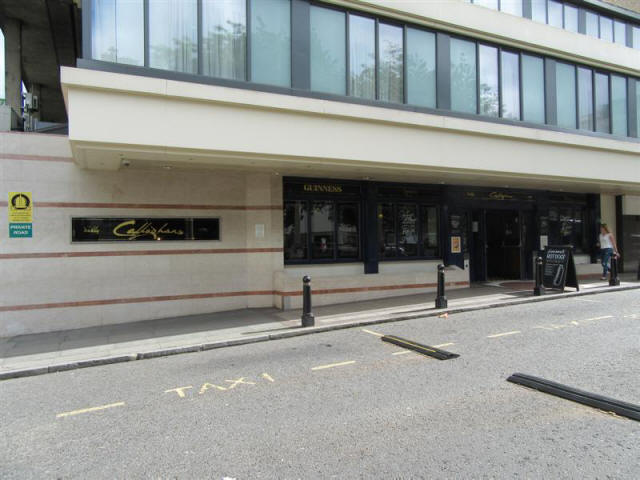 Just to the left of the Registration, they have the Junction bar for quick drinks including Starbucks but no place to sit except that table in the center.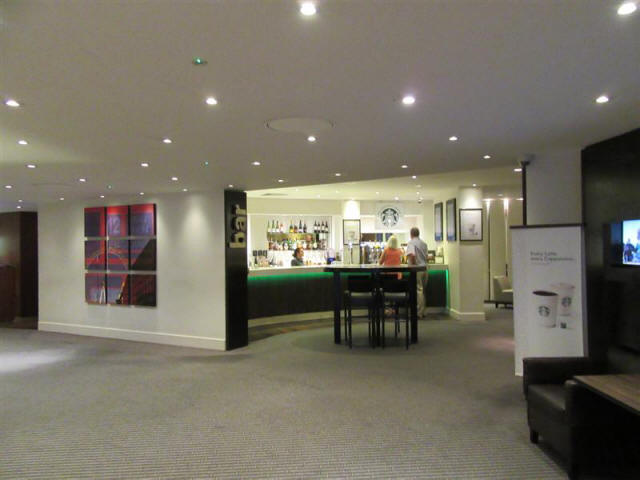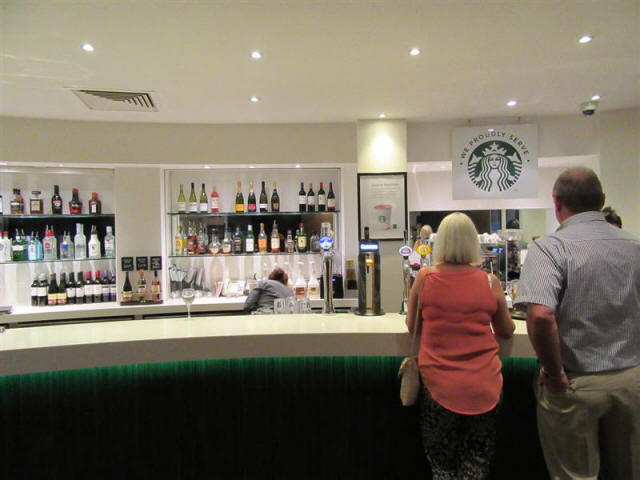 Now to get to our room, it is a little tricky. They have three elevators but if you push the button and don't walk way back (as below) you will not see when one of the other elevators arrive because of the thick support columns. And if you hear it ring, you have to run quickly around the columns to get to it before it leaves.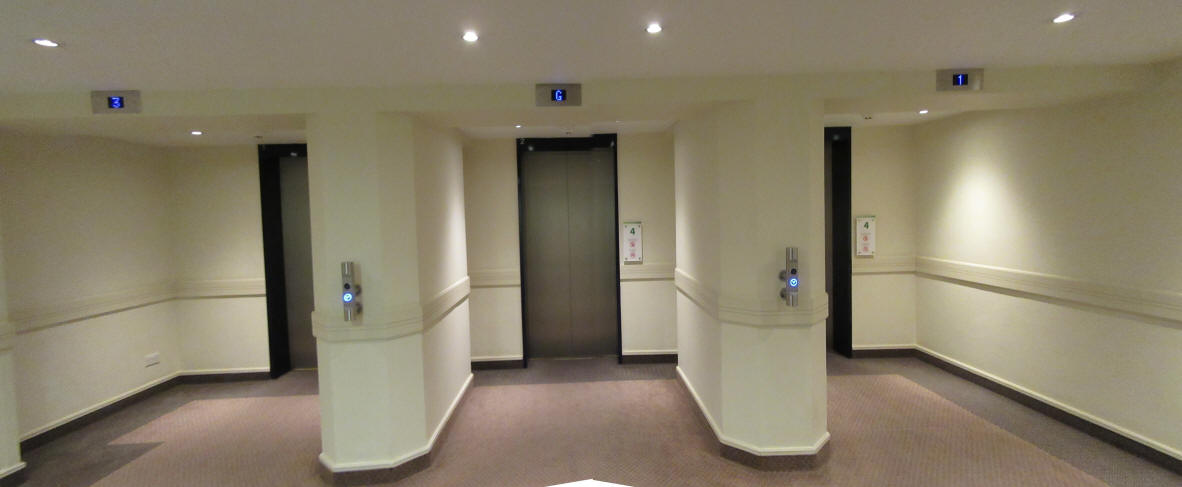 We got up to "our" 5th Floor (EU 4th Floor) and they certainly modernized the floors very nicely. The view of Coram Street from our room (GoPro) was better than staring at a blank wall.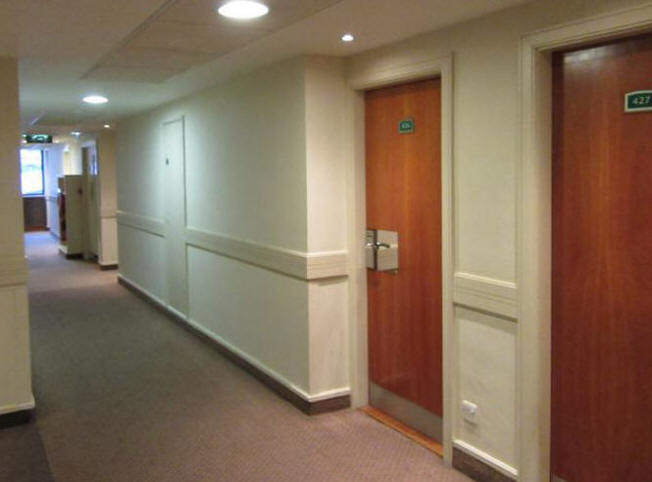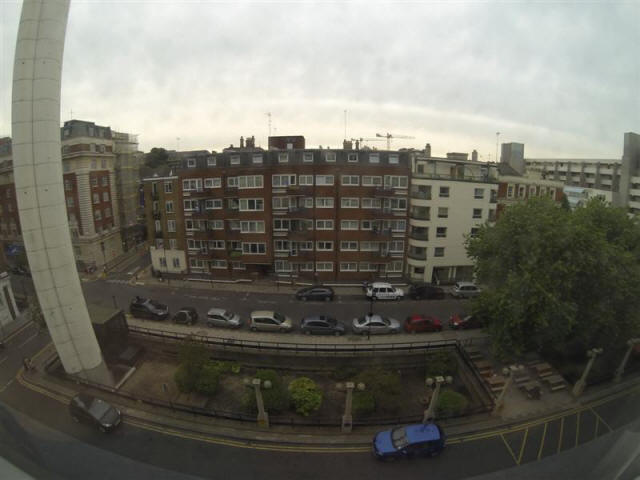 Also, our room wasn't bad either.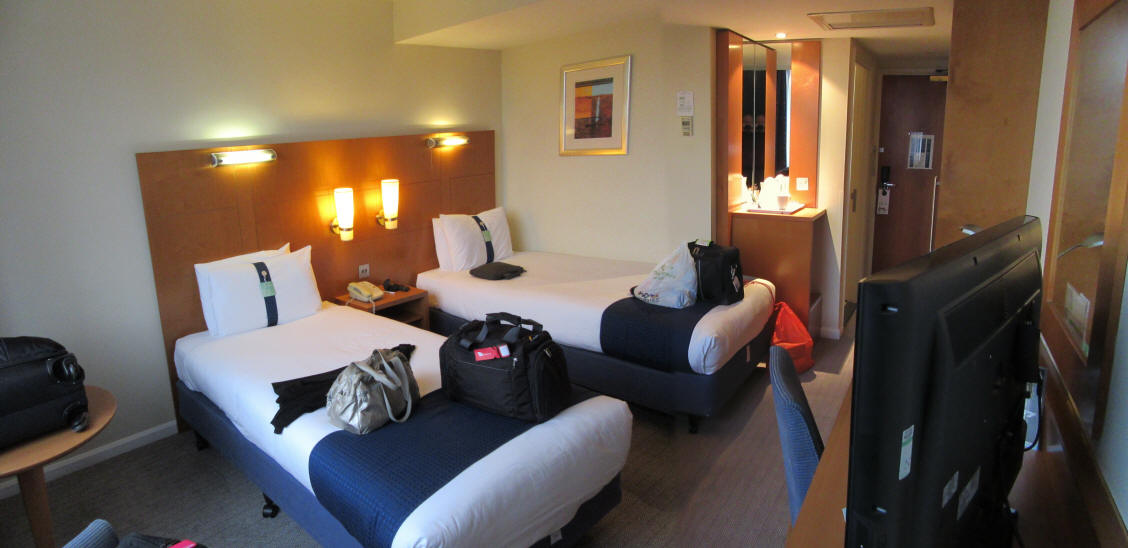 Very nice for a Holiday Inn even though we didn't get a King size bed (Canon shots).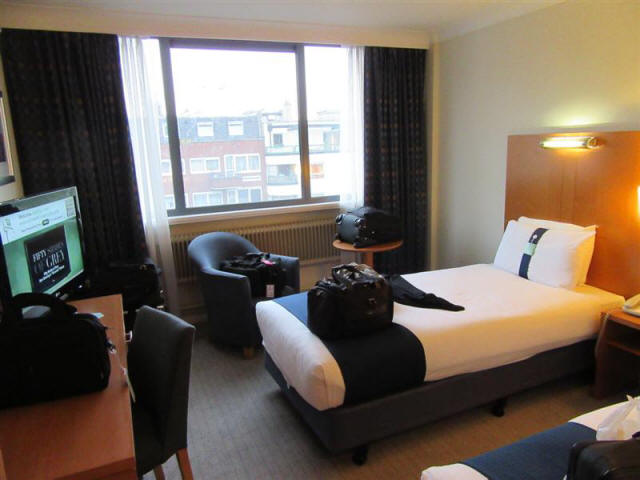 Marcia got busy unpacking for the next five days (GoPro shots).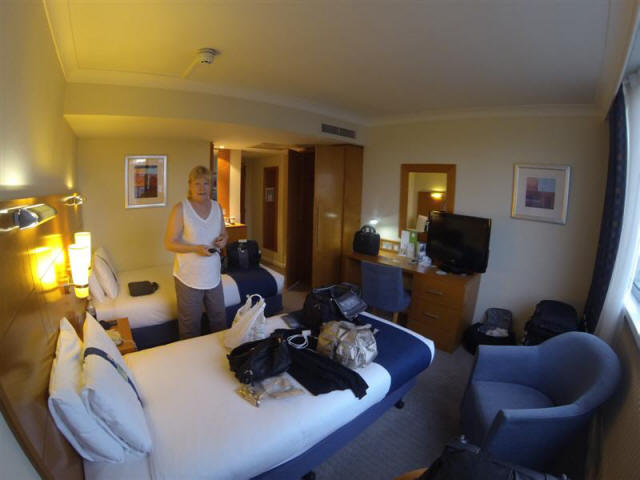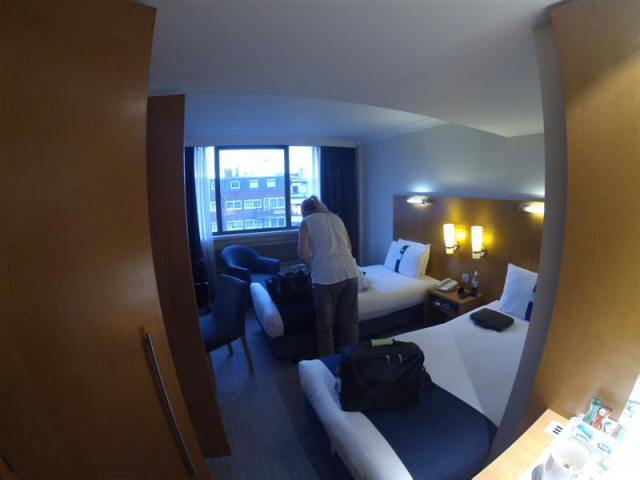 After we got unpacked, at 8:30 PM, we headed out down Herbrand Street toward the Russell Square Tube station to find a place for dinner. It turns out we find an Italian restaurant right next door to the station (map) which looks quite inviting. It is called La Bardigiana Bar & Restaurant [5 Bernard Street,
+44-207-837-8744].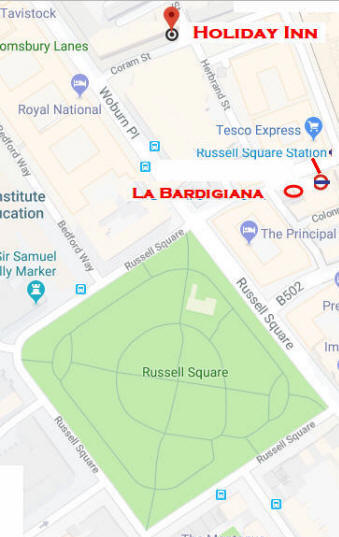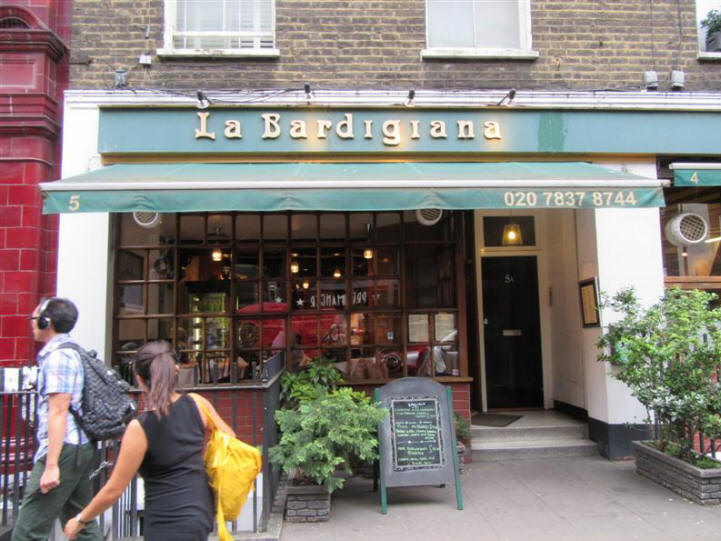 In the map above you can see Russell Square Park prominently displayed, below where we are. That is where I always did my run in 1999. At 9:00 PM, we were seated at a table near the bar and I was happy to see they had my favorite Italian white wine, Orvieto Classico, and reasonably priced. I ordered a bottle of the Conte Erristori, which I had not heard of before. It was very good.
I was really in a "two pastas" mood, so I ordered first, spaghetti vongole (with clams, below left) followed by a fettuccini with speck (ham) in a cream sauce (below right). I thought both were very good but not the best I've had.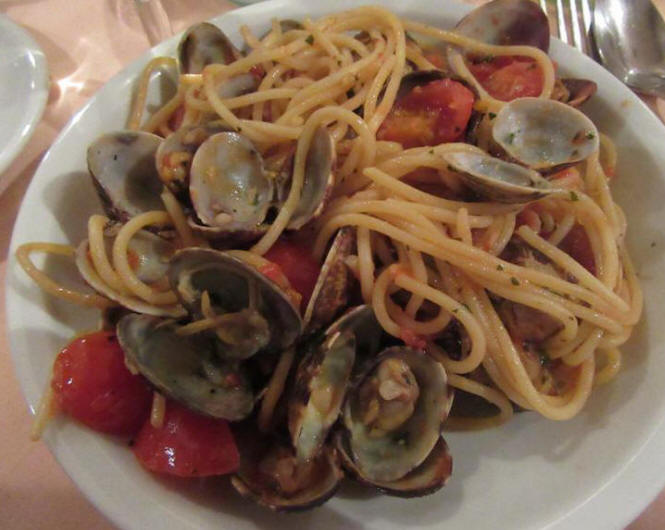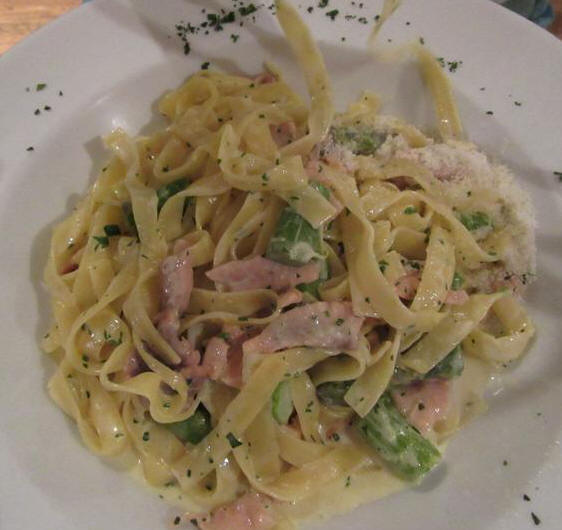 Since she had that big chicken dinner aboard the ship for lunch Marcia ordered only a fettuccini with green beans (below left). For my entree, I had fegato Veneziana (Venetian chicken livers and onions) with green beans and potatoes. I fell in love with that dish after first having it in Venice for the first time.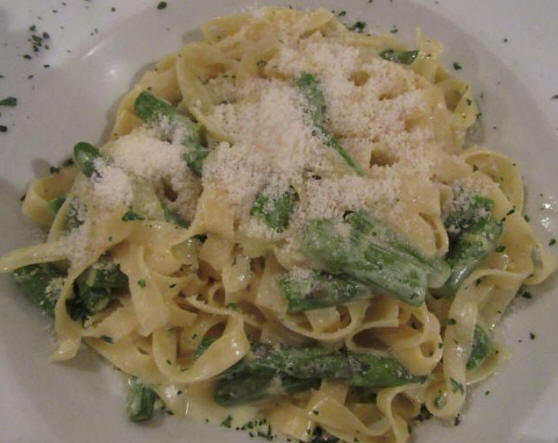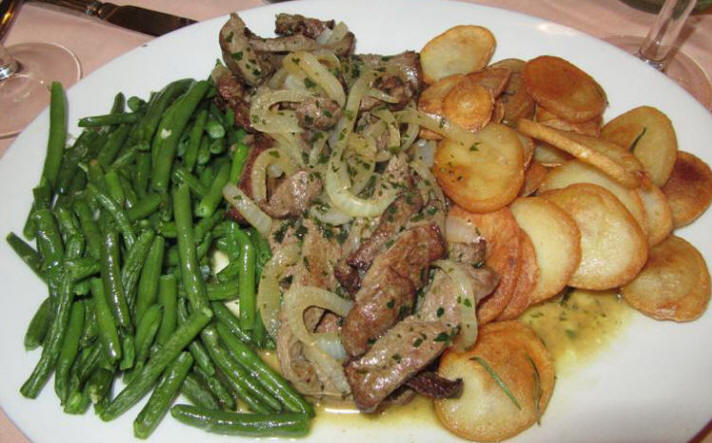 We both enjoyed our dinner and got to talk to the head man (below left) and his associate (right) who took very nice care of us. Neither were British.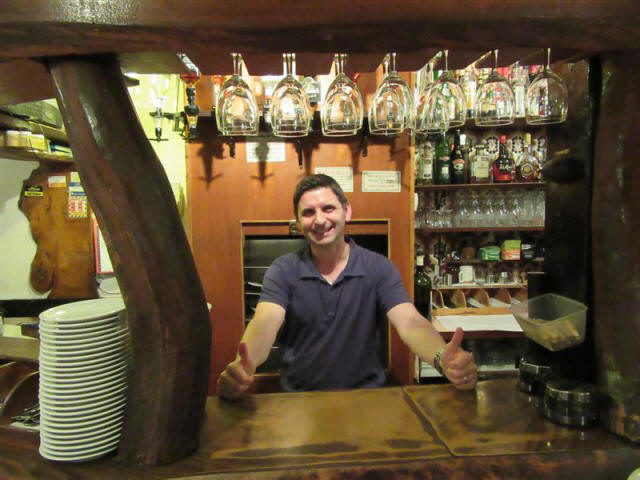 The whole meal with wine came to ₤61.00 ($94).
[I wish I could remember their names and where they were from originally, but that all disappeared when the Palm Calendar died. This restaurant is now permanently closed.]
It was now 10:15 PM and still very light out, so we walked down to the corner where Russell Square Park is (the right edge, below left) and went into the famous Hotel Russell [1-8 Russell Square,
+44-207-837-6470] for a nightcap. It is quite intricate, architecturally.
[In April 2018, the hotel reopened as The Principal Hotel London [ +44-203-811-5002] after a complete renovation of rooms, bar and restaurants.]
We went into the hotel lobby and found the bar lounge area (below right).
Because of its historic significance I have added some interesting photos of this place. This is an aerial photo of the hotel (below left) and a photo of the grand Pyrenean marble staircase (stock photos).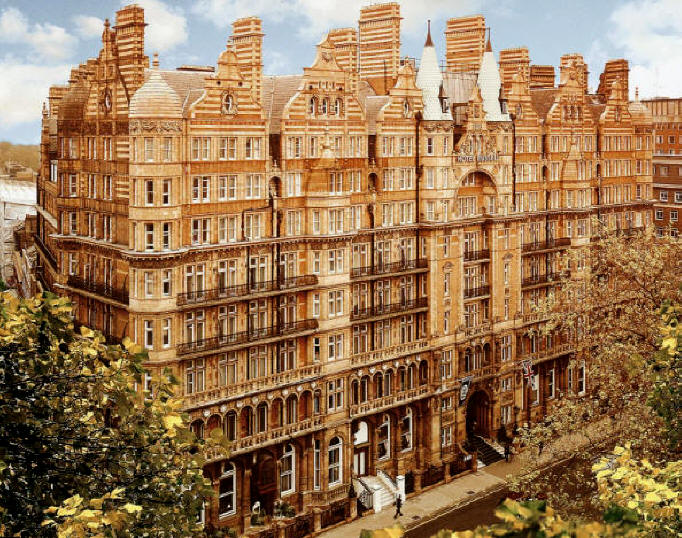 The Hotel Russell, is a five-star hotel in Bloomsbury, in the London Borough of Camden, and was built in 1898 by the architect Charles Fitzroy Doll. It is distinctively clad in decorative thé-au-lait ("tea with milk") terracotta and was based on the Château de Madrid on the Bois de Boulogne in Paris built in 1552 (below left). Below right is a 1900 photo of the Russell with its dome which was destroyed in the WWII Blitz.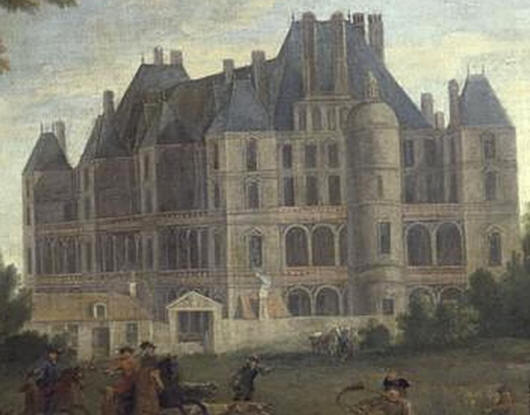 Its restaurant, which was named after the architect and is said to be almost identical to the RMS Titanic's dining room which Doll also designed after he did this hotel. Also in the hotel is the original "Lucky George", a bronze dragon on the second floor stairs (stock below). An identical copy of which was on the Titanic.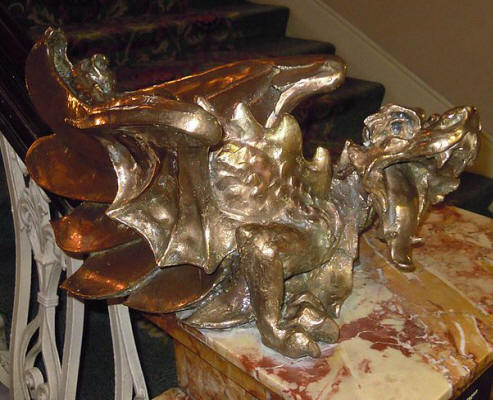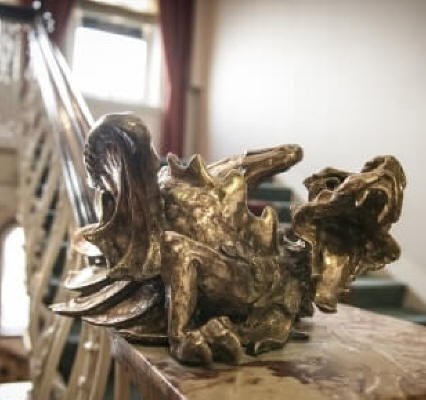 It is also famous for the statues of the four British Queens over the front door: Elizabeth, Victoria, Anne and Mary (stock photo below). They were done by sculptor Henry Charles Fehr.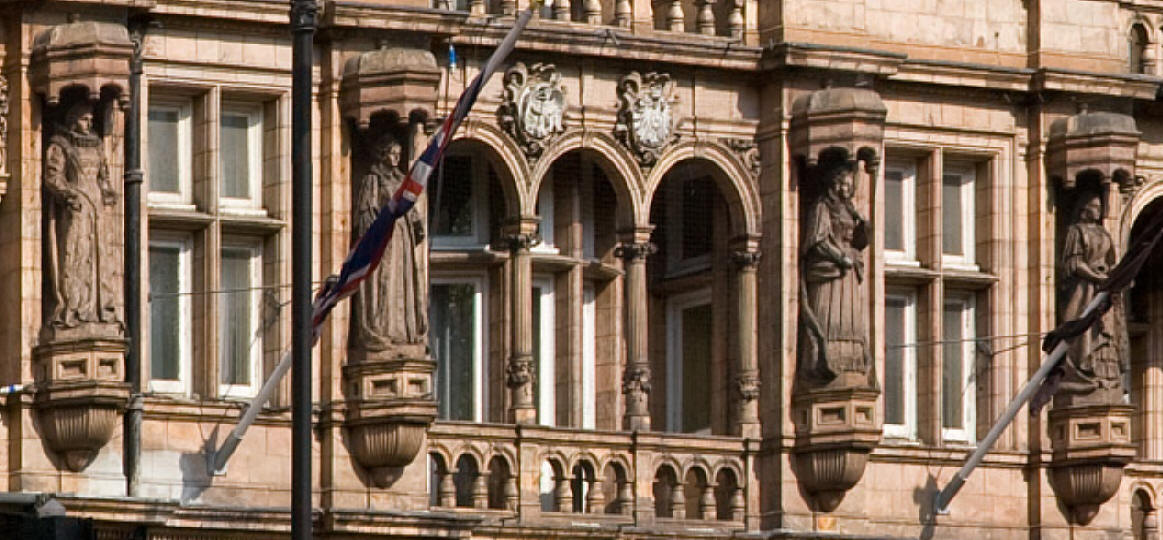 Below are stock photos of the Kings Bar.
These are stock photos of their restaurant and a very nicely done room.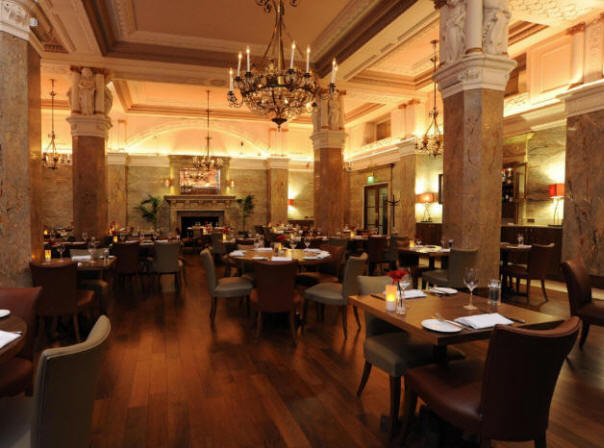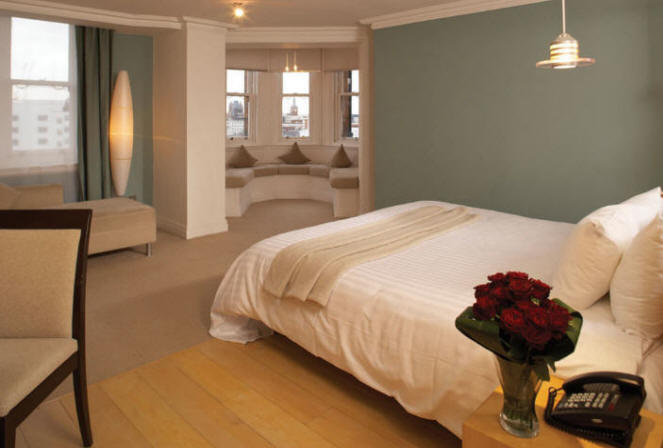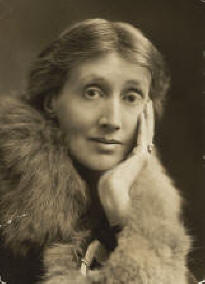 This is the hotel where the famous literary doyen, Virginia Woolf (of the 1930s) (right) held court with her circle of friends. 1905 was a major turning point in her life and the cause of another of her many breakdowns, following which the Stephens' moved from Kensington to the more bohemian Bloomsbury neighborhood. Here they adopted a free-spirited lifestyle. It was here, that in conjunction with their brothers' intellectual friends, they formed the artistic and literary Bloomsbury Group. She lived nearby at 52 Tavistock Square from 1924-1940. Most her life she was bipolar and suicidal. On March 28, 1941, Woolf drowned herself by filling her overcoat pockets with stones and walking into the River Ouse near her home.
The place looked well-worn and dated and we were about the only people in the place. We ordered a beer and wine and sat and relaxed.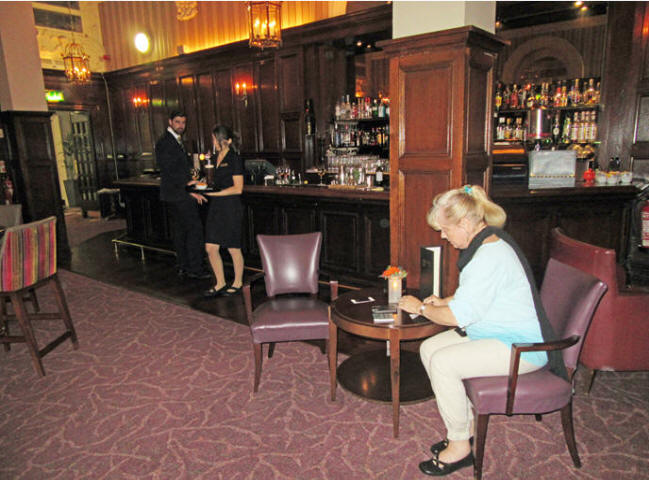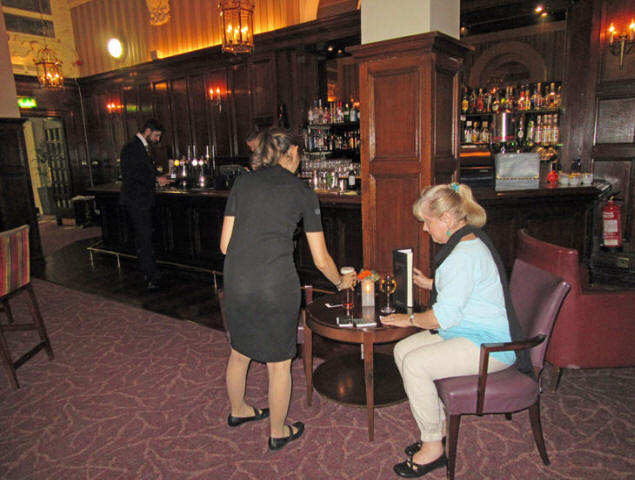 It was 11:00 PM and when Marcia started playing solitaire (below), I figured it was time to go. The beverages cost us ₤15.40 ($23.70).
We walked down past the park and then on our way back to our hotel, we stopped into a Tesco Express "mini-market" and I bought a few electric plug converters. We got back to the hotel around midnight and went to bed. Our first day back in England has been a real eye opener.
Kenneth J. Hoffer, MD
KHofferMD@AOL.com
London, England, UK
Sent 5-09-2018
If you enjoyed these travels or wish to add comments on the places we visited
Please Leave Me a Message by clicking the spinning @ sign below.