Dr. Hoffer's Travel WebSite This site was last updated 06/20/18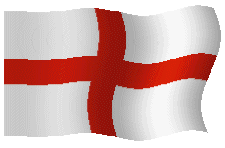 IRELAND15 #5 RUSSELL SQUARE and RULES


Flag of England

---
Sunday, July 19, 2015
---
I woke up and since it was Sunday, got up earlier than usual to get my run in on the way to church. I walked down to the Tube station and then down to the corner to get to Russell Square, the large public park in Bloomsbury. I started my run around the perimeter.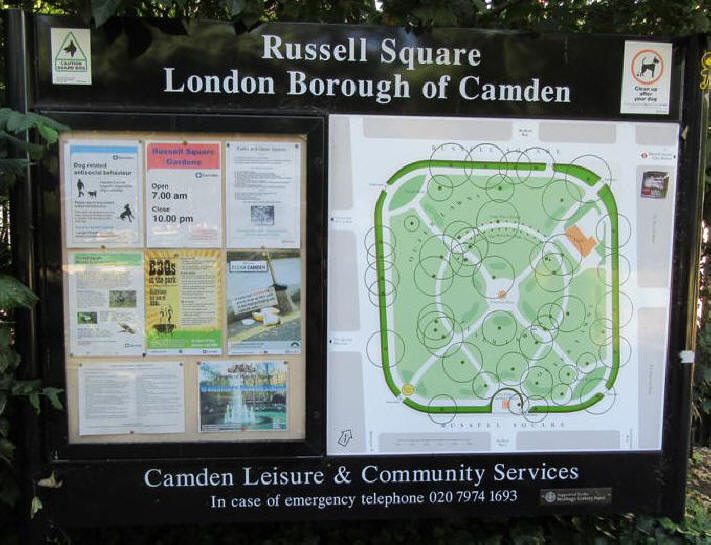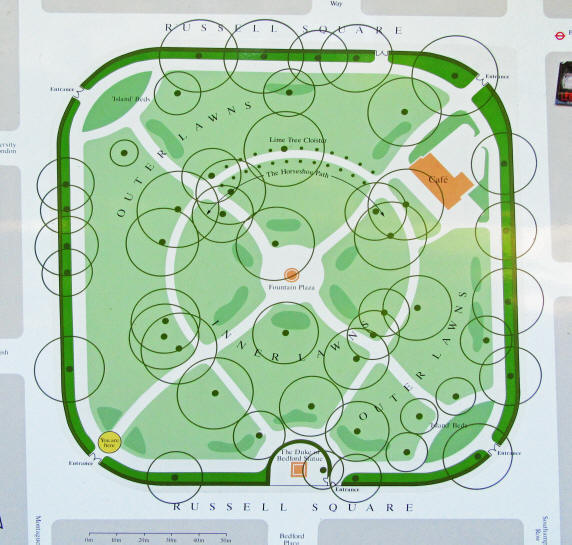 As I have often stated I don't often opt for running in parks, but when the traffic and the sidewalks are like they are here in London, it is safer and easier to do my running here. I was able to get a few shots of what it was like.

It is a pretty large place. When I got over to the far end, I discovered this very large statue.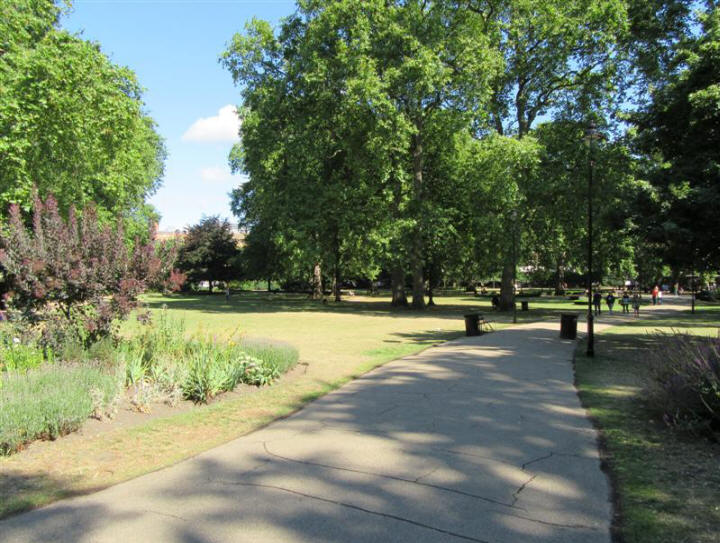 It is a statue of Francis (Russell), (5th) Duke of Bedford (1765-1802) by sculptor Richard Westmacott. It was erected in 1809, not long after the American Revolution. You have probably never heard of him; I hadn't. He was an English aristocrat and Whig politician, responsible for much of the development of central Bloomsbury.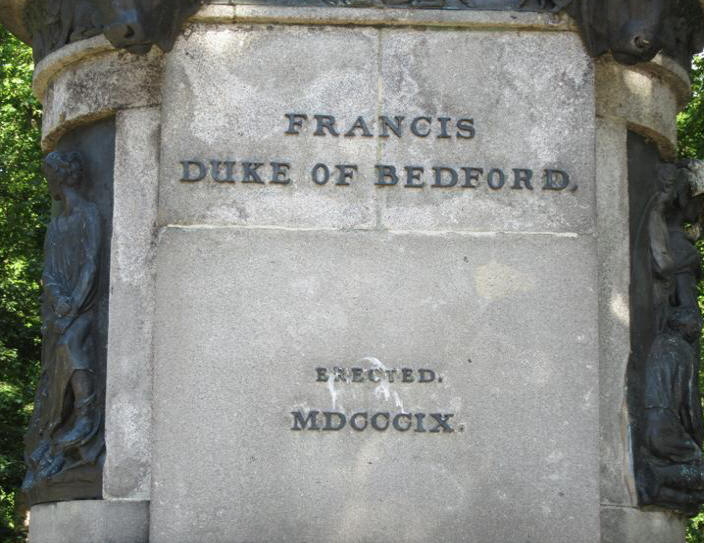 Following the demolition of Bedford House on the north side of Bloomsbury Square, Francis Russell commissioned James Burton to develop the land to the north into a residential area. Russell Square was designed as the focal point of the development. He commissioned Humphry Repton to landscape the square after the success of Repton's work for the Duke at his Woburn Estate. His statue has been conserved and stands at the south side of the square. It depicts Francis Russell as an agriculturalist with one hand on a plough, corn ears in the other and sheep at his feet. He looks out over the land he developed back towards Bloomsbury Square.
After finishing my mile run, I left the park and started fast walking out in the streets for another 20 minutes. All throughout the city they have these very helpful locator signs with a map of where you are in the city.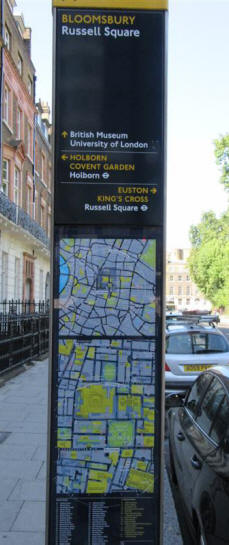 From this map below which I have cut in half height-wise, with the top half on the left and the bottom half on the right, you can see our Holiday Inn in the lower right (right side) across fro the The Brunswick complex. The streets around our hotel are Coram, Herbrand, Bernard and Marchmont. You can see it is a short walk to Russell Square above it. Above that on the left map, you can see we are close to the British Museum and the University of London Senate House. We are in the heart of things here in Bloomsbury.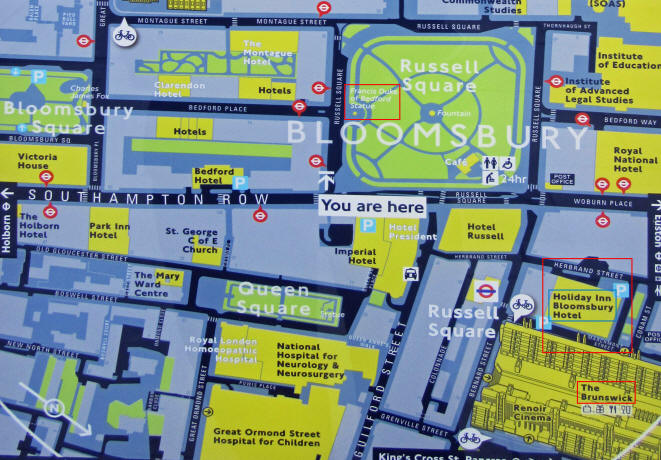 Note on the left that a few blocks north of that is Tottenham Court Road, a busy shopping street with many restaurants. Note also that Russell Square Road (on the right map) turns into Southampton Row on the left and Woburn Place on the right. Note that there are other parks; Bedford Square, Bloomsbury Square and Red Lion Square, the latter being the name of the Pub we owned in Carmel, CA (1993-99).
I found another one on Holborn Street that showed I was 7 minutes from my hotel (near The Brunswick), 6 minutes from Russell Square, 12 minutes from the famous Leicester ("Lester") Square and only 9 minutes from Covent Garden. Maiden Lane, near Covent Garden is where I want to go for dinner tonight, so we can walk there.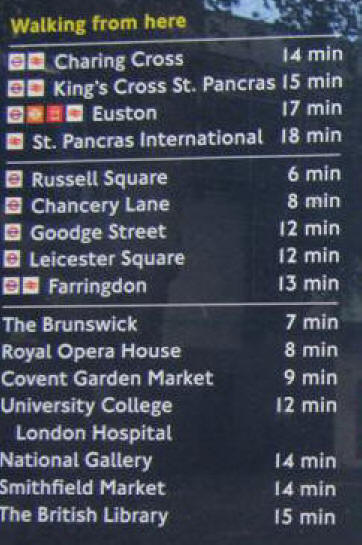 I kept going down Southampton Row and came across the beautiful Victoria House [Bloomsbury Sq.,
+44-207-269-8610](below left) at the corner of Vernon which holds a Lloyd's Bank office. It was begun by the Liverpool Victoria Friendly Society in 1920 when they purchased land at Bloomsbury Square from the Duke of Bedford. It first opened in 1926 and once completed it was the largest office block in England apart from Whitehall. Garbe (UK) acquired Victoria House in 1999 and began a comprehensive development plan to create approximately 300,000 ft2 of office, retail and leisure space.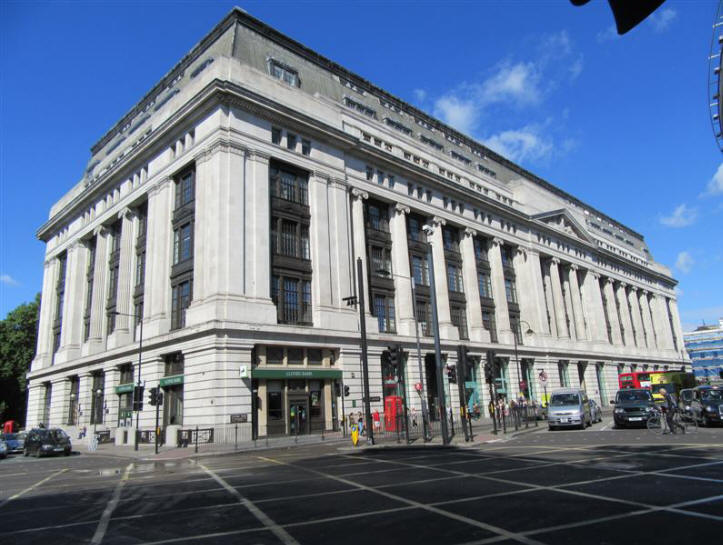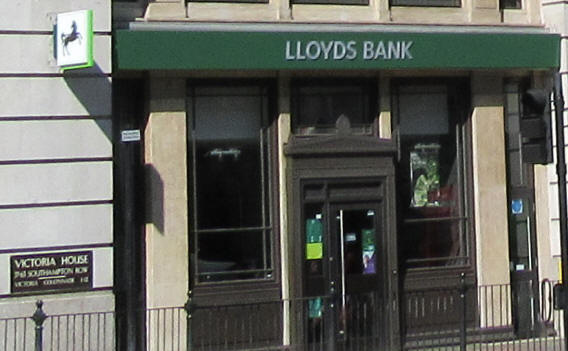 I am now getting closer to the church which is just off of Lincoln Inn Fields park (below right).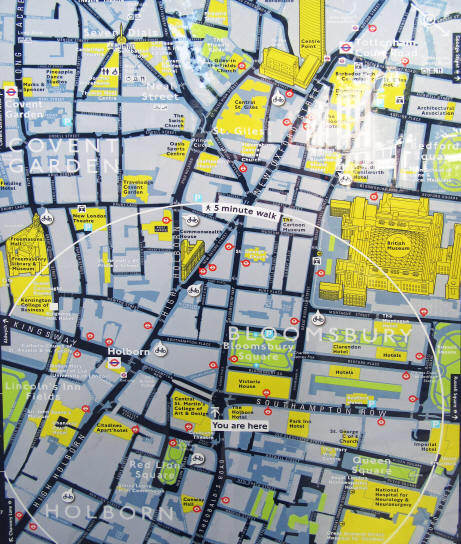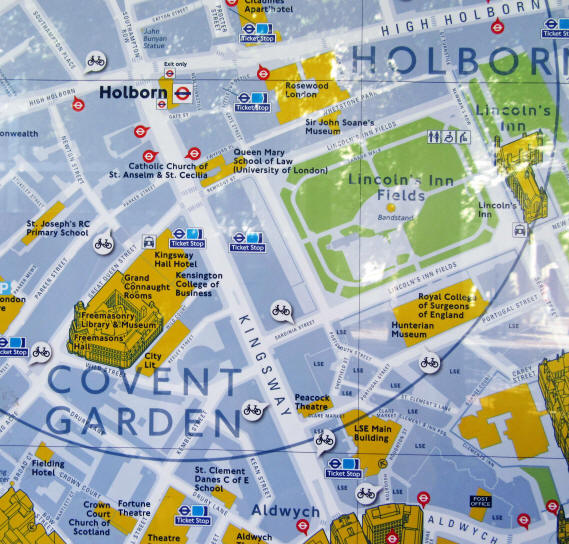 You can see I had left Russell Square on the right and Southampton Row turns into Kingsway right where the church is.
I finally made it to the Catholic Church of St. Anselm & St. Cecilia [70 Lincoln's Inn Fields,
+44-207-405-0376] at the corner of Kingsway and Remnant St., but when I got inside I could see it was under refurbishment with the main altar covered with a 10 foot white screen. They had a small altar set up.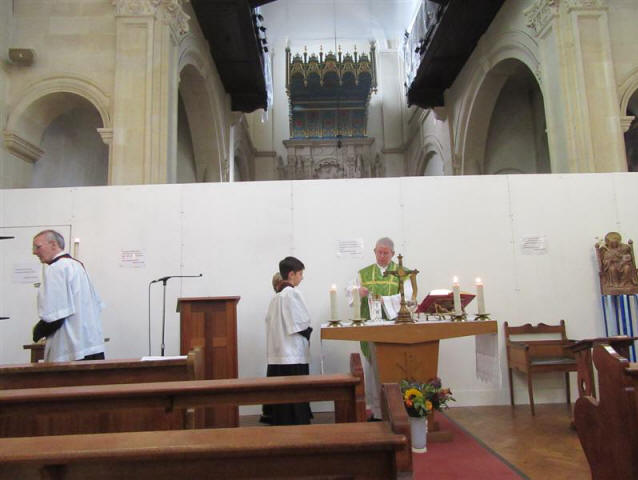 Here are stock photos of it normally (below left) and now (below right).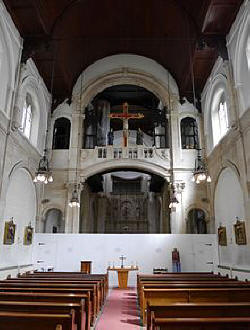 After Mass, as usual, I was looking for a place to have a cappuccino and relax a little. The only thing I could find was a Starbucks (below) [99 Kingsway,
+44-207-404-9229] on the same street. So at 11:00 AM, I sat down and had my usual Venti Non-Fat Cap which cost ₤2.95 ($4.54).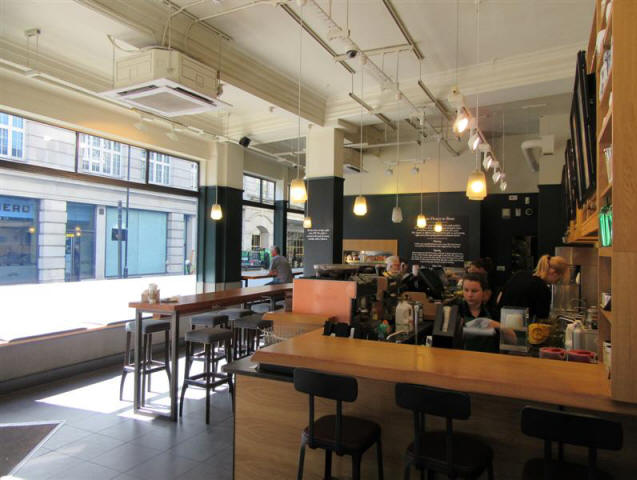 They had this world map on the wall showing the routes to bring their coffee in.
On my way back, I got a shot of the front of the church (below left), which is quite non-descript and a shot of their more modern double-decker buses (below right).
I then came across the Africa House [70 Kingsway] with it's large iron-gated entrance. Note the large frieze at the upper level.
Here it is blown up so you can see the lion, camel, elephant and gnu.
I kept walking and found this map showing Covent Garden and went by the Holborn Tube Station.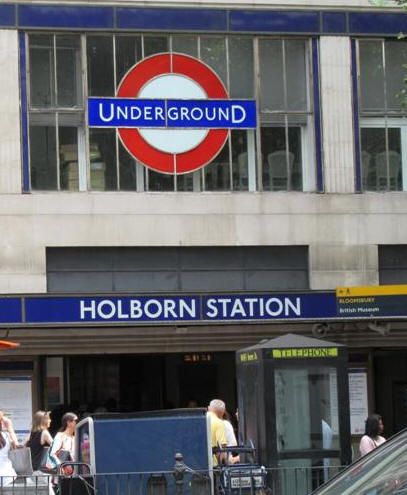 Had to get at least one shot of a classic London phone booth and an iconic London taxi.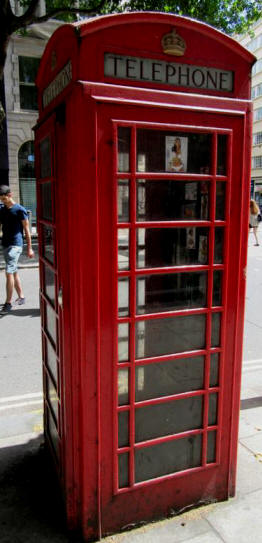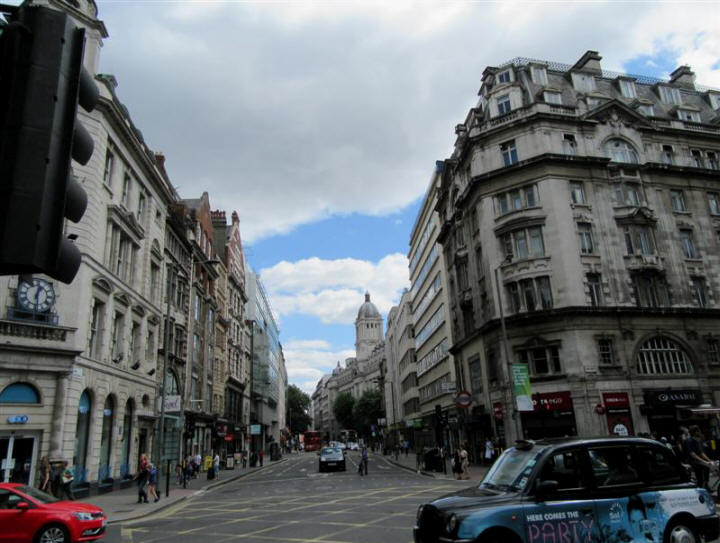 Then I came across this beautifully done street calle Sicilian Avenue with all its Italian shops.
One of them is a pastry shop that I could not help taking photos of. I could have taken one of the éclairs.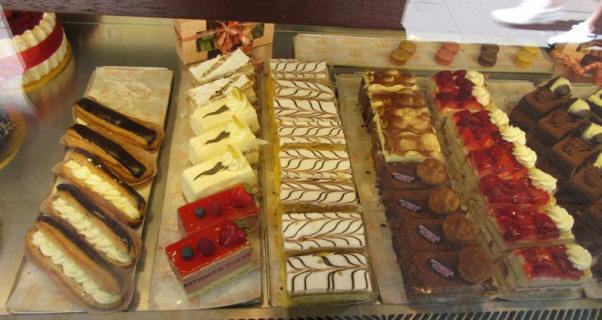 Next I came to the Bonnington Hotel which is now run by DoubleTree Hilton [92 Southampton Row,
+44-207-242-2828].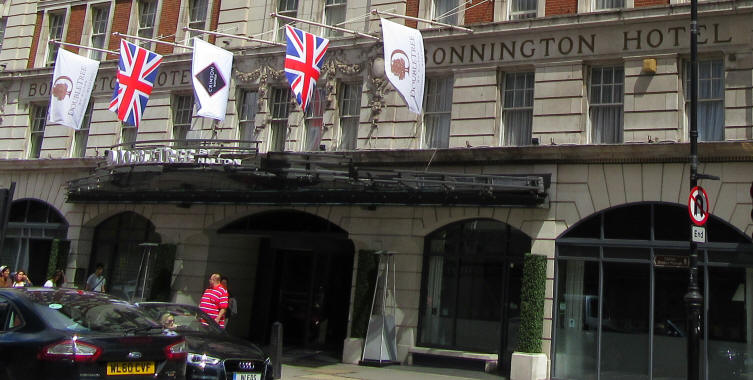 It's very nice inside in the lobby (below photos from their website).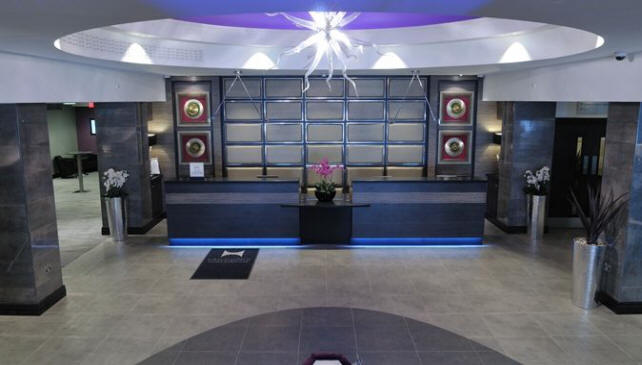 The bar area is quite modern.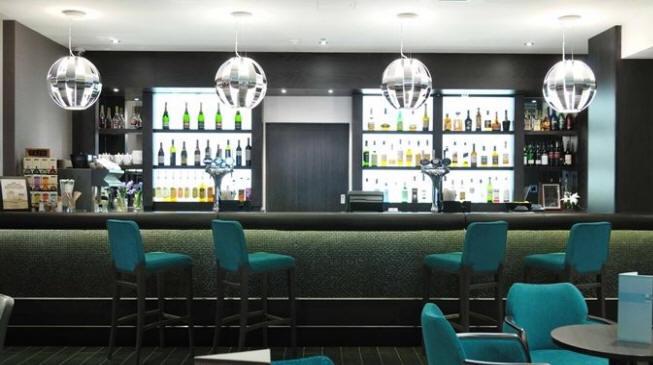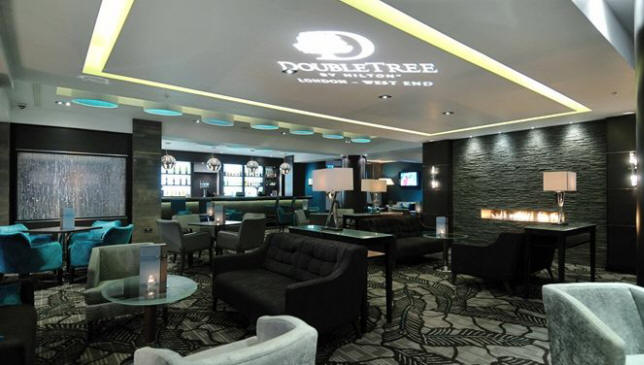 Their rooms also look quite nice.
[in May 2018, their room rate for July was around ₤270 ($415).]
I laughed when I saw this trash truck (below left). My friend Wolfgang Haigis' oft-used expression when refuting another's statement is "That is utter rubbish". The next truck that came along was a City of Westminster street cleaner.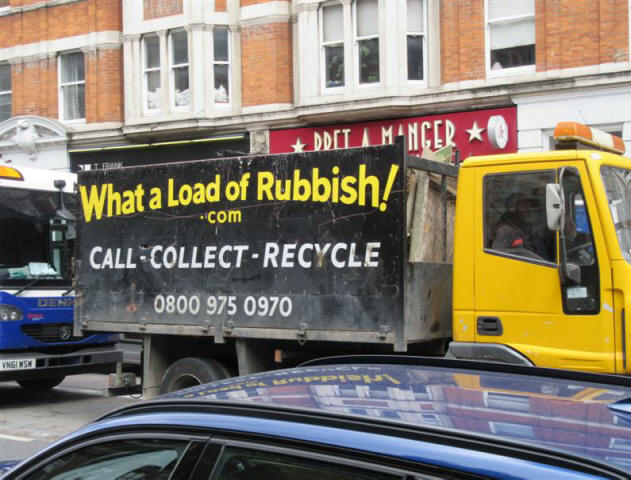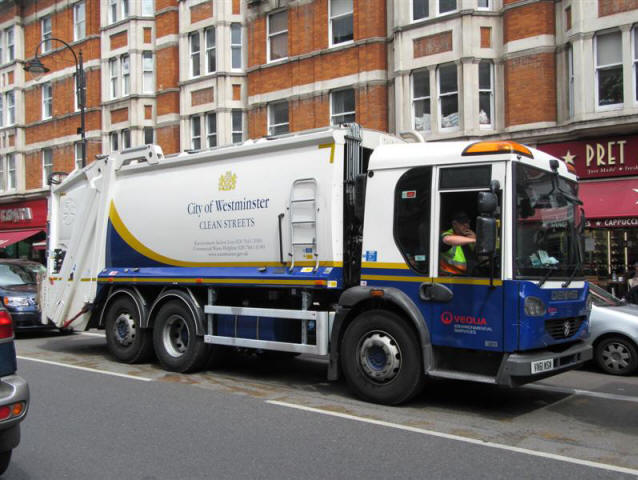 Then there are the Costa coffee outlets that are all over the place. Further on was the Swan Pub [7 Cosmo Place,
+44-207-837-6223].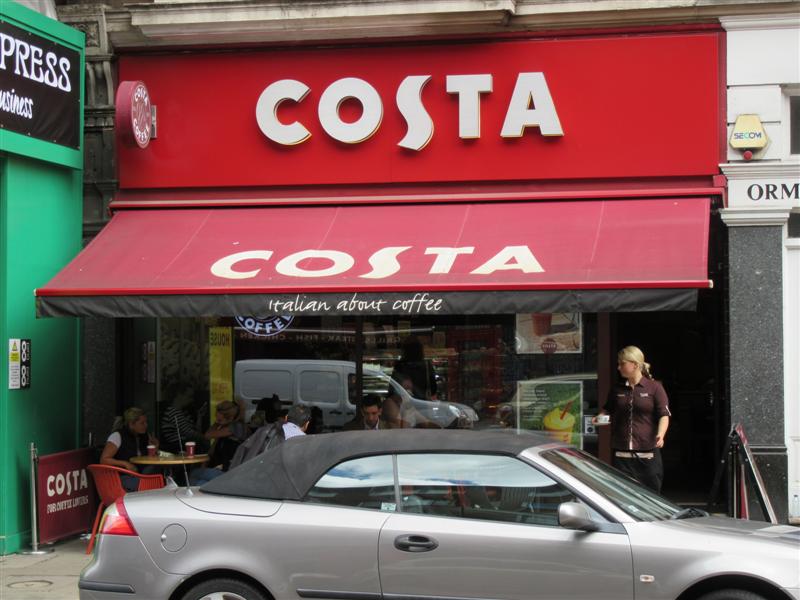 The Swan looks like a relaxing spot next door to Cagney's Restaurant [13 Cosmo Place, Bloomsbury,
+44-207-278-8498], a reasonably priced grilled meats, fish, burgers and pasta place. It is interesting that there logo (above) shows Humphrey Bogart and not James Cagney. Also 1978 doesn't seem that old for even a place in the U.S.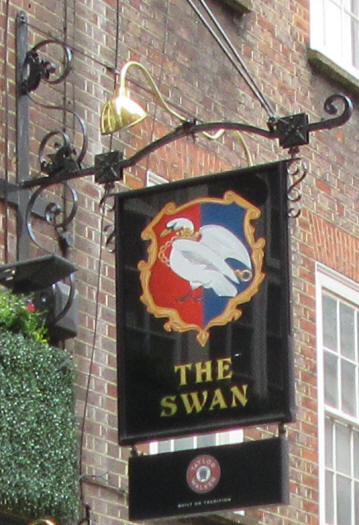 The Swan Pub is run by Greene King, which is the country's leading pub retailer and brewer, running over 3,100 pubs, restaurants and hotels across England, Wales and Scotland. I found a website beautifully put up by R.N. Foster with photos of every pub in London's West End; very interesting. There is also a page with ALL the London Pubs. The map below shows where these two places are on Cosmo Place just off Southampton Row.
I was quite surprised when I saw this bus ad for Subway's pulled pork sandwich. That must be new.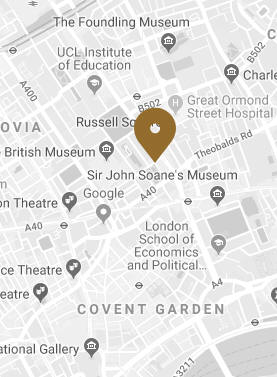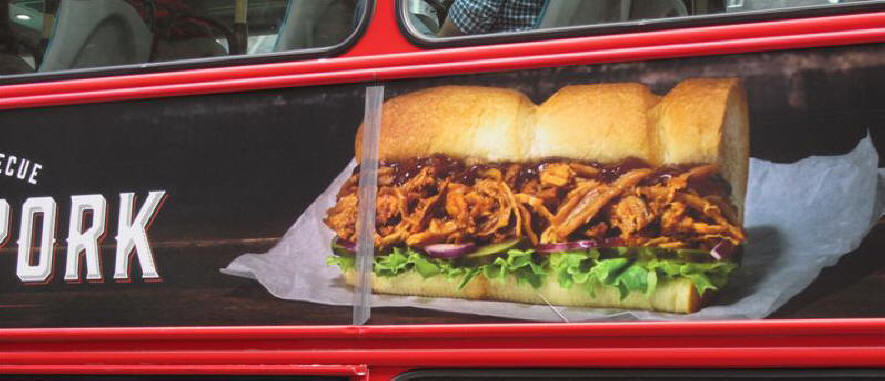 At 1:00PM, Marcia went for lunch near the hotel at Pret A Manger (below) [40 Bernard St.,
+44-207-932-5374] which cost her ₤9.65 ($14.85). I later met her there after she texted me where she was.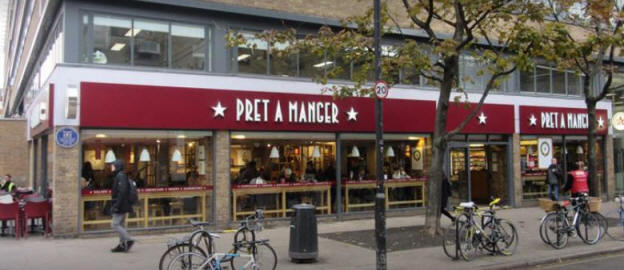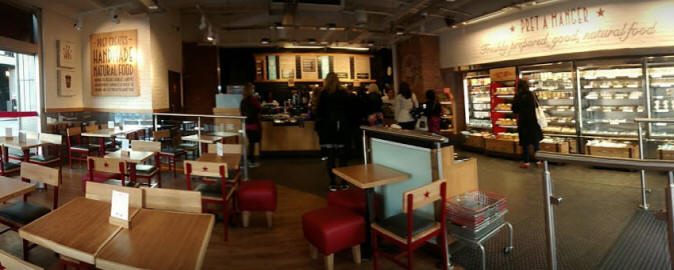 Coming back out on Southampton Row from Cosmo Place, of course there is a Starbuck's everywhere (below left) which is right next door to the Thistle Bloomsbury Park Hotel [126 Southampton Row,
+44-800-330-8551 or +44-20-391-1000] (below right).
And I came across a Subway also (below right). Thanks to blowup, I can see that the main building is the Mercure London Bloomsbury Hotel [130-134 Southampton Row,
+44-207-833-3691] here in Bloomsbury and I will keep this in mind if I ever return to London, since we always like to stay at Mercure's in the EU. The place on the corner is the Midtown Brasserie in the Mercure.
[From the internet, I have learned that the Brasserie is now permanently closed and the hotel moved their main entrance to the corner which is quite nice (below).
I picked Marcia up at the Pret A Manger and we walked back to our hotel. I thought it was time for a cocktail, so right across the street from the hotel is the Marquis of Cornwall pub [31 Marchmont Street,
+44-207-278-8355] at the corner of Coram and Marchmont.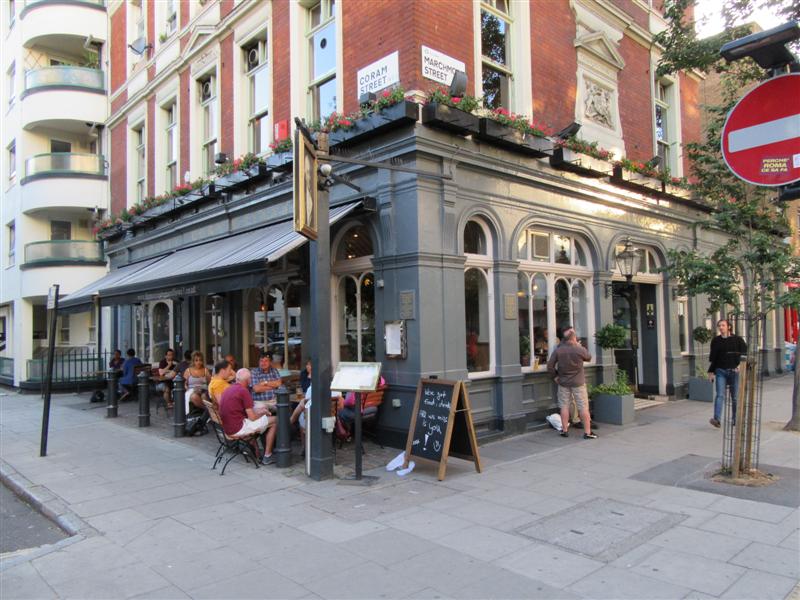 We went in at 4 PM and Marcia had a glass of wine and I had a well-poured Guinness by the first Brit I have met since arriving. The total came to ₤11.10 ($17.08).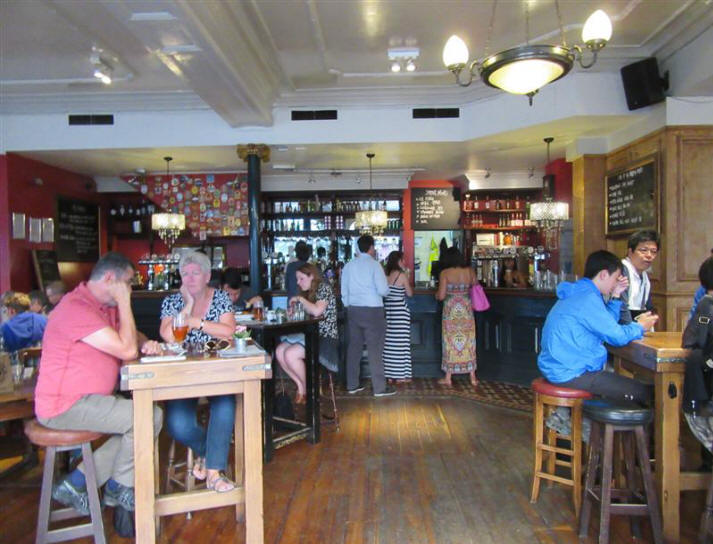 Below are stock photos of the exterior ...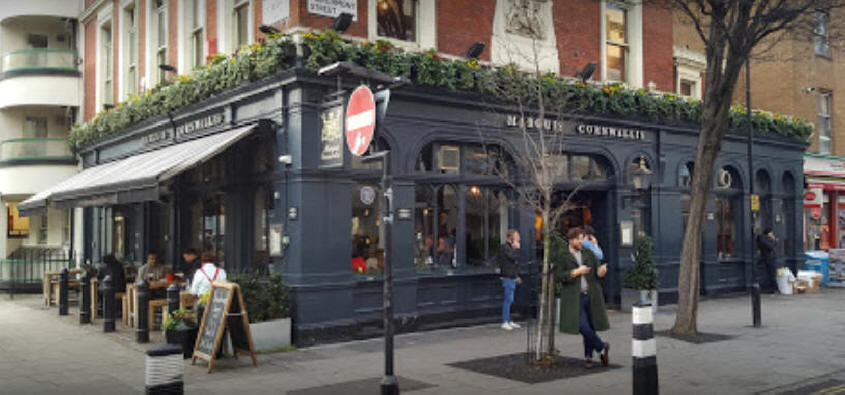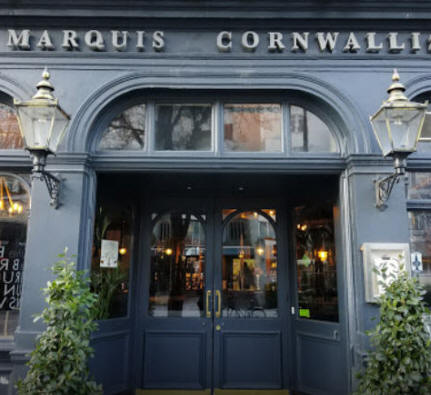 ... and the interior bar and dining area.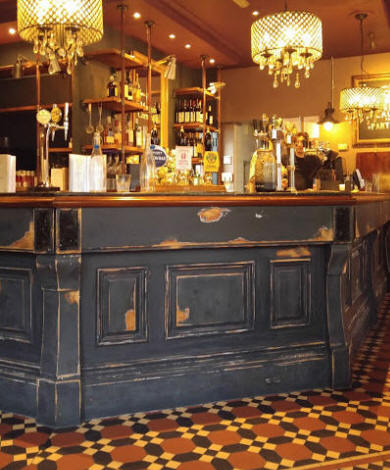 We left went into the General Traders & Produce [33 Marchmont St] just down the street and bought something for ₤2.49 ($3.83). We then went back to the hotel so I could change into street clothes and then headed out on our walk to Covent Garden for dinner. On the way I came across a couple of Exchange posters showing the conversion rate for British pounds. I noted that the dollar was worth about ₤0.65 or ₤1 got you $1.54. So at 8:13 PM, I found an ATM and withdrew ₤100.00 ($153.85) with my Schwab Debit card (no exchange fees).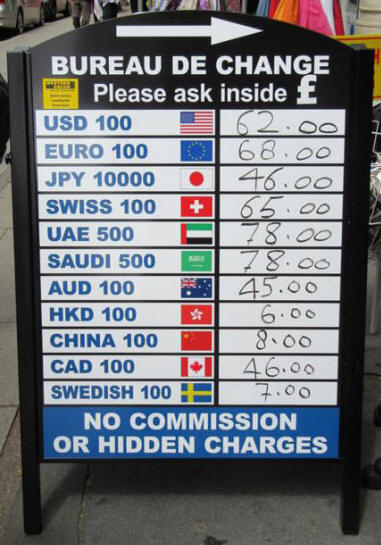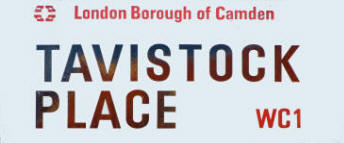 We walked from the hotel (map, above right) up Marchmont Street to the corner of Tavistock Place. On one corner is the Balfour Italian Restaurant [75-77 Marchmont,
+44-207-713-6111] which looked quite enticing (below left). On the other corner was the Moreish Café Deli [Tavistock Place] below right.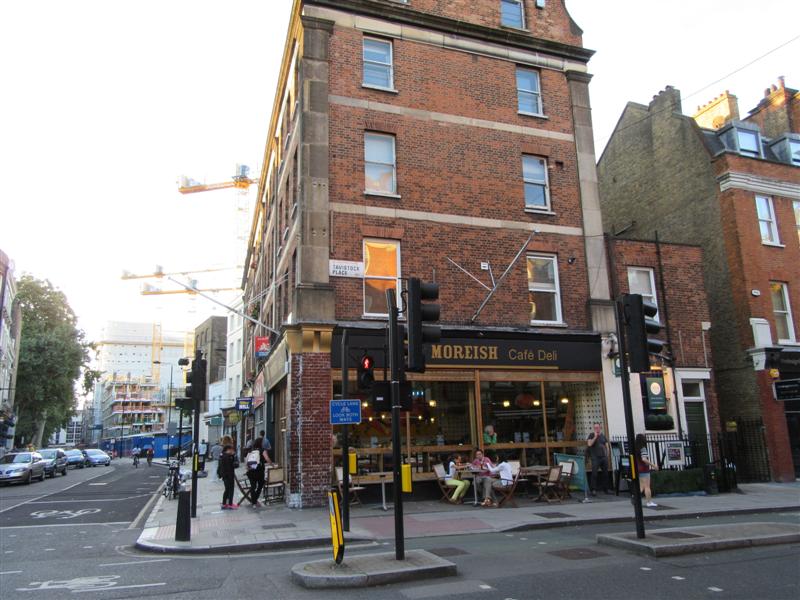 Here is a stock photo of the interior of the Moreish Café.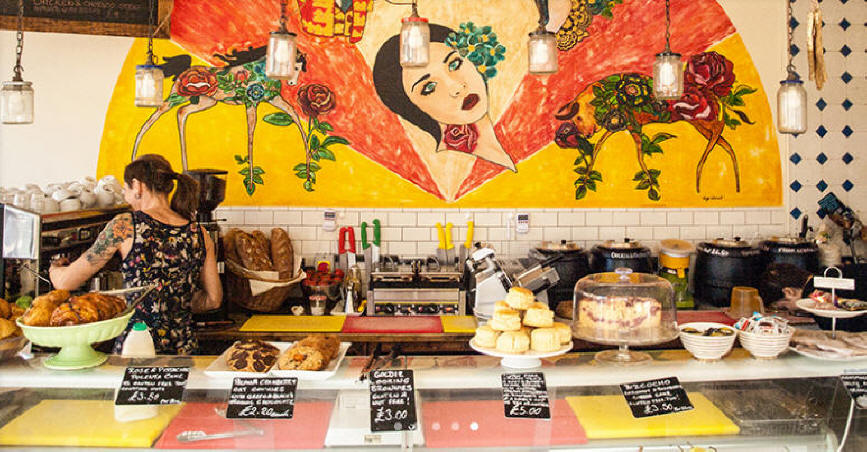 [From the internet, I have learned that the Balfour has now permanently closed.
We turned around and walked back up Marchmont, past the hotel and back to the Hotel Russell (below left). We then got close to Covent Garden, Great Queen Street and went past the Prince of Wales Pub [150 Drury Lane,
+44-207-836-5183]. I took the photo because John Eales, who ran our Red Lion Tavern in Carmel, CA from 1995-99, had told me that one of the pubs he ran in London before coming to the U.S. was the Prince of Wales. It is also owned by the Greene King group. There are three pubs in London with the same name. I'll have to ask him if this was it.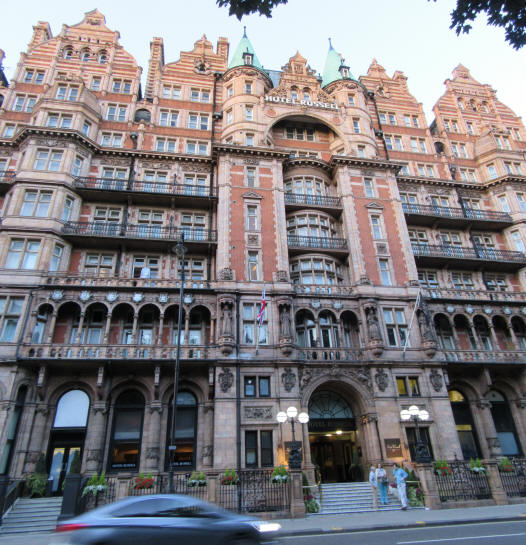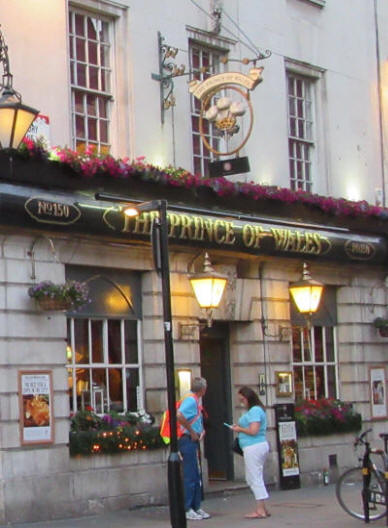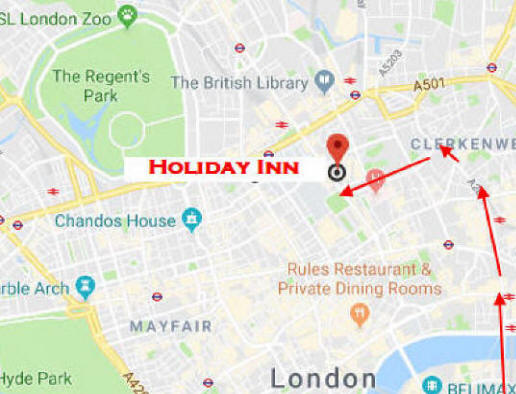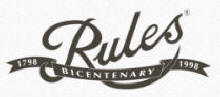 We walked all the way from the hotel (map above right). By 9:30, we had passed the Opera House and the main Market of Covent Garden and found Maiden Lane and got to Rules Restaurant [35 Maiden Lane,
+44-207-836-5314]. They state that they are "the oldest restaurant" in London established by Thomas Rule in 1798 and now owned by John Mayhew since 1984. Rules made an appearance in the James Bond film "Spectre" and was seen several times in "Downton Abbey".
We went in to see if we could get a table at the reception desk (below right). We had eaten here twice during our London stay in 1999 and enjoyed it immensely - let's hope it hasn't gone downhill.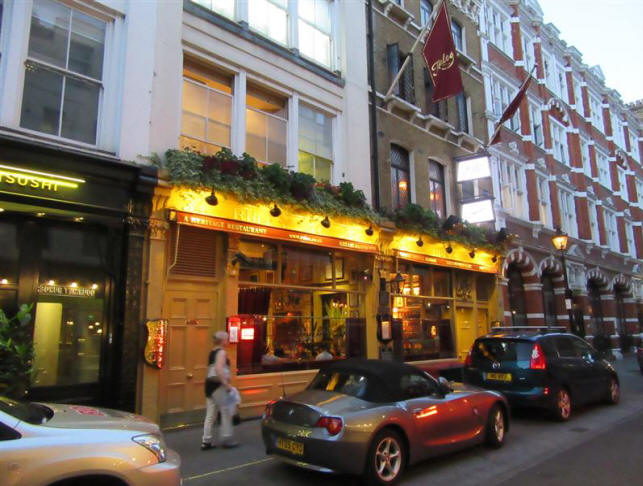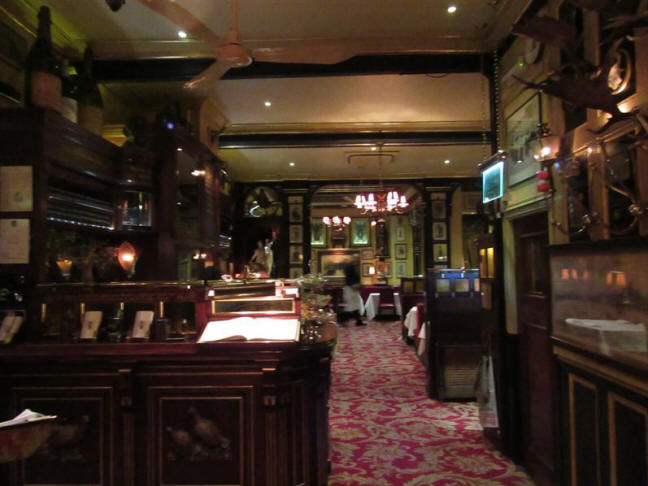 We were told that we should go up to the bar upstairs (below) and have a "cocktail" to await our table. They had all these caricatures along the walls on the way up the stairs and they have this large mural of Maggie Thatcher which we never saw (photos from their website).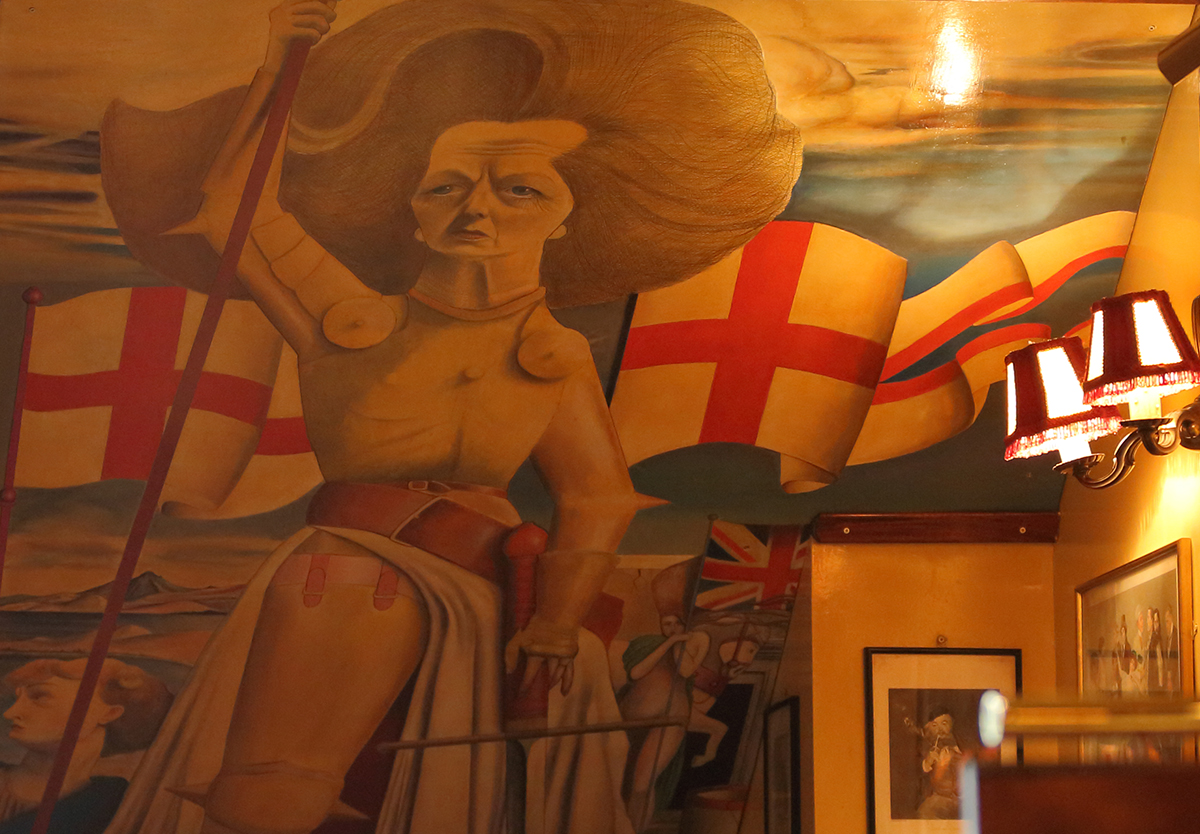 Below left is the bar and right is the rest of the room. You can see they have kept the place in classic old English style with wood paneling.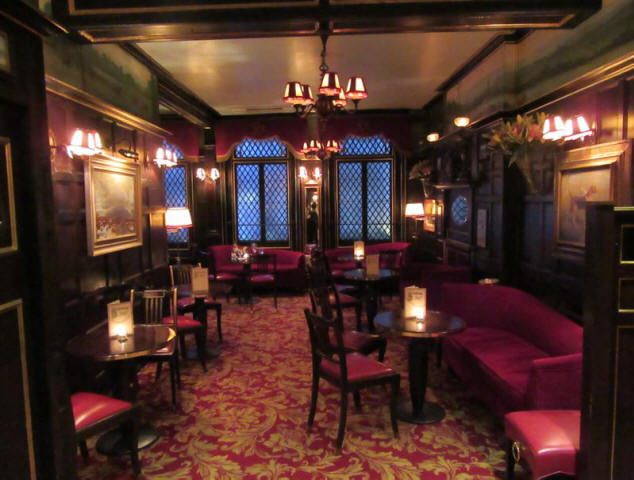 We both had a Bellini and enjoyed the atmosphere of being back in London. After we were finished, they brought us downstairs and seated us at a very nice table in the main dining room. We then ordered a bottle of Château Laulerie Bergerac 2014 white wine. Note the hunting trophies on the wall (center).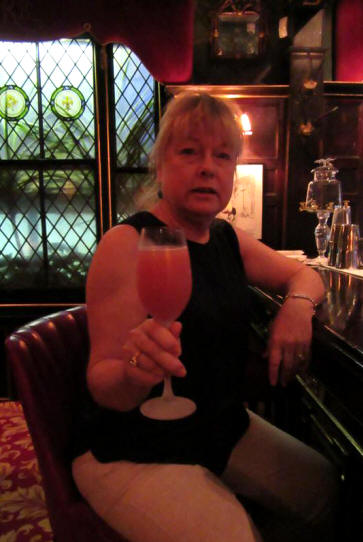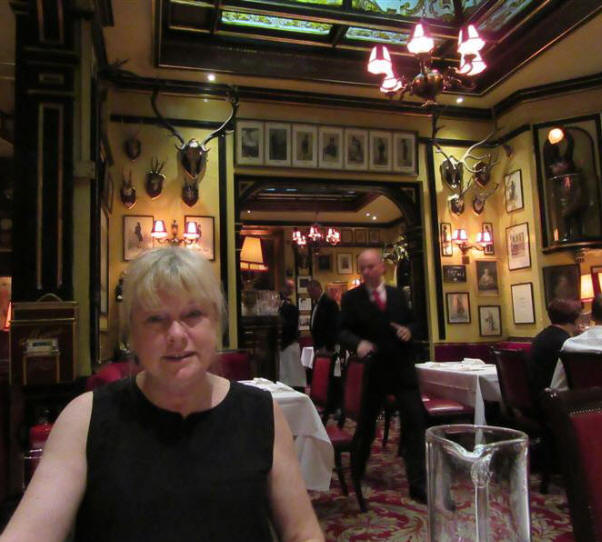 Here is a blow up of the menu.
Their menu is unique in that they specialize in many game dishes you don't find in many places. They get them from their large Lartington estate in the north in County Dunham, such as Holstein beef, deer, wild boar, and game birds. Here are photos of the estate from their website.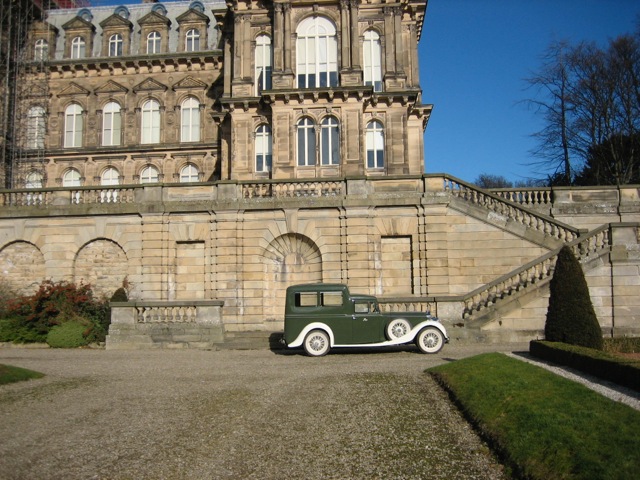 The special tonight is shown in the center below.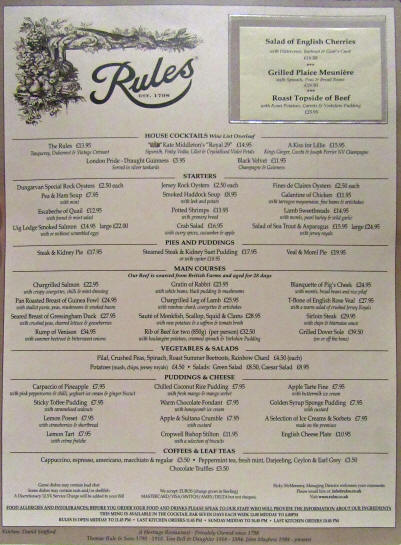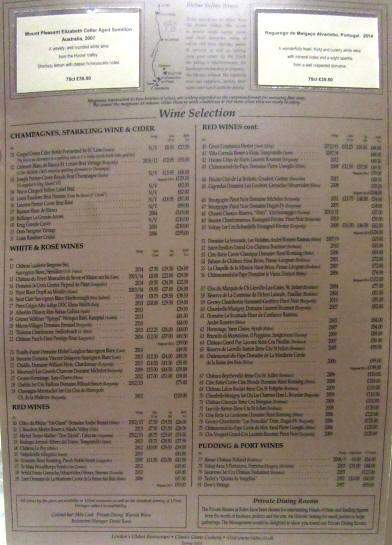 For an appetizer I had lamb sweetbreads with morel mushrooms, pearl barley and wild garlic while Marcia had grilled Dover sole with capers.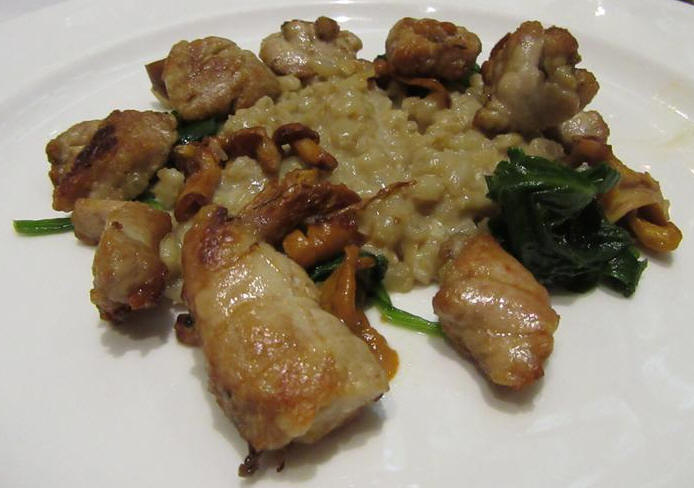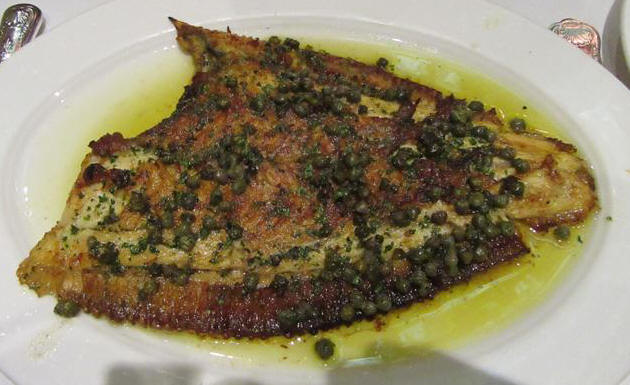 After letting that settle, for our entree we had what we came here for: Prime rib for two (850g) (₤32.50 per person) with creamed spinach and Yorkshire pudding which is the brown circular thing on the plate.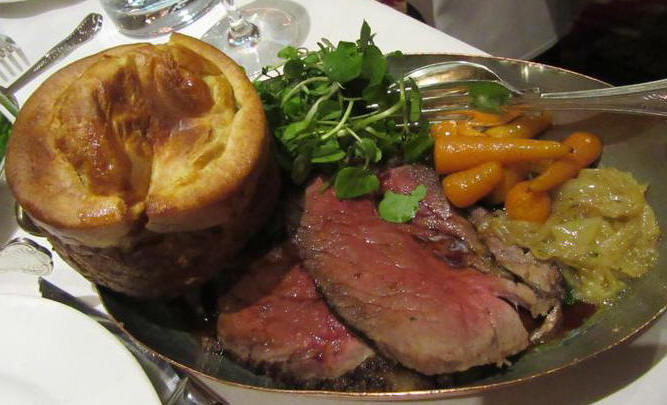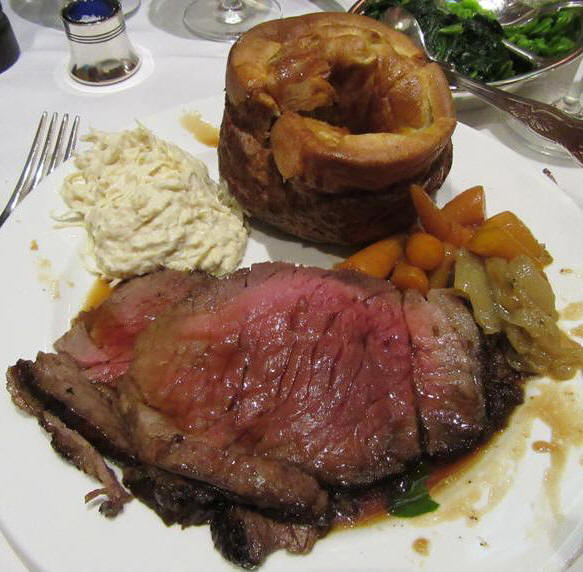 It also came with boulangére potatoes (below) and a wonderful horseradish sauce (above right). It wasn't as good as I remembered in the past, but that was 16 years ago. The Bergerac wine was excellent even though it was the cheapest on the menu.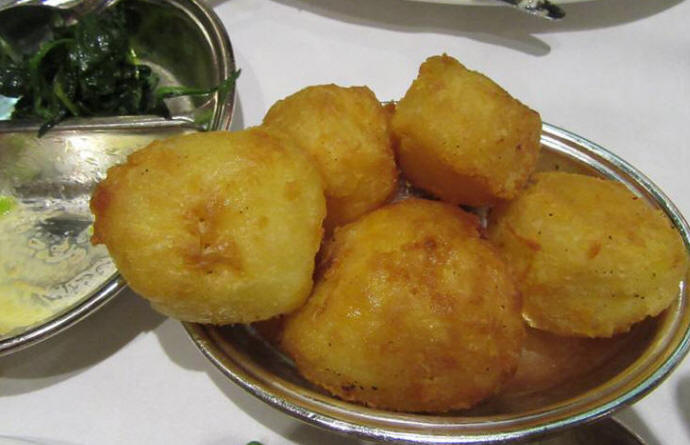 For dessert I had the chilled coconut rice pudding with mango and mango sorbet which was very good and Marcia had crème brûlée pie with lemon sorbet.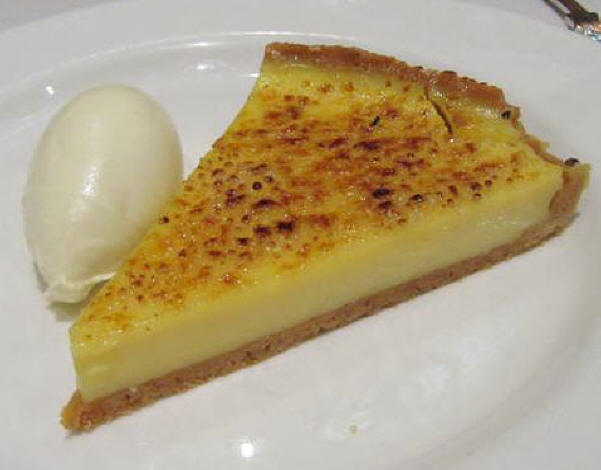 Our waiter was Hungarian and the other fellow was from Bulgaria; the Mâitre d' was Indian. So, so far, I have met one Brit. The whole meal came to ₤112.89 ($173.68) which is a little high.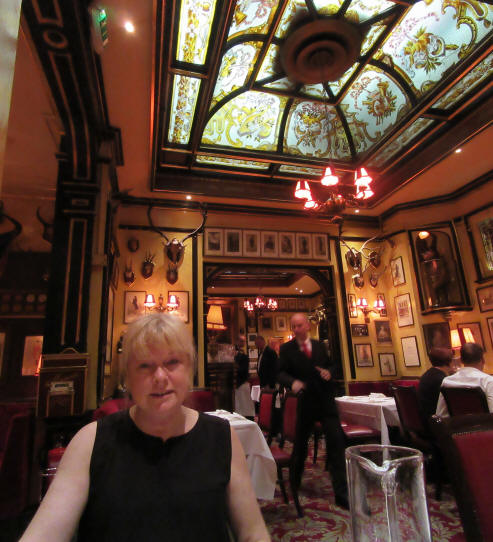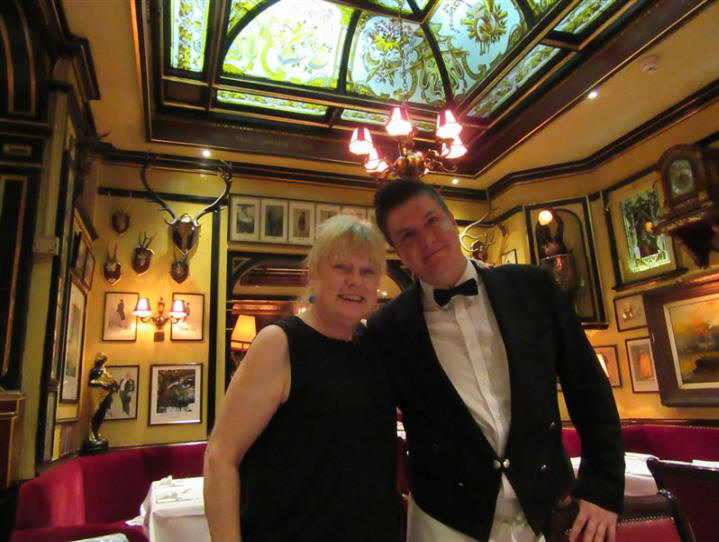 In my walking around, I discovered these these horse shoe-shaped medallions of what I assummed to be famous horse races or perhaps those owned by them.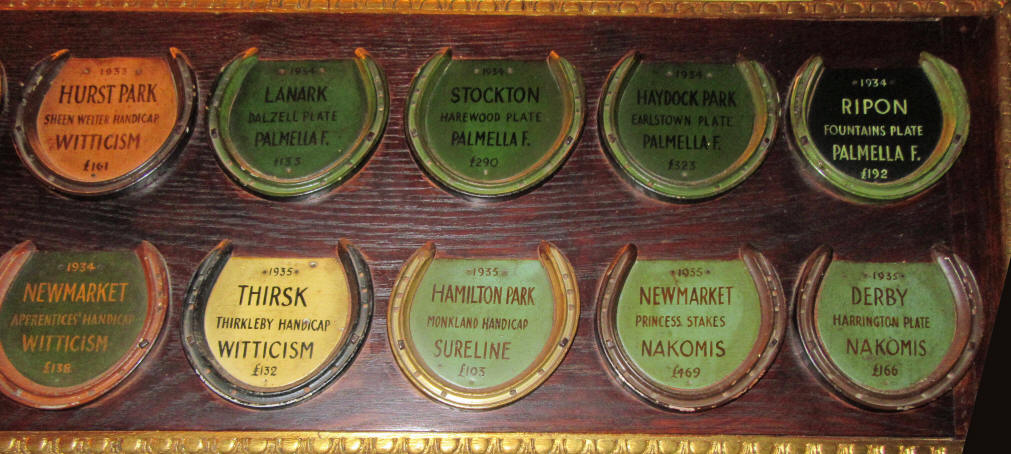 I used the GoPro to take a few photos of the interior.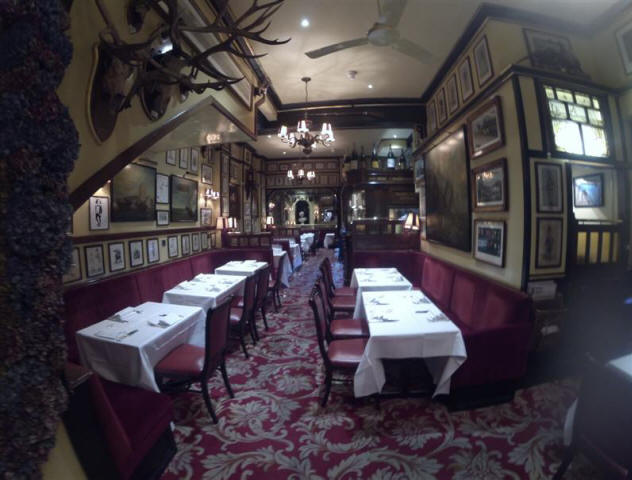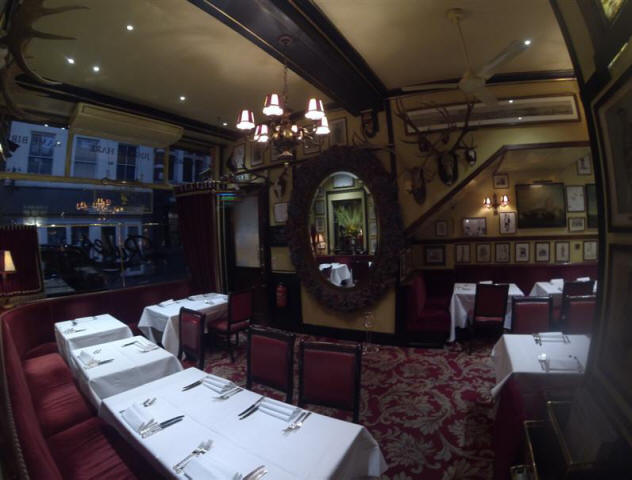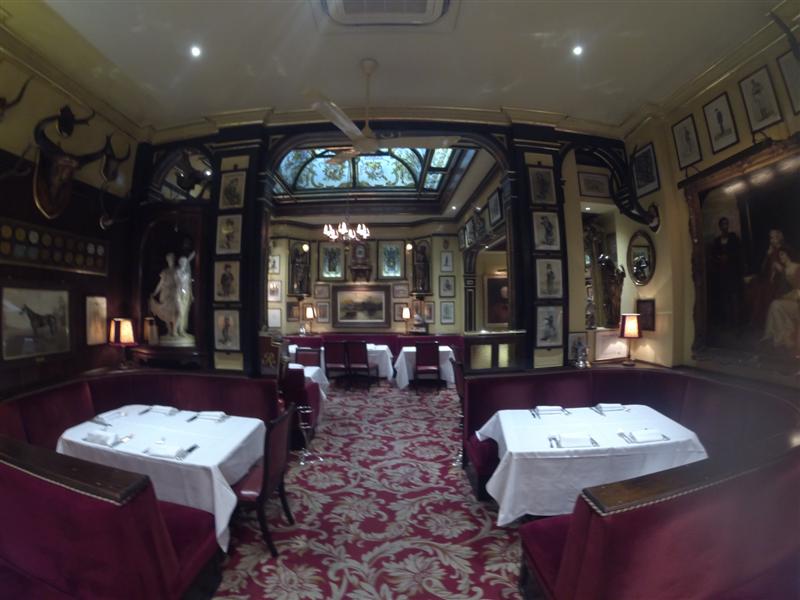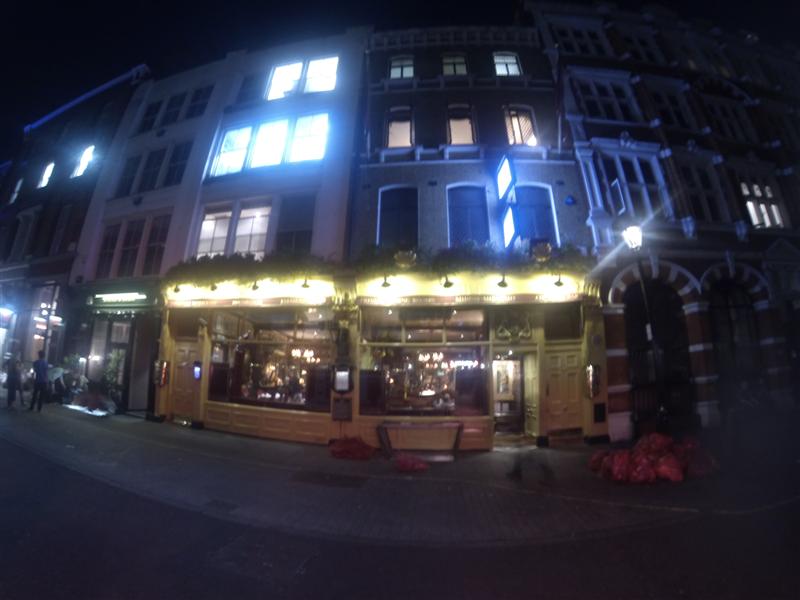 We left at 11:27PM and this is a shot of Rules as we were leaving with all the trash bags lying in the streets. The neighborhood didn't seem as safe as when we arrived so we caught a cab back to the hotel and got to bed.
Kenneth J. Hoffer, MD
KHofferMD@AOL.com
London, England, UK
Sent 5-15-2018
If you enjoyed these travels or wish to add comments on the places we visited
Please Leave Me a Message by clicking the spinning @ sign below.