Dr. Hoffer's Travel WebSite This site was last updated 07/09/18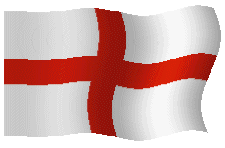 IRELAND15 #8 UK: ENGLAND to SCOTLAND



---
Thursday, July 23, 2015
---
Today is our fifth and last day in London and though this was enjoyable, I leave with the impression I have no desire at all to return here. It wasn't the London I remember from last time and I did not feel as comfortable and safe as I did last time. When expressing these feelings to my UK friends, they told me most of the Brits have moved out of the downtown city. Well at least I got to see it all when it was really nice. Things change with time.
Because we had to be in Gleneagles, Scotland by dinner time we were not able to sleep in today. We got up quite early and I decided to skip my run now and do it when we get there. So by 7:30 AM I was at the front desk and checked out of the Holiday Inn. We had already been charged the five days on Booking.com but I had additional charges of ₤97.45 ($142.23) for incidentals, ₤92.45 ($142.23) for food and drinks and ₤5 ($7.69) for the WiFi internet. I hustled over to Russell Square and at 7:43AM had a cappuccino at the Caffé Nero where I had it the other day which cost ₤2.60 ($4.00).
I brought it back to the room and finished packing and then loaded all our bags into our Peugeot. You can see (below) why we need a car with a hefty trunk. I get everything stuffed into it. Marcia likes to make sure she isn't shy of anything she may need. Most of it she trashes before we get on the plane to go home. At 8:13 AM we pulled out of the garage and I paid the parking which came to ₤70.00 ($107.69). I thought that was a lot but I guess in comparison to many major destination capitols, it is rather cheap for five nights. By 8:30 AM, we were wending our way back out of London and the trusty GPS got us on the M40 for the trek north to the M1.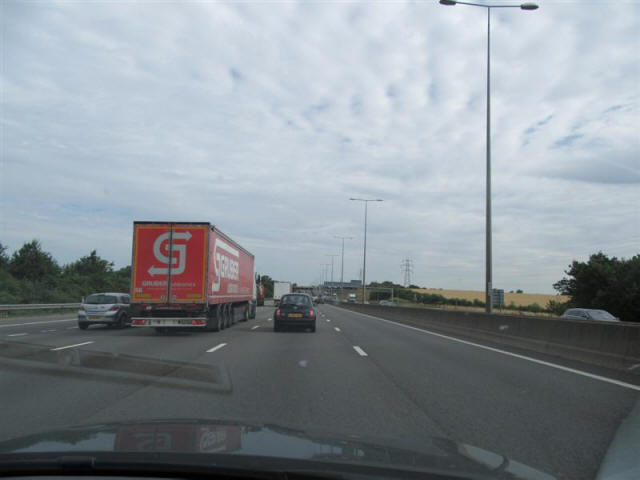 We were finally put on the M6 toll road heading north.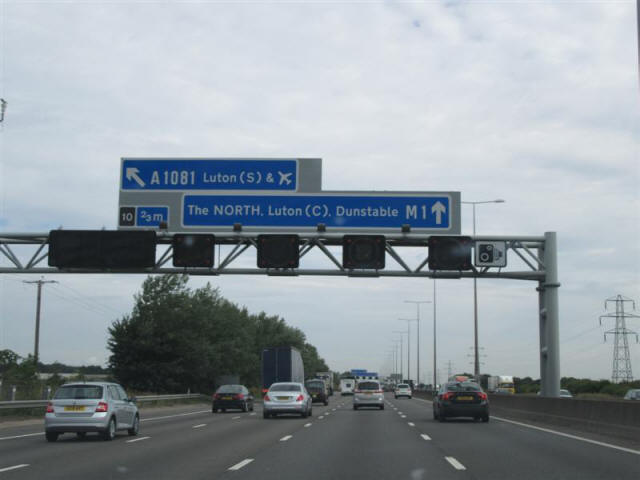 Below left is the map of the almost eight hour trip from London to Auchterarder where our B&B is. After two and half hours we needed to take a break so. just past Birmingham we stopped near Norton Canes at 10:58AM.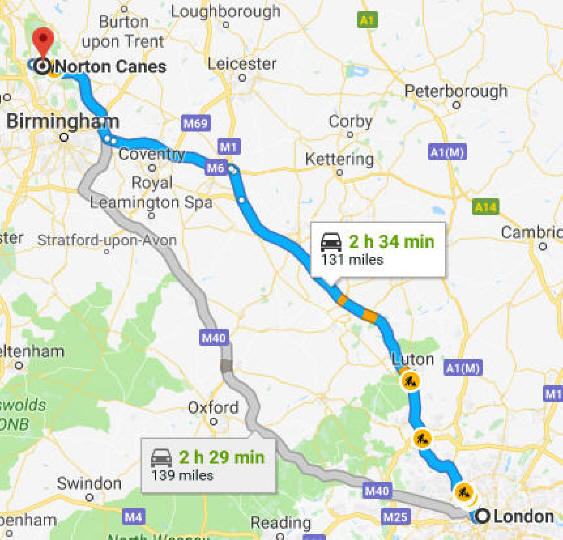 We needed a pitstop but Marcia turned it into a lunch break. This was a large very nice freeway stop called the Road Chef [Norton Canes, Cannock, Staffordshire,
+44-154-327-2540].
Road Chef is the third largest motorway service area operator, behind Moto and Welcome Break and followed by Extra. They run 30 such plazas at 21 sites in the UK. We squeezed the Peugeot behind that grey car next to the sign pole (below left).
Outside, they had plenty of signage to explain how to pay for the parking.
By 11:07 AM, we walked inside this huge bustling facility (below) which was very modern and clean. Marcia got some things for lunch for ₤21.00 ($30.77). I bought a few things to go for ₤8.55 ($13.15). The type of food services they have are: The Burger Company, Fresh Food Cafe and Chozennoodle shown below..

Since it was my turn to drive, at 11:16 AM, I needed another cappuccino so I stopped at the Costa Coffee here for one to go for ₤3.59 ($5.52).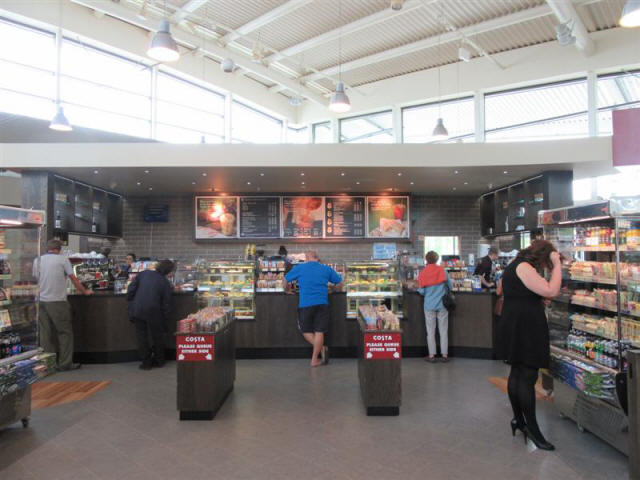 We got back on the road and at 11:30 AM, we had to pay a toll to Midland Expressway Ltd for ₤5.50 ($8.46). After three and half hours, at 1:56 PM, we had to stop for gas at a Shell station in Carlisle North which cost us ₤65.97 ($101.49) for 54.12 liters (14.3 gal) which comes to $7.10/gal. Back on the road, we finally crossed into Scotland and I took a shot of the sign to Lockerbie, the site where the Libyan-directed terror PAN AM flight 103 explosion occurred in December 1988, where 259 died on the plane and 11 died on the ground. A senseless tragedy.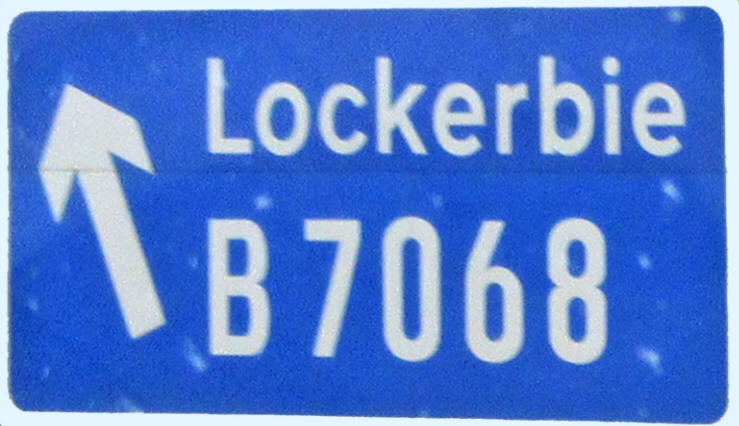 Marcia took back over the driving and we did the remaining 130 miles (209 Km) to Auchterarder which took
us another two hours and 15 minutes. The GPS took us right into the little town and up to the door of our place, the Allandale House B&B [17 High St,
+44-176-466-3329] which I had booked and paid for on Booking.com over three months ago. We are now in county Perthshire.
[I created quite a problem for Dr. Knorz in booking this place. While planning this first attendance at a IIIC Retreat, I was totally unaware of the procedure. I saw the rates for the famous Gleneagles Hotel and I almost cancelled the whole idea. Since neither Marcia and I play golf or have any interest in it, I wondered why we had to sleep there. Why couldn't we easily drive a short distance and attend all the events there? In that regard I got a very reasonable rate to stay at this B&B which was highly rated. I saved thousands of dollars but I did have to pay it all in advance many months before we left].
Below is the front door of the B&B (left) and Marcia starting to unload the car out front.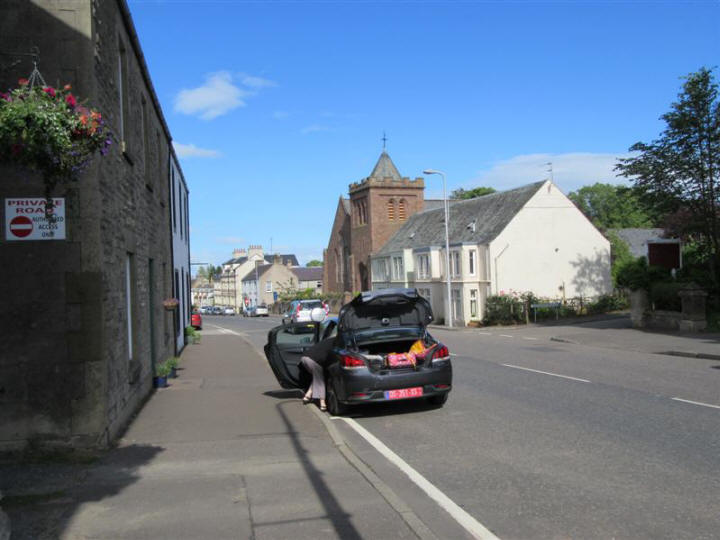 [When Dr. Knorz saw I was coming and had not booked the hotel, he contacted me to tell me the registration for the meeting, the breakfasts, lunches and dinners as well as the hotel were all tied into the price. Since I had paid in advance for the B&B (without refund) and I would not be eating any breakfast or lunch, I had no alternative but to ask him to please calculate the fee for the registration and only all dinners for two.]
There are no meters or wardens but we felt safer putting the car in the little private lot behind the house.
[This was a big inconvenience for Dr. Knorz and I felt quite bad but he later came back to me with an amount to pay for the registration and dinners and I gladly paid it. It was obvious from his reaction to me at the meeting that I don't think he forgot this event which I am very sorry about because it was totally my fault, not his.]
We went in the entry (way below) and at 6:30 PM, we checked in with the owners, Loraine and Gerry (below), the nicest Scottish folks you'll meet.
They were very welcoming and then we climbed the stairs to our room. The place is very nicely appointed. I really appreciated Gerry helping us up the stairs with all our bags.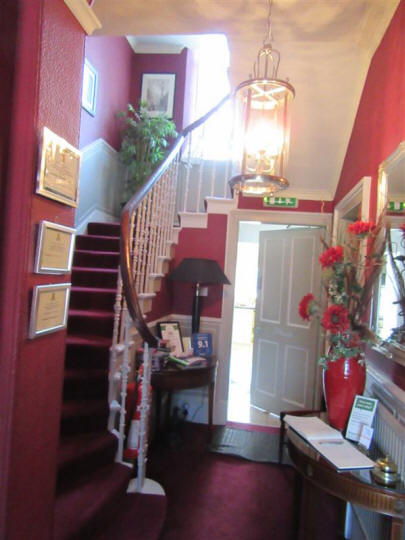 Here are my PhotoStitch shots of our room ...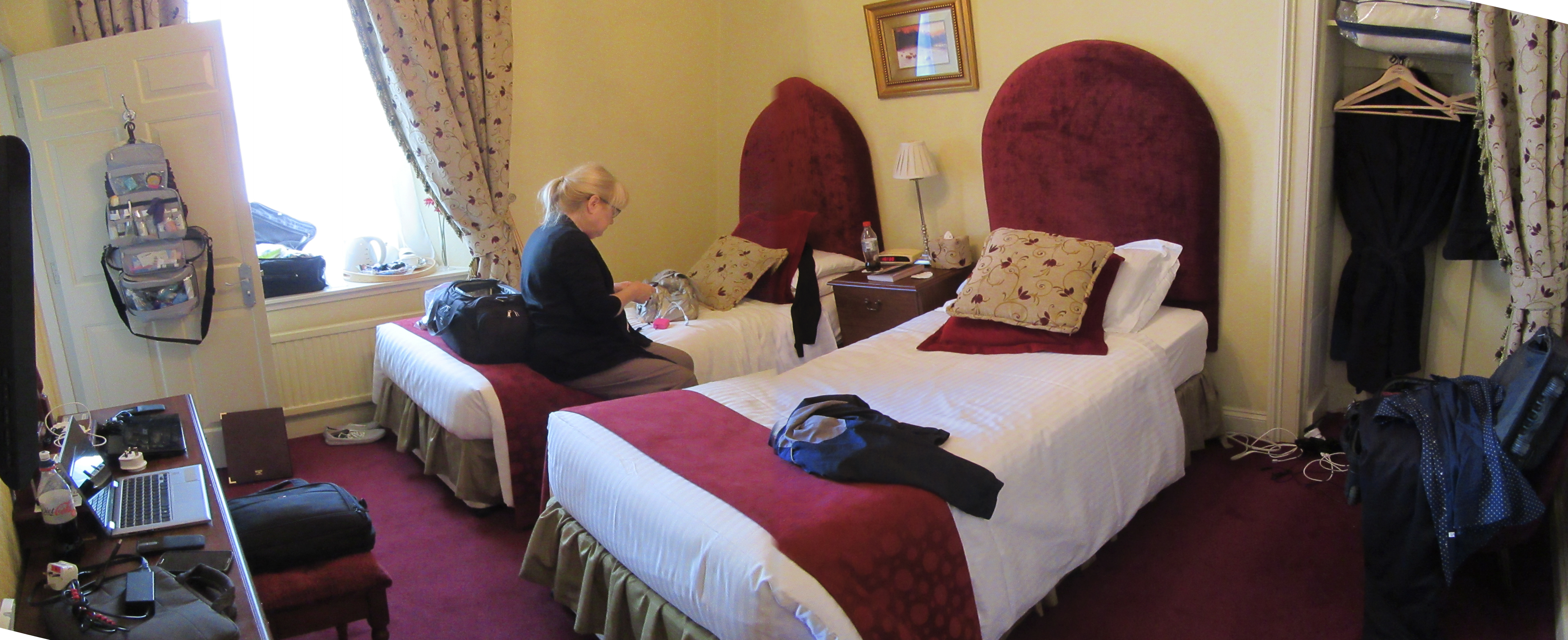 ... from both angles showing the very adequate en suite bathroom.

In my opinion it was very nice for what we were paying. I took a quick run downstairs to see the breakfast room (below left, door on the left) which I will not be using. It was very cute.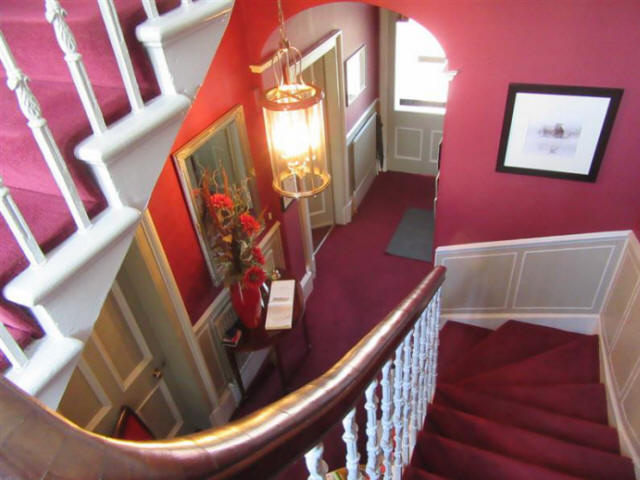 Well, now I suffer for not having run this morning in London. At 7:00 PM, I race to change into my running gear and head out. I first headed in the direction toward the town (below left) but it was getting too much uphill for me so I returned in the other direction (below right).
I ran past this fine looking old Scottish church that was St. Andrews but is no longer a church. You can't read the sign, but it is now the Gleneagles Furniture Centre [41A High St,
+44-176-466-4030].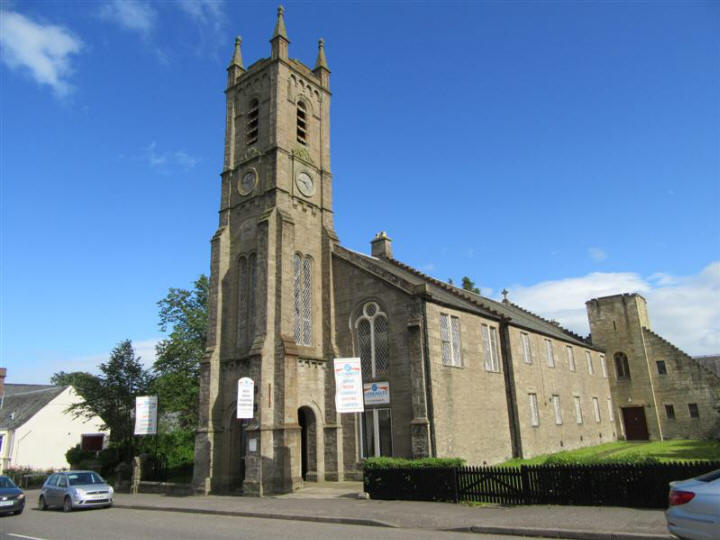 As I got further out of town, this is the view of the fields I had on my right side.
I passed this interesting old house on the outskirts (below left) and then came to what seemed to be the last building in town (below right).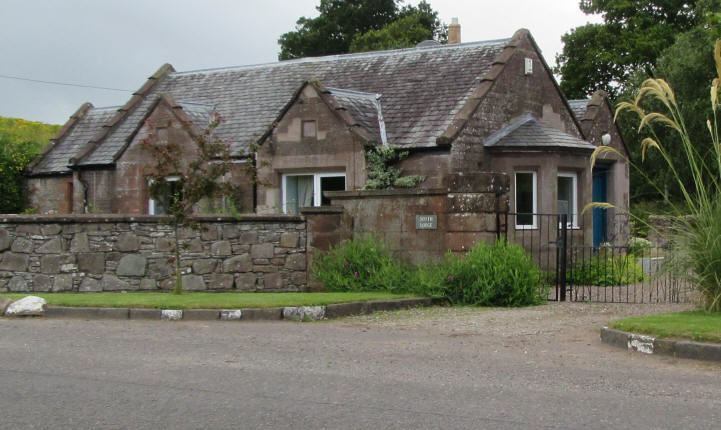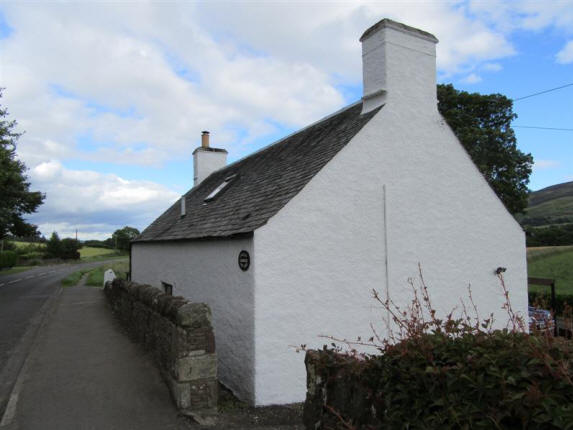 As it turns out, I was right because when I turned around to head back after a mile, the "Welcome to Auchterarder" sign was right in front of me. Below is my view heading back trying not to be hit since there is no sidewalk along here.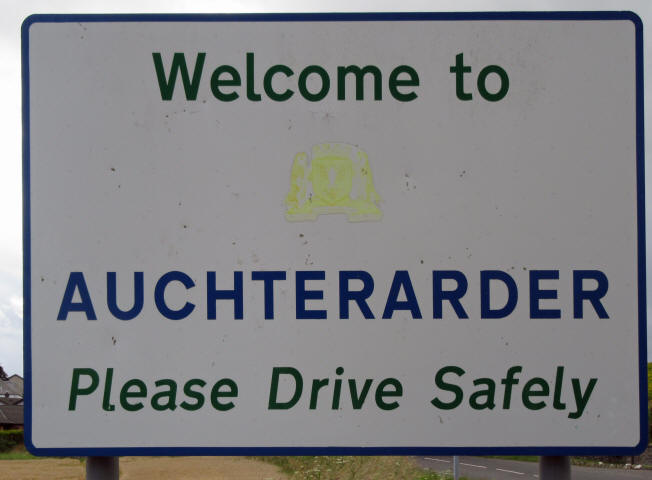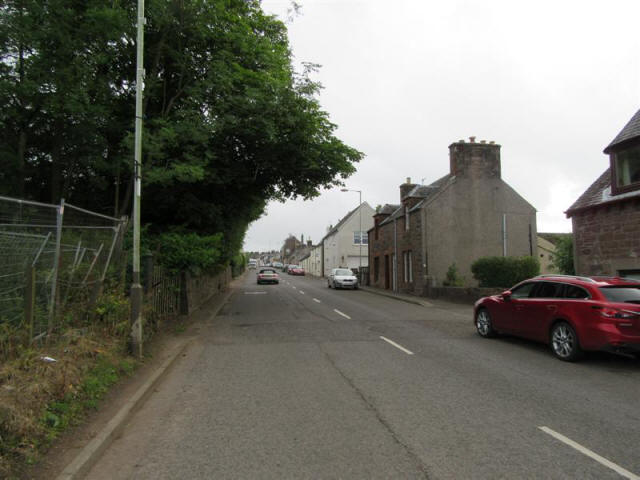 I raced back to the hotel to get changed and then we headed straight to the Gleneagles Hotel [Perthshire, Auchterarder,
+44-176-466-2231]. Below left is the round-about as you enter the property. Below right is the front entrance of the hotel. It was nice to see an American flag flying.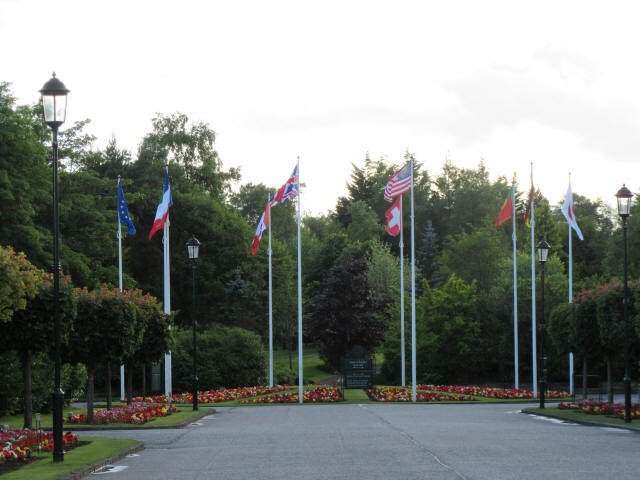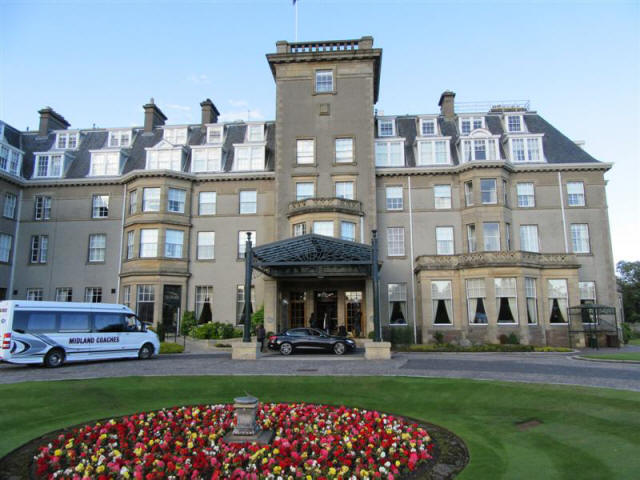 The hotel opened in 1924 and was built by the former Caledonian Railway Company which also built the nearby Gleneagles railway station. During WWII, it was converted into the Gleneagles Hospital. These below stock photos show what I never saw; the golf course grounds (left) and the backside entrance to the hotel from the course.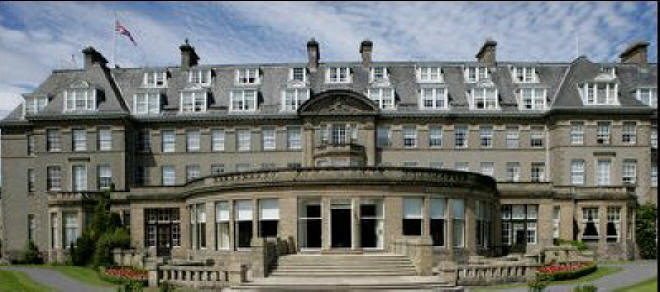 As you approach the front door and look to the right, there is the path to their famous golf course. I never went past that sign.
They have a beautiful large steel emblem on the front as you enter. Inside (below right), the colonnaded reception area is quite impressive.
They displayed this plaque celebrating their 90th anniversary last year. Surprisingly for us we were actually early for the dinner, so we found the bar for a cocktail at 8:08 PM. The bar was pretty empty.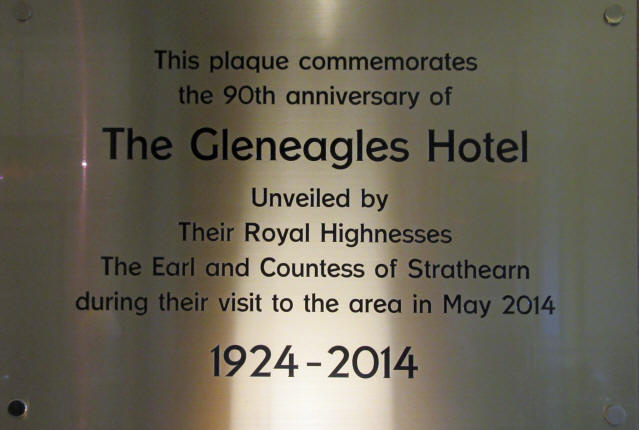 They were showing off an array of of Scotland's proudest beverage, Malt Scotch. We don't drink it but for those who really appreciate them, I list them from L-R: 12 year old (yo) Glenkinchie from the Lowlands, 16 yo Lagavulun from Islay, 14 yo Oban from West Highland, 12 yo Cragganmore from Speyside, 10 yo Talisker from the Isle of Skye and 15 yo Dalwhinnie from the Highland.
But, for me, what caught my eye was the fancy wooden plaque on the bar displaying that they serve Irish Guinness stout on tap ...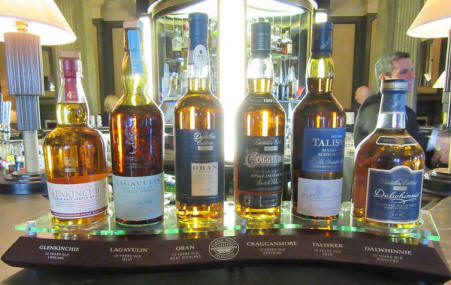 ... and that is exactly what I ordered. Marcia enjoyed her usual white wine and it cost us ₤15.50 ($23.85)! Not cheap. They had this collage of old photographs posted on the wall. Can you catch the two of Bill Clinton?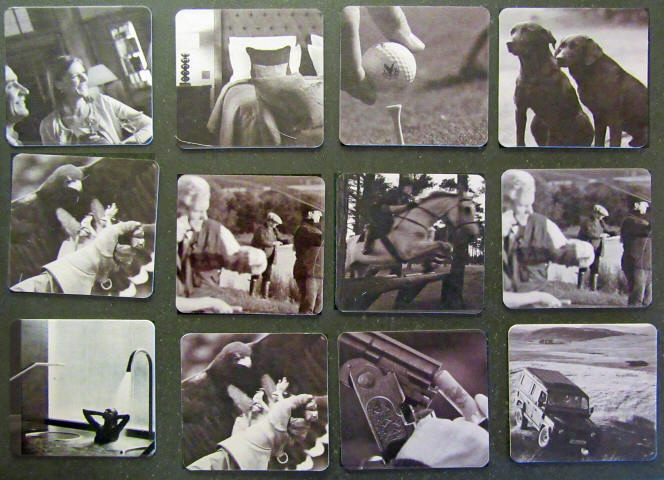 When we were finished, I paid up and we headed to the IIIC Dinner at 8:30 PM, which was held in the hotel at their Deseo Restaurant [
+44-176-466-2231]. It is a very very nice big place.

We arrived at reception and were immediately shown inside to join the crowds that had already arrived.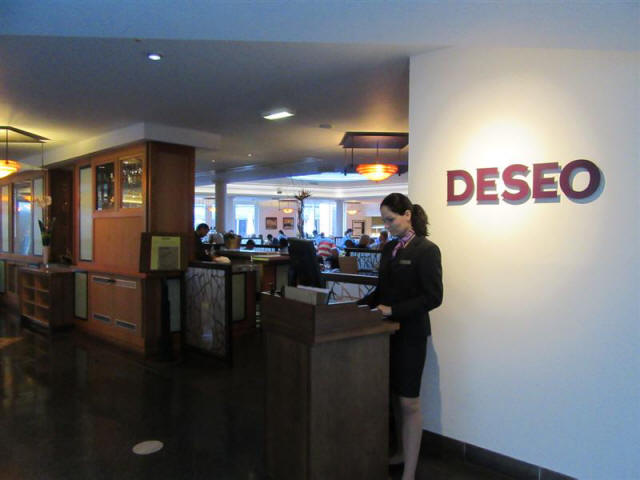 You can see from the hugging that many had not been at the dinner in London. These are well-respected eye surgeons from every corner of the world. The man on the left with his hand on a shoulder is David Karcher, the EVP of the American Society of Cataract and Refractive Surgery (ASCRS) and has run the organization continuously and successfully for over thirty years. He recently announced that he would be retiring in the near future.
Several people had a chance to go around and meet old friends.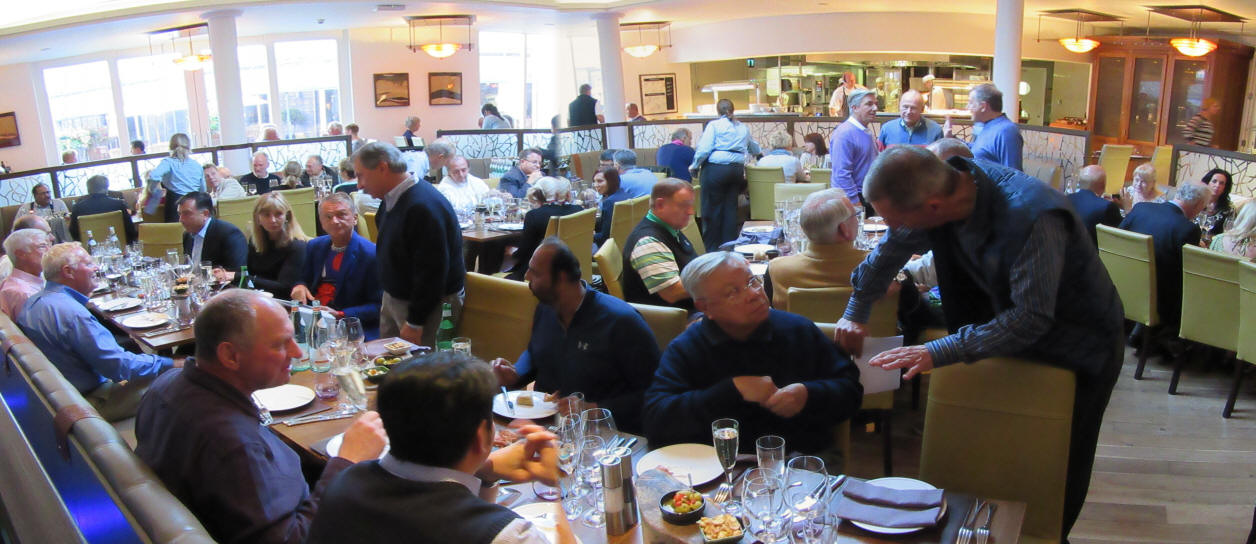 Marcia and I found a table with our old friend, Jorge Alio of Alicante, Spain (far right). We met him there in 2001. I got up to take a look at what the kitchen staff was preparing.
They brought to our table these stone slabs sitting on cans of produce with appetizers on them. Boy those olives were incredibly good - the best I can ever remember eating. I went to find out where they were from. I ate a lot of them, they were that good.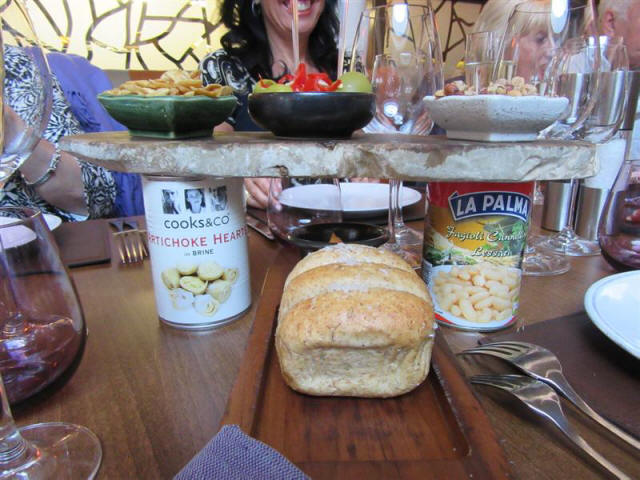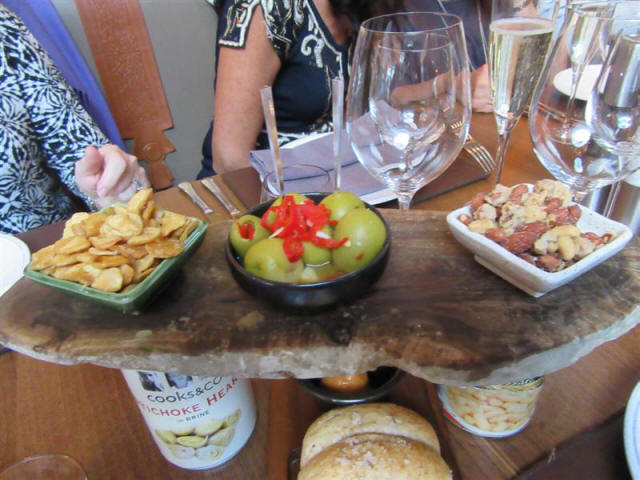 Then they served charcuterie of jamon Iberica and prosciutto. I got a shot of the ham they were slicing.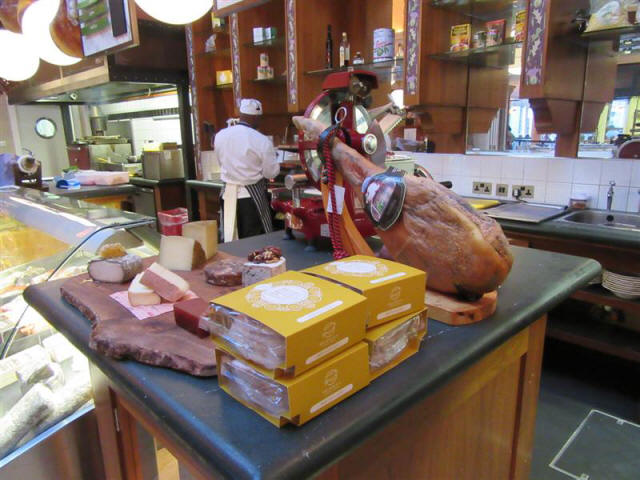 Then I got a look at their meat on display: (L-R) Sirloin on the bone, Wagyu Sirloin for ₤25/100g ($175/lb), Filet steak, Lamb rack (behind that), Aberdeen Angus, Highland beef, Aberdeen Angus Sirloin of beef and Luing (lower right). I guess you could buy it here to take home?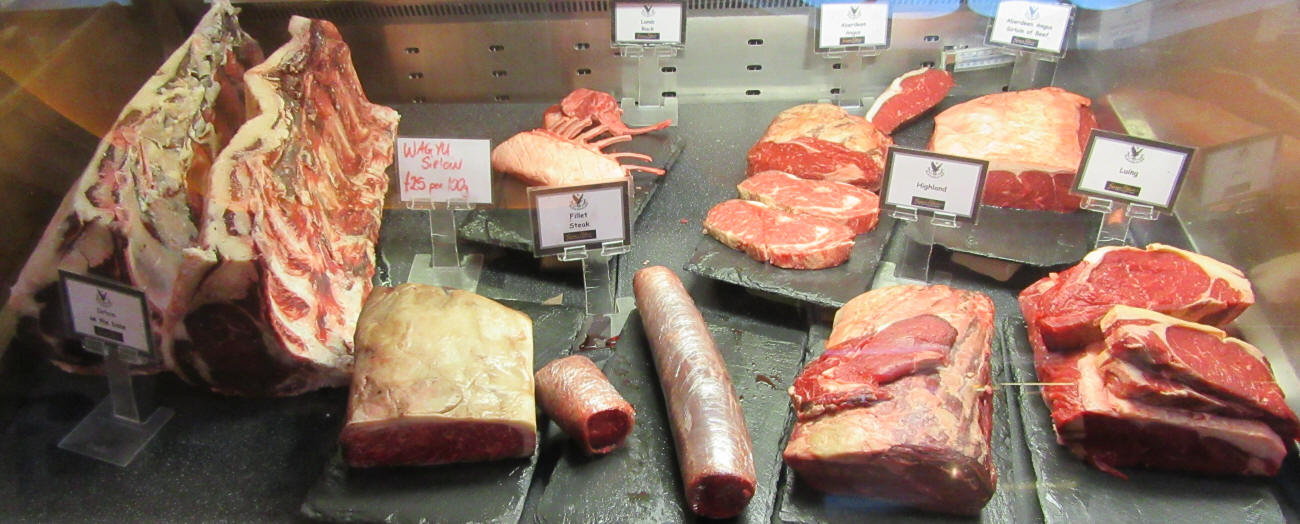 I had never heard of it, so a little Scottish beef diversion. Luing cattle are a breed developed on the island of Luing (map below) in the Inner Hebrides of Scotland by the Cadzow brothers in 1947. It was formed by first crossbreeding Beef Shorthorn (below center) with Highland cattle (below right) and then breeding the resulting progeny with Beef Shorthorns to produce an animal three quarters Beef Shorthorn and one quarter Highland.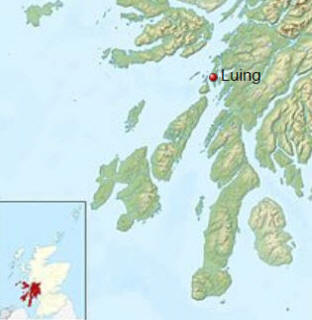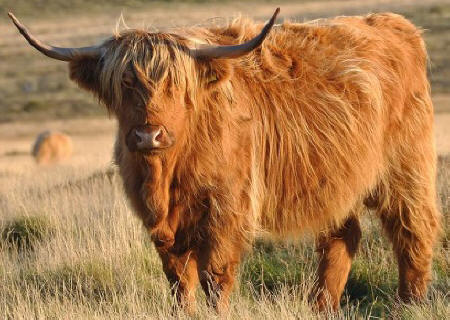 Thus you get the Luing cattle (below). The bulls weigh almost a half ton and the females a quarter ton.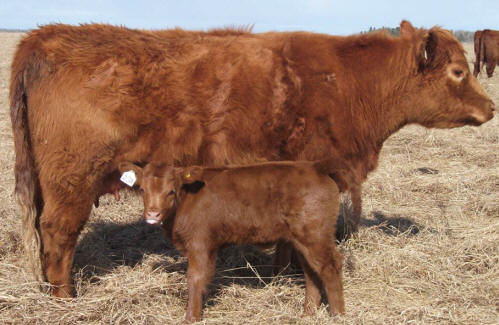 There was another cabinet full of charcuterie (left) and cheeses (right). I guess these are for sale also.
I got back to my table and joined Marcia.
Before that, on my travels (below left), I saw their shopping area where they had a Stillroom (left) and a salon and nail shop (right). For wines they were pouring a white of an Italian 2014 Verdicchio dei Castelli di Jesi Classico and for red, a Spanish Rioja Ontañón tempranillo garnacha.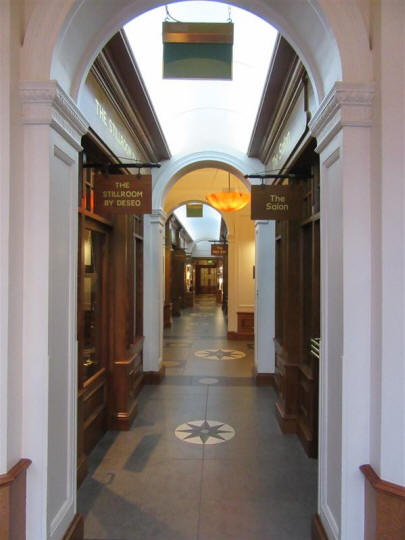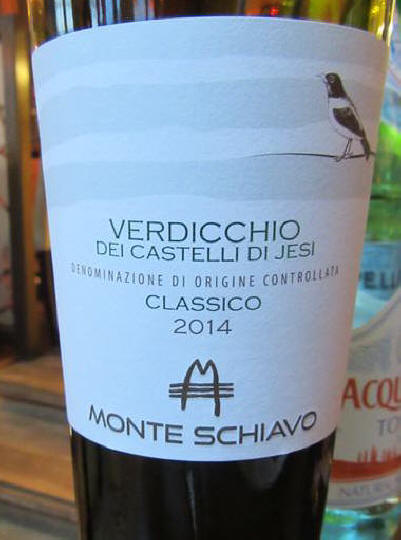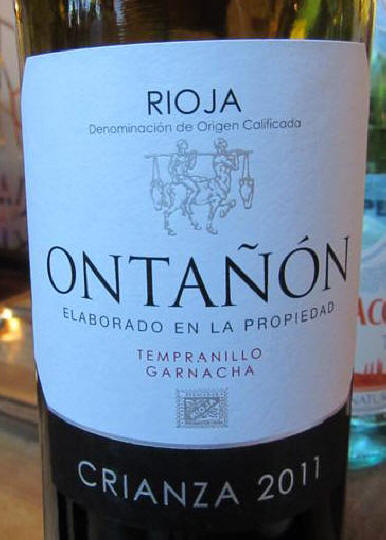 Then it was time to settle down and partake of the buffet "entrees" they had. Marcia's plate (left) was a little different then mine (right) and I have no idea what she had. I tried the salmon (top), the beef (top left), the chicken with rice (top right), the gnocchi and peas in cream sauce (lower left) and shrimp pasta something (lower right).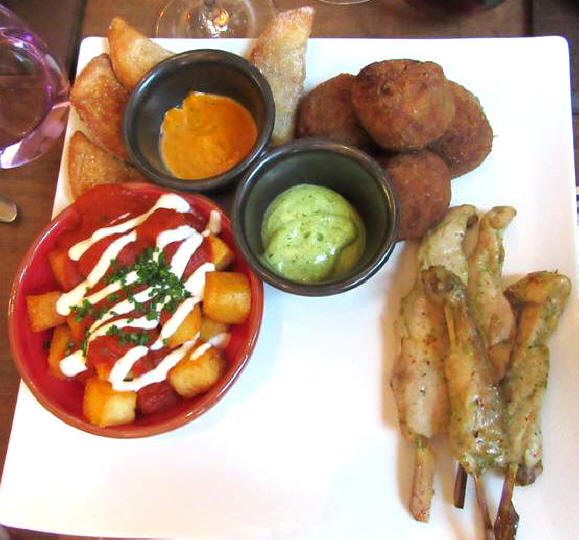 It was all very good and would come back here if I had the chance. It was fun getting together with these people we have known for so long especially Matteo (right) and Richard Lindstrom (left) who I first met back in the late 1970s when he was a fellow in Dallas, Texas. He is now retired as one of the leading eye surgeons in Minneapolis.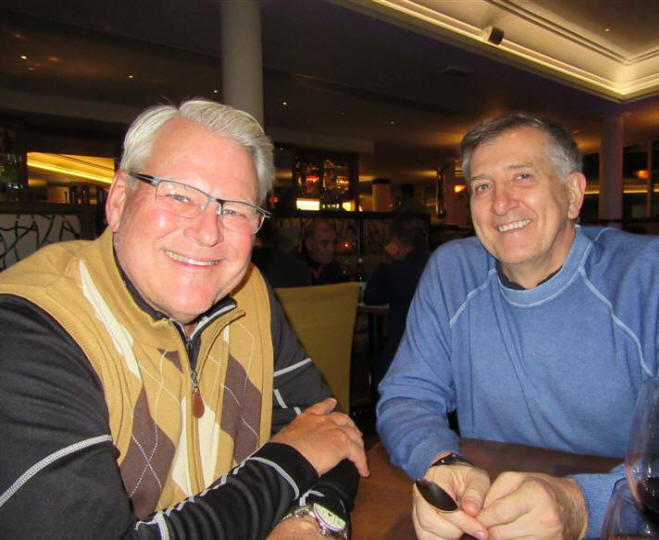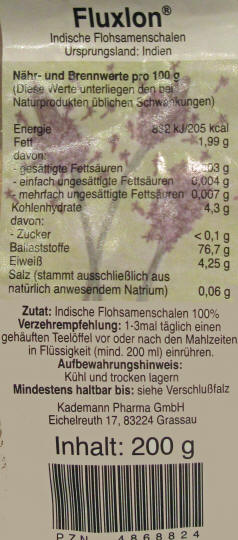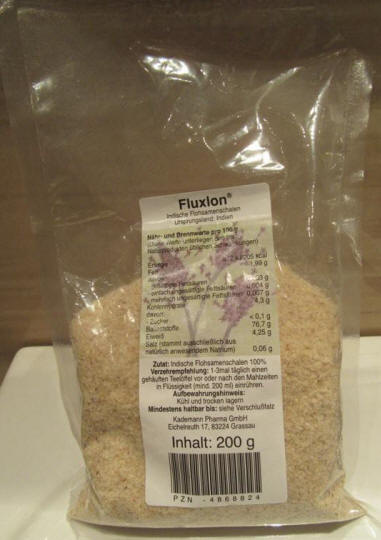 When things wound down, we got our car and got back to our place and went to bed. Knowing I might run out of the fiber I take every day (gastroenterologist's orders due to colonic polyps), I inquired at the Rosen Apotheke when I was in Munich and they sold me this bag (above right) of what he said was a decent replacement. It didn't look the same but I had no alternative. So, now that I had run out, I started using it and though a little different, it worked OK.
Kenneth J. Hoffer, MD
KHofferMD@AOL.com
Auchterarder, Scotland
Sent 7-09-2018
If you enjoyed these travels or wish to add comments on the places we visited
Please Leave Me a Message by clicking the spinning @ sign below.