Dr. Hoffer's Travel WebSite This site was last updated 07/09/18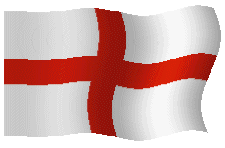 IRELAND15 #7 BLOOMSBURY: PARKS AND PUBS

---
Wednesday, July 22, 2015
---
Today is our last night in London. Tonight we go to the IIIC Dinner in honor of Sir Harold Ridley at the Chandos House and then tomorrow make the very long drive from London to Gleneagles, Scotland for the IIIC Meeting to be held there for several days. Everyone else came from around the world and flew to London for the dinner and then they will all fly together to Edinborough for tours of that city and its castle before being taken to Gleneagles. We already toured Edinborough (in 1999) and do not need to repeat it. We have our car and need to get it to Northern Ireland from London, so we will have to make this drive up the British Isle. We are really not looking forward to it.
I got up and went for my usual run in Russell Square Park (map below). On the map, you can see the little brown square at the top is the niche for the statue of Lord Russell. The entrance I always go in is at the lower left. Just inside is a brown rectangle indicating the cafe they have there (see below). I hadn't really noticed it before.
This time I paid a little more attention to what was IN the park rather than running in circles like a rat. As can be seen by the map above there is a fountain that has since been installed in the direct center which flows at times and then stops.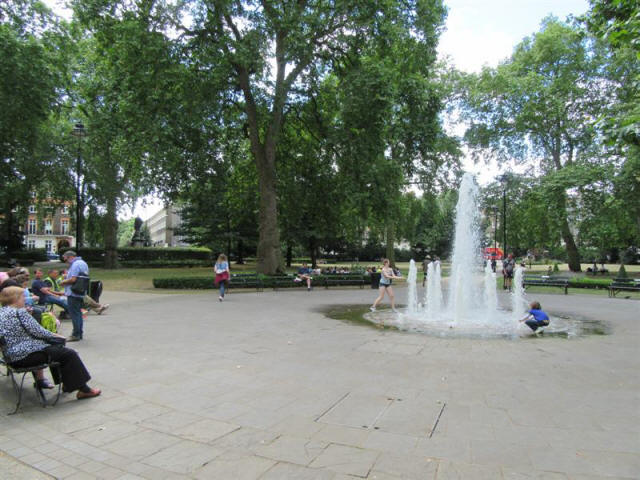 Below left is a look at the outside of the cafe and on the right is the indoor seating area which was pretty empty because everyone was sitting outside.
Here is my PhotoStitch view of the outdoor seating of the cafe.

Of course, it is called the Caffè Russell and below is their menu board out front (left). I thought this sign (left center) about drinking alcohol in the park was interesting. There is also this plaque (center right) marking the oak tree where many tribute flowers were placed in remembrance of the victims of the July 7th 2005 London bombing attacks, one of which occurred on a bus just outside the park. There were 56 deaths and over 700 injured. It was the UK's first Islamic suicide terrorist attack. Below right is a shot of the corner of park in front of the Russell Hotel where the police cordoned it off right after the attack.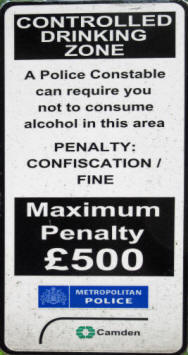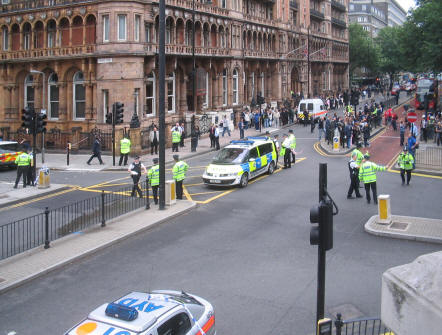 I went inside the cafe and got a shot (PhotoStitch) of the interior "deli" line.
I kept up my running, going out of the park, making it back to the area of my hotel and went behind the Brunswick Centre shopping center (below left) on its west side to Brunswick Square Gardens. The map below shows there are two more parks, all surrounding the Foundling Museum, the School of Pharmacy and the statue of Thomas Coram.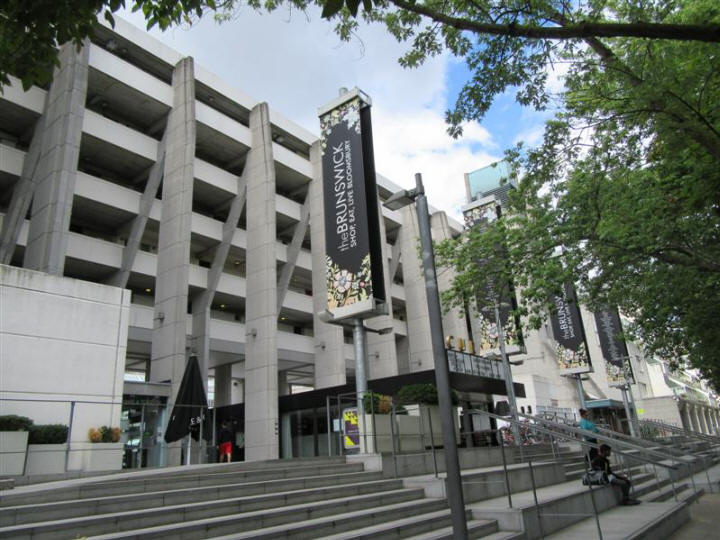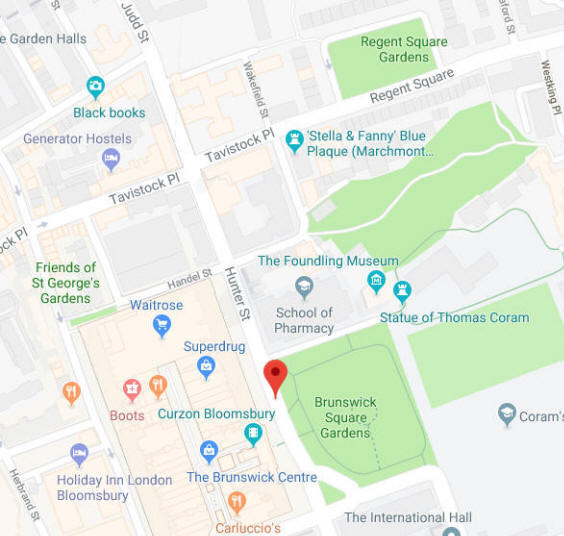 These are areas I was exploring for the first time. Here is the entry sign to the park and a blow-up of it's map.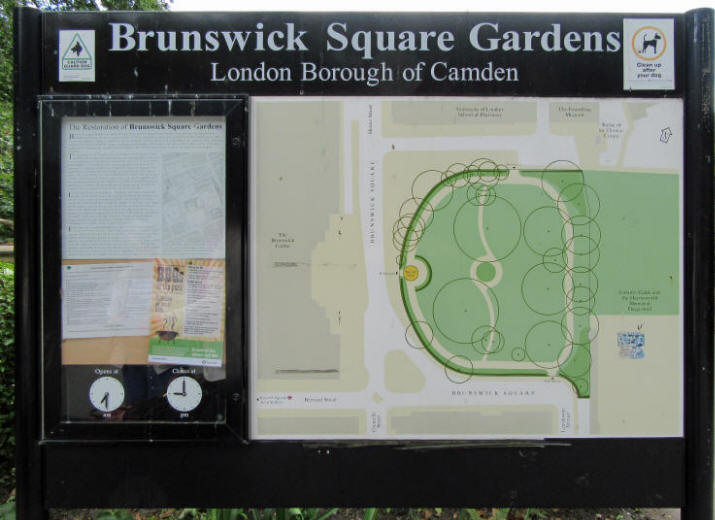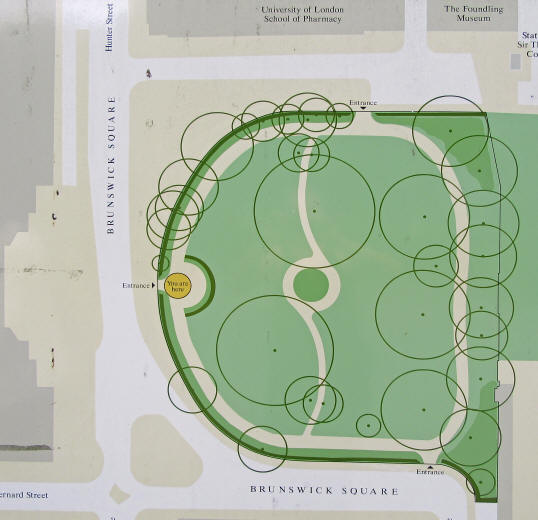 Below is a stock photo of the park.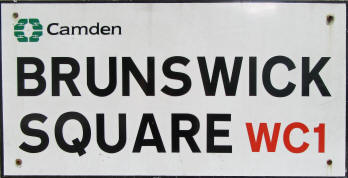 This park is also full of large stately trees with plenty of lawn to play games (my PhotoStitch).
I got to the other side of the park and came across the Foundling Museum [40 Brunswick Square,
+44-207-841-3600] with a Royal Mail truck stopping for it's deliveries. It was originally a hospital started in 1739.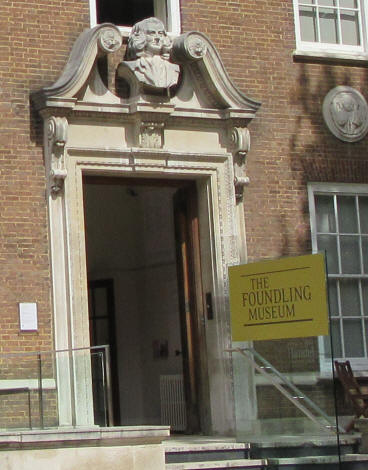 Here are some stock photos of the building (left), their main hall inside (center) and the same room set up for lecture seating (right).
Here are more showing the room set up for a fancy dinner and showing all the paintings hung on the wall.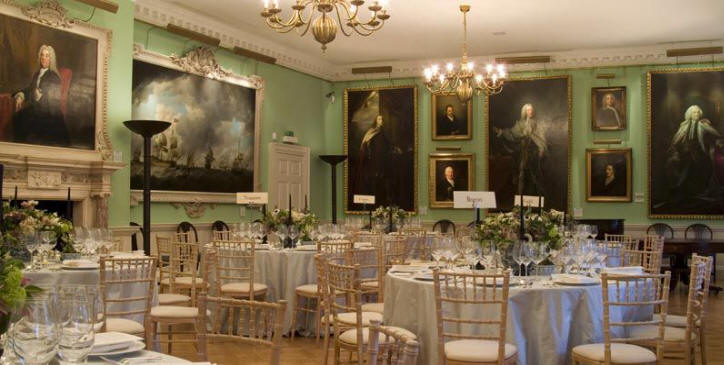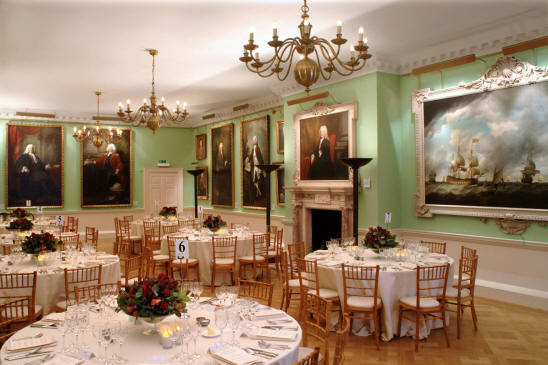 A final shot of the Governors' Court Room as it is ordinarily. Hogarth painted a famous portrait of Thomas Coram in 1740 and decorated the room with paintings (below) by Francis Hayman, Thomas Gainsborough and Richard Wilson. He contributed paintings for the benefit of the Foundling Hospital which became the first art gallery open to the public.

Nearby I came upon the statue of Thomas Coram (1668-1751), the man our hotel's street is named for. I also took a shot of this interesting manhole cover made by T. Sampson Ltd.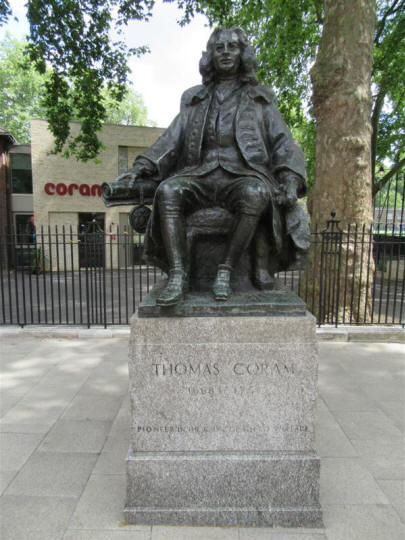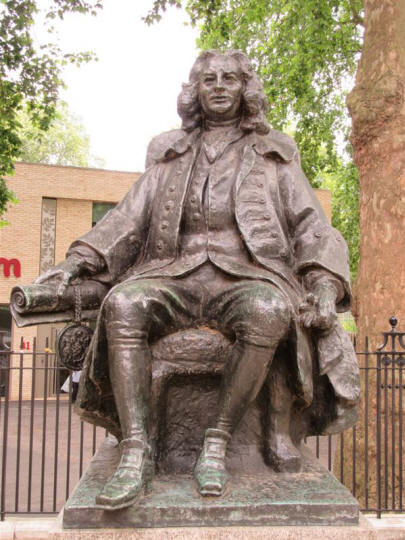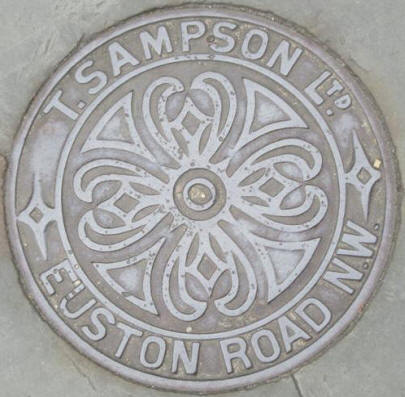 Coram was born in Lyme Regis, sent to sea at age 11, settled in the Boston area at age 26 and became a sea captain. In 1704, at the age of 36, he returned to London. Interestingly, in 1717, he unsuccessfully promoted the idea of founding a colony to be called 'Georgia' in what is today Maine, as a philanthropic venture. But, in 1732, he was appointed one of the trustees for the American Georgia colony, then founded by James Oglethorpe.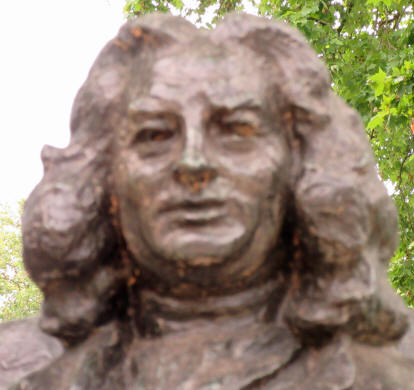 Traveling into London often, he was shocked by the sight of infants exposed in the streets, often in a dying state, so he began to agitate for the foundation of a foundling hospital. He labored for seventeen years, and he induced many high ranking ladies to help out. In 1739, a charter was signed by King George II establishing the Foundling Hospital along with considerable sums to support it. It is said to be the world's first incorporated charity. Below are portraits of Coram (right, 1796) and his remains (center) in the Church of St Andrew, in Holborn.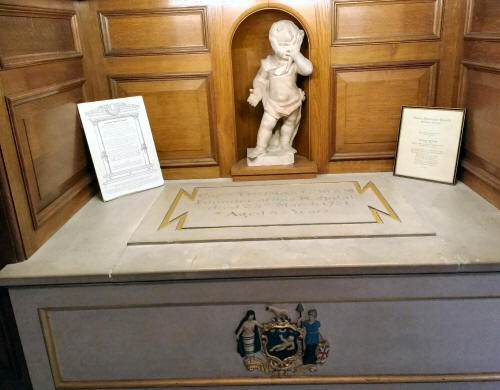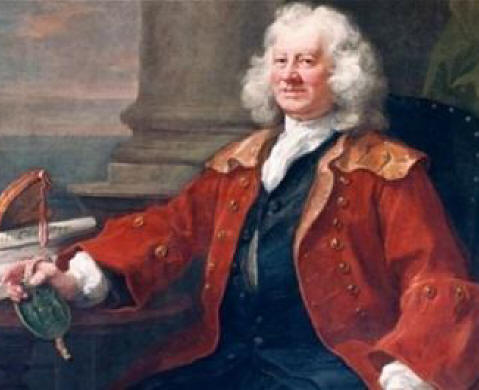 Near the statue is the original building of the Foundling Hospital (below left) which is next door to a Coram building.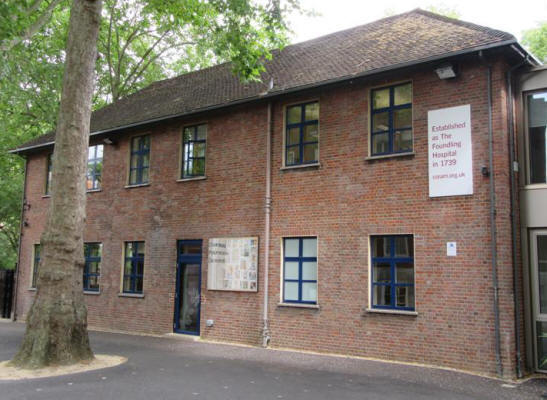 Nearby, I went past the the School of Pharmacy [29-39 Brunswick Square,
+44-207-753-5800] sitting between the three parks. The school was founded by the Royal Pharmaceutical Society of Great Britain in 1842 as the College of the Pharmaceutical Society.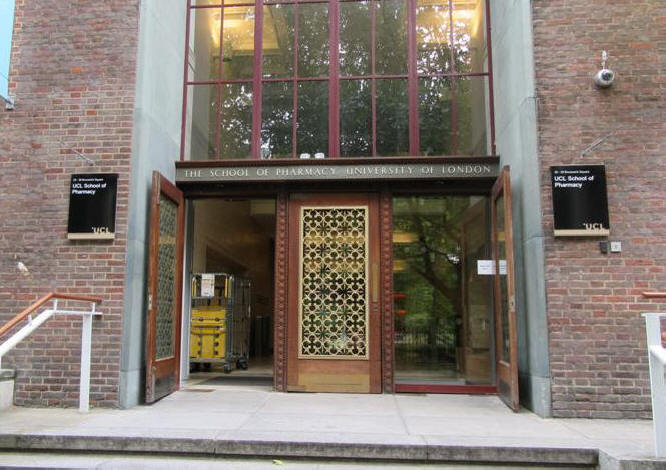 It was renamed the School of Pharmacy (website) in 1949 when it became independent of the Society and was granted a royal charter in 1952. At the same time, it was incorporated into the University of London as a constituent college. The school merged with University College London (UCL) in January 2012. Below are stock photos I found of the entire building from each end.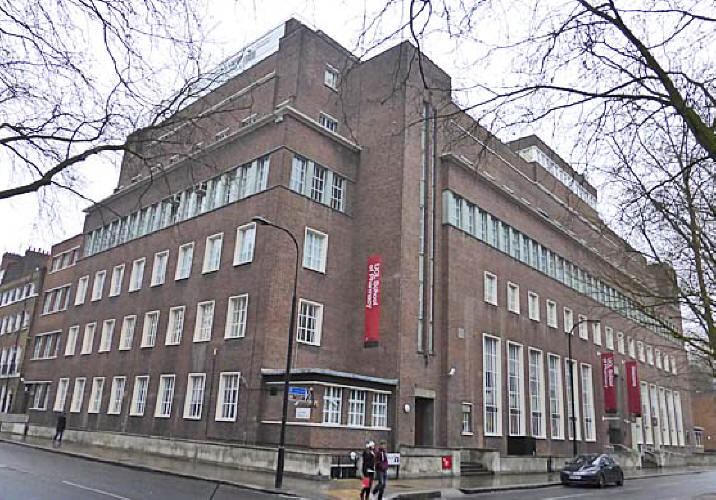 From there I wandered into St. George's Gardens. Here is the sign introducing this park.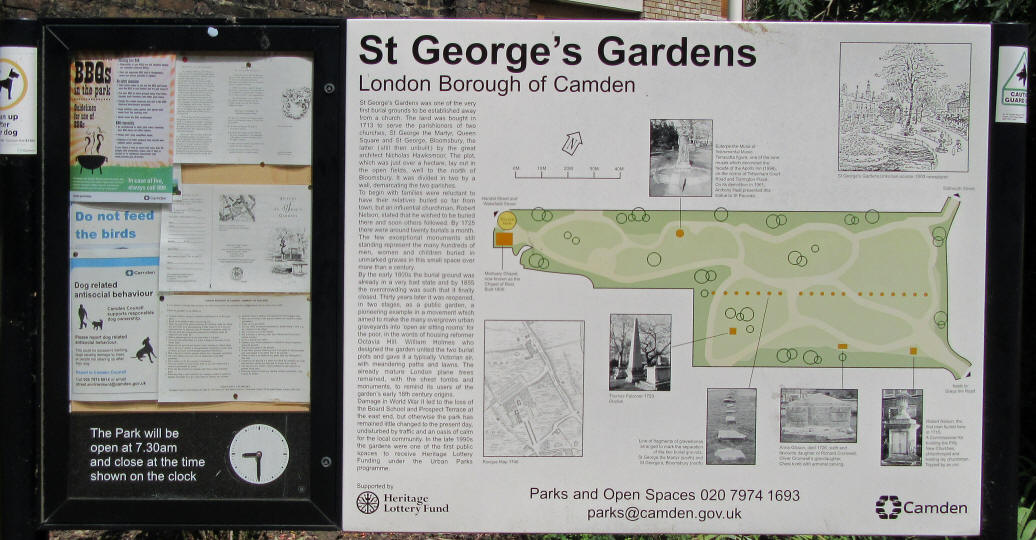 This park is more a cemetery than your usual grassy park. I walked through the gates to see the above sign.

Here (above) is a blow-up of it's map and (below) the wording on the sign describing the history of the park and that it was established in 1713 as the first London cemetery not on a church grounds.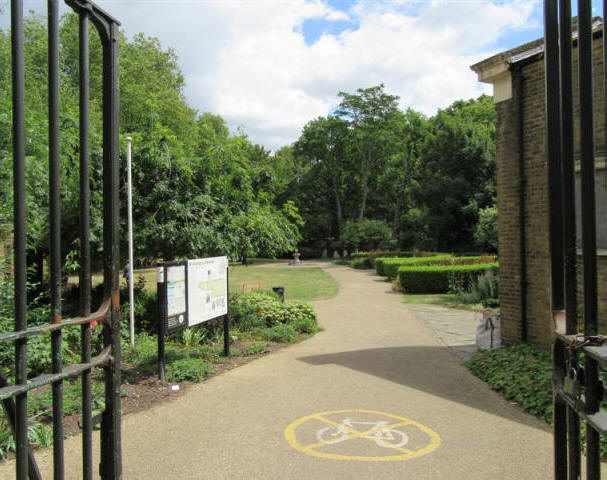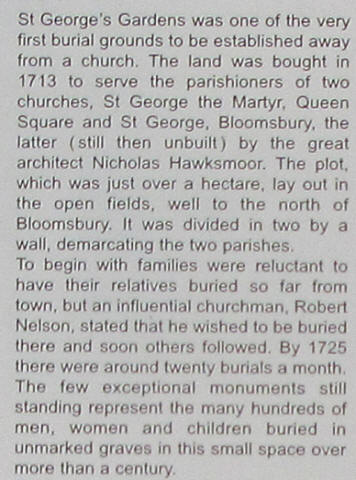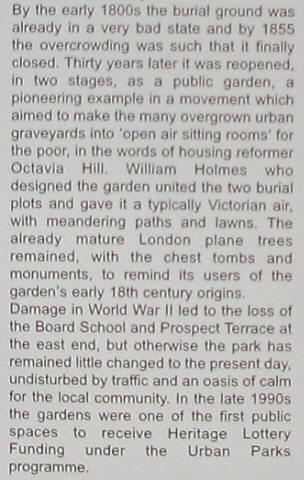 As I walked down the path, I can start to see all these tombs strewn throughout the park.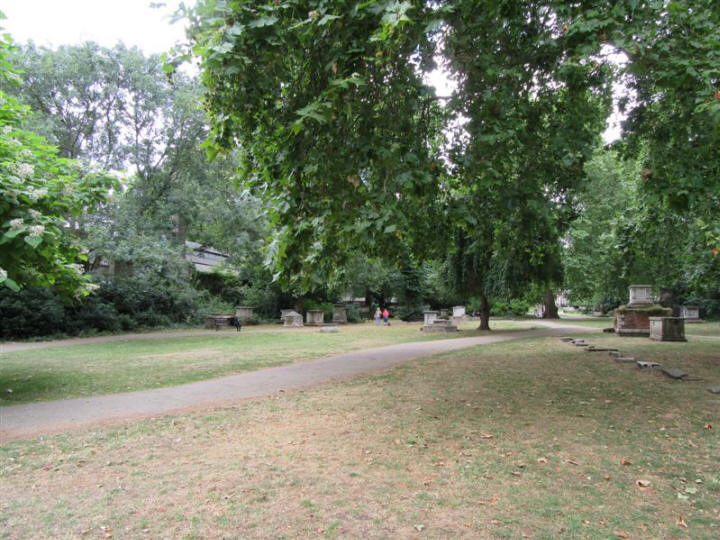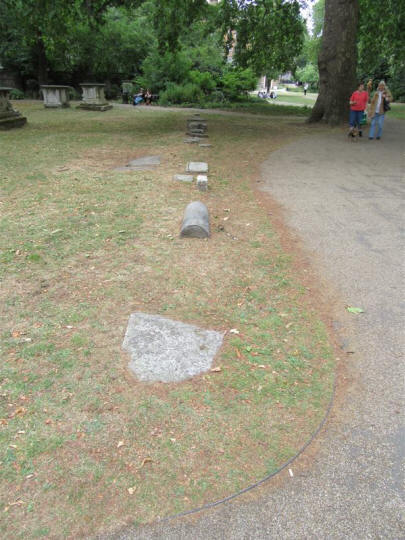 Some are only small stone markers (below left) while other tombstones have been left leaning (below right).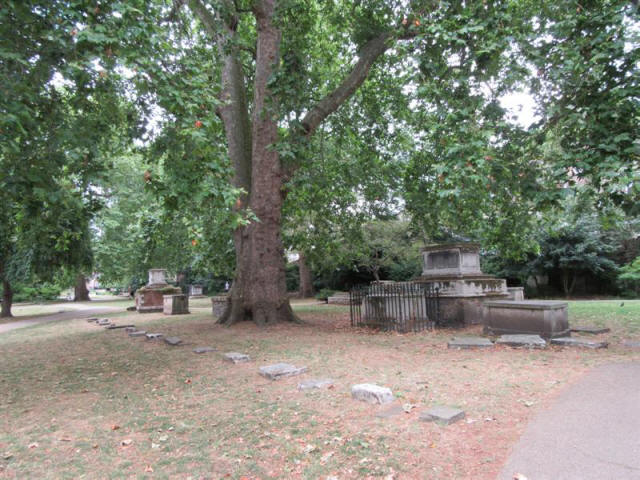 Here you are really in a cemetery. Unusual was this tall obelisk.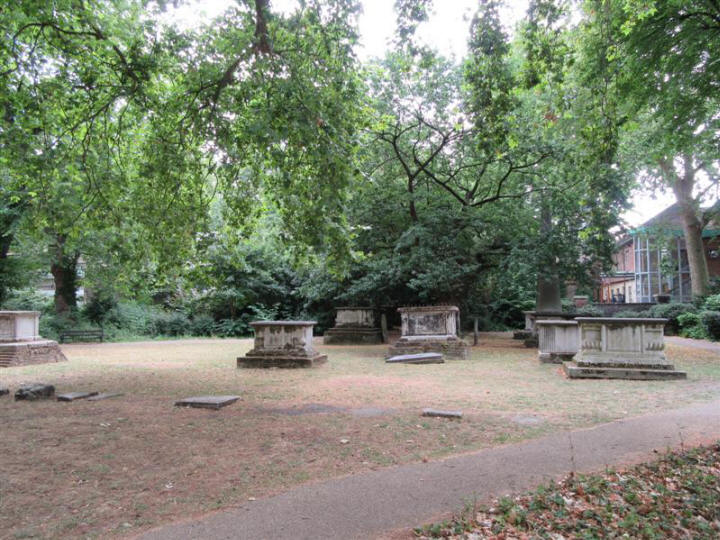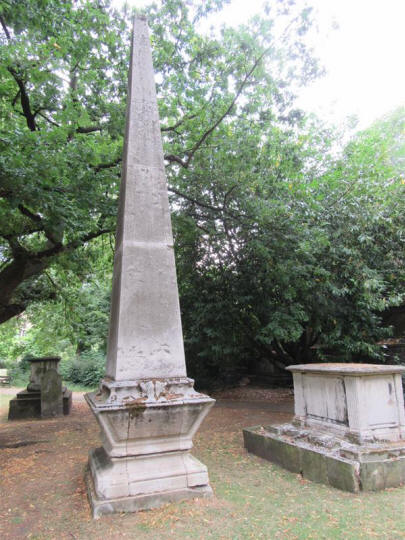 Here is one (below) where you can barely make out that she was a woman of 32 years, buried in 1833.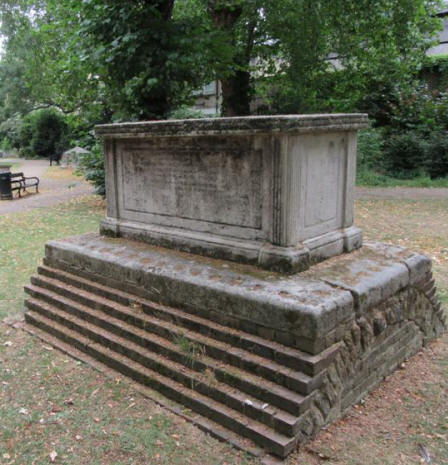 Oliver Cromwell's granddaughter was buried here. He (1599–1658) was the revolutionary that led to the beheading execution of King Charles I in 1649. The park goes on and on and is pretty large.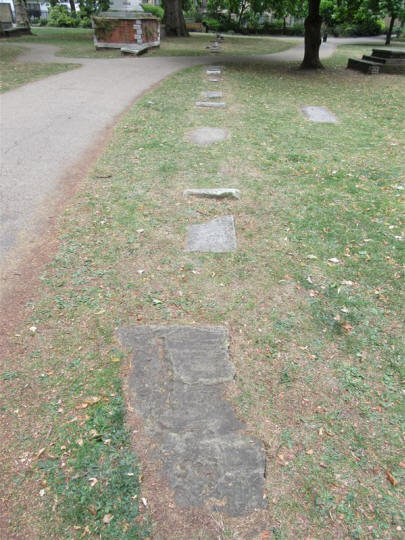 This was a large tomb and you can see that the inscriptions on most of them have been totally eroded over the centuries. Even stone won't hold the memory.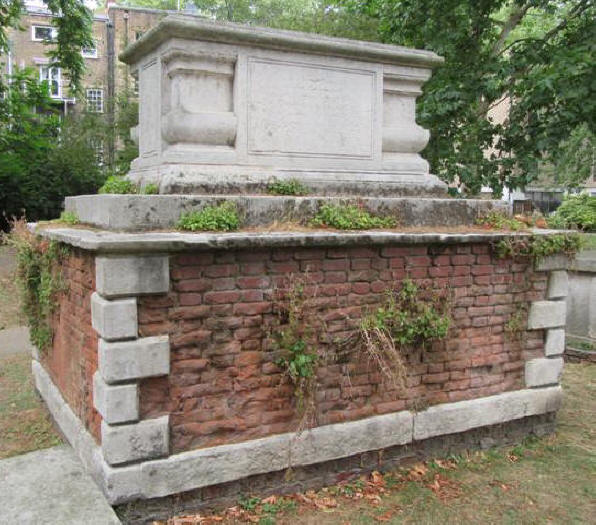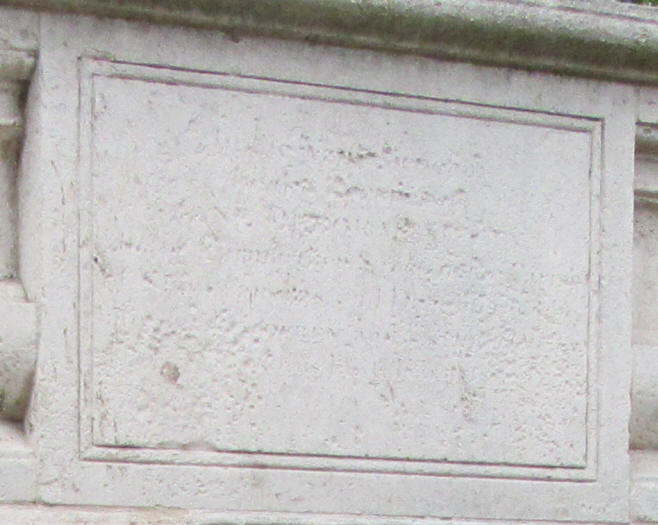 At the other end of the park, I came across these apartment buildings just outside the park. There is also this Grecian statue out front.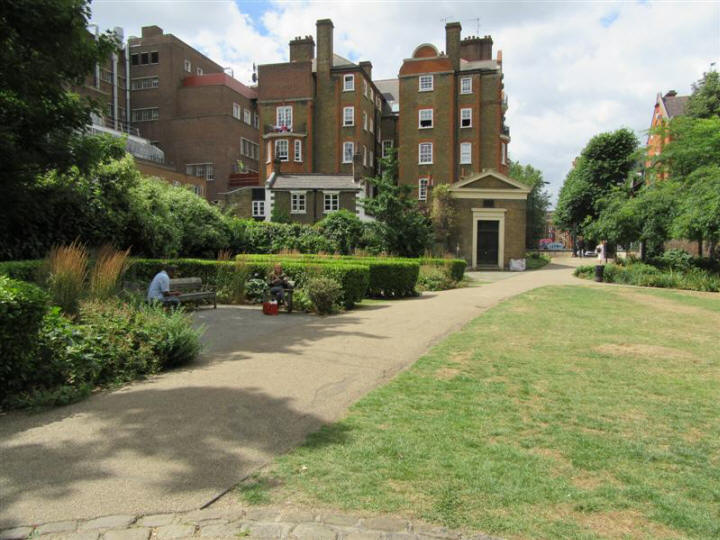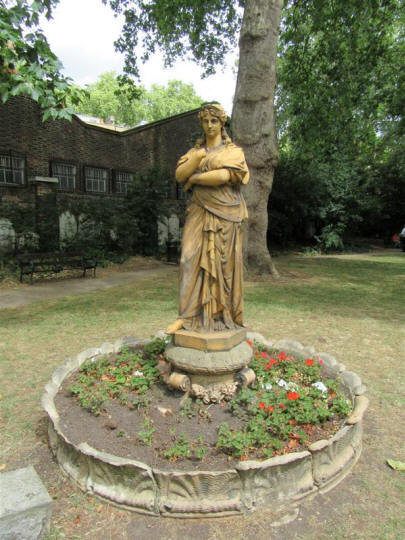 I am not that far from Kings Cross and St. Pancras Rail Stations.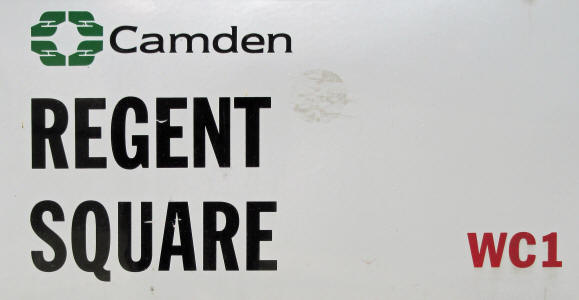 From there I walked to Regent Square Gardens which is half a block away, where Tavistock changes to Regent Square (top right on map below). They also have a sign at the entrance describing the history.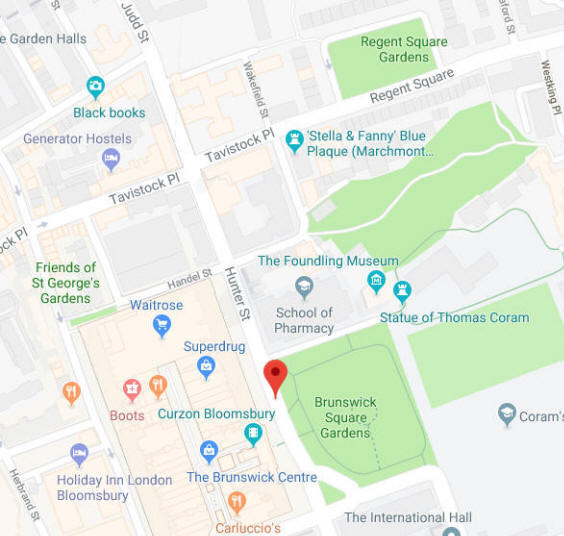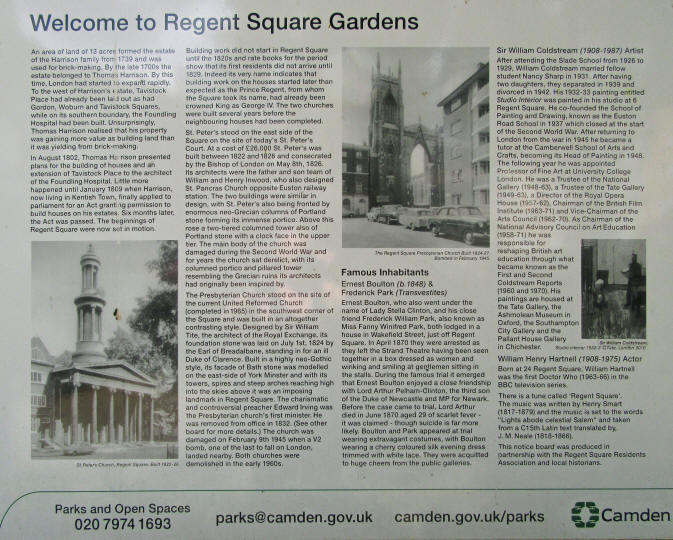 I blew it up so you can read it.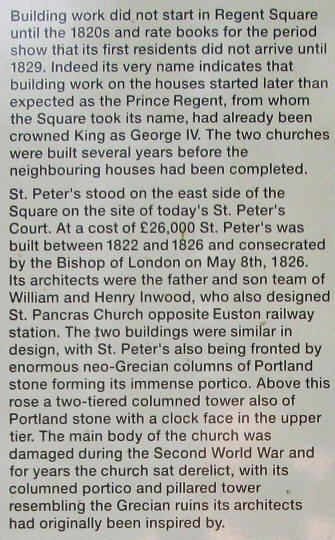 Below is a 1950s photo of the imposing Presbyterian Church which stood on a corner of the square. Below is the listing of the famous inhabitants of the area.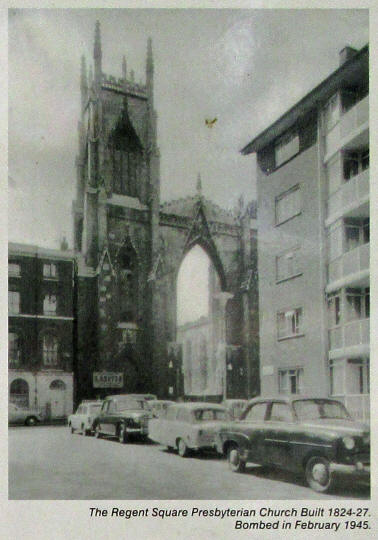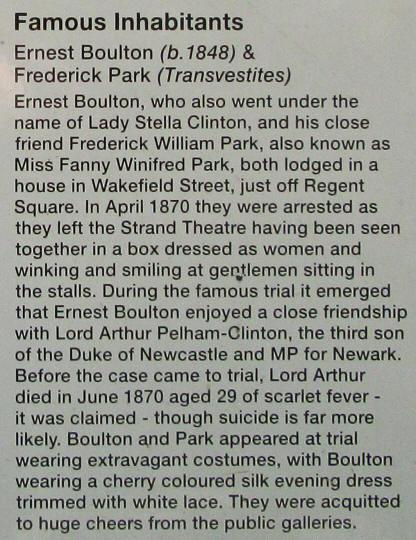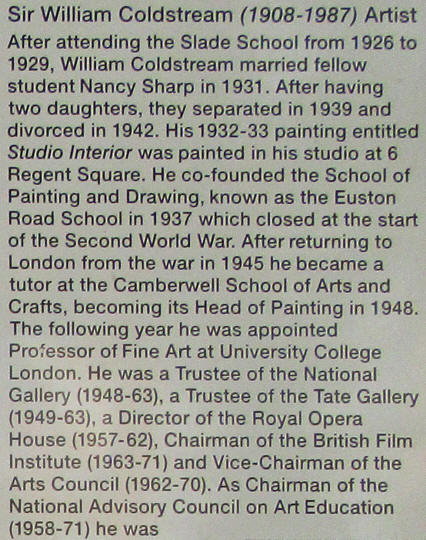 Below is an old photo of St. Peter's Church and continuation of the famous inhabitants.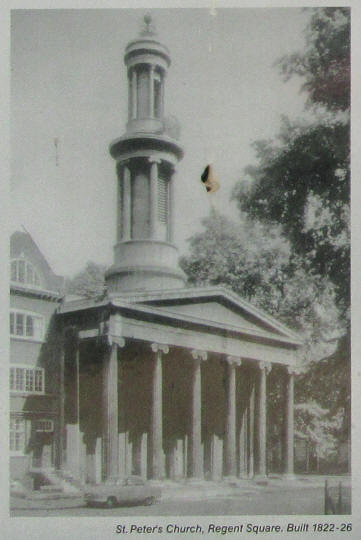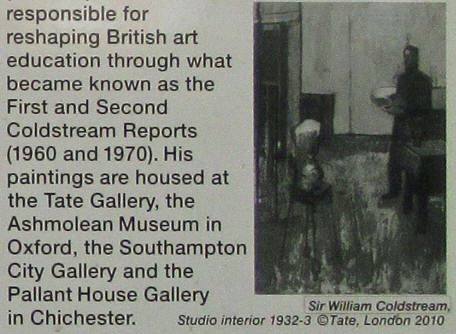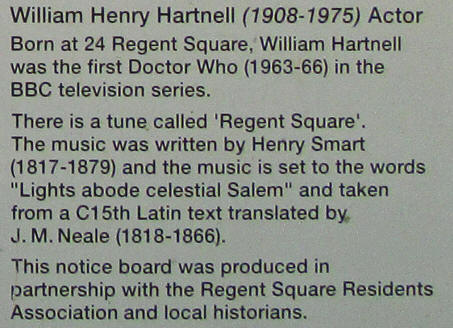 Below is the view looking down to the other end of Regent Square. A nice peaceful place.
Here is a stock photo of it on a less sunny day.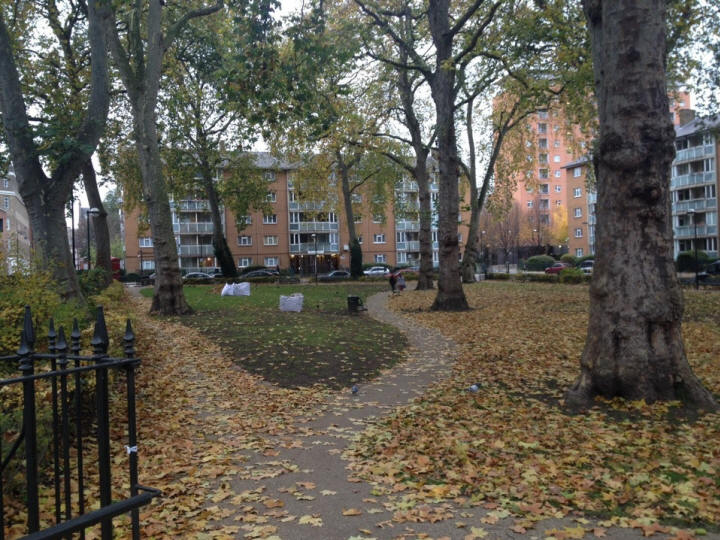 I got to Wakefield Street and then Tavistock again.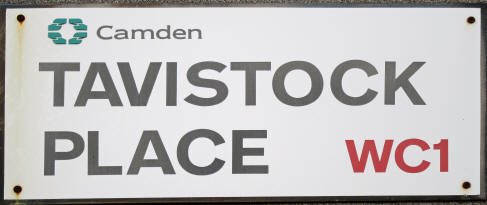 On Tavistock is the United Reformed Church [86 Tavistock Place, Kings Cross,
+44-207-916-2020] which is all clad in brick.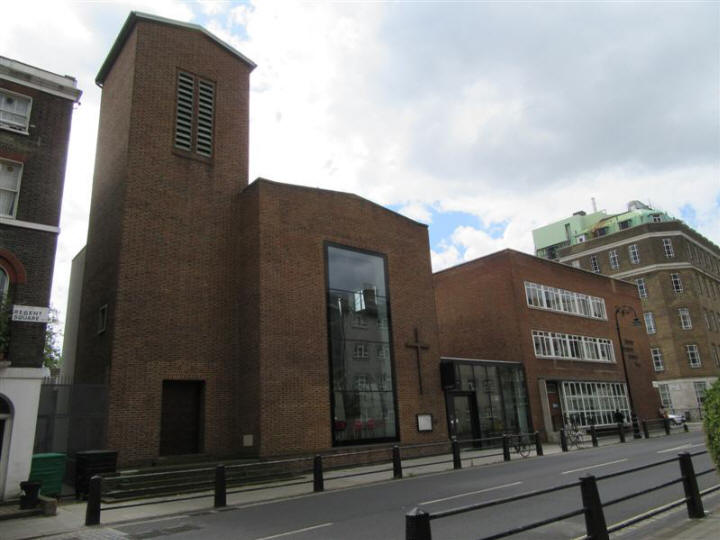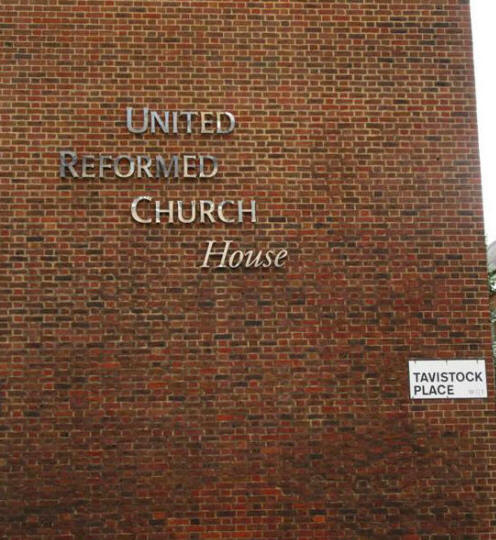 Then, just around the corner from the church (below), I came to the "Judd Street Open Space" [4 Cromer St.].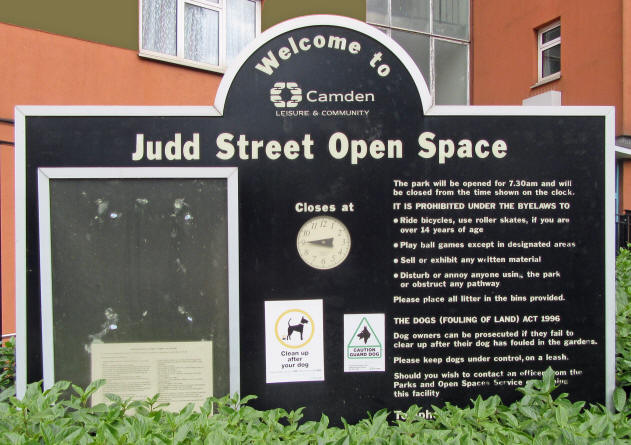 This park is one catering more to children.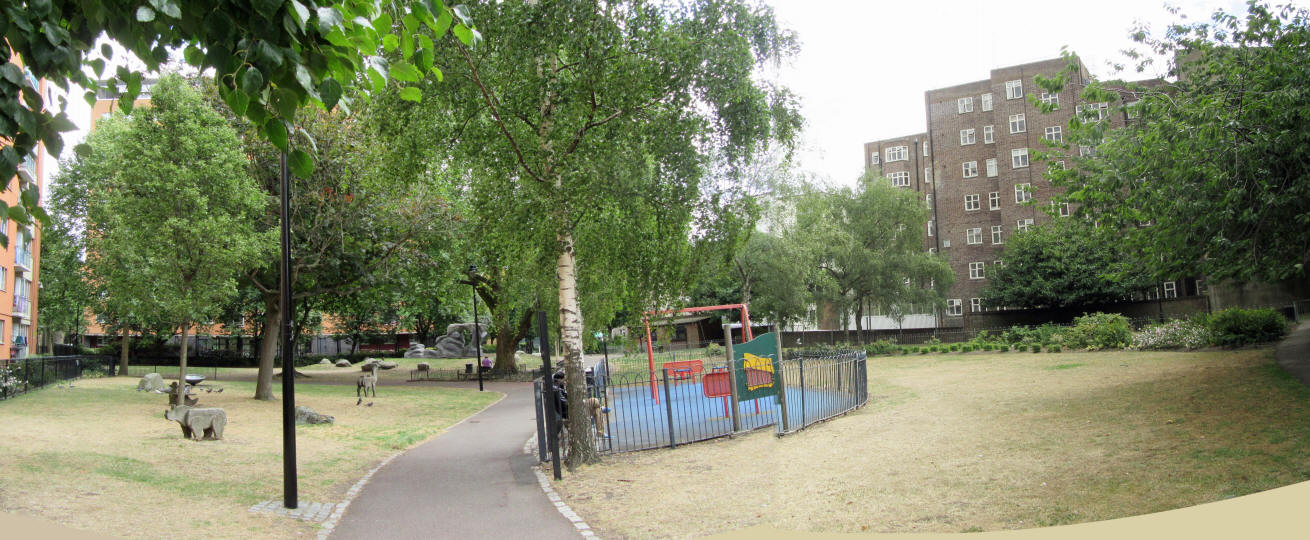 Here is another scene from the Judd Space with this unusual sculpture formation.
It is hard to believe there are so many little parks in such a small area. Then, past this is is a major construction site on Sandwich Street at the corner where there is yet another pub; the Norfolk Arms [28 Leigh Street,
+44-207-388-3937]. This one specializes in serving tapas.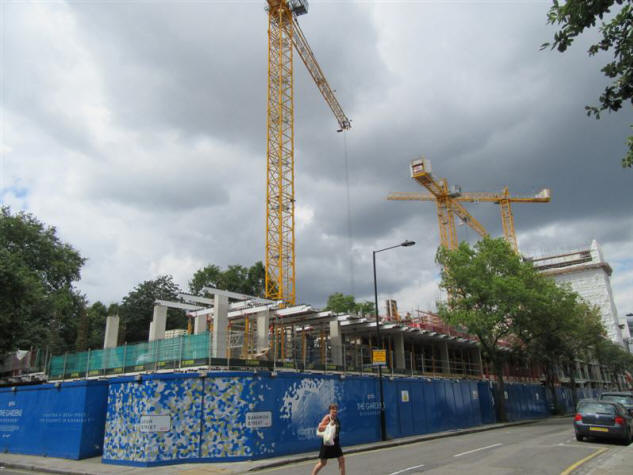 [In 2018, I found what was the result of that construction above left.]
Here are some stock photos of what the Norfolk Arms looks like inside.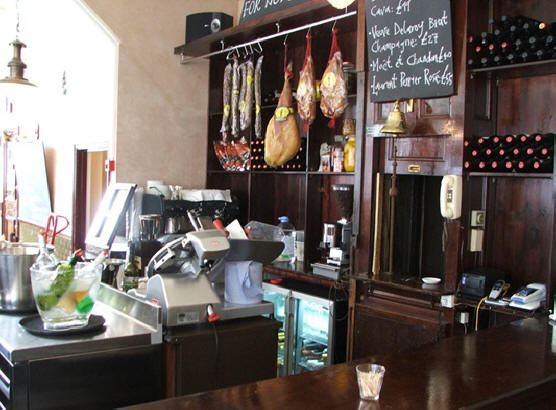 Here is my shot of the pub looking straight at it from the corner (below left). I then came across V & S Stationer [65 Judd Street,
+44-207-368-1288] and I always enjoy browsing in one of these places. At 12:27 PM I bought something for ₤6.24 ($9.60).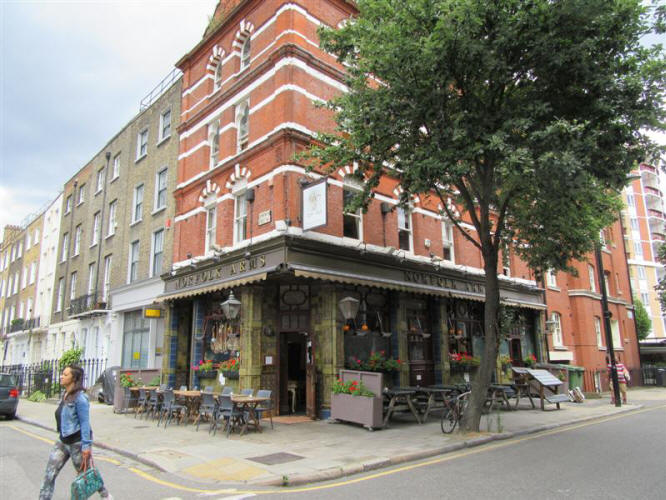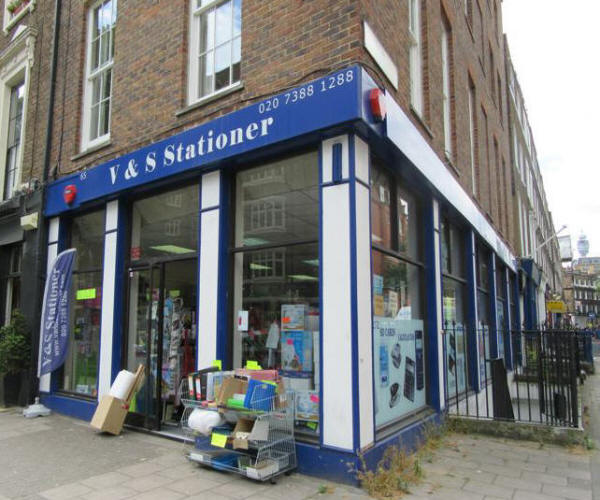 Continuing down Leigh Street, I then went by this little cafe that had an array of take-out sandwiches on display. It's called the Pitted Olive Cafe [3 Leigh St, Kings Cross] an "authentic Turkish Deli" with Turkish coffee and tea. It looked like he could also made cappuccinos.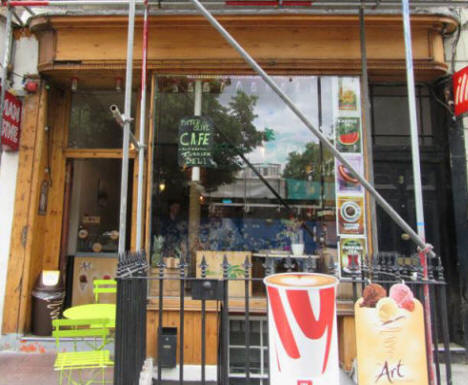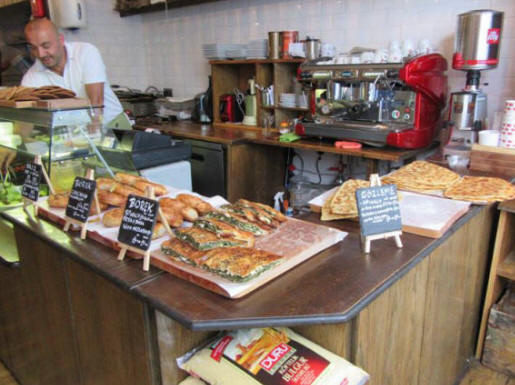 In my wanderings I came across a shop window that seemed to have a complete collection of old books by Emile Zola (1840-1902), the famous French writer.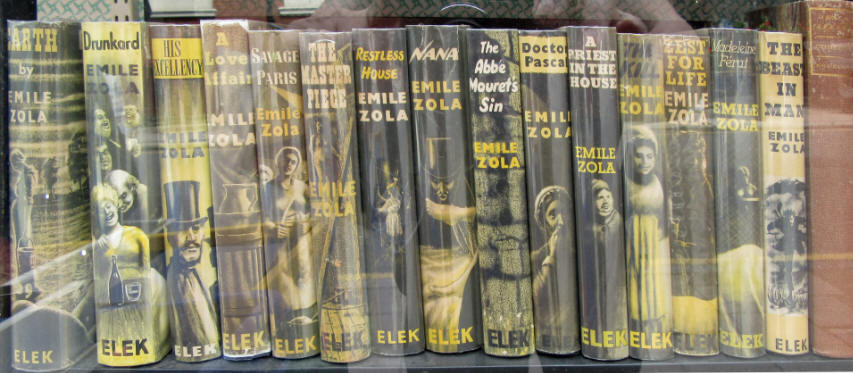 As I kept plugging along, I was now in Cartwright Gardens. Here is their street map sign.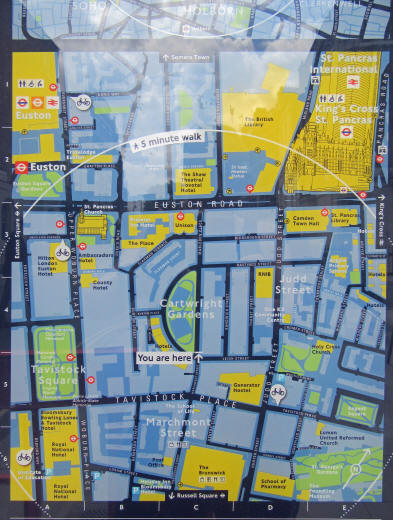 I am now at Marchmont Street and Cartwright Gardens. This area has this huge semicircle building that I initially thought were apartments (stock photos below). The park has four tennis courts which is very unusual (you can easily book by calling this number:
+44-333-241-3485).
The gardens (stock, below left) were originally known as Burton Crescent. It was renamed in 1908 to offset the notoriety created by two brutal unsolved murders here in 1878 and 1883. They renamed it for British Navy Major John Cartwright (1740-1824), known as the 'Father of Reform', who lived and died at No.37 (1820-1824) and is commemorated by a bronze statue by George Clarke erected in 1831 (stock, below right).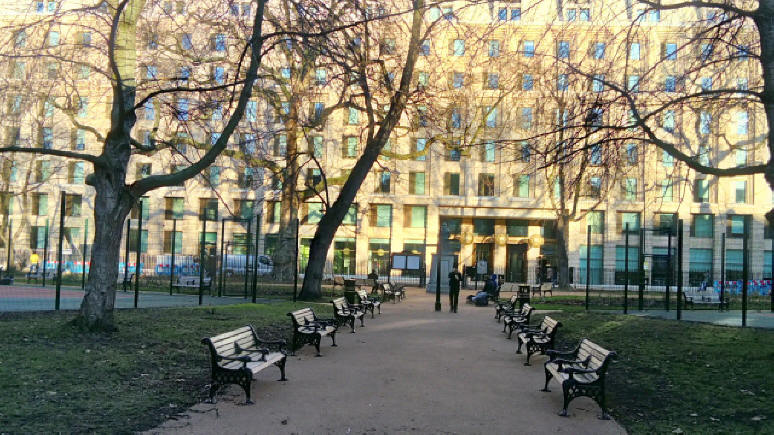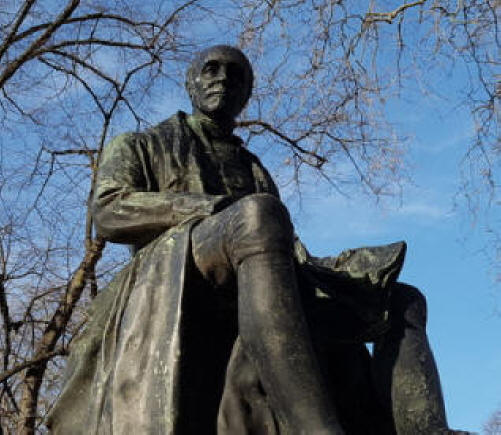 He strongly advocated for annual parliaments, the secret ballot and universal suffrage, all of which ultimately came about. I am highlighting him here because he was the first English writer to maintain the independence of the United States of America. Below are stock photos of his statue, his portrait and the plaque on the statue.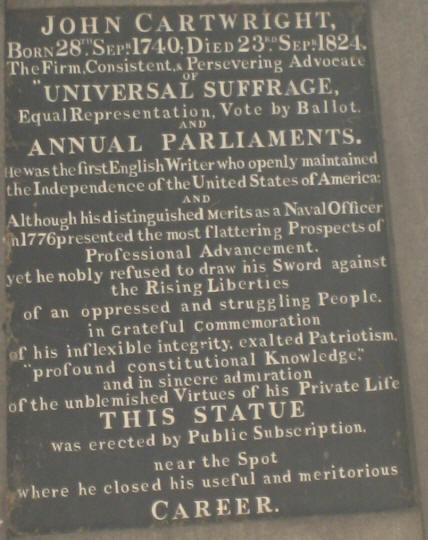 Below left is my photo of the semicircular building and on the right is looking down Tavistock Place from South Crescent Mews. You can see the John Russell Pub (blue building on the right side).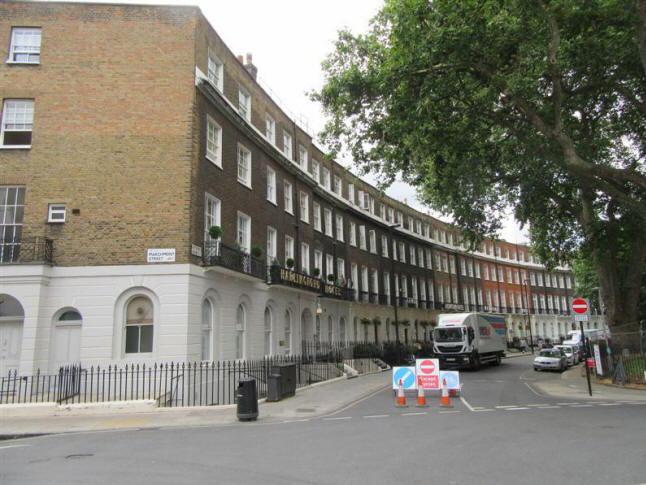 When I blew up the above left photo (below), instead of apartments, that semicircle building was turned into a string of hotels: 1) the Halingford Hotel [No. 61-63,
+44-207-387-1551], 2) the George Hotel [No. 58-60,
+44-207-387-8777], 3) the Avonmore Hotel [No. 57,
+44-207-387-1939], 4) the Mentone Hotel [No. 54-56,
+44-207-387-3927], ...
... 5) the Euro Hotel [No. 53,
+44-207-387-4321], 6) the Crescent Hotel [No. 49-50,
+44-207-387-1515] and 7) the Judd Hotel [No. 46,
+44-207-383-9210]. Wow, seven hotels in one building. They are all about ₤105 per night.

I got a shot of the front of the Lord John Russell Pub [91-93 Marchmont St.,
+44-207-388-0500] which has "original Budvar" beers from the Czech Republic. I drank the Budvar beer in their brewery when touring the Czech Republic in 2011. Stock photo of Lord Russell (right).
Here are four stock photos for a peak inside.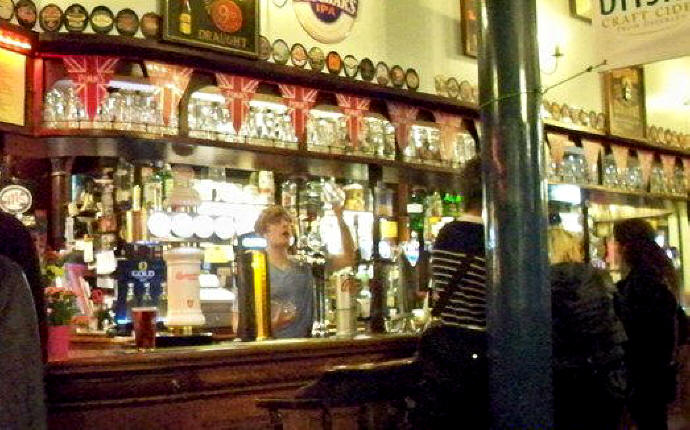 I reached the corner of Marchmont and Tavistock, the corner where the Balfour restaurant (where we had dinner) is located with the convenient Bloomsbury Food & Wine next store (below right).
I continued down Marchmont. This little store (below left) was comical. The Creative Gold Jewellers (that's the way they spell it) [83 Marchmont St.,
+44-207-387-7508] has a caged metal door which is locked and you have to ring the bell (center) for the man to let you in, which I did. The place is full of all kinds of crazy stuff including what he calls "militaria" such as this collection of American police badges and pins (below right). The building was built in 1904.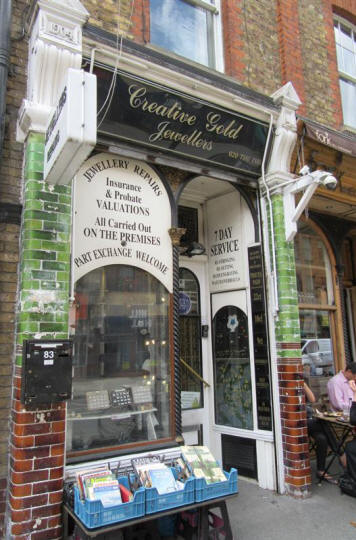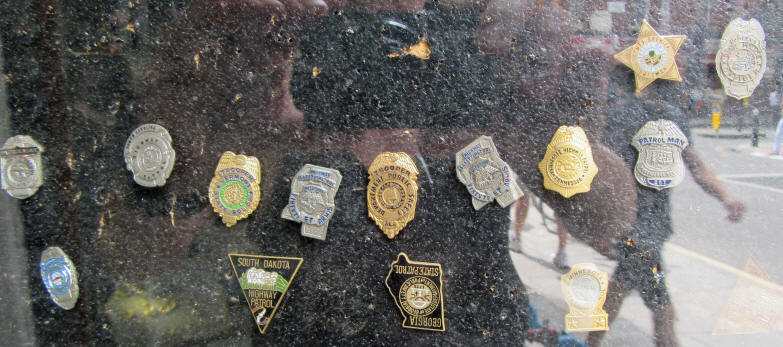 In 1815-16, Percy and Mary Shelley (author of "Frankenstein") lived just a few doors away, prior to visiting Byron in Geneva. Right next door is another eatery, the Fork Deli Patisserie [85 Marchmont St.,
+44-207-387-2860]. Below are stock photos of the Fork. Looks like a nice place to have breakfast or lunch if I ate either.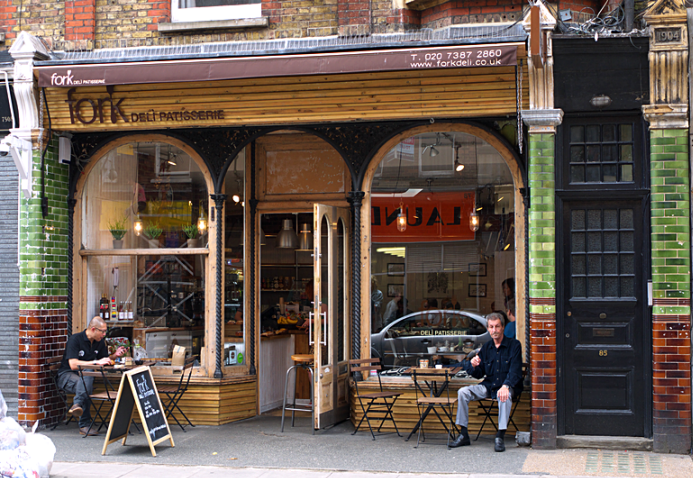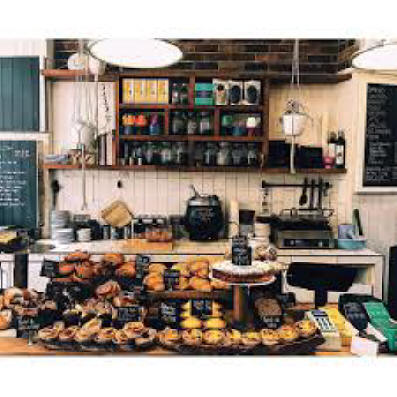 I was back passing the Brunswick Centre again and passed my Bloomsbury Cleaners.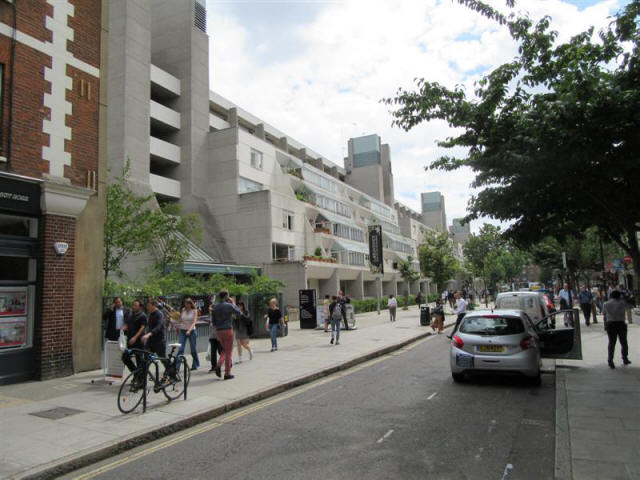 Here is a stock panorama of the stores on Marchmont.
Marchmont is full of ethnic restaurants including the China House [51 Marchmont St.,
+44-207-715-0866]. Below right is a stock photo of the interior.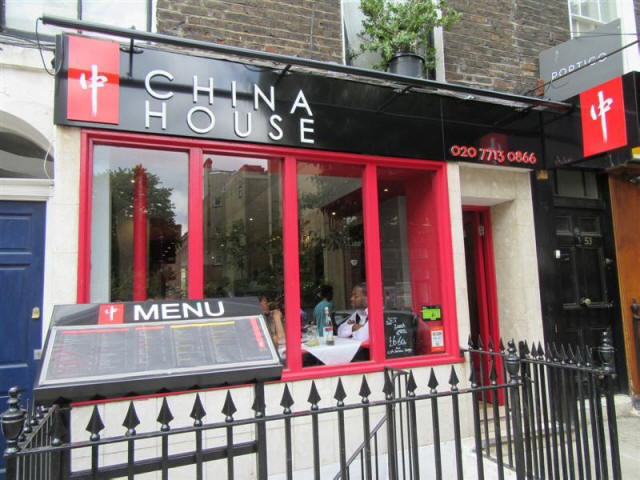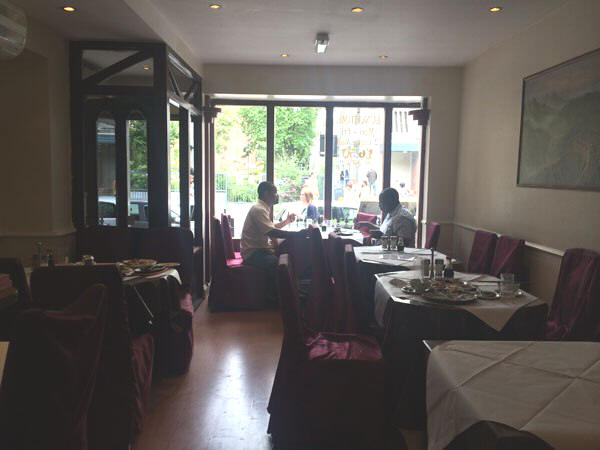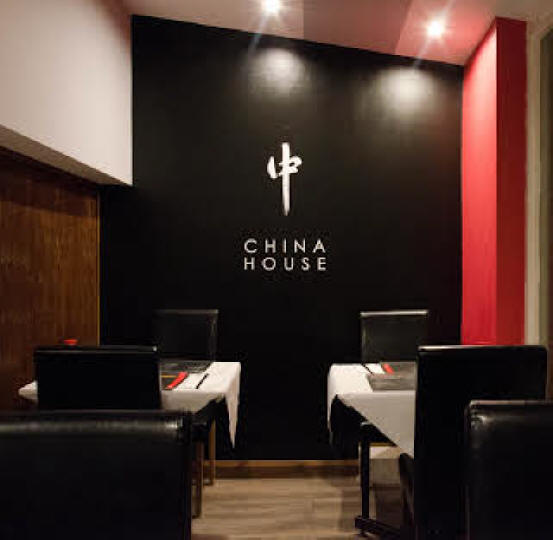 Next door is the Motijheel Tandori Restaurant [53 Marchmont St.,
+44-207-837-1038].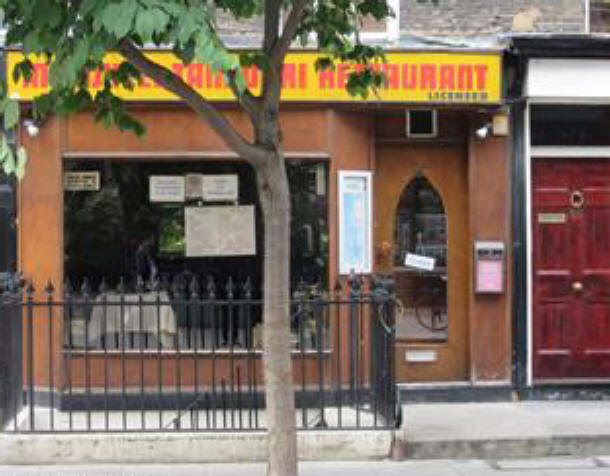 Then there was the Burger & Shake [47 Marchmont,
+44-207-837-7718] offering pulled pork sandwiches to go. I am not sure if this is a branch of the same outfit in the U.S.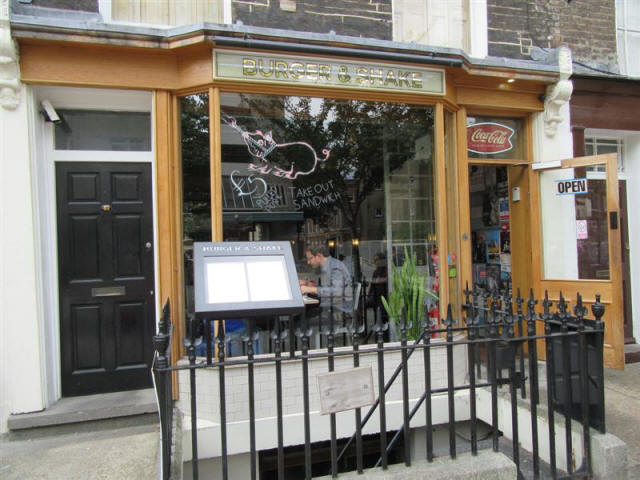 Finally there was the 49 Cafe [49 Marchmont,
+44-203-538-3474], a breakfast place. Stock photo of the interior when busy.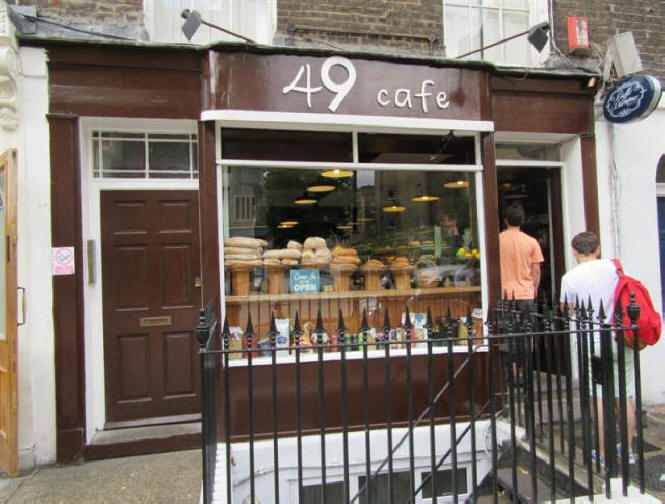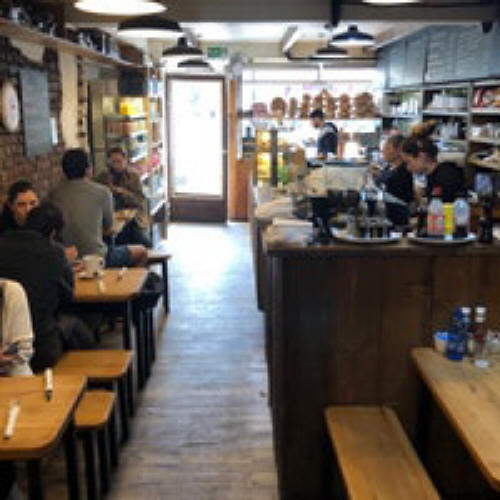 Then I got to my hotel corner and peaked into the Marquis of Cornwallis Pub again (below left). I also got a photo of the famous Marquis sign which hangs outside the pub. Inside they had this interesting "family tree" of different styles of beers.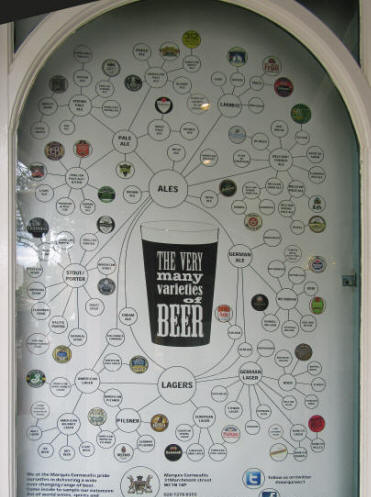 At 12:37 PM, Marcia bought some things at the Boots pharmacy for ₤5.89 ($9.06) and then got her hair done at 1:30 PM at Gino Hairdressing Salon right on our street [45 Marchmont Street,
+44-207-278-1511] which cost her ₤35.00 ($53.85).

They also do men next door [43 Marchmont,
+44-207-+44-207-813-3056] (below right).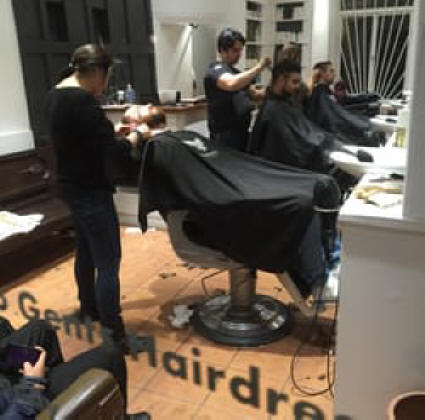 Then, I got back to the Holiday Inn hotel so I could change for dinner in a jacket and tie.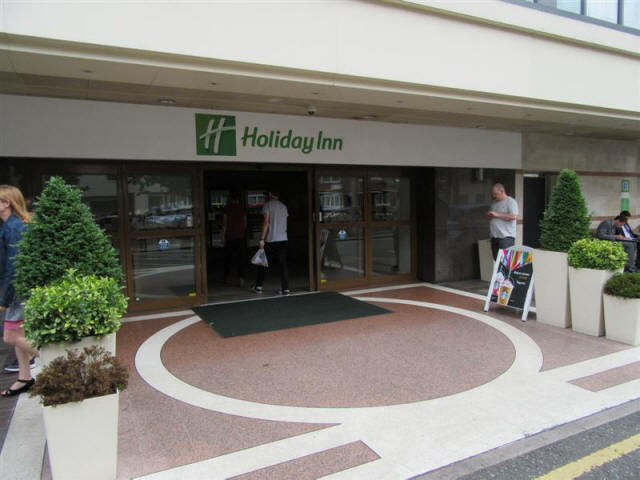 I needed to get my jacket and some things out of the car and check to see that it was OK. Below is the ramp (left looking down; right looking up) you have to walk down to get to the garage near that large white tower outside. You can't get there from inside the hotel.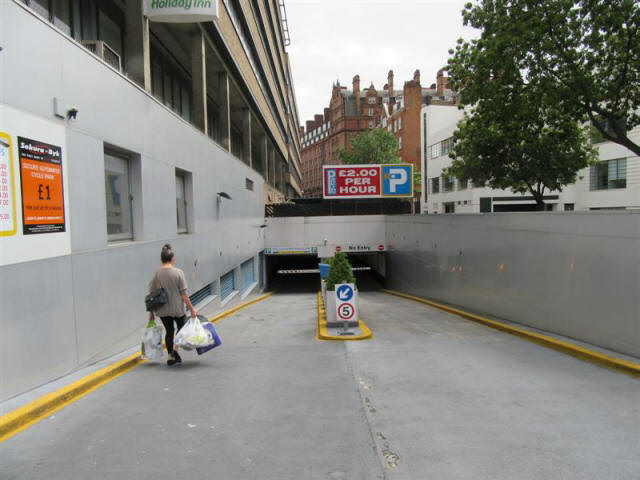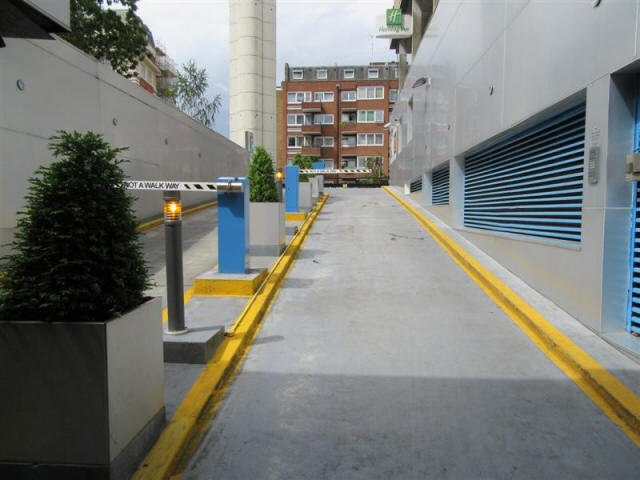 The garage is quite large, so it is helpful if you remember where your car is. It is run by RCP Parking Ltd and they charge ₤17 ($26.15) per day. Yeouch!
It was now 2:35 PM and I needed a cappuccino. I went to the Costa Coffee [55 Marchmont Street] right on my street (below) next to the Indian place and found a seat.

Above is a long shot of Marchmont Street.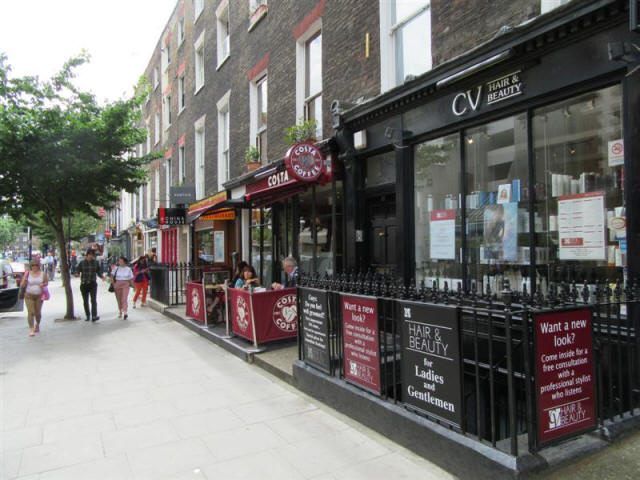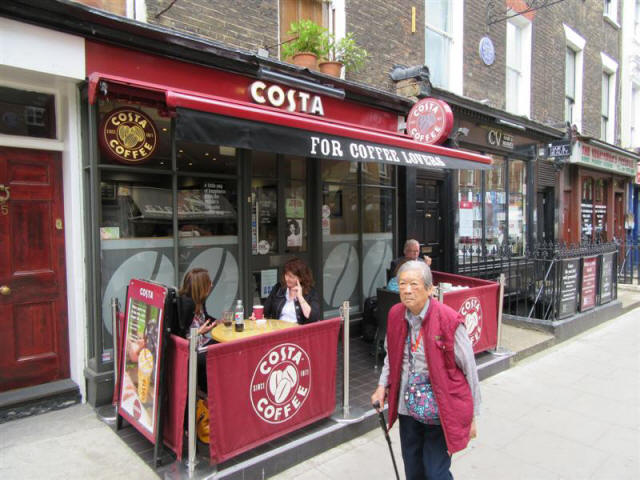 This one is a long, skinny place with a small order/pick up counter. The toilets are downstairs and there is another floor upstairs (right). My cappuccino cost me ₤2.65 ($4.08).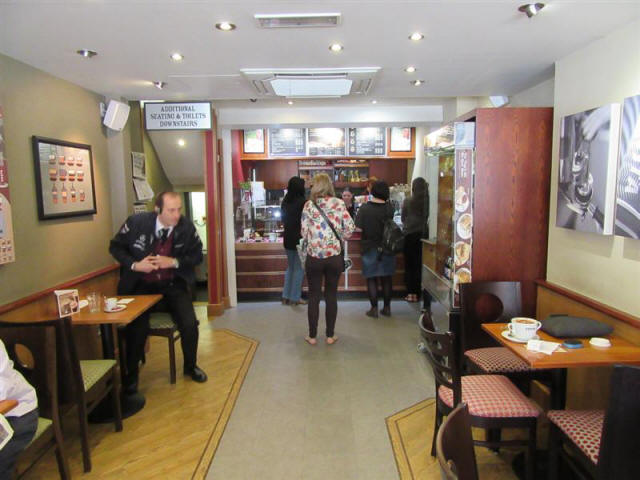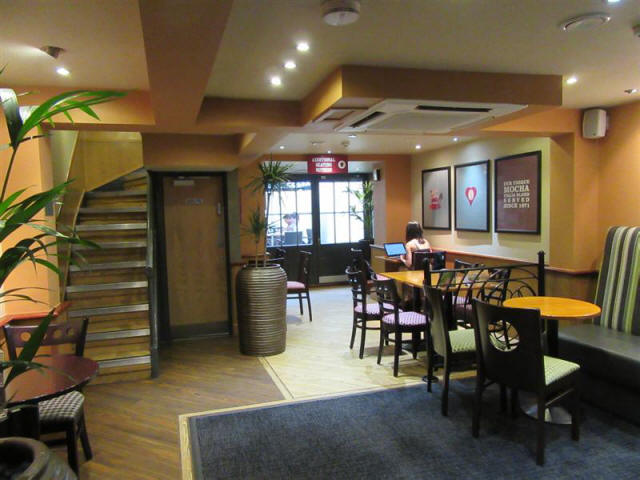 They have a lot of pre-packed sandwiches available which look pretty good.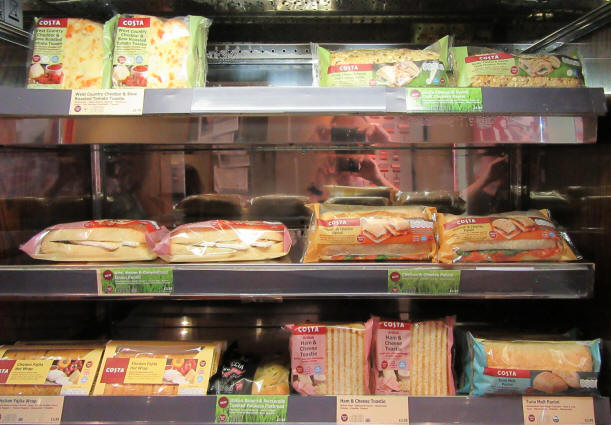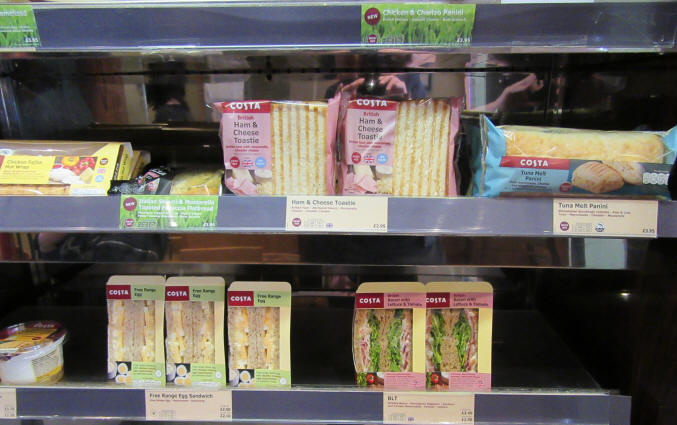 I enjoyed my cappuccino and got a lot of work done but by 6:00 PM I had to get back to the room and change for dinner.
Usually I do not do a lot of pre-trip planning but for this trip I did. I knew the hotel I had booked very early on and knew where we would have to go for dinner so I had mapped it out on Google Maps and thought I might be able to convince Marcia that we could walk there. So now, that is what I had to do. She was a little doubtful but she went along and we headed out at 6:35 PM and started our walk to the IIIC Dinner. As we got to the University College London, I got this shot of the Bloomsbury Byng Place map street sign (below).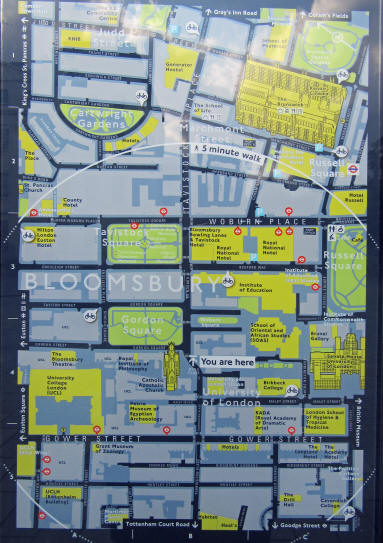 We first entered into Gordon Square and came across this impressive church which is called Christ the King. It was erected in 1853 in Gothic style. It was also known as the Catholic Apostolic Church which was a movement of Protestant Irvingism and has nothing to do with the Roman Catholic Church. Below are my two photos of it.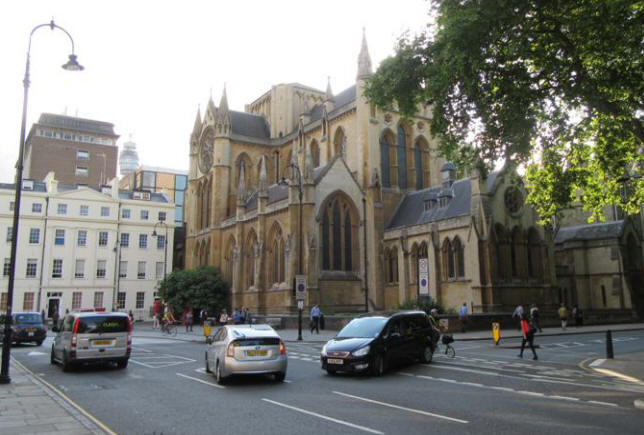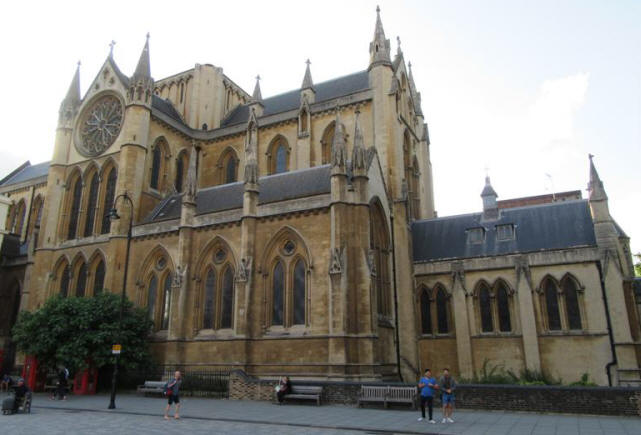 Here are some stock photos of it showing the exterior and the interior. It is built of Bath stone with a tiled roof and you can see the truncated top where the steeple was never added. The Catholic Apostolic Church, as with most Protestantism, broke up into many sects and divisions until it ultimately withered out and went silent.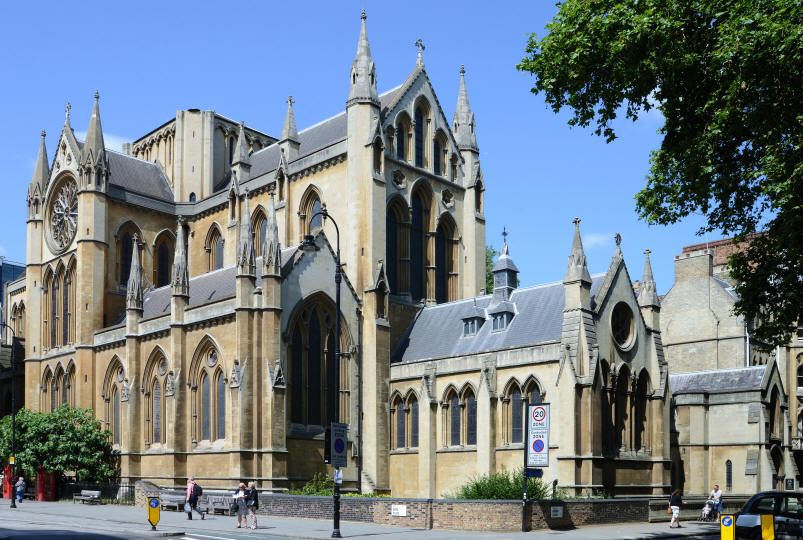 I can't help it but I thought this was an interesting photo (below right).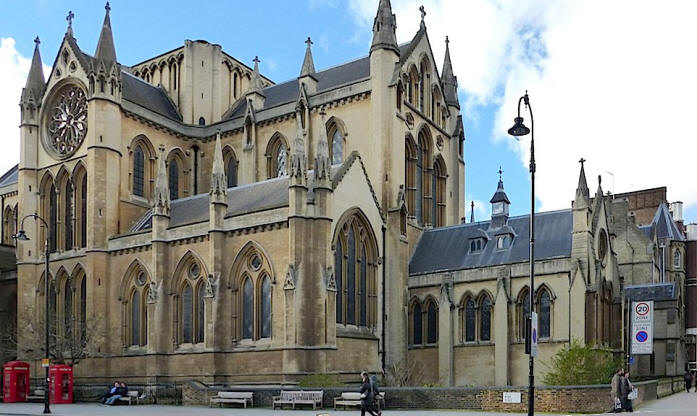 We got to the Borough of Holborn and went by the Marlborough Arms [36 Huntley Street at Torrington Place,
+44-207-636-0120] (below), a very pretty pub. It is yet another Greene King pub.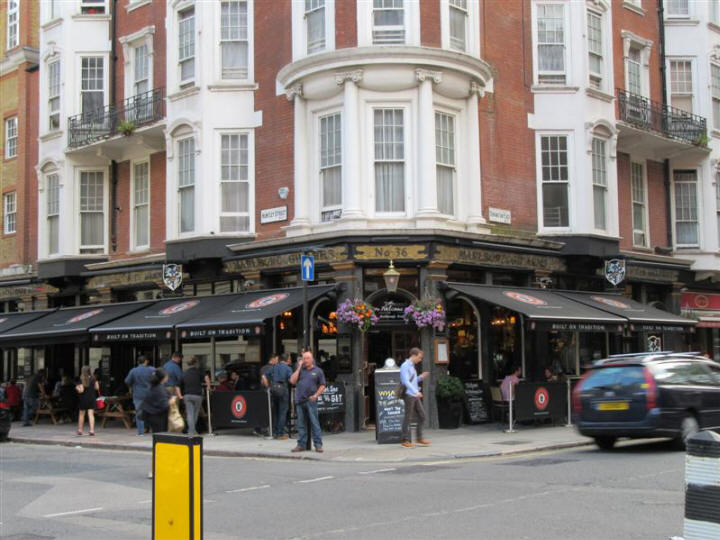 Here are some stock photos of it showing a wider view of the building and the bar.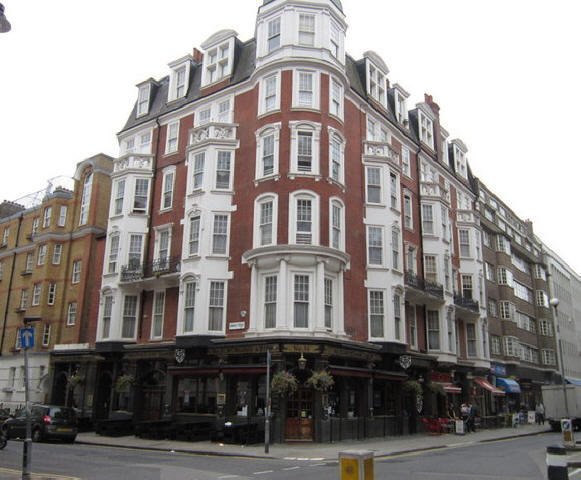 The room is quite nice and you can even sit and work on your computer.
Here are more views of the inside.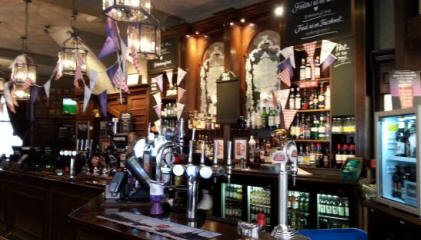 Then we arrived at the the Fitzroy Tavern (see above, giving Fitzrovia its name) [16 Charlotte Street, Fitzrovia,
+44-207-580-3714] (below left). From here I got a much better shot of the iconic BT Tower.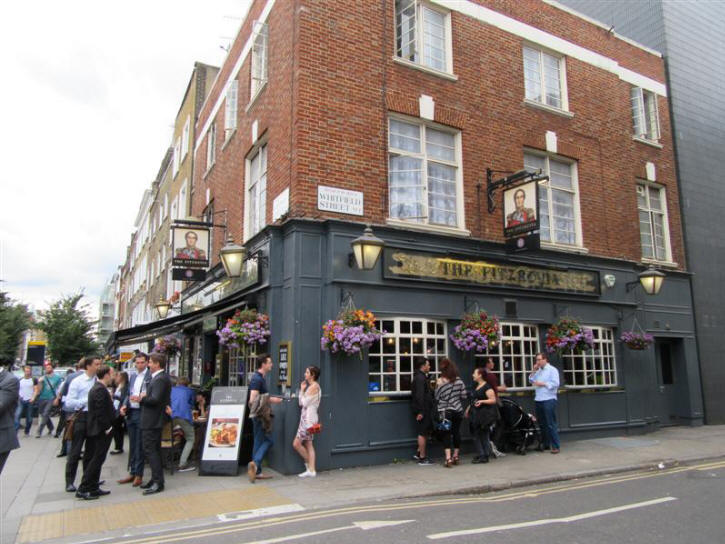 The pub became famous from the 1920s to the mid-1950s as a meeting place for many of London's artists, intellectuals and bohemians such as Jacob Epstein, Nina Hamnett, George Orwell, Augustus John, and Dylan Thomas. The link above has the complete history of the pub. Below is a stock photo of the pub and some of its signage (center, left).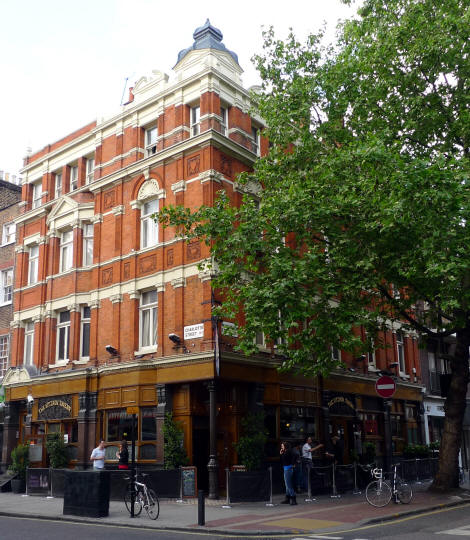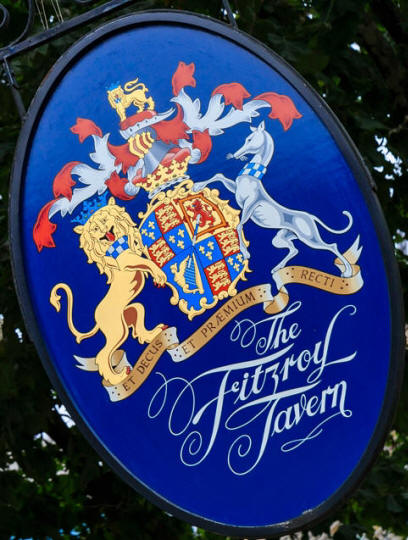 It is probably named after the Fitzroy family, Dukes of Grafton, who owned much of the land on which Fitzrovia was built. The building was originally constructed as the "Fitzroy Coffee House" in 1883, and converted to a pub called "The Hundred Marks" in 1887. In March 1919, Judah Kleinfeld rebranded it the "Fitzroy Tavern". It has kept its classic Victorian style and has been a regular gathering place for fans of the famous BBC TV show "Doctor Who" since 1984 and they meet here on the first Thursday evening of each month.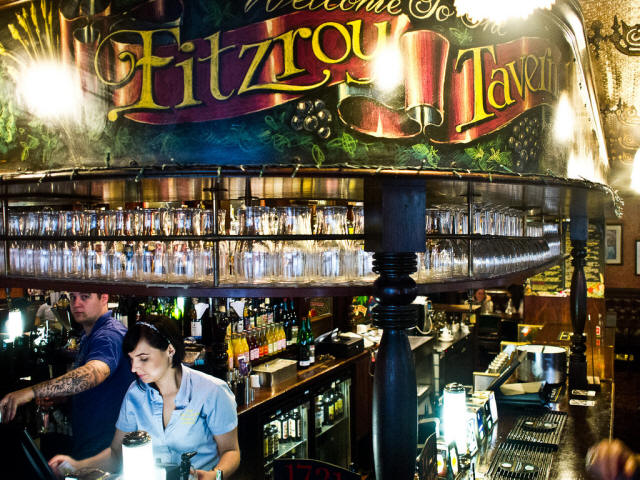 They have some comfortable seating areas.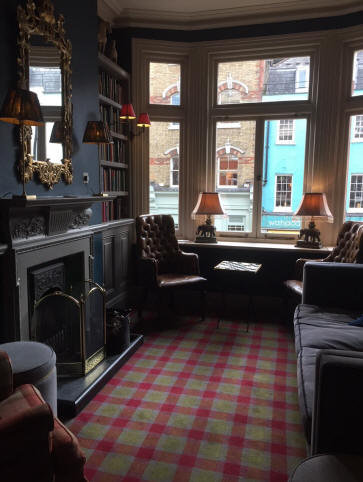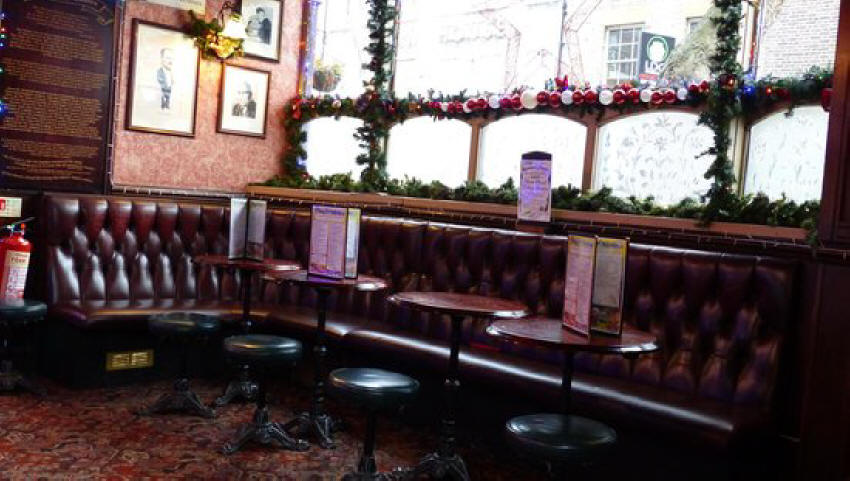 We got to Mortimer Street and saw The George Pub [55 Great Portland Street,
+44-207-636-0863] which is a Victorian pub dating back to 1677 (originally just up the street). They moved here with a major remodel in1878. Many writers frequented the pub including the famous Welsh poet, Dylan Thomas (right) (1914-53) (he gets around) known for his "Do not go gentle into that good night".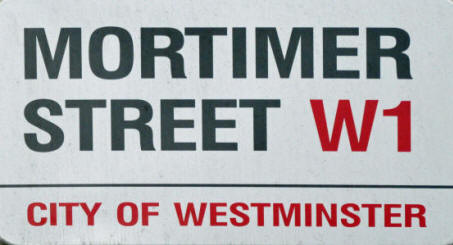 I found stock photos of it; below is a larger full view and a shot of their sign outside.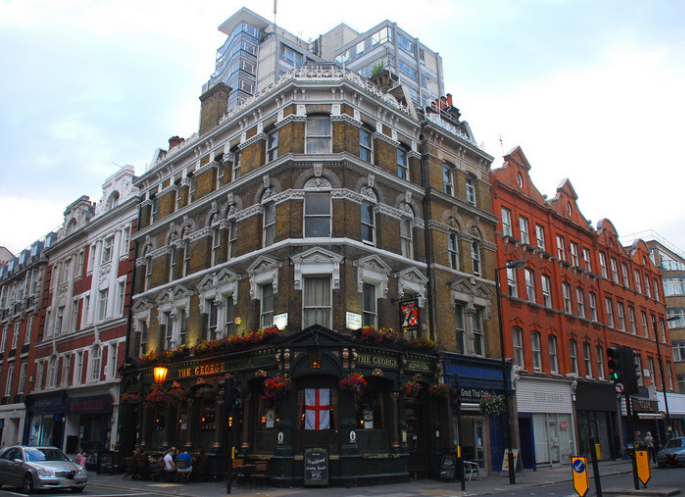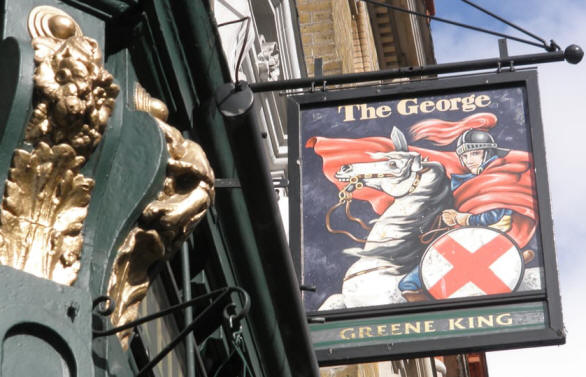 Since we didn't go inside, here are stock photos of the bar from both ends and the interior.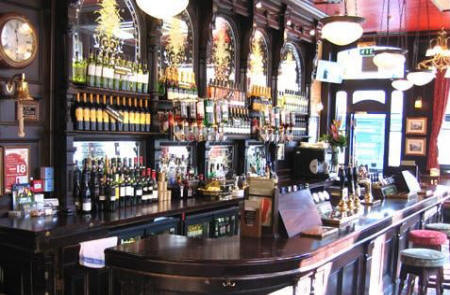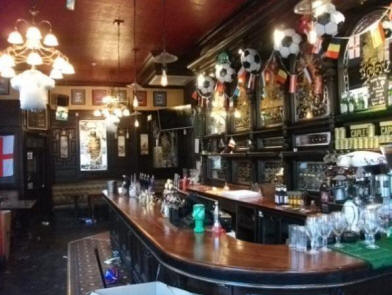 [Sadly, the George closed on July 2, 2016 and will be redone as another place serving alcohol and food.]
As you can see I have a fascination with English & Irish pubs, having owned one in Carmel from 1993-99. We then came upon an interesting building. It is called the All Souls Church [2 All Souls' Place, Marylebone,
+44-207-580-3522] and is an evangelical Anglican church consecrated in 1824 and situated in Langham Place in Marylebone, at the north end of Regent Street and Portland Place.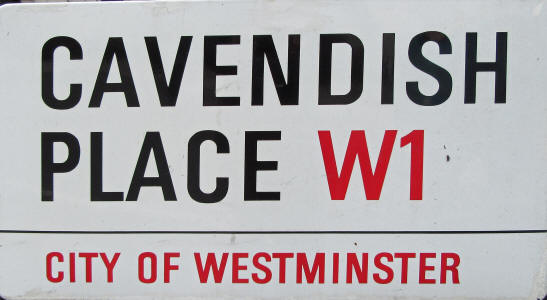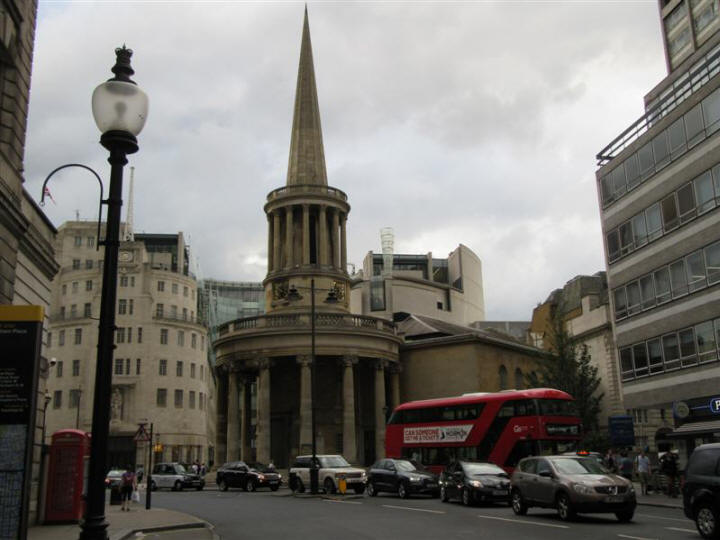 As it is very near the BBC Broadcasting House (white building on its left), the BBC often broadcasts from the church. When we walked by, we were a block away, so I found some much nicer stock photos of it showing the backside (center) which is much larger than it appears from the view we had.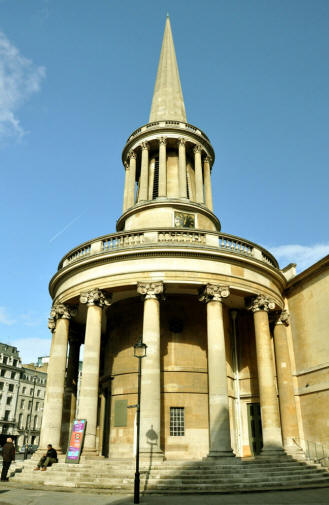 It was designed in regency style by John Nash (1752-1835) in 1823 with a grant of £12,819 (equivalent to £1,000,000 in 2015) and was heavily damaged during the Blitz in 1940. It was restored for worship in 1951 and then totally refurbished in the 1970s.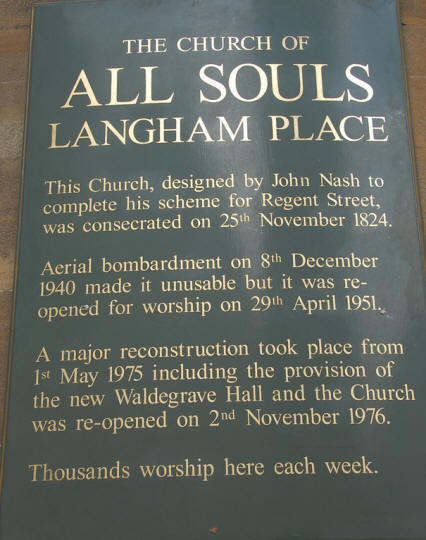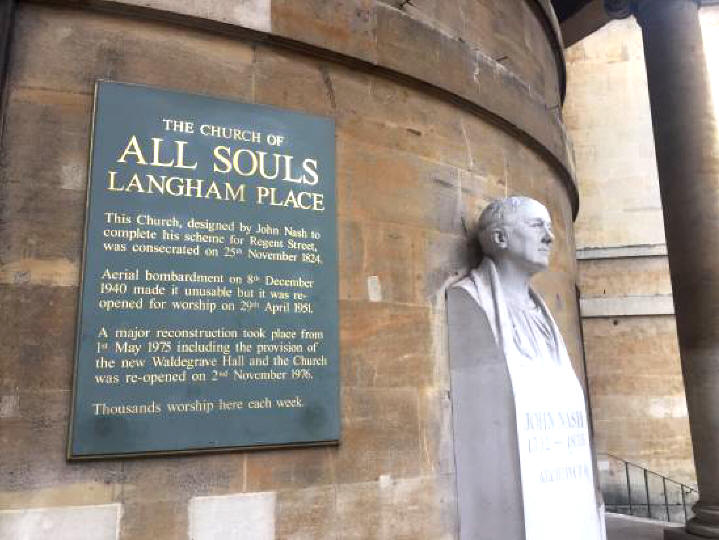 If you would like a diversion, click on Nash's name above and look at his history - he designed so many buildings and parks in London and throughout England and Wales. I will highlight a few here with stock photos. Here are some images of him I found (below left, center). He was the favorite architect of King George IV (1762–1830) (below right).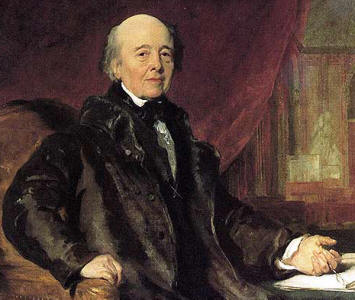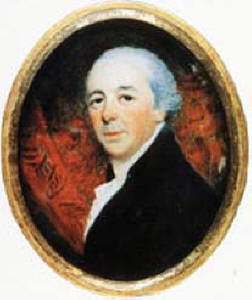 First, let's start with redesigning Trafalgar Square (below) with the equestrian statue of King George IV just to left of the green trees.
Another of Trafalgar (left), the Royal Theater Haymarket (center) and the Royal Mews (stables) (right) all done by him.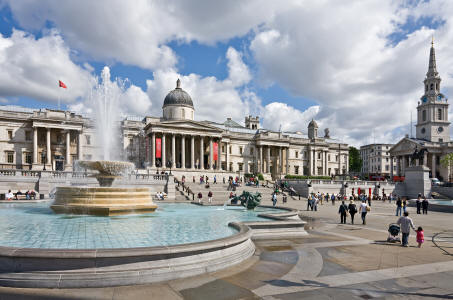 Next, a redesign of Regent Square (left), design of Regent Park (410 acres (166 hectares)) (center) and Marble Arch (right) which was later entirely moved from near Buckingham Palace by Queen Vitoria.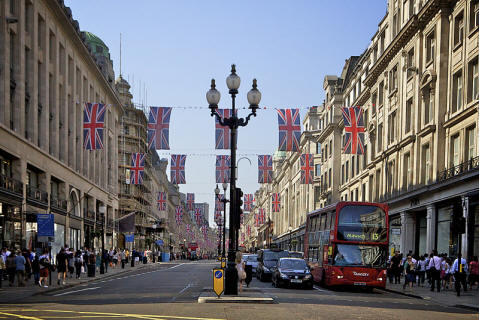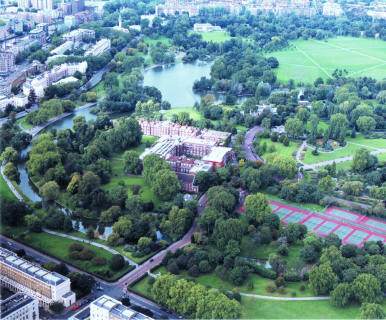 Then there is Park Crescent (from both ends, left & center) and Park Square East.
And a small thing like designing Piccadilly Circus (below).

Maybe this is his masterpiece: The Royal Pavilion in Brighton. We toured it in 1999.

Isn't that pretty spectacular? It is in Indo-Saracenic style common in India. Read the story about how it came about in 1787. It all started with a young future king (George IV) with a desire for privacy in his wild days. Here are more of Nash's constructions. A mere thing like the east wing of Buckingham Palace (left), the Clarence House (center) where Prince Charles lives and Cumberland Terrace (right).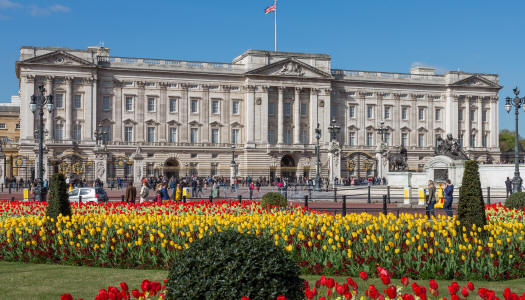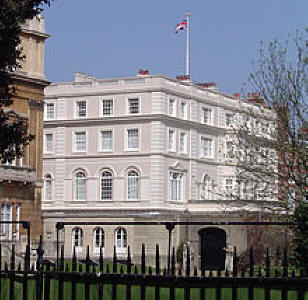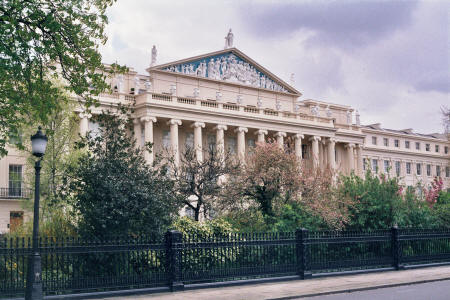 Lastly, he liked building castles, including one for himself on the Isle of Wight. Here is the Shanbally Castle in Ireland that was later demolished. A prolific architect, he changed the face of London and of Great Britain.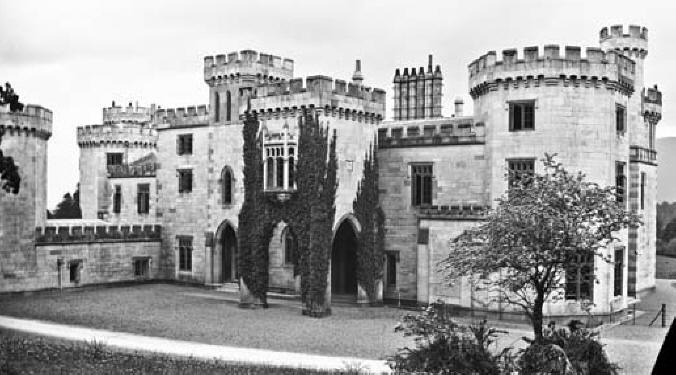 Now back to All Soul's Church that he did. Here are stock photos of the beautiful interior; facing front (below left) and the organ, facing rear (below right).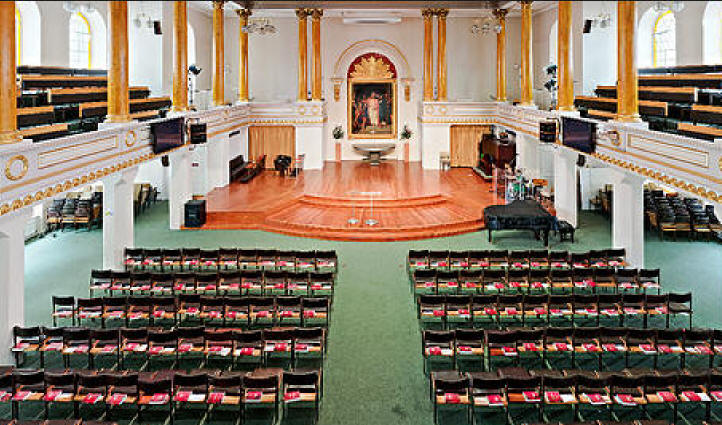 Finally, at last, we get to Chandos Street, seeing the church down the street.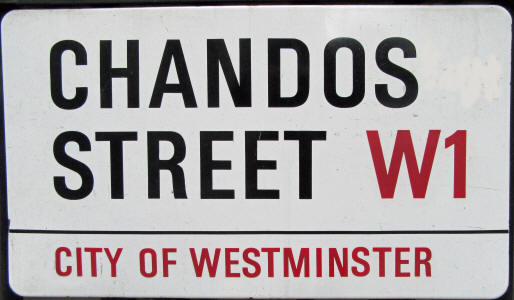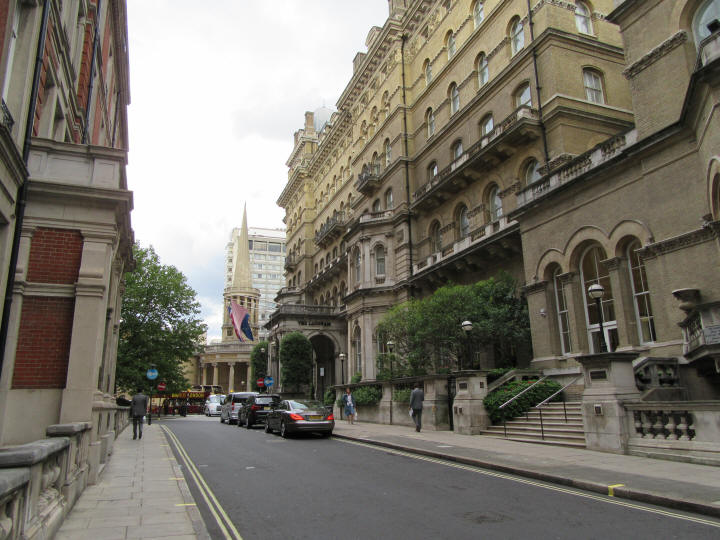 We walked by the building of the Medical Society of London [Lettsom House, 11 Chandos Street,
+44-207-580-1043] (PhotoStitch, below). It was founded in 1773 by the Quaker physician, Dr. John Coaksley Lettsom.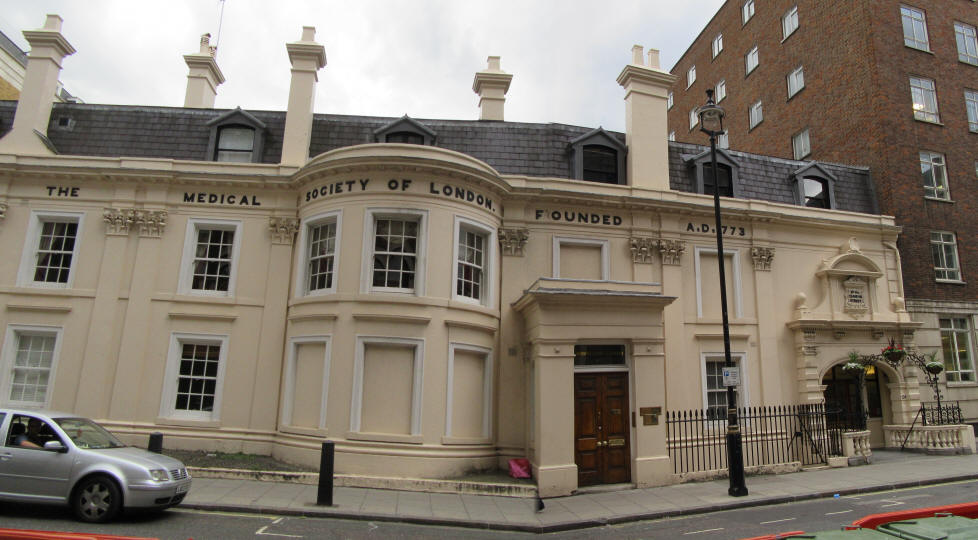 It is the oldest surviving medical society (being an organization of voluntary association, rather than one by regulation or training) in the United Kingdom. Here is a stock photo of the front inscription.

After Lettsom (left), James Sims (right) was
president (from 1786-1808) and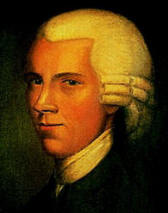 during his long term of office some members of the society, led by Sir William Saunders, became so offended by his autocratic style that, that in 1805, they formed a new medical society, the Medical and Chirurgical Society of London, which later evolved to the Royal Society of Medicine, the more important one they have today in the UK.
Below left is the Society's coat of arms. Though listed as No. 11, the building is labeled No. 10A. Inside they have lists of recent Society Presidents and some paintings of their early gatherings.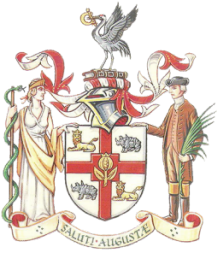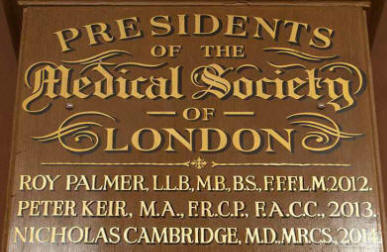 This is their very nice Conference Room which can hold up to 80 people.
It can accommodate theater seating (below left) or a dinner party (below right). All available for renting.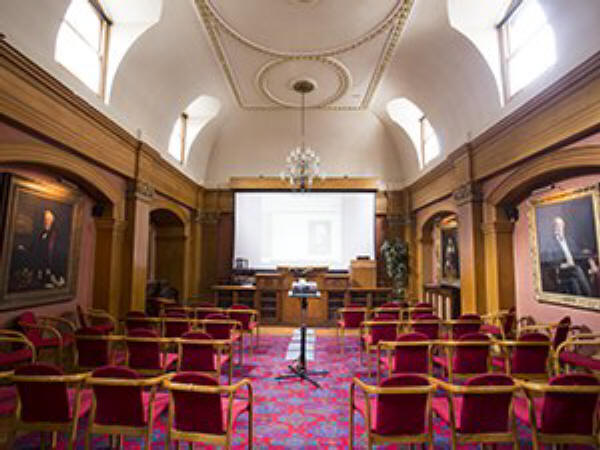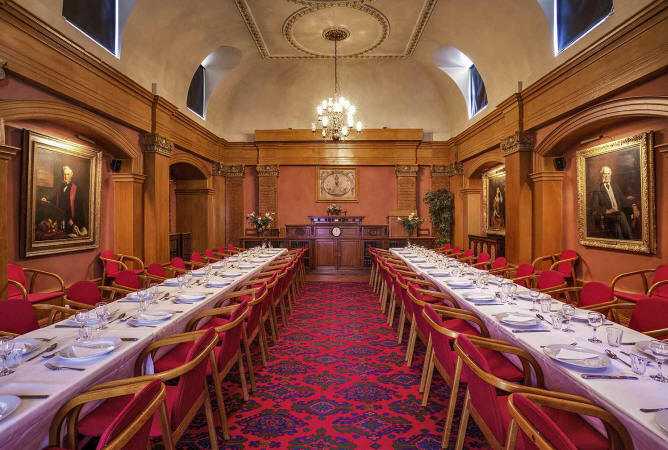 The Library (below left) can seat up to 14 for dinner. Below right is my blow-up of the front entrance.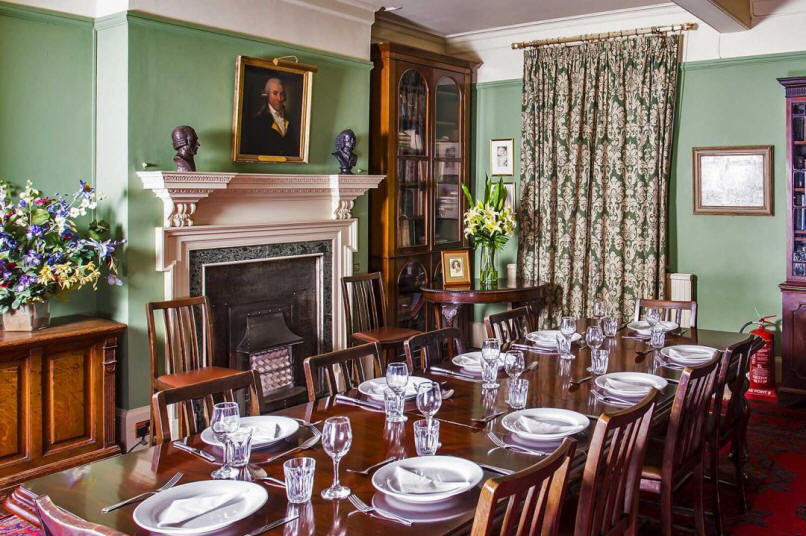 The map below shows the almost two mile trek I got Marcia to walk which took about a half an hour going from the hotel to Christ the King church, Marlborough Arms, Fitzroy Tavern, The George and All Souls church. She barely realized it was that long.
Here is an aerial stock photo of this area we walked in Fitzrovia from the BT Tower.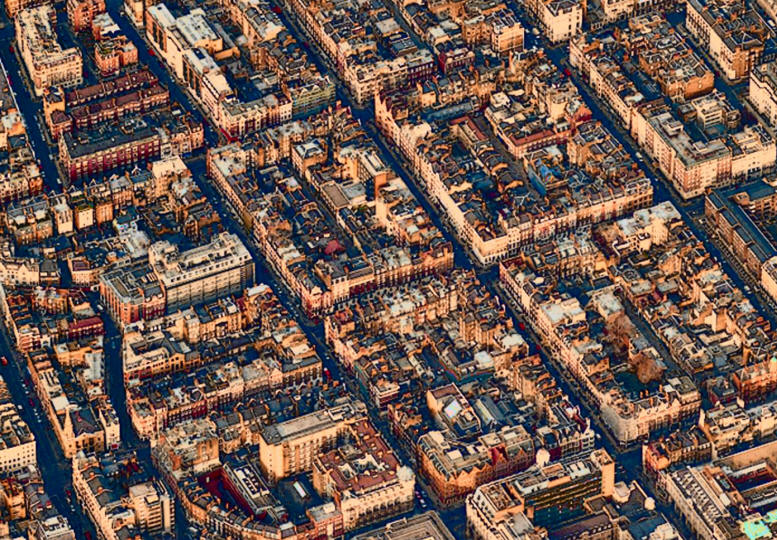 We arrived at the Chandos House [2 Queen Anne Street,
+44-207-290-3820] which was started in 1769 and finished in 1771. It was designed by Robert Adam (1728-92) (below center), the most prominent architect in Georgian Britain, with a façade of Craigleith stone from the island off Scotland. He was originally Scottish and the first to hold the post of Architect of the King's Works from 1761-69. He was a leader of the first phase of the classical revival in England and Scotland from around 1760 until his death. He influenced the development of Western architecture, both in Europe and in North America.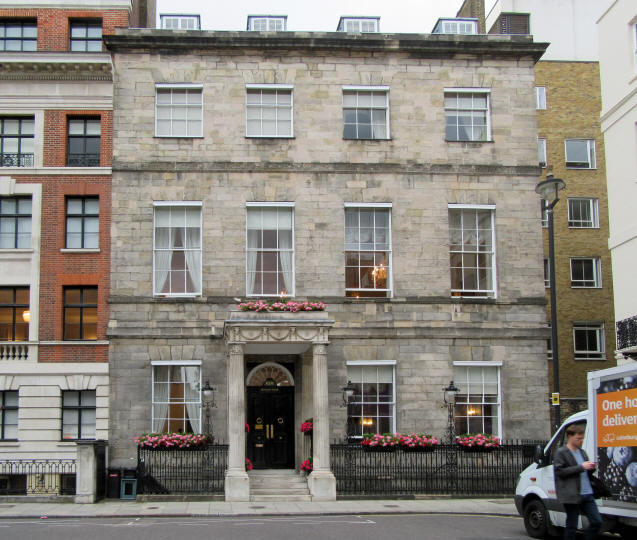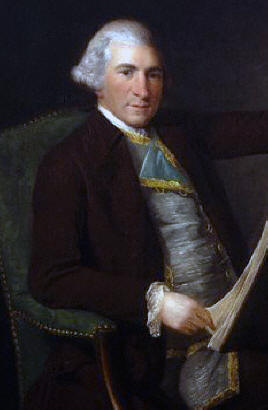 In 1813, the house was the home of Anna Eliza Brydges, Duchess of Chandos. When the Duke died she was declared insane and kept inside the house until 1815 when it was sold and became the Austrian Embassy until 1866. Today, Chandos House is owned by the Royal Society of Medicine, and its seventeen bedrooms and six function rooms are open to hire for weddings and events.
We got inside and registered and joined the cocktail party for the IIIC Dinner. We first got to meet our old friends Matteo Piovella MD from Monza, Italy and Jim Mazzo, past President of AMO (Allergan Medical Optics and later Abbott Medical Optics before being sold to Johnson & Johnson). Jim is now the President of Carl Zeiss Ophthalmics in Jena, Germany.
We first met Matteo (on the right) when he came to my office for a visit on October 23rd, 1985, when he was a very young eye surgeon; almost thirty years ago. He came with two Italian colleagues; Dr. Alberto Montericcio from Trapani in Sicily and Dr. Innocente Figini from Lake Como. He has risen from those days to become one of the most renowned eye surgeons of Italy and the President of the Italian Ophthalmology Society. We have been close to he and Barbara for many years.
I first met Jim (center) in 1980 when he was a brand new rep for an IOL company (Allergan Medical Optics, who the company brought in to my office to have him watch his first live cataract operation. Over 22 years, he rose up the ranks to become the president and CEO. He reminded me of that historic event in his life, when he was President of AMO, at an ESCRS Dinner in Munich in 2005. After that, he was instrumental in having AMO become a major sponsor of our IOL Power Club Scientific Meetings, which had a profound effect on the quality of our meetings. Because of his tremendous skills, he was made a member of the IIIC. It was great to see both of them again.
Below left is the name above the door of the Chandos House. On the right is the program menu cover announcing the IIIC "Heritage Retreat" Dinner in honor of Sir Harold Ridley (See about him in Diario #6).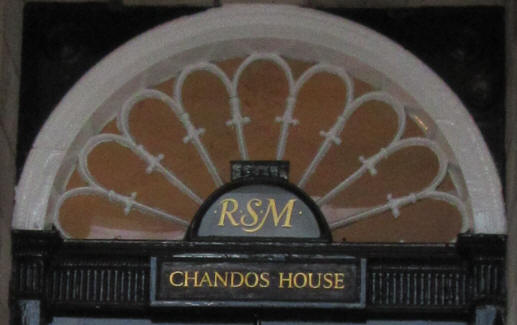 As the 2015 IIIC President, Dr. Graham Barrett of Perth, Australia (standing, below left) welcomed all the attendees and while he explained the remaining schedule for the meeting, I perused the preset menu for the evening.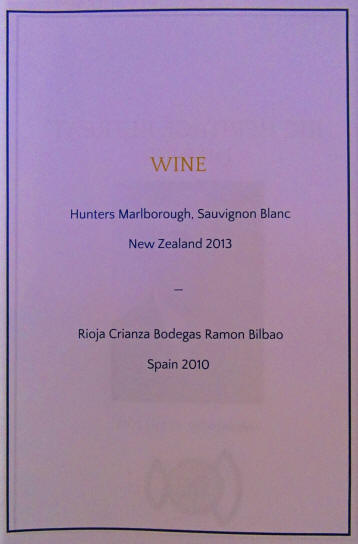 We enjoyed the wine selection: White: 2013 Hunter's Marlborough Sauvignon Blanc from New Zealand and Red: a 2010 Rioja Crianza Bodegas Ramon from Bilbao, (Basque) Spain. Below right is a photo of Doug Koch MD from Houston, TX (left) and Roger Steinert MD from Irvine, CA (right).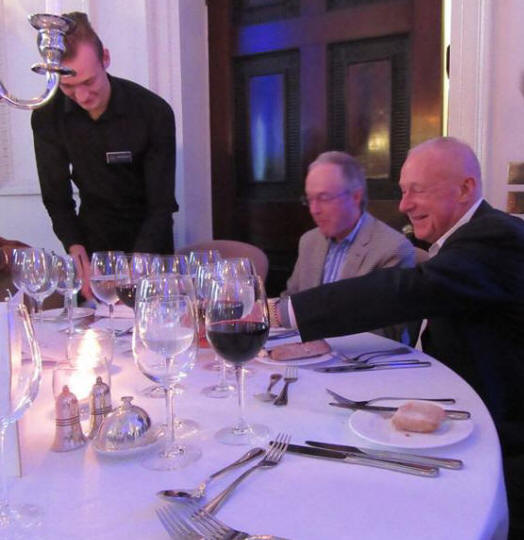 [Roger had been diagnosed with an invasive malignant brain tumor and did his best fighting it for several years, attending all the ophthalmology meetings right up to the end. He recently succumbed to it in 2018 and our profession has lost a talented scientist, surgeon, innovator and teacher. He will be sorely missed.]
After we all sat down, we started with an appetizer of "ricotta and basil ravioli with minted peas and sun blushed tomato salsa" (below left) which was extraordinarily tasty - I could have had another one. This was followed by an entrée of "corn-fed chicken filled with sun blushed tomato mousse with thyme fondant potato, carrot puree and French beans in a morel mushroom infused red wine sauce" (below right).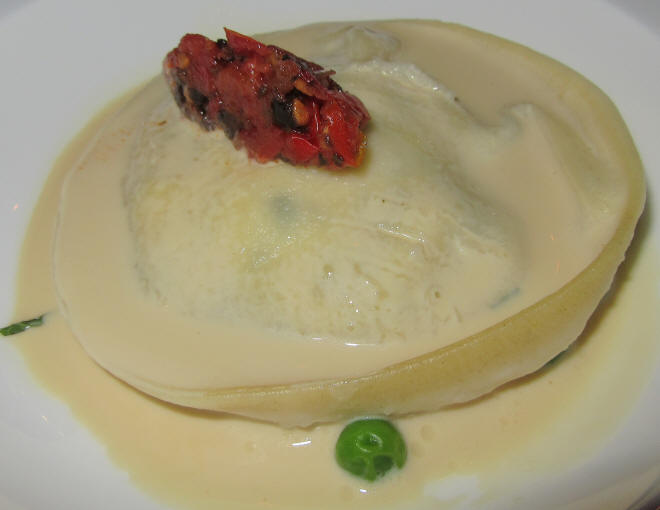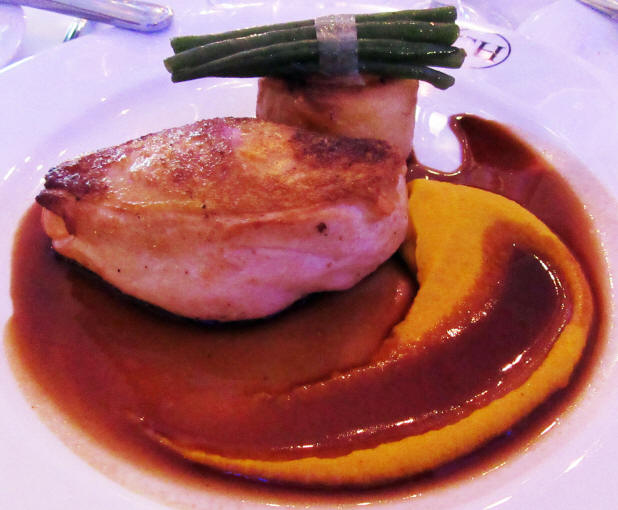 Here is another view of Marcia's serving after she had already started in on it. This dish was also very delicious; I ate all mine. Quite surprising for a catered affair for so many people.
As a past president of IIIC, Dr. Koch (standing, below left) had some things to say as did Jim Mazzo (right).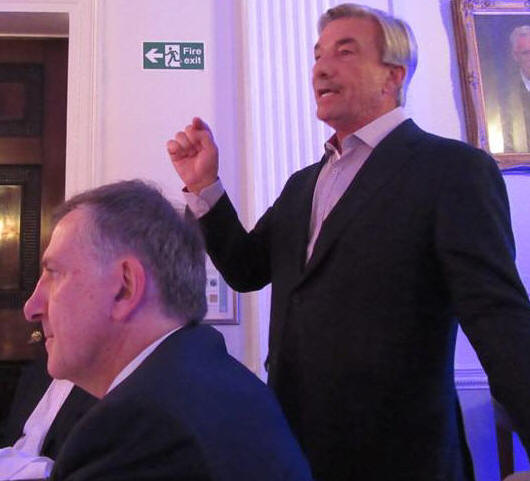 Dr. ("Mr. in UK) Emmanuel Rosen was the European Editor of our combined journal JCRS (standing, below left) and Matteo (standing, below right) wanted to thank the IIIC for attending his wedding to Barbara in Quebec, Canada at the 2014 IIIC Retreat.
Another IIIC past President, Bo ("Boo") Philipson of Stockholm, Sweden had some things to say. You might remember him for making our 2003 tour of Sweden a resounding success.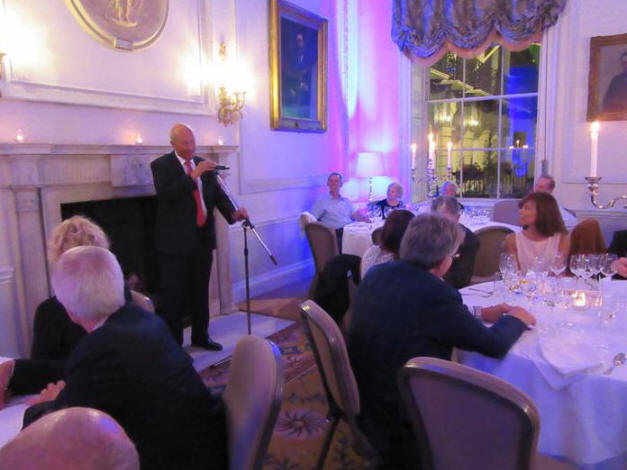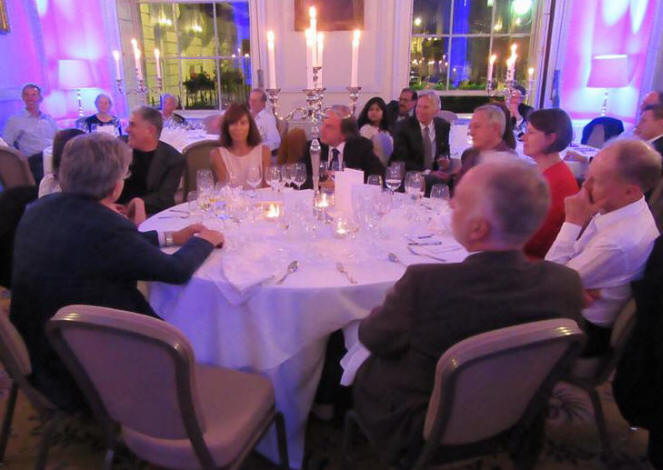 Below left shows Bo at his table with his wife Agneta and on the far left is the present EVP of the IIIC, Dr. Michael Knorz of Mannheim, Germany who made all this happen. On the right is Marcia relaxing at our table.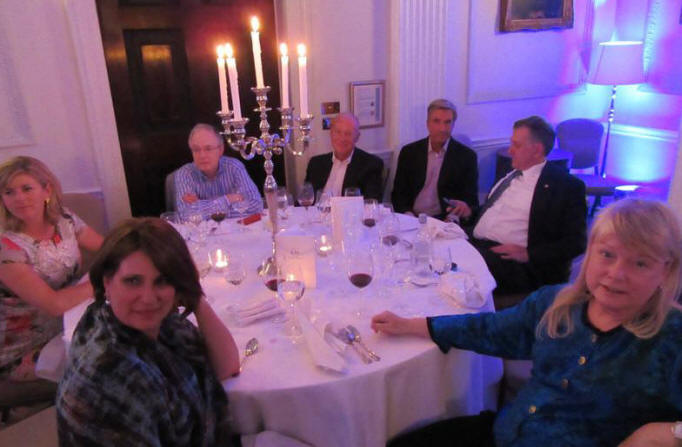 Then we heard from past IIIC President Steven Arshinoff (below) of Toronto, Canada who hosted the last IIIC Retreat in Quebec during their Winter Carnival; which was the only reason I didn't attend. I can't stand the cold. I have been a member of this organization since the mid 1970s but have never attended one of these retreats that have been held annually.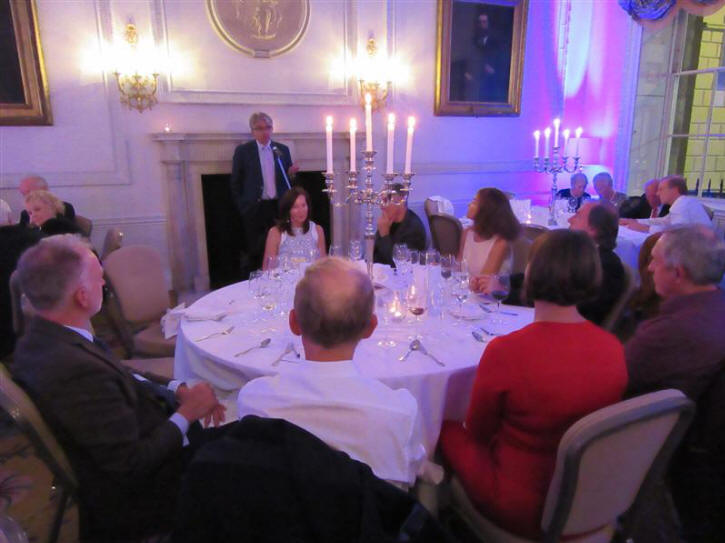 The reason is that they were always located at some far-off island retreat that required a long flight to get to for just three days. This is my first retreat because we planned to visit Northern Ireland and Dr. Barrett changed this meeting from being in Australia (where he lives) to one in London and Gleneagles, Scotland - a convenient route to Ireland at the beginning of our trip.
As the evening waned, they served us a dessert of "mango cheesecake with fresh raspberry compote and pistachio tuille" (below right). This also was very tasty. They then served coffee and petit fours. I was totally impressed with the quality of the kitchen and complement Drs. Barrett and Knorz for their venue and menu selection.
This is an interesting side-by-side of Drs. Thomas Kohnen (Frankfurt, Germany), Koch and Knorz before and after being asked to pose for a photo.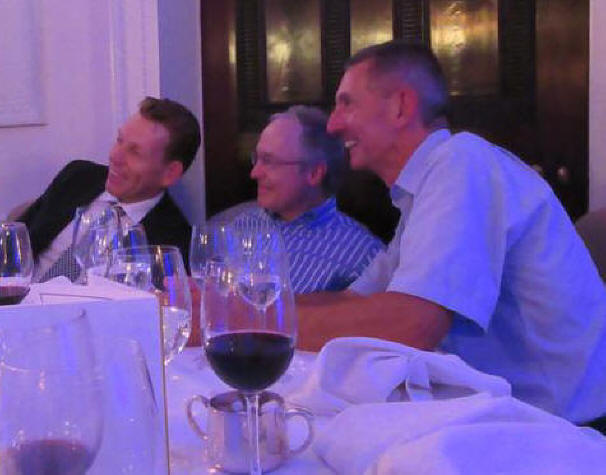 Marcia enjoyed her chance to visit with Marcia Koch (to her left) who we have known a very long time. Below right is my final photo of the day: (L-R) Drs. Michael Knorz, Roberto Zaldivar (Mendoza, Argentina) and Matteo Piovella. I have also known Roberto before anyone ever heard of him. Because it was not yet FDA approved in the U.S., Roberto did LASIK on our friend Chef Giovanni Paoletti (owner of Peppone's Restaurant in Brentwood, LA who forced us to buy a BMW for our first trip to Italy in 1997). Roberto also did phakic lens implants (PRLs) on his brother Rudy at the same visit. [See Home Page of this website regarding Giovanni and Rudy.]
We had a very enjoyable evening and when it was ended we were able to get a London cab to take us back to the hotel and we got to bed a little earlier due to our long trek to Scotland tomorrow.
This Diario may seem somewhat mundane for a visit to the exciting capitol, London. But I had already spent almost two full weeks here in 1999 and during that time I visited almost everything you could possibly see in this city and wasn't interested in revisiting them all again. The only new thing I had planned to see was the Millennium Wheel or "London Eye", the huge Ferris wheel on the South Bank of the River Thames first opened in 2000. It is 443 ft (35 m) tall and has a diameter of 394 ft (120 m) and was the largest until 2008 (now the largest is the new one in Las Vegas in 2014). I didn't find the time to go mostly because I had heard the wait lines were very, very long and once on it, you were kept on it for several hours. Tickets for it run ₤23-36 ($35-55). For both of us, I found these stock photos of what it is like. Below is an aerial view at night of the area between the two bridges.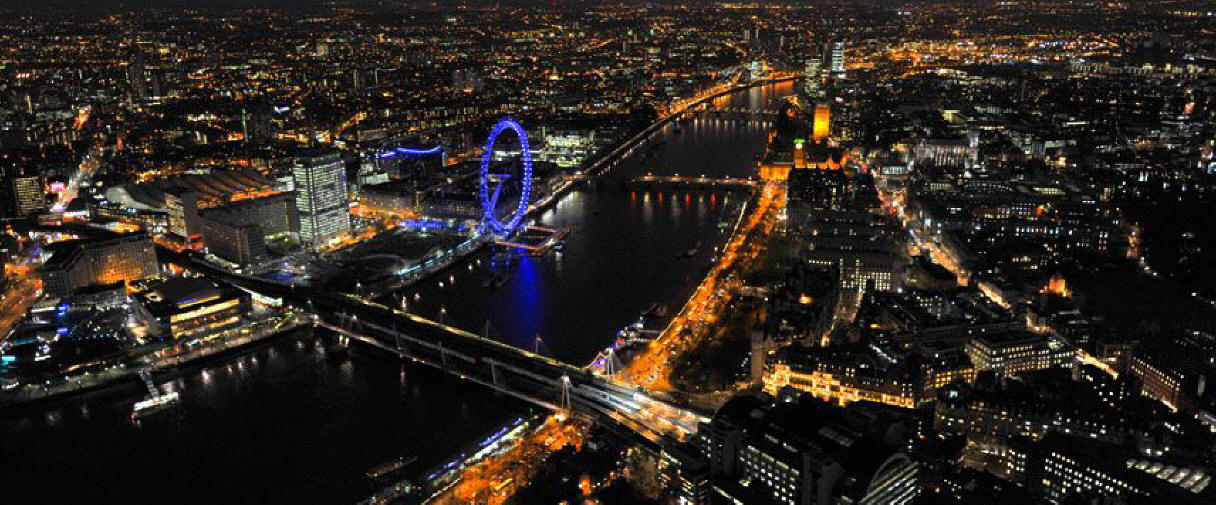 Here are more: the entry door of the pod as you enter it and of view of the pod lifting off above the river.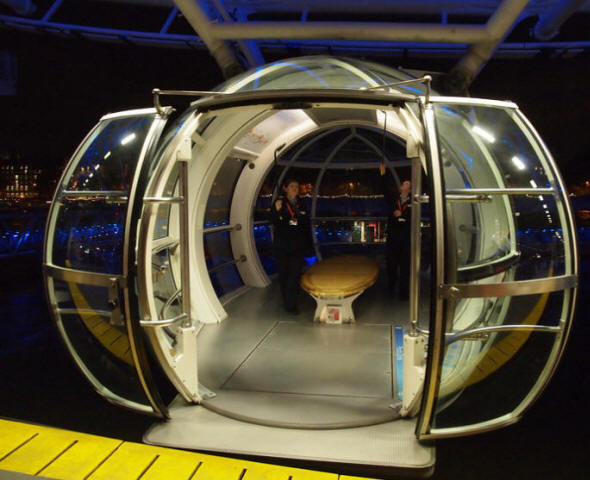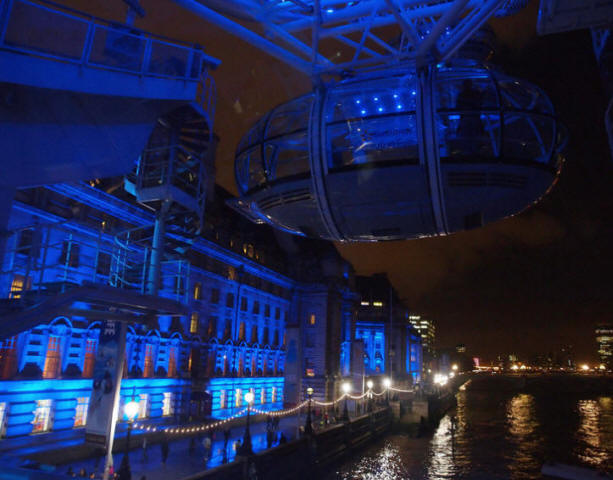 Below is your view as you begin to climb (left) and the view of another pod as you climb even higher.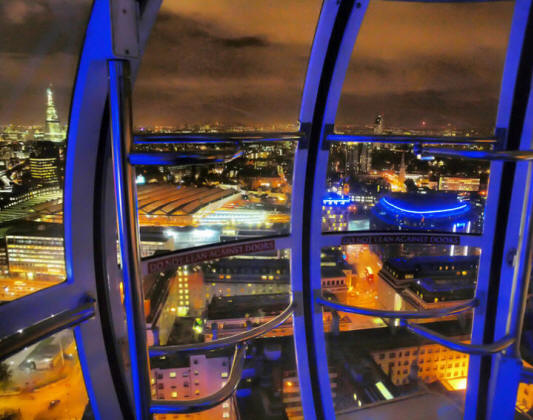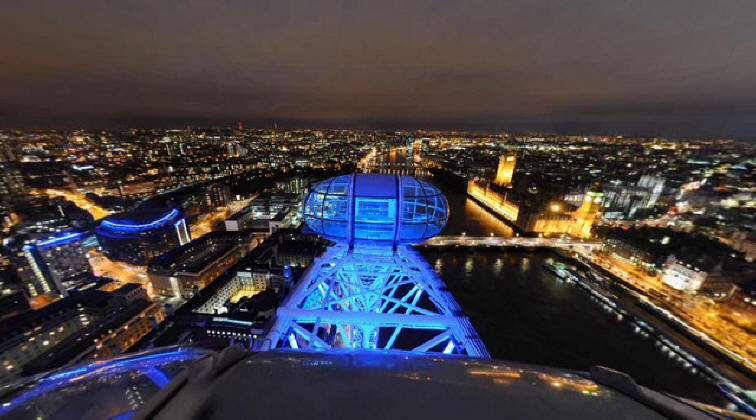 So instead of spending these five days as a tourist, I spent them exploring a very historic neighborhood of Central London and seeing so many interesting things I had never seen on my previous visit as well as learning about the famous people that made it happen. Don't forget the suicidal Virginia Woolf who made Bloomsbury famous.
I found the history of so much of this quite interesting. If you didn't, that is why the scroll bar is so useful.
Kenneth J. Hoffer, MD
KHofferMD@AOL.com
Sent 6-26-2018
If you enjoyed these travels or wish to add comments on the places we visited
Please Leave Me a Message by clicking the spinning @ sign below.